Lisbon offers a slice of Europe you won't experience elsewhere. Spread across seven hills along the shores of the Tagus River, the city unfolds in cinematic fashion on a soundtrack of soulful fado and the distant warning bells of Tram 28.
Steep cobbled lanes flow into wide mosaic-paved boulevards and open out into elegant Baroque squares pulsing with life. Buildings clad in vibrant azulejos pop around every corner, spectacular viewpoints crown its undulating hills, and the salty Atlantic air along the waterfront sweetens with the delicious vanilla-cinnamon aroma of freshly baked pasteis de nata as you weave through the city center.
It's an Open-Air Museum
Beautiful tile-covered façades, intricate cobblestone designs, and a sea of terracotta rooftops baking in the sun turn Lisbon into an open-air museum. Around every corner, there's a picturesque alley to stroll down, a new arty sight to discover, or a magnificent view waiting to be contemplated.
Energetic and steeped in history, the city is a visual treat of charming candy-colored architecture, spectacular azulejo tiles, and gleaming mosaic pavements (calçada portuguesa) depicting its rich maritime heritage. Sprawling gardens brimming with exotic flora offer a lush respite from urbanity, and wide, elegant tree-lined avenues still echo with the footsteps of the city's nobility during their Sunday afternoon promenades.
But Lisbon's natural flair for creativity and aesthetic sense doesn't stop here. Eye-popping murals are becoming as common a sight as the stunning hand-painted Portuguese tiles. There are entire streets lined with vibrant graffiti, spectacular portraits carved in stone, abandoned buildings revitalized with large-scale masterpieces by the world's most esteemed street artists, and even an official street art gallery that documents and guides visitors to the city's major works.
Old World Charm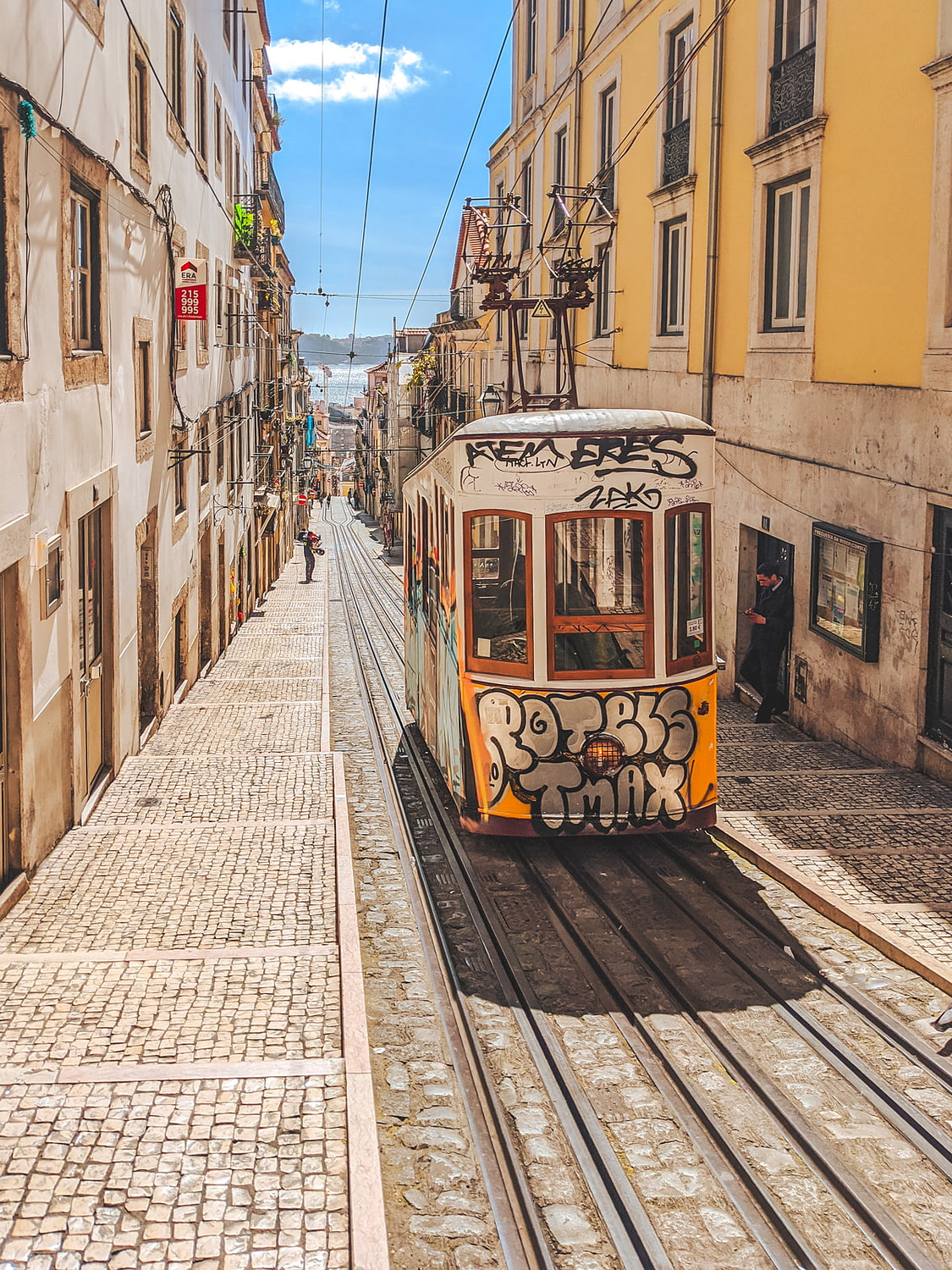 Lisbon is a pleasant surprise for first-time visitors. The laid-back Portuguese capital knows how to blend its ancient treasures, sunny climate, and new-world vitality into a vibrant, cosmopolitan city that fascinates all who visit.
But perhaps the most remarkable aspect about this effortless, nonchalant city is its untamed old-world charm, which comes in the shape of tangled narrow streets, crumbling pastel facades, and a small-town air that's easy to fall in love with.
Nostalgia lives on in historic bakeries with artfully ornamented interiors and time-honored stores belonging to engravers, leather merchants, and toymakers. Black-jacketed waiters greet you in elegant Art Deco coffee houses once frequented by the city's literary set, including famous local poet Fernando Pessoa, while wrought-iron kiosks continue to sell newspapers, lottery tickets, and snacks to passersby like they did two centuries ago.
And then there's the quaint yellow tram, which trundles up and down Lisbon's rolling hills, keeping it in a charming time warp of sorts.
Burgeoning Food Scene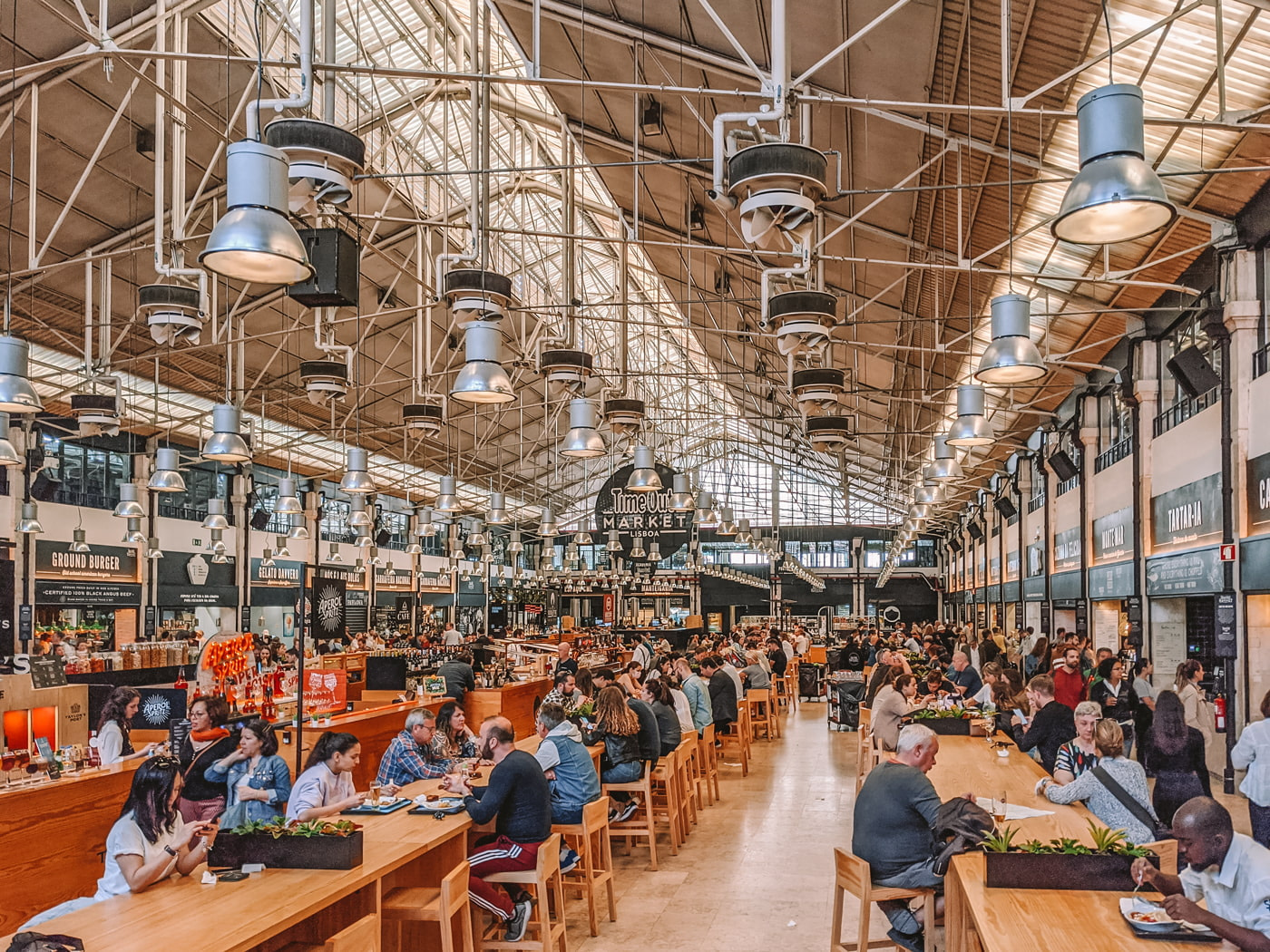 Just like the city itself, Lisbon's food scene is changing with the times, but it still honors its traditions with pride. Bacalhau (salted codfish) and sardines are nowadays served with a modern twist in hip gastro bars with stylish interiors, while a profusion of ethnic eateries takes epicureans on a voyage through the Portuguese colonies, from Goa to Nepal to Brazil.
For a cheap homemade meal, look for a busy, traditional tasca, where sizzling croquettes, juicy suckling pig sandwiches (bifana), hearty meat stews (cozido à portuguesa), and rounds of petiscos (Portuguese tapas) are served with love on chequered tablecloths.
If you're short on time, head straight to Lisbon's Time Out Market, a gourmet food court where you can sample plates from the nation's most famous Michelin-starred chefs (Alexandre Silva and Henrique Sá Pessoa), as well as a variety of cuisines from around the world.
Hills Topped with Scenic Viewpoints
Lisbon's steep, undulating streets spread like a spider's web across its seven hills, leading to scenic viewpoints above the city.
Miradouros, as the Portuguese call them, are an integral part of the local culture, offering not just breathtaking views over the capital, but also a sweet slice of the city's life.
For a classic vista of tangerine rooftops, pastel-colored houses, and glistening church domes, head to Miradouro de Santa Luzia in the historic Alfama neighborhood. Filled with artists and decorated with classic white and blue Portuguese tiles, this is probably the most beautiful and romantic panoramic terrace in Lisbon. The views stretch all the way to the Tagus river and are framed by centuries-old trellis draped in vibrant bougainvillea.
Otherwise, the more tranquil Miradouro de Nossa Senhora do Monte in Graça, perched on the city's highest hill, offers the best sunset views, along with a sweeping panorama of downtown Lisbon and the São Jorge Castle.
Different Neighborhoods, Different Vibes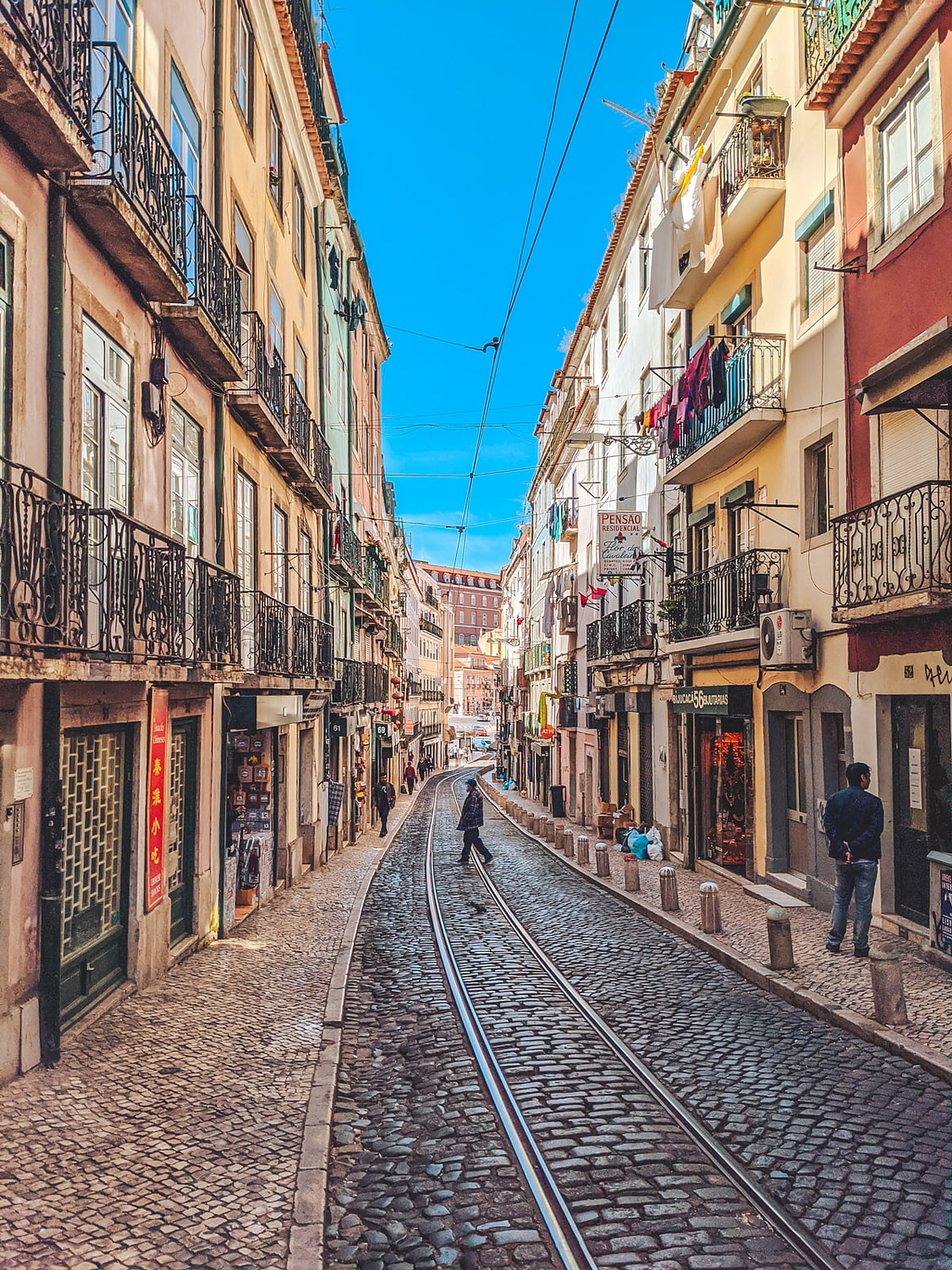 Lisbon is a city to be explored, one delightful bairro at a time.
For a dose of history, walk around the bewitching narrow streets of the Alfama, lined with cafés and traditional crafts shops. This is the city's oldest neighborhood and the birthplace of fado, a colorful warren of steep cobbled alleys and small squares, with flowers bursting from rusty wrought-iron balconies, laundry drying in the wind, and elaborate tiles adorning the walls.
Fully rebuilt after the 1755 earthquake, neoclassical Baixa in the heart of Lisbon has risen from the ashes to become one of the capital's most popular neighborhoods. Stretching out on a hill above the old town, bohemian Bairro Alto comes alive at night, when its cobblestoned lanes fill up with diners and revelers en route to buzzing live music bars and intimate fado houses.
With elegant antique cafés, smart restaurants, and stylish boutiques, Chiado remains the city's trendiest district, while the riverside suburb of Belem is home to vast open spaces, a calmer atmosphere, and some of Lisbon's grandest monuments, including the famous Belem Tower and the Unesco-listed Jerónimos Monastery.
Bohemian Nightlife
When the sun goes down, Lisbon entices revelers with a fantastic mix of options, from bohemian tascas to hip wine bars to buzzing live music venues.
Just like in most Iberian cities, the action revolves around hopping from bar to bar or hanging around with friends in lively plazas rather than partying till dawn in noisy, jam-packed nightclubs – although there are plenty of trendy clubs and discos to do so along the waterfront.
Otherwise, the historic streets of Alfama and Bairro Alto are crammed with modish fado houses, where you can sample traditional Portuguese cuisine while listening to this melancholic folk music in a cozy, dimly lit space. This truly is a unique cultural experience, one that can only be found in Portugal.
But between classy nightclubs and unpretentious fado bars, there are endless ways to spend a night out in Lisbon. You can see a theatre or ballet performance, get a laugh in a comedy club, relax on a panoramic terrace at sunset, and of course, have dinner in one of the city's many wonderful restaurants. And, as if that wasn't varied enough, Lisbon also has a growing craft beer scene, lots of alternative music venues, colorful gay-friendly establishments, and even a scatter of sophisticated speakeasies.
Glorious Day Trips
Apart from being one of Europe's prettiest, most bohemian, and culturally rich capitals, Lisbon is also an excellent base for day trips to summertime playgrounds such as Cascais, Estoril, Oeiras, and Cabo da Roca – the westernmost point of continental Europe.
Dotted along a scenic coastal road known as Estrada Marginal, these seaside towns frequented by European royals and aristocrats ever since the '20s make up the Portuguese Riviera. Well connected to downtown Lisbon, Estoril and Cascais are among the chicest resorts in the country, boasting nice sandy beaches, palaces, gardens, golf clubs, surfing, and a lively atmosphere.
But perhaps the most magical day trip from Lisbon is to Sintra, Portugal's fairytale town. Nestled in the foothills of the Sintra Mountains, only a 45-minute train ride from the capital, the area is a wonderland of colorful, romantic palaces, whimsical gardens, and lush castle-topped hills overlooking the Atlantic.