Complementing Europe's natural, cultural, and historical richness are some of the world's most enchanting and glamorous sailing destinations.
From the exclusive South of France to the fascinating old-meets-new jewel that is Turkey, the blue Mediterranean Sea is dotted with countless scenic islands and coasts, spellbinding natural wonders, and precious little towns waiting to be discovered. These, along with the area's perfect climate, favorable sailing conditions, posh marinas, and delightful old ports, make this part of the world a true yacht lover's dream.
Listed below are 5 of the best sailing destinations in Europe, including valuable insights on what exactly makes them so damn amazing.
The Greek Islands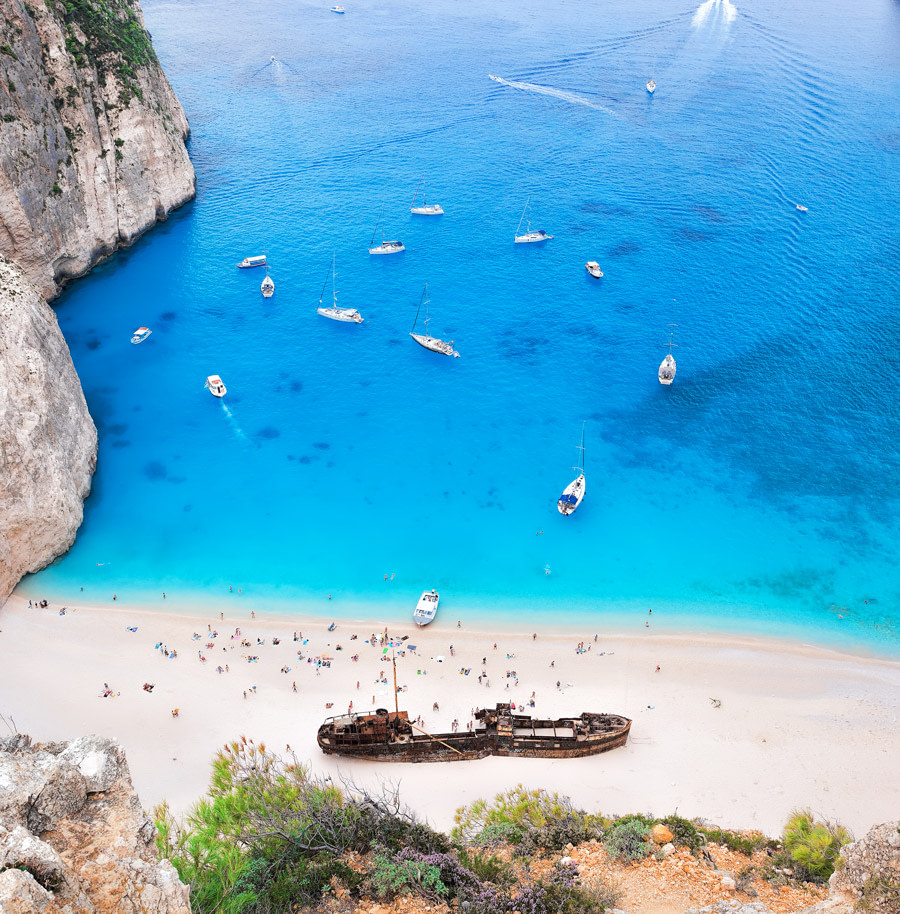 With its dazzling mix of clear blue waters, fabulous island-hopping, and vivid remnants of Greek Mythology, it's no wonder that many consider sailing in Greece the adventure of a lifetime.
This unique country bursting with spectacular natural beauty and Mediterranean charm is waiting to be explored – and there's clearly no better way to do so than on board of a private charter yacht. The most popular sailing routes include the Cyclades, the Ionian Islands, the Saronic Islands, the Sporades, and the Dodecanese. Each of these magnificent destinations has its own distinctive character, offering breathtaking scenery, culture, history, and a plethora of hidden treasures.
Cosmopolitan Mykonos charms visitors with its upscale atmosphere, boisterous nightlife, and eye-catching Cycladic architecture, while Santorini steals everyone's heart with spectacular Caldera views, fabulous dining, and beautiful multicolored beaches.
And yet, there is much more to be discovered by the adventurous sailor – imagine cruising past ancient ruins, swimming in crystal-clear secluded coves, lazing in the sun on idyllically remote beaches, otherwise inaccessible, or docking your boat in picturesque fishing villages to dine, sleep, and soak up the local culture.
Greece is packed with numerous anchorages, harbors, and modern, fully-equipped marinas, where you can safely tie down your yacht, shop for supplies, and explore the surroundings.
South of France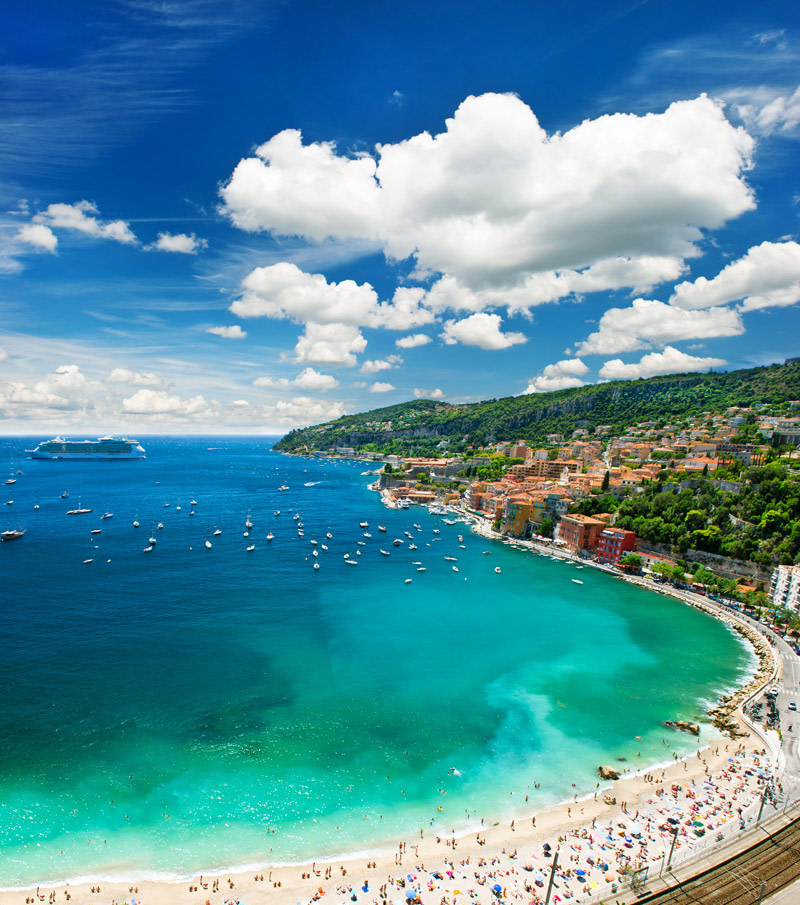 Cruising Europe's fantastic waters is nowhere as stylish and luxurious as it is in the warm and sunny South of France. Known for its glamorous resorts, movie star lifestyle, and pretty coastal towns full of culture, history, and art, this millionaire's playground offers you the opportunity to choose from a variety of sailing itineraries, one more fascinating than the other.
Running from Saint Tropez to Monaco and playing host to 50% of the planet's superyachts, it's no wonder the legendary Côte d'Azur is one of the world's most popular summer cruising destinations. On a sailing holiday here, you can get a taste of the good life in swanky Saint Tropez, Cannes, or Monaco; discover fabulous hilltop towns; indulge in heavenly Provençal cuisine; and stare at works by Matisse and Picasso in the fantastic museums and art galleries that line the quaint cobbled streets. For a more adventurous experience, go to explore the pristine sandy beaches on the Isles d'Hyeres or head to the Isles de Lerins – off the old port of Cannes, for a blissfully relaxing break.
The South of France has it all – glorious sun, sparkling blue seas, and a legendary mix of glamour and rustic charm that sets it apart from the rest. Add a striking mountainous backdrop, postcard-perfect historic harbors, and fabulous shopping & dining, and you have Europe's most luxurious sailing destination. Needless to say, the dazzling array of anchorages and top-notch marinas will only add to your yachting experience.
Italian Riviera
Not far from the South of France, the chic, color-splashed Italian Riviera greets visitors with its own mix of glitz, glamour, and old-fashioned charm. Famous worldwide for its postcard-perfect villages that dot the rugged crescent-shaped Coast of Liguria, dropping dramatically into a sparkling turquoise sea, the Italian Riviera makes for a wonderful sailing experience, whether you're looking for culture, history, superb Italian cuisine, or sensational scenery.
You can start your adventure in San Remo and sail your way up to Portofino, past brilliant bays, adorable old ports, and serene, tucked-away beaches. The highlight of your trip will definitely be the UNESCO-listed fishing villages of Cinque Terre, with their brightly colored houses, narrow medieval streets, and astounding sightseeing opportunities.
Wherever you choose to anchor, bear in mind that the Italian Riviera offers much more than first meets the eye. Beyond its arresting seaside attractions are oodles of quaint alfresco cafés, exclusive restaurants, and enticing shopping boutiques to keep you occupied – not to mention the lovely art and architecture all around you.
Sailing conditions in the area are beautiful, with calm seas, clear blue skies, and mild southeasterly or westerly winds, mostly at night.
Turkish Riviera
One of Turkey's most popular sailing routes runs from vibrant Istanbul to the port town of Marmaris on the Turquoise Coast (Turkish Riviera).
Along the way, you will discover one of the most unique and enthralling European coastlines – a land steeped in fabulous culture and rich ancient history, peppered with priceless ruins, sublime pebble coves, and traditional fishing villages.
You'll be seduced by the country's irresistibly blue waters, fascinating cuisine, sun-soaked shores dotted with scenic ports, and the hospitality and warmth of its locals. All these, along with the reliable winds, beautiful sheltered coves, and the wealth of watersports opportunities available, are part of the magic of sailing in Turkey.
Croatia
Croatia is undoubtedly one of the most captivating European countries with its spellbinding Adriatic coast, exquisite islands, and rugged mountainous interior jam-packed with culture, history, and magnificent cities. And there's clearly no better way to take in its glory, beauty, and treasures than by sea, from your luxury charter yacht.
For the sailing enthusiast, there are so many spectacular places to see in Croatia. Also called "the next Riviera", the Dalmatian Coast is a fantastic expanse of translucent aquamarine seas, sparkling bays, and remote fishing villages, where ancient tradition meets Mediterranean glamour. Moreover, gorgeously preserved walled towns, lush national parks, and rich underwater life are waiting to be explored, as well as more than 1,000 islands scattered around, each with its own distinct allure and character.
Highlights include the arresting town of Dubrovnik, with its ancient city walls, sleek marble streets, and splendid Baroque architecture; the lush islands of Mljet and Korcula; the historic port town of Trogir; the tiny islet of Bisevo – home to the spectacular Blue Grotto; the paradisiacal Vis Island; and the national parks of Krka and Kornati, both of them abundant in ravishing natural beauty.
The sailing season in Croatia runs from April to November, with the smoothest waters during July and August. Spring is characterized by moderate winds, while September and October are quite challenging, providing experienced sailors with some pretty strong winds, a rough sea, and lots of excitement.