On-tap Prosecco may piss off the Italians, but it certainly cheers up the Brits! The country has a serious love affair with the Italian white sparkling wine, and this can be best seen in the fizzy mobile bars – most of them charming, vintage Piaggio Ape conversions – that are sprouting like mushrooms around the UK.
Combining stylish retro design with the nation's favorite bubbly, it's no wonder mobile Prosecco vans are the latest trend these days. When they're not popping up at festivals, markets, and public outdoor events, they can be seen pouring Frizzante (so called due to EU regulations) from the taps at weddings and private parties across the country.
Here are 15 chic & charming Prosecco vans serving bubbles on wheels in the UK:
The Little Tipple Van, South/West Wales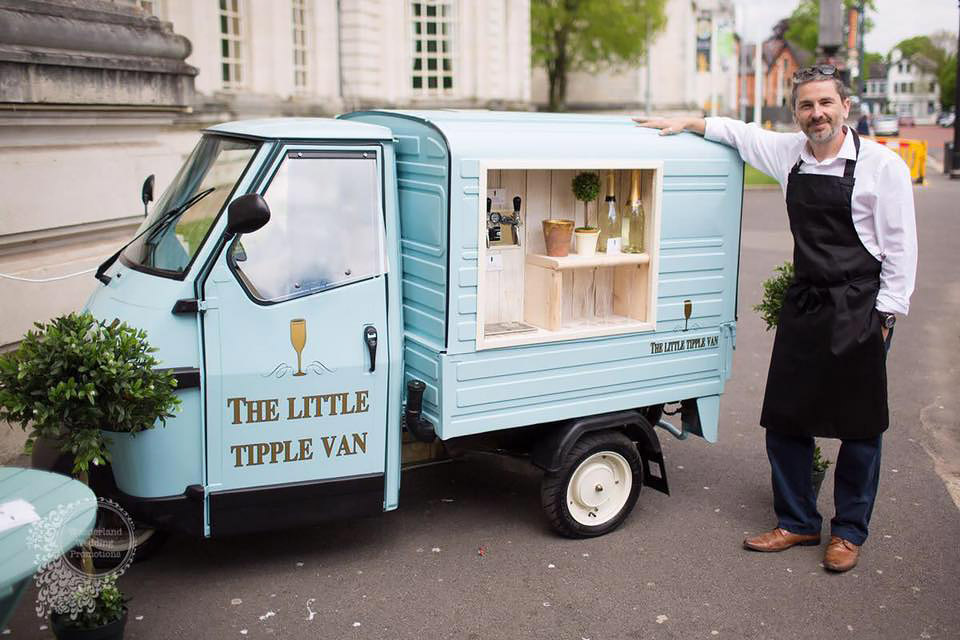 A vintage Piaggio Ape turned unique mobile drinks van, The Little Tipple can be hired for special occasions throughout South/West Wales and the Bristol/Gloucester area. It serves everything from Pinot Grigio to craft beer to perfectly chilled Prosecco on tap, and its quirky baby blue aesthetic makes it a postcard-perfect addition to any outdoor event, be it a wedding or a corporate meeting.
Pop Up Prosecco Van, Essex, London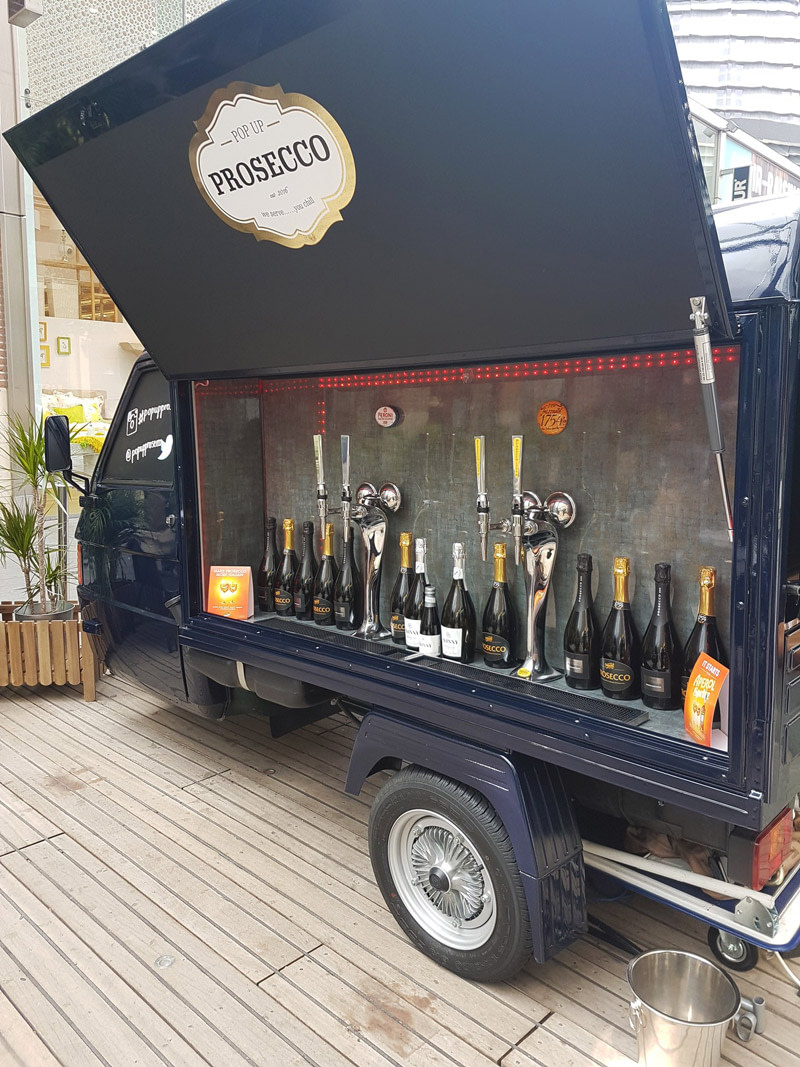 Another lovingly converted Italian Piaggio Ape, Pop Up Prosecco Van adds a unique, memorable touch to any event, from classy wedding receptions to boisterous festivals. They operate in Essex and the surrounding areas, but can also be found serving up Prosecco, Peroni, and cocktails at Westfield Stratford, Europe's largest urban shopping center.
The Prosecco Van, London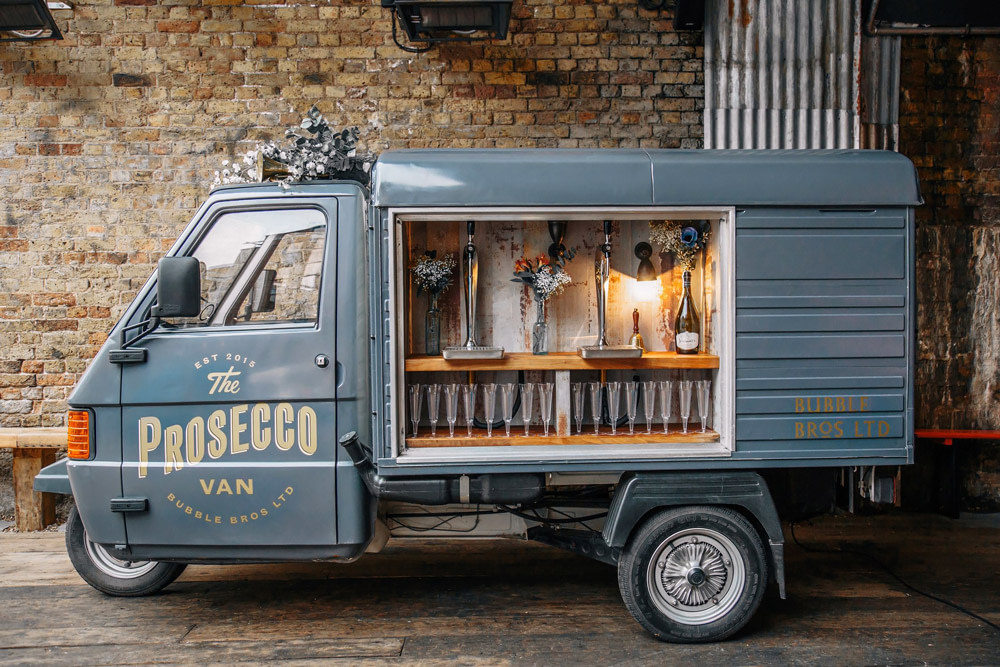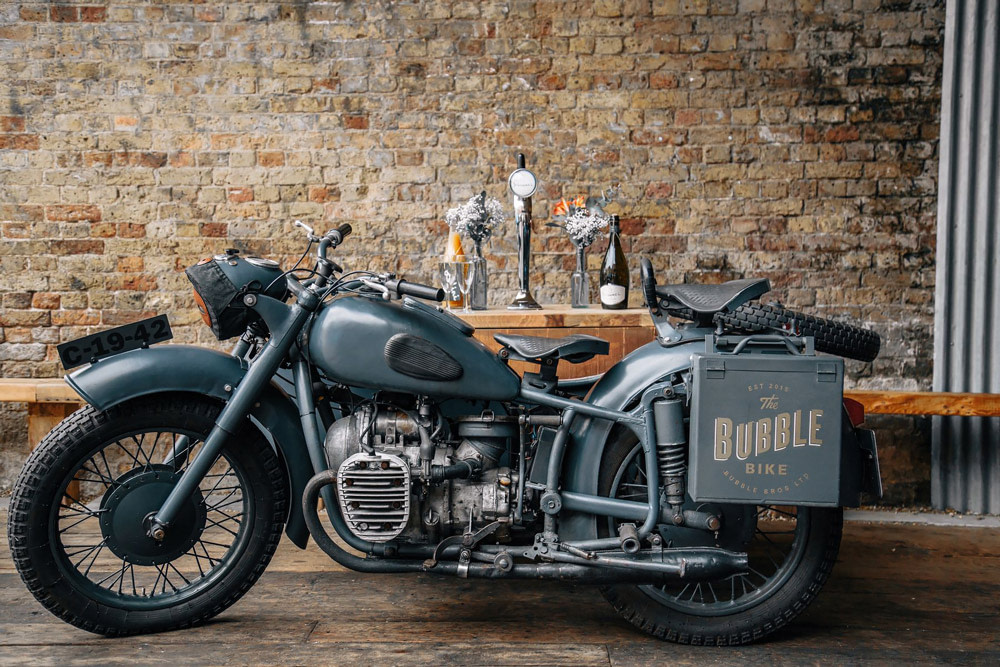 Brimming with irresistible rustic chic charm, this three-wheeled Piaggio Ape travels around the UK, pouring bubbly by the glass at parties, weddings, markets, and music festivals (Glastonbury included). In addition to The Prosecco Van, Bubble Brothers also operate the fabulous Bubble Bike, a 1969 motorbike and sidecar converted into a sparkling wine bar, which happens to be the first of its kind in the world.
Frizzenti Mobile Bar, UK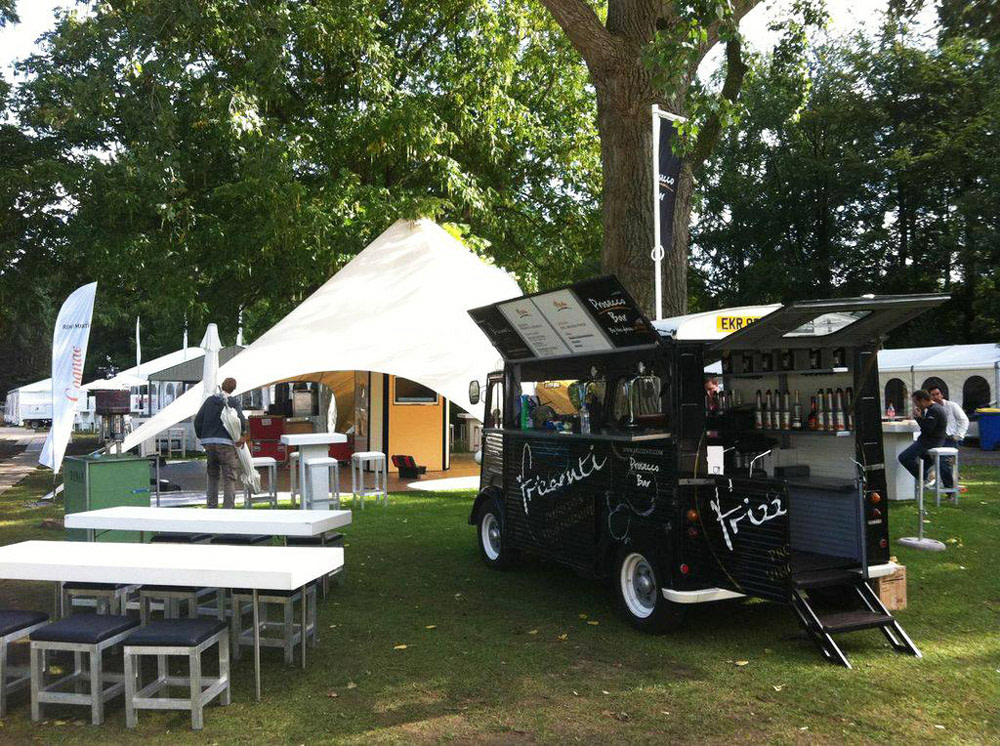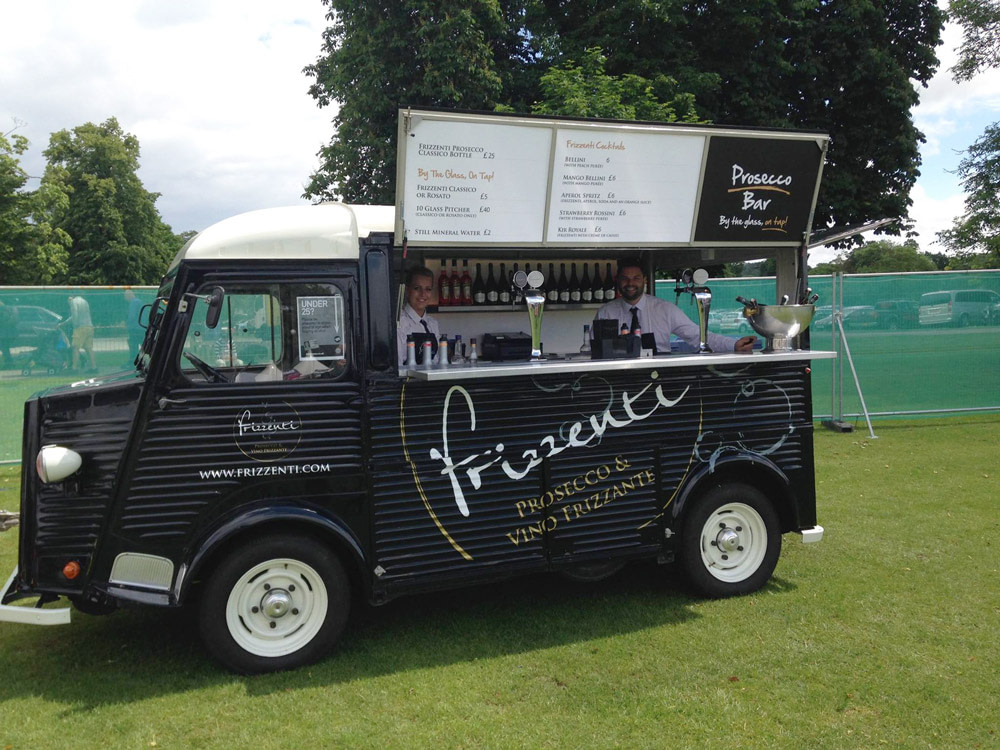 Frizzenti, UK's leading wine on tap brand, has its own mobile Prosecco bar making its way to private parties, food festivals, and major events around the nation. They serve Frizzenti Classico made with 100 percent Glera grapes along with fruity Rosato and classic Italian cocktails like Bellini or Aperol Spritz, from a stylish 1970's Citroën.
1645 Fizz Bar, Yorkshire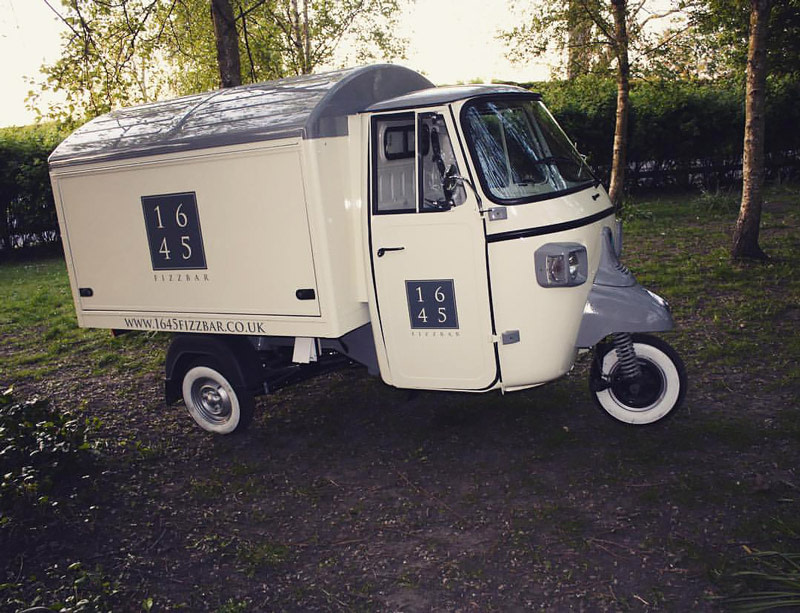 Designed by vehicle conversions specialist, The Big Coffee, 1645 Fizz Bar mixes handsome wood interior with an elegant, classic color scheme for an eye-catching mobile bar experience in Yorkshire. Although Prosecco cannot be served on tap, their chilled, lightly sparkling wine, made with 100% Glera grape from the Veneto region of Northern Italy, is the real deal.
Fizz 76, Midlands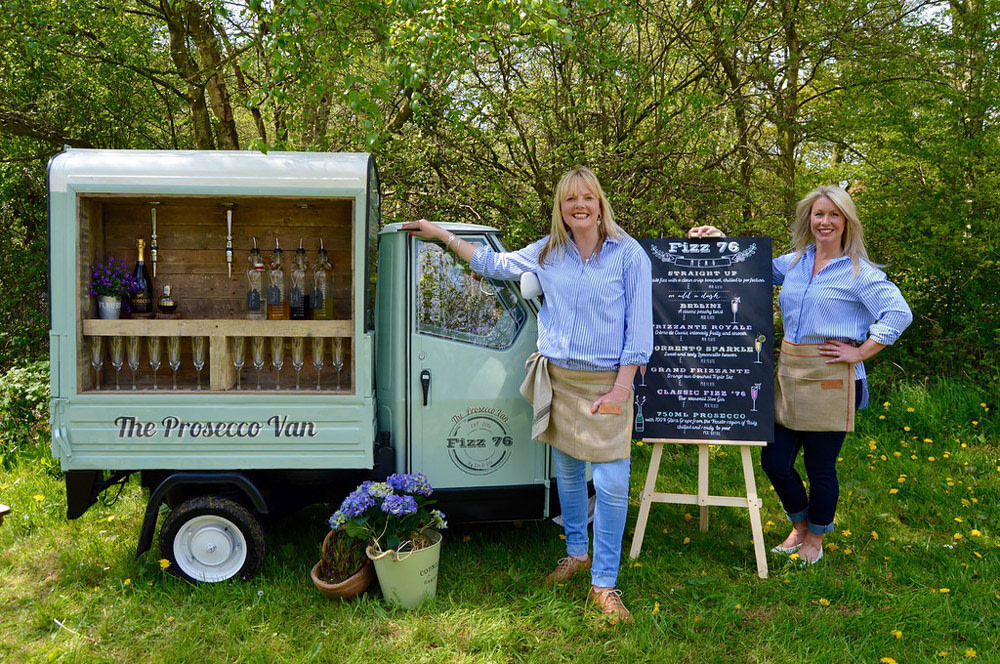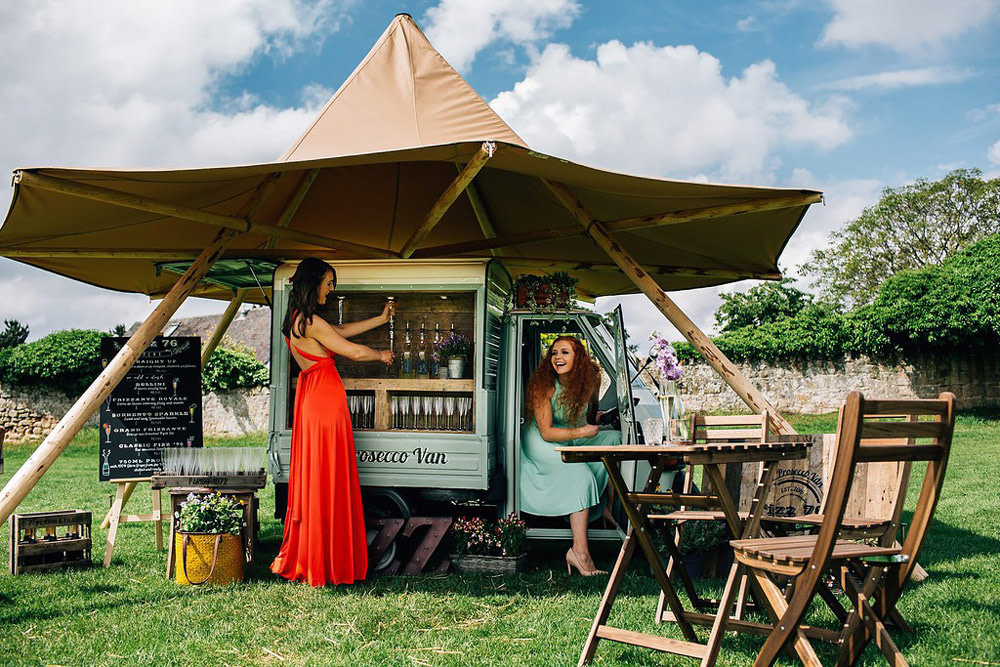 A joint venture of two best friends – a florist and a shoe designer who share a passion for all things sparkly, Fizz 76 is available for hire in and around the East Midlands. Using their creativity and design background, they took an old little Italian van and transformed it into the cutest Prosecco & Sparkling Wine bar for those who want to make a real statement at their event.
Fabulous Flutes, Cumbria
Add a little bit of fizz and character to your party with this 3 wheeled Piaggio Ape 50 Prosecco Van serving Peroni and Frizzante 1754 on tap. Equipped with two pumps and a state-of-the-art cooling system, Fabulous Flutes is the first of its kind in the South Lakes area, and offers mobile bar services suitable for any occasion, from simple family gatherings to elaborate wedding receptions.
Miss B's Bubbles, Kent countryside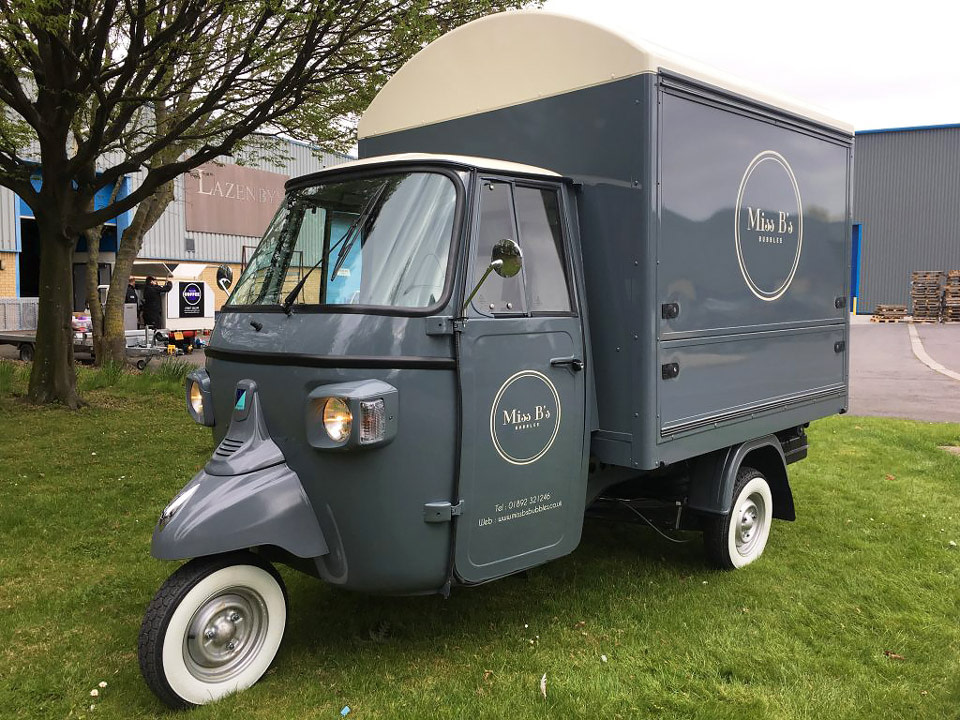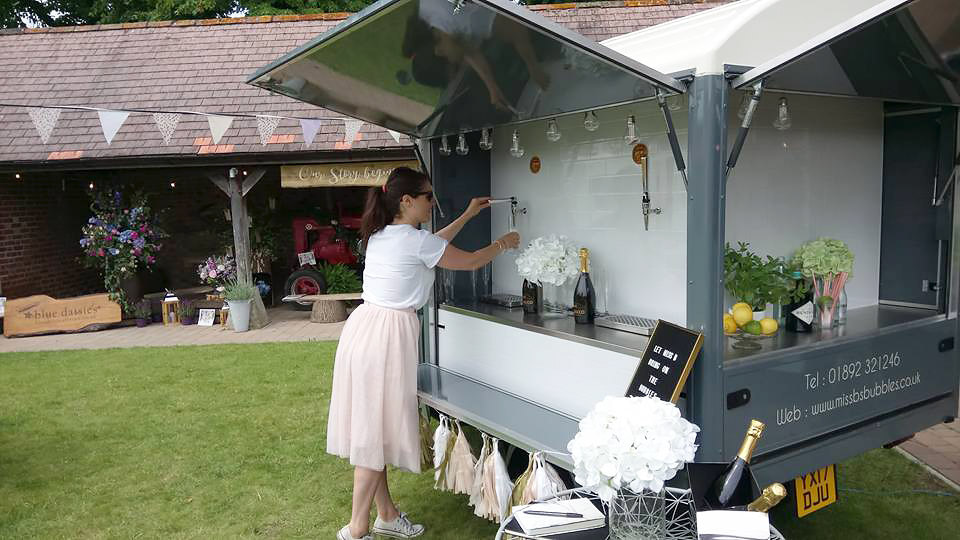 A delightful Piaggio Ape conversion, Miss B's Bubbles brings a bit of La Dolce Vita to the rolling Kent countryside. The elegant vintage Prosecco van fuels parties and events in the area with bubbles on tap, while also serving the award-winning local lager, Curious Brew.
The Prosecco Van Ltd., Burnham-on-Crouch, Essex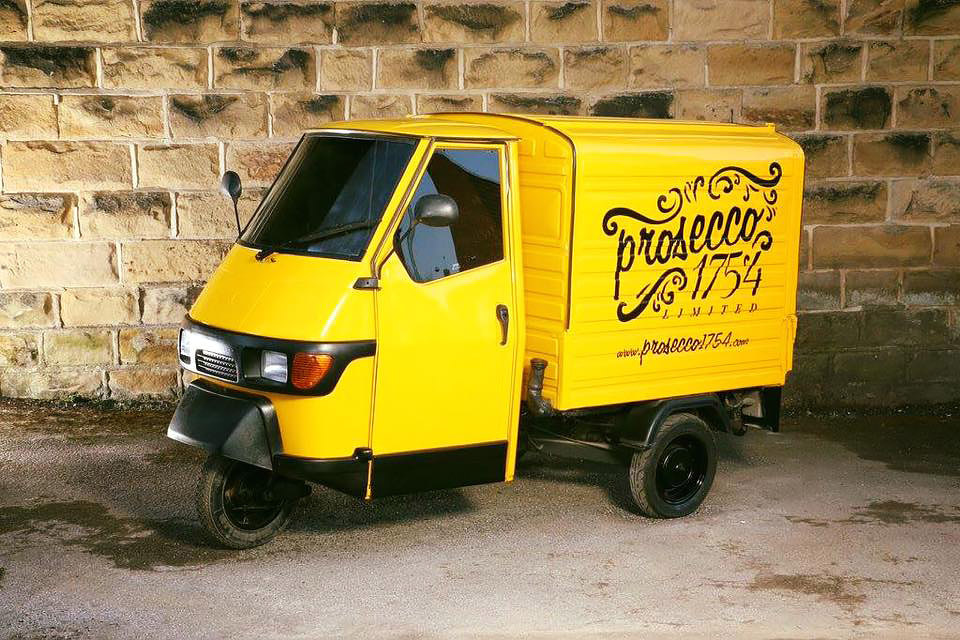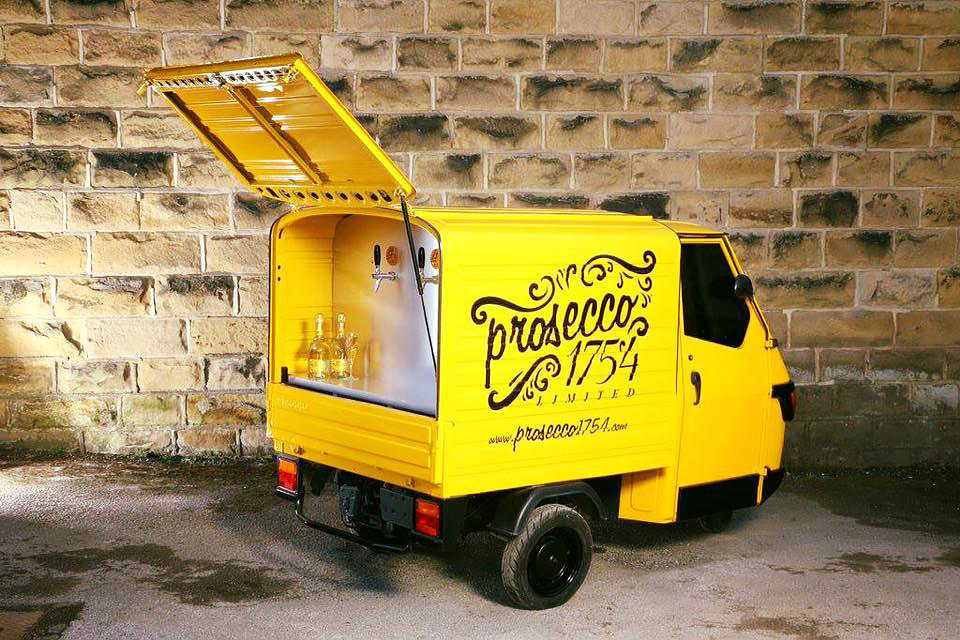 Based in Burnham-on-Crouch, The Prosecco Van Ltd. provides perfectly chilled draught Frizzante 1754 at all kinds of soirées and outdoor festivals around Essex. If needed, the bright yellow wagon can also bring its own branded gazebo or vintage horse box bar packed with wines, spirits, and soft drinks.
Prosecco Al Fresco, UK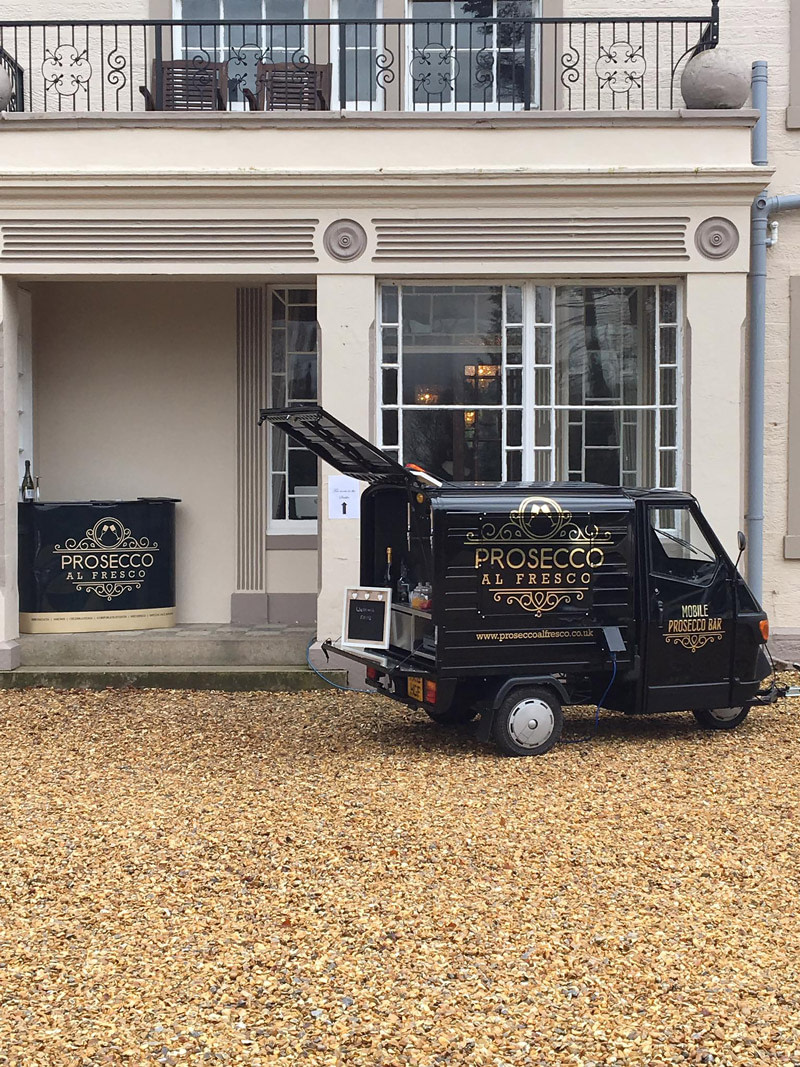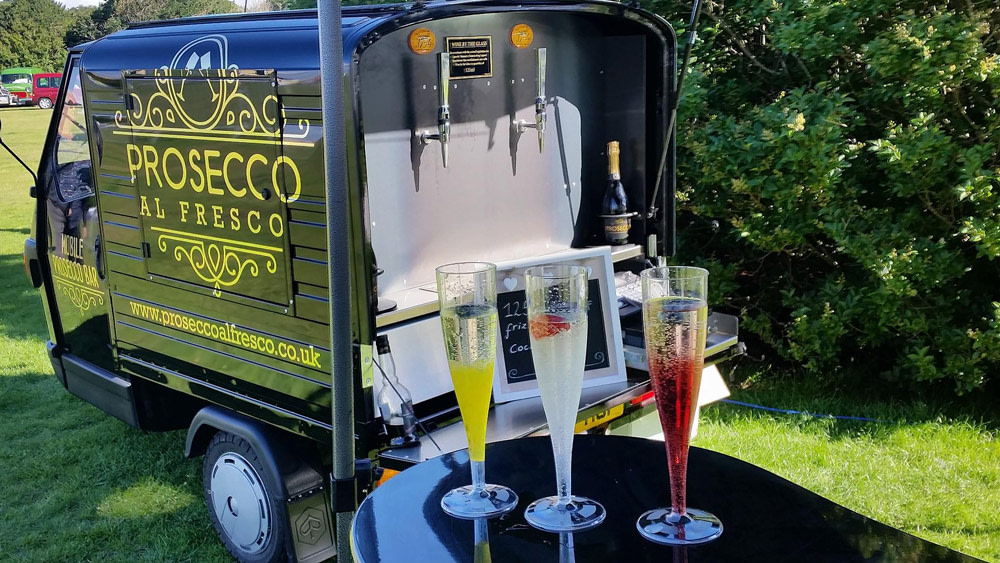 Prosecco Al Fresco combines the iconic Italian sparkling wine with bespoke service for a truly memorable event experience. Although established in the north west of England, the glamorous mobile drinks van is ready to travel and deliver fizz on tap at special occasions all over the country.
Ranieri's Prosecco Bar, UK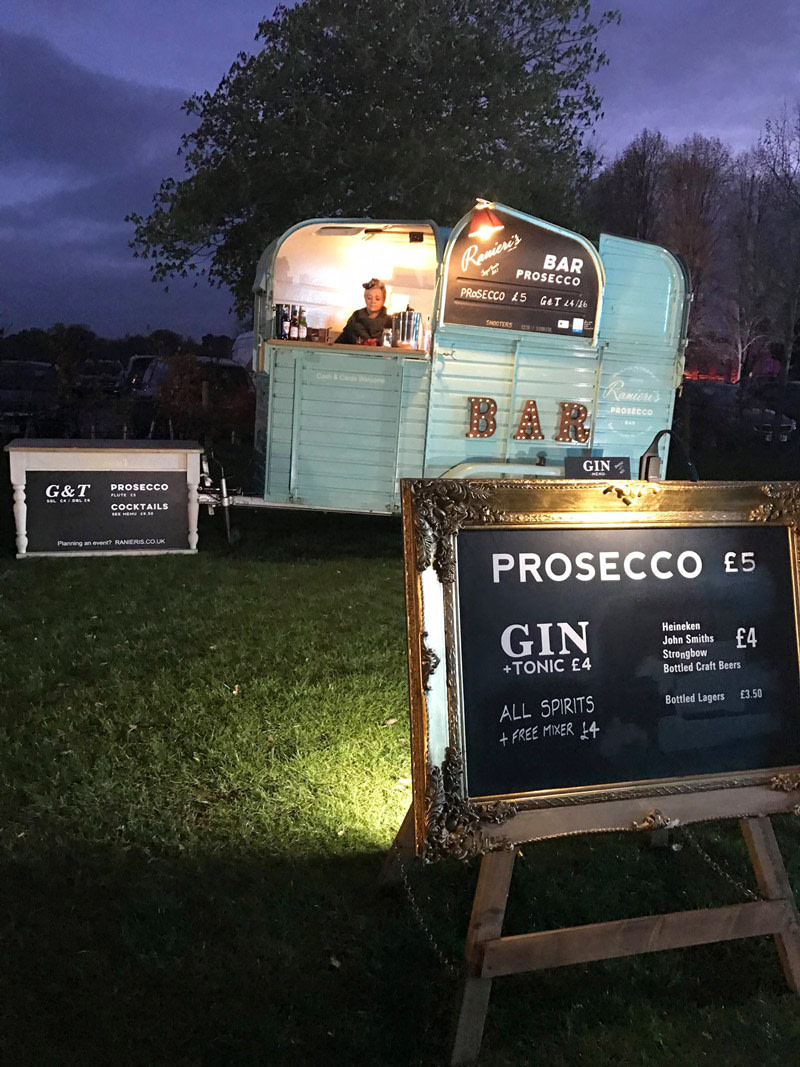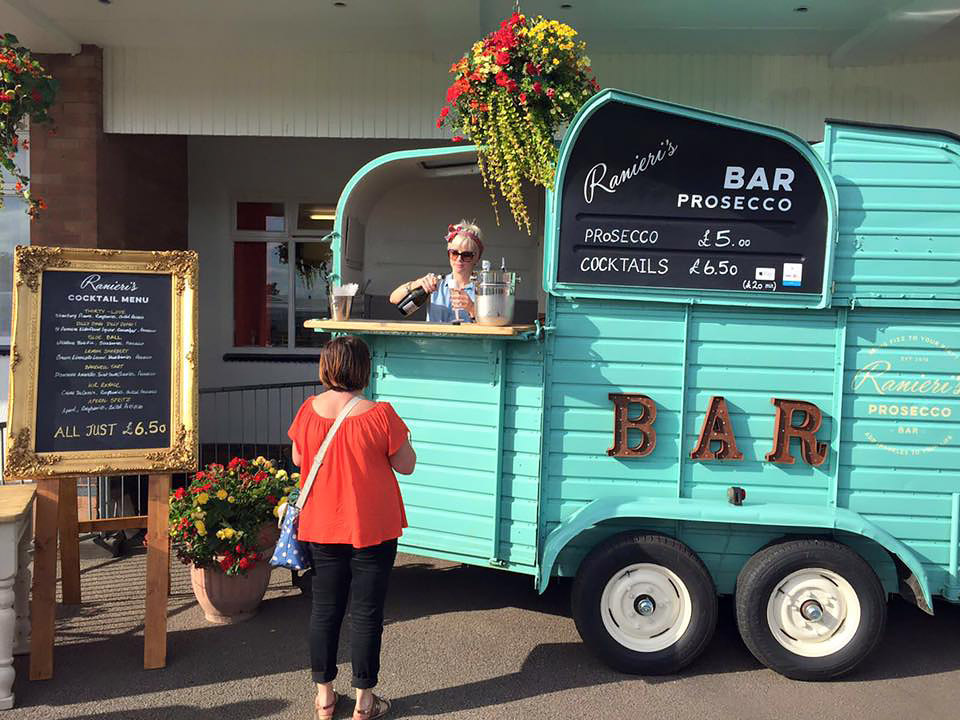 Decorated with chic retro wallpapers, nostalgic Eddison bulbs, and reclaimed Victorian Distillery flooring, Ranieri's Prosecco Bar is every bit as bubbly as it is good-looking. The refashioned vintage horse box is available for sporting events, parties, and festivals throughout the UK, where it serves everything from Prosecco and Prosecco cocktails to Champagne to Gin and Tonics. More than just delicious booze, Ranieri's can also provide your event with a cool hay bale cocktail lounge together with waitress service.
Prosecco Pronto, Wales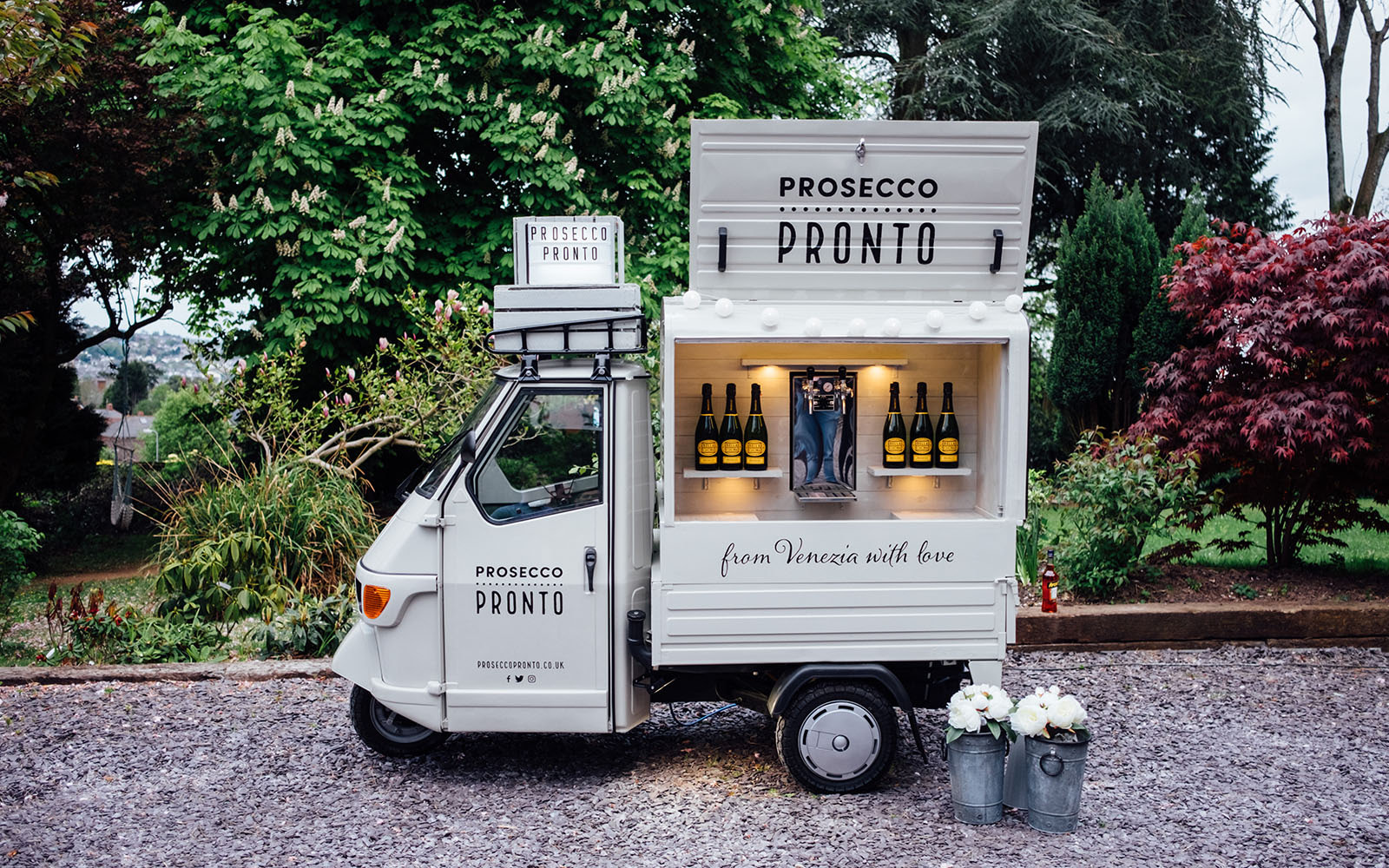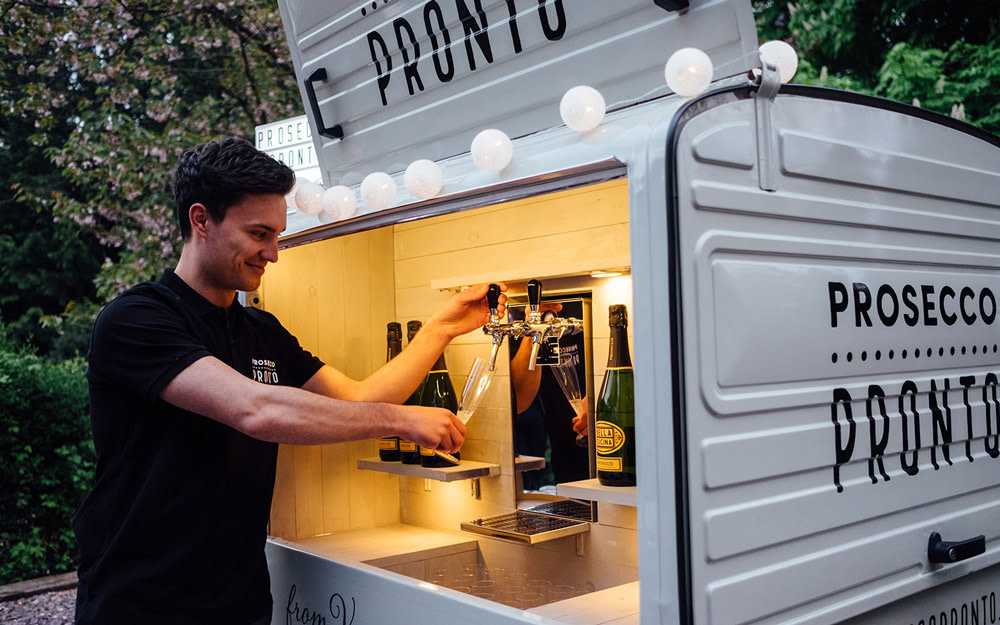 A family-run business, Prosecco Pronto operates in Wales, where its serves bubbles – read 100% Glera frizzante – at weddings, festivals, garden parties, and almost any type of event you may be planning. Funky, retro, and effortlessly stylish, this 3 wheeled Piaggio Ape turned mobile fizz wagon is like a tiny slice of Italy on wheels. They also offer a range of refreshing Prosecco cocktails, including Bellini, Rosecco, and lemony Sorrento Sparkle.
Fizzy Fellows, South West England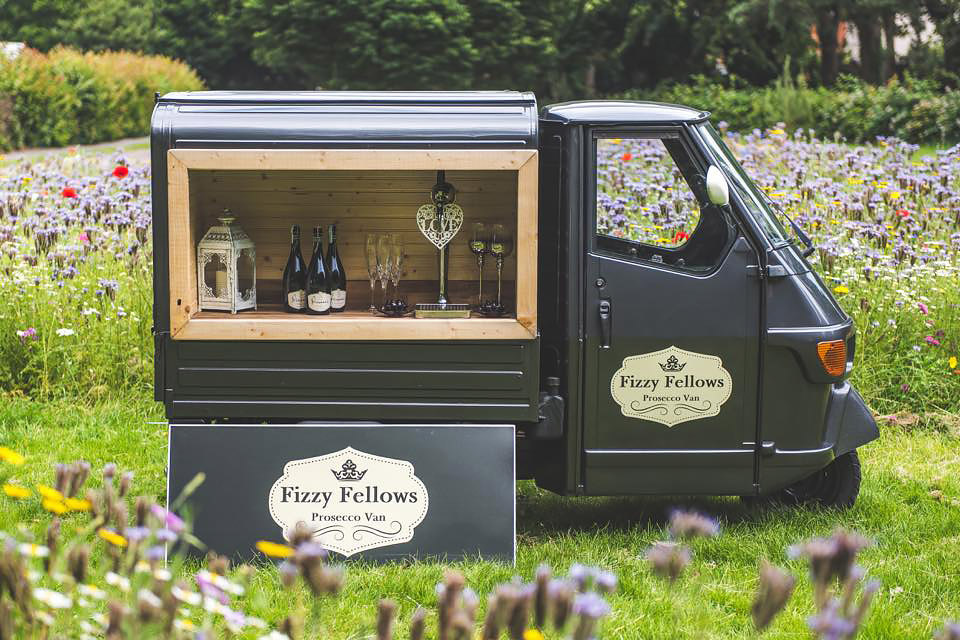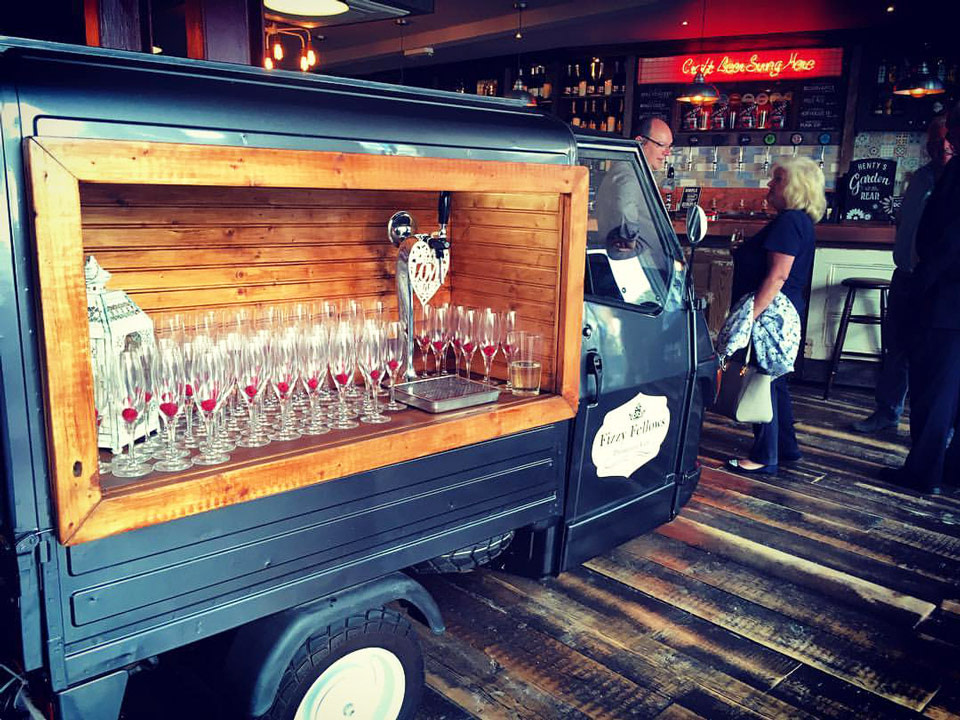 Based in Dorset and run by two sisters, Fizzy Fellows is the first licensed Prosecco mobile bar in the South West of England. Nevertheless, the quirky little van supplies the best bubbles on tap to weddings, festivals, and private parties almost everywhere across the nation.
The Lovely Bubbly Co, England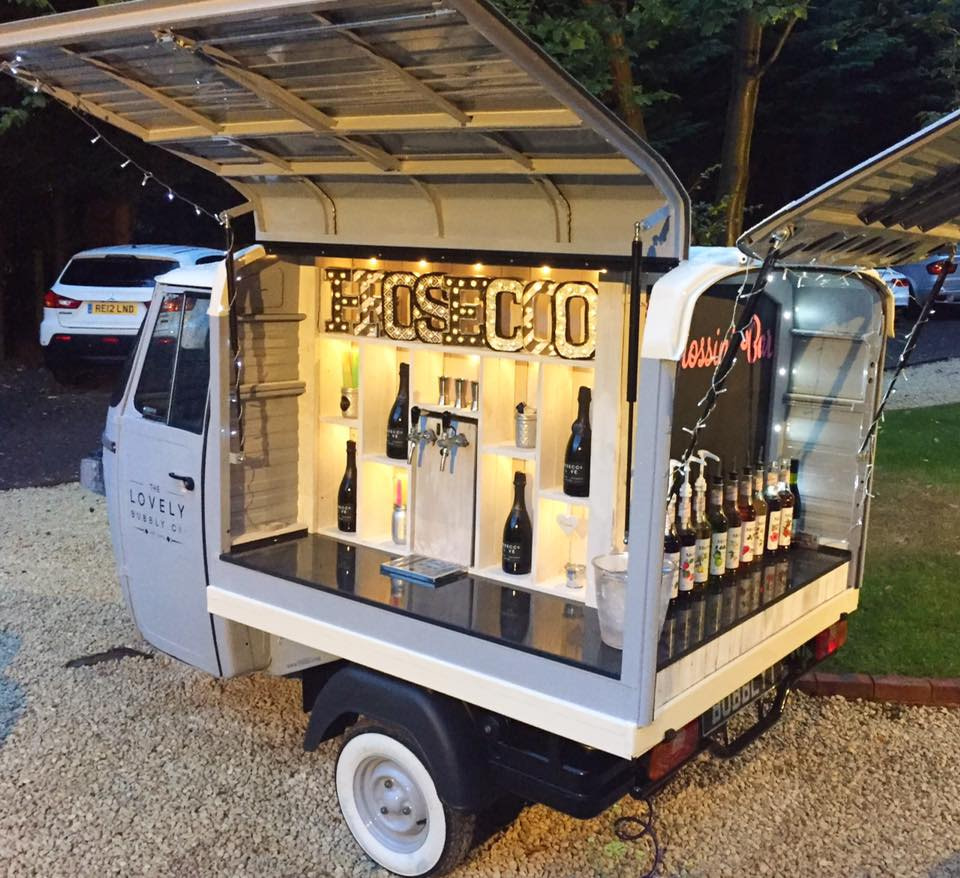 Looking to bring that wow factor to your next event? With its impossibly pretty design and bespoke service, The Lovely Bubbly Co will surely make a long lasting impression among your guests. As well as light and fizzy Italian wine on draught, the gorgeous Prosecco van also offers a full bar service with delightful cocktails, self-branded Prosecco bottles, and lots of creative signature drinks.
Chin Chin Prosecco Van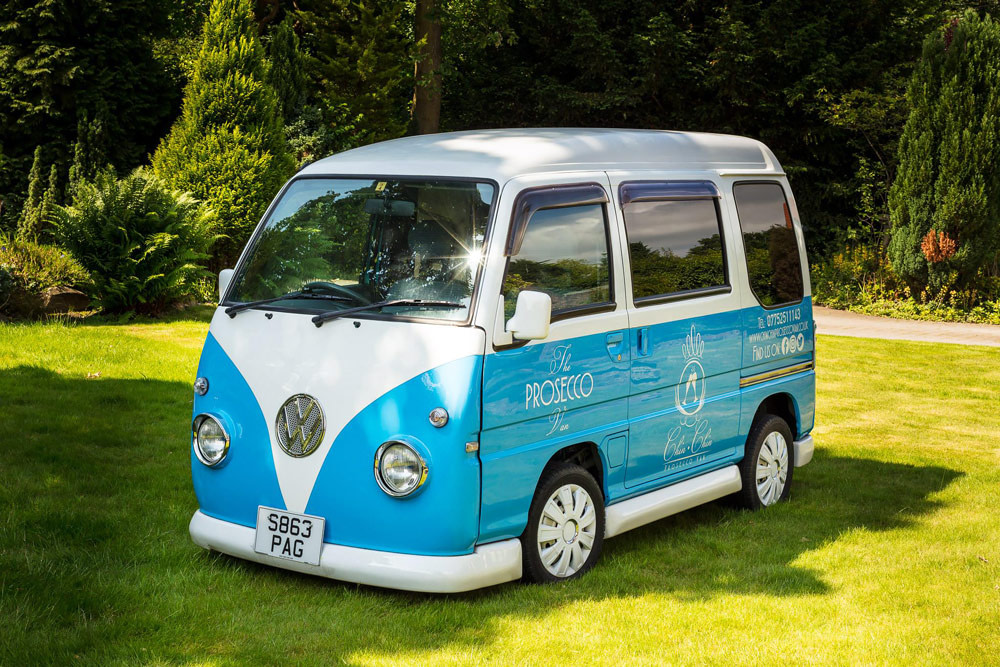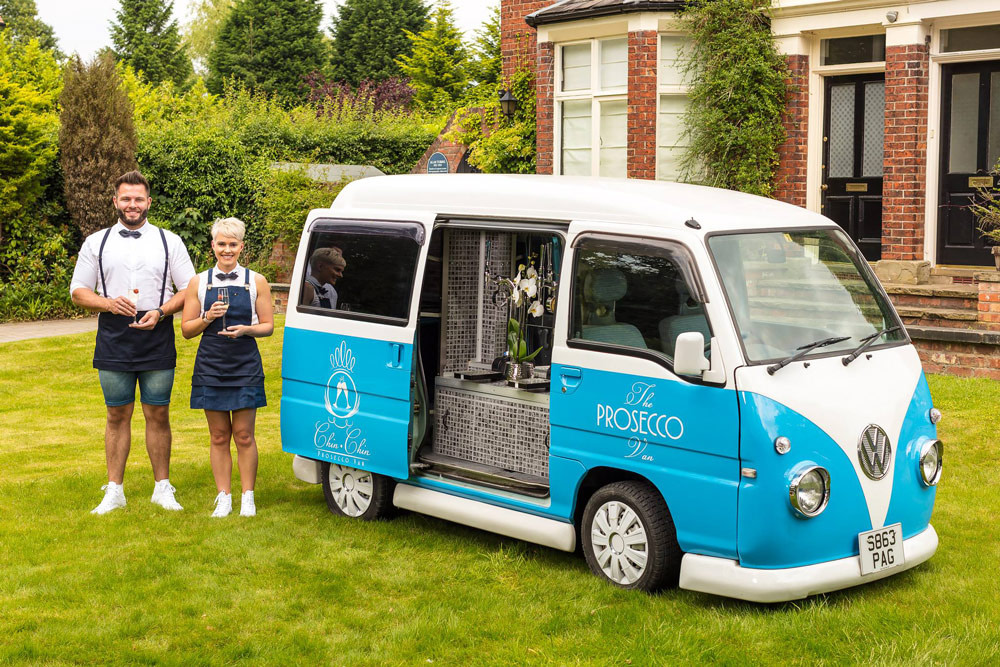 If a retro VW camper van seems more your style, get in touch with Hayley & Ben, the lovely Manchester based couple behind the Chin Chin Prosecco Van. The free-spirited hippie in you will love their characterful mini VW replica, which travels to weddings, festivals, and all sorts of events throughout North West England. Besides the famous Italian fizz, they also serve lager, cider, and mocktails.