This post contains affiliate links, which means we may receive a small commission, at no additional cost to you, if you make a purchase through these links. See our full disclosure here.
Ever wondered what sleeping in an igloo feels like?
Forget the familiar charm of alpine lodges; picture yourself instead wrapped in opulent furs, sipping on a glass of vintage champagne, as you gaze through walls of crystalline ice. Serene landscapes blanketed in soft, powdery snow play as a backdrop while the Northern Lights dance overhead.
Winter's chill meets unparalleled luxury in Europe's most exquisite igloo hotels. More than just mere accommodations, these are sanctuaries of indulgence, combining creative design with elemental beauty and memorable activities to offer you a transcendent winter escape.
Beyond the lavish interiors lies an even grander spectacle. Each igloo serves as your private observatory to the Northern Lights or a starlit alpine sky, promising an experience that eclipses any winter vacation you've ever known.
Check out our selection of the best igloo hotels in Europe and see why this unique winter getaway experience deserves a top spot on your bucket list.
Aurora Queen Resort, Finland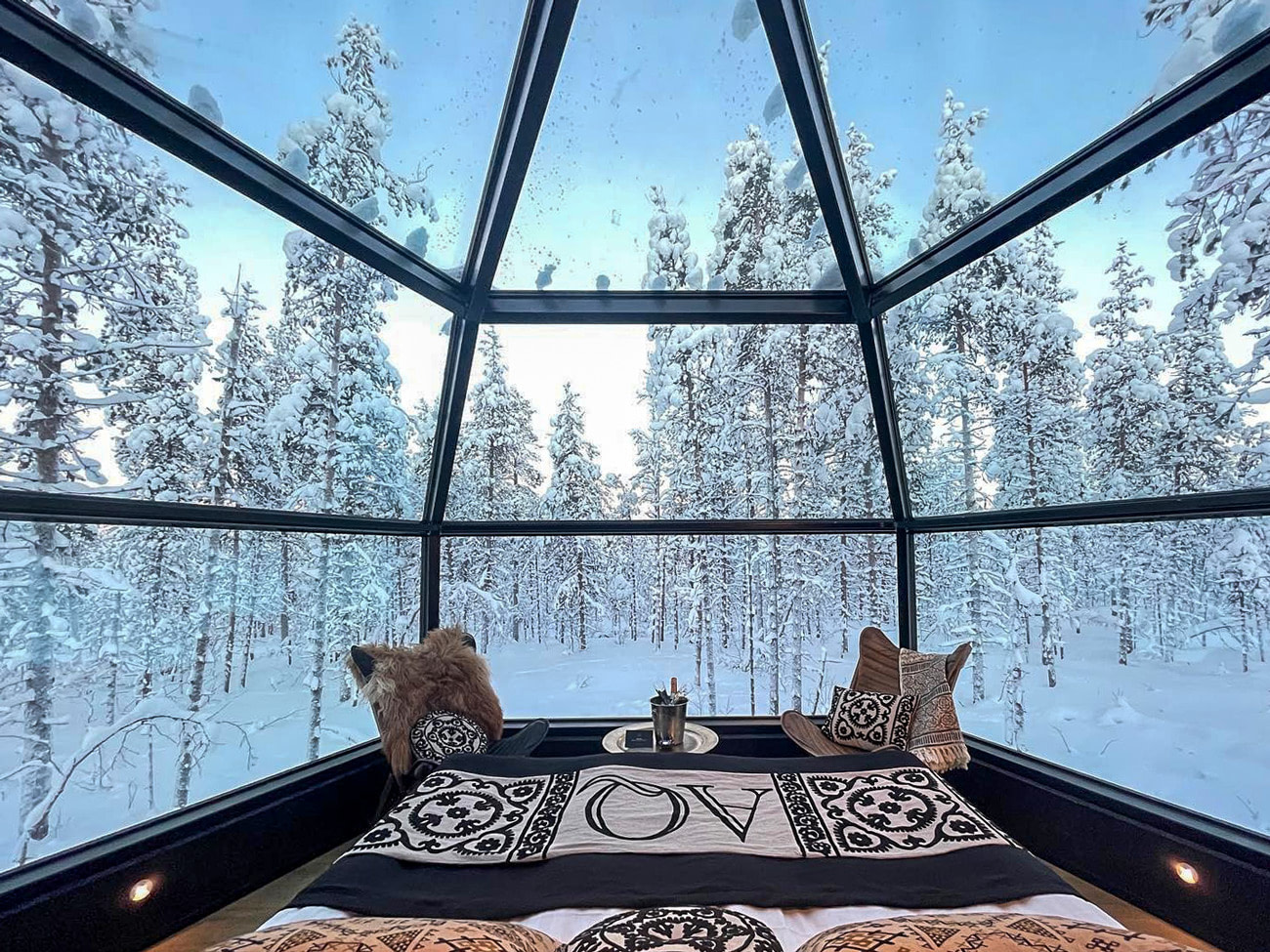 Set against the backdrop of Finland's pristine wilderness, Aurora Queen Resort is a curated experience for the senses. Imagine plush, eco-friendly cabins decked out with bespoke Finnish design, each offering a slice of serenity amidst the expanse of snowy forests. Soft lighting and luxe furnishings underscore a sense of intimacy, making each cabin a personal oasis where modern comforts meet natural beauty.
But the pièce de résistance of Aurora Queen Resort has to be their glass igloos, designed to elevate your Northern Lights experience to celestial heights. These architectural marvels blend seamless luxury with an unobstructed panorama of the sky. Lie back in your sumptuous bed and witness the Aurora Borealis perform its nightly ballet, all from the coziness of your own glass dome.
Sorrisniva Igloo Hotel, Norway
In the frozen reaches of Finland's wilderness, Sorrisniva Igloo Hotel redefines the concept of cool luxury. Carved anew each winter, these sculptural ice rooms are artistic endeavors as much as they are accommodations. Drift into sleep enveloped in reindeer hides and expedition-grade sleeping bags, all while being surrounded by translucent walls that glow in the soft luminosity of hidden LED lights. Here, each room is a frosty canvas that captures the essence of the Arctic's serene beauty.
Beyond the ice walls, Sorrisniva extends its tapestry of experiences into the pristine Finnish landscape. The stillness of the surrounding forest and the frozen river nearby become a natural playground for the adventurous spirit. From husky sledding to ice fishing, the resort offers curated experiences that embrace the Arctic's rugged charm.
Kakslauttanen, Finnish Lapland
If sleeping in a traditional igloo is not exactly your thing, Kakslauttanen Arctic Resort provides a wonderful alternative.
Set high up above the Arctic Circle, in a remote corner of Finnish Lapland, the sprawling complex boasts various types of accommodation, including luxurious log cabins, snow igloos, traditional Lapland houses, and glass igloos whose unique design allows guests to see the Northern Lights from the comfort of their own bed.
In addition to a restaurant, the resort offers smoke saunas, ice swimming, as well as an endless variety of winter activities.
Santa's Hotel Aurora, Finland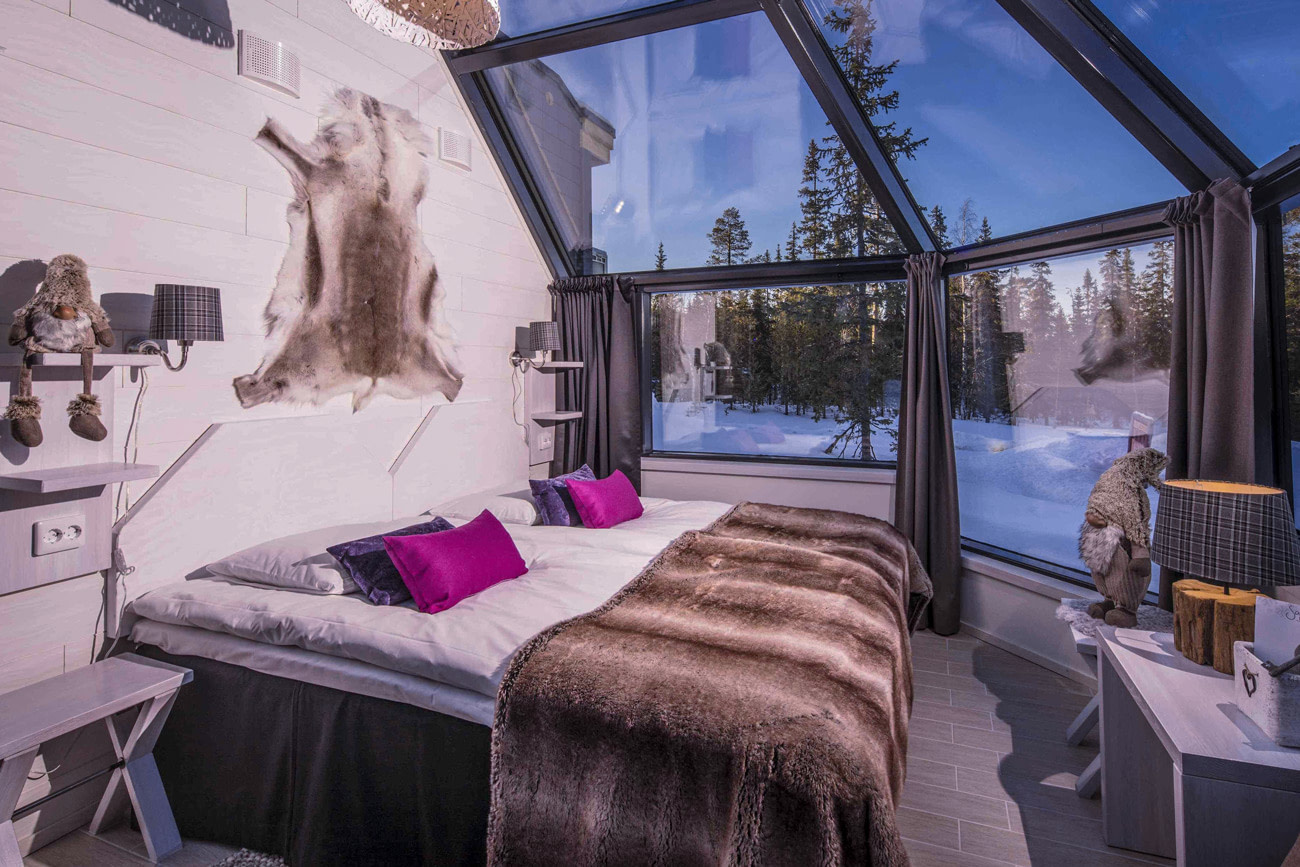 Tucked away in the Arctic splendor of Luosto, Santa's Hotel Aurora's glass igloos are an ethereal retreat where luxury meets natural wonder. As you step inside these architectural marvels, you're enveloped in sumptuous furnishings and state-of-the-art amenities. Uninterrupted views of the sky elevate your experience, providing a private theater for nature's most awe-inspiring show: the Northern Lights.
But the experience is not just visual; it's sensorial. Breathe in the crisp, pine-scented air as you sip on champagne, venture out to explore the pristine snow-covered landscapes during the day, and as evening falls, relish the exclusivity of your private observatory, where the majesty of the Arctic sky unfurls just for you.
Iglu Dorf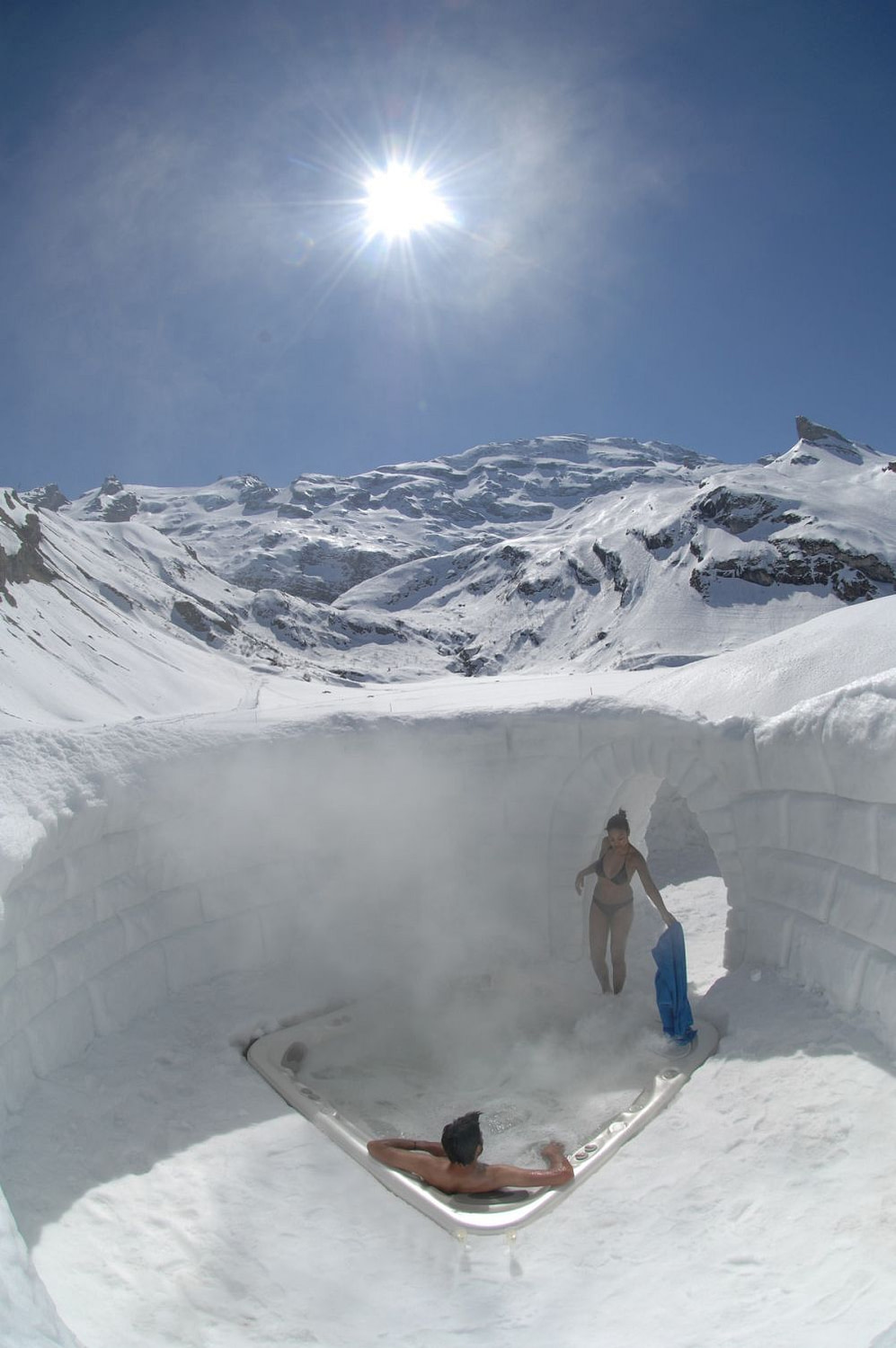 With various locations across the Alps and the Pyrenees, the German company Iglu Dorf is probably the first name that comes to mind when thinking of European igloo hotels. Rebuilt every season, these magical establishments made of ice and snow provide guests with some truly unique sleeping experiences.
From Zermatt to Andorra, each of their five igloo villages is beautifully decorated in a different art theme every year and includes a treasure trove of perks, from snow parks and snow bars to outstanding saunas.
Igloo Åre, Sweden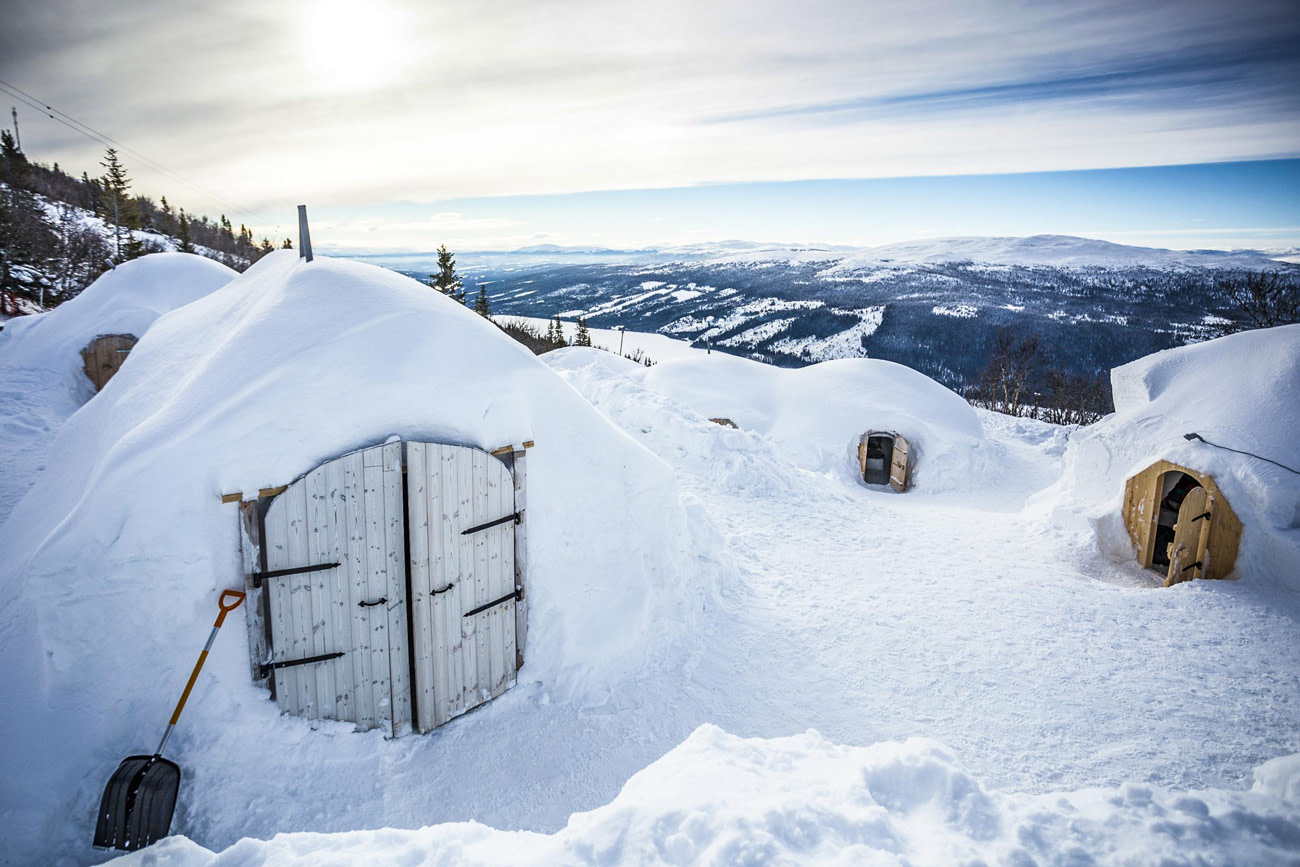 Nestled amidst the snow-draped peaks of Åre, Igloo Åre transforms icy minimalism into luxe hideaways. All shelters come with plush furs and modern amenities, and as evening falls, ambient lighting casts a soft glow on the snow walls, elevating the experience.
But the allure of Igloo Åre doesn't end at your icy threshold. Step out under the expansive Swedish sky, and you might be greeted by a breathtaking performance – nature's own light show. The Northern Lights often paint the night in otherworldly hues, making your stay not just a cozy retreat, but a front-row seat to one of the Earth's most awe-inspiring spectacles.
ALPENIGLU Igloo Village, Austria
If you're looking for igloo lodging with a luxurious twist, look no further than the fascinating ALPENIGLU village in the Kitzbühel Alps. The 18 ice-carved accommodations come appointed with warm sleeping bags and reindeer skins, and also include VIP igloo suites that can be arranged and decorated for your romantic escape.
A destination in its own right, the complex is home to an ice bar, a fabulous ice sculpture exhibition, various exciting events, and a beautiful igloo church where weddings can be organized.
Eskimo Village, Slovenia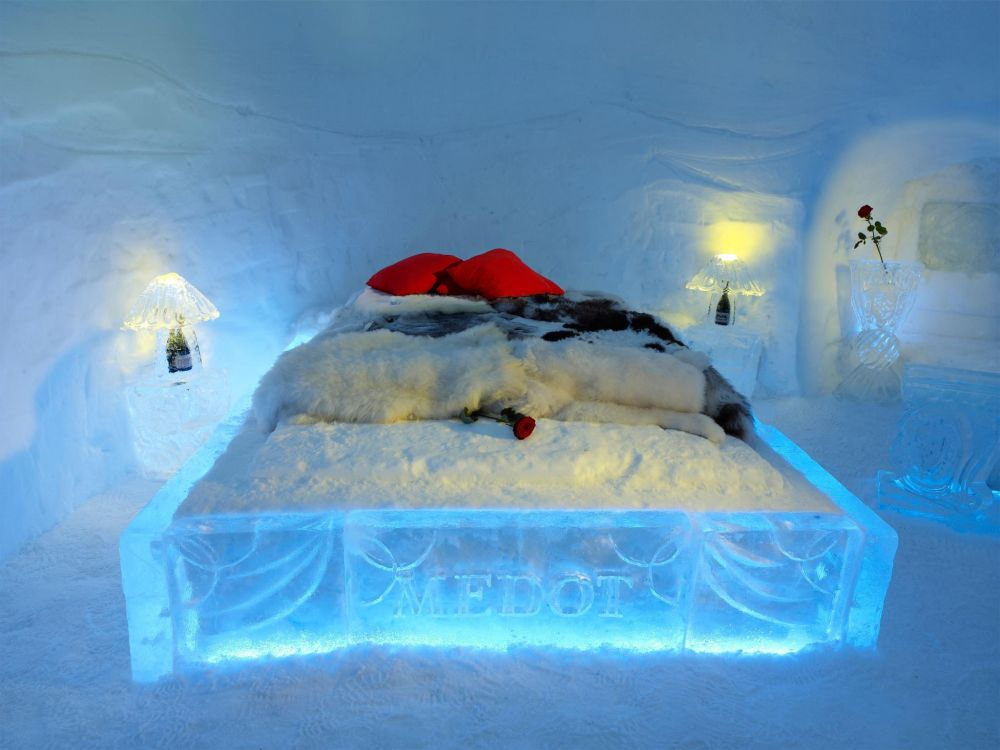 Conveniently located in Krvavec, Slovenia's second-largest ski resort, Eskimo Village welcomes its visitors with an igloo restaurant, an igloo bar, and an igloo sauna.
Designed to accommodate up to 34 overnight guests, the igloo suites come equipped with beds crafted from blocks of ice, sheep skins, and polar sleeping bags. The experience is complemented by excellent skiing and warming fondue dinners.
Golden Crown Levi Igloos, Finland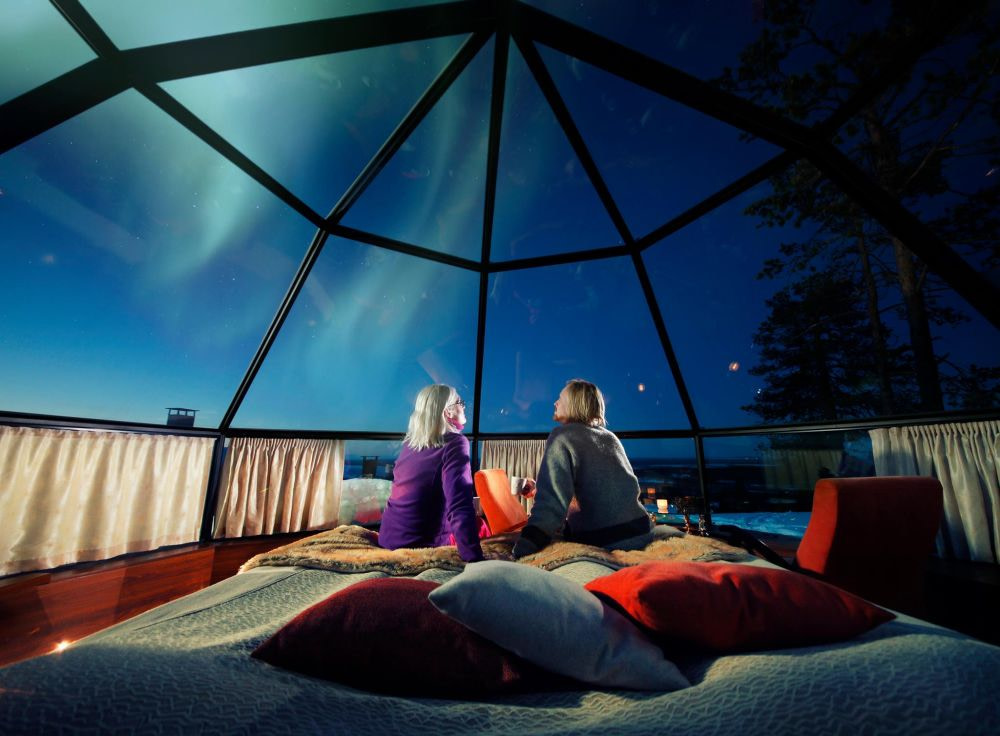 Although situated only 10 km away from Finland's largest ski resort, Golden Crown Levi Igloos feels miles away from civilization, offering guests the unparalleled opportunity to experience the stunning Arctic environment in all its magical beauty.
Accommodation is offered in 12 well-appointed glass-roofed igloos, from where you can comfortably admire the spectacular Aurora Borealis. Units ran from Superior to Premium, but all of them are heated and feature glass-domed ceilings and private kitchenettes.
Schneedorf Igloo Village, Austria
Perched at an altitude of 2,700 m in the Tyrolean Alps, Schneedorf Igloo Village has icy rooms for any occasion, from intimate pair suites complete with double sleeping bags, candles, and sheepskin rugs to spacious units sleeping four persons. Guests can also take part in a fun and exciting construction workshop and build their own igloo.