This post contains affiliate links, which means we may receive a small commission, at no additional cost to you, if you make a purchase through these links. See our full disclosure here.
With perfectly groomed ski slopes, Christmas markets enveloped in warming spicy scents, and snow-clad landscapes straight out of a storybook, Austria has all the makings of the perfect winter escape.
Scattered throughout some of the most stunning portions of the Alps and beyond, winter hotels in Austria offer access to premier skiing and thermal springs, as well as inspiring design, dreamy spas, and the height of luxury. Whether you're planning an annual trip with the family, looking forward to relaxing with friends, or want to enjoy a quintessential white Christmas, you're bound to find a few resorts that intrigue you here.
AQUA DOME – Tirol Therme Längenfeld
While this resort has all the winter sports you'd expect – snowshoe hiking, sledding, downhill, and Nordic skiing – you'll especially love this place if your idea of an après ski includes a dip in the tub.
As far back as the 1500s, the valley's thermal waters have been used for relaxation and healing. AQUA DOME has artfully constructed 12 indoor and outdoor basins that are fed by this natural thermal spring and added seven saunas and an elite spa to take your self-care to the next level.
WIESERGUT Hotel, Hinterglemm
Adjacent to the largest skiing and hiking area in the Austrian Alps, the Weisergut Hotel is the perfect mix of rustic charm and modern design, or as the proprietors deem it, "casual luxury".
When you're done skiing or snowboarding at the world-famous Skicircus Saalbach Hinterglemm Leogang Fieberbrunn ski area, you can take a dip in their infinity pool or relax in the Finnish sauna. If you like, you can have your farm-to-table meals delivered directly to your suite, and you'll be delighted to know that the farm is right outside your door.
Das Central, Sölden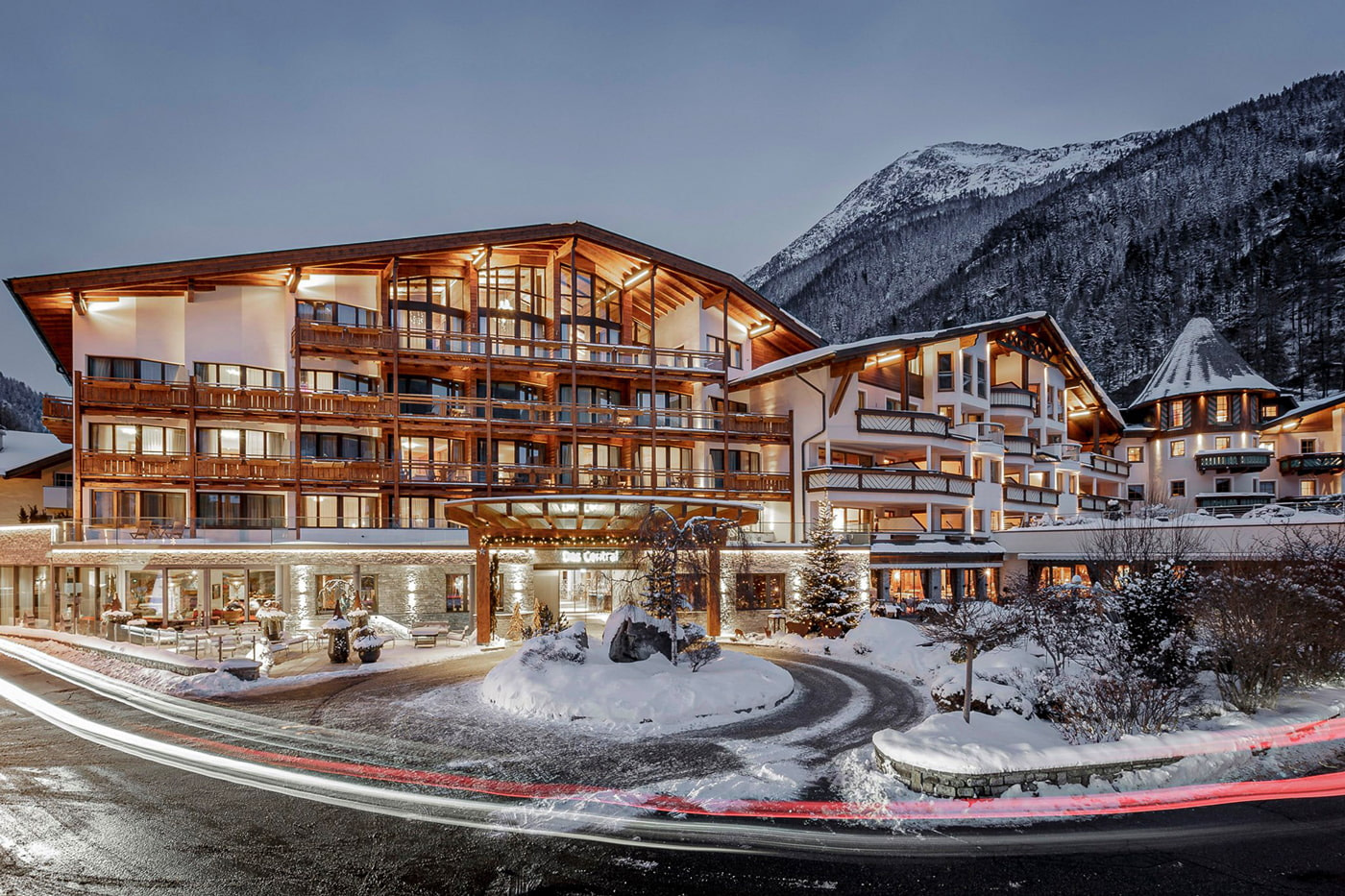 Part luxury property, part classic ski chalet, this five-star alpine resort looks like it was ripped straight out of a movie, because it was. Das Central was a shooting location for the 2015 James Bond film, Spectre. If you're a huge Bond fan, be sure to visit the mountaintop 007 Elements museum, a multimedia experience meant to make you feel as if you're immersed in the movie.
If you're already taking the gondola up to the museum, try to schedule it at a time you can visit the breathtaking Ice Q restaurant just next door. Sitting at an altitude of 3,048 meters on the summit of Gaislachkogl, this completely one-of-a-kind dining experience features panoramic views of the snow-capped Alps and a five-course gourmet meal.
Hotel Grand Ferdinand, Vienna
Right in the heart of Vienna sits Hotel Grand Ferdinand, a property that celebrates the confluence of contemporary design and all things classic Austria. An appreciation for true beauty exudes throughout the property, permeating every corner of their guest rooms and suites, their garden courtyard oasis with its Burggarten-inspired hothouse, and even their meticulously curated wine list.
To honor their impressive location, the rooftop, known as the Grand Étage, features an outdoor heated pool that's available year-round. From it, you'll have a prime view of central Vienna and the Ringstraße just below. The staff is more than happy to supply you with plenty of fluffy towels, a bathrobe, and slippers when you've finished enjoying your dip on the veranda.
SEPP, Maria Alm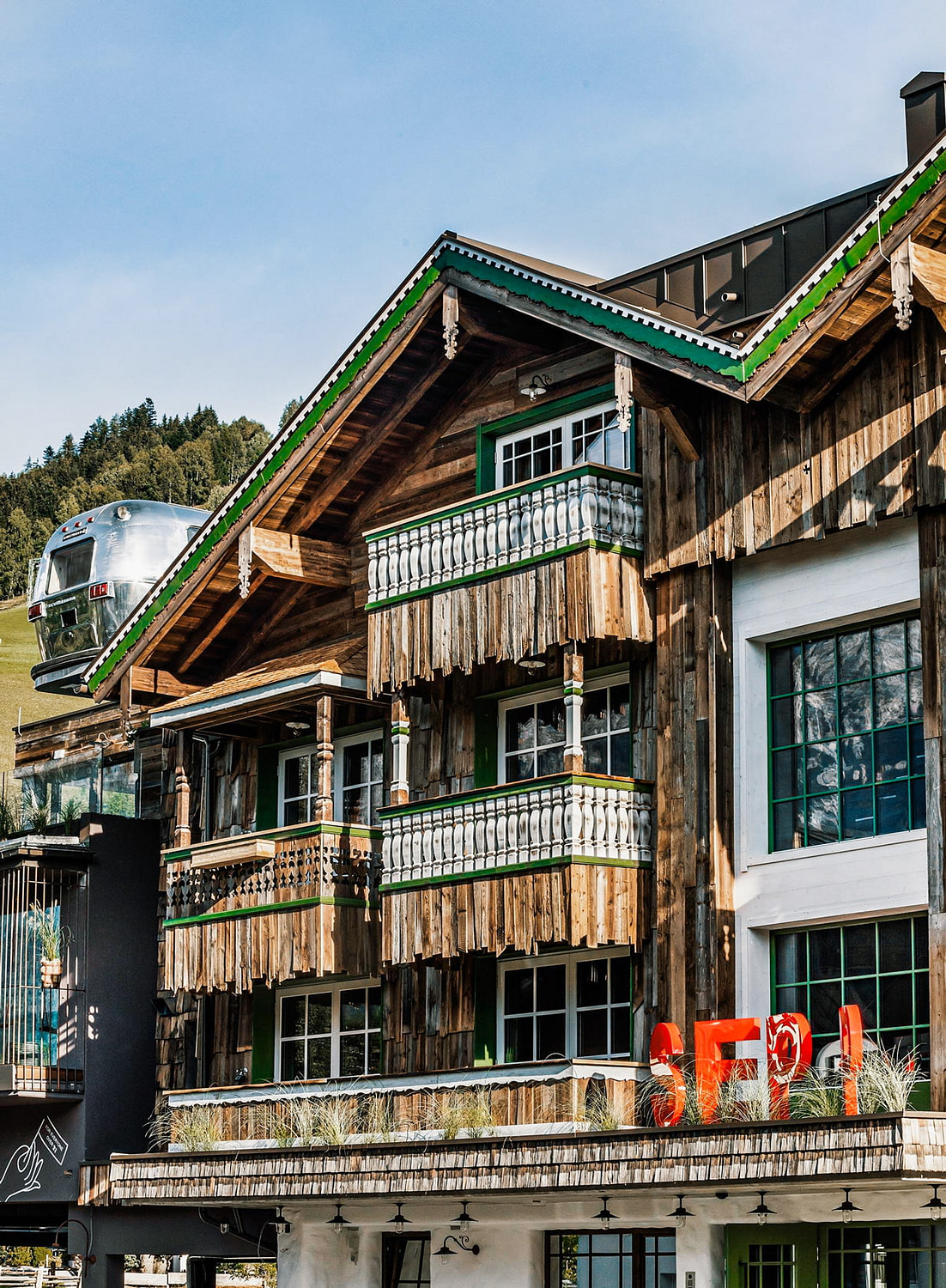 This expertly crafted, perfectly hip, and strictly adults-only resort is the answer for anyone seeking a getaway but still wanting to be social. SEPP's motto is "together in the middle", and while they pride themselves on their effortlessly cozy rooms, they strive to give guests a feeling of togetherness in their common spaces.
A favorite place to hang out on the property is the rooftop, where you'll find the lounge – a charming loft and bar where you can unwind with a cocktail or a game of billiards. Right outside is a thermal infinity pool and a sauna built into a gorgeous AirStream trailer, all overlooking the vast expanse of the famous Stone Sea: a high-altitude mountain plateau made of solid rock.
Alpeniglu Village, SkiWelt Wilder Kaiser-Brixental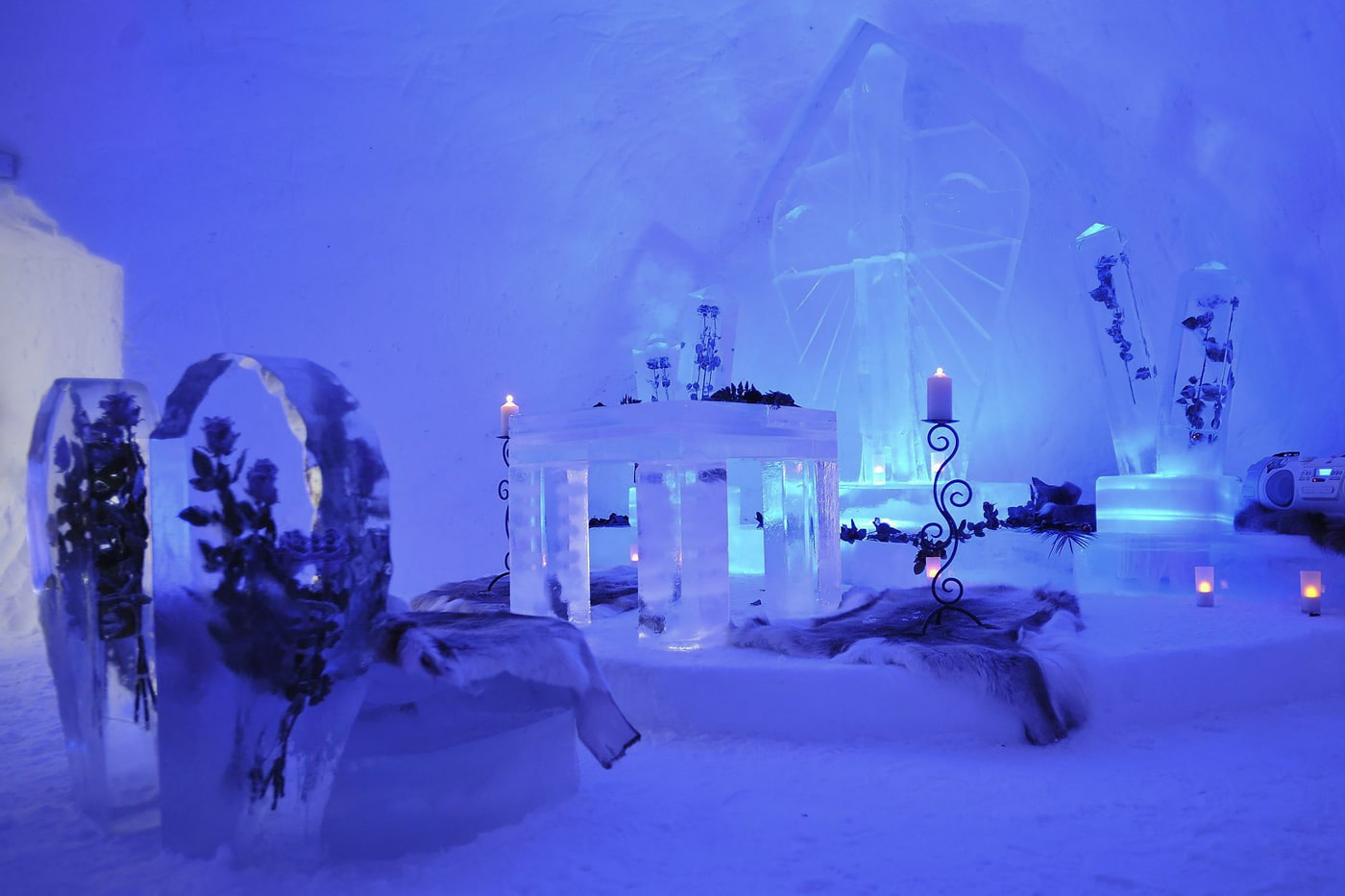 If you've ever wondered what it was like to sleep in a snow cave, now's your chance. Rebuilt every year in the winter just adjacent to the SkiWelt Wilder Kaiser Brixental ski resort, this snow-white winter wonderland is composed of one large main snow fort, which holds the Ice Bar and restaurant, and seven much smaller ones that each sleep two guests.
Booking a night at Alpeniglu is an entirely choreographed experience, including dinner, a tour of the ice sculpture garden, and even an opportunity to try ice sculpting yourself! After some nighttime fireside revelry, you can retreat to your private igloo equipped with a fur-lined bed, a lockable door, and even electricity for a cozy sleep.
Zhero Hotel Ischgl/Kappl
With its stunning, warm design contrasted against the chilly mountain landscape outdoors, you may never want to leave the lush Zhero Hotel. This property has all the amenities of a traditional ski resort – pool, spa, and right by the slopes – but imbues it with a stylishness that still maintains your comfort as paramount.
While there are two fine-dining restaurants on the property, it's the famed Minotti Lounge that really shines. This bar is tended by expert mixologists who have compiled an exquisite menu of cocktails and would be happy to recommend something you're sure to enjoy from their extensive wine list. After you grab a drink, be sure to leave plenty of time to enjoy it by the fireplace; most likely, you won't want to leave.
Aurelio, Lech am Arlberg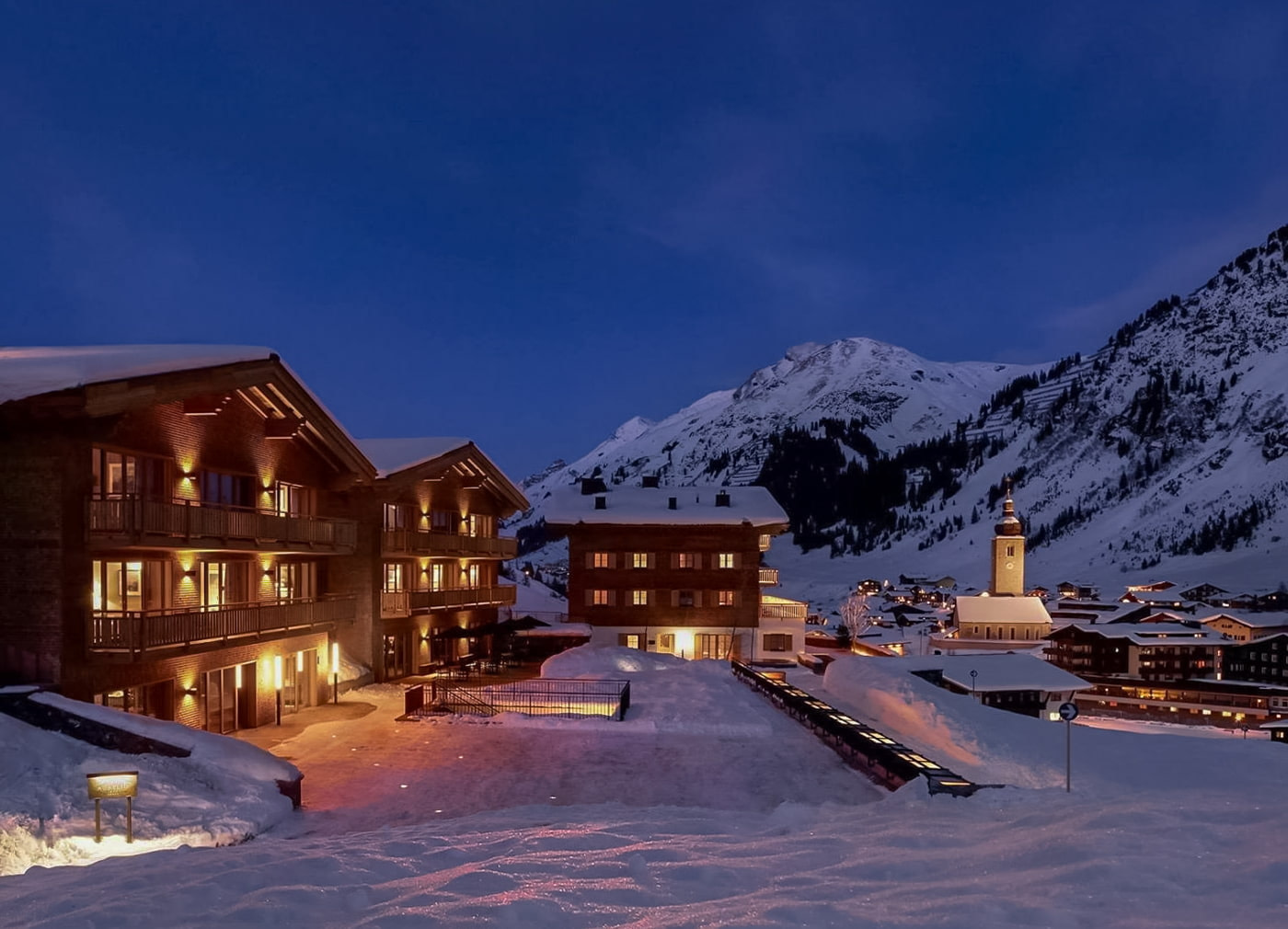 This boutique ski chalet makes up for what it lacks in size – it only has 18 rooms – with rustic opulence. Even though this is a five-star property, Aurelio maintains a natural vibe with exposed wood and an unpretentious design to make you feel right at home.
The ethos of this resort is about catering to your every whim. Whether you're looking for a ski instructor, a masseuse, or even a babysitter to watch the kids while you're out on the slopes, the staff here can arrange it for you. With a Bentley shuttle, helicopter transport, and a concierge waiting to attend to your every need 24 hours a day, this place is for those who don't want to have to lift a finger.
Jagdhof SPA-HOTEL, Stubai Valley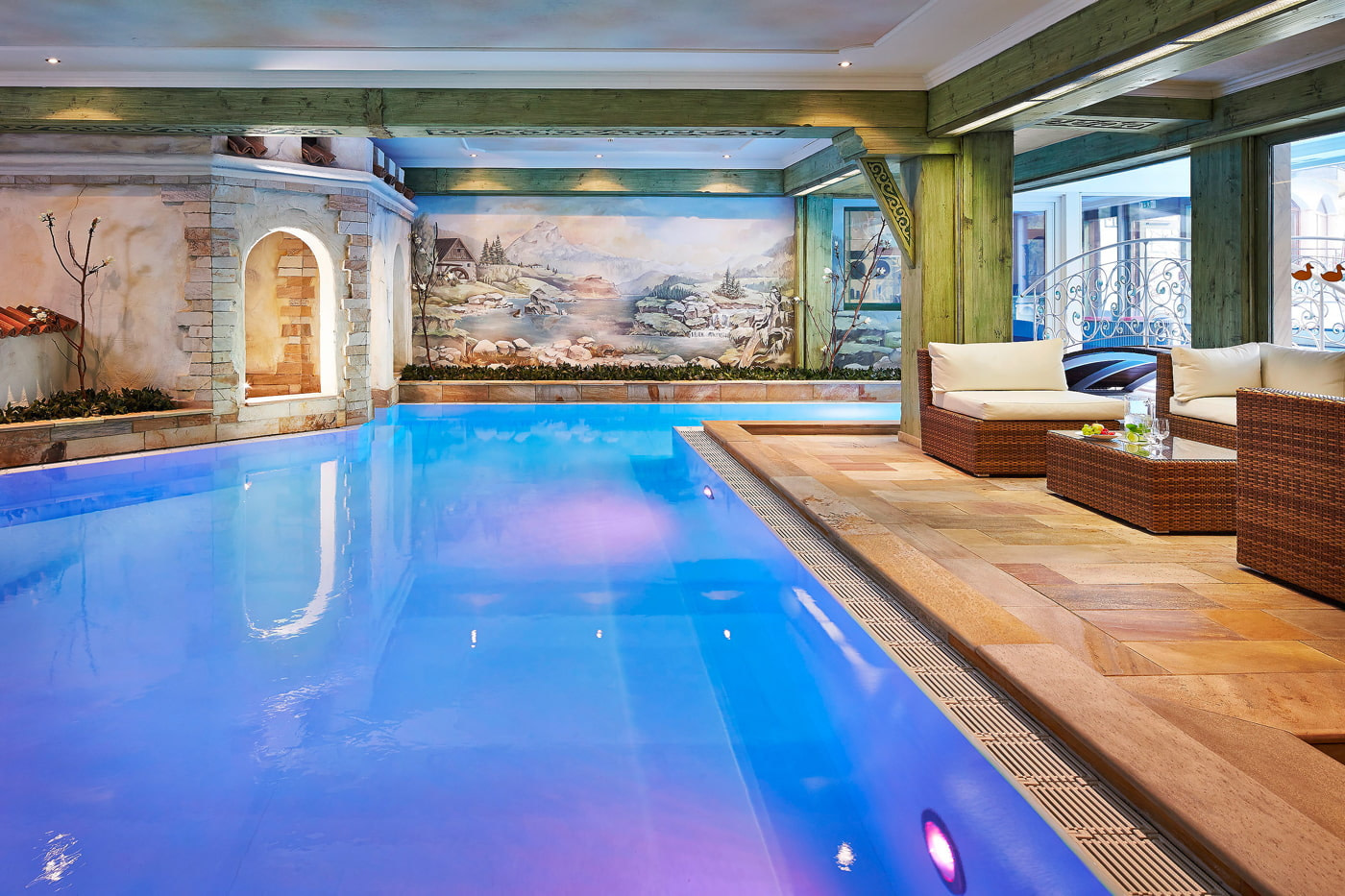 While you'll certainly find skiing and dining, this five-star resort is all about wellness. This is the perfect place to indulge in relaxation and self-care in their world-class spa and cap off your night with a cheeky bottle from their extensive wine cellar.
The award-winning spa at Jagdof is renowned throughout the country because here you'll find only premium fixtures, the finest accouterments, and the most skilled staff who can carefully primp and preen you to your heart's content.
Hotel Schloss Mittersill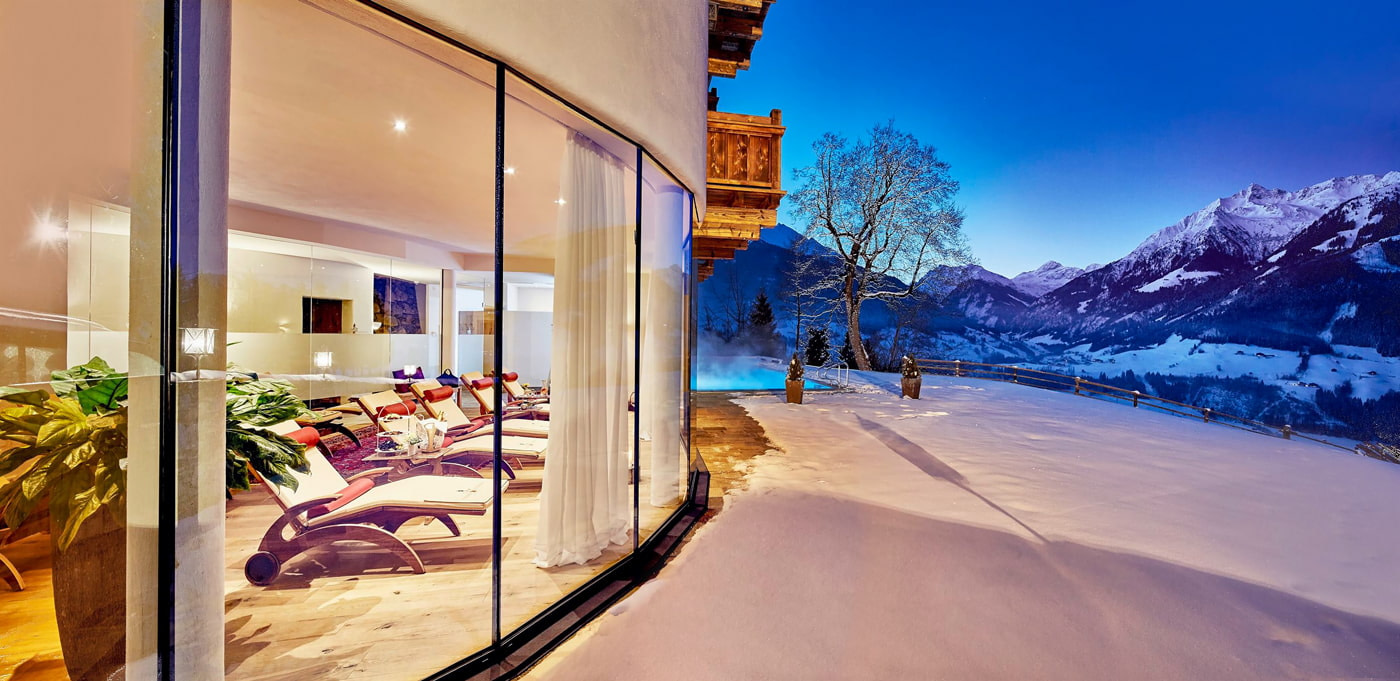 Tucked away in the Hohe Tauern National Park, Hotel Schloss Mittersill is all about tradition, grandeur, and classic hospitality. Originally built in the 12th century as a castle stronghold to protect a nearby road running through Bavaria, this property has changed hands many times before becoming the resort it is today.
Long been the site for the diversions of the rich, famous, and powerful, many of the rooms here are named after the queens, kings, and even movie stars who have visited. If you, too, would like to feel like royalty, try booking a room here over the Christmas holidays, when you'll find warm mulled wine, fabulous Christmas decor inside and out, and a chance to visit charming Christmas markets.
Hotel Tannenhof, St. Anton am Arlberg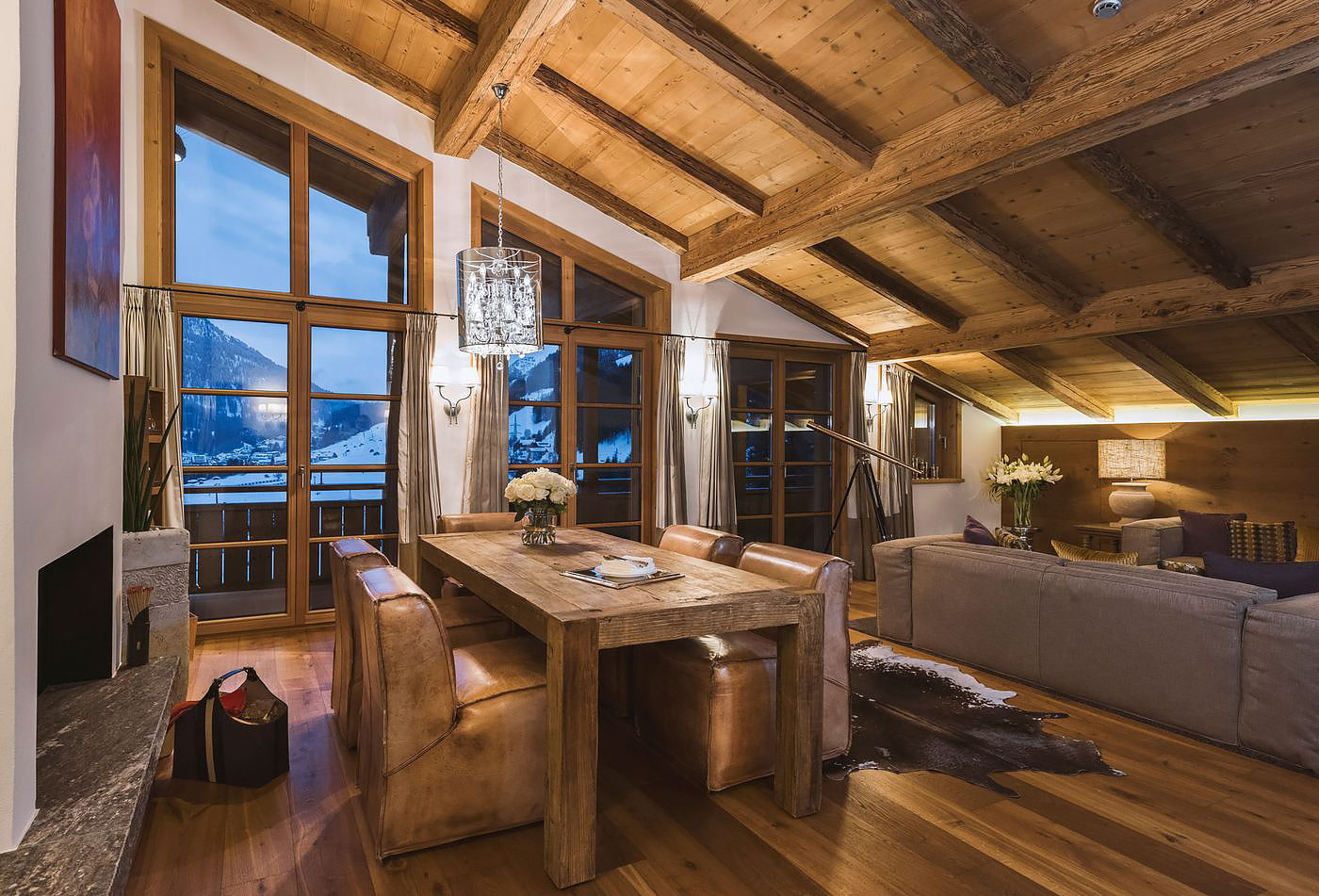 The luxury boutique hotel Tannenhof is just isolated enough to feel ultra-romantic, so this may be the ideal getaway for you and your sweetheart.
For the perfect couple's retreat, you may want to indulge in the master suite, which boasts two bathrooms and even a separate office. This all wraps around an extra-large dining table to enjoy the haute cuisine you can have delivered right to your room.
Hotel Sacher Salzburg
Located in the heart of Salzburg, Hotel Sacher is as gorgeously attended as it is designed. You'll easily be able to book concert tickets, get a restaurant reservation, or a private car service at the ready with the help of their experienced staff.
For the ultimate winter retreat, book the Sacher Sky Suite: an exclusive penthouse with floor-to-ceiling windows and a private balcony that offer incredible views of the snow falling softly on a picturesque Salzburg. Designed by the renowned Pierre Yves-Rochon, this is the largest self-contained suite in all of Mozart's birthplace.
Hotel Severin*s, Lech am Arlberg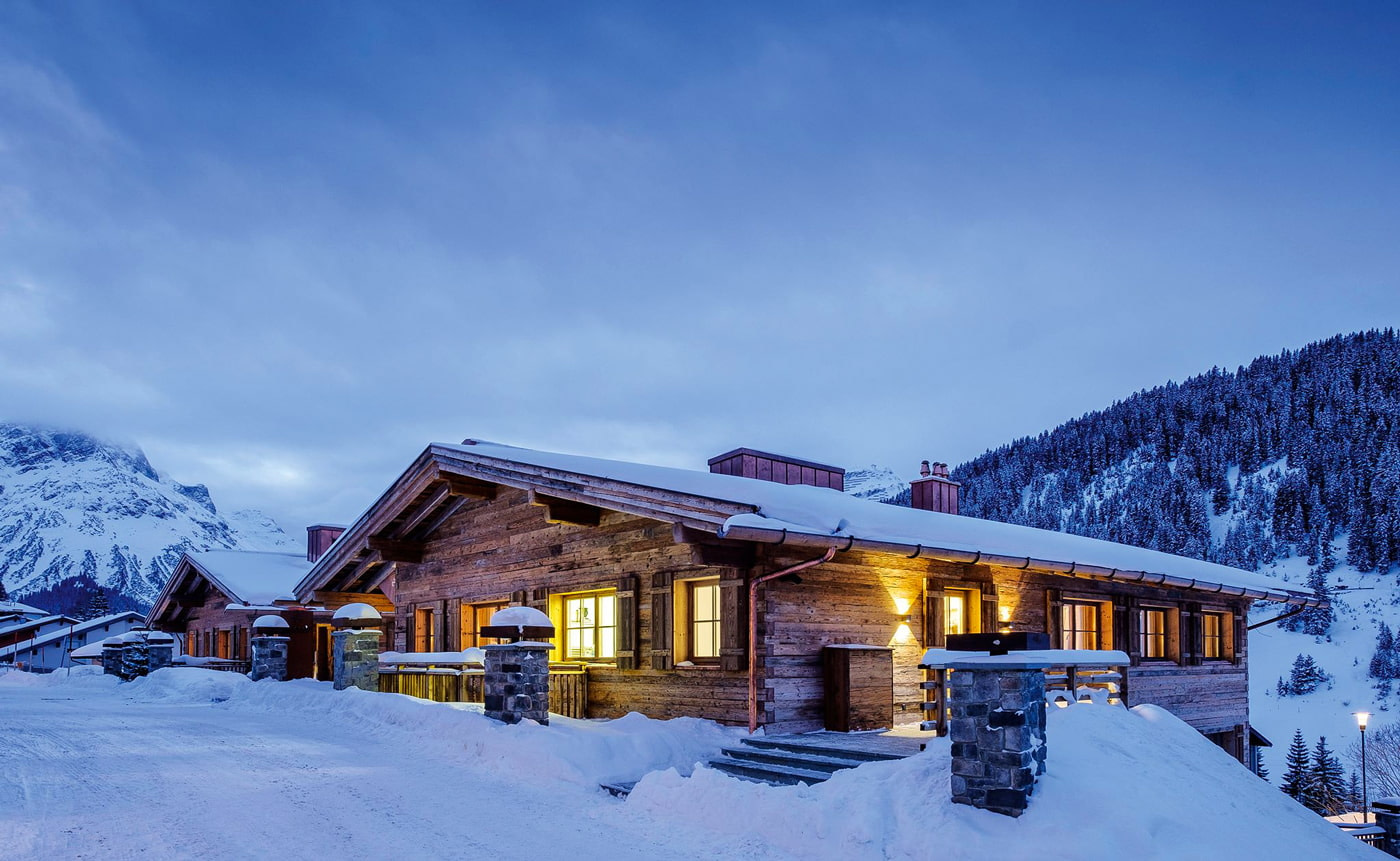 With picturesque views from their quaint vantage point on a mountain slope, Hotel Severin*s in Lech is waiting to cater to your every need. You'll find many pieces of "technical luxury" in its rooms and suites, like Loewe televisions, Revox sound systems, and iPads integrated into the walls to control everything.
During your visit, you'll enjoy the personal touches that set this property apart, like your own personal, heated locker in the ski room, individual air-conditioning and humidification system, and the welcome champagne you'll find in your suite when you check-in.
mama thresl, Leogang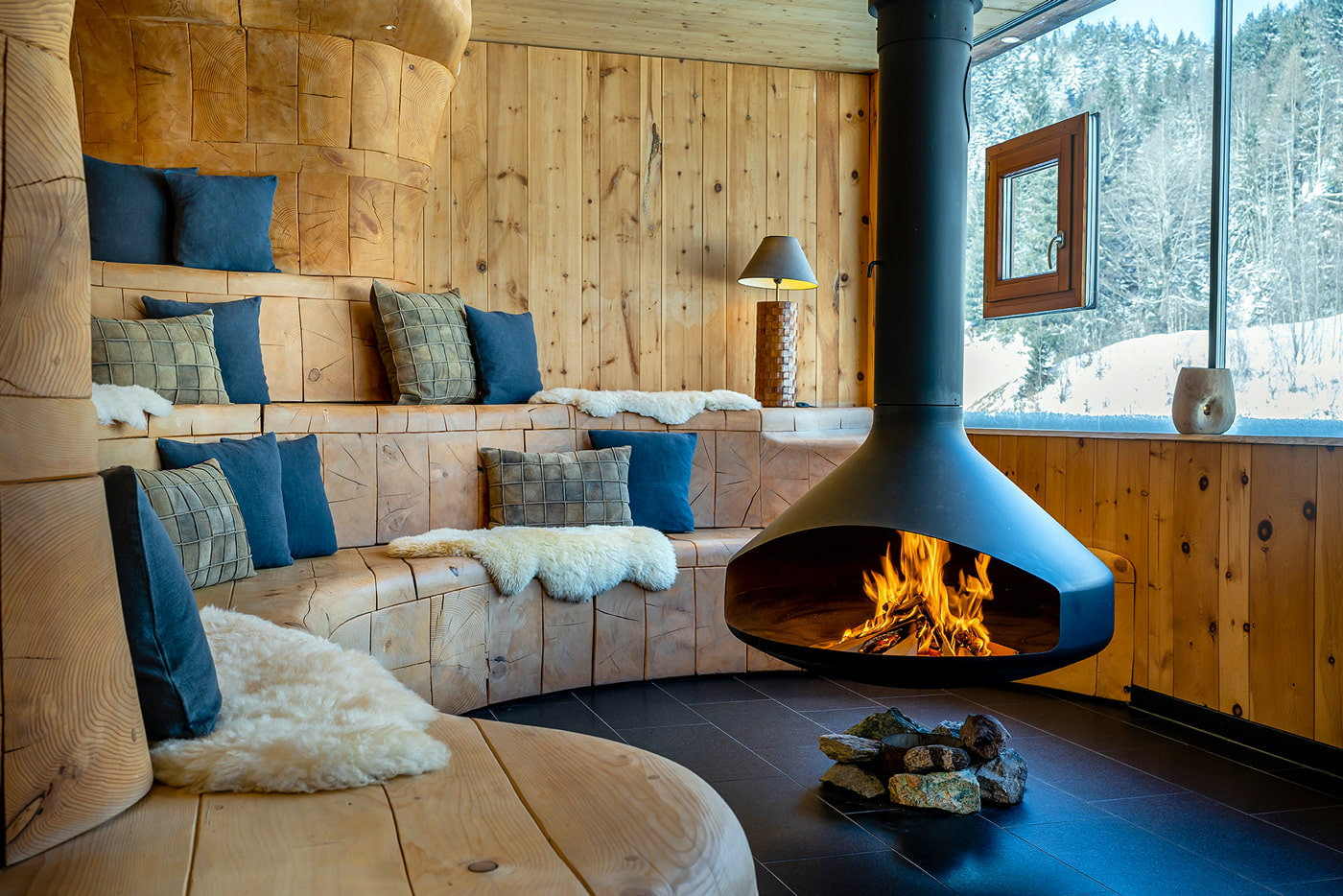 Positioned as the ultimate testament to fun and adventure, mama thresl, certainly a luxury resort, is dripping in cool. The place is designed for visitors to have the most fun possible and finish their nights with a craft cocktail or possibly the stylings of a touring DJ.
While many Alpine resorts are temples to skiing, at this property, snowboarding is king. They even have a partnership with snowboard manufacturer NITRO, allowing guests to rent the newest models of boards and bindings for free.