This post contains affiliate links, which means we may receive a small commission, at no additional cost to you, if you make a purchase through these links. See our full disclosure here.
What makes a great Halloween destination? Haunted castles and mysterious time-warp villages? Misty hills and dark medieval lanes? Or night-long costume parties and inspired zombie parades? Transylvania, the fabled Romanian region forever associated with Bram Stoker's Dracula, has them all, and then some.
With timeless villages, colorful citadels, striking fortified churches, and over 118 castles, this place really looks and feels like a fairytale-like realm. Add to all these a bunch of cosmopolitan, art-filled cities, heaps of authenticity, and a turbulent past that gave birth to a variety of myths and legends, and you will certainly have one of the best Halloween destinations in Europe.
If you expect fancy pumpkin decorations and a costume extravaganza, you'll probably end up being disappointed with your Halloween in Transylvania, but if you hope for an authentic experience in a magical setting filled with wonder and whimsy, where people still believe in legends and live their lives guided by ancient traditions, you are sure to have a blast.
The beguiling Saxon citadels of Transylvania, the majestic Gothic castles, and the windy medieval streets meandering through the mountains will take you back in time, will let you discover their shadowy past, and will endow you with the most accurate illusion of what we call paranormal activity.
To spice up your itinerary a bit, here are 4 interesting ideas on how to spend 2022's Halloween in Transylvania – all related to the infamous bloody count in one way or another:
Halloween Party at Bran Castle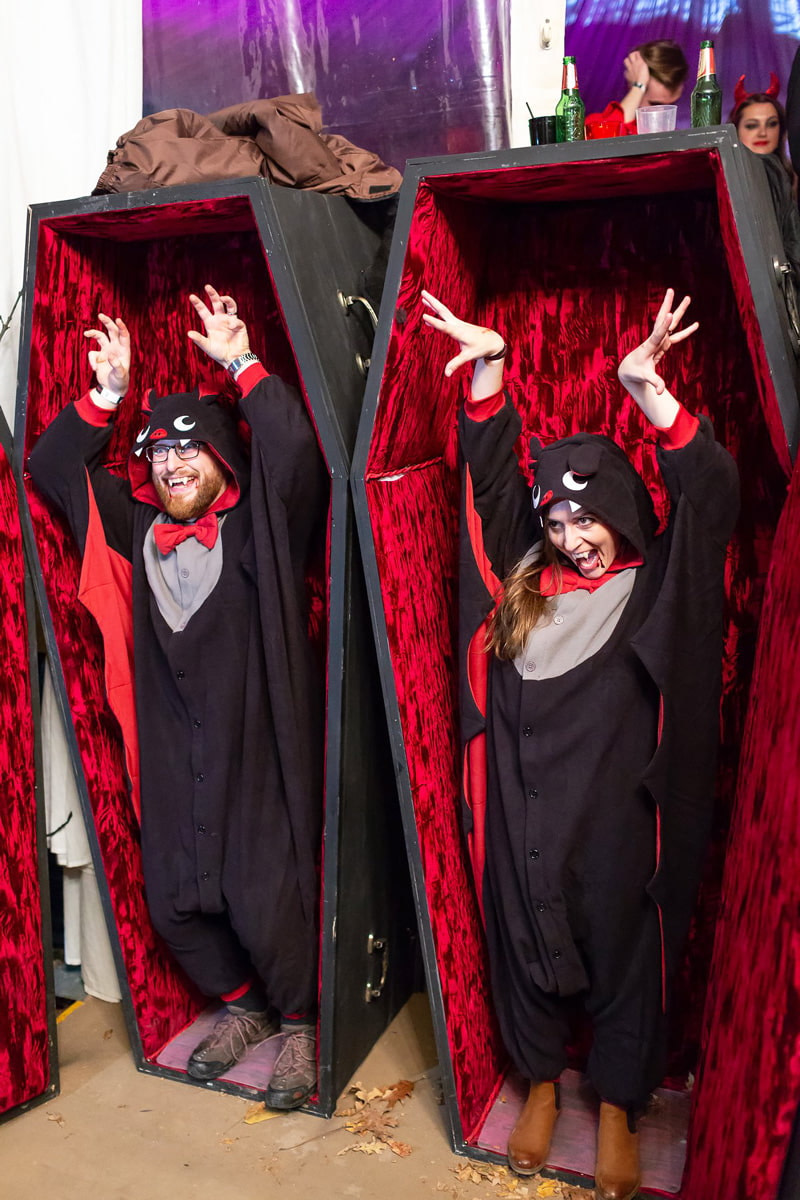 For the ultimate Halloween party, head to Bran Castle, also known as Dracula's Castle. Located in a small town near Brasov, this spine-tingling Gothic fortress has little to do with Stoker's bloodthirsty nobleman, yet it looks straight off the pages of his famous vampire novel.
The party takes place on Saturday, October 29th, 2022, and can be paired with a night tour of the castle and a gourmet dinner.
The Haunted Corvin Castle
Bran is just one of the many magnificent castles dotted around Transylvania, but if you want to see a true work of art, head to Hunedoara. Built in the 14th century in a Renaissance-Gothic style, the Corvin Castle is not only one of the most spectacular citadels in Romania, but also one of its most haunted.
With mighty red-tiled turrets, inner stone courtyards, and medieval torture chambers, it seems perfectly fitting for Halloween. Not to mention, legend has it that Vlad the Impaler was imprisoned in its dungeons a few centuries ago by Hungarian Gov. John Hunyadi (Ioan de Hunedoara).
Sighisoara, Dracula's Birthplace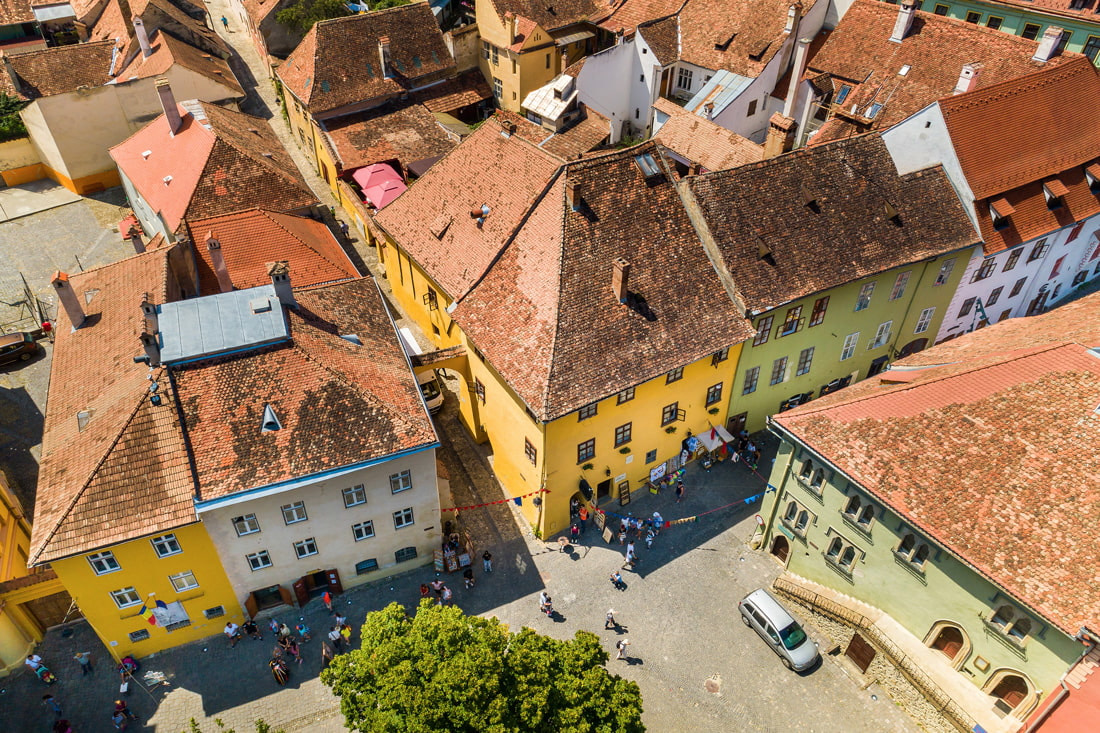 If what brought you to Transylvania in the first place was an appetite for vampire stories, then there's no better place to spend Halloween than Sighisoara.
Dubbed "the home of Dracula", this UNESCO Heritage Site is the best preserved still inhabited medieval citadel in Europe – a delightful hilltop tangle of tiny cobblestone alleys, pastel-colored storybook houses, and enigmatic passageways enclosed by fortified walls and watchtowers.
While here, visit the Vlad Dracul House – the place where Vlad the Impaler was reputedly born, which is now a restaurant. Or, better yet, climb the iconic Clock Tower for a fantastic view of Sighisoara and its eerily beautiful surroundings.
The town also organizes a number of spine-chilling Halloween parties featuring delicious traditional Romanian festive dinners, fiery spirits, and the famous Ritual of Killing of the Living Dead – a genuine piece of Transylvanian folklore seen on Travel Channel.
Halloween Film Festival in Brasov + Zombie Walk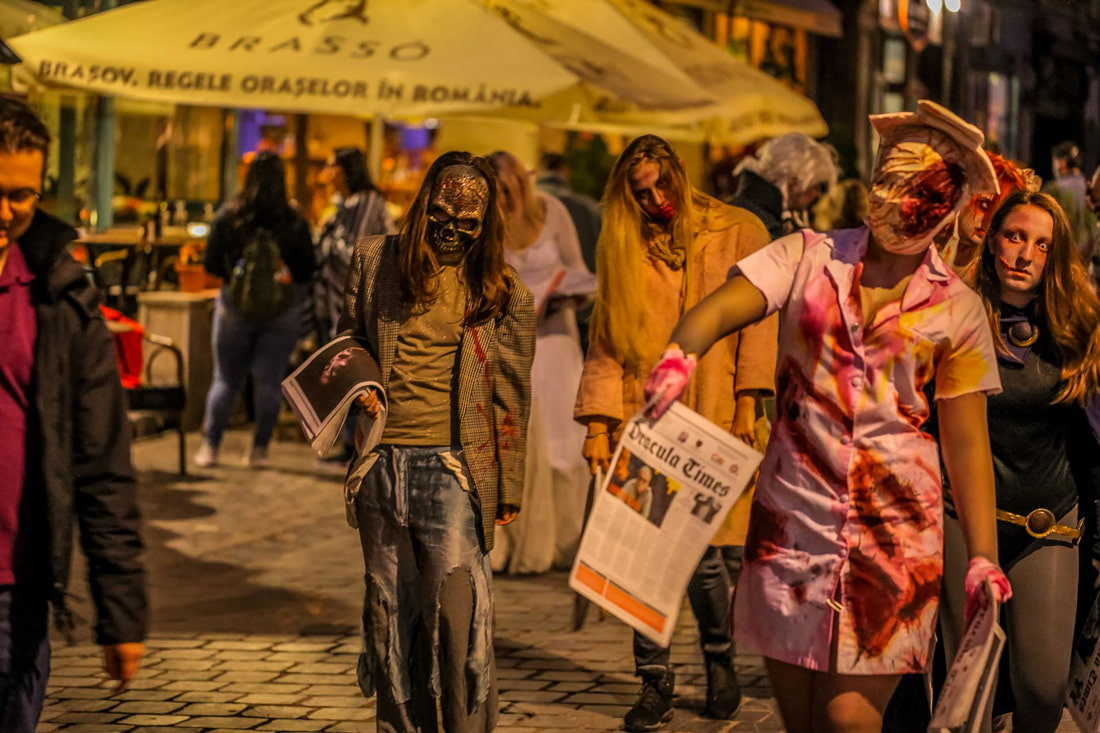 One of the best happenings in Transylvania around Halloween is definitely the Dracula Film Festival. The prestigious event is dedicated to horror and fantasy films and takes place between October 12 – 16, 2022 in Brasov – a handsome Saxon city surrounded by the Carpathian Mountains.
In addition to screenings, this edition will host free acting and photography workshops, as well as a bewitching zombie parade with ghoulish strollers marching through the streets of downtown.