This post contains affiliate links, which means we may receive a small commission, at no additional cost to you, if you make a purchase through these links. See our full disclosure here.
Whether it's a delightfully remodeled quinta packed with character or a smart eco-hotel that blends seemingly into the landscape, there's just something about Portugal's rural retreats that makes them effortlessly chic.
Designed by some of the nation's most reputed architects, they're edgy and authentic, blurring the line between rustic and contemporary with beautifully simplistic interiors in a palette of natural, earthy materials. These tranquil hideaways are often cool, crisp, and in perfect harmony with their pastoral surroundings, reflecting the area's history and heritage while keeping a small environmental footprint.
Without a doubt, there's no better way to experience this beautiful, hospitable country than with a stay at one of its stunning design-driven rural hotels. So here you have them – Portugal's best countryside retreats in their full splendor.
Sublime Comporta
With a serene spa, creative regional cuisine, and a handful of hip, cozy cabanas, Sublime Comporta more than lives up to its name. Surrounded by wild sand dunes and woodlands in the scenic Alentejo countryside, the design-conscious retreat offers relaxed, sophisticated accommodation in minimalist Instagram-worthy units, whose grey concrete floors and stark white walls are tastefully warmed with rustic wood accents.
Luz Charming Houses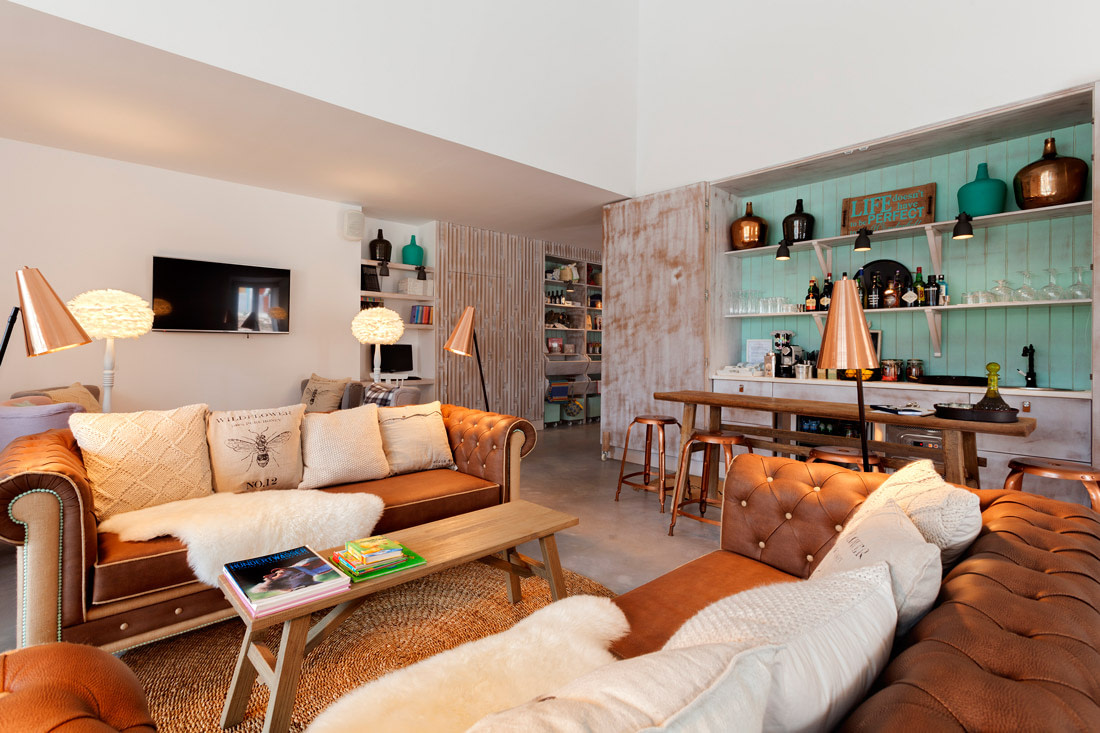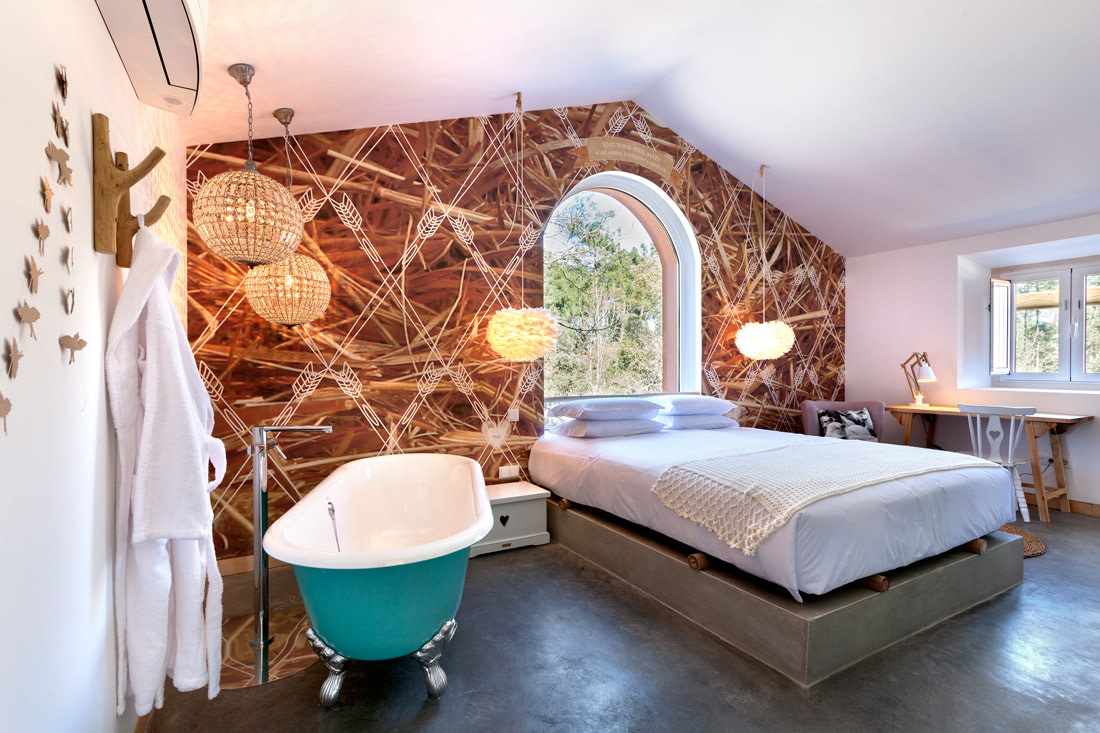 Set amidst a mysterious forest near Fátima, Luz Charming Houses is a stylish, blissed-out escape from it all.
A village-like complex of locally inspired terracotta buildings, it features pristine white rooms balanced by tastefully rustic accents. At the property's core, its cleverly designed Mother House is a lovely place to have breakfast, relax with a book by the fireplace, or just soak in the cool rustic-meets-industrial vibes.
Though the hotel has all contemporary comforts, its small hermitage and quiet meditation paths, along with a dreamy little spa tucked away in a cave, invite to deeper, more spiritual pursuits.
Casas na Areia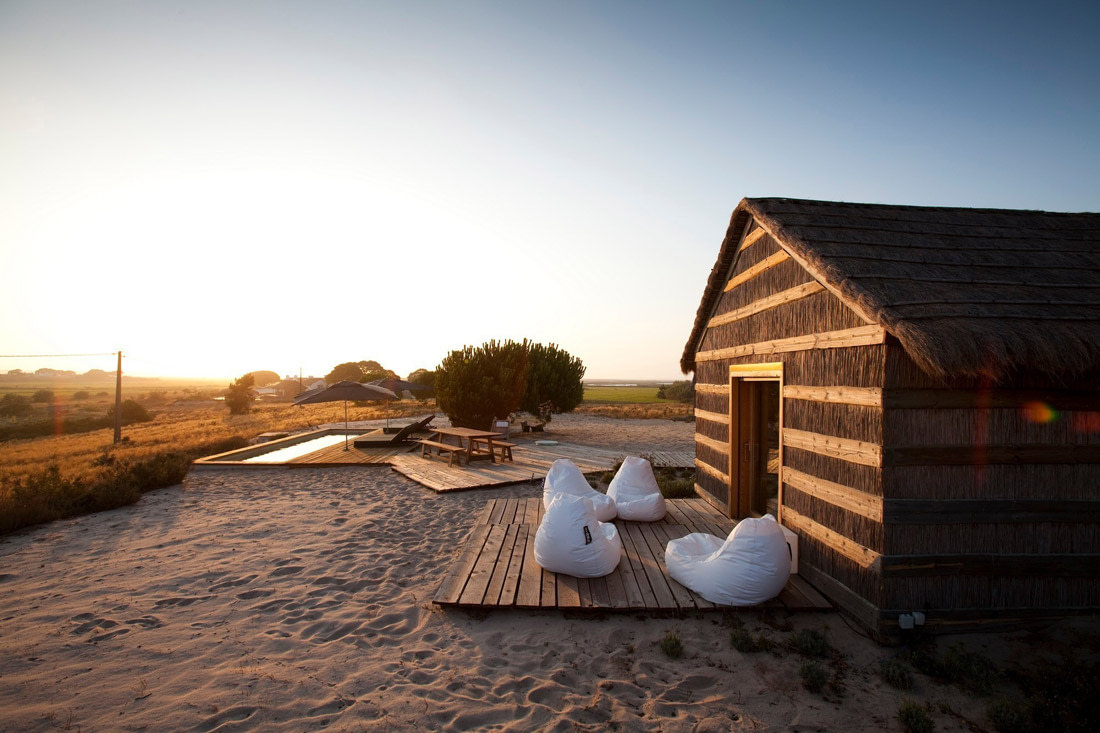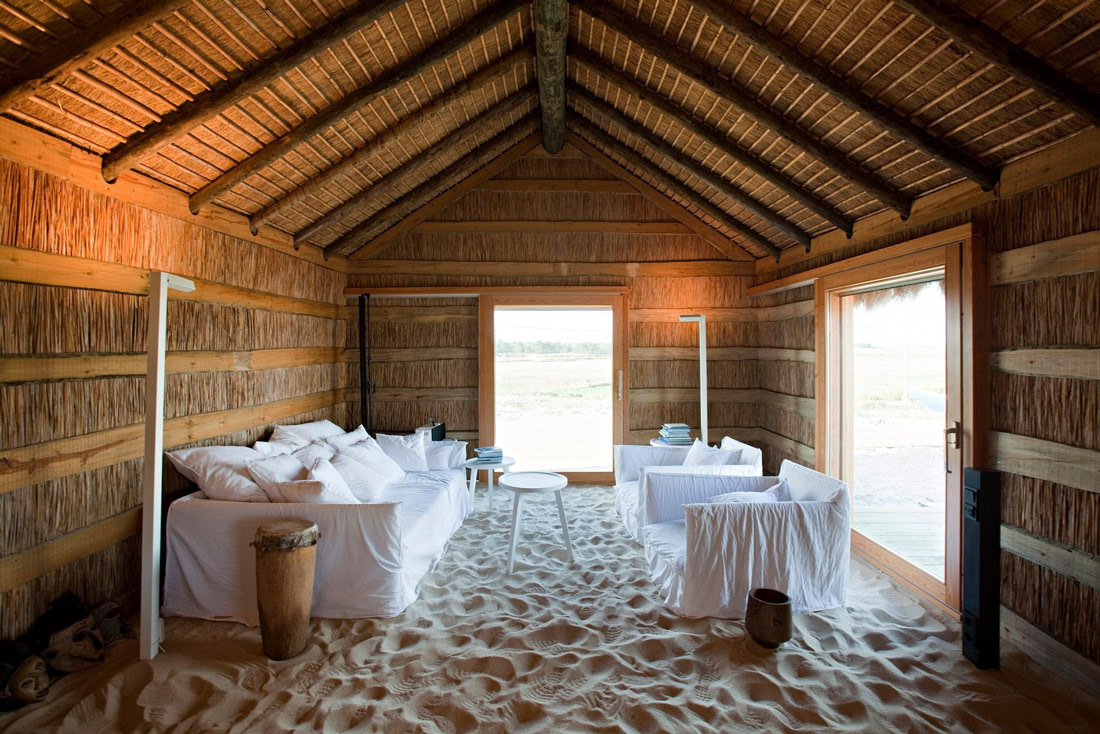 Also in Comporta, one of Portugal's chicest beach destinations, this innovative hotel project by architect Manuel Aires Mateus is like nothing else in the nation. Aptly named Casas na Areia (Houses in the Sand), the complex consists of four thatched beach houses where nature and local architectural traditions reign supreme. Expect minimalist, contemporary furnishings, organic materials, and floors made of soft, white sand.
A private plunge pool ensures you stay cool on those hot summer days, and bicycles are on hand for exploring the area.
Pensão Agrícola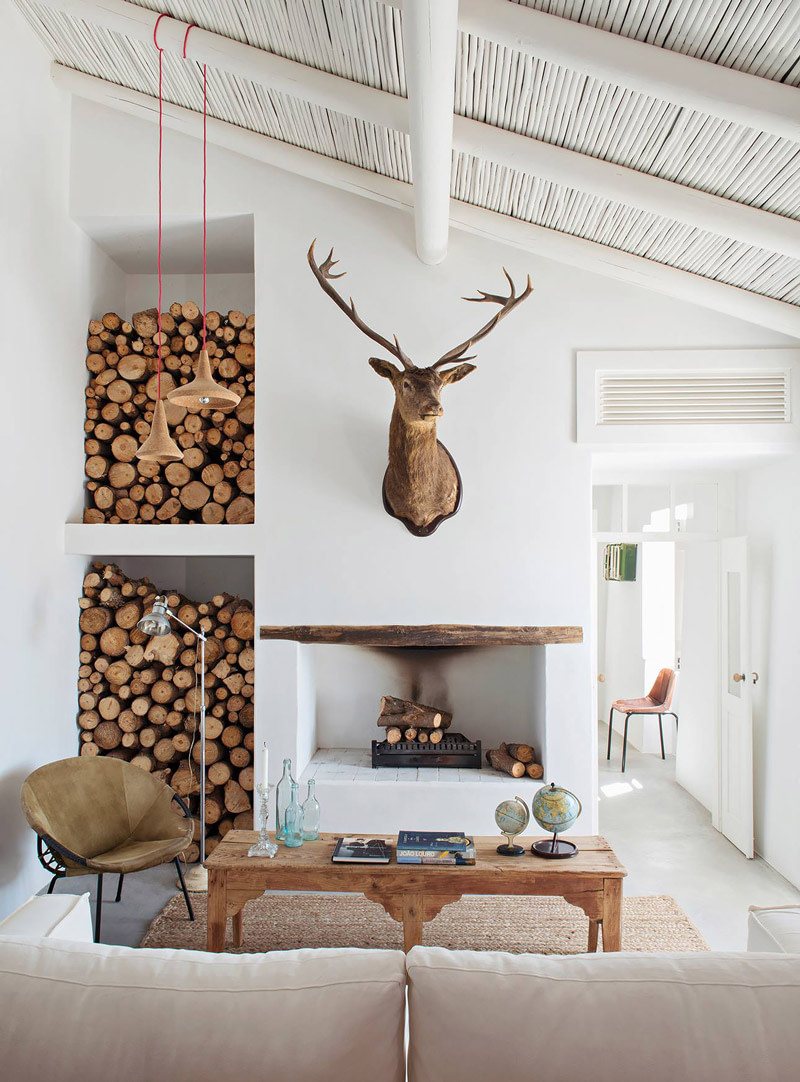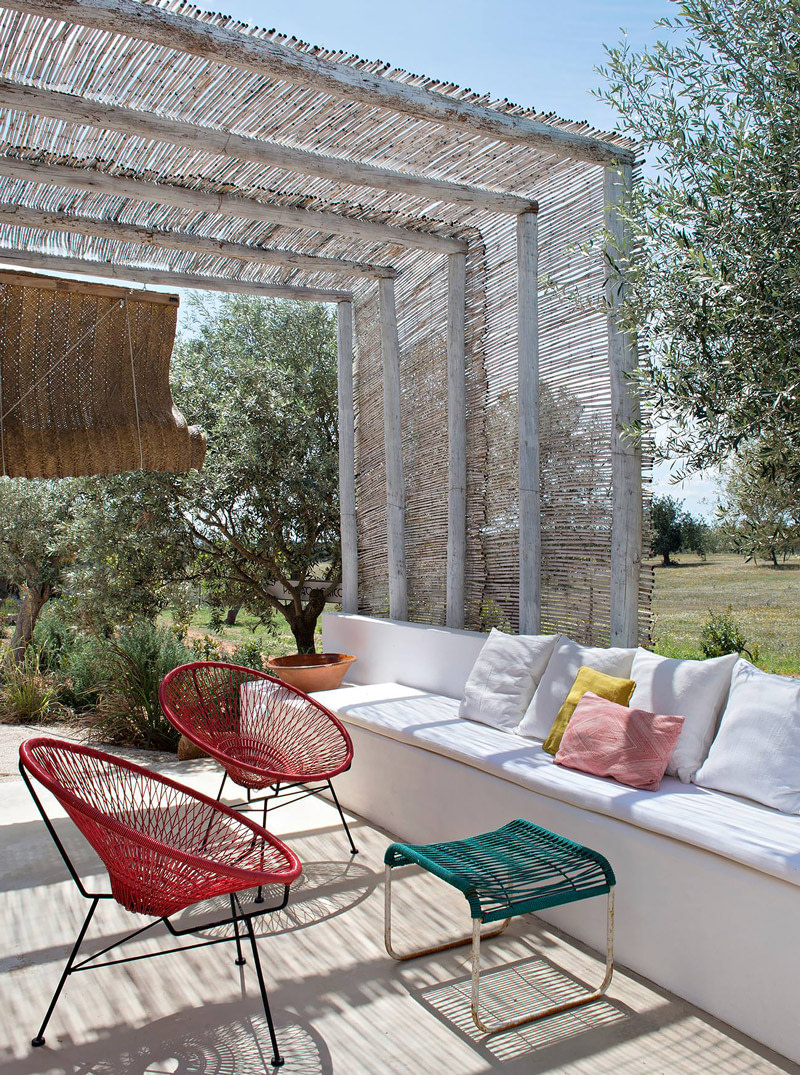 Deep in the Algarve countryside, near the pretty town of Tavira, lies Pensão Agrícola – a small eco-chic boutique hotel with a big heart. The six individually styled bedrooms open to private patios and are deliciously fresh, subdued, and authentic. Rustic furnishings, exquisite antiques, and modern art contrast beautifully against the farmhouse's whitewashed walls, and breakfast is served alfresco amidst meadows and olive trees.
São Lourenço do Barrocal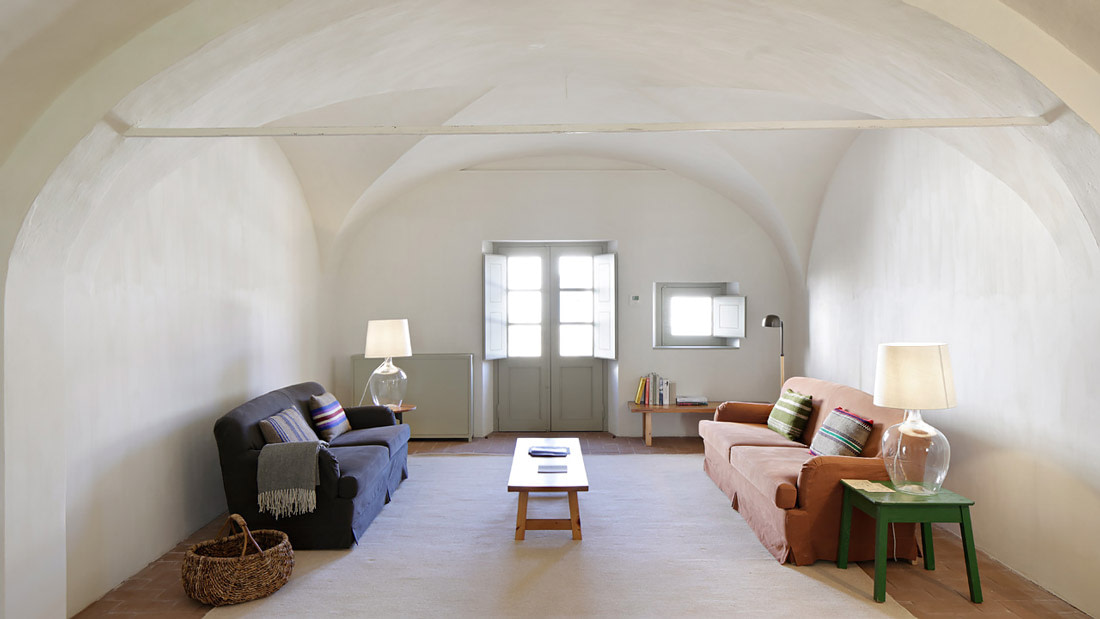 Part working winery, part luxury farmhouse hideaway, São Lourenço do Barrocal is no doubt one of the best countryside hotels in Portugal. Surrounded by ancient olive groves, mighty holm oaks, and sun-soaked vineyards, the centuries-old family-run estate pampers guests with experiences such as wine tasting, stargazing, and horse riding, as well as signature spa treatments by Susanne Kaufmann.
Envisioned by some of the country's most illustrious architects, the rooms, suites, and independent cottages are sanctuaries of understated elegance. Stop by the refined farm-to-table restaurant for authentic local dishes with an innovative twist – cooked to perfection.
Casa Modesta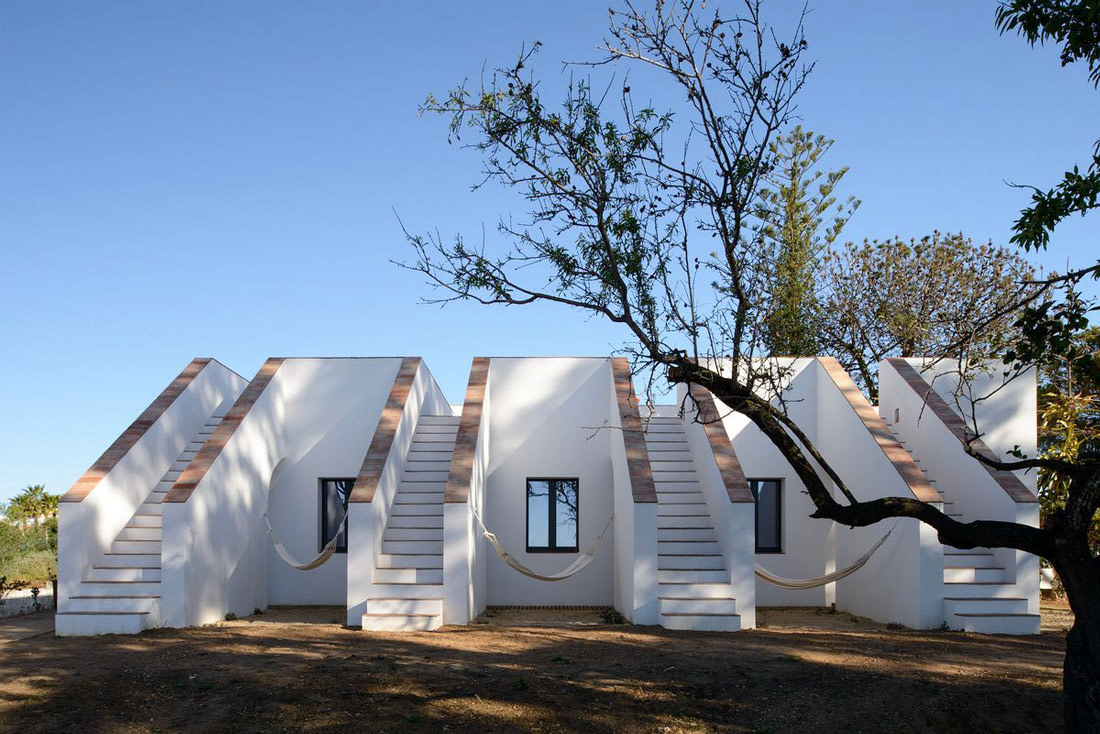 Don't let yourself be fooled by the name, Casa Modesta is anything but modest. Nestled on the edge of Ria Formosa Nature Park, the modernist rural retreat delights with its striking cubic architecture and immersive ecotourism-related activities that include harvesting, bird watching, and baking bread.
Acres of almond and olive orchards frame the property, and its nine immaculate rooms – decked out with traditional terracotta floor tiles and Canadian cedar furnishings – have private patios overlooking the wetlands.
Pé no Monte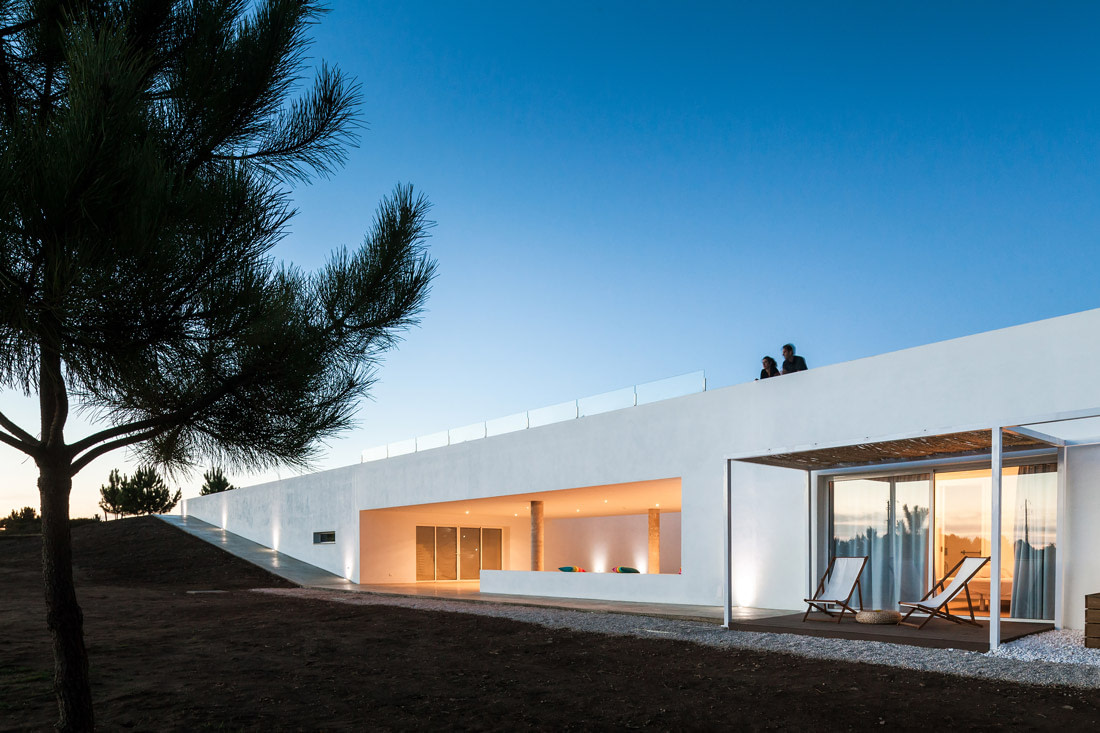 Contemporary Portuguese minimalism meets the calmness of the countryside at Pé no Monte, a modern country hotel on the Alentejo Coast.
Set within a 10-ha estate, the property maintains the characteristics of the typical farmhouse that once stood there but has been sublimely restored and expanded to provide unforgettable family-friendly sojourns in a scenic, tranquil rural setting. Accommodations are gracefully modern and simple, and experiences revolve around nature, with everything from biking to surfing.
Dá Licença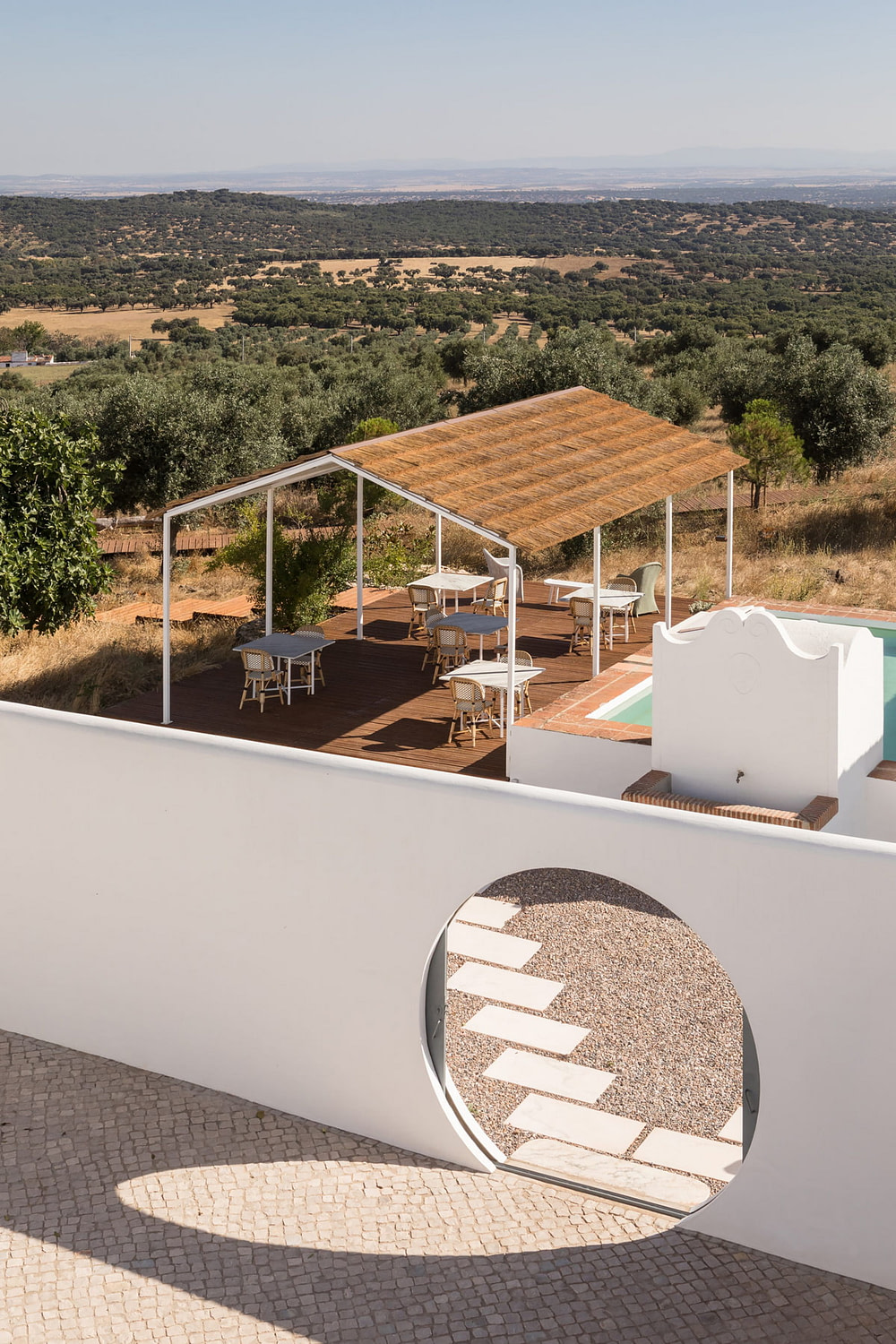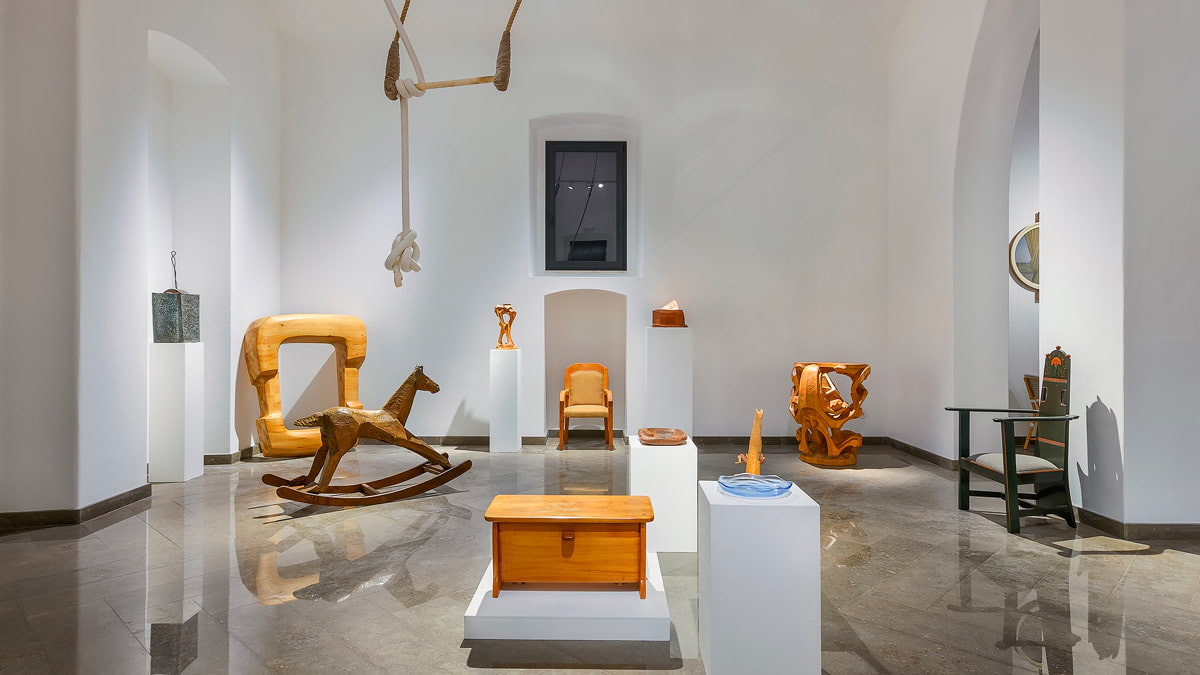 A magnificent boutique hotel emerging from the silent hills of rural Alentejo, Dá Licença boasts artful interiors filled with curated pieces from various European art movements. A synthesis of tradition and modernity is evident throughout the property, which has been transformed from a rundown olive mill into a luxe seven-room estate with marble swimming pools and sublime seasonal meals sourced from the onsite organic garden.
Inside, limewashed walls and black granite flooring provide a luxuriously restrained backdrop for exquisite ceramics, blankets by textile designer Mizette Nielsen, furnishings from the owners' private art collection, as well as bathtubs and side tables handcrafted by local artisans from white and pink marble. All these, along with a collection of intimate courtyards and outdoor terraces overlooking miles of rolling olive groves, make this designer rural-retreat-cum-art-gallery a very rare find indeed.
Octant Vila Monte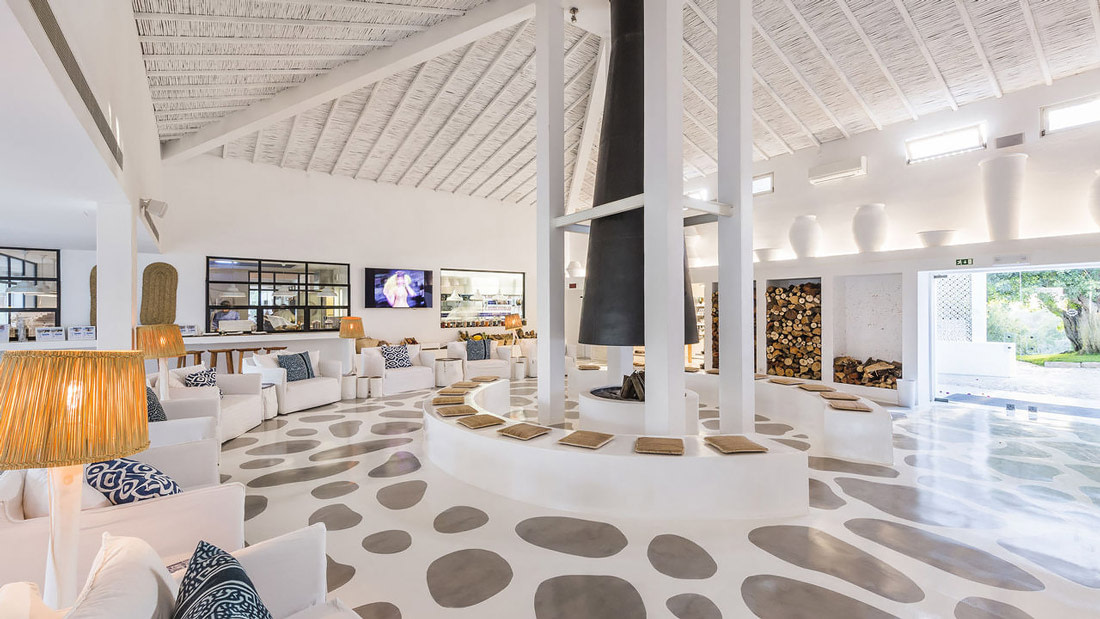 Spread over nine hectares of orange groves and elegant landscaped gardens in the unspoiled Eastern Algarve, Octant Vila Monte is an oasis of calm and authenticity. Designed by Vera Iachia, its interiors are a revelation in whitewashed simplicity, with delightful traditional fabrics and artisan decor pieces adorning the bright rooms and suites.
The onsite À Terra restaurant is devoted to genuine rustic cuisine, and pastimes range from lounging by the pool and watching outdoor movies to guided tours through the striking Ria Formosa Natural Park nearby.
Monte Velho Equo-Resort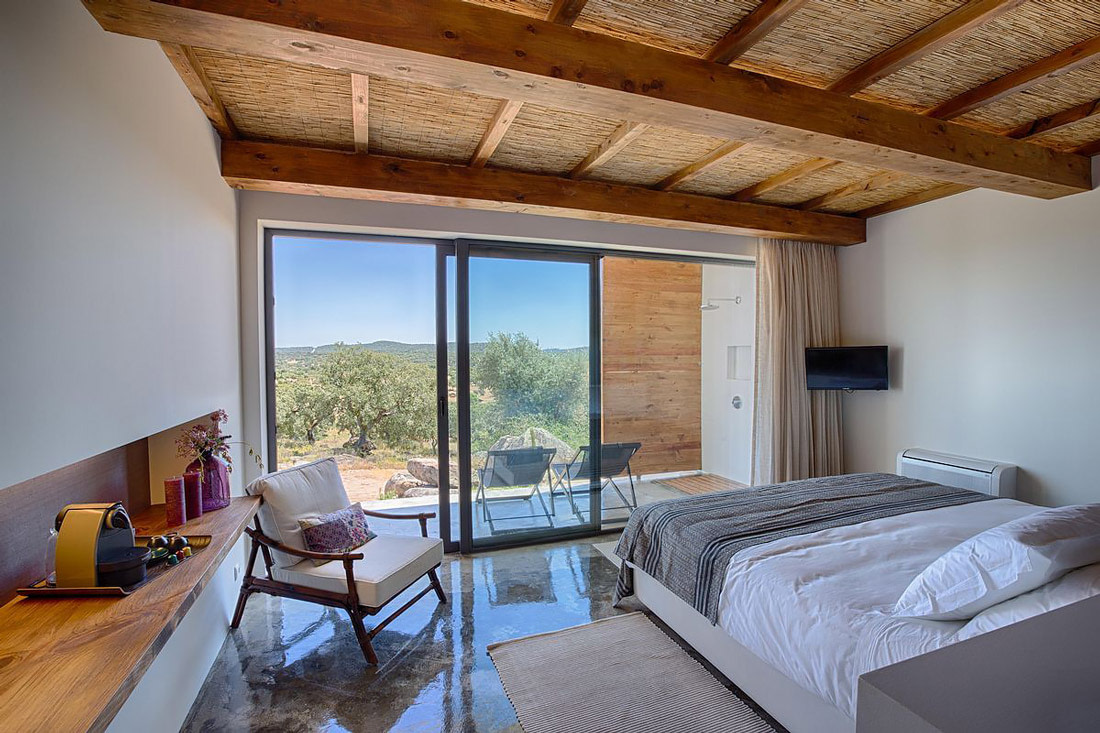 Delve into Portugal's rich equestrian culture with a stay at Monte Velho Equo-Resort. Located on a beautiful stretch of Alentejo countryside, near the UNESCO-protected city of Evora, this boutique hotel is a horse lover's dream, with sleek designer rooms, uninterrupted pastoral views, and its own Lusitano horse breeding farm.
Indulge in a variety of equestrian activities, cool off with a swim in the stunning rooftop pool, or go canoeing on the property's private lake.
Casas do Côro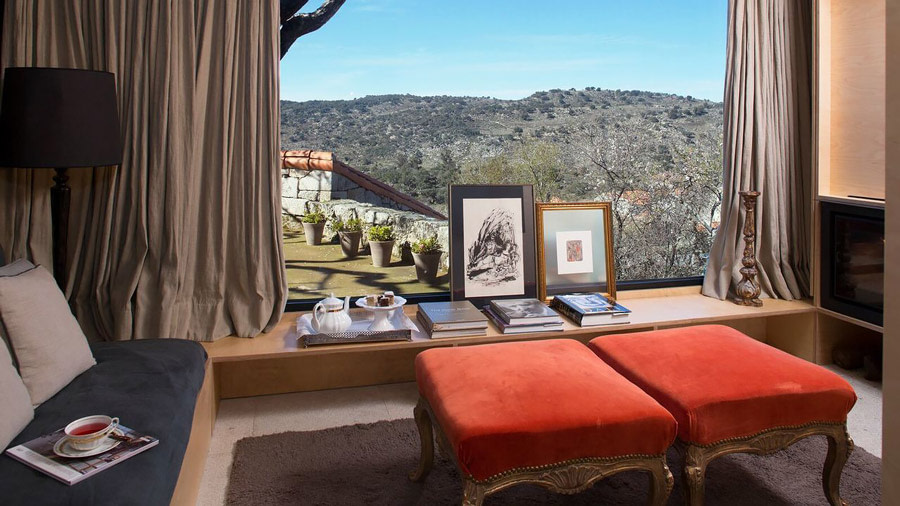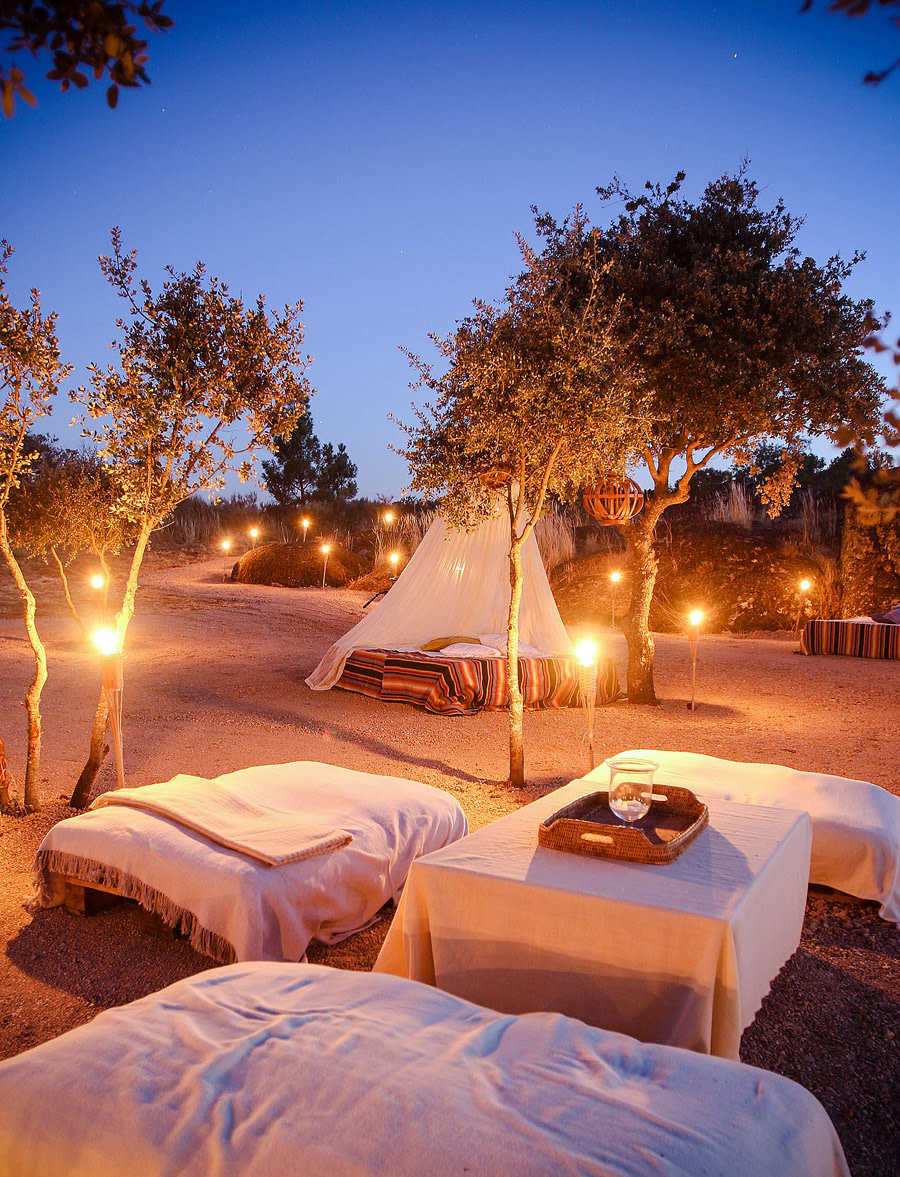 A crumbling medieval village turned chic boutique hotel south of the Douro Valley, Casas do Côro offers gourmet food & wine, a modern eco-friendly spa, and lovely romantic rooms overflowing with old-world charm. Included in the stay are night walks through the Historical Village of Marialva and a delicious breakfast, but guests can also choose from a variety of nature and wine-themed experiences.
Ecork Hotel Évora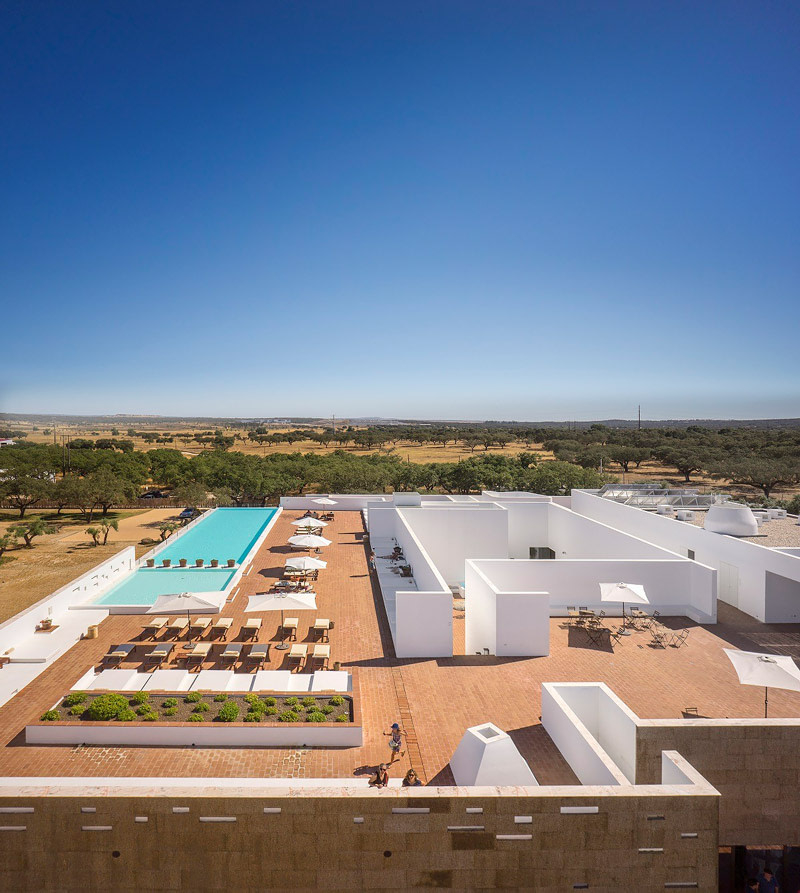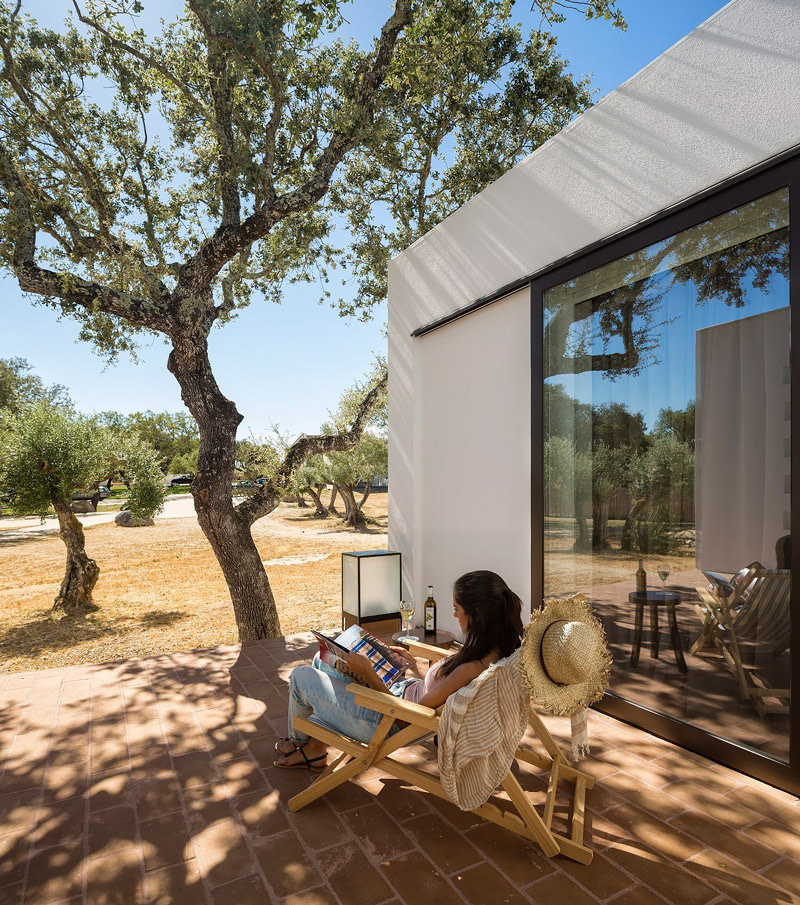 Unique in the world, Ecork Hotel Évora takes inspiration from the sun-bleached medieval villages of the Alentejo region, consisting of 56 white cubic bungalows clad in local cork and arranged in a symmetric manner amidst secular olive trees.
The eco-friendly refuge sits on the outskirts of Évora, and despite its cutting-edge architecture, it offers an authentic Portuguese experience enhanced by sublime Mediterranean cuisine, gracious service, and soothing wellness facilities.
Casa Arte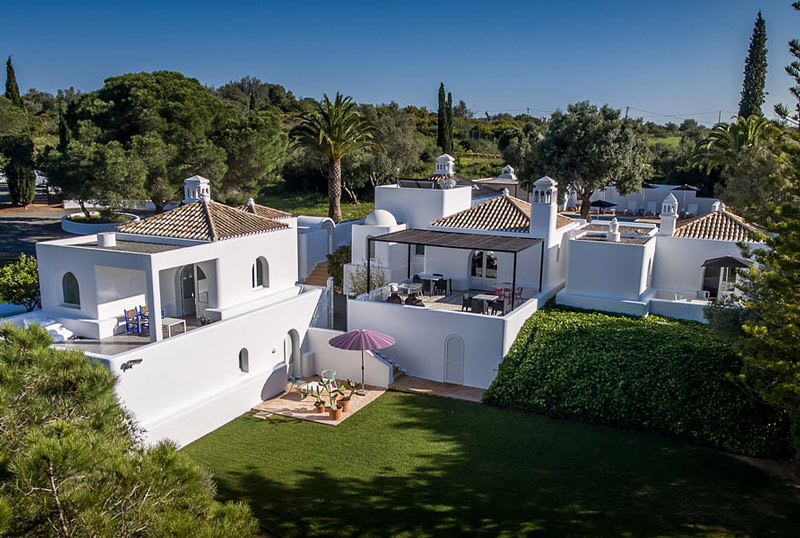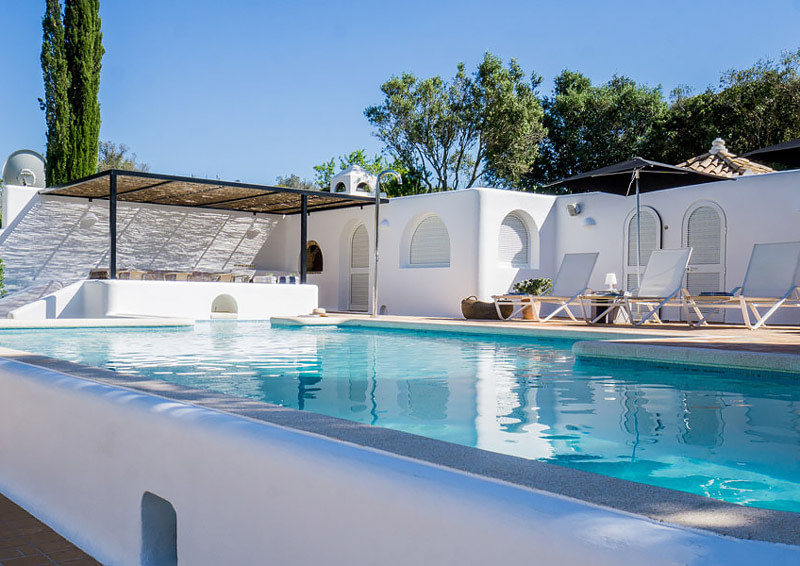 About 10 minutes' drive from the coast and the picturesque city of Lagos, Casa Arte is a stylish escape into the Algarvian countryside.
With polished concrete floors and spotless white walls adorned with fresh artworks, the six rooms have a bright Mediterranean feel and spill onto private sun-dappled terraces facing the lush garden. The villa rental comes with a glorious free-form pool, a fully-equipped kitchen, and a variety of on-demand services.
Casa do Pego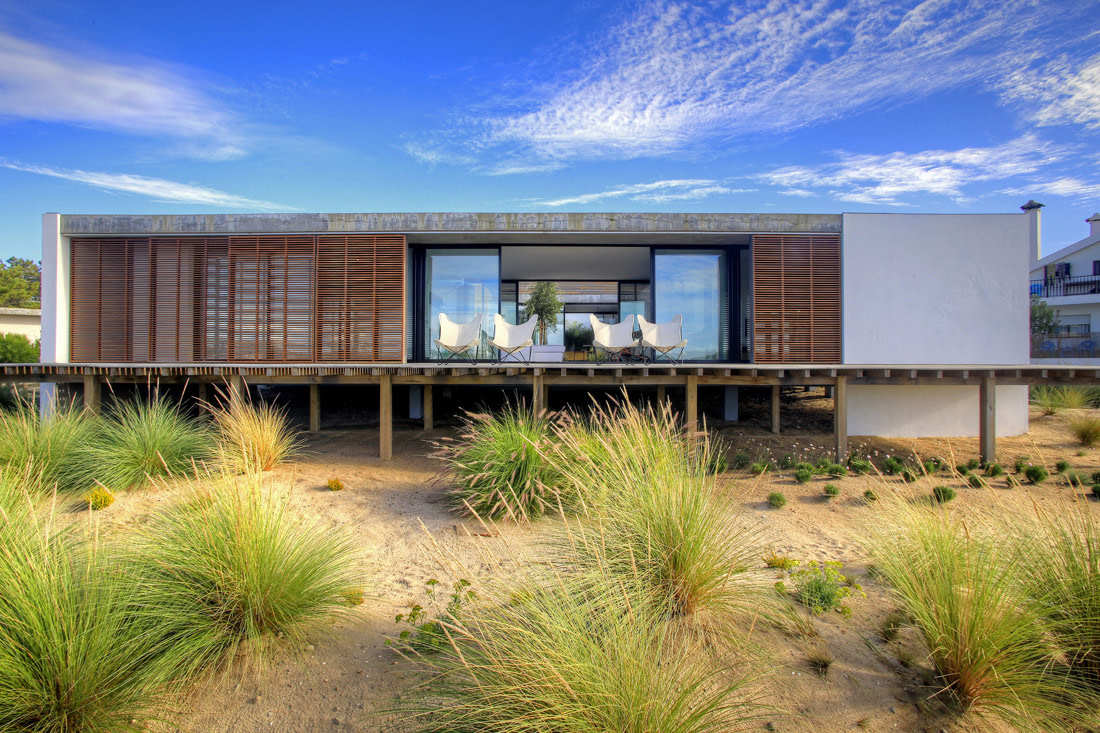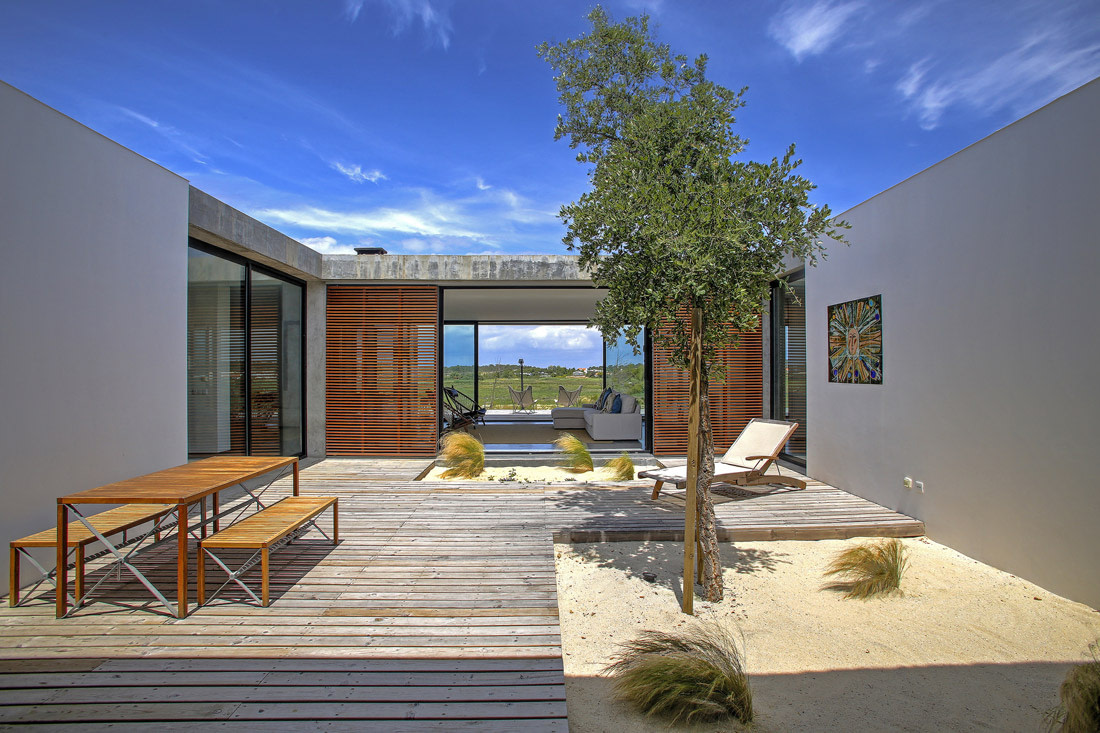 A design lover's paradise in the middle of nowhere, Casa do Pego combines elegant mid-century modern looks with the idyllic, laid-back charm of Comporta. The villa rests on the Alentejo coast of Portugal, hidden between rice fields, pine tree forests, and the Atlantic Ocean, offering access to the country's most beloved beach (Praia do Pego).
Accompanying its bright, clean interiors is a shaded decked courtyard for alfresco meals, as well as a glorious rooftop terrace complete with a modern pool and far-reaching views over the Arrabida hills.
Pedras Salgadas Spa & Nature Park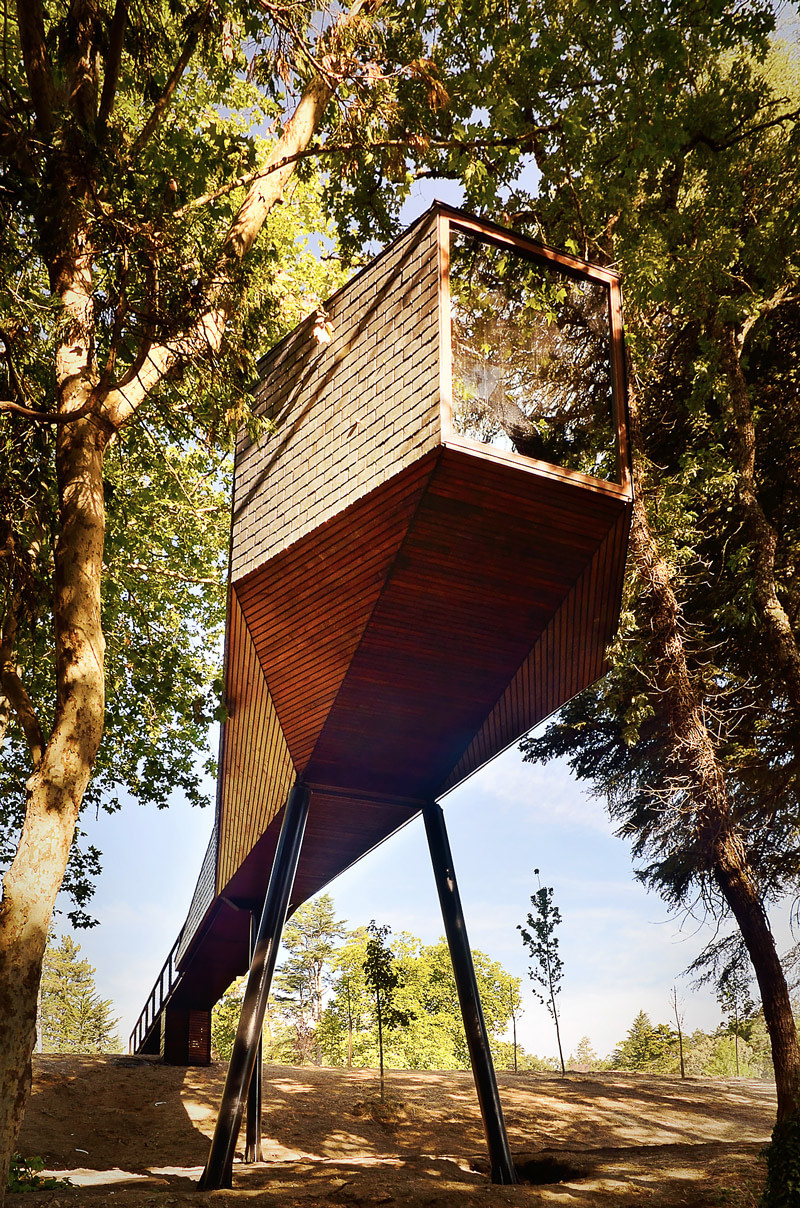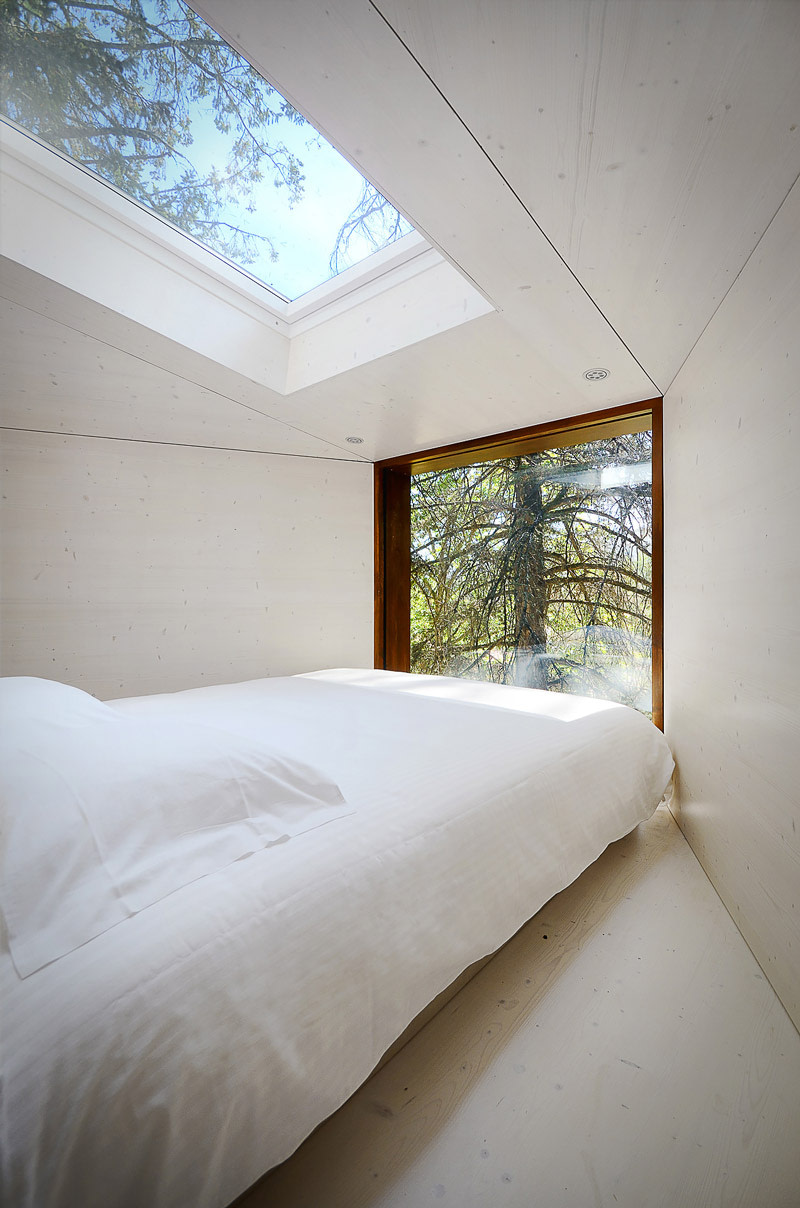 A cluster of state-of-the-art eco houses set amidst 20 hectares of pristine parkland, Pedras Salgadas Spa & Nature Park offers ultrachic sustainable accommodation along with unrivaled outdoor adventures in northern Portugal.
Designed by world-renowned Portuguese architect Luís Rebelo de Andrade, the resort also boasts two nonconformist treehouses melded flawlessly into the surrounding forest, as well as a stunningly restored 19th-century thermal spa that makes the most of Pedras Salgadas' historic mineral springs.
Carmo's Boutique Hotel
Just outside the center of Ponte de Lima, the nation's oldest town, Carmo's Boutique Hotel is ideally positioned to immerse guests in the sights, sounds, and rich cultural heritage of Portugal's mesmerizing Minho region. Rooms are serenely romantic, with plush canopy beds, deep-soaking bathtubs, and contemplative vistas across the valley, and the fittingly named Divine Spa offers goat's milk bath rituals and exquisite aromatherapy treatments.
The cuisine is decidedly Portuguese, with a home-cooked touch, whereas experiences range from wine tasting and picnics in the vineyard to various art workshops, candlelit dinners, and movies under the stars.
L'AND Vineyards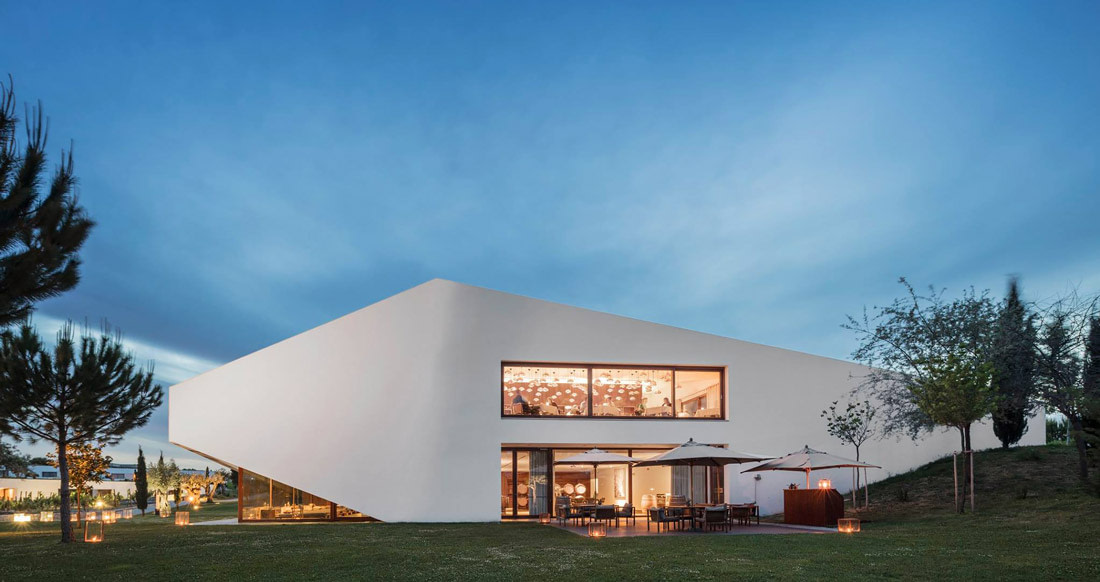 Sprinkled over the gently rolling hills of Portugal's Alentejo wine region, the dazzling white, low-lying buildings that make up L'AND Vineyards come with refined minimalist interiors by Marcio Kogan and retractable roofs overlooking the stars. Add private outdoor terraces with plunge pools and fireplaces, a fabulous Caudalie Vinothérapie Spa, and the region's first restaurant with a Michelin star, and you have one of Portugal's most exclusive wine retreats.
Villa Extramuros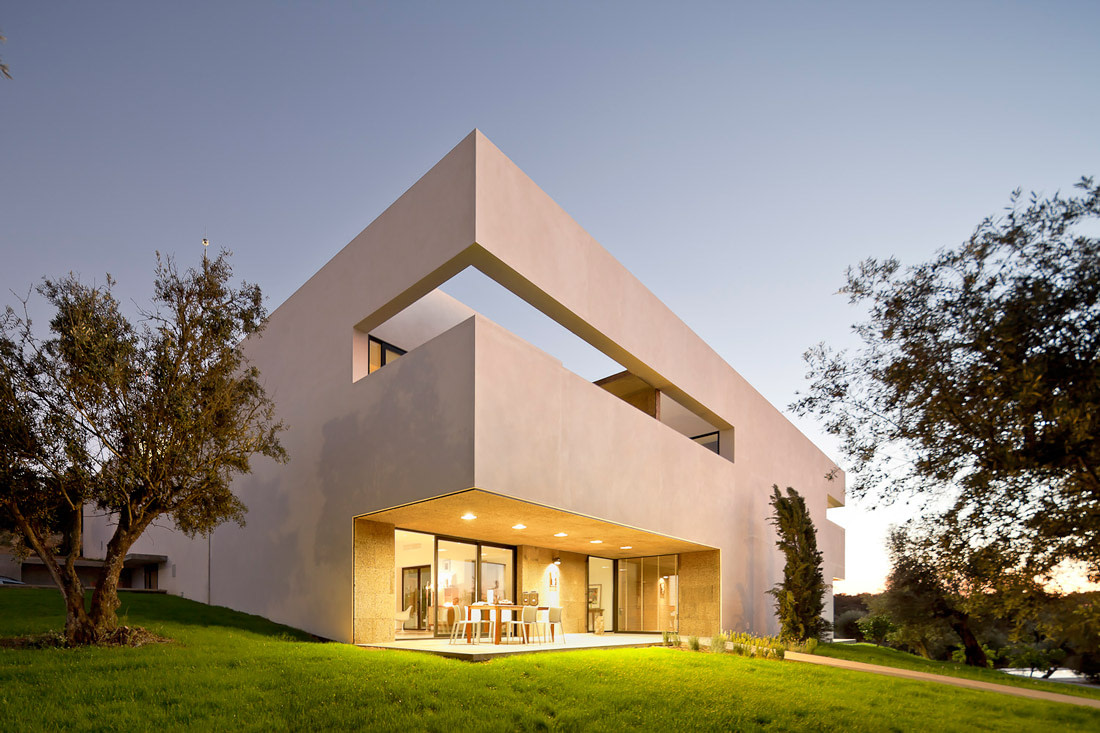 Though nestled in quiet rural surroundings on the outskirts of Arraiolos, Villa Extramuros is not your usual Portuguese quinta. It's a smart countryside hideout with a designer edge, surrounded by olive groves and miles upon miles of beautiful, untouched nature.
The property offers a bold, contemporary take on Mediterranean architecture, with sunny patios and sleek, art-filled rooms grouped around a central courtyard. Inside, cork-lined walls and glossy marble coexist in soothing harmony, while outside, a lovely garden and a swimming pool area provide hours of enjoyment under the bright blue skies.
Areias do Seixo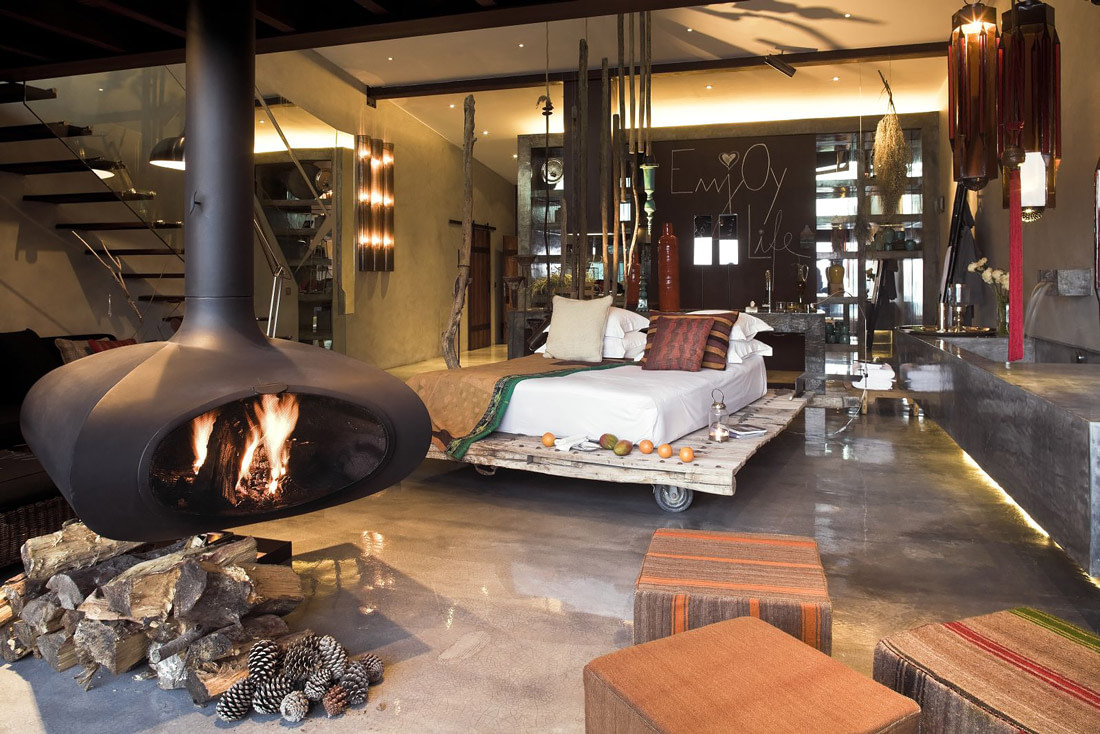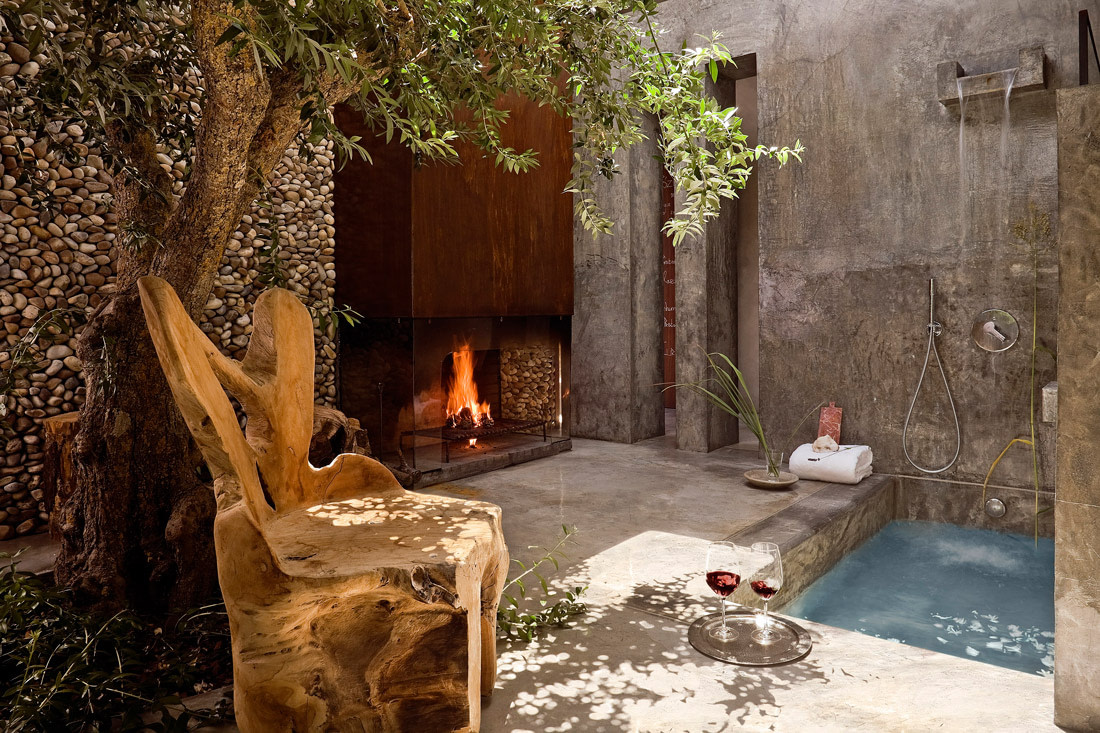 While less than an hour north of Lisbon, Areias do Seixo feels a world away from everything. With the rugged Costa de Prata as its backdrop, it swathes guests in seductive coziness and heartfelt hospitality, providing the ultimate eco-chic getaway.
The splendid, uniquely designed guest rooms combine rough-hewn wood and log fireplaces with ethnic North African accents; meals highlight the region's local bounty, and the serene spa invites luxurious relaxation through a variety of herbal-rich treatments and indulgent rituals.
Casa do Governador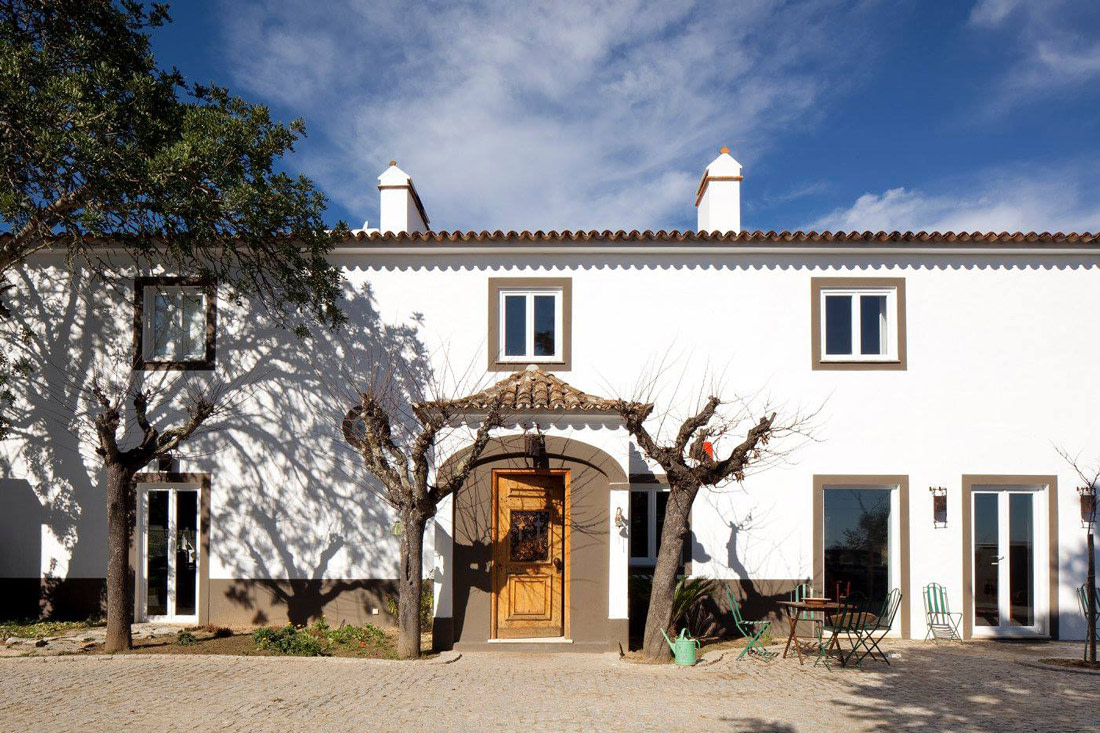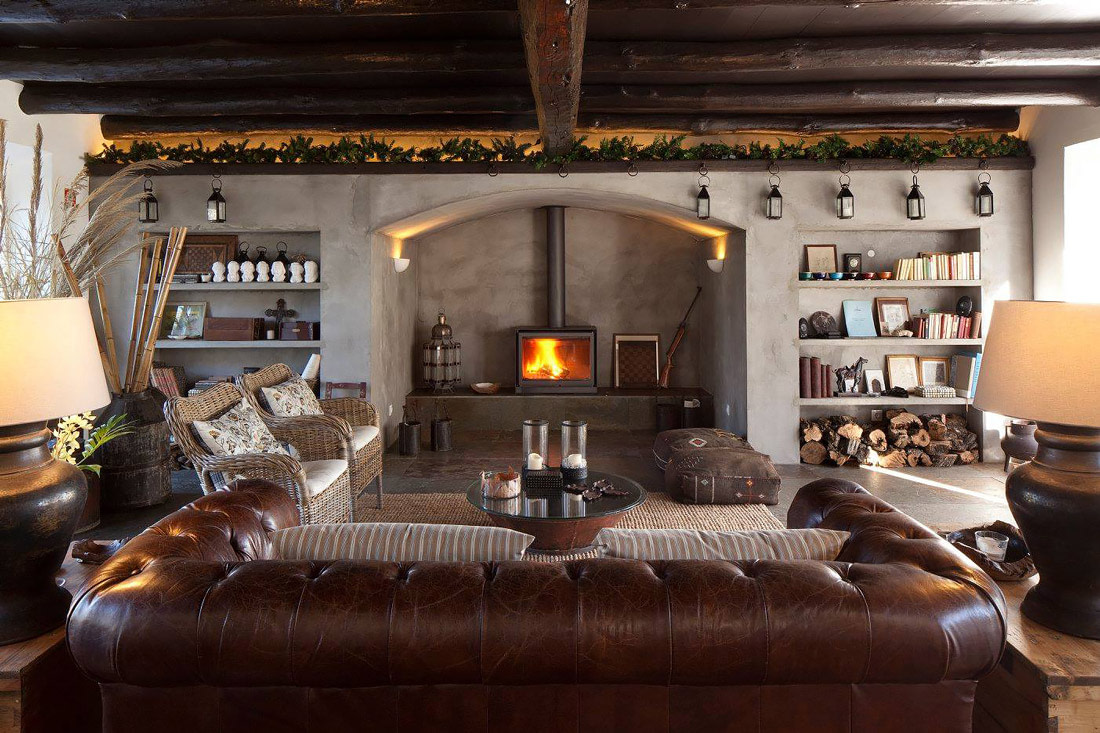 A thoughtfully refurbished traditional quinta near the marvelous museum city of Evora, Casa do Governador blends old-fashioned country romance with contemporary grace.
Interiors feature exposed stone walls and a charming rustic style decor infused with farming utensils and industrial touches. Rooms come with inspiring countryside views, and some boast indulgent spa baths or cozy fireplaces. Activities such as hot air ballooning, horseback riding, or visits to wine cellars are available upon request.
Vila Valverde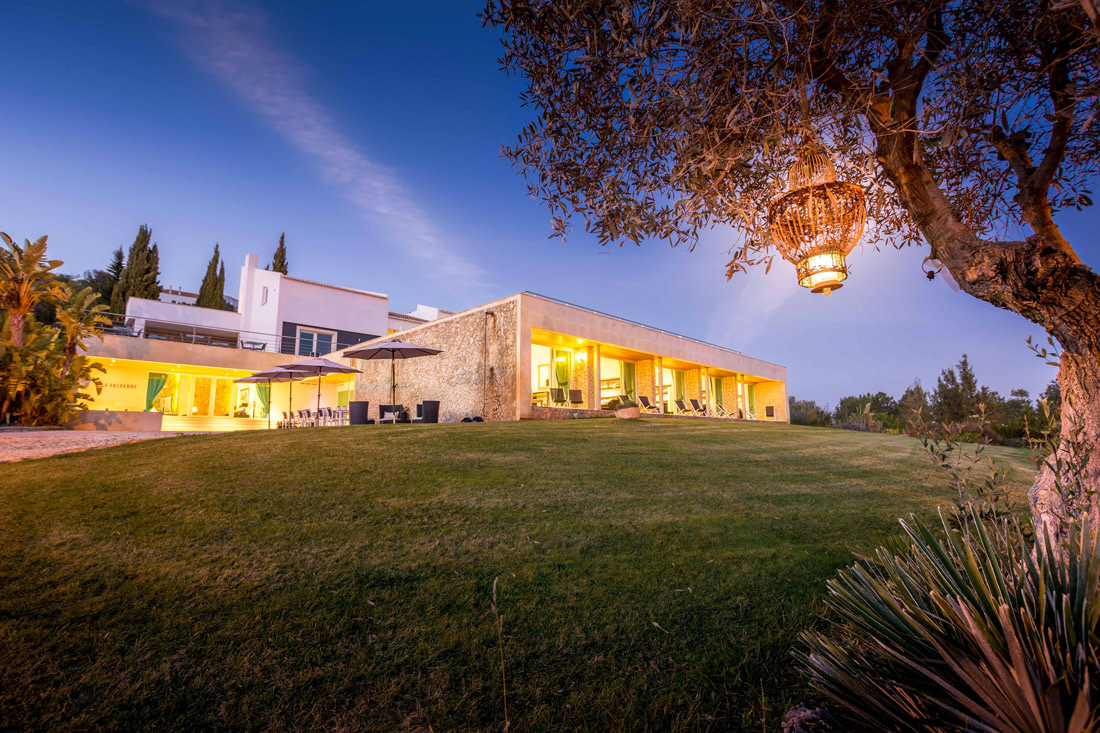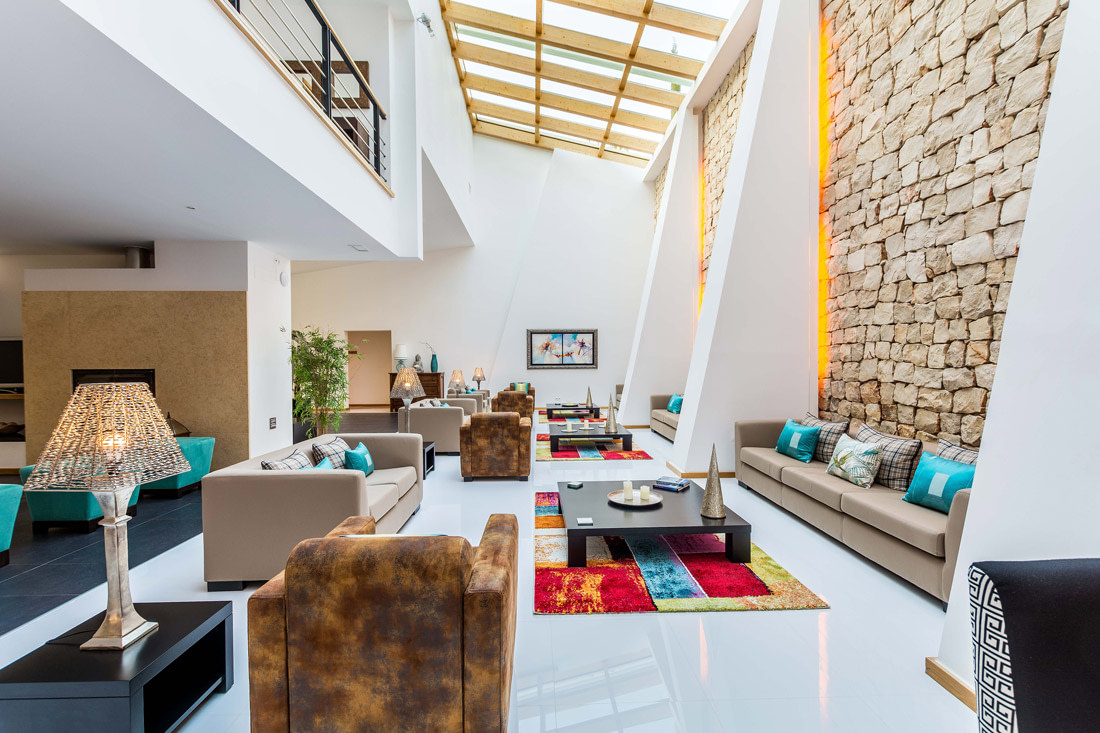 Overlooking the bay of Praia da Luz, this 5-star Design & Country Hotel in the Algarve fuses the architecture of a traditional 19th-century quinta with clean lines, fashionable decor, and contemporary comforts.
Accompanying Vila Valverde's 15 individually styled rooms are indoor & outdoor pools, a sprawling panoramic terrace, and an atmospheric wine cellar. Breakfast is a delectable spread of pastries, dried fruits, homemade jams, and local cured meats.
Torre de Palma Wine Hotel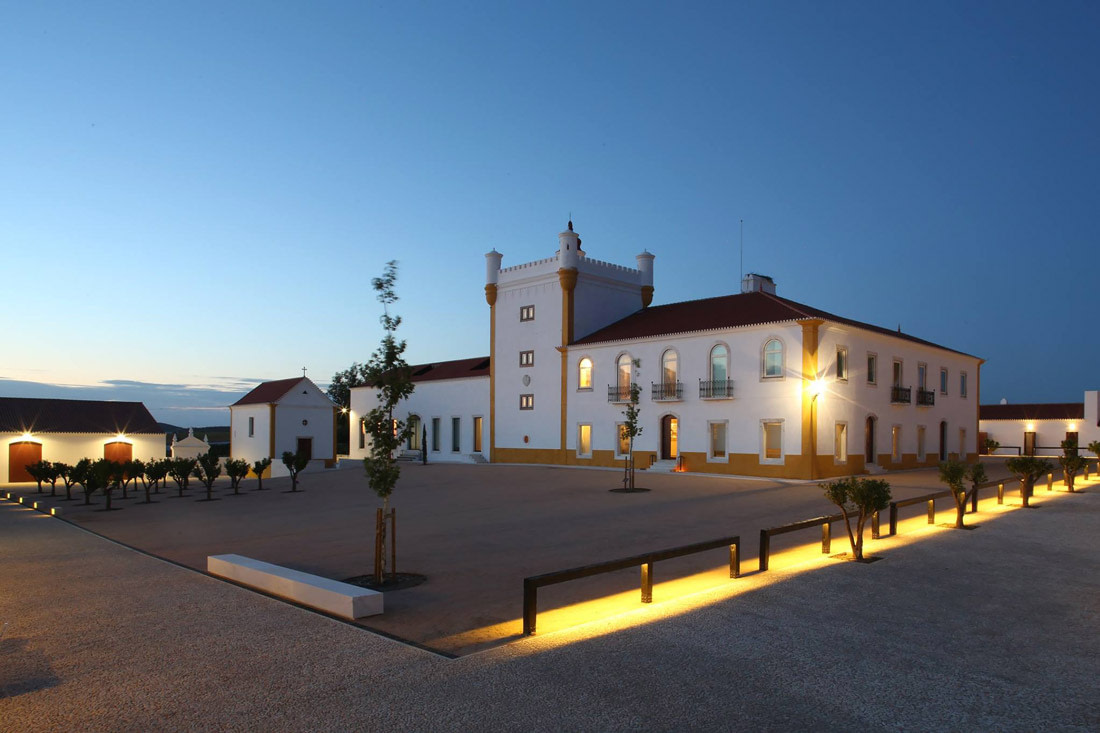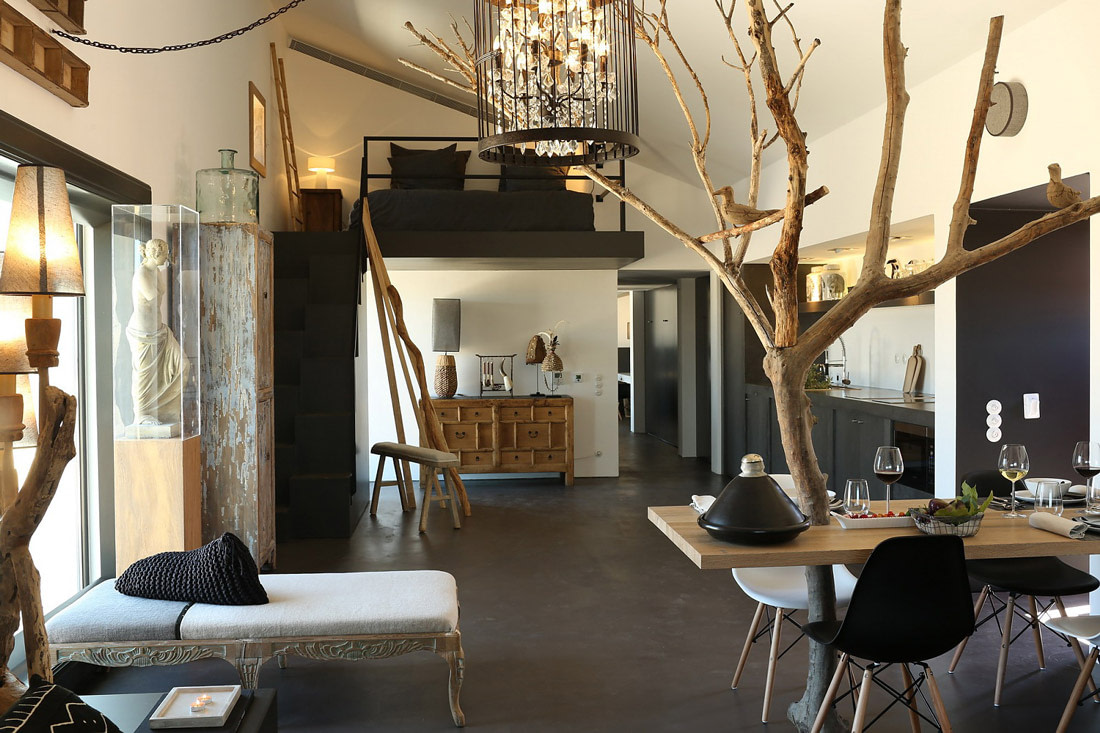 Built on the remains of a 14th-century Roman villa, Torre de Palma Wine Hotel provides a luxurious country escape in the heart of Portugal's Alto Alentejo. A project by celebrated architect João Mendes Ribeiro, the stylish property accommodates guests in inspiring quarters, mixing elegant vintage furniture with quirky art pieces and antiques.
When not luxuriating in the slick spa, you can enjoy wine tastings amid the barrels in the hotel's winery, indulge in sophisticated Alentejo delicacies at the onsite Basilii restaurant, or ride a Lusitano horse through the surrounding countryside.