This post contains affiliate links, which means we may receive a small commission, at no additional cost to you, if you make a purchase through these links. See our full disclosure here.
Everything looks good in Comporta. From the food to the beaches to the lime-washed white fishermen's houses with blue trim glistening in the blazing sun, there's no sign of bad taste in sight. Nestled on Portugal's west coast, just an hour's drive from Lisbon down the A2 highway, this pretty village is unlike any other. You'll see surf shacks alongside designer eco-retreats and dine in historic horse stables turned into contemporary restaurants. You'll pass by perfect umbrella pine trees and verdant rice paddies teeming with unique birds and spend a good part of the day barefoot on seemingly endless powdery sands fringed by laidback wooden beach clubs raised on stilts.
Beautifully relaxed and perpetually intertwined with nature, this is a place that gets under your skin rather than in your face. Browsing well-edited boutiques, spotting celebrities, stumbling upon contemporary architect-designed properties camouflaged in their natural environs, and gazing at the huge storks flying overhead are all part of the experience here.
After making the pilgrimage several times, I have definitely found some cool places to spend your time and money in this wild, beautiful corner of Portugal. Here's my guide to where to stay, explore, shop, eat wonderful food, and relax in style while visiting Comporta.
Know Before You Go
• Comporta refers to a handful of sleepy hamlets along the west coast of the Alentejo region, including one with the same name. These villages are so close to one another, it doesn't really make a lot of difference which one you stay in.
• Public transportation is almost nonexistent in Comporta, so a car is the best way to get around the area's unspoiled beaches, fantastic restaurants, and unique attractions.
• One thing I wish I knew before my first trip to Comporta is that swarms of mosquitoes rise from the surrounding rice fields at dusk, especially in July and August, making outdoor dining an unpleasant experience. Most restaurant terraces are equipped with citronella candles, but that doesn't seem to help. Using repellent and wearing long sleeves & pants might be effective against bites, but my best advice would be to make a reservation inside when dining out.
What to Pack
Your chicest sandals and beachwear, sunscreen, a straw hat, a wicker basket. Comporta is more nature than nightclubs, so you'll spend most of the time outside, exploring beaches and relaxing in the sunshine. The local dress code is beach bohemian with an upscale flair – think hand-woven caftans, minimalist beach tunics, linen dresses, and sophisticated leather mules. You might need a warm layer for the evening. Oh, and mosquito repellent. (In case you forget, there's a well-stocked vending machine right next to the local pharmacy).
Where to Stay in Comporta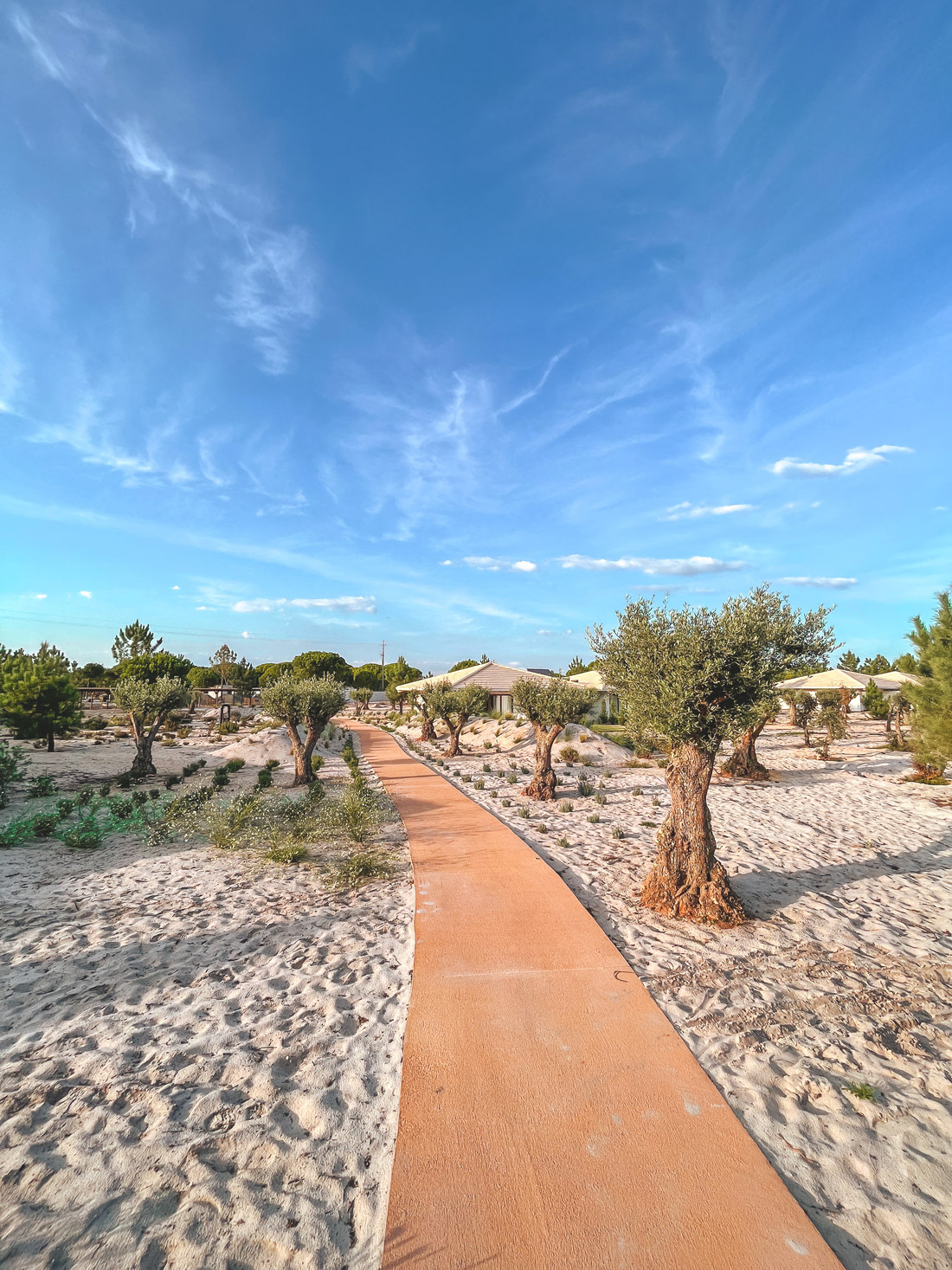 Sublime Comporta
For lovers of nature and design, there's arguably a better place to stay in Comporta than Sublime. With rustic-chic rooms, bio-pool suites, and cabana-style villas spread across 17 hectares of pristine sand dunes and umbrella pine trees, this is laid-back luxury at its finest.
Spatia Comporta
Another soothing, smartly designed retreat that blends seamlessly with its natural surroundings, Spatia Comporta delivers style, space, and privacy in spades. We stayed in a rustic-chic high-ceiling room complete with its own private terrace and hammock and lazed our days away by the serene pool. Pure bliss!
AlmaLusa Comporta
AlmaLusa is a stylish, contemporary hotel right in the midst of the action in Comporta village. Expect tasteful rooms dressed in natural colors and textiles, an inviting pool area, a small all-day café stocked with fresh pastries and sandwiches, plus a scenic rooftop bar for sunset cocktails overlooking the rice fields.
Flow Rooms
For those in search of a more affordable, self-catering stay, Flow Rooms is an attractive option. Located a 15-minute walk from the stunning Carvalhal beach, in the village with the same name, the property boasts clean, well-equipped rooms and a tranquil pool area. We booked the Flow House, a spacious, independent 3-bedroom apartment on the upper floor, but single units are also available in the main guesthouse. There's free parking on the premises, and the village of Comporta is a very short drive away.
Where to Eat in Comporta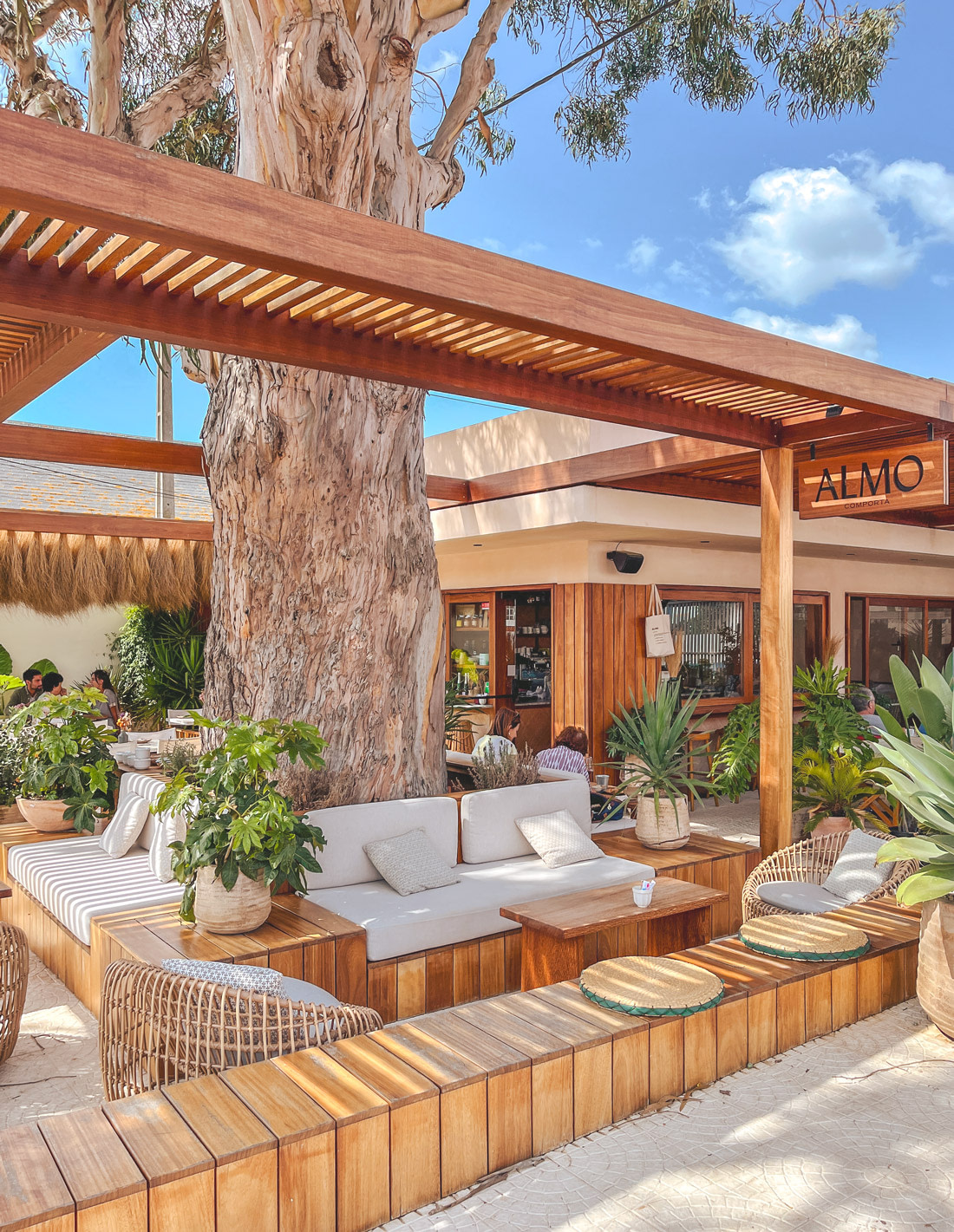 Cavalariça
The most coveted table in town is an intimate blue and white striped booth at Cavalariça, where the flavors of the Alentejo region meet modern fine dining. Housed in a former horse stable in the heart of Comporta, this hip restaurant offers inventive shareable dishes (think Alentejano pork shoulder croquetas with clams mayonnaise, or grilled brioche with chicken liver parfait and orange chutney) alongside biodynamic wines and sophisticated cocktails.
‍‍Jacaré da Comporta
If you crave Italian, Jacaré de Comporta serves thin pizzas and traditional pasta dishes in what is probably the coolest establishment in town. The food is nothing spectacular, but the eclectic decor, lively atmosphere, and delicious cocktails make up for it.
MESA
MESA is a newly opened restaurant in Comporta with a short but sweet menu focused on fresh, local ingredients and innovative wines. The decor is a mix of local barn architecture and sleek, modern appliances, and the vibe is decidedly contemporary.
ALMO Café
ALMO might be Comporta's trendiest brunch spot, but we had a surprisingly good dinner here, feasting on cured local fish dressed in finger-licking homemade sauces, followed by a scrumptious pork belly brioche, lovely fish of the day, and some of the most exquisite desserts around. Their creative plates pair perfectly with the Portuguese natural wine list, and there's a beautiful outdoor terrace for enjoying your meal al fresco.
Sublime Comporta Beach Club
Perched on the smooth sand dunes of Praia do Carvalhal, with luscious ocean vistas and rustic-meets-sophisticated rough-wood decor, Comporta's trendiest lunch spot is where you'll want to spend most of your (life?) time. There's nothing like their black-ink cuttlefish rice for two washed down with crisp, chilled Comporta white wine on a sun-baked summer afternoon.
The menu is a bright, sunny, and decidedly delicious introduction to the Alentejo cuisine, brimming with freshly caught fish and seafood, fragrant rice dishes, and acorn-fed porco preto (local black pork). Sublime Comporta Beach Club is part of the famous resort with the same name and opens for lunch and dinner during the season (June to September).
Top Experiences in Comporta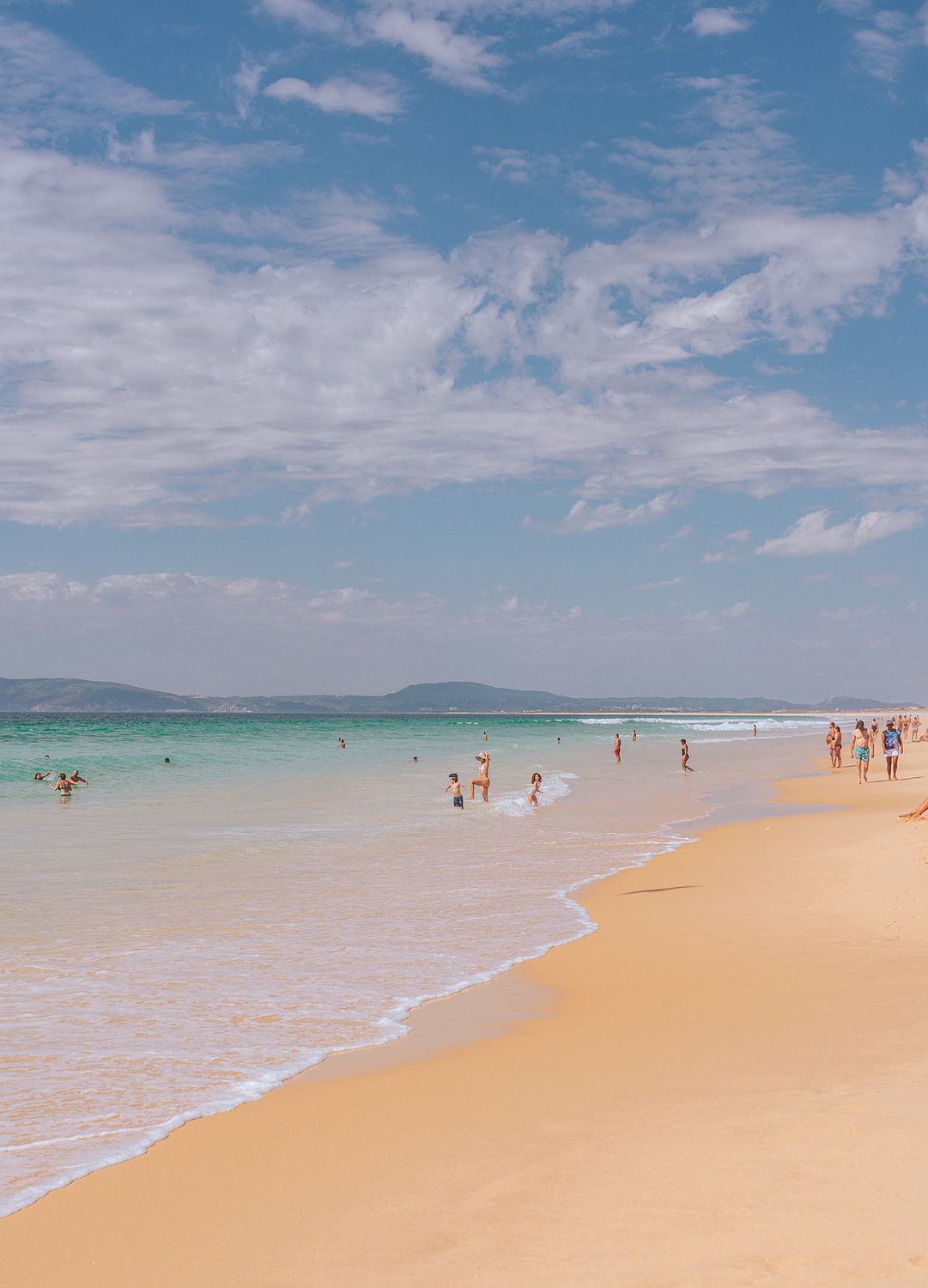 The Beach
The beach is the main event here, and it's glorious. Much of this stretch of Costa Alentejana is a protected natural reserve with very restrictive development regulations, which translates into wide open landscapes and scenic vistas in every direction.
Praia da Comporta, Praia do Carvalhal, and Praia do Pego are the best beaches in Comporta. All boast vast, empty stretches of soft honey-hued sands lapped by foamy turquoise waves, and each has one or two charismatic beachside restaurants framed by seagrass, sand dunes, and natural wood.
My ideal day by the sea would be a long leisurely seafood lunch with prime beach views at Comporta Café, followed by cocktails and live DJ sets as the sun goes down. Me and my boyfriend usually like to book a table right on the edge of their terrace so we can easily sink our toes in the sand or take a dip in the ocean in between courses. Alternatively, for 200 EUR a day, you can sprawl on a Balinese bed with your partner or group of friends, nibble on Portuguese starters like octopus salad and codfish croquettes, and share wonderfully chilled jugs of homemade white sangria while relaxing in the sunshine.
There is plenty of parking, sun loungers, and homemade white sangria at either beach, so it's easy to lounge into the sunset as chill-out beats play in the background.
Horse Riding
Horse riding along the beach is one of the most popular pastimes in Comporta. Cavalos na Areia, the renowned local riding school, runs group tours across the area's verdant rice paddies, pine forests, and vast golden sand beaches year-round, weather permitting. They also offer classes at 35 EUR /person.
Wine Tasting
On the edge of the villаgе, Herdade da Comporta, the area's premier wine producer, offers guided visits to their modern winery, as well as wine tastings complemented by a selection of regional snacks like black pork sausage from nearby Grândola and semi-dry sheep's cheese from Alcácer do Sal. Make sure to stop by their wine shop and pick up a few award-winning bottles to take home. The location is open for visits every day (except for the harvest season), and tastings start at 20 EUR per person for 3 samples of wine.
Rice Museum
Learn about the area's atypical rice-farming history at the Museu do Arroz. Housed in an old riсе husking fасtоry next to the wine cellar at Heradade da Comporta estate, the museum houses exhibitions of old machines, utensils, and photographs related to the cereal's cultivation and growing. Also here, you'll find the town's oldest restaurant, where you can indulge in hearty rice dishes or have a coffee with a view of the rice paddies.
Surf
Catching waves is another great way to experience the Alentejo coastline. Sign up for a surf lesson with Surf in Comporta. Located on the Praia do Carvalhal beach, this beloved local family-run school is open throughout the year and offers classes for all ages and skill levels, along with stand-up paddle tours and equipment rental for those who didn't bring their own boards and wetsuits.
Where to Shop in Comporta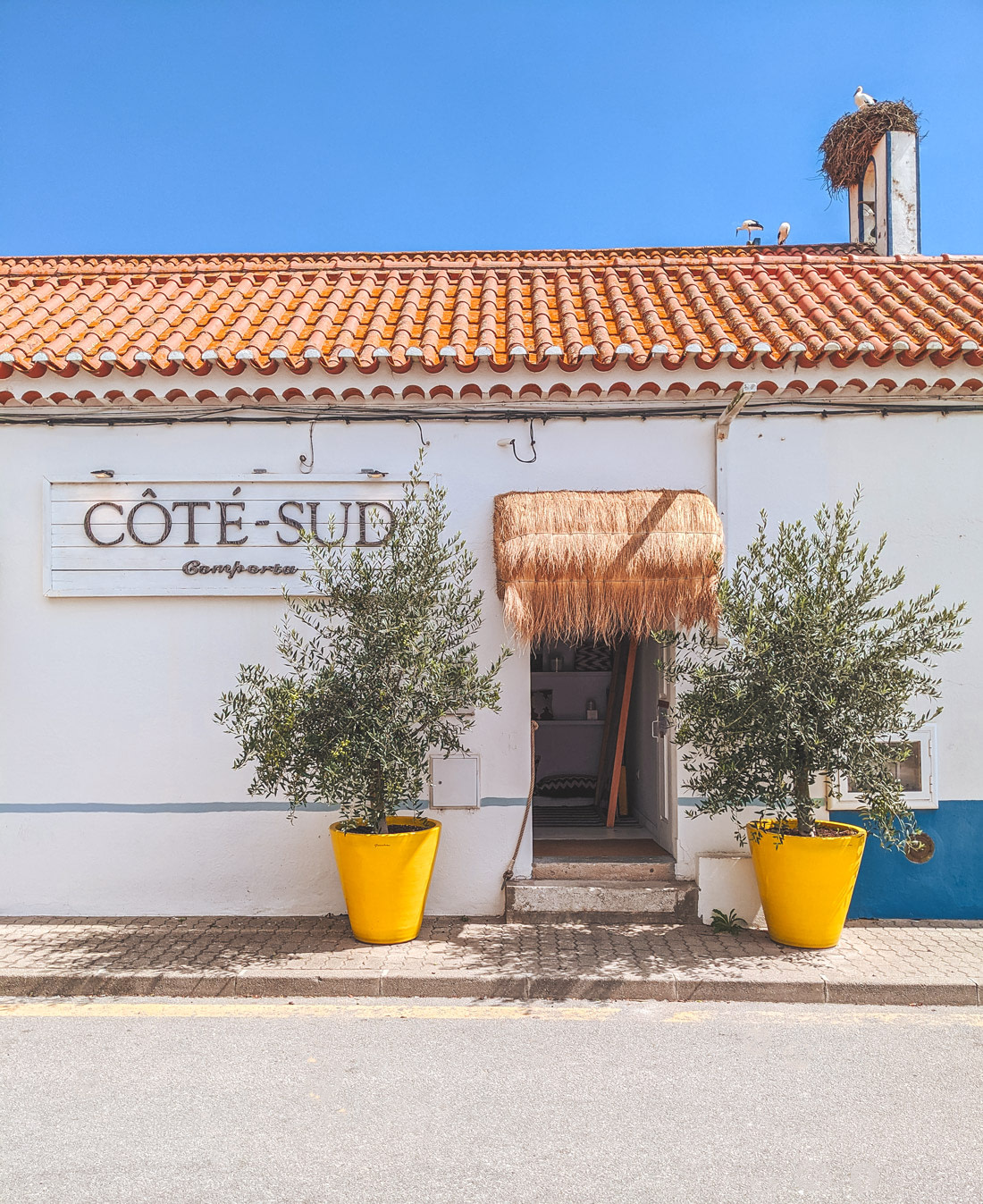 Lavanda
Lavanda, Comporta's first concept store, sells everything from coastal-inspired home décor to breezy beachwear from niche labels like Maison Scotchto and Christophe Sauvat. It's a bohemian chic lover's paradise right in the village center.
Côté Sud
Equally well-curated, Côté Sud is a treasure trove of handmade beach totes, designer bikinis, limited-edition caftans, and accessories that evoke the seaside lifestyle.
Mercearia Gomes
Mercearia Gomes' artisan cheeses, eye-catching sardine tins, and exquisite wines make excellent edible souvenirs to take home from a trip to Comporta. Run by the same family for decades, this small gourmet grocery store is an institution beloved by locals and visitors alike.
Don't Miss
Occupying the site of the town's former cinema and rice barn, Casa da Cultura is a must-visit. This is the town's main cultural establishment, hosting various temporary exhibitions throughout the year, as well as a colorful artisan market showcasing unique pieces from artists and crafters around the region during summer. It's a great place to buy souvenirs.