Vienna's architecture is a magical fusion of periods and styles, with opulent Baroque palaces that evoke the grandeur and glory of the Hapsburg Empire standing alongside Otto Wagner's Art Nouveau and Modernist masterpieces.
Steeped in history, the Austrian capital is and will always remain a city of Imperial palaces and elegant Neo-Classical boulevards, but a wave of thought-provoking buildings and shiny skyscrapers is slowly reshaping its skyline and identity, giving design aficionados even more reasons to visit.
From quirky, innovative structures to masterworks by the greatest names in the industry, here are some stunning pieces of contemporary architecture in Vienna to feast your eyes upon between a Wiener Melange and a piece of Sacher-Torte.
Steirereck Restaurant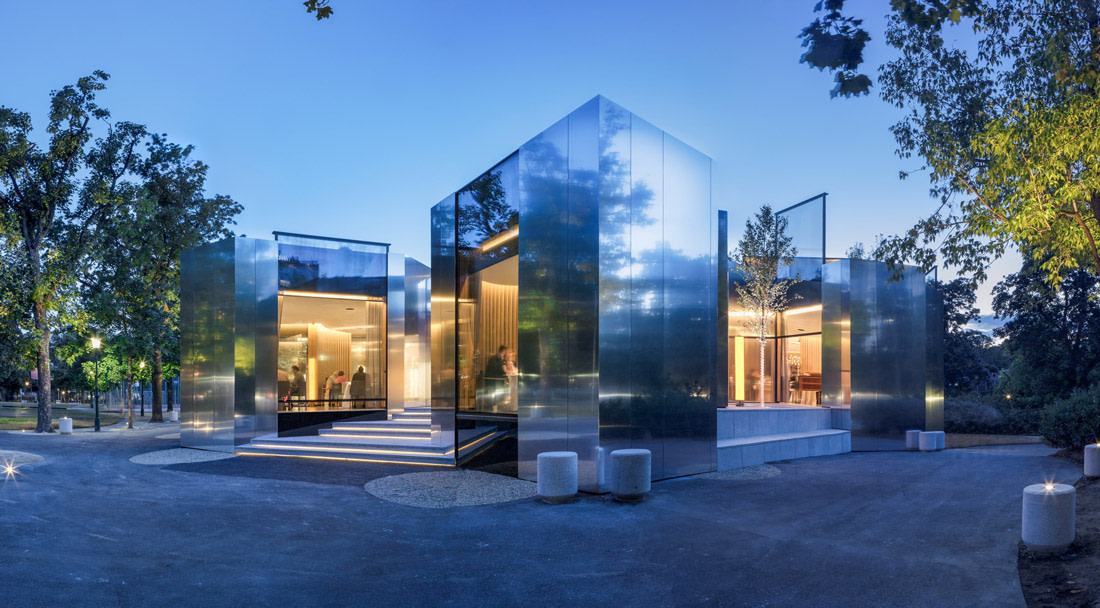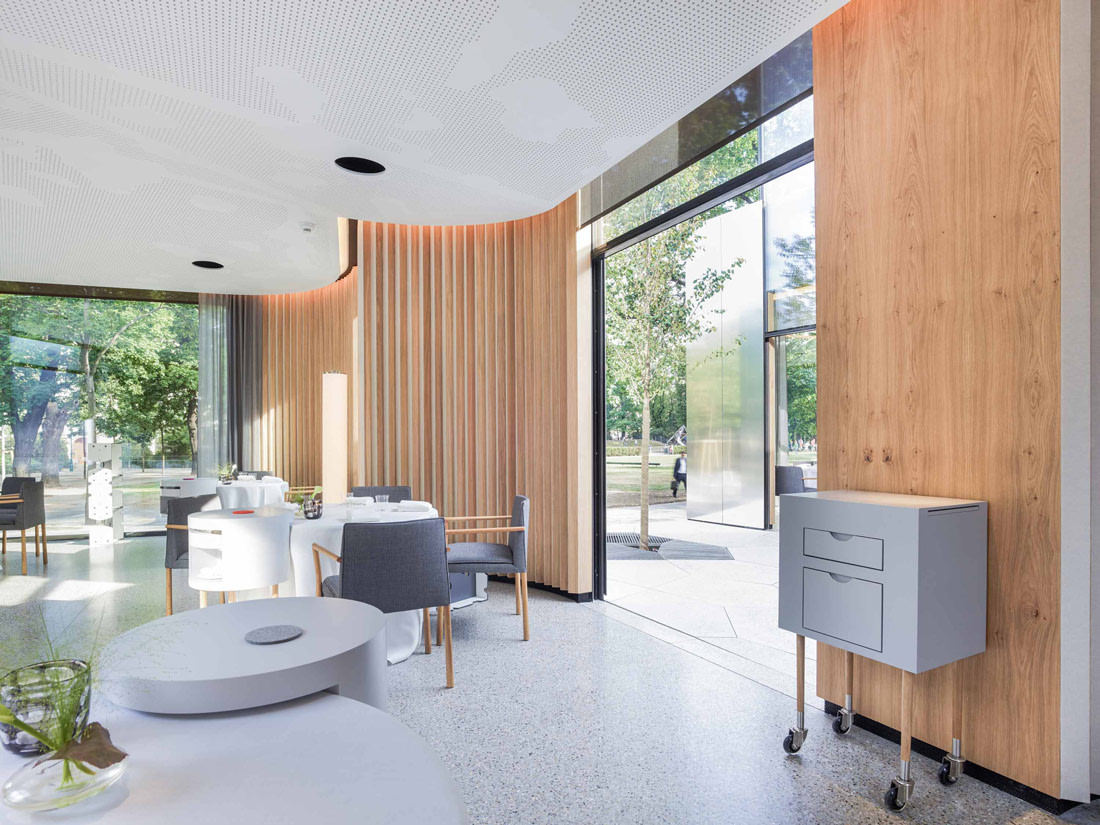 Following a spectacular renovation by PPAG Architects, Vienna's exquisite Steirereck restaurant in Stadtpark is now one of the most eye-catching buildings in town. In order to enlarge and reconfigure the dining space inside, four dazzling mirror-clad pavilions that reflect the surrounding parkland were added to the existing structure, creating an intriguing composition of shapes and volumes.
DC Tower 1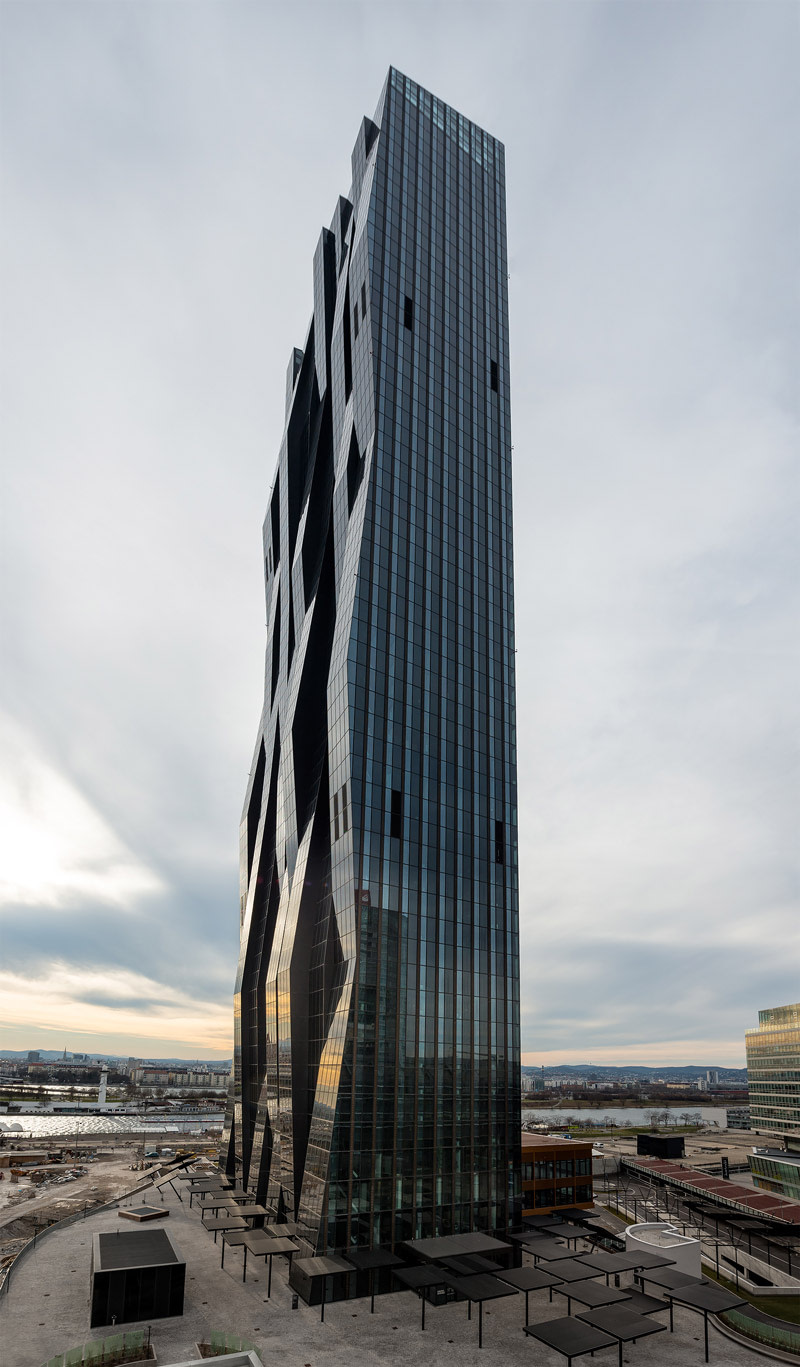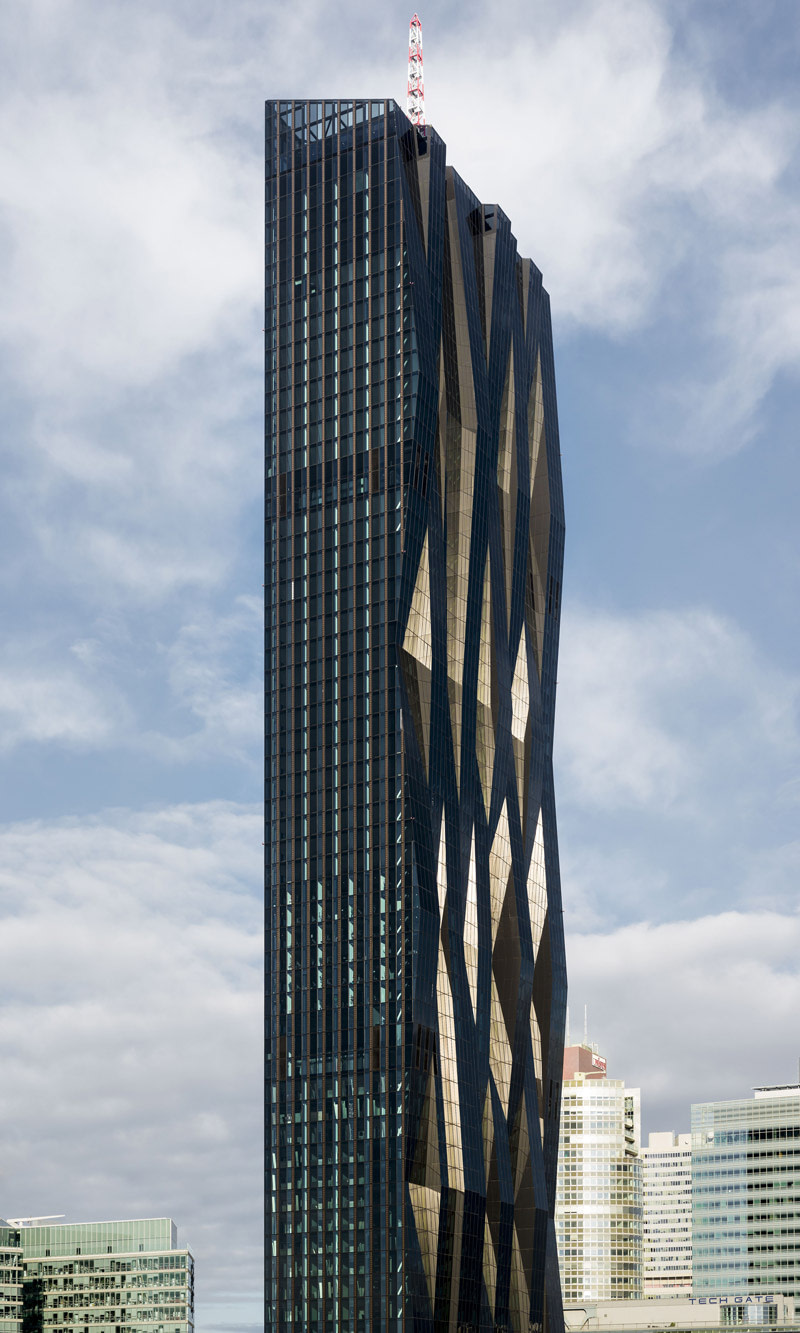 Soaring 250 m above Vienna, on the eastern bank of the Danube, DC Tower 1 is not only a landmark of the modern urban district Donau City, but also the highest building in Austria. As its name suggests, the slim, shimmering skyscraper, which bears the imprint of French architect Dominique Perrault, is part of a pair of towers envisioned as two unequal halves of a gigantic monolith.
In contrast with the pristine surfaces of black glass that characterize the high-rise, its southeastern side features an arresting folded facade meant to evoke and reflect the mighty nearby river.
Wien Mitte The Mall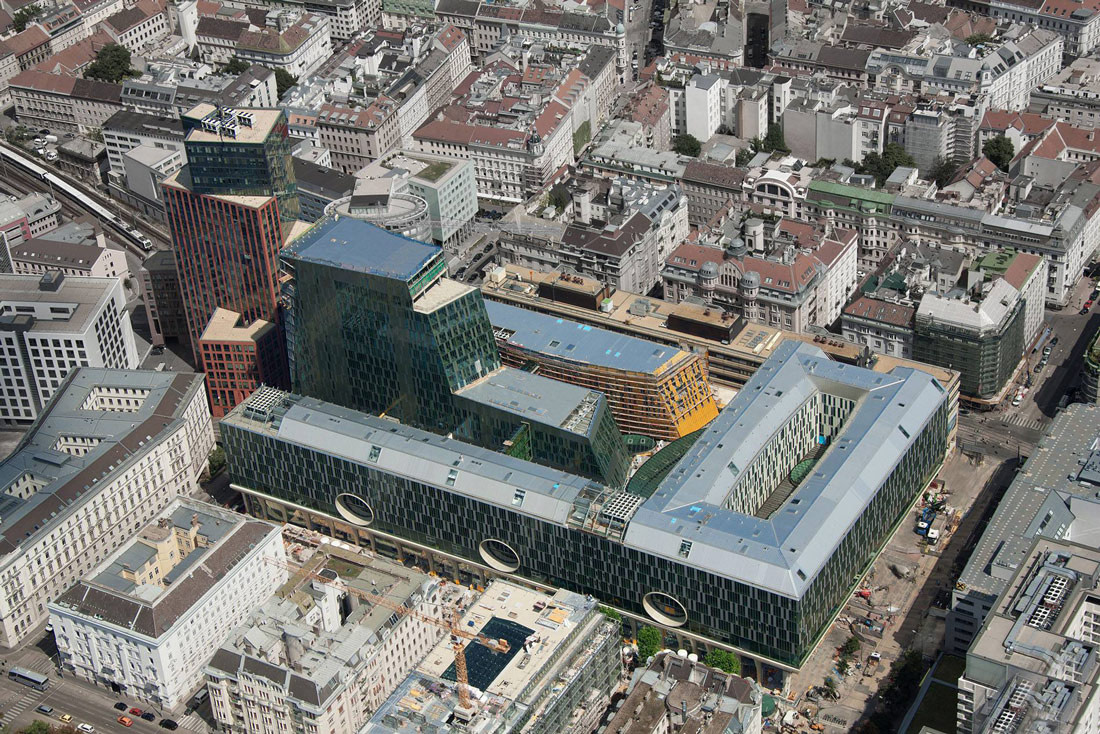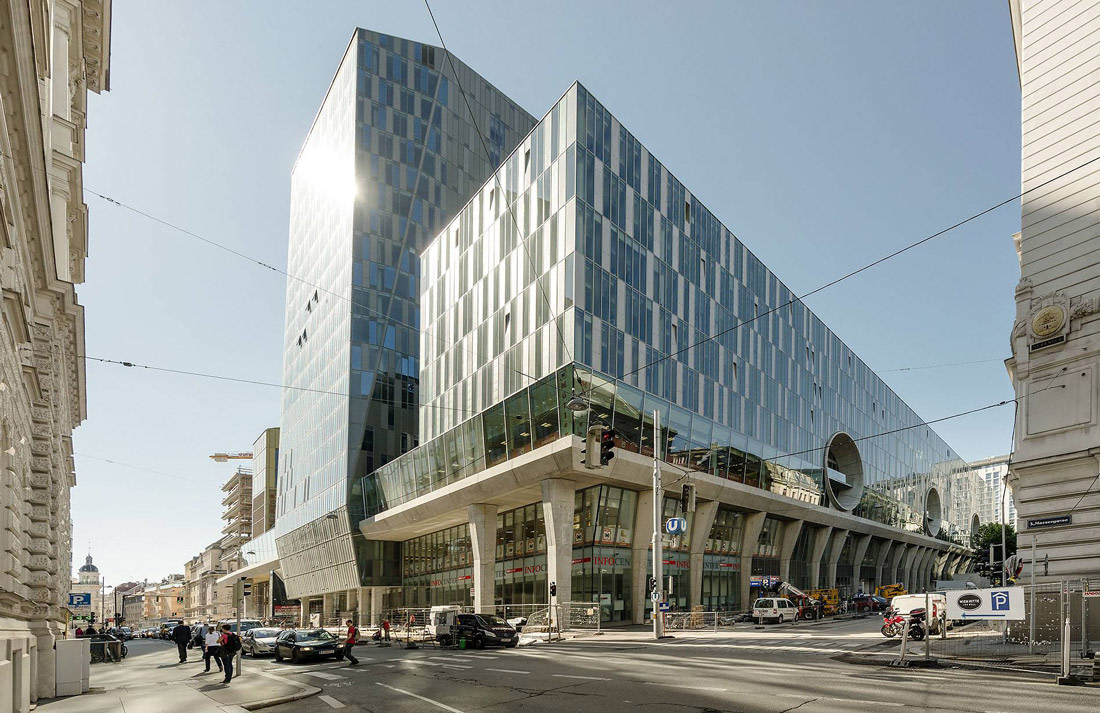 Covering 30,000 m² of retail space, Wien Mitte The Mall is the largest shopping center in central Vienna, but that's hardly its only claim to fame. A project by Ortner & Ortner in collaboration with Neumann & Steiner, the modern concrete, chrome, and glass building makes a bold architectural statement in an area that bursts with classical elegance.
Hotel Topazz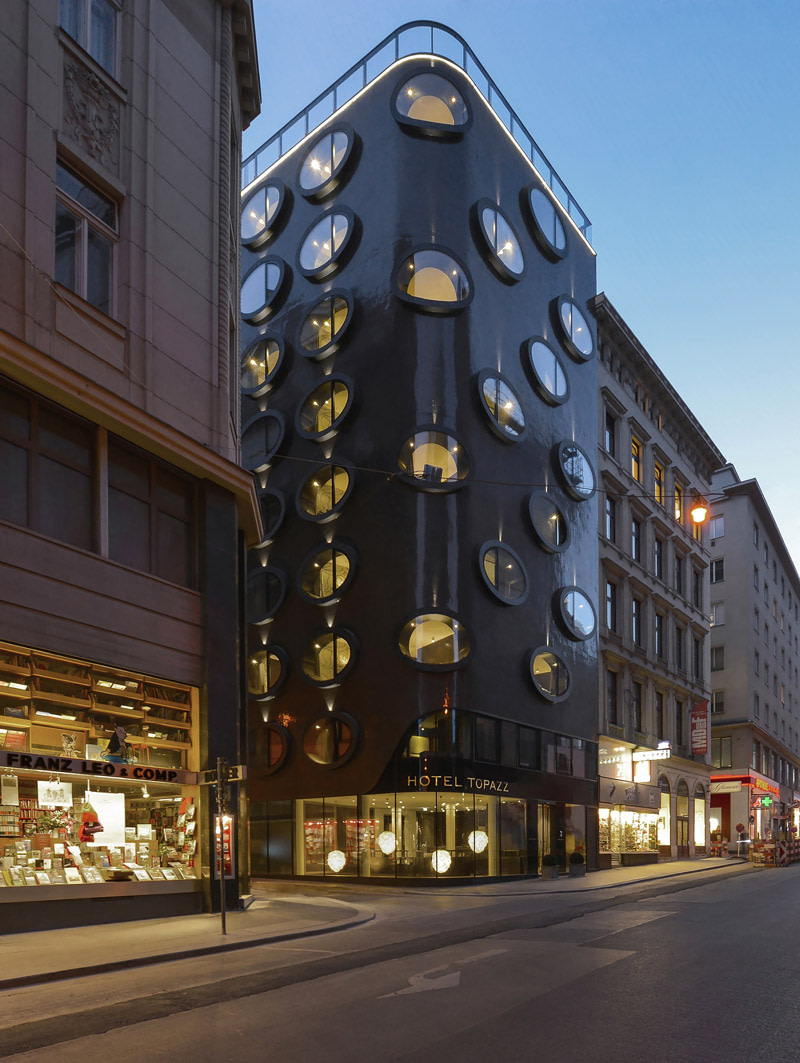 Scattered with large oval windows, the brown mosaic-tiled façade of Hotel Topazz provides a striking contrast to the Imperial jewels of Vienna's historic first district. The distinctive round-cornered structure has been designed by BWM Architects and houses the city's first green upscale hotel – a love letter to the Wiener Werkstätte artistic movement, with swish designer rooms dressed in bespoke fabrics and furnishings.
Library and Learning Centre at WU
Function aside, the new Library and Learning Centre at Vienna University of Economics and Business is a marvel to look at. Conceived by internationally acclaimed Zaha Hadid Architects, the 28,000-square-meter construction stands out thanks to its futuristic design consisting of two contrasting elements separated by a glass joint.
The most spectacular feature is the massive cantilevered black volume perched whimsically over the roof, where the main library and a series of function rooms are located. The cutting-edge inclined façade is clad in sustainable fiber-reinforced concrete panels, and so is its flowing, light-filled interior characterized by fluid, curving lines.