This post contains affiliate links, which means we may receive a small commission, at no additional cost to you, if you make a purchase through these links. See our full disclosure here.
When that long-awaited camping trip finally pops up, make sure you add these outdoor essentials to your packing list, and you'll have the time of your life.
From a groundbreaking portable stove to the ultimate tree tent, you'll find a well-rounded list of cool camping gadgets and wilderness accessories that will help you play and sleep alfresco in utmost comfort, wherever your adventures may take you. Clever and functional, these also happen to make some of the best gifts for outdoor lovers.
Sure, there will always be a new gadget or accessory that could add to your experience in the wild, but if you want the best camping gear in 2021, look no further!
Instant Cabin Style Tent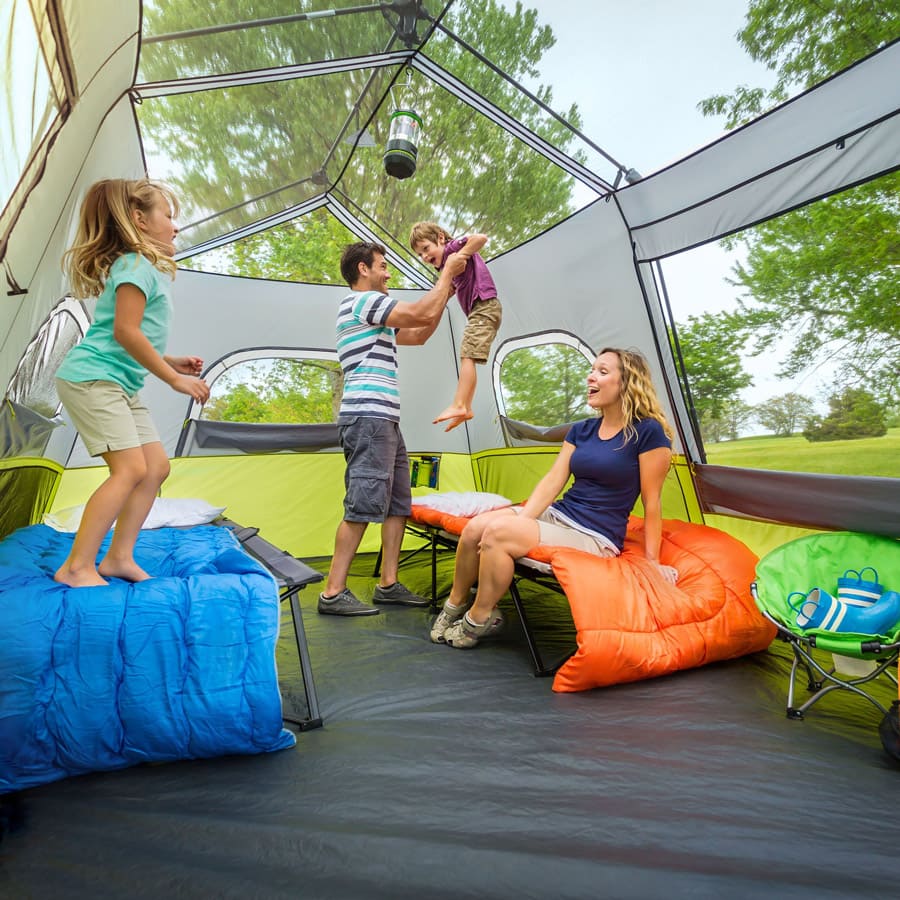 Add a homey feel to your next camping adventure with the 9 Person Instant Cabin Tent from CORE Equipment. Fitted out with pre-attached poles, this cool cabin style shelter allows for hassle-free setup in 60 seconds! Plus, it features a room divider, as well as zippered doors and windows for convenient privacy and ventilation. Additional features include hanging storage pockets and a fully-taped water-resistant rainfly, which creates the illusion of sleeping under the stars once removed.
Sleek First Aid Flashlight
Just like food and water, a first aid kit is a must when going to remote areas. Designed for daily adventures, this ultra-packable medical set by VSSL is actually a LED flashlight packed with everything you could possibly need in case of an emergency, from painkillers and antiseptic wipes to tweezers and nitrile gloves. It even includes a compass and an emergency whistle. All items are rolled into a sleek, indestructible 9″ long tube that you can easily attach to your outdoor gear and carry with you anytime.
Modular Survival Shovel
One of our favorite pieces of survival gear, the EST Shovel is a portable 18-in-1 multi-tool capable of saving the day in a wide range of outdoor scenarios. With a carbon steel spade and military-grade aluminum handle, the fantastic utensil combines durability and performance into a lightweight, smartly designed package that can slim down to as little as 2.5 pounds.
Envisioned with adventure in mind, this tactical shovel is easy to disassemble and includes an axe, knife, saw, spear, bottle opener, fire starter, wire-cutter, trowel, hex wrench set, nail puller, pick, ruler, hook, screwdriver, whistle, compass, and rope cutter. Built to last forever, it's backed by a lifetime warranty and comes in a waterproof, form-fitting pouch for easy storage, carrying, and protection.
Clothing Washing Backpack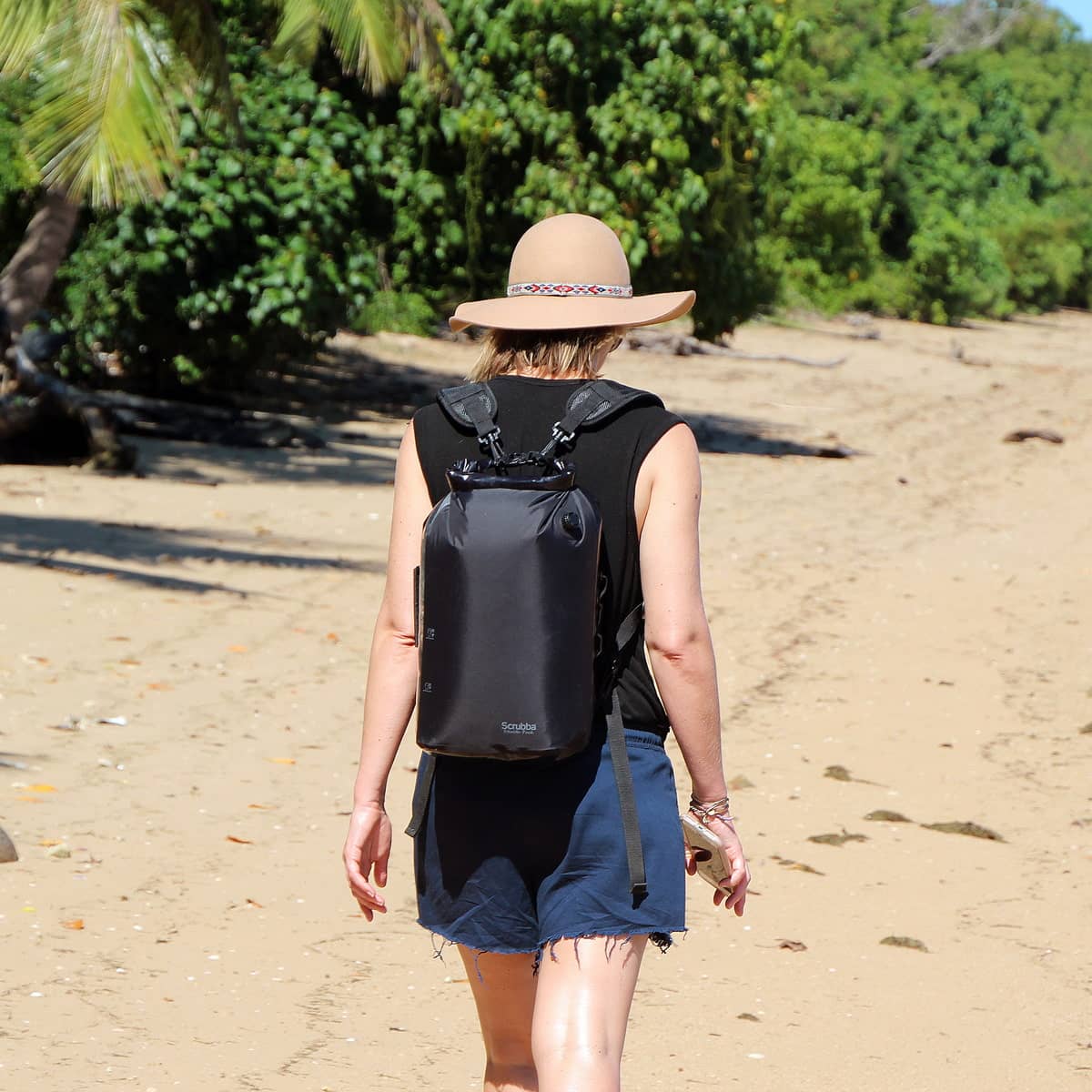 From the creators of The Scrubba wash bag (world's smallest washing machine), this durable, versatile backpack combines a portable shower, compression dry bag, and washing machine into one of the most original pieces of gear you can add to your camping collection.
Made from waterproof 40 denier nylon fabric and complete with adjustable straps, the Scrubba Stealth Pack does much more than just storing your travel essentials. The internal washboard makes it easy to wash your clothes anytime, anywhere, while a new multifunctional valve helps transform the pack into a camp shower or a compression bag for compact storage when the situation calls for it.
Portable Inverter Generator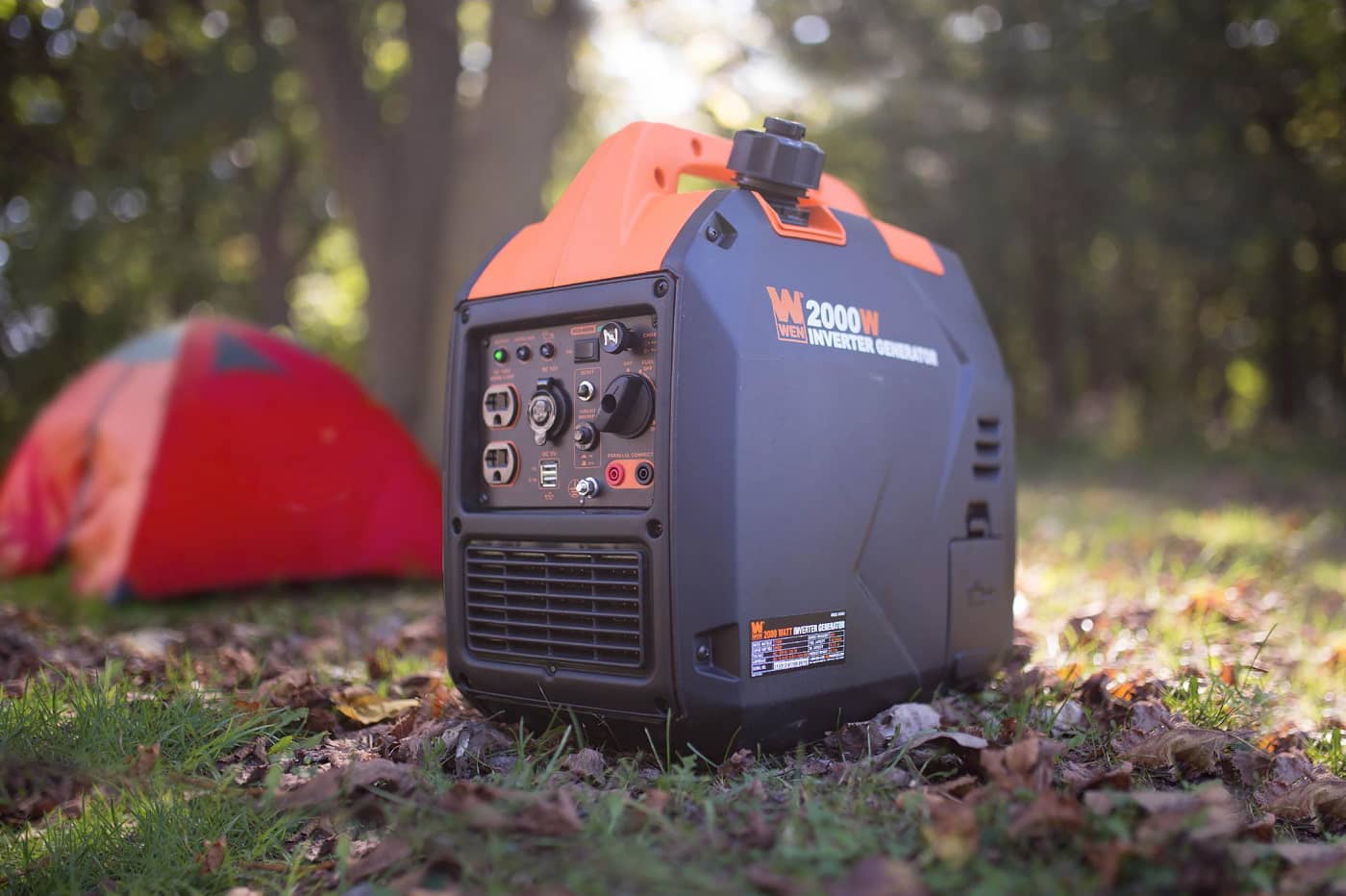 Looking for a portable source of power for your recreational needs? The WEN 56203i Inverter Generator has you covered, delivering 2,000 running watts in a compact, lightweight package that's easy to transport and store.
Packed with safety features and a variety of outlets, this machine will keep all your electronics up and running on the campsite, all without damaging them or disturbing your neighbors. The built-in ECO-mode adjusts fuel consumption and gives the generator a longer run time.
Ultra Comfortable Sleeping Bag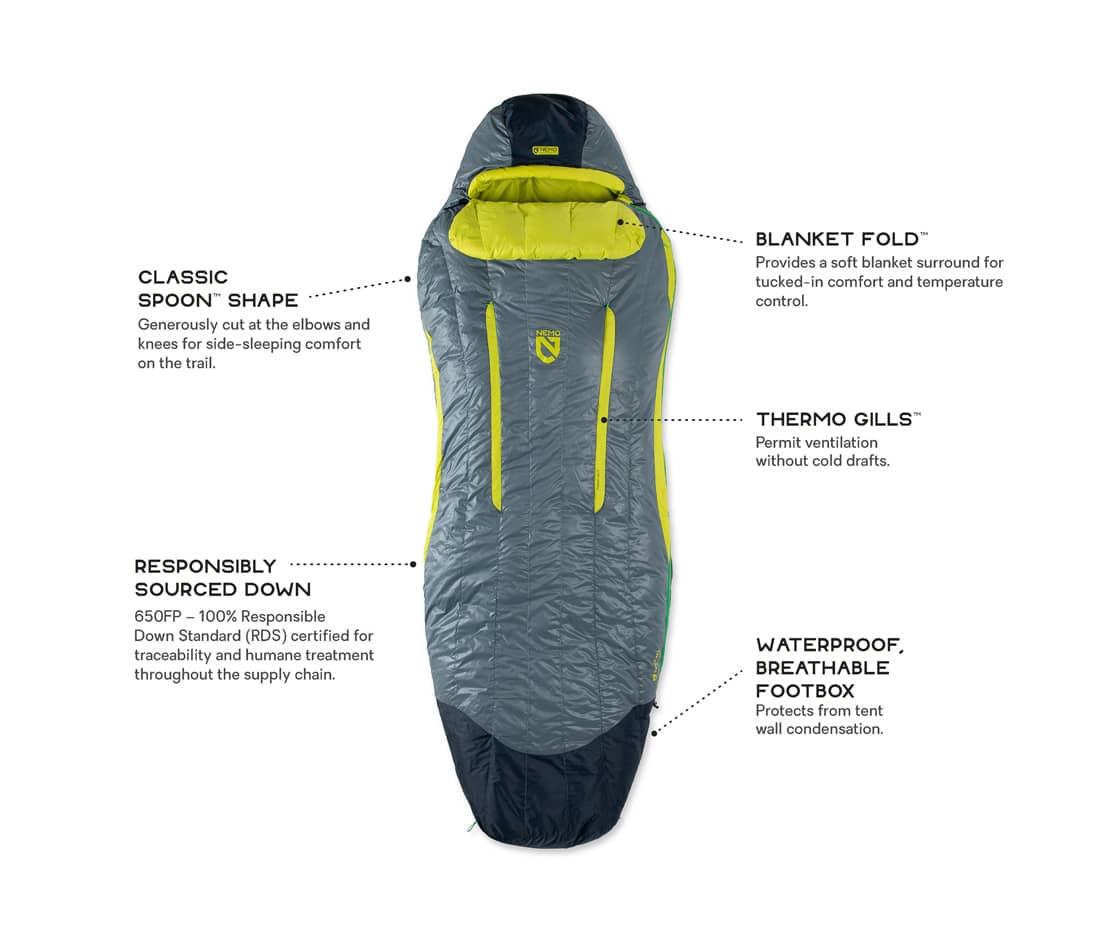 A unique, innovative design, along with 650-fill water-resistant down and durable water repellent finish, makes the Nemo Disco 30 one of the best sleeping bags on the market.
Its novel spoon-like shape allows users to sleep on their side and comfortably shift positions during the night, while Thermo Gills – an ingenious temperature regulation feature, enables the bag to remain cozy in varying temperatures. Combine this with enhanced comfort features like a fully-insulated hood, full-length draft tube, and oversized external draft collar (called Blanket Fold), and you've got yourself a reliable companion for those much-needed camping and backpacking excursions.
Portable Espresso Maker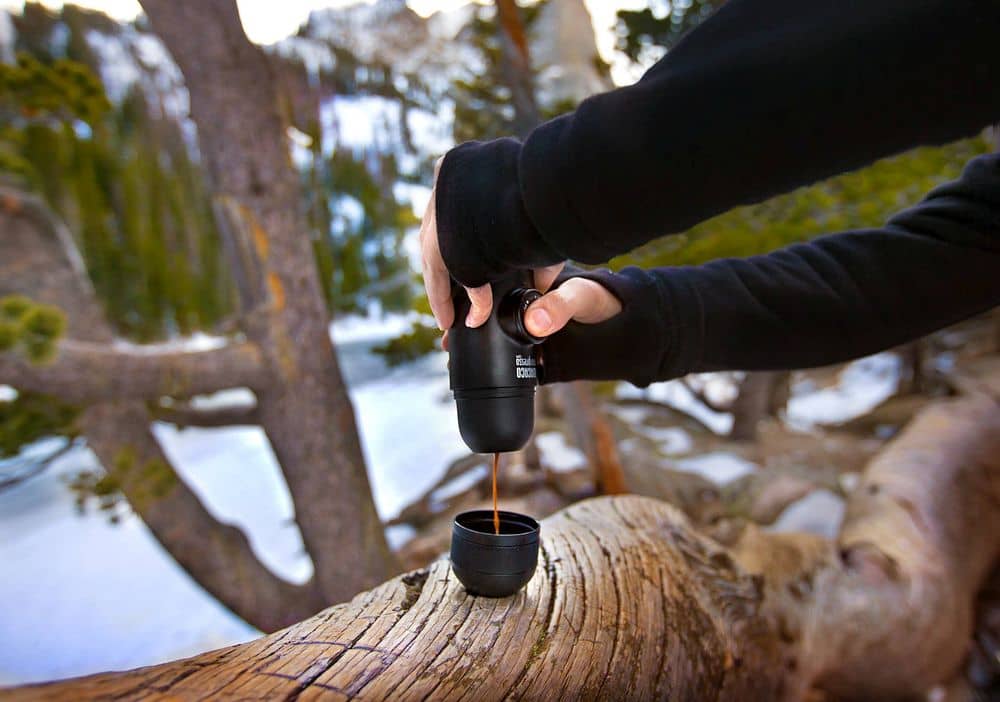 If you like your comforts when camping, you'll absolutely love this compact, portable espresso maker by Wacaco. Billing itself as the "smallest, lightest and most versatile handheld espresso machine", Minipresso uses a semi-automatic piston so you can brew your rich, high-quality espresso anywhere. And the best part: it doesn't need compressed air, N2O cartridges, or electricity, just water and your favorite coffee beans.
Portable Wood Burning Campstove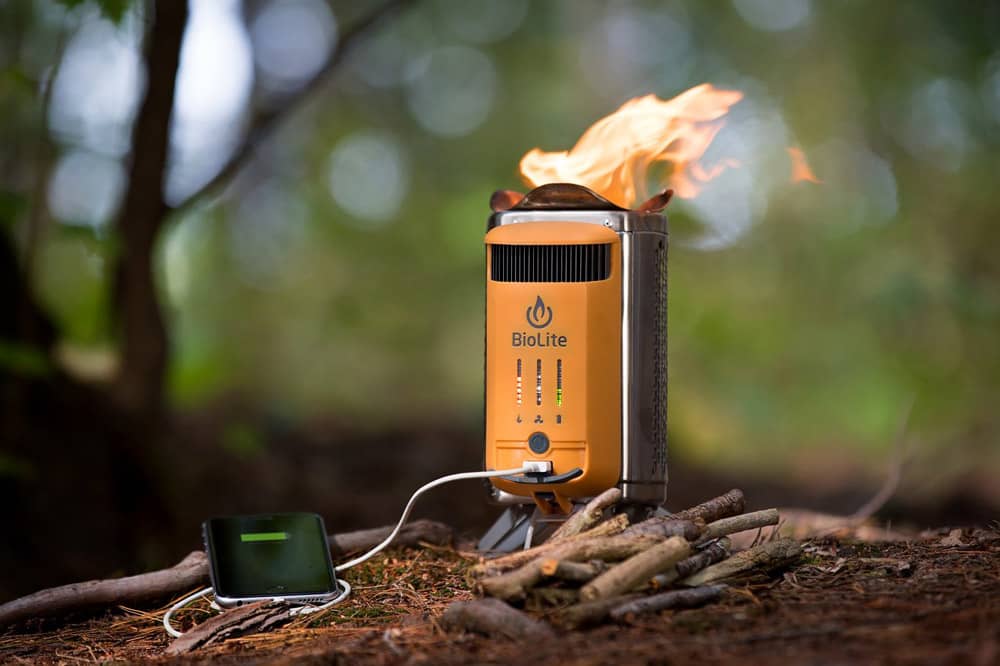 Sleek, handy, and eco-friendly, the BioLite CampStove 2 does more than just cooking and boiling water – in fact, it's one of the best camping gadgets money can buy. Just like its predecessor, it converts the heat from a fire into electricity, allowing you to charge LED lights, mobile phones, and other gadgets while being out in the great outdoors.
This updated version of the original CampStove comes with 50% more power, a removable 2,600 mAh battery, and a smart LED dashboard showing current battery status and fan speed settings. Since it weighs 2 pounds, it's better suited for car camping than backpacking.
Petit Pocket Blanket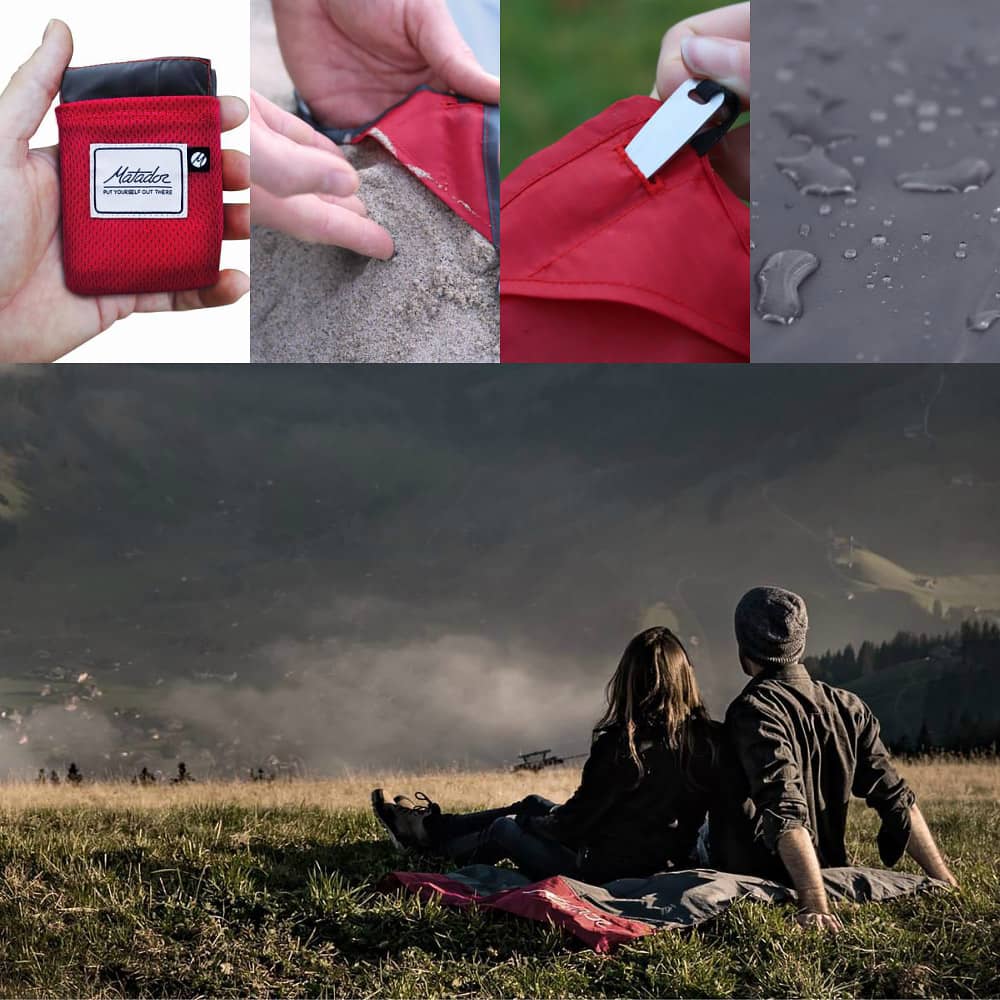 Tiny enough to fit in your pocket, this water/puncture resistant foldable blanket is the ideal accessory for camping, picnics, festivals, and just about any other outdoor endeavor you can think of. At 63″ X 44″, the Matador Pocket Blanket 2.0 fits 2-4 adults, but folds down to the size of your wallet when not in use, which makes it the perfect addition to your best hiking gear arsenal. Built-in corner stakes and sand pockets ensure the spread stays on the ground on those windy days.
Portable Camp Bed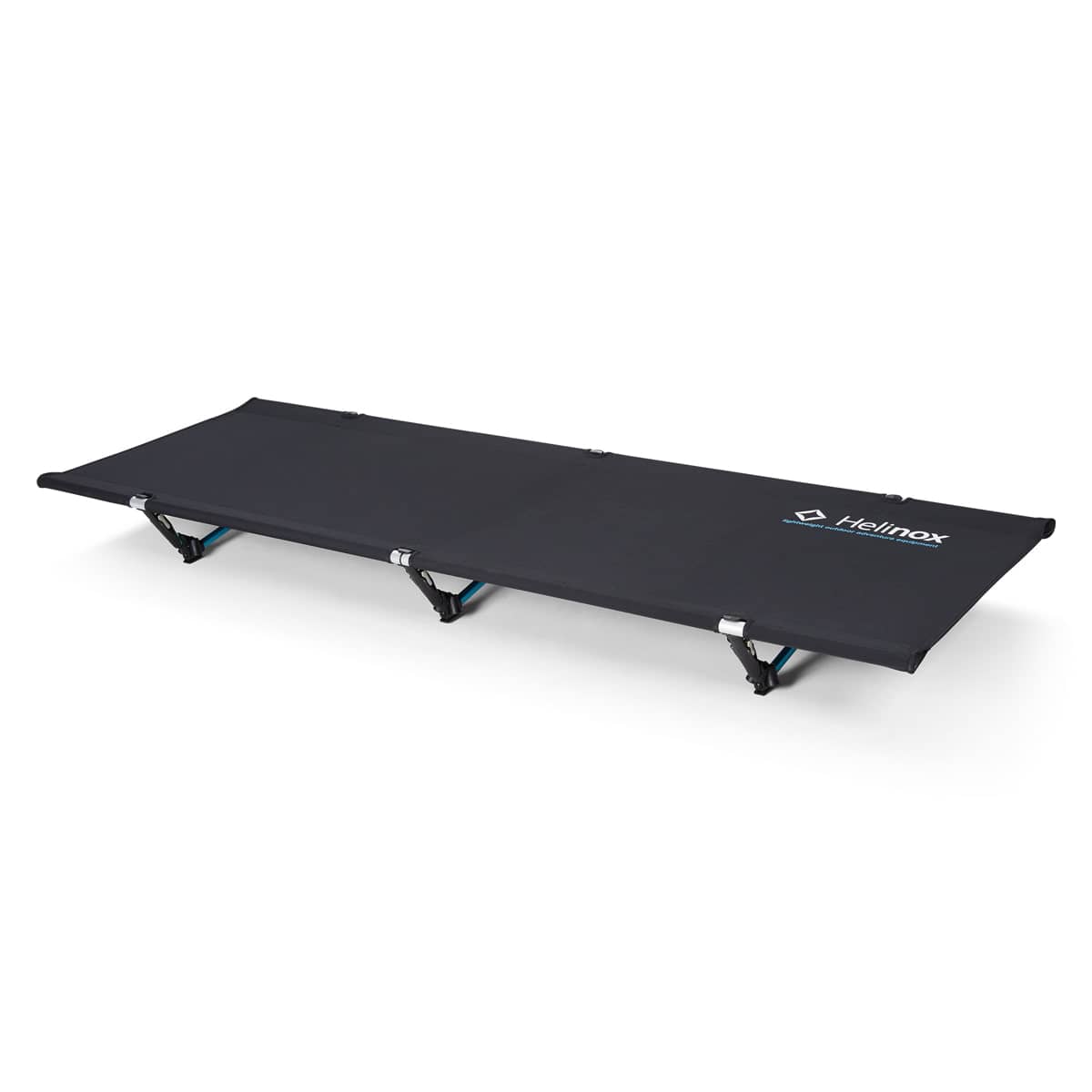 For the ultimate in camping comfort, pamper yourself with the Cot One Convertible. Designed to ensure outdoor enthusiasts enjoy a good night's sleep off the ground, this portable bed by Helinox is a valuable item to add to your camping gear.
Its light yet strong aluminum frame is complemented by an innovative lever locking system that creates an even surface and topped with a sturdy, breathable woven fabric for maximum comfort. Quick to assemble and easy to carry, it makes the ideal motorcycle camping accessory.
Best Portable Soft Cooler Bag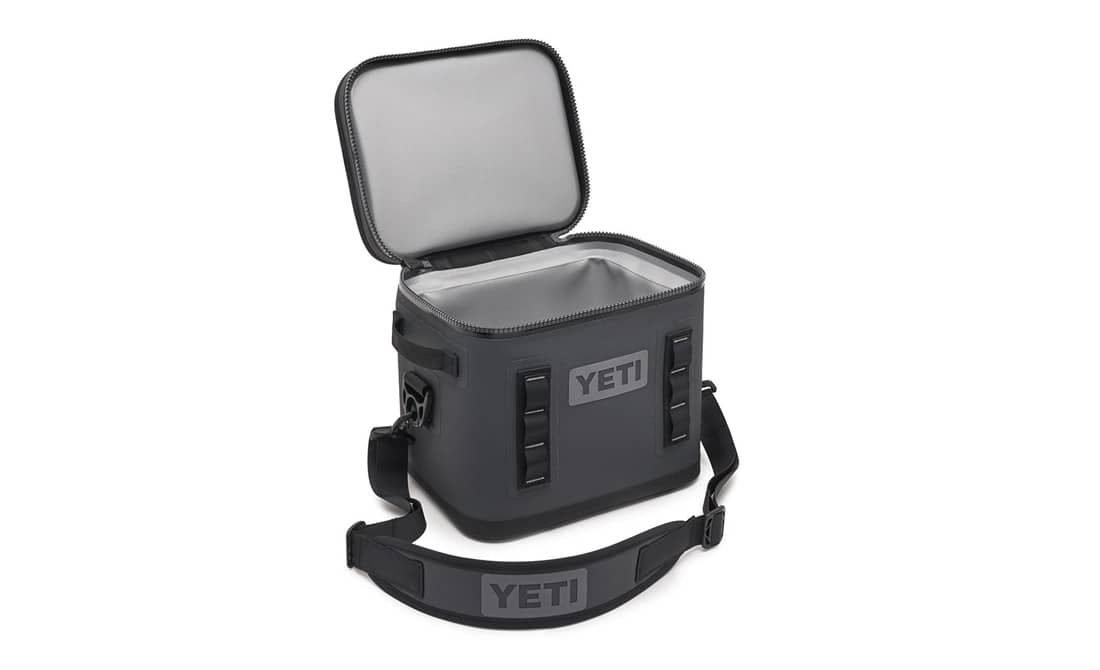 Combining stylish, sturdy design with innovative ColdCell insulation, the Hopper Flip 12 by Yeti keeps your food and drink chilled longer than most portable soft coolers on the market. This makes it an excellent choice for a weekend getaway with friends and family, be it a camping holiday, a fishing expedition, or a trip to the beach.
The interior is fully lined with food-grade antimicrobial material to prevent mold, and its ergonomic shoulder strap along with the variety of handles on the top and sides provide plenty of carrying options. As its name implies, this soft pack cooler can hold up to 12 cans plus ice, but there are multiple sizes for different adventures.
Portable Mosquito Repeller
Protect your skin from bites in the wilderness with the Thermacell MR150 Portable Mosquito Repeller. This compact and lightweight outdoor device keeps insects at bay by creating a scent-free 15-foot protection zone around it. The product is powered by a Thermacell fuel cartridge that warms a disposable mat infused with Allethrin, a synthetic copy of the natural repellent found in the Chrysanthemum flower.
The MR150 repeller is available in 5 different colors and comes with 1 fuel cartridge (lasts up to 12 hours) and 3 insect repellent mats (each lasts up to 4 hours). Refills are sold separately.
Champion Outdoor Speaker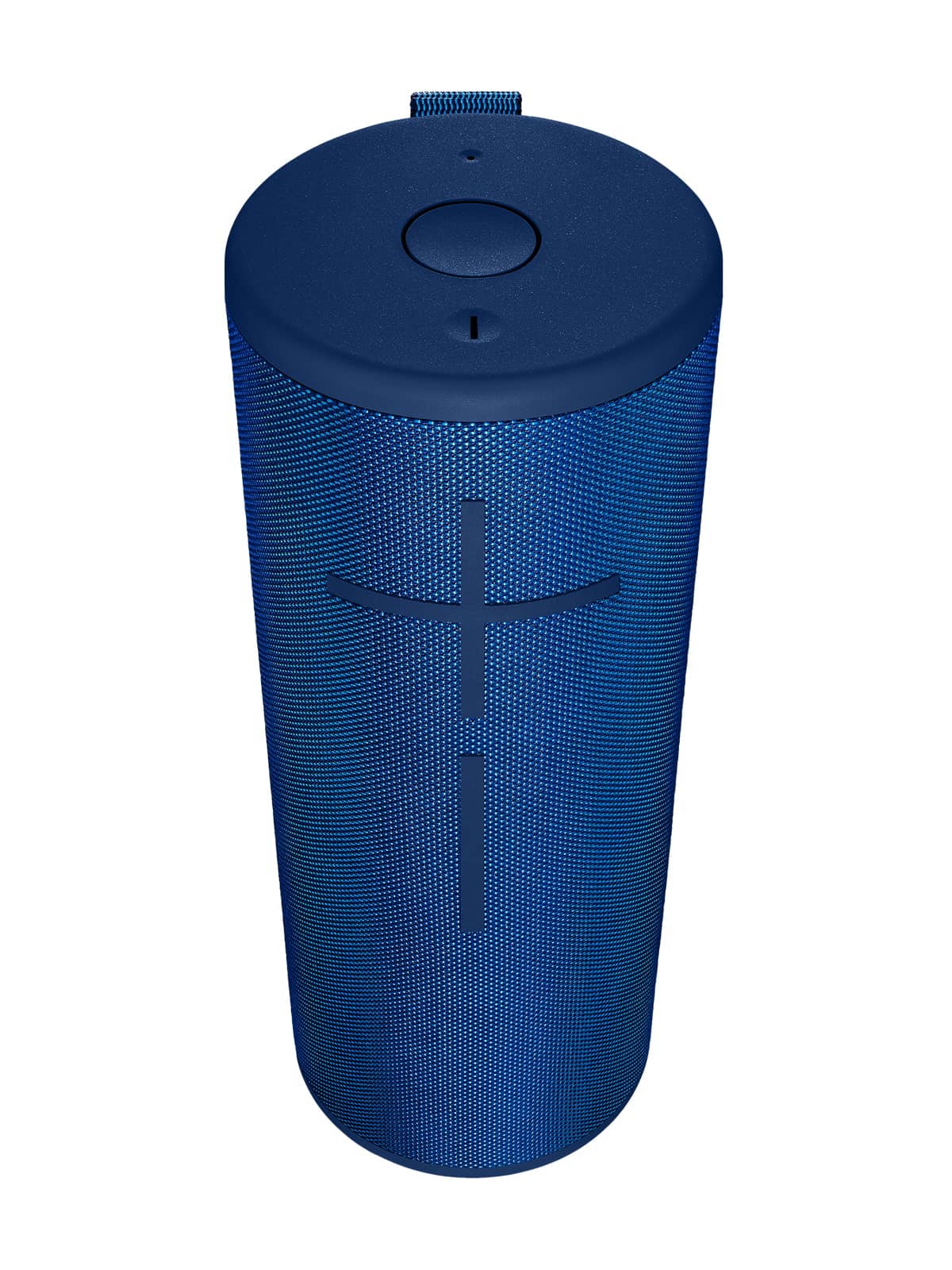 Bring your favorite tunes to the campsite with MEGABOOM 3, one of the best portable speakers for the job. Designed for outdoor use, this rugged, refined cylinder prides itself on its amazing 360-degree sound, a staggering 20-hours of playtime, and an increased Bluetooth range (from 30m to 45m). It also has an IP67, which means it's dustproof, water-resistant, and will even float around when dropped in the water. Another cool feature is the top "Magic Button", which allows you to play, pause, and skip tracks, as well as set up a custom one-touch playlist, all without having to reach for your smartphone.
Solar Camp Shower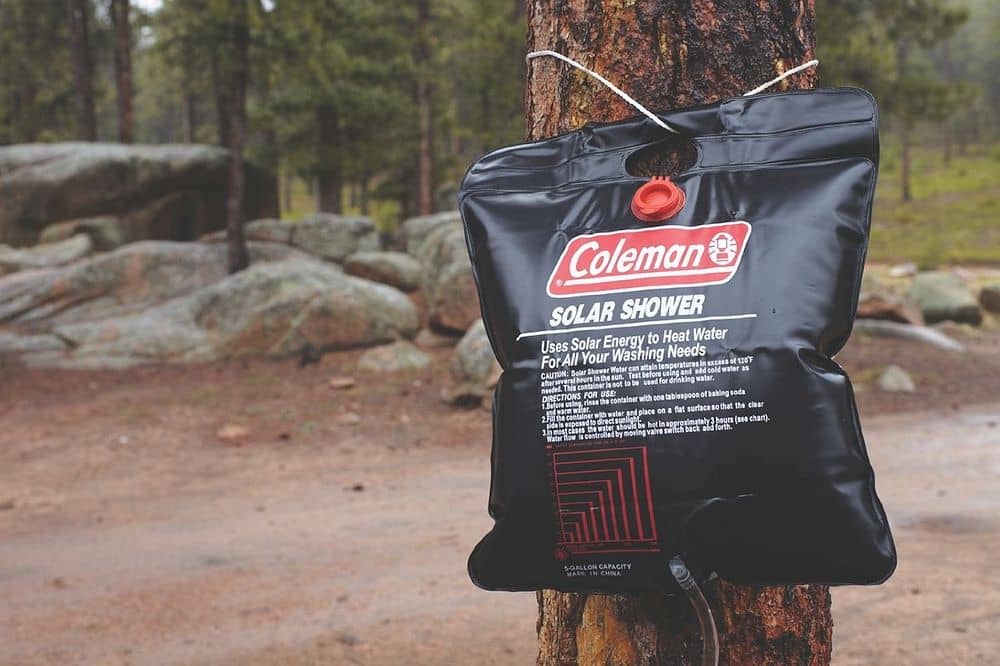 Having your own shower when camping is priceless, that's why this smart Coleman 5-Gallon Solar Shower will be your best friend next time you decide to venture outdoors. Made of PVC and equipped with a strong handle, it has a convenient on/off valve connected to the shower head, ensuring a hassle-free shower experience. Additionally, it uses solar energy to heat the water, which, by the way, is enough for multiple showers.
Water Filter Bottle
A water filter is a must for anyone who loves camping, hiking, or spending time in the great outdoors. Manufactured by Swiss-based company Vestergaard, the smart LifeStraw Go Bottle uses a 2-stage filtration process to remove bacteria, protozoa, chlorine, and bad taste, helping you get pure, safe water on the go.
Made of BPA-free Tritan, this stylish refillable water bottle works with a replaceable activated carbon capsule and has a leak-proof lid with a flexible and detachable food-grade silicone mouthpiece.
Portable Camping Chair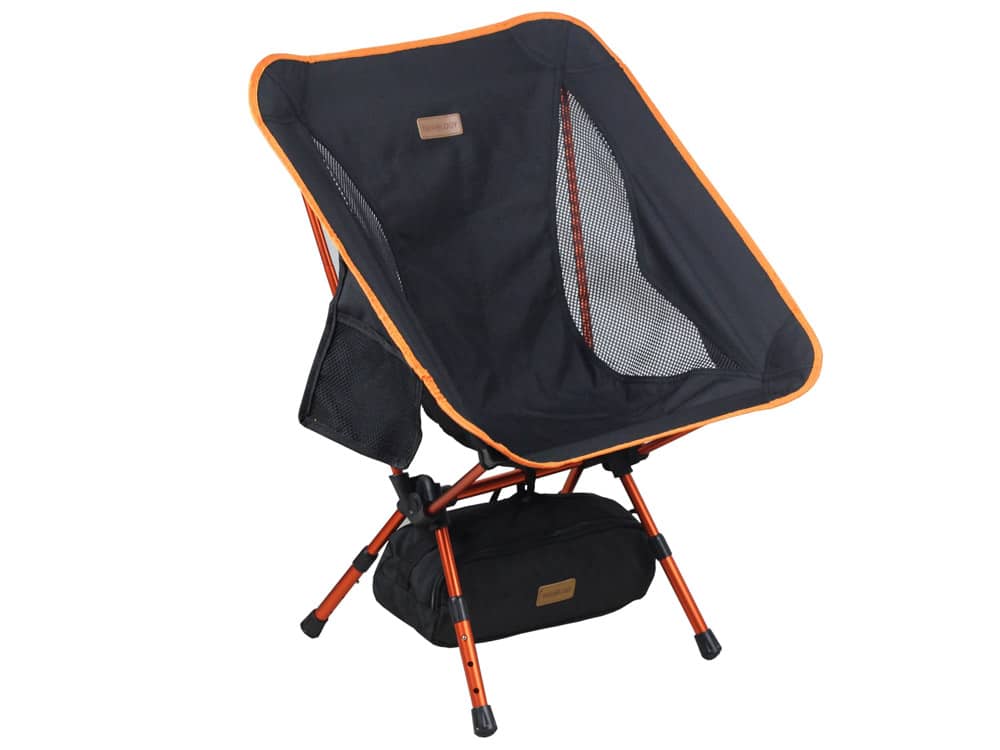 With its ultra-portable design and adjustable height, it's no surprise the Trekology YIZI GO consistently shows up on lists of the best camping chairs in 2021.
Constructed from aerospace-grade 7075 aluminum alloy and 600D engineering-grade nylon fabric, and appointed with breathable side mesh panels, this travel chair scores high on both sturdiness and functionality. Its highlight, however, is the adjustable seat height, which allows you to sit 13, 14, or 15 inches above the ground.
The weight is 2 lb in the storage bag, and it packs down to only 11 x 4.3 x 6 inches. All these, coupled with the fact that it sets up in seconds, make it a must-have item on your camping gear list.
Multi-Functional Drinking Water Bottle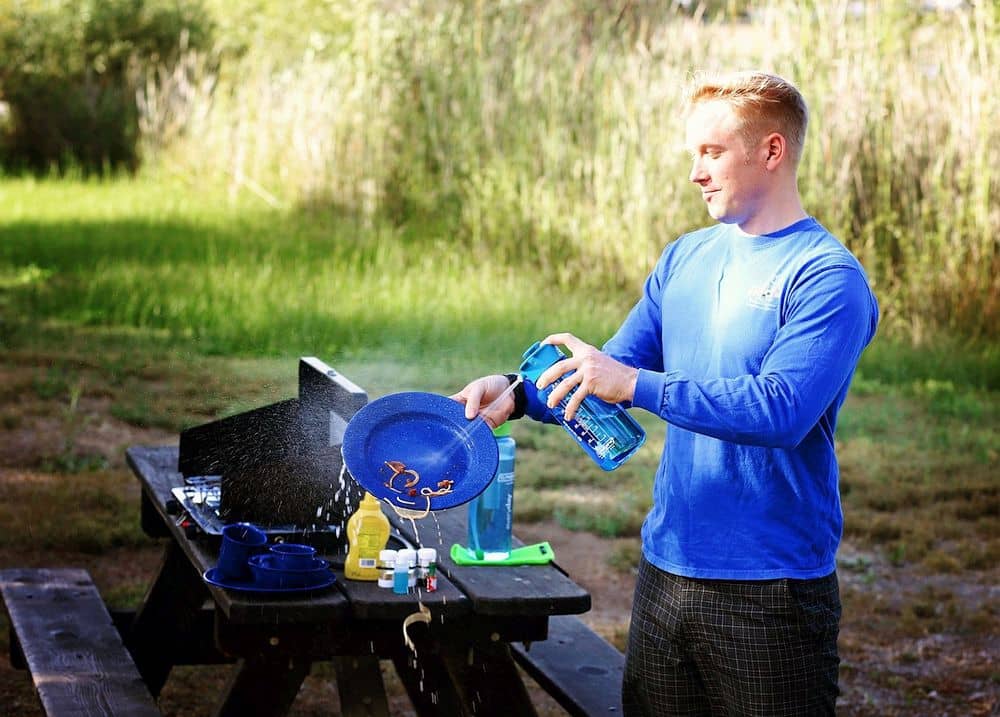 LUNATEC's Aquabot is more than just a fun camping accessory. Equipped with shower, stream, and mist patterns, it helps you stay cool and hydrated while out and about. The shower can be used to clean gear, and its 25-foot stream makes it perfect for water fights.
Ingenious Rolling Grill
There are lots of things to consider when choosing the best travel grill for you, but if easy transportation and set-up are high on your list of proprieties, you can't go wrong with Bison's award-winning Rolling BBQ Grill.
Designed with backpacking campers in mind, this nifty outdoor cooking appliance is made from durable, lightweight aluminum and features hollow modular grates that allow it to roll up into a compact, portable cylinder weighing less than 1.2 pounds. Coated with non-stick Teflon, the unit provides healthier food and it's extremely easy to clean. The set also includes grill guards, a bundled carry sack, and a pair of size-adjustable stakes for convenient cooking over an open fire.
Award-Winning Tree Tent
Add a whole new level of comfort to your camping adventure with the Stingray 3-Person Tree Tent (3.0). Whether suspended between trees or pitched on the ground, this revolutionary elevated shelter keeps campers separated and in total comfort in their own personal sleeping bays.
A 5,000HH rainfly offers protection even in the heaviest downpours, but can also be removed for glorious views, and there are plenty of storage nets for organizing your packs and gear. Cool design and insane practicality make this portable treehouse one of the best camping accessories you can pack along.
Durable Hiking Backpack
All experienced adventurers out there know that choosing the right backpack can make a huge difference on a camping trip. Designed as a trustworthy travel companion for daily hikes, Topo's classic 22L Klettersack is handmade in Colorado and features a handsome, durable 1000D Cordura exterior with two strong shoulder straps, heavy-duty plastic hardware, as well as side pockets and natural leather lash tabs for additional attachments. Also here, you'll find a handy zippered top pocket, roomy enough to store your electronic gadgets.
Lined with a coated pack cloth, the interior consists of one big compartment, plus an additional computer sleeve for your laptop.
Inflatable Solar Lantern
A good lantern is essential when you go camping, and this compact, solar-powered device is all you need to light up your next outdoor experience. The PackLite Nova USB provides over 75 lumens of bright LED light on Turbo mode and can run for up to 24 hours on Low setting.
An upgraded version of the award-winning LuminAID PackLite 12, this new outdoor gadget can be recharged by micro USB input (cord included) in 1-2 hours, or by the built-in solar panel in approximately 10 hours of sunlight.
Made with durable TPU plastic, it is waterproof, shatterproof, and it even floats on water. Thanks to its compact, portable design, with a clever twist-to-close feature and an adjustable hanging strap, this solar lantern really is an awesome piece of camping equipment.
Stormproof Match Kit
A UCO Stormproof Match Kit is perfect to throw into your camping essentials bag. The package includes a durable, waterproof case that floats, 3 strikers, as well as 25 windproof and waterproof matches that light up even in driving rain, heavy winds, and snow.
Smart Outdoor Watch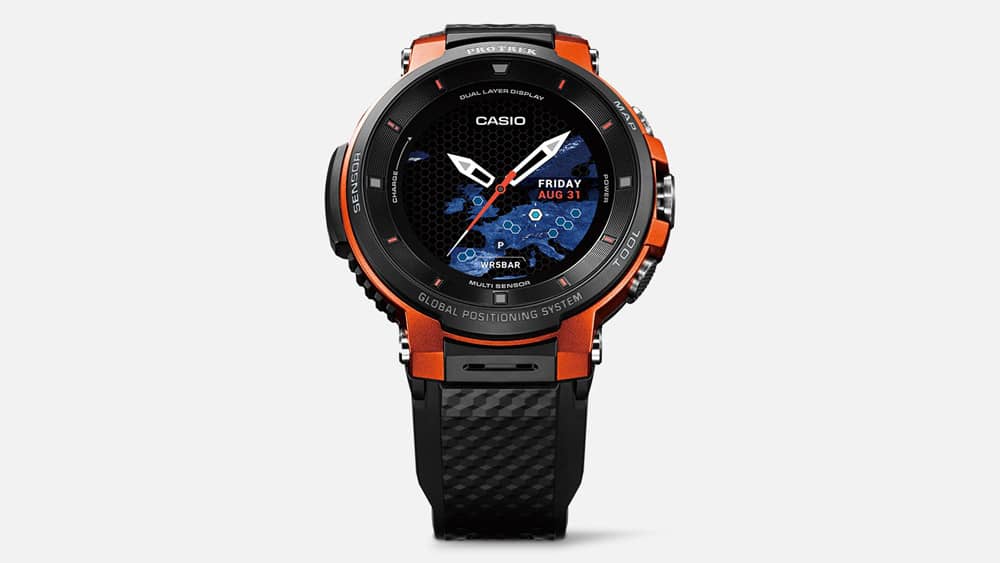 Certified to US military standards, the Casio Pro Trek Smart WSD-F30 is a tremendous accessory for any adventure enthusiast looking for a cool piece of wearable tech. With its impressive 50-meter water resistance structure, built-in GPS, offline maps, and innovative 1.2-inch OLED 390×390 color display, this is probably the most outdoorsy of all Android Wear smartwatches on the market.
Needless to say, it is waterproof, shockproof, and vibration proof, and its complex sensors provide accurate, real-time notifications of activity tracking, altimeter, barometer, and much more. Compared to its predecessor (the WSD-F20), this newer version is slightly slimmer, has an improved display, and longer battery life.
Camping Cooking Gear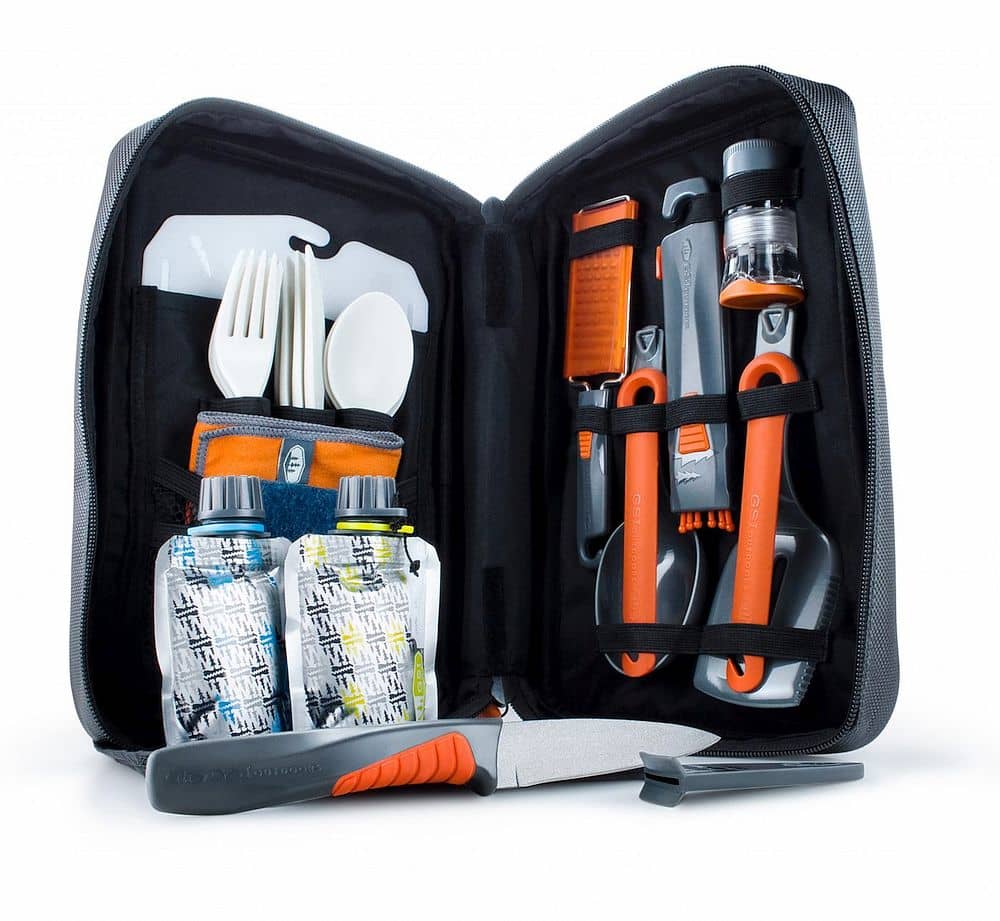 Looking for some cool camping cooking gear to add to your packing list? Complete with 4 full sets of cutlery utensils, the GSI Outdoors Destination Kitchen might be perfect for you. This compact 24-piece set also includes a variety of folding tools, a cutting board, utility knife, and waterproof spice shakers.
Portable Solar Battery Charger
With Goal Zero's Switch 10 Multi-Tool Kit, you will never run out of power while camping again. Equipped with 2 USB ports, Nomad 7 solar panel, and intelligent charging technology that matches your device, this little guy fills up your smartphone, tablet, camera, and other USB gadgets using only the power of the sun. And better yet, it is an all-in-one power solution, complete with charging cables, flashlight, and fan tool. Its lightweight, ultra-thin design makes it the perfect companion for long treks and day trips away from electrical outlets.
Gerber Ultimate Survival Knife
Whether you're jetting off for the adventure of a lifetime or just camping with your family, you'll definitely feel safer with the Ultimate Survival Knife.
Designed by leading survival knife and outdoor gear brand, Gerber, this versatile tool features an ergonomic rubber grip, a steel hammer pommel, and an emergency whistle. The knife's 12 cm drop point blade is made of durable stainless steel and has a partially serrated edge, while the sheath contains a sharpening stone and a firestarter.
Heavy-Duty Camping Shelter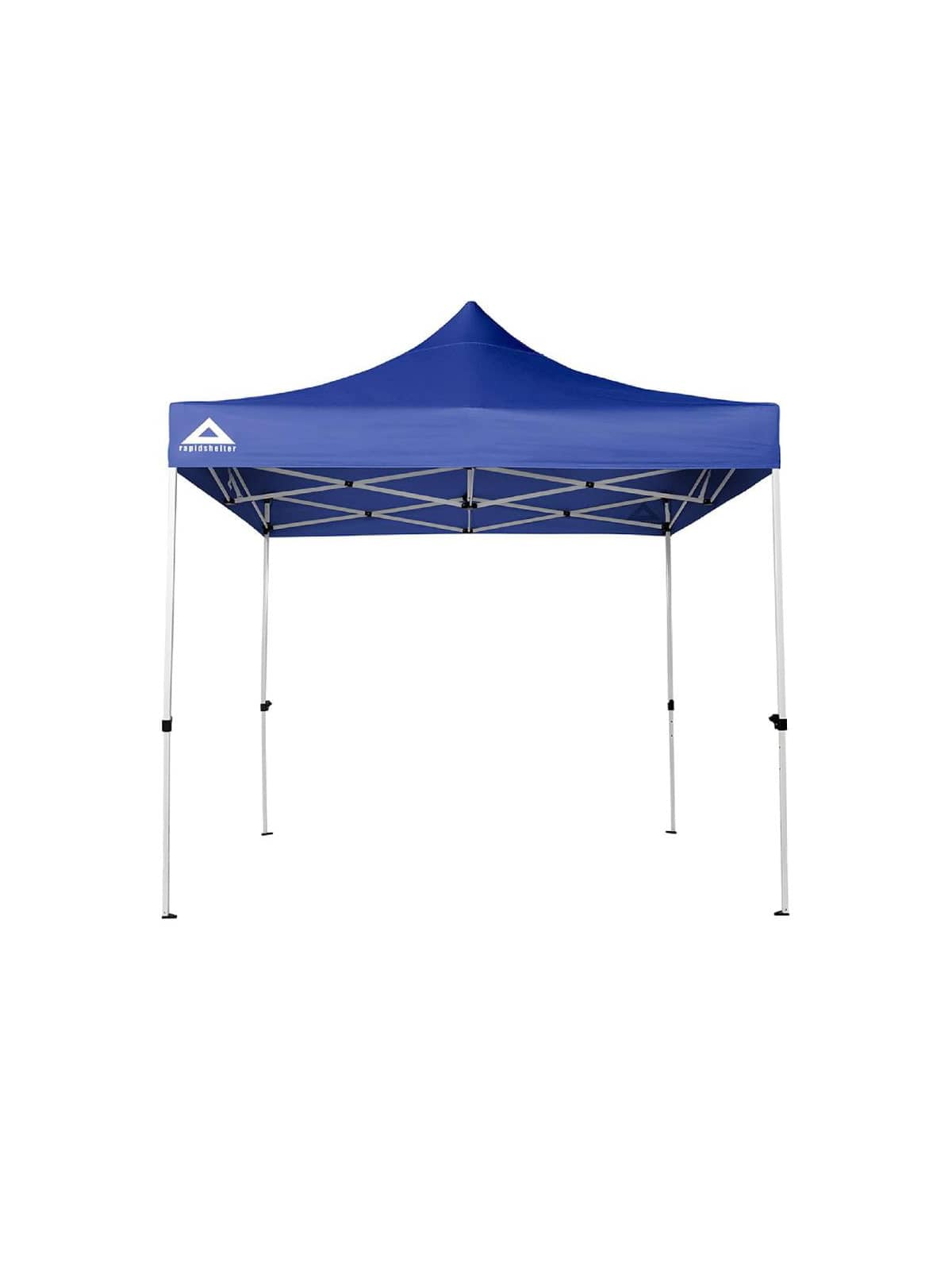 Bad weather is inevitable, so if you don't want the elements to ruin your next camping trip, make sure you bring along a reliable camping canopy.
Simple and sturdy, the Caddis Rapid Shelter takes about one minute to set up and offers 100 square feet of floor space. It has a waterproof, flame-resistant, UV-protected top and can be easily adjusted to three different heights thanks to its push-release buttons.