This post contains affiliate links, which means we may receive a small commission, at no additional cost to you, if you make a purchase through these links. See our full disclosure here.
When that long-awaited outdoor trip finally pops up, make sure you add these camping must-haves to your packing list, and you'll have the time of your life.
From a groundbreaking portable cooking system to the ultimate tree tent, you'll find a well-rounded list of cool camping gear and wilderness accessories that will help you play and sleep alfresco in utmost comfort, wherever your adventures may take you. Clever and functional, these also happen to make some of the best gifts for outdoor lovers.
Sure, there will always be a new gadget or accessory that could add to your experience in the wild, but if you want the best camping gear in 2022, look no further!
Award-Winning Tree Tent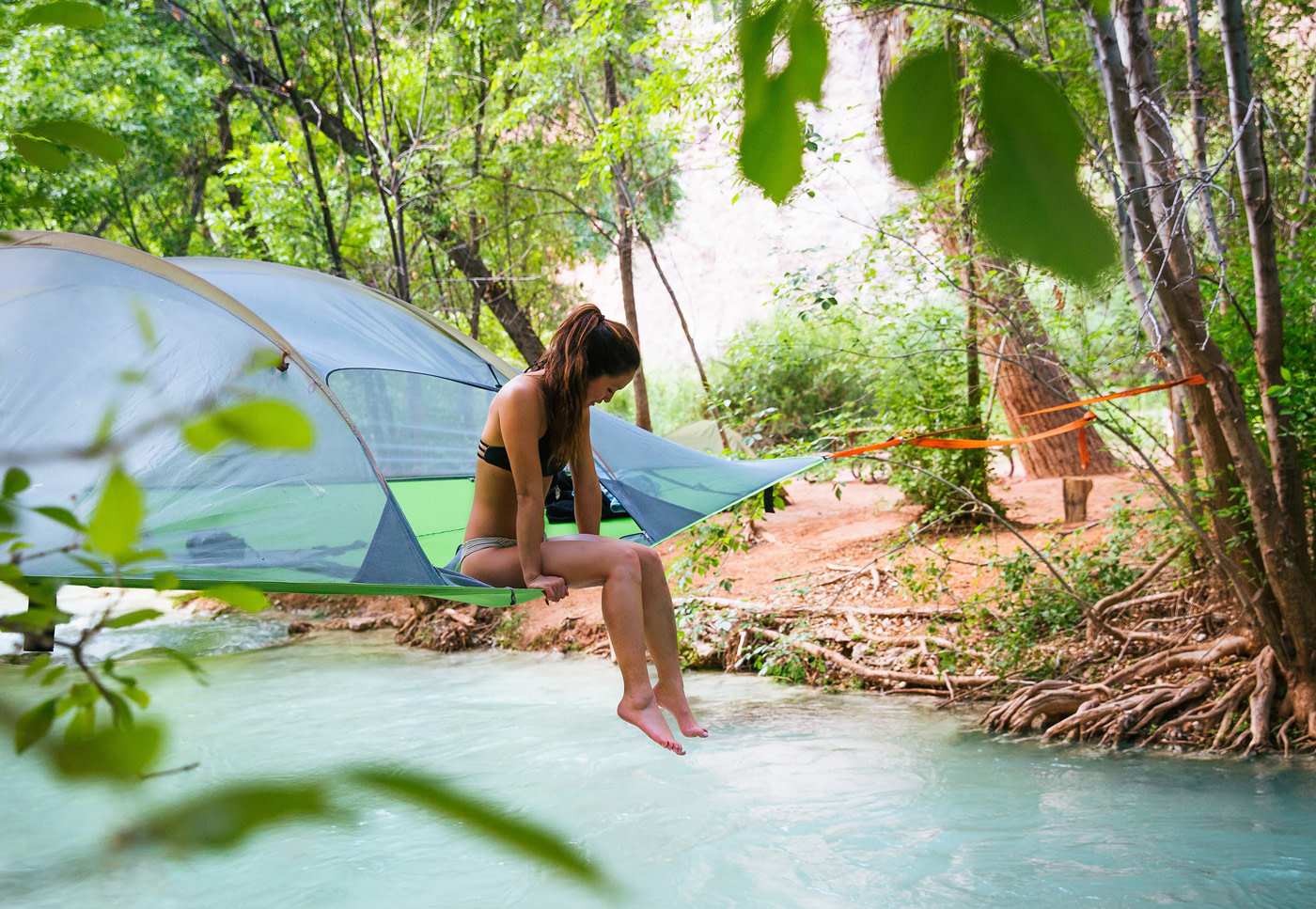 Add a whole new level of comfort to your camping adventure with the Stingray 3-Person Tree Tent (3.0). Whether suspended between trees or pitched on the ground, this revolutionary elevated shelter keeps campers separated and in total comfort in their own personal sleeping bays.
A 5,000HH rainfly offers protection even in the heaviest downpours, but can also be removed for glorious views, and there are plenty of storage nets for organizing your packs and gear. Cool design and insane practicality make this portable treehouse one of the best camping accessories you can pack.
Rechargeable Lantern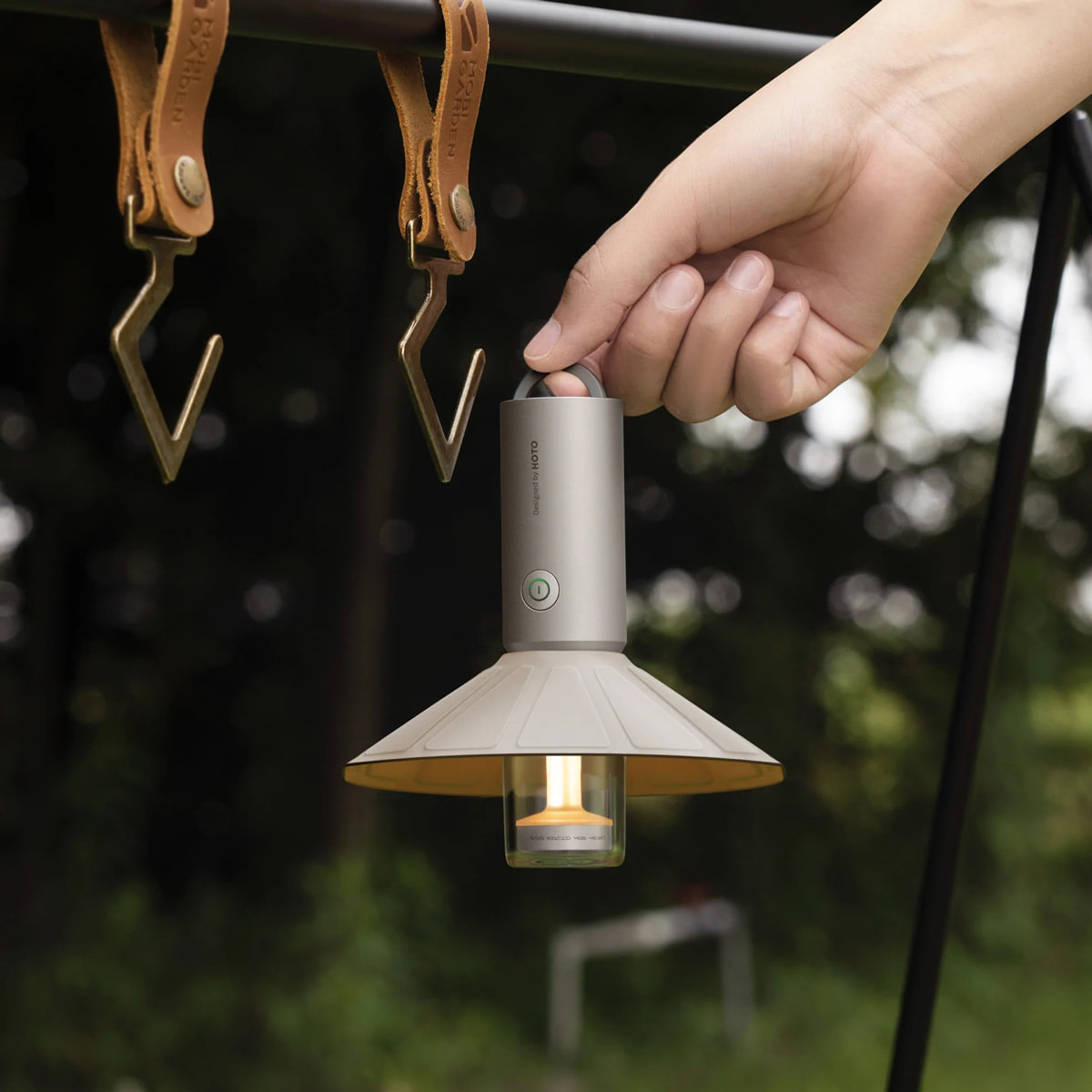 A good lantern is essential when you go camping, and this compact, versatile outdoor tool is all you need to light up your next outdoor experience. Equipped with a 3100 mAh lithium battery, the HOTO Camplight provides up to 50h of light and can be utilized in camping, ambient, and flashlight modes.
The sleek device only weighs 135g and comes with a magnetic, detachable lampshade and a hidden hanger for attaching it to tents and backpacks. Combining a durable PC lamp head with a matte aluminum alloy case, it offers IPX6-rated water resistance and dust protection, making it ideal for adverse weather conditions. It will fully charge through a Type-C port in 4 hours.
Sleek First Aid Flashlight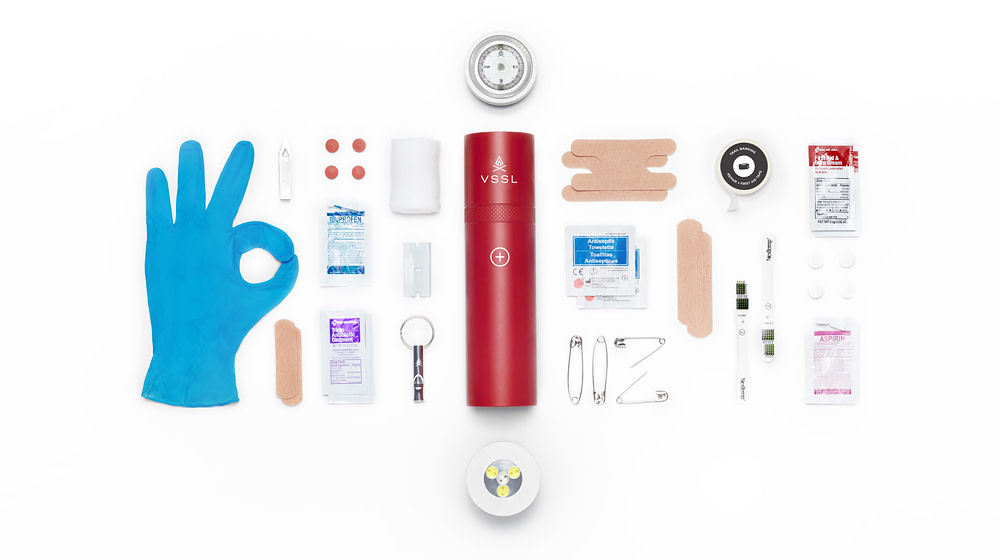 Just like food and water, a first aid kit is a must when going to remote areas. Designed for daily adventures, this ultra-packable medical set by VSSL is actually a LED flashlight packed with everything you could possibly need in case of an emergency, from painkillers and antiseptic wipes to tweezers and nitrile gloves. It even includes a compass and an emergency whistle. All items are rolled into a sleek, indestructible 9″ long tube that you can easily attach to your outdoor gear and carry with you anytime.
Portable Mosquito Repeller
Protect your skin from bites in the wilderness with the Thermacell MR300 Portable Mosquito Repeller. This compact and lightweight outdoor device keeps insects at bay by creating a scent-free 15-foot protection zone around it. The product is powered by a Thermacell fuel cartridge that warms a disposable mat infused with Allethrin, a synthetic copy of the natural repellent found in the Chrysanthemum flower.
Survival Hawk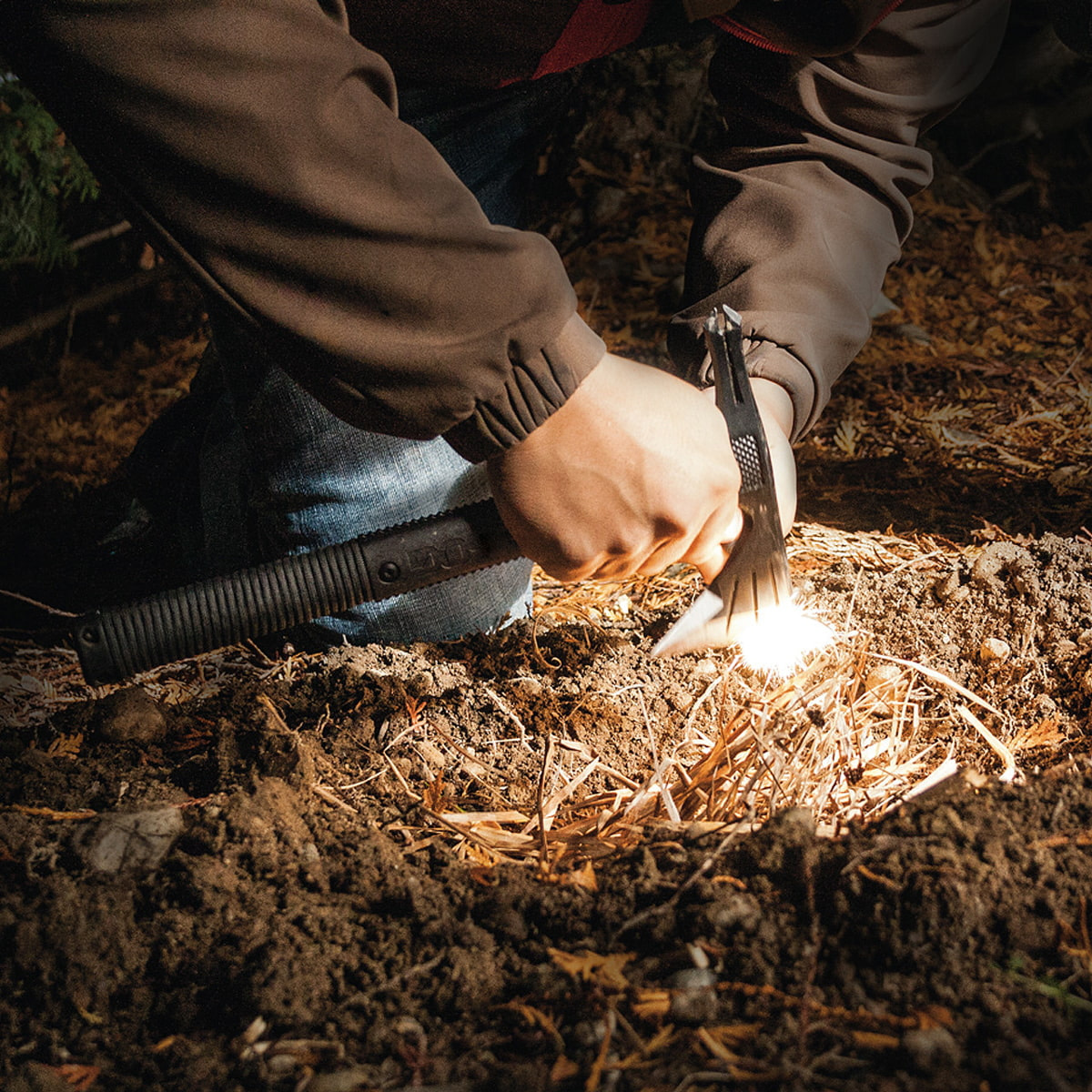 One of our favorite pieces of survival gear, this feature-laden tomahawk is capable of saving the day in a wide range of outdoor scenarios. In addition to its sharp, multi-purpose blade and reflective paracord-wrapped handle, it comes with a hammering head, nail puller, and firestarter rod. Made from blacked-out 2CR stainless steel, the SOG Survival Hawk is strong enough for a day in the wilderness, yet lightweight, versatile, and packable enough to make it to your list of camping must-haves.
Clothing Washing Backpack
From the creators of The Scrubba wash bag (world's smallest washing machine), this durable, versatile backpack combines a portable shower, compression dry bag, and washing machine into one of the most original pieces of gear you can add to your camping collection.
Made from waterproof 40-denier nylon fabric and complete with adjustable straps, the Scrubba Stealth Pack does much more than just store your travel essentials. The internal washboard makes it easy to wash your clothes anytime, anywhere, while a new multifunctional valve helps transform the pack into a camp shower or a compression bag for compact storage when the situation calls for it.
Long-Lasting Portable Power Station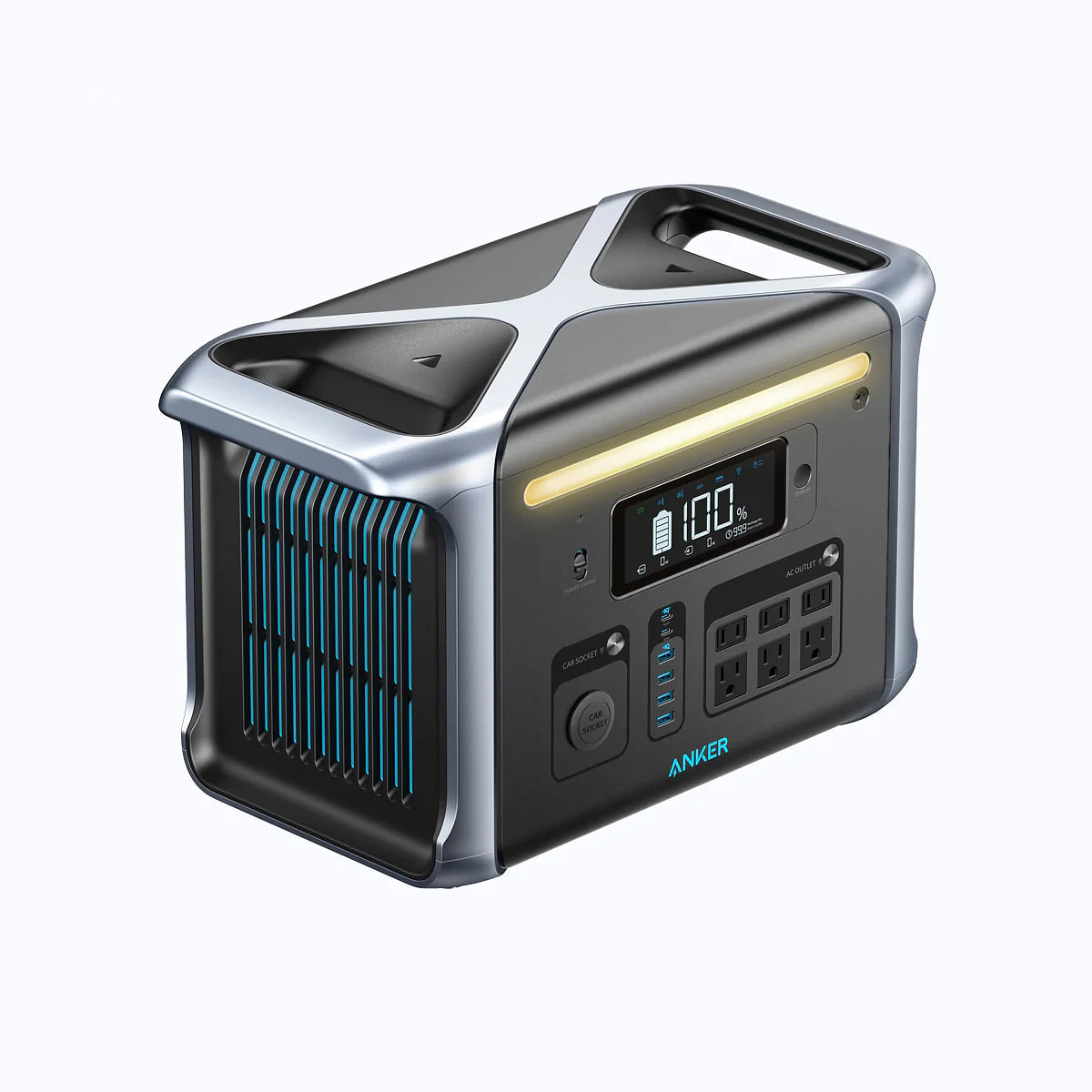 Looking for a portable source of power for your recreational needs? The Anker 757 PowerHouse has you covered, delivering 1500 watts of power and all the ports you need to charge your camping appliances and gear.
Packed with premium LPF (LiFePO4) batteries, this sturdy machine promises 3,000 complete charge cycles without any degradation and will charge from 0% to 80% in only one hour thanks to Anker's revolutionary HyperFlash technology. Besides, it's backed by an exclusive 5-year full device warranty and boasts an impressive 10-year lifespan.
Ultra Comfortable Sleeping Bag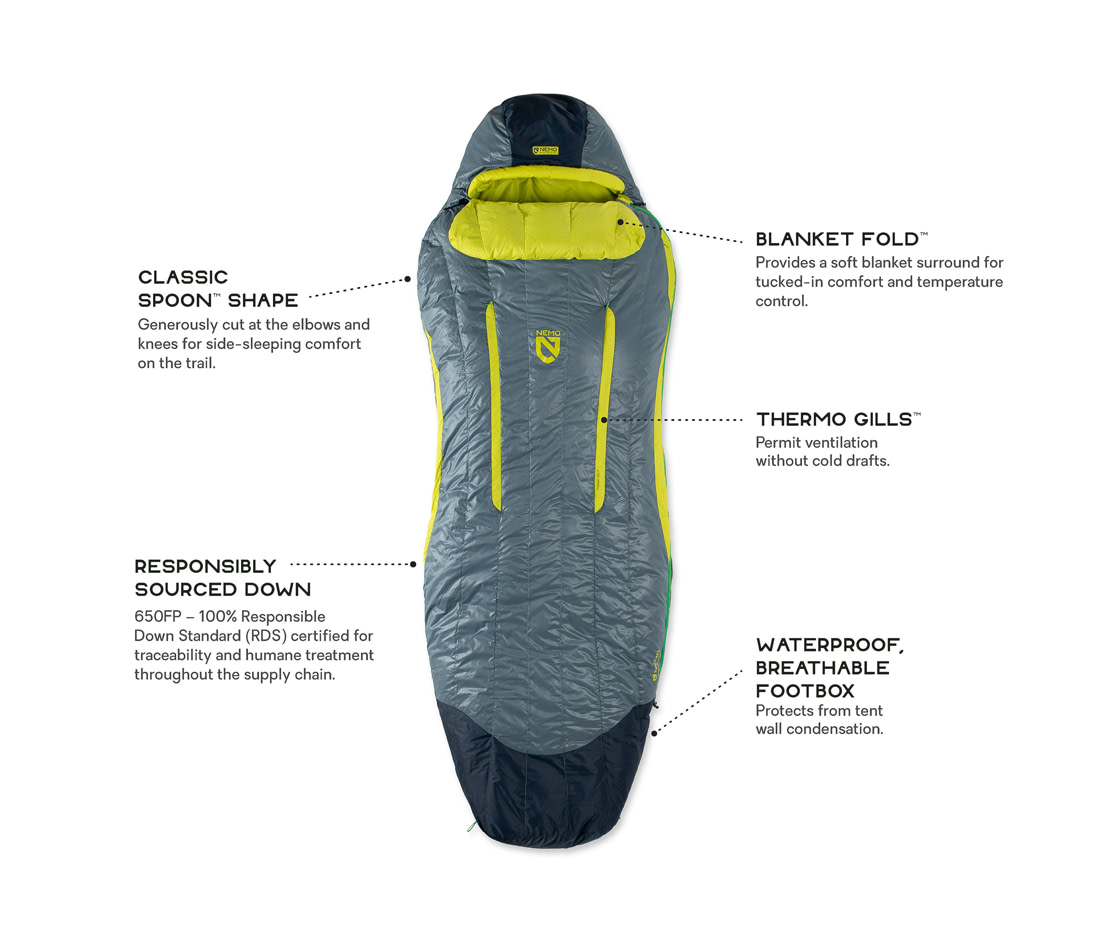 A unique, innovative design, along with 650-fill water-resistant down and durable water-repellent finish, makes the Nemo Disco 30 one of the best sleeping bags on the market.
Its novel spoon-like shape allows users to sleep on their side and comfortably shift positions during the night, while Thermo Gills – an ingenious temperature regulation feature, enables the bag to remain cozy in varying temperatures. Combine this with enhanced comfort features like a fully-insulated hood, full-length draft tube, and oversized external draft collar (called Blanket Fold), and you've got yourself a reliable companion for those much-needed camping and backpacking excursions.
Camping Cookware Set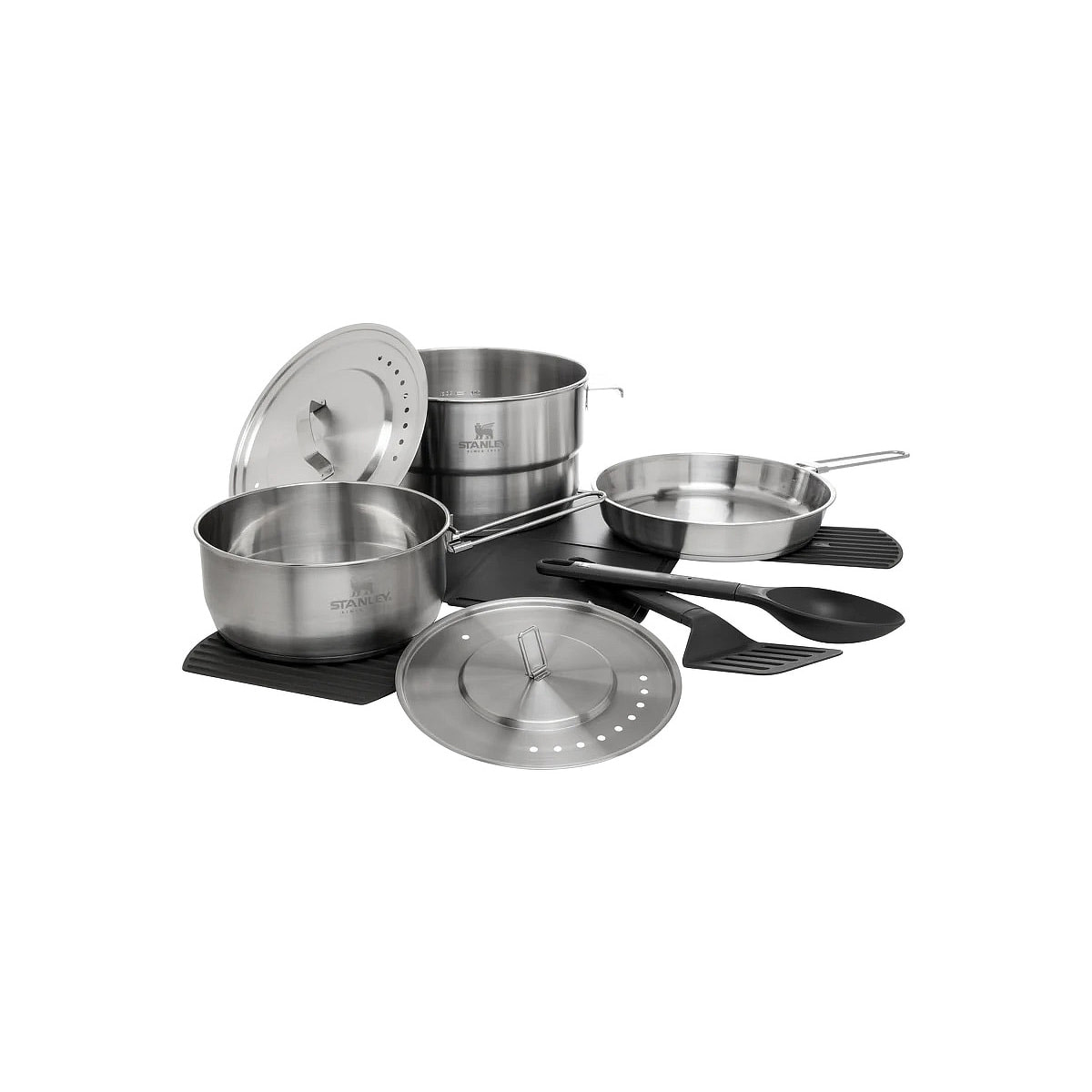 A great set of cookware is a must-have for camping. This 11-piece option has everything you need and delivers rugged durability in a space-saving design that's ideal for car, RV, or cabin camping.
Constructed from stainless steel, the Stanley Adventure Even-Heat Camp Pro Cook Set distributes the heat evenly, and all components nest easily inside a 4.5-liter stock pot for easy storage and transport. It also includes a 1.8 L saucepan, an 8.5in frying pan, vented lids, silicone trivets, a spatula, and a collapsible cutting board.
Outdoors Flask
There's a list of required camping supplies, and then there's cool camping gear, the kind that you didn't know you needed, but totally have to have. The Firelight 750 Flask is the latter but has raised the bar for all others with its packable design and robust stainless steel construction. The 3-piece bar set includes a 750ml Vacuum Insulated Flask that will keep your concoction nice and cold, as well as two double-walled 6-Shooter Tumblers designed to magnetically attach to the flask.
Portable Outdoor Cooking System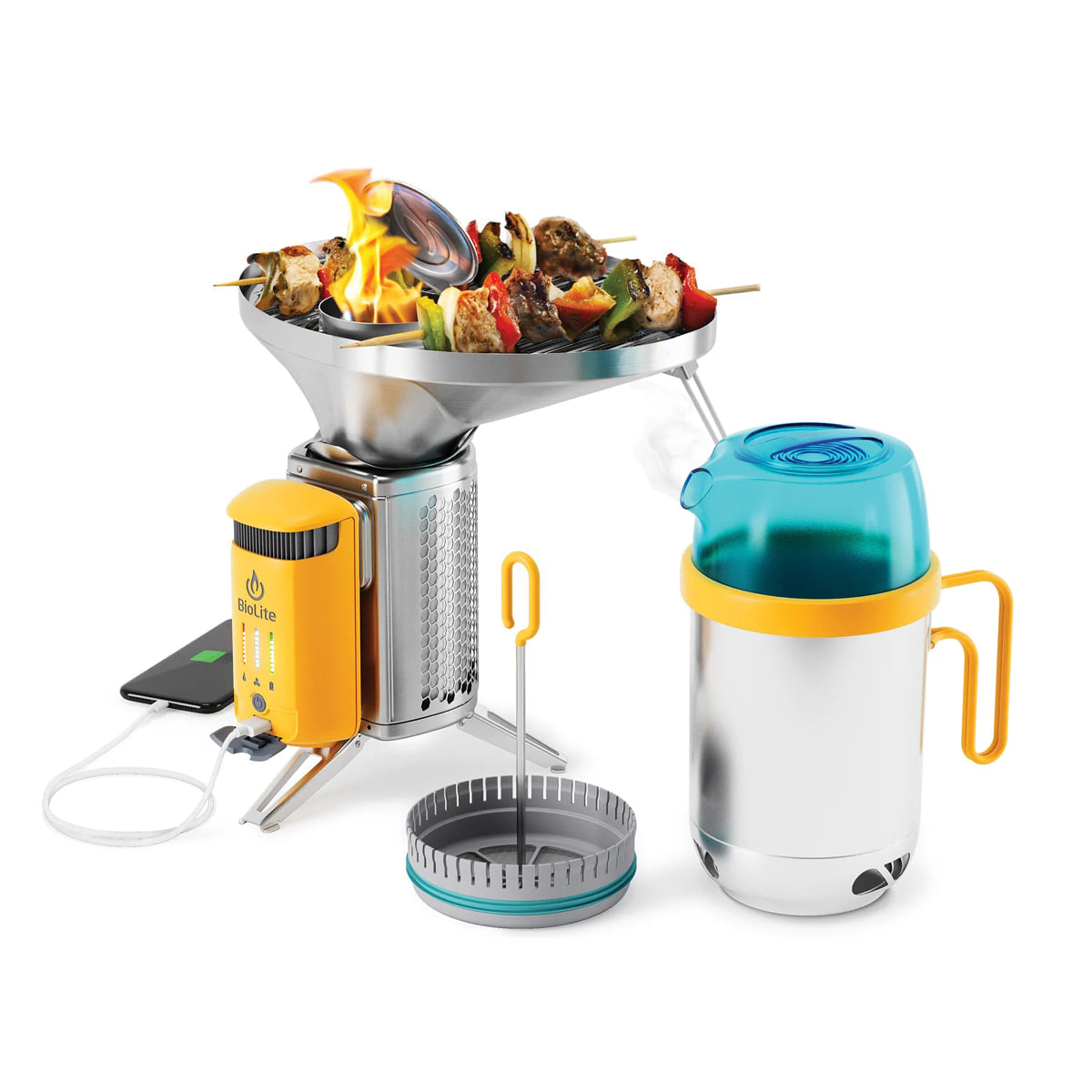 With a stove, portable grill, KettlePot, CoffeePress, and USB FlexLight, the award-winning BioLite CampStove Complete Cook Kit has everything you need to whip up a meal in the backcountry.
A car camping must-have, this portable wood cooking system converts the heat from a fire into electricity, allowing you to charge LED lights, mobile phones, and other gadgets when out and about. Aside from cooking, grilling, boiling water, and brewing coffee, this cool camping gadget comes with a removable 3,200 mAh battery and a smart LED dashboard showing the current battery status and fan speed settings.
Comfort Sand-Free RV Mat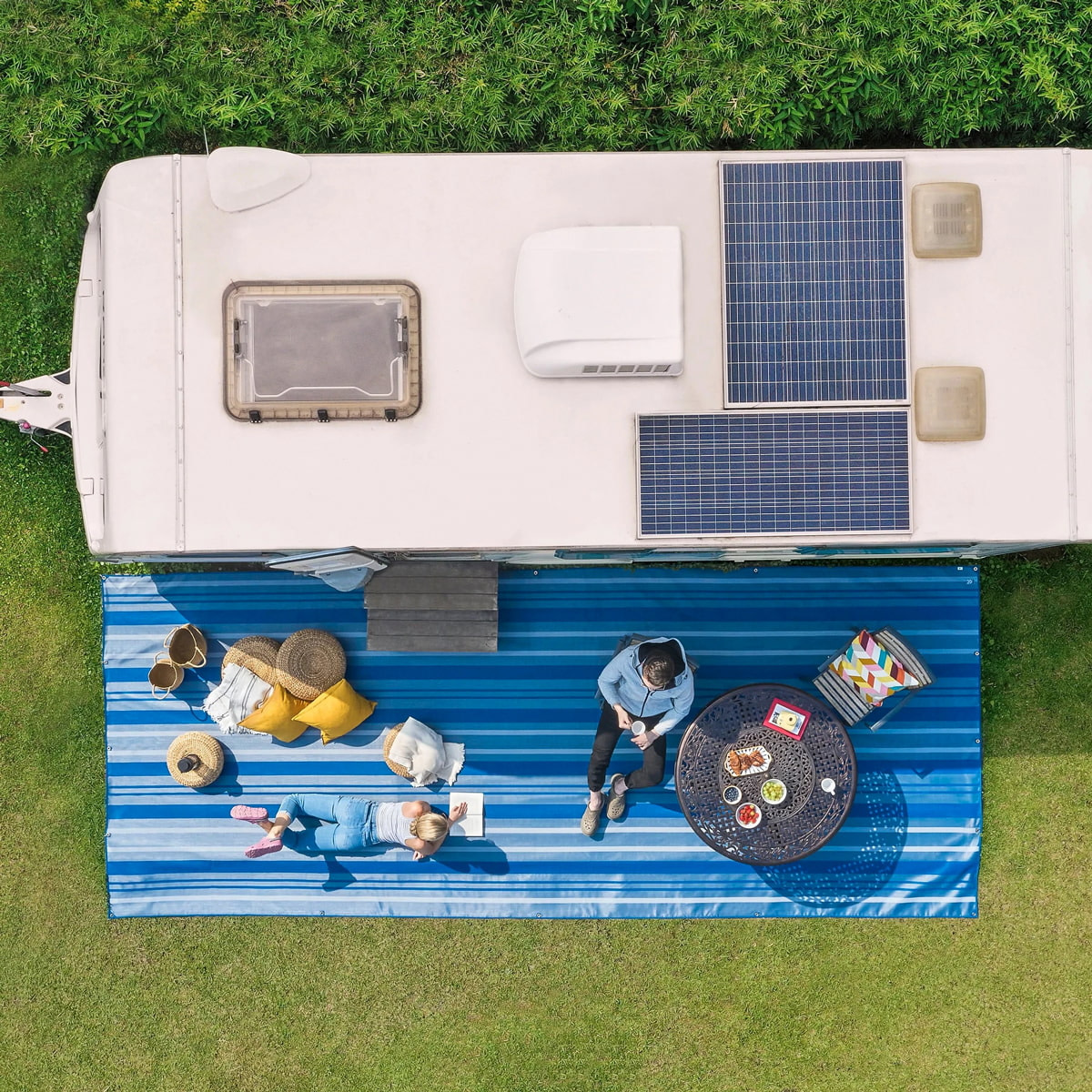 A must-have for RV camping, this sand-free mat from CGear is purposely built to convert the awning space in front of your recreational vehicle into a mobile patio. Combining the brand's proprietary sand-free technology with a soft yet durable material, it adds a well-deserved layer of coziness to your outdoor adventures.
Resistant to stains, water, and mold, the Comfort Sand-Free RV Mat also makes a great oversize, environmentally friendly picnic or camping blanket thanks to its permeable surface which allows wind and sunlight to pass through and keep the grass beneath it healthy.
Portable Camp Bed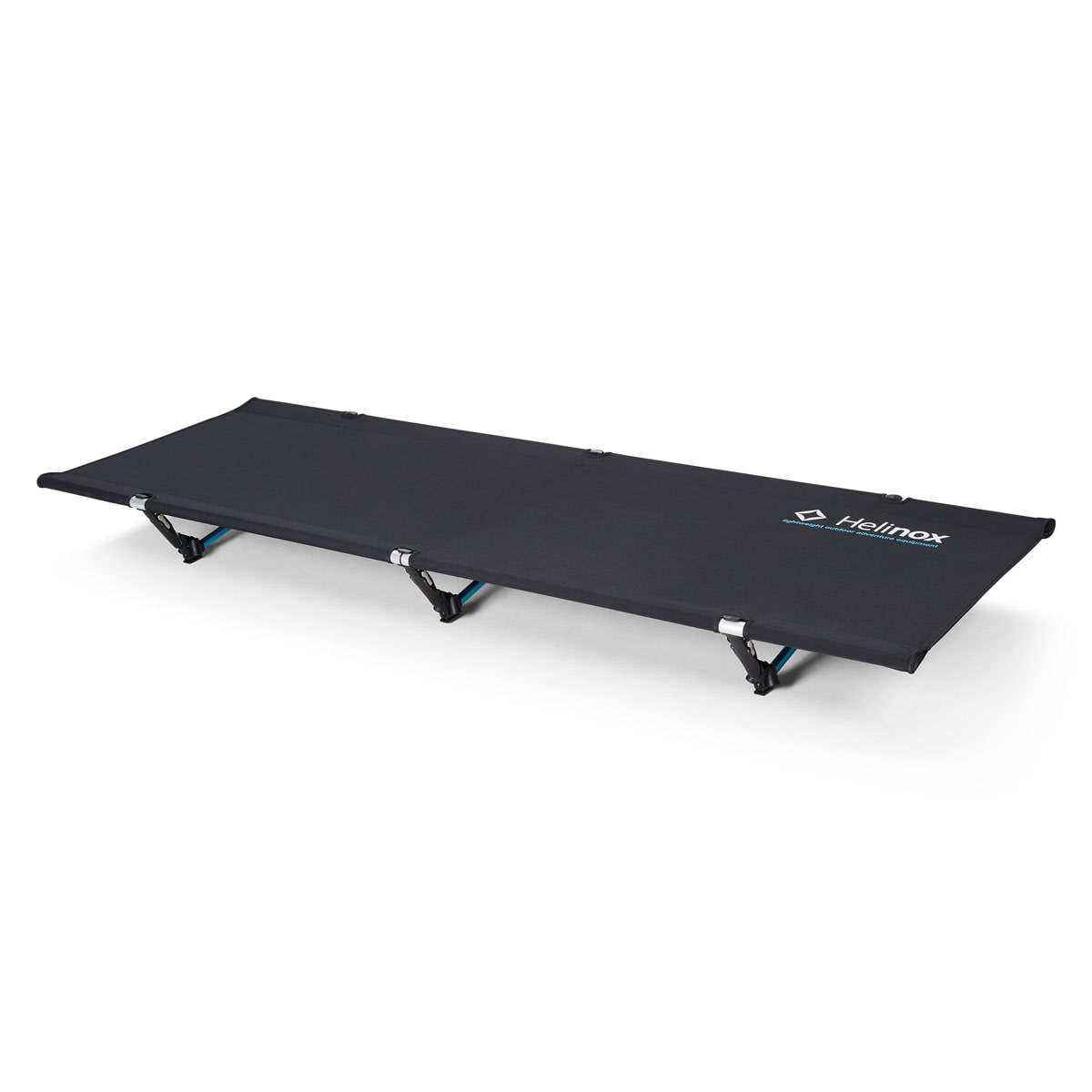 For the ultimate camping comfort, pamper yourself with the Cot One Convertible. Designed to ensure outdoor enthusiasts enjoy a good night's sleep off the ground, this portable bed by Helinox is a valuable item to add to your camping gear.
Its light yet strong aluminum frame is complemented by an innovative lever locking system that creates an even surface and is topped with a sturdy, breathable woven fabric for maximum comfort. Quick to assemble and easy to carry, it makes the ideal motorcycle camping accessory.
Portable Soft Cooler Bag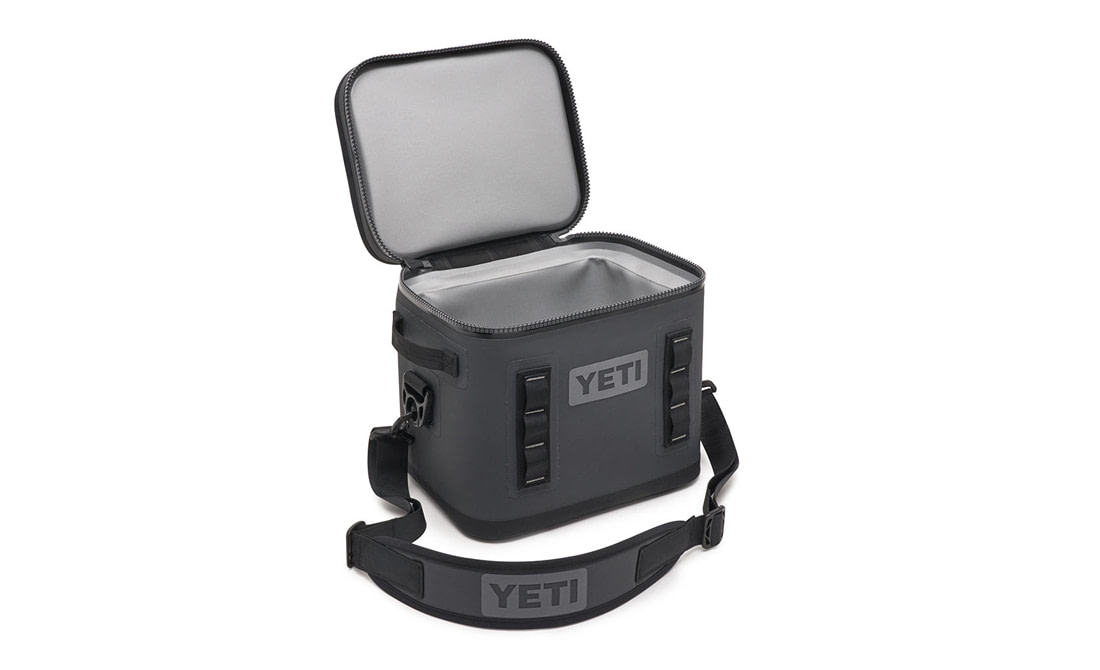 Combining stylish, sturdy design with innovative ColdCell insulation, the Hopper Flip 12 by Yeti keeps your food and drink chilled longer than most portable soft coolers on the market. This makes it an excellent choice for a weekend getaway with friends and family, be it a camping holiday, a fishing expedition, or a trip to the beach.
The interior is fully lined with food-grade antimicrobial material to prevent mold, and its ergonomic shoulder strap along with the variety of handles on the top and sides provide plenty of carrying options. As its name implies, this soft pack cooler can hold up to 12 cans plus ice, but there are multiple sizes for different adventures.
Foldable Campfire Grill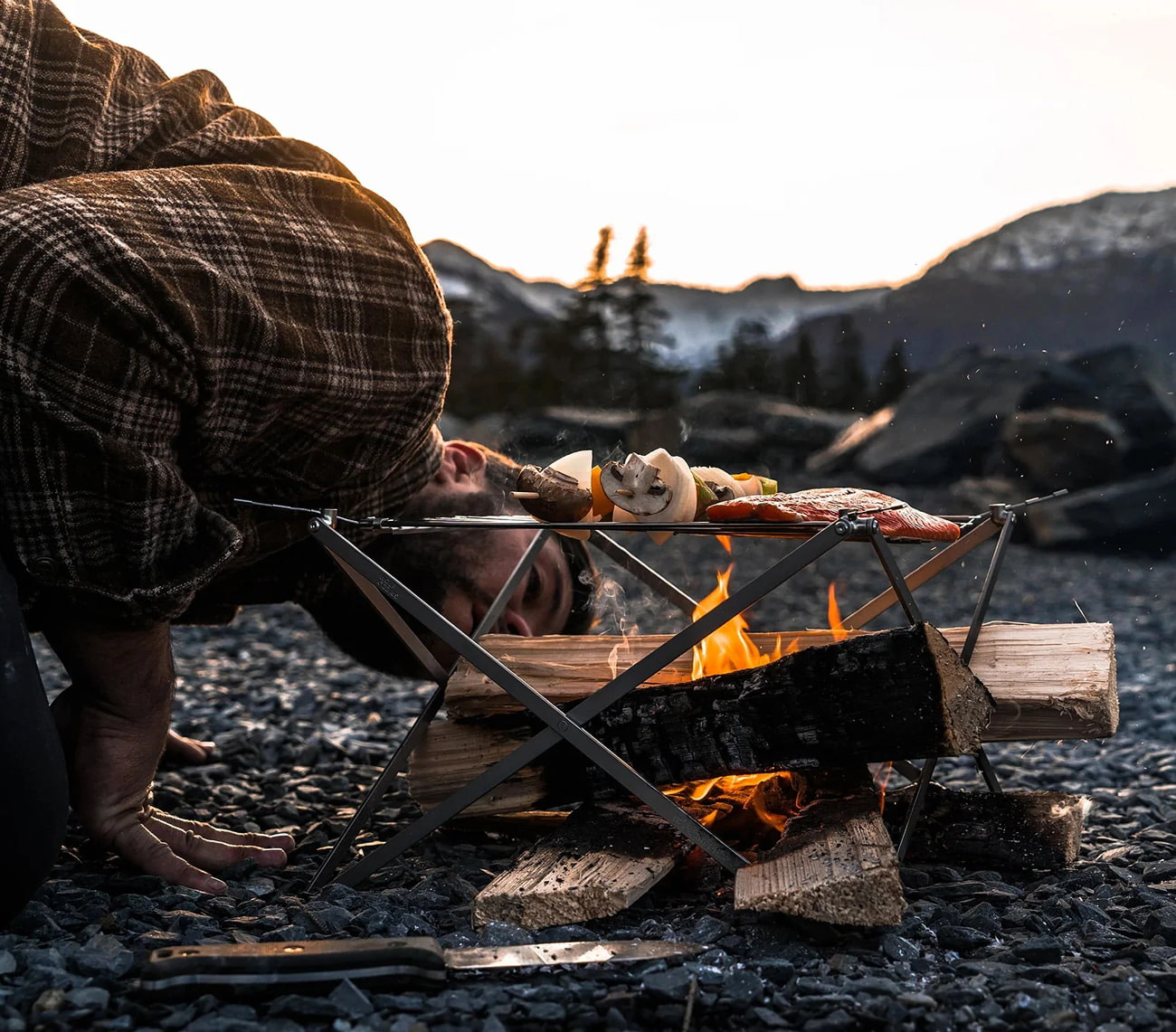 There are lots of things to consider when choosing the best travel grill for you, but if easy transportation and set-up are high on your list of proprieties, you can't go wrong with the Wolf and Grizzly Grill.
Designed with backpacking campers in mind, this nifty outdoor cooking appliance is made from stainless steel and offers three height options for a versatile grilling experience. Its foldable frame and rollable grill surface allow it to collapse down into a compact, portable cylinder weighing less than 1 kg. The set also includes a custom cleaning tool, an Allen key, and a microfiber cloth – all packed into a premium carrying case.
Outdoor Speaker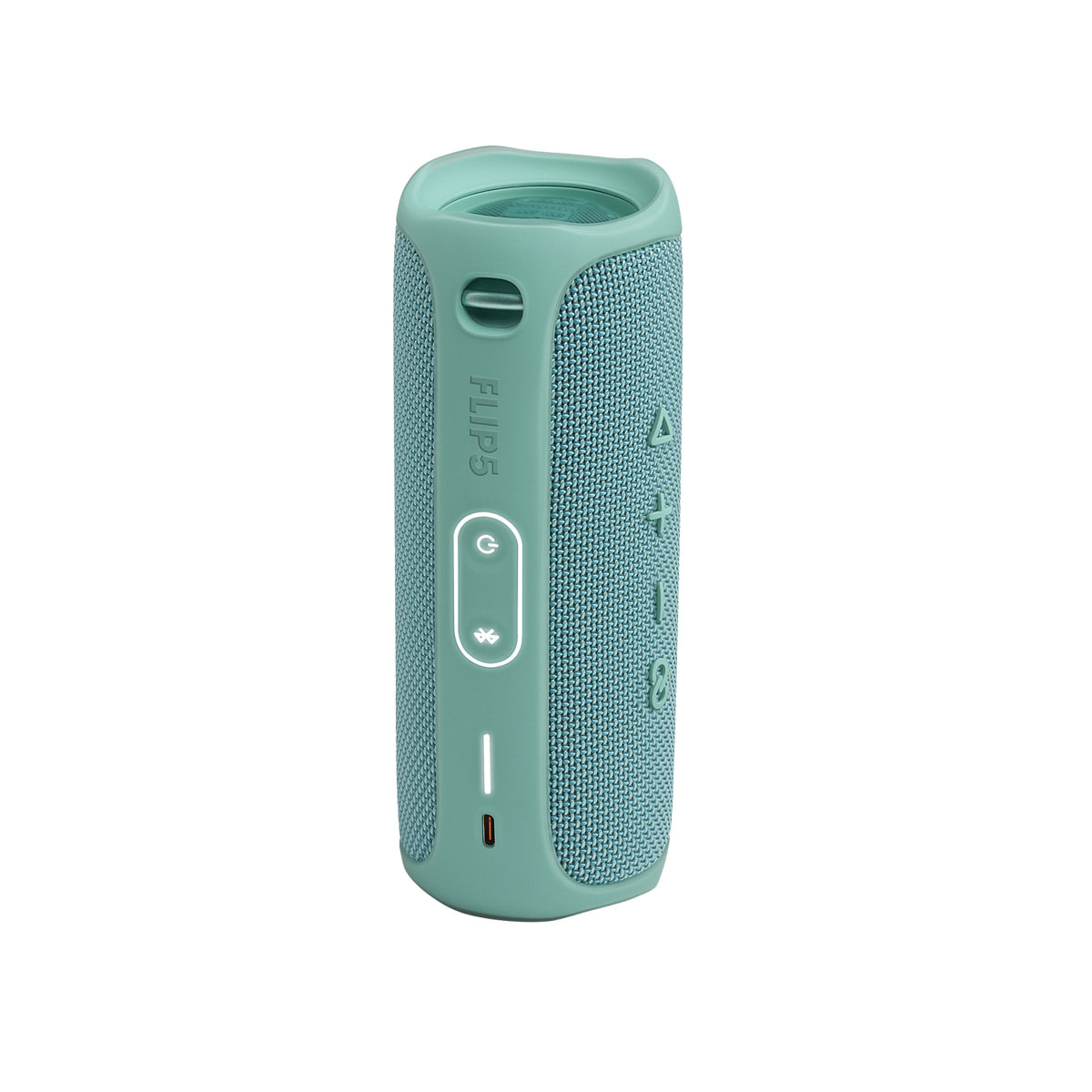 Bring your favorite tunes to the campsite with the JBL Flip 5, one of the best portable speakers for the job. Designed for outdoor use, this rugged, refined cylinder balances great build quality with good performance at an affordable price. It comes in 11 different colors to suit your tastes and gives you up to 12 hours of playtime. It also has an IP67 rating, which means it's dustproof, water-resistant, and will even survive being submerged in up to one meter of water. Another cool feature is the ability to pair this little guy with another PartyBoost-compatible speaker to fire up the party.
Camp Chair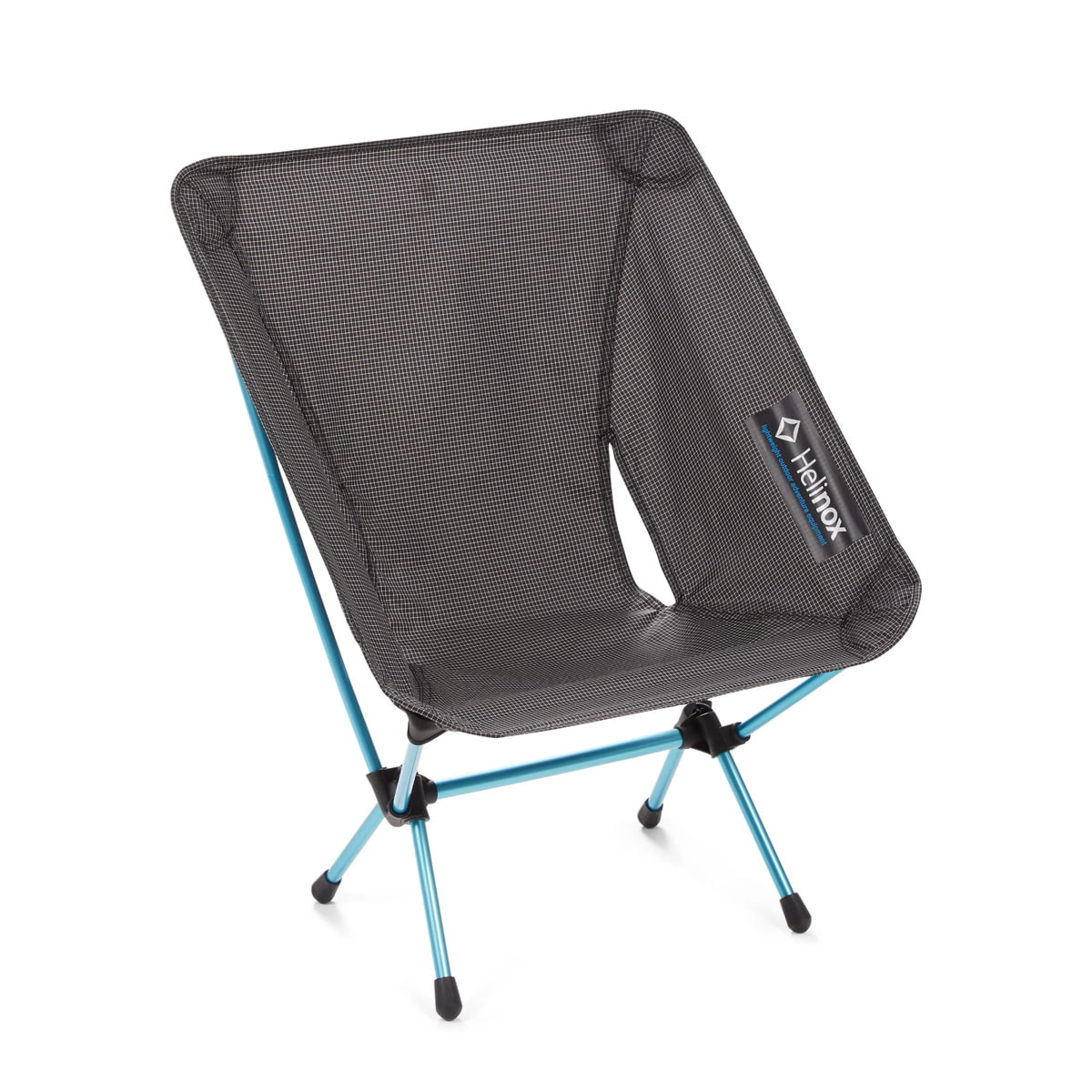 You'll be hard-pressed to find a better camp chair than this innovative model from Helinox. Combining a lightweight aluminum alloy frame with sturdy ripstop nylon, Chair Zero scores high on both comfort and portability. It lifts you 11 inches off the ground, weighs only a pound, and packs down to near-water bottle proportions. All these, coupled with the fact that it sets up in seconds, make it a must-have item on your camping gear list.
Multi-Functional Drinking Water Bottle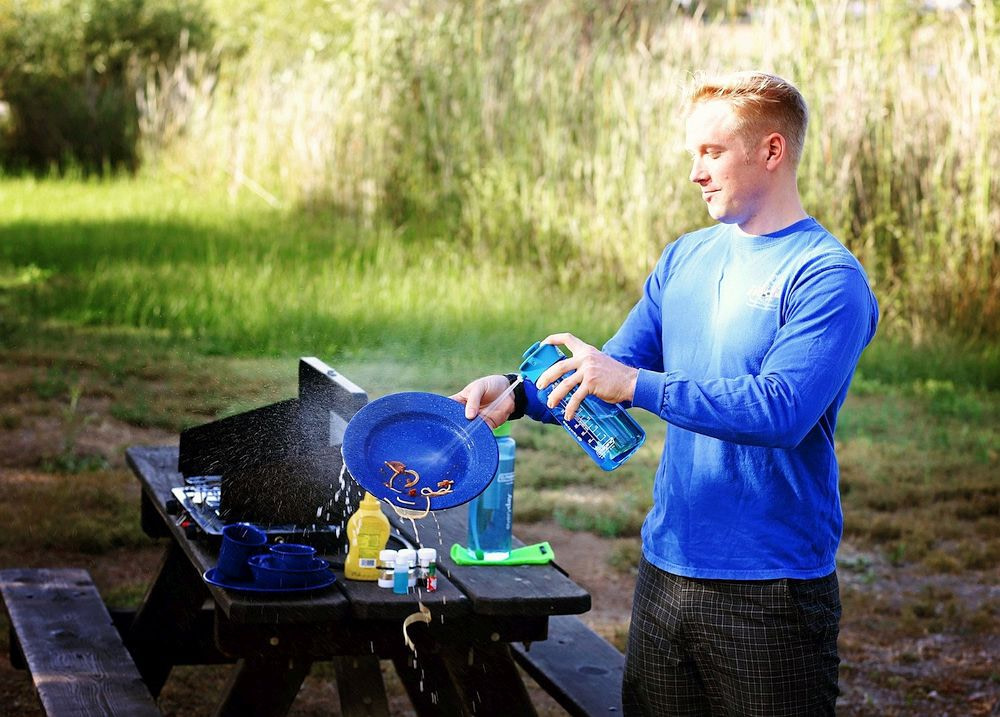 LUNATEC's Hydration Spray Water Bottle is more than just a fun camping accessory. Equipped with shower, stream, and mist patterns, it helps you stay cool and hydrated while out and about. The shower can be used to clean gear, and its 25-foot stream makes it perfect for water fights.
Portable Espresso Maker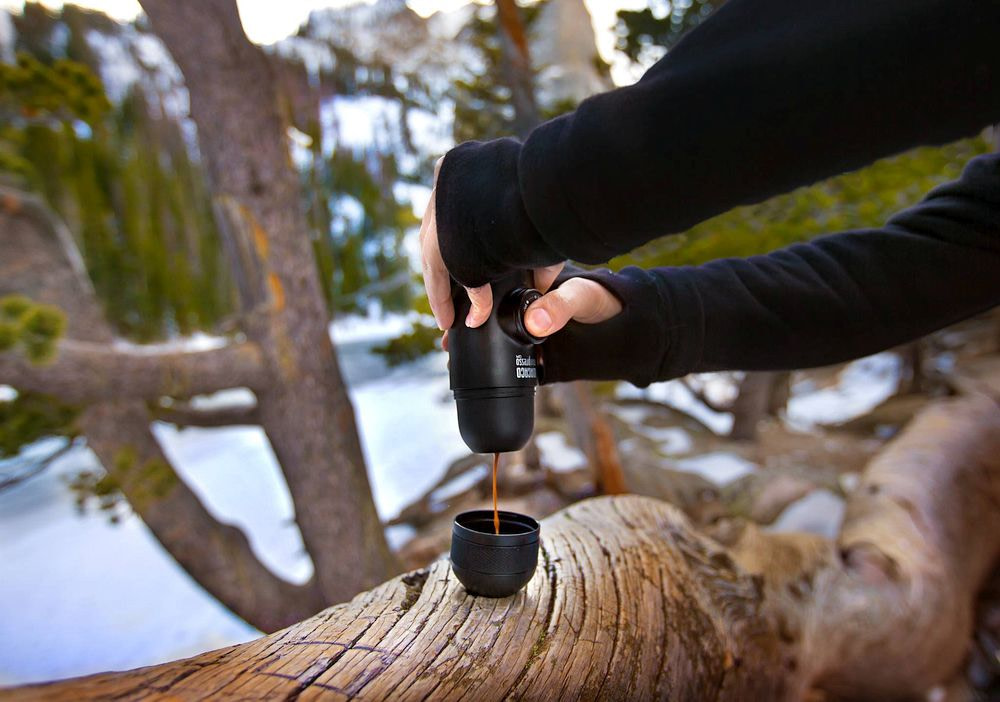 If you like your comforts when camping, you'll absolutely love this compact, portable espresso maker by Wacaco. Billing itself as the "smallest, lightest and most versatile handheld espresso machine", Minipresso uses a semi-automatic piston so you can brew your rich, high-quality espresso anywhere. And the best part: it doesn't need compressed air, N2O cartridges, or electricity, just water and your favorite coffee beans.
Heavy-Duty Duffel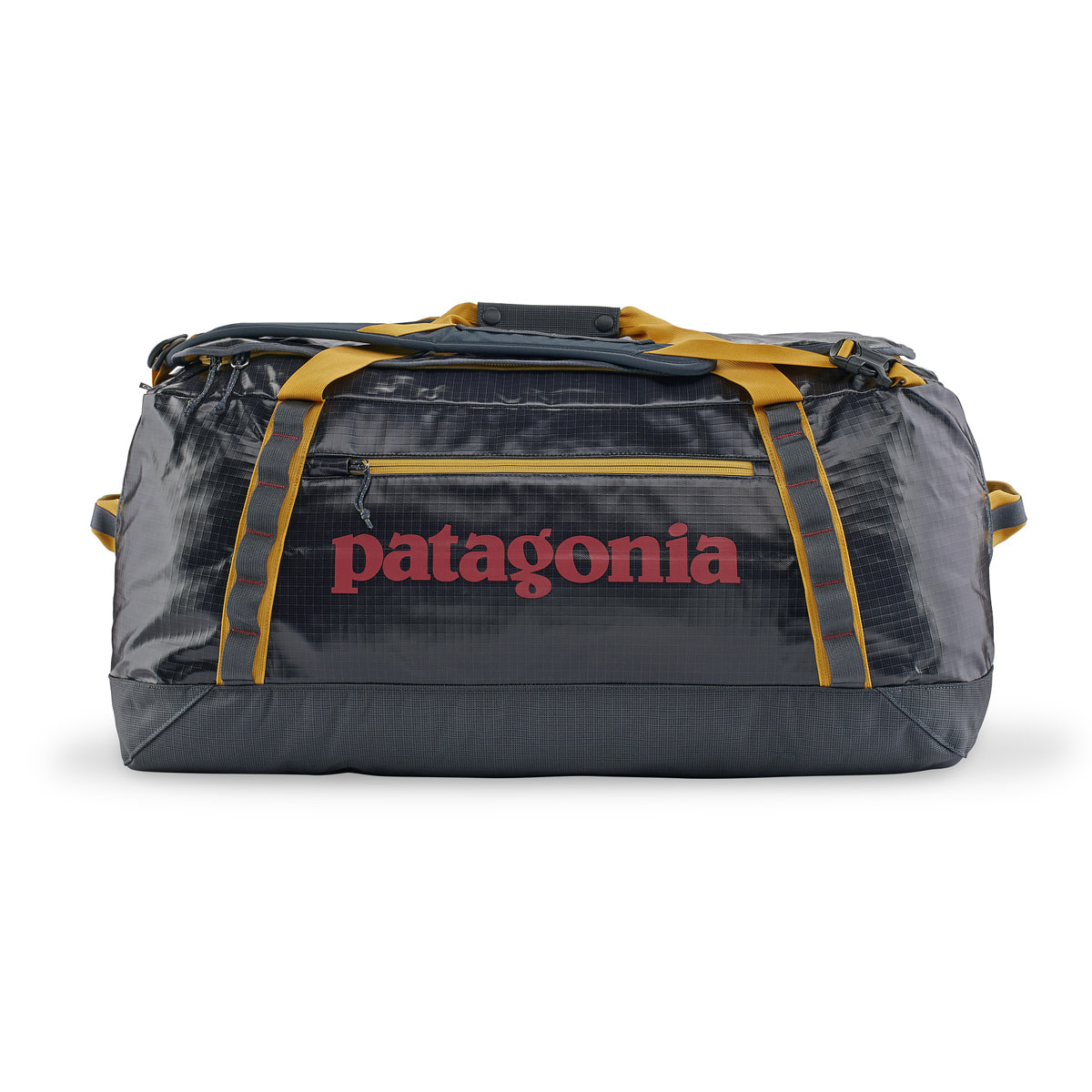 All experienced adventurers out there know that choosing the right bag can make a huge difference on a camping trip. Designed as a trustworthy travel companion for a variety of situations, Patagonia's Black Hole Duffel 70L stands out for its durability, versatility, and weather resistance.
It's made from recycled burly 900-denier ripstop nylon with a DWR finish to repel moisture and features one external and two internal storage pockets for those smaller items you don't want to dig for. The bag's large zipper opening makes it easy to pack and see all of what's inside, and the padded, removable shoulder straps, coupled with webbing loops and reinforced haul handles, add carrying comfort.
Large Family Tent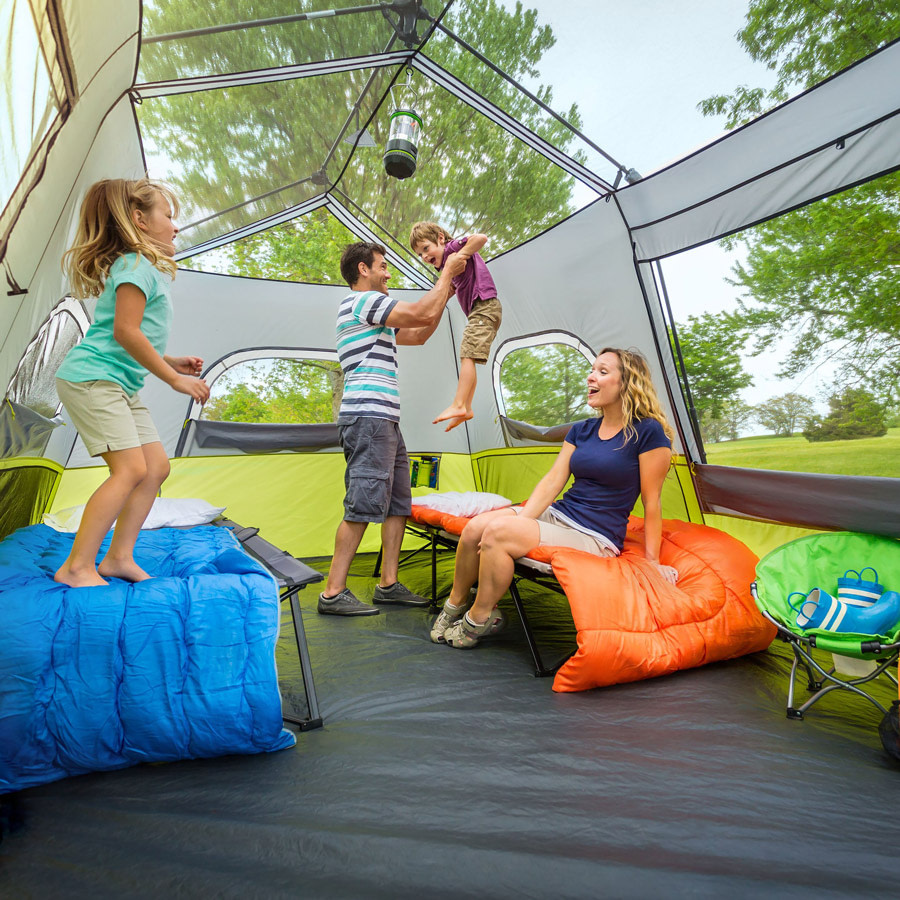 Add a homey feel to your next camping adventure with the 9 Person Instant Cabin Tent from CORE Equipment. Fitted out with pre-attached poles, this cool cabin-style shelter allows for hassle-free setup in 60 seconds! Plus, it features a room divider, as well as zippered doors and windows for convenient privacy and ventilation. Additional features include hanging storage pockets and a fully-taped water-resistant rainfly, which creates the illusion of sleeping under the stars once removed.
Stormproof Match Kit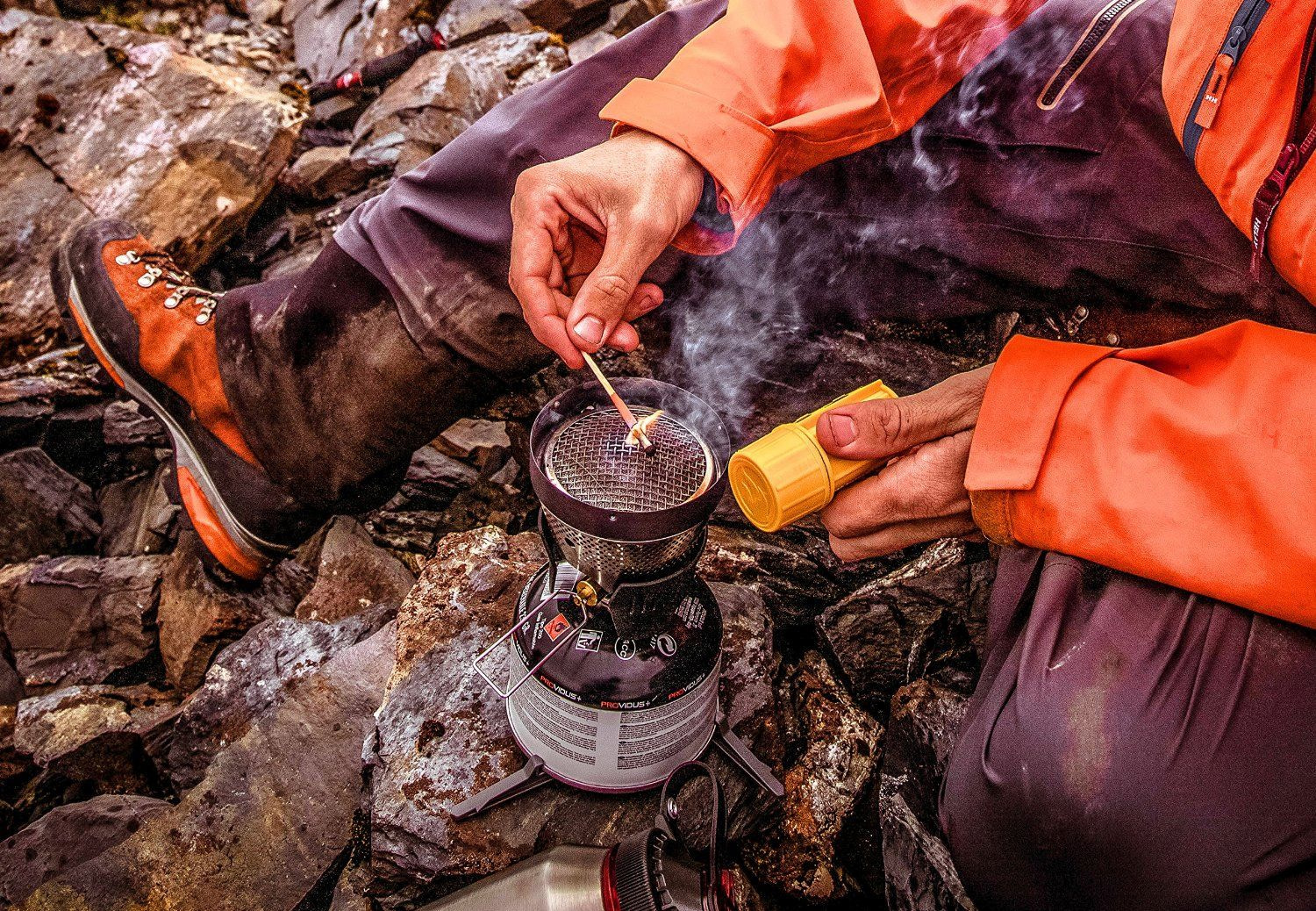 A UCO Stormproof Match Kit is perfect to throw into your camping essentials bag. The package includes a durable, waterproof case that floats, 3 strikers, as well as 25 windproof and waterproof matches that light up even in driving rain, heavy winds, and snow.
Inflatable Camp Pillow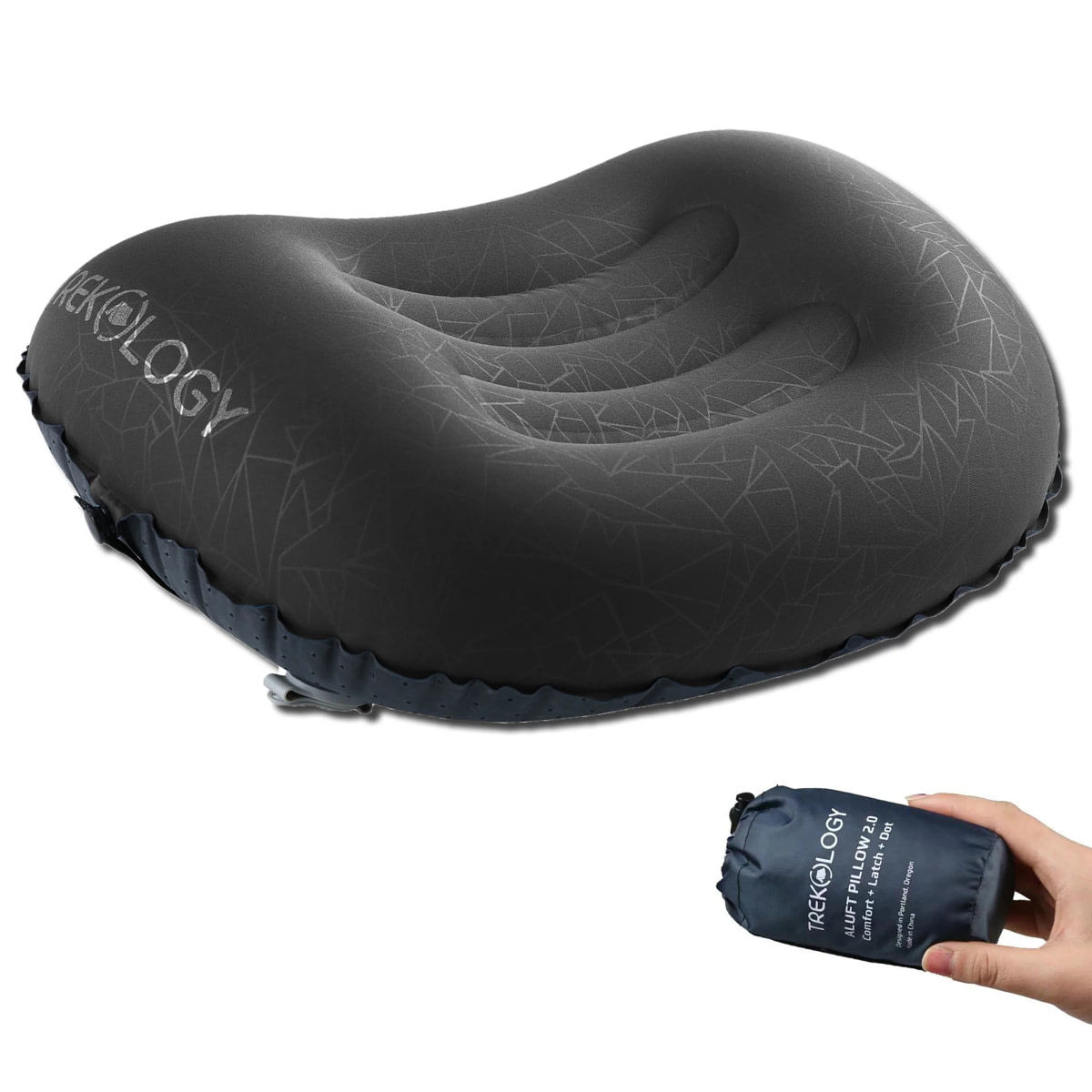 There's nothing like sleeping in the great outdoors, and this lightweight, inflatable pillow makes it happen in comfort. Designed by a small group of PhD engineers, the Trekology ALUFT 2.0 is made of durable, water-resistant TPU fabric with a textured, anti-slipping underside and has a contoured shape for enhanced neck support. Ideal for backpackers, this camp pillow is extremely easy to inflate and packs down to about the size of a soda can for convenient storage and carrying.
Camping Cooking Gear
Looking for some cool camping cooking gear to add to your packing list? Complete with 4 full sets of cutlery utensils, the GSI Outdoors Destination Kitchen might be perfect for you. This compact 24-piece set also includes a variety of folding tools, a cutting board, utility knife, and waterproof spice shakers.
Field Knife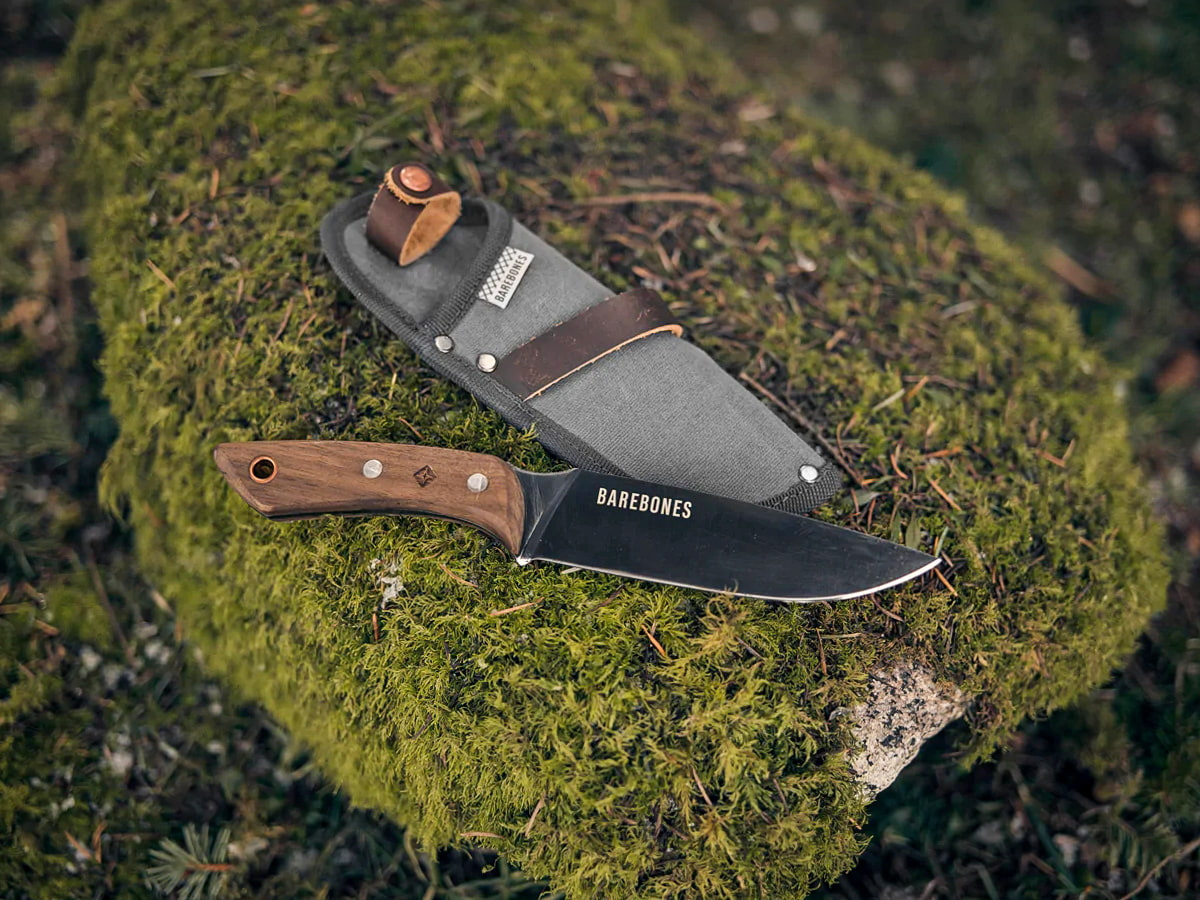 Whether you're jetting off for the adventure of a lifetime or just camping with your family, you'll definitely feel safer adding a good, solid knife to your camping tools kit.
Designed with outdoorsmen in mind, the Barebones No. 6 Field Knife features a beautiful and durable walnut handle, as well as thumb depress for comfortable handling. A leather strap and a belt clip for easy carrying & access complement its 900D polyester sheath, while the knife's 6″ blade is made of Japanese SK5 carbon steel reinforced by a full tang for extra strength and durability.
Camping Shelter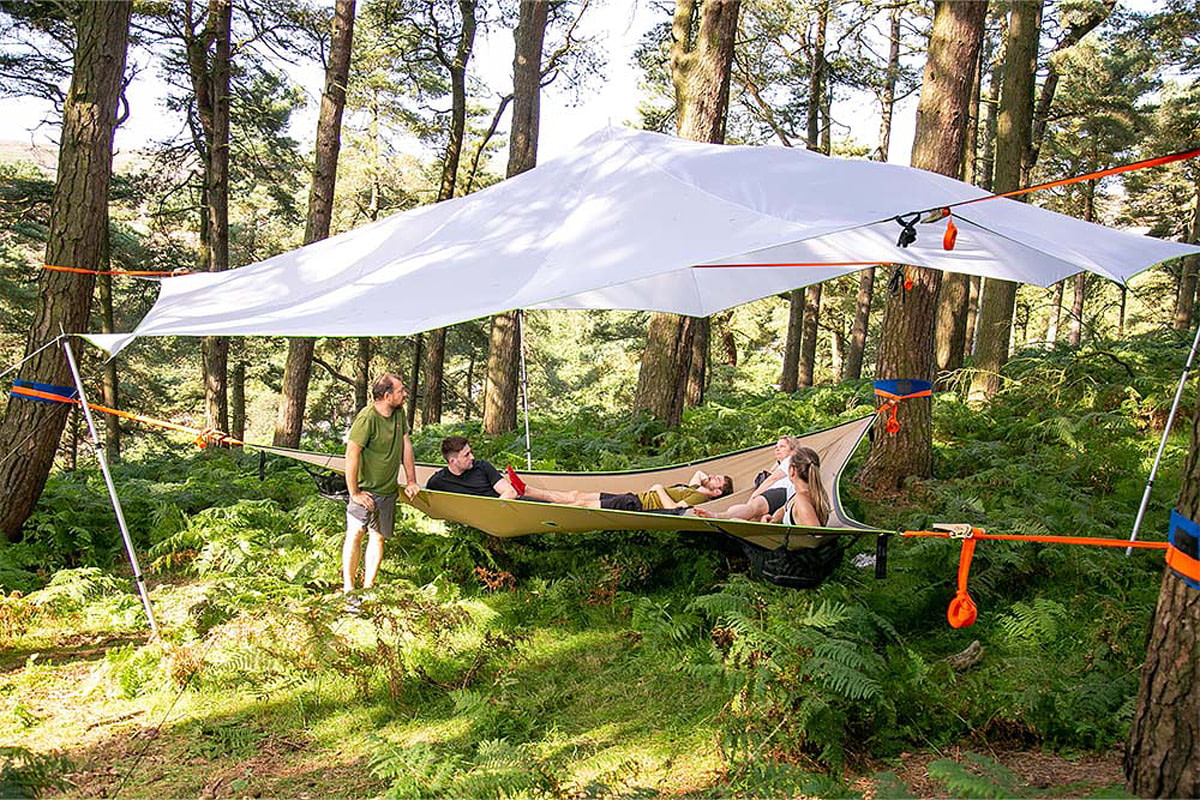 Bad weather is inevitable, so if you don't want the elements to ruin your next camping trip, make sure you bring along a reliable camping canopy.
Whether used as a stand-alone product or as a sunroof for the brand's giant hammocks, Tentsile's Roof Canopy XL attaches directly to the trees, offering a whopping 414 square feet of shaded floor space. Made from UV-resistant polyester, it uses a 3-point anchor system and takes about 45 mins to set up.