There are so many fantastic experiences to be had in this land of dazzling islands and spectacular blue seas, amazing history, and mesmerizing ancient architecture that you'll need more than a lifetime, let alone one vacation, to fully uncover them all.
To get you started, though, here are some of the best things to do in Greece.
Immerse yourself in the local culture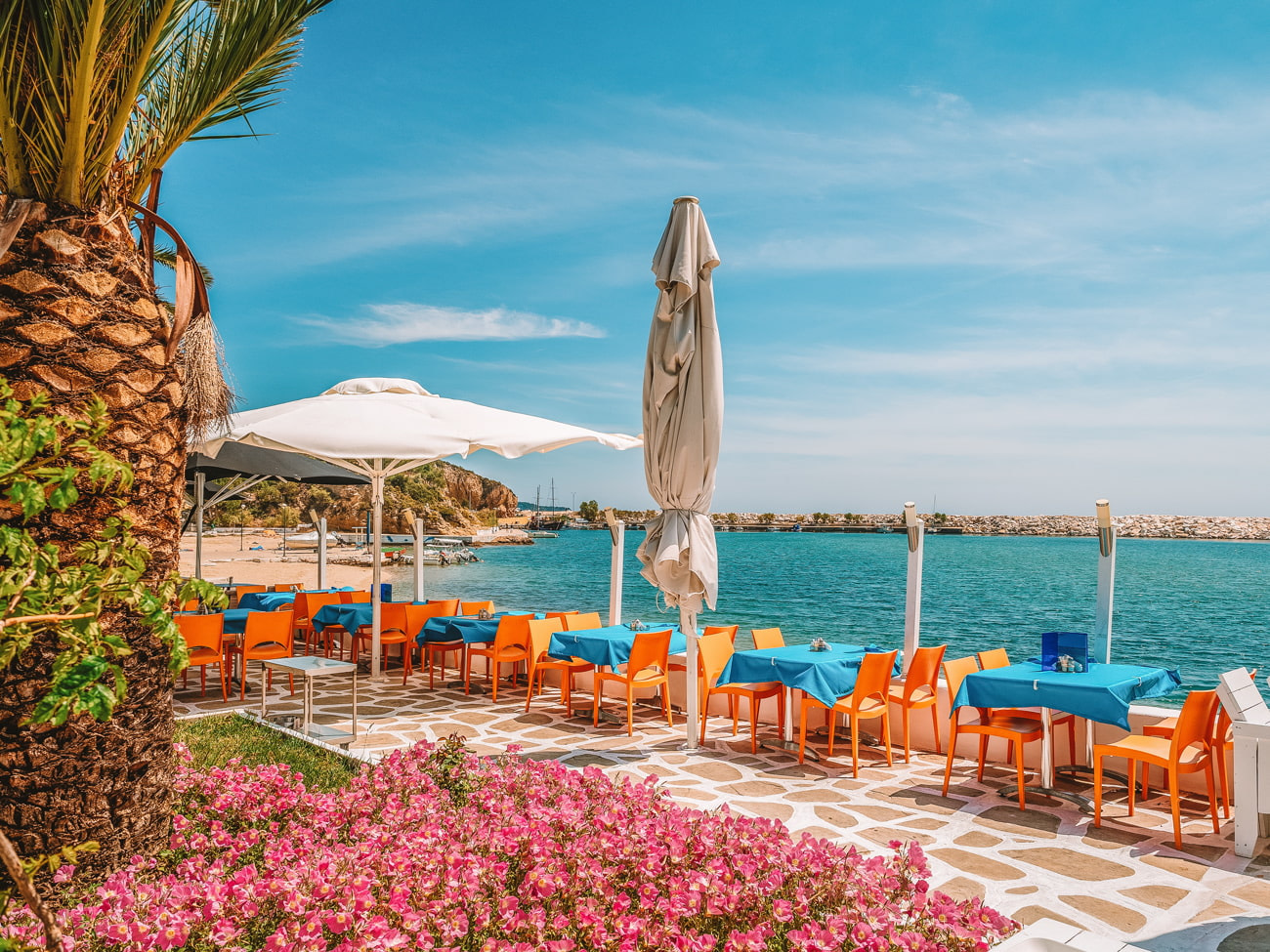 In addition to breathtaking landscapes and ancient ruins, Greece provides travelers with a unique cultural experience that they will probably remember for the rest of their lives. In order to achieve this, try to travel off-season, include off-the-beaten-path destinations in your itinerary, attend a local festival, and indulge in home-cooked taverna meals.
Party in Athens
Glamorous nightclubs, arty cocktail lounges, and lively Bouzoukia (live Greek music clubs) make nightlife in Athens a memorable affair.
Pay a visit to Meteora
Meteora is so spectacular it almost overshadows its great spiritual importance. A UNESCO World Heritage Site under two categories – nature and art, the complex consists of six Greek Orthodox monasteries perched atop otherworldly rock formations in central Greece.
Soak up the sun on Greece's most beautiful beach
Nestled along the northwest coast of Kefalonia, Myrtos Beach is a marvelous one-mile stretch of sugar-white pebbles framed by steep limestone cliffs and lapped by the crystal turquoise waters of the Ionian Sea.
Have a cocktail with a view in Little Venice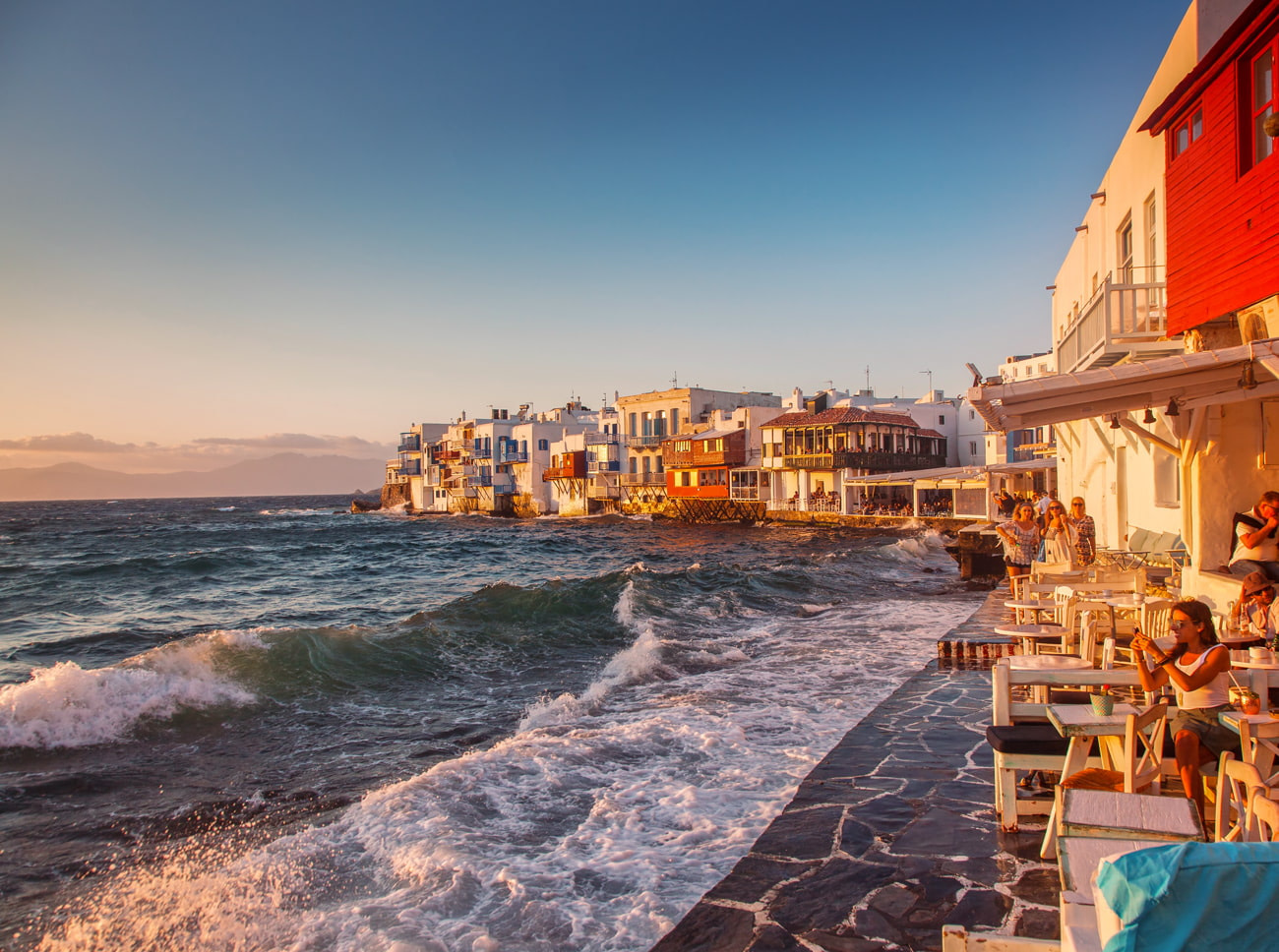 With its old fishing houses and colorful wooden balconies hanging over the sea, Little Venice is Mykonos' most alluring place to watch the sunset with a cocktail in hand.
Indulge in watersports
Great weather, clear blue seas, and 20,000 kilometers of dazzling coastline make Greece one of the best countries for aquatic activities. Kos, Naxos, and Rhodes are perfect for windsurfing; Santorini and Mykonos offer wonderful diving opportunities; and Corfu is a paradise for water sports fans, with everything from water skiing to spectacular sailing.
Discover Crete
The largest of the Greek islands offers an intriguing mix of beaches, history, and ancient treasures. Nevertheless, Crete is known as the home of Europe's first civilization, and its culture is so unique it almost feels like a different country.
Drink like a Greek
Try homemade raki in Crete, sweet Malvasia wine in Laconia, and crisp, dry Assyrtiko in Santorini. As for ouzo, this delicious anise-flavored liquor is meant to be savored, not rushed, accompanied by conversation and mezedes (appetizers) in traditional ouzeries (ouzo bars). You'll find the best ouzo in Greece on the island of Lesbos.
Visit the center of the world, Delphi
Once home to the prophetic oracle of Apollo, Delphi is now one of the nation's most important archeological sites. Built on the slopes of Mount Parnassos not far from the Gulf of Corinth, it houses the Temple of Apollo, the Sanctuary of Athena, a museum, an ancient theater, and many other significant structures. For ancient Greeks, this place steeped in mythology was the center of the world.
Admire the architecture in Santorini
Narrow paved streets, blued domed churches, and sugar cube houses tumbling down the dark, volcanic cliffs – the whitewashed Cycladic architecture of Santorini is a feast for the eyes.
Get lost in the ghost town of Vathia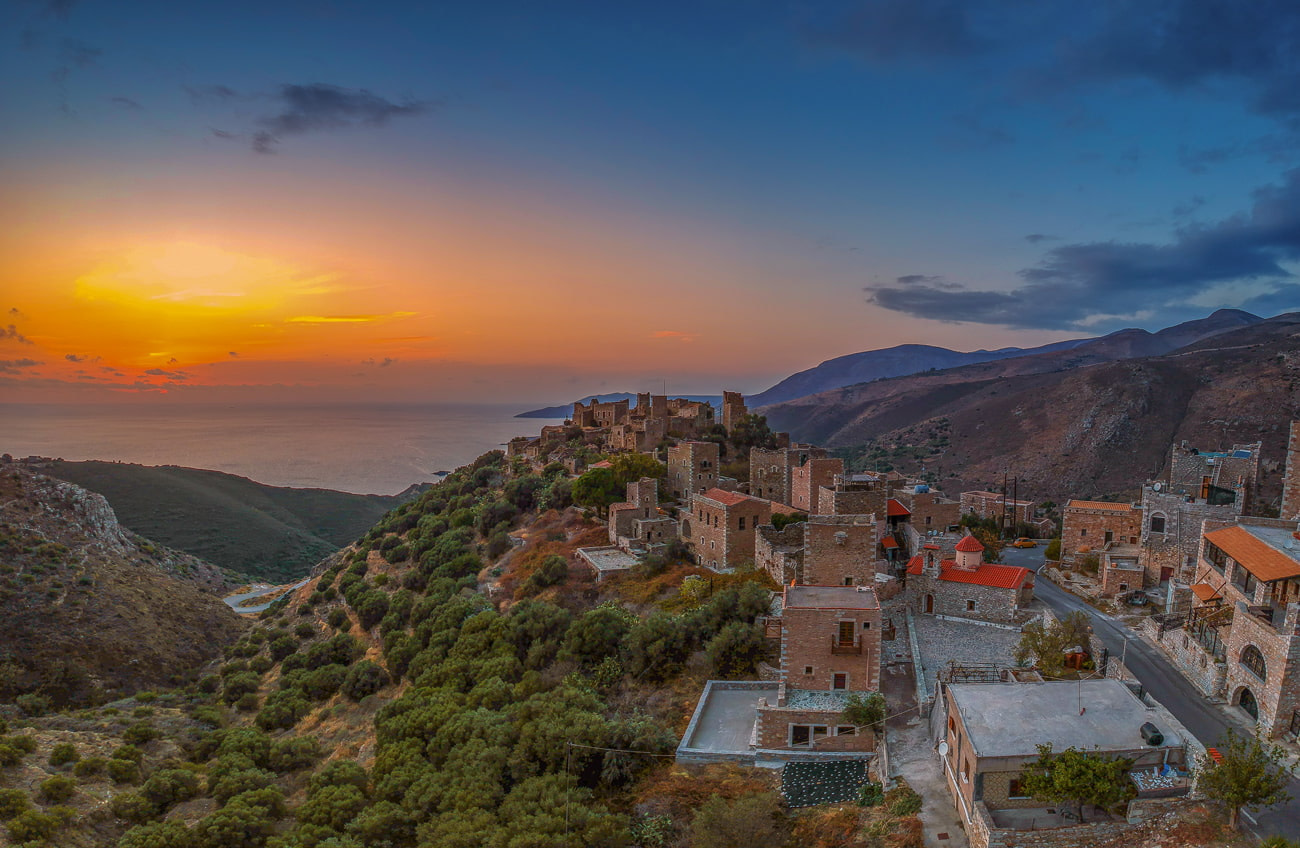 Greece is filled with beautiful surprises. One of them is the rugged, unspoiled Mani Peninsula in the southernmost point of continental Europe. Here, built on top of a hill overlooking the sea, lies the picturesque fortified village of Vathia with its imposing stone towers and caramel-colored houses. The settlement is mostly abandoned, and strolling its deserted streets is a truly magical experience.
Walk the Corfu Trail
The 200 km long Corfu Trail takes hikers through the island's beautiful, untouched countryside, past rolling olive groves, picturesque villages, hidden beaches, and wild mountain scenery.
Climb up the hill to the Acropolis
Centuries of history and mesmerizing views of Athens unfolding before your eyes – this is the experience one can expect at the Acropolis, one of Athens's top tourist attractions. Though best known for the Parthenon, this majestic hilltop site looming over the Greek capital is also home to several other ancient temples and theaters, as well as an archaeological museum filled with over 4,000 statues and artifacts.
Splurge on a luxury holiday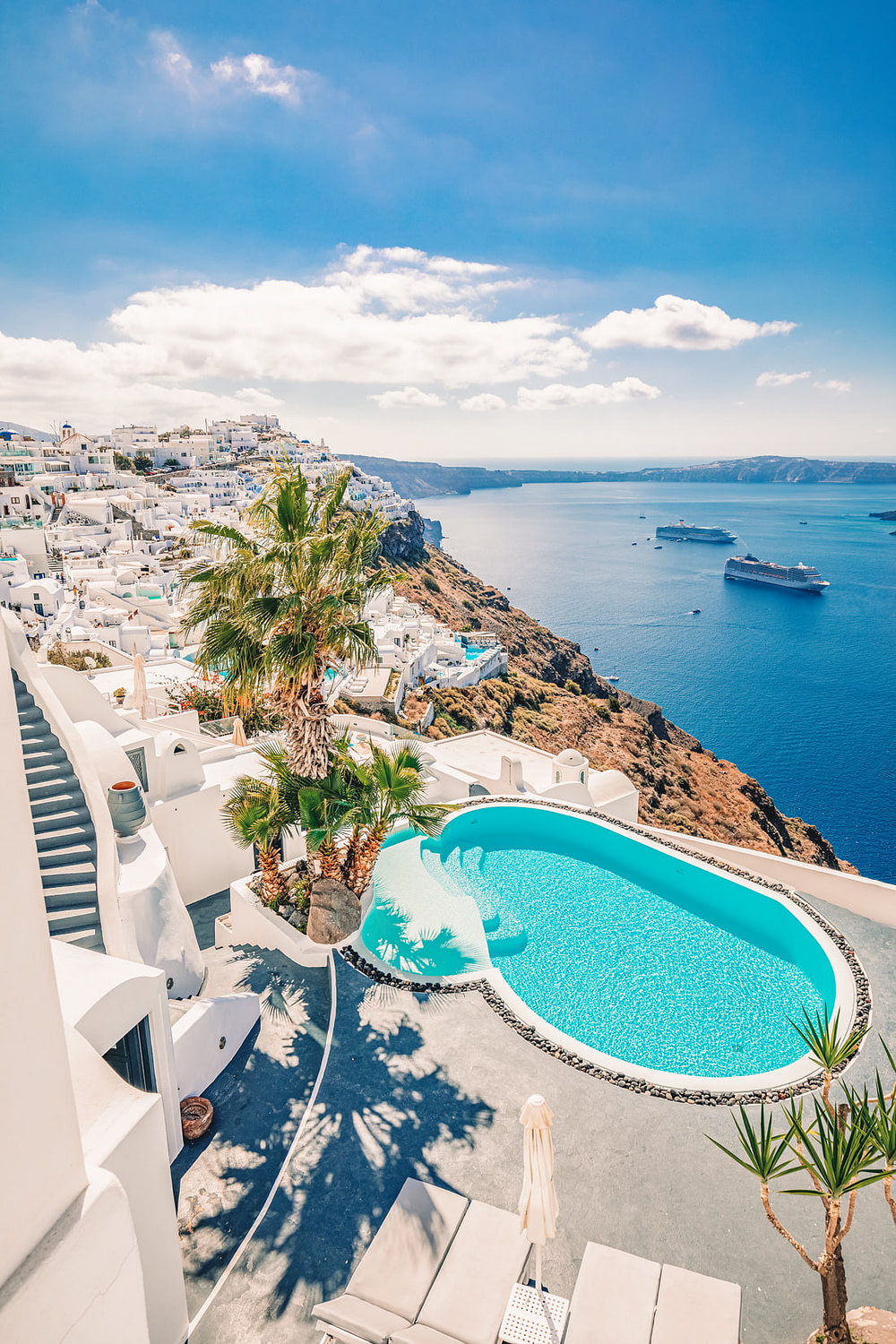 As tempting as it may be to experience Greece like a local, splurging on a luxury holiday in this fascinating country will be money well spent. Santorini's spectacular villas range from whitewashed eco-friendly retreats to uber-stylish cave houses, but there are wonderful upscale accommodation options all over the country.
Find romance in Monemvasia
Located on a small island off the east coast of the Peloponnese, Monemvasia, also known as the Gibraltar of the East, feels romantically frozen in time. The walled medieval village is a cluster of elegant stone mansions, lovely Byzantine churches, and cobbled paths lined with family-run tavernas and artisans' workshops.
Eat, eat, eat
Food is a great part of life in Greece. Check out as many local tavernas as possible and indulge in wonderfully fresh seafood, divine desserts, and flavorsome salads drizzled with the best olive oil. On top of that, Greek cuisine is one of the pillars of the Mediterranean diet, hence widely considered among the healthiest in the world.
Visit the National Archaeological Museum in Athens
Greece's largest and greatest museum celebrates ancient Greek art through an outstanding collection of artifacts, from exquisite sculptures and frescoes to stunning jewelry, weapons, and ceramics.
Take in the beauty of Balos Lagoon
Situated in the northwest corner of Crete, the lagoon of Balos is a veritable paradise of exotic white/pink sands and incredibly turquoise waters. The beach is best accessed by ferry from Kissamos.
Take a day trip to Hydra
If your destination in Greece is Athens, you should consider a day trip to blissfully laid-back Hydra. This car-free Ionian island is only a short 2 hours' ferry ride from the capital and charms visitors with its cosmopolitan atmosphere, scenic pebbled beaches, and elegant architecture, which incorporates both traditional stone houses as well as sumptuous harborside mansions.
Stock your bags with souvenirs
Cheap fridge magnets are the worst things you can possibly buy in Greece. Shopaholics, this country is a treasure trove of high-quality olive oil, handmade leather sandals, artisan pottery, natural sea sponges, and quirky handcrafted jewelry.
Catch a live performance at Epidaurus
Dating back to the 4th century BC, Epidaurus is Greece's most beautiful and best-preserved ancient theater. Renowned for its perfect acoustics and outstanding architectural symmetry, the venue hosts a variety of contemporary theater productions and ancient drama performances during the annual summer Festival of Epidaurus.
Travel back in time to the Old Town of Rhodes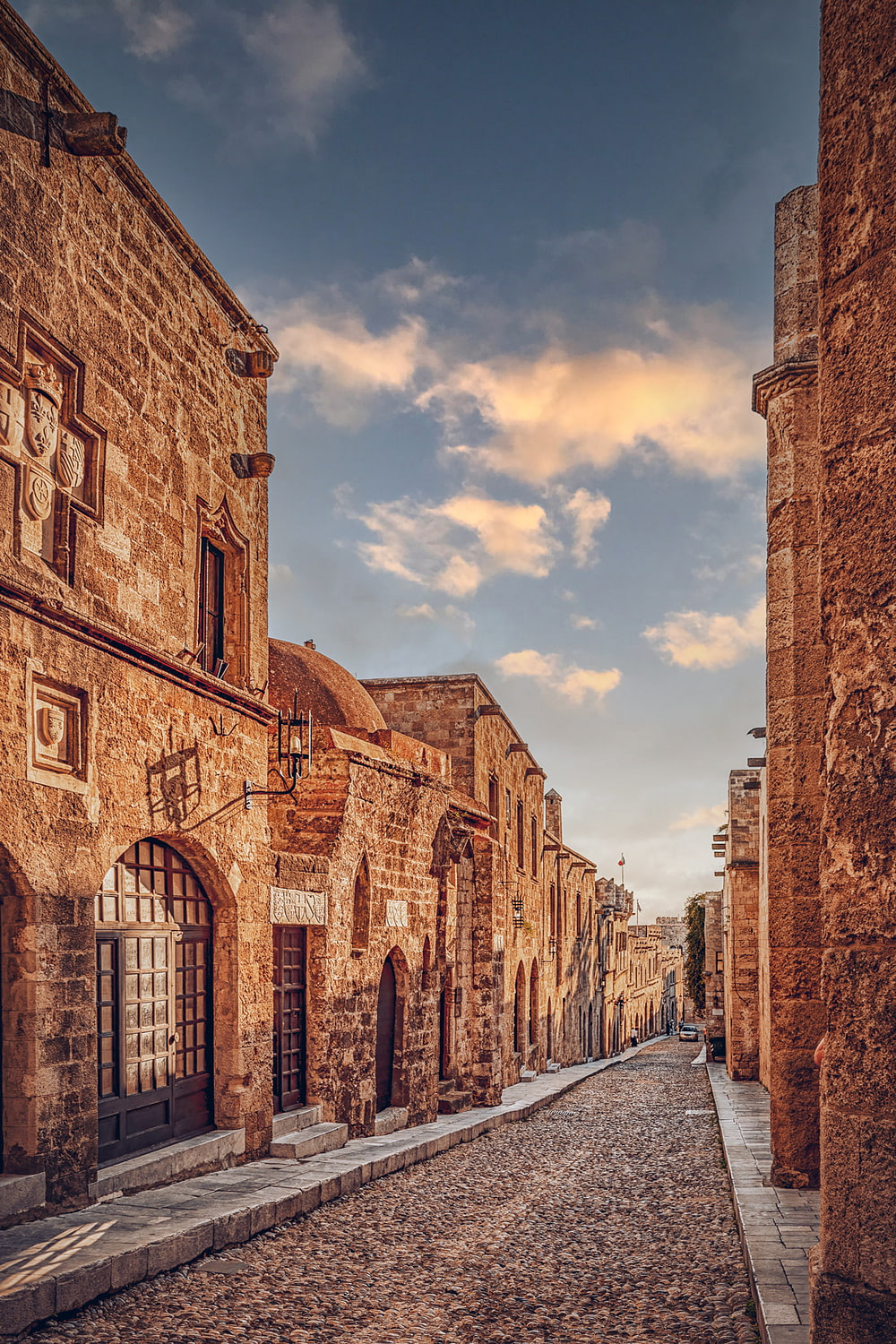 One of the highlights of Rhodes' UNESCO-listed Old Town is the magnificent Palace of the Grand Masters. Still, the Street of the Knights, the imposing medieval walls, and the Archaeological Museum of Rhodes are equally fascinating.
Attend a festival
Greece is particularly famous for its unique Easter festivities, but the carnival season (Apokreas) is an equally exciting time to visit the country and get a taste of the local culture. Other highlights on the Greek calendar include the Navy Week in Crete, the Film festival of Thessaloniki, River Party at Nestorio, and the Rockwave Festival near Athens.
Sail around the islands
No matter which island you decide to base yourself on, sailing is probably the best way to experience the beauty and diversity of the Greek Isles. You can charter a sailboat with your friends and explore these jewels at your own pace, or opt for a yacht with an experienced skipper on board.
Live the high life in Mykonos
A trip to Mykonos, the most fashionable Greek island, means sunbathing on beautiful, soft sands, partying in stylish beach clubs, sipping sundowners in scenic Little Venice, and browsing through the chic boutiques that line the mazelike streets of Chora.
Spend a lazy day on Navagio Beach
Even in Greece, a country known for its fabulous islands and sun-kissed coasts, you'll be hard-pressed to find a more perfect beach than Navagio, aka The Shipwreck or Smugglers' Cove. Tucked away in a secluded cove on the northwest coast Zakynthos and surrounded by dazzling white cliffs, this idyllic stretch of sand will cast a spell on all who see it.
Watch the sunset in Oia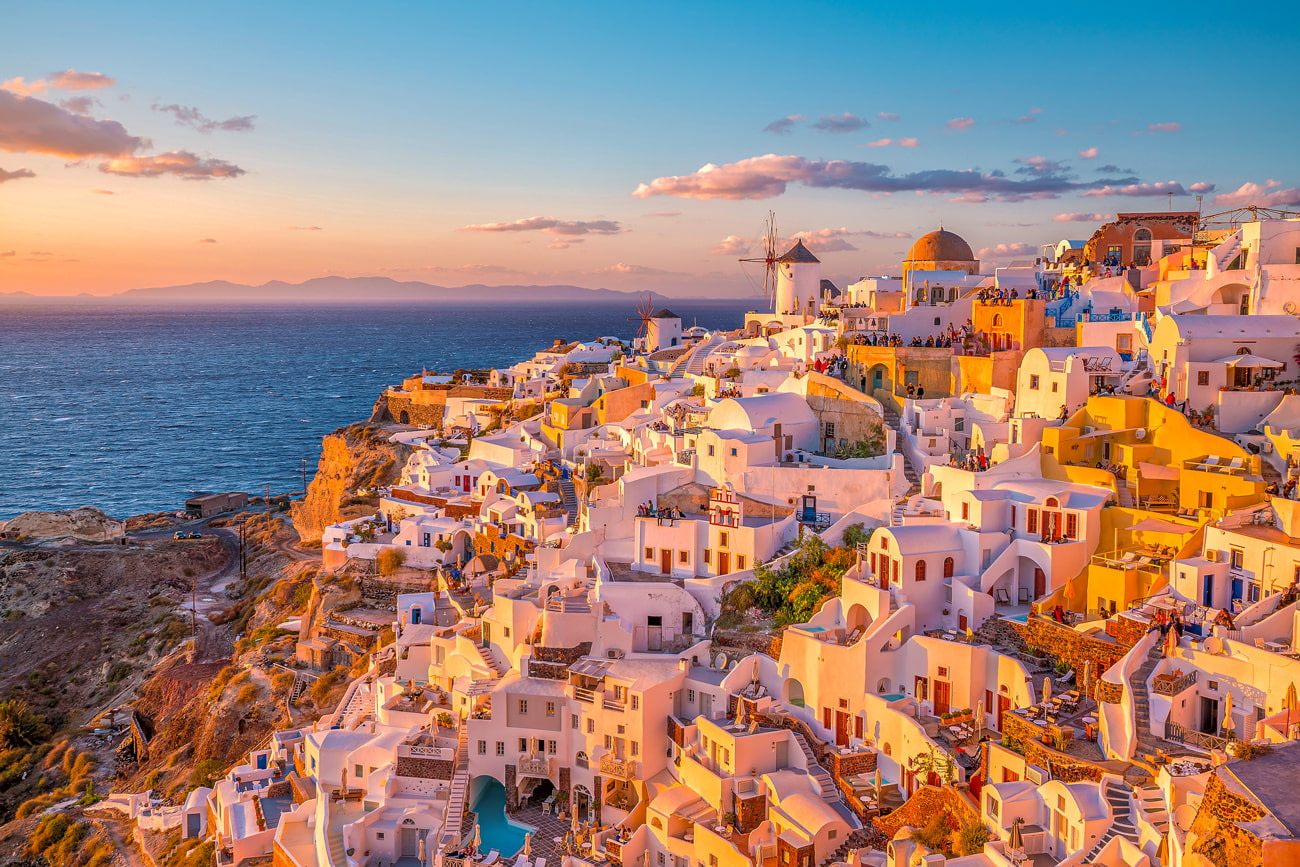 Perched on a cliff at Santorini's northern tip, the chocolate-box village of Oia is one of the world's most famous spots for watching the sunset, and for good reason. As the sun sinks into the Aegean Sea, the sky bursts into vibrant, fiery colors that spread a warm, rich glow over the whitewashed buildings cascading down the Caldera.
The place gets extremely busy during the high season, so it is recommended to arrive early in order to catch a good viewing spot.