This post contains affiliate links, which means we may receive a small commission, at no additional cost to you, if you make a purchase through these links. See our full disclosure here.
Planning a trip to New Orleans? No matter your style, budget, or preferences, you'll have no trouble finding the perfect accommodation for you in America's most haunted and bewitching city.
Hotels here tend to feel like extensions of the town itself, retaining their authenticity and honoring the colorful history, mysticism, and exuberance that have been luring visitors to NOLA for centuries. But that's not to say that they're all steeped in antiquity and old-fashioned Southern charm – far from it.
Style-savvy travelers will swoon over the charming old-meets-new aesthetics of New Orleans' stylish boutique hotels; romantics and culture enthusiasts will revel in the wrought-iron elegance and colonial-era ambiance of the French Quarter's mansions; while millennials will find plenty to love about the 'new kids on the block', where smart amenities, signature food, and local music make the stay itself an integral part of a Crescent City experience.
Whether you're looking for luxury, character, music, design, or voodoo, these are the best places to stay in New Orleans.
Best for trendy, budget-savvy millennials and partygoers: Moxy Hotel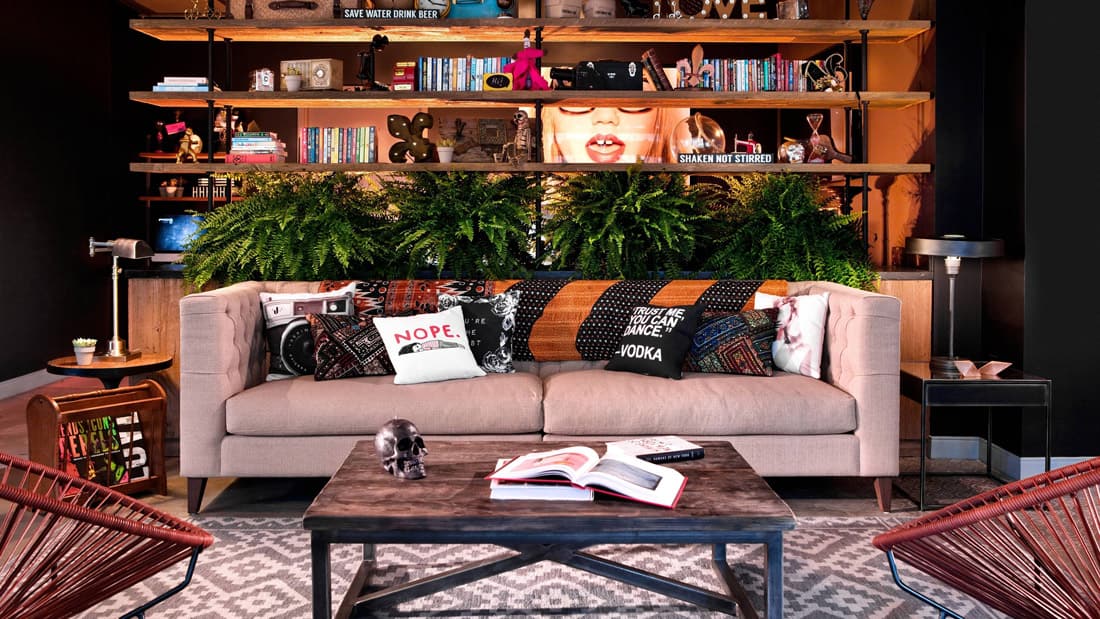 Designed with budget-conscious millennials in mind, Moxy New Orleans delivers a smart blend of style and affordability minutes away from the buzzing French Quarter.
A youthful, relaxed vibe pervades the quirky industrial-inspired communal areas, and rooms sport sleek glass-enclosed showers, uber-comfy platform beds, and internet TVs featuring Netflix, YouTube, and Hulu. Additionally, the energetic lobby serves as bar, coffeehouse, and 24/7 grab-n-go, offering local craft beers and signature cocktails along with delicious Naan sandwiches.
Best for an epic group getaway: Airbnb apartment rental
With a modern, fully-equipped kitchen to cook your own meals and an amazing location near Frenchmen St and the Quarter, this beautiful 2-bedroom Airbnb rental is perfect for a group getaway to New Orleans – whether it be a stag/hen party, a family gathering, or a corporate event.
Perched on the top floor of a characterful 19th-century home, the penthouse is tastefully renovated and oozes rustic chic vibes, with its high ceilings, elegant white hardwood floors, and gorgeous 200-year-old oak beams.
Best for a vibrant social scene: Catahoula Hotel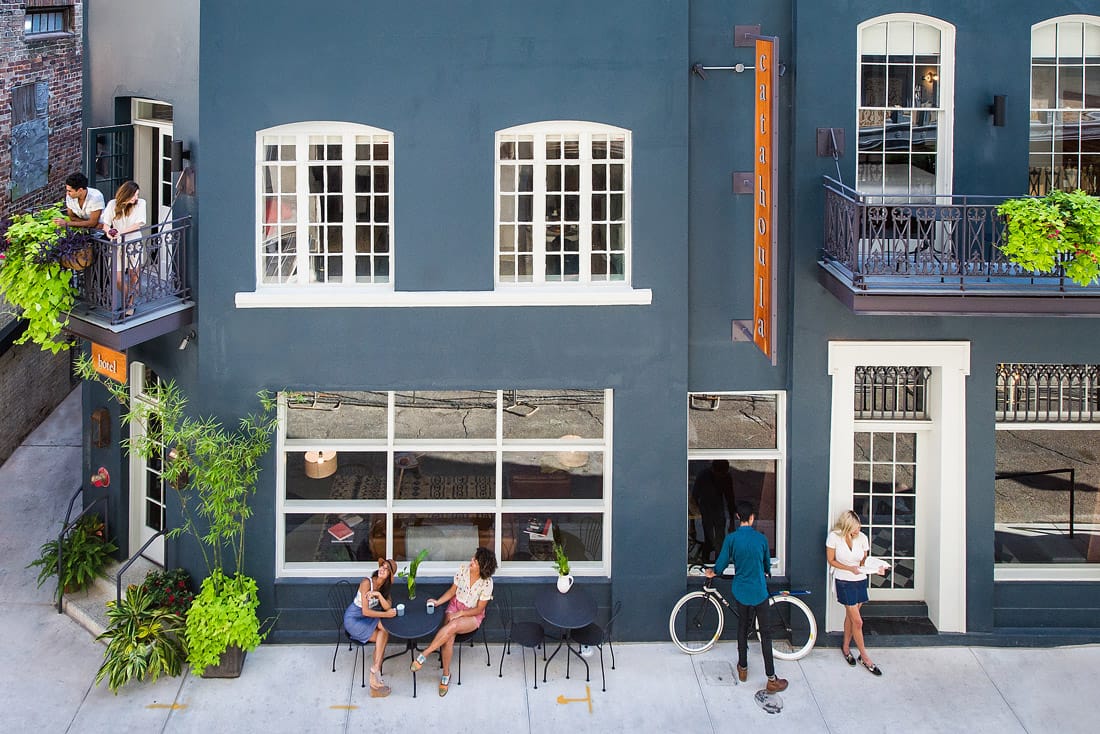 Occupying a pair of 19th-century Creole townhouses on a quiet side street in the Central Business District, this 35-room downtown boutique hotel is chic, cozy, and delightfully unpretentious. Clad in exposed brick, rooms blend contemporary style with historical charm, pampering guests with soft Casper mattresses, walk-in rain showers, and locally sourced toiletries.
But Catahoula Hotel's real draw is its active social scene, which sees hip New Orleanians and visitors mingling over delicious Peruvian-flavored cocktails in the trendy pisco bar, indulging in vegetarian Taiwanese fare at the onsite Midnight Noodle restaurant, or sipping shots of mezcal in the stylish rooftop lounge, complete with live music and picturesque skyline views.
Best for a romantic retreat: Private Bywater Designer Home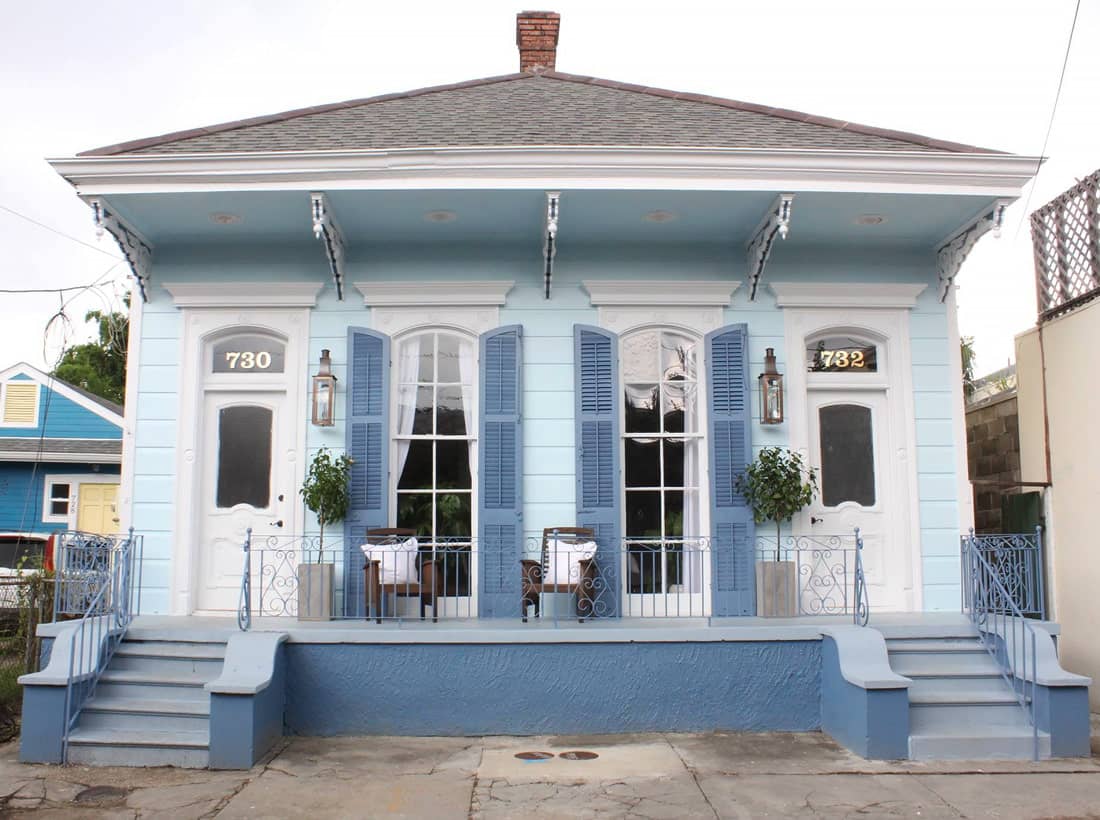 Located in the bohemian Bywater neighborhood, this adorable Vrbo rental is the ideal place to retreat to after a long day exploring America's most European city.
Renovated by designer Holly Baker of HGTV's show New Orleans Reno, the home is perfectly suited for a romantic couple's hideaway, with its alluring front porch and bright, chic interiors. It's also a great option for those looking to soak up New Orleans' creative vibe, with lots of hip eateries and coffee shops nearby. For music, nightlife, and entertainment lovers, Frenchmen Street and the French Quarter are only a 15-minute walk away.
Best for a cultured Bourbon Street stay: Royal Sonesta New Orleans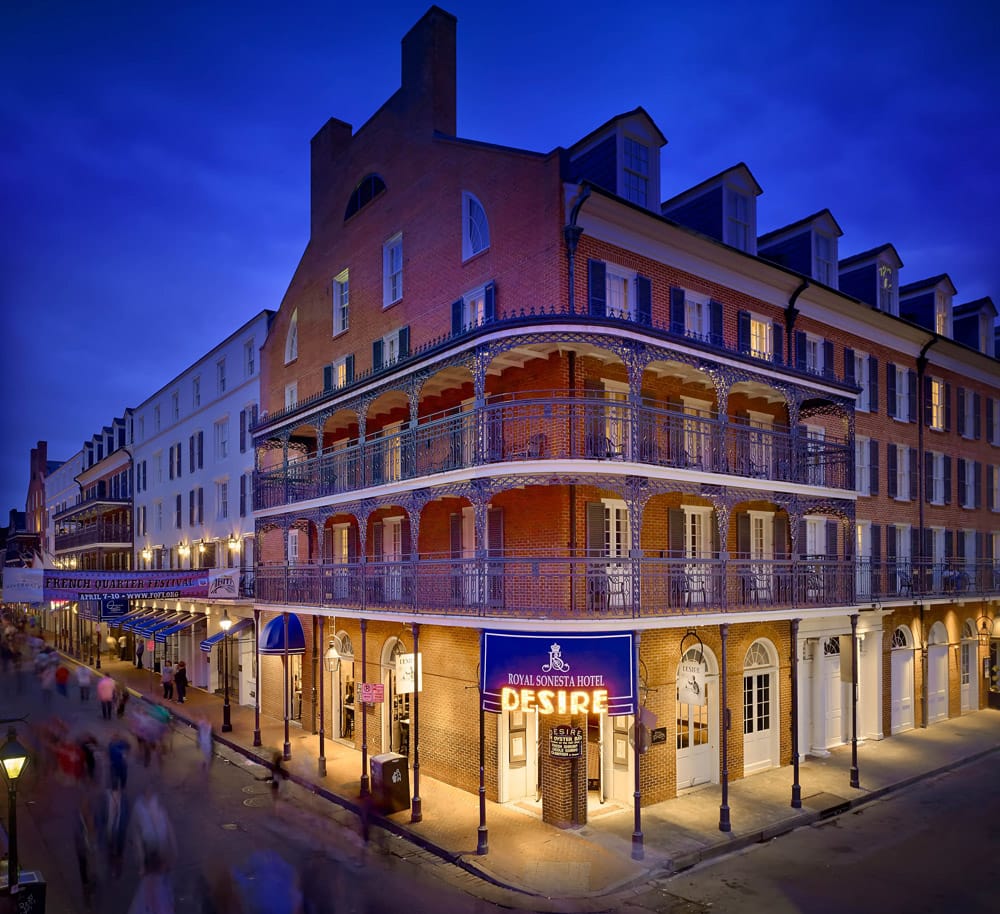 Home to a world-class 6,000-piece art collection, brilliant dining options, and one of the neighborhood's best jazz clubs, Royal Sonesta New Orleans is sure to be a highlight on your trip to NOLA.
This regal, resort-style hotel enjoys a prime spot on the legendary Bourbon Street, offering a world of experiences under one roof. There's sophisticated fine dining at the award-winning Restaurant R'evolution; refined live shows at the swanky Jazz Playhouse; and plenty of recreational opportunities around the cobbled plant-lined courtyard, where a sparkling saltwater pool awaits.
Graced with traditional French doors and wrought-iron balconies, Sonesta's rooms serve as stylish respites from the never-ending party on Bourbon Street. These range from classically elegant to uncompromisingly modern, but all are rewardingly comfortable and complete with topnotch amenities.
Best for Southern charm with a twist: Henry Howard Hotel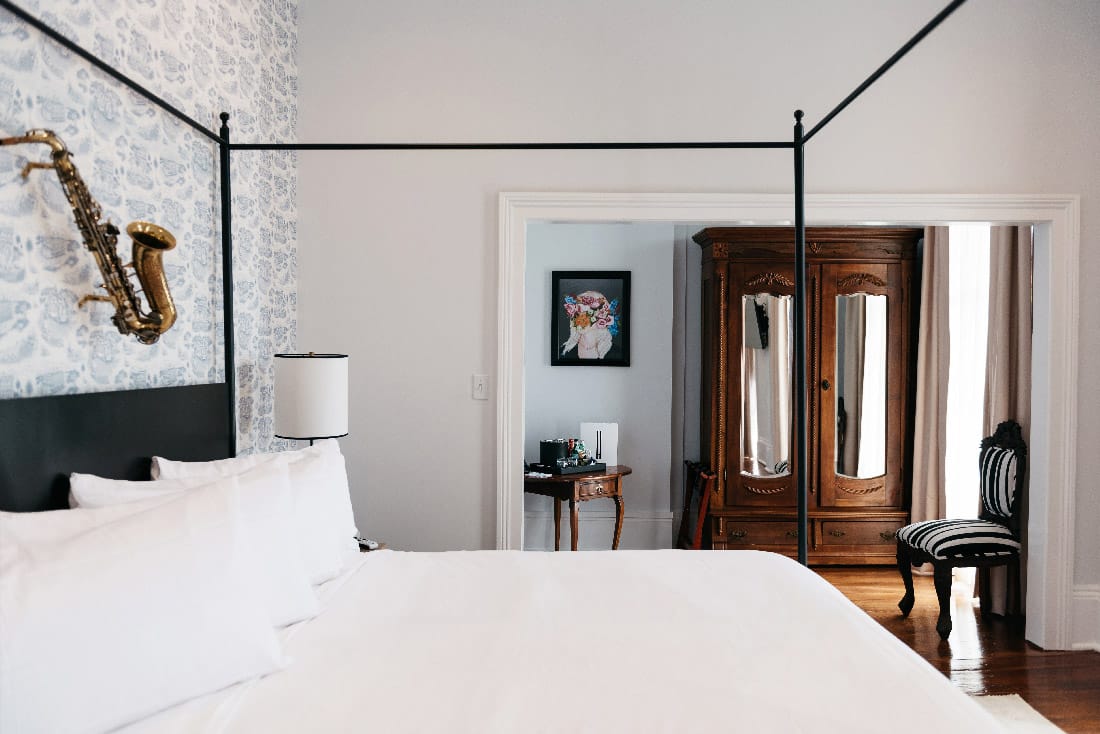 Named after one of the city's most famous architects, the Henry Howard Hotel is a hip boutique establishment overflowing with authentic New Orleans charm.
Reimagined by New York-based Hunter Mabry Design, the historic 1860s mansion has 18 inviting rooms infused with cool contemporary flair – think geometric canopy beds, boldly patterned wallpapers, and musical instruments hanging on the walls. There's no onsite restaurant, but delicious artisanal cocktails can be enjoyed throughout the day – either in the grand, elegant Parlour or outside, in the intimate garden courtyard.
Best for hip, style-savvy wanderers: The Drifter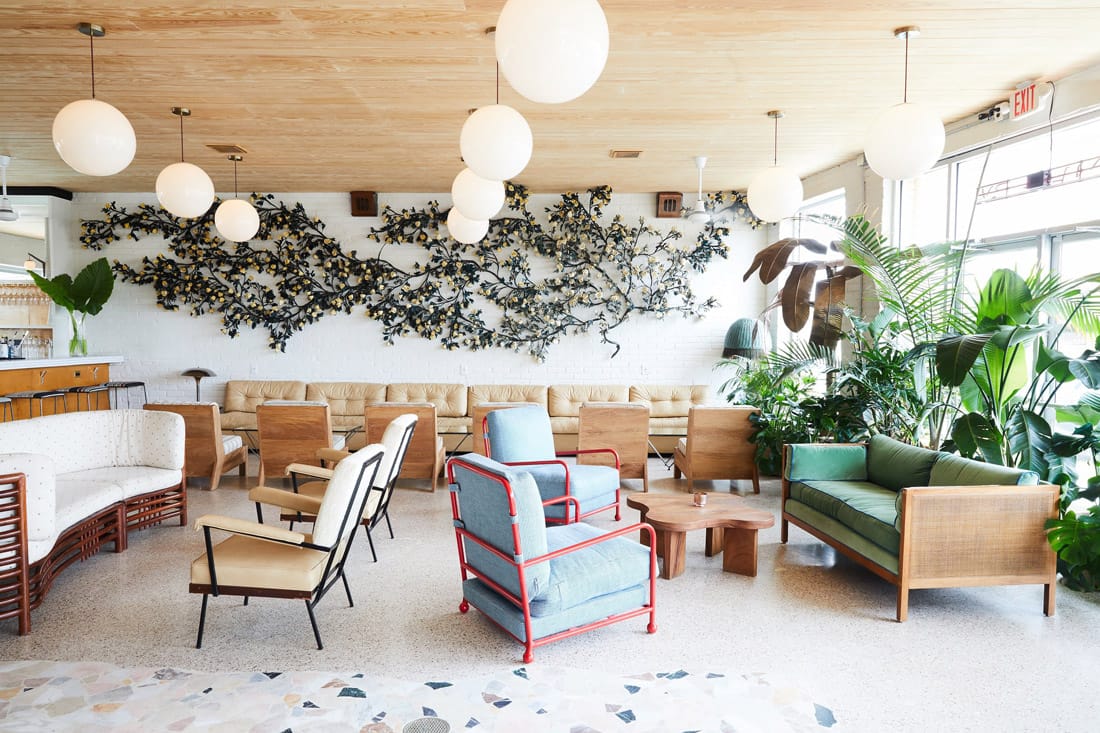 With its refined mid-century design, colorful event calendar, and young, free-spirited vibe, The Drifter is a refreshing departure from NOLA's classic hotels.
Located in the Mid-City neighborhood, the tastefully revived 1950s roadside motel welcomes guests in sleek, minimalist rooms, all featuring eye-catching ceramic tile floors, bespoke Mad Men-esque furniture, and funky Bluetooth audios by Tivoli. Other millennial-focused diversions include inspiring art shows, raucous poolside parties on weekends, and a rotating selection of food trucks on your doorstep.
Best for fashionable, fun-loving types: W New Orleans French Quarter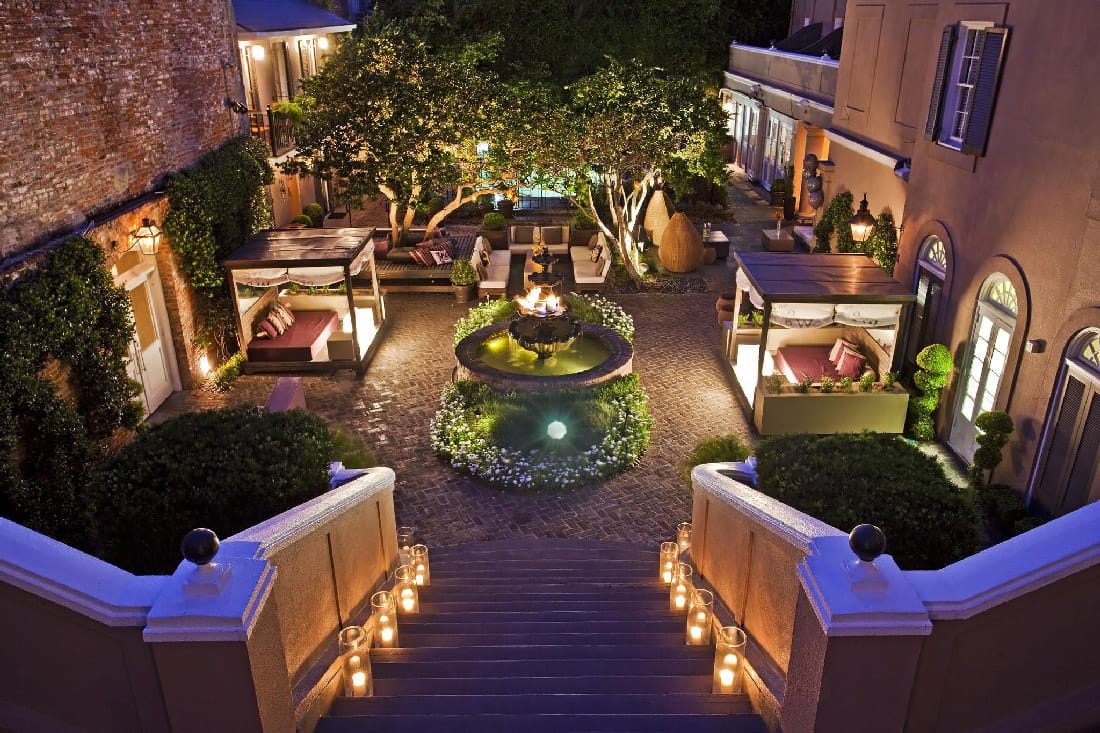 This hotel's funky design and cool vibes set the scene for a fabulous 21st-century stay in the Crescent City. Enjoying an enviable location in the heart of downtown, W New Orleans French Quarter boasts an atmospheric Creole-inspired bar & restaurant and a delightful European style courtyard complete with swimming pool and chic cabanas.
Whether jazz or tarot-themed, rooms blend W's signature style with a true sense of place, spoiling guests with blissfully restful beds, minibars stocked with local beers, and state-of-the-art technology.
Best for authenticity and historical charm: Soniat House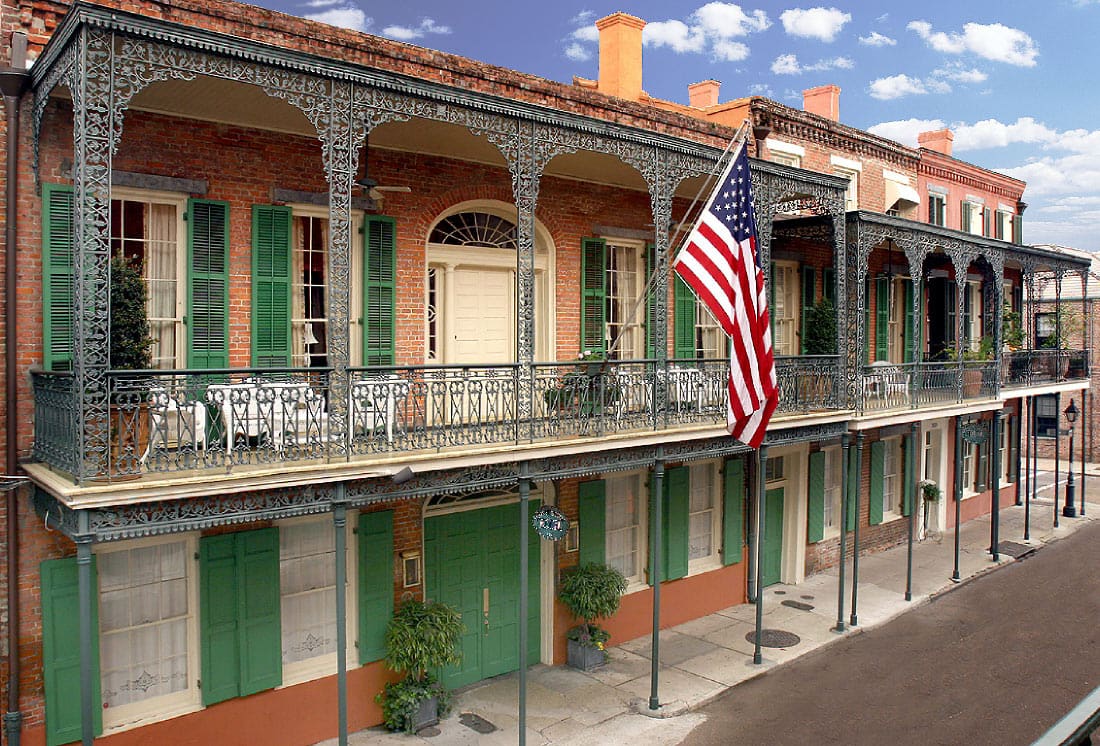 Elegant antique-laden interiors, oodles of old-world charm, and a tranquil location in the lower Vieux Carré make Soniat House one of New Orleans' most sought-after hotels.
Though only a short stroll from the buzzy Bourbon Street, this small boutique hotel feels a world apart, with its tropical 19th-century courtyard, thoughtful uniformed staff, and individually styled rooms steeped in period romance. An experience in and of itself, breakfast comes in the form of a silver tray with freshly baked buttermilk biscuits, homemade strawberry jam, and French café au lait.
Best for a classically luxurious French Quarter stay: Bienville House Hotel
A historic boutique hotel in the French Quarter, Bienville House is the epitome of Southern hospitality. And, with typical wrought-iron balconies, a lush flagstone courtyard with pool, and classically elegant decor throughout, it couldn't be more quintessentially New Orleans.
Rooms boast four-poster mahogany beds and Carrara marble bathrooms, and the adjoining Latitude 29 tiki bar & restaurant celebrates Polynesian culture with delicious tropical drinks and playful island cuisines.
Best for a quiet, contemporary escape: Penthouse Loft 523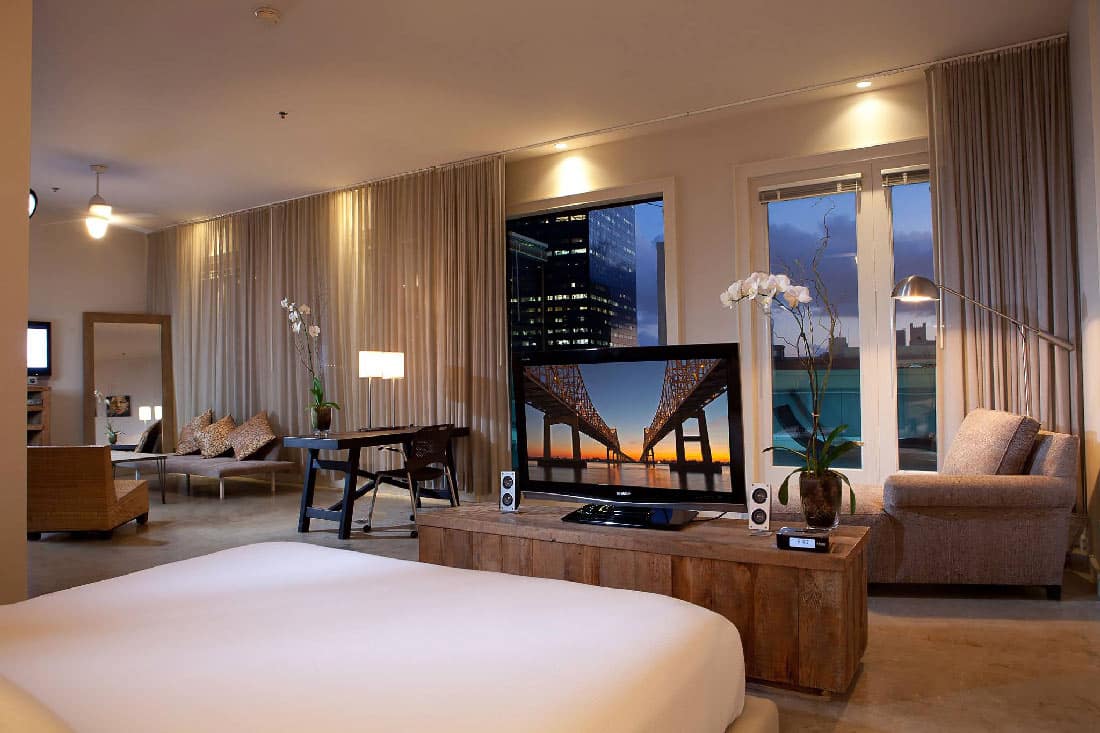 Spacious loft-style suites and calming zen gardens await guests at Loft 523, a contemporary designer hotel in the city's Central Business District (CBD), only a short walk from Lafayette Square. Perched on the property's 5th floor, the Penthouse Loft opens onto a stunning landscaped garden and envelopes you in serene minimalism, complete with floor-to-ceiling windows, sleek designer furnishings, and original artwork.
Best for hipsters, foodies, and music lovers: Ace Hotel New Orleans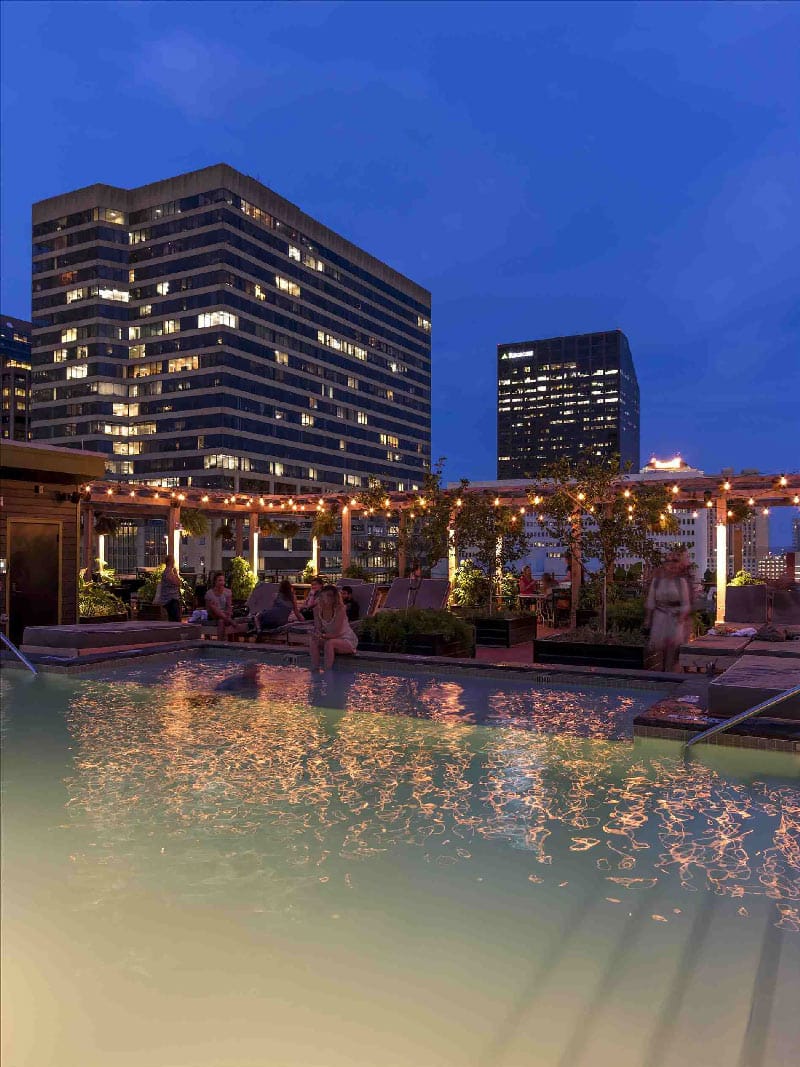 Housed in a renovated Art Deco building in the Warehouse District, Ace Hotel New Orleans captures the very essence of this fascinating, culturally-rich city with Southern Gothic-inspired interiors and its own music venue. Designed by Roman and Williams, rooms are atmospherically dark and filled with thoughtful details like fully-stocked minibars, Smeg refrigerators, and even turntables or Martin acoustic guitars.
Nevertheless, it's the vibrant and characterful public spaces that really bring this hotel to life – the lovely Josephine Estelle osteria serves award-winning Italian cuisine with a Southern twist; Seaworthy focuses on wild-caught oysters and expertly mixed cocktails; Three Keys hosts live shows five nights a week; and Alto – the hotel's rooftop garden – tops it all off with Instagramable poolside parties and a lively bar.
Best for a boutique mix of cocktails, voodoo, and style: International House
Located in a landmark Beaux Arts building between CBD and the French Quarter, International House offers a taste of old New Orleans with a stylish contemporary twist.
Unique pieces of art, iHome stereos, and spa-like bathrooms come as standard in all rooms, though some are more decadent than others. Case in point, the gracious suites, renovated by designer LM Pagano, are decorated with sumptuous furnishings and glamorous crystal chandeliers, while penthouses boasts sweeping terraces overlooking downtown New Orleans and the Mississippi River.
With illustrious mixologist Alan Walter at its helm, the Voodoo-themed Loa cocktail bar in the lobby has a reputation of its own, but culture-savvy travelers will also fall in love with the enthralling events and rituals taking place in New Orleans' first-ever boutique hotel throughout the year. These include everything from curated art parties to festivities honoring Voodoo Queen Marie Laveau.
Best for a quirky B&B stay: Fleur de Lis Mansion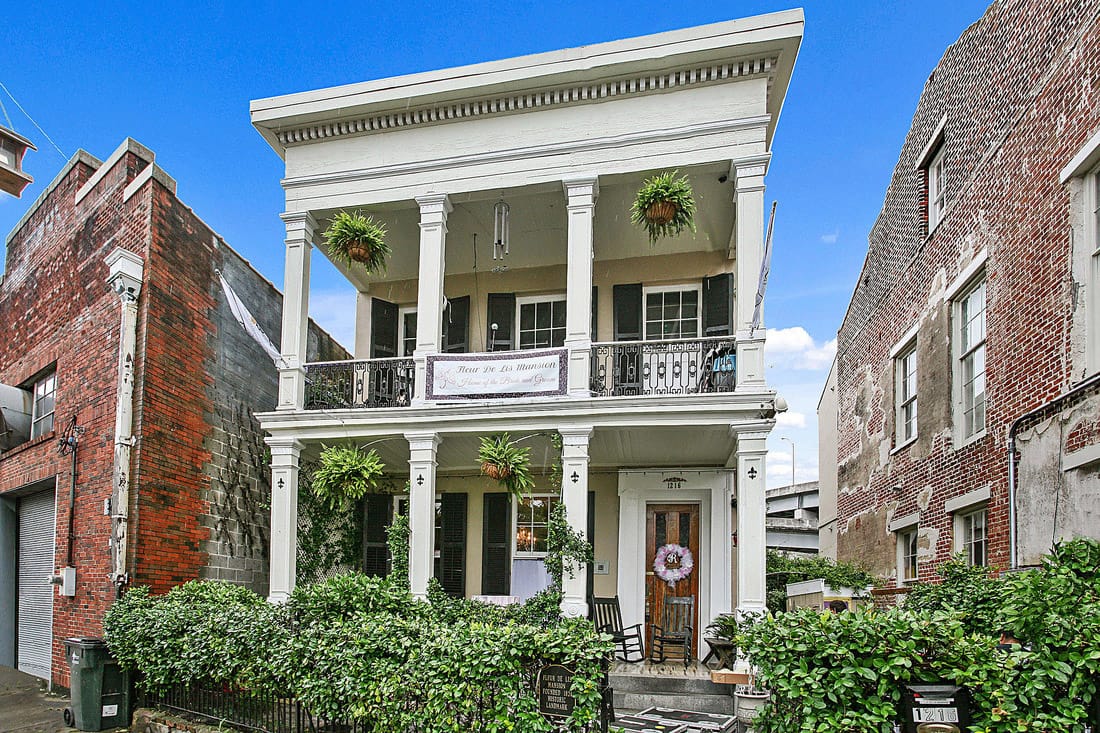 Occupying the oldest standing building in the Lower Garden District, Fleur De Lis Mansion provides a quirky home-away-from-home experience for visitors to the Big Easy.
While the colorful history of this grand mansion is visible in every nook or cranny, nowadays New Orleans' most unique and unusual B&B stands out more for its eclectic decor and modern amenities. Its individually themed rooms surprise with unexpected details such as mirror ceilings and walls or a projection screen, while facilities range from a verdant courtyard complete with Jacuzzi for 12 to a party bus for group guests.
Best for a stylish trip back in time: Pontchartrain Hotel
After a massive renovation, New Orleans' legendary Pontchartrain Hotel looks to the future while paying homage to a glorious past. Once frequented by the likes of Frank Sinatra, Truman Capote, and Tennessee Williams, the historic establishment along the St. Charles Avenue streetcar line transports guests back to a bygone era with old-fashioned metal door keys and a romantically eclectic decor of Tiki-style artworks, vivid florals, and sumptuous textiles. Swathed in a delicious palette of mint, peony, and vibrant ivy green, rooms are the epitome of relaxed New Orleans luxury.
The stunning Hot Tin rooftop lounge above offers craft cocktails and small plates along with unparalleled city views, but the hotel is also home to a characterful first-floor bar (Bayou Bar) with live music and an impressive whiskey menu, as well as an artful dining establishment (Jack Rose) serving up NOLA-inspired fare with French, Spanish, and Italian influences in a lively atmosphere.
Best for private-home comfort and intimacy: Melrose Mansion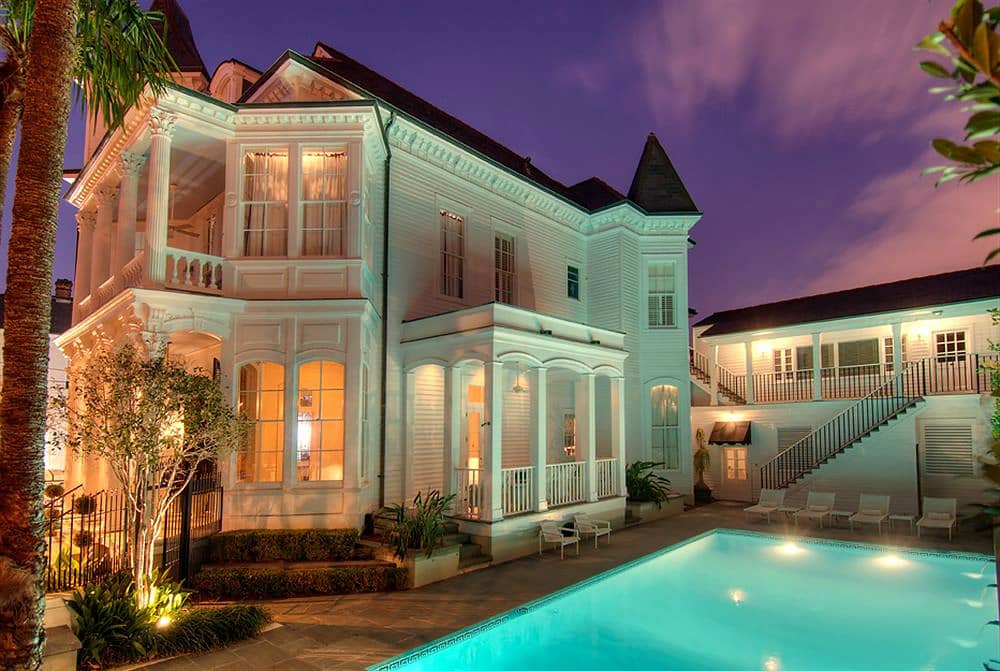 Hidden behind Melrose Mansion's grand Victorian façade are strikingly contemporary rooms and suites, complete with dramatic cathedral ceilings, Carrera marble bathrooms, and modern tech. For the ultimate comfort, opt for one of the sprawling suites equipped with full kitchens and living rooms.
Situated just outside the French Quarter, on Esplanade Avenue, the property successfully marries the amenities of a luxury hotel with the intimacy of an elegant New Orleans home. Expect complimentary continental breakfast, evening wine & cheese, and one of the largest outdoor pools in New Orleans.
Best for a traditional New Orleans experience: Inn on St. Ann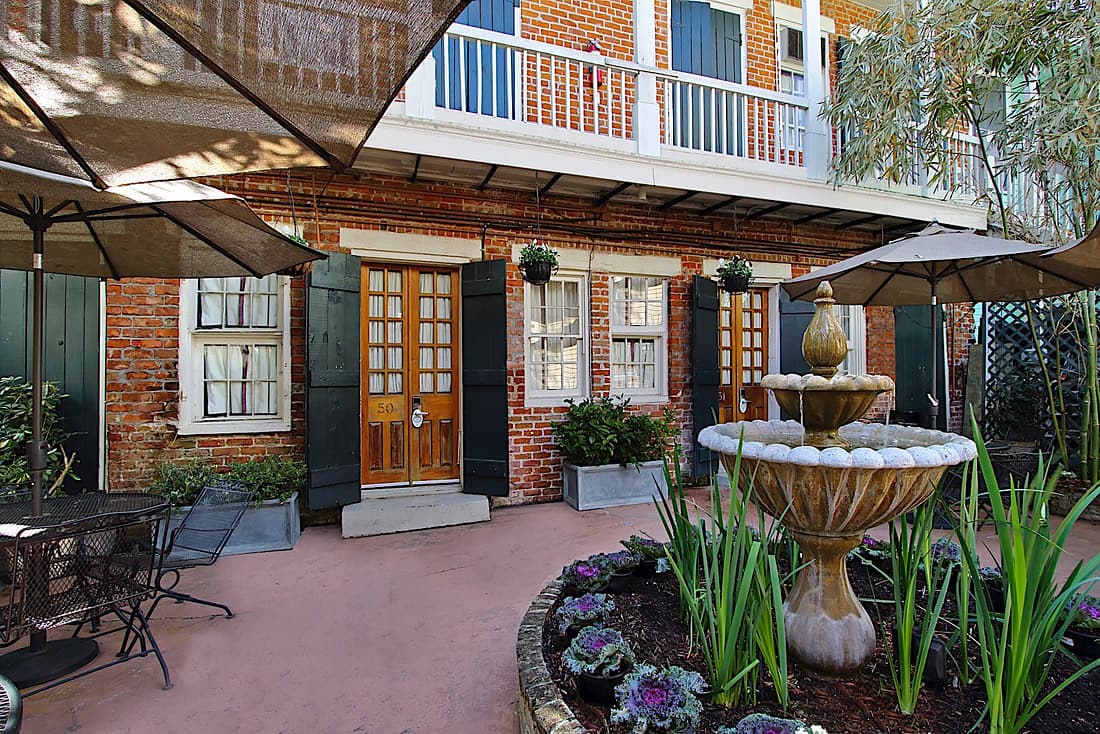 Tucked away in a tranquil corner of the French Quarter, the Inn on St Ann is as close or as far away from the action as you want it to be. Built in 1830, it retains its quaint typical architecture with wrought-iron balconies, hanging plants, and a century-old oak tree providing shade for a charming cobblestone courtyard.
Without any other onsite facilities, this is your traditional New Orleans guesthouse, filled with genuine antiques, original local art, and tons of character. Simple and elegant, rooms combine historic fireplaces, exposed brickwork, and dark wood furnishings with modern conveniences like Keurig coffee makers and MP3 players.
Best for business travelers and convention goers: Sheraton New Orleans Hotel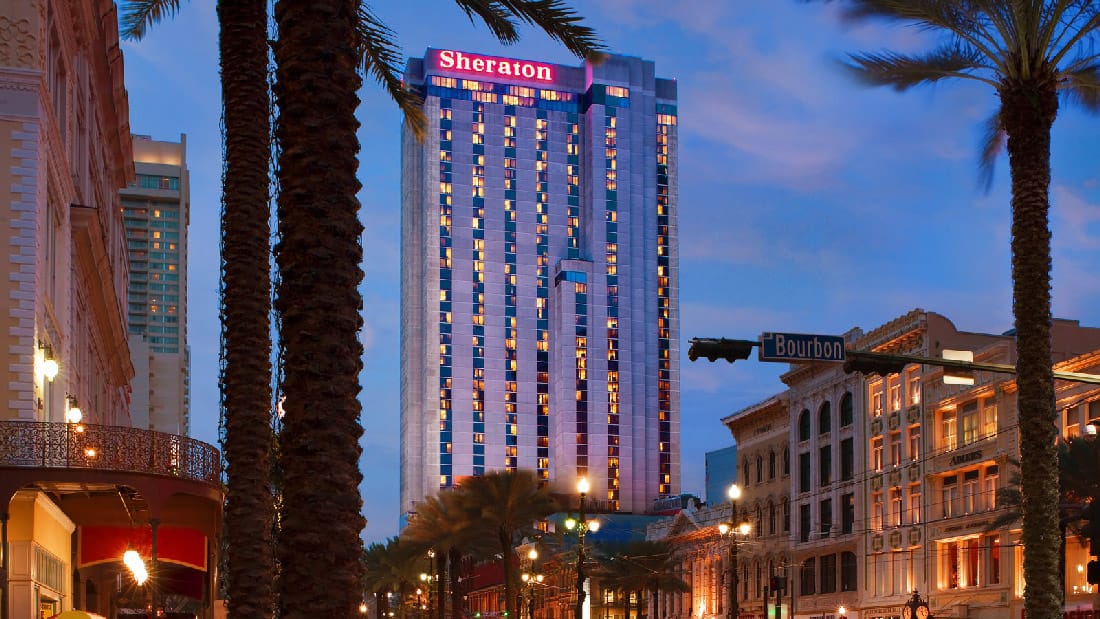 A mid-range business hotel on the historic Canal Street streetcar line, the Sheraton New Orleans stands out for its generous meeting facilities, which include over 100,000 square feet of flexible event space, state-of-the-art technology, concierge services, and a FedEx Business Center.
The 49-story hotel is also home to a panoramic rooftop pool & sundeck, a lobby Starbucks cafe, and a chic bistro serving reinterpreted Creole classics. Contemporary decor and amenities along with floor-to-ceiling windows overlooking the city make the rooms sunny and inviting.
Club Level's guests have exclusive access to a private lounge with complimentary continental breakfast and evening hors d'oeuvres.
Best for location, price, and character: Hotel St. Pierre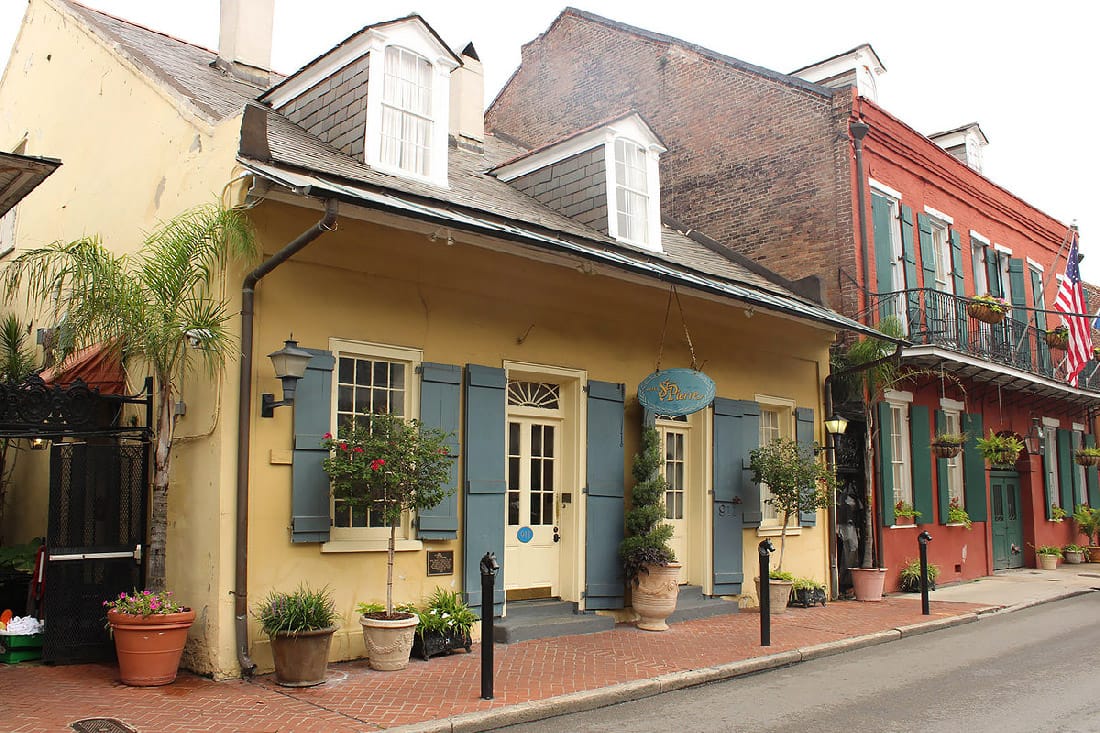 Set among a series of restored Creole cottages, steps from the world-famous Bourbon Street, Hotel St. Pierre accommodates visitors in quaint, colonial-style rooms combining period decor with modern touches.
Beautiful landscaped courtyards and invigorating swimming pools add to the property's character and ambiance, while complimentary Wi-Fi and breakfast make it a wallet-friendly option for travelers looking to stay in the midst of it all. This boutique bed-and-breakfast is ideally located right in the heart of the action-packed French Quarter, a short stroll from the French Market and the Louis Armstrong Museum.
Best for families and pet owners: Hotel Monteleone
Owned and operated by the same family since 1886, the grandiose Hotel Monteleone is a destination in itself. Aside from the legendary circus-themed Carousel Bar & Lounge, it plays host to an elegant Creole restaurant, a stunning rooftop pool, and a full-service day spa.
At the corner of Royal and Iberville, the iconic French Quarter establishment is within walking distance of most major attractions and offers luxurious accommodation in traditionally decorated rooms complete with iPod docks, flat-screen televisions, Keurig coffeemakers, and refrigerators.
Special kids vacation packages throughout the year come with coloring books and crayons, disposable cameras, plus free admission to the Louisiana Children's Museum, Audubon Aquarium of the Americas, or Entergy IMAX Theater.
The hotel also has pet-friendly floors, as well as a generous Pet Package, which includes a mat for your four-legged friend, water and food bowls, a chew toy, a bag of gourmet treats, waste bags, and a guide to the city's pet-friendly attractions.