Home to 7,200 km of coastline, it's no wonder millions of people flock to Turkey each year for the ultimate mix of culture, history, and beach bliss. Along its sun-blessed shores, calm, crystalline waters lap against pristine sweeps of sand, and hidden jade coves are guarded by ruins from ancient civilizations.
The Lycian Way, one of the world's greatest hiking trails, winds along its famously blue Turquoise Coast, and over 450 Blue Flag beaches – whose backdrop changes from lavish 5-star resorts to idyllic villages to marvelous pine-clad mountains – promise endless fun in the sun.
Kabak Beach, Fethiye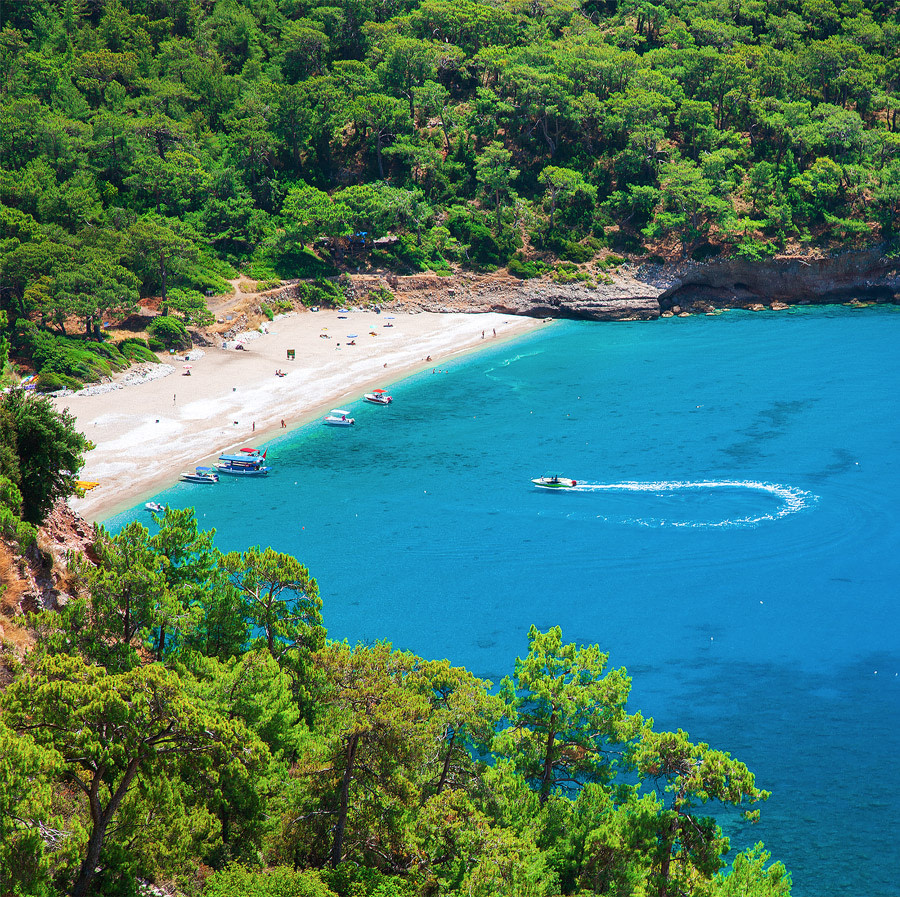 Located about 25 km south of Ölüdeniz, Kabak is a splendid little pocket of white sand and pebbles with crystal turquoise waters and nothing else to disturb the sense of peace. Surrounded on three sides by luxuriant pine forest, the pristine half-moon bay is mainly frequented by backpackers and hikers following the Lycian Way.
The beach is a 30-minute walk from the village with the same name, down a steep path, but its picturesque setting and laidback atmosphere make the effort worthwhile.
Blue Lagoon, Ölüdeniz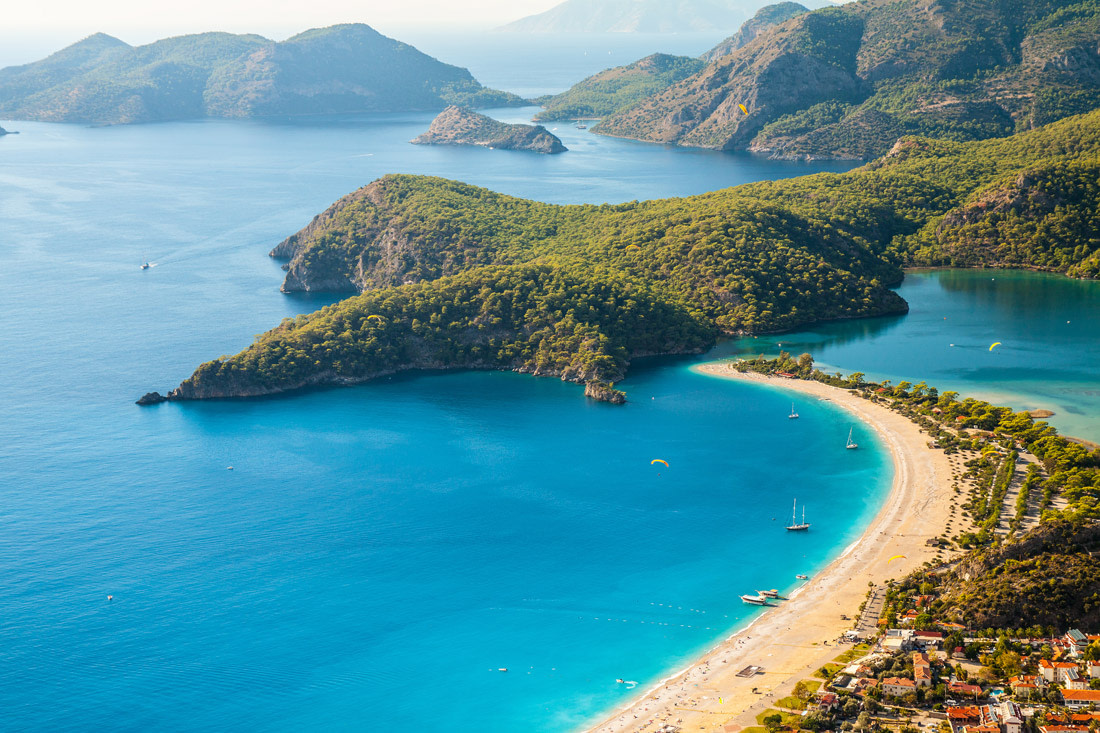 Tucked inside a protected national park, where the Aegean Sea meets the Mediterranean, the Blue Lagoon of Ölüdeniz is undoubtedly the most famous stretch of sand in Turkey and perhaps one of the most beautiful in the entire world.
Sparkling with all shades of blue, the sea here is so vibrant it almost seems surreal, while the Babadag mountain beyond provides the perfect launch pad for hundreds of thousands of paragliding enthusiasts who visit the resort each year. In other words, say hello to one of the most fabulous beaches in the Eastern Mediterranean!
Cleopatra's Beach, Alanya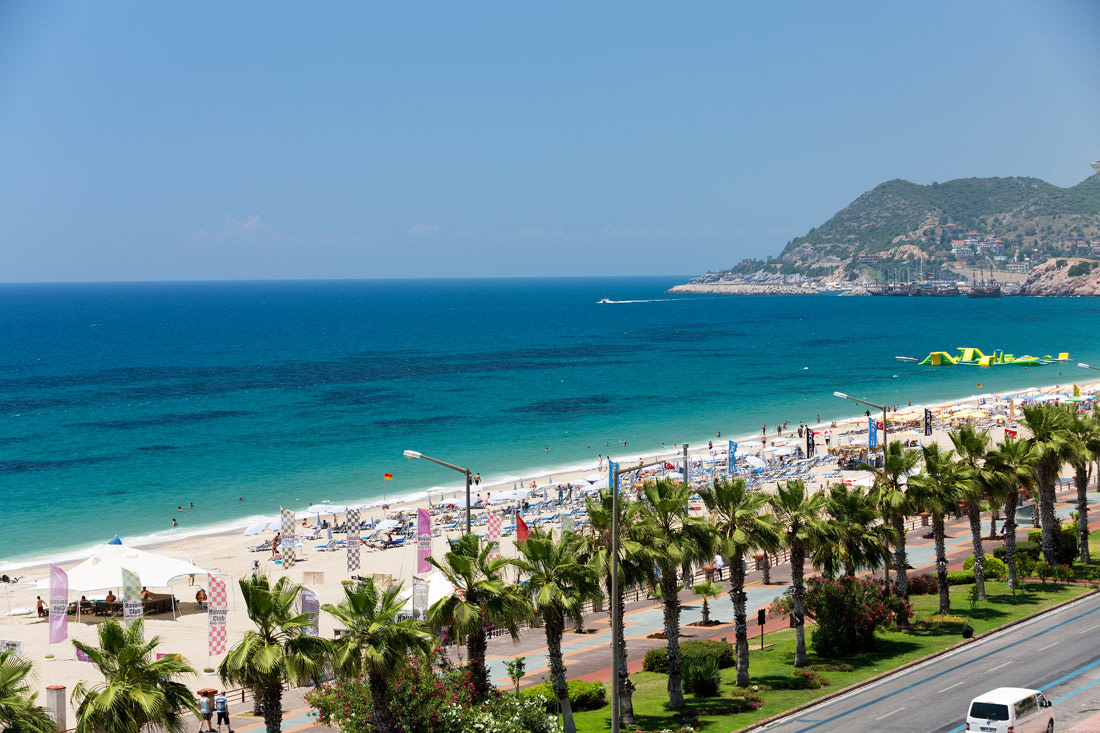 An enviable mix of natural beauty and excellent facilities make the Blue Flagged Cleopatra's Beach in Alanya one of the best in Turkey. Flanking the 2.5 km long stretch of fine white sand are a variety of shops, cafés, and restaurants, and its shallow, translucent Mediterranean waters are ideal for swimming and watersports.
Patara Beach, Gelemiş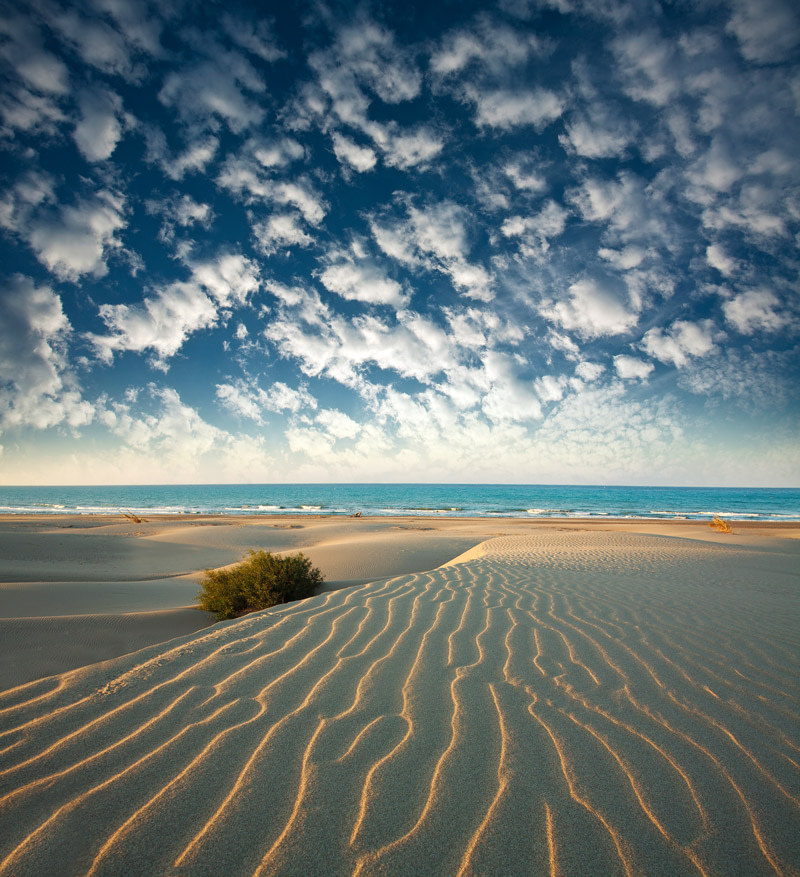 Stretching along the Turkish Riviera – one of Europe's most stunning coastlines, near the ancient Lycian city of Patara, this superb 18 km long beach is a nature lover's paradise, with towering limestone peaks, rolling sand dunes, and well-preserved archaeological remains providing a scenic backdrop to the dazzling turquoise sea.
Part of a national park, the area is rich in birdlife and serves as breeding ground for the endangered loggerhead turtles. As well as being the country's longest, Patara is one of the most picturesque and unspoiled beaches along the Mediterranean.
İztuzu Beach, Dalyan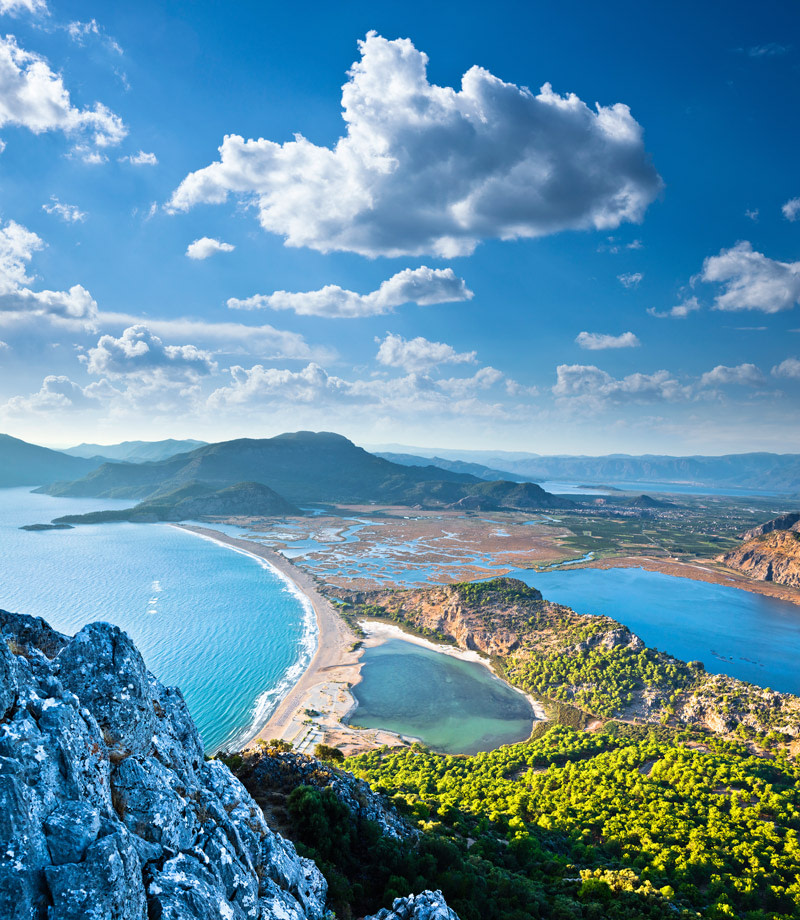 Another important turtle nesting habitat, İztuzu Beach boasts soft golden sands, shallow translucent waters, and a handful of kiosks serving Turkish tea and pancakes (gözleme).
Washed by the Dalyan River delta on one side and the Mediterranean Sea on the other, this is one of Turkey's greatest eco-beaches – an idyllic place to swim and just relax in the sun, away from the madding tourist crowds. The lack of development only adds to the area's untainted natural charm and peaceful atmosphere.
Konyaaltı Beach, Antalya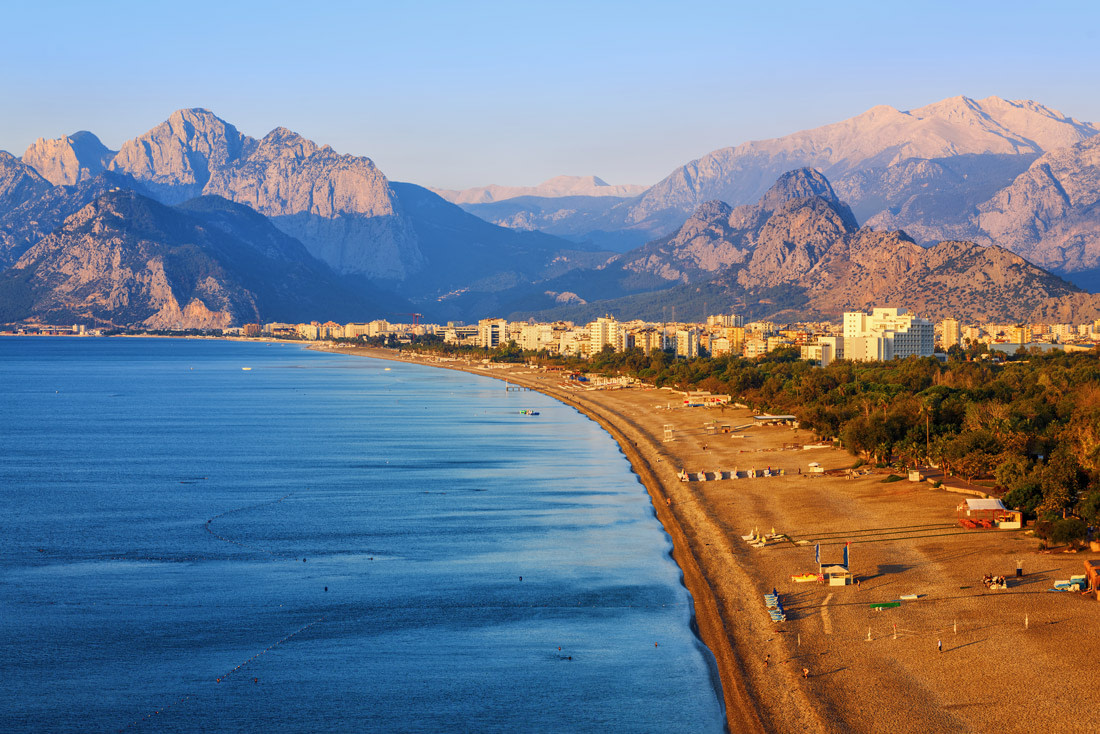 One of Antalya's main beaches, Konyaaltı has all the ingredients for a perfect sun-soaked day. Stretching between the city's limestone cliffs and the imposing Beydağları mountains, this sweep of fine pebbles abounds in water fun, splendid views, and world-class facilities. The surrounding area is full of shops, cafés, and restaurants, and the adjacent seafront promenade makes for a breezy and delightful evening stroll.
Cirali Beach, Kemer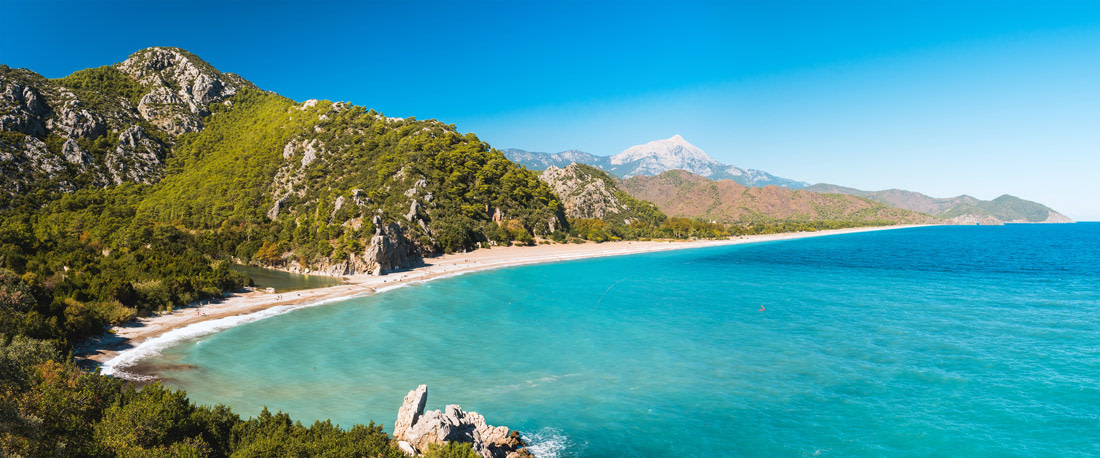 About an hour's drive from Antalya, Cirali is a jewel of a beach, lapped by glistening blue waters and surrounded by spectacular mountain scenery. With the ruins of Olympos (Tahtalı Dağı) at one end and the eternal flames of Chimaera towering above, this idyllic shingle beach along the Turquoise Coast should delight both nature lovers and history buffs, let alone sun worshippers looking to unwind in gorgeous, pristine surroundings.
Butterfly Valley Beach, Fethiye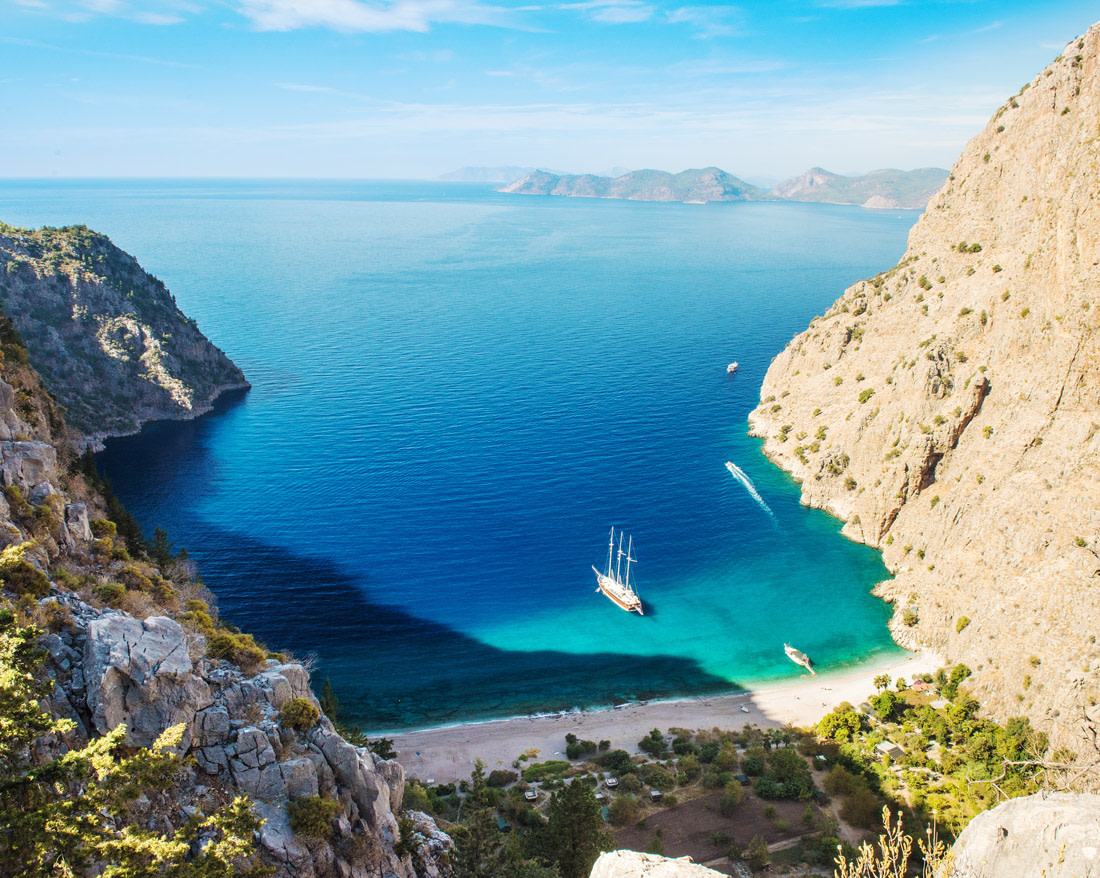 Turkey is a treasure trove of beautiful beaches, but few are as stunning as this postcard-perfect white-sand cove in the majestic Butterfly Valley.
Kissed by clear sapphire seas and framed by steep rocks, it truly is a sight to behold. If you do manage to tear away from it, the 86,000 sqm Butterfly Valley (Kelebek Vadisi) nearby is home to marvelous flora, outstanding hiking trails, and more than 80 species of butterflies. The beach is accessible by boat from Ölüdeniz.
Kaputaş Beach, Kaş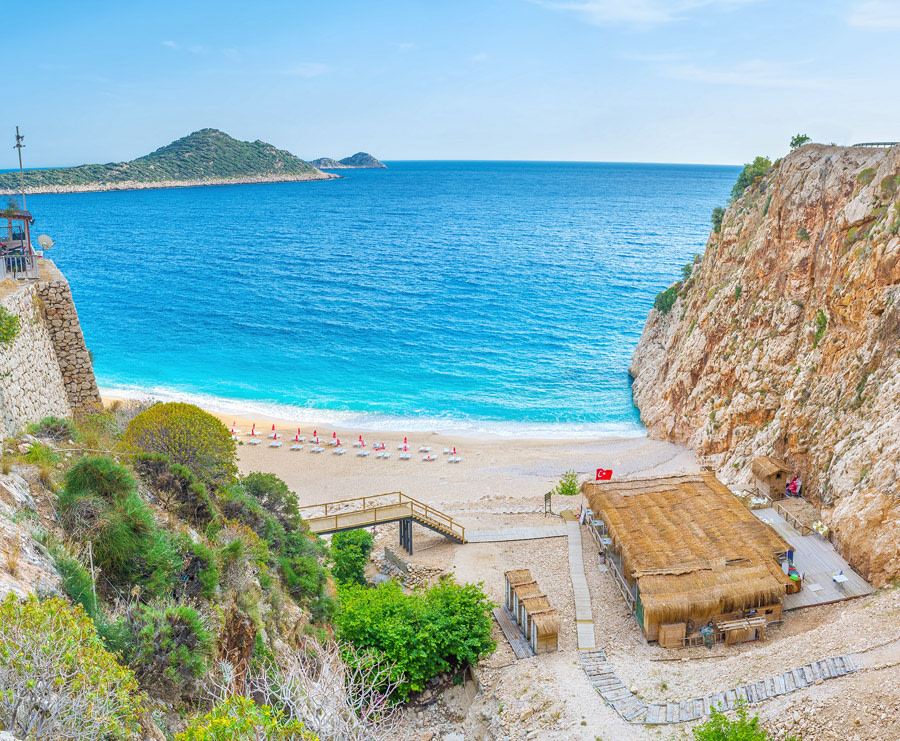 Just off the coastal road connecting the towns of Kaş and Kalkan, Kaputaş Beach beguiles with its blonde sands and brilliant turquoise waters. Located at the mouth of a canyon, it's no wonder this little slice of paradise often makes the cover of travel brochures.
To reach the beach, you need to walk down a long stairway (187 steps), but former visitors swear the place is totally worth every step down and up. Otherwise, the view from above is breathtaking and not to be missed.