This post contains affiliate links, which means we may receive a small commission, at no additional cost to you, if you make a purchase through these links. See our full disclosure here.
When the desert is calling your name, a trip to Joshua Tree might be just the ticket. Just over a two-hour drive east of Los Angeles, this patch of California's Mojave Desert has long been a source of fascination for artists and free thinkers, lured by its alien landscapes, endless star-studded skies, and weirdly creative energy.
Miraculously, the area around Joshua Tree National Park has never lost its arty bohemian spirit, though has now adapted to more contemporary tastes – think eye-catching vintage boutiques, cute vegan eateries, and hip cafés serving nitro cold brew.
To fully immerse yourself in the magic of this offbeat desert town, make sure you stay somewhere that perfectly aligns with the local vibe, like a converted airstream, a bohemian geodesic dome, or an impeccably redesigned pueblo-style casita.
Fusing amazing aesthetics with dreamy views and epic stargazing, these are the most wonderful Airbnbs in Joshua Tree:
Dome in the Desert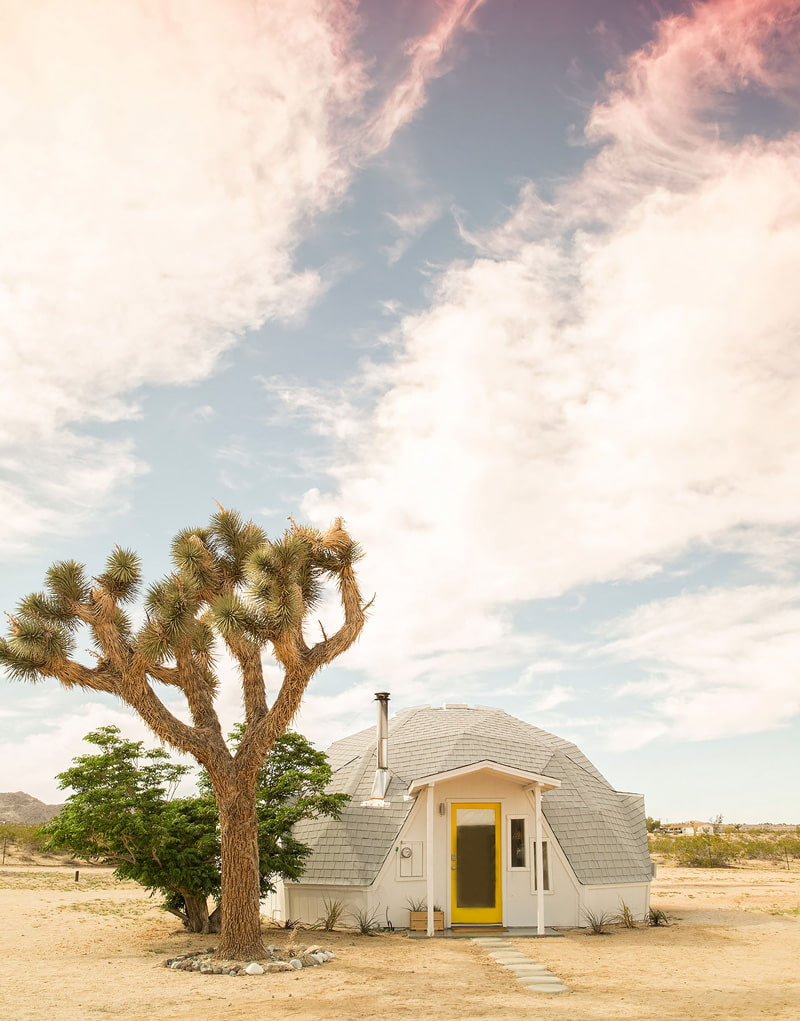 For a peaceful, creative place to get away from it all, relax your mind, and revive your spirit, look no further than the Dome in the Desert. A striking mix of mid-century furniture, unique handcrafted pieces, and quirky bohemian details, its interiors are worthy of a design magazine.
The structure's curvy walls are plastered in bright white, but vibrant colors and interesting textures spring from every corner. Light pours in through the 5 skylights incorporated in the roof, and playful design items contribute to a funky, inviting ambience.
Except for the complimentary Wi-Fi, there are no high-tech distractions on the premises. Instead, you're encouraged to peruse the owners' personal collection of antique books, play antique fortune telling games in the meditation loft space, or spend the night gazing at the stars.
Whisper Rock Ranch
Those seeking a secluded escape with all the bells and whistles will find it on the edge of Joshua Tree National Park, at Whisper Rock Ranch. The stylish mid-century aesthetics along with the eerie boulder-strewn surroundings and the limitless desert skies above make this off-grid Airbnb one of the most alluring places to stay in Joshua Tree. Complete with a sleek pool & Jacuzzi, a Japanese cedar sauna, and expansive wrap-around windows facing the setting sun, this is desert living at its finest!
Villa Kuro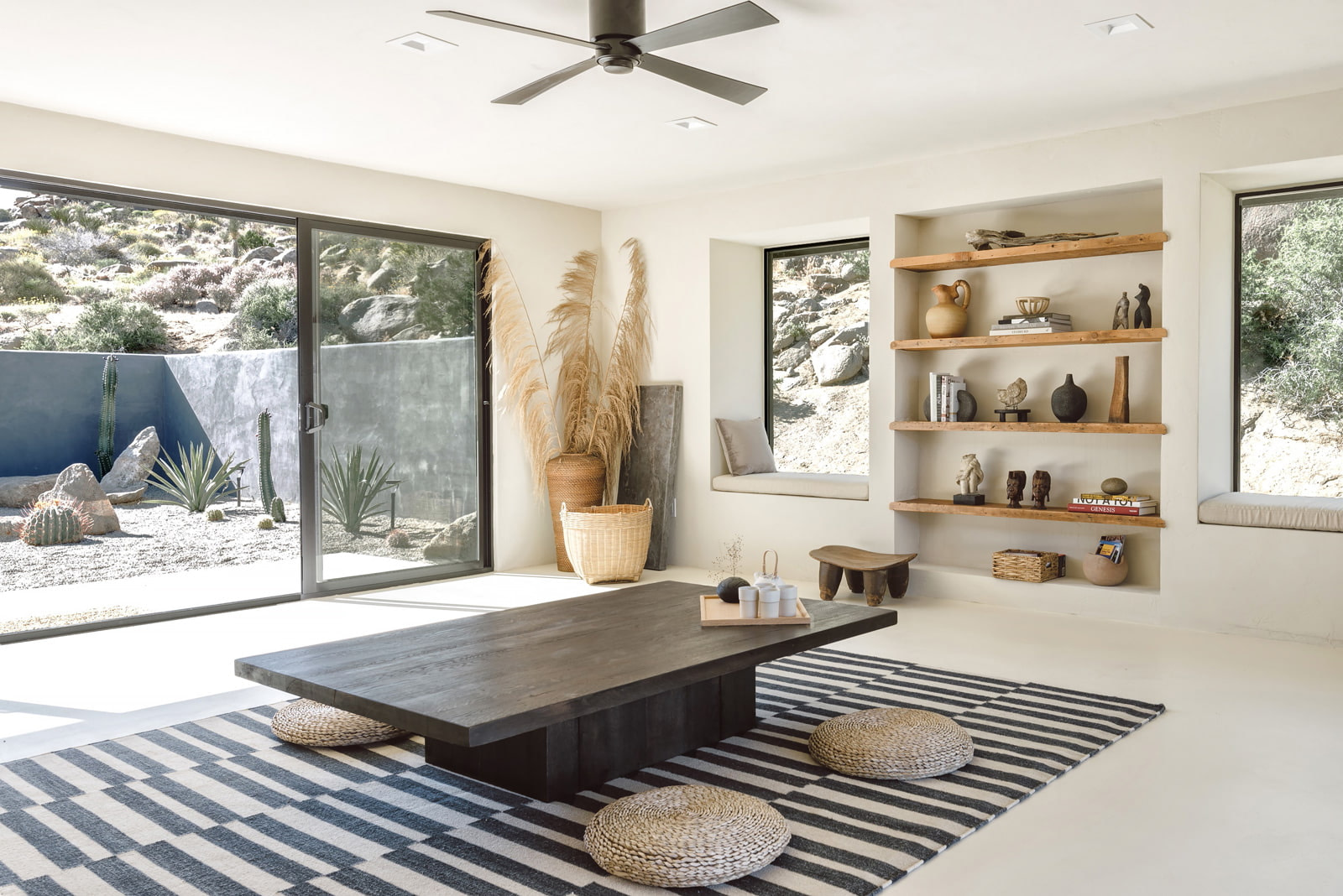 Stepping away from the ubiquitous Wild West-meets-bohemian chic, Villa Kuro envelops guests in serene minimalism.
Just minutes from downtown Joshua Tree, this is a designer conversion of an old ranch-style house, with hip amenities and seriously sophisticated decor. The entire composition revolves around the Japanese concept of wabi-sabi (finding beauty in imperfection), and there's an organic, authentic feel permeating the premises, aided by the use of raw, natural materials and light color palette.
The open design, with sliding glass doors and large desert-framing windows make the indoors feel like a natural extension of the outdoors, or vice-versa. And speaking of outdoor areas, there's nothing more relaxing than gazing at the starry desert sky from the bubbly comfort of a salt-water hot tub or a rock and cactus garden courtyard that mimics the surrounding landscape.
Merchant on the Road Airstream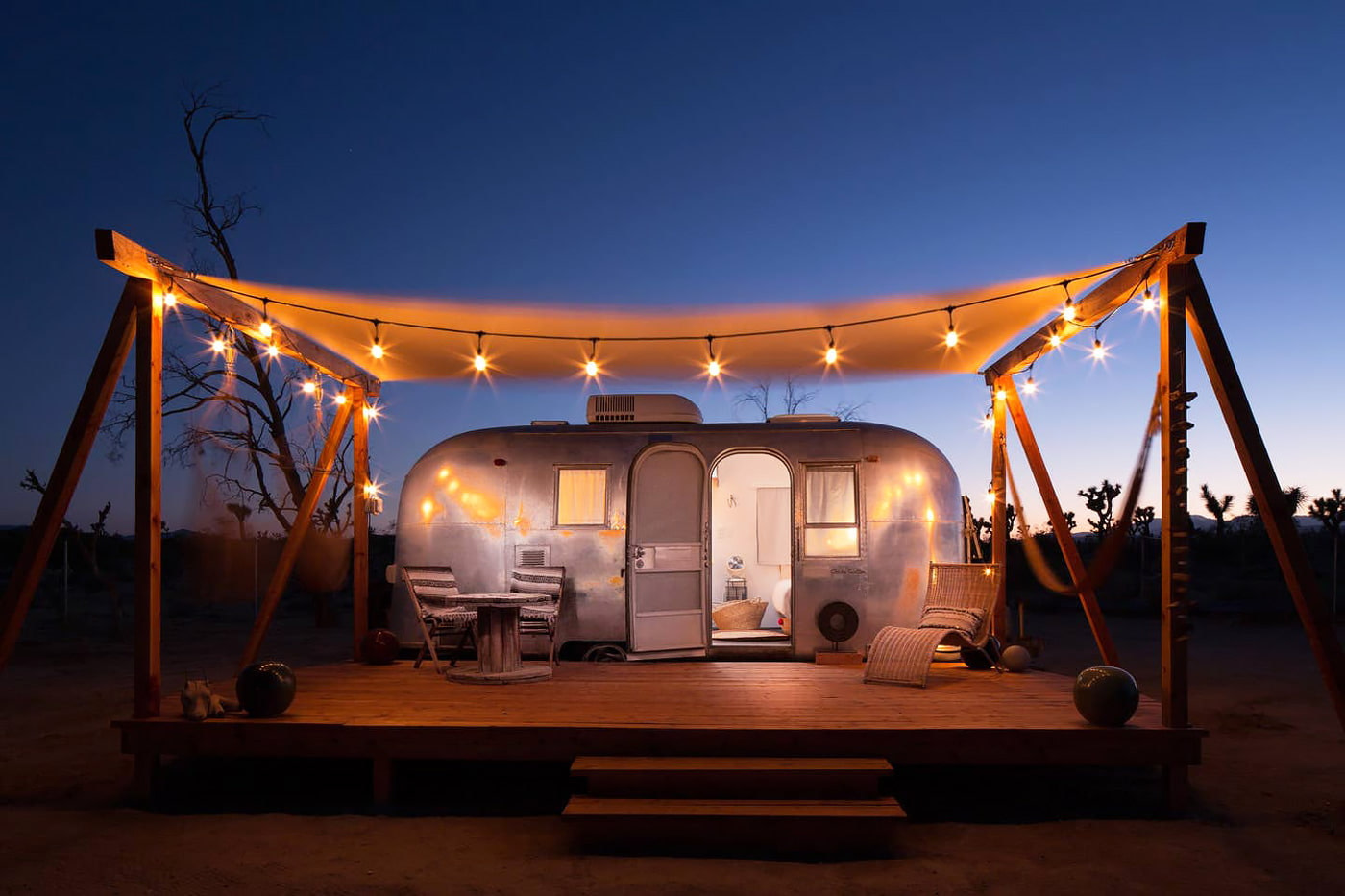 Part of Joshua Tree Acres, a unique five-acre airstream oasis about 10 minutes from town, Merchant on the Road will satisfy all of your desert glamping dreams.
Designed by the team behind Santa Monica's Merchant Modern shop and gallery, the trailer's interior is understatedly chic, with custom cabinetry and rustic Moroccan influences. An outdoor deck complete with lounge chairs, hammocks, and fairy lights, makes for a nice place to relax and contemplate the otherworldly surroundings. At the heart of the property is The Clubhouse, a charming communal area where airstreams' guests can prepare meals, unwind, and socialize in beautifully styled surroundings.
Casa Mami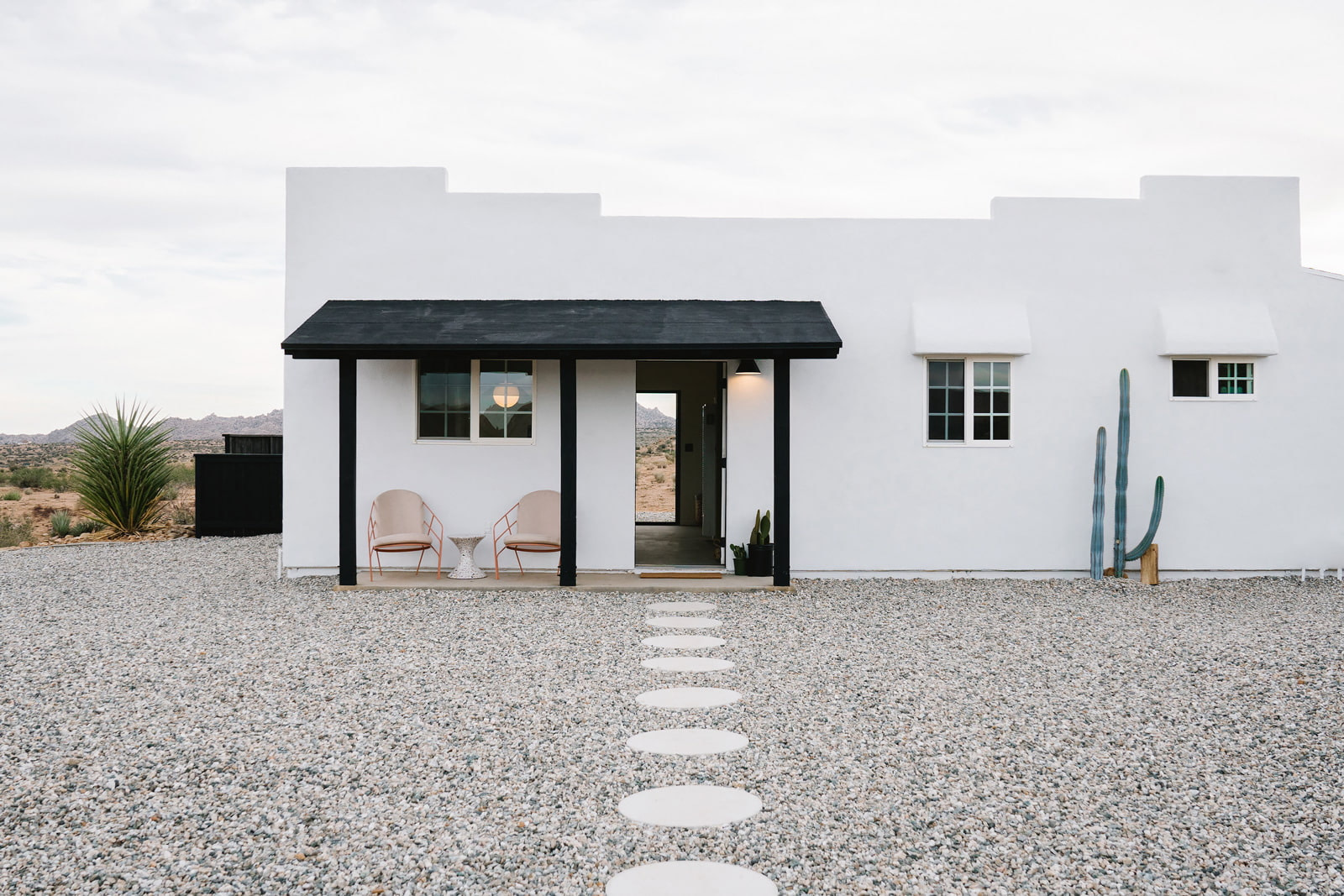 A brainchild of multidisciplinary creative studio Working Holiday, this stylish pueblo-style home outside Pioneertown is a delight for desert wanderers and design lovers alike.
Nestled amidst five acres of stark desert beauty, Casa Mami is adorned with hypnotizing vistas and an abundance of natural light. With well-curated designer furnishings dotted throughout the interior, you'll think you're in a design showroom – and you wouldn't be totally wrong. Nearly 80 percent of the decor pieces here (from the exquisite Marcel Wanders-designed sofas to the characterful ceramics) are shoppable via the property's online store. As a bonus, the modern two-bedroom space is fully sustainable, running off its own solar power and water tank.