It's almost impossible to emulate the gastronomical variety of Spain. There are so many regions – each with their own traditional dishes and cooking techniques, that tourists will find themselves overwhelmed by the diversity of fragrances and tastes that emerge from this passionate and bountiful land.
Spain is famous for many things – flamenco, football, and the long, lazy sunny days, to name just a few. It's the birthplace of Picasso and siesta, and prides itself with gorgeous beaches, stylish islands, and some of the most striking architecture to be found anywhere in Europe. Its warm, friendly locals have incredibly long names, and their sweet, melodious language is one of the most widely spoken on Earth after Mandarin Chinese. Not only will you find raucous nightlife and fiestas here, but this vibrant area of the Iberian Peninsula is also widely known for its delicious food.
Whether enjoyed in a humble tapas bar in Andalusia or a Catalan restaurant awarded three Michelin stars, the Spanish cuisine is an explosion of colors, aromas, and Mediterranean flavors. It's a glorious fusion of cultures and ethnicities, of past and present, of sea and mountains. It's also reason enough to visit this idyllic country, and, obviously, one of the things I most love about Spain.
When I started this post, I had the intention to make a "Top 10 Things to Eat in Spain", but while writing, I realized that I just can't decide about the order, so I chose to make a list instead. For me, each of these foods tells a story, reminding me of some great moments spent in Spain, and I hope that one day, they will become some beautiful memories for you, too.
Tapas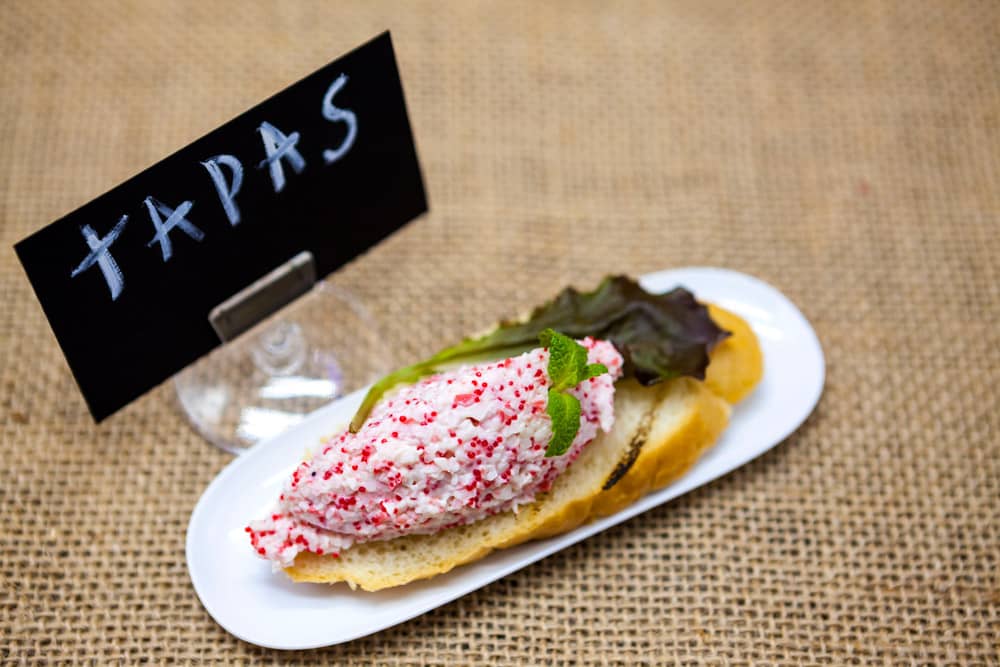 You are not allowed to visit Spain without experiencing the famous tapas! It's like visiting Paris without seeing the Tour Eiffel, or like exploring Italy without having a proper espresso.
First of all, tapas are not a particular type of food; they are a sort of little meals that Spaniards eat any time of the day or night, anywhere. I won't make a general presentation of tapas because you can find that anywhere on the Internet. Plus, it will probably take me a few hours to share my own personal tapas experience, so I will just try to summarize some interesting facts about this Spanish way of eating.
Tapas are part of the Spanish culture, and, for a better understanding of this fact, you should know that in Spain, there is also a verb "tapear", which means "eating tapas".
Unfortunately, these little meals are not always free. While cities like Madrid, Granada, and even Barcelona provide tourists with these little pleasures free of any costs every time you order a drink in a bar or a pub, there are still many areas, especially around the Basque Country or Andalusia, where you probably won't get any free tapas.
The best tapas I've ever had were in Madrid, in their popular tapas bars, where you don't even have to pay for your lunch or dinner, because every time you order a beer, you'll get a nice plate with mini sandwiches, almonds, squids, or any other snacks, but never the same dish – which is absolutely great!
On the other hand, the tastiest tapas I've ever tried consisted of a platter of blue cheese on a beach in Mallorca, for which I had to pay though, but it was definitely worth every penny.
Tortilla Espanola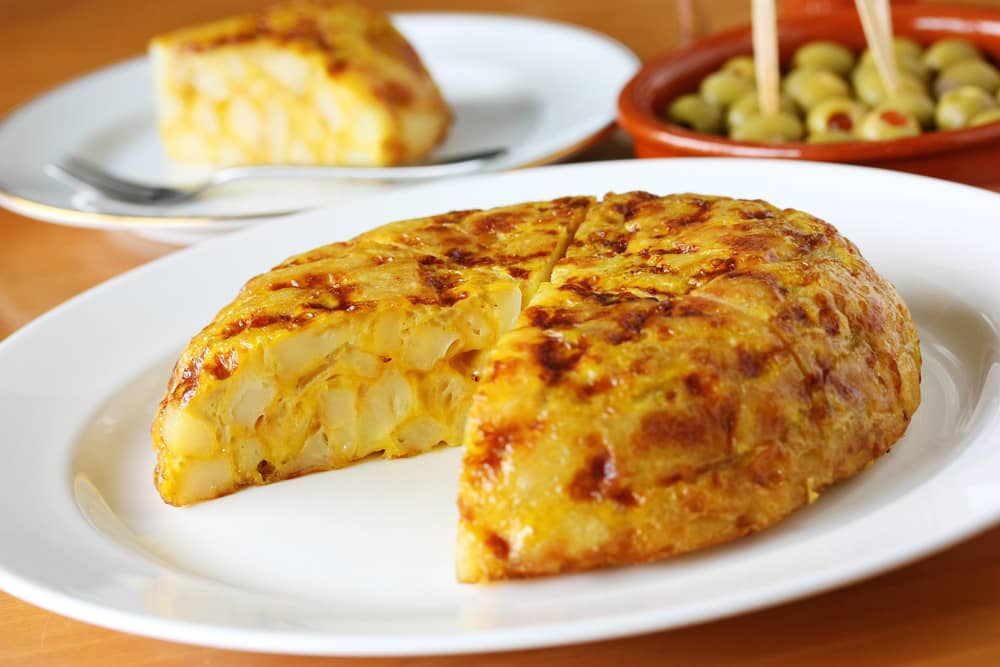 First time in my life when I've tasted tortilla I was on a ferryboat on my way to Ibiza. I remember it was a big "bocadillo con tortilla", a tortilla sandwich. I liked it so much that I could not resist and ate three of them.
Later, I've discovered that there are actually many forms of tortilla, some of them with a thicker texture and other thinner and softer. However, this traditional Spanish omelette always consists of potatoes, eggs, onion, salt, and pepper, being the most common dish in the country.
Although they say tortilla is very easy to prepare, I've always had a problem in cooking it, never managed to bake it properly in the middle, I wonder why.
The recipe goes like this:
Cut the potatoes into thick slices and fry them in a pan with a little olive oil until soft, not brown. Next step – drain the potatoes and mix them lightly with the chopped onions and the raw beaten eggs. Put the mixture back in the pan (preferably a ceramic, lid-like utensil), let it fry first on one side for a few minutes, and then flip it over with the help of a plate and let it fry on its other side.
Simple as ABC! Let me know if you succeed!
Paella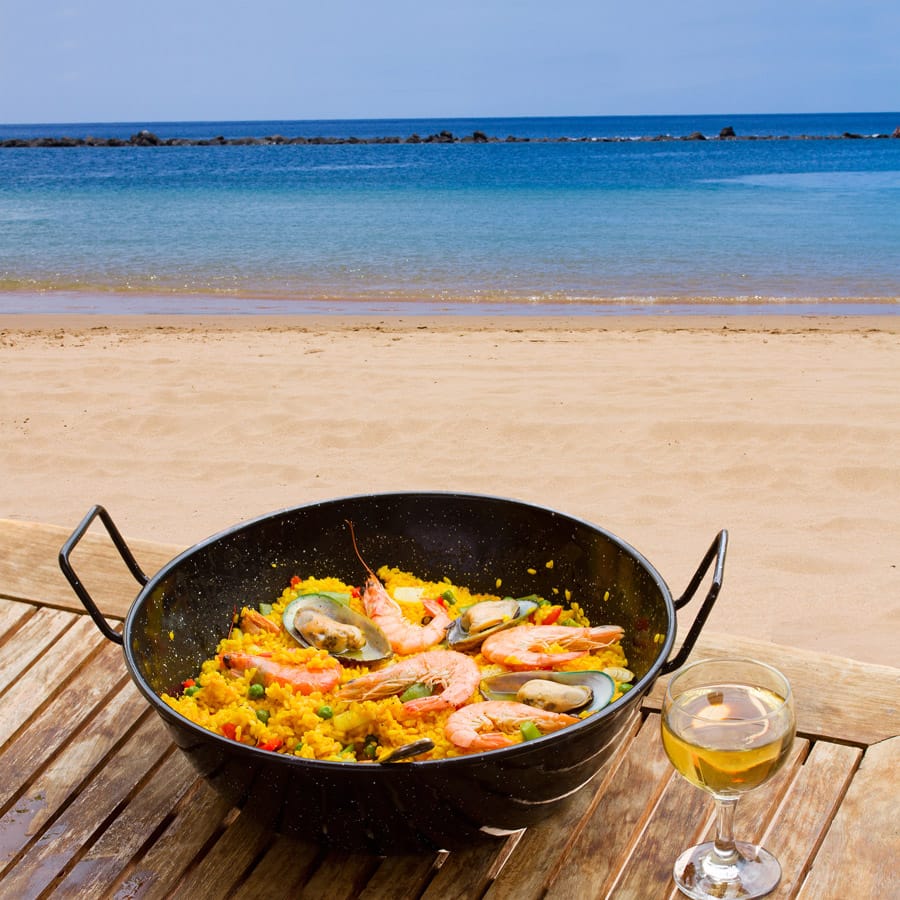 Paella is a traditional rice dish originating in Valencia. In Spain, there are three common types of paella: Paella Valenciana (white rice, vegetables, chicken, duck and rabbit meat, land snails, beans, and spices), Seafood Paella (rice, seafood, and seasoning), and Paella Mixta, which is actually a freestyle mixture usually made of rice, chicken, seafood (including clams), vegetables, olive oil, saffron, and other spices.
I love paella mixta, especially served directly from paellera, as a romantic dinner on the beach in a late summer evening, accompanied by a cold glass of sangria and…the breeze.
Gazpacho in Andalusia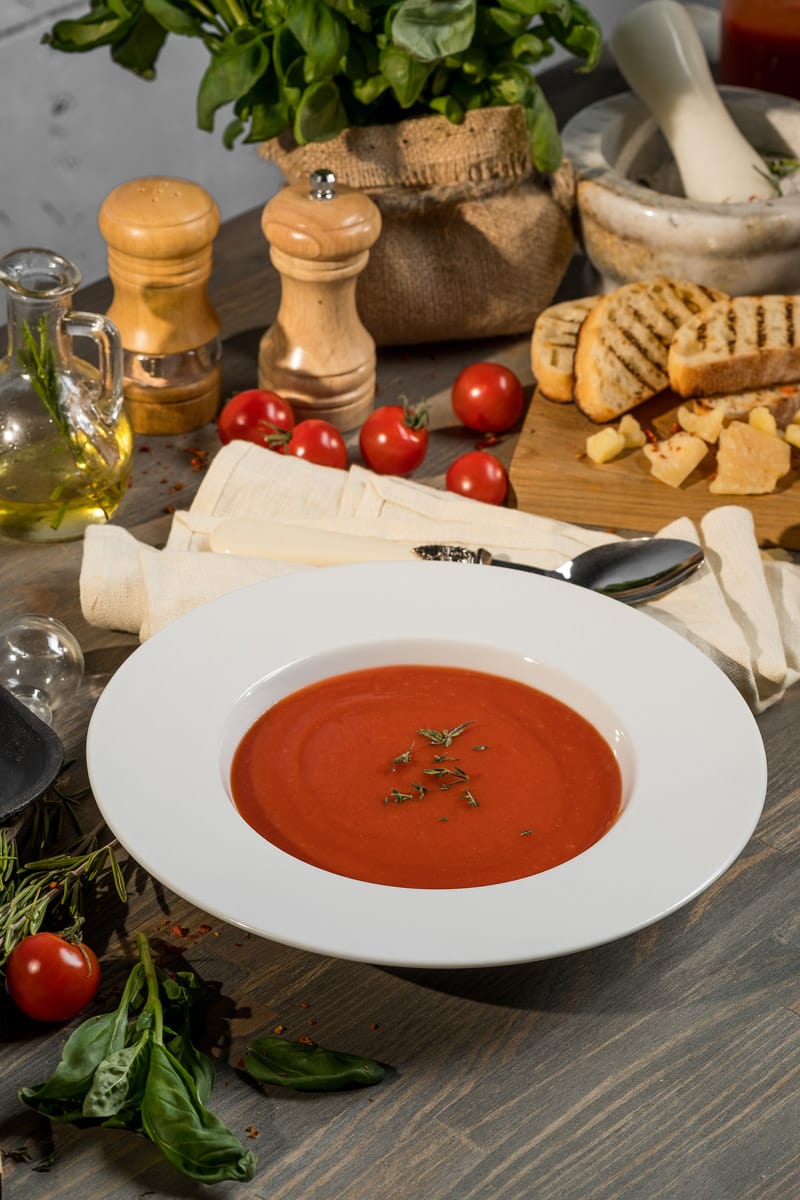 Like most Spanish dishes, gazpacho can be cooked in more than one way. Warm or cold, soup, salad, or even stew, this staple of Andalusian cuisine is generally made from tomatoes, cucumber, onion, garlic, a little olive oil, wine vinegar, salt, and sometimes (rarely) ham.
My favorite gazpacho is a refreshing soup made of tomatoes, cucumber, onion, garlic, olive oil, vinegar, and salt – all blended, served with croutons, ice cubes, and an addition of fresh, chopped vegetables. Perfect for a late, refreshing lunch in the sizzling south of Spain!
Crema Catalana in Barcelona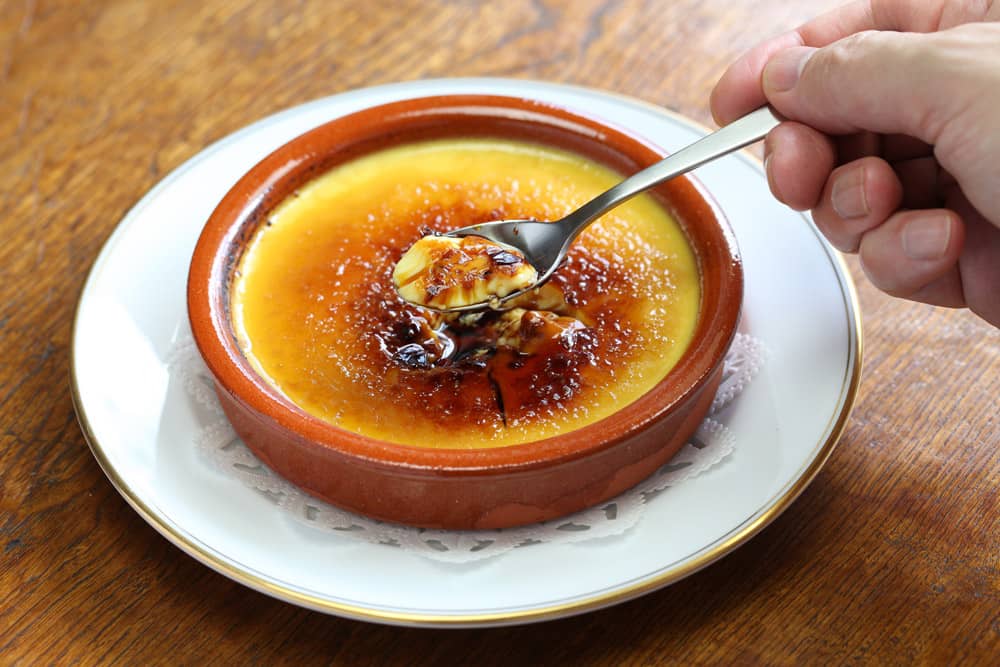 Many say that crema catalana and the French crème brûlée are the same thing, but there are some tiny differences between the two fabulous desserts. For example, the French always bake their crème brûlée in bain-marie and serve it warm, while the Catalan cream is always served cold and it has a custard infused with lemon rind and cinnamon, instead of vanilla, being much more refreshing than its stylish French sister.
I like them both, I love vanilla, but for a hot summer day, nothing compares with a crema catalana at a shady pavement café in Barcelona!
Gambas Ajillo (Garlic Prawns)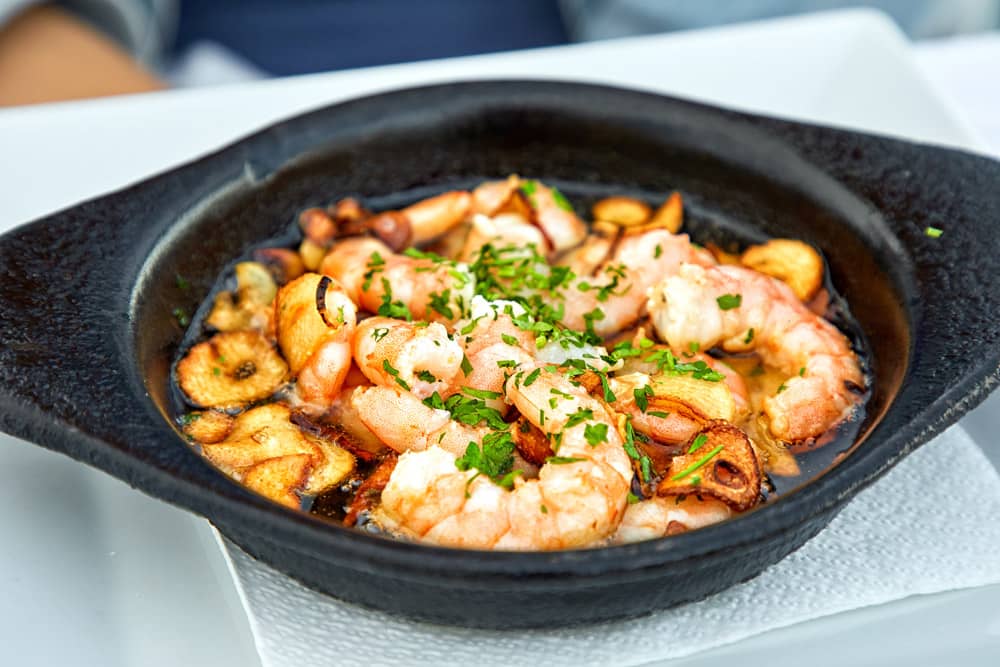 I am usually quite reticent when it comes to seafood, but believe me, gambas ajillo in Spain are simply delicious! Whether served as tapas or as a main dish, garlic prawns are very quick and easy to prepare: take some fresh prawns, cook them in a little olive oil with garlic and chili flakes, and, in about 10 minutes, you'll have one of the tastiest meals on your table. Buen provecho!
Queso Manchego (Spanish Sheep Cheese)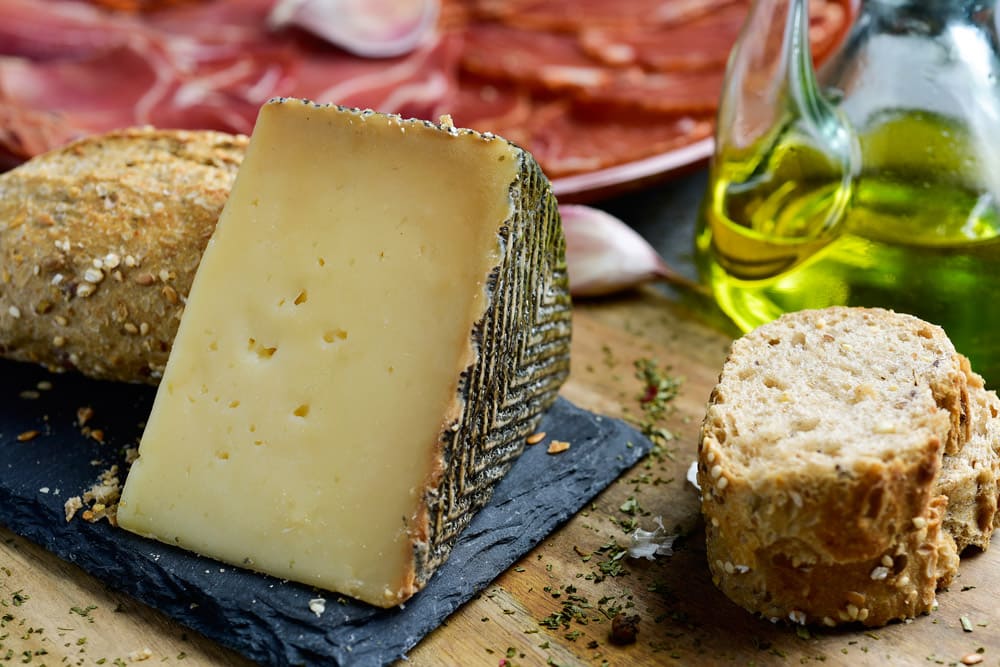 Queso Manchego, also known as "The Cheese of Don Quixote" due to the fact that Cervantes mentioned it in the legendary "Don Quixote of la Mancha", is a very tasty cheese made of sheep milk. The original Manchego cheese is exclusively prepared in La Mancha region from a specific sheep breed called "Manchega", but, lucky for us, it can be consumed all over Spain. I was lucky to try it in Madrid, and I can say that its wonderful intense flavor has totally impressed me from the very first bite. Amazing!
Allioli, Alioli, Aioli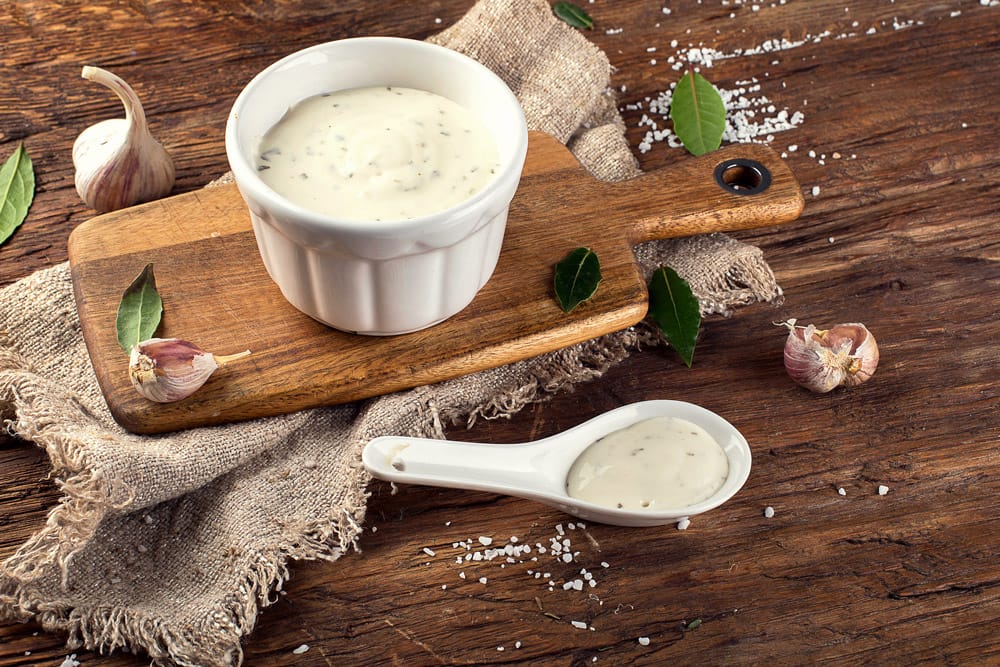 I've always thought alioli, allioli, or aioli means the same thing – a Spanish mayonnaise with lots of garlic. Well, I couldn't be more wrong. Apparently, this garlic mayonnaise popular all over Spain called alioli is neither Spanish, nor French, and not even Italian – it actually originates in the Middle East, according to Jamie Oliver, and I have no choice but to believe him.
Allioli, on the other hand, is a Catalan sauce made with garlic, olive oil, and salt – no eggs at all, while aioli is a Provencal term describing the same garlic and olive oil emulsion. Think this is confusing?! Just wait to see Spain's crazy coffee varieties!
Anyway, I first ate alioli in Spain, and for me it's a Spanish sauce, albeit a very addictive and tricky one. With such a simple recipe, alioli should be very easy to prepare. Well, it isn't, at least not for me, that's why I prefer to eat it in Spain…with just about anything – tortilla, fish, baked potatoes, anything but sweet. Oh, Spain, I miss you so much!
Jamon Iberico in Madrid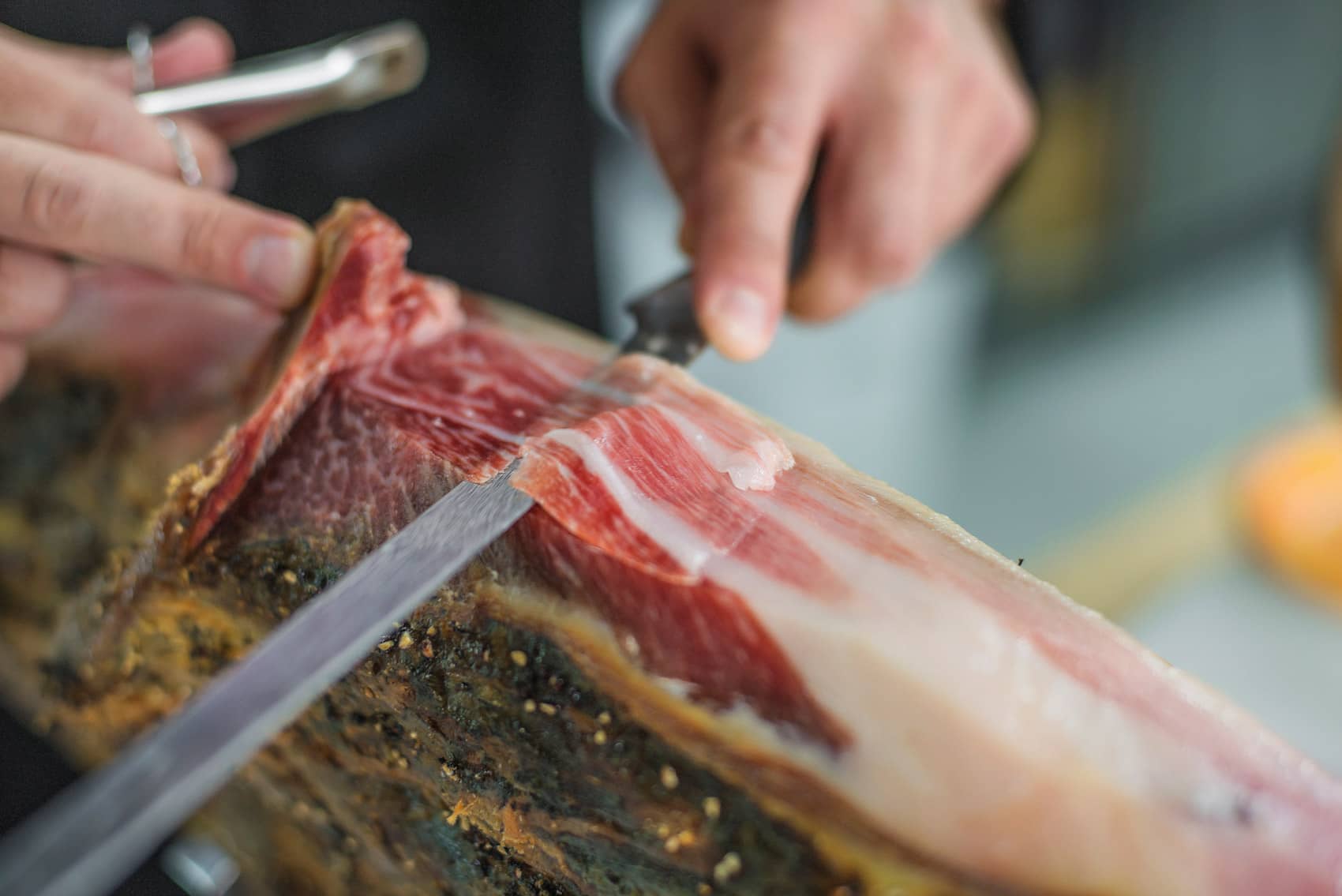 I would say that one of the things that impressed me the most in Spain were those crowded long bars above which were hanging, instead of chandeliers, some huge chunks of jamon. So surprising at first sight, and yet so familiar after a week or two of bar hopping through Madrid!
Enjoying a drink in a delightfully old-school establishment while the bartender cuts you impossibly thin slices of the delicious ham is a great, authentic experience that everyone should try while in Spain!
Grilled Fish on the Beach in Marbella
If you happen to spend your vacation in Marbella, or anywhere in Andalusia or Costa del Sol, you should try the grilled fresh fish on the beach.
Do not bother to find a restaurant, the Andalusian beaches are equipped with some ingenious boats filled with sand, where the fishermen themselves cook some of the most delicious sardines on burning coals. A nice, healthy, and cheap meal, just perfect for a hot summer day on the beach!
In the end, I would like to mention that each meal I've served in Spain, in any area of the country and any of its beautiful islands, began with a traditional introduction – usually consisting of bread (toasted or not, black or white), a bowl of green marinated olives (sometimes accompanied by marinated little onions), and the ubiquitous alioli (sometimes replaced with butter).
These being said, I hope my article will help you add a bit of flavor to your Spanish experience!
If you have a nice memory related to food in Spain, or a favorite Spanish dish, do not hesitate to share it in the comments below!