Located on Costa del Sol, in the picturesque Andalusia, Marbella was one of my favorite experiences in Spain, alongside Ibiza, Mallorca, Barcelona, and Madrid. You already know from my former articles, how much I love this country and how attached I feel to each of its regions, that's why I can't decide which of them was my number one.
Every single city, village, or region in Spain has its own distinctive character, depicting a piece of my favorite puzzle, so none of them is replaceable.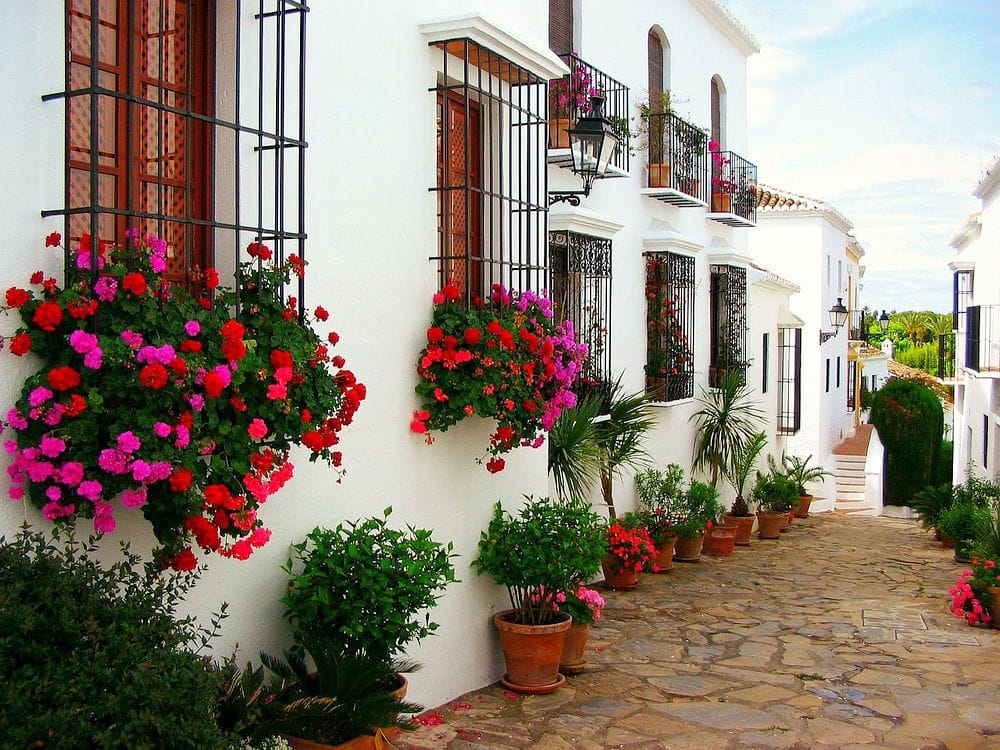 With a shade of melancholy for not being there right now, I would like to share with you my amazing experience in Marbella by laying down my thoughts and my memories in this post about the best things to do in and around Marbella.
First of all, I would like to mention that it was something so special about Marbella that it actually made me write a book, which I have never finished, but whose outlines I still keep somewhere inside of me.
I didn't know anything about Marbella, except what a friend in Madrid had told me: "Marbella is very expensive; you should go somewhere else in Andalusia. Only rich people go there." Keeping this in mind, I boarded the plane from Bucharest and after 4 harrowing hours of flying I was in Malaga.
A glimpse of eccentricity in Puerto Banus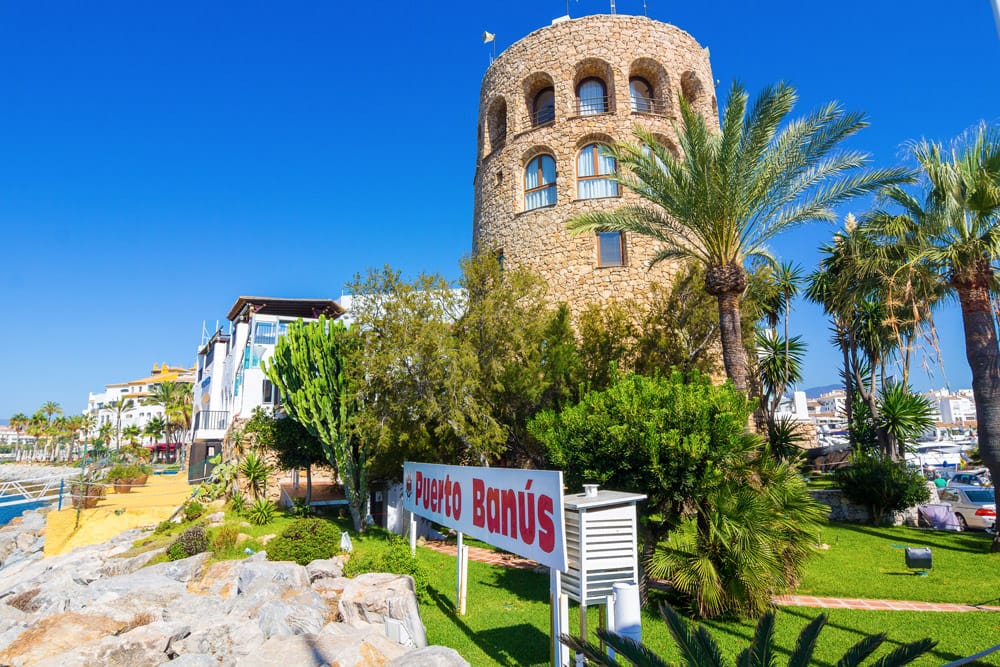 I'm starting with Puerto Banus, as this was by far my favorite experience in Marbella, or at least one that I've never lived before.
Puerto Banus is a marina located in the west of Marbella, a one-of-a-kind mixture of outstanding nightlife, prototype cars, famous yachts, and heavenly shopping. In order to make myself clear and to offer those who haven't been there before a glimpse of what's inside, I will just say that Puerto Banus is actually a kind of lavish movie scene, a place that most people only dream of, and the display of an intangible world.
I don't know about others, but for me Puerto Banus was the most genuine embodiment of luxury, that sort of good thing that you always believe it can't happen to you, like winning the lottery, for example.
I don't even know how to start telling you about Puerto Banus, as it is definitely a place to behold. Should I begin with the outstanding beach bars or with the funky night clubs? This is one of those few times when I actually feel that neither my English nor my Romanian can compete with the flood of my ideas, so I'll just try to keep it simple.
Puerto Banus is a playground for the rich and famous, where the backstreets afford shops such as Chopard, Roberto Cavalli, and Hermès, while the front streets are served for prototype cars with personalized Arabian license plates, such as a Batmobile or a white-gold-plated Mercedes.
I've seen many ports during my European travels and I've spent hours admiring the ultra-luxury yachts parked there, but I've never seen so many colored fish floating around them like I've seen in Puerto Banus. It could've been the light underneath or maybe some food coming out from there which lured them to come and display such a beautiful spectacle, I still wonder.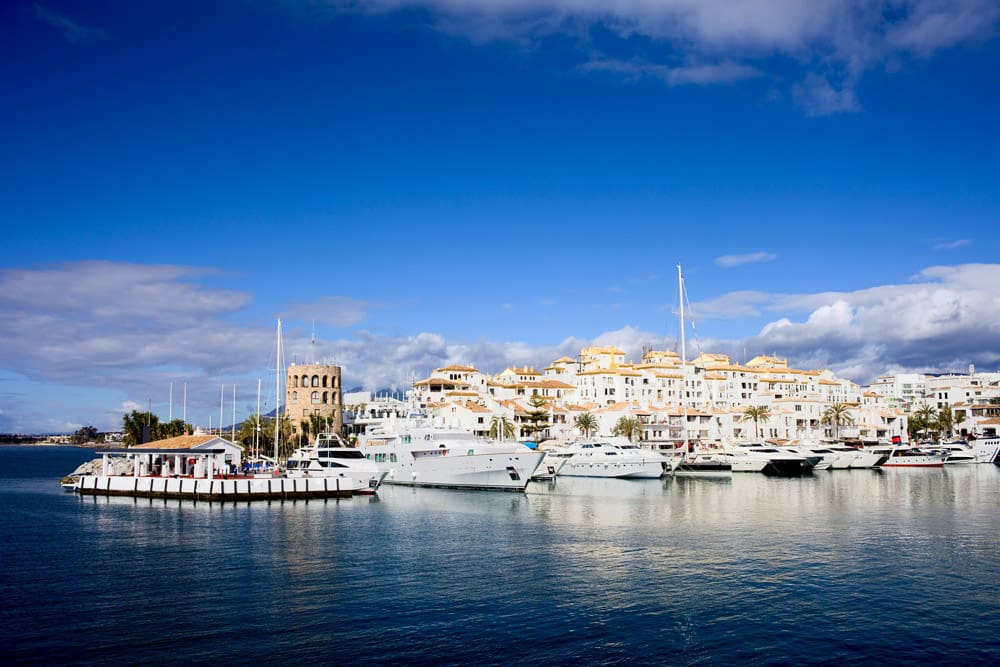 However, in addition to the posh yachts, the latest models of cars, the curation of design shops, the variety of outdoor restaurants, and the luxurious beach, there were also the clubs.
Famous for its vibrant nightlife, Puerto Banus is a mecca for party haunters, boasting an incredible variety of clubs, bars, pubs, discos, and everything selling alcohol. Paradoxically, nightlife in this exclusive resort was quite different from the daytime – hundreds of tourists storming the streets, rich and poor, young and old, nosy and curious, all of them eager to soak up the flamboyant atmosphere of this luxurious enclave.
Like in most tourist areas in Spain, there are dozens of "cheap bars" where partygoers usually come to have a couple of low-cost, no-named colored drinks before the main party. Nevertheless, the area is filled with swanky breaking-the-bank clubs that everyone wants to try at least once in their lifetime.
Always Marbella Old Town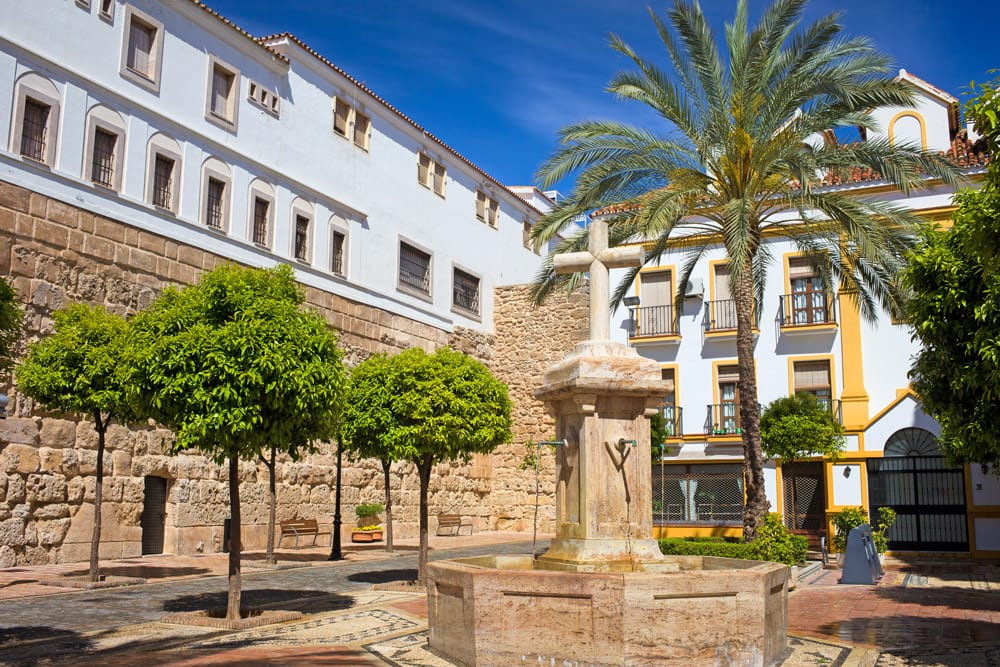 Marbella Old Town, or Casco Antiguo, is my sweetest memory and my favorite dream. A place where I would love to live for the rest of my life.
Stretching around the lovely Plaza de los Naranjos (Orange Square), the charming Old Town boasts some of the loveliest narrow streets I've ever strolled, fenced by serene white buildings adorned with tiny flowered balconies and ground-floor stylish boutiques.
Plaza de los Naranjos is a cluster of outdoor traditional restaurants and orange trees, belongings that seem to turn this place into a pleasure for all senses. So, whether you choose to begin a leisurely morning here with a sweet fragrance of oranges and a Spanish Café con hielo, or want to watch the world go by while sitting in the shade of a tree, lounging over a cold sangria in a hot afternoon, you'll find this enchanting square one of those rare, perfect sanctuaries. So surprising and yet so familiar. A genuine delight.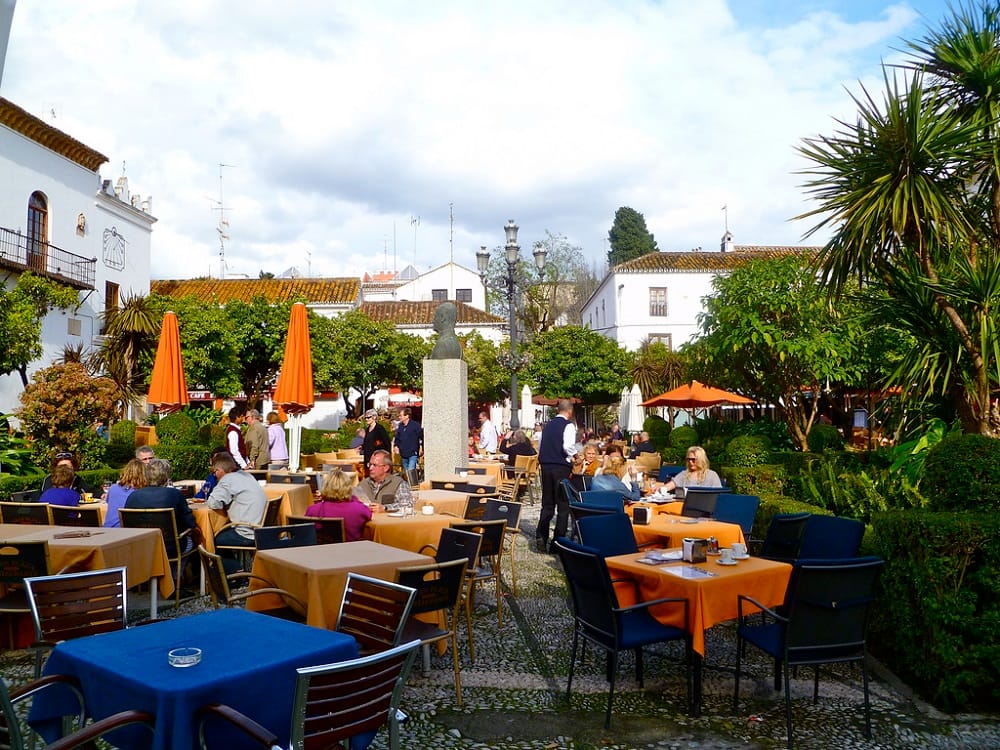 When the sun goes down, the serenity vanishes and Plaza de los Naranjos comes to life, changing its décor into a vibrant scene of bohemian musicians playing their rusty Spanish guitars for a penny, and barefoot ladies dancing flamenco between the tables. I could almost feel the pride and passion in their eyes, while savoring my delicious seafood dinner.
All of my evenings here were beyond charming, and I have no idea why this place always urged me to dream and to contemplate life more than any other in the world. Maybe it was the sadness behind the dancers' harsh make-up and their ruffled dresses that seemed so illusory, or maybe the overwhelming happiness I felt for the simple reason of being there, but something definitely made and still makes me link Marbella to a fantasy.
Fashionable day on Nikki Beach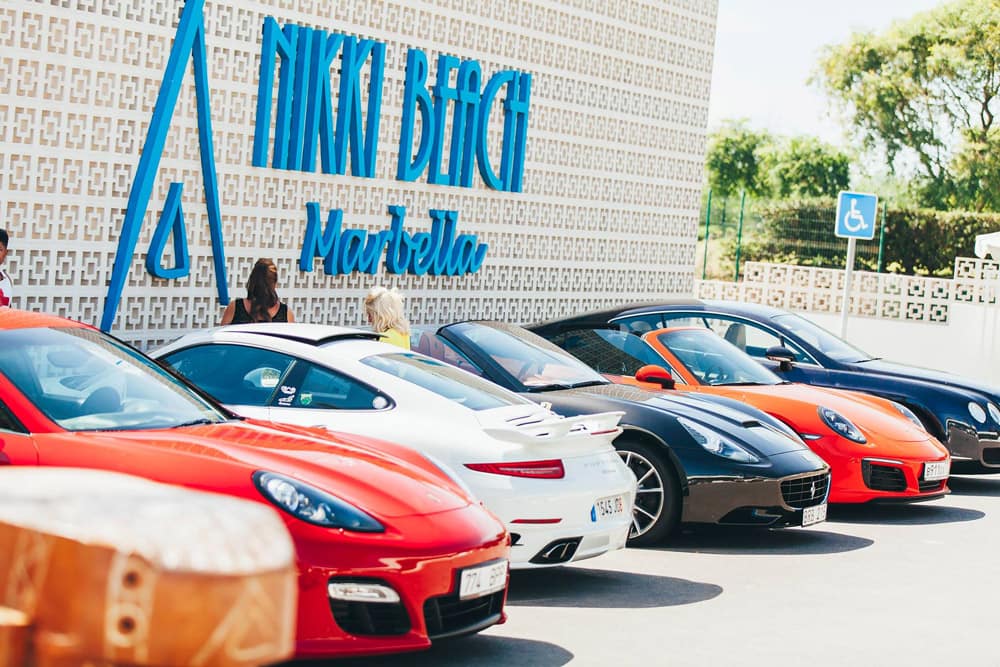 Located just a few minutes' drive from Marbella center, on a picturesque shoreline, Nikki Beach is one of the best daytime beach clubs in the world, but of course, I had no idea about that when I was there. However, once you arrive, it's not that hard to realize it.
Apart from the fashionable atmosphere floating in the air and the carefully chosen clientele, the thing that I loved most about being there was the fact that I experienced all these without breaking my piggy bank.
First of all, there's nothing at Nikki Beach drawing a clear line between normal people who spend their time on the beach eating home-made sandwiches and that selected clientele who usually arrive by water in their sleek boats and pay extravagant bills on limited-edition Champagne bottles. They all swim in the same Mediterranean waves and lounge under the same Andalusian sun.
I was so lucky for being there during someone's epic party because I had the chance to see with my own eyes how the rich & famous actually live and party. It was incredible! Shirts drenched in thousand-euro beverages, glamorous designer swimsuits, world's best DJs, several RTL reporters, and dozens of offshore yachts shining in the sun. The fun part? We were a group of 9, including my 1-year old goddaughter and her granny – a hell of a display! But you know what? We had our own party inside their party, and it was awesome!
Relax at the Bonsai Museum
After all the hustle and bustle of Marbella's nightlife, soaking up the Bonsai Museum's heavenly peace it's a real pleasure. Sheltering an impressive collection of species, the museum is known as one of the best of its kind in Europe.
Marbella's Bonsai Museum is located in Parque de la Represa, in the city center, and makes for a beautiful leisure spot for the whole family.
Day trip to Morocco via Gibraltar
For most Europeans, Morocco is a different world, and booking a day trip there from Marbella is almost mandatory. Just think about it – landing on another continent, sailing the blue waters of the Mediterranean Sea, experiencing new traditions, unusual tastes and sounds, and different beliefs. That's certainly not something you do every day, but due to its ideal location, Marbella offers you this chance, so take it, make the most of your vacation! Who knows when or if you'll still have this opportunity?
The trip will take you to Tangier, one of the oldest cities in Morocco, and will include some amazing sights, a guided tour, and a traditional meal – A great twist for your Spanish vacation!
Shopping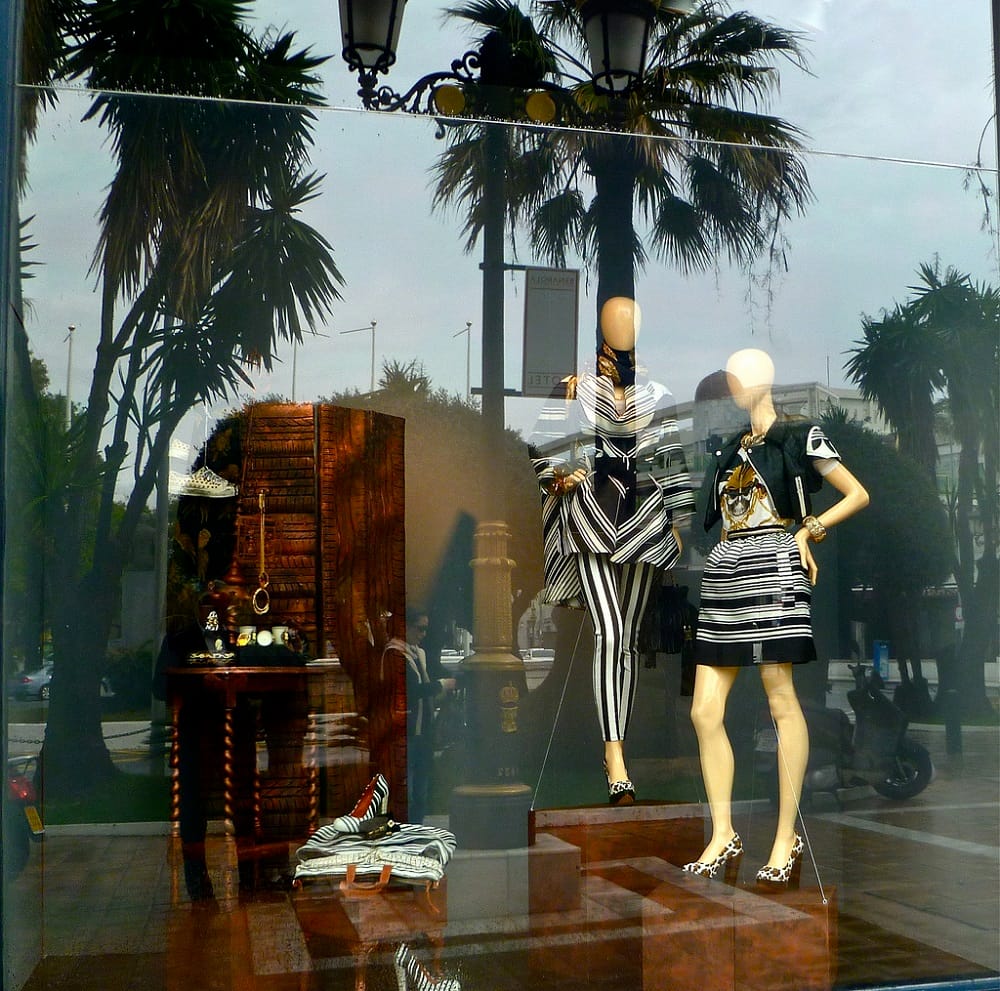 I admit that I am a shopaholic! I enjoyed shopping all over Spain, in fact I would put Spain on top of my list of best shopping destinations worldwide.
Except for a few Spanish brands like Desigual or Mango, and Puerto Banus' designers extravaganza (Roberto Cavalli, Dolce & Gabbana, Chopard, Hermès, Louis Vuitton, Versace, Dior, just to name a few), Marbella doesn't actually boast an incredible shopping scene, but neighboring cities like Malaga and Fuengirola are a heaven for any fashionista out there.
Being relatively close to Marbella, Fuengirola can easily be reached by bus. Besides shopping, the resort offers a lovely city-style beach, dozens of outdoor restaurants, a beautiful medieval Moorish fortress, and a vibrant atmosphere.
Glossy nights in Seven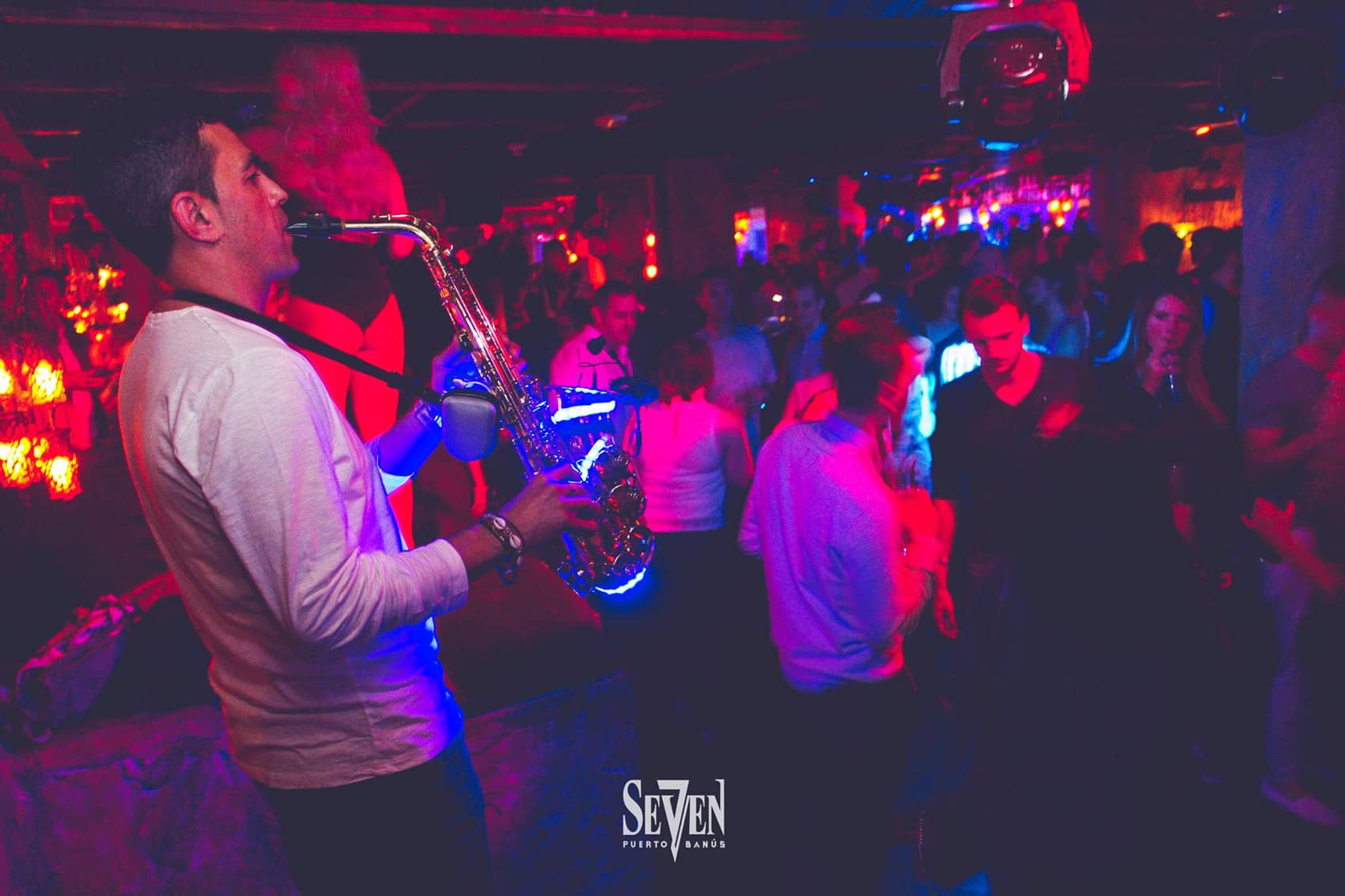 Club Seven in Puerto Banus was another hot spot during my fashionable vacation in Marbella. Beautifully designed in a modern-oriental style, Seven is a kind of "boutique club", and definitely the best night venue I've experienced in Marbella.
Not as large or famous as Pacha, Space, or Amnesia, Seven has a unique personality. One thing that particularly caught my attention in the first place was the music. I loved the way the harsh house bits were sweetened by live saxophone music, creating a very original and welcoming atmosphere. Then, I was fascinated by the cocktails, and one thing that I've never thought I would say, I really enjoyed the ladies' room. Yes, Seven has the trendiest ladies' room in the world.
Once you get in, a lady offers to help you with anything. Besides, the entire place looks like a beauty shop, with perfumes, cosmetics, hair products, accessories, and everything at your discretion, you just have to put a penny in a bowl when you leave. How cool is that?
There are plenty of things to see and do in and around Marbella, and that makes it one of the best and most varied destinations in Spain. Regarding the prices, however, don't let yourself impressed by its reputation. Marbella is a luxury destination often compared with Saint Tropez, but the best part is that it can also be explored on a budget, which is a unique and amazing opportunity that not many destinations out there are able to offer.