This post contains affiliate links, which means we may receive a small commission, at no additional cost to you, if you make a purchase through these links. See our full disclosure here.
The road to happiness begins in Bali, most probably at one of these magnificent hotels and vacation rentals designed to sync with the island's vernacular architecture, its spellbinding topography, and soothing, spiritual vibe.
A trip to the "Island of Gods" can be as luxurious or action-packed as you want it to be, and it all comes down to where you wake up in the morning. Here, perhaps more than anywhere else, the accommodation holds the key to the type of experience you are going to have.
An exotic thatched-roof villa in a high-end resort will envelop you in pure serenity and indulgence through absolute privacy, sensual spa rituals, and moving cultural experiences. Meanwhile, an eco bamboo structure that's more open-air than walled will put you right in the middle of Bali's verdant natural beauty, providing the perfect escape from reality.
Whether you're seeking luxury or adventure, romance, spiritual healing, or unique architecture, here are the 15 best places to stay in Bali for every travel mood.
Aura House
Where: In a bamboo forest along Ayung River, 30 minutes south of Ubud; part of the Green Village development.
Why: Treehouse cool meets sustainable luxury at Aura House. Crafted entirely of local bamboo and surrounded by lush jungle, this architecturally striking villa offers the ultimate in tropical living. Spread over three floors, it houses two en-suite bedrooms, a small kitchen, and an open-air living room – all clad in blonde Balinese bamboo and decorated with beautiful, locally handcrafted furnishings. Wraparound bamboo-woven terraces offer verdant views across the surrounding forest to the Ayung River below, and there's also a private round pool for guests to unwind in.
Best for: Adventurous couples, nature enthusiasts, architecture lovers, and anyone looking for a unique, eco-friendly escape from the modern world.
W Bali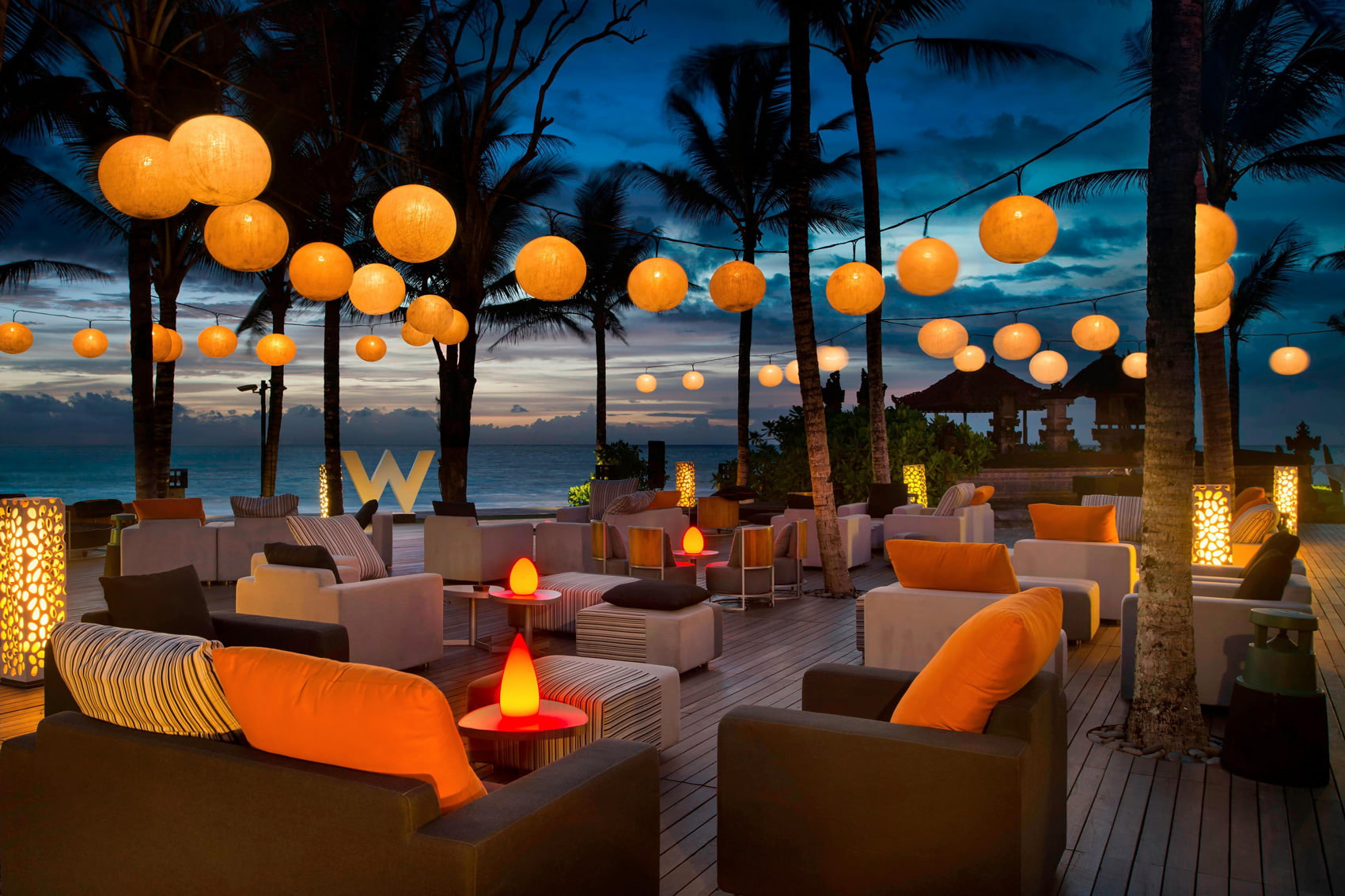 Where: Right by the beach, in the heart of Seminyak, on Bali's west coast, surrounded by stylish shopping, vibrant nightlife, and hip restaurants.
Why: You get a quiet night's sleep in a seriously stylish room whilst still being in the heart of the action. Bold, funky designs, swimming pools inspired by the local terraced rice paddies, and a hip, happening vibe make the W Hotel one of the most sought-after places to stay in Bali. The plush suites boast rain showers, 350-thread-count sheets, and iPod docks, but it's the eclectic communal areas and fantastic on-site experiences that really stand out – think ice-cream carts rolling by the pool, big-name DJs spinning sunset tracks at beachside Woobar, a 24-hours spa offering post-clubbing massages and oxygen facials, and the best brunch on the island served each Sunday at Starfish Bloo.
Best for: Foodies, cool kids, and fun-loving travelers looking for a stylish retreat with a vibe, as well as access to great food, shopping, and nightlife.
Hideout Eco Bamboo Home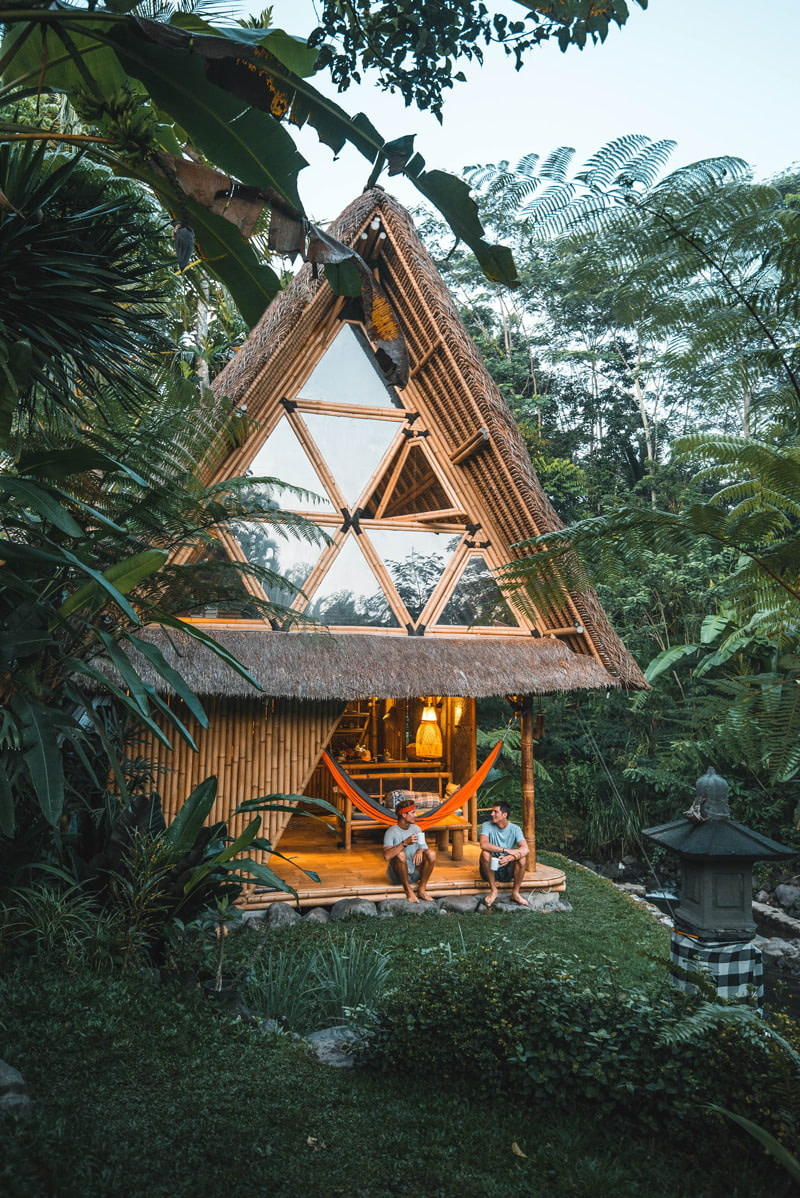 Where: On a riverbank in Selat, in southeast Bali. Amongst lush rice fields, in the shadow of Gunung Agung volcano.
Why: You kidding? Who needs a reason to stay in a cool A-frame bamboo cabin tucked away in the Balinese jungle? Aptly named Hideout Bali, this eco bamboo home has everything you want and nothing you don't. Striking architecture: checked; Insta-worthy rustic interiors: checked; sustainability: checked; complimentary cat: checked. On top of that, it comes with a fully equipped kitchen so you can cook your own meals, a leafy outdoor shower, and a free scooter for exploring the bucolic surroundings. What more you could possibly ask for in life?
Best for: Independent travelers with a sense of adventure, guests seeking solitude in the heart of nature, outdoorsy types, wildlife watchers.
Viceroy Bali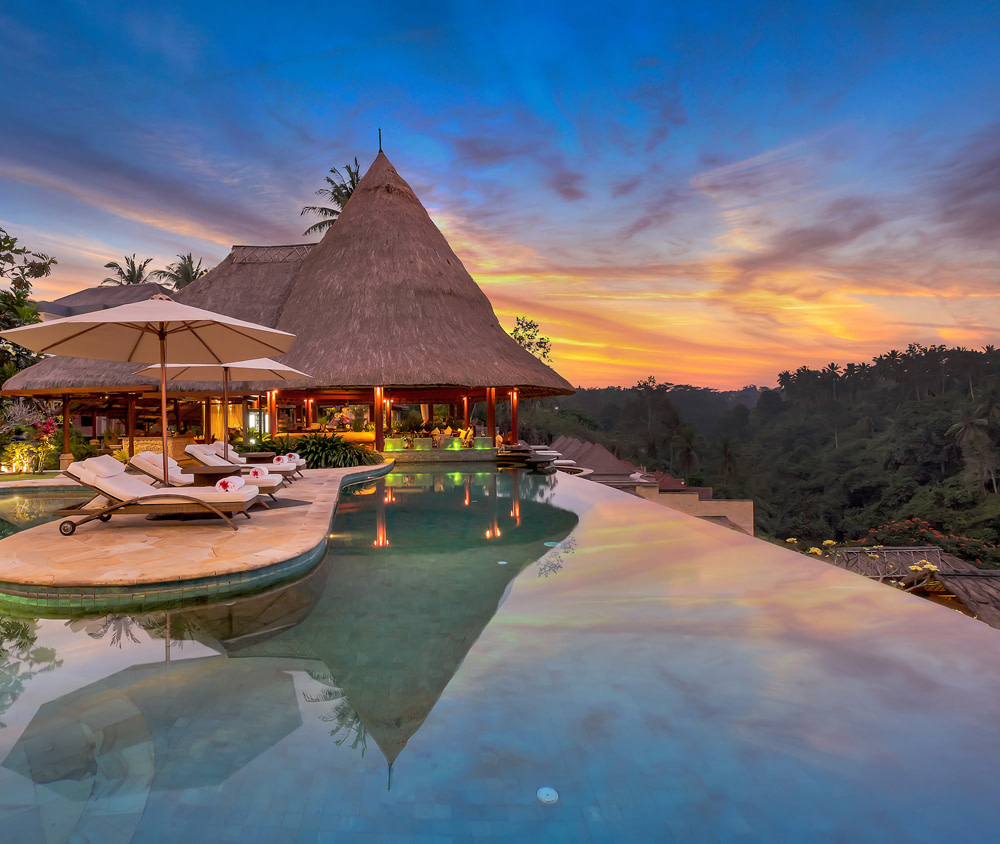 Where: On a verdant hillside overlooking the Petanu River valley, yet within minutes from the charming town of Ubud.
Why: Viceroy Bali is a sanctuary for the soul, where nature takes center stage and all the worries of everyday life vanish in a twinkling. Sumptuous indoor and outdoor spaces flow naturally into each other, indigenous artworks are scattered throughout, and Balinese thatched roofs and idyllic bales give the entire complex a sense of genuineness and serenity. The majestic all-villa resort has all the luxuries and pampering amenities one could dream of, from award-winning fine dining and gravity-defying pools to bespoke spa treatments and its very own helicopter pad.
Best for: Sophisticated couples and honeymooners seeking the ultimate romantic retreat. The emphasis is on privacy and indulgence, but adventurers and culture devotees are equally catered for with thoughtful helicopter tours, cooking classes, and guided visits to safari parks.
Mason Elephant Lodge
Where: Tucked away in the countryside. In the ancient village of Taro, about half an hour's drive north of Ubud.
Why: Named the Best Luxury Eco Safari Lodge in the World, Mason Elephant is home to Bali's largest herd of rescued Sumatran elephants, offering guests a unique chance to get up close and personal with the majestic creatures. Dotted throughout the lush park are 27 handsomely appointed rooms, 2 restaurants, a spa, as well as a striking botanical garden and an elephant museum and education center. Onsite joys like elephant washing and feeding sessions, jungle safari rides, and gourmet dining under the stars add to the experience, making this one of the most unique stays in Bali.
Best for: Nature and animal lovers, Jungle Book fans, families with kids, and just about anyone in search of a one-of-a-kind vacation. The private bungalows are perfect for couples, but there are plenty of treats for adventure junkies as well, including water rafting, kayaking, and mountain biking.
Bambu Indah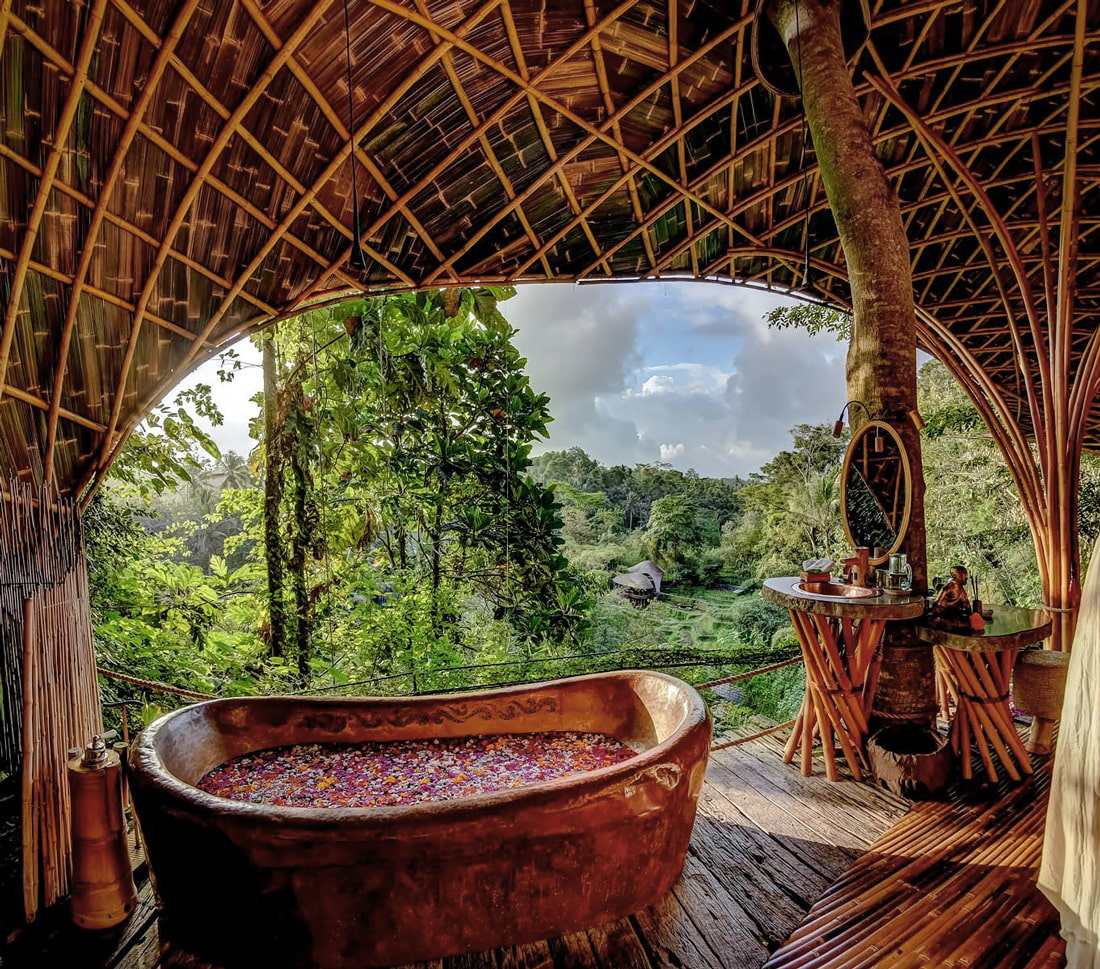 Where: A scenic 15 minutes drive from Ubud, on the Sayan Ridge.
Why: Because you'd be hard-pressed to find a more spellbinding jungle retreat to detach from the modern world. You'll feel one with nature while swimming in natural rock pools and feasting on organic farm-to-table Balinese cuisine, and the choice of accommodation units is just marvelous – from lovingly renovated Javanese teak wedding houses to state-of-the-art bamboo structures. Interiors are decorated with exotic treasures from the owners' travels around the world and overlook a verdant landscape of rice paddies, tropical rainforest, and picturesque cascades. Bambu Indah is a family-owned, fully sustainable eco-resort, somewhere at the confluence of rustic and chic.
Best for: Design buffs, eco-conscious millennials, sybaritic escapes, and honeymooners who believe transformative experiences are the new luxury.
Hanging Gardens of Bali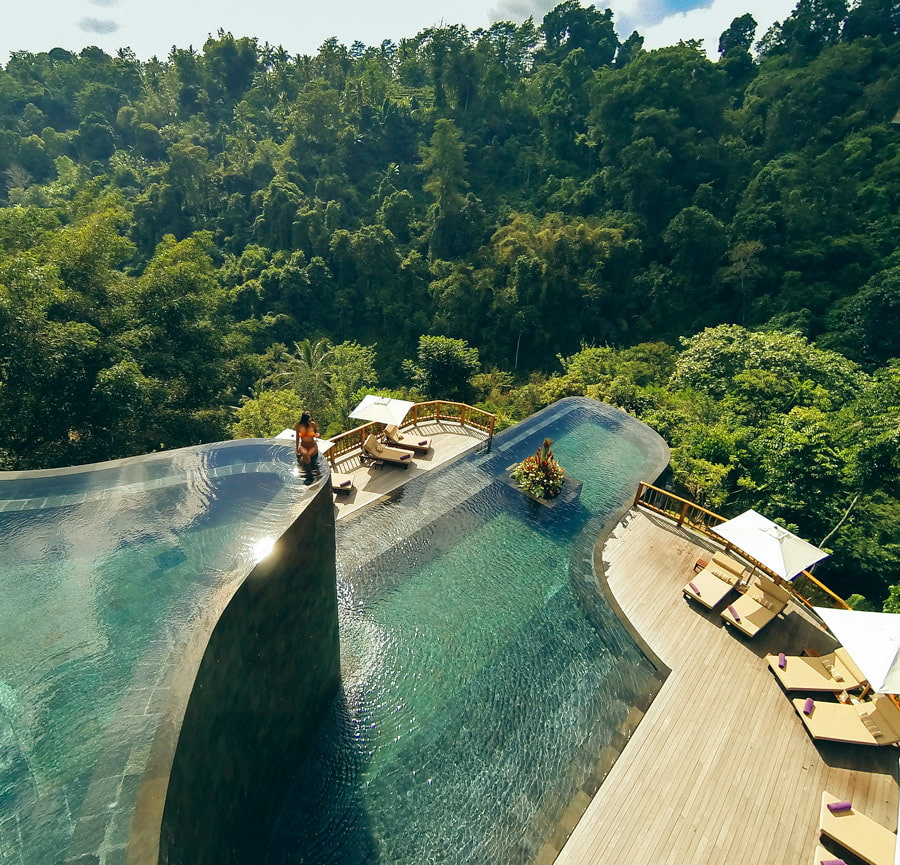 Where: Perched on a forested hillside between Ayung River and ancient Dalem Segara temple. Though just a half-hour's drive of Ubud, it feels like a secluded private world of its own.
Why: It is here, at the magical Hanging Gardens of Bali, that you'll find one of the most spectacular swimming pools on Instagram – a two-level infinity marvel hovering above the jungle below. Also, guests sleep in stylish thatch-roofed villas spread out among luxuriant terraced gardens and are treated to gourmet cuisine, luxurious spa ceremonies, and some of the best hotel views anywhere.
Best for: A series of idyllic dining experiences indicate that this resort was made for romance. Nevertheless, anyone in search of secluded luxury with a side of Balinese culture and spirituality is welcome.
LIFT Treetop Boutique Hotel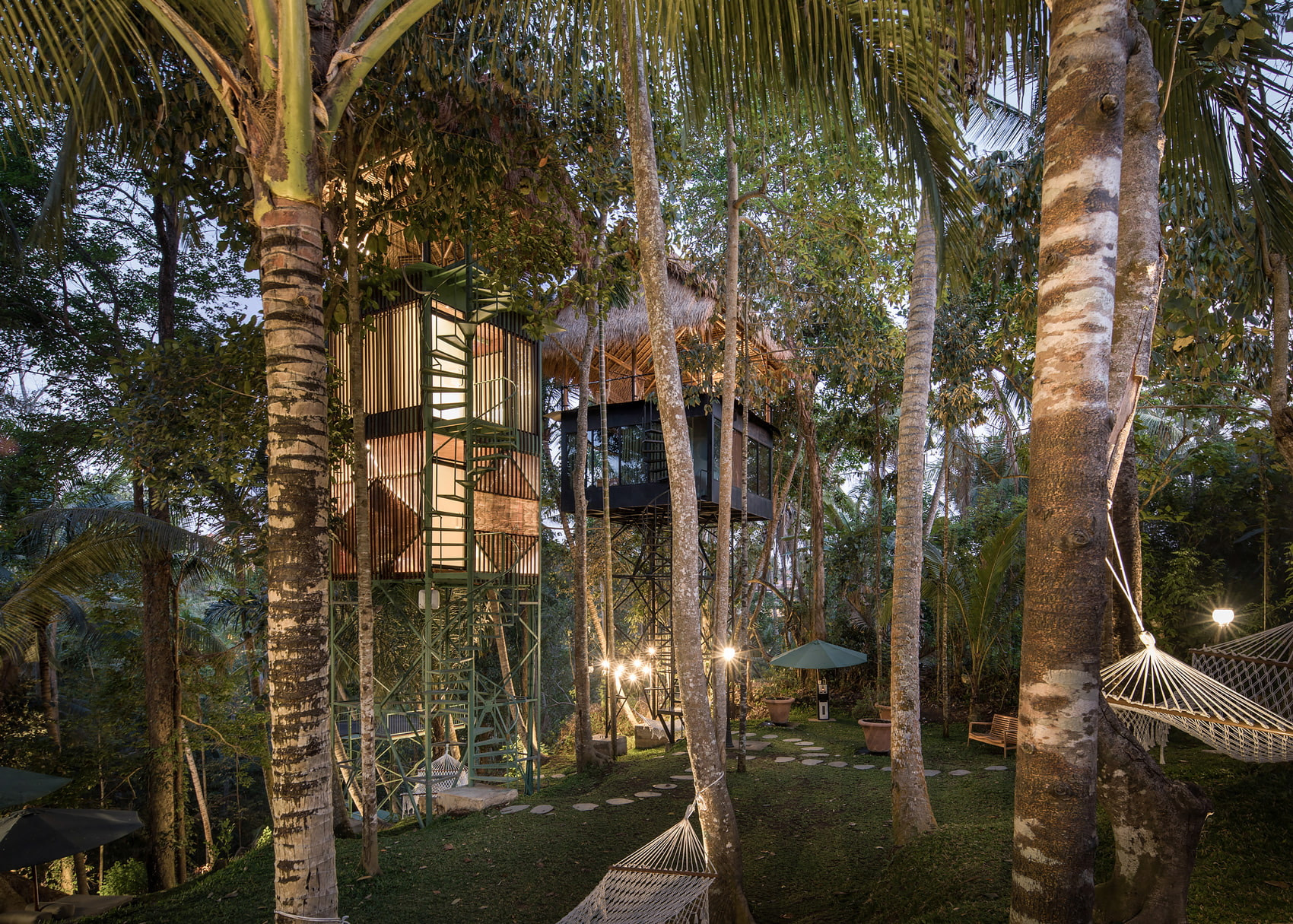 Where: Like all the good hotels in Bali, LIFT is embedded in nature. It lies in a natural park-like setting in the artist's village of Penestan, near Ubud.
Why: You'll get to sleep amid the treetops in a design-driven eco-structure that mixes tropical with industrial in unique ways. The elevated retreat consists of three stilted treehouses, all named after famous authors and complete with sleek bedrooms, Wi-Fi, and cool rooftop terraces with jaw-dropping jungle views. The Stanley Kubrik House is a modern cube-shaped abode with majestic floor-to-ceiling windows, while the two-story George Orwell House sports an airy bamboo bathroom. Inspired by the traditional Javanese homes and decorated with chic rattan furnishings, the Ernest Hemingway House is the most romantic of the trio. The boutique treetop hotel is also home to a small sauna, a swimming pool, a yoga deck, and a bar.
Best for: Architecture & design enthusiasts, creatives in search of inspiration, venturesome romantics, contemporary Tarzans.
The Balian Treehouse
Where: Near the beach in Balian, a laid-back surfing village on Bali's unspoiled west coast.
Why: Because why stay in a boring hotel when you can stay in a storybook treehouse surrounded by tropical gardens? The Balian Treehouse hasn't become an Airbnb sensation for nothing – complete with quaint, natural decor, an open living area, and a private turquoise pool, it really is the perfect couple's retreat.
Best for: Couples with small budgets and big dreams, honeymooners, surfers, relaxation.
Four Seasons Resort Bali at Sayan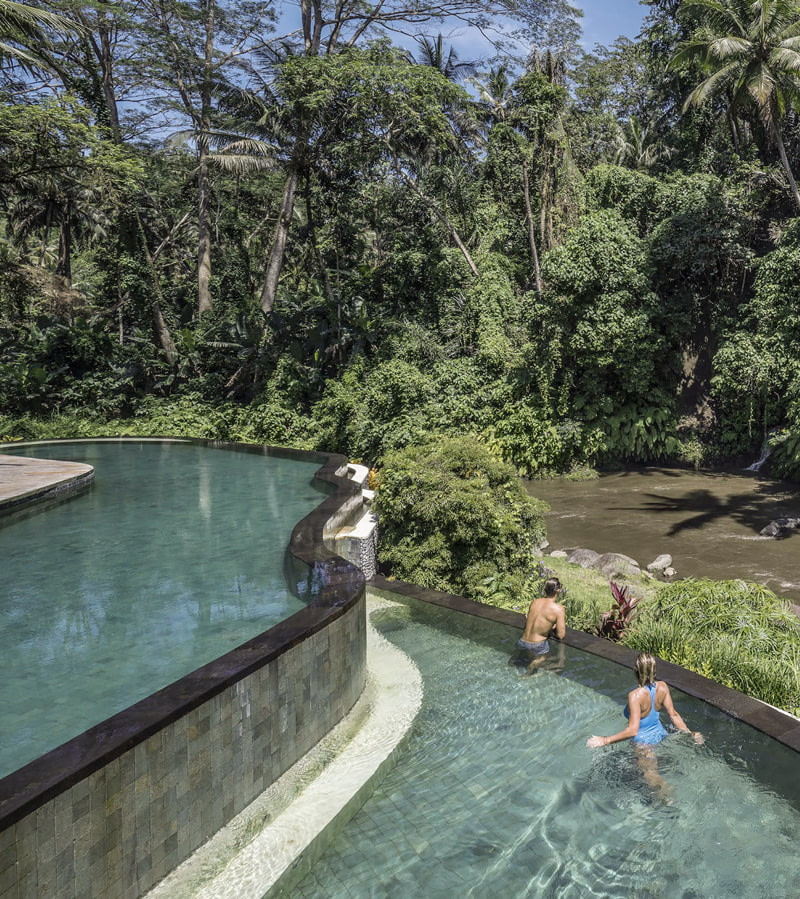 Where: On a hillside along the rushing Ayung River, 15 minutes from Ubud.
Why: Simply put, it's one of the best hotels in the world, let alone Bali. An opulent enclave of thatched-roof villas, suites, and tropical gardens cascading down a hill towards the sacred river below, Four Seasons Resort Bali at Sayan resembles paradise itself. Even today, after more than 20 years, its architecture remains an inspiration: the cutting-edge main building resembles a rice bowl – an offering to the gods; a two-tiered infinity pool tumbles down to the river's edge; and the villas, connected by meandering paths and delicately integrated within the landscape, come with handmade teak furnishings, sumptuous bathtubs, and serene lily ponds. If that's not enough, there's gourmet dining with a view, full moon yoga, white river rafting, as well as chakra spa ceremonies and guided village tours.
Best for: Anyone who can afford it, from wellness enthusiasts to state presidents. Affluent vacationers ready to splurge on an unforgettable Bali experience involving authentic local experiences, blissful relaxation, and utmost privacy. A wide range of child-friendly activities and amenities make the resort ideal for families, too.
Awang Awang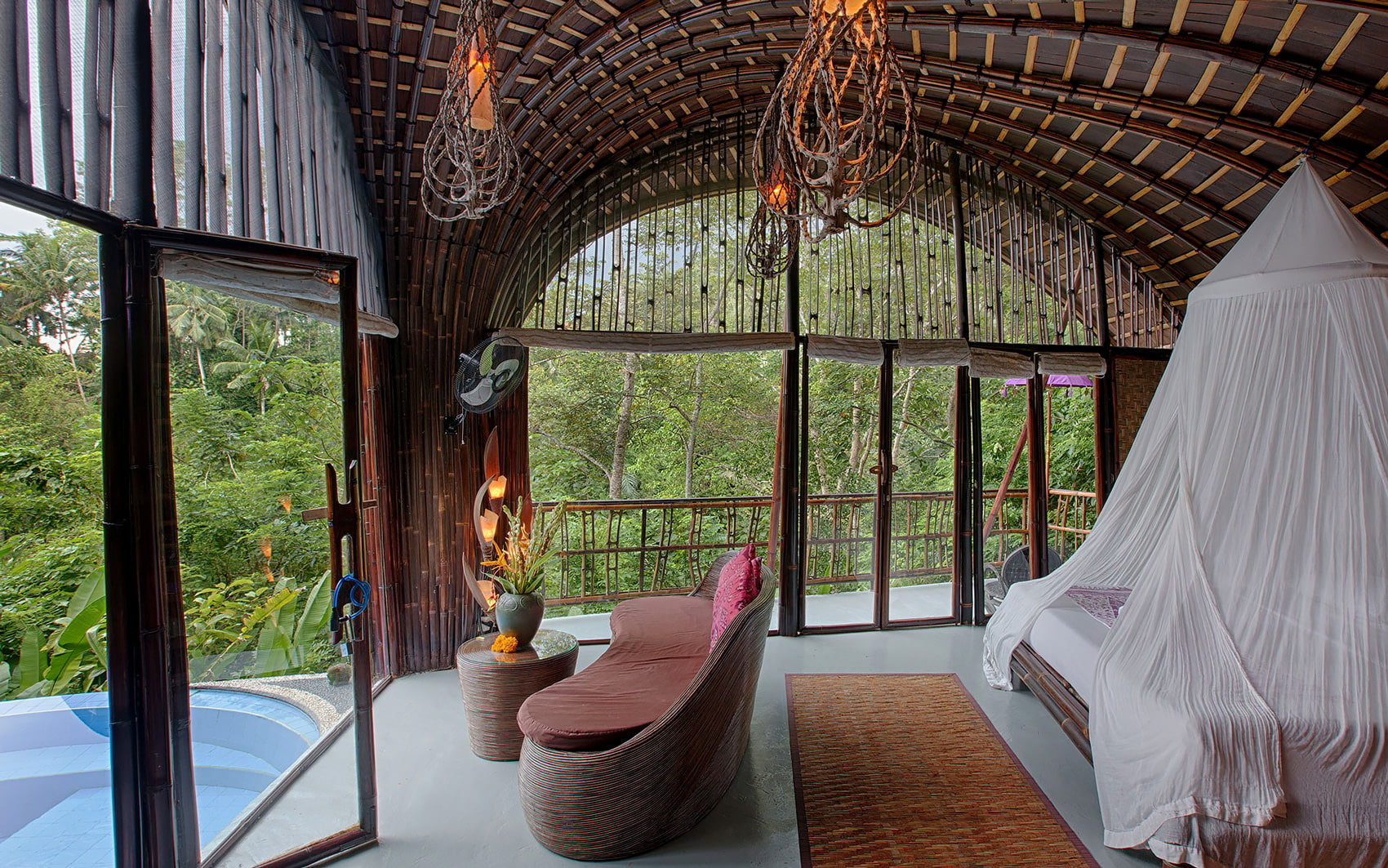 Where: In the sleepy village of Melayang, a 10-minute drive from Ubud. Among the luscious jungles and rice terraces of the Balinese countryside, with the sacred Gunung Agung volcano looming in the distance.
Why: Five atmospheric villas clinging precariously on the edge of a deep ravine make up Awang Awang. Though different in style and size, all feature charismatic, traditionally inspired interiors, private infinity-edge pools, and lush valley vistas. The surrounding gardens are full of colorful birds and playful monkeys, and the attentive staff is happy to organize a host of activities for you, from yoga and Balinese cooking classes to volcano climbing to various day trips.
Best for: Yoga retreats, romantic getaways, family trips, and groups of friends looking to get away in their own little slice of Balinese paradise without breaking the bank.
Villa Chameleon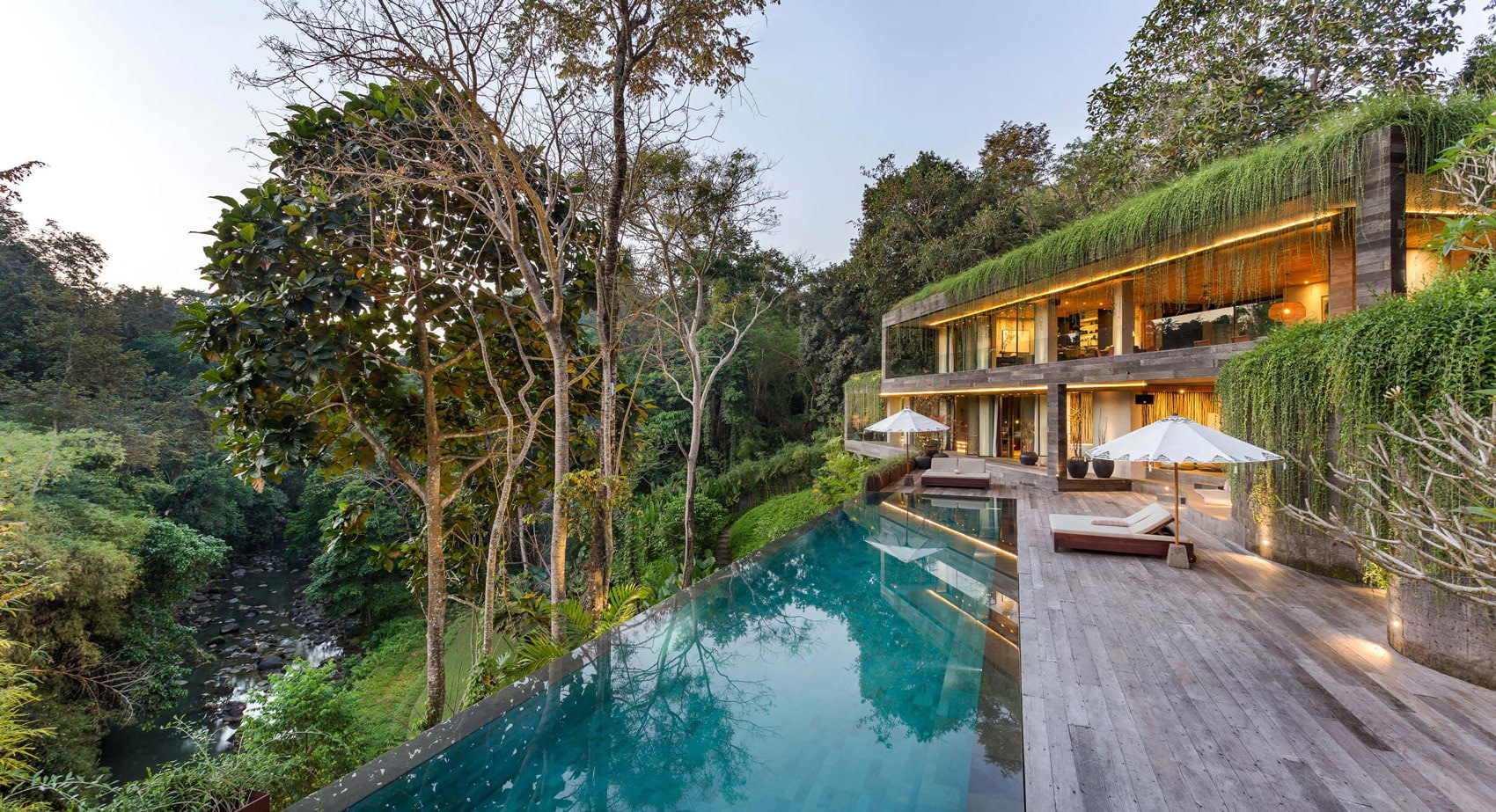 Where: In Buwit, a traditional village slightly inland from the southwest coast of Bali.
Why: One of Bali's most luxurious rentals, Villa Chameleon provides an exceptional jungle retreat complete with all the services you would expect from a high-end hotel. Designed by WOM (Word of Mouth), the property is a masterpiece of "landscaped architecture", with layered spaces and volumes that camouflage into their luscious surroundings. Interiors are bright, open, and contemporary, styled with exquisite mid-century modern furnishings and thoughtful tropical details.
Best for: Architecture nerds, aesthetically inclined jetsetters, discerning groups and families who prefer the intimacy of a luxurious home-from-home complete with dedicated staff over anything else.
Banyan Tree Ungasan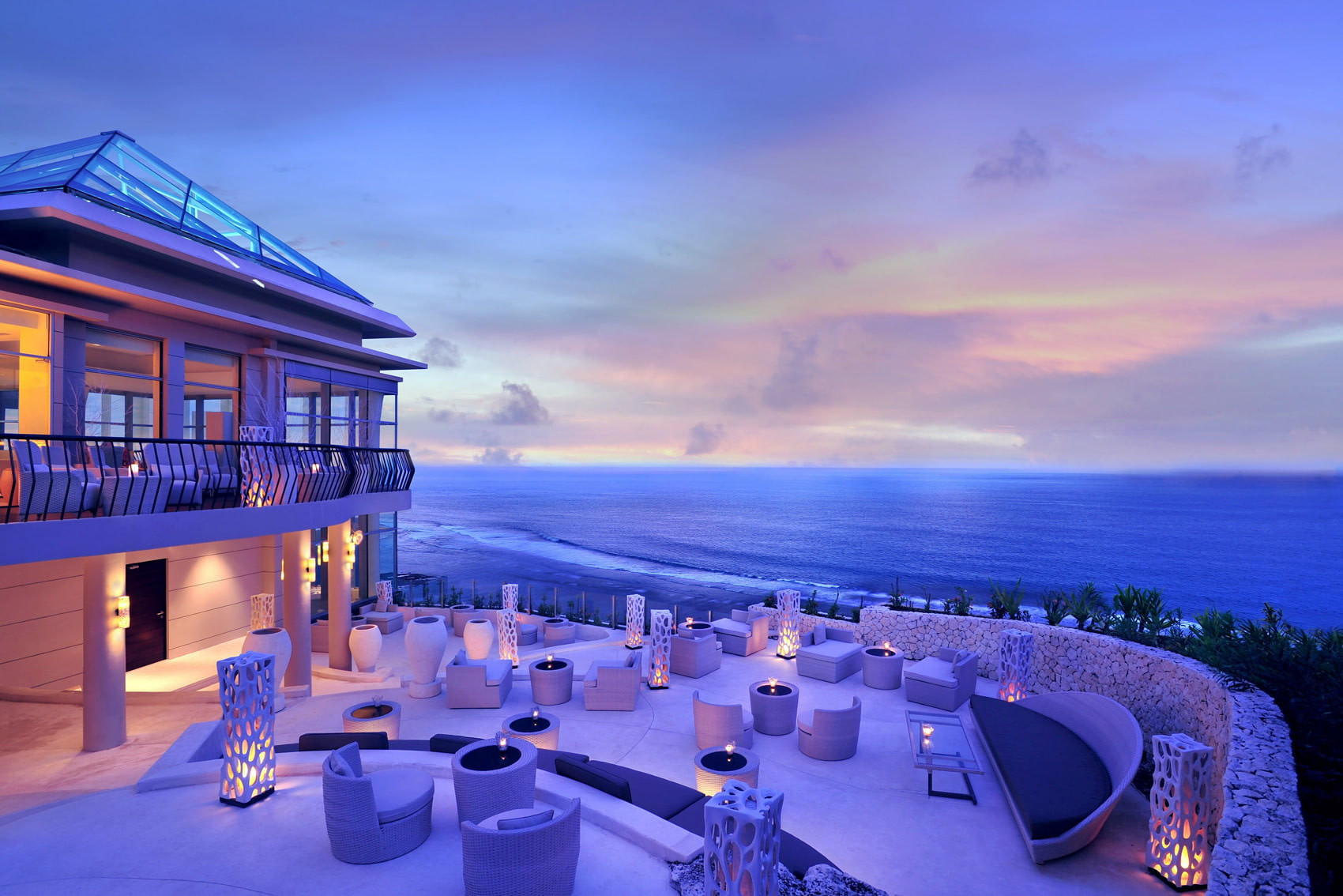 Where: Perched high on Bali's southernmost cliff on Bukit peninsula, in the scenic Ungasan region. Close to the famous Uluwatu Temple and the sweeping beaches of Nusa Dua.
Why: Sleek rooms dressed in precious handcrafted fabrics, breakfast trays floating in the pool, and Indonesian spa therapies fit for royalty. Need I say more? Designed to echo a traditional Balinese village, Banyan Tree Ungasan comprises 73 elegant villas cocooned in fragrant tropical gardens and decorated in a tasteful mix of traditional and contemporary styles. Bedrooms open up to private emerald infinity pools overlooking the Indian Ocean and dining options cover all tastes, from flavorful Nouvelle Balinese cuisine to refined French fare with a Japanese twist.
Best for: Style-savvy sun seekers, couples seeking to reconnect and recharge, families who want a pampering Bali experience.
AYANA Resort and Spa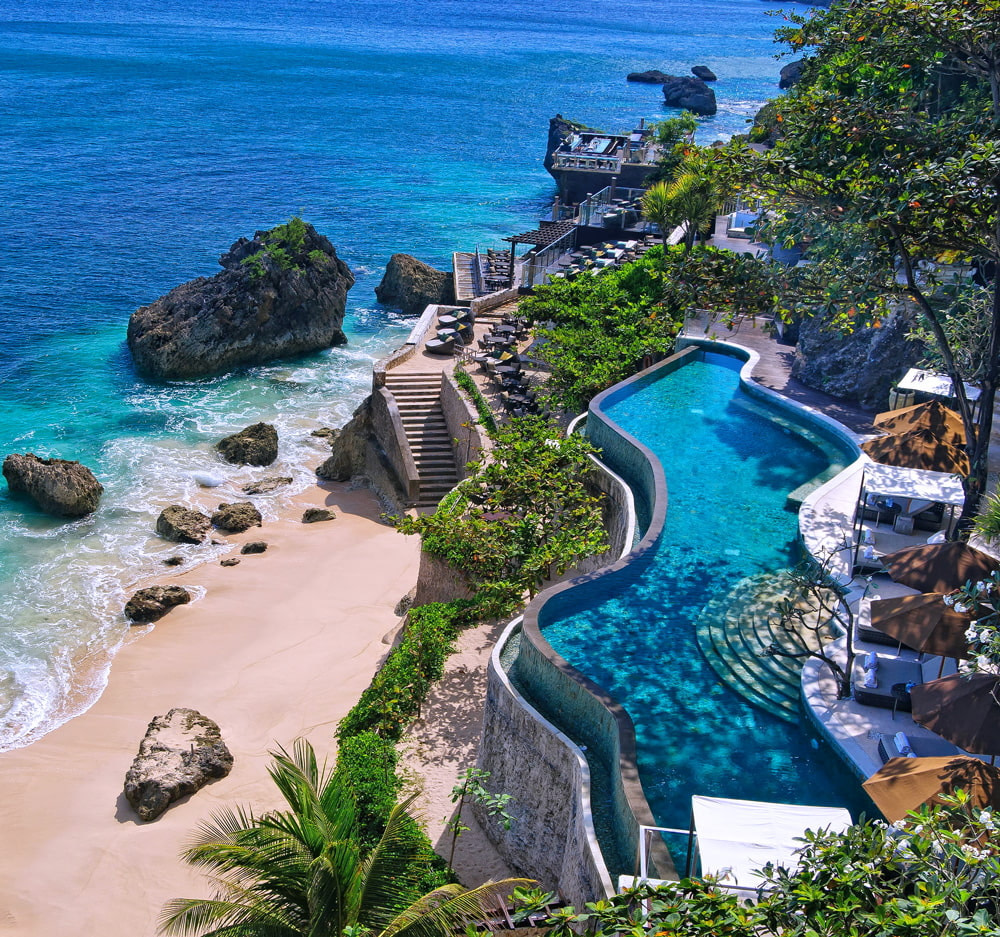 Where: Up on the cliffs above Jimbaran Bay, on the southern tip of Bali.
Why: With 19 restaurants and bars, 12 swimming pools, a spectacular clifftop spa, a cooking school, and its own private beach, AYANA Resort and Spa is a destination in and of itself. In fact, it offers some of the best and most extensive on-site facilities on the island, alongside secluded pool villas and sumptuous guest rooms decorated with indigenous artworks. The hotel is also famous for its brilliant sunsets, best enjoyed at the iconic Rock Bar – with creative cocktails, delicious Mediterranean tapas, and live chillout sessions by world-class international DJs.
Best for: Couples and families alike, lovers of five-star resort experiences and facilities.
Bvlgari Resort Bali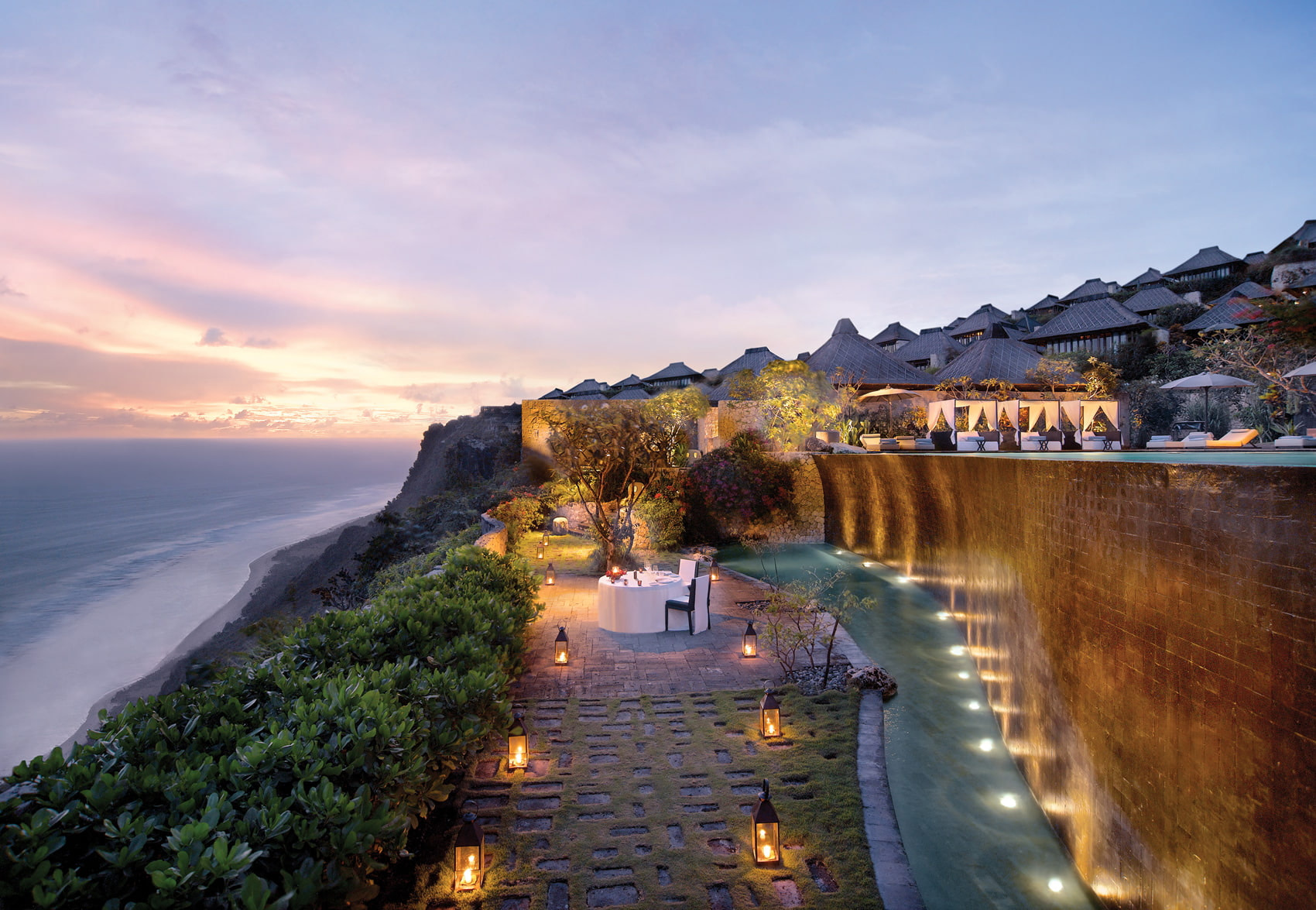 Where: Atop a dramatic 160-meter-high limestone cliff in Uluwatu, on the rugged south coast of Bali.
Why: A private funicular takes guests down the cliffs to a secluded beach; creative Italian dinners are cooked to perfection at the resort's award-winning Il Ristorante; and the mind, body, and soul are reborn in open-air treatment rooms facing the crashing waves. That's life at Bvlgari Resort Bali, a glamorous cliff-edge oasis whose design is a romantic melange of traditional Balinese architecture and contemporary Italian elegance. The layout mimics a Tuscan village, with frangipani-lined cobblestone paths connecting the lavish volcanic stone villas, where private plunge pools, open-air living rooms, and epic Indian Ocean views set the stage for a supremely decadent stay.
Best for: Well-heeled couples, discerning foodies, and vacationers looking to indulge, unwind, and experience.