Their setting alone is enough of a reason to visit France's adorable villages. Whether spiraling up steep rocky outcrops or rising gently above rolling vineyards and manicured fields of lavender, these perched oases of bucolic beauty blend seemingly into the magnificent landscapes surrounding them. Like portals to the past, they combine charming medieval architecture with oodles of cultural intrigue and a sprinkle of je ne sais quoi, providing a captivating journey through the France of times gone by.
If a romantic rural escape is on your agenda, then daydream no longer and start packing for a trip to the Hexagon! From the idyllic hilltop hamlets of Provence to the half-timbered stunners of Normandy, these are the most beautiful villages in France:
Eguisheim, Haut-Rhin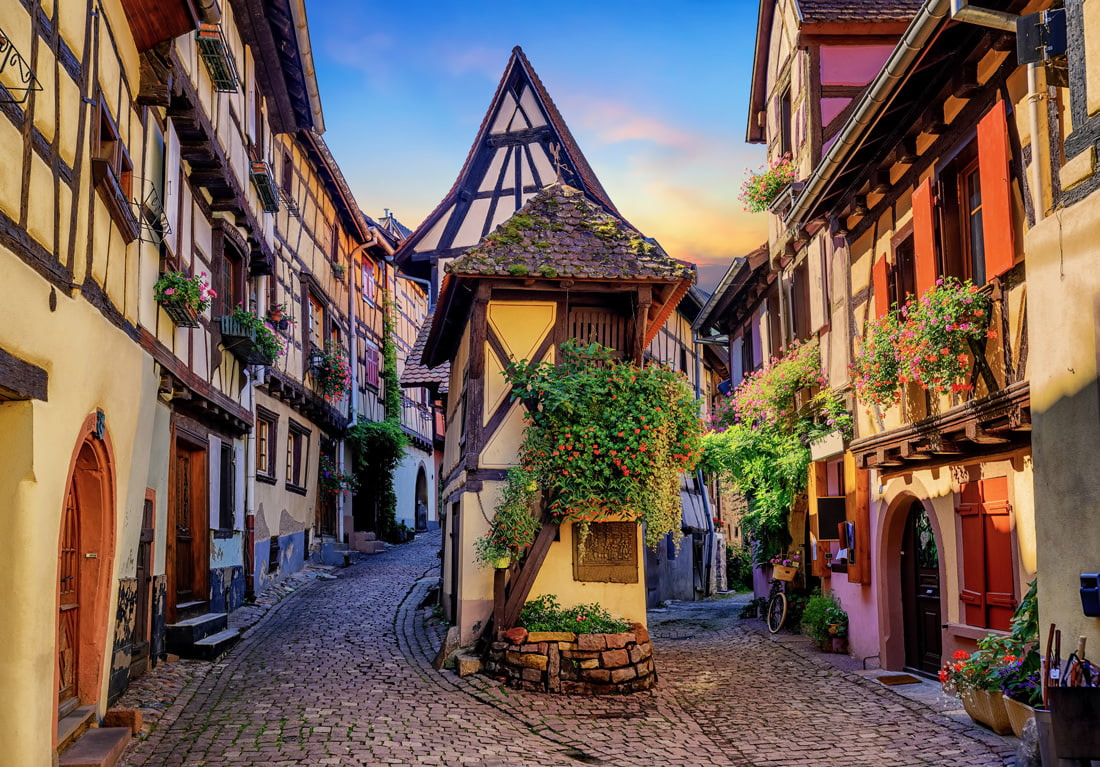 Rolling vine-carpeted hills surround the picturesque village of Eguisheim on the Alsatian Wine Route. Its concentric narrow streets lined with colorful half-timbered houses and pretty floral blossoms curl like a snail's shell around a medieval castle, while pointed gables, tithe courtyards, and pretty historic fountains add to the fairytale feel.
Beynac-et-Cazenac, Dordogne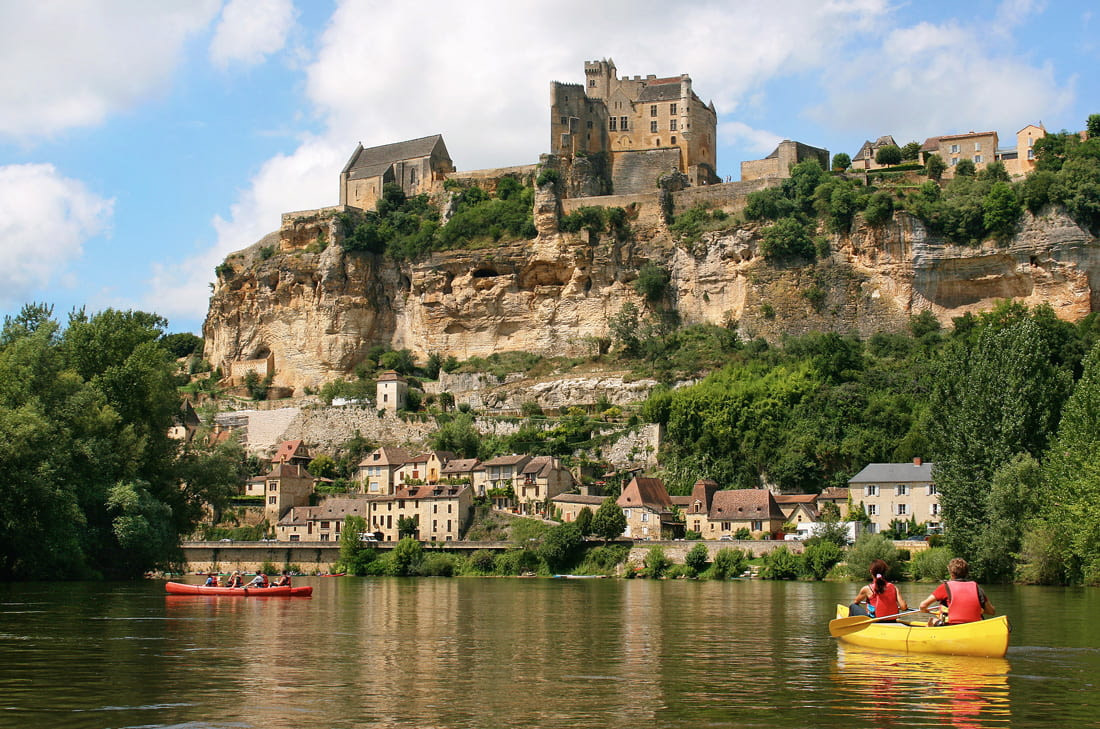 Built into the cliffs along the River Dordogne, Beynac-et-Cazenac is a cluster of ochre stone houses and quaint narrow lanes begging to be explored. Dominating the village, the 12th-century Château de Beynac is one of the best-preserved medieval castles in France and offers magnificent views over the surrounding valley.
Kerhinet, Loire-Atlantique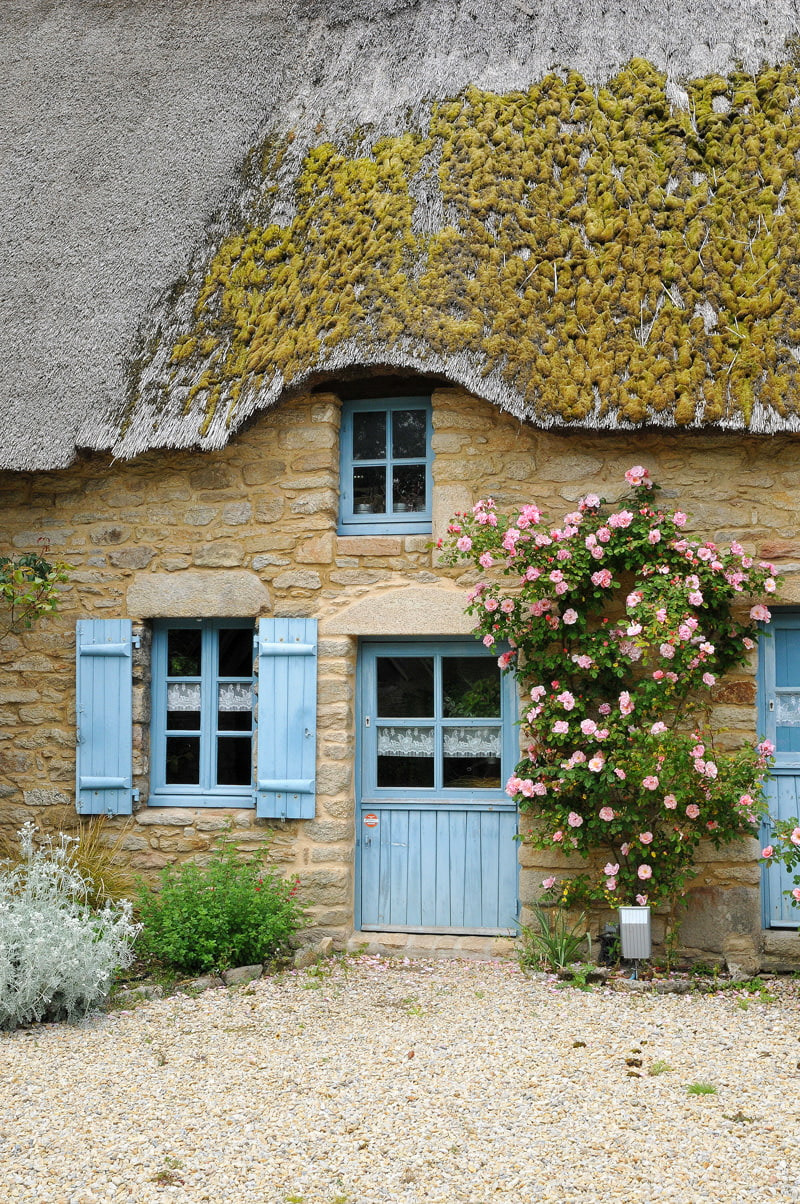 Entering Kerhinet, an adorable little hamlet of 18 thatched-roofed cottages in the Loire Valley, is like stepping back in time. Lovingly restored by the Brière Regional Nature Park, the pedestrian village is also an open-air museum where visitors can admire the area's typical architecture, learn about the park's rich flora and fauna, or buy local artisan goods like cider, honey, pâté, and jewelry.
Yvoire, Haute-Savoie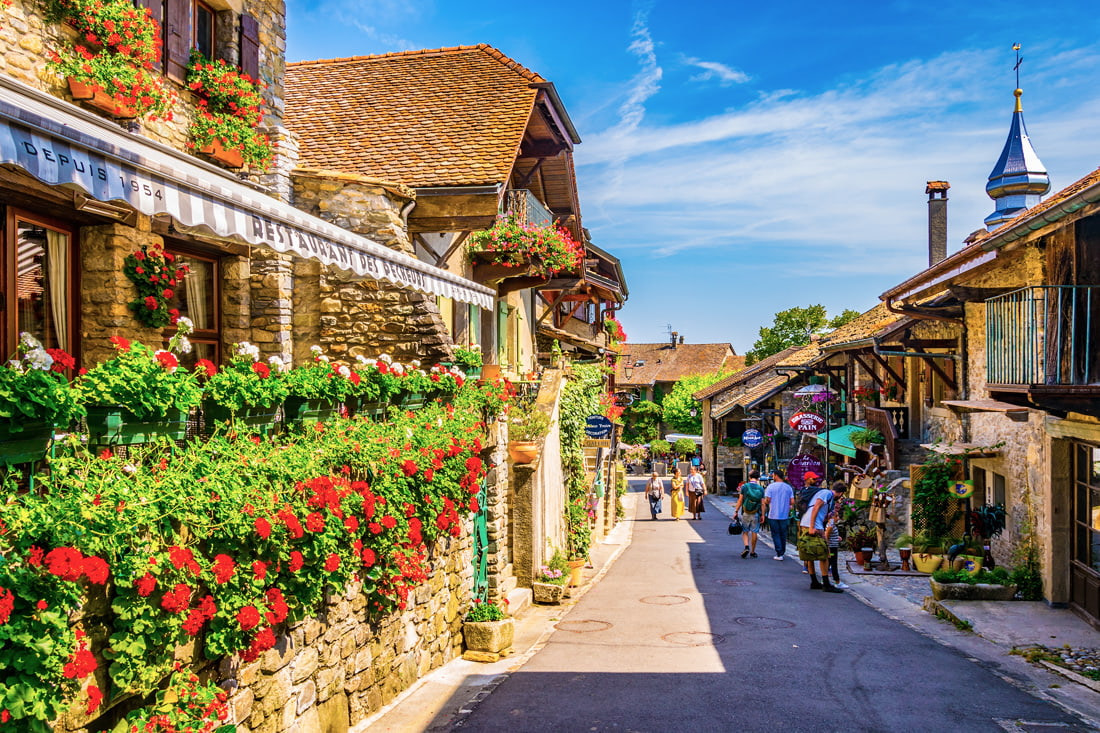 A member of Les Plus Beaux Villages de France (The Most Beautiful Villages of France), Yvoire attracts thousands of visitors every summer with its idyllic flower-bedecked streets and spectacular Garden of Five Senses. Otherwise, its fortified historic center is replete with medieval treasures, and winding cobblestoned alleys lead to the serene shores of Lake Geneva, where fishing boats bob gently in the water.
La Roque-Gageac, Dordogne
Sandwiched between towering limestone crags and the meandering Dordogne river, the peculiar village of La Roque-Gageac is home to prehistoric cliff dwellings, a 12th-century troglodyte fort, and a bewildering exotic garden filled with palms, agaves, fig trees, and bamboos. Everywhere else, grandiose chateaux and typical honey-colored houses with Lauzé roofs vie for space along the cobbled labyrinthine streets.
Moustiers Sainte-Marie, Alpes-de-Haute-Provence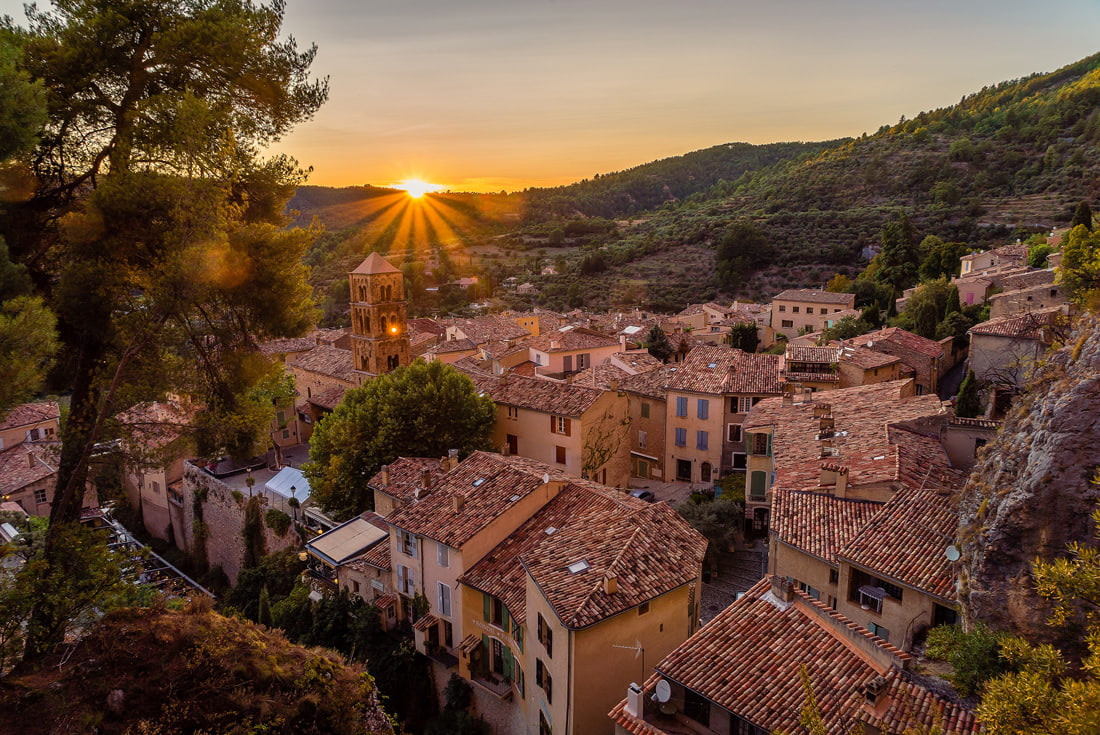 For old-world Provençal charm in a dramatic setting, head to Moustiers Sainte-Marie. Tucked in between two rocky slopes right in the heart of the Verdon Regional Nature Park, the village makes an excellent base for exploring Europe's Grand Canyon or the lavender fields of Valensole, but it is also well worth a visit of its own.
Wandering through the narrow stone streets, rimmed by pastel traditional houses with red-tile roofs, you'll come across wonderful ceramic workshops, remarkable medieval churches, and gourmet eateries spilling out onto petit sunny squares.
Saint-Cirq-Lapopie, Lot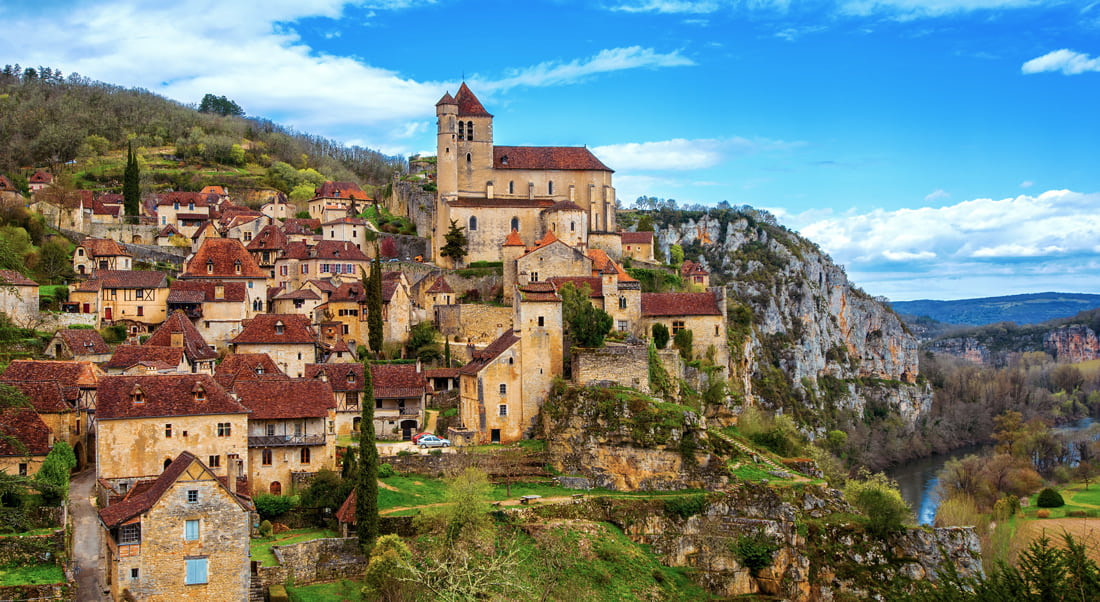 Cascading down a sheer cliff high above the River Lot, terracotta-tiled Saint-Cirq-Lapopie is much more than just a pretty face. Rich in history and heritage, the village is no stranger to tourists, but somehow has managed to retain all the charm and character of yesteryear. There are pleasant paved alleyways to stroll along, cute flowery terraces to sit at and admire the view, as well as fascinating Gothic façades, fortified gates, and art galleries to discover.
Ménerbes, Vaucluse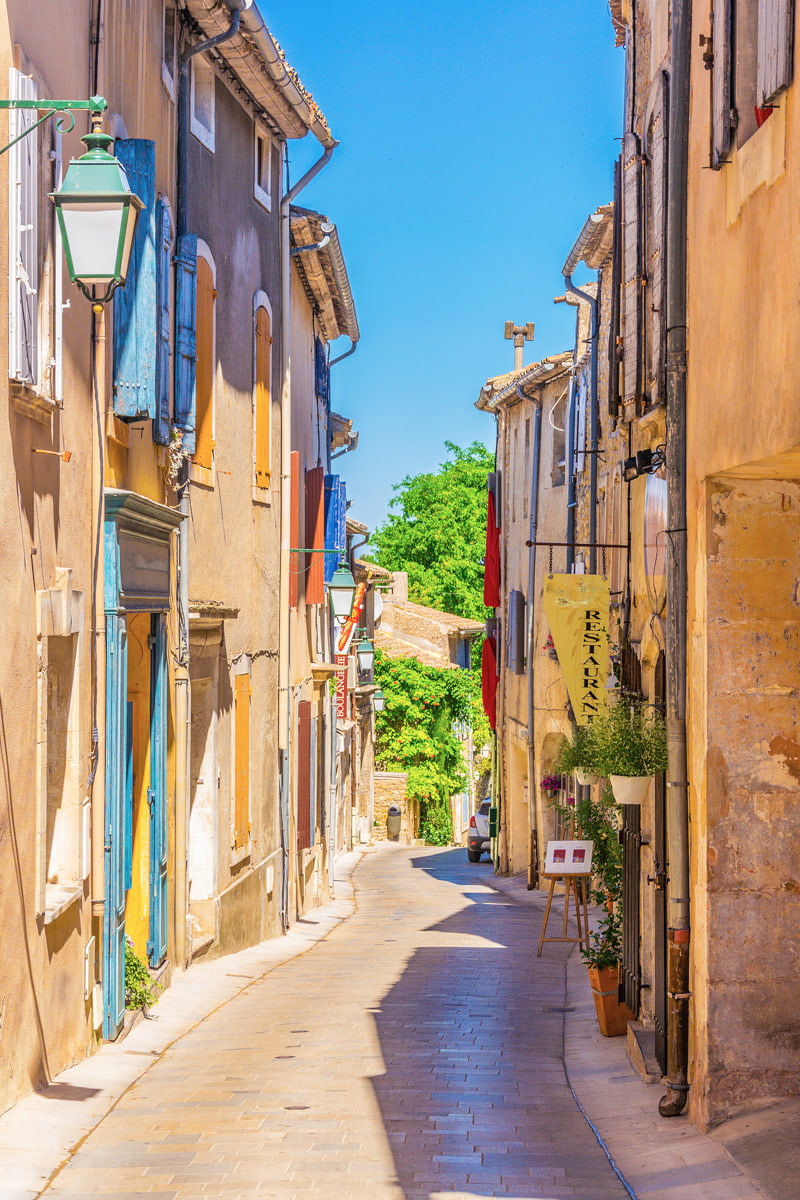 As with most villages in Provence, the best way to discover Ménerbes is by wandering its slender cobbled streets, bounded by elegant 16th and 17th-century architecture and lush views of the surrounding valleys. Standing proud on a long, narrow mountain crest 230 meters above sea level, this is probably the most well-known of Luberon's perched villages, due partly to British author Peter Mayle's who wrote A Year in Provence while living here.
Collonges-La-Rouge, Corrèze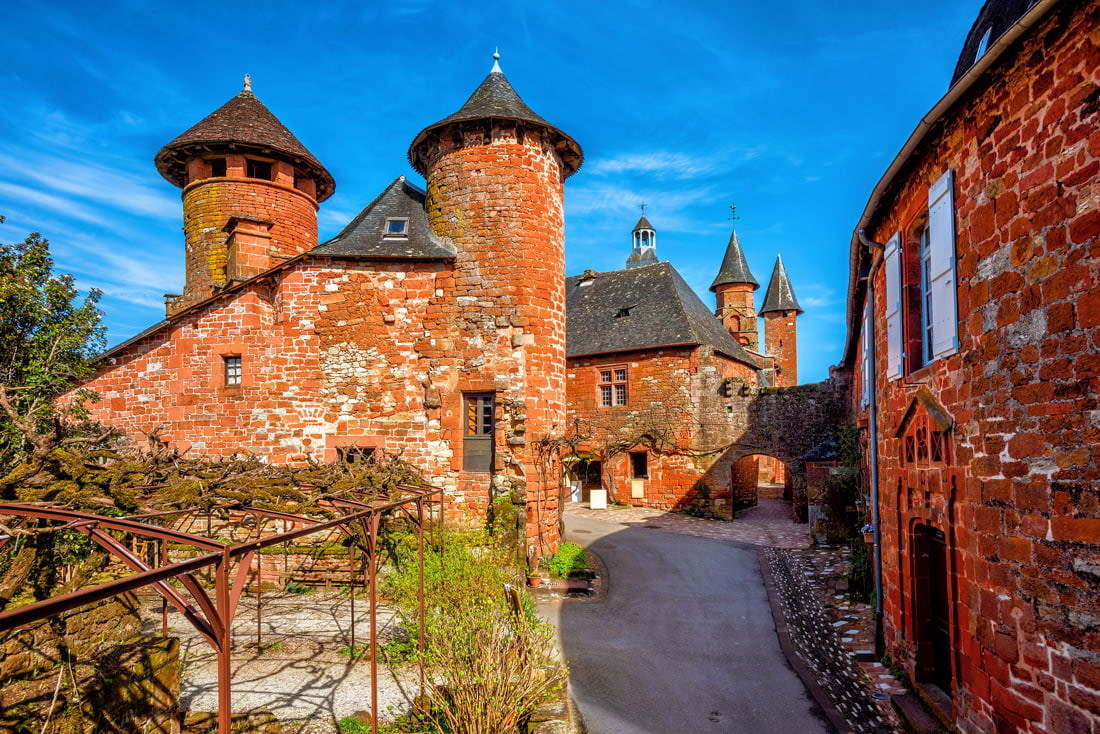 Whimsical conical turrets, adorable little lanes, and climbing vines adorning the walls – this unique hamlet in Corrèze is the stuff of medieval French fairytales. As its name suggests, Collonges-La-Rouge stands out due to the rusty-red color of its houses, all built from local iron-rich sandstone. The architecture is delightful, and there are cute, photogenic corners at every turn. Not only that, but the village plays host to some truly delicious eateries and enchanting craft boutiques selling locally made goods.
Locronan, Brittany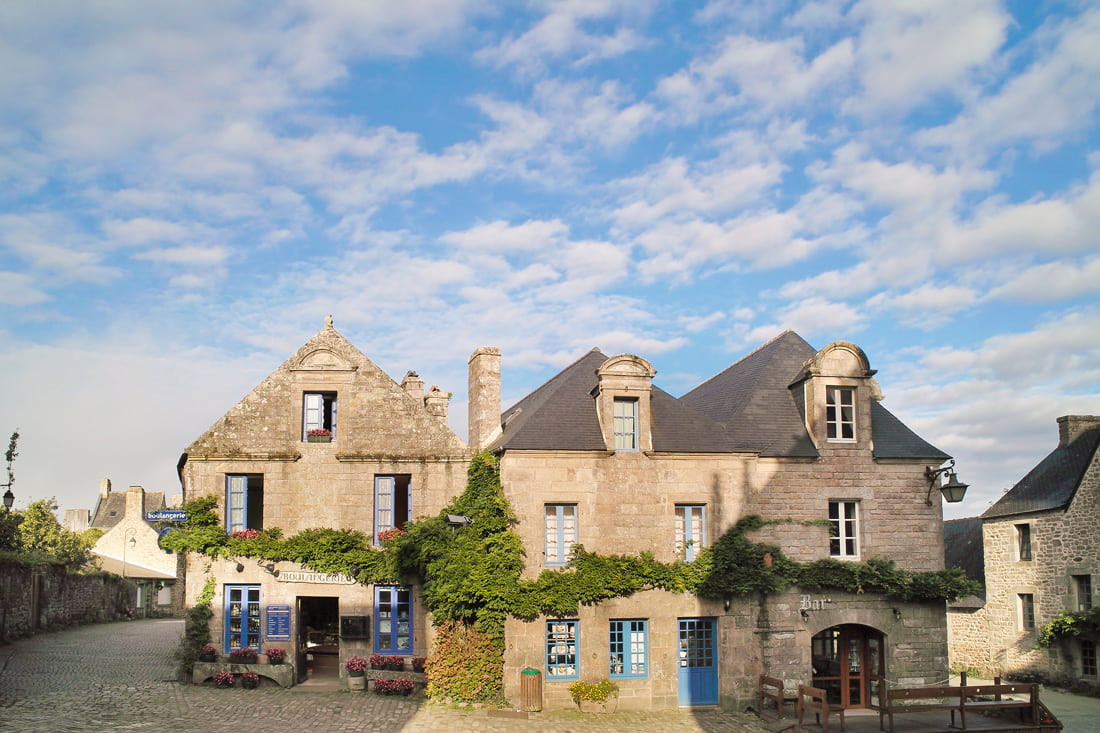 Quaint paved streets wind past characterful granite buildings interspersed with purple wisteria in Locronan.
Famous for its elaborate religious procession (Troménie), this quintessentially Breton village revolves around Place de l'Eglise, a lovely cobbled square framed by handsomely preserved Renaissance mansions. Also here you'll find an ancient well, as well as the 15th-century Church of Saint Ronan, which is a wonderful example of flamboyant Gothic architecture.
Hidden in the side streets are all sorts of craft boutiques, sweet crêperies, and inviting outdoor terraces to sit and unwind between promenades.
Gordes, Vaucluse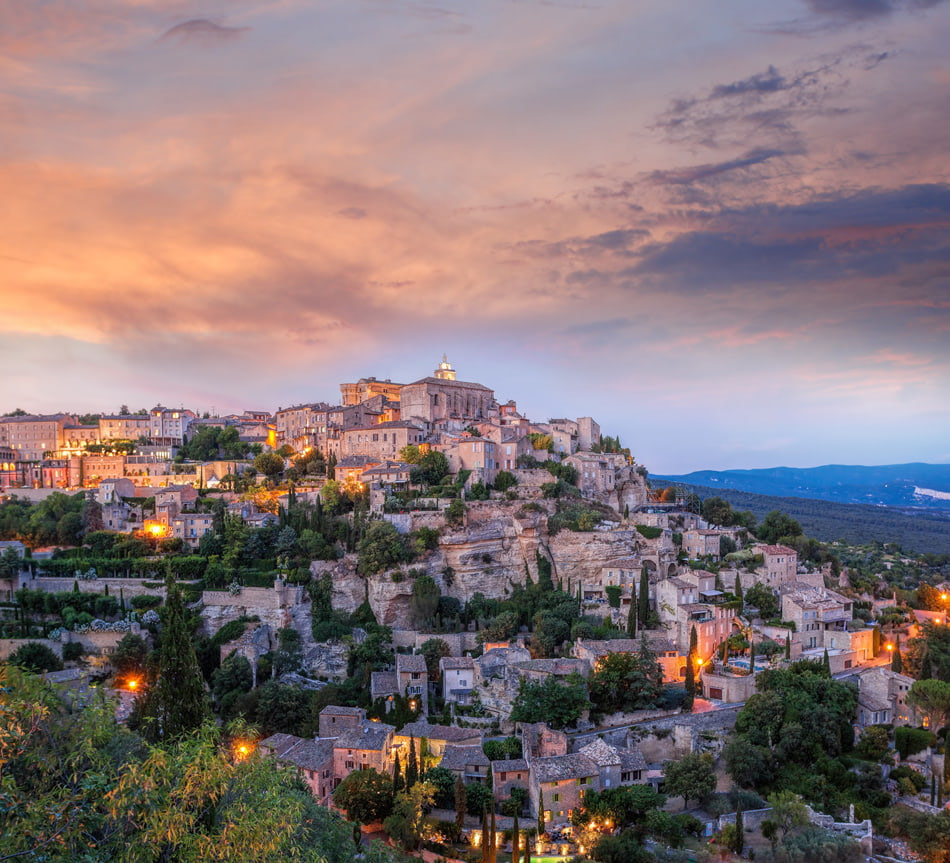 One of Provence's most stunning hilltop villages, Gorges has long seduced artists and travelers from all over the world with its rustic ambiance and dramatic setting on the edge of the Vaucluse plateau.
With its old dry-stone houses, quintessential terracotta rooftops, and romantic calades – narrow, arcaded cobbled streets typical to the area, it provided the perfect backdrop for the movie A Good Year starring Russel Crowe and Marion Cotillard.
While from March to October colorful festivals breathe new life into the village, its spectacular views and lively Tuesday market remain favorite year-round attractions.
Saint Paul de Vence, Alpes-Maritimes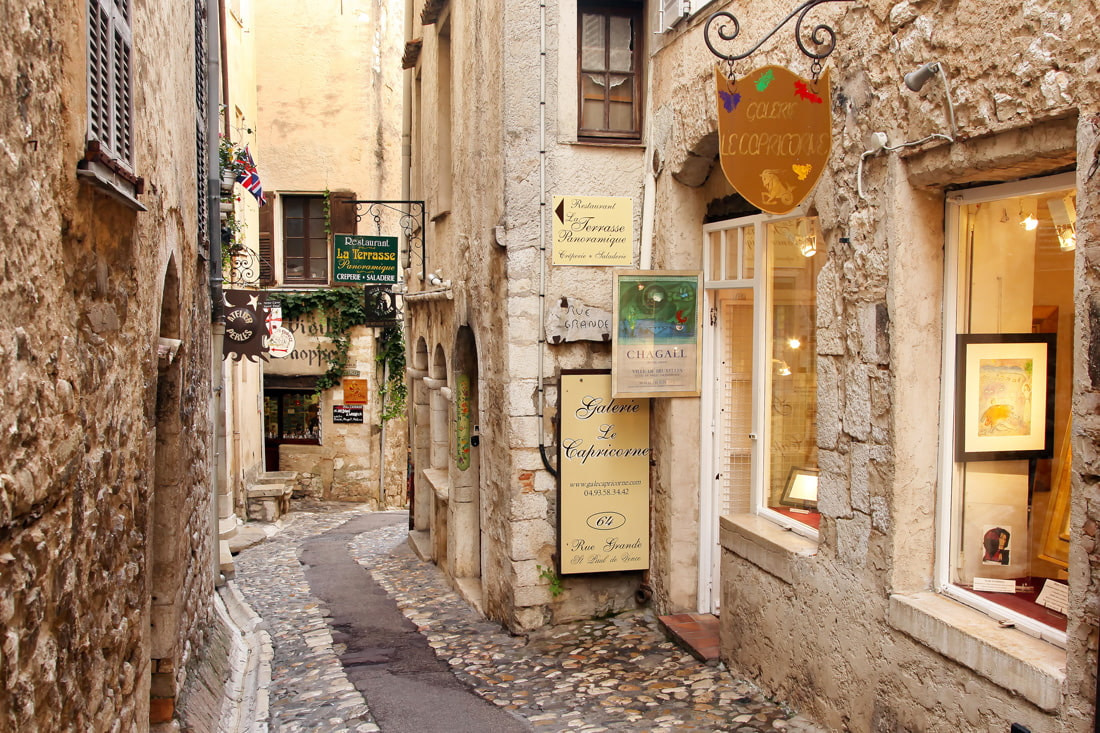 Snuggled in the hills above Nice, on the glitzy Cote d'Azur, Saint Paul de Vence is an art lover's paradise. Its storied labyrinthine lanes are awash with artists' workshops, contemporary galleries, and illustrious museums, none more so than the exceptional Fondation Maeght, which houses one of Europe's biggest collections of 20th-century art. Even hotels, restaurants, and churches throughout the commune shelter works by the likes of Tintoretto, Matisse, and Picasso.
Not a fan of the arts? Enjoy la belle vie in St. Paul's atmospheric cafés and stylish fine-dining eateries, wander along its pedestrian-only cobblestone streets adorned with elegant fountains and vine-carpeted stone walls, or take in outstanding views of the surrounding countryside, terraced vineyards, and glistening Mediterranean Sea from the imposing ramparts.
Saignon, Vaucluse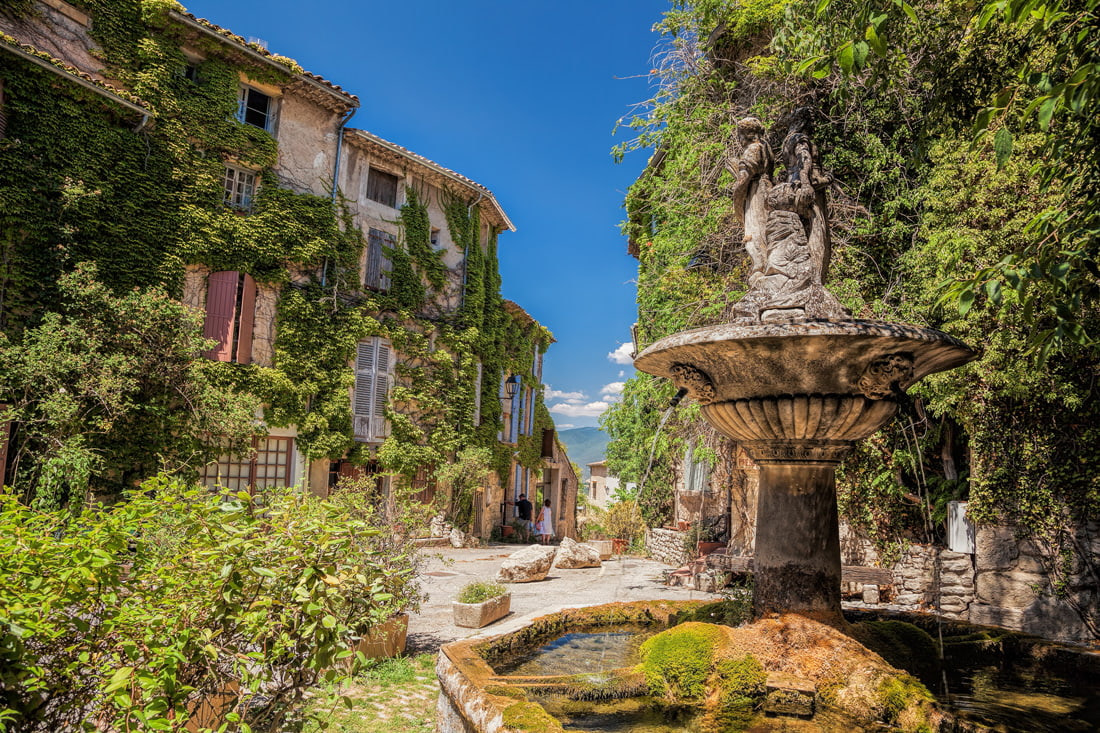 In Saignon, a chocolate-box Luberon village hanging precariously off a hillside above Apt, all roads lead to the charming central placette (small square). A cluster of pretty ivy-covered shuttered houses intermingled with flowery squares and bubbling fountains, this peaceful, welcoming community is bursting with Provencal charm.
While here, pay a visit to the imposing 12-century Romanesque church of Notre Dame de Pitie and then walk up to the Rock of Saignon, locally known as Rocher de Bellevue, for fabulous 360-degree views over the Luberon valley, mountains, and perfumed lavender fields.
Eze, Alpes-Maritimes
There are not many things in France quite as magical as strolling the steep, secret alleyways of Eze. Tucked high on a hill above the French Riviera, somewhere between Nice and Monaco, this postcard-perfect mountaintop village is all about tiny tangled streets and lovely stone houses converted into galleries, restaurants, and boutiques. Each step leads to a beautiful sight, be it a cozy courtyard, a time-worn wall draped in bougainvillea, or a bright blue glimpse of the sea beyond.
Eze's icing on the cake, however, is its soaring Jardin Exotique, from where mesmerizing vistas of the coast unfold in all directions.
Ménéham, Finistère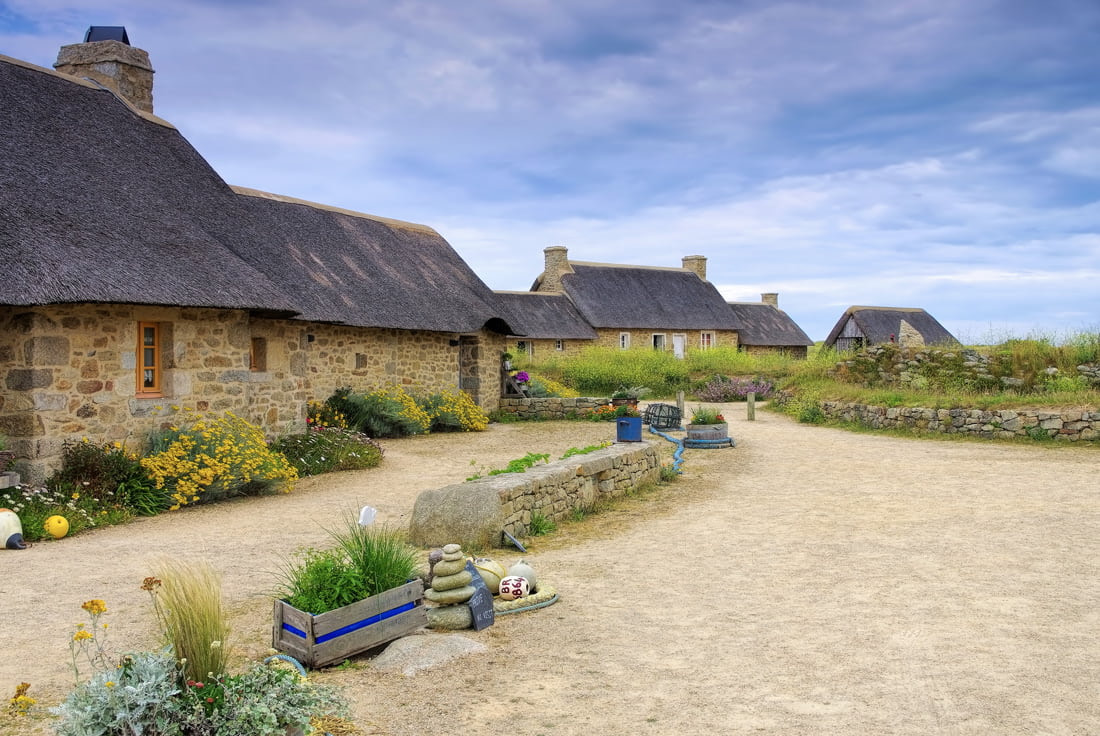 France is jam-packed with unique villages, but none more so than Ménéham. Though completely deserted in the '90s, this peculiar little hamlet surrounded by spectacular coastal scenery has been thoughtfully restored to its rustic architectural glory.
Hidden behind otherworldly granite boulders on Brittany's Finistère coast, its quaint thatch-roofed houses offer a glimpse into the lives of the peasant farmers and seaweed fishermen who lived here during the 19th and 20th centuries. Many of these ancient shelters house artisan studios and temporary exhibitions, and there's also the village's original inn, where you can fuel up with tasty crêpes, fresh seafood, and other regional specialties before embarking on a tour around this magical site.
Flavigny, Côte-d'Or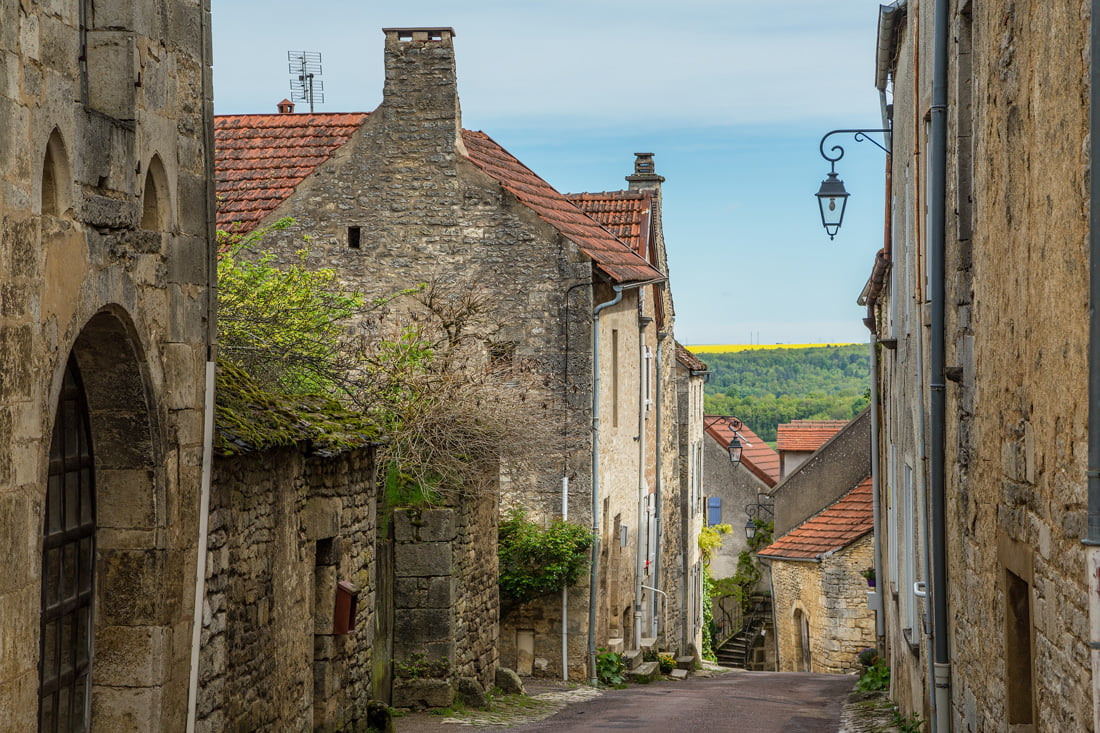 Sturdy medieval walls and imposing stone gateways frame this good-looking monastic village in the Cote d'Or department of Burgundy. Flavigny-sur-Ozerain, or simply Flavigny, was used as the setting for the 2000 drama Chocolat featuring Johnny Deep and Juliette Binoche, and it's no wonder why. Centered around an 8th-century Benedictine abbey, it oozes history from every cobblestone of its romantic alleys, while a sweet scent of anise fills the air.
The village is particularly famous for the anise-based candies manufactured in its medieval monastery since the 9th century. In fact, Les Anis de Flavigny factory is the oldest brand in the entire country, and one of its most beloved.
Les Baux-de-Provence, Bouches-du-Rhône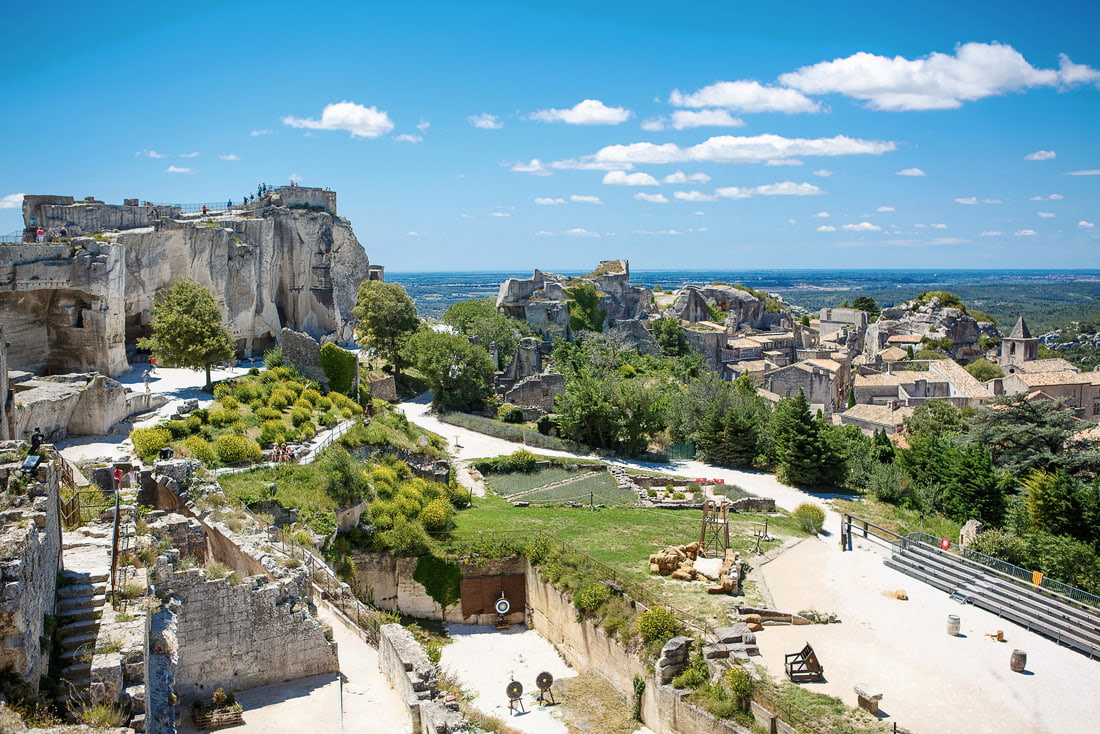 Stretching along a steep hillside between Arles and Avignon, Les Baux-de-Provence is a gracefully preserved Renaissance village guarded by the extensive ruins of a Medieval castle.
Beyond its obvious Provençal charms – lovely stone houses, sun-dappled squares, and lavender-scented cobblestoned lanes, this place is also home to a Michelin-starred restaurant and the awe-inspiring Carrières de Lumières – an ancient limestone quarry where artworks by Monet, Renoir, and other Renaissance giants are projected on the underground walls as part of some truly immersive multimedia shows.
Coaraze, Alpes-Maritimes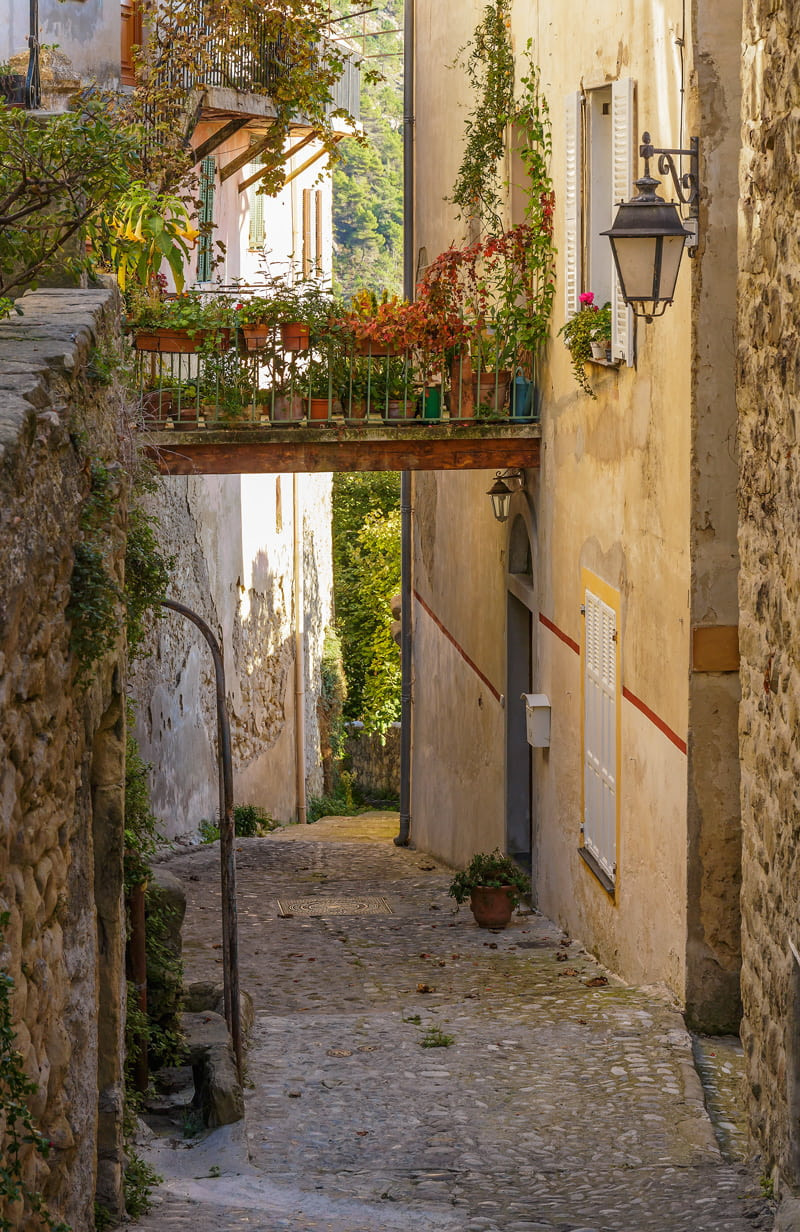 Also known as Village du Soleil, Coaraze is blissfully sunny and impossibly picturesque. It sits on a rocky sandstone outcrop in the hills north of Nice and scattered around it are colorful ceramic sundials created by John Cocteau, Ponce de Leon, and Henri Goetz, to name but a few.
Narrow serpentine streets open onto luminous plazas bursting with flowers, grand mansions in pretty pastels stand side by side with wonderful crumbling stone houses, and vaulted passageways contribute to the time-warp feeling.
Beuvron-en-Auge, Calvados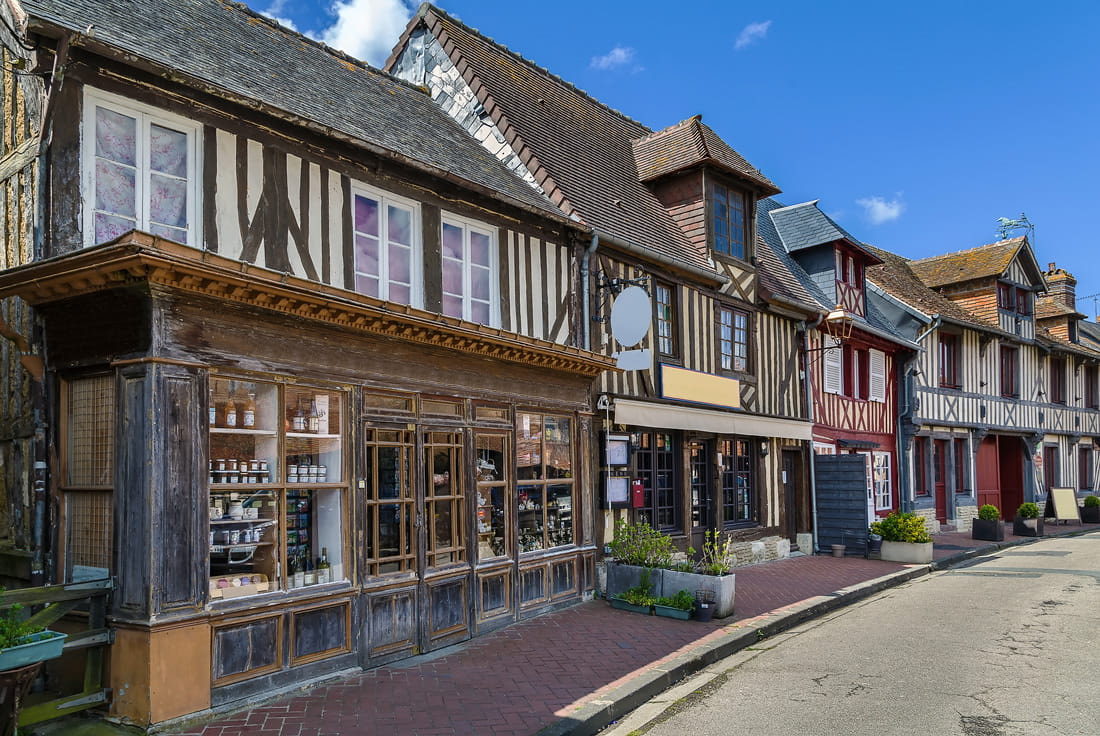 Heaps of authentic Norman charm along with magnificent examples of 17th-century half-timbered architecture have earned Beuvron-en-Auge a spot in Les Plus Beaux Villages de France association.
Situated in the heart of Pays d'Auge, along the Normandy cider route, the hamlet, which consists of hardly more than a long street with archetypal striped houses on both sides, is as beguiling as they come. Brightly colored flowers bloom everywhere, and the quaint village square is full of craft studios and enchanting boutiques selling everything from lovely antiques to sweet cider to fiery calvados (local apple brandy).
Vézelay, Yonne
A UNESCO Heritage Site in northern Burgundy, Vézelay is an architectural feast, with lots of characterful ochre stone buildings and historic monuments lining its steep, narrow streets, as well as ramparts, towers, and gates encircling its core. Overlooking the village, its 11th-century Basilica of Saint Mary Magdalene is a masterpiece of Romanesque art and one of the most important stops on the Santiago de Compostela pilgrim way.
But aside from its historical, artistic, and religious significance, lovely Vézelay lures lovers of food and nature in equal measure. Bistros around town serve melt-in-your-mouth boeuf bourguignon, and hiking opportunities abound in the nearby Morvan Regional Natural Park, or through the storied vineyards of Burgundy.