This post contains affiliate links, which means we may receive a small commission, at no additional cost to you, if you make a purchase through these links. See our full disclosure here.
For years, many travelers didn't take advantage of private vacation rentals, fearing that their experience wouldn't compare to what they'd get at a hotel or resort. But as short-term apartment and home rentals have grown to dominate a considerable portion of the market, even some of the most steadfast hold-outs have been convinced to give it a try.
While some sites are more popular than others, there are far more than the obvious avenues to book a private rental online. If you've only used the more popular sites before, or you're ready to give it a try for the first time, here's a quick crash course describing some of the major players in the industry. No matter which type of traveler you are, we've narrowed down 15 of the best vacation rental websites to book a property so you can find the one that caters specifically to your needs.
VRBO – Best for groups
If you're planning a bachelorette party, a family reunion, or a work retreat, VRBO is the go-to site for those who see their accommodation as the destination.
This long-established vacation rental platform only lists entire homes, so you'll never find a listing on the site where you would be sharing a place with your host. What really sets it apart is the way you search for a property: not only can you narrow it down by a myriad of filters, you can also begin your search by type of accommodation. Right on the homepage, you'll find several enticing categories: houses, condos, bungalows, and even castles.
Booking.com – Best for the budget conscious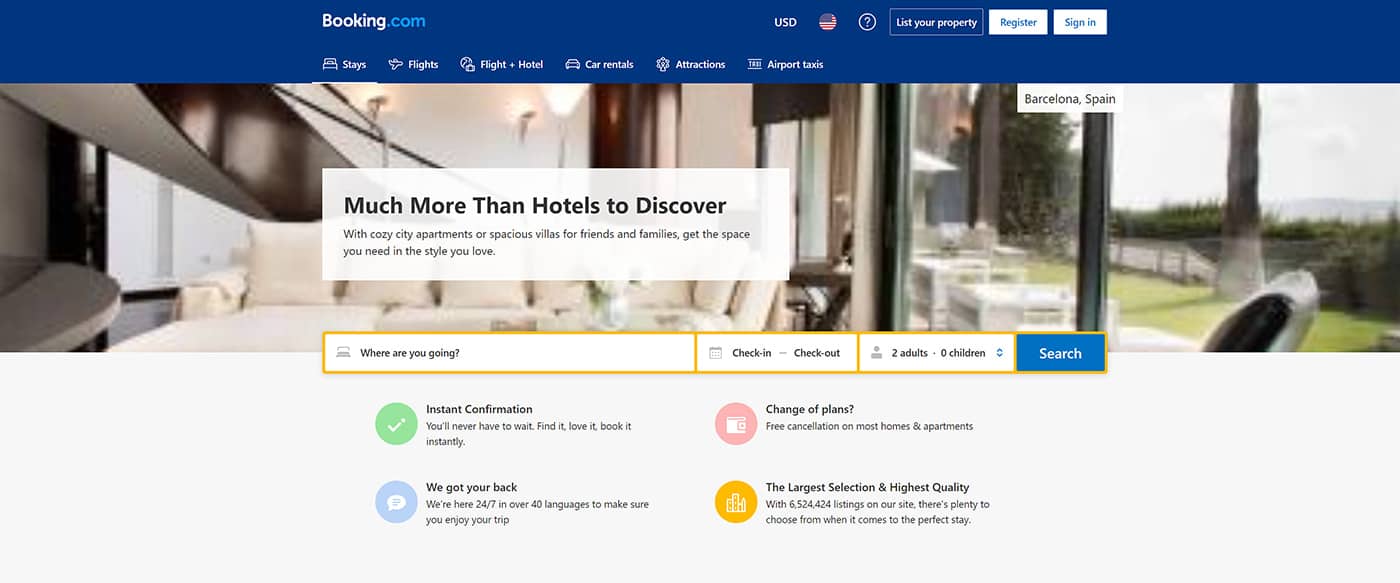 While you may know Booking.com as a site to book hotels, they actually list a variety of different properties including hostels, homestays, and apartments. When browsing, be sure to use the site's tools to filter results by exactly what you need as the sheer number of listings on Booking.com can be overwhelming. And unlike many other short-term rental sites, you can sort your results by price, from low to high, to make sure you're finding the most economical options.
Homes and Villas – Best for discerning travelers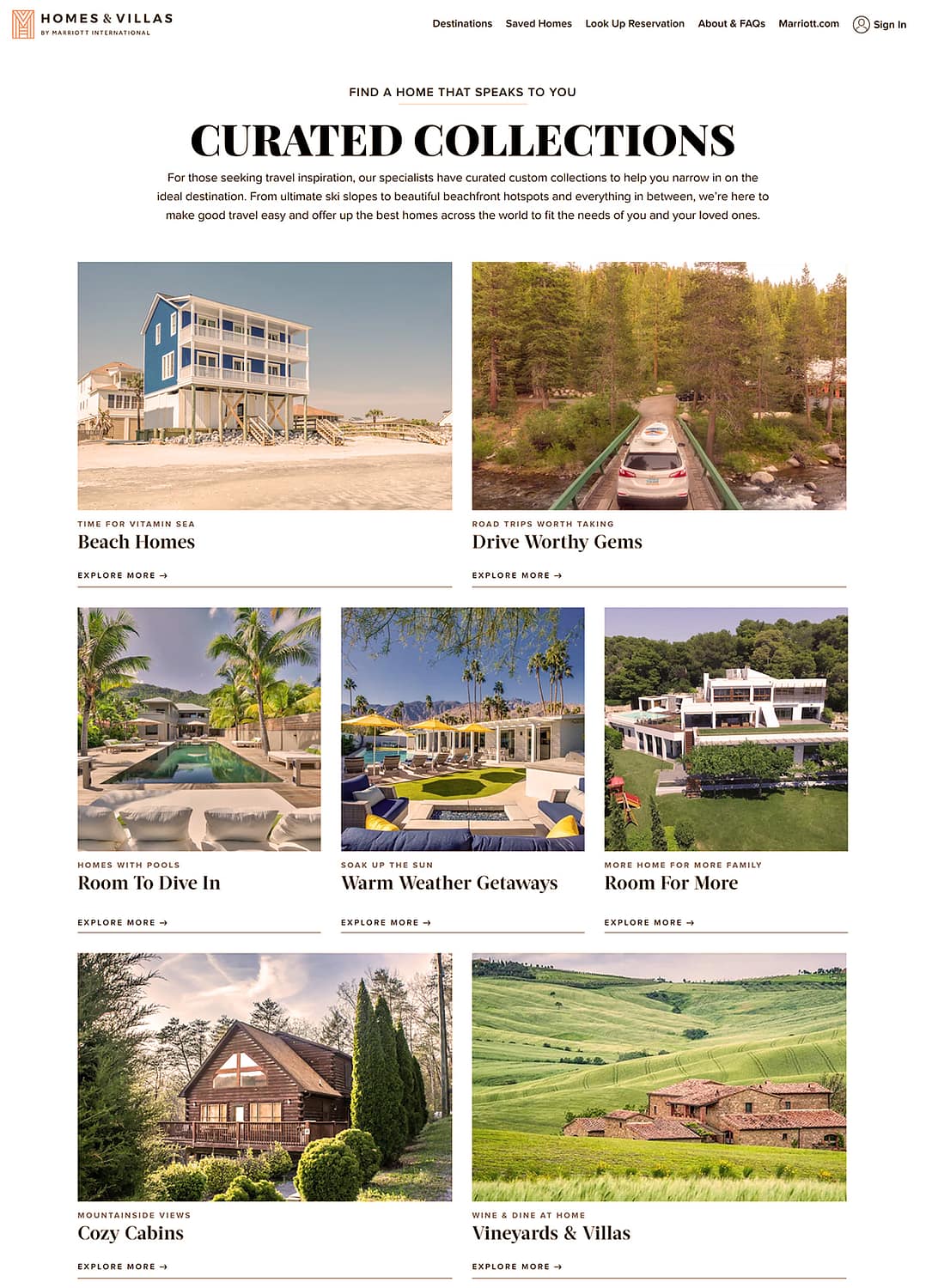 Launched in 2019 by Marriott International, Homes and Villas is a program designed to offer frequent purveyors of Marriott properties another option when it comes to booking their stay.
Frequent business travelers are known to malign the uninspiring and homogenous hotel rooms they are often relegated to. This offers an alternative, while still remaining under the umbrella of a brand that employers and business travelers alike can trust.
From sprawling beach villas to exquisite mountain chalets, every home is different and unique, as Marriott vets them carefully. And just like the brand's hotels, you can accrue and redeem points for bookings.
AirBnb – Best for experience seekers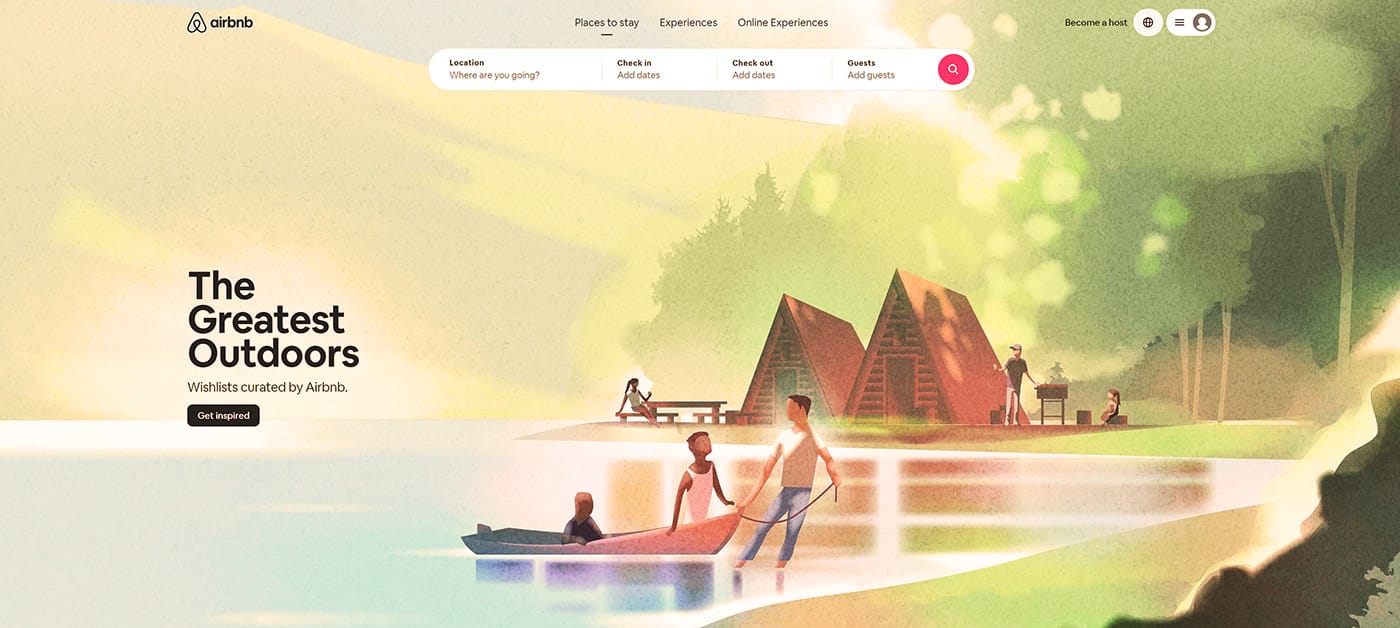 The behemoth of private holiday rental sites, Airbnb transformed our vacations as we know it. Essentially creating our current understanding of online short-term rentals, they have over 7 million listings in almost every country in the world. While in very saturated markets it may be difficult to narrow down a specific property that will suit you, the site still has basic filters so you can find properties with the amenities you'll need like wifi, laundry, or air conditioning.
Because Airbnb makes it really easy for hosts to add discounts for visitors who book a week, a month, or more at a time, you're more likely to find a great deal here more than elsewhere when booking long-term stays.
Welcome Beyond – Best for design lovers
You don't have to be an influencer to love beautifully designed spaces, so if this is high on your list of priorities when you're looking for holiday accommodations, you're going to want to check out Welcome Beyond.
Here you'll find listings with much of the same amenities on more popular vacation rental websites, but these properties are carefully curated to feature only the most meticulously crafted and diligently arranged spaces. Even if you aren't addicted to social media, you'll probably want to add at least a photo or two of a place you book here to your Instagram.
Belvilla – Best for searching properties in Benelux
Long before the ubiquitousness of the internet changed the way we book accommodations, Belvilla was already curating private holiday rentals for discerning travelers to Belgium, Luxembourg, and the Netherlands. In the 40 years they've been in business, they've expanded their offering to include other nearby regions as well, and introduced a slick and secure booking site to make reservations easy.
Properties on the site are rated with a simple star system based on the level of luxury, but the difference here is that these ratings are appointed by Belvilla's staff, not users, so you can be assured of their accuracy.
Kid and Coe – Best for bringing the kids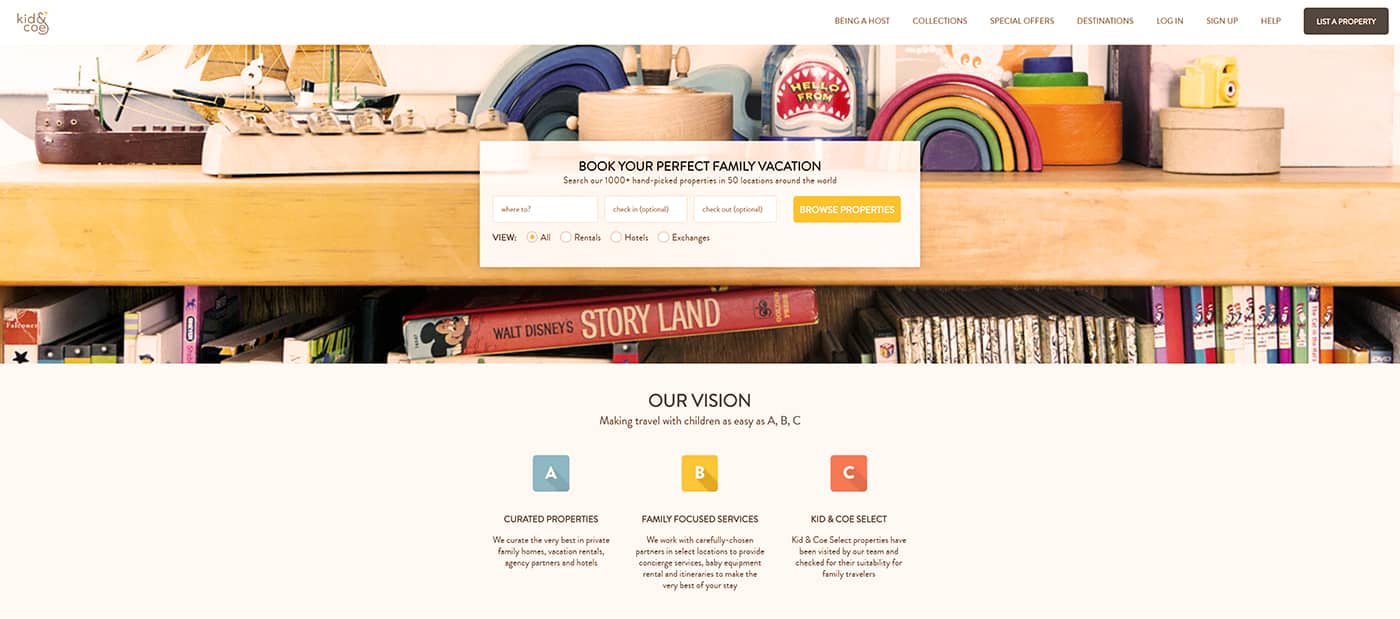 Not only does a Kid and Coe property welcome children, but their hosts also go above and beyond to make traveling with children that much easier. You'll find books, toys, and other essentials for kids already at the property when you arrive, and many hosts can arrange to have disposables like diapers, snacks, or groceries preset for you.
On the highest tier of listings, a Kid and Coe Select property has been visited and inspected by a member of their staff to assure that families will safely enjoy their trip.
Sonder – Best for contemporary tastes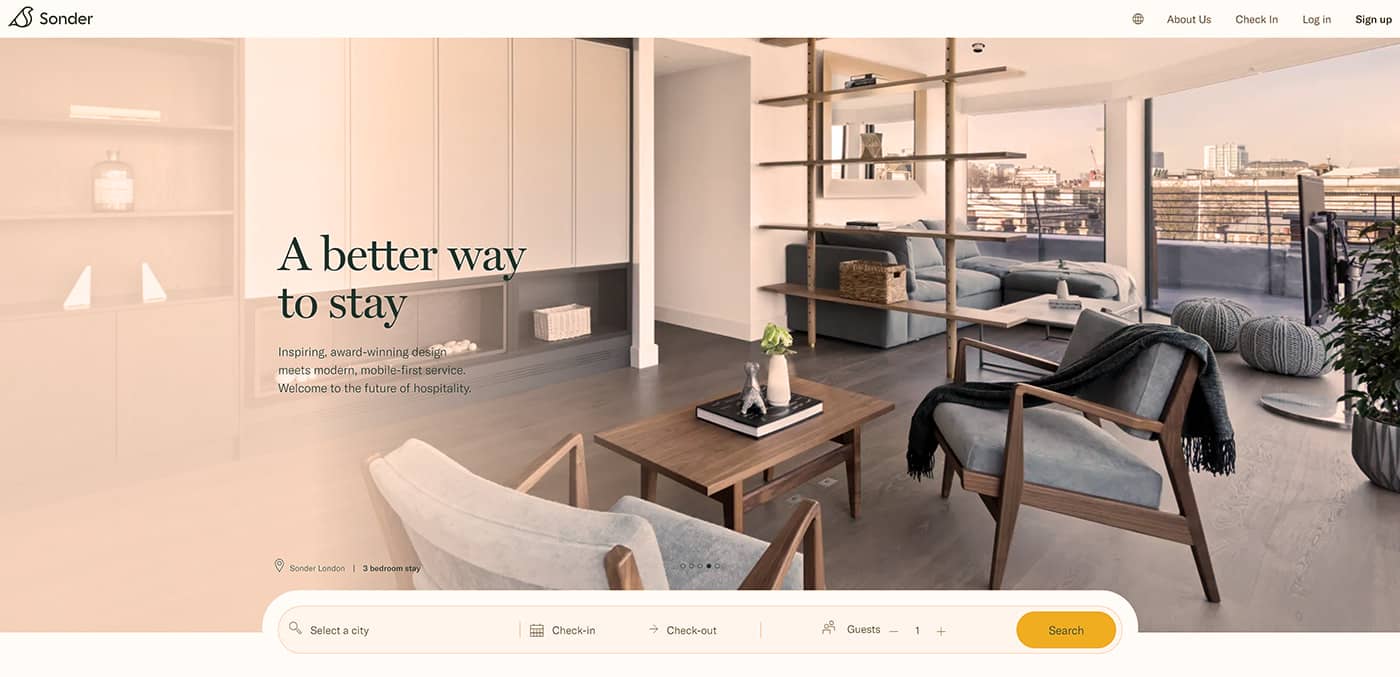 If you're the type of person to eschew aesthetics that include kitch and charm, then Sonder can definitely deliver you a perfect vacation rental. Specializing in ultra-contemporary spaces with accouterments you'd expect in a hotel, Sonder aims to blend concierge services with the current understanding we have of short-term rentals. When staying in a Sonder property, simple requests like a dinner recommendation or fresh towels can be sought right from your phone.
Sykes Cottages – Best for those who want to get away from it all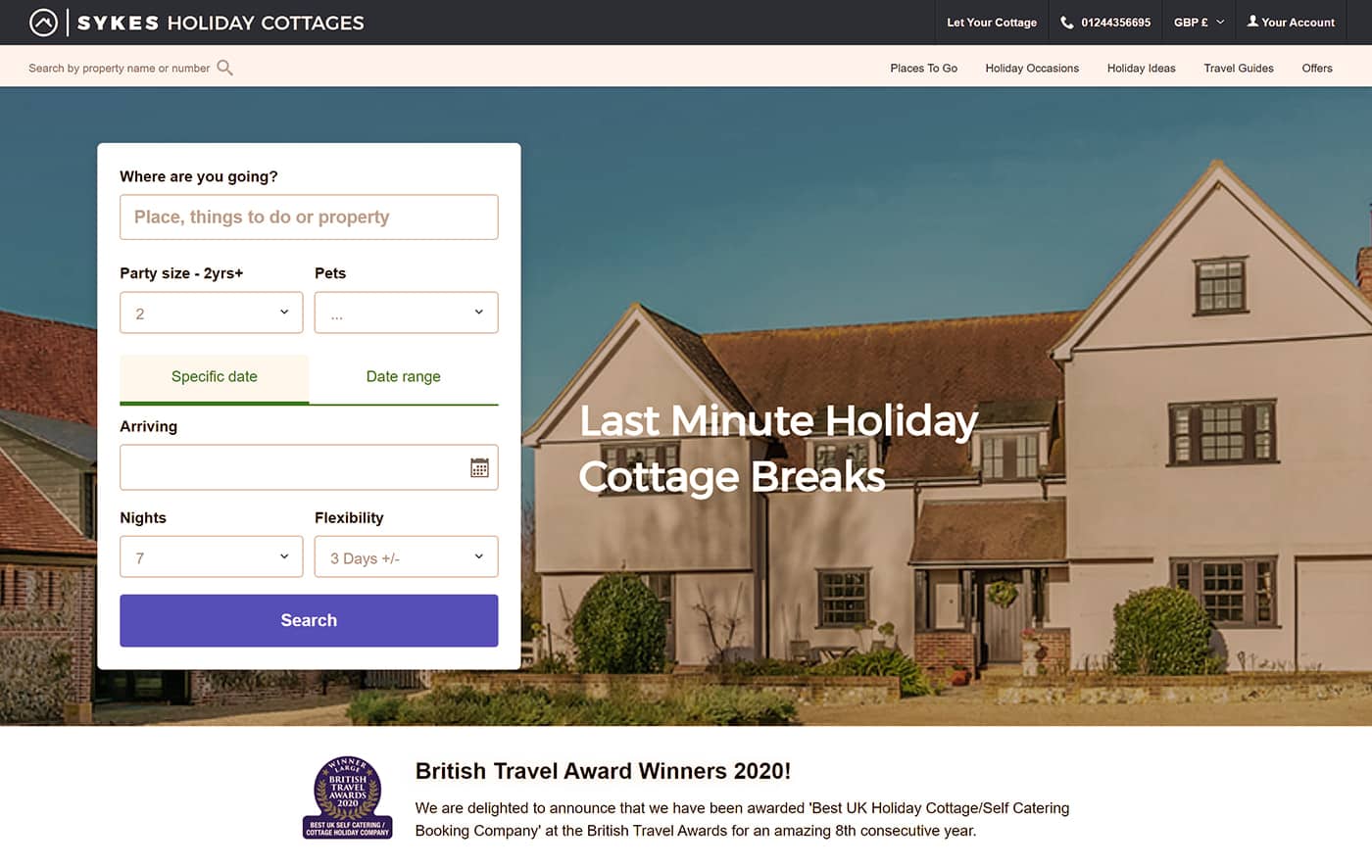 Though their listings are exclusively within the UK and Ireland, Sykes is the perfect place to search for a vacation home rental if your idea of the perfect holiday includes solitude and bucolic surroundings.
Specializing in cottages, farmhouses, and bungalows throughout the British Isles, these properties are for folks who need a break from the rigor of the city and want to escape to a simpler way of living. Many of these listings are in some of the most beautiful natural spaces in the world, so be sure to click around a bit as you may find somewhere amazing you never before thought of visiting.
ClickStay – Best for a villa holiday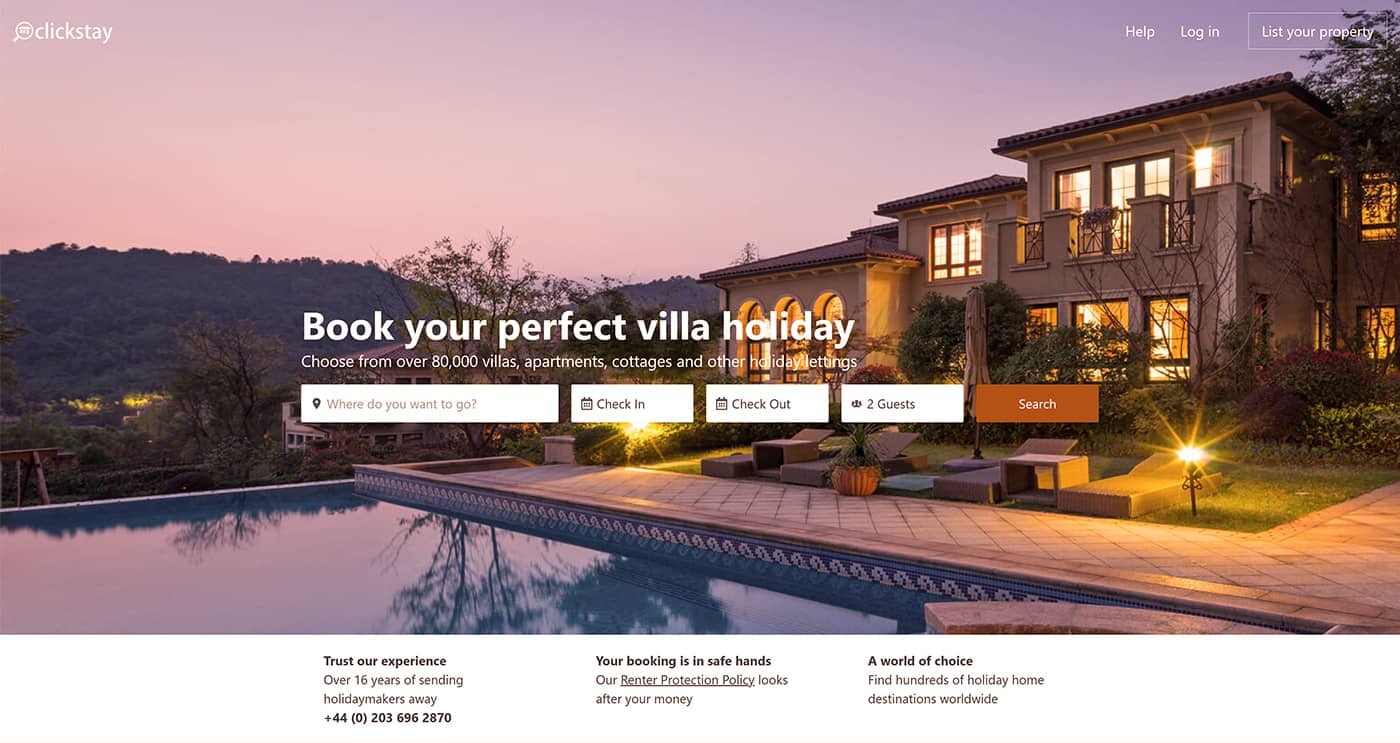 If you generally look for amenities like an infinity pool or a hot tub when you book a hotel, you're definitely going to want to check out ClickStay, where you can reserve some of the most luxurious villas in the world. Unlike a hotel, none of these properties are shared, so in addition to the luxe surroundings, you'll also have total privacy. Many of the listings are lake, river, or beachfront properties, and they frequently feature their own pool.
Oliver's Travels – Best for those who demand exclusivity
Boasting that they only list the top 2% of vacation villas in the world, Oliver's Travels hosts a curated selection of some of the most unique and stunning luxury properties, many of which aren't available to book on other sites.
Whether you prefer a cozy ski chalet, a sprawling beach house, or a medieval castle, Oliver's Travels can provide the perfect envy-inducing property. They even list a few completely private islands.
Love Home Swap – Best for a free vacation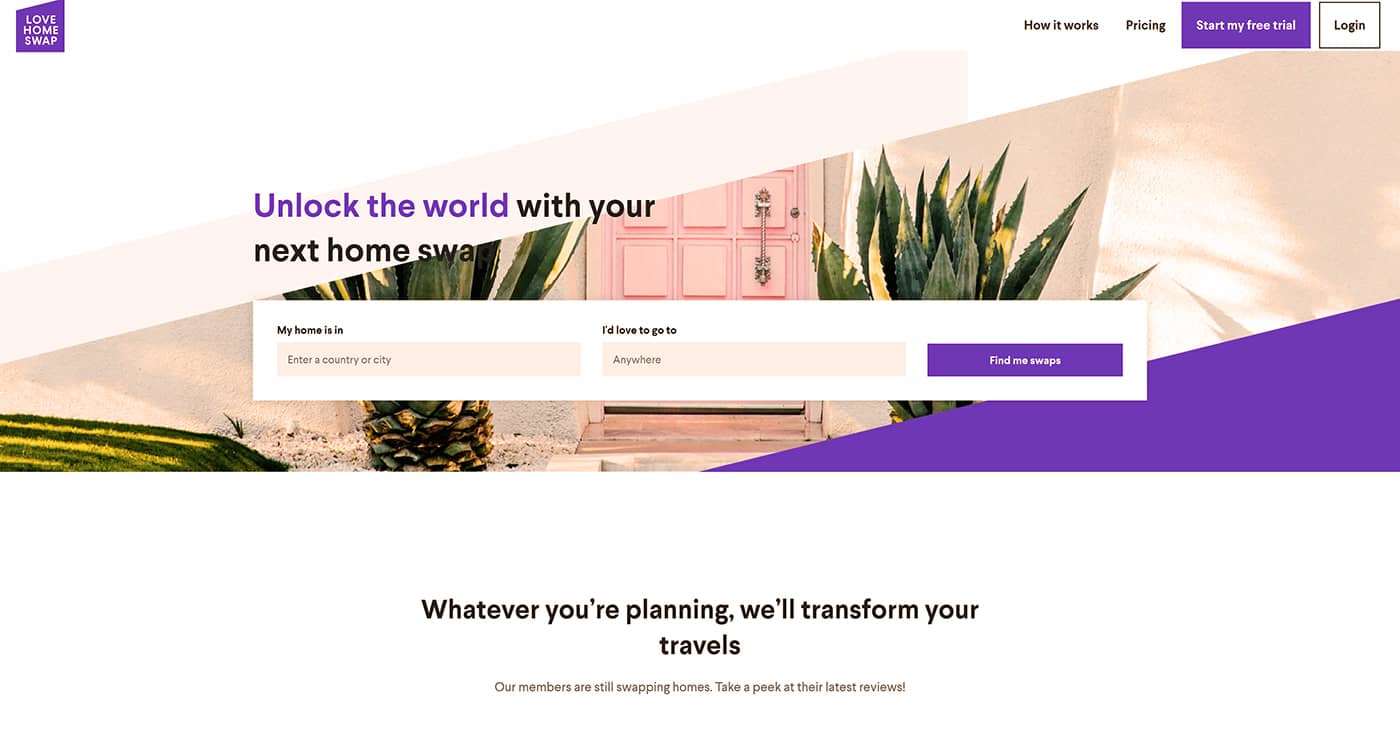 If you have ever dreamed to switch homes like Cameron Diaz and Kate Winslet in The Holiday, Love Home Swap could be a great option. Instead of merely renting out someone's private home, this site matches travelers that may be interested in trading homes for a designated amount of time. There is an annual fee to have an account on the site, but the amount of swaps you can do is unlimited and is arranged completely between other homeowners and yourself.
Top Villas – Best for those who love to swim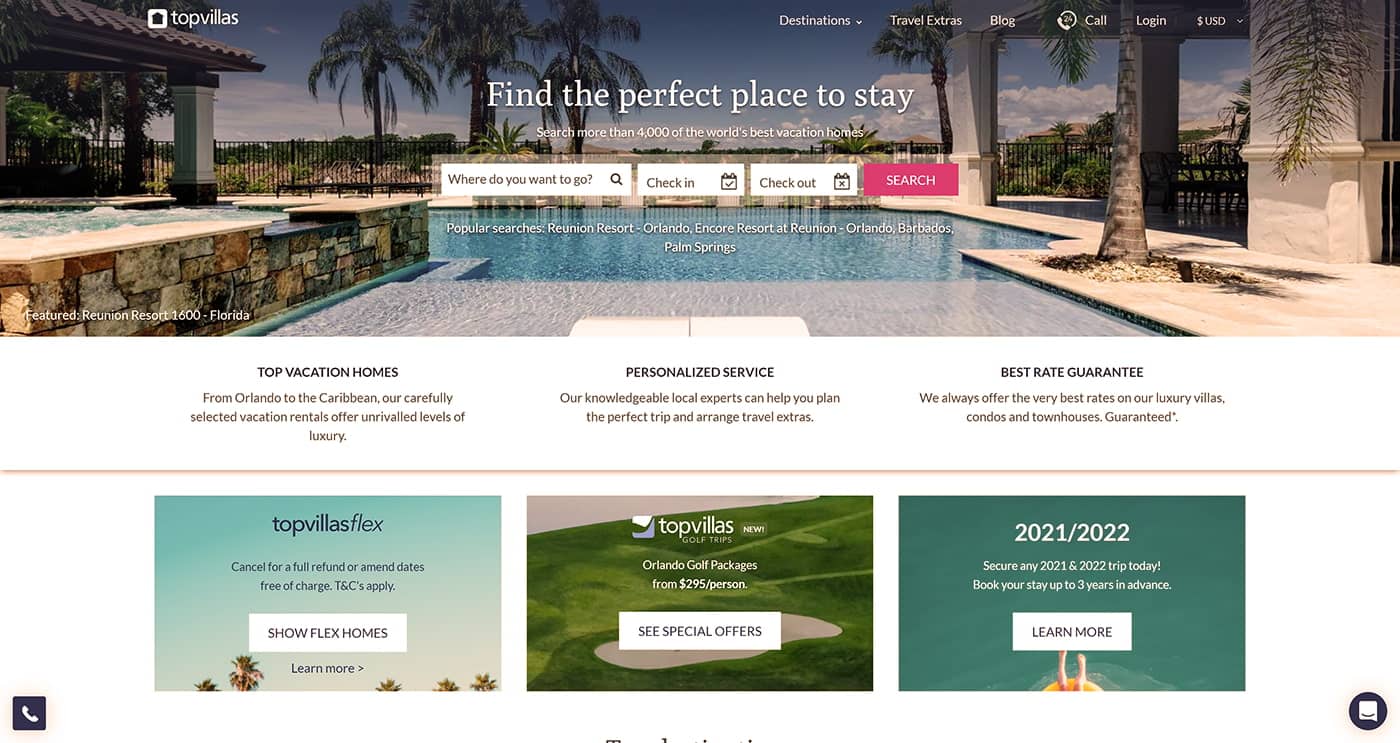 Specializing in private luxury vacation homes in warm-weather locales, Top Villas makes it easy to search by region or city. Keep in mind that most of these listings are huge – think sprawling beach complexes and mountaintop mansions – so this is definitely a good spot to book for a large group. Their properties will prove particularly fruitful if you're set on scoring a place with a pool.
E-Domizil – Best for those who hate surprises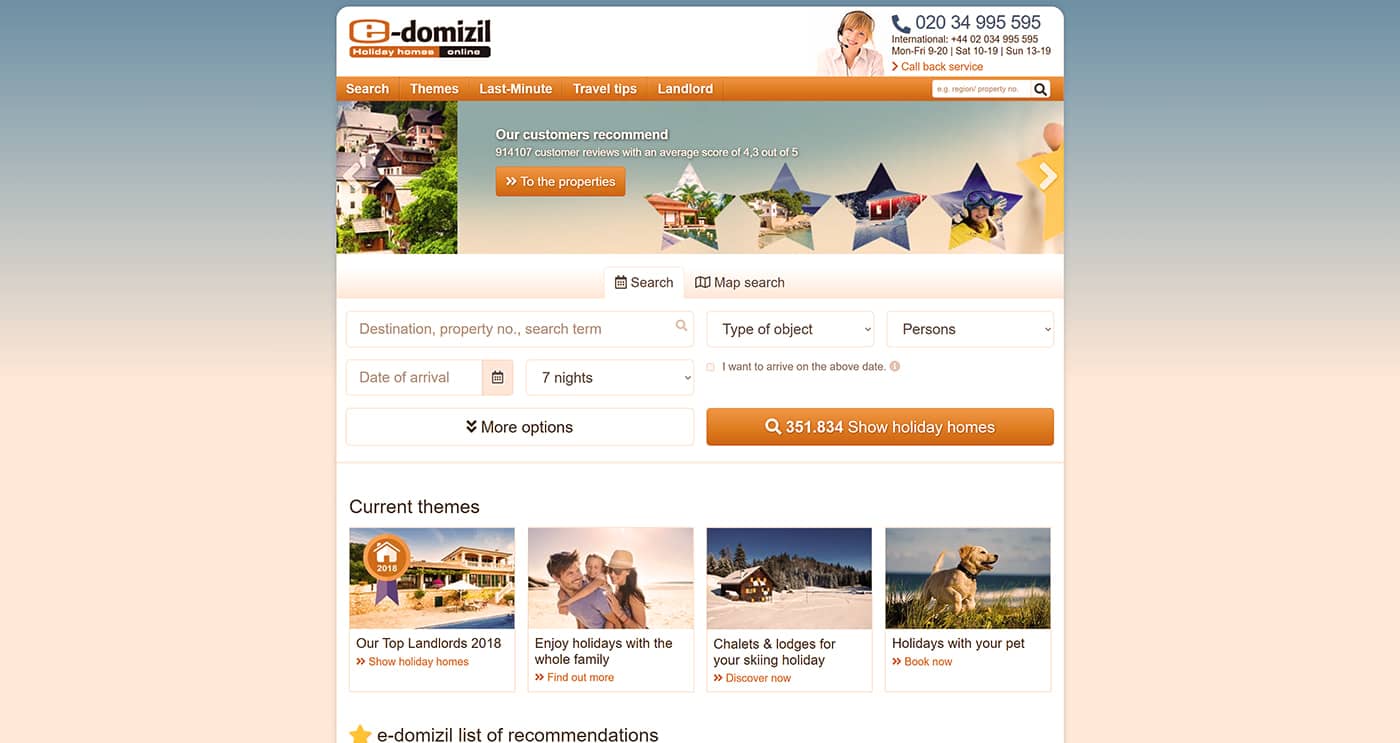 This Frankfurt-based rental company specializes in no-fuss villa and vacation rentals for people seeking efficiency above everything else. Having been in the industry longer than most, E-domizil focuses on ease of booking, check-in, and availability of accouterments in their listings. Properties on the site typically have features like keyless entry and preset amenities, so you shouldn't encounter any disappointing mishaps when you arrive.
Boutique Homes – Best for those seeking something unique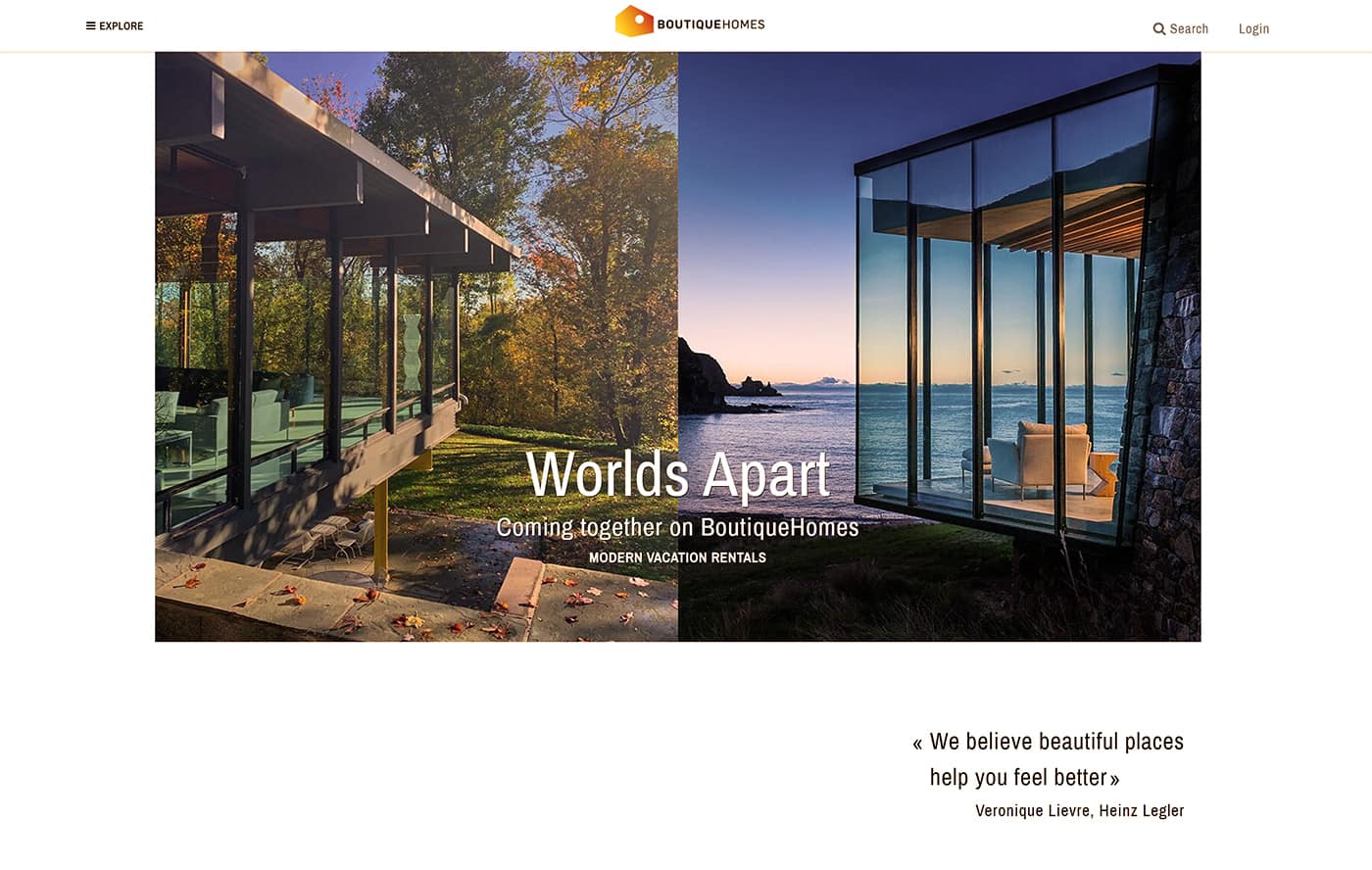 Thoughtful design, personal touches, BoutiqueHomes is for frequent travelers who are seeking something out of the ordinary. Founded by architects who are themselves travelers, they curate their selection carefully as to maintain a very particular standard across all the properties listed on the site.
Many of the listings have been personally vetted by the founders themselves, so you can be assured that when you arrive at the property, you'll get the experience you expected when you saw the photos online. Properties range from glamping sites decked with vintage trailers to stone castles to the standard – but unique – hotel room.