This post contains affiliate links, which means we may receive a small commission, at no additional cost to you, if you make a purchase through these links. See our full disclosure here.
If you've ended up here, you are probably looking to learn how to advertise your vacation rental property in the best way possible so you can maximize your profit. Short answer: online! There's no better way to reach people from all over the world than through the mighty infinite powers of the Internet. Plus, it's efficient, and you can see the results in minutes!
But choosing which holiday rental website is the best for you – especially these days, when the web abounds with websites that promise you this and that – is no easy task. No worries, I did all the research, so you don't have to.
Below you'll find the best vacation rental sites for hosts out there, as well as lots of useful information on how to advertise your property like a pro.
What you need before listing your vacation home online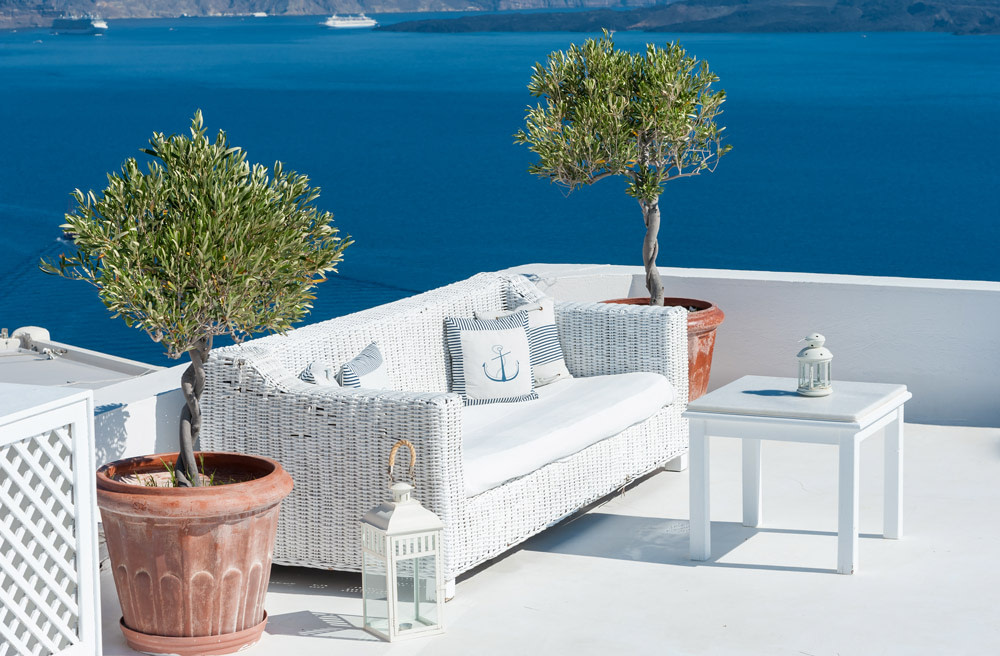 A set of high-resolution images & a video tour of the property. By far, this will be the most important step. Hire a professional to take the photos, don't make compromises, as this is a key element and can make a huge difference between you and your competitors.
Description of the property to use in the listing. Optimize the title and description of your property, and make sure they're catchy but also relevant and informative. Again, if writing is not your forte, don't hesitate to hire a professional to do it for you.
A website for your property. This is not mandatory, but preferable. You can start without one, but my recommendation is to create one along the way. More details on this further down this article.
Your rates and calendar availability. Make sure your calendar is updated in real-time, and always set your rent price considering factors like season, location, and facilities.
Before we dive in, let's have a quick look at the 3 different commission structures vacation rental sites are offering – free, paid (annual fee), and pay-per-booking (commission-based).
Commission-Based vs Annual Fee vs Free Listing
Commission-Based (pay-per-booking) – Instead of requiring an upfront fee for an annual subscription, the pay-per-booking model allows you to pay only for the bookings you receive. Studies showcase that this flexible plan works best for those who don't rent their property that often (less than 6 weeks a year). The commission varies from one website to another (3% on Airbnb to over 8% on Vrbo), and so do their services.
Annual fee (paid listings) – The advantage of this type of vacation rental website is that you don't have to pay any commissions or extra fees. An annual subscription involves one set price for unlimited inquiries and bookings for a whole year. Some of the most famous listing sites out there offer both monthly/annual subscription plans as well as a pay-per-booking option, allowing rental owners to choose what's best for them.
Free listing sites charge no fee or commission. They might not offer you the same exposure and professional tools as subscription or commission-based websites, but they are especially useful if you don't have a budget and want to start slow. Also, even if you have already listed your vacation rental on one or more popular vacation rental platforms, it never hurts to diversify your audience with a couple of adverts on some free listing sites.
Now let's have a look at the best vacation rental websites to advertise your holiday home.
Airbnb
Airbnb operates exclusively on a pay-per-booking model, and with a 3% commission fee, it has some of the lowest tariffs out there. Nevertheless, this rental marketplace is mainly popular with short stays, so if you only accept week/month-long reservations, you might want to look elsewhere.
Clickstay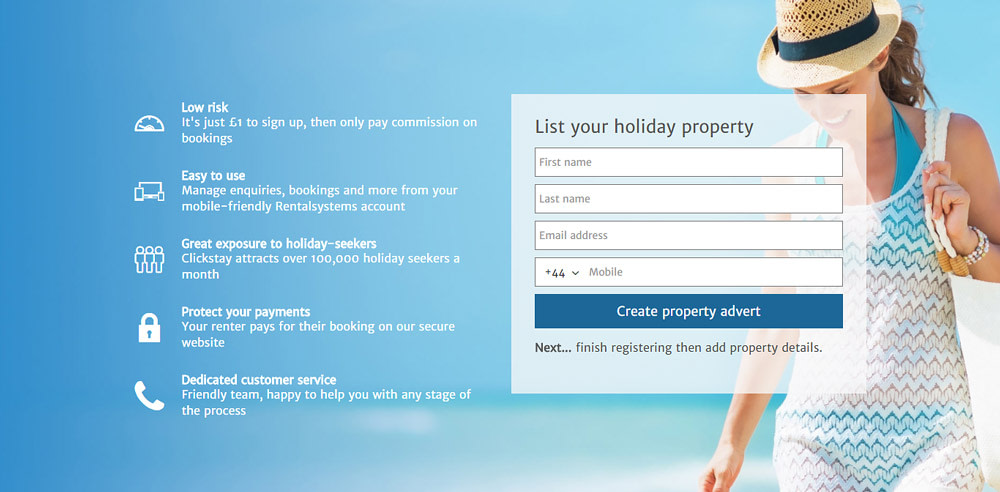 For a £1 sign-up fee and a 3% payment fee on bookings, owners can list their rental property on Clickstay. This UK-based holiday rental company gives you exposure to over 4 million people a year and comes with a sister website (Rentalsystems) to help you manage your bookings through other platforms, such as Facebook or your own website.
Wimdu
This is Europe's biggest platform for city apartments, with more than 350,000 properties in popular destinations throughout the world. Nevertheless, the site is not limited to urban flats, accepting everything from affordable beach cottages to luxury countryside villas. Listing your property on Wimdu is free, as the processing fee, which is automatically added to the price you have set, is paid by the guests.
TripAdvisor Holiday Rental Network
Advertising your property on TripAdvisor will automatically appear on its full network of vacation rental sites, including Holiday Lettings, FlipKey, and Niumba. This not only saves you tons of time, money, and energy but also gives you exposure to over 455 million holidaymakers that visit the world's largest travel website monthly. And the best part, publishing your listing is free. They only charge a low 3% booking fee per confirmed booking, deducted from your guests' payment.
Booking.com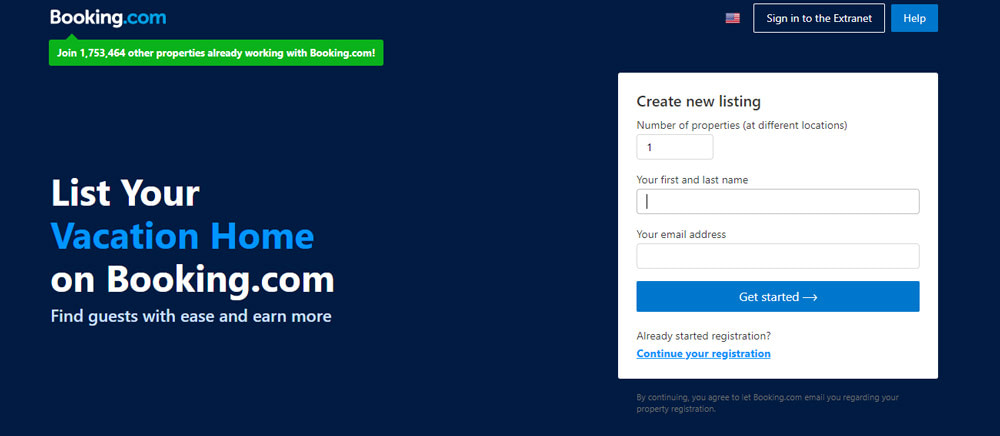 Listing your vacation rental on the world's No.1 accommodation site comes with unparalleled benefits, including zero subscription costs, instant booking confirmation, and access to a vast global audience of around 480 million. Owners pay commission (somewhere between 10-25%) on a pay-per-booking basis.
Vrbo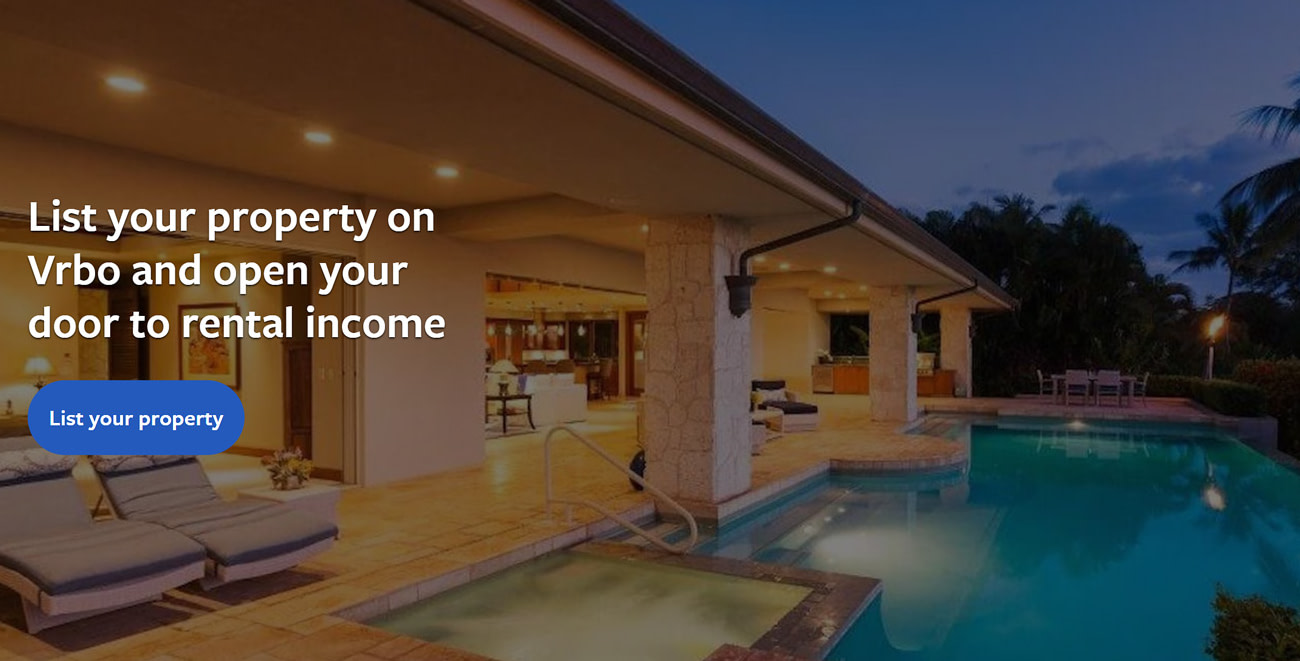 Vrbo is the world's largest and most reputed vacation rental marketplace – a network of 5 international sites attracting millions of visits per month. Vrbo, Abritel.fr, FeWo-direkt.de, Bookabach.co.nz, and Stayz.com.au are all members of the Expedia family.
Their $499 USD annual subscription might seem pricey, but it includes unlimited bookings for a year, fantastic exposure on their top sites across the world, as well as access to a set of tools that make self-managing your property a breeze. Alternatively, homeowners can opt for a pay-per-booking listing, which requires no upfront fee, just a commission starting at 5% per booking.
TheHolidayLet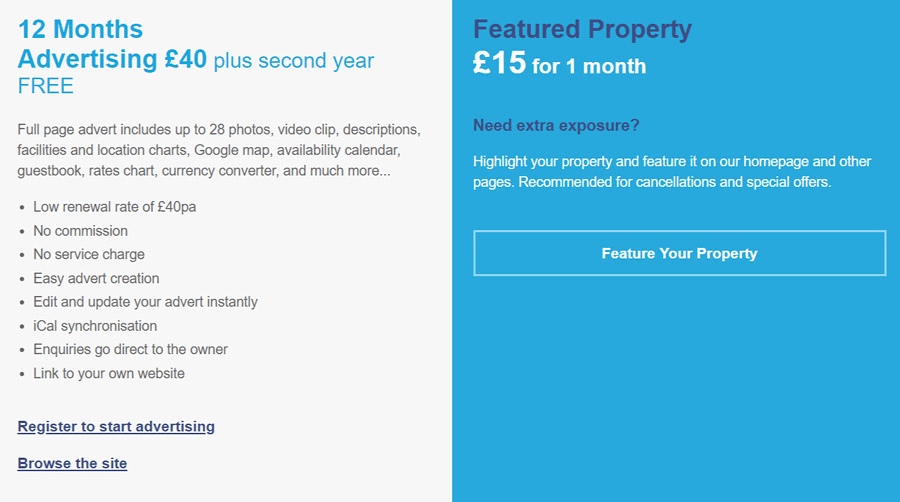 For £40 a year, you can advertise your vacation home on TheHolidayLet and get the second year free. There are no commissions or other service fees involved. Among others, a full-page advert allows you to link to your website, upload up to 28 images, and display seasonal prices for your holiday home. All inquiries will be sent to your email address so you can reply directly. For extra exposure, you can also feature your advert on the homepage for a fee of £15 a month.
Tripz

With a $29 monthly subscription on Tripz.com, you have total control over the booking process. Unlike other sites, this up-and-coming advertising platform encourages open communication between travelers and owners and doesn't charge any other unnecessary fees. They have over 60,000 properties throughout the world, focusing mainly on the US.
Tourist-Paradise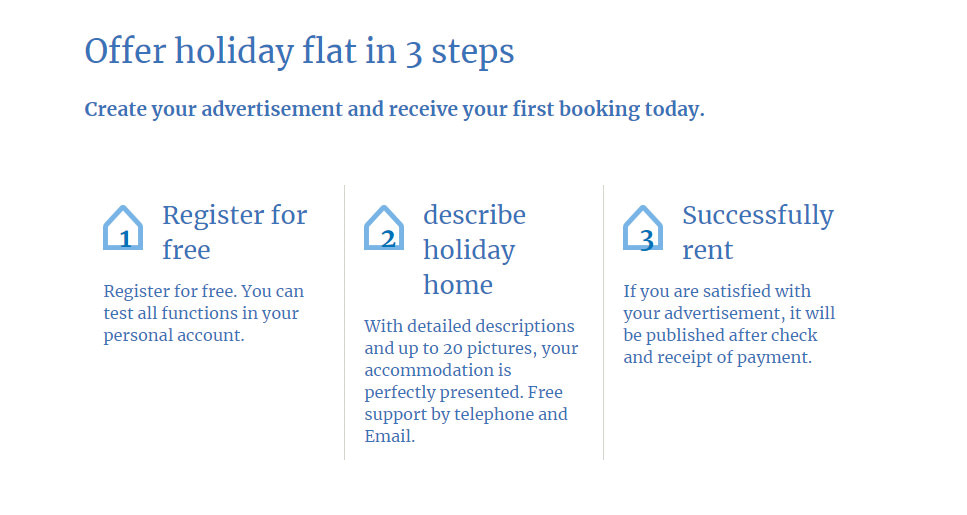 Based in Germany, Tourist-Paradise has been connecting rental owners with holidaymakers for more than 17 years. In order to advertise your vacation home here, you will be required to pay a low monthly fee of 10 € + VAT. This not only gives you access to the site's 15 million+ annual visitors but also to 8 other international sites in 8 different languages. The company specializes in affordable holiday homes & apartments in Europe.
TravelStaytion
Founded in 2013, TravelStaytion describes itself as "an online platform for professionally managed holiday and short-term-let rentals". Listing one or more properties is completely free and comes with all the tools you need to increase your vacation rental occupancy and revenue. Expect 24/7 customer care support, a secure payment system, and exposure to over 25,000 travelers from around the world.
Free Rentals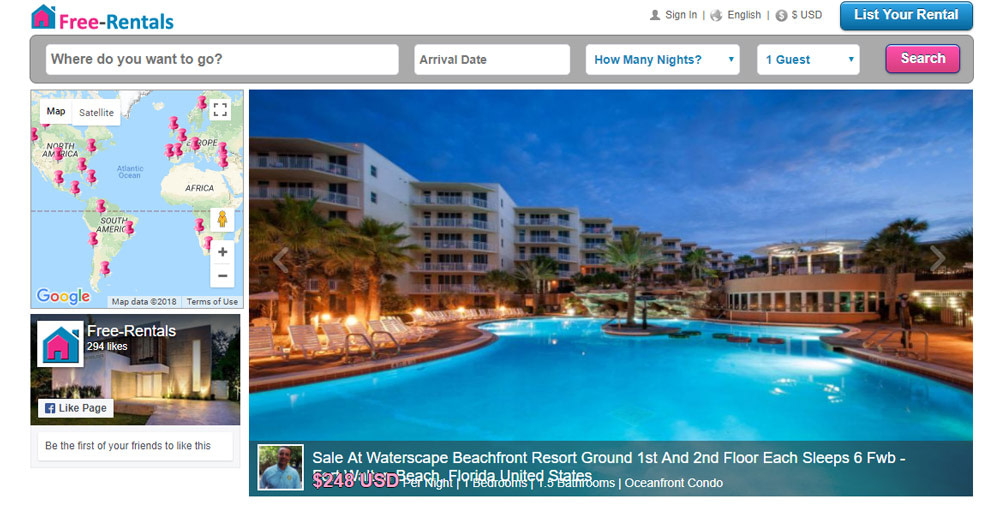 True to its name, Free Rentals lets vacation rental homeowners expose and promote their properties to a worldwide base of customers without charge. Based in Phuket, Thailand, this short-term rental property listing hub boasts thousands of accommodations located in over 120 countries around the globe. And the best part – it enables free, direct communication between proprietors and holidaymakers, which is pretty rare in this industry.
Your own website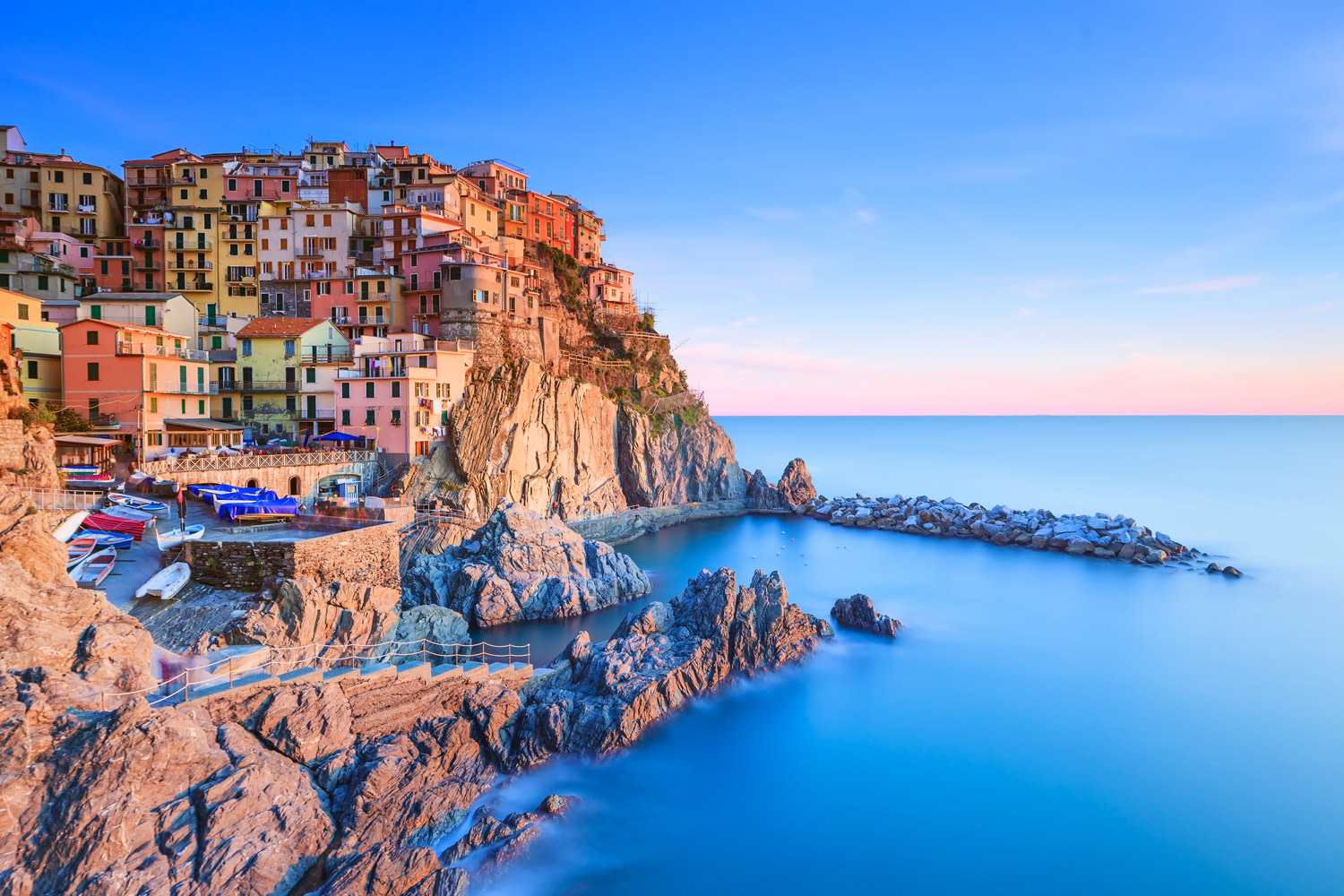 There are countless advantages of having your own website for the property you own/manage. This will not only help you look professional and establish trust & credibility with the audience you're targeting, but it will also boost the number of bookings, thus increasing your profit.
Additionally, you can use analytics to track useful details about your site's visitors. For example, you can see from which countries you have the most visitors and how they ended up on your site, and then use this in your future marketing strategies.
These days it's pretty easy to create a website on your own, even a professional one. Here's the best and simplest solution: Squarespace. It's free for 14 days; after that, I would suggest you pick the Business plan, which includes advanced website analytics.
Create an account, follow this tutorial, and that's pretty much it!
This platform is super easy to use and provides all the tools you need to create a good-looking, high-quality, mobile-optimized website in under an hour.
A Facebook page doesn't hurt either, but if you're serious about renting out your property, you need a website.
Other honorable websites to try:
Other things to consider
Be active on social media
Use a newsletter to keep your clients updated with your latest special offers
Respond immediately to any inquiry
Ask for reviews from your clients. People love to see how others have experienced your property
Always keep the calendar and the rates updated
Try other marketing alternatives (classified ads, local newspaper ads, Facebook groups)
Advertise the property on local websites
Work with an agency that can do all this for you
This pretty much sums it up. Weigh up the pros and cons of each platform before deciding where to list your rental property. If you have any questions/suggestions, please let me know in the comments section below.