Air guitars, Golden Retrievers, death – whatever floats your boat, there's a festival for it in Europe.
Add a splash of excitement to your travels with these weird and wonderful events, where participants throw food at each other, jump over babies, perform at imaginary instruments, compete in Olympic games plastered in mud, or play dead at their own fake funerals.
From dancing soaked in red wine in Spain to floating down a river while getting drunk in Finland, here are Europe's most unique and unusual festivals:
Running of the Bulls, Pamplona, Spain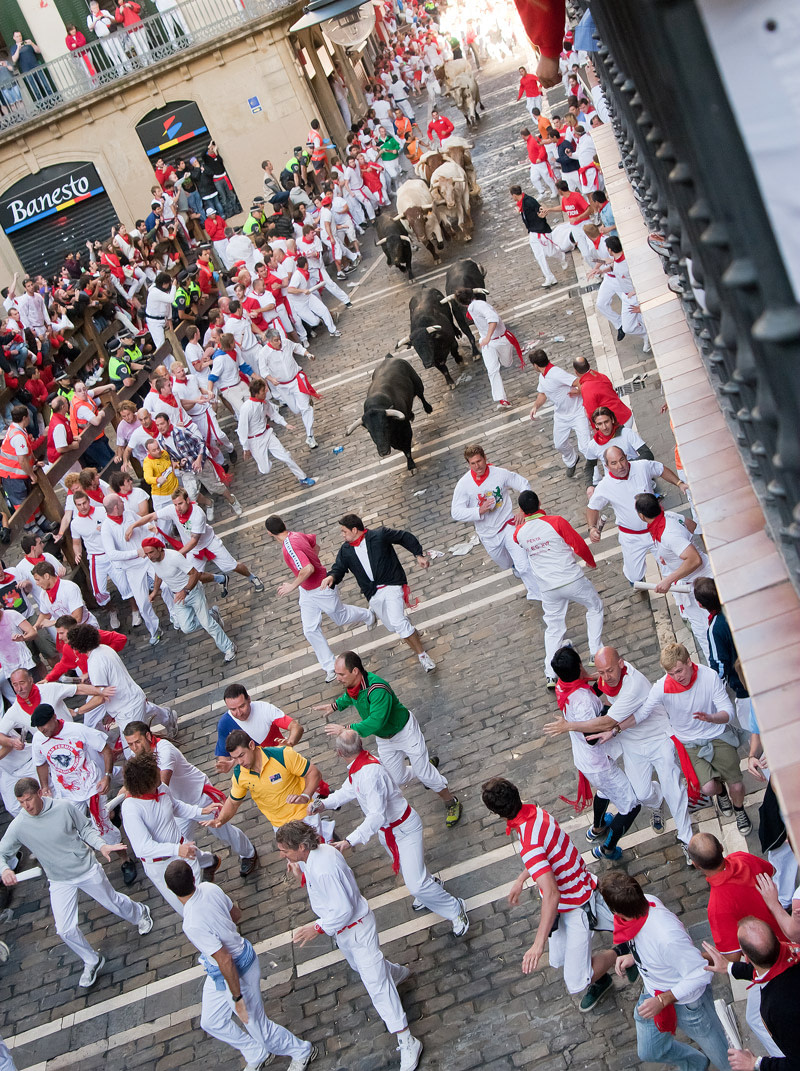 An intrinsic part of Pamplona's annual Fiesta de San Fermin, the Running of the Bulls sees hundreds of adrenaline-seekers from all over the world running in front of six wild, powerful bulls (plus six steers) through the city's old, narrow streets. The festival runs for nine days, from July 6 through 14, and the raucous event takes place at 8 a.m. every morning.
From all of Spain's crazy festivals, this one is perhaps the most controversial, and famous – thanks partly to Ernest Hemingway' book The Sun Also Rises.
Battle of the Oranges, Ivrea, Italy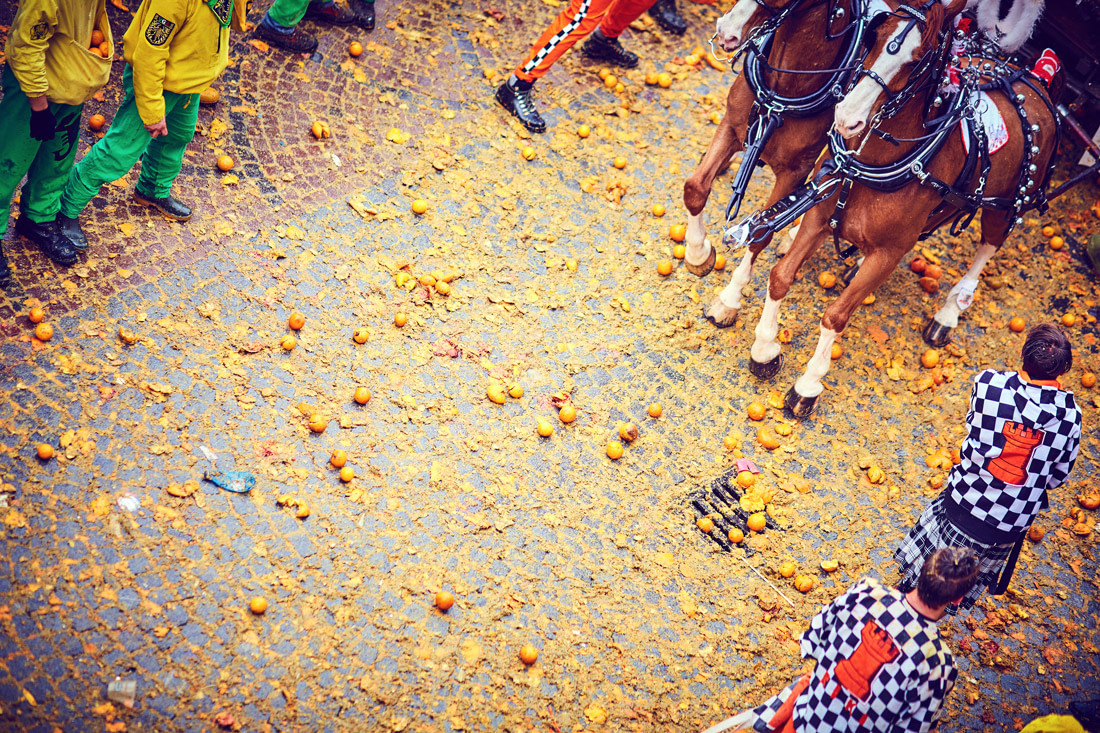 Each year, in the days preceding Shrove Tuesday, the UNESCO-listed Italian town of Ivrea turns into a citrus-strewn battlefield where participants launch 600,000 kg of oranges at one another as part of the city's Historic Carnival.
Steeped in history, the Battle of the Oranges aims to recreate a 12th-century combat between the locals and the Royal Napoleonic troops, with 9 teams of aranceri (orange throwers) on foot fighting against 40 aranceri carri da getto (orange throwers in carts). This symbolic orange war is the largest food fight in Italy and one of its most unique events.
Air Guitar World Championship, Oulu, Finland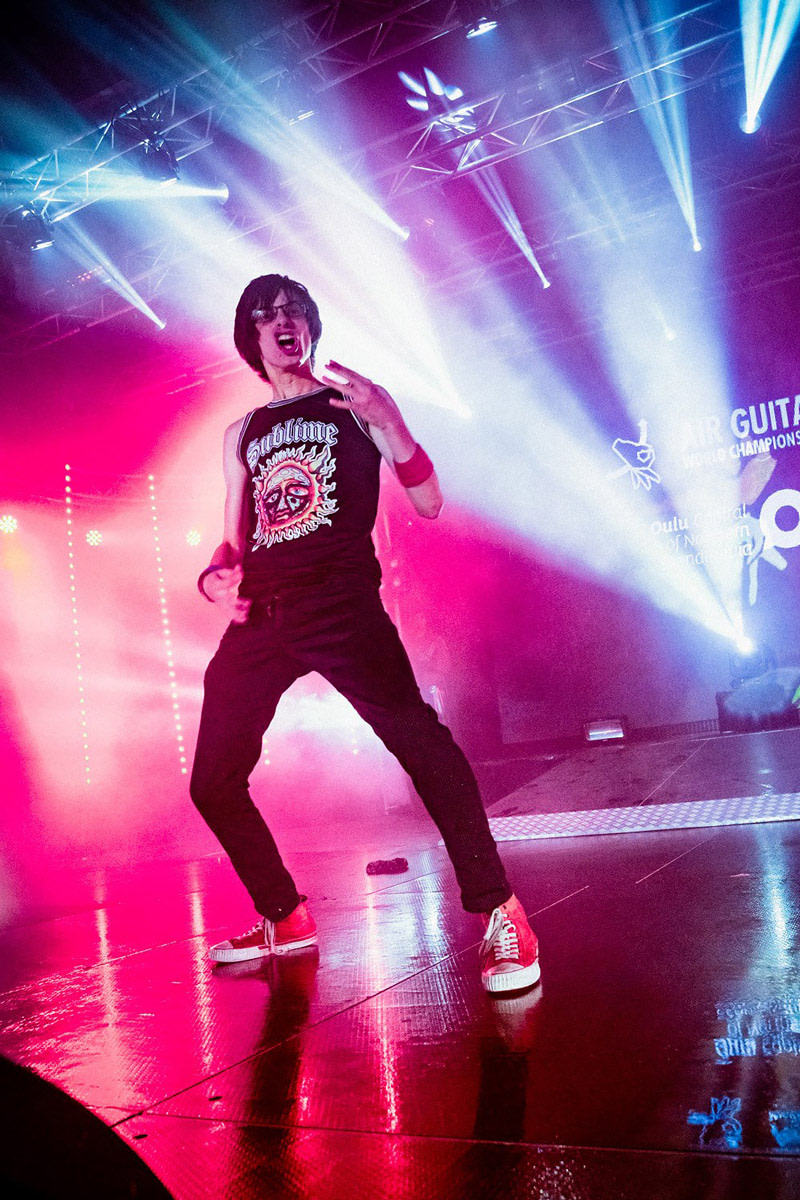 Every August, masters of invisible instruments from all over the planet flock to Northern Finland to take the stage by storm during the Air Guitar World Championship. Held together with the Oulu Music Video Festival, the one-of-a-kind competition dates back to 1996 and aims to promote world peace through showmanship.
Kettlewell Scarecrow Festival, UK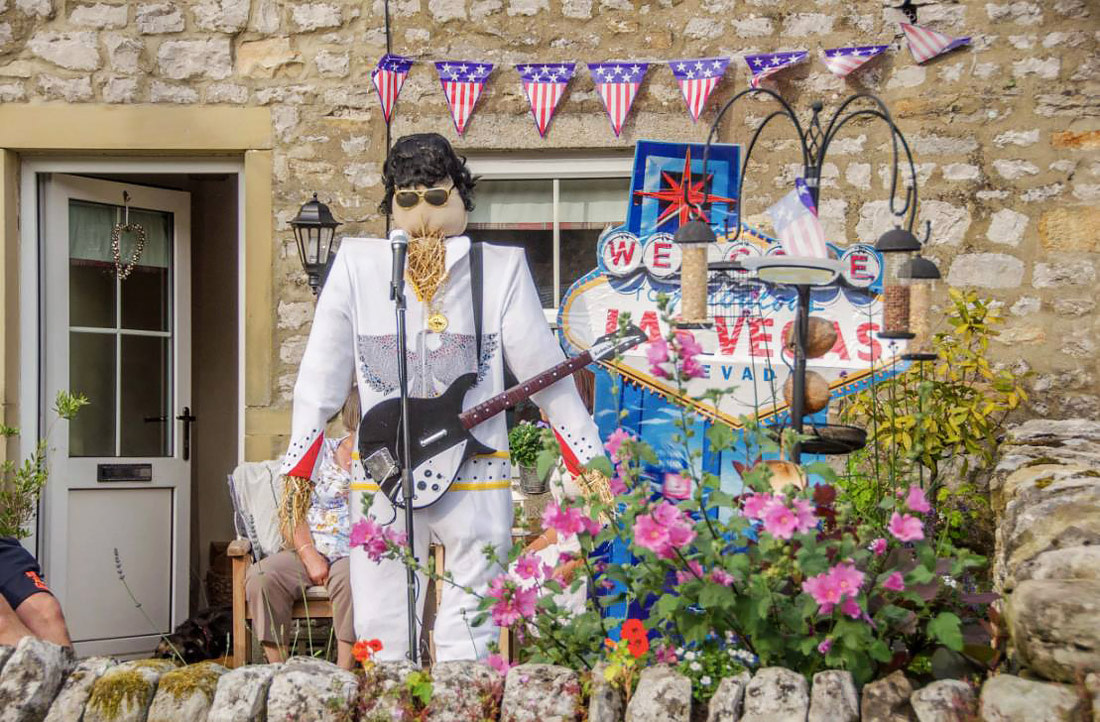 Established 20 years ago, Kettlewell Scarecrow Festival is one of the best and biggest in the UK. For two weeks in August, the idyllic Yorkshire Dale village comes to life with hundreds of whimsical straw-stuffed mannequins, some of them resembling familiar characters like the Duke and Duchess of Cambridge. The whole community partakes in the creative nine-day celebration, whose main purpose is to raise money for the local school, the village hall, and the church.
La Tomatina, Buñol, Spain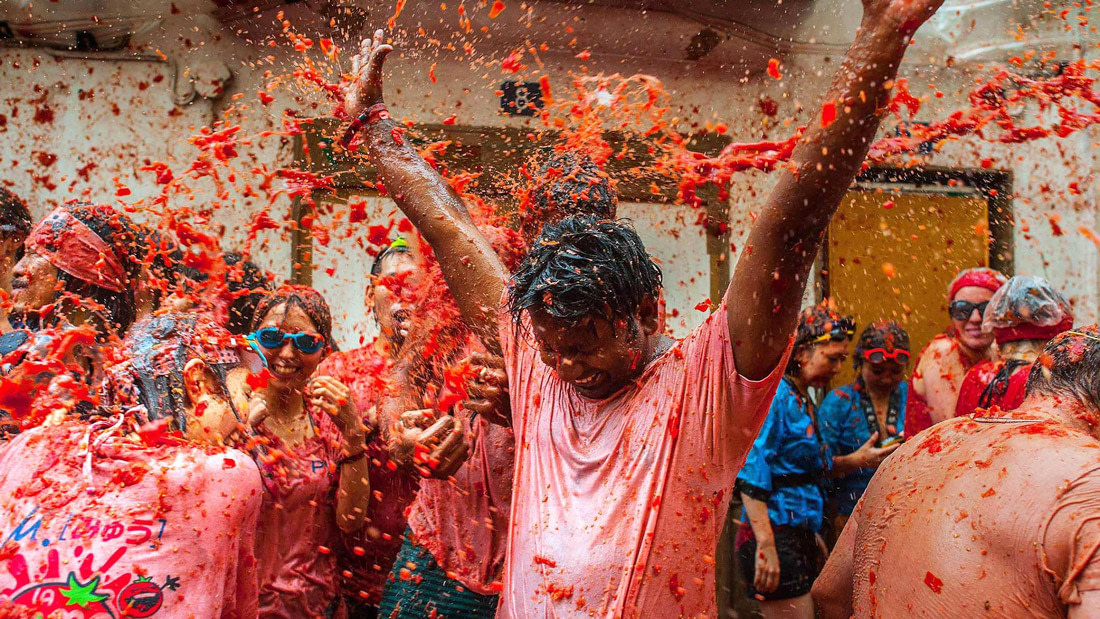 Attending La Tomatina, the world's largest food fight taking place each summer in Buñol, Spain, is a once-in-a-lifetime experience. In the last Wednesday of August, over 20,000 revelers from all over the world gather in the tiny Valencian town to throw tons of over-ripe tomatoes from Extremadura at each other in one epic battle. The messy, peculiar event lasts only one hour, but the week leading to it is filled with music, parades, fireworks, and paella cooking contests.
World Bodypainting Festival, Klagenfurt, Austria
Magical shows, international DJs, and mind-blowing body art make this event one of Austria's most striking festivals. Already in its 21st year, the World Bodypainting Festival celebrates visual culture through creative make-up, otherworldly costumes, and dazzling paintings, bringing over 300 artist teams together with approximately 30,000 spectators to the southern Austrian city of Klagenfurt.
Aespia, England
One of the best alternative festivals in the UK, Aespia is a wonderfully weird 24-hour celebration of interactive art and escapism held in a secret woodland location near London. Bring your own camping equipment or stay in one of the fully furnished Luxury Bell Tents available and immerse yourself into a multi-dimensional canvas brimming with original art, captivating music, and creative, like-minded individuals.
The fairground is divided into 3 different worlds, offering everything from spontaneous performances to dreamy installations hidden amidst the trees.
Busójárás, Mohács, Hungary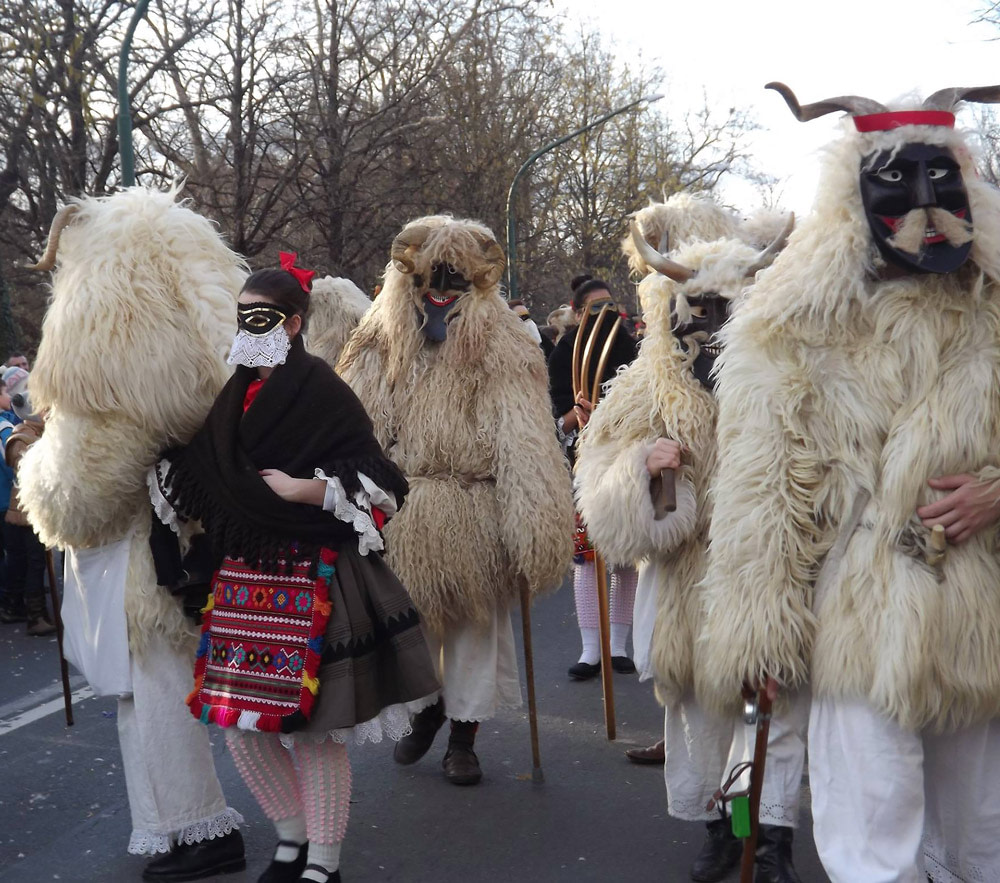 A mix of pagan rituals, folk dancing, and demonic masks, Busójárás is Hungary's wildest festival. The rowdy carnival is held in February in the small town of Mohács to scare off the last days of winter, but it's also a celebration of life for the local Croatian minority (Šokci).
In reminiscence of the 16th century Battle of Mohacs, hundreds of busós – townsmen dressed as grotesque monsters – arrive in rowboats on the Danube and then march through the streets in horse-drawn carriages. In addition to the main parade, there are various themed activities to partake in, as well as plenty of spiced wine and pálinka (traditional fruit brandy) to heat up those chilly days.
La Batalla del Vino, La Rioja, Spain
Locally known as La Batalla del Vino de Haro, this wine fight in La Rioja region of Northern Spain involves thousands of all-white wearing locals and tourists tossing delicious vino tinto on each other using buckets, bottles, or water pistols. Honoring San Pedro, this one-week fiesta of music and wine drinking culminates with a terrific wine battle on a hill outside the small town of Haro, in the morning of June 29.
Golden Retriever Festival, Scotland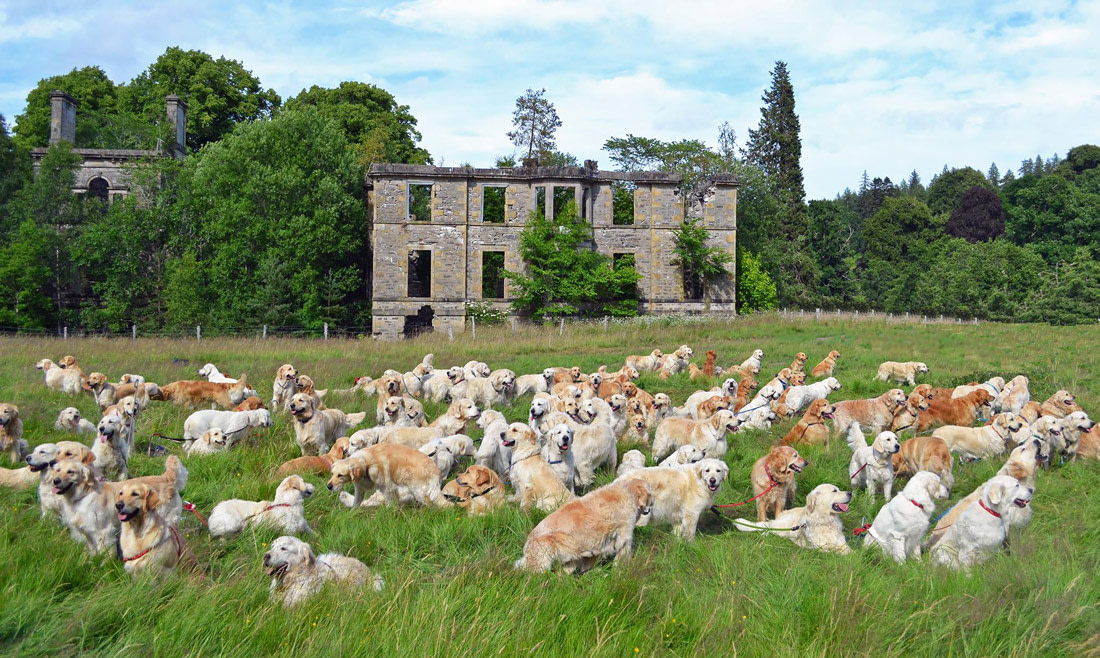 Celebrating all things Golden Retriever, the Guisachan Gathering is the cutest festival ever! The week-long event is held by the Golden Retriever Club of Scotland in Tomich – the breed's ancestral birthplace, and gathers hundreds of adorable pups (and their owners) from around the world each year. Expect a dog show, a torchlight procession, a formal dinner dance, as well as lots of fun games and contests.
Olney Pancake Race, Buckinghamshire, England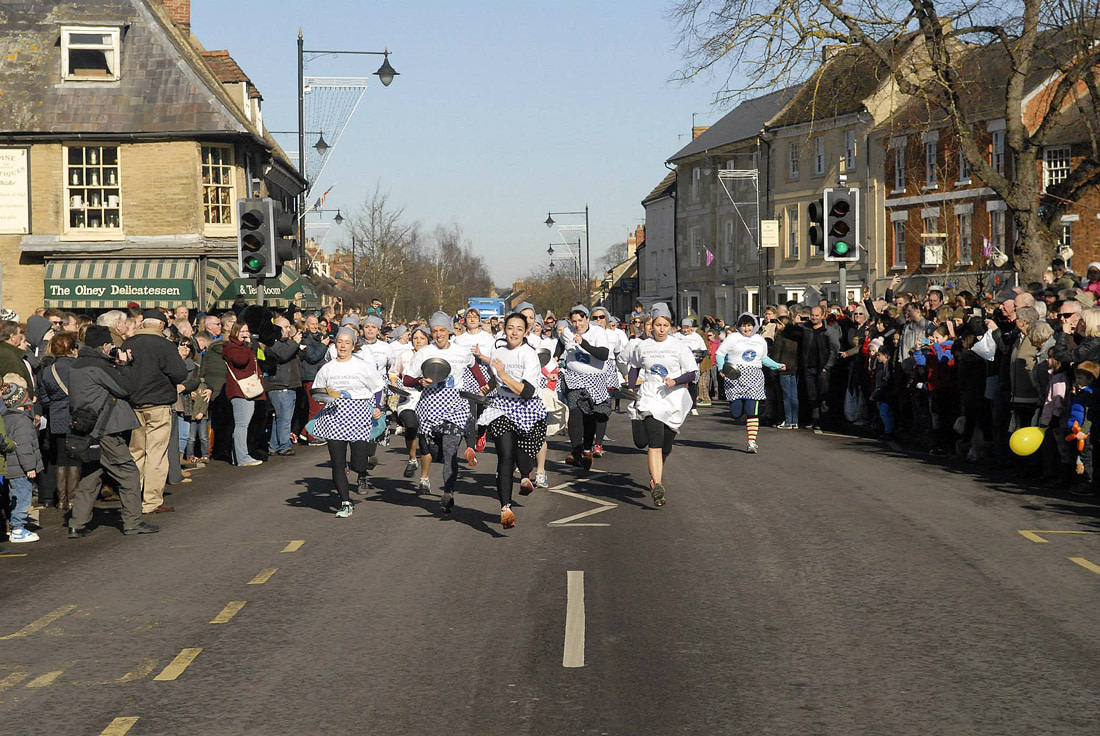 A 550-year-old tradition, this food-themed competition in Buckinghamshire is thought to be the world's oldest pancake race. Every year on Shrove Tuesday, local ladies dressed as traditional housewives run a distance of 415 yards from the Olney Market Place to the Parish Church while flipping a pancake in a frying pan. Any woman over the age of 18 who has lived in town for more than 3 months can compete in the Olney Pancake Race.
El Colacho, Castrillo de Murcia, Spain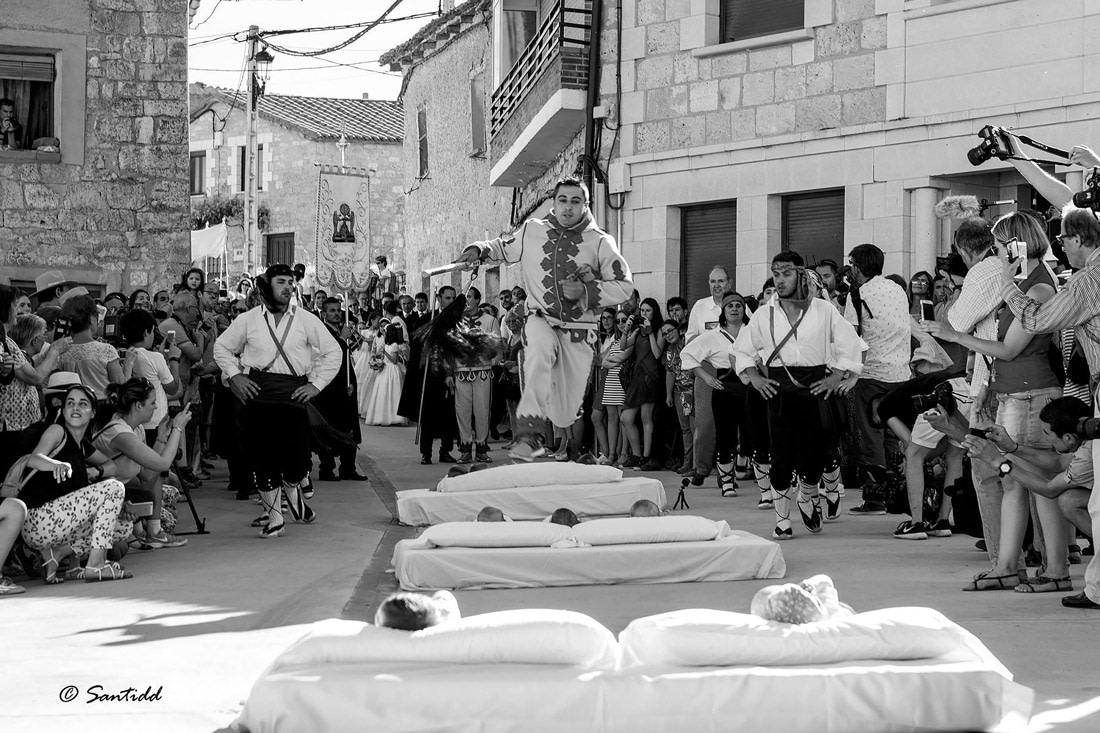 Although dating back to the 17th century, Spain's unusual baby jumping festival is still a terrifying sight for the rows of spectators lining the streets of Castrillo de Murcia during the Feast of Corpus Christi.
Known as El Colacho, the bizarre ritual is a sort of baptism or exorcism, in which men dressed as the devil leap over babies laid on mattresses in the middle of the street in order to cleanse them of sins and protect them against evil spirits. No injuries have ever been reported, but the unorthodox practice remains a matter of debate within the Catholic Church.
Wattolümpiade (Mud Olympics), Brunsbüttel, Germany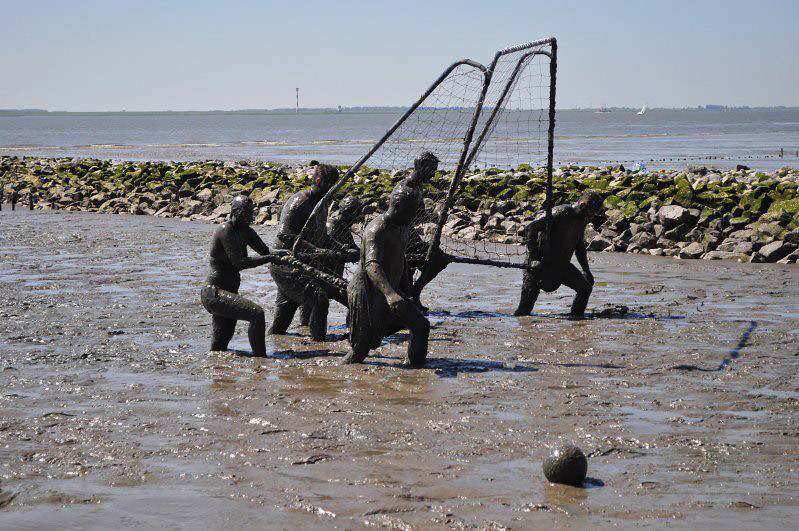 True to its name, the Mud Olympics is a fun, messy affair held each July along the banks of the Elbe River, in the northern German city of Brunsbüttel. Already in its 13th year, the Wattolümpiade, how it is locally called, includes games such as mud football, mud volleyball, or sledge racing – all dedicated to help cancer patients in the Schleswig-Holstein area.
La Pourcailhade (Festival of the Pig), Trie-sur-Baise, France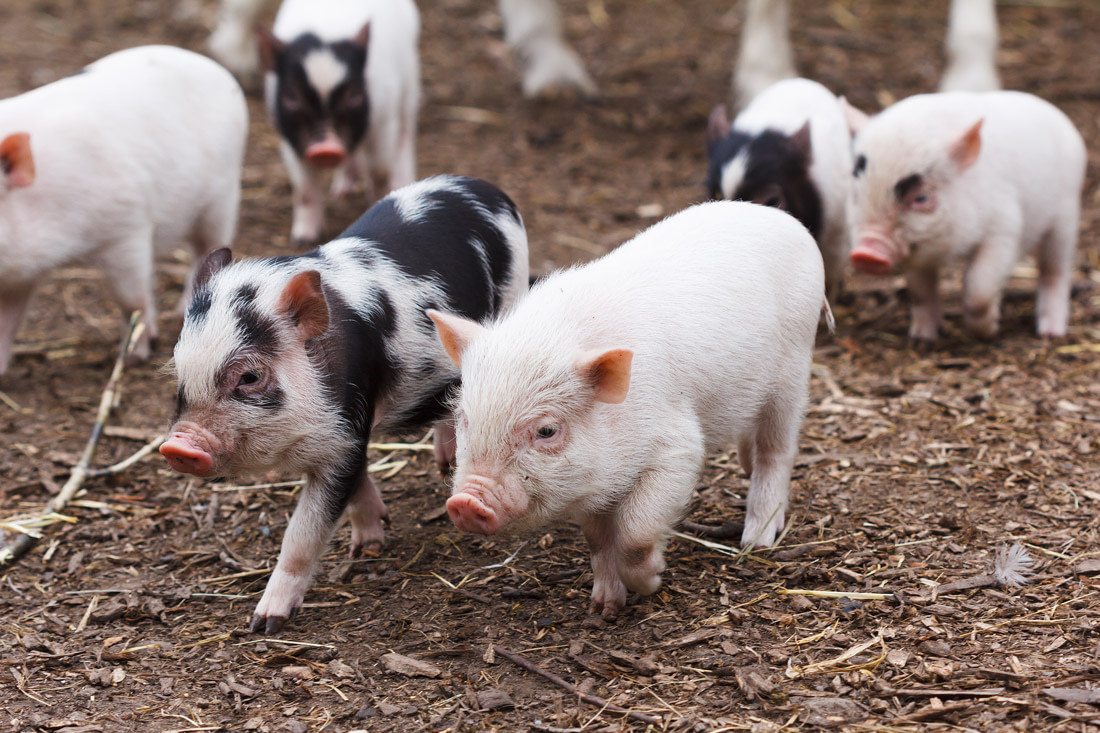 Once home to Europe's biggest pig market, it's no surprise the small village Trie-sur-Baise in the Pyrénées plays host to La Pourcailhade – a quirky celebration of all things porky. Also known as La Fête du Cochon, France's annual Festival of the Pig features eating contests, piglet races, a Best Pig Outfit competition, and the ever popular Championnat de France du Cri de Cochon (pig squealing championship).
Psy-Fi Psychedelic Music and Arts Festival, Leeuwarden, Netherlands
One of the best Psytrance festivals in Europe, Psy-Fi stands out for its gorgeous setting near the city of Leeuwarden, covering swim lakes, islands, beaches, and ancient forests. The week-long event is all about connecting people from all over the world through visionary art and alternative music, with famous DJ's, shamans, and experts in psychology helping partakers explore alternate states of reality.
New Year in August, Bérchules, Spain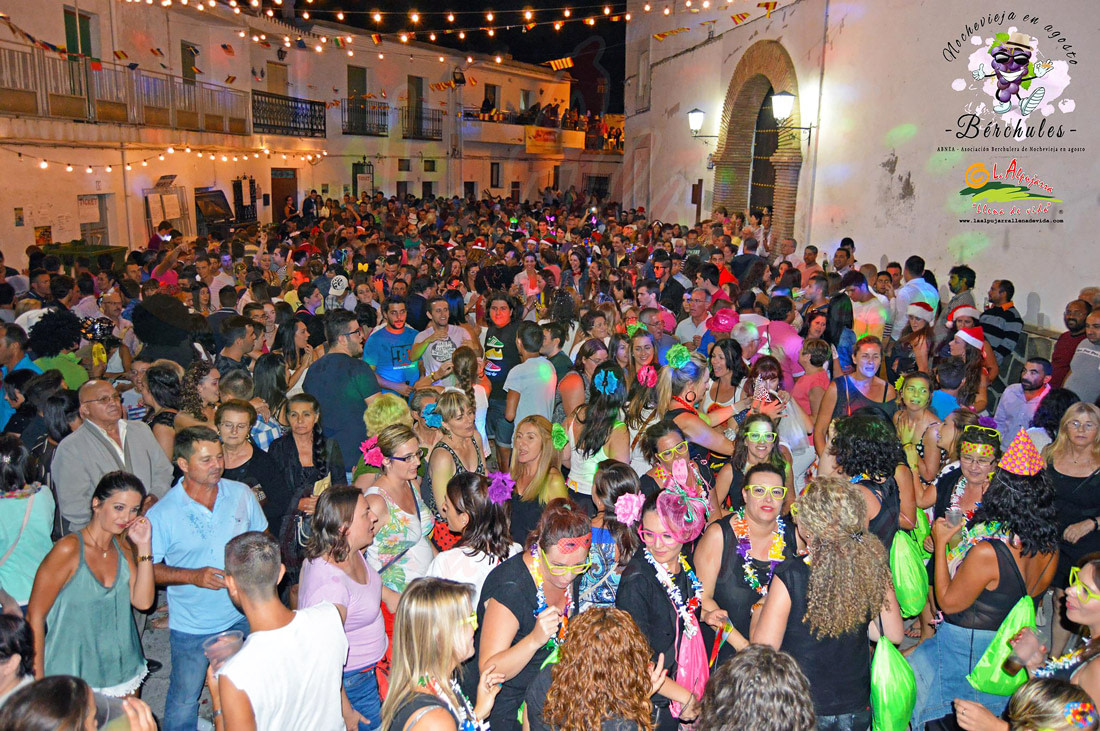 While Christmas in July might not sound completely absurd to you (since it's an actual thing in the Southern Hemisphere), how about New Year in August? Well, leave it to the Spanish to make a fiesta out of anything. Every first Saturday in August, the locals of Bérchules, a small town in the province of Granada, celebrate New Year's Eve with Three Kings parades, house decorating contests, and the famous mass grape-eating.
This curious Nochevieja tradition originates from 1994, when a blackout before midnight prevented the inhabitants to hold their traditional celebrations.
Flower Carpet, Brussels, Belgium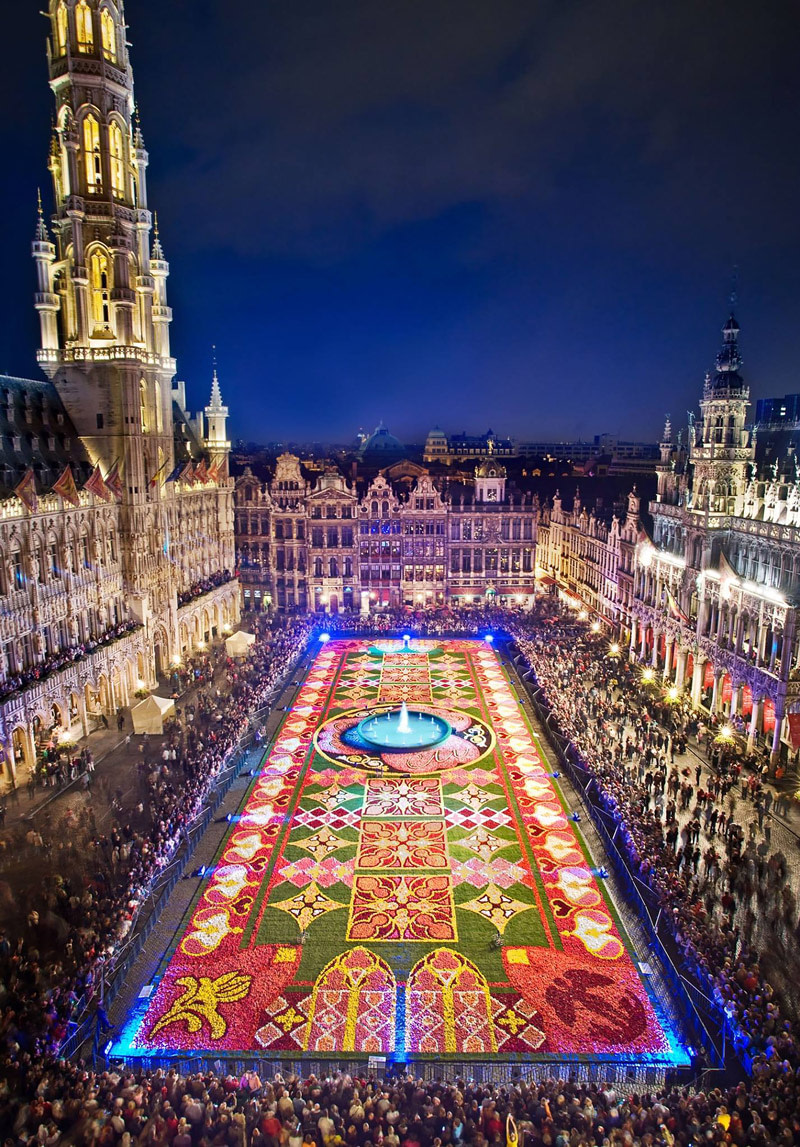 There's no better time to visit Brussels than during the Flower Carpet, when nearly a million brightly colored begonias cover the beautiful Grand Place. This ephemeral floral display in elaborate patterns and motifs along with the magnificent Gothic architecture surrounding the main square make for a truly a breathtaking visual spectacle in the heart of the Belgian capital.
The event takes place every two years during the Assumption Day weekend in August and has a different theme each edition. To admire the tapestry in its entire splendor, head to the City Hall's balcony, which is open to visitors.
Kaljakellunta Beer Floating Festival, Vantaa, Finland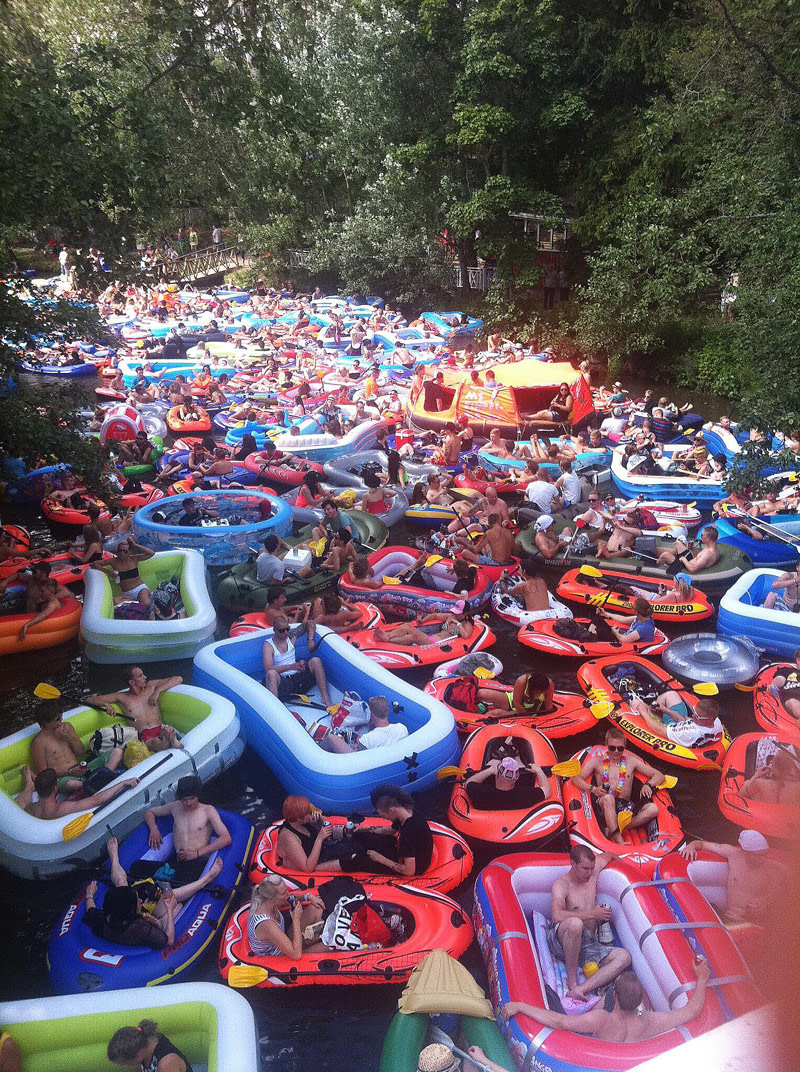 Kaljakellunta, Finland's Beer Floating Festival, is an open, free-spirited summer event during which thousands of participants float down a river in all kinds of inflatable vessels whilst drinking beer.
There is no official organizer, nor there are rules or entrance tickets, but this witty, atypical festival has become so popular that local companies even started selling boats specially designed for Kaljakellunta, with built-in coolers and beer holders.
Near Death Festival, Las Nieves, Spain
One of the most fascinating things about Spain is that just when you thought you've seen it all, something else comes around to bewilder and leave you speechless. One example is Fiesta de Santa Marta de Ribarteme, a festival celebrating near-death experiences in Las Nieves, Galicia.
The peculiar festivity occurs annually on July 29th and sees people who have survived a near-death experience within the last 12 months carried through the town inside coffins by their mourning relatives. Despite its morbid theme, the solemn procession culminates in a true Spanish fiesta, with lots of drinking, dancing, fireworks, and delicious traditional food.