Scotland is the perfect destination for your next holiday if you're hungry for wild, pristine nature, wide open spaces, fresh air, and evocative, fairytale-like landscapes.
Distinguished by the Highland Boundary Fault – a geological rock fracture that cuts across the country from the west coast to the east coast – Scotland is split into two topographically distinct terrains. To the south and east of the Fault are the Lowlands, where you'll find rolling green hills, lush farmlands, and remote beaches and estuaries. To the north and west are the majestic Highlands, the most mountainous part of the United Kingdom, where you can hike up misty peaks, trek through dense pine forests, rugged craigs, and deep glens, or enjoy invigorating swims in peaceful lakes and rock pools.
The best way to fully submerge yourself in Scottish nature is to check into a country hotel, guesthouse, or holiday rental where you can escape from the city crowds and get easy access to some of the country's most breathtaking natural sites.
While there are many holiday stays to choose from in rural Scotland, only a few will meet the demands of discerning architecture and interior design lovers. Here are seven of the finest and most beautifully furnished Scottish nature retreats where you can enjoy the wilderness outdoors and exquisite design indoors.
Westside Woodshed, Pentland Hills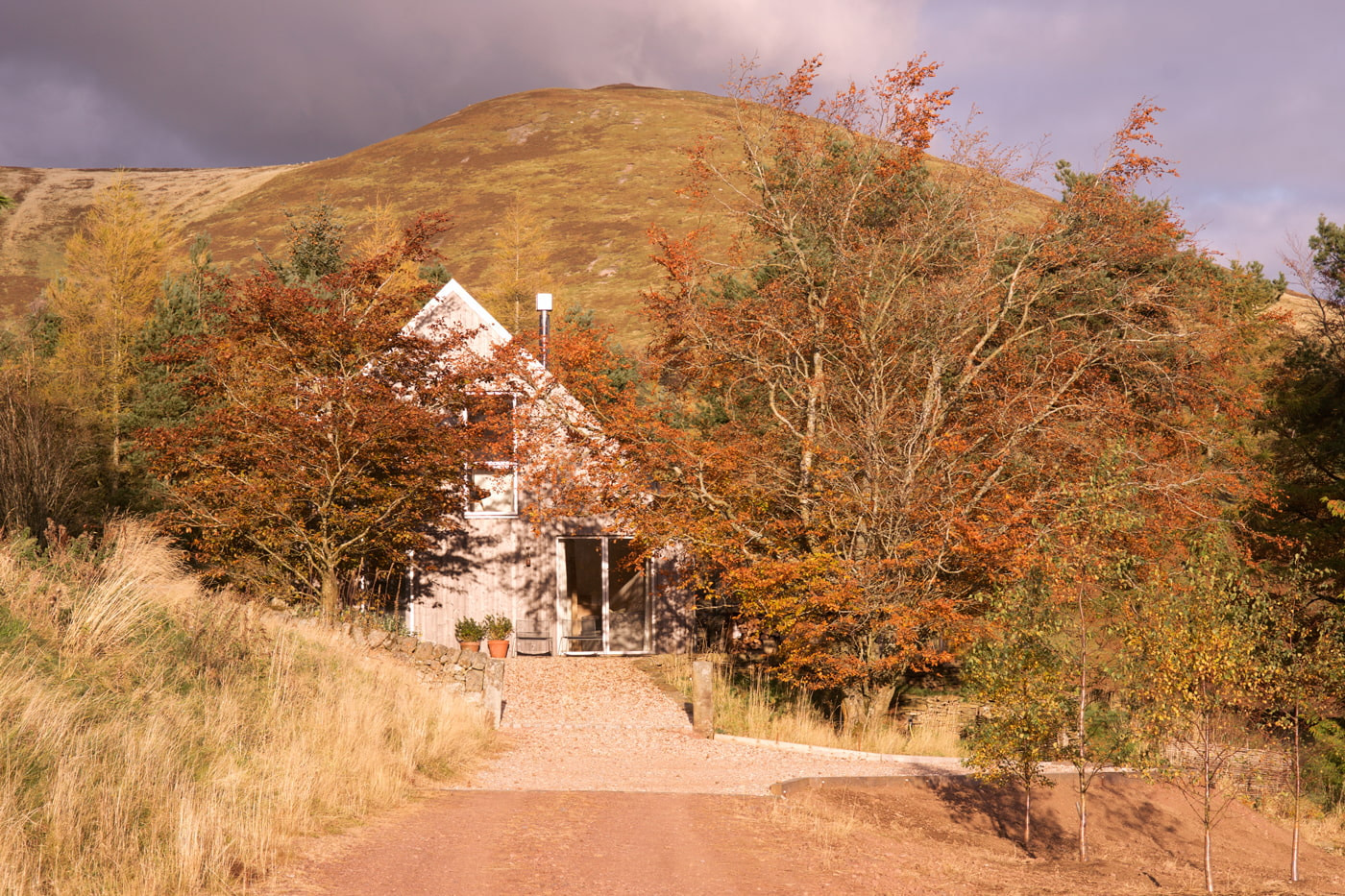 Just a 30-minute drive from Edinburgh is the Pentland Hills Regional Park, a 20-mile long, 30-square-mile range of hills that stretch over the Scottish counties of South Lanarkshire, Midlothian, and the Scottish Borders. Set within the Park is a 3,000-acre farmland estate called Eastside, where you can rent the Westside Woodshed – a snug holiday cottage with modern, minimalist interiors.
The 544-square-foot cottage has a double-height, open-plan living, kitchen, and dining area with walls and ceilings of cross-laminated timber and polished concrete floors. From the living area, a sky-lit staircase leads up to a mezzanine sleeping loft with an antique dresser and wardrobe, a dreamy king-sized bed, and a Made Krestal Grey Kolton armchair that you lounge in while looking out the window towards the sheep-dotted hills.
Faldonside Escapes, Scottish Borders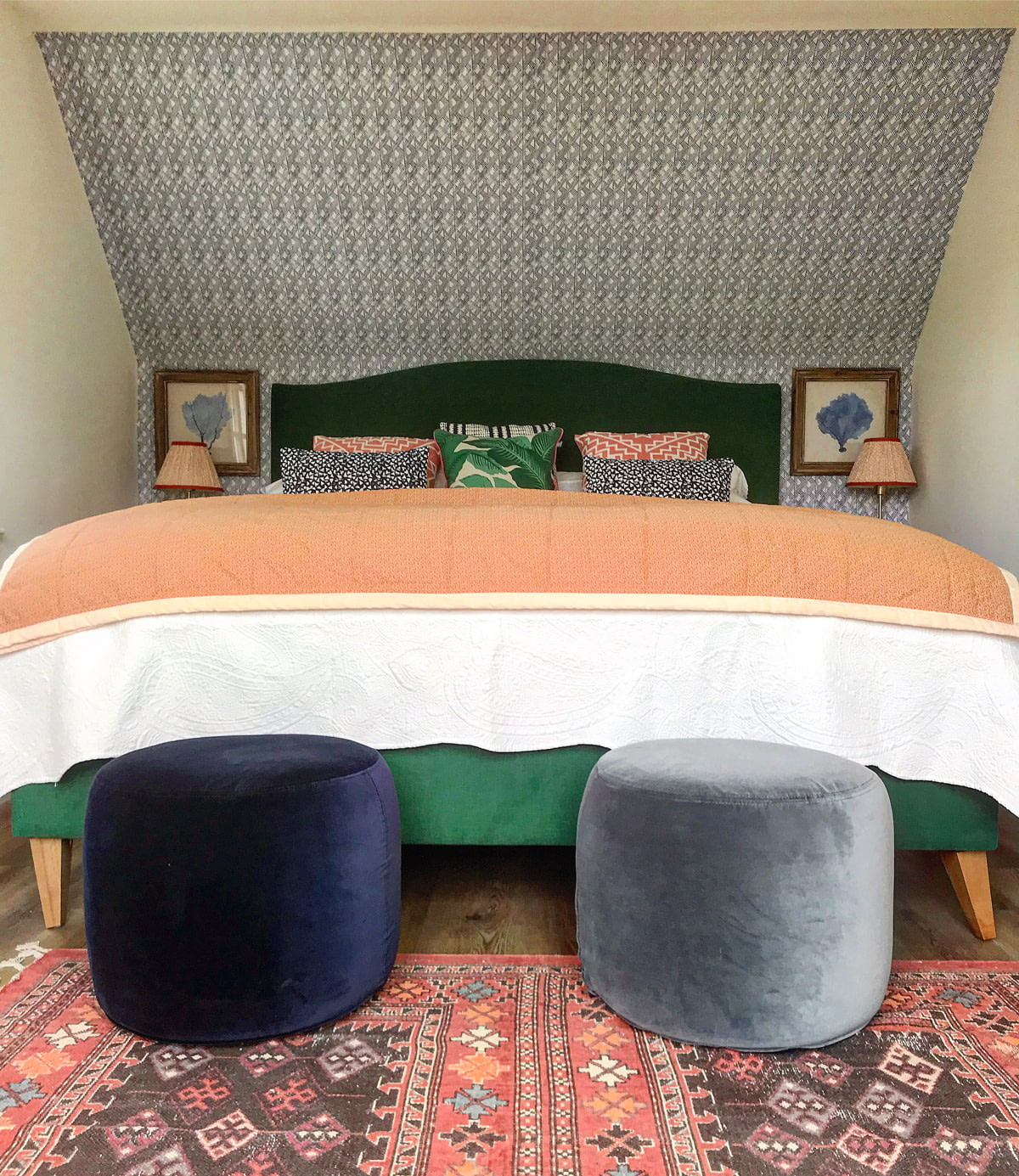 Not far from the storybook town of Melrose in the Scottish Borders is Faldonside Escapes, a collection of holiday lets that includes two adorable cottages – The Studio and The Lodge – set in a tranquil and picturesque farm estate.
Surrounded by undulating emerald fields, both cottages were designed by Faldonside's owner, interior designer Posy Maitland-Carew. The Studio has a breezy open plan living area and is fitted with large bi-fold doors that open to an enclosed garden. The Lodge, which is decked out in vibrant, patterned wallpapers and fabrics and carefully chosen nature prints, has a private outdoor sitting area that overlooks an enchanting lake.
Killiehuntly, Cairngorms National Park
Designed by Anne Storm Pedersen – the wife of Danish fashion magnate Anders Holch Povlsen – and her friend, Swiss-born stylist and designer Ruth Kramer, Killiehuntly is a design-led farmhouse hotel that gave rise to the evocative new design trend known as Scandi-Scot.
Inspired by the earthy colors of the awe-inspiring Cairngorms National Park, where the estate is located, the interiors of the guest rooms, communal areas, and nearby rental cottages at Killiehuntly have a clean, urbane, Nordic aesthetic. Carefully curated artwork, mid-century furniture, lighting, and décor come together to create a snug and atmospheric oasis in the middle of one of Scotland's most untamed and impressive parklands.
Lundies House, Sutherland
Also designed by Povlsen and Kramer and furnished with a thoughtfully-considered mix of vintage classics and modern masterpieces, Lundies House in the Highland county of Sutherland sits close to a hauntingly serene loch known as the Kyle of Tongue.
Overlooking the Ben Loyal mountains and the historic Castle Varrich, the property was a former 17th-century Christian clergy house before it was converted into a guesthouse with four rooms on the upper level and a communal living lounge, library, and dining area on the ground level. Near the main house, former steadings were converted into three minimalistic studio guestrooms and a self-contained family apartment that opens out to a courtyard garden where barbecues and dinner parties are held in the warm summer months.
57 Nord, Wester Ross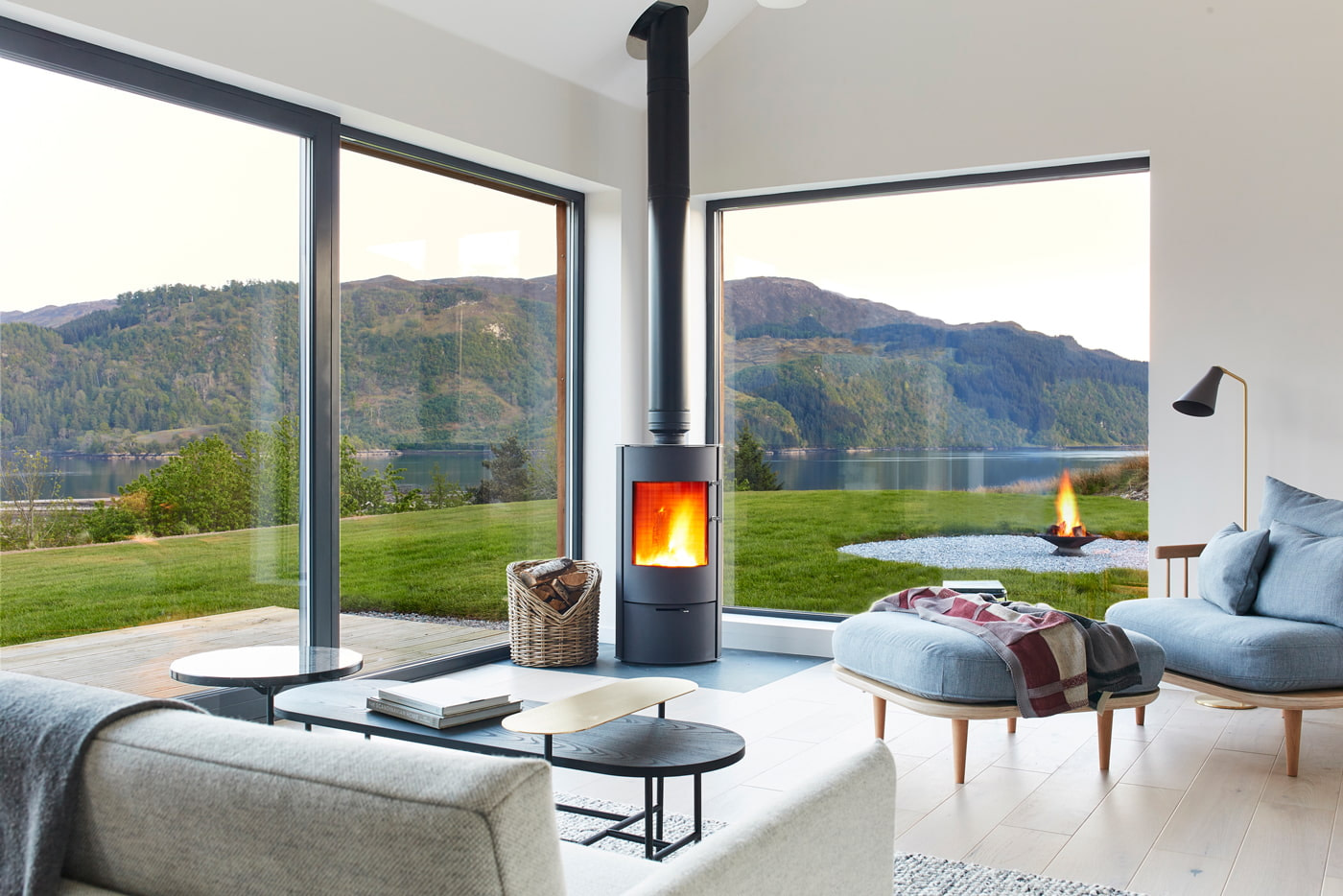 Located in the Wester Ross National Scenic Area in the Northwest Highlands, across from the Isle of Skye, 57 Nord is a boutique self-catering holiday home that's ideal for road trippers driving along the North Coast 500 – one of the most elevated roads in Scotland.
An updated version of a traditional crofter's dwelling, 57 Nord has simple, rugged exteriors but simple yet sophisticated, modern interiors that marry elements from Scandinavian, Scottish, and mid-century design. The living area is fitted with floor-to-ceiling glass walls and sliding doors that frame epic views of Loch Duich, Eilean Donan Castle, and the Kintail Mountains, so you can feast your eyes on scenic panoramas come rain or shine.
Aulinn, Isle of Skye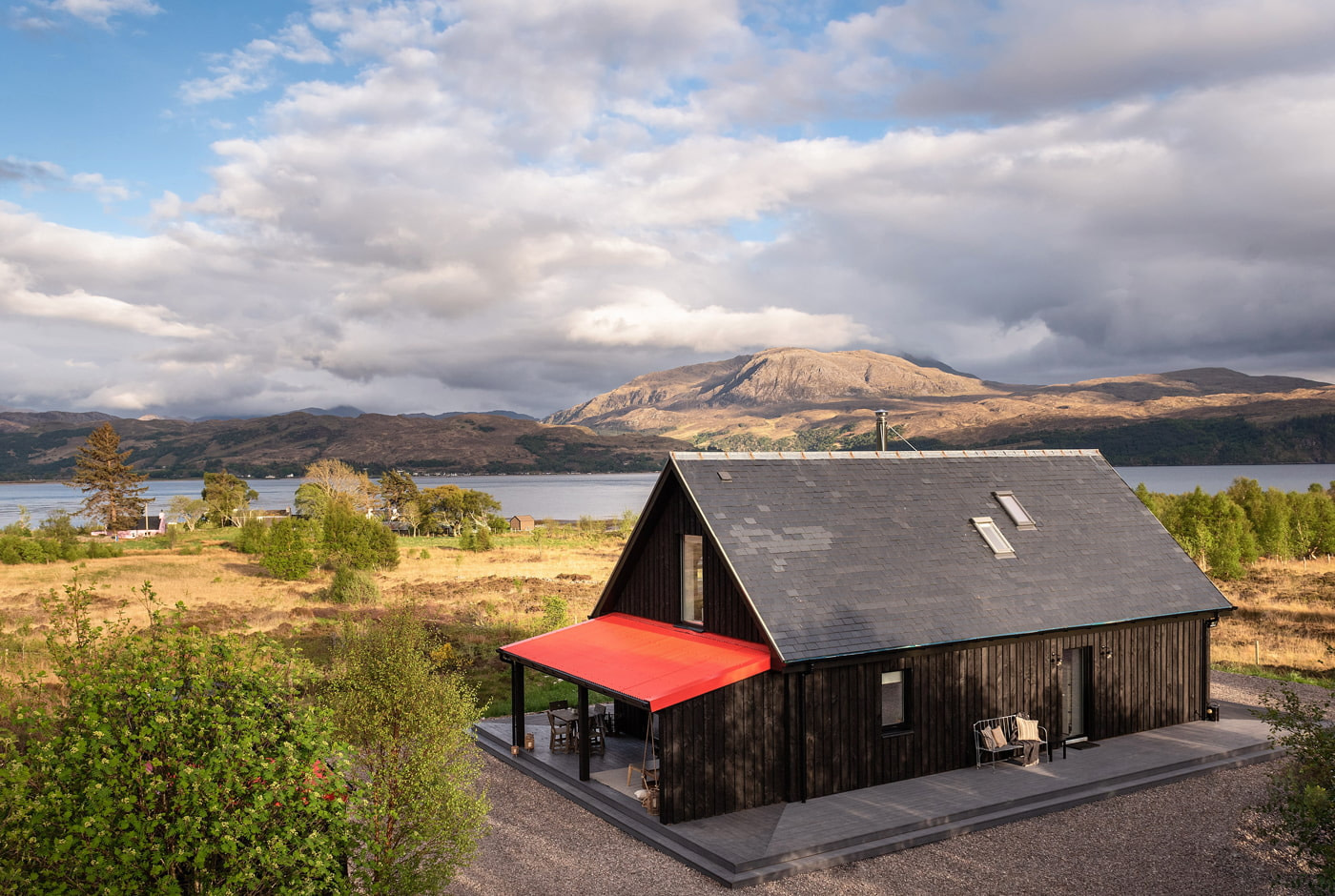 Set between the sea and the mountains, on the southeasterly shore of the mystical Isle of Skye and overlooking the Kyerhea Straits and the Five Sister of Kintail mountains, Aulinn is a two-bedroom holiday rental that mimics the architectural vernacular of the traditional local farmhouses of Scotland's Hebridean islands.
Inside, clean white walls, plenty of light wood, muted grays, brass fixtures, woven rugs, and sheepskin throws give the space a fresh, contemporary feel. In the evenings, the wooden veranda that wraps around the house offers different vantage points where you can watch the sunset with a cup of tea.
Harlosh, Isle of Skype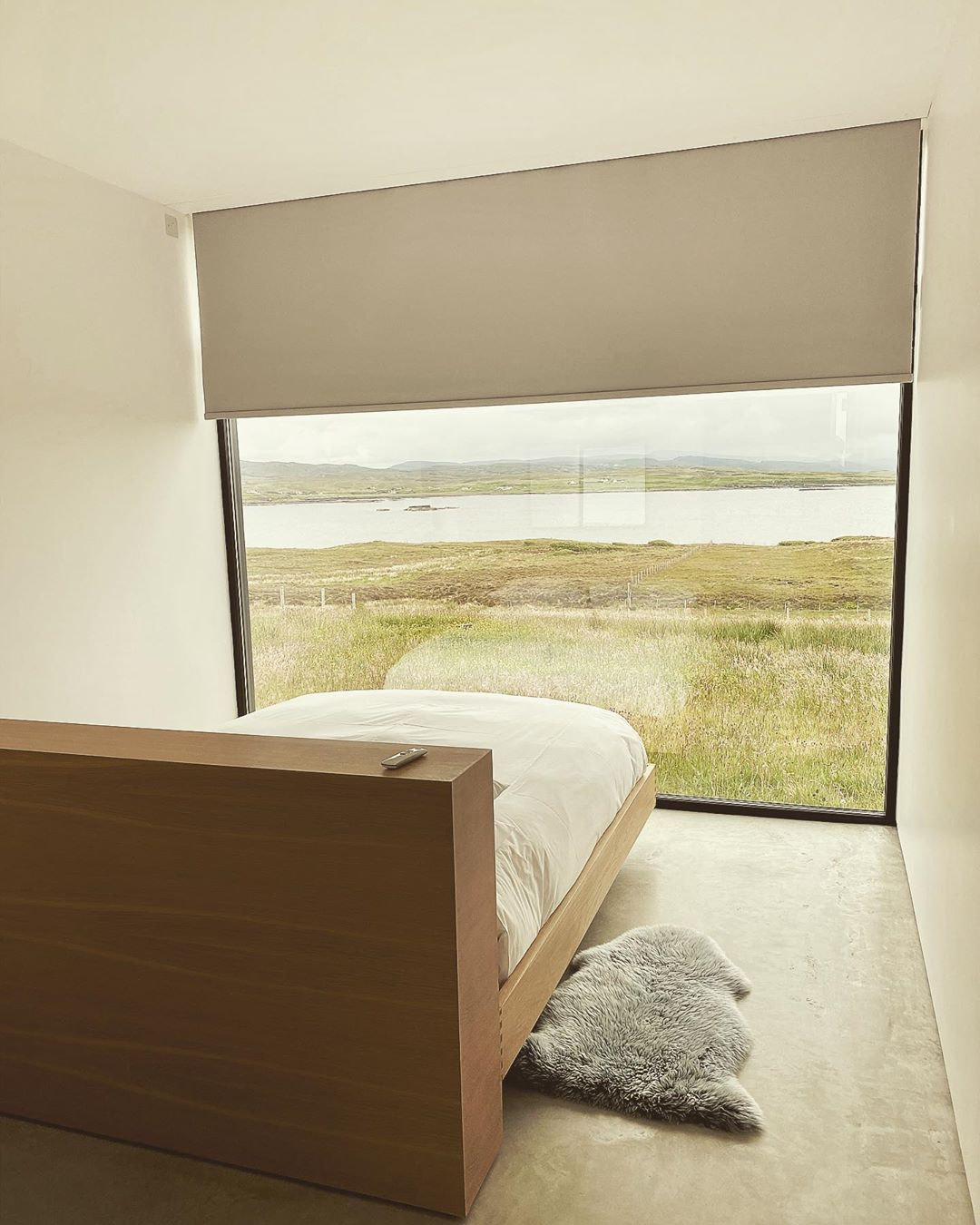 On the west coast of the Isle of Skye are the two architecturally distinct self-catering cottages of Harlosh holiday hideaway. Black H is a streamlined, one-bedroom cabin that's bare-bones but beautiful and perfect for solo travelers or couples seeking a Zen-inspired retreat. Wood H is a spacious, four-bedroom house with a double-height open-plan living area that will comfortably accommodate families and groups. Both properties have fully glazed doors that open out to dramatic Jurassic coastlines, where you can spot sea eagles, otters, or dolphins as you walk along the shore.