Dreaming of a cabin getaway to breath in that crisp mountain air, unwind with your friends and family, or snuggle by the fire with your love? Whether high in the mountains, deep in the woods, or by the shore of a scenic lake, options abound across the United States.
Take your pick from the charming properties listed below or check out Glamping Hub's sweeping collection of rustic cabin rentals, and enjoy all the comforts of home, plus plenty of opportunities for outdoor recreation – all while surrounded by the beauty and serenity of nature.
Elegant A-Frame Cabin Rental near Crystal Mountain Ski Resort, WA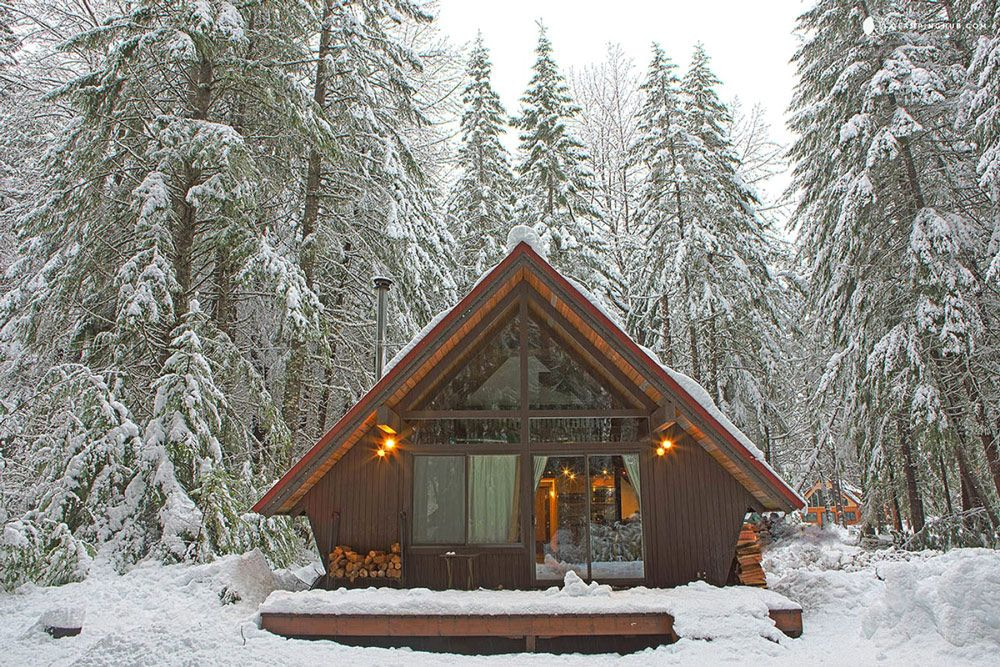 Tucked into the woods around Crystal Mountain ski resort, next to Washington's beautiful Mt. Rainier National Park, this luxuriously appointed cabin makes for the perfect escape from urban life.
The warm, traditional decor envelops guests in elegant comfort, while large windows afford ample natural light and picturesque views of the surrounding forest.
The area is an year-round paradise for outdoor enthusiasts, offering everything from scenic hiking trails to excellent skiing.
Luxurious Log Cabin Estate in Gold Beach, OR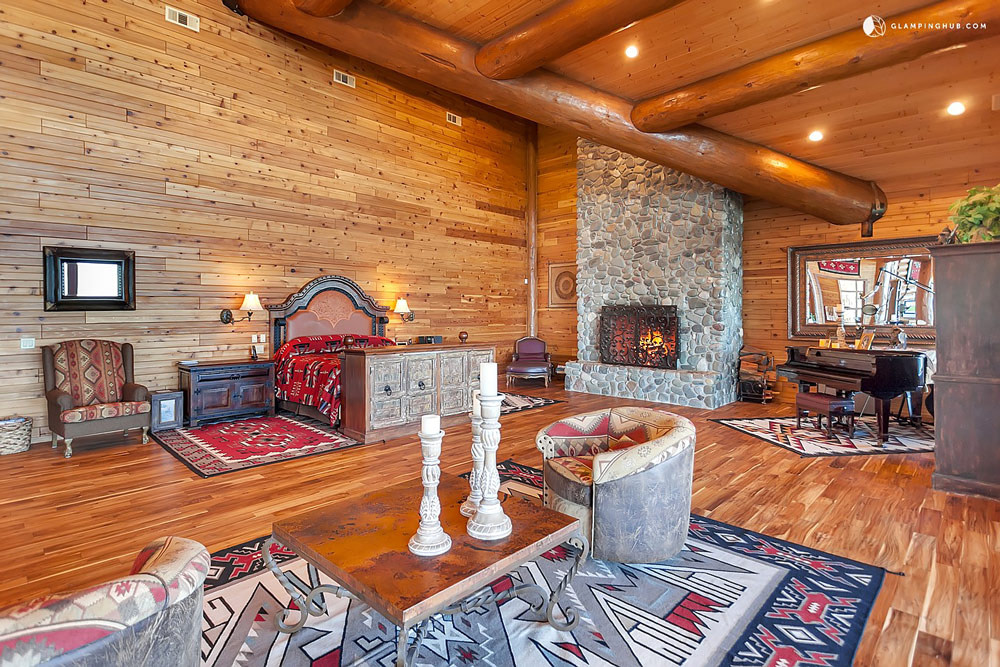 Nestled by the ocean, in Gold Beach, Oregon, this marvelous log cabin estate blends the genuine charm of a rustic lodge with outstanding amenities such as private helipad, open-air hot tub, and theater room.
Sumptuous furnishings, rich fabrics, and bespoke wrought iron chandeliers decorate its spacious wooden interiors, whereas freestanding bathtubs overlooking the ocean, an impressive stone fireplace, and a stunning gourmet kitchen add to the overall sense of luxury.
The villa sleeps up to 10 in 4 splendid suites, and its lavish open-plan living/dining areas invite you and your friends to relax and entertain in style.
Stylish, Serene Vacation Rental in Aspen, CO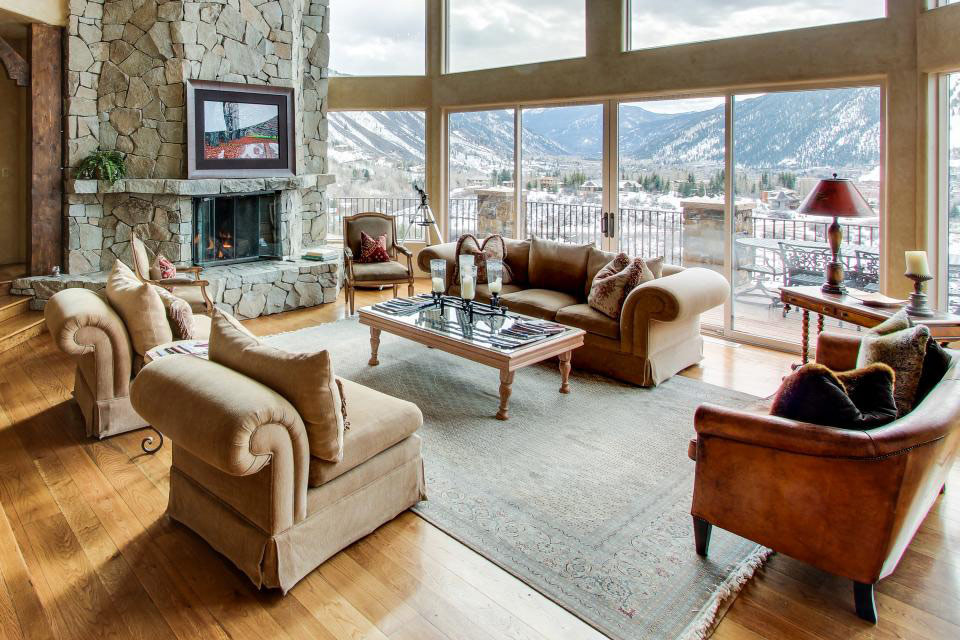 Floor-to-ceiling windows throughout give this stylish hilltop cabin in Aspen a bright, airy atmosphere and breathtaking Rocky Mountain views.
In addition to 4 beautiful, panoramic bedrooms – each with its own luxurious bathroom, the property features a splendidly appointed kitchen, an outdoor Jacuzzi, as well as a number of charming indoor/outdoor sitting areas.
Recreational opportunities are plentiful in the region, from world-class shopping and skiing in Aspen to exceptional hiking in Glenwood Canyon and White River National Forest nearby.
Private Cabin by the Lake in the Adirondacks, NY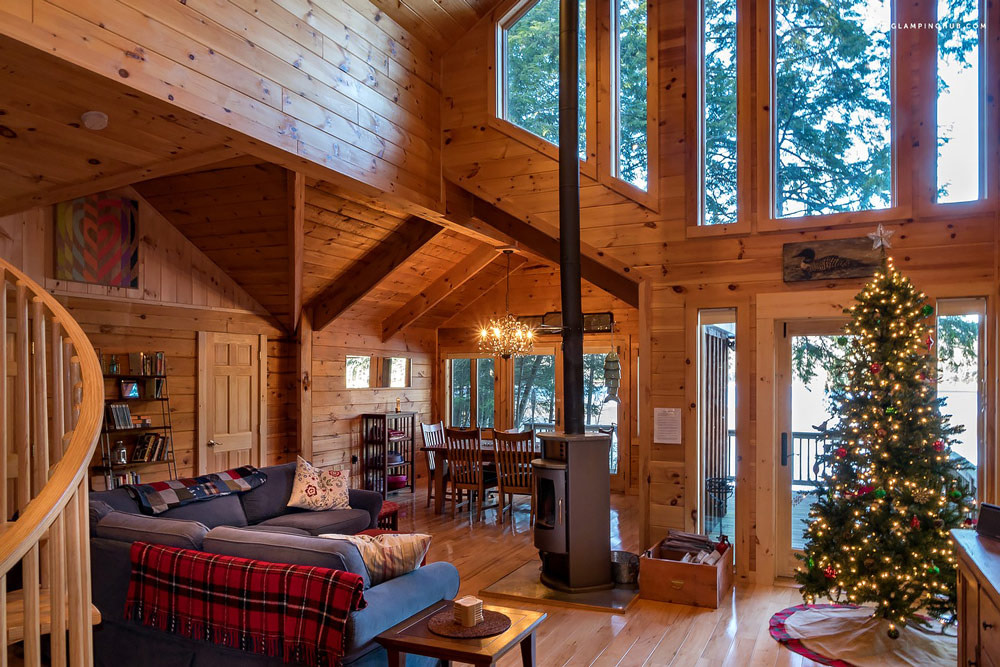 Whether you're looking for a romantic couple's getaway or an action-packed group adventure, this idyllic cabin on Charley Lake, in the Southern Adirondacks, will fulfill your every need. From the atmospheric living area to the cozy bedrooms, everything about it inspires harmony and wellbeing.
Complementing its rustic, mountain-style interiors decked out in natural wood paneling is a furnished front lawn with fire pit, as well as a wood-fired steam sauna, perfect for relaxing after a long day exploring the great outdoors. And speaking of which, adventure lovers will find plenty to keep them occupied as the rental comes equipped with canoe, kayak, and stand up paddle board, to name but a few.
Bright Cabin Accommodation with Hot Tub near Tacoma, WA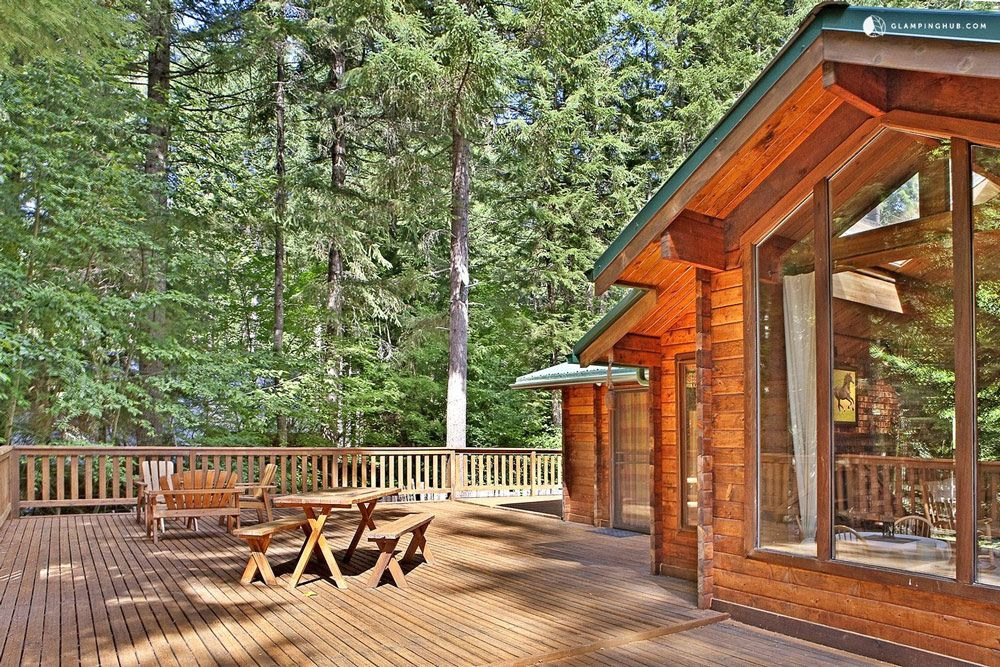 If the idea of a cabin break in the woods takes your fancy, this lovely property in Enumclaw, Washington certainly won't disappoint. Its bright, spacious interiors along with lots of modern amenities and woodlands all around make it ideal for a peaceful retreat with friends or family.
The lodge comfortably accommodates 14 guests, and has everything you need to make you feel like home. There's even a welcoming hot tub outside, where you can unwind and enjoy the surrounding scenery.
The cabin is located just outside Crystal Mountain, next to a ski resort, and about 40 minutes away by car from Tacoma.
Idyllic Converted Greenhouse near Silverton, OR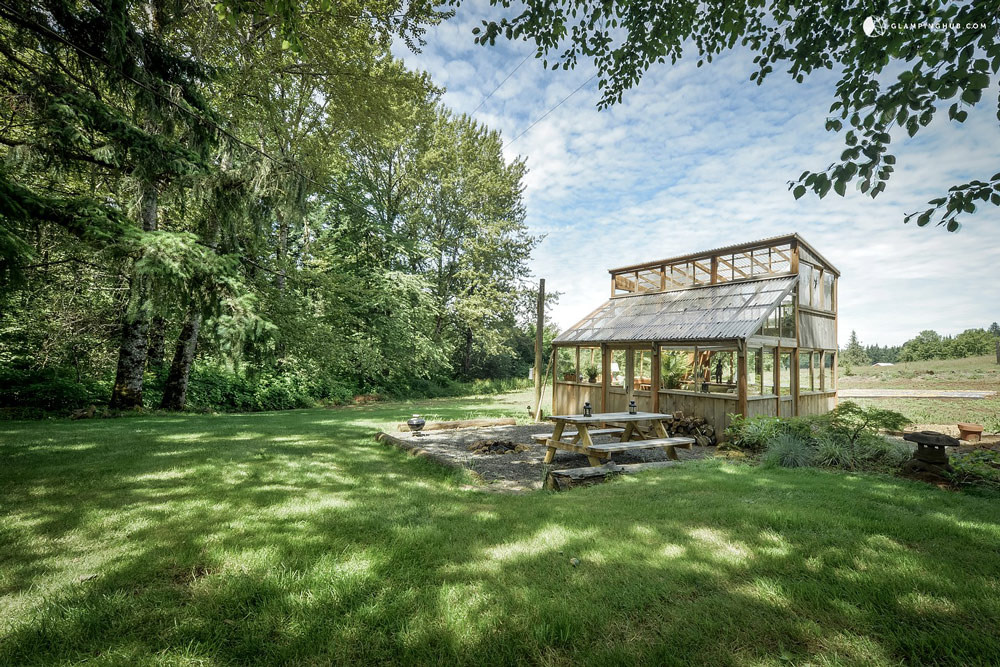 Nestled in the foothills of Willamette Valley, a short drive from Silverton, this beautifully converted greenhouse is an idyllic escape for two.
Designed with couples in mind, it features a dreamy glass-enclosed sleeping loft and a snug, light-filled living room, complete with natural Cedar hot tub. A well-equipped kitchenette and a full bathroom are located a few steps away, in the farm's historic barn and stables, and there's also a picnic table with BBQ for dining alfresco.
Thanks to its privileged setting in the heart of a 67-acre organic farm and equestrian facility, this one-of-a-kind Cedar and glass cabin offers access to miles of hiking and equestrian trails. Moreover, the property is conveniently close to the breathtaking Silver Falls State Park, and charming Portland is only one hour away.
Unique A-Frame Cabin in the Mountains of San Jacinto, CA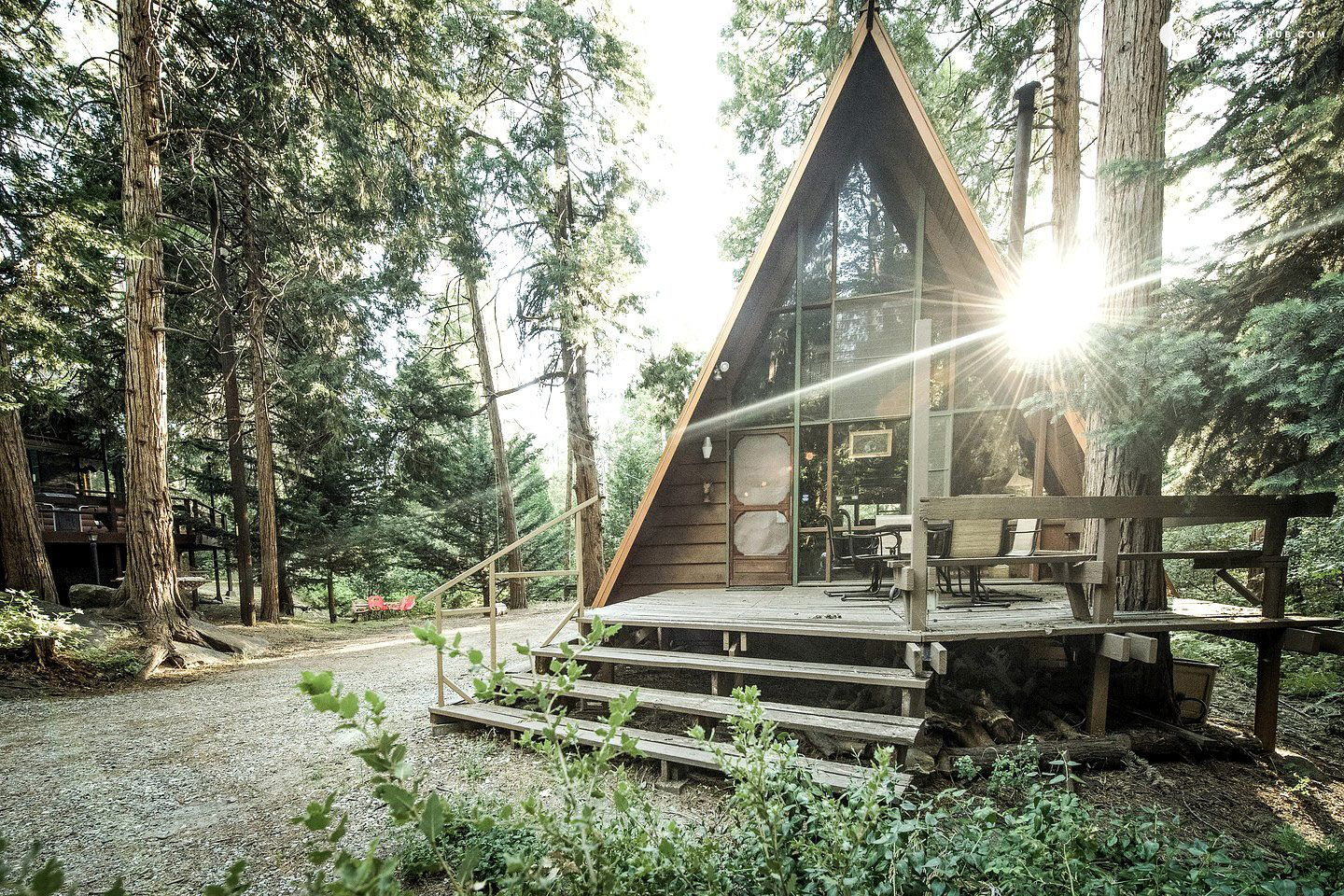 The Mountains of San Jacinto provide a beautiful backdrop for this lovely little cabin in Idyllwild, just east of Los Angeles.
Decorated in simple, albeit tasteful, rustic style, the stunning A-frame structure accommodates up to six guests and comes equipped with all the bells & whistles a glamper may desire, from wood-burning fireplaces to Wi-Fi and satellite TV.