With over a thousand miles of coastline, Florida has hundreds of beaches. Spread between the Atlantic coast, the Gulf of Mexico, and the Florida Keys, there's a huge variety of stellar options for a beach vacay in the Sunshine State, each with its own unique advantages.
Your only task now is to choose between them, and you'll be the most pleased with your trip if you cater your destination to your preferences and desires. Whether you're looking for a little rest and relaxation or tons of adventure, you're sure to find something that's perfect for you among the best beaches in Florida.
Pensacola Beach, Pensacola
Best for: White sand
On Santa Rosa Island, a slim barrier island in the Gulf of Mexico, lies the famed Pensacola beach, known for its incredibly soft, bright-white sand.
Comparatively, Pensacola Beach is certainly more crowded than some of the more remote beaches that line the Florida Panhandle, but the broad sands offer plenty of room to find a spot to lounge. In the evening, you can check out the fishing pier that stretches into the sea, a perfect place to see one of Pensacola's famous sunsets.
Sombrero Beach, Marathon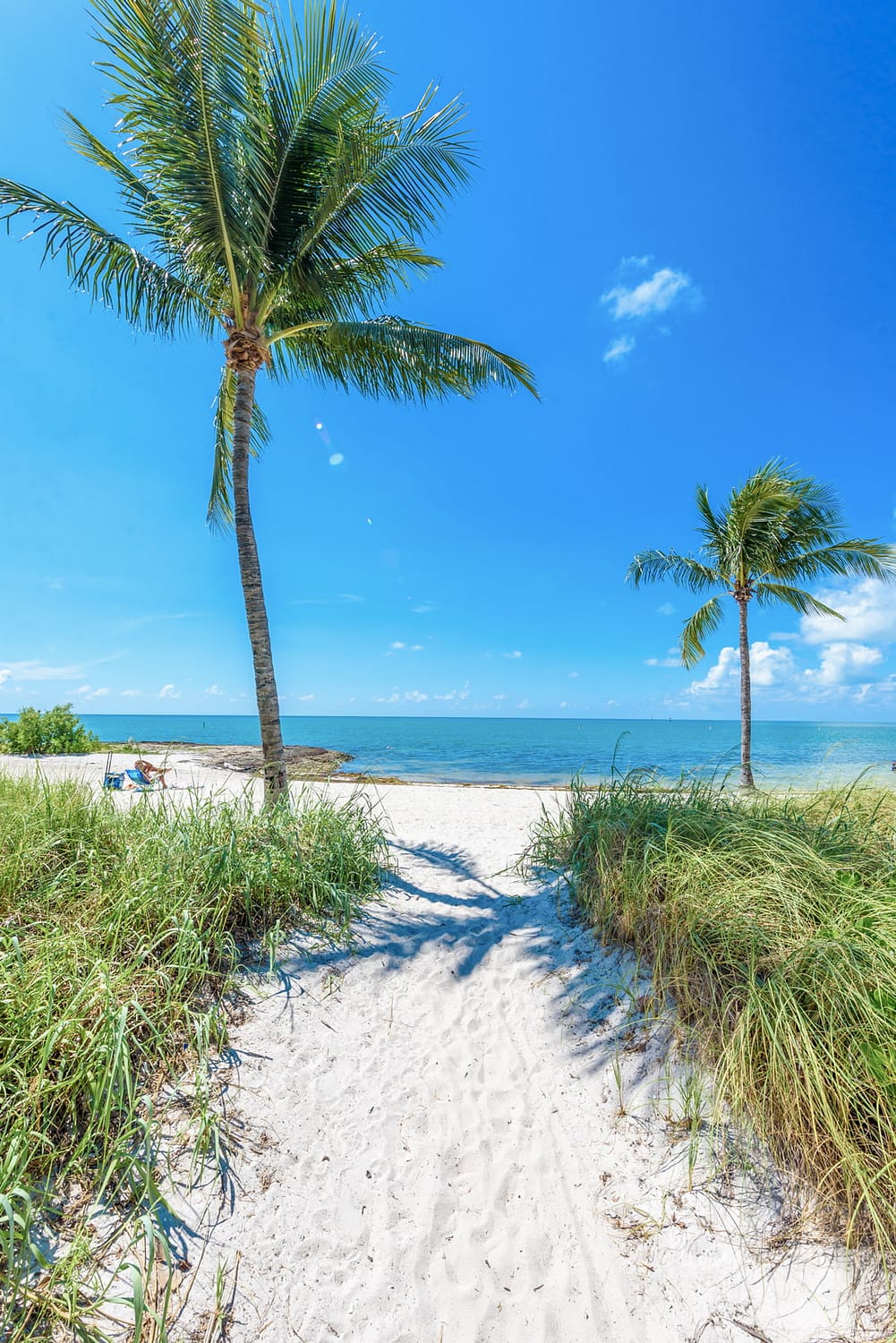 Best for: Swimming and sunning in the Florida Keys
While the Florida Keys remain a super popular tourist destination, they are not necessarily known for their beaches: the off-shore reefs that the Keys are known for are ironically the very thing that prevents sand from forming and accumulating. But of them, Sombrero Beach is legitimately one of the best beaches in Florida.
Found about halfway between Key Largo and Key West in Marathon, Sombrero Beach has calm waters and soft, clean sand. If you plan your visit between April and October, you will almost certainly encounter portions of the beach sectioned off to prevent damage to Loggerhead Turtle nests.
Seaplane Beach, Dry Tortugas National Park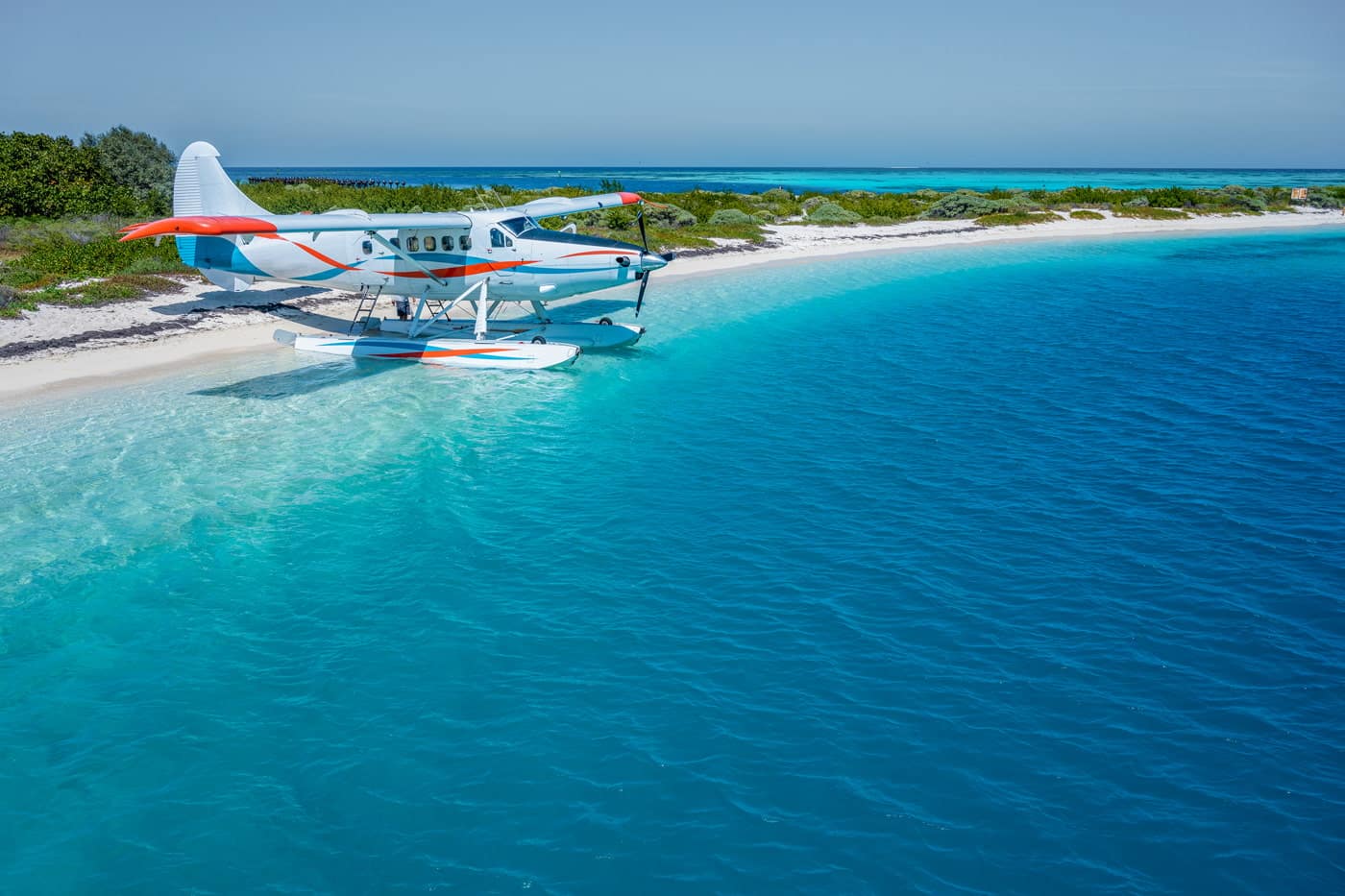 Best for: Seeing planes landing
One of the most unique federally managed outdoor spaces in the nation, Dry Tortugas National Park is situated on seven tiny islands at the end of the Florida Keys archipelago. There are a few ways to get there: either by your own private boat, aboard a public ferry, or by seaplane.
Though it's not the largest island of the seven, Garden Key, home to the massive Fort Jefferson, is where all of Seaplane Adventures' flights land on the colloquially named Seaplane Beach. There are two flights a day arriving and returning to Key West, so you'll have plenty of opportunities to get the perfect seaplane selfie, especially if you're camping overnight.
Egmont Key National Wildlife Refuge, St. Petersburg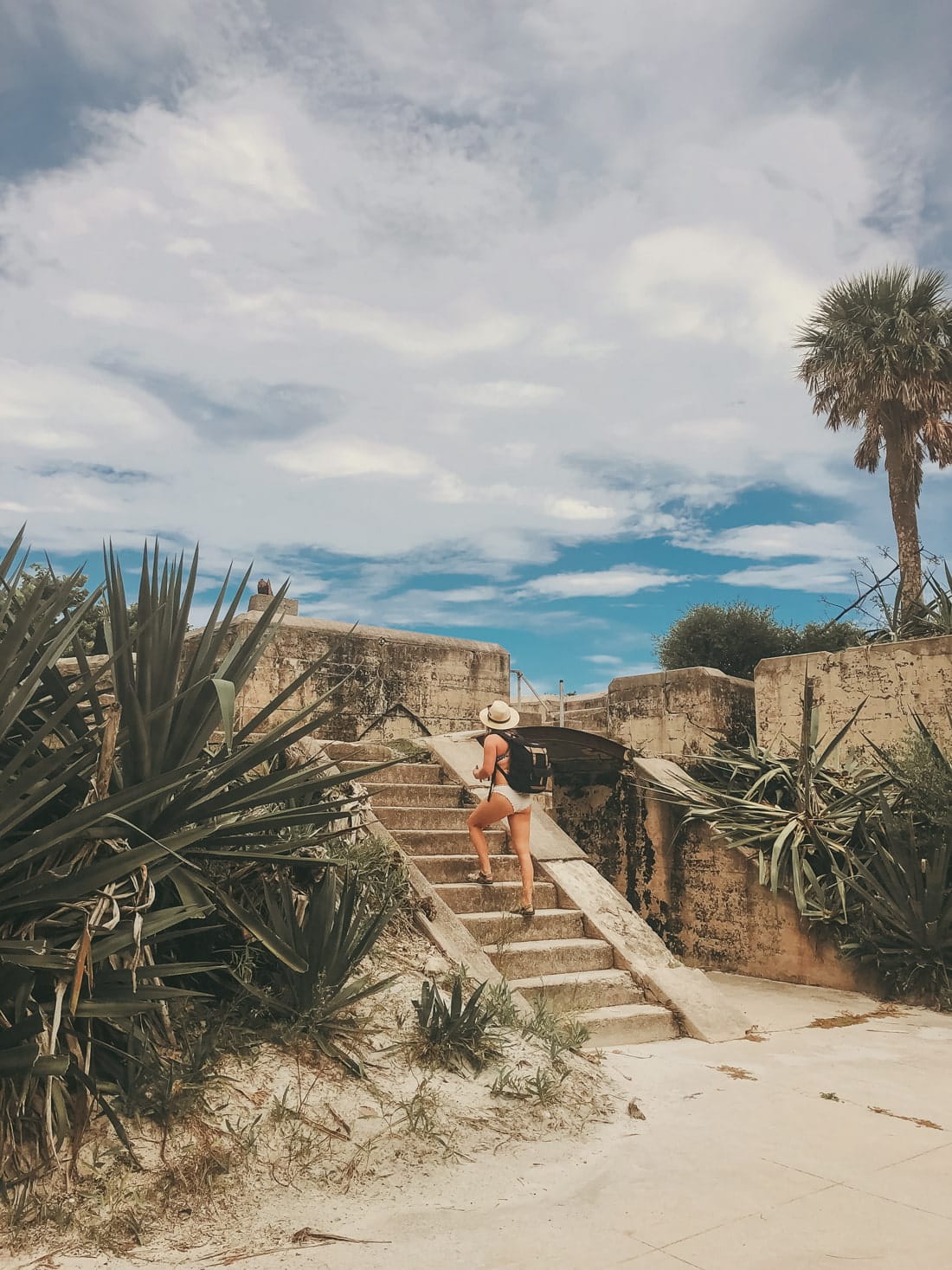 Best for: A remote escape
In Tampa Bay lies an island so secluded and unspoiled it's hard to believe it's so close to the city. The otherworldly Egmont Key National Wildlife Refuge is ringed by some of the most pristine beaches in Florida, with wide dunes edged by wild flora and surrounded by the gulf's signature deep, blue-green waters.
Egmont is only accessible by boat, so you'll have to either bring your own, charter one, or take the public ferry. There are three ferry crossings a day leaving from the Fort De Soto boat ramp that take about an hour, and you'll have three hours to enjoy the island before your return trip to Tampa.
Lake Louisa Beach, Lake Louisa State Park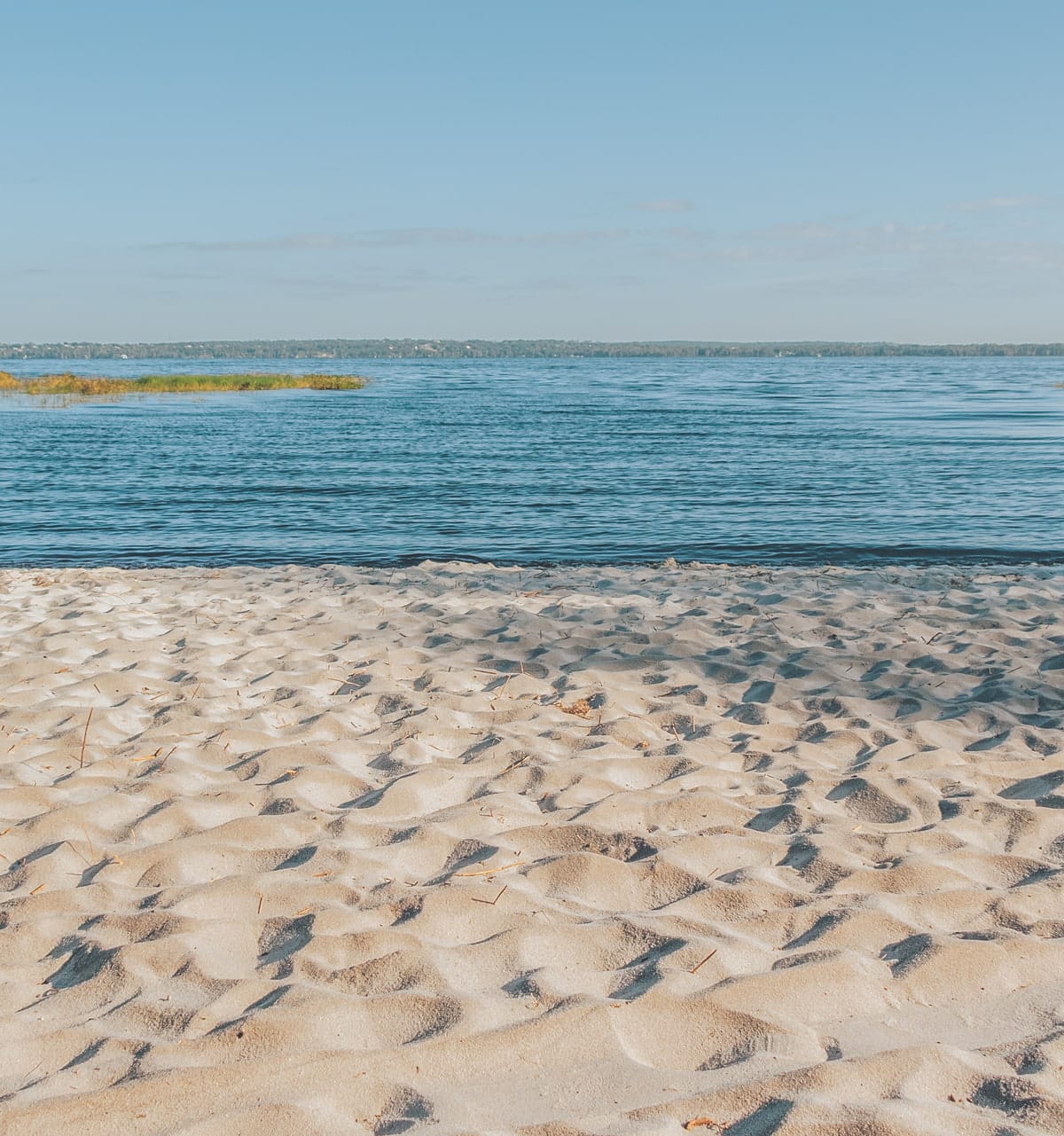 Best for: Its proximity to Orlando
The only beach on this list that's not on the coast, Lake Louisa Beach lies in a state park on its eponymous inland lake. Unlike other lakeshore recreation areas in Florida, Lake Louise has a sandy beach that's perfect for swimming.
Here you'll find charms many visitors to Florida never get to see: lush wetlands, mature oaks dripping in moss, and a variety of native butterflies and birds. And all of this is less than half an hour from Orlando.
Humiston Beach Park, Vero Beach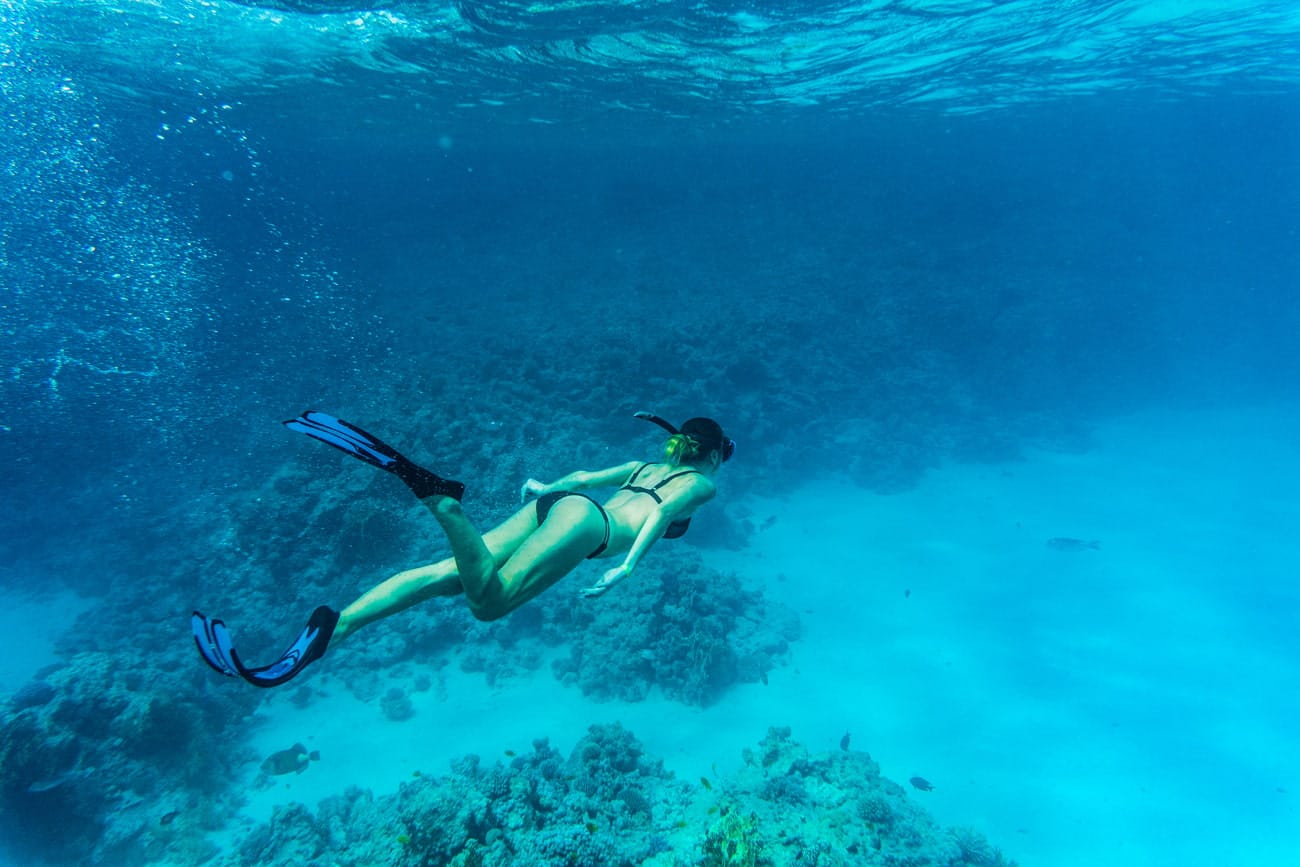 Best for: Snorkeling
There are several excellent beaches in Vero Beach, but of them, Humiston Beach Park has the most amenities and is the best maintained.
The real draw to this part of the coast is the excellent snorkeling, and there's plenty to see within swimming distance of the shore; four parallel reefs lie just off the coast and are home to over 400 species of marine wildlife. A bit further, accessible by jet ski or boat, are the sunken remains of the SS Breconshire – also called the Boiler Wreck – a favorite snorkeling and diving spot among Floridians.
Playalinda Beach, Cape Canaveral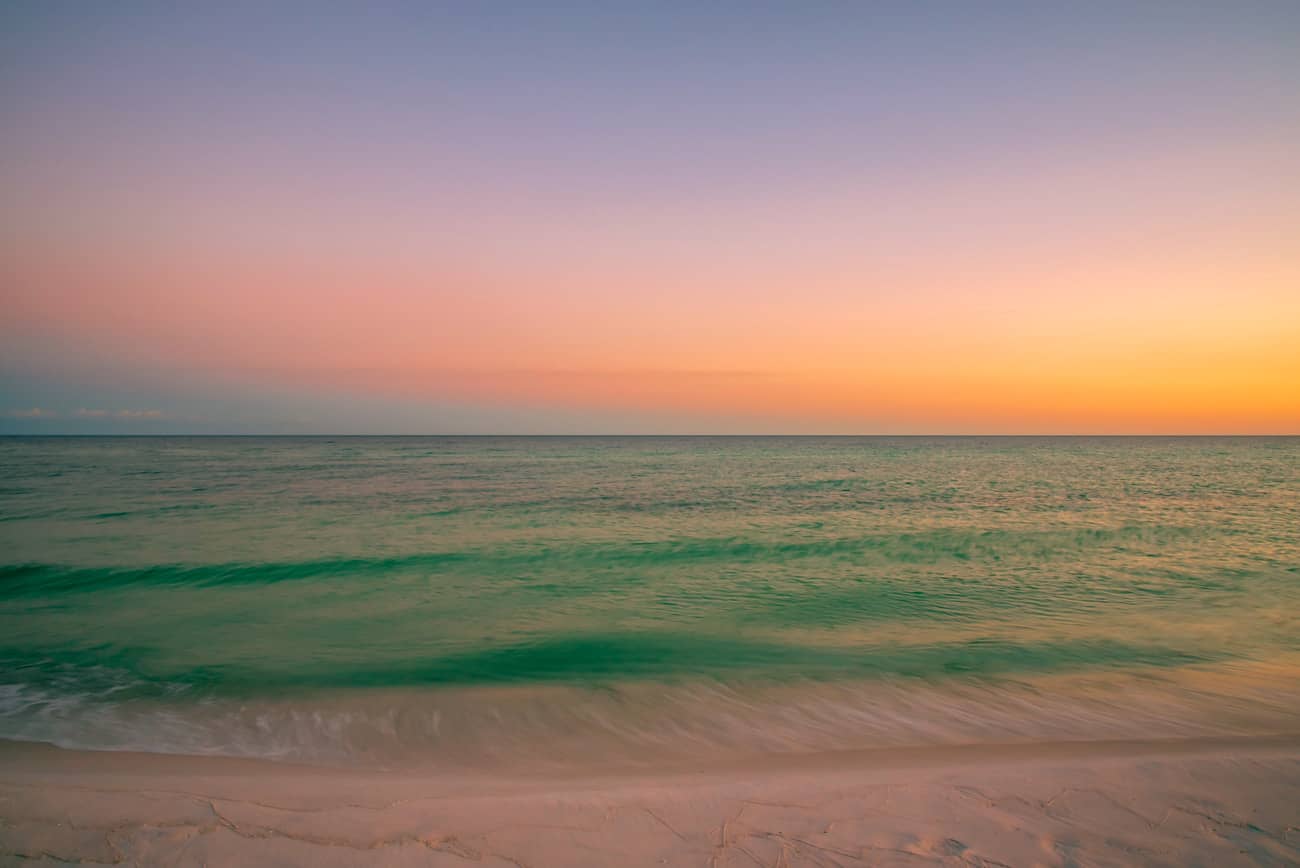 Best for: Watching a rocket launch
A part of the Canaveral National Seashore, Playalinda Beach is a far cry from some of the ultra-commercial beaches in Florida. It's pristine, undeveloped, and the water is notoriously clean and clear.
It's also very near to both Kennedy Space Center and the Cape Canaveral Space Force Station, so it's the perfect spot to watch rocket launches. Though these don't happen every day, you can check out a calendar of upcoming launches and schedule your trip accordingly.
Bowman's Beach, Sanibel Island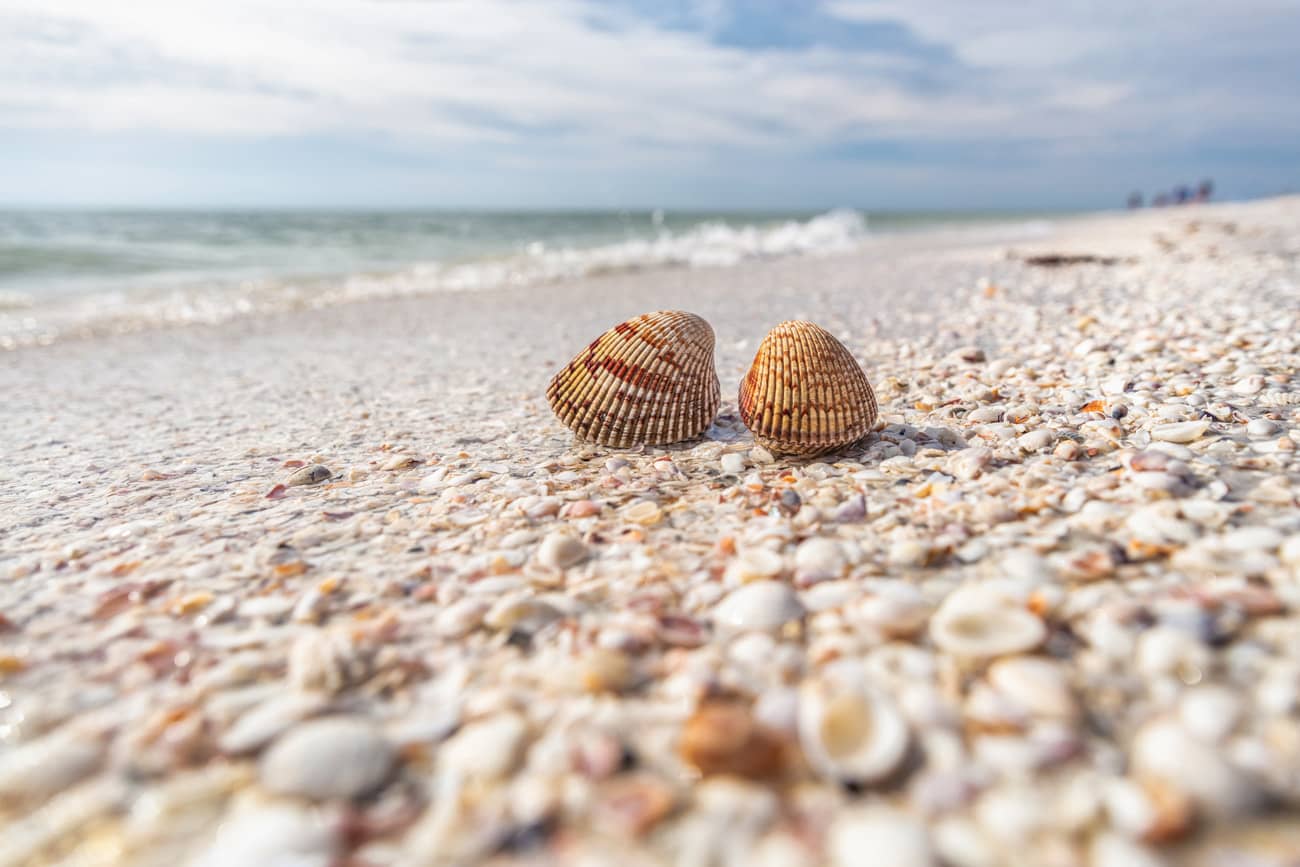 Best for: Shelling
Though it's quite isolated, Bowman's Beach is one of the most popular beaches on Sanibel Island. Bowman's lacks the infrastructure of some of Sanibel's other shores, but for what it lacks in amenities it makes up for in calm, quiet solitude.
Sanibel is a barrier island and is part of a vast plateau that extends deep into the Gulf of Mexico, acting as a natural ledge that traps seashells. The quantity and variety of the shells at Bowman's Beach are world-renowned, and visitors flock here from all over Florida to troll for the rarest ones. Of them, the most prized is the delicate, spotted shell of the Junonia: plentiful in the deep waters, but considered prized when found ashore.
Siesta Key Beach, Sarasota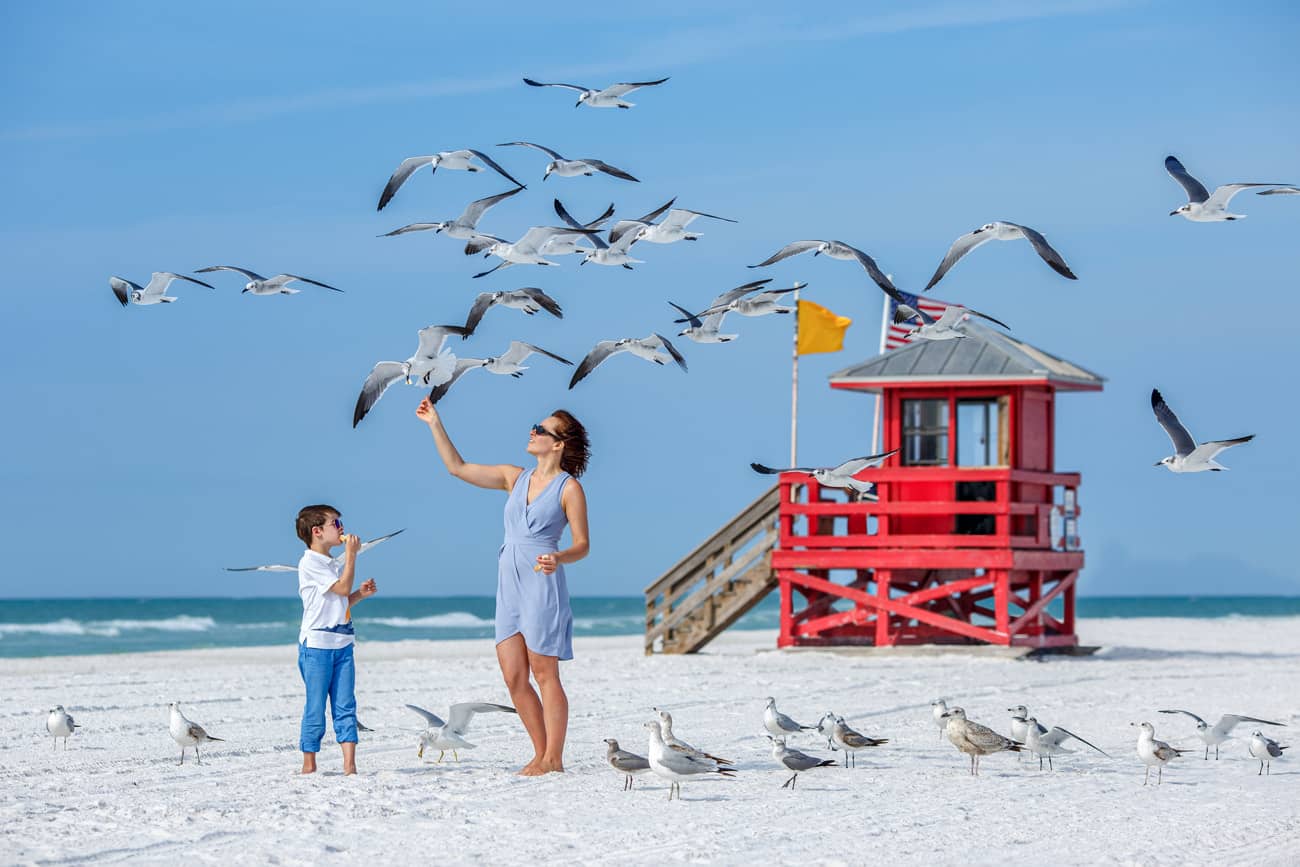 Best for: Families with kids
With powdery white sands a gently sloping gulf waters, Siesta Key Beach is a favorite of visitors with kids. It has twice been named the nation's best beach, due not only to the immaculate condition of the beach itself, but also to the plethora of amenities, activities, and quality lodging in the area.
There's plenty for kids to enjoy here: snorkeling, fishing, and boating are all popular activities for the whole family, and there are many affordable kid-friendly restaurants nearby. Even the sand here is perfect for small feet: it's mostly made of quartz, which is notorious for staying cool underfoot, even in the summer sun.
Cocoa Beach, Cape Canaveral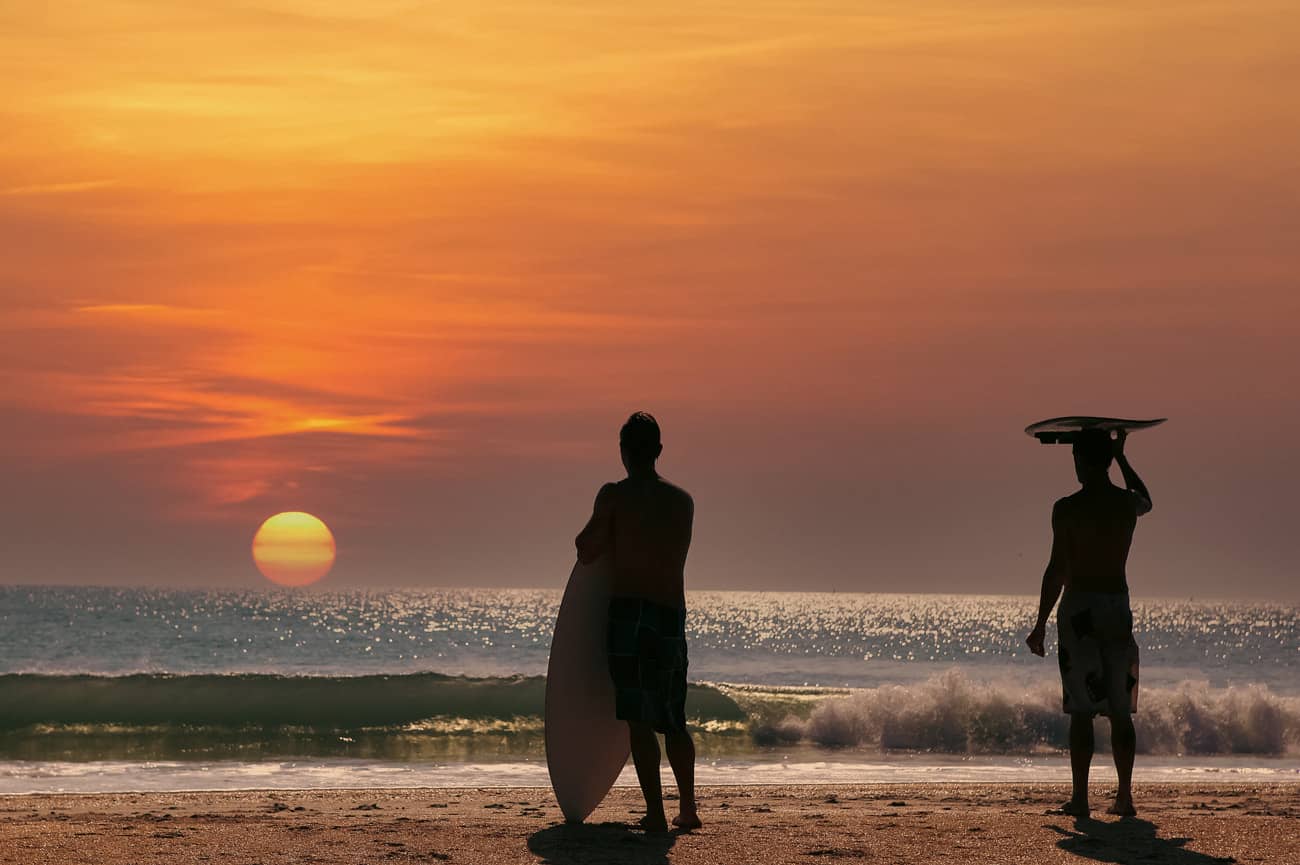 Best for: Surfing
On a slim barrier island in the Atlantic lies Cocoa Beach, the name of both the six miles of sandy coastline and the surrounding municipality. The breaks here are legendary, rendering Cocoa Beach unequivocally Florida's surfing capital, and home to the nation's largest surf emporium: the Cocoa Beach location of Ron Jon Surf Shop. It's a massive 52,000 square feet, is open 24-hours a day, and has been around since 1963.
If you haven't brought your own gear, you can rent almost anything you might need for the beach – from surfboards to wetsuits to umbrellas – from their Beach Rentals department. You can even schedule a surfing lesson at their Surf School if you're new to the sport.
Crandon Beach, Biscayne Key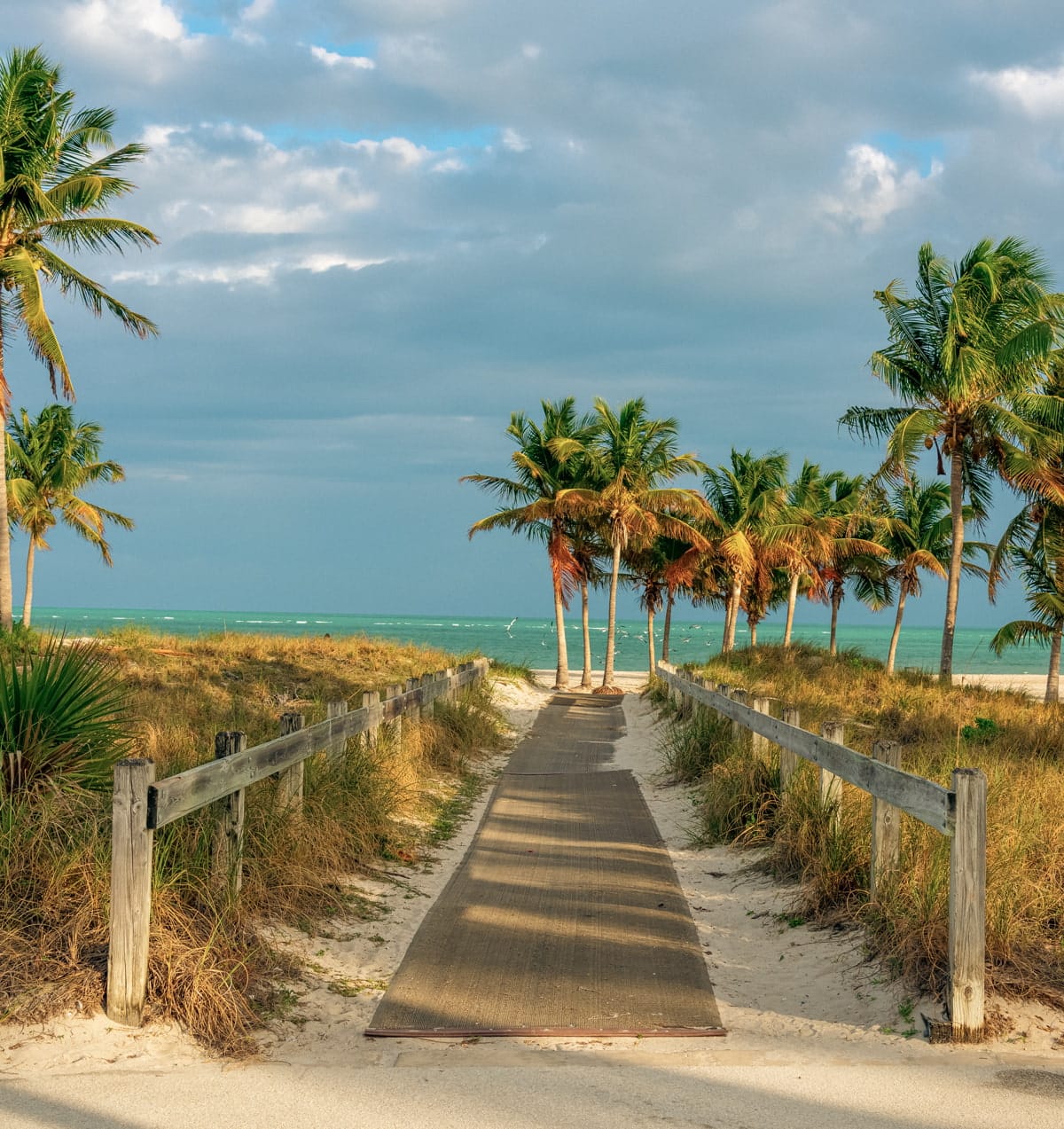 Best for: Day trips from Miami
Even though you can reach Crandon Beach in as little as 20 minutes from Downtown Miami, it's remote enough to feel like you're in another world completely.
Though it can get crowded, particularly on weekends, there's plenty of room for everyone to find a spot to lounge. While you're there, be sure to get a photo with some of the wild peacocks that roam the grounds completely unfettered.
South Beach, Miami Beach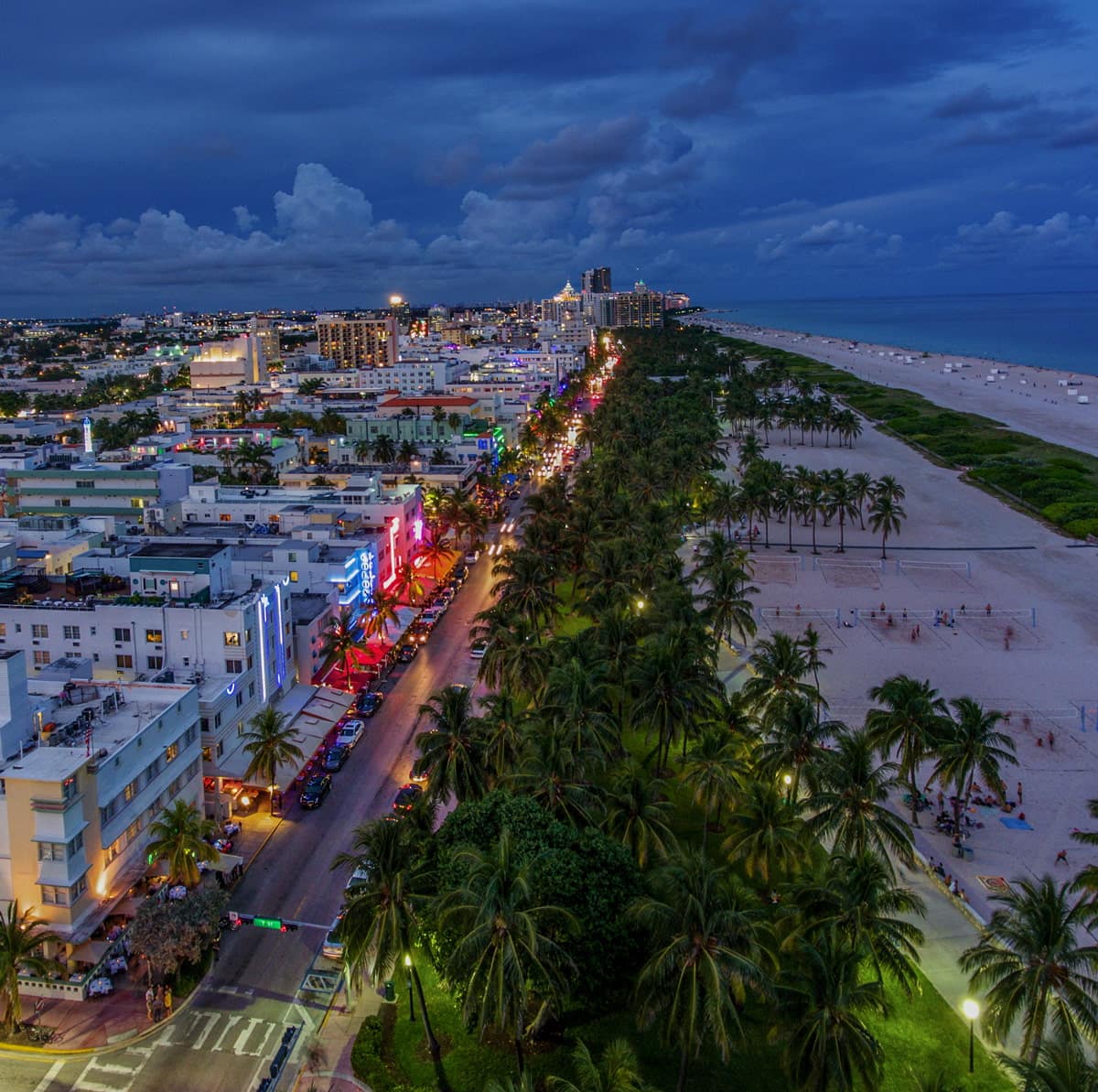 Best for: Nightlife
Though it's famous for being right by some of the most luxe, hedonistic nightlife in the country, South Beach is quite charming. For such an urban beach, the dunes here are quite wide and are buffered from the famed Ocean Drive by a grassy park frequented by cyclists and rollerbladers.
But when the sun goes down, you'll only be steps away from the famed bars and clubs of Ocean Drive and Collins Ave.
South Beach Park, Boca Raton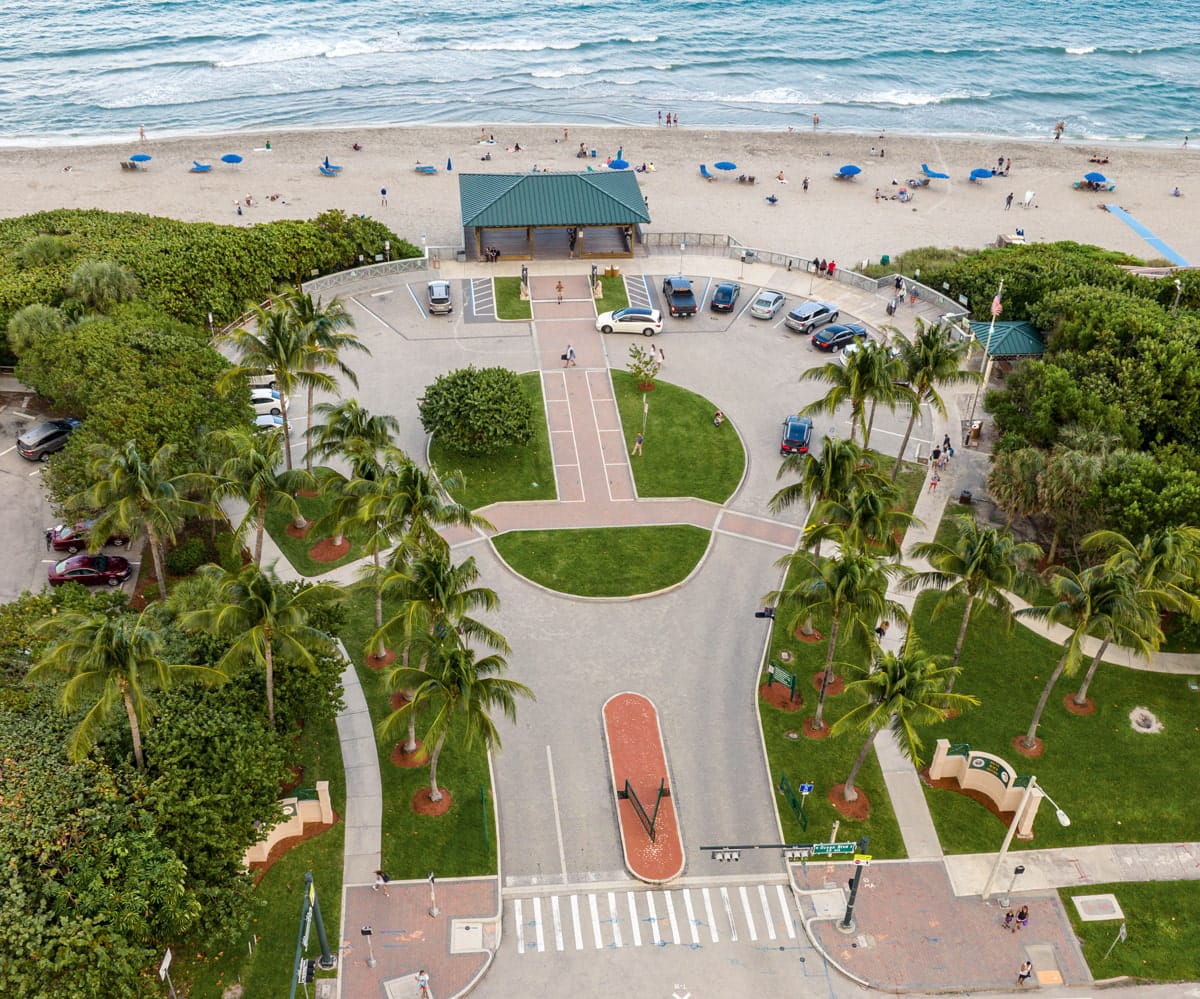 Best for: A luxury vacation
Long a titan of all things luxury, Boca Raton is the state's unofficial capital of boutique shopping and posh resorts. No longer just a retirement community, Boca Raton is a growing city with a convenient international airport, and the stretch of sand abutting the Atlantic here is one of the best beaches in Florida.
Well equipped, South Beach Park has restrooms and beach showers, and you'll find shoreside stations renting umbrellas and lounge chairs, a rare sight on a public beach.
Lido Beach, Sarasota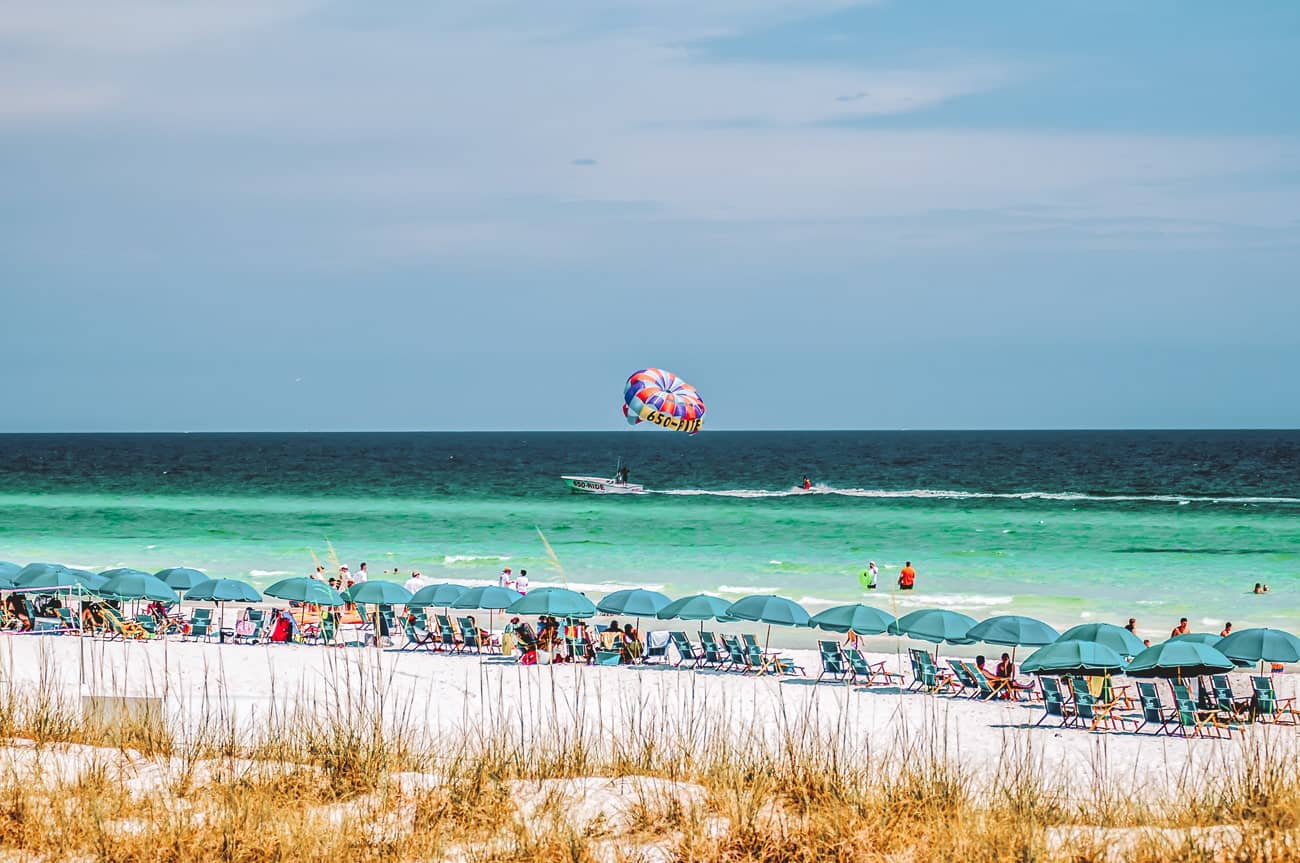 Best for: Couples on a romantic outing
While it's not nearly as busy and populated as nearby Siesta Beach, that's exactly what makes Lido Beach so charming. Here you'll find a handful of beach resorts and short-term rentals, but minus the crowds of other beaches nearby.
This makes it perfect for couples: enough infrastructure so you won't have to lift a finger on a romantic getaway, but isolated enough that you can feel, at times, like you have the shore all to yourselves.
Jupiter Beach, Jupiter
Best for: Pets
Though many beaches in Florida have banned dogs, Jupiter Beach not only welcomes them but invites them to run off-leash. From beach marker #26 (Marcinski Road) to #57 (the Carlin Park property line) all leashless dogs are permitted provided they are well-socialized and reply to voice commands.
To ensure that your dog – and the other dogs visiting the beach – have a swell time, there are a handful of rules you should obey during your visit. While leashes aren't required, you should never let your dog unsupervised, particularly in the water. And be sure to bring your pooch plenty of water and reef-safe sunscreen, especially if they're not used to the heat of the Florida coast.
Fernandina Beach, Amelia Island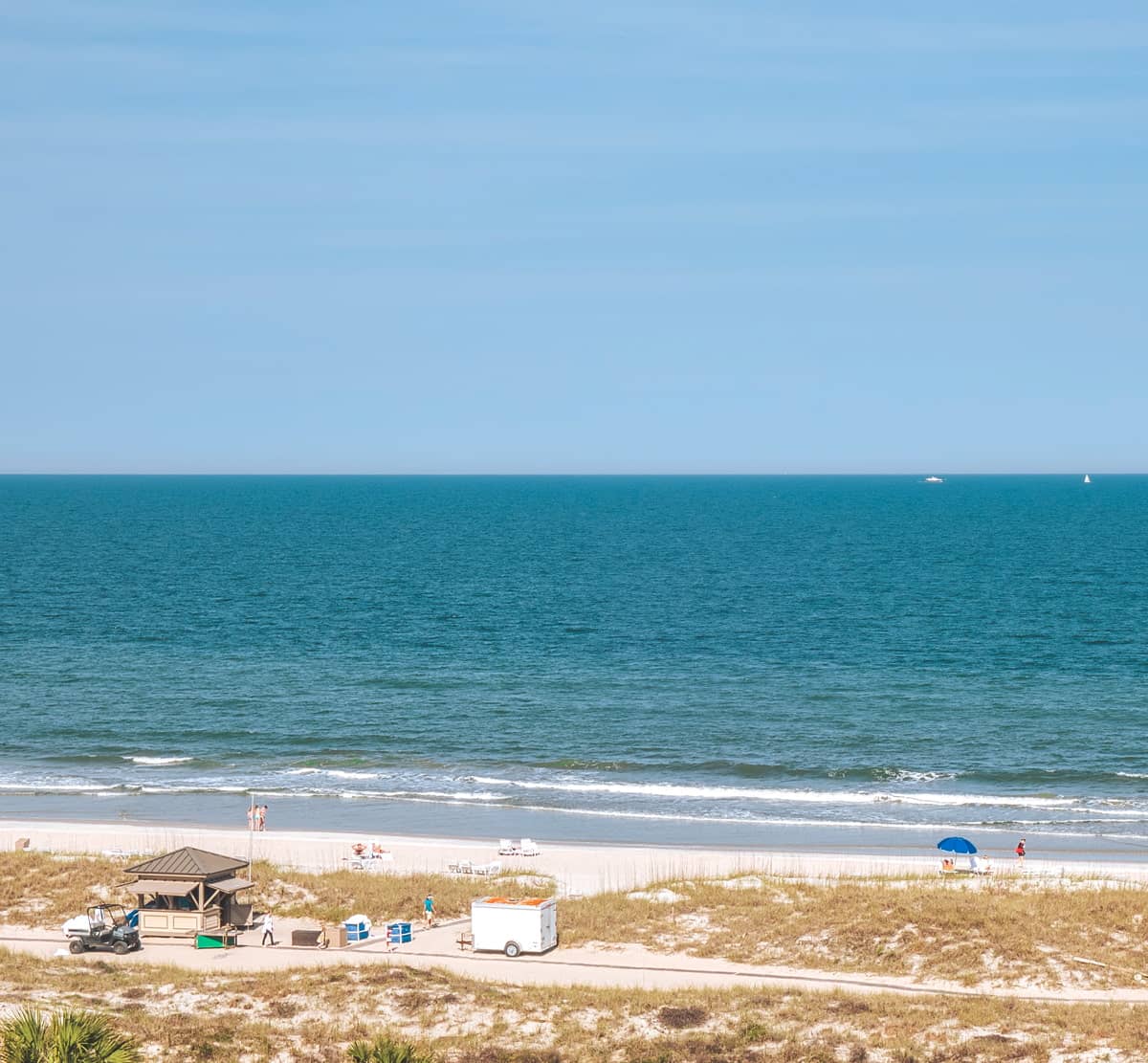 Best for: Dolphin watching
The southernmost of the chain known as the Sea Islands, Amelia Island is home to Fernandina Beach, the name of both the island town and the strip of sand that faces the Atlantic. The largest draw to Fernandina is the huge population of Bottlenose dolphins that live nearby, and you'll likely be able to see one right from the shore.
You can also go on a dolphin-watching excursion. If you're lucky, you might even get to see an ultra-rare pink dolphin: rumor has it there's one that's been spotted several times over the last few years.
Daytona Beach, Daytona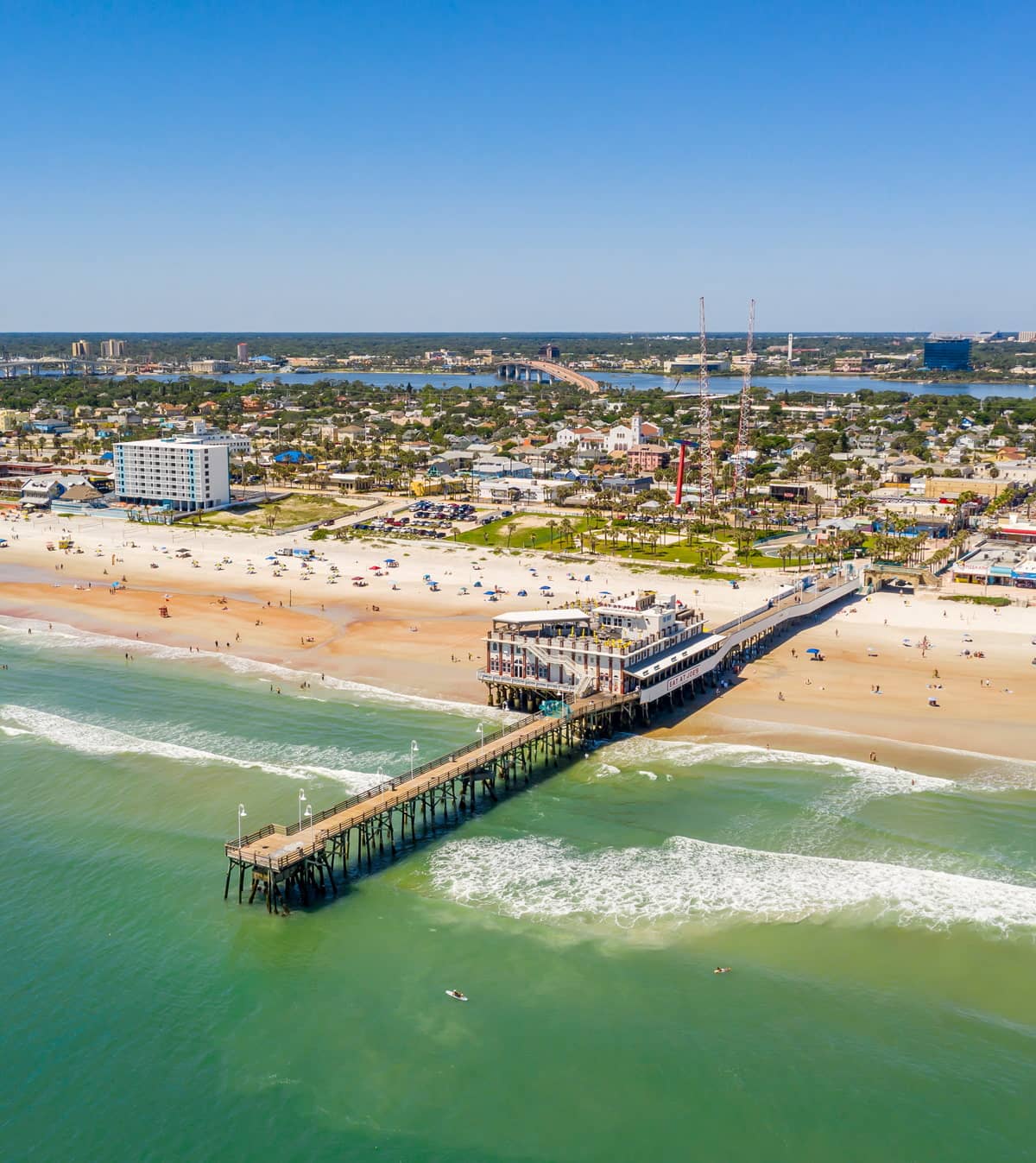 Best for: Auto enthusiasts
Daytona Beach has become famous because of a peculiar piece of geology: the frequently hard-packed sand that lines the coast is perfect for vehicles and began attracting leisure motorists by the thousands. What started as a mere pastime slowly grew into the establishment of the Daytona Beach and Road Course, which eventually became the Daytona International Speedway, now the headquarters of NASCAR.
Visitors today come for several annual racing events like Daytona Beach Bike Week, Jeep Beach weekend, and of course, the famed Daytona 500.
Panama City Beach, Panama City
Best for: Water sports
Long known for its optimal combination of great beaches and vibrant city life, Panama City Beach has become one of Florida's most visited resort towns. Because of the constant influx of tourists, several excursion and adventure tour providers operate in the area.
This is one of the best beaches in Florida for all kinds of water activities: diving, jet-skiing, and parasailing are all possible here, and can often be booked on a fairly quick turnaround. If you're looking for something a bit more leisurely, there are plenty of more low-key activities available, like ocean cruises, fishing, and snorkeling.
Navarre Beach, Pensacola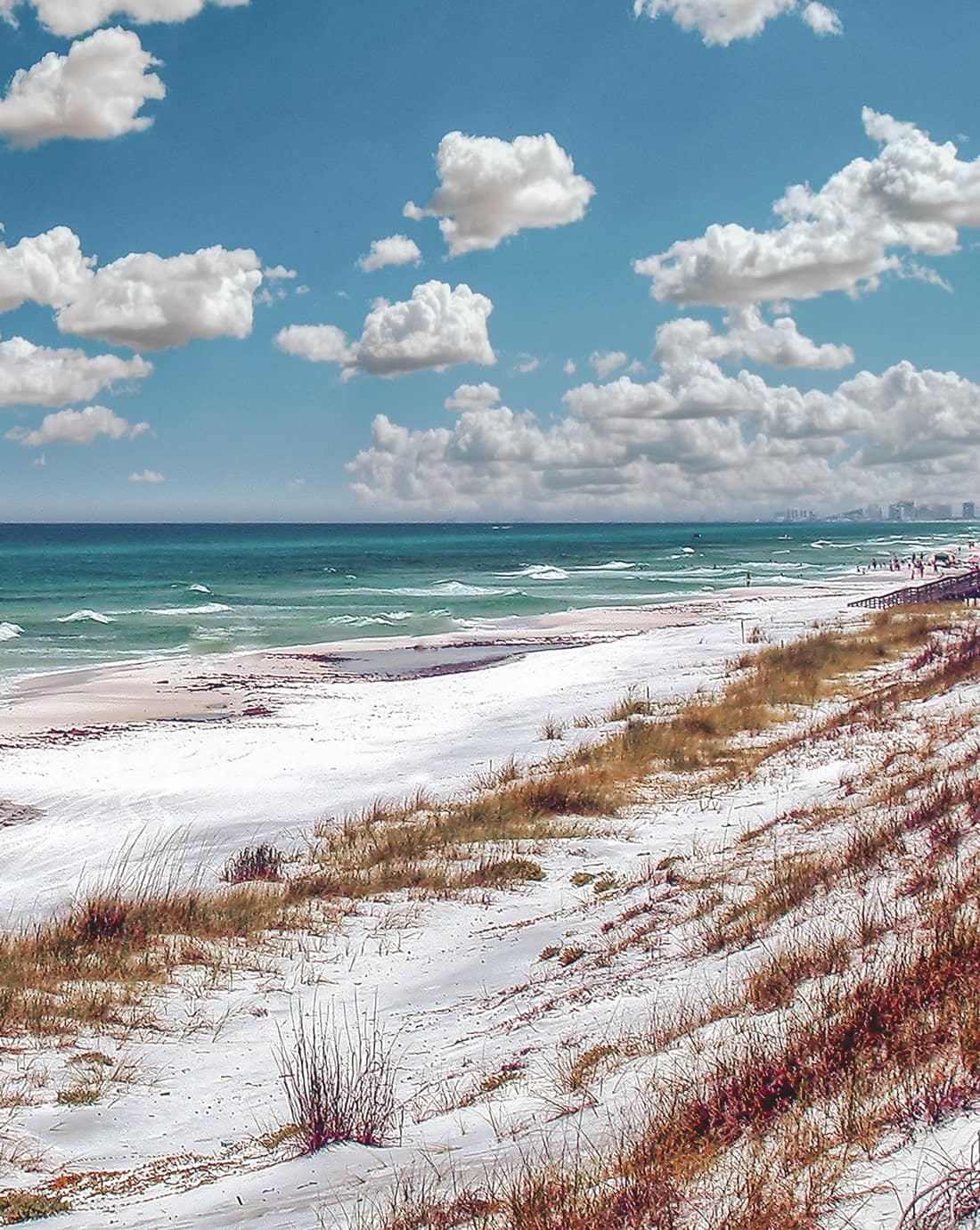 Best for: Spotting wildlife
The beaches along the Panhandle are famous for the green-blue gulf waters, and Navarre is no exception. Here, the water is particularly clear, and combined with the low light pollution makes this a perfect locale for nesting sea turtles, who typically lay their eggs between May and October.
But there's far more wildlife here than just the sea turtles: Navarre has communities of deer, rabbits, and even the occasional bear. Just offshore, the reef is home to several species of jellyfish, octopuses, urchins, and tons of colorful, tropical fish. Even if you're not up for snorkeling, you can rent a paddleboard or a clear-bottom kayak to see marine wildlife.
Johnson Beach, Gulf Shores National Recreation Area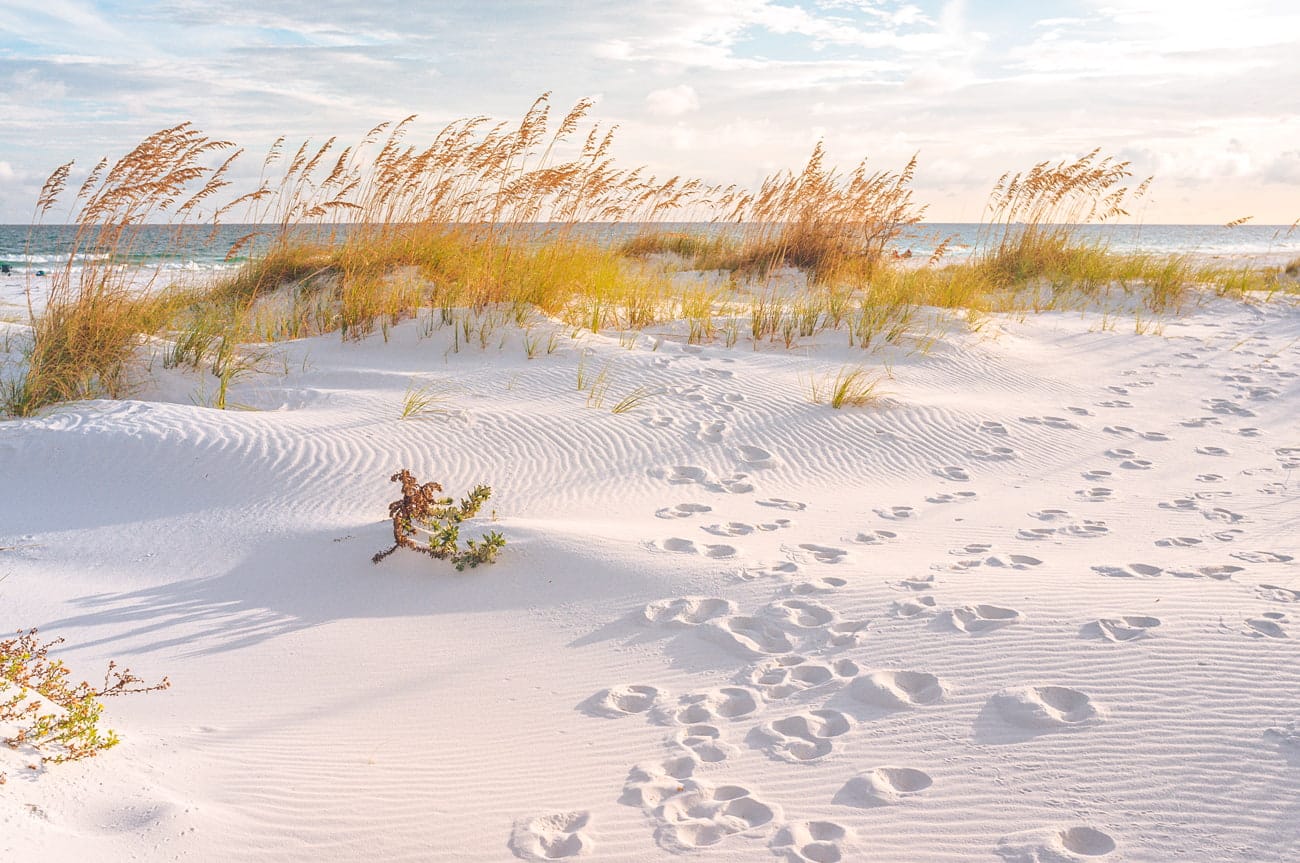 Best for: Beach camping
On the Perdido Key barrier island off the coast of Florida's Panhandle is Johnson Beach, part of the Gulf Shores National Recreation Area. Here you'll find plenty of the pristine white quartz sand that the Panhandle is famous for, but what sets Johnson Beach apart is that you can pitch your tent right on it.
Currently, backcountry camping is allowed for boat-in campers only, and there's plenty of room to beach your craft in designated areas. While there aren't specific plots for tents, the Parks Service asks that you not place them where they could damage any vegetation or dune formations.