This post contains affiliate links, which means we may receive a small commission, at no additional cost to you, if you make a purchase through these links. See our full disclosure here.
Looking for the most happening city in Europe these days? Head to Berlin. The capital of Germany, this city is awash in youthful energy, full of vibrant street art, a buzzy nightlife scene, innovative gastronomy, thriving performing arts and culture, chic shopping, and more. But at the same time, the city pays tribute to its long and storied past, with its many classical buildings and must-visit museums and monuments.
Bringing the past, the present, and the future together on its gritty streets, Berlin bursts with creativity, cutting-edge culture, and history. And that extends to its exciting hotel and hospitality offerings.
Throughout the city, nestled in renovated historic buildings or splashy new creations that add to the diverse architectural landscape, you'll find some of the coolest digs to stay in anywhere in Europe, for all tastes and price ranges. From private penthouses to chic boutique hotels, these are the 15 best places to stay in Berlin!
The Monbijou Penthouse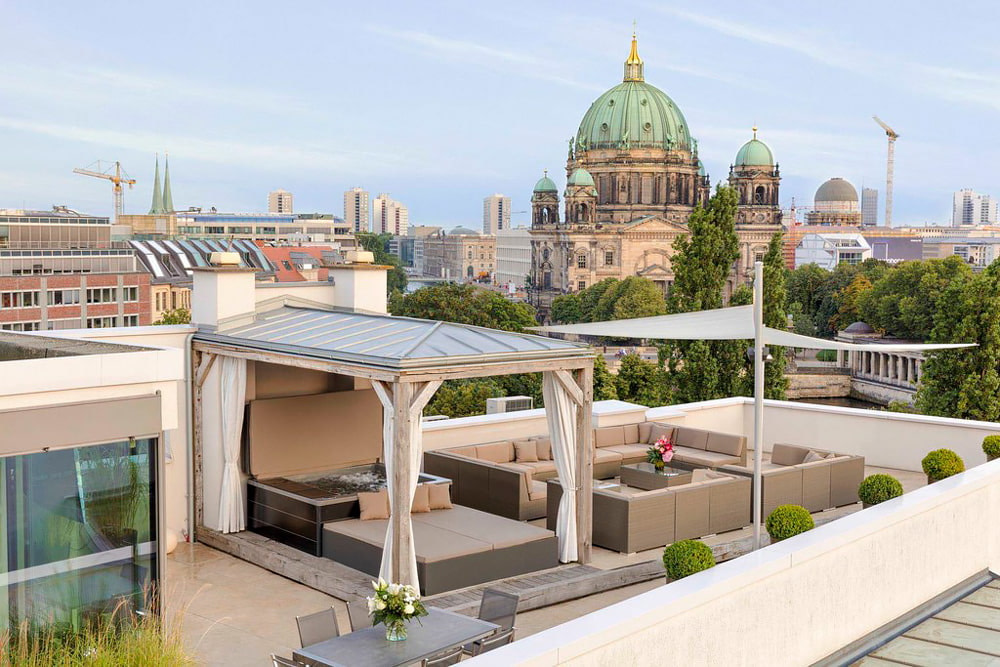 If you love the ritzy ambiance of high-end hotels but crave privacy, the Monbijou Penthouse is the spot for you. Located in the heart of the city near the River Spree, this posh penthouse is a modern-meets-Art Deco interior design wonderland, with angular black and white walls, gold accents, and vintage-inspired decor.
It boasts three different bedrooms, three and a half baths, dining room, kitchen, and light-filled living room; all this is accessed by a direct-access elevator. But it's the rooftop patio that really takes the cake, with lounge area, Jacuzzi, and enviable views of landmarks like the Berlin Cathedral.
Linnen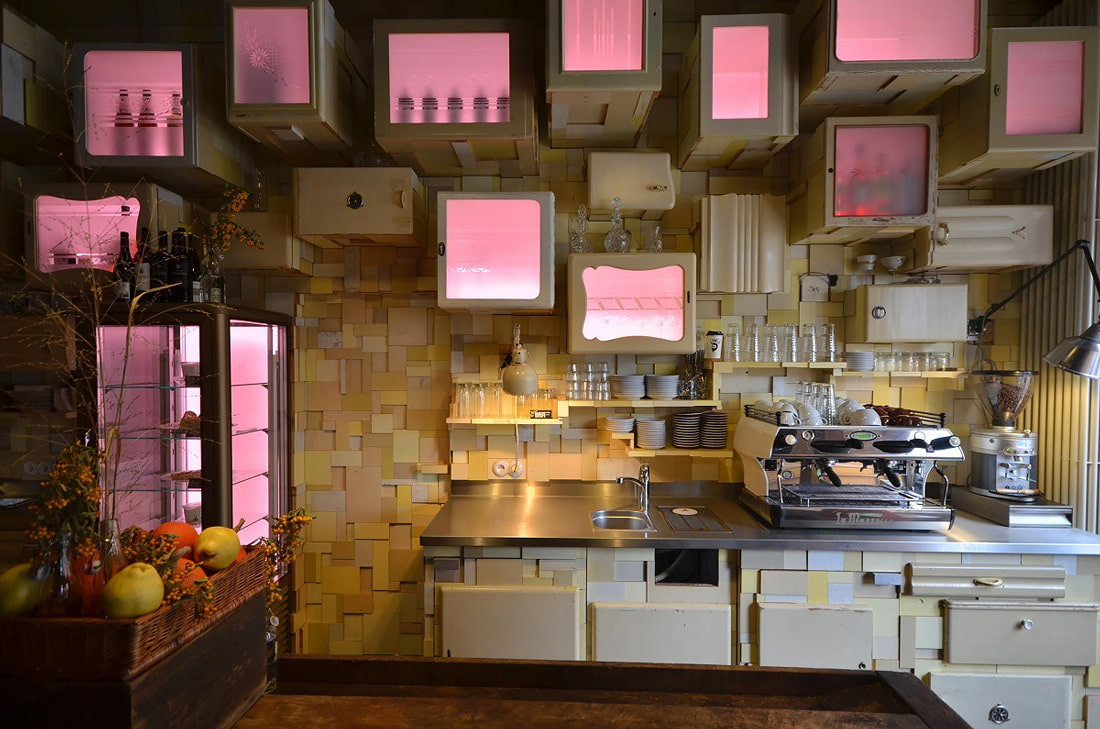 This boutique bed and breakfast is one of the most design-forward places to stay in Prenzlauer Berg. Housed in a historic, 1900s building, Linnen's ground floor houses a quirky café, which instantly draws the eye with its wall of light-up, neon cubes. Upstairs are six rooms, each decorated around a singular theme, such as a homey cabin-like room of rough-hewn wood or an a la Sofia Coppola's "Marie Antoinette" pink period outfit.
Most rooms still feature some of the hotel's original design flourishes but have modern touches like freestanding bathtubs. In addition to the six rooms, a three-bedroom apartment is also available for longer stays or larger groups.
Hotel ZOE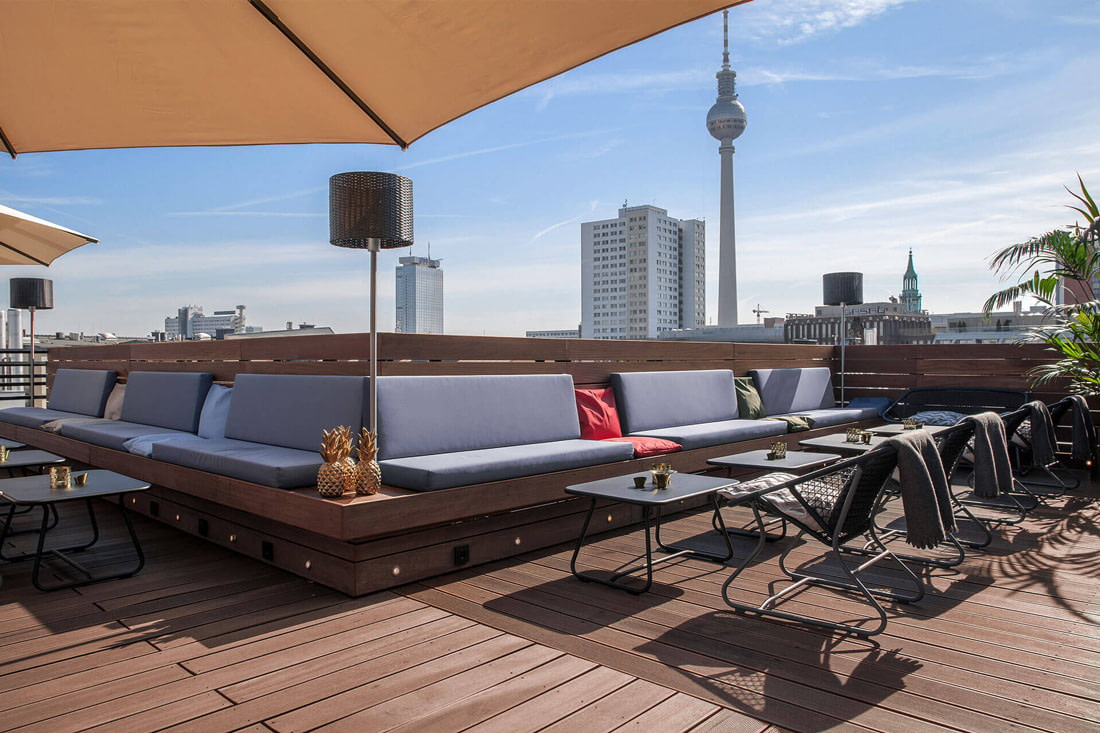 A sunny rooftop bar overlooking the heart of Berlin and Germany's first bar solely dedicated to gin and tonics? These are just two of the reasons to stay at the Hotel ZOE. Notable for its "urban design" of sultrily-lit, dark-toned rooms with glitzy gold, marble, and velvet accents, ZOE is so alluring and seductive you'll never want to leave.
There are 88 rooms of varying sizes, ranging from a simple bed and bathroom to more spacious digs. As mentioned, the ground floor houses a dedicated G&T bar, with more than 70 gins. And all the cultural attractions of central Berlin, like Monbijou Park, are within walking distance.
Hüttenpalast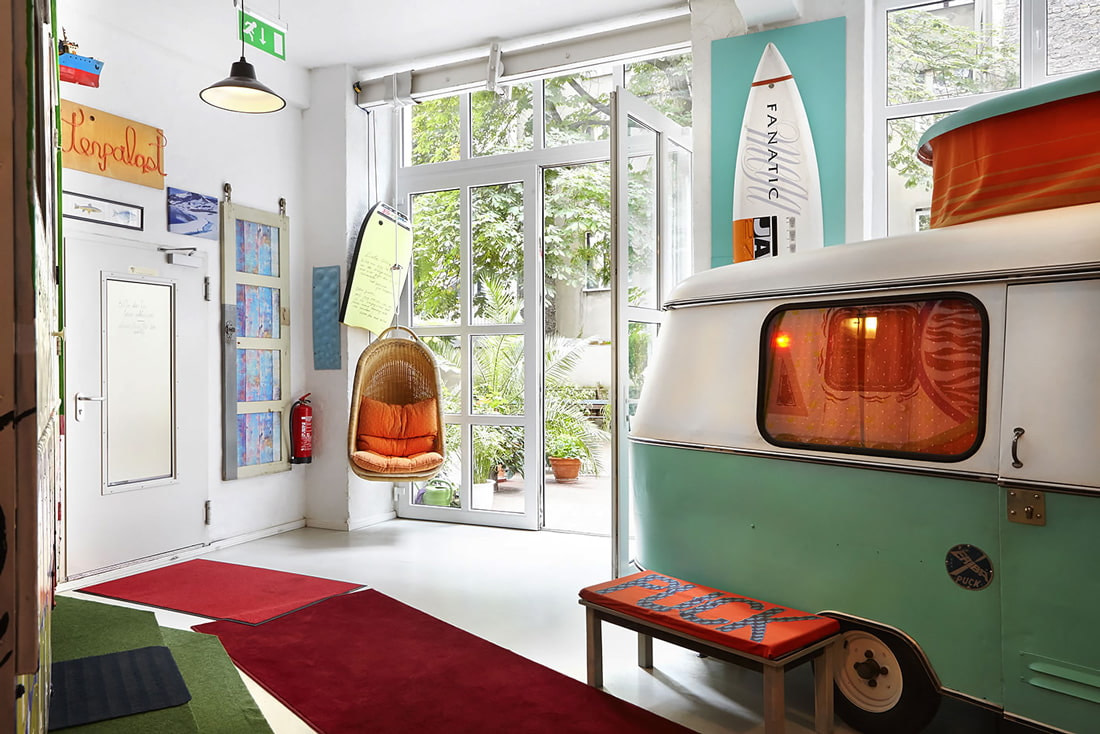 Love camping but don't even want to leave the city? Berlin has the answer: Hüttenpalast. Housed inside a converted factory building in the bohemian Neukölln neighborhood, here guests have the option of staying inside colorful caravans or cutesy mountain huts!
Many of the caravans are vintage models that were restored or reimagined by artists and designers, and feature decorations like mosaics and vibrant paintings; the mountain huts look like something out of a Wes Anderson film, with peaked roofs and alpine-esque decor. There are also standard hotel rooms, as well as communal spaces, a courtyard garden, café, and upcycled furnishings.
SO/ Berlin Das Stue
Classically elegant but with modern flourishes from an interior design legend, Das Stue is one of Berlin's most opulent and intimate stays. As "stue" means living room in Danish, that sense of warm, homey hospitality is brought to this ritzy outfit, which is also Berlin's first luxury boutique hotel.
The hotel is housed in a stately 1930s building in the diplomatic district, with arching stone stairways, cavernous entry halls, refined rooms with bespoke furnishings, and hip common areas. With 78 rooms total, there are various layout options from room to suite, with the most palatial being the Bel Etage Suite. There are also on-site bars and restaurants, with the Michelin-starred Paco Perez at the helm of the Stue's culinary offerings.
Designer Apartment in Prenzlauer Berg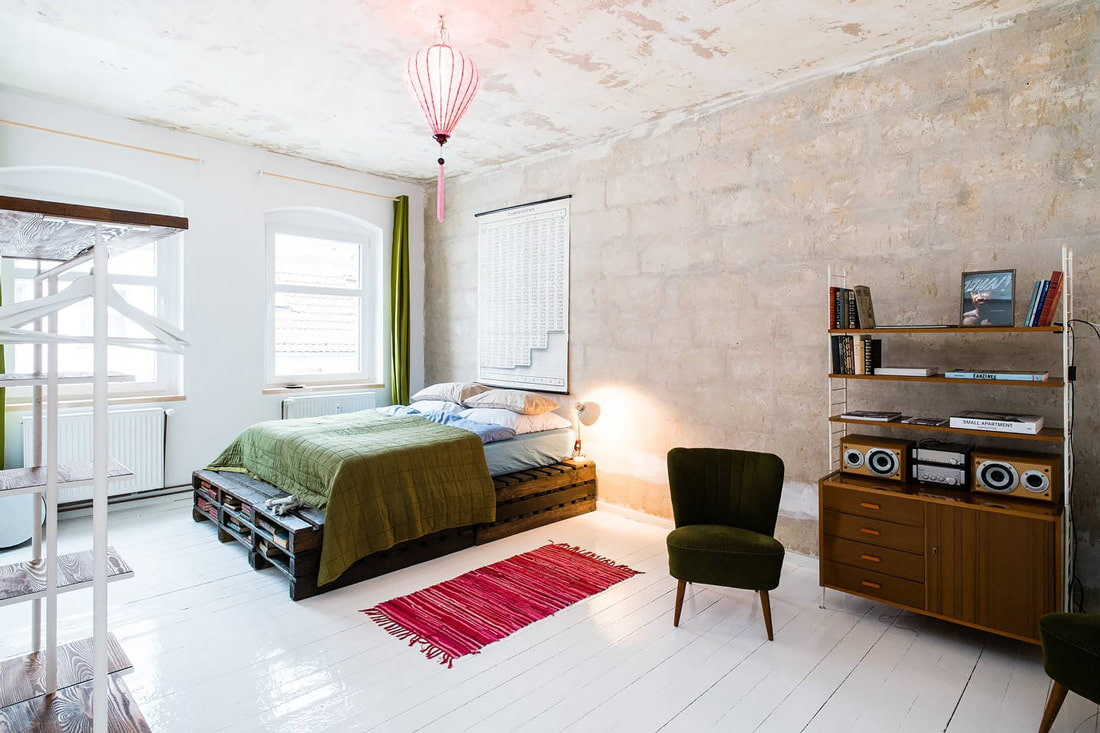 Minimalism fans will fall hard for this scaled-back designer-created apartment in Prenzlauer Berg. The bedroom is like a breath of fresh air, with practically zero decoration on its white walls and a few moss-green or pink furnishings to add a hint of color.
The other rooms, which include a small kitchen and sitting area, are equally sparse, with accent walls and minimal decoration. By contrast, the bathroom is a shock to the system with its pitch-black walls and navy-tiled shower, a complete about-face from the light and refreshing style of the rest of the apartment. Perfect for travelers who like austere, smart spaces.
25hours Hotel Bikini Berlin
Part of the hip 25 Hours hotel chain, Bikini Berlin brings effortless chic and urban jungle vibes to the City West neighborhood. Inside this non-descript blocky building on the edges of the park that houses the Berlin Zoo, you'll find the ultimate jungle boogie party.
Starting in the light-filled lobby, there are low-slung hammocks to lounge in; on the upper floors, snag a stay in one of the park-facing Jungle Rooms. On the roof, the Monkey Bar is one of the best spots for nightlife in the city, and there's also a bakery, sauna, and fitness center. Throughout the hotel, an abundance of houseplants helps add to the jungle vibe. And bikes are available to take out for a day and explore the neighborhood.
Gorki Apartments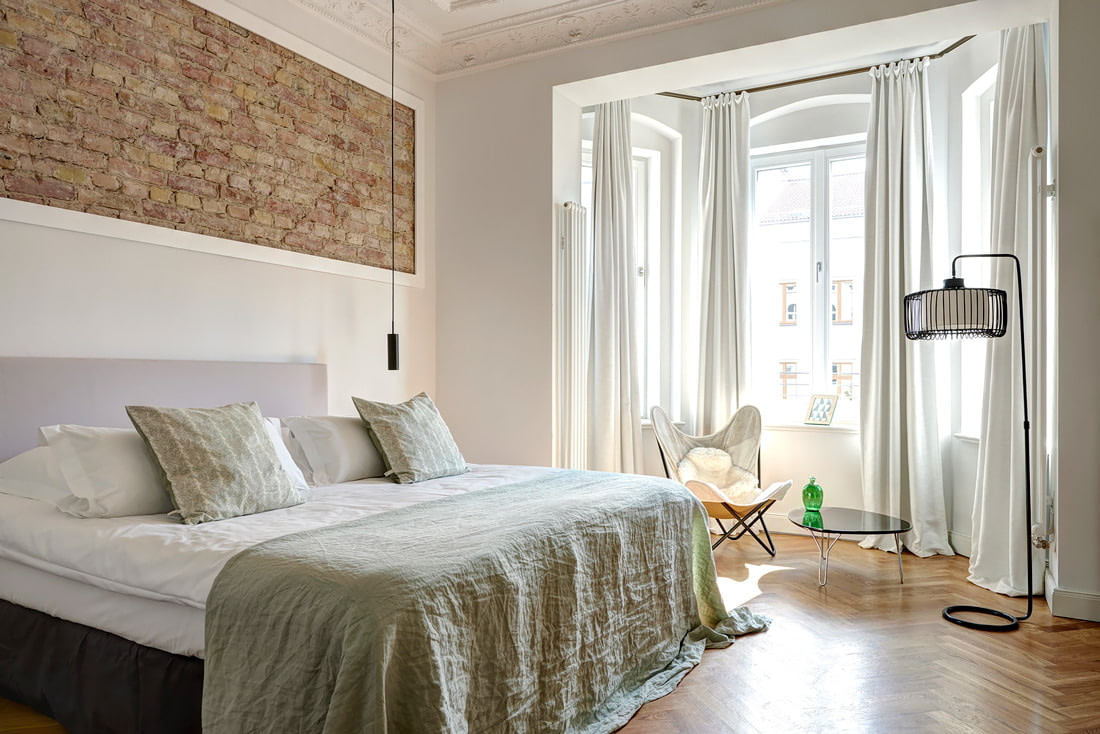 If you truly want to feel like one of those trendy Berliners you see walking around, then stay at the Gorki Apartments. Located in the Mitte district, the Gorki is a collection of 35 apartments and penthouses in a historic building that, with the aid of top designers, have been transformed into contemporary design havens, with clean white walls and stylish decor from trendy design houses to vintage finds at nearby antique markets.
As such, each apartment is its own universe, so you can bask in a boutique hotel atmosphere but still have complete privacy. The two penthouses also feature rooftop patios with splendid city views. And, as they are apartments, stays can be extended up to six months.
Schlosshotel Berlin by Patrick Hellmann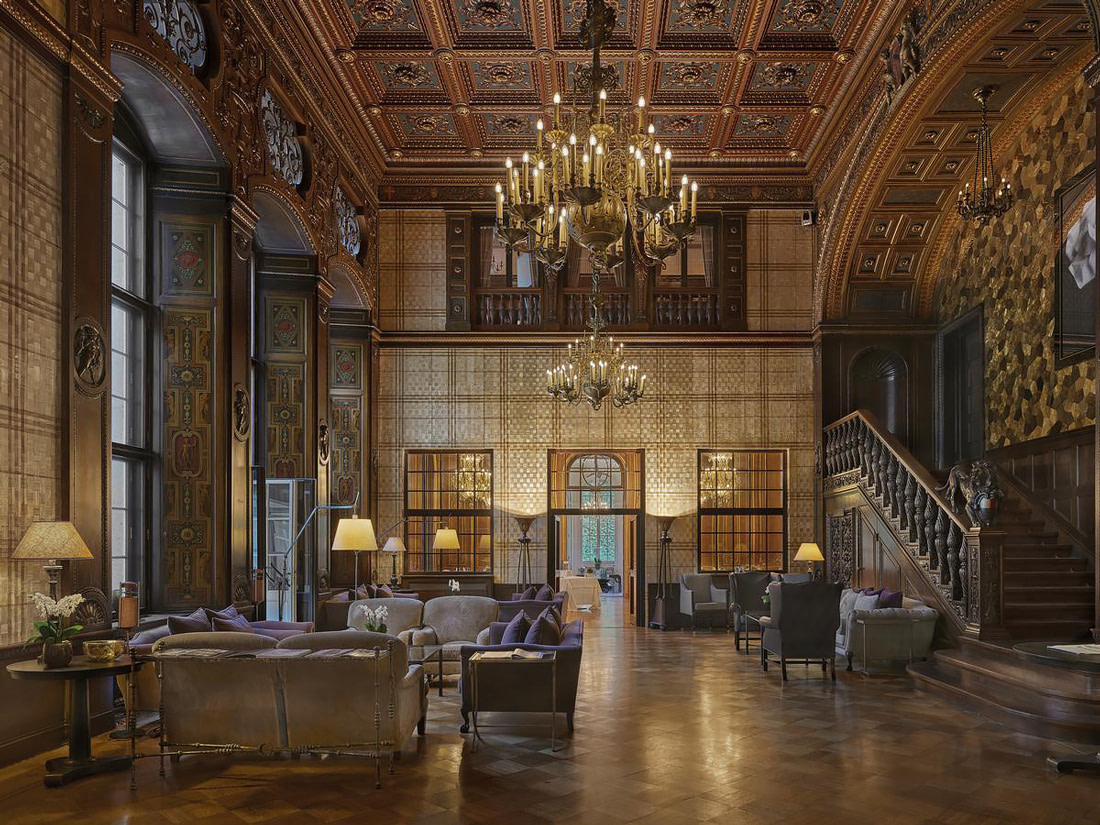 Berlin is famous for its hip, contemporary atmosphere, but the Schlosshotel Berlin proves that classic, refined hospitality never goes out of style.
This elegant outfit in the high-end Grunewald district is housed in a stately old house of polished stone and red tiles. But this isn't just a repurposed mansion-turned-luxury-hotel: Karl Lagerfeld himself helped design the upscale interiors of dark-paneled wood, plush accents, and classic Victorian-era furnishings. The hotel boasts of 43 rooms and 10 suites, including one named after Lagerfeld himself, as well as several restaurants and bars, a pool, spa, gym, and outdoor lounge area. All this is located on a verdant lot full of trees and bushes that make the buzz of the city feel a million miles away.
Michelberger Hotel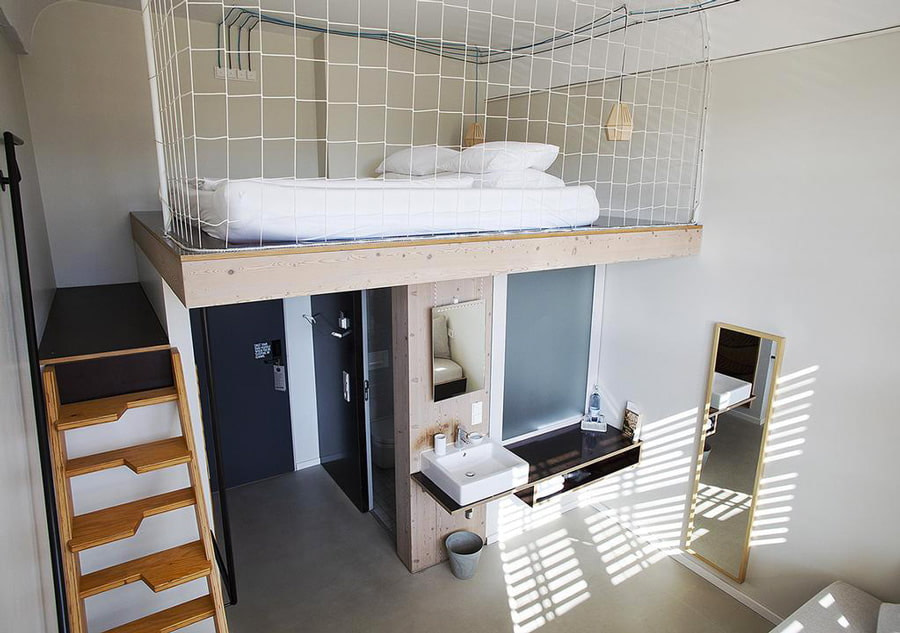 The Michelberger Hotel is Berlin's version of the Ace Hotel; a slice of Portland-style cool in the midst of one of the city's liveliest nightlife areas. Recently redesigned, this former factory is now a hipster's dream of white walls covered in slanty afternoon light and vaguely Scandinavian furniture that has that delicious "just rolled out of bed" feel. During the summer, the airy courtyard houses the café and bar, which turns to a party scene at night; during winter, a sauna and firepit are set up as well.
The on-site organic restaurant is peak Portland, with its white-tiled pillars, lofty ceiling, crisp white walls, and a smattering of private and communal tables. And this being a hotel aimed at Berlin's hip, artsy youth crowd, there are budget options and a variety of room layouts for large or small groups.
The Urban Treehouse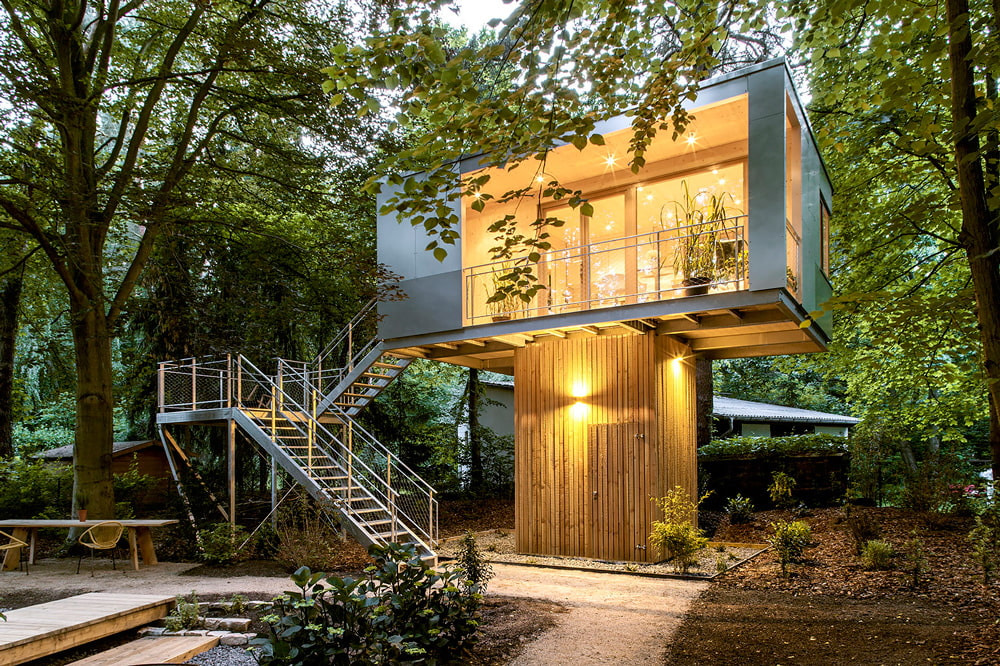 Treetop living for the modern era, the Urban Treehouses are a collection of contemporary design treehouses located on a woodsy lot. Here, childhood fantasy and adult utility go hand-in-hand: the project was conceived of by Andreas Wenner, a world-renowned treehouse architect, and his grandson.
The individual, stair-accessed treehouses, which look like giant futuristic cubes, sit perched on sturdy poles. Each is fully equipped with a spacious living room, bedroom, kitchen, bathroom, and a terrace. And the views are phenomenal: even though you're in the city, your immediate surroundings are gently-wafting trees and manicured grounds.
Generator Berlin Mitte
Another staple of the buzzy Mitte neighborhood, the Generator Berlin Mitte hostel blends industrial design with modern art and sensibilities to create a truly one-of-a-kind experience.
Elevating the budget-friendly hostel, there are shared dorms and private rooms at affordable, youth-friendly rates, but the stylishness is on par with boutique hotels; they even call it a "poshtel". And what urban design there is: contrasting white and block color walls, artsy murals, and hipster furniture that looks like something you'd find in your cool friend's loft. And there are ample amenities: for-rent bikes, an outdoor dining and lounge terrace, café, chill common areas, kitchen, laundry, and more.
nhow Berlin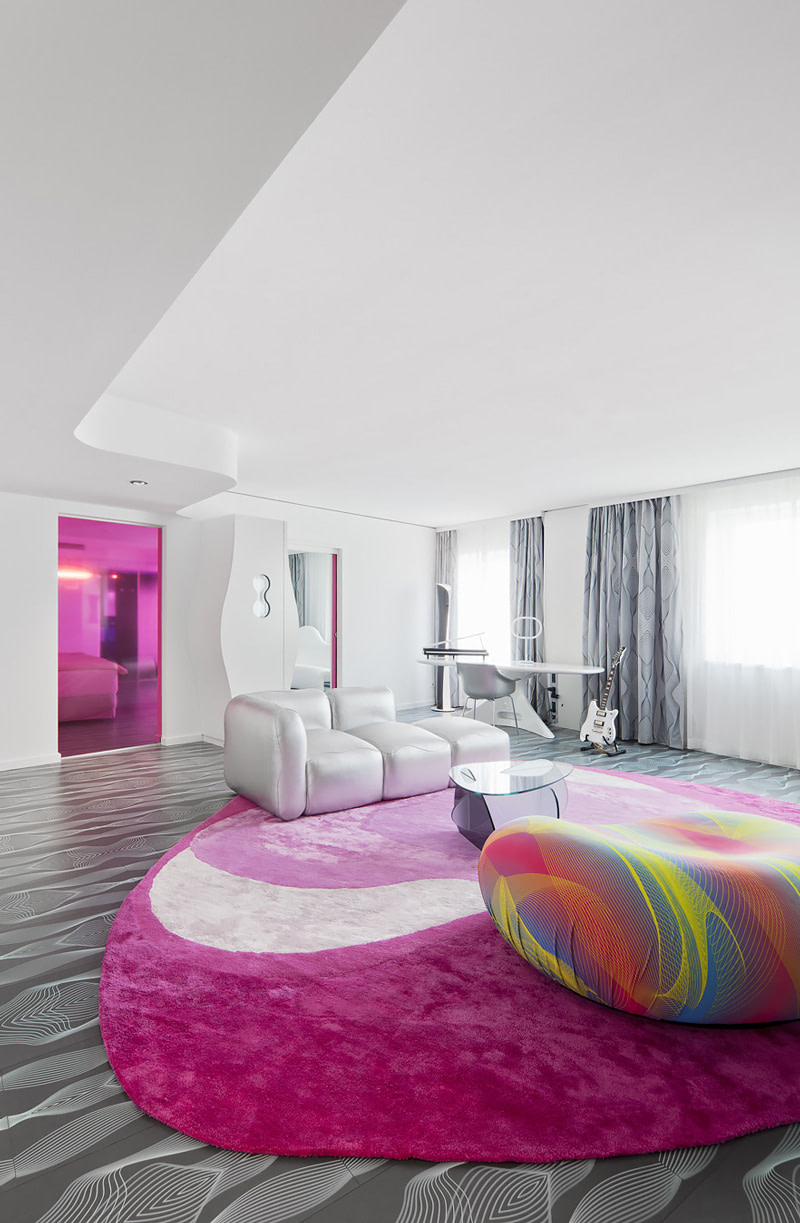 Don't know where to stay in Berlin to fully enjoy the thriving music scene? Then the nhow Berlin is the place for you. The first music hotel in Europe, the nhow is truly out-of-this-world, as is immediately evident just from approaching the building; there's a giant shiny cube stacked on top of the main hotel's blocky brick structure (and yes, there are rooms inside that cube).
Inside, rooms swirl with psychedelics colors and whimsical furniture. And there's plenty of music-themed decor, facilities (like two state-of-the-art recording studios), and amenities (guitar or keyboard room service, anyone?). The hotel is also within walking distance of top music venues and districts.
Motel One Berlin-Alexanderplatz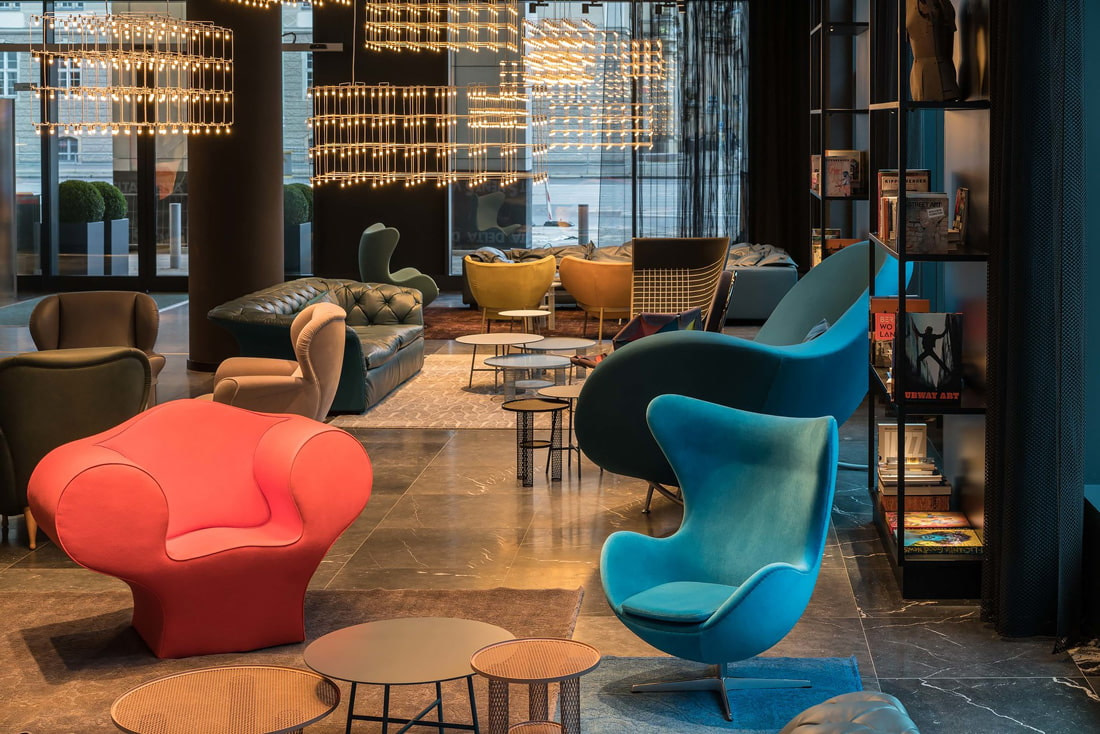 Don't let the "motel one" part fool you: Motel One Berlin-Alexanderplatz ain't no roadside stopover. Full of zany art, imaginative furniture, and forward-thinking design, this stay is one of Berlin's most stylish options.
Located in the Alexanderplatz district of central Berlin, many of the city's top attractions are right at guests' fingertips. But the world inside the hotel is so engaging and creative you almost never want to leave; the rooms are innovative yet cozy, there's a specialty gin bar, top amenities, and much more.
Ackselhaus & The Blue Home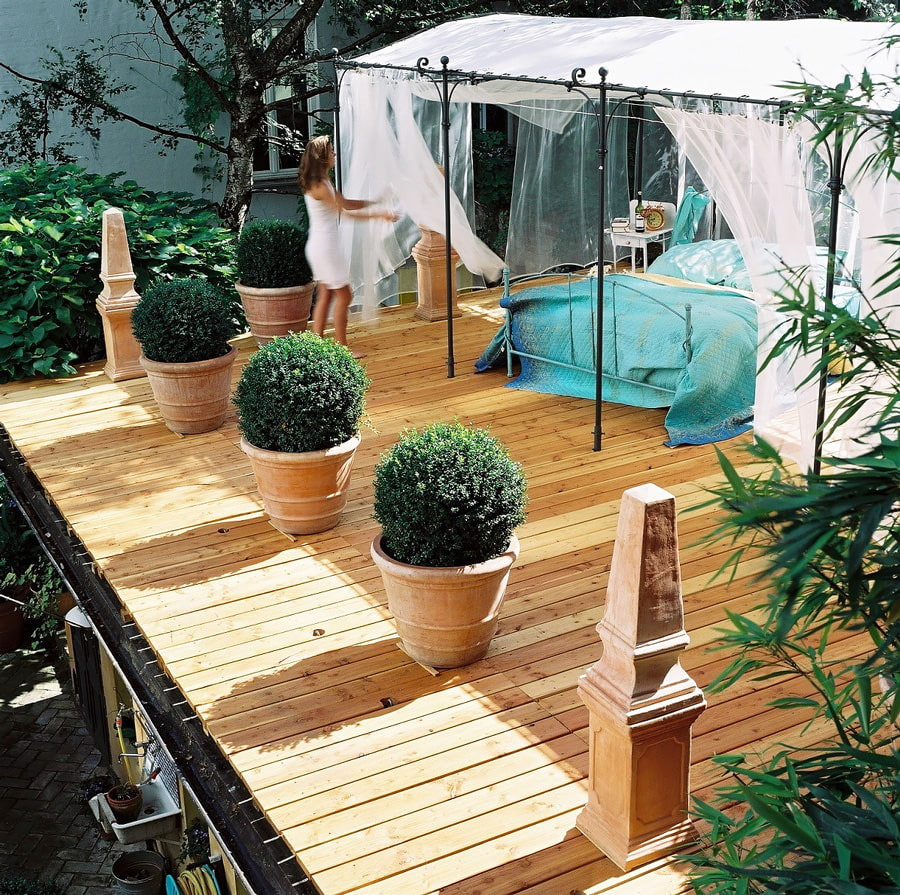 Just steps away from each other, these twin boutique hotels are instantly recognizable by their monochromatic exteriors: one a rich ochre, the other an eye-catching blue. Delightfully whimsical, Ackselhaus and The Blue Home are the brainchildren of Ulf Acksel, a local entrepreneur who has drawn on his extensive travels to design and outfit his two hotels, which were converted from late 19th-century apartment buildings.
The rooms feature varying themes and eccentric decor; in the Blue Home, there's a prevailing nautical theme. No two rooms are the same, and the size and amenities vary to suit a wide range of travelers. The hotels are also perfectly located in the Prenzlauer Berg, one of Berlin's hippest neighborhoods.