Ever wondered how sleeping in an igloo feels like? Check out the following European igloo villages and see why this unique winter getaway experience should definitely be on your bucket list.
Iglu Dorf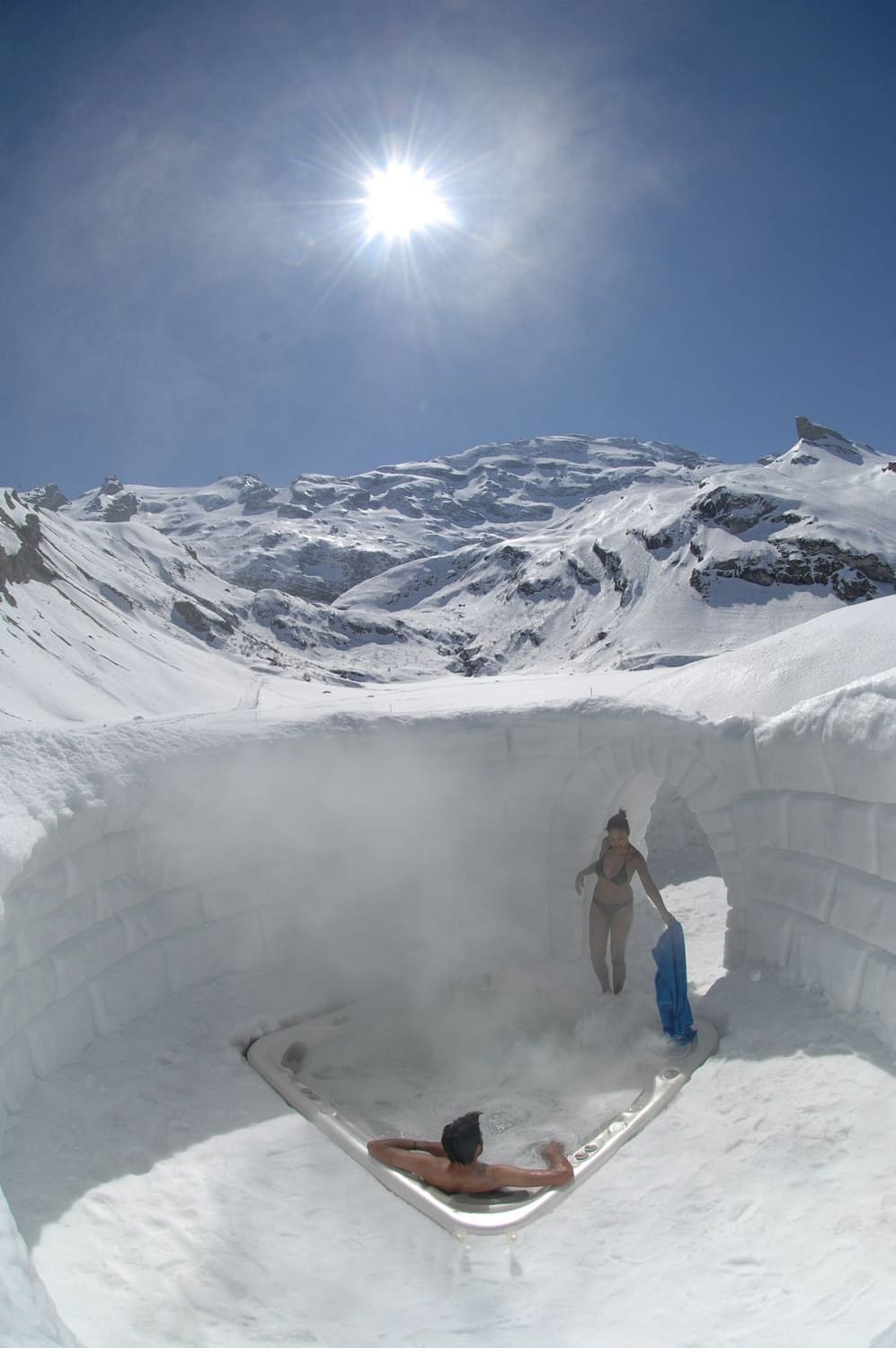 With various locations across the Alps and the Pyrenees, the German company Iglu Dorf is probably the first name that comes to mind when thinking of European igloo villages. Rebuilt every season, these magical establishments made of ice and snow provide guests with some truly unique sleeping experiences.
From Zermatt to Andorra, each of their 7 igloo villages is beautifully decorated in a different art theme every year and includes a treasure trove of perks, from snow parks and snow bars to outstanding saunas.
Village Igloo Blacksheep, France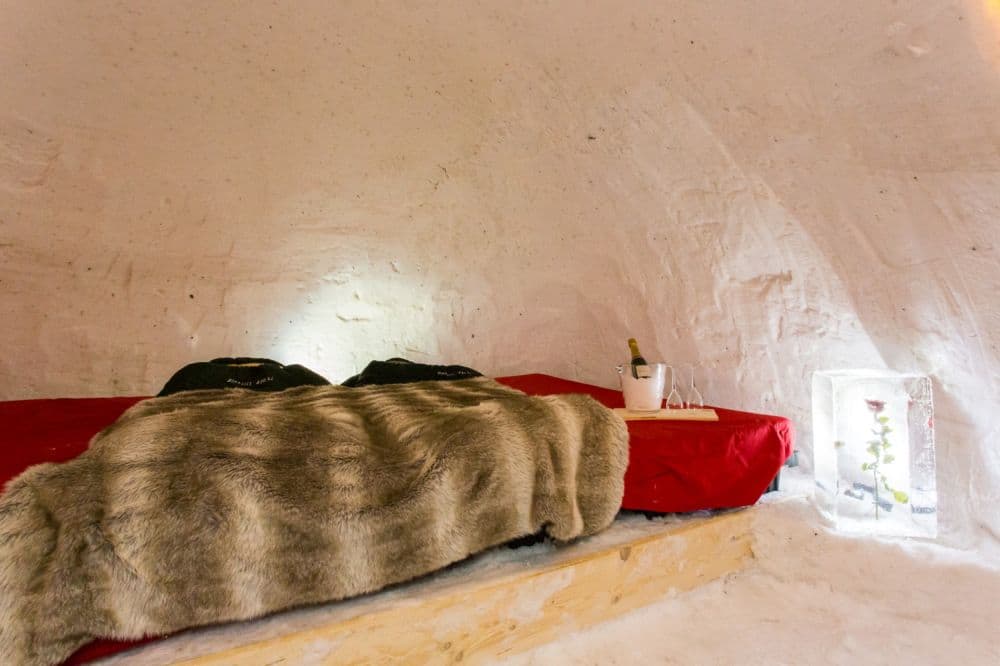 Perched 2118 m above sea level, right in the heart of La Plagne ski area, Village Igloo Blacksheep offers charming igloo accommodation accompanied by majestic views of Mont Blanc and delicious Savoyard meals.
Ranging from romantic retreats to spacious igloos that can accommodate up to 5 guests, their frozen units come complete with winter sleeping bags and faux fur blankets to ensure maximum comfort. If cold is not your thing, the village's hot igloo is an ideal option.
Igloo Village Bayerwald, Germany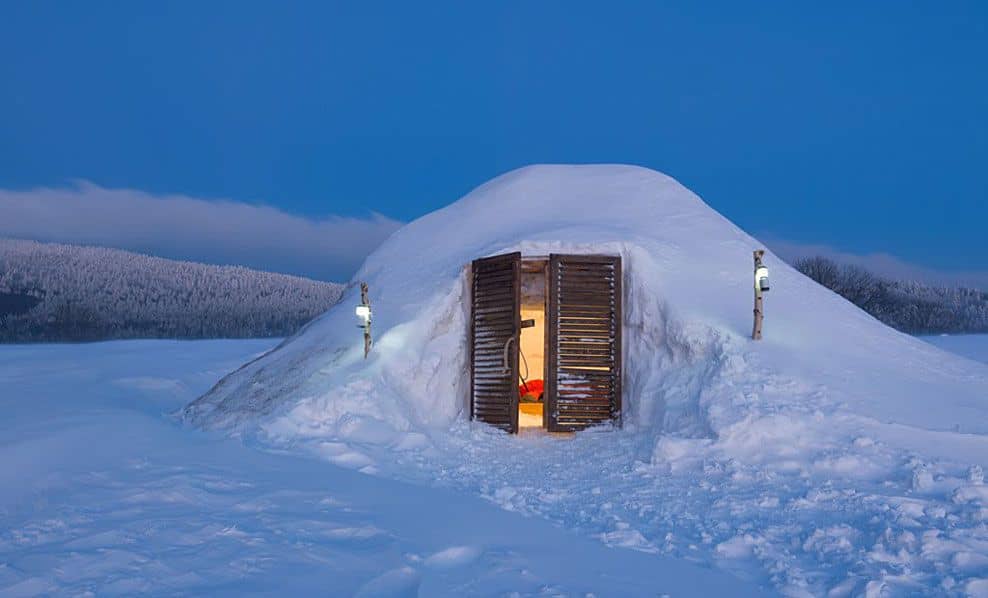 Nestled in the beautiful Bavarian Forest, in the town of Mauth, Igloo Village Bayerwald is an ideal option if you want to explore this lovely region of Germany. The resort is open yearly from December to the beginning of March and offers you the chance to feel like an Eskimo while sleeping in an igloo made of snow.
Activities available include snow-shoe tours, torch-lit night walks, and various workshops. Delicious meals are served in the nearby guesthouse.
ALPENIGLU® Village, Tyrol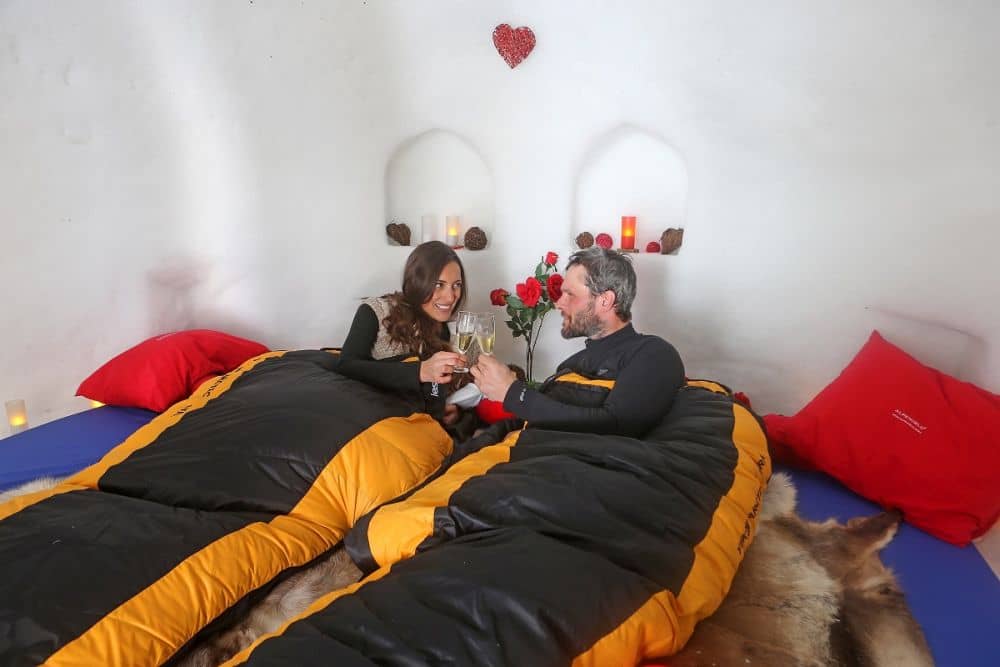 If you're looking for igloo lodging with a luxurious twist, look no further than the fascinating ALPENIGLU® village in the Kitzbühel Alps. The 18 ice-carved accommodations come appointed with warm sleeping bags and reindeer skins, and also include VIP igloo suites that can be arranged and decorated for your romantic escape.
A destination in its own right, the complex is home to an ice bar, a fabulous ice sculpture exhibition, various exciting events, and a beautiful igloo church where weddings can be organized.
Igloo Village in Kuhtai, Austria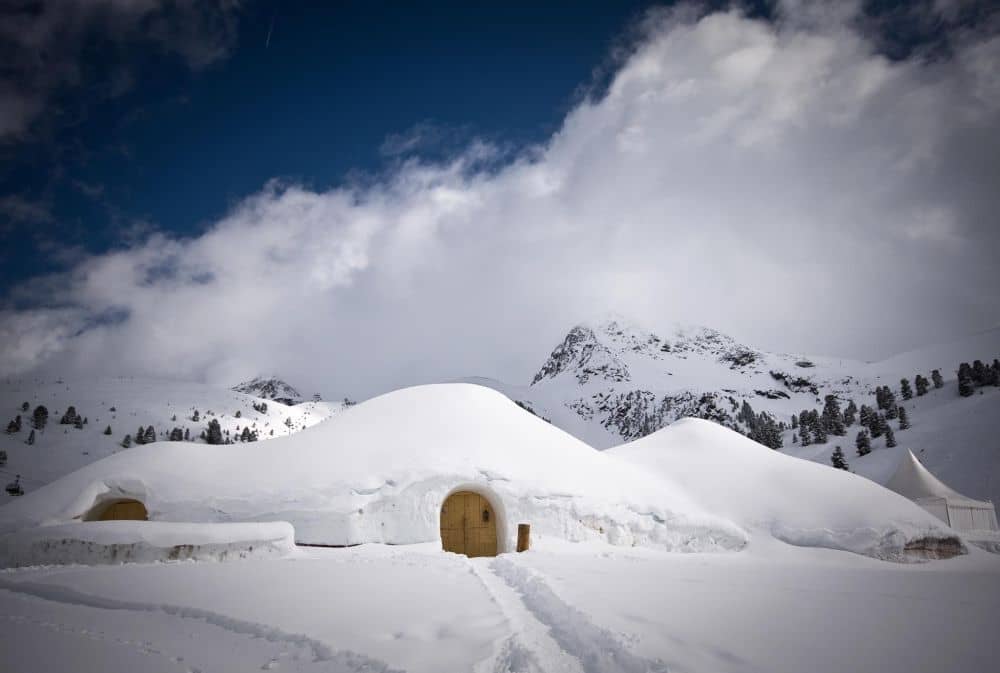 Situated in Austria's highest ski resort, about 45 minutes' drive from Innsbruck, Khutai Igloo Village boasts 12 cozy igloo suites, plus two larger ones designed for dining and entertainment.
Whether you opt for a romantic night in a unit for two or choose to sleep in a larger room (four to six people), all accommodations offer thermal sleeping bags and insulated mattresses covered with comfy sheepskin rugs. Moreover, the igloos are beautifully designed by talented snow artists, and the on-site activities range from husky sledding and igloo building workshops to fantastic skiing & snowboarding.
Eskimo Village, Slovenia
Conveniently located in Krvavec, Slovenia's second-largest ski resort, Eskimo Village welcomes its visitors with an igloo restaurant, an igloo bar, and an igloo sauna.
Designed to accommodate up to 34 overnight guests, the igloo suites come equipped with beds crafted from blocks of ice, sheep skins, and polar sleeping bags. The experience is complemented by excellent skiing and warming fondue dinners.
Kakslauttanen, Finnish Lapland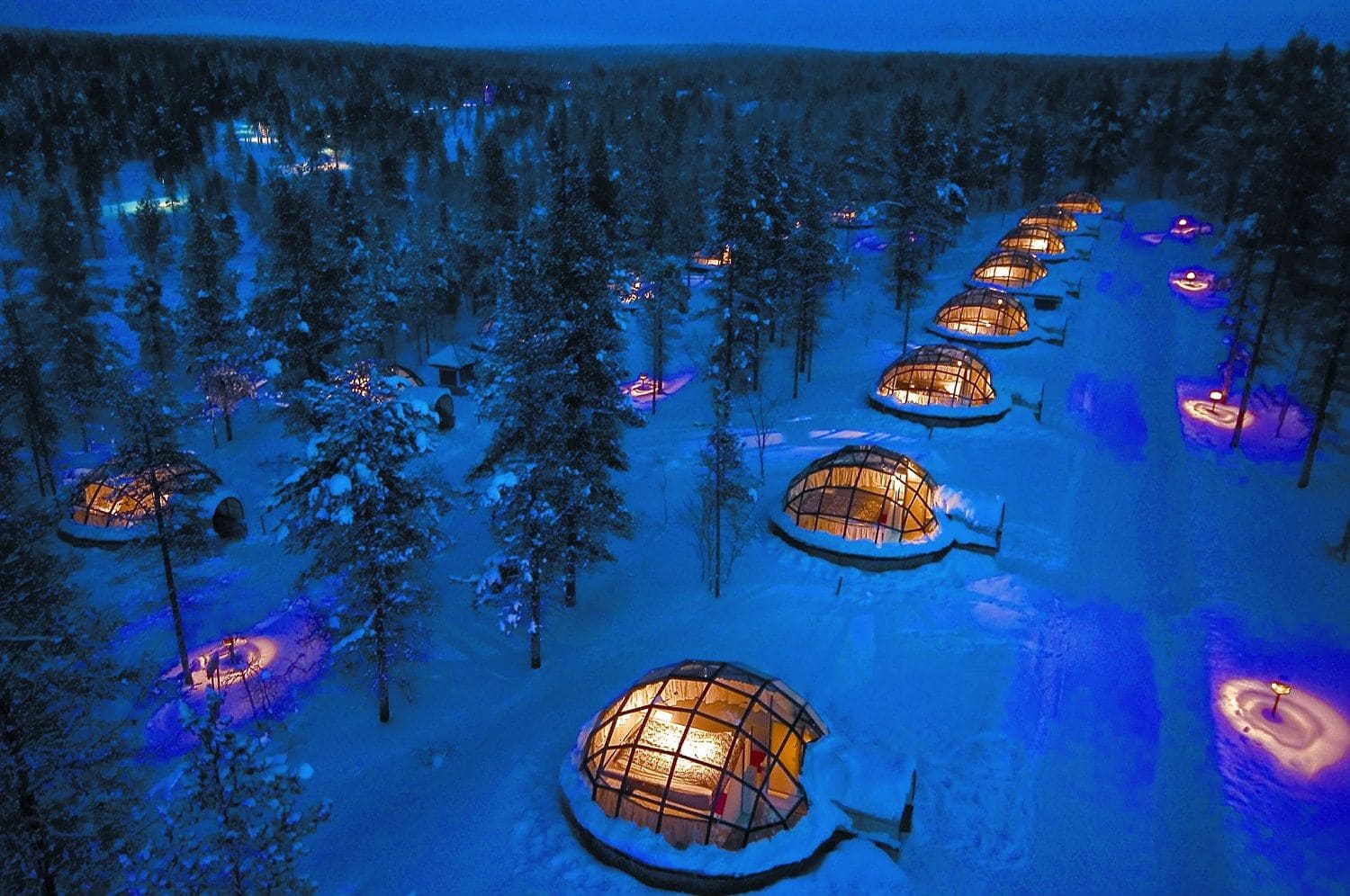 If sleeping in a traditional igloo is not exactly your thing, Kakslauttanen Arctic Resort provides a wonderful alternative.
Set high up above the Arctic Circle, in a remote corner of Finnish Lapland, the sprawling complex boasts various types of accommodation, including luxurious log cabins, snow igloos, traditional Lapland houses, and glass igloos whose unique design allows guests to see the Northern Lights from the comfort of their own bed.
In addition to a restaurant, the resort offers smoke saunas, ice swimming, as well as an endless variety of winter activities.
Schneedorf Igloo Village, Austria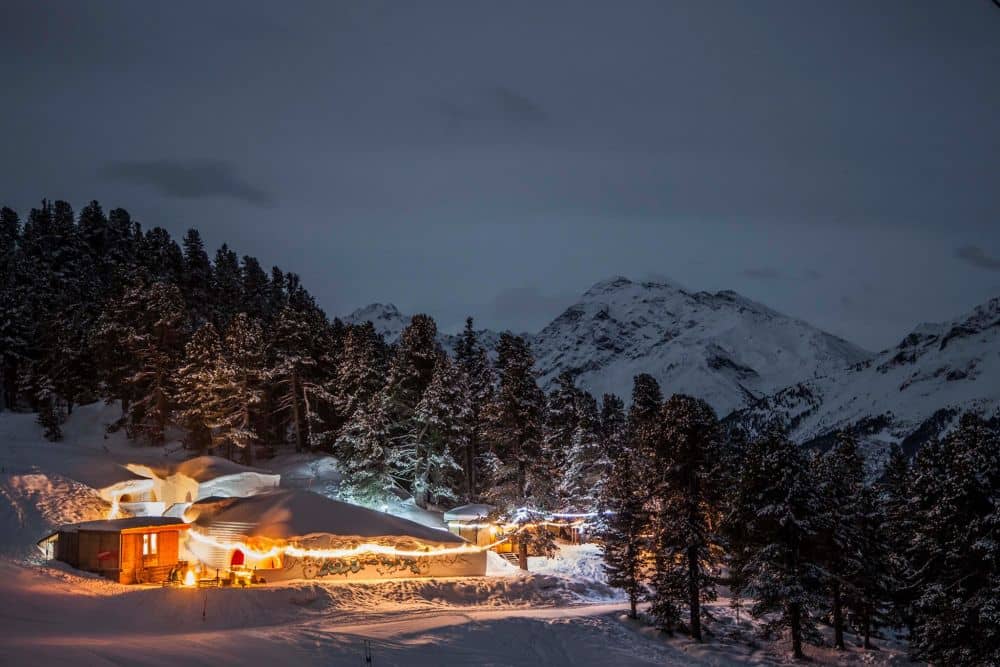 Perched at an altitude of 2,700 m in the Tyrolean Alps, Schneedorf Igloo Village has icy rooms for any occasion, from intimate pair suites complete with double sleeping bag, candles, and sheepskin rugs to spacious units sleeping 4 persons. Guests can also take part in a fun and exciting construction workshop and build their own igloo.
Golden Crown Levi Igloos, Finland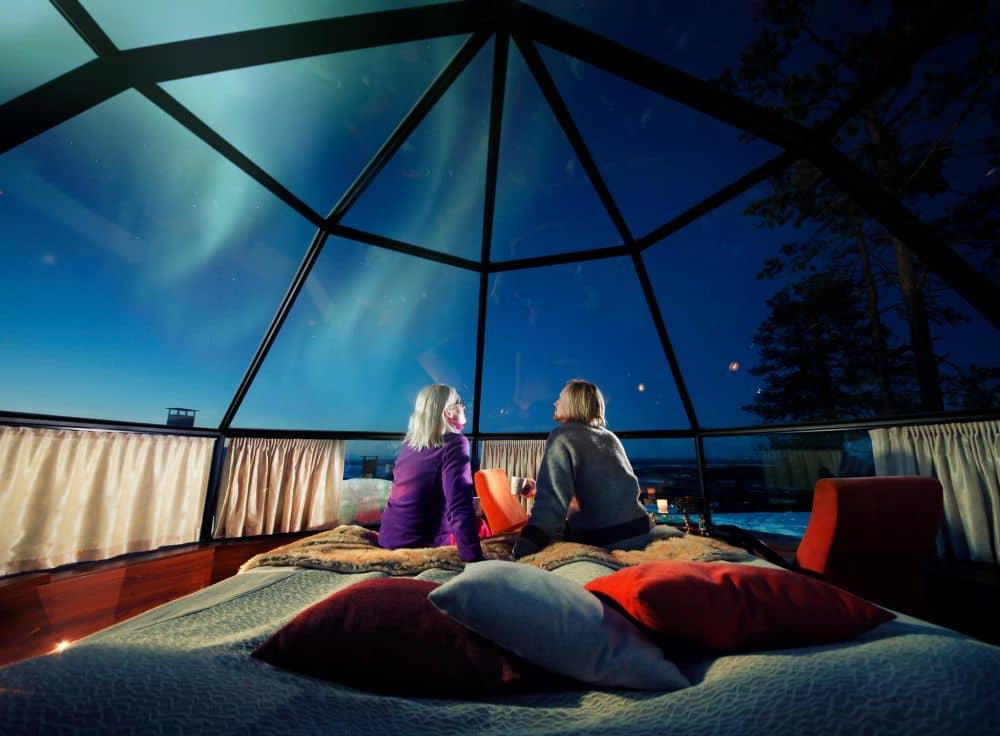 Although situated only 10 km away from Finland's largest ski resort, Golden Crown Levi Igloos feels miles away from civilization, offering guests the unparalleled opportunity to experience the stunning Arctic environment in all its magical beauty.
Accommodation is offered in 12 well-appointed glass-roofed igloos, from where you can comfortably admire the spectacular Aurora Borealis. Units ran from Superior to Premium, but all of them are heated and feature glass-domed ceilings and private kitchenettes.