This post contains affiliate links, which means we may receive a small commission, at no additional cost to you, if you make a purchase through these links. See our full disclosure here.
While Paris sparkles all year round, it shines the brightest at Christmastime, when it transforms itself into a fairy tale wonderland of lights, music, and, if you're lucky, a little snow. Alongside New York and London, the French capital is one of the best cities in the world to experience the holiday season.
If you're after festive shopping, special concerts, and atmospheric strolls under glittering lights, here's the ultimate guide on how to enjoy Christmas in Paris.
See the Christmas Lights on the Champs-Élysées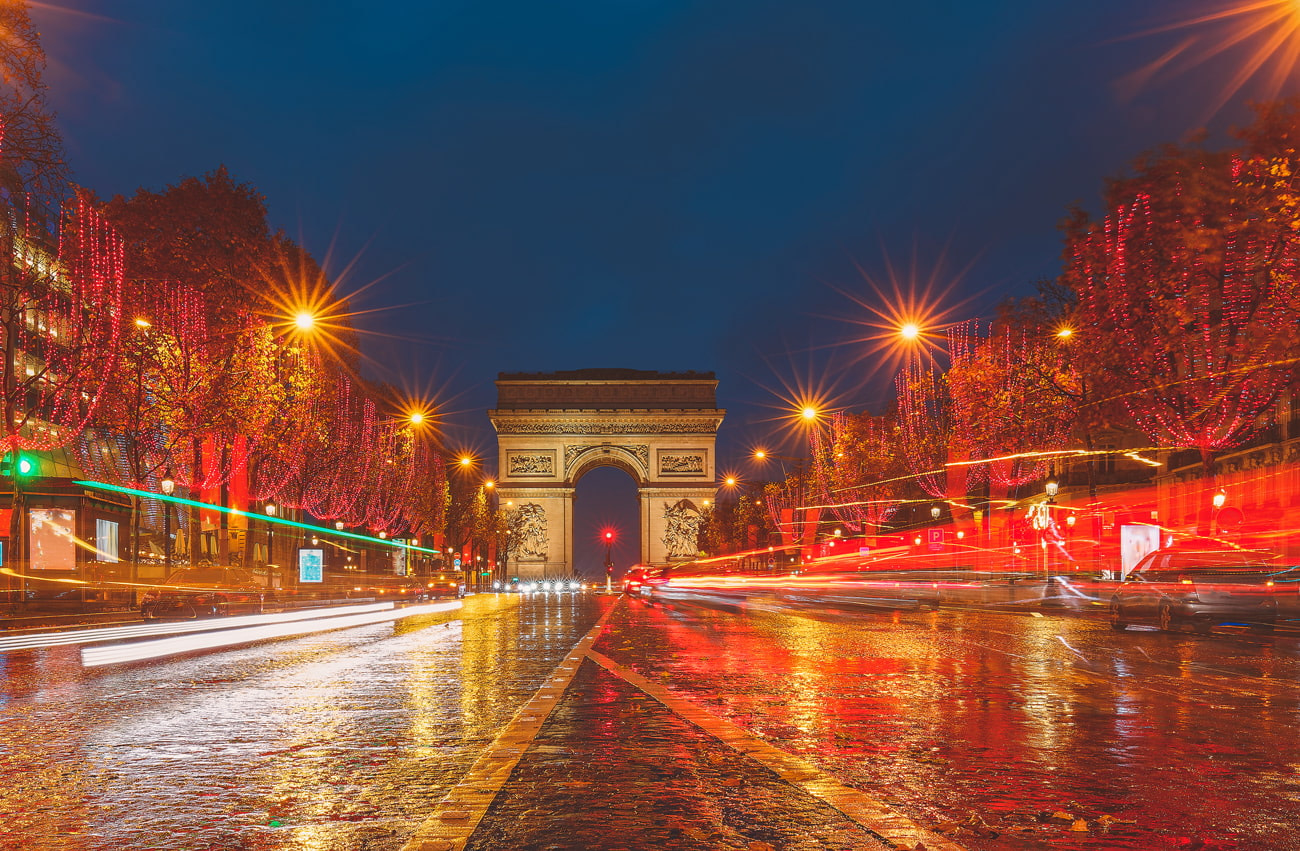 Paris' most famous street also boasts some of its best holiday decorations. The trees lining both sides of the avenue are covered in a million twinkling Christmas lights in seasonal shades of gold and red. The luxury stores and boutiques along the street also put up their own Christmas decorations, adding to the magic and shine. Strolling – and window-shopping – along this iconic street has never been more enchanting.
Christmas lights on the Champs-Elysées expect you from November 20, 2022, to January 2, 2023!
Visit Galeries Lafayette's Themed Christmas Displays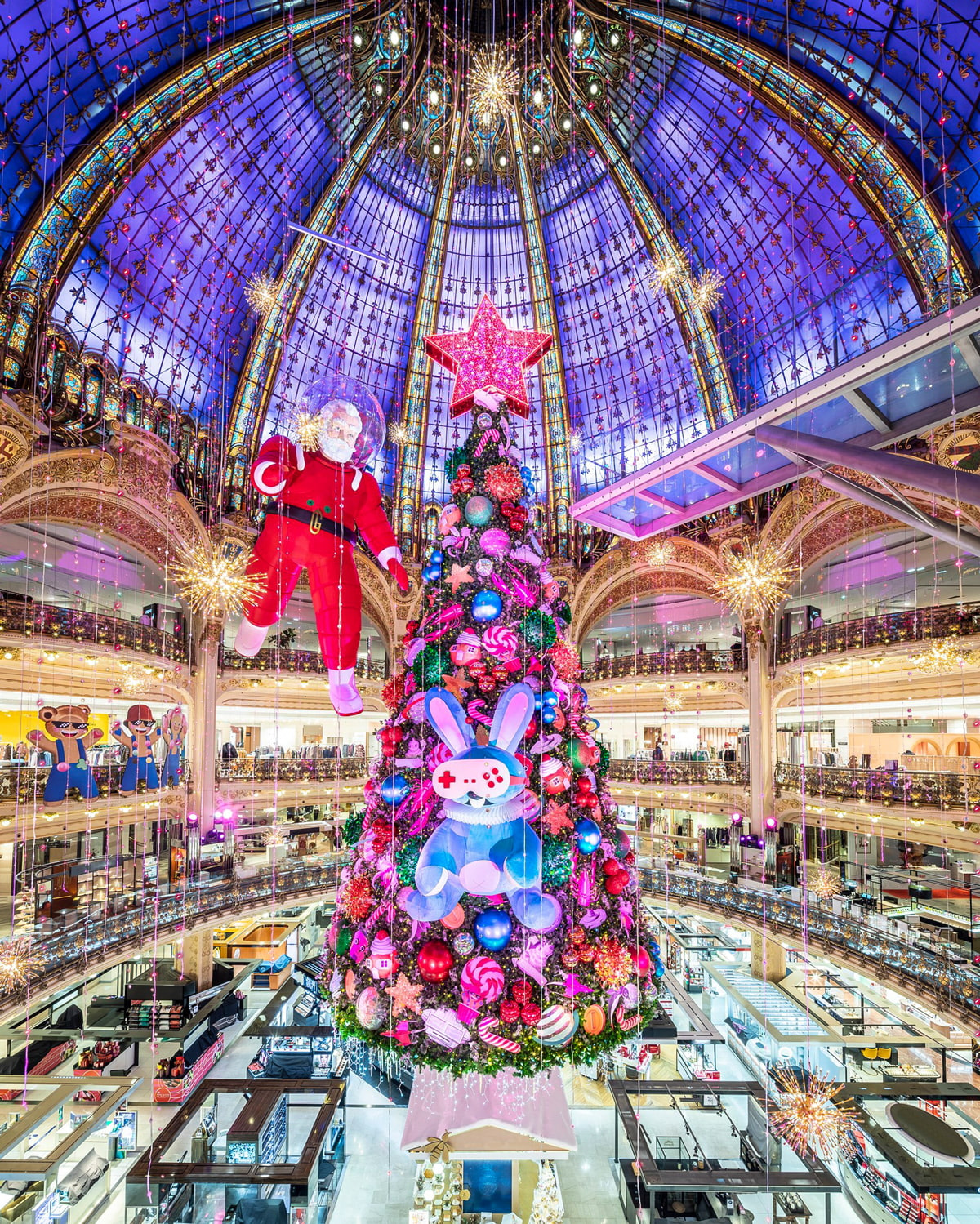 Galeries Lafayette is one of Europe's grand, classic department store chains, and the flagship store on Boulevard Haussmann in Paris' 9th arrondissement truly pulls out all the stops for the holidays. Every year, the store decorates its entire nine floors according to a different theme with extravagant lights and window displays. The center of it all is the atrium, where the Galeries' signature multi-story Christmas tree hovers suspended over the bustling holiday shopping.
See the Christmas Window Displays on Boulevard Haussmann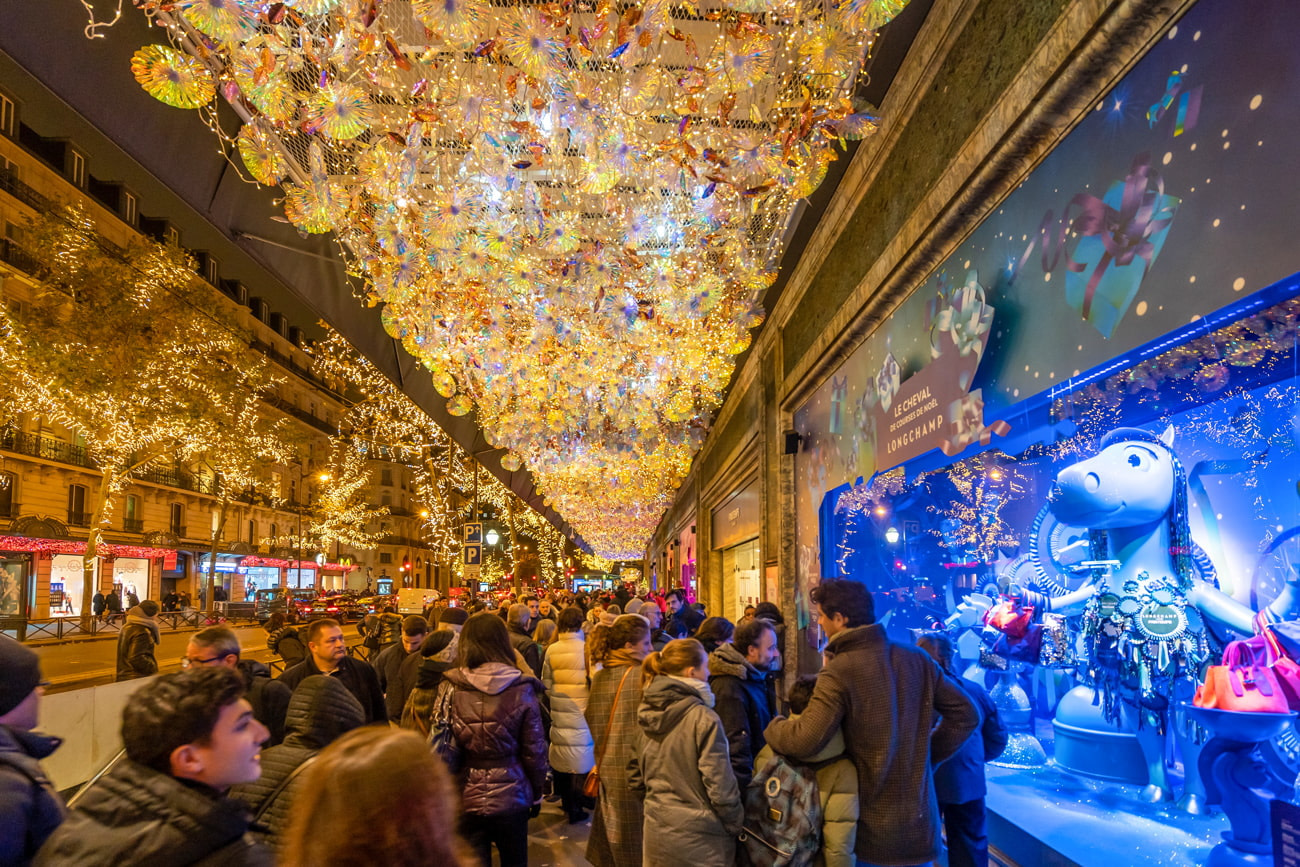 Lined with historic buildings, Boulevard Haussmann is renowned as one of the best shopping streets in Paris. It's famously home to Galeries Lafayette, but many other name-brand and luxury stores line the sidewalks of this chic avenue.
While the Christmas decorations at Galeries Lafayette are the crown jewel, the rest of the shops lining the street also put on their holiday best, decking out their front windows with holiday-themed displays and decorations. Some feature elaborate sets and figurines. It's the perfect place to stroll, window shop, and admire some of Paris' best holiday decor.
Relive Your Favorite Friends Memories at Fever's Exclusive "The FRIENDS™ Experience"
Remember the Friends episode where Phoebe tries to write a Christmas song about all her friends? How about the one where Ross and Monica get to dance on Bob Clarke's New Year's Rocking Eve? Or the one with the Holiday Armadillo? This year, you can revisit these and other beloved moments and memories from one of the greatest sitcoms of all time at the "The FRIENDS™ Experience: The One in Paris" pop-up event, hosted exclusively by Fever.
As part of the experience, you get to explore and hang out in interactive recreations of some of the show's most iconic sets, like Monica and Rachel's apartment, Chandler and Joey's apartment, and the Central Perk coffee shop. You can chill on the famous orange couch, dance in front of the water fountain from the opening sequence, and much more. You can also upgrade your experience by buying exclusive merch, including t-shirts and mugs.
Celebrate the Holidays at Disneyland Paris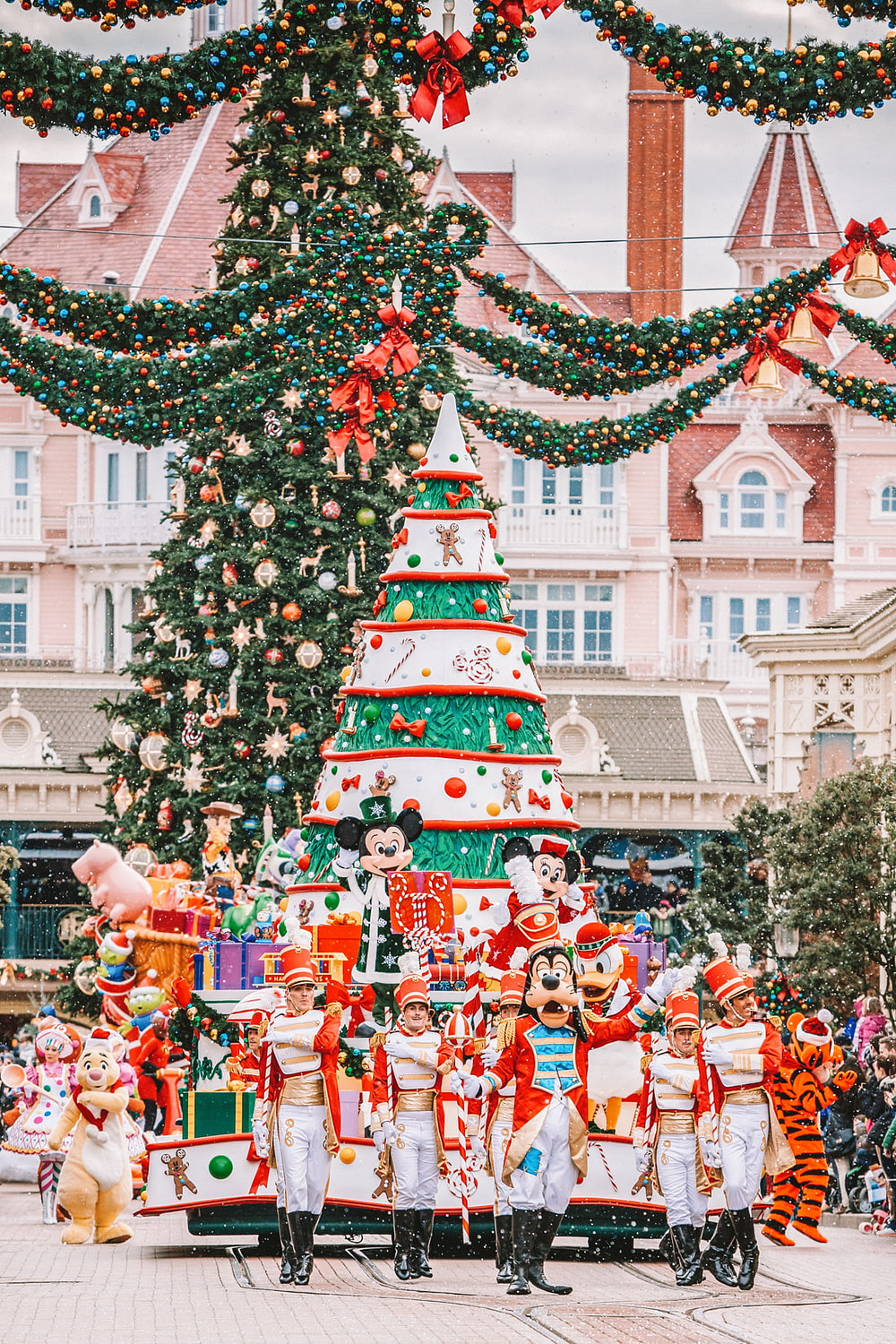 The Happiest Place on Earth is doubly so come the holidays! Located half an hour outside Paris, the Disneyland Paris theme park undergoes a massive transformation for Christmas, with tons of lights, trees, and seasonal festivities.
Walk around the park to admire the decorations, see beloved characters like the Disney Princesses and Mickey Mouse in Mickey's Dazzling Christmas Parade, and be wowed by the fireworks, lights, and projections of Disney's Illuminated nighttime show.
Shop in Style at La Samaritaine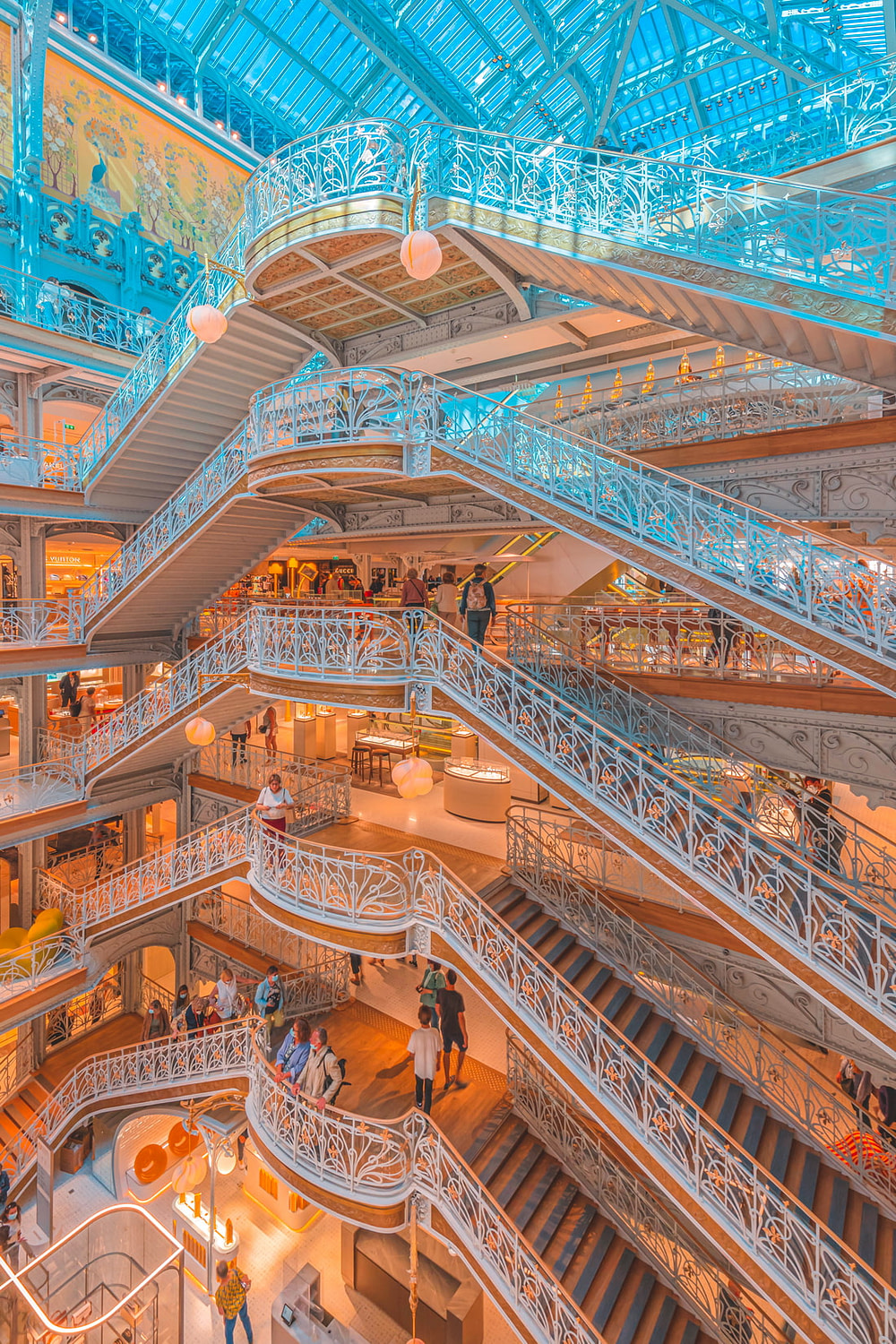 The name La Samaritaine may not immediately ring a bell to foreigners, but to Parisians, this high-end luxury store is the epitome of all things stylish and French.
After being closed for 16 long years, the legendary department store reopened its doors last year to great acclaim and excitement. Along with Galeries Lafayette, it's one of the best places to go Christmas shopping for the finest in luxury brands and products and get into the holiday spirit.
Along with tons of seasonal decorations in keeping with this year's "Paris Calls The Tune" dance theme, La Samaritaine is also bringing back its beloved Christmas advent calendar. In the multi-tiered central atrium, a massive advent calendar is set up on each floor, with a new prize for every day leading up to Christmas. All shoppers have to do to be entered is make a purchase with no minimum spending amount, and they'll be entered to win incredible prizes like luxury goods and glamorous vacations. As part of the dancing theme, this year, La Samaritaine is also putting on in-store live dance shows ranging from disco to ballet on different days throughout the season.
Take an Open-Top Bus Christmas Lights Tour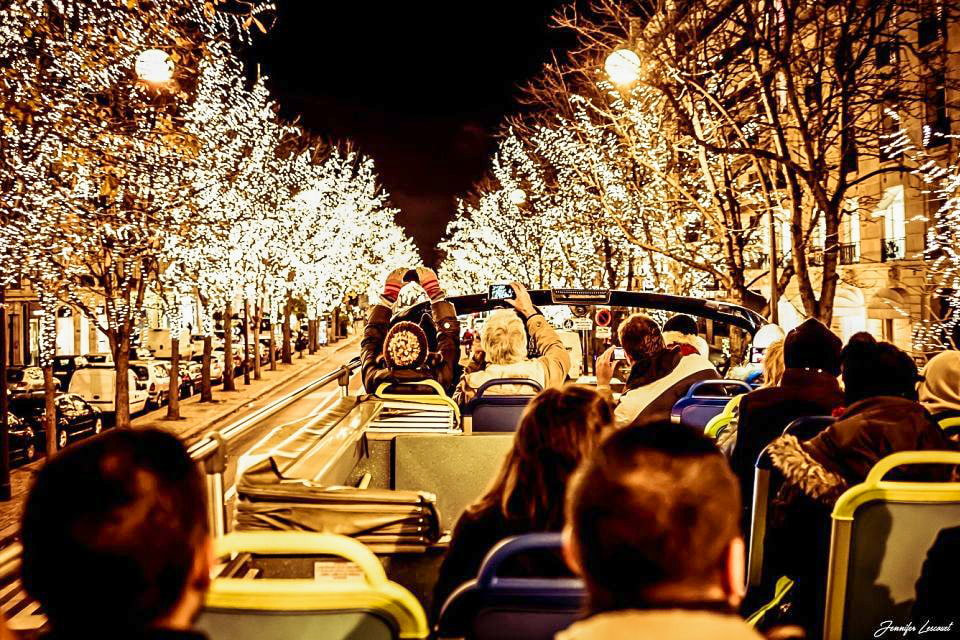 If you want to pack as much Christmas decoration viewing into one evening as possible, you'll have to cover a lot of ground. While Paris is a great city to stroll and meander, for the ultimate Christmas sightseeing experience, you'll have to ditch the walking and hop on a bus. This 90-minute tour takes place on an open-top tour bus to give you the best vantage point of the City of Light during Christmas time.
Bundle up and enjoy the ride as the tour heads to top spots like the Champs-Élysées, the Eiffel Tour, Place Vendôme, and the Louvre. Piped-in Christmas music helps keep spirits bright throughout the ride as well.
Go on a Historic Christmas Sightseeing Tour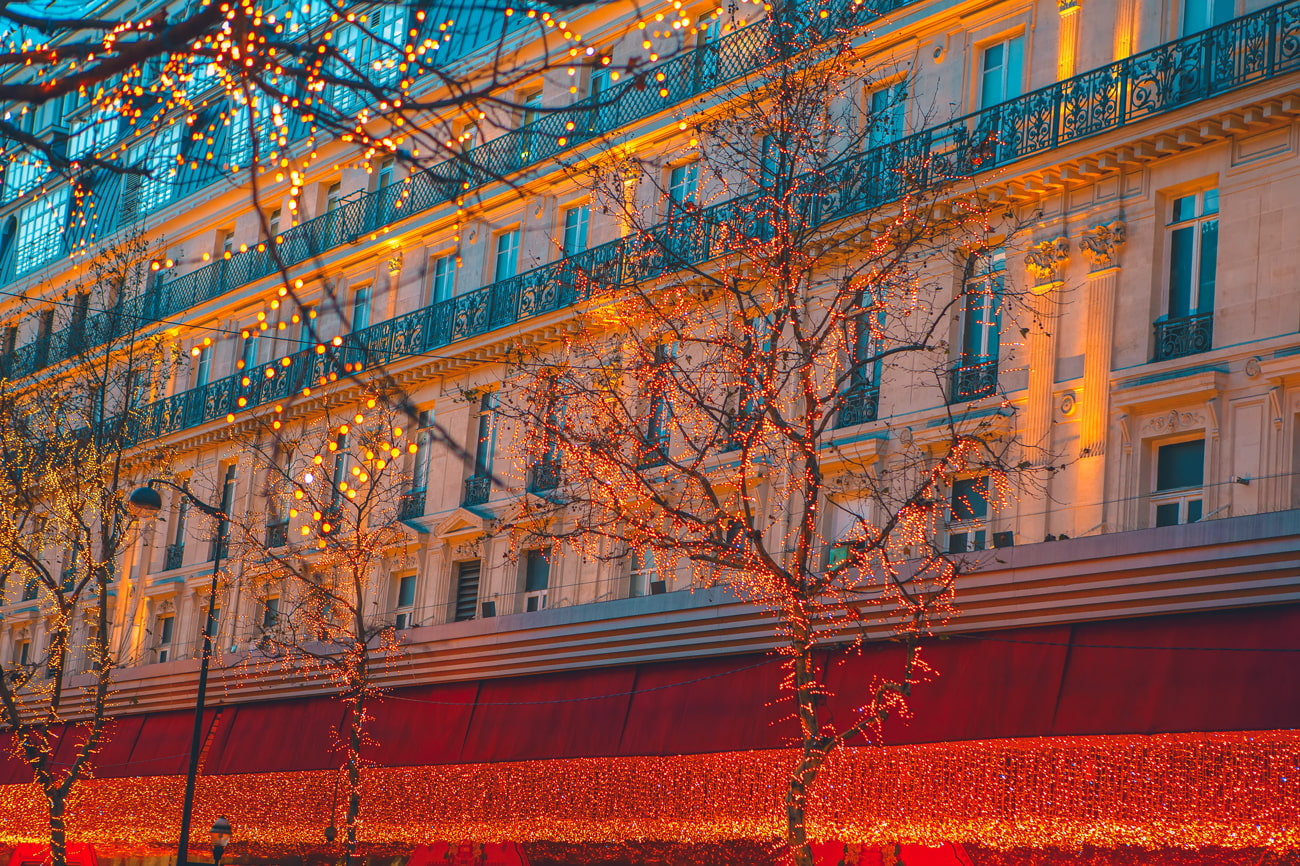 Not sure where to find the best Christmas decorations around the city? Or are you interested in learning more about the history of Paris while out admiring the lights? The History and Christmas Magic at Nighttime tour covers all the bases, taking you on a walking tour of the city's best Christmas spots with some history mixed in.
Lasting two and a half hours, the tour visits popular spots like Galeries Lafayette and Boulevard Haussman while offering historical information about the different buildings, streets, and stores. The tour also visits a Christmas market for a cozy drink to keep you warm during the walk.
Enjoy Seasonal Treats like Yule Logs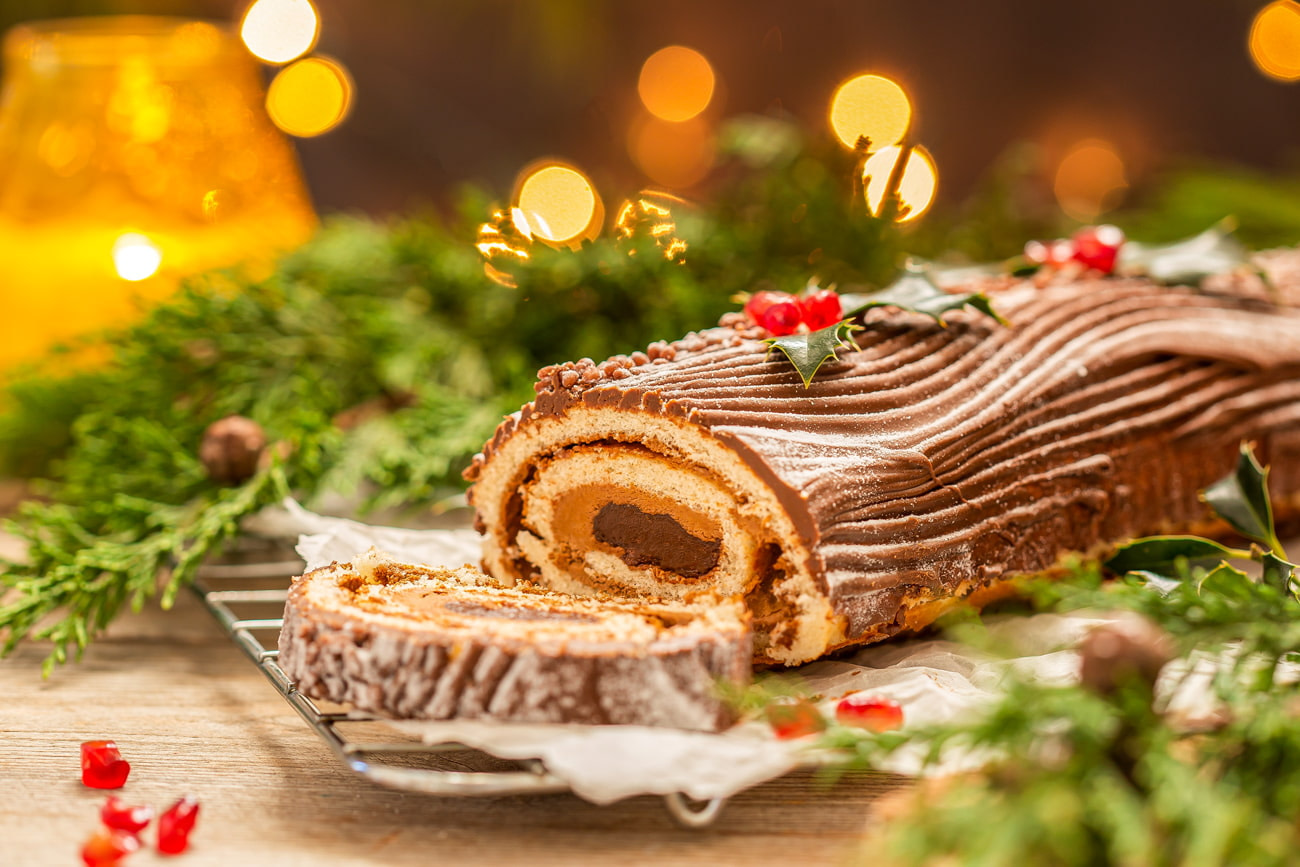 There is nothing that says "Christmas time in Paris" like enjoying a yule log pastry (Bûche de Noël). So-called because of their resemblance to a log in a fireplace, these tasty creations date from the 1870s when it was traditional to burn a log in the fire on Christmas Eve. Nowadays, patisserie chefs around Paris put their own unique spin on this classic, with elaborate decorations and flavor combinations. Visit different cafés and pastry shops to try as many as possible and choose your favorite!
Sip Hot Chocolate at Fancy Cafés
No one does hot chocolate quite like the French. Instead of a simple mix with some hot water and mini marshmallows, Parisian hot chocolate is a rich, indulgent cup of high-quality chocolate mixed with warm milk. Good chocolat chaud is found throughout the city, but visit Angelina, Café de la Paix, Jacques Genin, and Les Deux Magots for the best of the best. Angelina, in particular, is known for their thick, decadent chocolate "L'Africain".
Savor Some Vin Chaud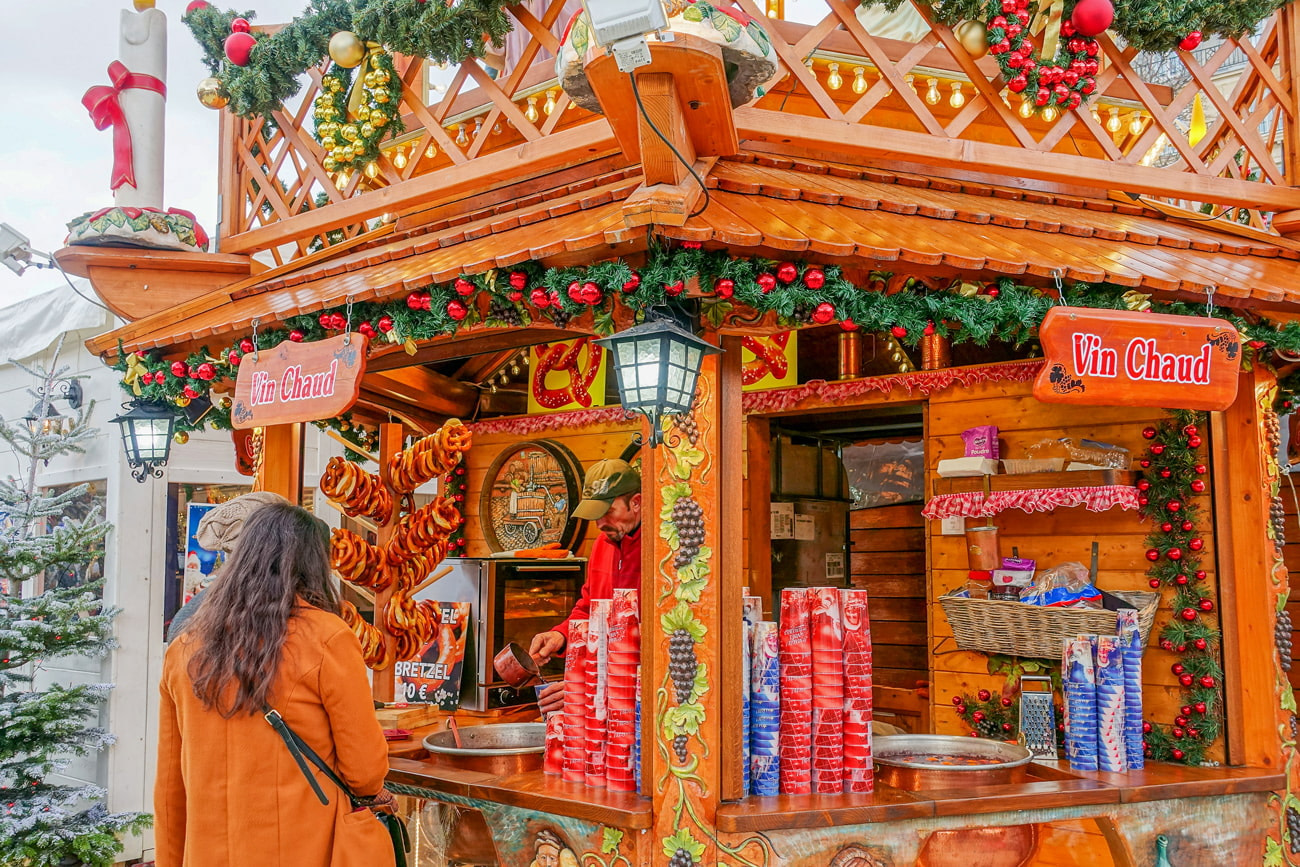 Another must-have yuletide treat is a nice, hot glass of vin chaud or mulled wine. Hot wine is a winter classic throughout Europe. In France, it consists of red wine mixed with cinnamon, orange peel, sugar, cloves, and sometimes raisins, and then heated to blend the flavors together.
You can find vin chaud at restaurants and bars throughout Paris during the holidays, but the best place to have a glass is at a Christmas market. At most Christmas markets, you're bound to find vendors serving steaming hot or warm glasses of vin chaud to keep shoppers warm.
Go Ice Skating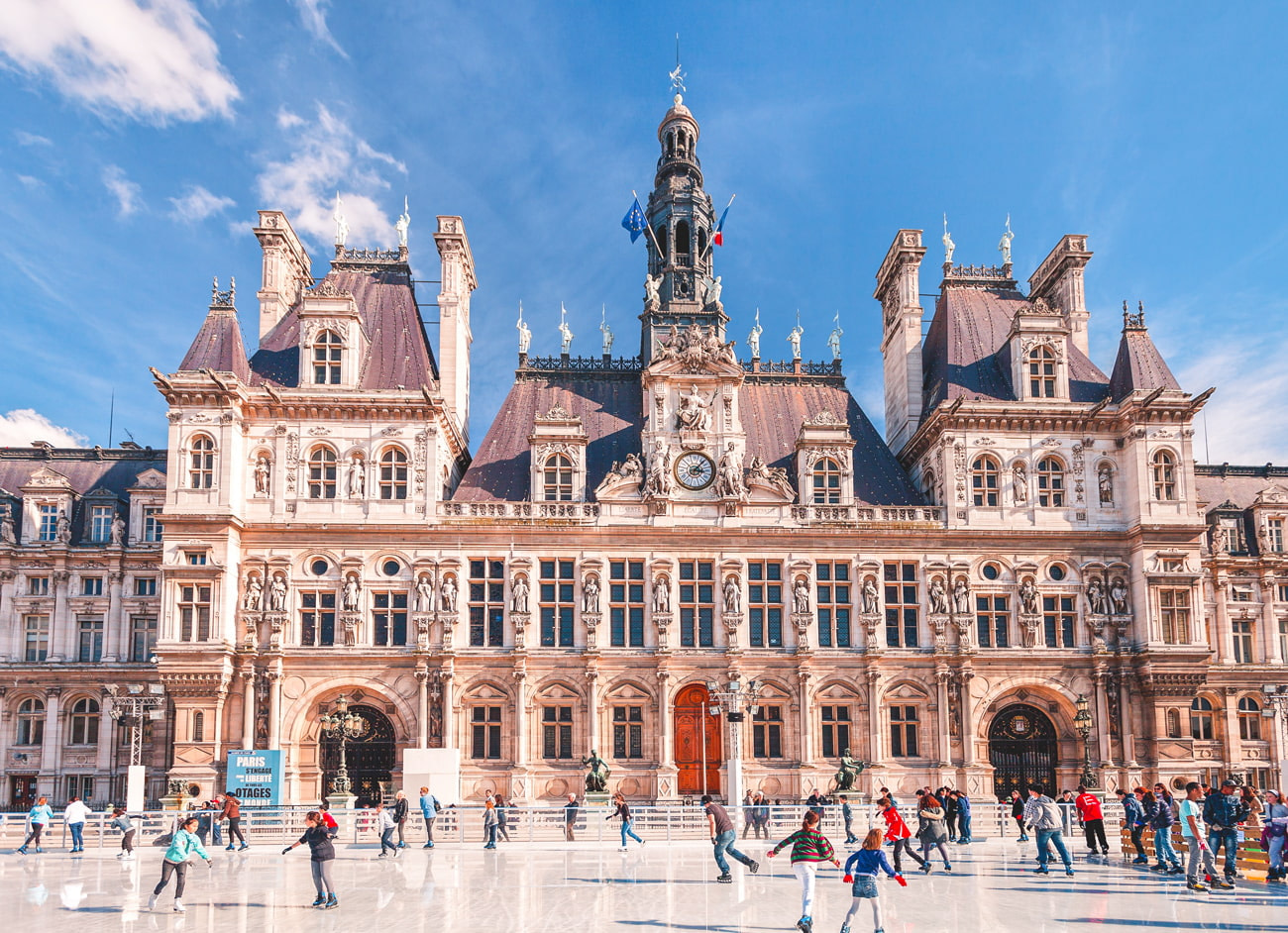 As the temperature drops, ice skating rinks start popping up around Paris. One of the most popular is set up in front of the historic Hôtel de Ville, with instructors on-hand and skates available for rental. Entry to the rink is free for both adults and children.
The ornate Grand Palais is another must-skate destination, transforming its conservatory-style glass atrium into the largest indoor ice skating rink in the world for the holidays with elaborate light displays. Smaller rinks can also be found at Christmas markets around the city. And you can even skate on the rooftop of Galeries Lafayette at their tiny patinoire!
Listen to Christmas Music by Candlelight at an Exclusive Fever Concert Experience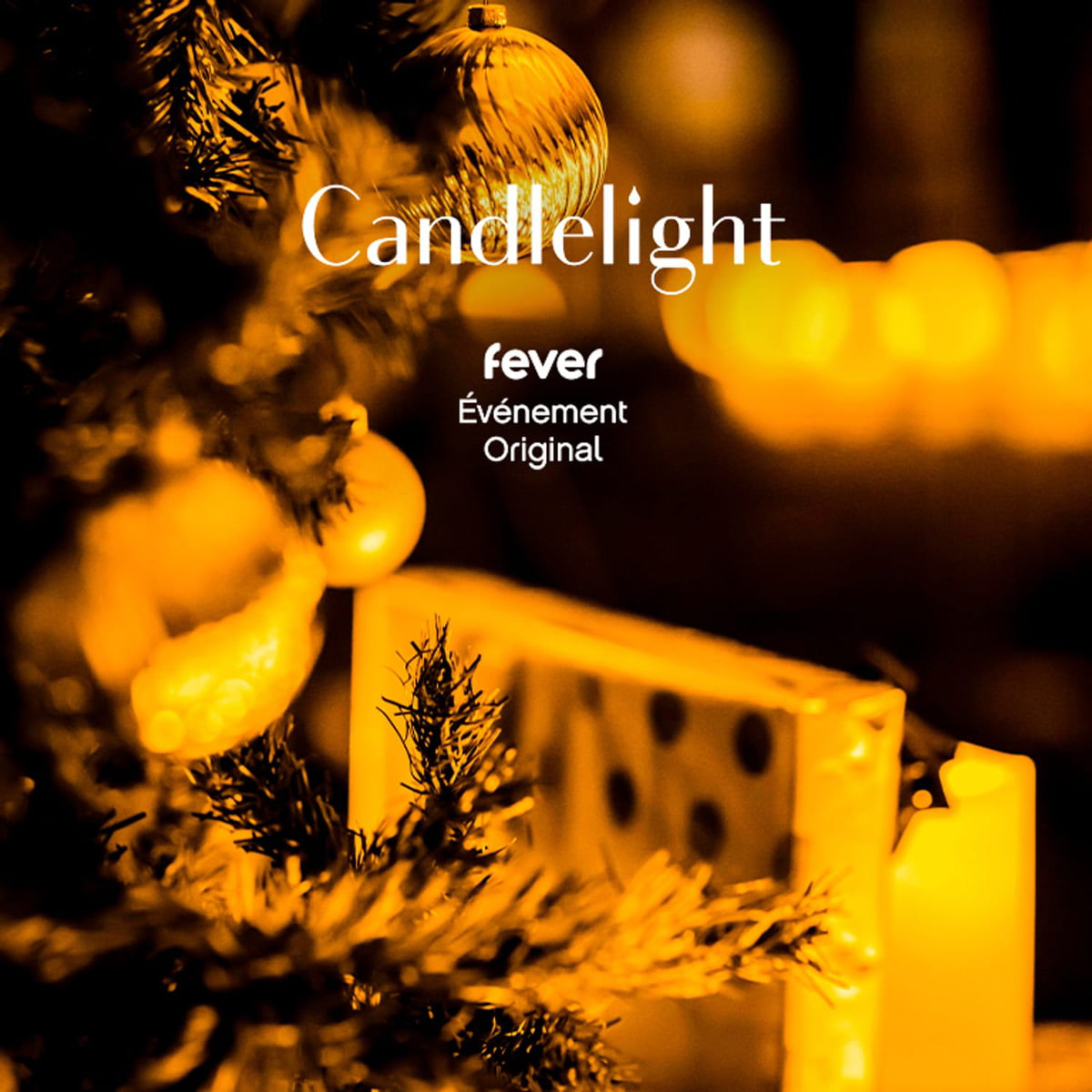 Sit back, relax, and listen to the songs of the season at Candlelight, a special concert event being put on by Fever on December 23. Hosted in the intimate and enchanting candlelit Grand Amphitheater at the Maison de l'Océan, the roughly hour-long program will be played by pianist Eric Artz. Along with timeless classics like Deck The Halls, Silent Night, and Jingle Bells, Artz will also play more modern holiday and seasonal tunes like the theme from The Nightmare Before Christmas, the Love Suite from Love Actually, Hedwig's Theme from Harry Potter, and Last Christmas by WHAM!
Have Christmas Dinner at the Moulin Rouge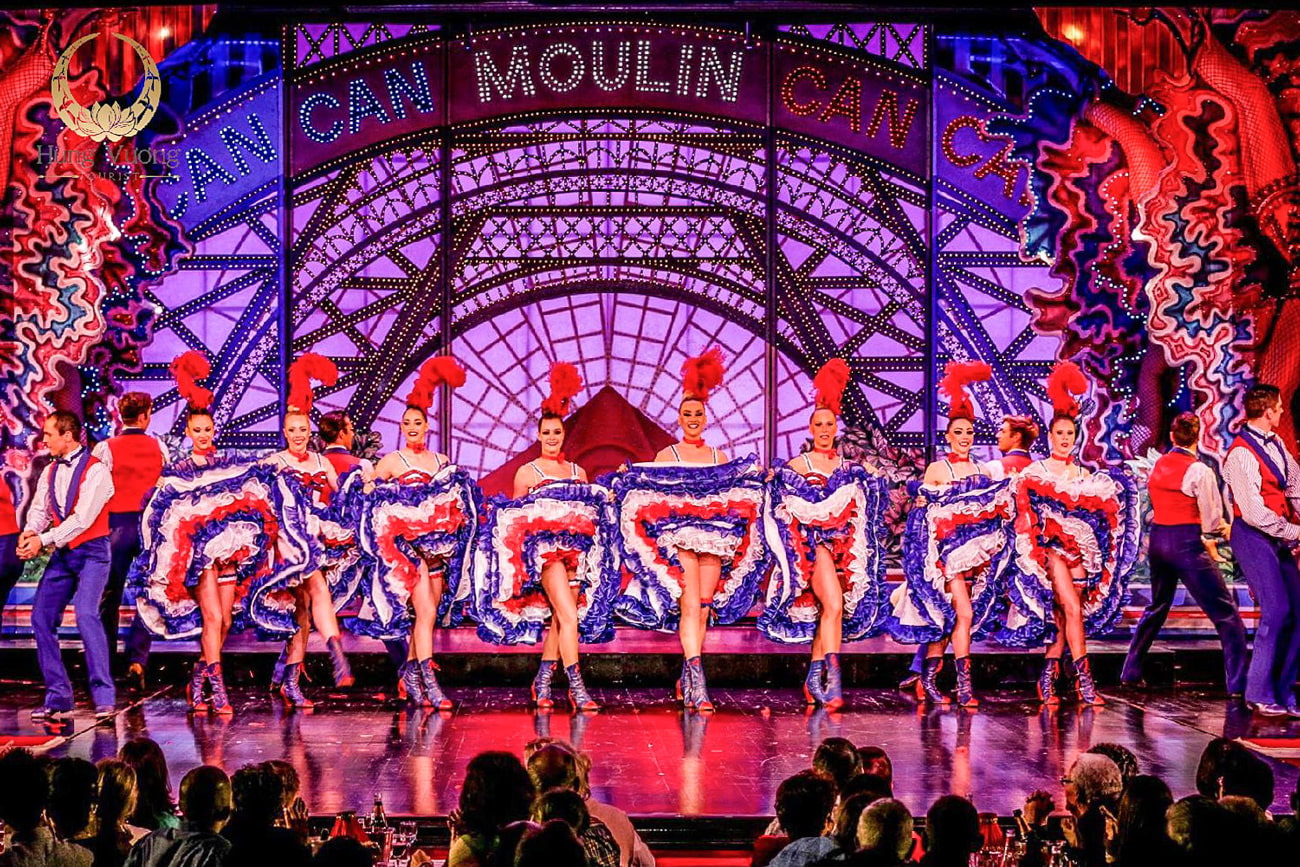 If you're visiting Paris, seeing a show at the famous Moulin Rouge cabaret house in Montmartre is a must. If you're visiting Paris during the holidays, you can't miss the Moulin Rouge's annual Féerie Christmas revue. The Moulin Rouge dancers put on a fabulous holiday show with elaborate costumes and dance routines, which you get to enjoy while dining on a gourmet four-course dinner accompanied by champagne.
Attend Sainte-Chappelle's Holiday Concert Series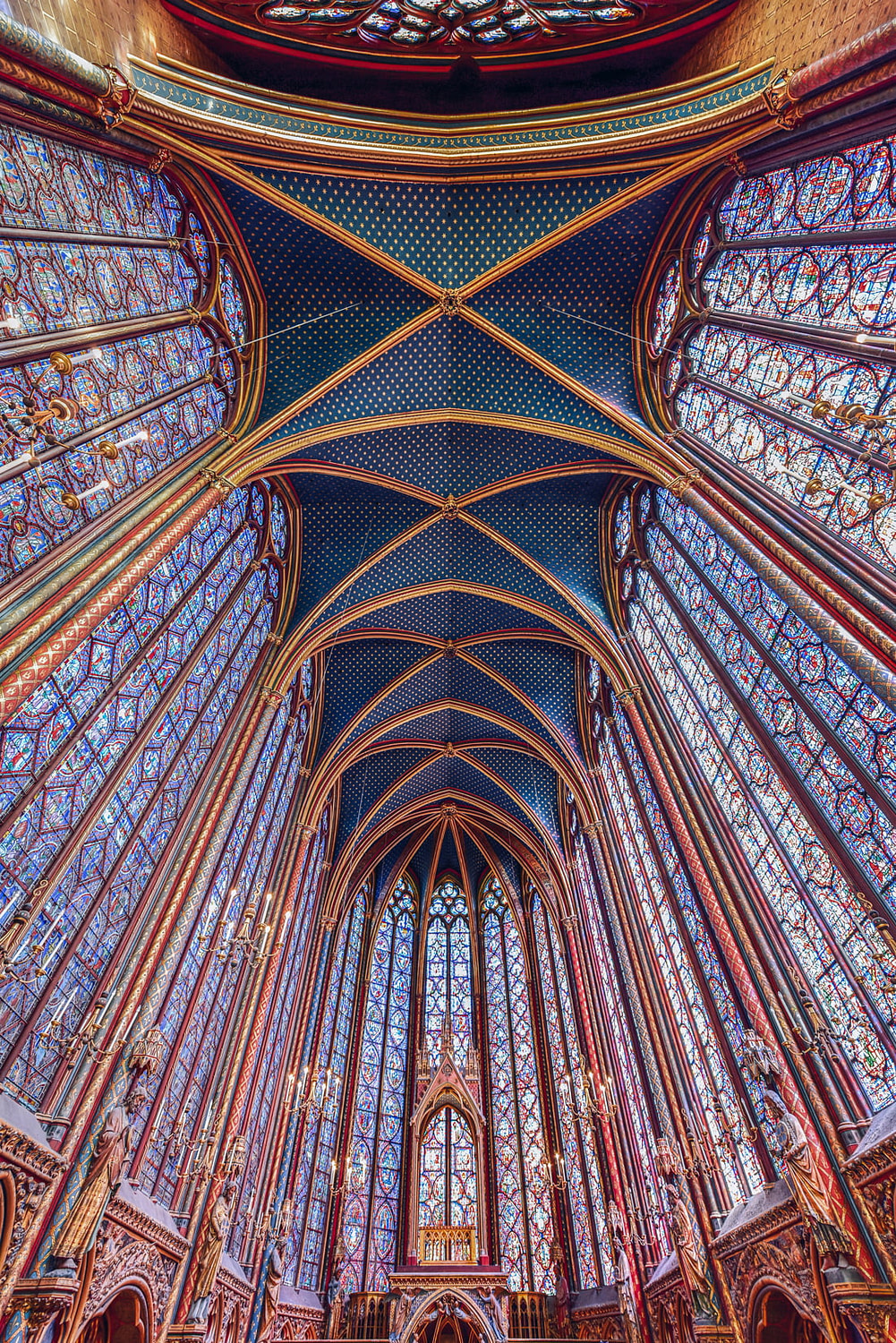 Best known for its series of 15 towering stained glass windows that portray the story of the Bible, the Gothic Saint-Chappelle is one of Paris' most elegant chapels. While the chapel is usually a place for peaceful contemplation and reverence, it's also the ideal setting for a classical concert.
Around the holidays, the chapel hosts a series of classical music shows for all ages, lasting about an hour each. The set varies from night to night, but on Christmas Eve, a selection of traditional carols is played. Between the beautiful architectural setting and the music, it's a very moving, emotional experience.
Take a Scenic Boat Ride on the Seine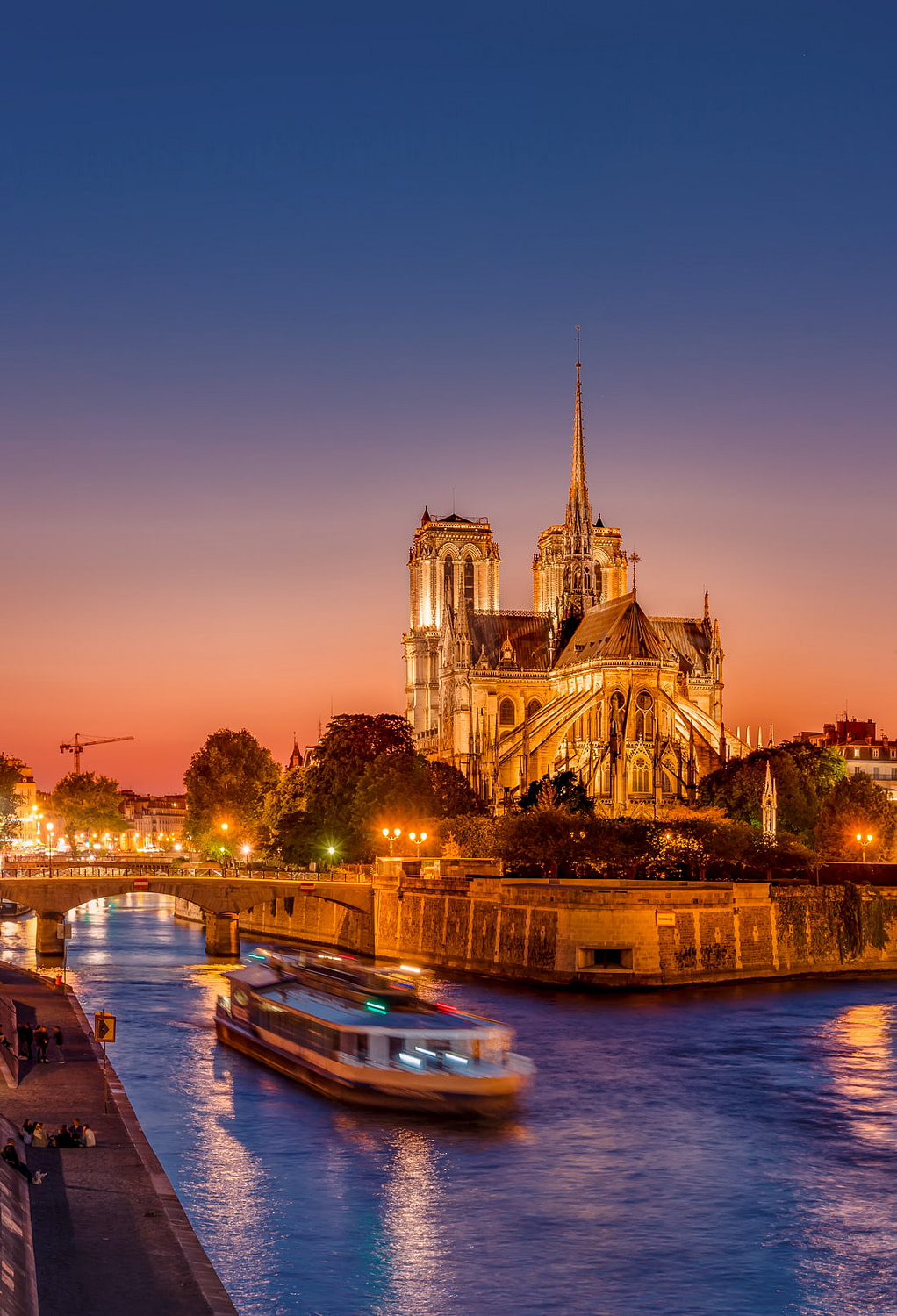 Appreciate Paris' Christmas decorations from a different point of view by taking a boat ride along the Seine River on Christmas Eve or Christmas Day. Passing by iconic landmarks like the Eiffel Tower and the Louvre Museum, admire the city while dining on a five-course gourmet meal with champagne.
Paris is beautiful during both the day and night, but to best appreciate the city's Christmas decorations, opt for the Christmas Eve cruise.
Experience Snowfall in Paris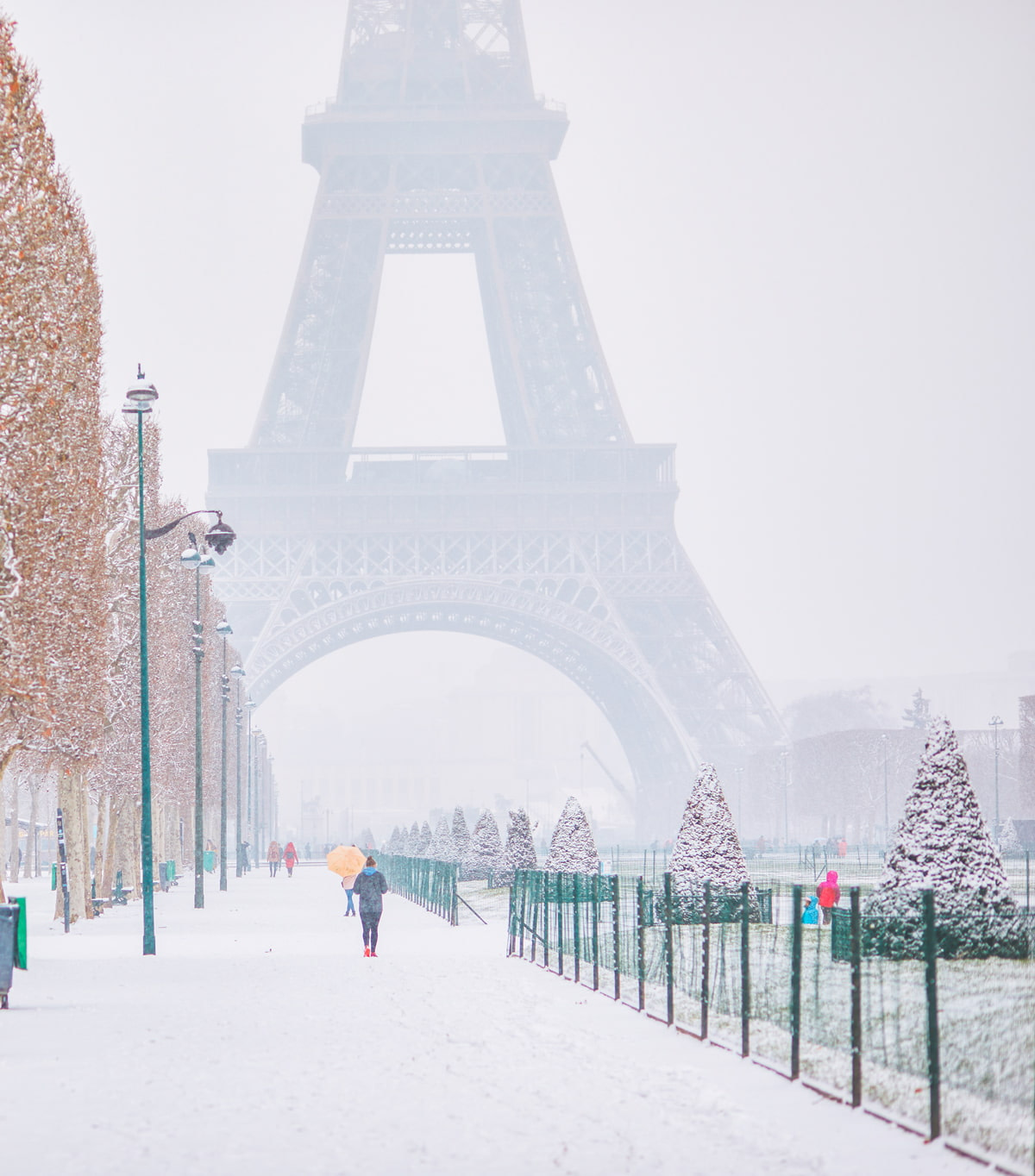 If it snows in Paris while you're visiting for the holidays, it's truly a Christmas miracle. Paris only sees a handful of snow days each year, and it's rare for the city to get more than a few inches. With winter temperatures usually averaging around 8 degrees Celsius, the snow usually melts pretty quickly as well. But if you do get lucky enough to see snowfall here, it makes Christmas in Paris even more magical.
Go Shopping at Christmas Markets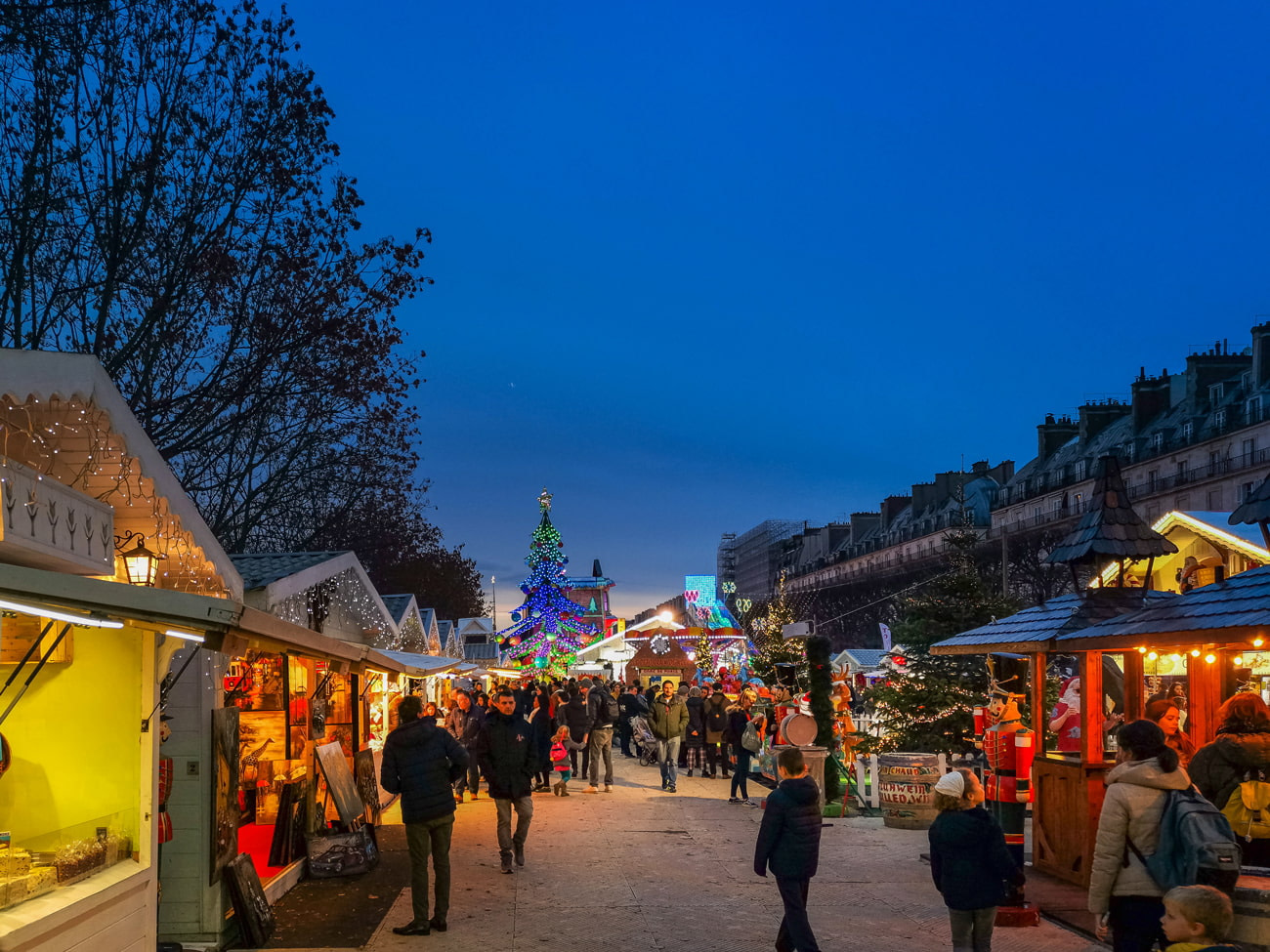 Visiting an outdoor European Christmas market is a quintessential part of the holiday experience here. Each featuring its own unique decorations, Paris' Marchés de Noël can be found in squares throughout the city. From alpine-esque wooden huts and booths, vendors sell everything from holiday gifts to candy, cookies, savory snacks, and even mulled wine and hot chocolate. At some markets, you can even find a champagne bar!
The best time to visit a Parisian Christmas market is at night when the trees, lights, and decorations are all lit up. Santa Claus himself, or Père Noël as he's known in France, sometimes even makes an appearance! Some of the most popular markets are Les Halles, Notre Dame, Montmartre, and the Tuileries.
Celebrate the Holidays with a Stay at the Hôtel Plaza Athénée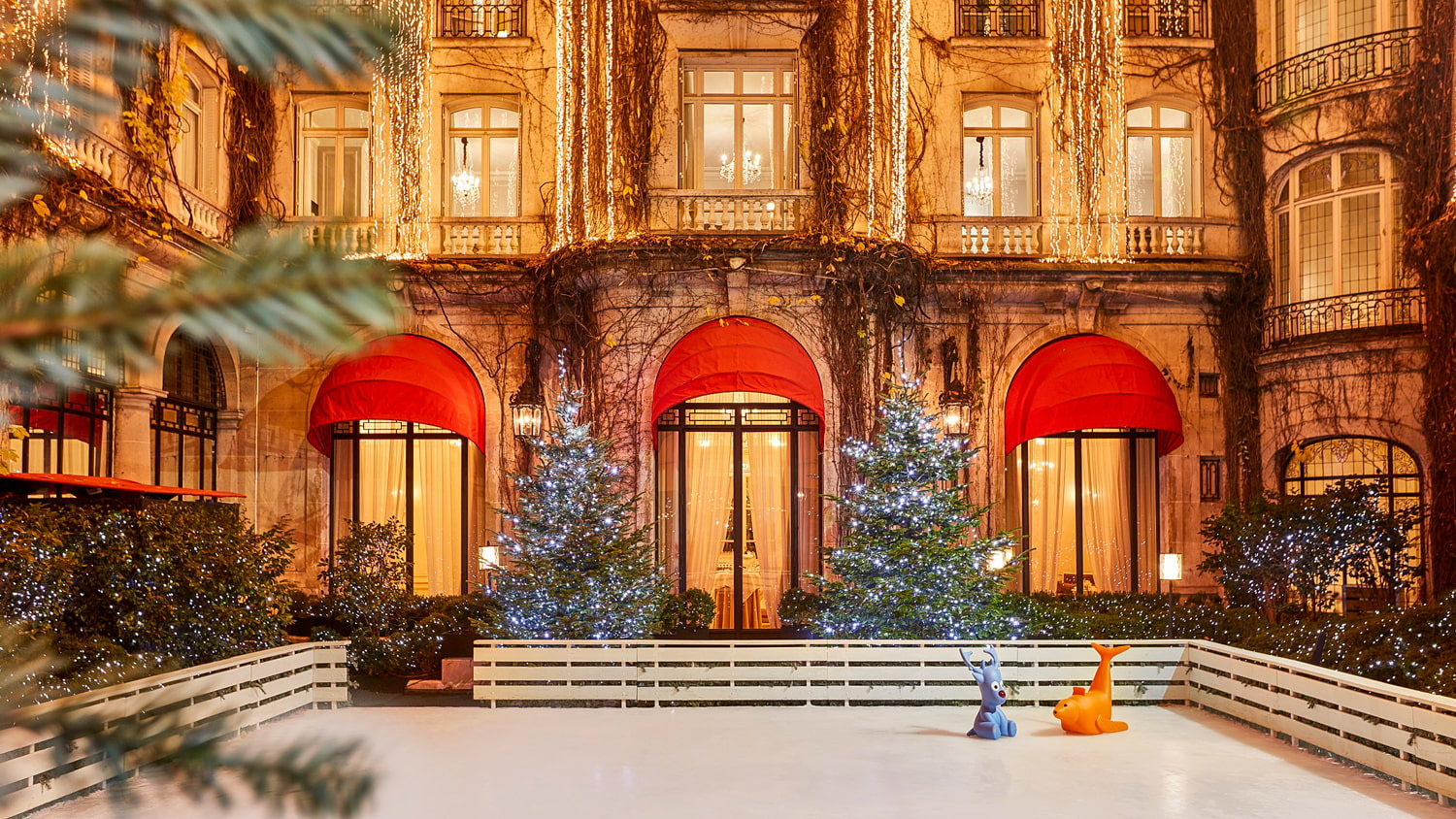 From a decadent Christmas Day brunch to ice skating in a courtyard full of cascading golden lights, the Hôtel Plaza Athénée truly knows how to make the holidays special.
A member of the elite Dorchester Collection, this luxury hotel is conveniently located in the heart of Paris' 8th arrondissement. Staying here, many of Paris' top attractions, from the Louvre to the Eiffel Tower, are just steps away from the hotel. For the holidays, the Plaza Athénée offers a wide range of seasonal festivities. Try their signature yule log prepared by the hotel's chefs, enjoy gourmet brunches and afternoon teas, and even ring in the New Year at their exclusive party.
One of their most charming holiday offerings, though, is that they transform the central courtyard of their hotel into a tiny ice skating rink. The sides of the building are draped in dangling golden lights, giving the illusion that you're ice skating inside a golden waterfall. It's a truly enchanting experience that can only be found staying at the Plaza Athénée.
Walk Through a Magical Winter Wonderland of Lights and Color at Lumières en Seine
From life-like light-up swans to dazzling light displays, Lumières en Seine takes the classic Christmas light show and elevates it to the next level. Taking place at the Parc de Saint-Cloud from November 18th, 2022, through January 8th, 2023, Lumières en Seine leads you along a two-kilometer walk through a succession of light display experiences, including light tunnels, enchanting projections, larger-than-life sculptures, and more, all shining their brightest in vibrant, exuberant shades.
Best of all, the event has taken big steps to be as environmentally conscious as possible, from using lower-consumption LED lights to partnering with the Saint-Cloud National Estate to ensure the displays and lights don't harm native flora and fauna.
Attend a Christmas Church Service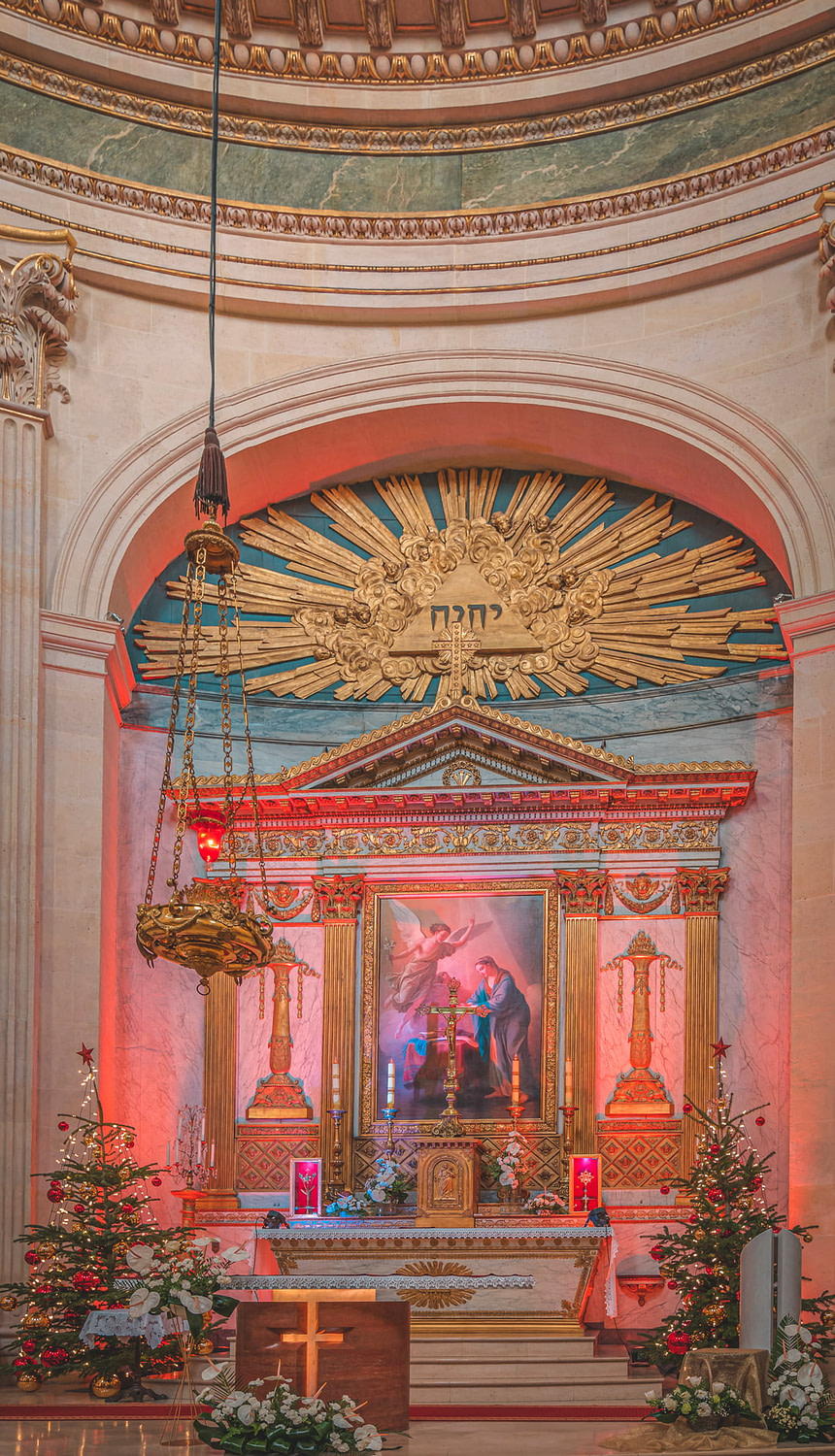 Even if you're not religious, Paris' churches and cathedrals are some of its most beautiful sites and are well worth visiting during this important time of year.
While there are some churches that offer English mass, this is a wonderful opportunity to experience a traditional French service. Cathedrals like Notre Dame and Sacré-Cœur Basilica set up nativity scenes and other seasonal decorations, and services on Christmas Eve and Christmas Day feature traditional hymns and music. At Sacré-Cœur Basilica, there's even a pipe organ concert on Christmas Eve.
Sing Along to Handel's Messiah at the American Cathedral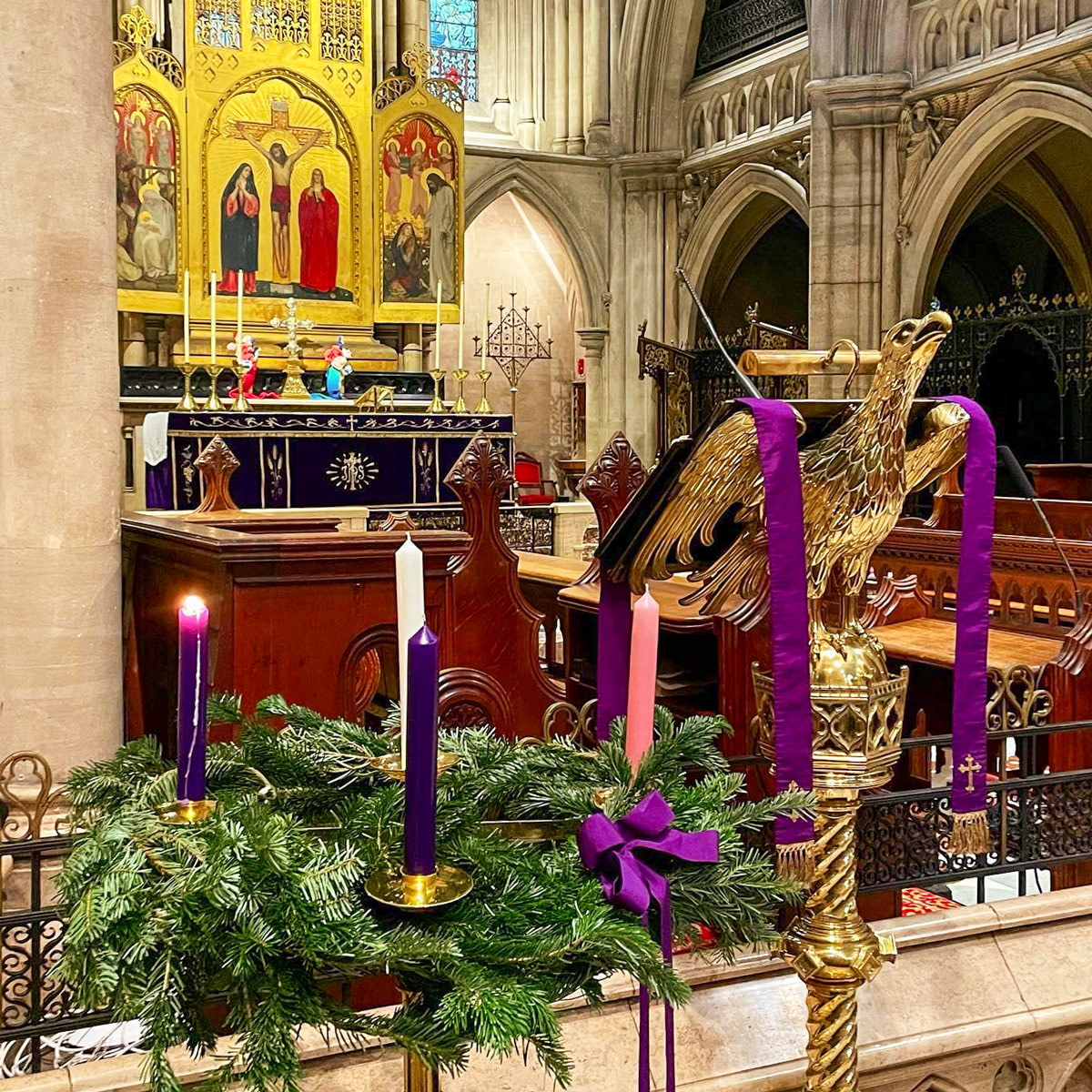 If you love to sing and enjoy going caroling during the holidays, this annual sing-along event is the next best thing. Every year, the Paris Choral Society hosts a sing-along at the American Cathedral of the first part of Handel's Messiah, which features the famous "Hallelujah" chorus. You can sing along as much or as little as you want, and tickets can be purchased in advance or at the door. If you have a copy of the score, it's recommended that you bring it, but you can also use a digital copy or buy one from a local music store.