This post contains affiliate links, which means we may receive a small commission, at no additional cost to you, if you make a purchase through these links. See our full disclosure here.
Known as the Windy City, Chicago is one of the USA's truly great cities, home to modern and historic architecture, an exciting gastronomy scene, a bustling business center, world-class universities, top-rate museums like the Field Museum and Chicago Art Institute, and endless cultural, artistic, and entertainment activities.
While it's a great place to visit throughout the year, winter, especially December, is when the city truly shines. Chi-Town is famous for its winter weather, which produces hearty snow flurries and plunging temperatures, but the city's many holiday events are more than enough motivation to brave the cold and get out and celebrate that holiday cheer.
The Second City might not be as iconic as NYC in December, but its swooping skyscrapers make a striking backdrop for whatever's on your Christmastime agenda.
From marveling at festive light displays to ice skating in Millennium Park, here are the best things to do in Chicago in December 2023.
Stay at the InterContinental Chicago Magnificent Mile
During the holiday season, Chicago decks out its famed Magnificent Mile in the season's best. As the only hotel with a lobby that opens up directly on this renowned portion of Michigan Ave, the historic Hotel InterContinental Chicago maintains the neighborhood's reputation with elaborate displays and special packages available for holiday guests. You'll experience the Mag Mile's brilliant Lights Festival and do some holiday shopping, then enjoy a leisurely breakfast with the family at their in-house restaurant, Center Court.
Dates: Holiday Specials are usually available from November till the end of December.
See the Zoolights at the Lincoln Park Zoo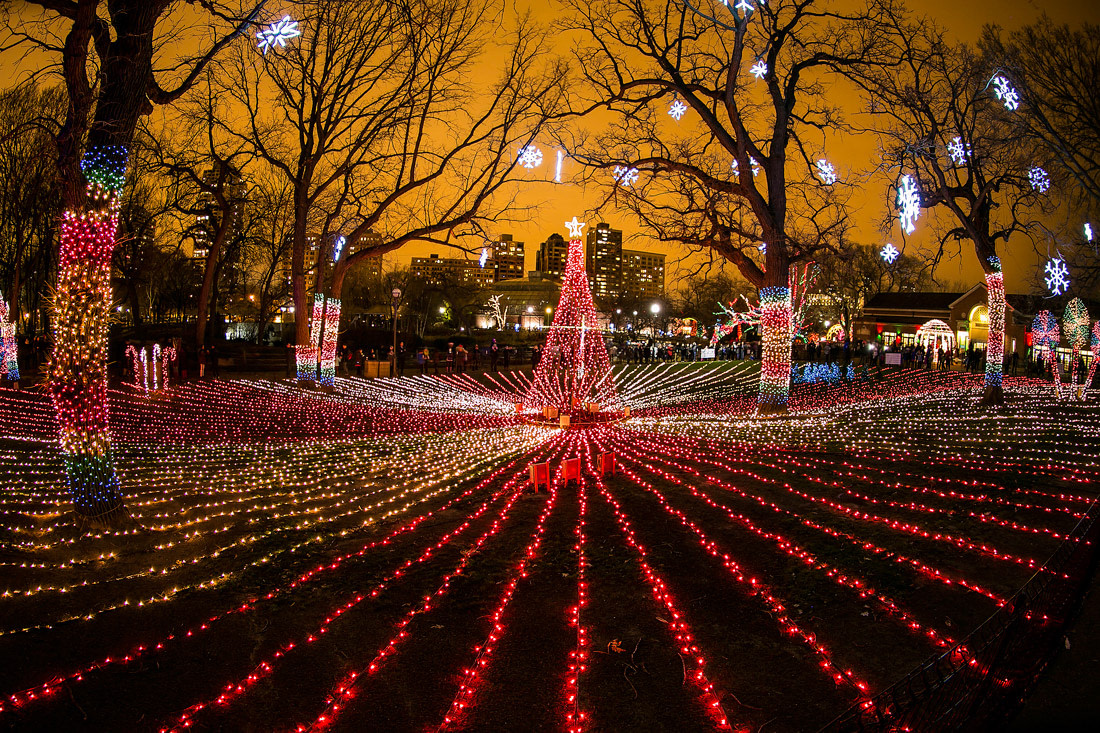 It's the most wonderful time of the year, and in Chicago, that calls for a trip to be awed and dazzled by the Zoolights at the Lincoln Park Zoo!
The trees, central pavilion, and other structures of the Zoo are all adorned with millions of multi-colored Christmas lights that create the ultimate winter wonderland. In addition to wandering around and admiring the views, you can also watch live ice sculpting, go ice skating, take a short train ride, and even visit Santa. If you're one of the first 1,000 people to go in, you receive special glasses that change the effects of the lights.
Dates: November 17, 2023 – January 7, 2024.
Go Ice Skating at Millennium Park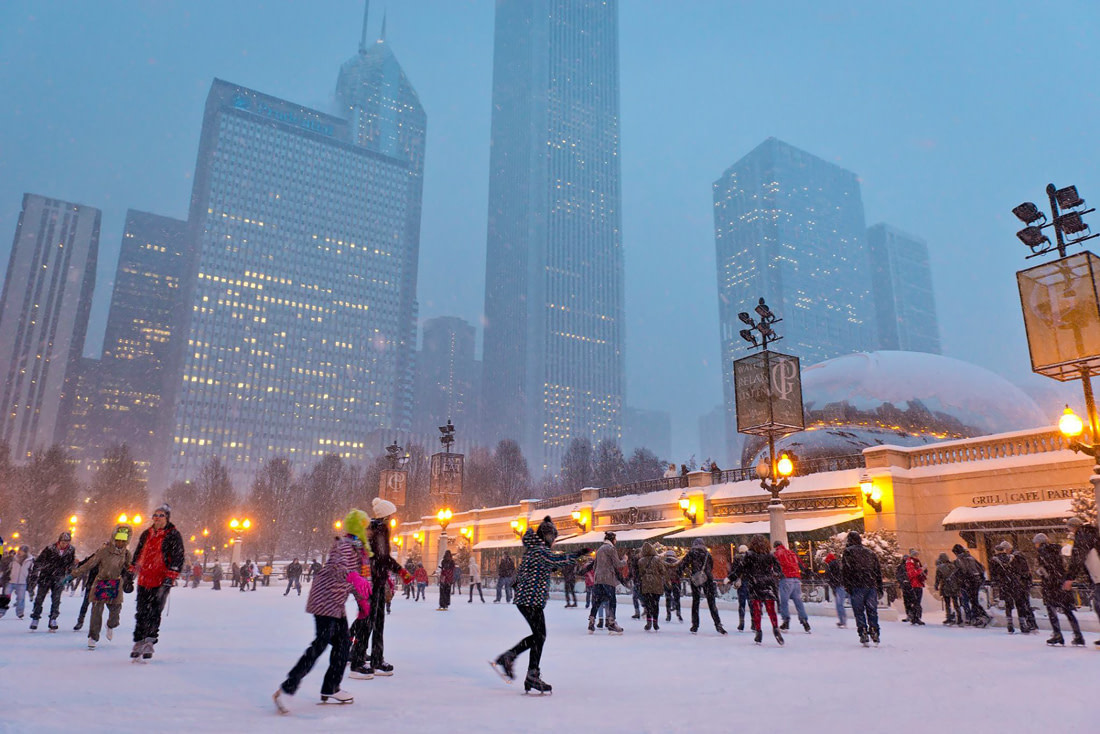 It's that most classic and fun of holiday outings: going outdoor ice skating at the local ice rink (and it's even more magical if it's snowing as well)!
Millennium Park, located in the center of Chicago's downtown and full of iconic urban art like the Bean and Crown Fountain, opens its own outdoor skating rink (McCormick Tribune Ice Rink) during December, perfect for a family outing or a romantic skate in the snow. You can bring your own gear or rent skates for $10. Plus, Chicago is renowned for its snowy, cold winters, so you're guaranteed perfect winter-wonderland weather to skate in.
Dates: November 2023 – March 2024 (weather permitting).
Shop on the Magnificent Mile and State Street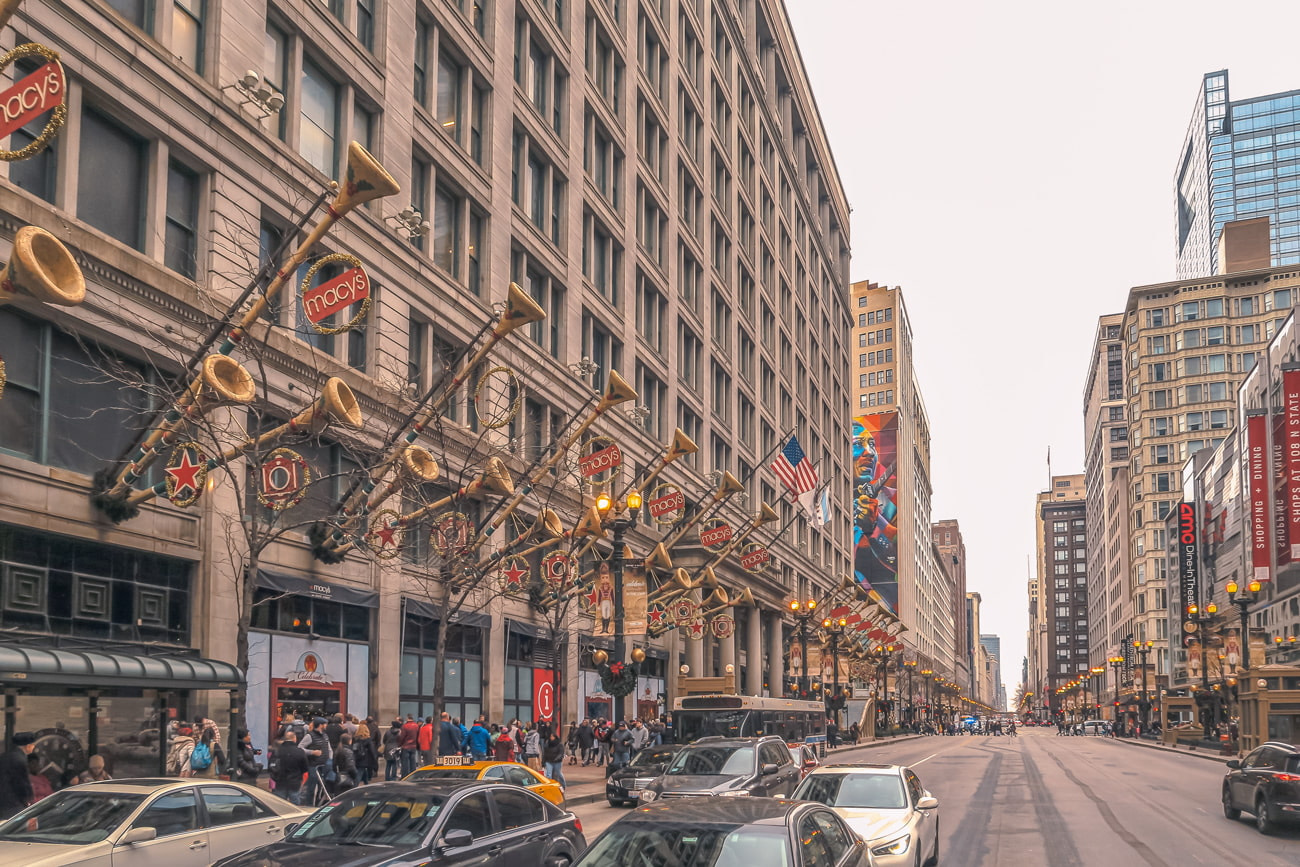 One of the best parts of the holidays is the giving and receiving of gifts. To find Chicago's best gifts, locals head to the city's top shopping districts: the Magnificent Mile and State Street.
Stretching from the Chicago River to Oak Street, the Magnificent Mile is part of the upscale Michigan Avenue near downtown. In addition to being home to architectural landmarks like the Tribune building, the Chicago Water Tower, and the Wrigley building, over 450 stores are located along the route, from major department stores like Bloomingdale's to apparel, luxury goods, jewelry, and toys. The Magnificent Mile also gets a gorgeous makeover with Christmas trees and tons of sparkling lights for the holidays.
If you can't find what you're looking for on the Magnificent Mile, State Street is another of Chicago's premier shopping destinations. From Lake Street to Jackson Boulevard, this bustling shopping street features a giant Macy's housed in a historic architectural gem, the Block 37 shopping mall, and trendy stores like Urban Outfitters. State Street is also close to popular Chicago attractions like Millenium Park and the Art Institute of Chicago.
Attend a Candlelight Concert
Billed as a multi-sensory concert, the Christmas iteration of this rotating-venue series, Candlelight: Holiday Special, will be held at the historic Stan Mansion featuring the Metropolis String Quartet. You'll enjoy a live performance of various Christmas standards spanning from Vivaldi's Four Seasons to contemporary pieces like selections from Mendelson and Guaraldi's Peanuts Suite. With only six performances total, competition is stiff for tickets, so be sure to secure yours early.
Dates: Yet to be announced.
Cruise down the Chicago River
Though you can do it any time of year, a Chicago Architecture River Cruise is a truly memorable experience when the city is draped in lights. In this tour, your guide will take you down all three branches of the river while explaining the history of the most important buildings in the city's skyline. But be sure to bundle up: Chicago winters are famously cold.
Marvel at Illumination at the Morton Arboretum
The tree-lined walkways of the Morton Arboretum are turned into a wonder of light and color at this outdoor illumination fest, perfect to explore on a cold winter's night.
The magical effects are created using lanterns, Christmas lights, light installations, and projections to illuminate and change the appearance of trees and other plant life. It even incorporates special technology to make some of the light displays interactive, allowing you to do things like hug a tree to see how the lights respond and change. Holiday music is piped in as well, and at the end of the walk, there's no better way to warm up than by a roaring fire where you can roast marshmallows or drink some hot cocoa.
Dates: Yet to be announced.
Make Some Memories at Light Up the Lake
The largest indoor Christmas lights display in all of Chicago, Light Up the Lake is a beloved annual event. Held in the festival hall at Navy Pier, you'll find their iconic light displays, a skating rink, and Santa's Village, hosted by Mr. and Mrs. Claus. Each ticket also includes a ride on the Centennial Wheel, Chicago's 200-foot tall Ferris wheel that will give you 360° views of Downtown and the frozen Lake Michigan.
Dates: Yet to be announced.
Take a Ride on the CTA Holiday Train
In the early 1900s, Chicago was the center of railway travel in the US, and to this day, the city is still very easy to get around and get to via rail. So to honor this legacy and get in on the holiday fun, every year, the Chicago Transit Authority outfits an entire L metro train to be a moving Christmas spectacular.
The outside and inside of the cars are elaborately covered in lights, garlands, and bows, the hand poles are made to look like candy canes (but don't lick!), and Santa rides around on an open-air flatcar to wave to passersby. And it's not just for fun: this tradition, which started in 1992, was created to deliver food and other donations to charities throughout the city, which it still does to this day.
Discover Christmas Around the World at the MSI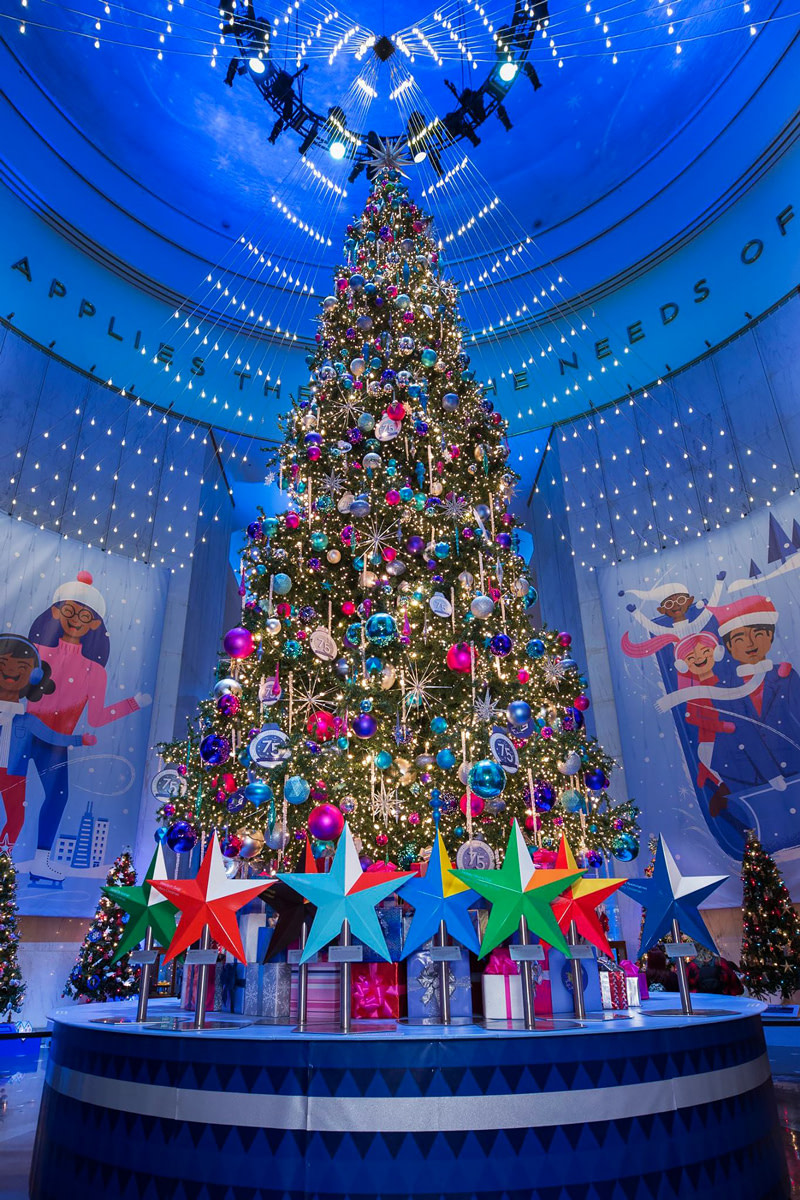 This Chicago Christmas tradition started back in 1942. Now it's grown from a display of a single tree to a massive exhibition of more than 50 Christmas trees, including a giant 4-story Grand Tree!
The various trees are decorated by volunteers to represent how different cultures and countries around the world celebrate the holidays. It's a wonderful way to learn about Christmas traditions around the globe as well as be dazzled by a cavalcade of lovely holiday decor. On the weekends there is also entertainment like singing.
This year's exhibition opens in November and runs through January 2024.
Go On a Movie Sites Tour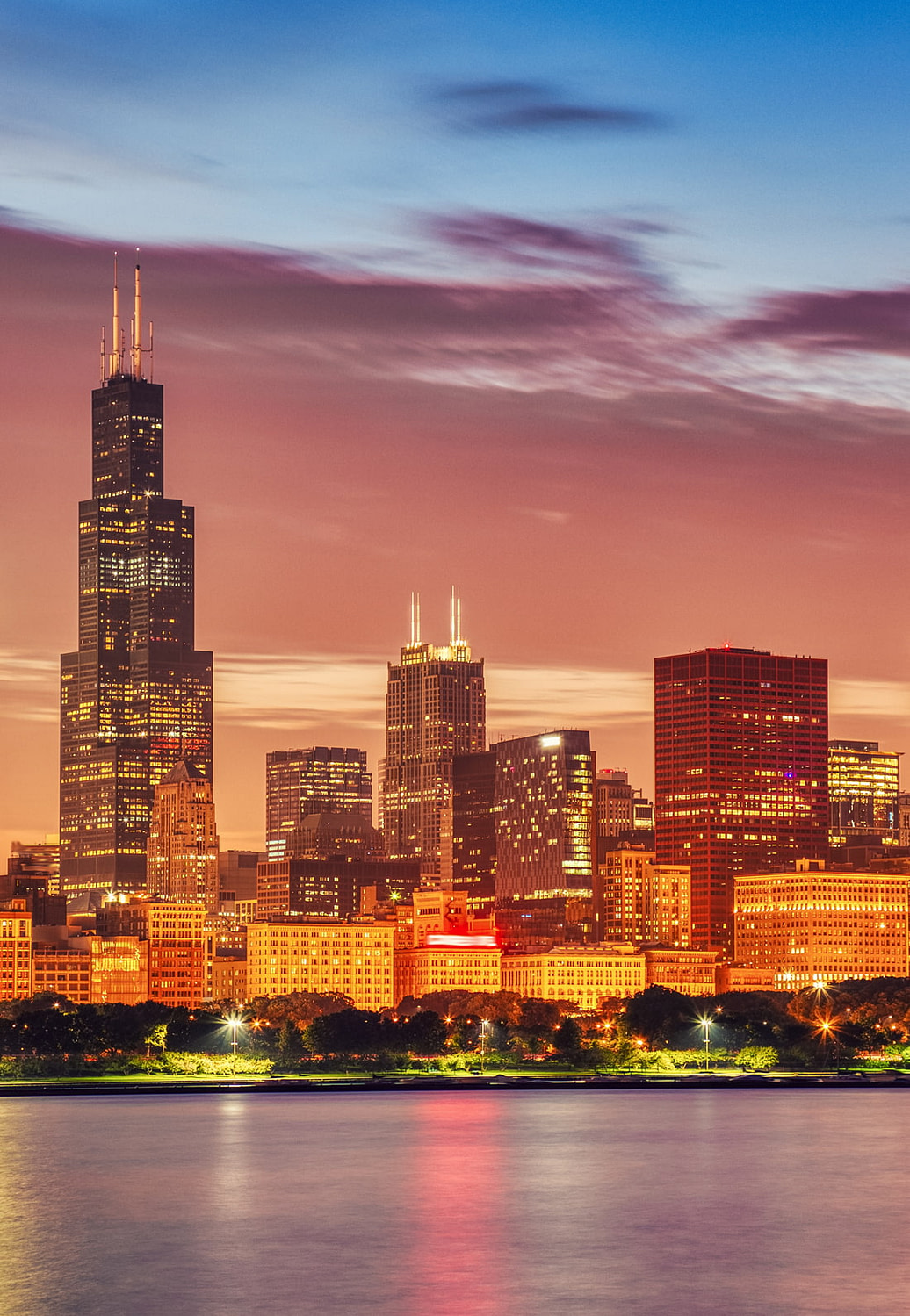 Chicago has a vast and varied film industry. If you're a fellow movie buff, you can book a Downtown Chicago TV & Movie Sites Tour to see the city's most iconic filming locations. You'll visit places seen in classic movies like High Fidelity and Ferris Bueller's Day Off, but the holiday movie locations are the real highlight. The entire Home Alone franchise, Nothing Like The Holidays, and Surviving Christmas were all shot in the city, and your guide may even offer behind-the-scenes insights into these films as you tour the real-life places some of their most iconic scenes were shot.
Dates: Every Friday, Saturday, and Sunday, Year-Round.
Explore the Christkindlmarket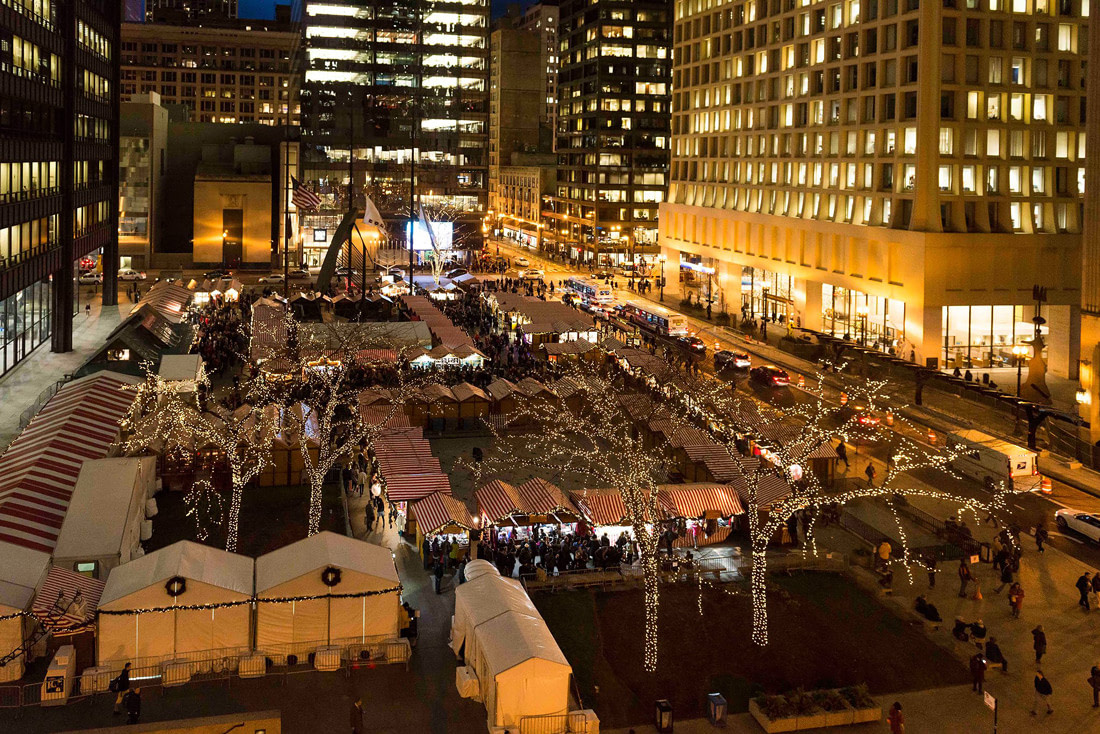 First held in 1996 and inspired by the historic Christkindlesmarkt of Nuremberg, Germany, this classic European-esque outdoor Christmas market is a beloved Chicago tradition, full of holiday cheer for everyone.
This massive event, which is the biggest outdoor Christmas market in the US, is named after Christkind, a mythological, fairy-like creature that is the bringer of gifts to children in Germany and German-speaking countries. Here at this market named in her honor, families and shoppers can marvel at the lovely holiday lights, shop for gifts like the market's signature annual mug and tree ornaments, eat traditional German delicacies like strudel, pretzels, and currywurst (and classic US holiday treats like cookies as well), and keep an eye out for the Christkind as she wanders the market.
Held in the downtown area, it's easy to find a great place to go, especially at night when you can enjoy the lights.
The Christkindlmarket 2023 will take place at Daley Plaza in November and December.
Dine in an Igloo at IO Godfrey Hotel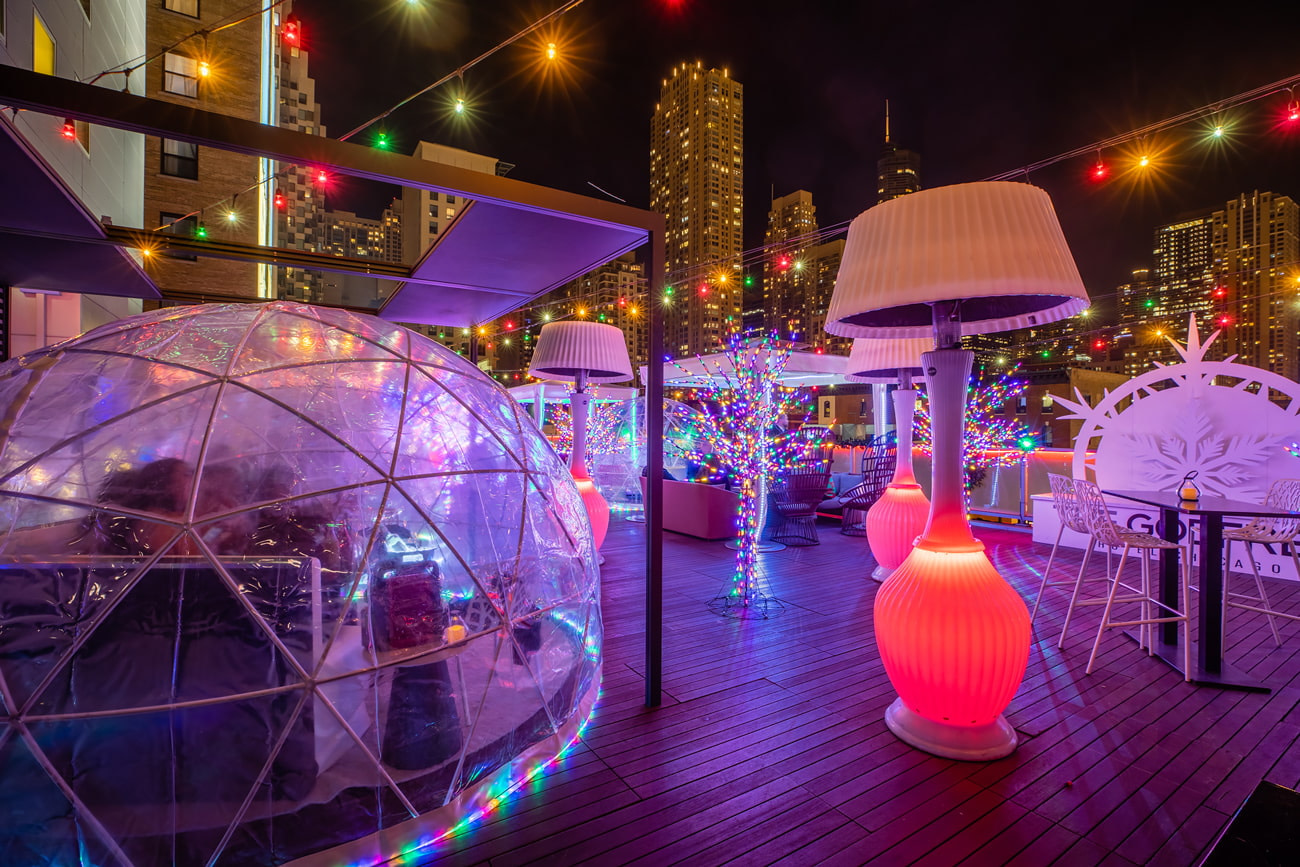 Chicago is notorious for its cold, windy winters, with most of the city retreating indoors. But IO Godgrey's rooftop lounge is able to keep the party going even in the winter with its annual Winter Wonderland celebration.
Located on the rooftop of the Godfrey Hotel in downtown Chicago, IO Godfrey is a popular destination for craft cocktails, music, and unbeatable city views. But instead of shutting down for the winter, the rooftop lounge is transformed into a snowy paradise. Heated igloos of clear plastic are erected around the space and available to reserve for 6-8 people. Inside, your party can enjoy cocktails and food, while outside, the rest of the space is decked out in light-up trees and icy Christmas lights. S'mores are available to roast at the outdoor fire pits as well.
Go See A Christmas Carol at the Goodman Theatre
Seeing the theatrical adaptation of Charles Dickens' classic Christmas story has been a beloved Chicago tradition for over five decades.
Running from November 18th to December 31st, 2023, at the Albert Goodman Theatre, A Christmas Carol follows the tale of curmudgeonly miser Ebenezer Scrooge. On Christmas Eve, he's visited by three ghosts that help him realize the error of his ways. Heartwarming and charming, this local production is now celebrating its 44th year. Some of the actors return to the same role year after year, which helps the show feel even more traditional and timeless. Noted for its fabulous costumes, special effects, and delightful musical numbers, it's a holiday treat for all ages.
Do the Santa Hustle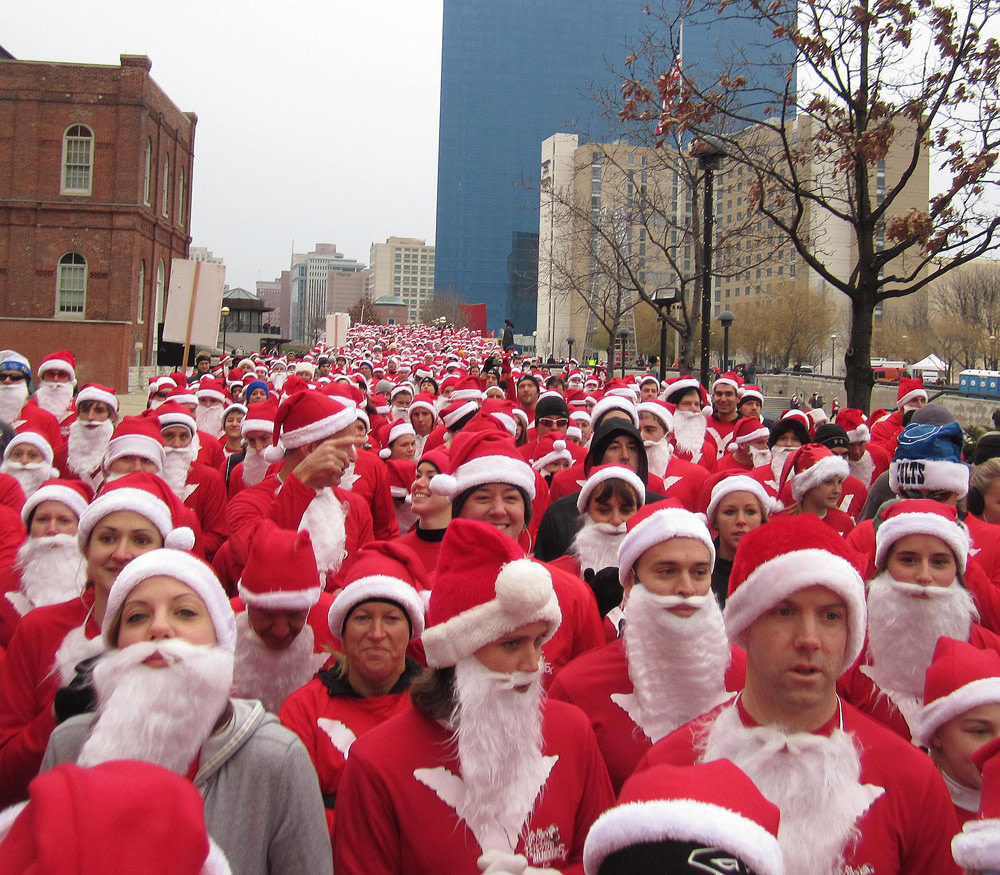 With all the cookies, hot cocoa, and tasty treats, everyone gains a little holiday weight around this time of year. Well, you can work it off (at least a little) by taking part in one of Chicago's most fun Xmas traditions: the Santa Hustle!
The Santa Hustle is a 5k race held at Soldier Field, where participants dress up like Santa Claus (beard, hat, red suit, candy cane socks, the whole nine yards!) and run for fun and for charity! Christmas music is played to help runners get in the spirit, and candy and cookies are passed out for fuel. It's a heck of a lot of fun, and it's for a good cause (proceeds benefit the American Cancer Society), so get ready because Santa Claus is running through town!
Date: Saturday, December 2, 2023 at Soldier Field.
See the Highlights of Chicago in Wintry Splendor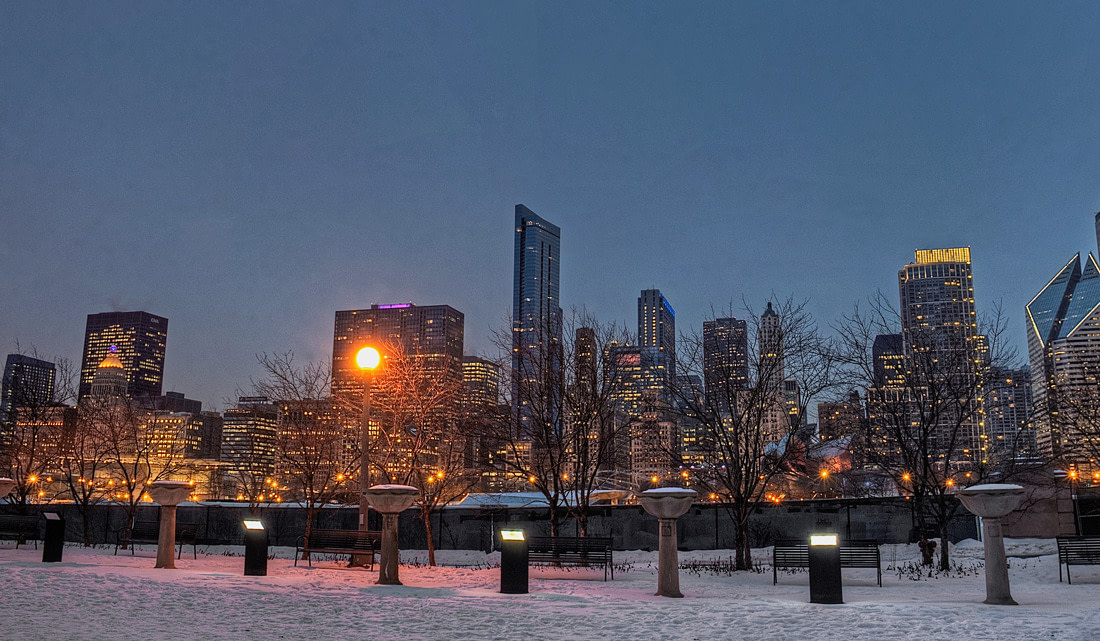 With its many historic buildings, outdoor parks, public art installations, and more, Chicago is a great place to visit no matter the time of year, but the snowy winter weather only makes it more beautiful and striking, which, paired with all its winter-time activities, it's the perfect winter city.
Take a snowy selfie at the Bean in Millennium Park (there are also caroling events held there during the holidays), visit the Chicago Art Institute, see the wintry Windy City from above from the Willis Tower (more commonly known as Sears Tower) Skydeck, go for a boat ride down the canals, and more.
Watch the New Year's Fireworks from Navy Pier
To finish off a month of fantastic holiday fun in the Windy City, head to the famous Navy Pier for its epic NYE fireworks display!
The fireworks are set off from a barge located a short distance from the end of the pier, so you can either watch from along the shoreline or attend the Resolution Gala ball, which is held on the pier itself. Another great option is to book a dinner cruise, where a boat will take you out into the harbor where you can watch the spectacle with the lit-up skyline in the background while sipping on champagne and enjoying a delicious dinner. Cheers!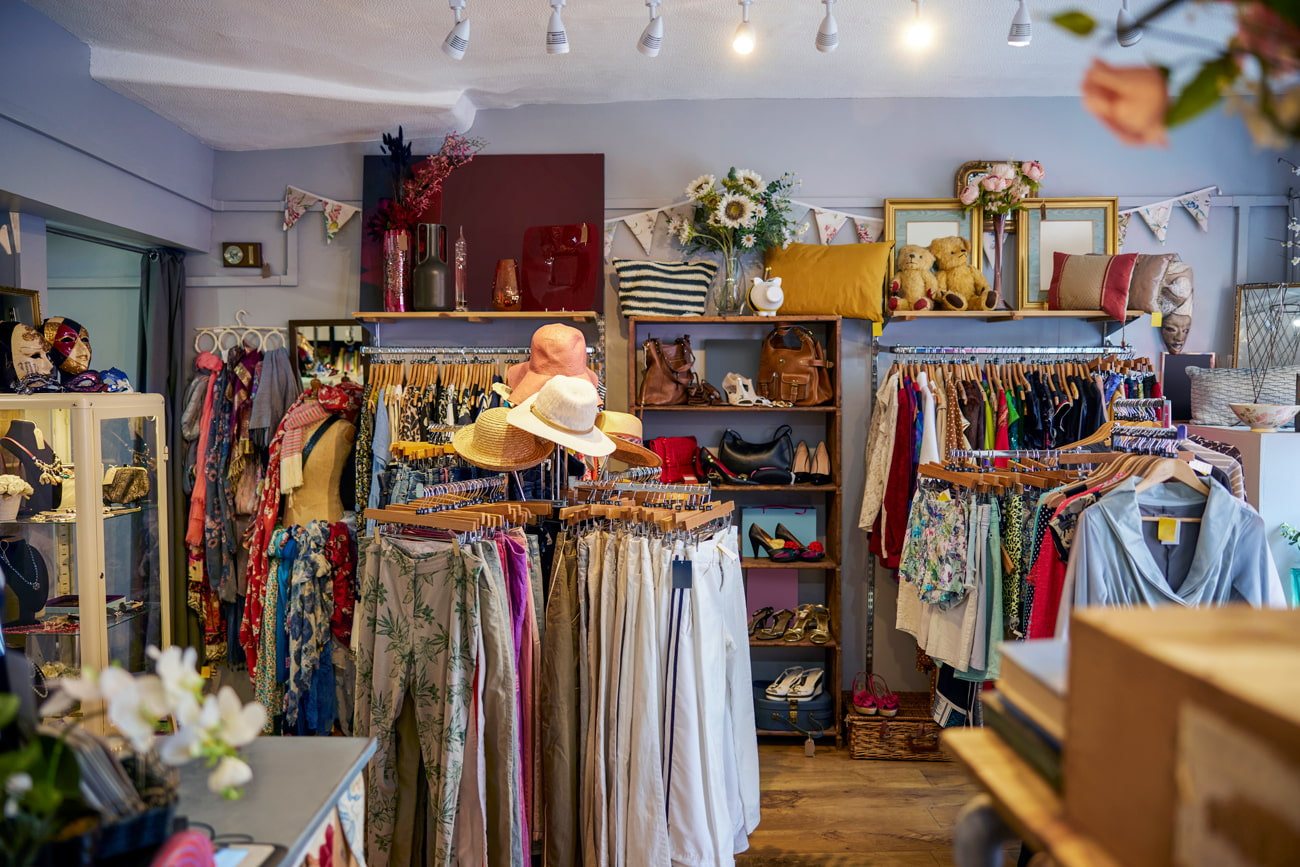 While any time of year is a good one to find a deal, during the holidays may be the best. Whether you're looking for a gift for an eco-conscious friend or the perfect one-of-a-kind addition for your own closet, a Hidden Thrift Stores Shopping Tour might be the ideal holiday excursion for you in Chicago. Your guide, a local and experienced thrifter, will take you to four off-the-beaten-path Chicago thrift stores that you may have never found on your own. You'll have about an hour at each to hunt for the perfect find.
Wander Through the Amaze Light Festival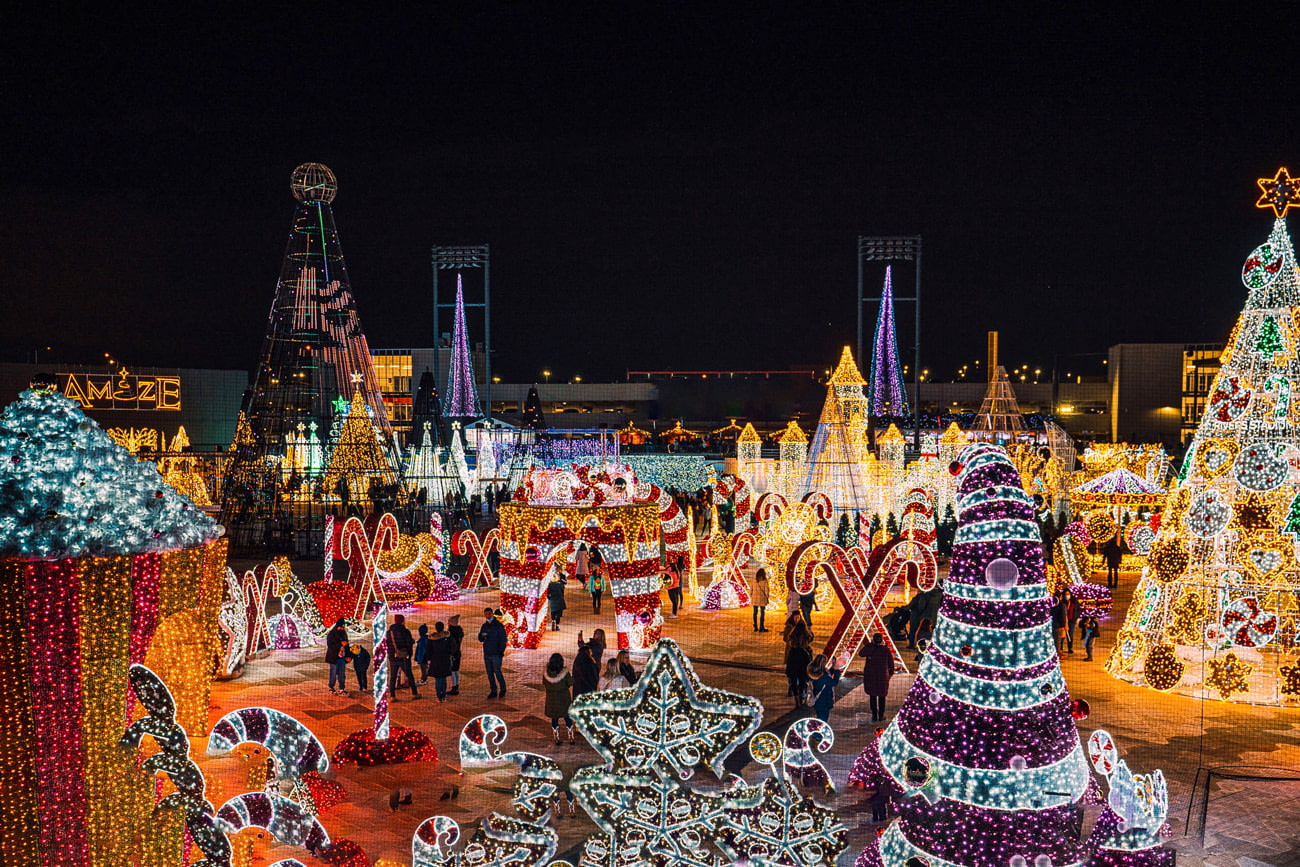 A holiday-themed pop-up in Tinley Park, the Amaze Light Festival is an open-world storybook come to life, packed with hundreds of thousands of lights, mascots, and entertainment. In addition to the displays you can wander through, there are food trucks, a "toyporium", an elaborate candy shop, and the Amaze Market, where you'll find local and handmade gifts. You can also purchase add-on tickets to ride the Arctic Express Train that winds around the grounds or to take an inner tube down Zing's Thrill Hill.
Dates: Yet to be announced.
Ride The Polar Express Train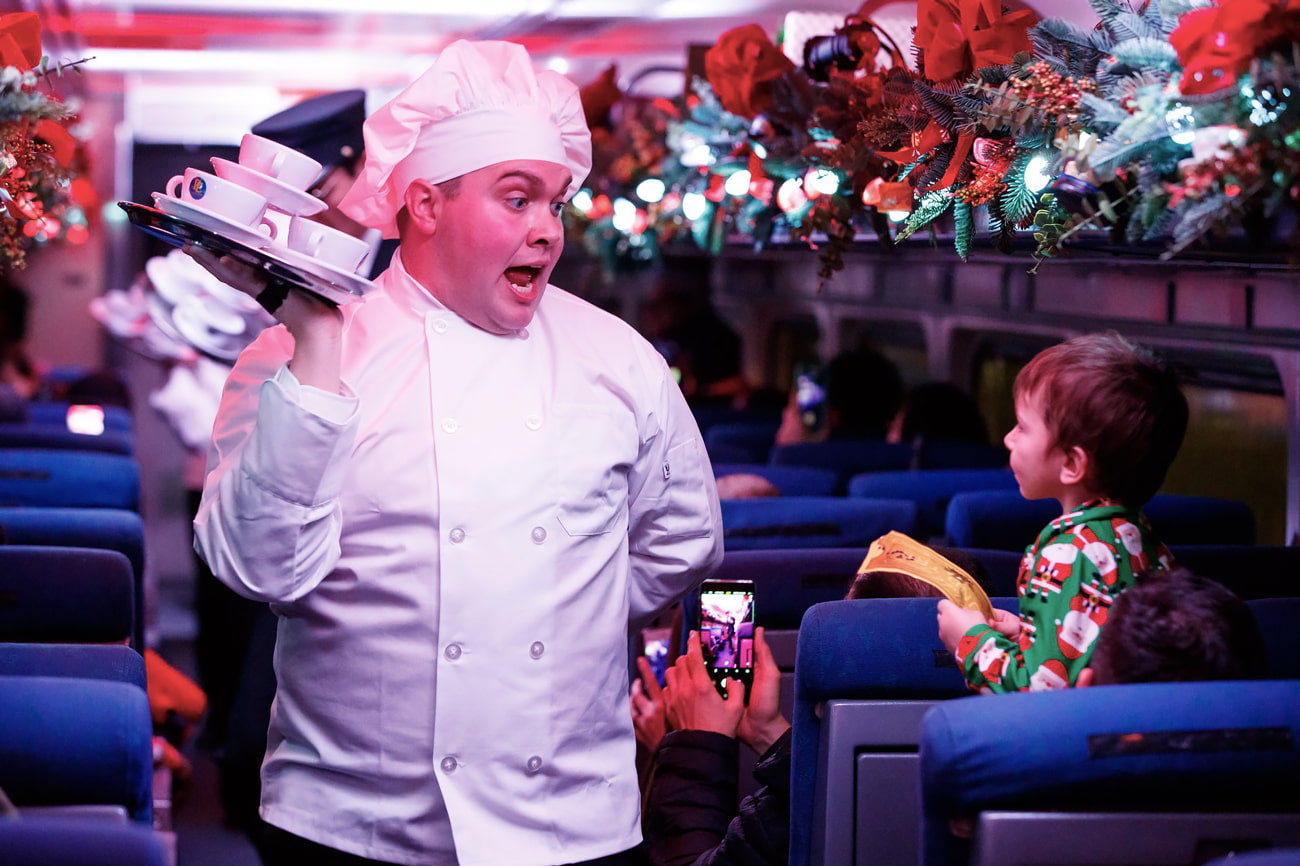 The Polar Express by Chris Van Allsburg is a modern Christmas classic, which enchants adults and children alike with its message that the magic of Christmas transcends age.
This real-life train ride recreates the magic of the film, with characters from the story leading you through a reading of the book, carols, and more. Departing from Chicago's Union Station, the two-hour-long experience starts with boarding the train and having your golden ticket punched. As the train departs for the North Pole, hot chocolate and cookies are served, followed by caroling, a read-along of the book, and visits from Santa. At the end of the ride, guests get to take home a silver sleigh bell as a souvenir.