People from all over the world flock to Ibiza drawn by its stunning nightlife and legendary hippie vibe, but the island that never sleeps just wouldn't be the same without its natural beauty. With over 80 gorgeous beaches to escape to, you'll find bright turquoise waters, beautiful people, and heaps of atmospheric chiringuitos pumping out Balearic beats.
From sprawling party playas to stamp-sized hidden calas, these are the most spectacular beaches in Ibiza to chill out and capture the island's true spirit.
Playa d'en Bossa
The party never stops at Playa d'en Bossa, the largest and most dynamic beach in Ibiza.
Situated only 3 km south of Ibiza Town, this legendary stretch of fine, pale sand abounds in cafes, restaurants, and world-renowned clubs like Ushuaïa and Bora Bora, where DJs spin Balearic beats all day and night. But, with shallow blue waters, a young, cosmopolitan crowd, and an abundance of watersports on offer, a day on the island's longest sweep can be anything you want it to be.
Cala Jondal
Tucked away in a secluded bay, halfway between San José and Ibiza Town, Cala Jondal is one of Ibiza's most stunning beaches – think craggy pine-clad hills, glassy turquoise sea, and a steady stream of luminaries parading through daily.
Drenched in sunshine and relaxed sophistication, the white-pebbled cove offers an array of experiences, from excellent swimming and snorkeling in translucent waters to dining, sunning, and partying at the fashionable Blue Marlin beach club.
Las Salinas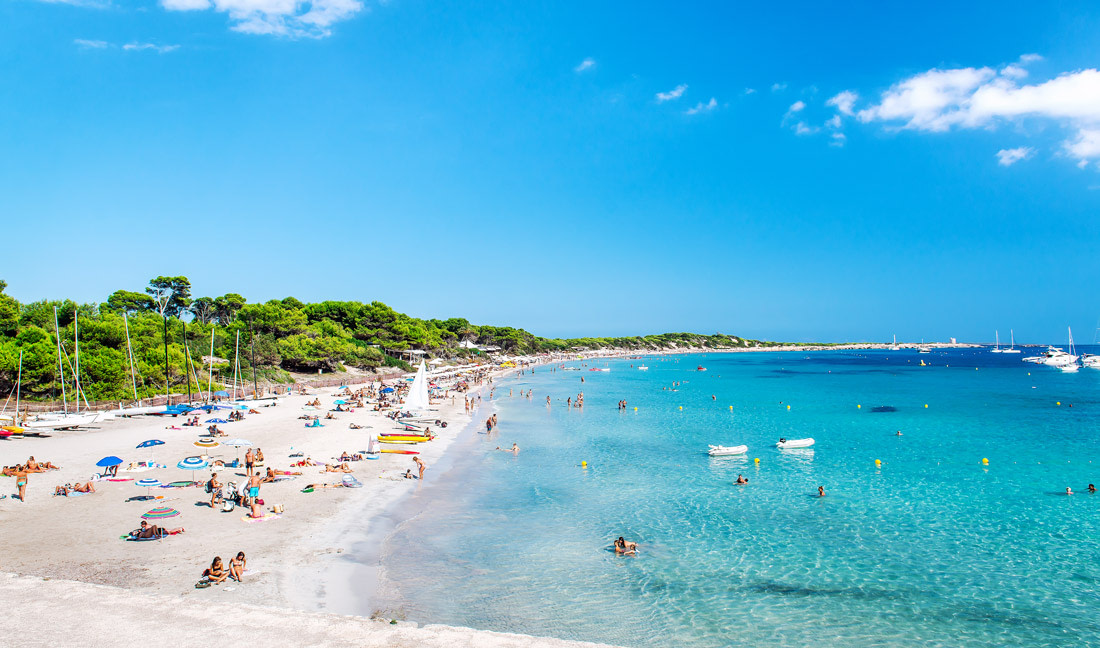 Just a 10-min drive from Playa d'en Bossa, on the southernmost tip of the island, Las Salinas (Ses Salines) is one of the chicest spots to get a tan on the White Isle – a mile-long crescent of powder-soft sand surrounded by salt flats, pine woods, and some of the clearest milky blue waters you'll ever see in Spain.
Its beautiful rustic setting along with the hip, atmospheric beach bars make it a magnet for celebrities and well-heeled holidaymakers, but there's room enough for everyone to lay down a beach towel and just soak in the atmosphere.
Es Cavallet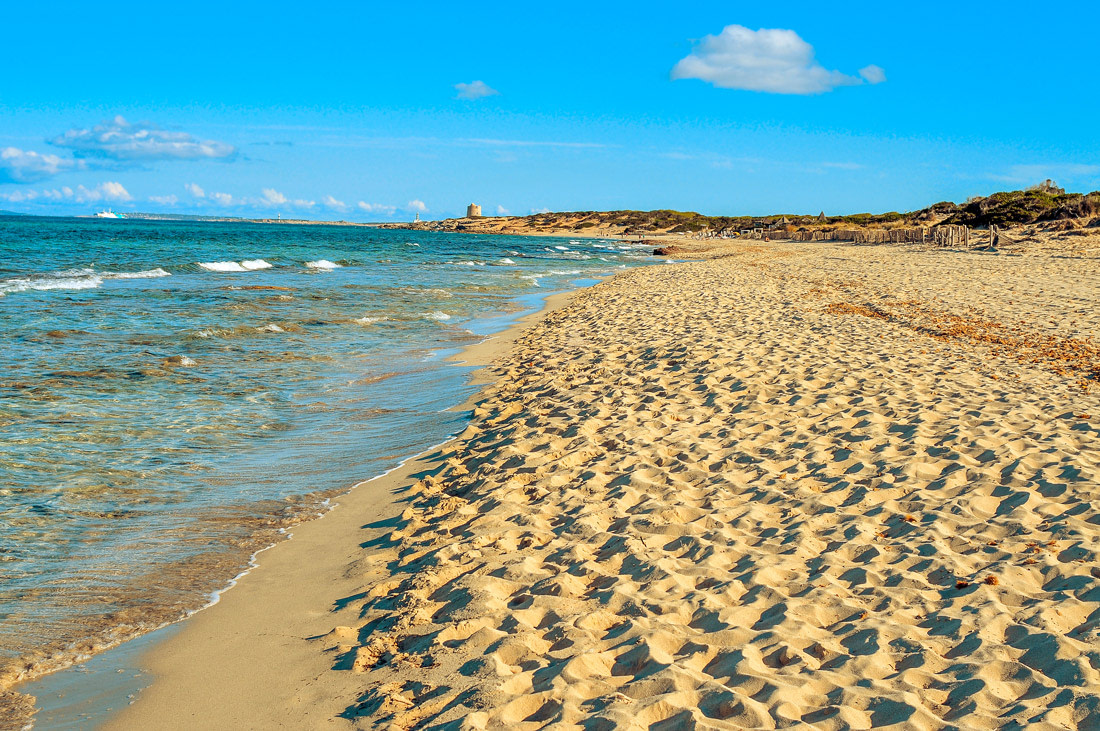 Also part of the Natural Park of Ses Salines, Es Cavallet has the same idyllic natural setting as its famous neighbor, but a far more relaxed vibe.
This is Ibiza's first nudist beach, but also one of its most popular gay-friendly strips, with an exquisite selection of chirinquitos serving up delicious Mediterranean fare along with live DJ sessions in wild, pristine surroundings. Otherwise, the beach is extremely picturesque, with its fine white sand and bright blue waves, backed by greenery and rolling sand dunes.
Cala Conta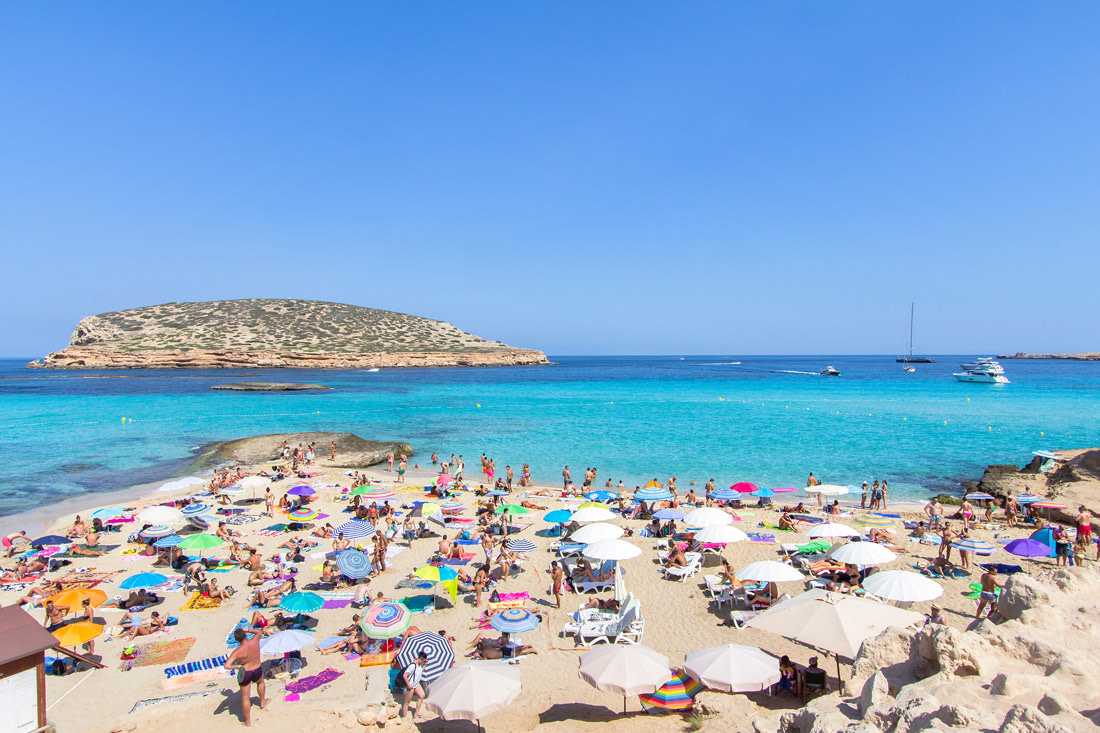 A gorgeous Blue Flag beach on the west coast of Ibiza, Cala Conta stands out for its spectacular scenery and epic sunsets.
Also known as Platja de Comte, this is actually a suite of three small coves overlooking a smattering of islands and lapped by crystal clear seas in countless shades of aqua and azure. The shores are a mix of rocks and fine blonde sand, and the restaurants perched on the cliffs above seem made for sipping sundowners as the sun melts into the sea.
Cala d'Hort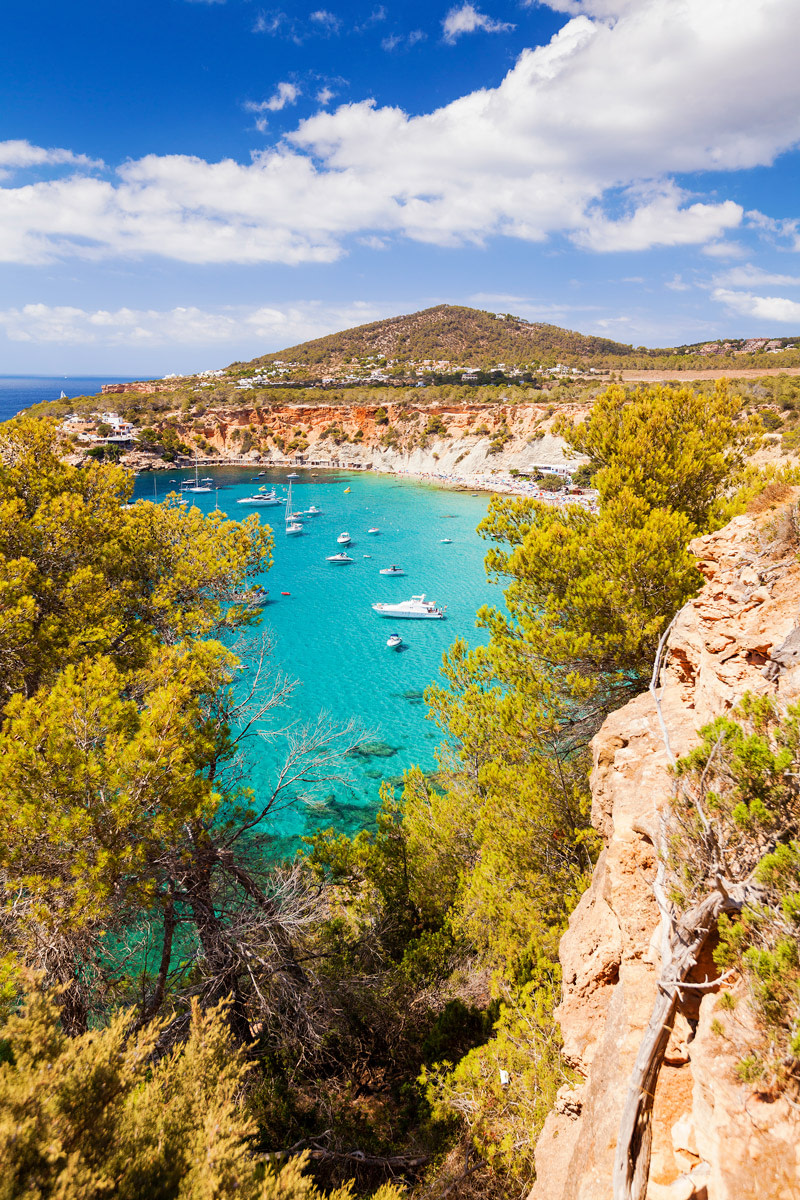 Sparkling waters, wonderful food, and a striking view of the iconic, mystical island of Es Vedra rising out of the sea make Cala d'Hort near San José one of Ibiza's most magical beaches. Framed by towering cliffs, the arc-shaped cove is half-sand, half-pebble, with a gloriously laidback atmosphere and a cluster of excellent eateries serving fresh fish and local specialties.
Cala Sant Vicent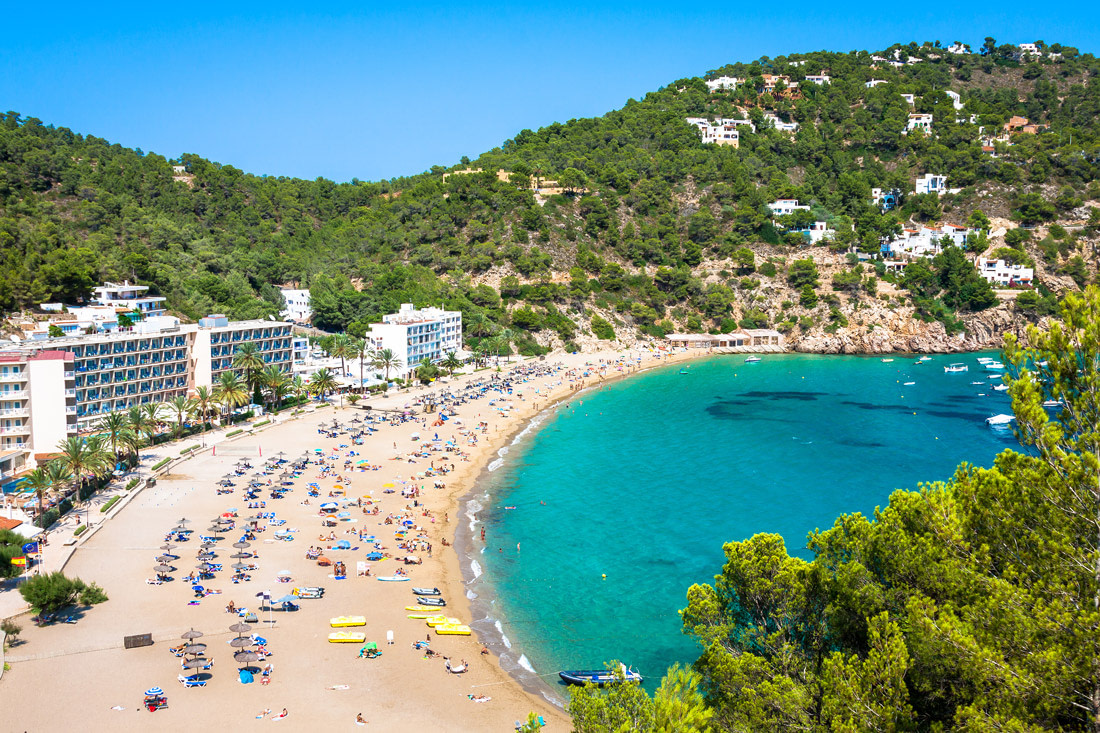 A winning combination of beautiful natural scenery and world-class facilities characterizes this expansive curve of golden sand in the north of the island. The bay is blessed with incredibly blue waters, perfect for swimming, and the palm-lined promenade running its length has enough restaurants and souvenir boutiques to keep you occupied for hours.
Thanks to its generous size and a certain lack of beach clubs, Cala Sant Vicent almost never gets crowded, making for the ideal Ibiza beach to bring on the kids, or just chill out and catch some Spanish sun.
Cala Gracioneta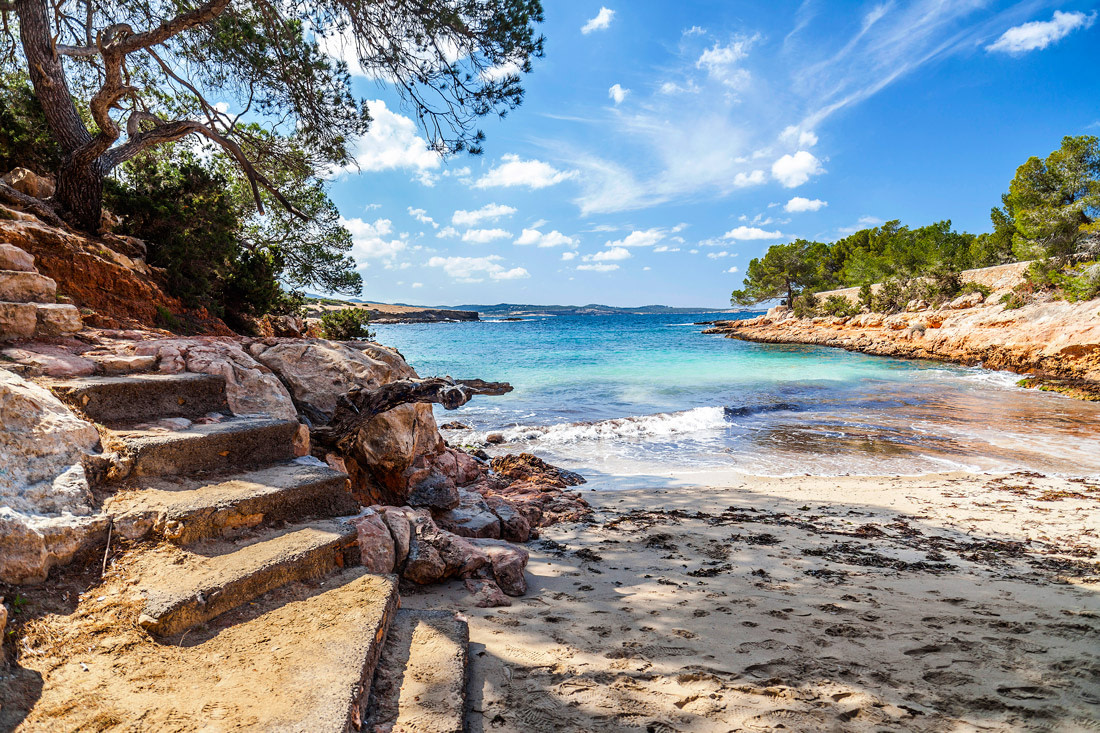 Although just a short walk from San Antonio's buzzing Sunset Strip, Cala Gracioneta feels a world apart. Centered around a charming chiringuito, this quaint, rustic cove features crystalline sapphire waters and soft white sands, while being surrounded by rugged landscapes and typical Mediterranean vegetation. In a nutshell, this is the postcard-perfect Ibiza beach you've been dreaming of!
Cala Xarraca
An excellent snorkeling destination, this tiny, hidden bay 3.5 kilometers from Portinatx boasts see-through aquamarine waters, rocky outcrops, and a natural mud bath, said to have healing properties for the skin.
Enclosed by lush green hills and rugged red cliffs, Cala Xarraca feels blissfully tranquil and intimate – which it actually is. Except for a well-established family-run restaurant and a couple of houses clinging to the slopes above, there's nothing else in sight to disturb the peace and serenity.
Aguas Blancas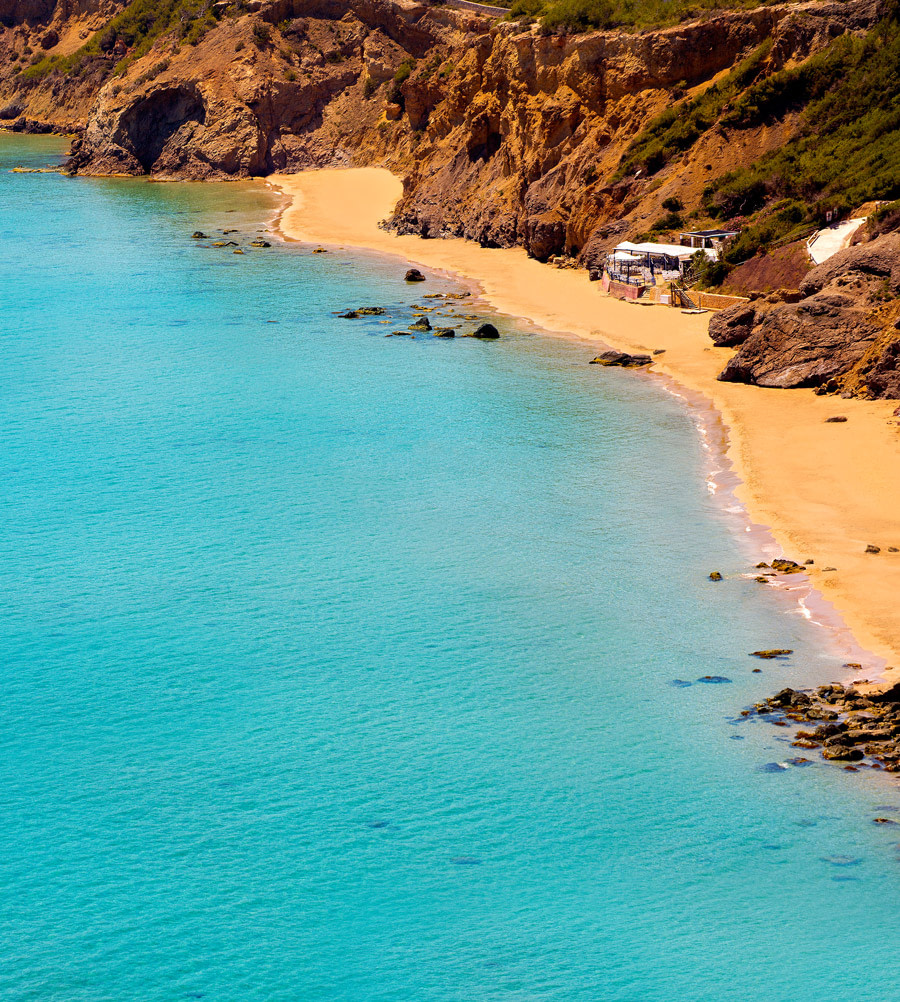 For a taste of hippie, bohemian Ibiza, head to Aguas Blancas (Aigues Blanques) on the island's unspoiled northeastern coast. Wedged between steep, dramatic cliffs and frothy white waves, this long, narrow strip of dark golden sand is a favorite among locals, with a designated nudist section and a carefree attitude.
If tanning is what you're after, it's best to arrive early in the morning as the sun sinks behind the huge cliffs in the afternoon. In fact, Aguas Blancas is one of the best beaches on the island to watch the sunrise.