This post contains affiliate links, which means we may receive a small commission, at no additional cost to you, if you make a purchase through these links. See our full disclosure here.
As the gateway to Costa del Sol, Málaga often gets overlooked, but with so much culture, history, and characterful bars per square meter, it's a city that begs to be explored.
While 48 hours might not sound like a lot of time to spend in a city, luckily, Málaga is easy to explore and has plenty of world-class museums and vestiges of its multi-layered past concentrated in and around its beautiful historic center. Add to this a newly revived art scene, golden-sand Mediterranean beaches, delicious meals meant to be enjoyed under bright blue skies for much of the year, and an energy you won't find anywhere else in Southern Spain, and you've got the ideal city break.
Make the most of your 48h in Málaga with this step-by-step 2-day itinerary full of insider tips and inspiring sights. You won't see it all, but you will get a taste of modern Andalusia with all its complexities, peculiarities, and undisputed charm.
Day One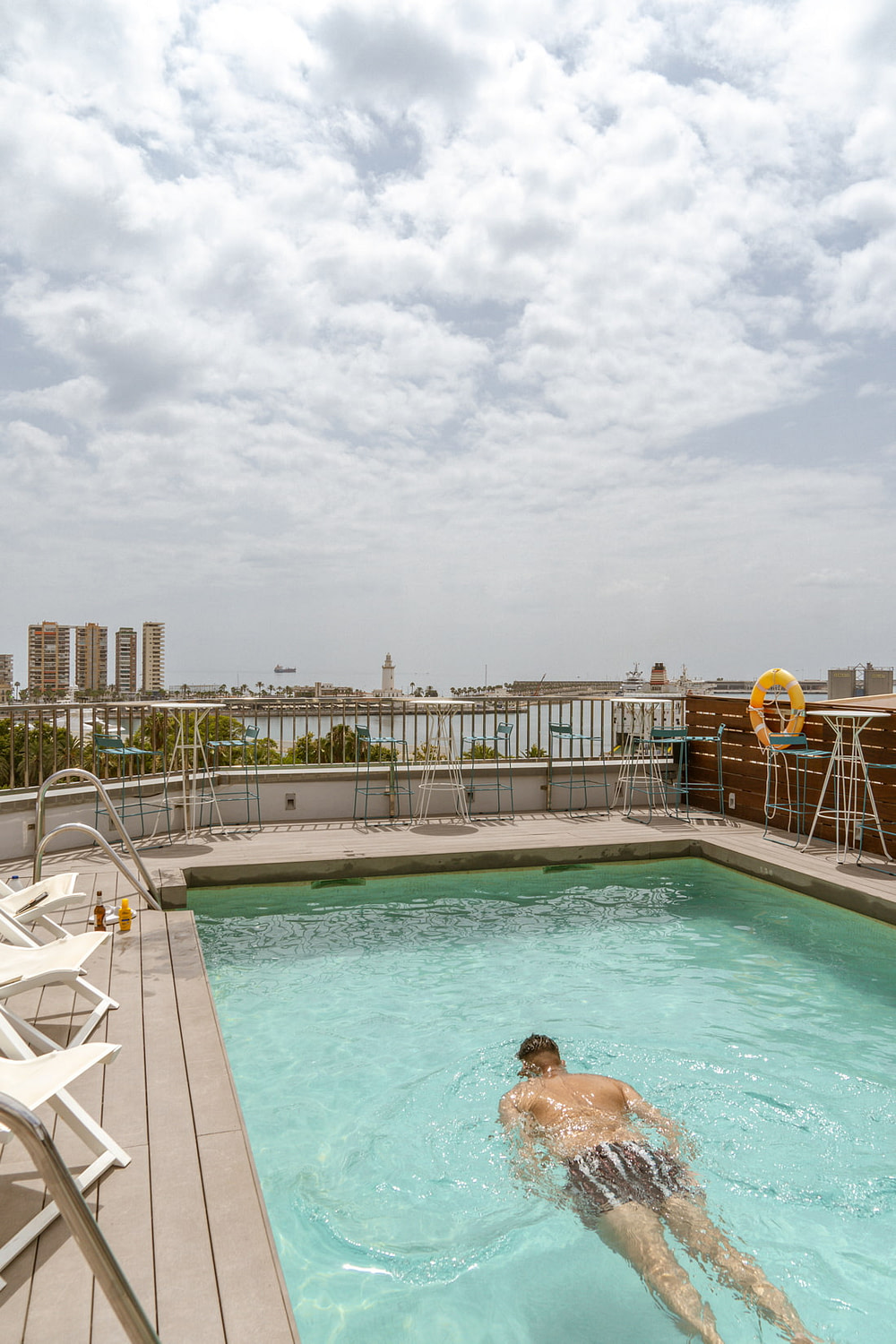 If you plan to spend the majority of your time downtown, book your stay at the Molina Lario. Located on the edge of the old town, right next to the imposing cathedral, this is one of the best hotels in Málaga – a stylish 4-star property that puts the city's best dining, shopping, and attractions right at your doorstep without emptying your wallet or disturbing your night's sleep.
Rooms are bright, elegant, and appointed with all modern comforts, and the spacious suites come with balconies overlooking either the cathedral or the port. Once you've dropped your bags off, head up to check out the rooftop pool & bar for a cocktail with a view, and then venture out into town.
Afternoon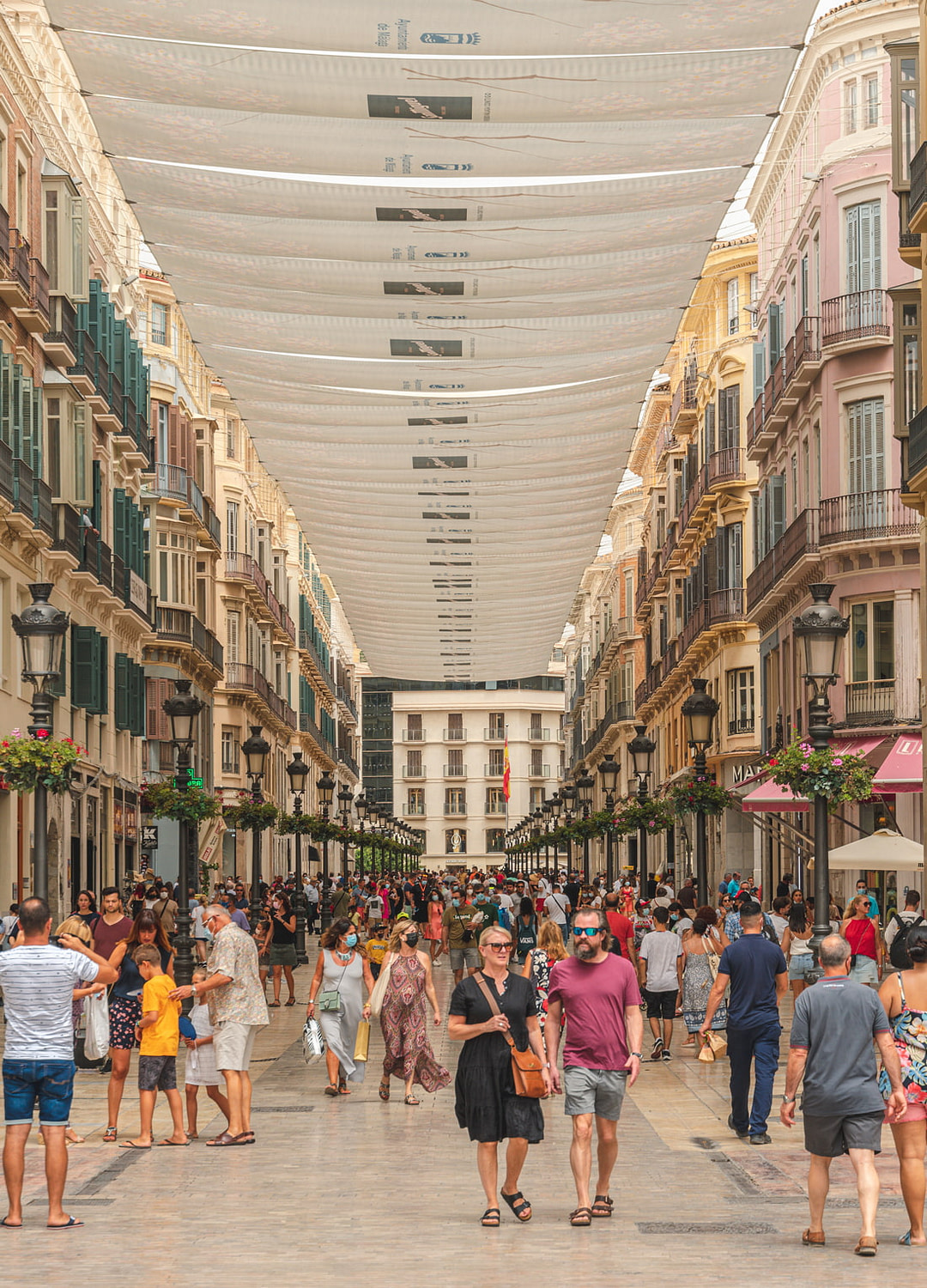 There's no better way to kick off your 48 hours in Málaga than with a relaxing stroll around the historic center. If opening hours allow (and the queue is not too long) pay a visit to the majestic cathedral – its interior is filled with striking ornate altarpieces and religious art, while the recently open cubiertas (roofs) offer an uplifting panorama of the city below. Otherwise, admire it from outside and make your way into the maze of streets and plazas that make up the old town.
No-frills tapas bars and restaurants fill up every corner of the historic quarter, and most of them offer a great chance to enjoy authentic Spanish home cooking alongside locals. One of these is Casa Lola in the vibrant Plaza de Uncibay, which serves up a never-ending selection of typical tapas, pinchos, and montaditos along with sweet local wine and vermouth on tap in a beautiful decor reminiscent of Madrid's classic 20th-century tabernas.
Walk off your merienda (afternoon snack) with a stroll down the elegant Calle Marqués de Larios, the epicenter of Málaga's social life and its main shopping street. Lined with harmonious 19th-century architecture, you'll find all major Spanish brands here alongside upscale international labels like Victoria's Secret, as well as cafés, ice-cream parlors, and colorful street artists. If it's December when you visit, you're in for a festive treat as the pedestrian street plays host to one of Spain's most impressive Christmas lights displays.
From here, you can either keep walking down to Málaga's sleek waterfront passing through the leafy Parque de la Alameda Principal, or take any of the small alleys branching off Calle Larios to find chic local boutiques, art galleries, wonderful street art, and all kinds of hidden treasures.
All this walking might start to leave you without energy by late afternoon, so stop by one of Málaga's specialty coffee shops for a frothy cappuccino or a perfect espresso to go. Bertani Café and Delicotte have late opening hours and serve excellent coffee & delicious homemade treats to keep you going until dinner time.
Evening
Round off your first day in Málaga with an Andalusian dinner at El Pimpi, a 50-year-old restaurant partly owned by local celebrity Antonio Banderas. Sample sweet Málaga wines and local delicacies like salmorejo (cold Andalusian bread and tomato soup) or grilled octopus with garlic potato puree while sitting among time-worn wine barrels and vintage theater posters. Or, grab a seat outside on the open terrace, where inspiring views of the Alcazaba accompany every meal.
Day 2
Morning
Fuel up on freshly baked pastries and delicious coffee at Next Level Specialty Coffee before heading to Soho, Málaga's hipster art district.
Nestled between the port and Alameda Principal, this alternative neighborhood has a modern food scene and buildings covered in striking murals by some of Europe's most notable urban artists. Its streets are scattered with private galleries and colorful gourmet eateries, and shopping revolves around alternative fashion boutiques and comic book stores.
While here, explore the Center of Contemporary Art Málaga (CAC), an innovative cultural center focused on 20th and 21st-century visual art – paintings, sculptures, photography and videography by both Spanish and international artists.
Another prominent institution, El Teatro del Soho CaixaBank is also worth checking out. If you're lucky, you might even catch a musical starred and directed by none other than Antonio Banderas.
Once you have enjoyed your dose of culture, drop in for a cerveza and a bite to eat at La Fabrica, Cruzcampo's craft brewpub, where unique varieties of Andalusia's signature beer are made each day. This huge industrial establishment has a cool urban vibe with soaring high ceilings, live music, and a contemporary, international menu of hummus, nachos, exotic woks, and Kentucky-style fried chicken to go with your ale.
Next, head to Málaga's refurbished port area and stroll along the sleek Palmeral de las Sorpresas promenade until you reach the multicolored glass cube of Centro Pompidou Málaga. As the first branch of the famous Parisian museum outside of France, this modern art gallery houses an extensive semi-permanent collection of artworks by the likes of Miró, Barceló, Kandinsky, Frida Kahlo, Chagall, Magritte, Giacometti, and, of course, Pablo Picasso.
Continue on to the golden-sand Malagueta beach for a relaxing seafood lunch in the sun. Chiringuito El Cachalote is a good option, offering not only the province's iconic sardine skewers, but a broad variety of grilled or fried local fish.
Alternatively, do as locals do and head straight to the Mercado Central de Atarazanas for a true tapas feast of fresh Andalusian favorites, from high-quality cold cuts to succulent shrimp skewers, grilled octopus, boquerones al vinagre (anchovies in vinegar), and fried eggplant with honey. Order a generous assortment and wash them down with a cana (small glass of beer), sweet Moscatel wine, or, like me, a glass of cold gazpacho soup.
Afternoon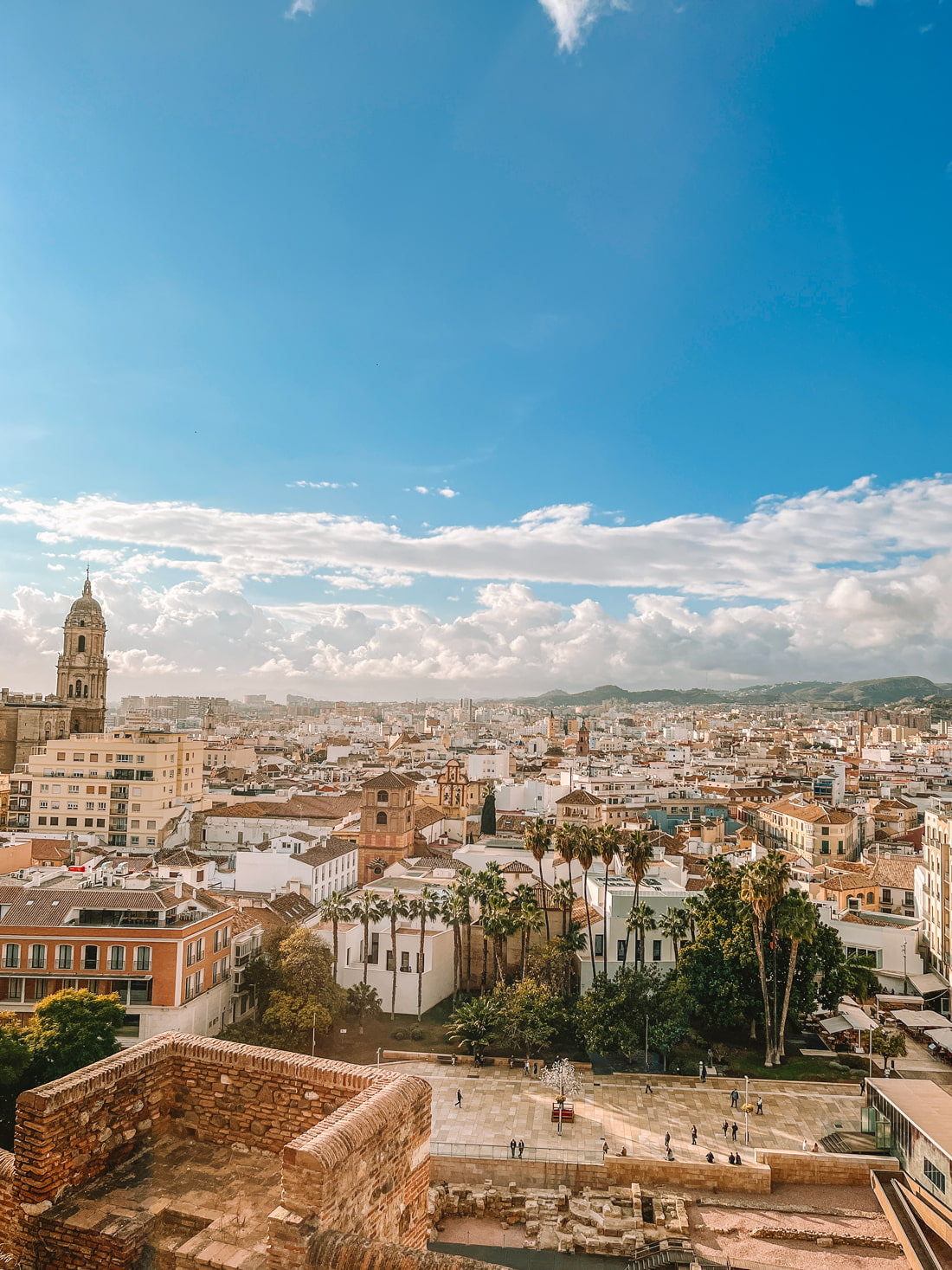 After a copious meal, it's time to walk off those calories with a steep stroll up to Mount Gibralfaro to visit the Alcazaba. A symbol of Málaga's Moorish past, the beautifully preserved 11th-century citadel offers wonderful panoramic views over the city and the glistening Mediterranean Sea beyond. (Tip: Cheat by taking the elevator to the top from behind the Town Hall!).
On your way down, stop by Málaga's 1st-century Roman Theatre and the adjacent Interpretation Center, which houses interesting objects found in the area during the excavation works.
Need an energy boost? Grab an espresso to go at Mia Coffee House in Plaza de los Mártires and enjoy it on the church steps in front like a true Malagueño, before entering the Carmen Thyssen Málaga Museum nearby. Housed in an elegant palace, this is a treasure trove of 19th-century Andalusian art, with notable paintings by Zurbarán, Sorolla, and Romero de Torres. While you're there, pick up some inspiring souvenirs at the museum's shop, which boasts an extensive collection of art books, as well as art-inspired jewelry, exclusive prints, and handcrafted fans depicting scenes from Carmen Thyssen's collection of paintings.
It wouldn't be a trip to Málaga without visiting at least one ice cream shop. These can be found all over the city, but for the most authentic scoop, nothing beats Casa Mira near the Alcazaba, which dates back to the 19th century and has a lovely terrace where you can enjoy tasty, traditional flavors like turrón (nougat) and dulce de leche. Meanwhile, those with more contemporary tastes will revel in the futuristic laboratory feel and vegan, fat-free ice creams from Boldini (on Calle Puerta del Mar).
If you haven't already, this is the perfect time to pick up some souvenirs. Sabor a España on Calle Larios houses an enticing selection of gourmet products which make amazing gifts for everyone back home, from colorful turrones, exquisite olive oil, and local honey to heavenly caramelized nuts made right in front of you.
Evening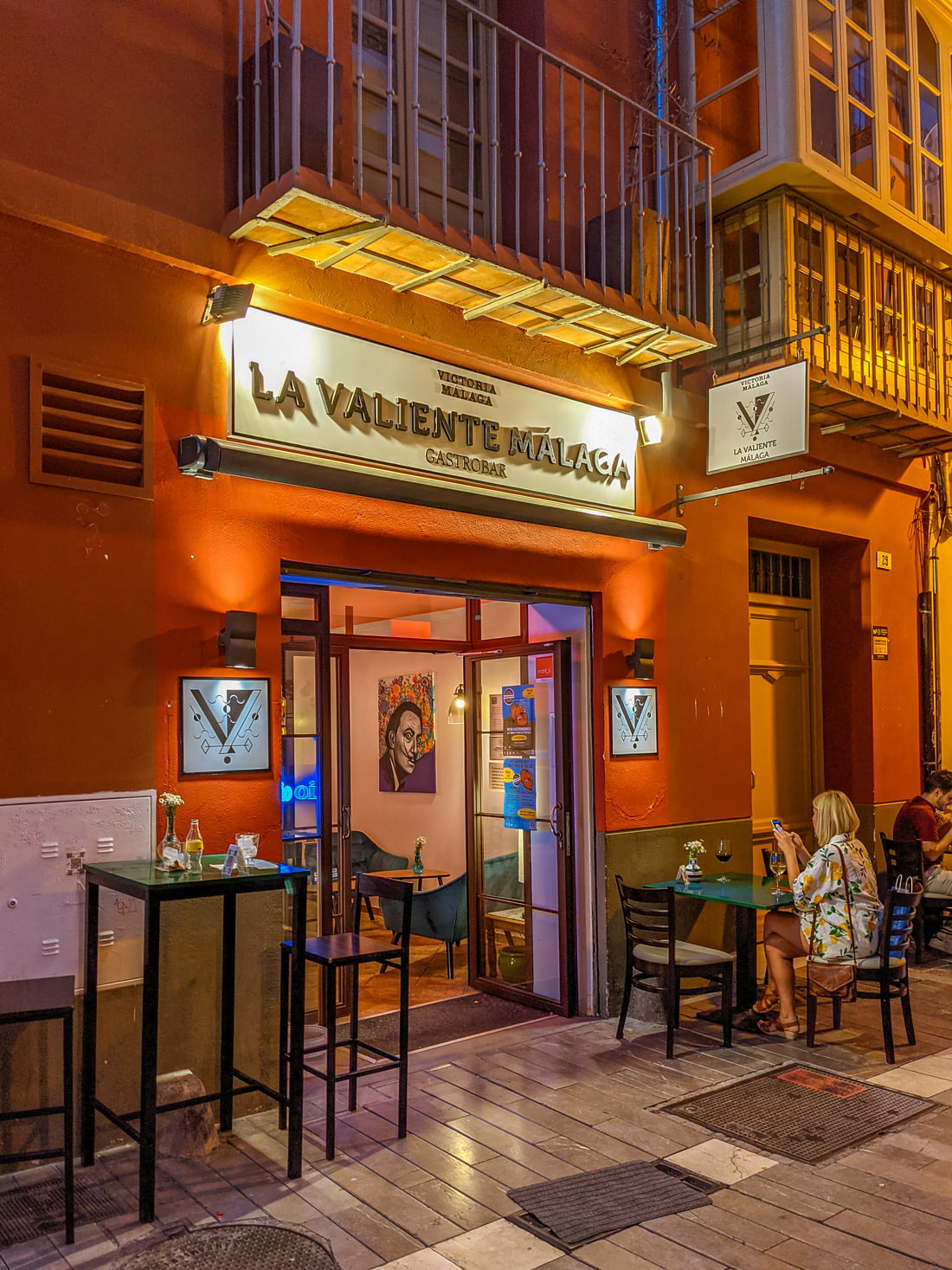 Head back to the hotel for a quick refresh (maybe even a power nap), then grab a quick drink at the hotel's rooftop bar and make your way to Calle Beatas.
A hidden gem only a few steps away from the tourist paths, this lively old town alley is lined with an eclectic mix of restaurants and gastro bars frequented mostly by locals. Whether you're in the mood for a classy affair or tapas hopping from one place to another, there's something for every taste and budget here.
La Baiona specializes in delicious piadine, craft beers, and cocktails; La Valiente dishes up creative, homemade bites like ravioli stuffed with lomo en manteca (pork loin in lard), parmesan and ricotta cheese bathed in white wine, saffron, and lemon sauce or shrimp gyozas with ajoblanco (cold almond soup) and seaweed oil. The elegant Los Patios de Beatas vinoteca is a paradise for wine lovers, with over 500 varieties to choose from, as well as a seasonal menu of classic Andalusian dishes with an unexpected twist – think gin-marinated salmon, black cod in coconut sauce, or pipirrana (a Spanish summer salad) with mango sorbet.
If you're not tired, there are plenty of cafés, bars, and outdoor terraces in the center for after-dinner drinks & entertainment. To name a few, Clarence Jazz Club hosts nightly concerts in an atmospheric New York-style setting, while El Gallo Ronco (Plaza de las Flores) and Museo Flamenco Peña Juan Breva offer beautiful flamenco shows. Otherwise, live music kicks off around midnight at ZZ Pub, and Velvet Club has some of the best concerts in town. Nevertheless, summer evenings in Málaga are best spent at open-air cinemas throughout the city as part of the yearly "Cine Abierto" festival.
Day 3
Morning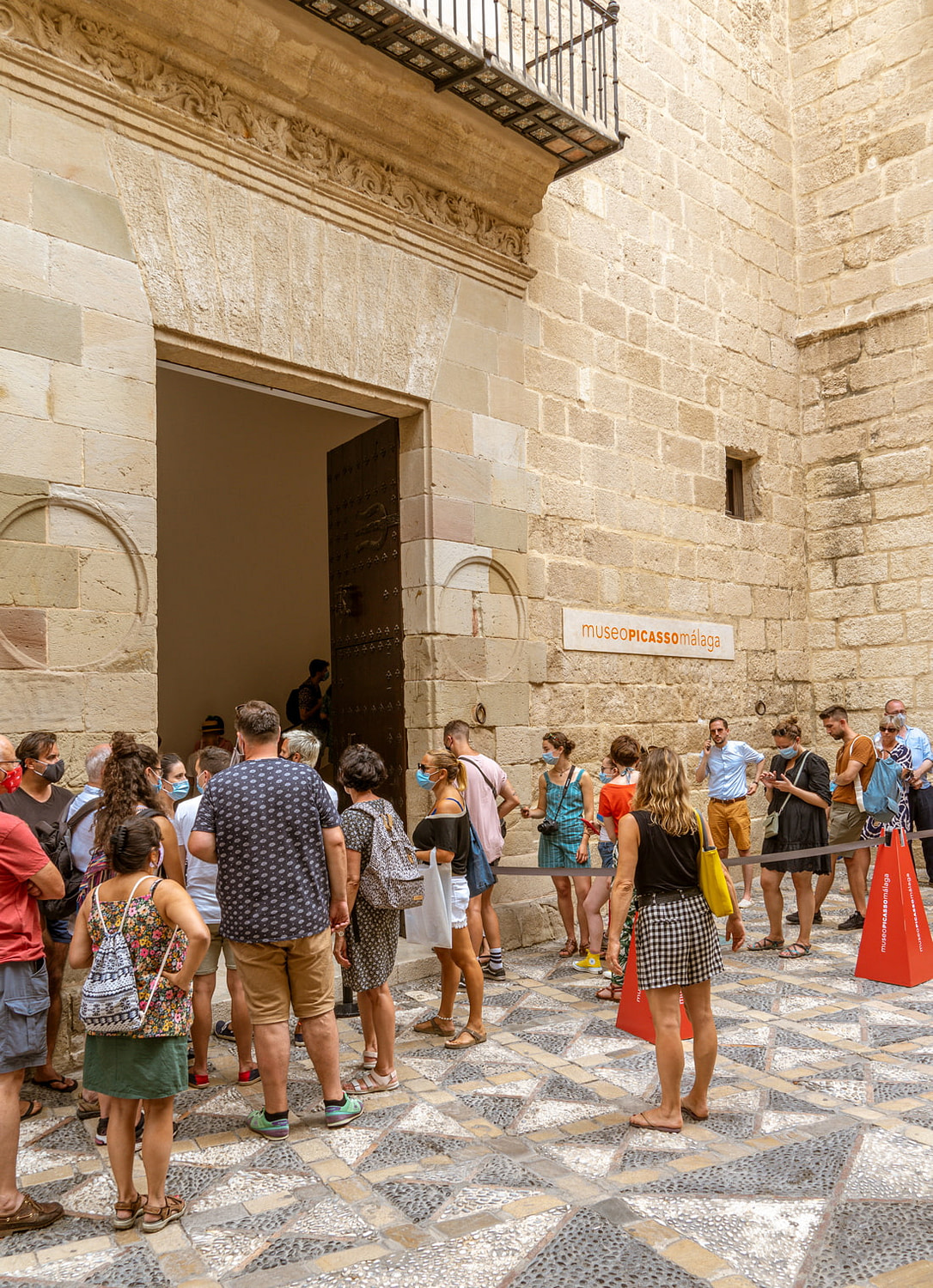 On your final morning in Málaga, get up early, check out, and store your bags at the hotel reception – they're happy to accommodate your luggage for as long as you need.
Today, you're hitting two of Málaga's major drawcards, both of which pay homage to the city's most famous son, Pablo Picasso. Start by taking a leisurely stroll to the emblematic Plaza de la Merced for a sunny outdoor breakfast at one of the many cafés dotted around, then pop into the house where Picasso was born, at no. 15.
Museo Casa Natal de Picasso offers an insight into the artist's early life and works through various collections of prints, ceramics, and personal artifacts. It also houses pieces by Miró, Chagall, Max Ernst, and Tápies, as well as an excellent research center and library.
Just a short stroll away, on Calle San Agustín, the Museo Picasso boasts an eclectic collection showcasing the evolution of the artist's work in chronological order, as well as various temporary exhibitions and a small archaeological site filled with Roman and Moorish remains discovered under the building during restoration works. This being one of Andalusia's most visited museums, buying your tickets online in advance is highly recommended.