My fascination with Marbella inspired me to write this post and provide a little help for all of you who are planning to visit the classiest resort on Spain's Costa del Sol.
Yes, it is expensive, luxurious, and visited by more rich and famous people than any other region in Spain, but don't be fooled by its glitzy reputation. Marbella is nothing short of charming, with its whitewashed old quarter packed with colorful floral displays, orange-tree-shaded plazas, and impossibly narrow alleyways.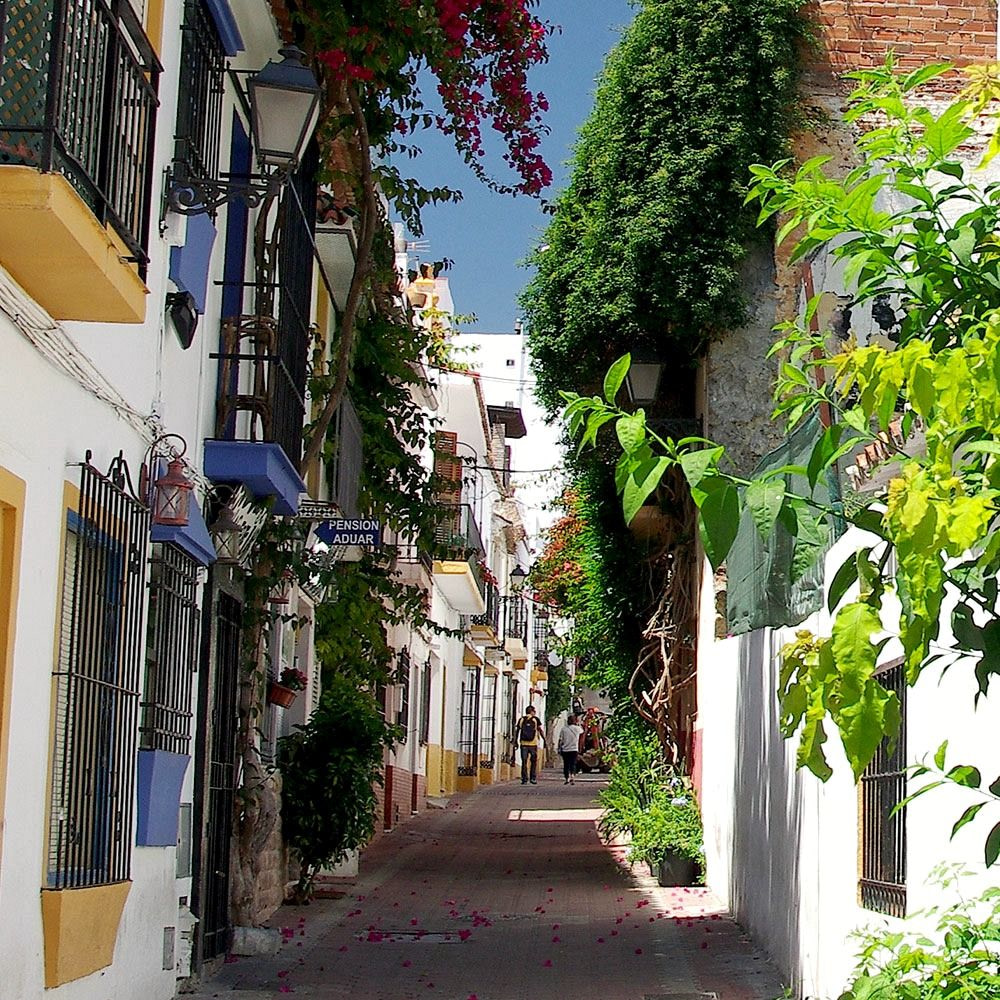 In fact, its Arab-flavored Casco Antiguo is one of the most beautiful European old towns I have ever seen, and one that takes you back to Moorish Spain. The beating heart of this part of town is the 15th century Plaza de los Naranjos, a lively square lined with Spanish Renaissance architecture and outdoor cafes, where flamenco, traditional Andalusian specialties, and a great atmosphere are all part of the mix.
If you're looking to surround yourself in luxury and glamour, enjoy nightlife at its most hedonistic, and splurge on the most expensive fashion money can buy, then probably Marbella Old Town is not your best choice. No need to worry, though – Puerto Banus marina, about 6 km down the coast, is an enclave of high-end boutiques, multi-million dollar yachts, Michelin-starred restaurants, and swanky nightclubs frequented by celebrities and well-heeled fashionistas.
Needless to say, Marbella's rich variety of accommodations caters to every taste and budget. You only need to find a location that meets your requirements, and Marbella Old Town puts you in the heart of it all while also providing the peace and serenity of a traditional Andalusian town.
Below are my recommendations on where to stay in Marbella Old Town without spending a fortune:
La Villa Marbella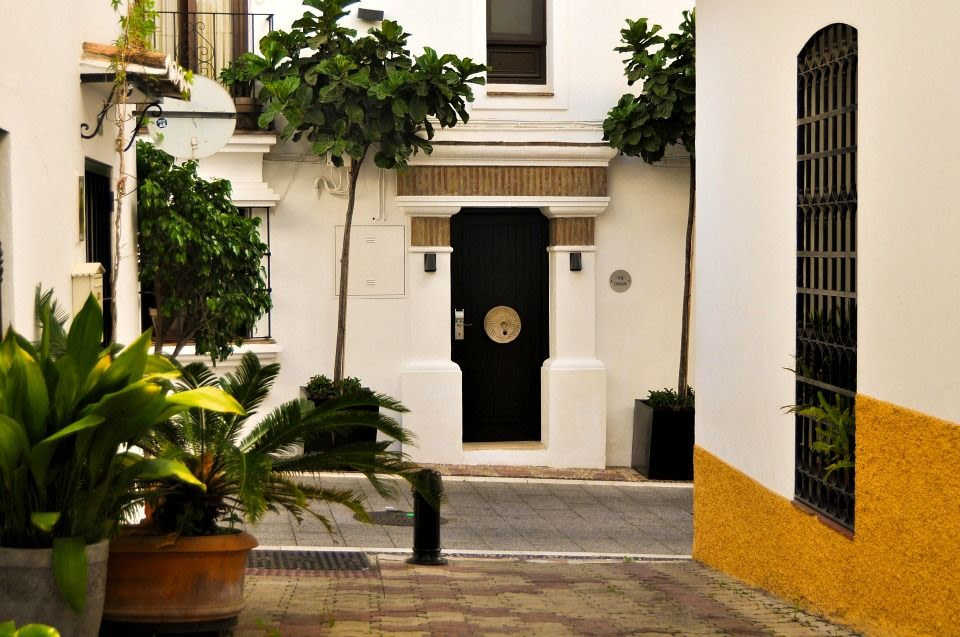 Consisting of 7 wonderfully designed houses, La Villa Marbella brings a taste of Asia in the heart of Casco Antiguo. The stylish boutique hotel is tucked away on a quaint pedestrian street, yet just a stone's throw away from the sprightly Plaza de los Naranjos (Orange Square).
Dating back up to 200 years, the Andalusian townhouses that make up this oasis of calm and relaxation comprise a total of 29 rooms and apartments, all exquisitely decorated in an elegant Asian style. One of the hotel's buildings boasts a lovely pool open to all guests, and most of the houses have special features such as interior patios, outdoor Jacuzzis, fully-equipped kitchens, or charming rooftop terraces overlooking the maze-like old town of Marbella.
Breakfast is a highlight, with freshly baked bread, homemade marmalades, yogurts, fresh fruits, and delicious sandwiches. The beach is only 8 min away from the hotel.
Plaza de los Naranjos Apartment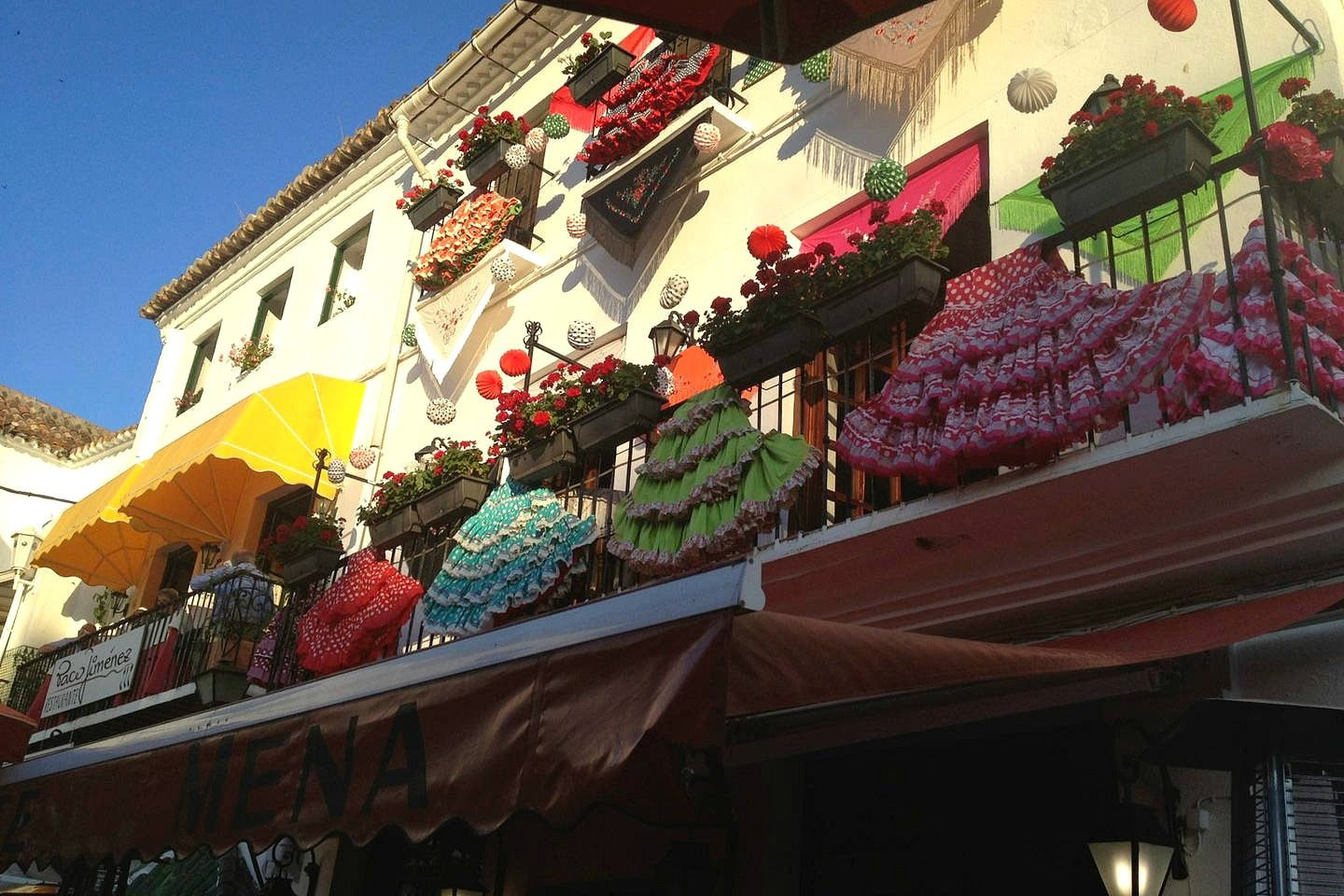 If a chic self-catered apartment in Marbella Old Town is what you're looking for, this well-appointed 2-bedroom unit might be perfect for you. It is housed in an attractive 210-year-old building in Palaza de los Naranjos and comes equipped with everything you could need, from Wi-Fi, flat-screen TV, and DVD Player to washing machine and dishwasher. The small, but well-appointed kitchen is a big money-saver, allowing guests to prepare their own meals.
Recently renovated, the apartment features clean, modern interiors, including two cozy bedrooms, two bathrooms, and a minimalist living/dining area.
The beach is within walking distance and many shops, restaurants, and grocery stores are right downstairs. In brief, the apartment is ideal for families, couples, or groups of friends looking to be in the middle of the action without paying the premium prices. [Update: This apartment is no longer available]
Hotel San Cristobal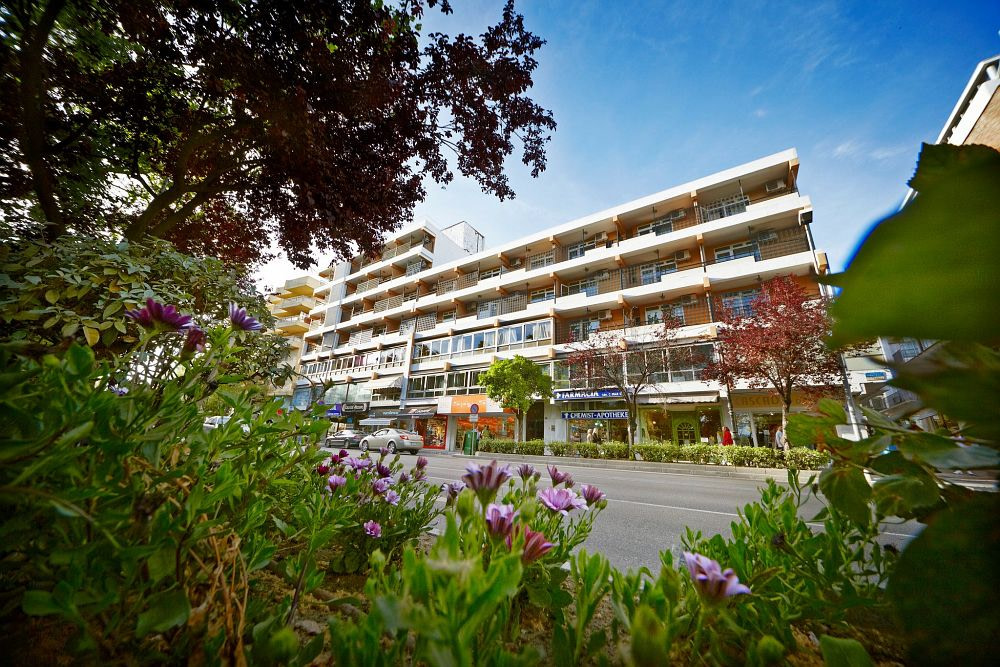 The 3-star Hotel San Cristobal describes itself as the best located hotel in Marbella, and for good reason. It really enjoys a fantastic location, as the front overlooks the Alameda Park, while the back of the hotel opens onto the narrow streets of the historic quarter.
Newly refurbished, its comfortable, en-suite rooms come with free Wi-Fi, TV, safe deposit box, and balconies facing either the park and the sea beyond or the picturesque meandering streets of Marbella Old Town. The on-site restaurant uses local, seasonal ingredients to prepare delicious Mediterranean dishes, and the 4 meeting rooms on the first floor are suitable for a variety of events.
The privileged location, affordable rates, and decent facilities make this hotel an excellent base from which to explore the city's culture, history, and buzzing nightlife. Not to mention the beach is less than 250 meters away.
Pension Aduar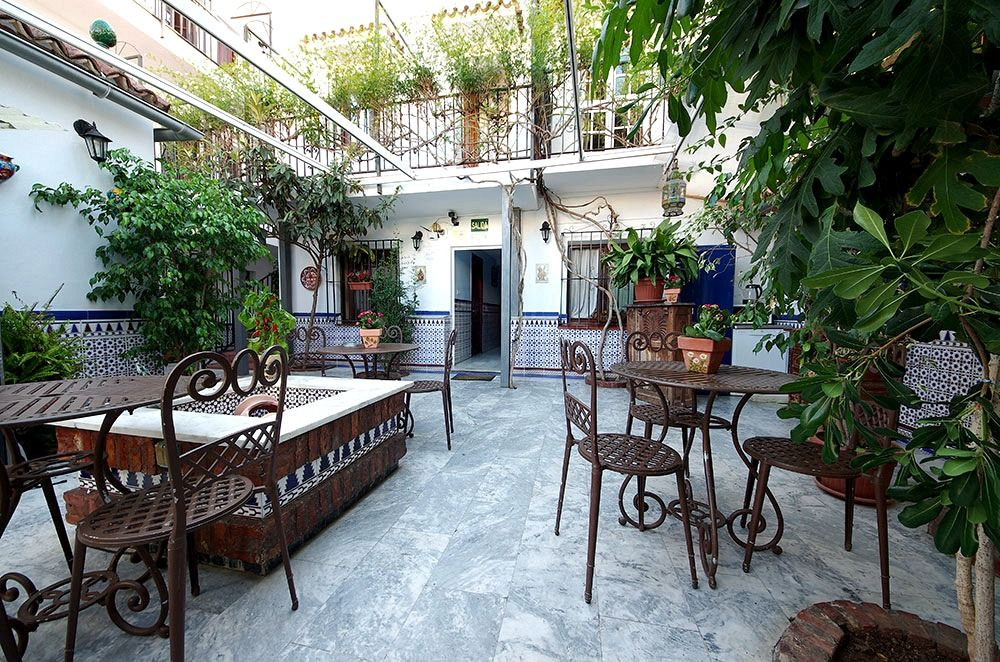 One of the best parts of staying in a pension is the warm and friendly atmosphere that greets you there, and Pension Aduar has plenty of it. Housed in a typical whitewashed Andalusian building hidden on a cobbled backstreet of Marbella Old Town, this delightful guesthouse boasts a charming inner courtyard, solarium, and terrace, and provides all necessary facilities for an enjoyable stay.
Guests have the opportunity to choose between private single, double, and triple rooms, and all units have Wi-Fi, flat-screen TVs, and private or share bathrooms. Other facilities include room service, vending machine, fax/Xerox, laundry, and free airport transfer (Malaga).
Pension Aduar is situated next to the Orange Square – the heart and soul of Marbella's Casco Antiguo, and about 5 min by foot from the resort's best beaches, including the popular Playa de La Fontanilla.
Hostal Enriqueta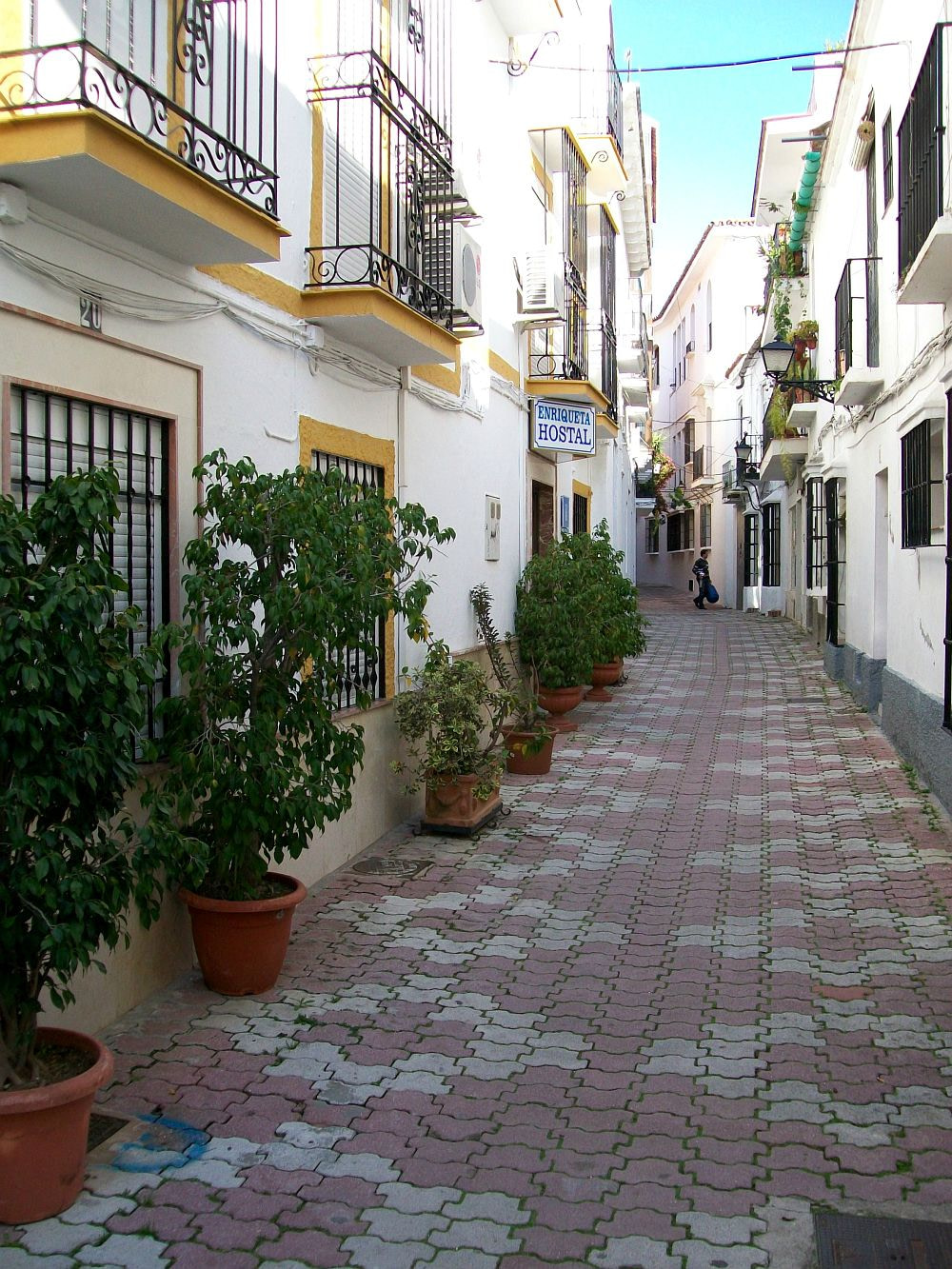 An ideal option for backpackers and budget travelers looking for a central location and great value for money, Hostal Enriqueta offers clean, comfortable rooms and an adorable Andalusian-style patio. Its air-conditioned rooms have from one to four beds, and all come with private bathrooms and TVs. Some units feature balconies or nice views of the courtyard. The old-fashioned décor is part of the charm here, and the friendly staff will be happy to help you with brochures and information about the area.
The highlight of this hostel, however, is its unbeatable location in the heart of Marbella Old Town. Plaza de los Naranjos is right next door, and so are a number of bars, restaurants, and lovely shops. Playa de la Venus – a popular family-friendly beach on the east side of Puerto Deportivo – is a short 5 min walk from the facility.
Staying in Marbella Old Town will put you within walking distance to most of the resort's main sights, so be prepared to have a lot of fun. With an abundance of shops, museums, bars, restaurants, and watersports, you will be spoilt for choice of things to do in Marbella.