This post contains affiliate links, which means we may receive a small commission, at no additional cost to you, if you make a purchase through these links. See our full disclosure here.
As minimal and single-bag travel increases, there's more demand for luggage that helps you pack smarter and travel lighter. One of the most sought-after features is shoe storage that you can access externally, especially for those desiring a smaller travel bag with smart storage. A compact weekender bag with shoe compartment, for many, represents the holy grail of organization and capacity.
If you're new to this type of travel, it just might be the game-changer you've been looking for. Read on for a selection of some of the best weekenders on the market, each with its own take on shoe storage.
Monos Metro Weekender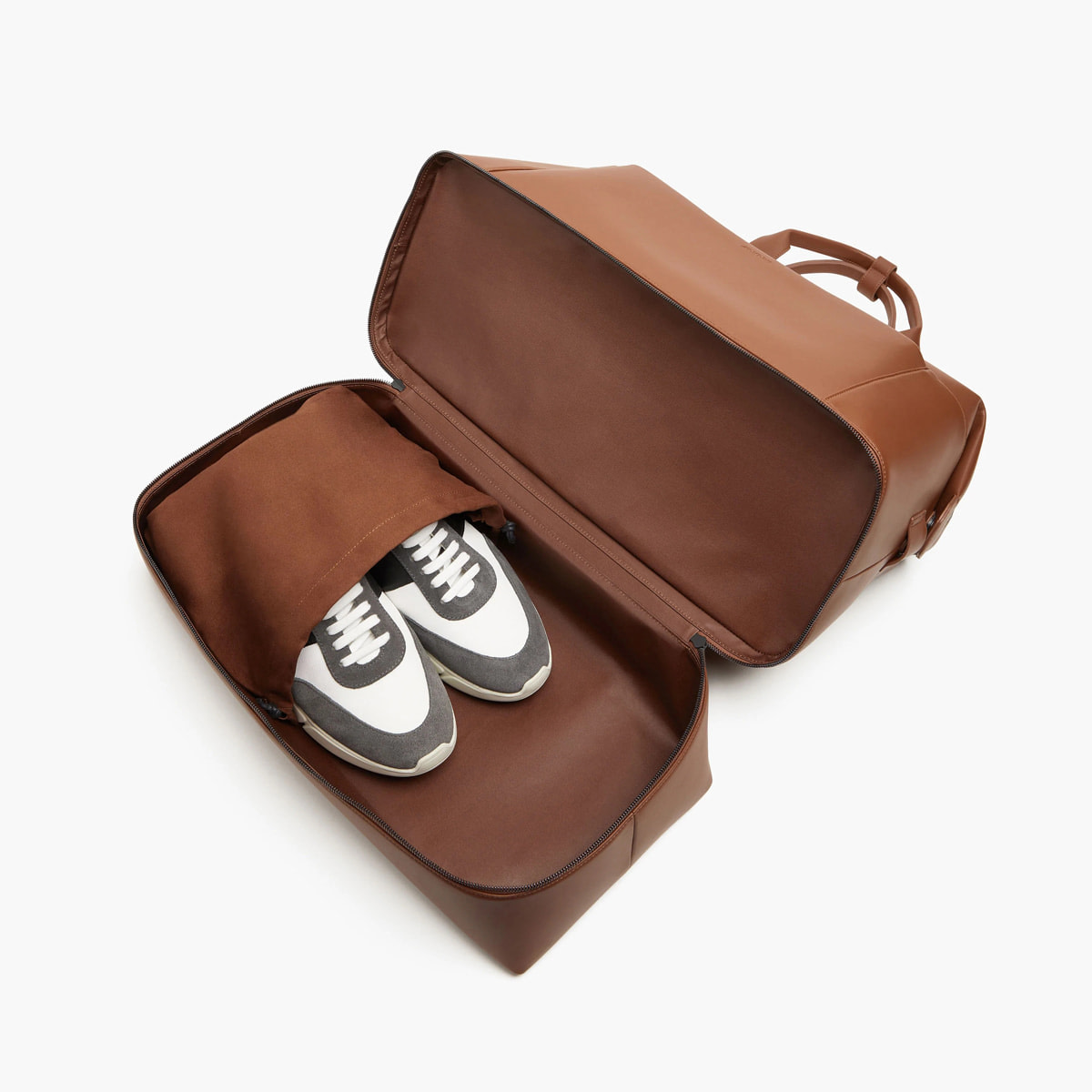 Slick and refined, the Monos Metro Weekender is a strong contender for becoming your new favorite bag for short trips. It's one of the roomiest and smartest weekender bags we have reviewed so far. Its base unzips on three sides to reveal a completely waterproof shoe compartment that holds up to three pairs or anything you'd like to keep separate from the rest of your stuff, like your dirty laundry or your toiletries bag. It comes in water-resistant nylon or vegan leather, but both are just rigid enough to keep their shape and soft enough to tote comfortably.
Bennett Winch Weekender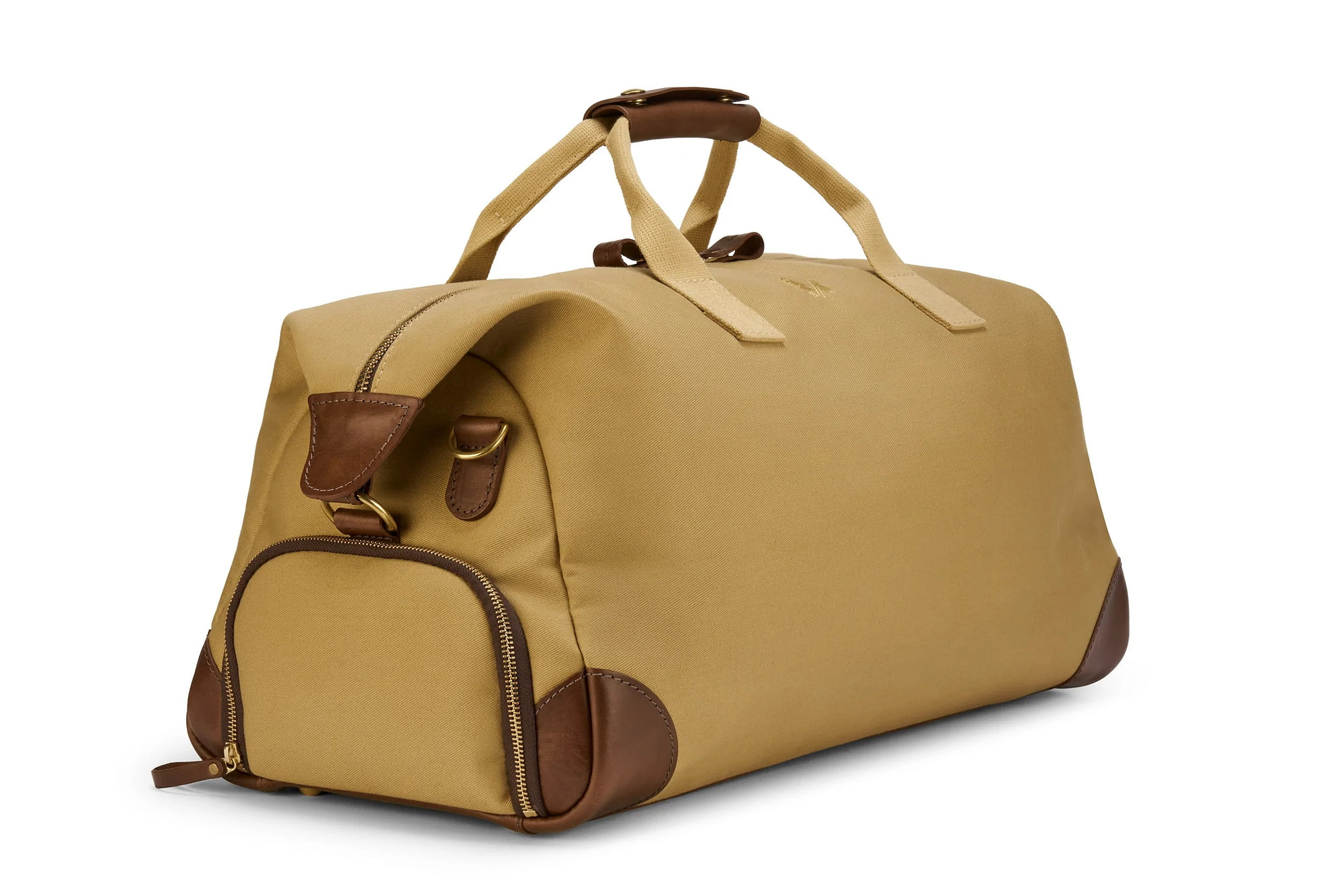 The Weekender is Bennett Winch's flagship bag and wholly embodies what they stand for: durable luggage for the minimalist traveler. The exterior is made from 24 oz of waterproof cotton canvas, finished with cotton webbing handles and YKK zippers. The reinforcing on the corners, handles, and base is full-grain leather, and the latter features brass feet for added protection. Because the brand is so focused on functionality, you'll find a host of helpful pockets inside and out to organize your accessories, including the two waterproof side compartments you can use to stow your shoes and toiletries.
Béis Weekender
Looking for a women's weekender bag with shoe compartment and a passionate following? The Béis Weekender is a jute canvas tote – though it has a cross-body strap if you prefer – with a rigid vegan leather base that, in addition to your shoes, you can use to store your makeup bag, jewelry case, or a flat iron. It's the perfect spot to pack irregularly shaped items that need a little added protection in transit.
Additionally, there's a zippered pocket in the back of the bag that doubles as a luggage pass-through, and Béis has a matching trolley in their line if you'd like to make it a set.
Samsonite Quadrion 20″ Duffel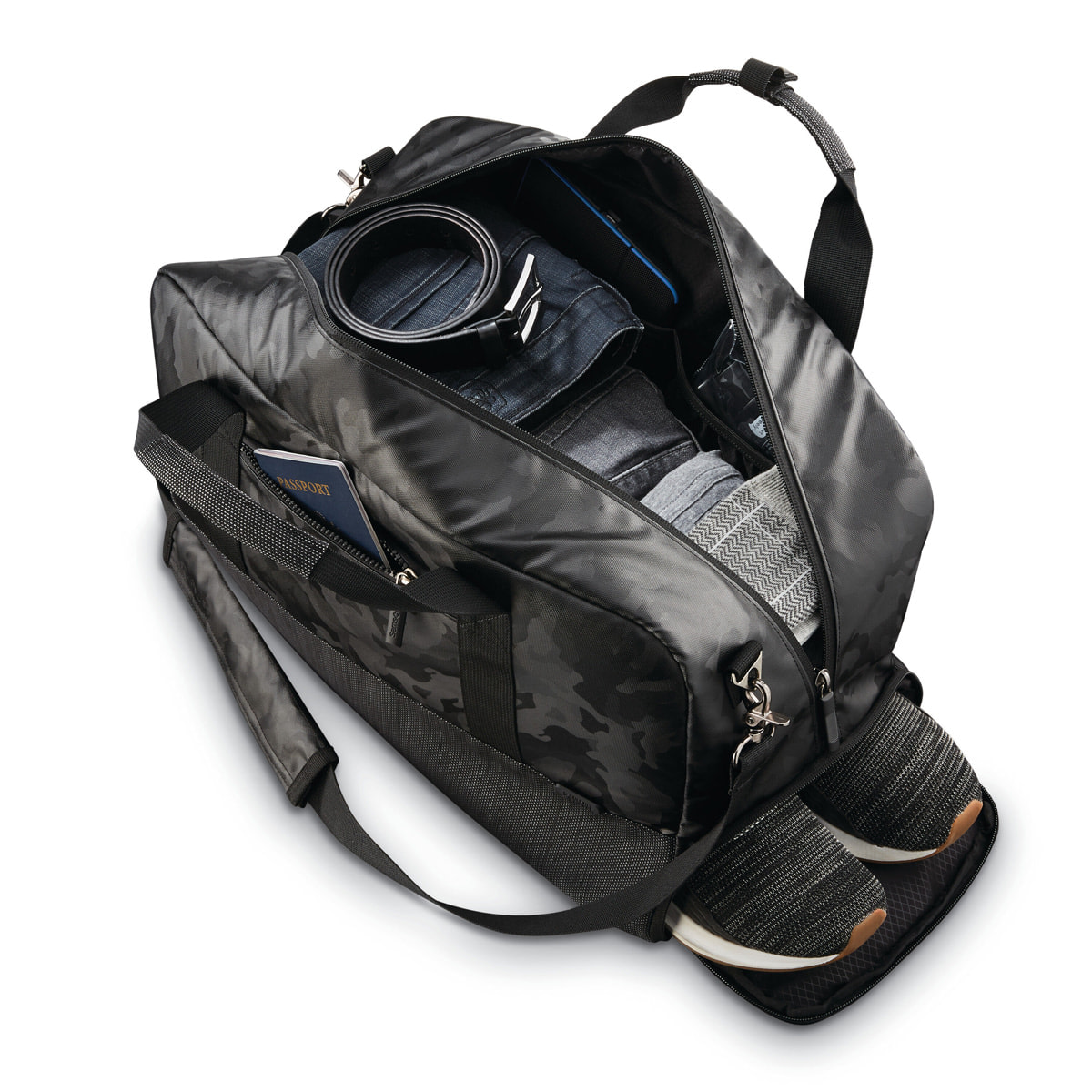 A subtly two-toned black duffel, the Samsonite Quadrion 20″ Duffel is, at its core, a functionality-driven piece, though it still looks nice to carry. It was designed for hyper-durability in line with many of Samsonite's other products.
The shell is polyester embedded with Kevlar – that's the stuff used to make bullet-proof vests – so it's not only resistant to normal wear and tear but also to punctures, rips, and developing weak points in the fabric. The side-zip shoe pocket opens into a bloused nylon pouch, so you can simply pack your things on top of it whenever you're not using it.
Morf Craft Studio Handmade Full Grain Leather Duffel Bag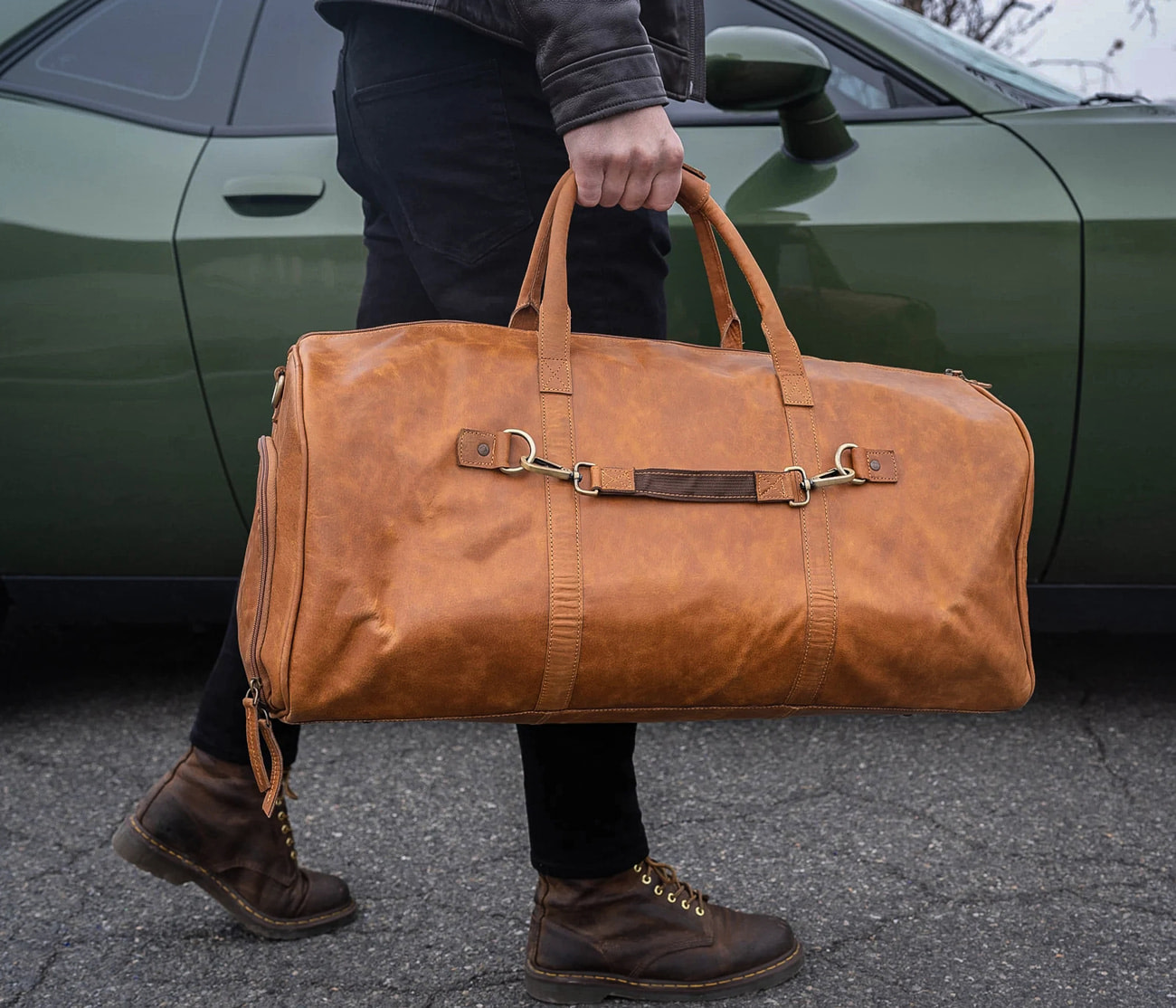 Having amassed only rave reviews, the Morf Craft Studio Handmade Full Grain Leather Duffel Bag is a practical but polished bag. It's oddly rare to find a leather weekender bag with a shoe compartment, but this is just one of the ingenious features of its construction. It also has more organizational pockets, both inside and out, a padded laptop sleeve, and a removable strap you can use as a luggage pass-through.
The type of leather used is cured in a way that allows it to age and patinates gracefully, so you never have to treat it preciously. Use it as often as you like. It may even become your go-to gym bag.
Cuyana Leather Triple Zipper Weekender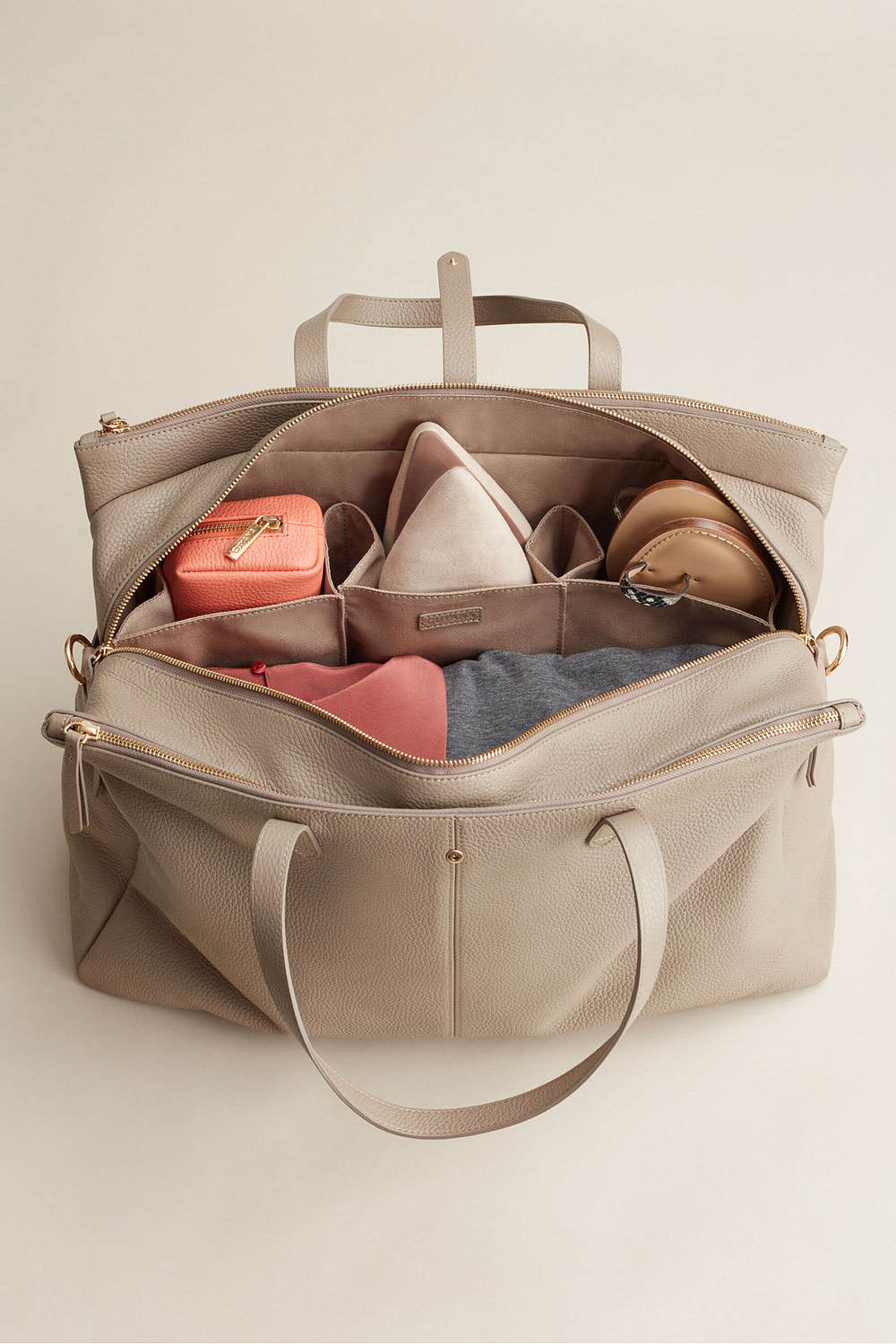 You'll feel like an organizational mastermind carrying the Cuyana Leather Triple Zipper Weekender bag. With shoe compartments flanking an entire interior wall of the large, main compartment, you're able to carry three pairs without the bag bulging or looking bulky. The face and rear of this bag are, in fact, two more large but slim pockets for documents, a laptop, or a tablet. There's an integrated strap that secures them together to maintain a slimmer profile.
Boundary Supply Errant Duffel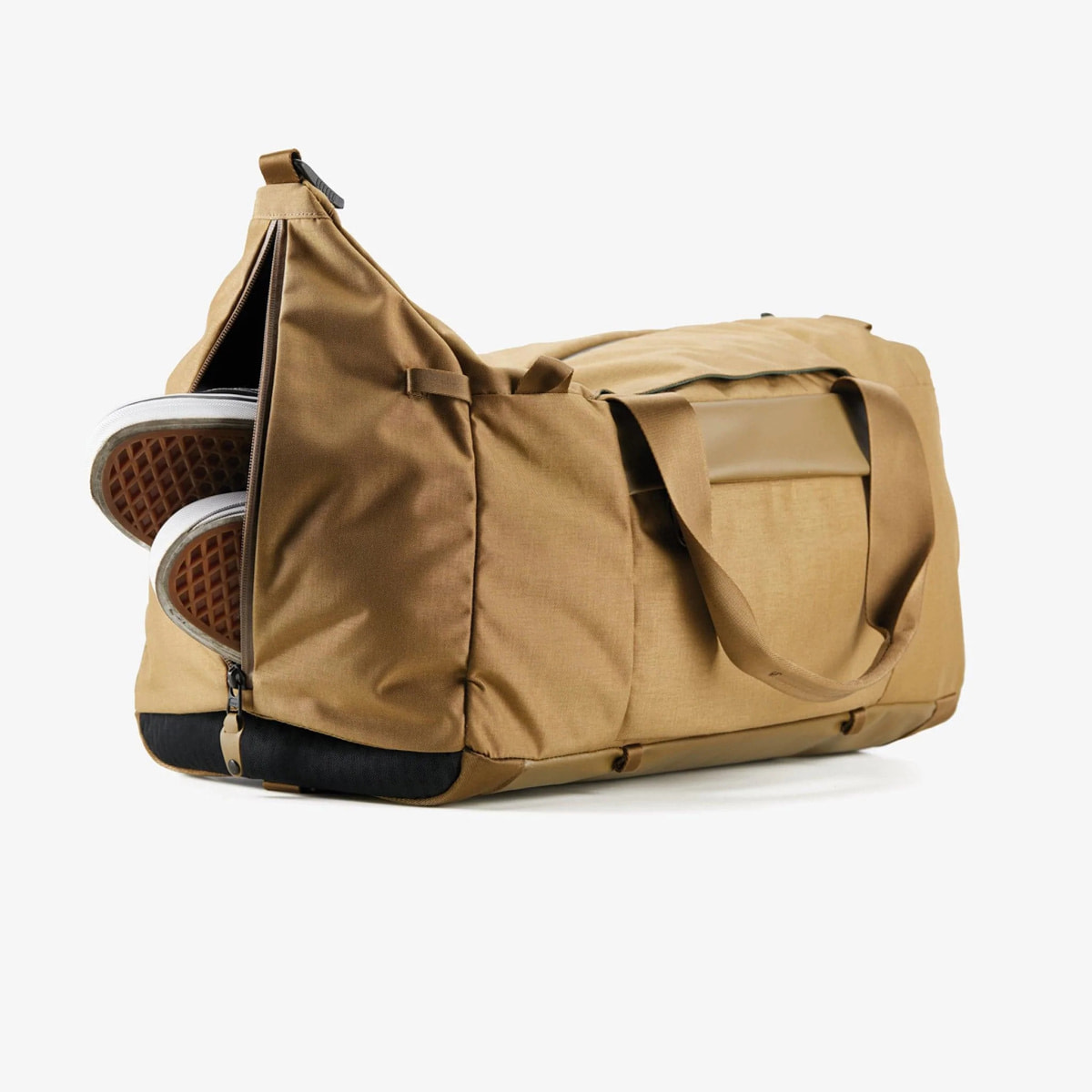 Extremely thoughtfully designed, you can also carry the Boundary Supply Errant Duffel as a backpack, perfect for when you've maxed out its 35-liter capacity. Whenever you need to access the backpack straps, you can release them by unzipping the compartment and attaching them to the loops just opposite.
The main compartment doesn't have dividers or pockets except for the shoe compartment accessed from the side. Bonus: the shoe pouch is waterproof and ventilated, making it the perfect spot to stuff a wet towel or swimsuit.
Briggs & Riley Large Travel Duffel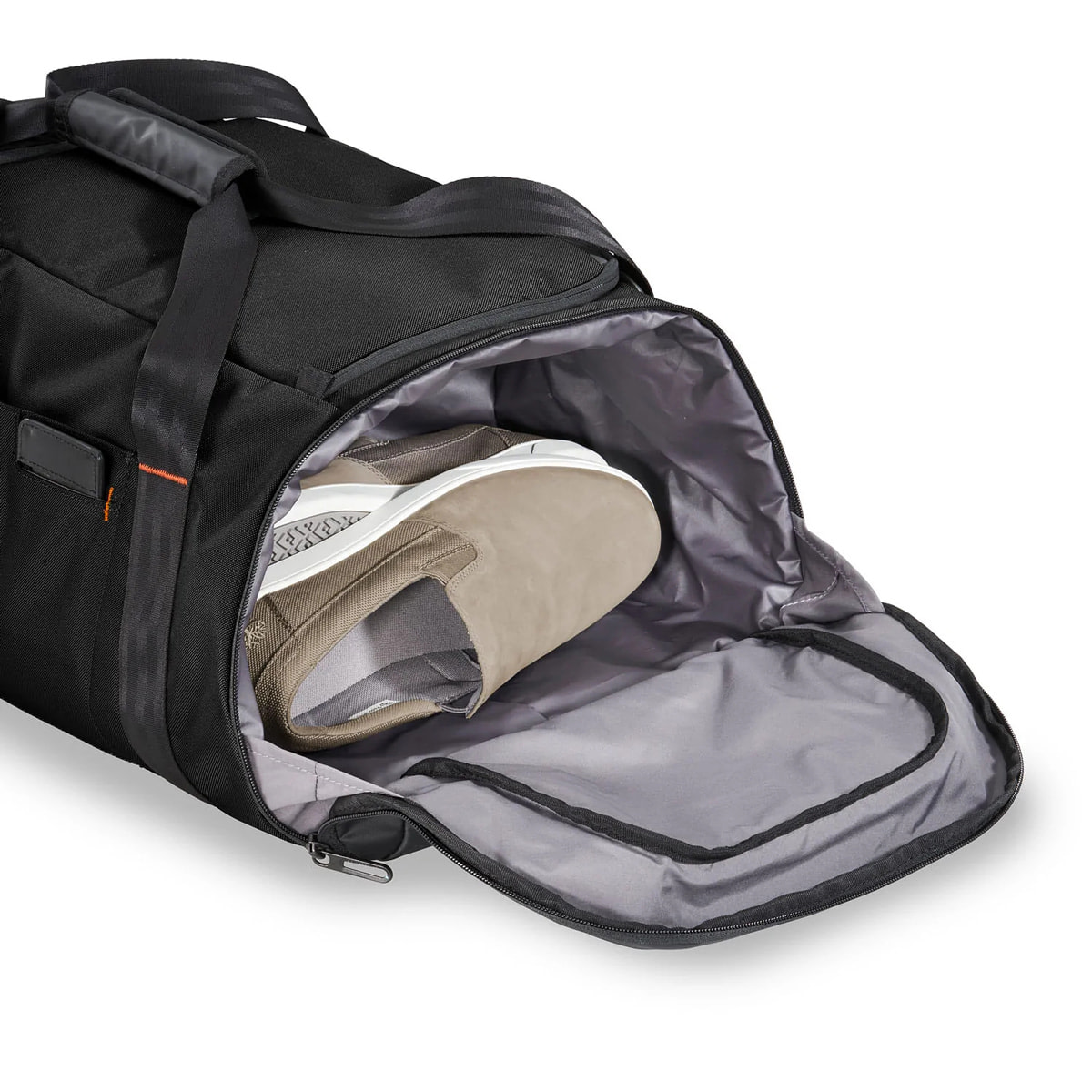 Designed to champion organization, the Briggs & Riley Large Travel Duffel is loaded with pouches, pockets, and compartments to keep your stuff in order. Though its interior may seem cavernous, it's ringed with storage to separate your smaller items.
Integrated into the lid is the perfect zip pocket for your passport and travel documents, and one side zips open into a slim pouch where you can stow a book or tablet. The other side pocket blouses out to a rather large capacity; it's lined with PVC, so in addition to holding your shoes, you can use it for dirty, wet, or smelly laundry while keeping the rest of your belongings pristine.
Kodiak Leather 45L Canvas Weekender
Rugged but refined, the Kodiak Leather 45L Canvas Weekender is reliable, yes, but also sophisticated in a utilitarian way.
Kodiak strives to create hardwearing bags with functional details from the best materials, and the Weekender is crafted from waxed canvas and full-grain leather to last a lifetime. It can handle the rigor of outdoor adventuring, but also shines at the airport.
With five exterior pockets, including a laptop sleeve, there's a place to put anything you need to find quickly while in transit. The shoe compartment zips on three sides for optimal access, so it will just as easily accommodate a pair of oxfords as a pair of boots.
Lo & Sons Catalina Deluxe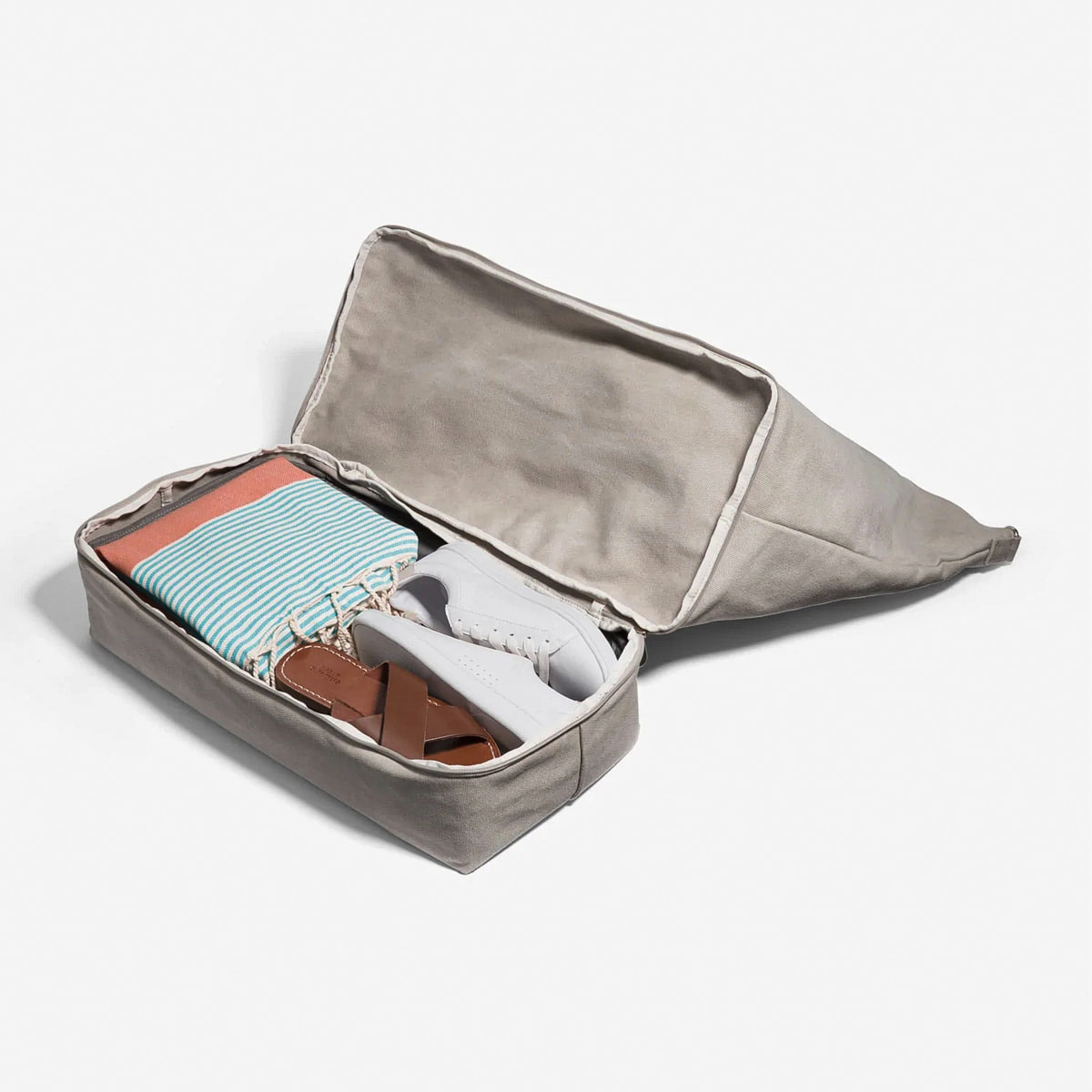 A more casual weekender bag with a bottom shoe compartment, the Lo & Sons Catalina Deluxe is flexible but has a removable insert that keeps its base rigid. This makes the main compartment much easier to pack, as it will stand upright and remain open while you load it.
It comes in large and small sizes, both of which can act as a carry-on, and the latter can work as a personal item if not stuffed to the brim. You can choose either the eco-friendly canvas or the recycled polyester; both are super durable and can be rolled or folded to store in small spaces when you're not using them.