This post contains affiliate links, which means we may receive a small commission, at no additional cost to you, if you make a purchase through these links. See our full disclosure here.
"Sign me up, Santa Fe": so goes the chorus of a song by indie band Beirut in reference to their lead singer's hometown in the high mountains of New Mexico. And the lyrics are true: anything Santa Fe – affectionately known as the City Different or, to locals, the Fe – offers, you're bound to enjoy. So just sign us up, Santa Fe.
Santa Fe is famous for many reasons: it's the oldest state capital in the United States, an internationally renowned center for the arts, and a hotbed of history and culture.
Visitors and locals alike love wandering its narrow streets admiring the sun-warmed adobe buildings, delighting in the fiery flavors of the local, chile-drenched cuisine (the official state question is 'red or green' in reference to what kind of chile you want with your meal – you can even order it 'Christmas', as in both), admiring world-class art in galleries, museums, or onstage at performance venues like the Santa Fe Opera, exploring the surrounding landscapes that inspired artists like Georgia O'Keeffe, and more. But as a big tourist destination, it can be hard to determine which are the best things to do in Santa Fe and what's the best way to get the true City Different experience.
Having lived in Santa Fe for more than twenty years, here are a local's recommendations for how to spend 48 hours in Santa Fe, New Mexico.
Find a well-situated hotel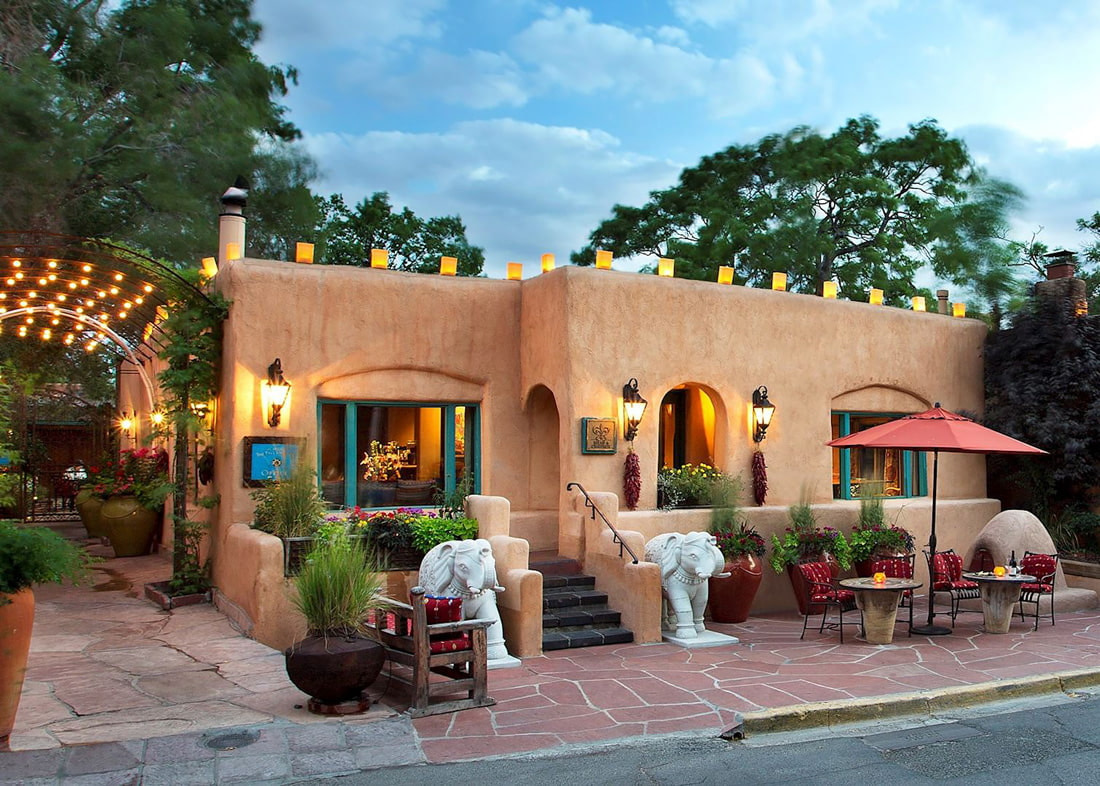 Santa Fe has almost infinite possibilities for places to stay, from adorable casitas to upscale luxury outfits. Choose a place near the downtown area, as many of the best restaurants and attractions will be within walking distance; Inn of the Five Graces is a particularly sumptuous outfit housed in a discrete adobe building, and the Inn and Spa at Loretto is one of the most iconic adobe landmarks in town.
Wander around the historic downtown
Santa Fe is best explored on foot, especially the downtown area: start at the central Plaza and branch out from there. Nearby you'll find the New Mexico History Museum, the Georgia O'Keeffe Museum, the Palace of the Governors, the Cathedral Basilica of St. Francis of Assisi, the oldest house in the US, and the Loretto Chapel with its legendary wooden staircase; farther afield are the Railyard Park and SITE Santa Fe contemporary art space.
Go gallery-hopping on Canyon Road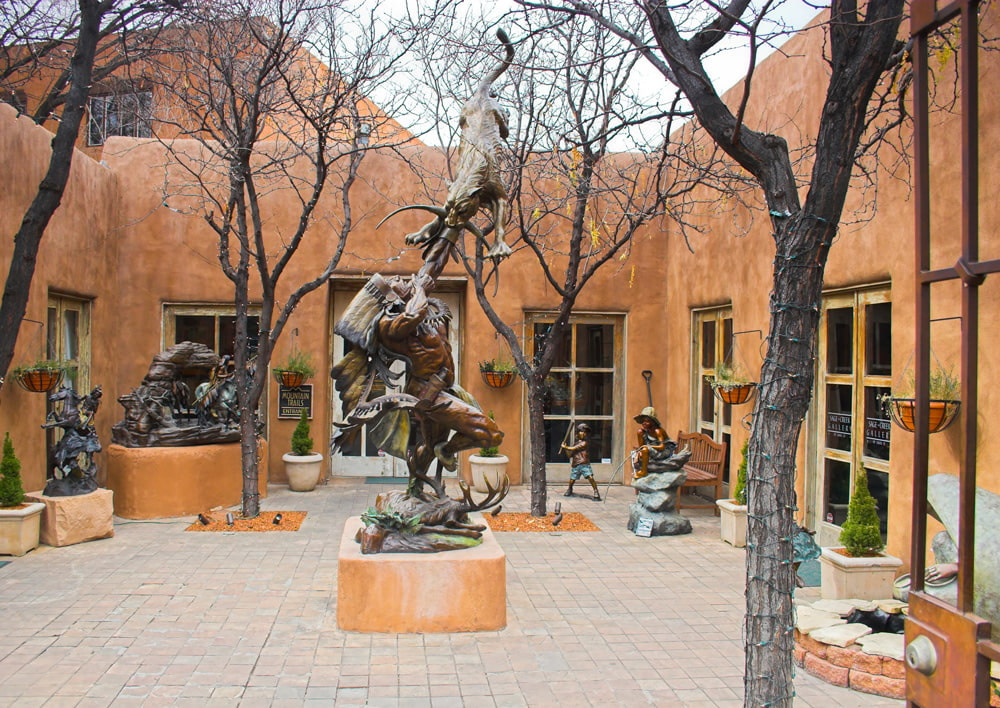 Santa Fe is arguably most famous for its art scene, which can be best appreciated during a walk down Canyon Road. Grab a coffee from Downtown Subscription or the Teahouse and head on down the narrow, winding road to window-shop and admire the world-class galleries full of spectacular paintings, sculptures, drawings, and photographs.
Pamper yourself at Ten Thousand Waves
At this Japanese-themed spa, nestled among the juniper and piñon forest of the Sangre de Cristo mountains, you get to unwind in private outdoor hot tubs and treat yourself to massages and spa treatments; access to the communal pool and sauna is only $28 for the day. And be sure to grab a meal at Izanami, which serves Japanese-style tapas fare and an astonishing sake menu.
If Ten Thousand Waves is too packed, drive roughly an hour north to Ojo Caliente, a hot springs oasis and resort where the mineral-rich waters pouring from the hillsides are reputed to have healing abilities.
Experience the local food scene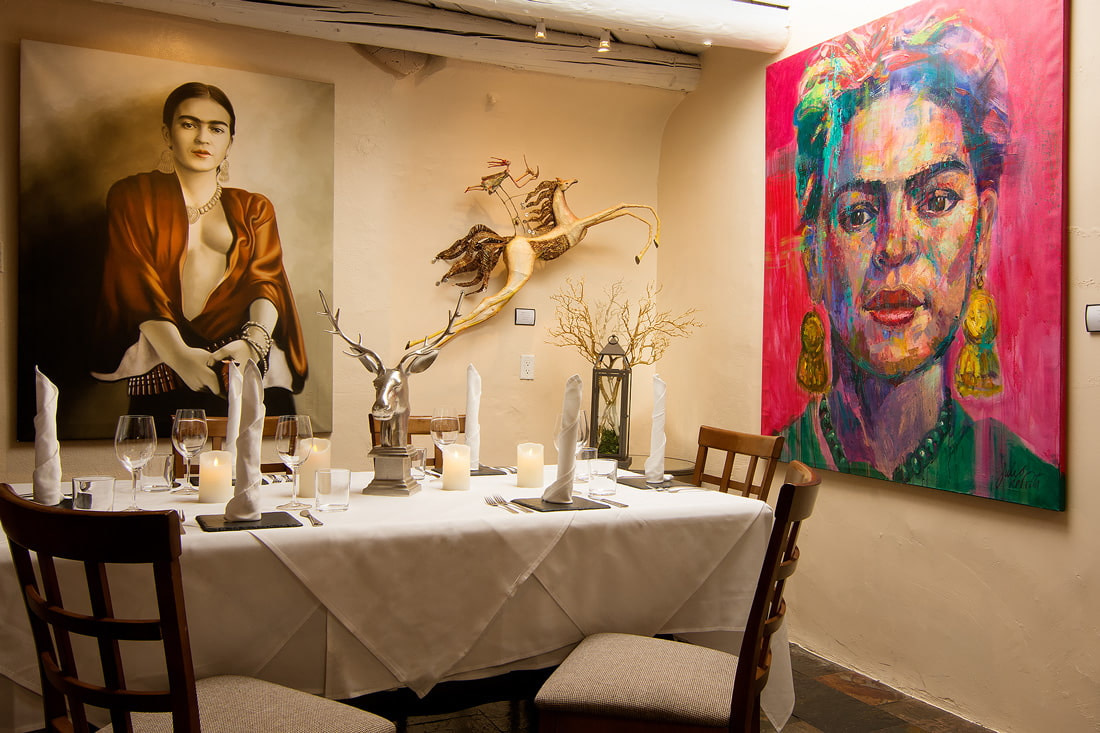 You can't throw a stone without hitting a great restaurant in Santa Fe. You'll want to eat as many dishes made with local Hatch green chile as you can, like burritos, enchiladas, and green chile stew. The list of recommendations is endless, but several places you're guaranteed an excellent meal include: The Pantry, Tecolote, or Palacio Cafe for breakfast; Tune-Up, Cowgirl (get their green chile cheeseburger), Caffe Greco, or Shohko for lunch; and La Choza, The Shed, El Farol, Paloma, or Cafe Pasqual's for dinner. For an uber-special night out, try Sazon, the Compound, or Geronimo.
And if you've had your fill of New Mexican, there are plenty of other options like Jambo, an African-Caribbean fusion spot; Paper Dosa for Indian fare; and Rowley's or Fire and Hops for hearty brew pub food.
Quench your thirst on local tipples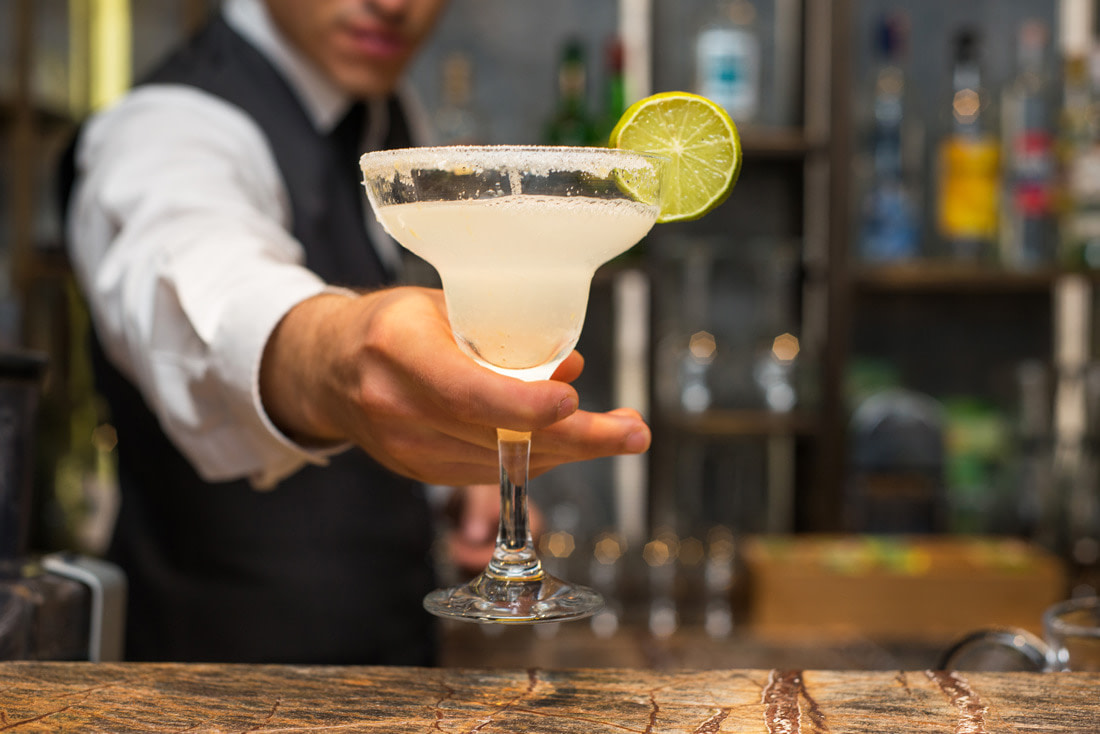 It's really not a trip to Santa Fe unless you have some margaritas; there's even an official Margarita Trail honoring the best salty-sweet libations around town. For my taste, the best house margarita can be found at the Agave Lounge; the prickly pear margarita from Rancho de Chimayo and the Norteno from Coyote are also top-notch. If it's variety you're looking for, head to Maria's, where there are over 200 margaritas and 140 types of tequila.
For cocktail lovers, Tonic offers fancy drinks in a moody jazz bar, and local distillery Santa Fe Spirits uses their whiskey, gin, and brandy to great effect at their downtown tasting room. For brew lovers, hit up Second Street Brewery and Santa Fe Brewing. And if you like bubbly, stop in at the Gruet tasting room; the many sparkling wines of this NM-based winery are widely considered to be among the best from New World producers.
Go shopping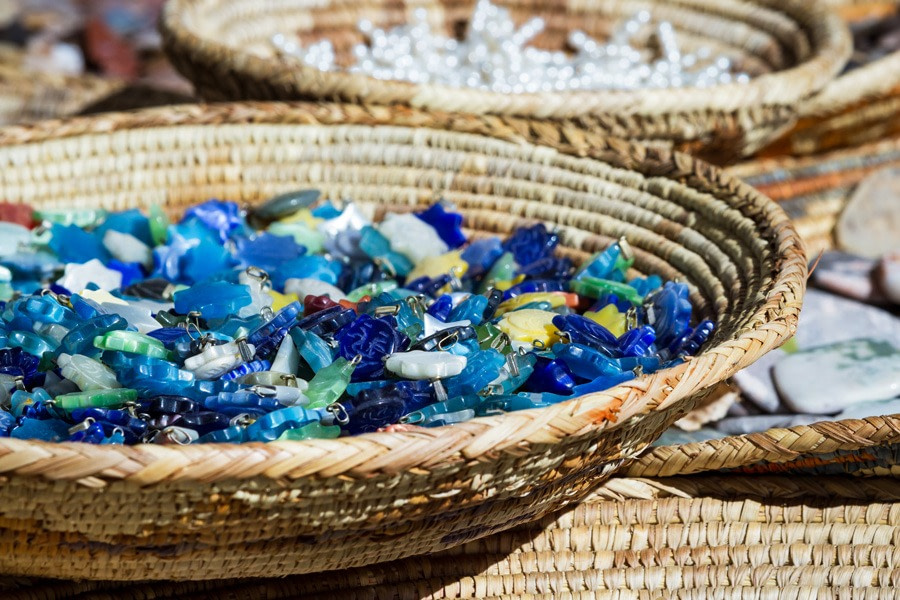 Santa Fe is a shopper's paradise, and there's plenty of variety to fit every aesthetic and price point, from fancy jewelry and clothing boutiques to curios shops like Doodlet's. A must-buy item, though, is a locally-made piece of turquoise jewelry; it's the official state gem. Check the vendors in front of the Palace of the Governors for great options. And don't forget to pick up some fire-roasted green chile to take home!
Enter a different universe (or several) at Meow Wolf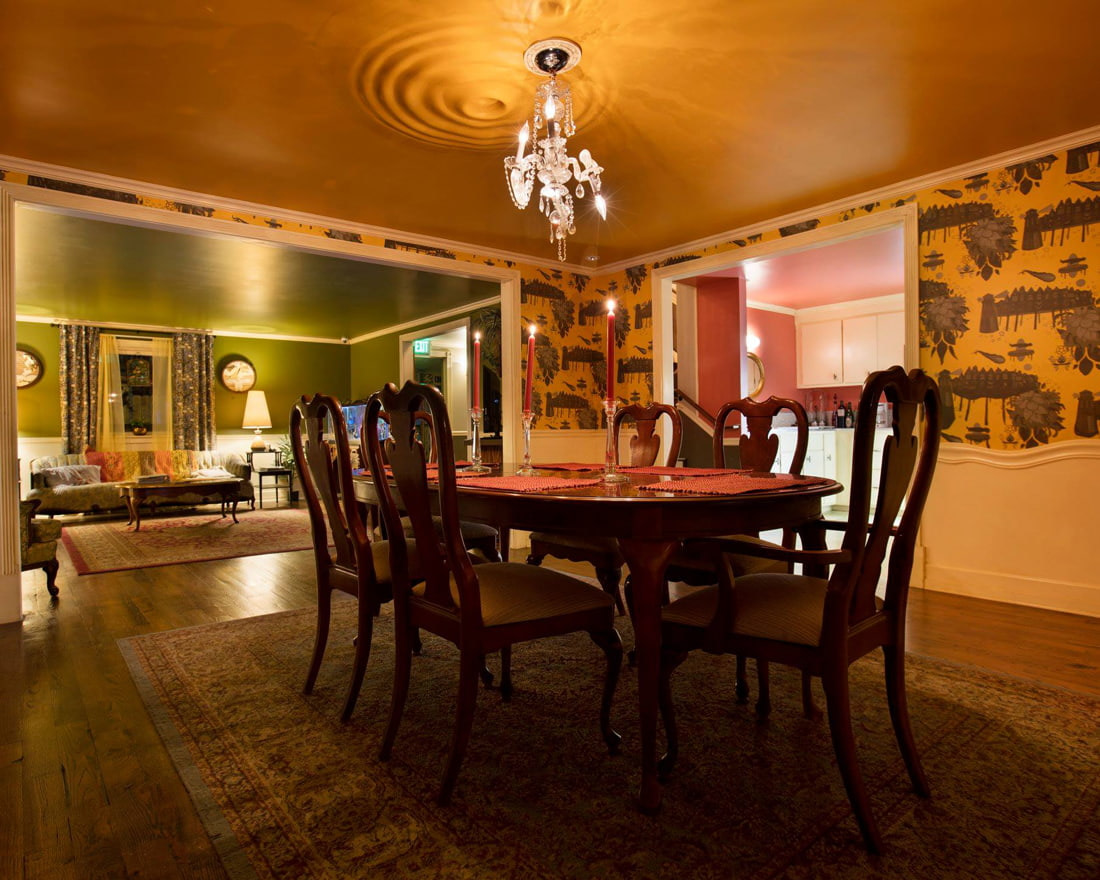 Centered around the story of the House of Eternal Return, a family home that has been ripped apart by time and space, visitors to this massive art installation from local artist collective Meow Wolf are treated to an interactive experience unlike any other. Inside the house, you'll find secret entrances in unexpected places like the washing machine leading to otherworld locales like an interstellar travel agency or the neon forests inside a fish tank. And at night, awesome concerts for local and traveling acts are held here too.
Explore out of town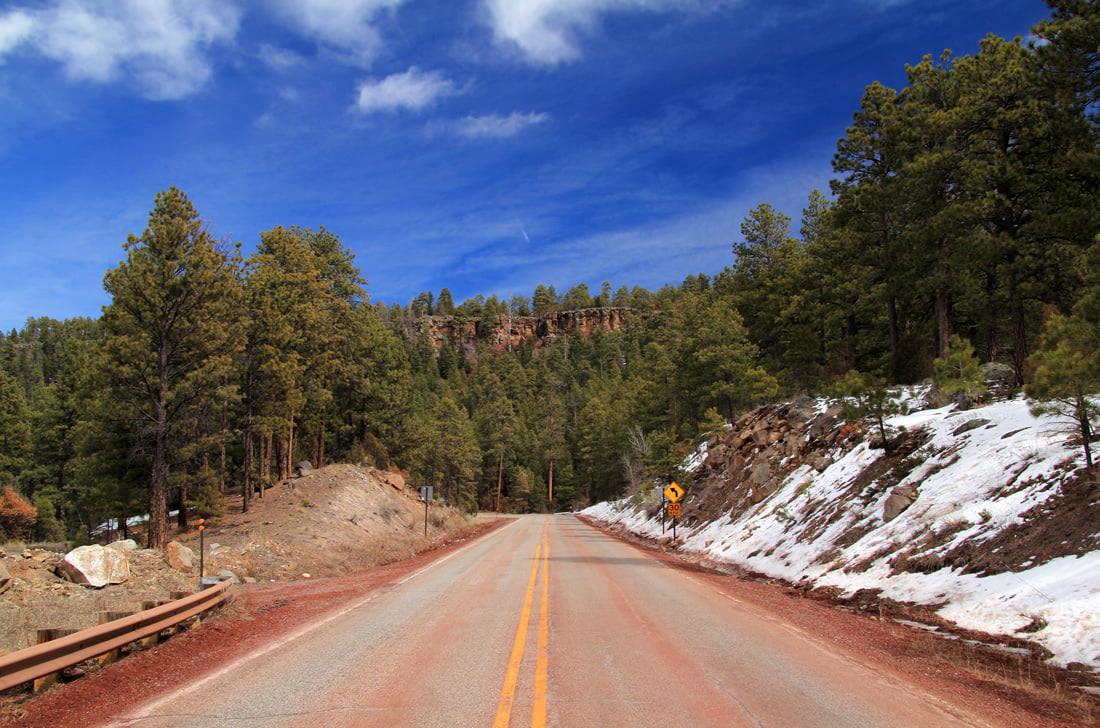 It doesn't require a long drive to get out of town to see places of interest; about 45 minutes north through rugged mesas and red-striped hills you'll find Los Alamos, the birthplace of the atomic bomb, and the forested wilderness of the Jemez Mountains, home of the Valles Caldera and Soda Dam. The ski town of Taos also makes for a good day trip. Or, head south along the Scenic Turquoise Highway to Madrid, a quirky artistic community in the nearby mountains.
If you don't have much time, take a short drive up State Highway 475 to the Santa Fe Ski Basin; this route passes through the Santa Fe National Forest and offers expansive views; in fall, it's especially worth the drive to see the aspen groves change color.
Watch the sunset from the Cross of the Martyrs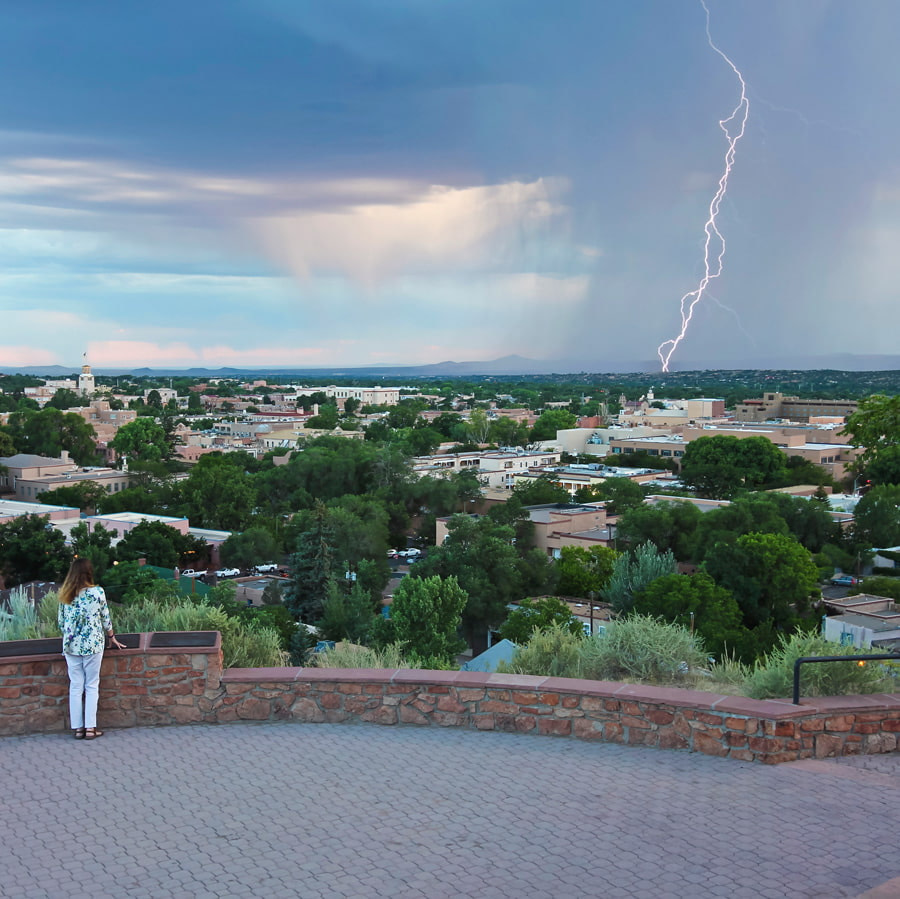 A short walk from downtown, a winding path up a hillside ends in the Cross of the Martyrs, a giant cross erected in memory of the friars killed in the Pueblo Revolt of 1680. While the history of the site is intriguing, head up to take in its westward-facing vista over the downtown area; best time of day is in the late afternoon to be wowed by Santa Fe's famously colorful sunsets.