This post contains affiliate links, which means we may receive a small commission, at no additional cost to you, if you make a purchase through these links. See our full disclosure here.
Located off the east coast of Thailand, Koh Samui is the Gulf of Thailand's most beautiful and exotic island destination. Lesser known than Phuket, the island is famed for its pristine beaches, clear waters that are ideal for snorkeling and scuba diving around the coral reefs, quaint and traditional fishing villages, and the spectacular Big Buddha temple.
With not as many tourists thronging the beaches, Koh Samui has earned a reputation as Thailand's premier luxury island escape. Fabulous villas popping up on its forested hills offer every modern amenities one could ask for, along with en vogue design and architecture. These villas – like these seven which are some of the finest on the island – are ideal for renting out for everything from weddings to honeymoons to family getaways.
Villa Moonshadow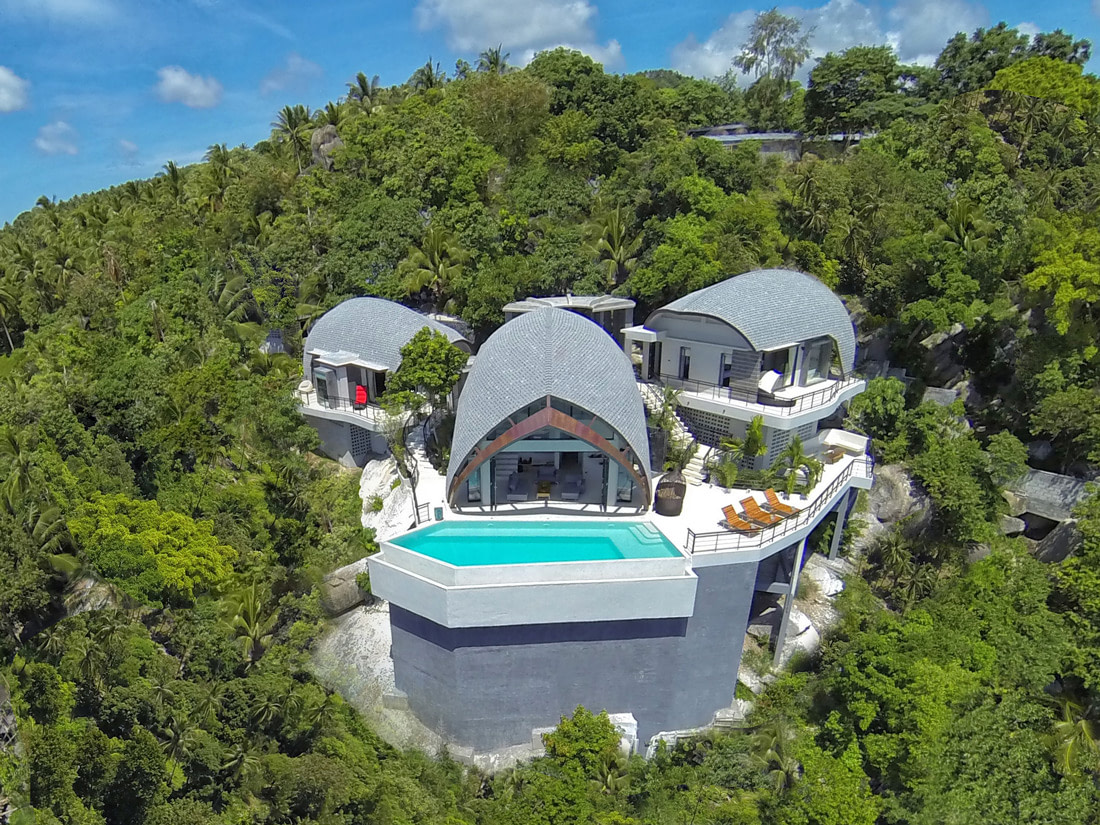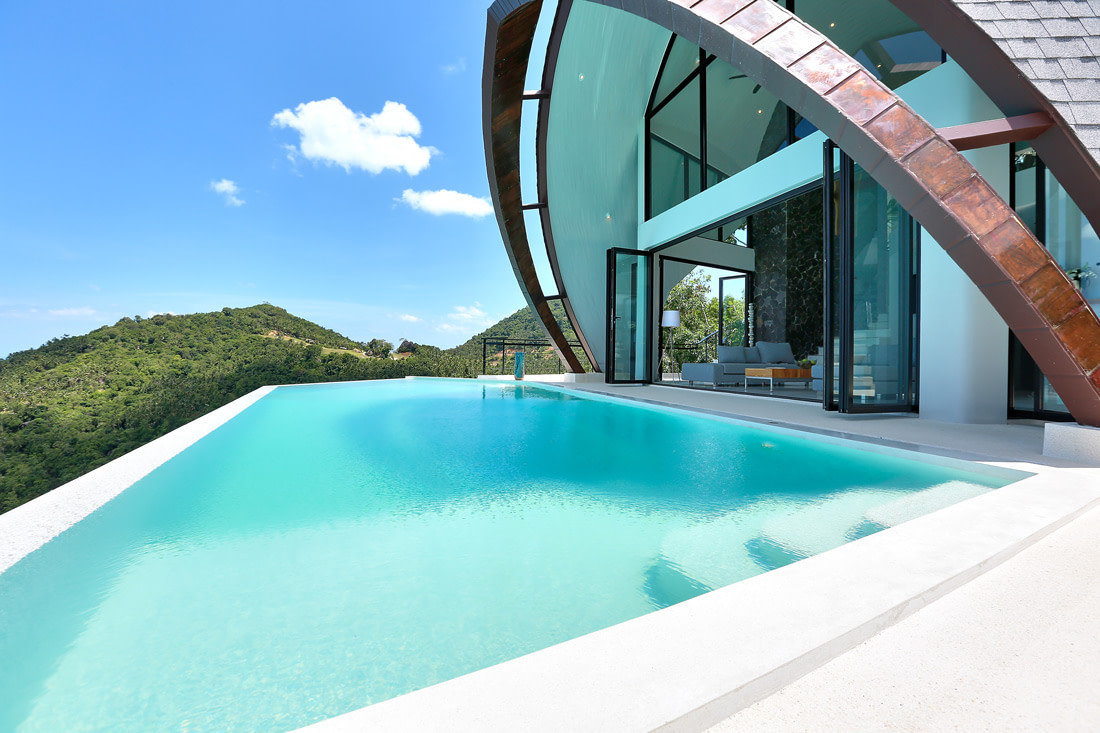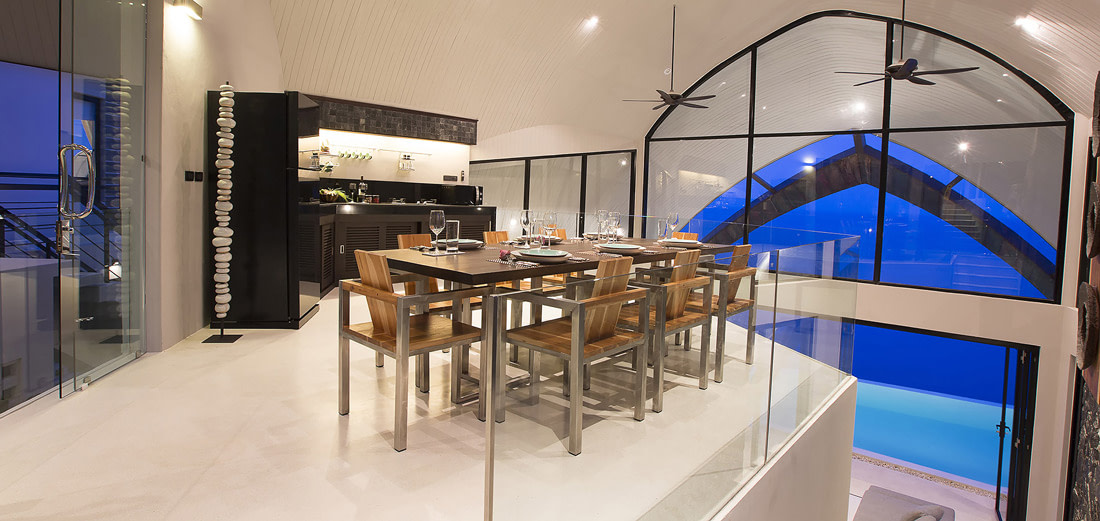 Tucked within a lush tropical forest overlooking the stunning turquoise waters of the Gulf of Thailand, this elegant hideaway is the perfect retreat for lovestruck honeymooners.
Villa Moonshadow's slick, minimalist design and color scheme of arching grey roofs and white airy rooms with stylish, sophisticated furniture create the perfect atmosphere for relaxation. The compound includes a master bedroom that features 180-degree views of the ocean, three guest bedrooms, a dining area, and a chic living area with access to the villa's star attraction – a sleek infinity pool that blends into the ocean horizon.
Villa Splash at Lime Samui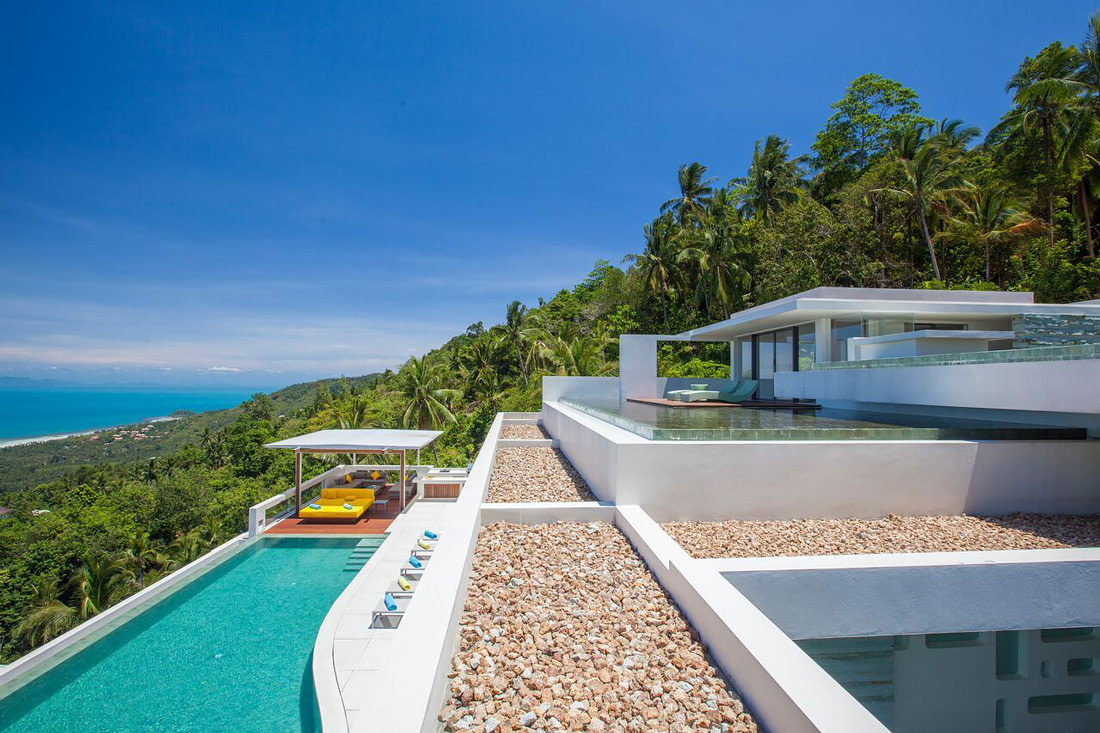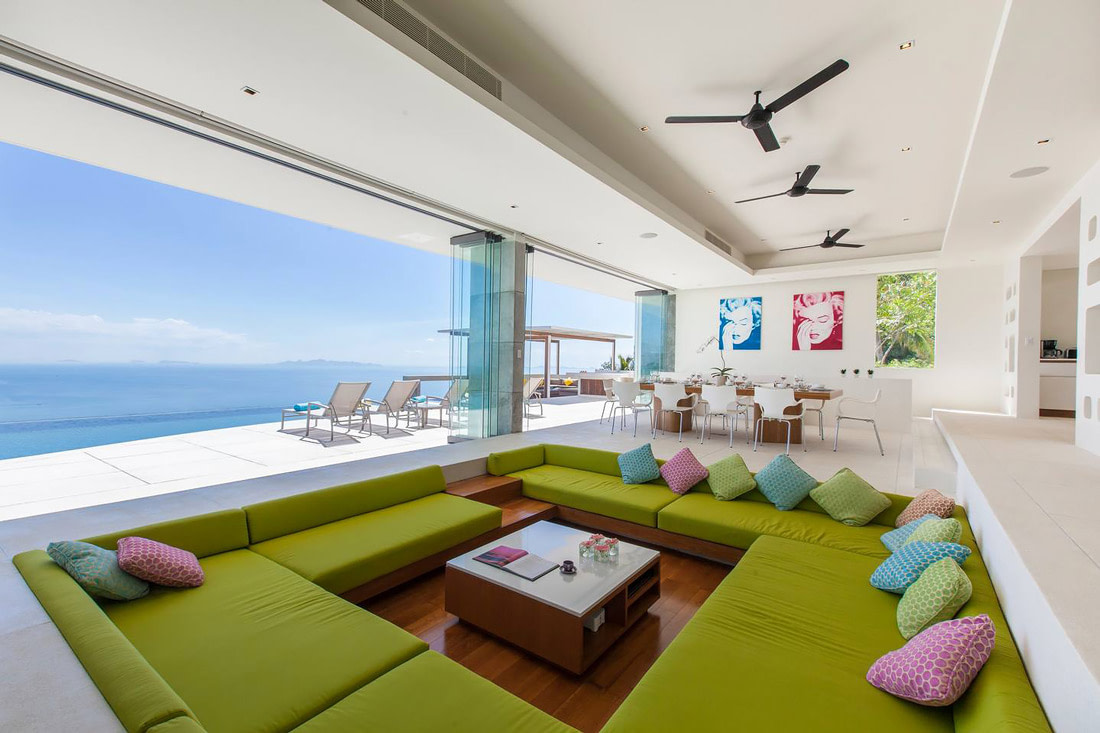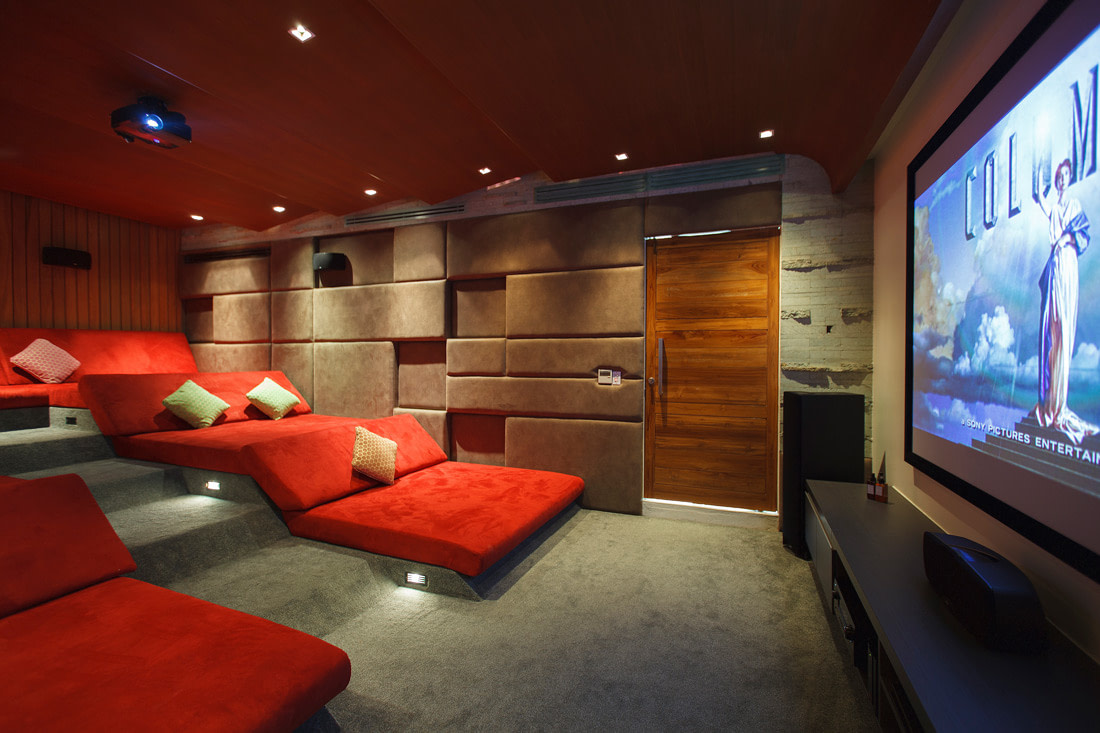 Exclusivity and luxury go hand in hand at Villa Splash, the crown jewel of the top-of-the-line Lime Samui estates.
Folding glass doors open up onto an outdoor veranda with infinity pool and incredible ocean views, and with an outdoor BBQ and eating area to enjoy al fresco meals. Inside, retro artwork and furniture offer a nice complement to the modern design. With first-rate amenities like a screening room, you might not even want to leave the premises to explore (but be sure to, as the Gulf of Thailand has fantastic snorkeling and water sports!).
Villa Beige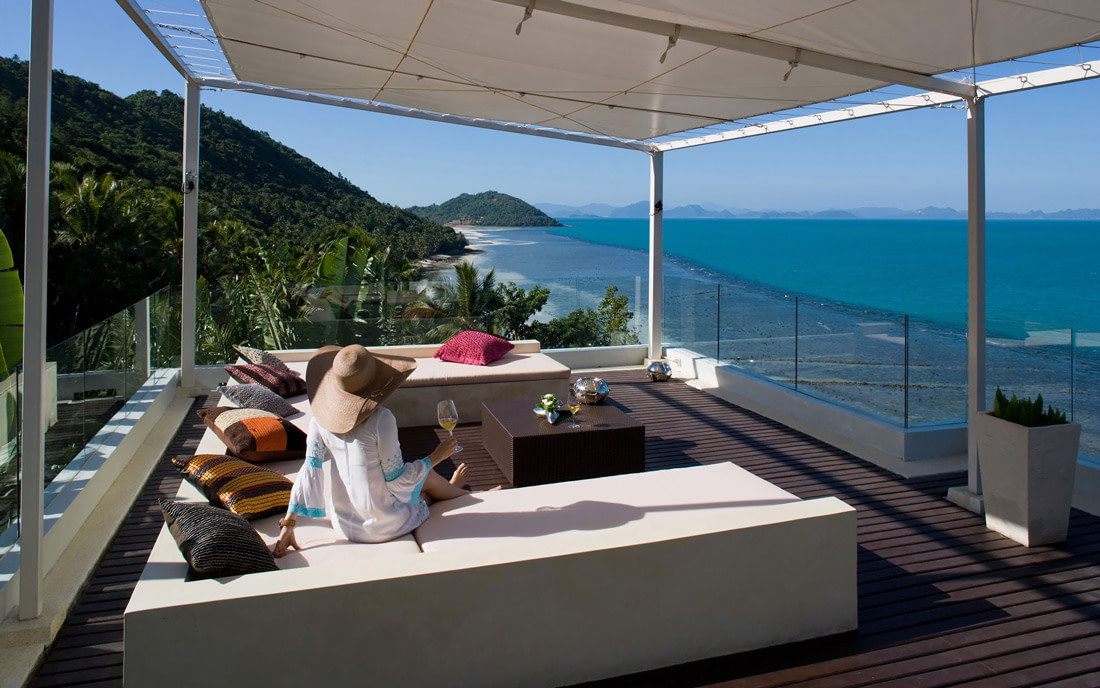 Live out your "Crazy Rich Asians" escapist fantasies of wealth and opulence at Villa Beige, a Mediterranean-styled gem on the southwest coast of Koh Samui.
As the name suggests, a warm, creamy beige color scheme soaks the indoors in relaxing tones. Lofty ceilings, floor-to-roof windows, cool marble floors, and funky but austere decor finish the effect of a laid-back but high-end haven dropped right into the luscious oceanview forests of Southeast Asia. Go for walks on the beach, luxuriate in spa treatments or lazy afternoons by the infinity pool, or get to know the island on tours and day excursions. The world is your oyster.
Celadon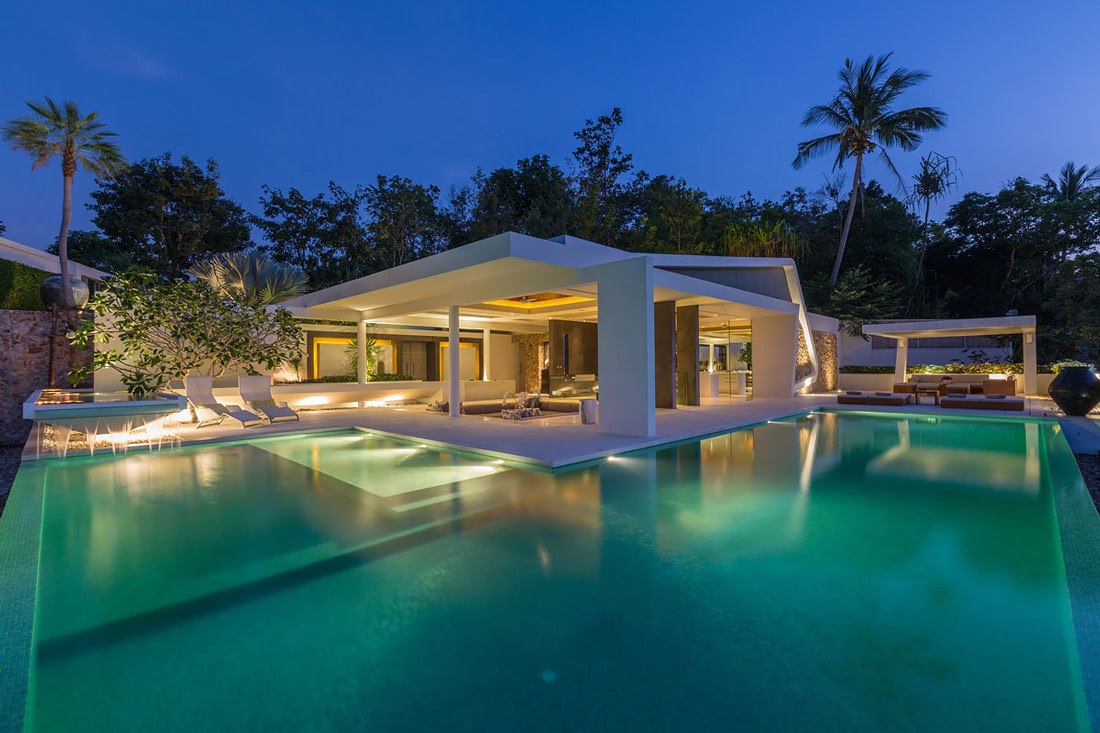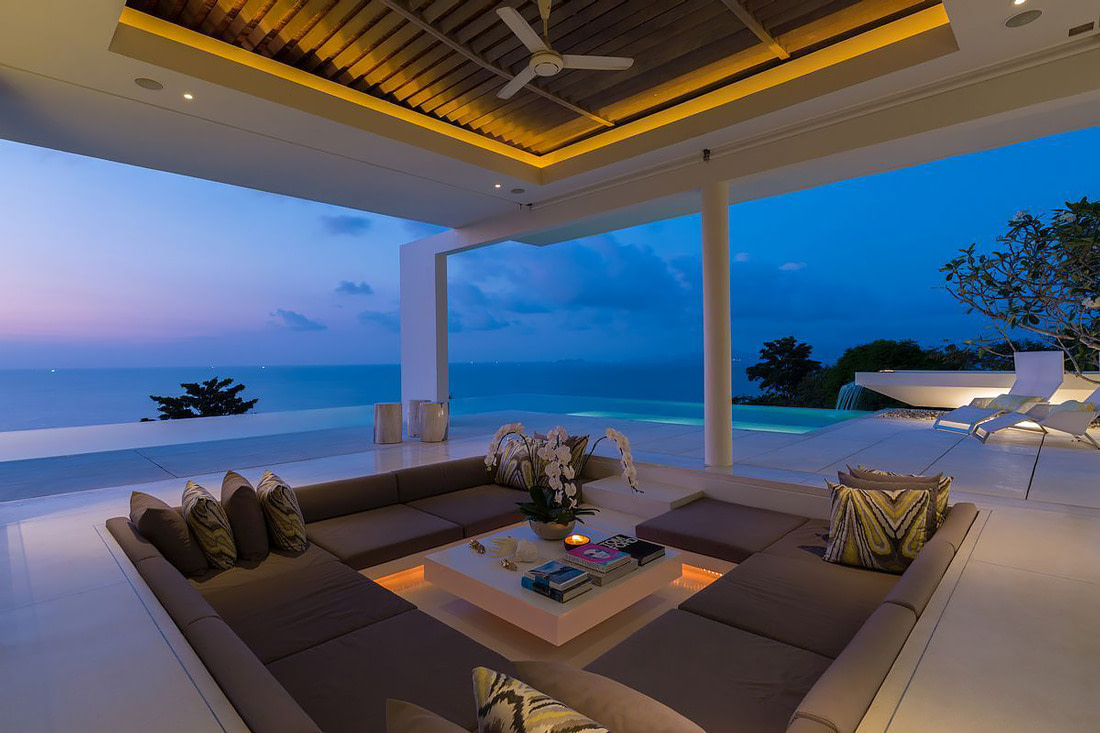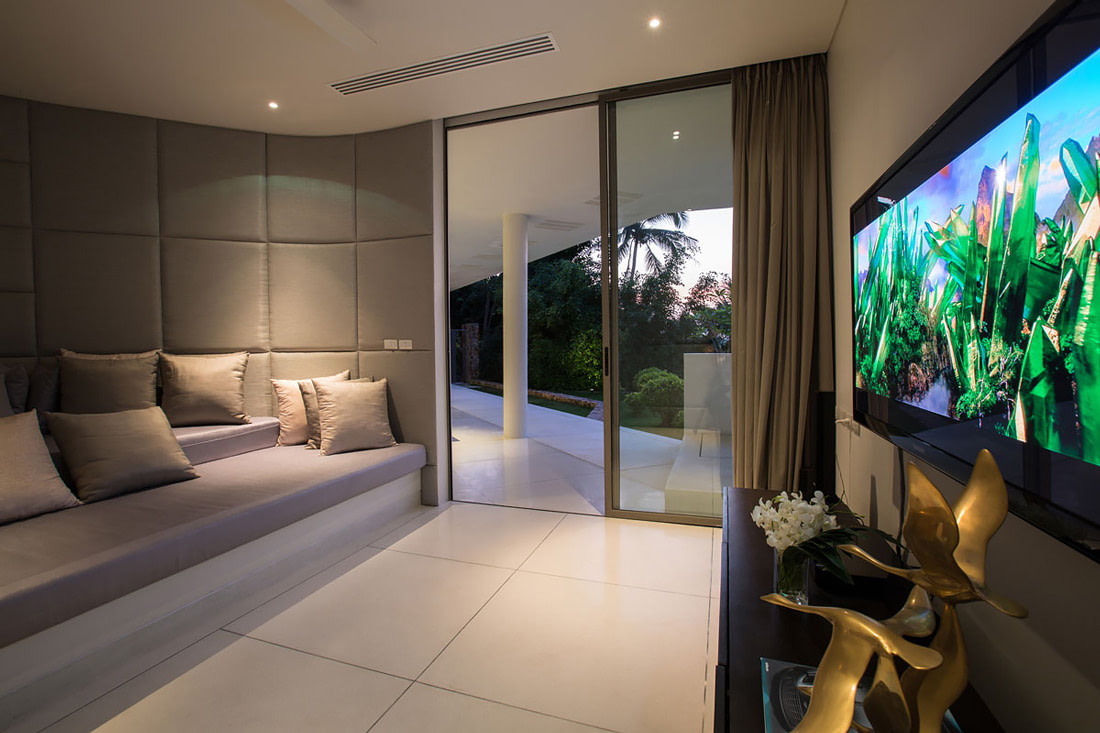 Ultra-modern and ultra-luxe, this open-to-the-elements, geometric wonder is the ideal getaway from the real world, where indulgent massages and spa treatments, leisurely afternoons enjoying the treasures of the island and the surrounding pristine oceans, and then returning to your own private villa paradise is your reality for as long as you desire.
The sunken seating area out on the patio with its sweeping views of the ocean and the wraparound infinity pool are Celadon's standout features, and a live-in villa manager, private chef, and maid service are all on-hand to attend to your every need.
Villa Belle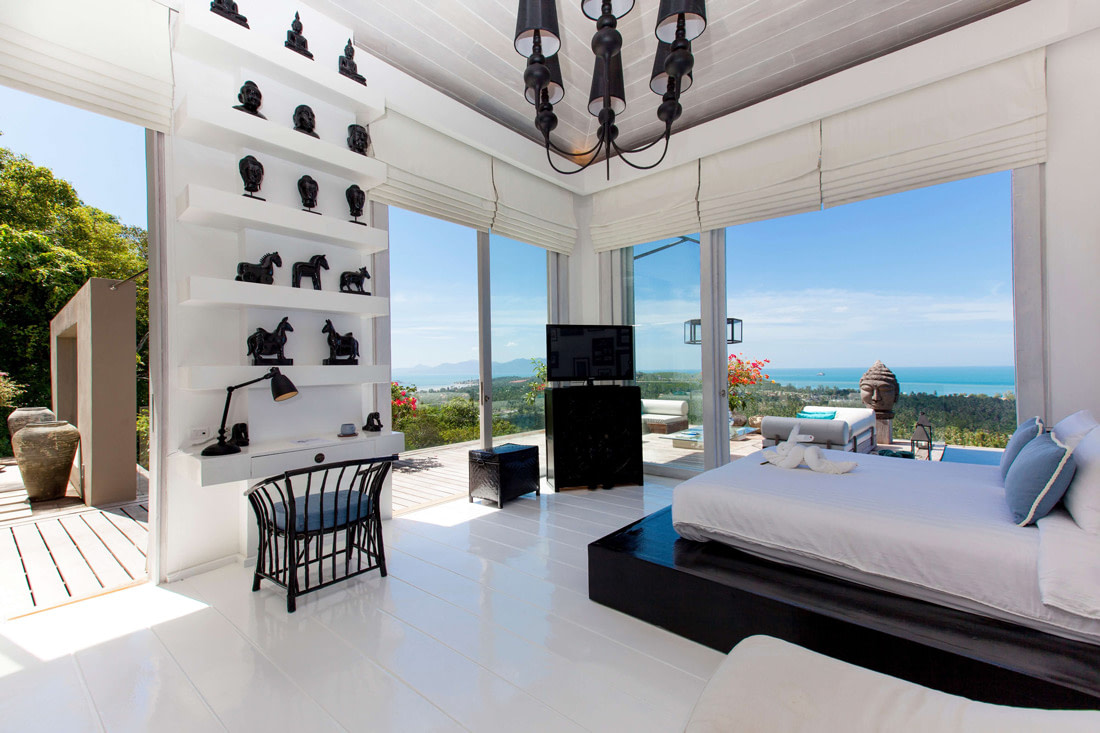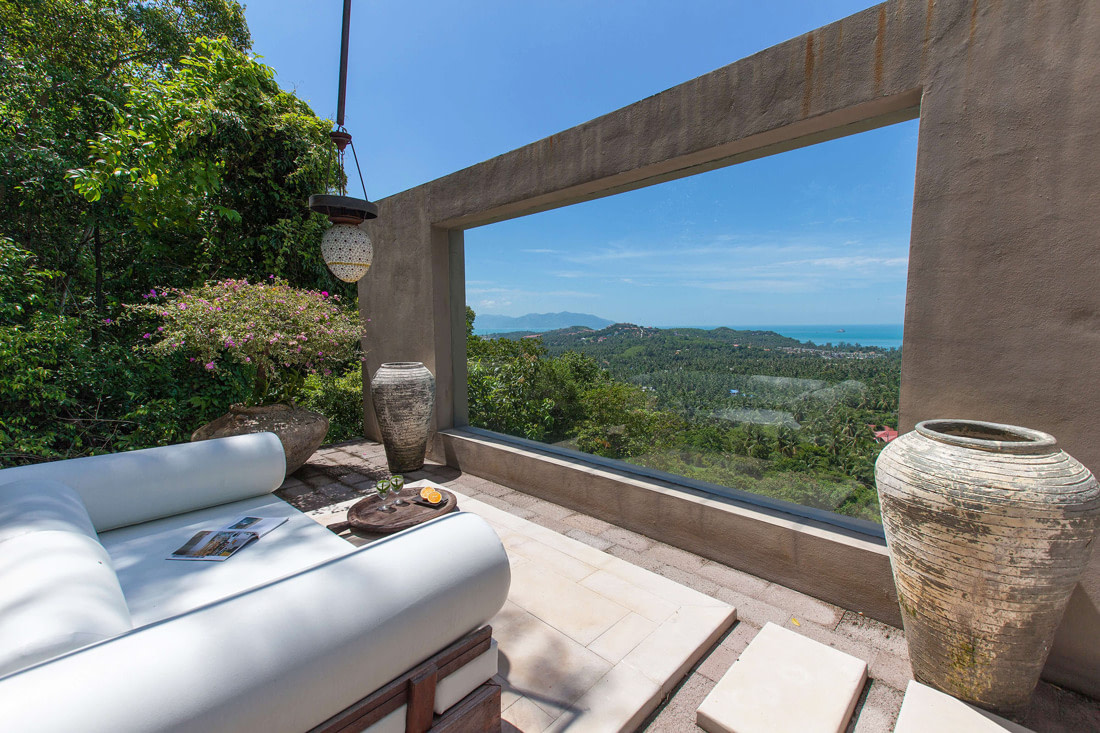 Blending exotic Thailand motifs with trendy modern aesthetics, this fusion design masterpiece has everything you need for rest and relaxation.
Featuring three bedrooms, a casually stylish outdoor patio with swimming pool, spacious living areas, and every amenity you could want, Villa Belle's main draw is its panoramic views of the surrounding forests and the bays of Choeng Mon and Plai Laem, two of the most unspoiled, beautiful beaches on the north coast of the island, the former of which is just a short walk away.
Villa Kya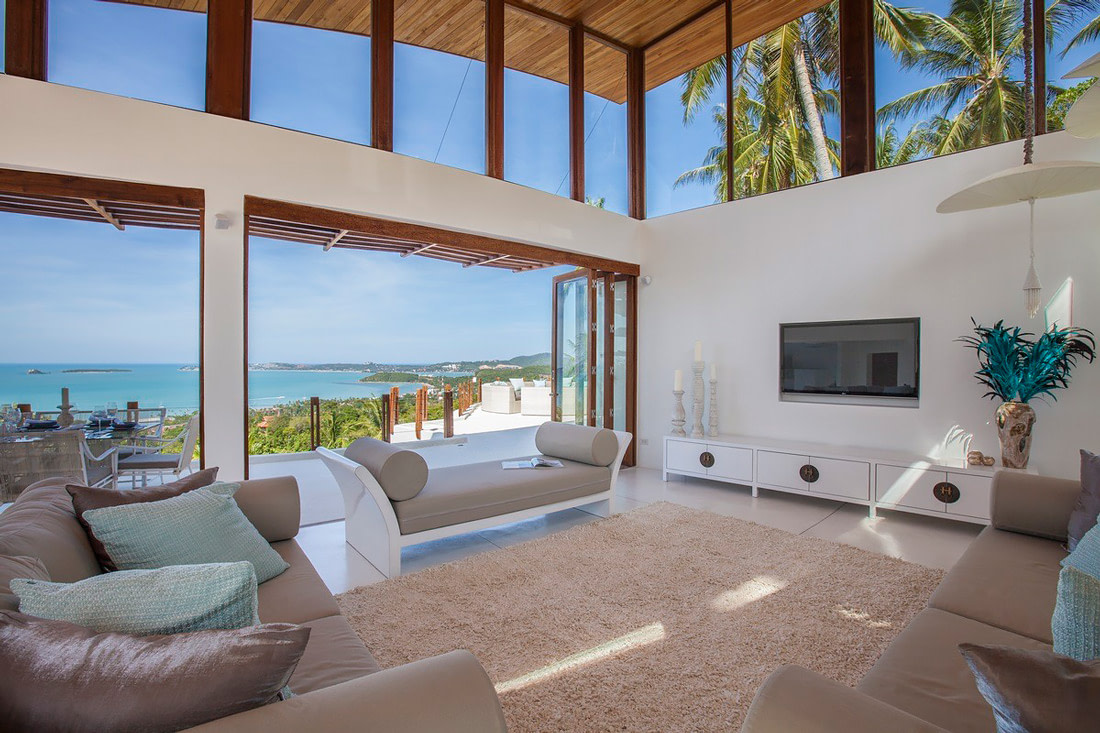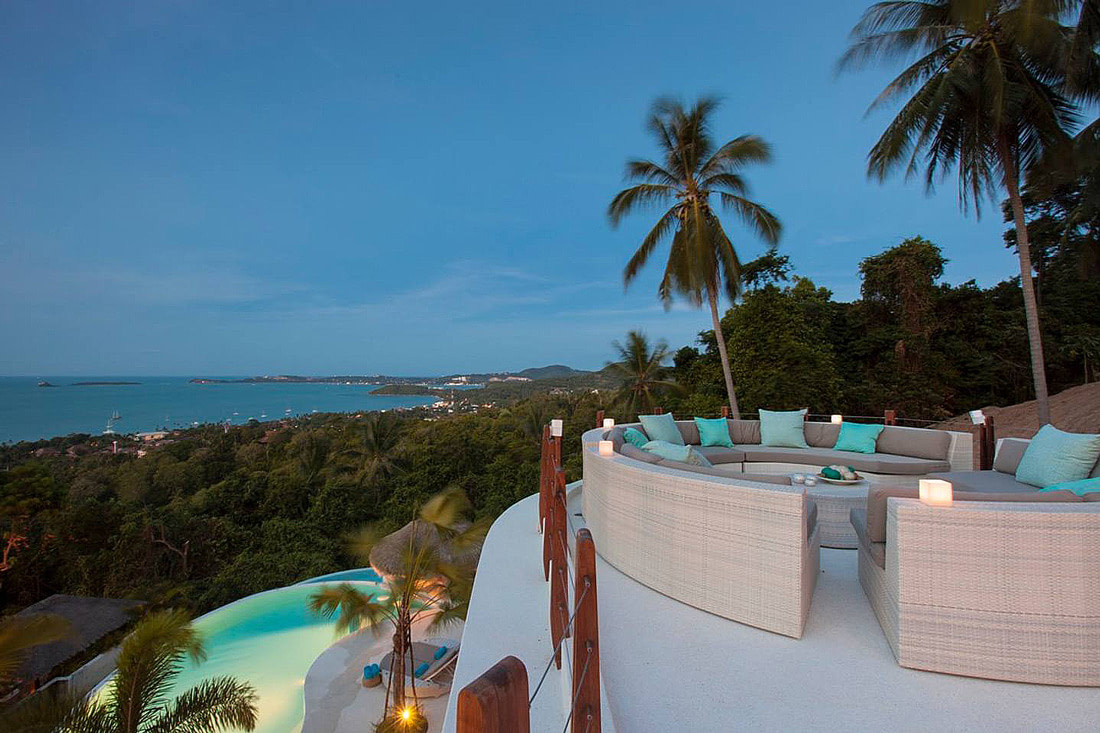 Striking design, sumptuous grounds, an ocean view pool oasis, and one of the best locations on the island have given Villa Kya a stellar reputation, making it a much sought-after accommodation for weddings and group getaways.
Located on an isolated hillside near the fishing village of Bophut, Kya is an instant treat for the eyes with its swooping wooden roofs that mimic traditional Asian architecture, and spartan white walls and floors that give it its clean, refined look. Yoga enthusiasts will especially love the wide-open patios and well-tended gardens for hours of peaceful stretching and introspection.
Villa K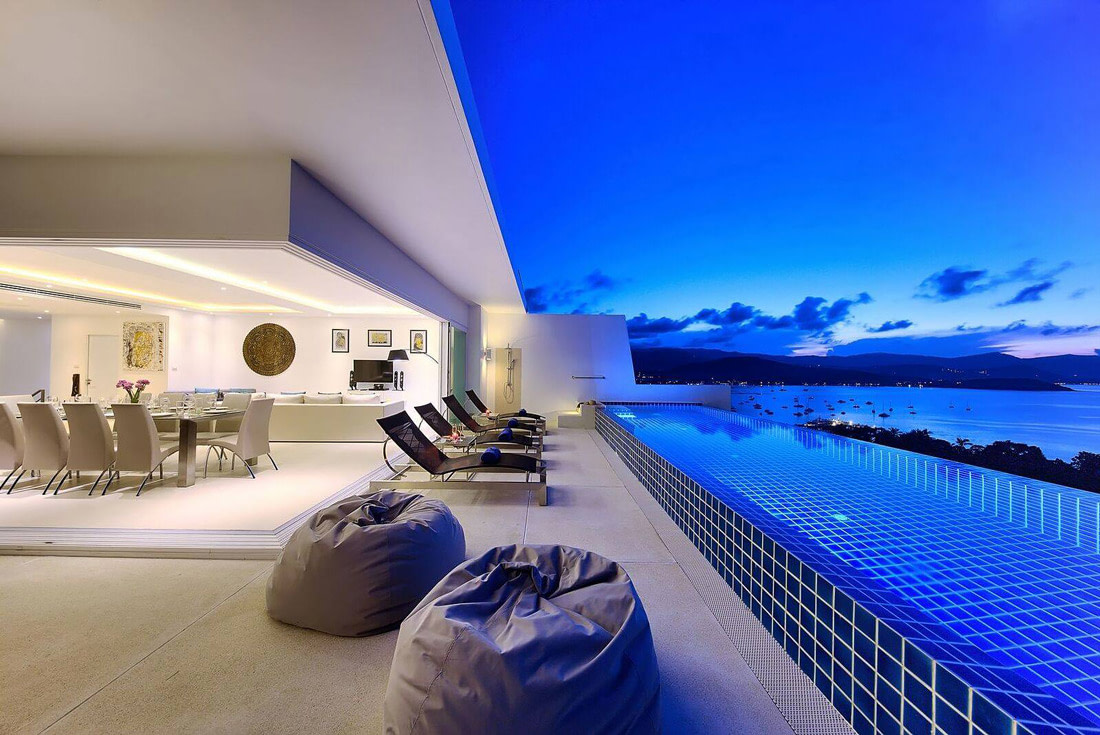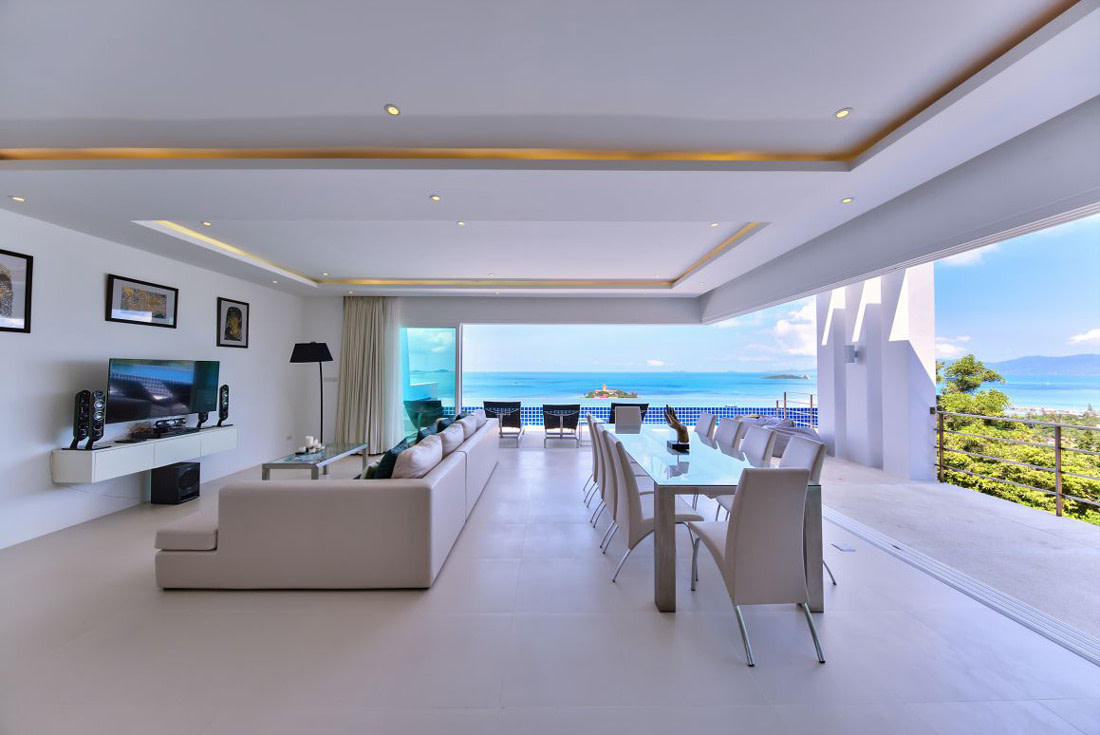 With a stunning blue-tiled infinity pool looking out over Choeng Mon bay and the Big Buddha temple, and an expansive layout that seamlessly opens rooms to the refreshing tropical breeze, Villa K is one of the best villas to rent in Koh Samui.
The sleek and stylish design, furniture, and decor will greatly appeal to the sophisticated jet-set crowd, and the villa is just a 10-minute walk from the beach or the lively villages of Chewang or Bophut. But there is also plenty to keep you entertained on-premises, like the hot tub and first-rate entertainment center.