A city of merchants, artisans, and layers upon layers of culture, Sibiu is small in size but big in character. Within its beautifully preserved old town are grandiose Baroque palaces, charming café-lined squares connected through narrow medieval passages, and plenty of cozy, chef-driven restaurants to tempt you en route.
Remodeled by Saxons in the 12th century, the city has a decidedly Germanic-Austrian flair, with pretty, colorful houses spilling down wobbly cobblestone streets, a growing calendar of cultural festivals, and maybe a bit more serenity than any other place in Romania.
For a journey back in time, wander the steep medieval lanes and arched stair passages of the Lower Town, then let Sibiu's sleek brunch spots and third-wave coffee shops take you back to contemporaneity. Summers here are for peaceful escapes into the bucolic Transylvanian surroundings and lazy afternoons sipping homemade elderflower cordial at pavement terraces, while gloomy days are best spent in the comfort of a dimly lit bookstore or perusing the city's galleries and museums.
Regardless of what brought you here in the first place, whether it's the idyllic medieval architecture, the blossoming food scene, or a raved-about festival, make sure you're not missing out on any memorable sights and stops with our guide to the best things to do in Sibiu.
Stroll along Cetatii Street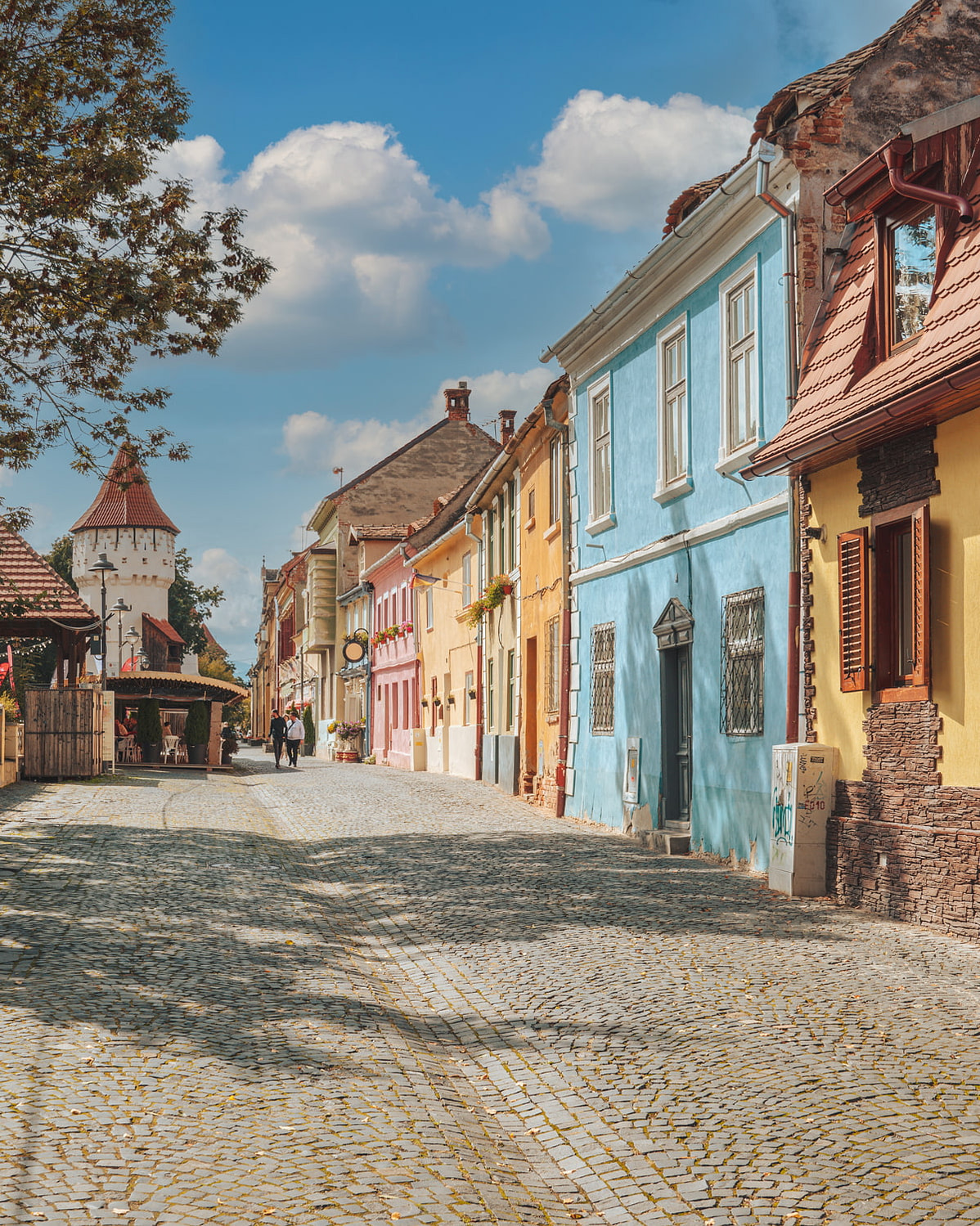 Dubbed the most beautiful street in Sibiu, Strada Cetatii (Fortress Street) is flanked by the city's best-preserved medieval walls and three still-standing 14th-century defense towers: Turnul Archebuzierilor (Archers' Tower), Turnul Olarilor (Potters' Tower), and Turnul Dulgherilor (Carpenters' Tower).
Lined with elegant, pastel-colored houses, it's an extremely pleasant place for a stroll, especially on a sunny autumn afternoon, when the leaves in the adjacent park have turned into a kaleidoscope of gold and burnt orange. If you're hungry, stop by the chic Pardon Cafe for a comforting soup in cozy, antique-laden surroundings.
Hang out in Piata Mare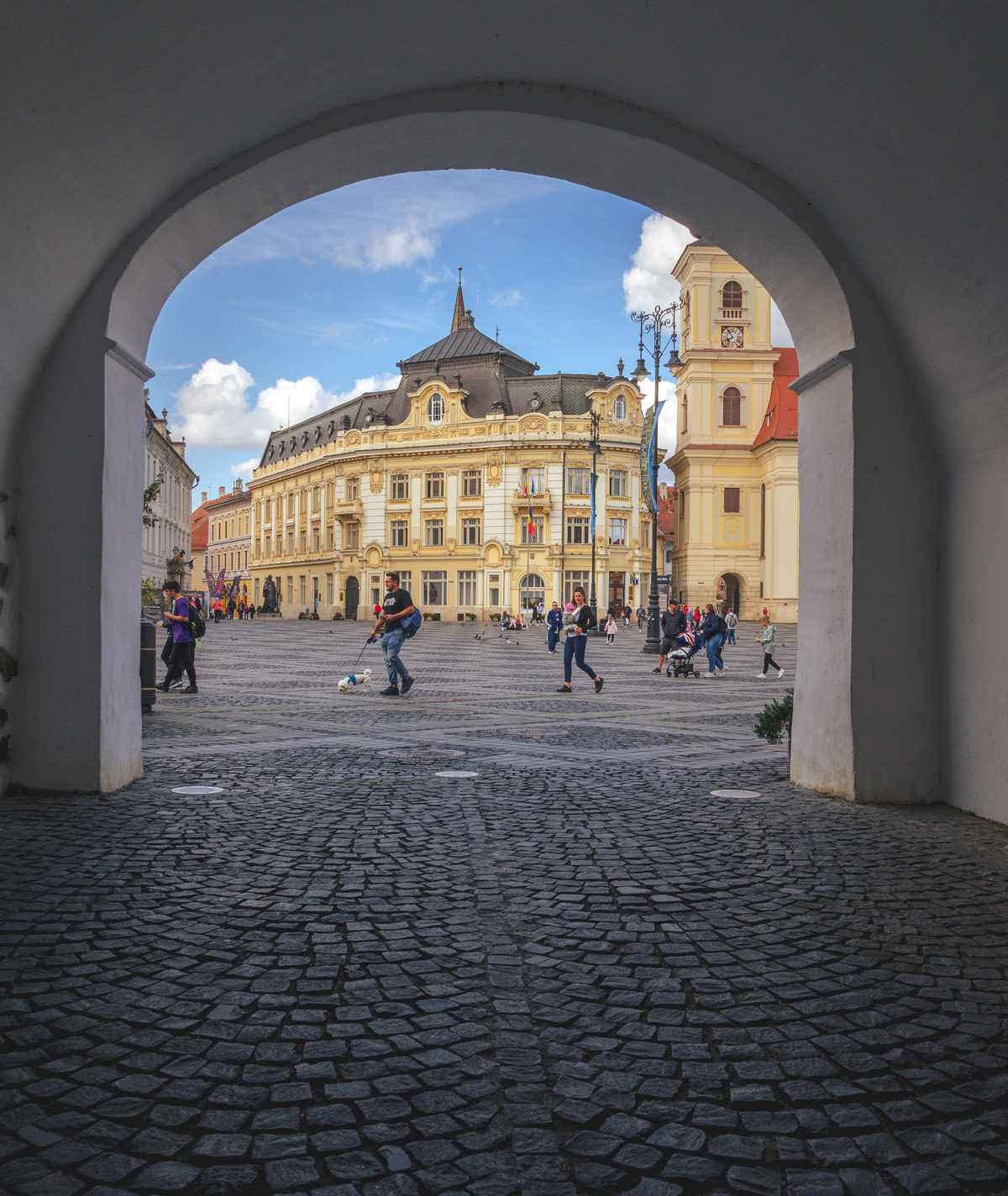 Nestled in the heart of the old town, Piata Mare (Grand Square) is hard to miss. Once the setting of civil gatherings, public executions, and a cereal market, this open rectangular plaza is now bustling with life day and night: well-dressed elderly people on their way to church or the market, happy little kids launching breadcrumbs in the midst of a sea of pigeons, curious tourists on guided sightseeing tours, and downtown employees keen on grabbing a coffee and a bite to eat from one of the many cafés and restaurants surrounding the square.
Framed by elegant Baroque and Art Nouveau buildings, this is a treasure trove of must-see sights and attractions, but also a lovely place to relax and get a feel of the local life. In December, the square is transformed into a festive holiday wonderland as the famous Sibiu Christmas Market takes over.
Have a coffee at Lumos
A stylish coffee and brunch place situated on a corner just off the main square, Lumos is mostly popular with locals who come for the delicious all-day breakfast and freshly brewed specialty coffee – served either outside on the sunny terrace or in the elegant light-filled space decorated with blonde wood furnishings and soft velvet seats.
Aside from classics like smashed avocado, egg on toast, and pancakes, the menu also features original creations such as duck breast with mashed edamame and pickled chives, or spicy shakshouka accompanied by local sourdough bread. The coffee comes from SLOANE, a Bucharest-based micro roastery, and is among the best you'll find in Sibiu.
Look for the eyes of Sibiu in Piata Mica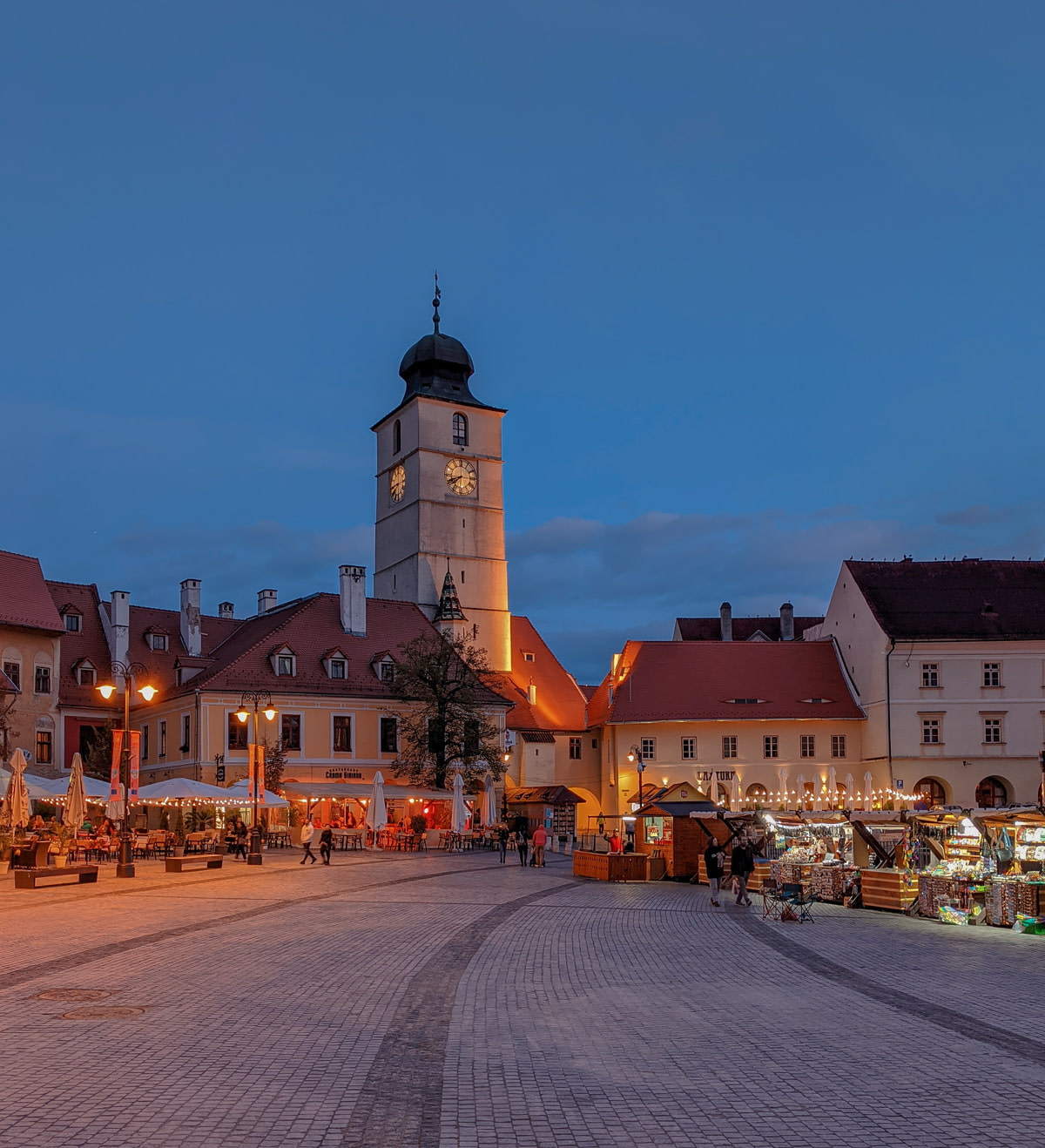 The Large Square (Piata Mare) may be the heart of Sibiu, but the Small Square (Piata Mica) is its soul. As the former commercial center of the city, the area is an enchanting mélange of colorful 15th-century buildings topped by creepy eyelid-shaped windows.
Called "the eyes of Sibiu", these peculiar architectural features built into the roofs act as ventilation systems for the houses' attics, though many locals will tell you that their true purpose was to give them a feeling that they were always being watched during the communist regime.
Conspirations aside, the Small Square's historical buildings, with their typical arched loggias, provide a quaint backdrop for perusing cute craft boutiques, taking a leisurely stroll, or enjoying an alfresco meal at one of the cozy café terraces dotted around. Also here, you'll find one of Sibiu's most iconic landmarks, the Bridge of Lies.
Pay a visit to the oldest museum in Southeastern Europe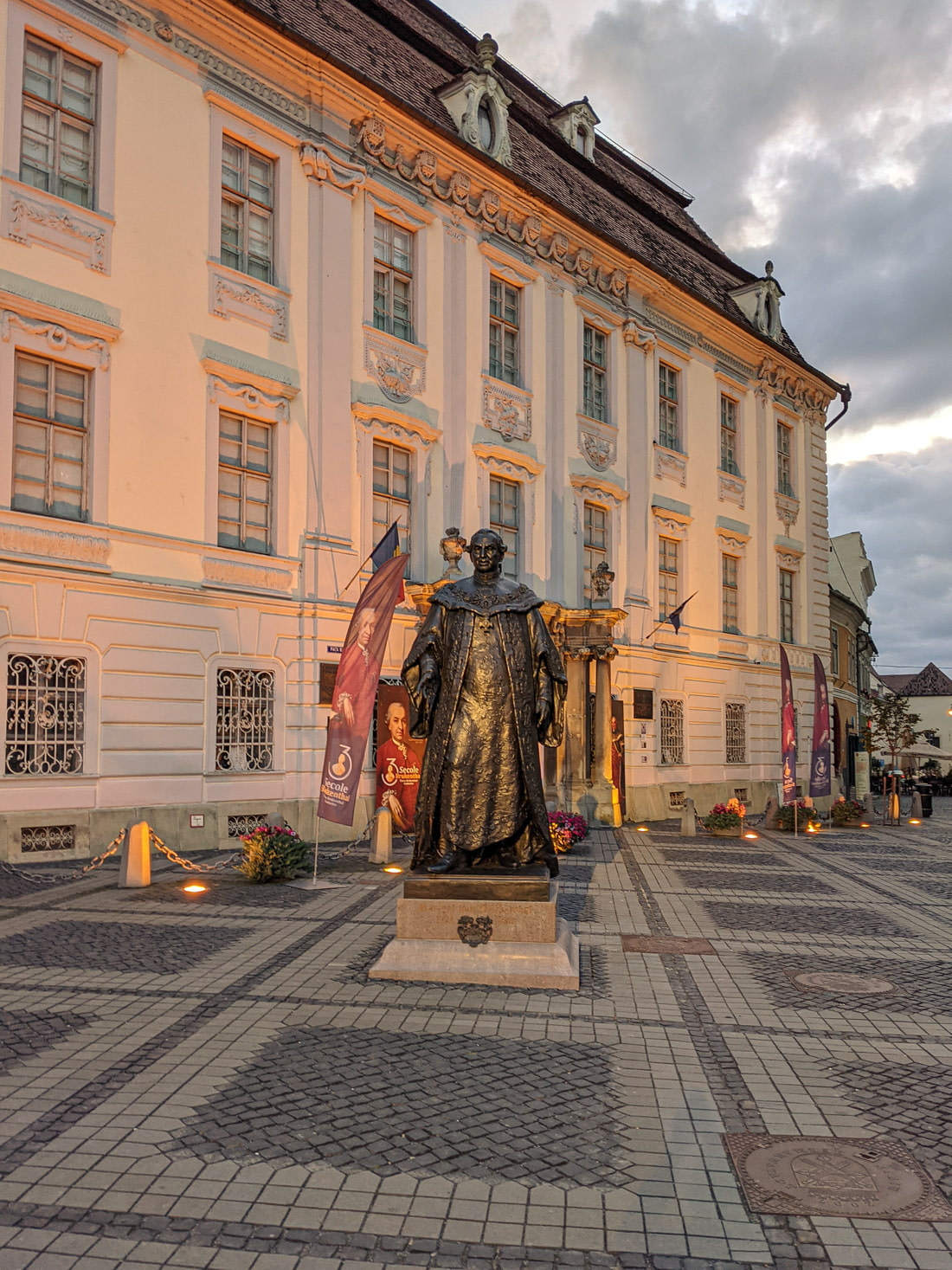 Opened to the public in 1817, the Brukenthal National Museum in Sibiu is one of the oldest art galleries in the world. It comprises six different museums spread throughout the city, each with its own specialty and cultural program.
The most famous is probably The Art Galleries branch, housed inside the 18th-century Brukenthal Palace, the Baron's former residence, on the west side of Piata Mare. In addition to a remarkable collection of artworks belonging to the main European schools of painting, the museum also includes pieces of religious Transylvanian art, a unique Gothic exhibition, and a splendid collection of reception rooms festooned with sumptuous Viennese chandeliers, elaborate woodwork, and spellbinding oriental decorative art.
While here, don't miss the Brukenthal Library in the back inner courtyard of the palace, which is home to a staggering 280,000 volumes, including Incunabula, Rare Romanian and European books, as well as a notable manuscript collection comprising the Brukenthal Breviary and a Vigiliale on parchment dating from 1507.
Dine at Plai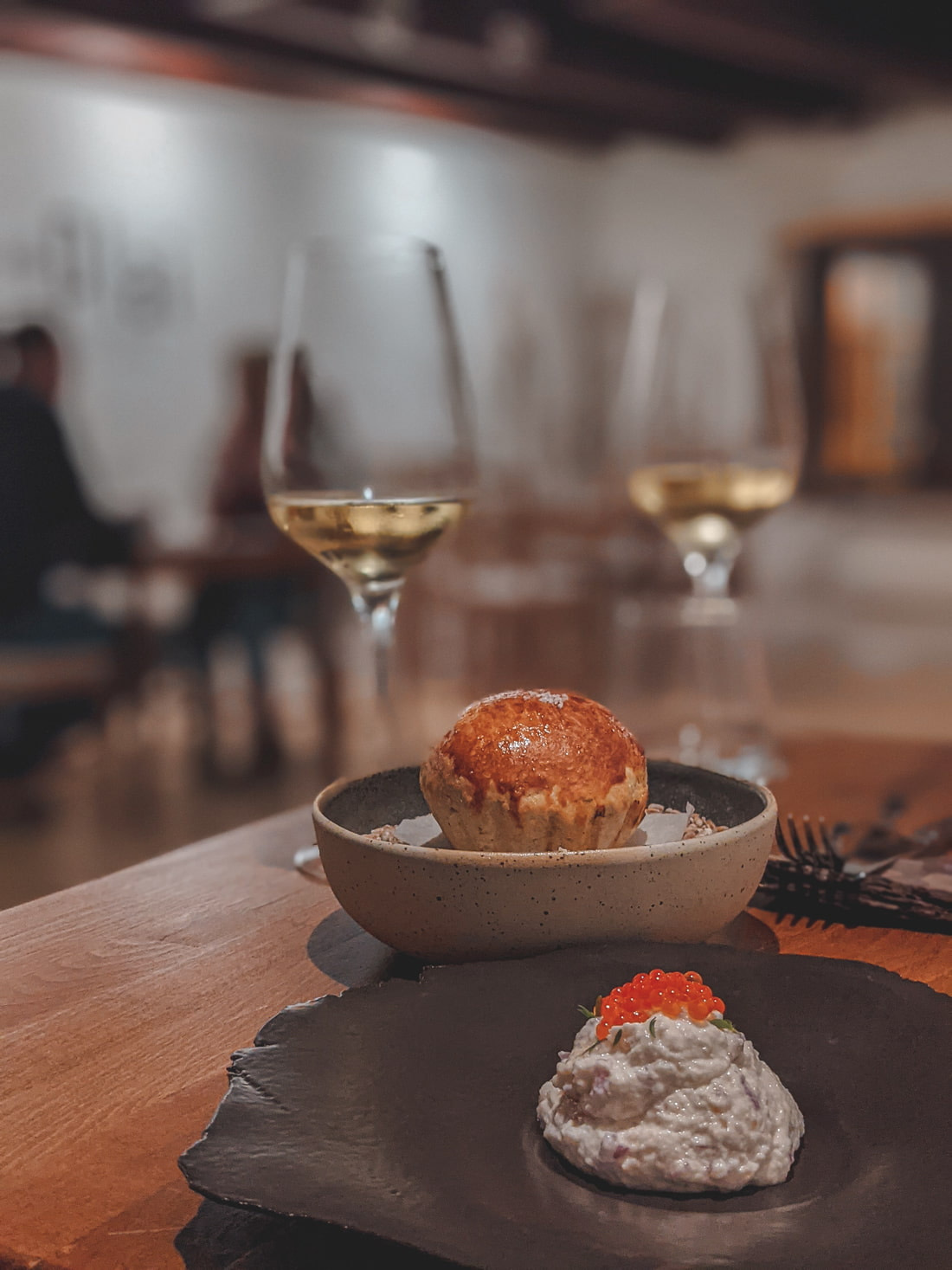 If you only have time for one proper dinner in Sibiu, let it be at Plai. Tucked away on a narrow cobblestone street in the Lower Town, this gem of a restaurant specializes in creative Romanian cuisine with an emphasis on seasonal, local produce and contemporary techniques. The menu is wonderfully designed, with each inspiring dish telling a story about the surrounding lands and revealing a mesmerizing symphony of tastes and textures. If you get the chance, try the trout with garlic puree and charcoal sauce – it's brilliant!
Get lost in the Lower Town
Connected to the Upper Town through steep cobblestone lanes and secret medieval stairways, the Lower Town is perhaps the most characterful slice of Sibiu's historic center. Though not as popular with visitors as the Upper Town, the area is steeped in history and rustic charm, with its quaint little squares and colorful old houses, some of which have been gloriously revamped and turned into chic guesthouses, exquisite restaurants, or craft boutiques.
At night, the golden glow of street lamps adds to the quaint vibe, while in winter, a dusting of snow turns the medieval scene into a Christmas card-worthy sight.
Brunch at Charlie's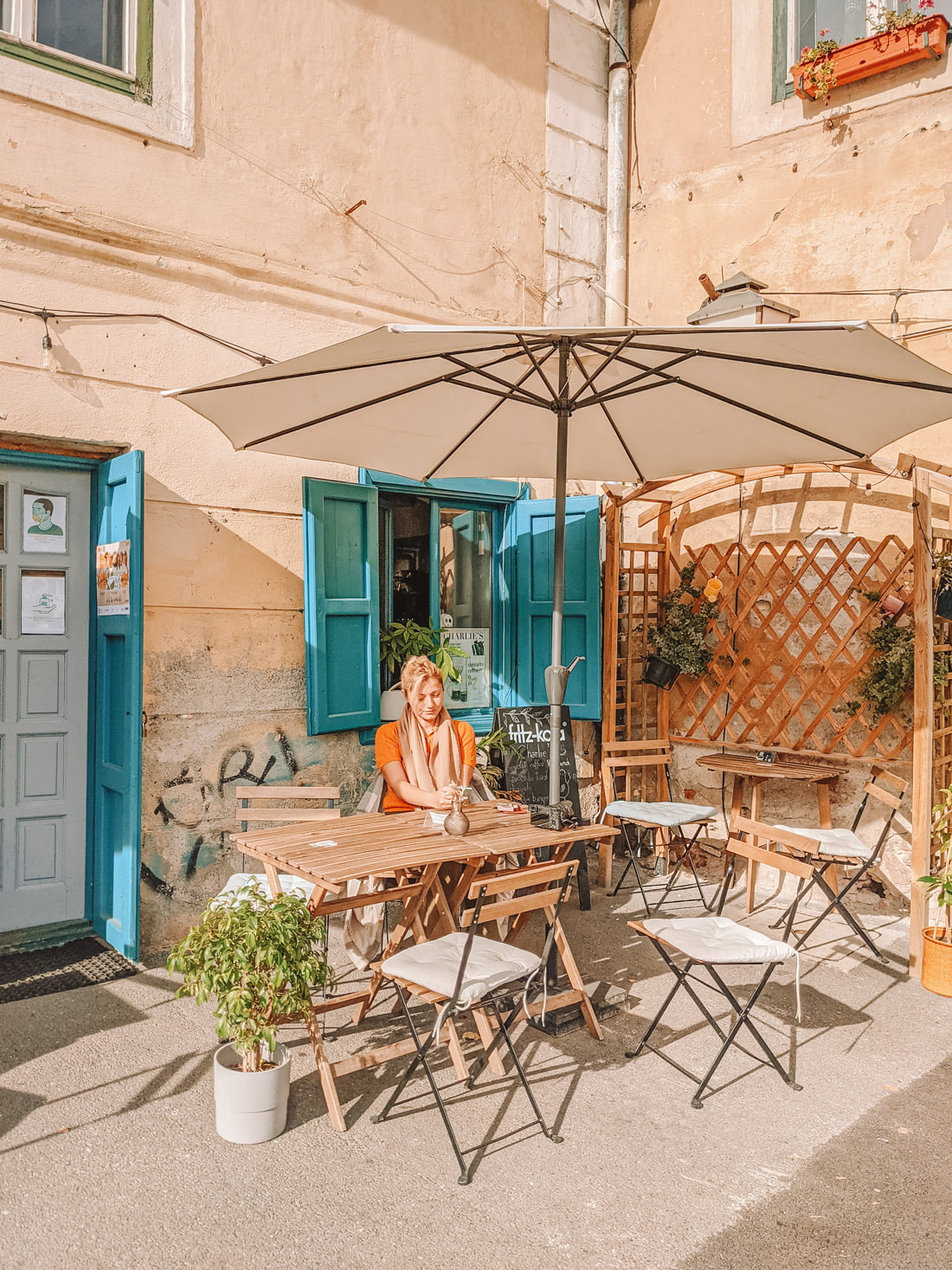 Charlie's Specialty Coffee is the kind of place anyone would be glad to have in their neighborhood. Sitting casually on a picturesque corner in the Lower Town, it's cool, cozy, and delightfully unpretentious; no wonder it has become a staple for coffee lovers and brunch-hungry Sibieni who descend on its rustic sun-drenched terrace for its hearty fare, velvet-like single-origin espressos, and tasteful vinyl tunes. Sourdough avo toasts, generously filled bagels, and exotic poke bowls rule the menu, but the homemade dessert selection is equally tempting and not to be missed.
Marvel at the Clay Castle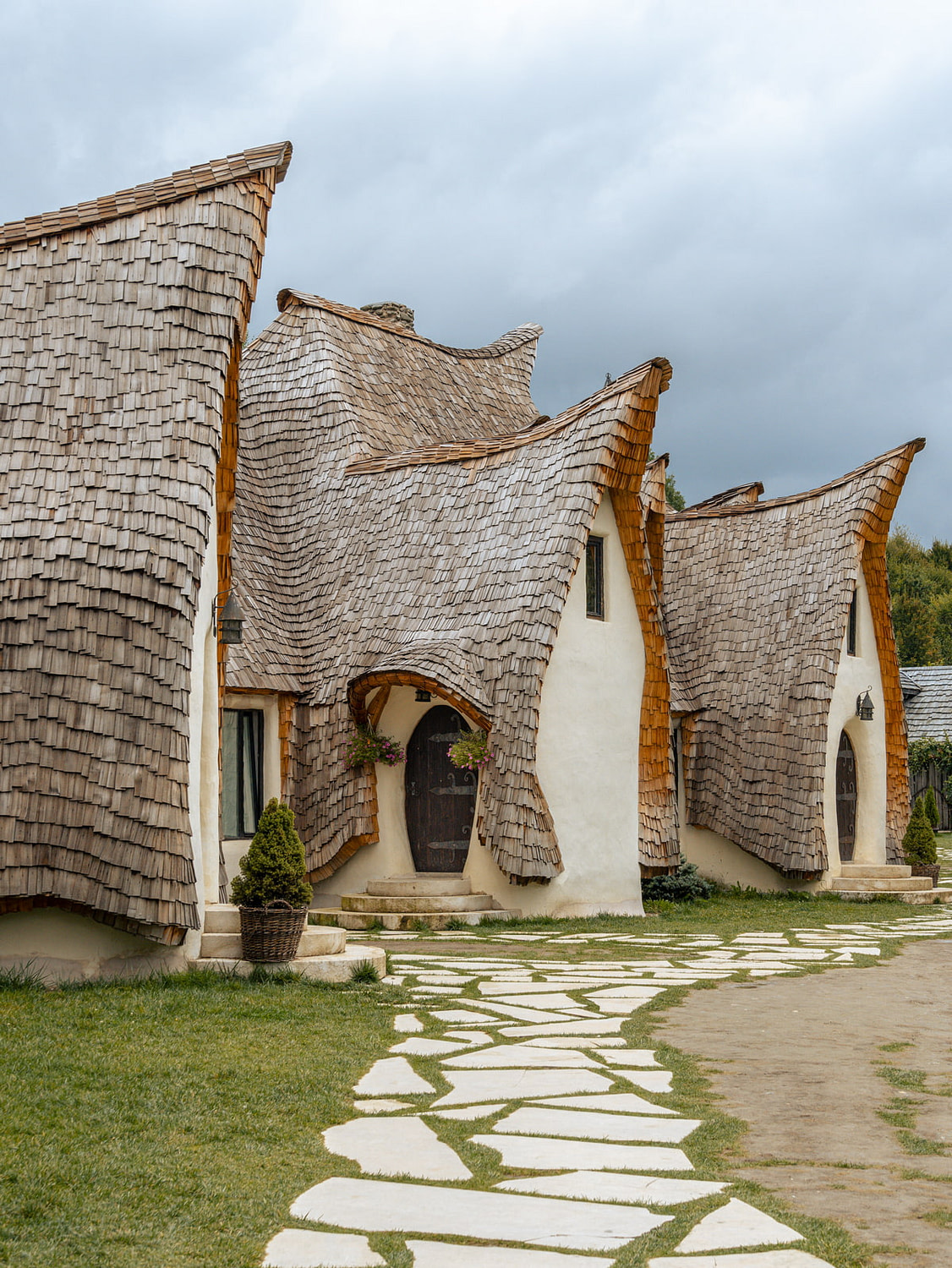 Set in the foothills of the Carpathian Mountains, about 30 km outside the city, the Clay Castle of the Valley of Fairies makes for a wonderful day trip from Sibiu. Established in 2004 by a Bucharest couple, the imaginary structure, with its arched entrances and fanciful wooden roofs that appear to melt down the smooth undulating contours like a cone of ice cream on a hot summer day, seems straight out of a storybook.
The castle, which is entirely constructed from natural, organic materials like clay, straw, sand, and wood, was meant to be a hotel, but for now, it only serves as a tourist attraction where visitors from around Romania and beyond flock to marvel at the fanciful architecture and take in the outstanding natural beauty of the area. There's also a nice souvenir shop, a kids area, and an outdoor terrace serving traditional Romanian food prepared with carefully selected organic ingredients.
Have drinks at House of Ellixirz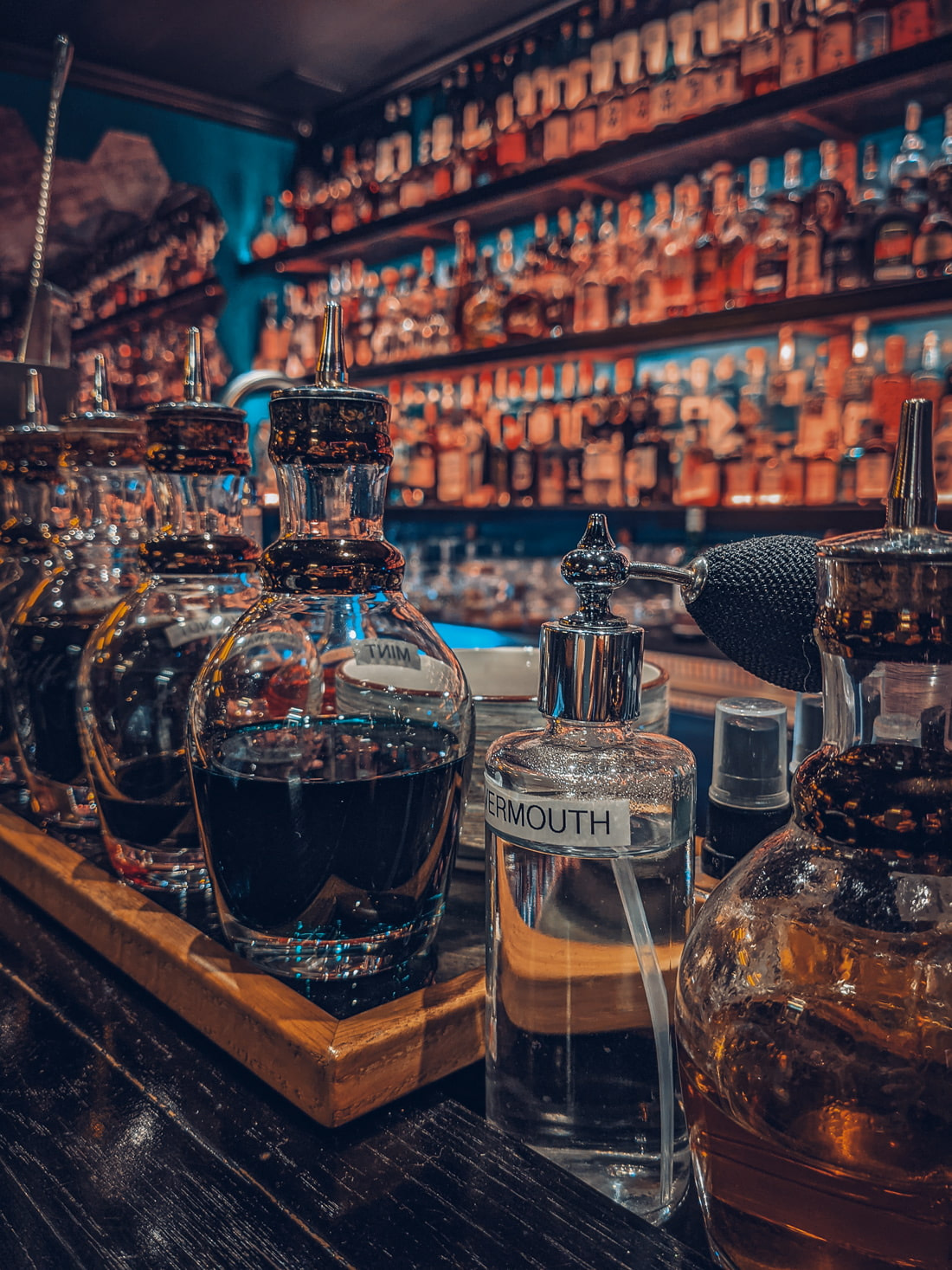 There's no better way to conclude a day of sightseeing in Sibiu than with an expertly crafted cocktail – or three! – at House of Ellixirz. Though small, this boutique cocktail bar perched on a medieval stairway has a classy gentlemen's club vibe, with parquet floors, heavy velvet curtains, and subtly lit local art hanging off the dark walls. Bottles of rare spirits sit glistening behind the polished wooden bar while sultry jazz (sometimes soft rock) fills the room, adding to the cultured ambiance of the place.
The bar is located on the steps of Strada Turnului (Tower Street) behind the gothic Lutheran Cathedral and is open every day, except Monday, from 4:00 pm till midnight.
Visit the ASTRA Museum
A 96-hectare open-air museum located on the outskirts of Sibiu, ASTRA provides an insight into the rural Romania of yesterday. Almost 10 km of alleys meander through valleys and hills dotted with traditional houses belonging to various Romanian provinces and architectural styles, including windmills, traditional fishermen's homes from the Danube Delta, and typical houses where winegrowers or wealthy shepherds used to live.
The staggering ethnographic ensemble comprises over 400 properties, household annexes, and technical installations, as well as two man-made lakes where visitors can rent boats to paddle around the tranquil waters. Various workshops, food fairs, and concerts are organized here throughout the year, especially on weekends and public holidays.
Sip wine at Wine Not?
Nestled in a small, atmospheric plaza in the Lower Town of Sibiu, Wine Not? provides a cozy, welcoming setting for socializing over good wine and tempting small plates. The menu, although full of gems from all over the world, including France, Italy, Spain, and the New World, remains a love letter to Romanian wines, singing the praises of white Transilvanian varietals and small family-owned wineries that would be hard to find on your own.
There are over 20 varieties by the glass and 600 by the bottle, and the food offering includes delights such as local cheese platters accompanied by freshly baked bread, walnut jam, homemade Angus beef pastrami, and Mangalita sausage crumble. The staff is knowledgeable and passionate about making thoughtful recommendations, while the pocket-size terrace outside, overlooking a water fountain and decorated with string lights, provides an idyllic spot for people-watching on a warm summer evening. Not into wine? No worries, their craft beer and freshly roasted specialty coffee are pretty amazing, too.