This post contains affiliate links, which means we may receive a small commission, at no additional cost to you, if you make a purchase through these links. See our full disclosure here.
They say that Paris is for lovers. Well, Marrakech is also for lovers…of design. A vibrant fusion of Africa, Middle Eastern, and European influences, this ancient city is a pilgrimage-worthy destination for fans of architecture and design. And one of the most quintessential expressions of Morrocan style are riads.
When it comes to where to stay while in Marrakech, there's nothing more emblematic than a riad. A traditional Moroccan palace or house, riads are most easily identifiable by the presence of a central, Andalusian-style courtyard, flanked on all four sides by multi-story levels. The courtyards usually boast of a small garden (the word 'riad' means garden) and are artfully decorated with colorful zellige tiles.
In Marrakech, some of the most popular hotels and short-term rentals are riads, with the chance to stay in a larger hotel-style riad or rent an entire riad all to yourself. From the classic to the contemporary, these are the best riads in Marrakech.
Jemaa El Fna
As the name suggests, this boutique hotel-riad hybrid is right next door to the famous Jemaa el-Fnaa square in the middle of the historic medina. Graced with authentic Moroccan design and decor, the riad features opulent rooms, a spa, and a restaurant, but the interior courtyard with its teal-tiled pool, curving arches, and soft lighting is definitely the stand-out feature. Contemporary design touches, like a vibrant mural in one of the lounge areas, round out the property's eye-catching interior.
Dar 118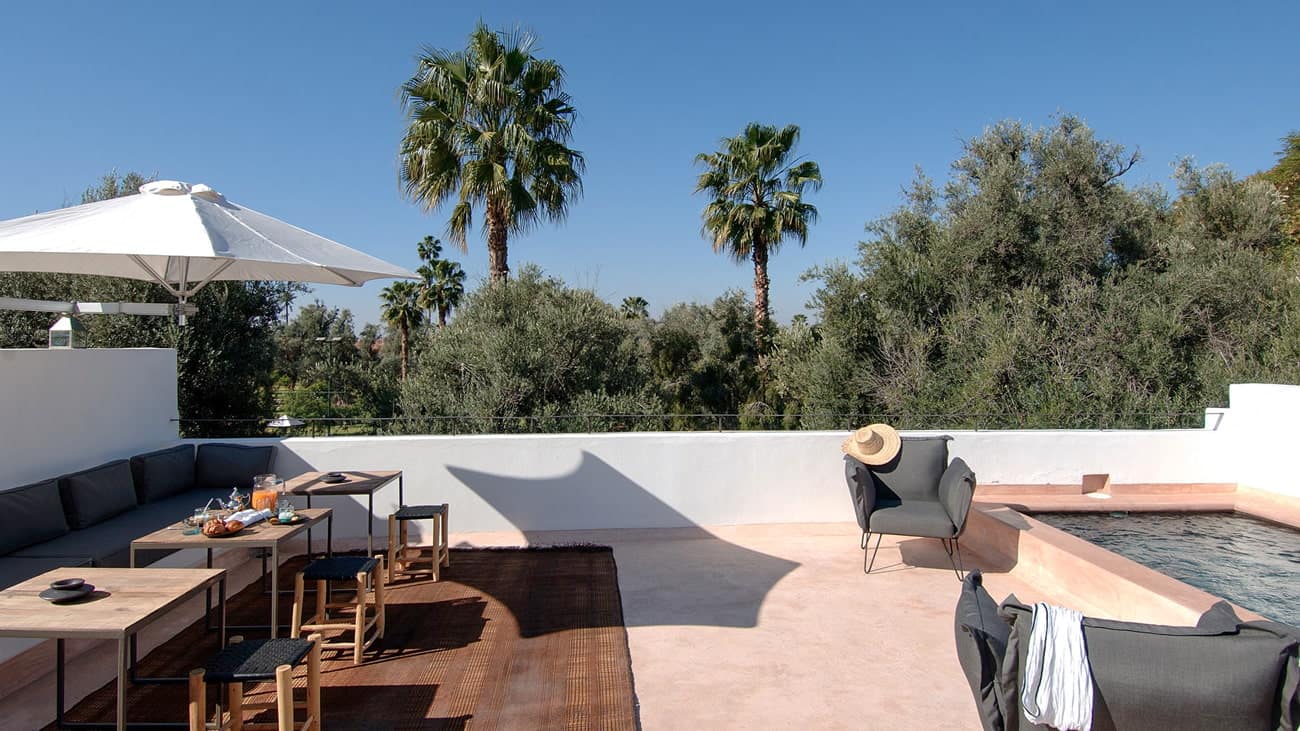 Fans of minimalist design will love a stay at Dar 118 with its tan floors, white walls, and simple furnishings. This former residential riad in the heart of the Medina was transformed into a trendy, scaled-back private rental in 2010, with three private bedrooms, three baths, a hammam, a massage room, and private staff. A sleek spiral staircase connects the three different floors. But the stand-out feature is definitely the rooftop terrace, whose seating area and heated pool have views of the lush gardens of the Mamounia Palace.
Riad O2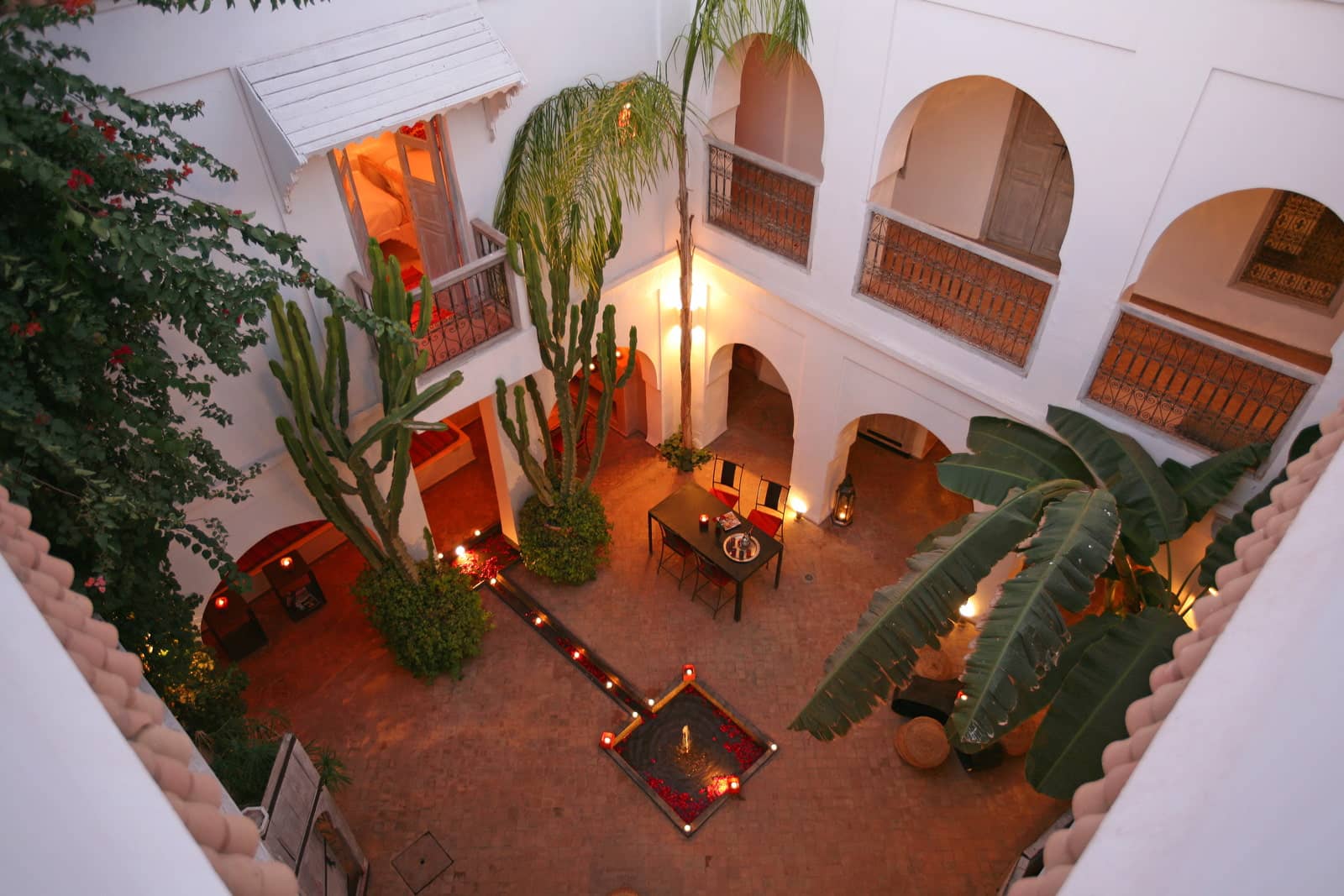 With towering cactus and palms, terracotta floors, and stark white walls, Riad 02's Spanish-esque stylings make it one of the most romantic riads in Marrakech. The courtyard features a small, stream-fed pool, brick floor, and arcade-style terraces, and the six rooms all have unique design touches, like the Oeuf Room, which pampers guests with an earthenware-styled freestanding tub.
Almaha Marrakech
How does a hotel have the soul of a poet, as the Almaha Marrakech claims to have? Well, during its restoration into its current incarnation as a designer boutique hotel, designer Charles Kaisin used Baudelaire's poem "Invitation au Voyage" as inspiration, blending contemporary art with traditional fixtures of Morrocan design like arching columns, bursts of zellige tiles, earthy-toned walls, wooden screens, and an abundance of lush greenery.
The extravagant riad features 5 rooms, a swimming pool, Hamman, restaurant, and a rooftop terrace from which you can see the Atlas Mountains. The highlight, though, is the Pixel Lounge: a cavernous room completely decorated with colorful tiles depicting scenes of local life.
P'tit Habibi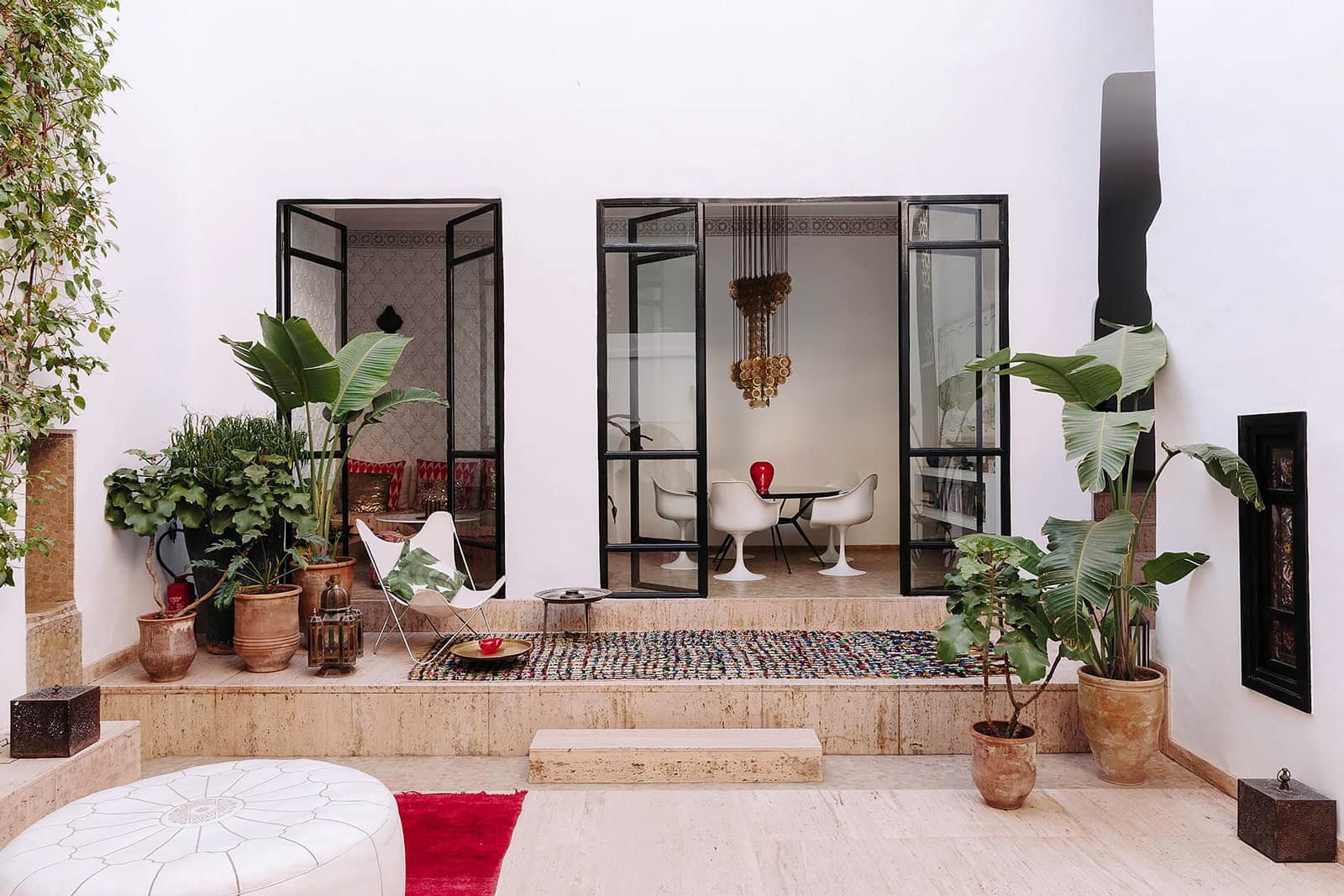 Fusing past and present, P'tit Habibi puts its own spin on the riad hospitality experience. Located on the northern end of the medina, the private, five-room house emphasizes contemporary design with its use of black frames and more modern furnishings. The austere, high-ceiled rooms are simple but stylish, featuring bold design choices like a recessed wall – inlaid with colorful tiles – in place of a traditional headboard. The Hazy Moon Suite offers access to a private rooftop terrace; the rest of the roof features a communal lounge area and splash pool.
Riad Dyor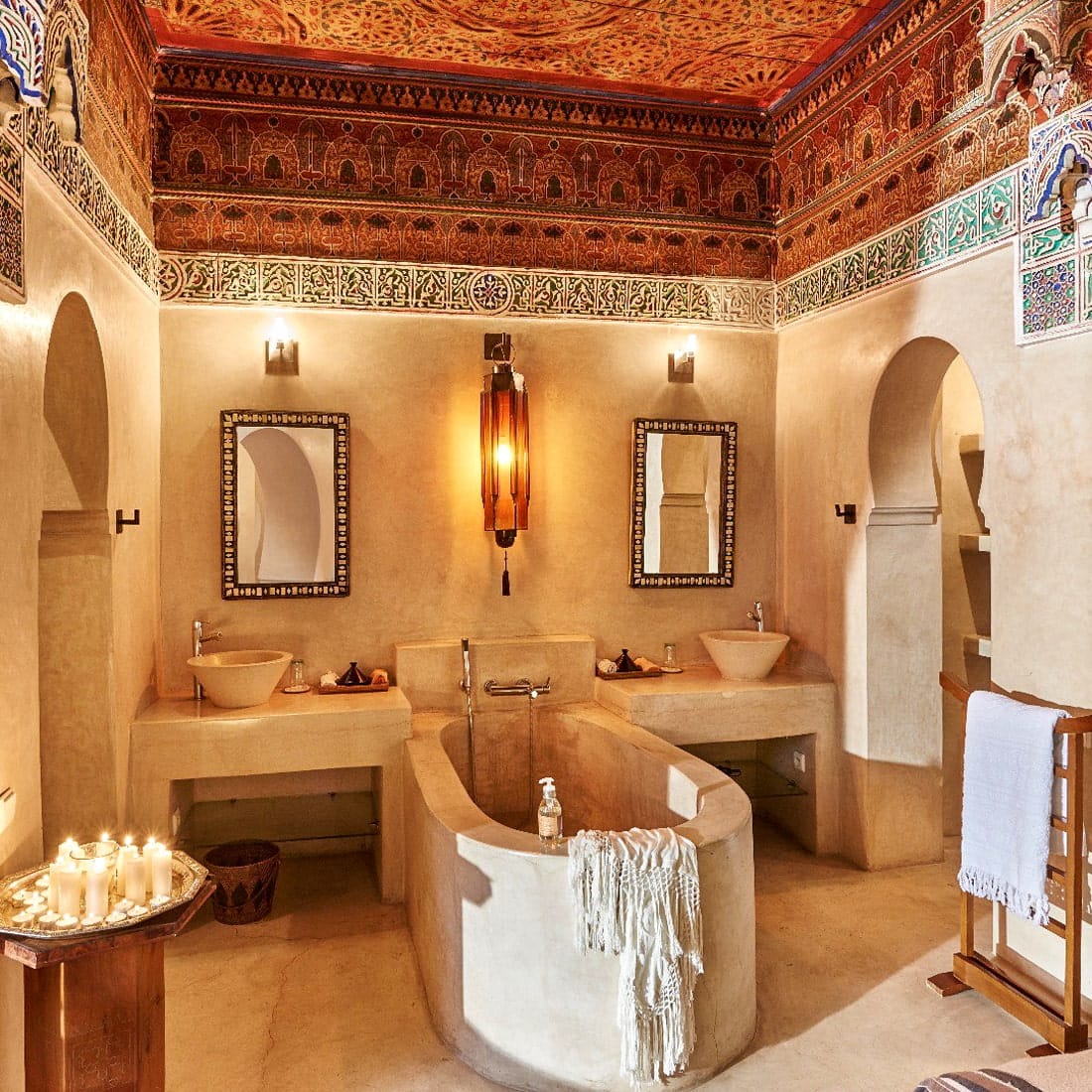 With their shaded courtyards and shadowy rooms, many riads act as refuges from Morroco's searing heat. But at this vibrant, artsy boutique riad-hotel, sunshine is embraced as a key part of its character and atmosphere. The open-air central courtyard becomes a pool of warm, golden sunshine during the day, and large windows and entryways to the various rooms and suites allow natural light to permeate most parts of the riad.
Jointly designed by a Spanish designer and a Dutch designer, Dyor's design is bold and eclectic, ranging from Greek-esque rooms with light-blue frames to calming, earthy tones with eye-catching Moroccan tiles. Guests can soak up the sunshine in the courtyard area with its plunge pool or from the rooftop, or hide away for a relaxing massage or hammam session.
Riad BE Marrakech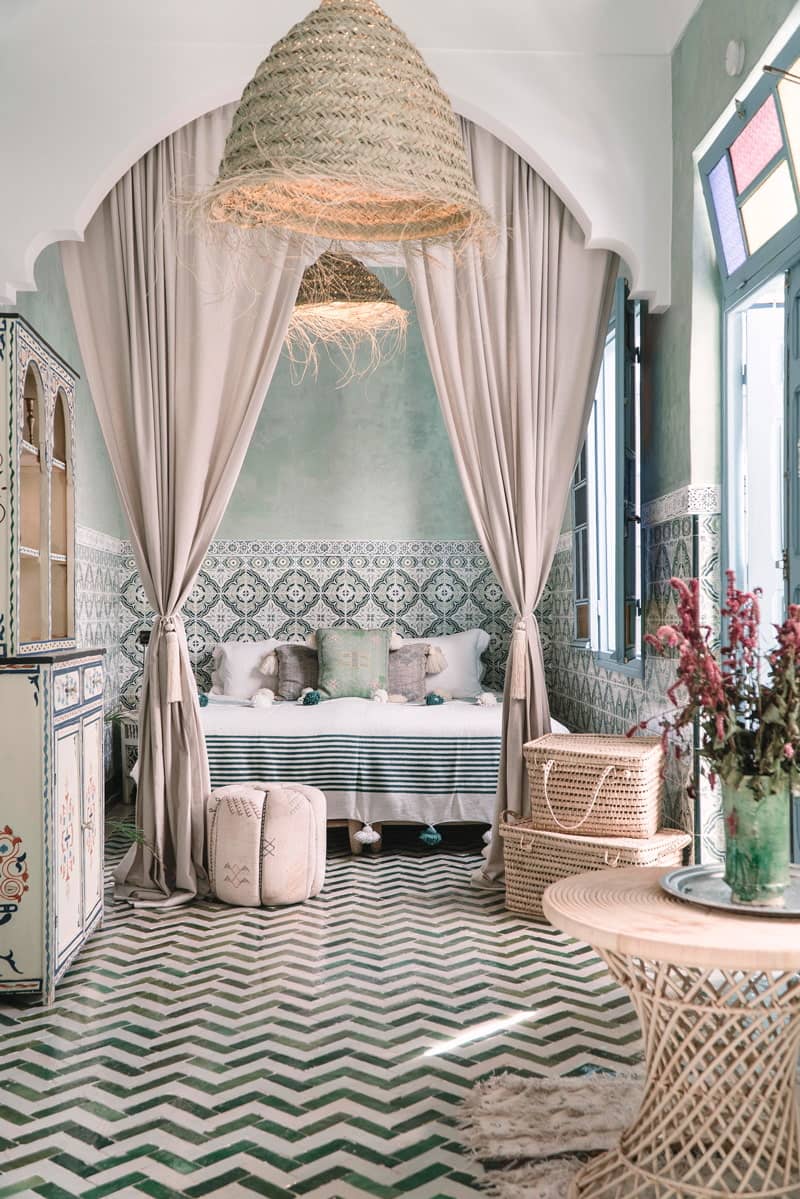 There's a chance that the white-teal-turquoise tiles, square pool, and ornate doors of BE's courtyard oasis may look familiar. That's because it's Instagram-famous! Influencers and photographers come from all over to snap shots of this vibrant, tiled paradise, making BE one of the most Instagrammable riads in Marrakech. But the rest of the hotel is similarly breathtaking, with colorful walls and carvings and dynamic local handicrafts.
Riad Kasbah
Whereas traditional riads are distinguished by their white walls and splashy tiles, Riad Kasbah's use of white walls contrasted against dark wooden doors and frames, as well as half-painted walls of white and brown, feels more European in style while still paying homage to its home city with antique photos and artifacts. The central courtyard is also larger than in most other riads, with a fair-sized pool and a second-floor rimmed by intricate, Spanish-esque railings.
Riad Sakkan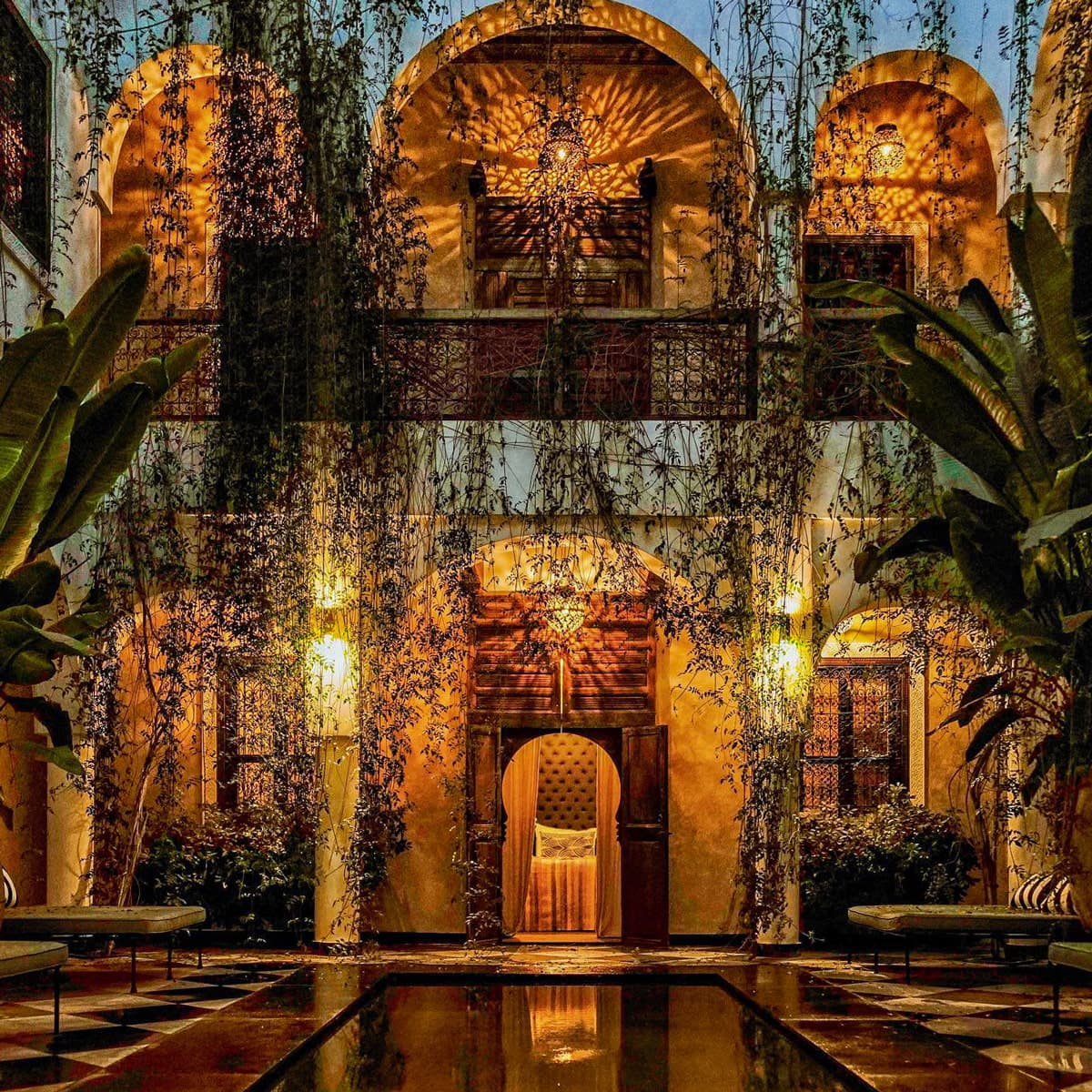 The past and the present collide in spectacular, dynamic fashion at the sumptuous Riad Sakkan, located in the medina's Mouassine district. Comprised of two separate riads that are connected by the gallery balconies on the upper floors, the buildings date from the early 17th and 19th centuries, giving the riad a sense of history and tradition. But enter the rooms and you're thrust into an explosion of modern design.
Each of the 12 rooms boasts a different style; a "choose your own design adventure" if you will. Options range from a moody, low-lit hideaway to light, airy neutral-toned rooms with gold and brass accents. Luxury pervades and elevates every aspect of the design, like gold, freestanding bathtubs that serve as statement pieces. Although each room focuses on modern design, the traditional design of the riad is not forgotten. The two courtyards feature colorful tile patterns, artwork, and lush greenery centered around pools or water features.
Riad Kheirredine
One of the city's most luxurious stays, Riad Kheirredine's distinct Moroccan/Italian style combination really stands out. Its courtyard garden feels almost jungle-like, with towering plants and a drizzling fountain. The lounges and rooms are richly adorned with plush pillows and fabrics, and each room (all of which are uniquely decorated) features vintage furniture and decor like carved canopy beds. A rooftop terrace with a beautiful brick and wood pergola completes the picture.
Riad 42
Part of the design-forward Perfect Hideaway collection, this reimagined contemporary outfit combines the classic riad set-up with a minimalist aesthetic of unadorned walls, neutral colors, and woven artisan furnishings. Quiet and mediative, the lofty spaces feel set back to the world, but the heart of Marrakech's bustling medina is right outside the door.
With three double beds and two suites, a traditional Hamman, and full on-site staff, it starts at $110 a night for the rooms; you can also rent the whole shebang from $630 a night.
Le Farnatchi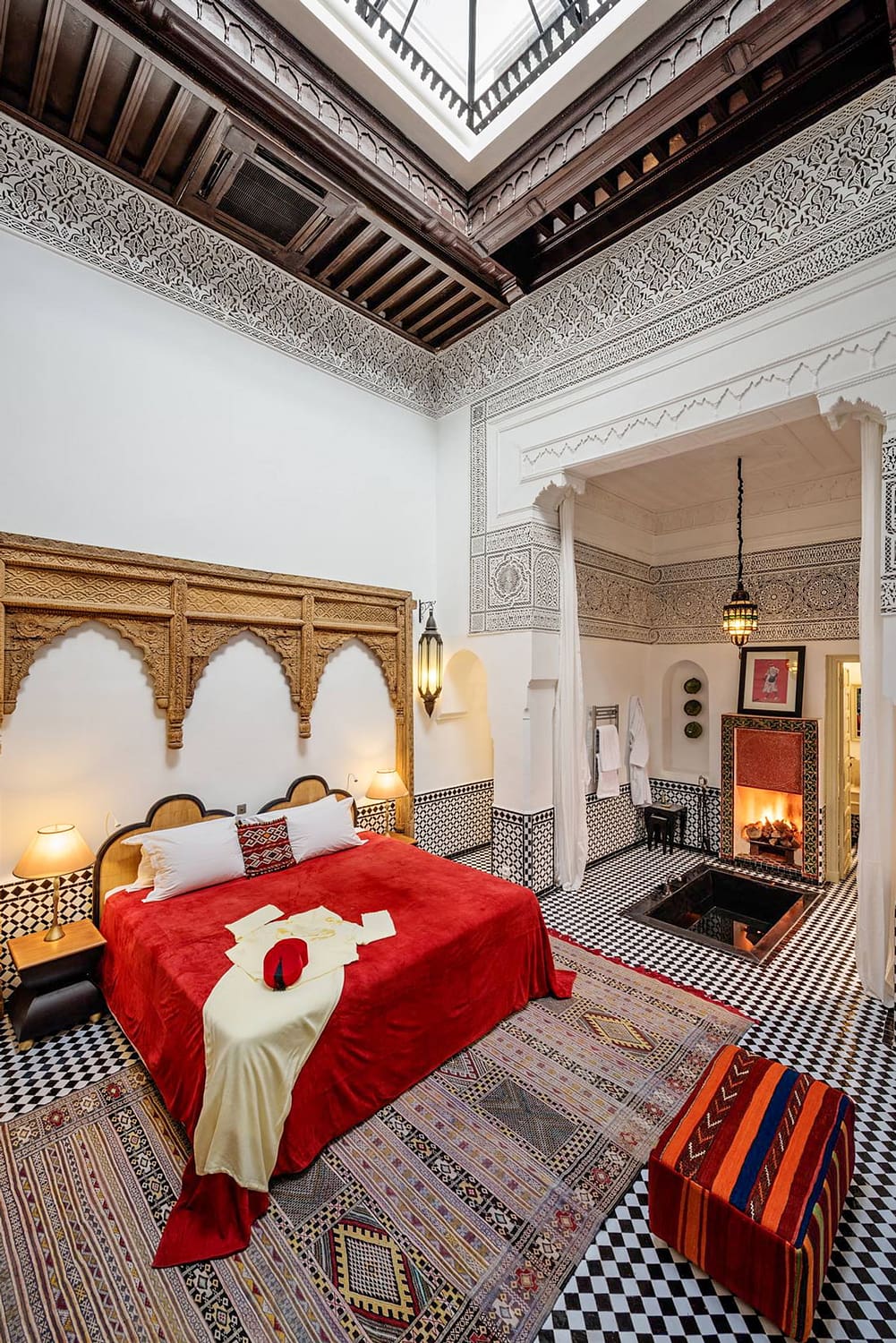 Refined is the first word that comes to mind to describe the stately, elegant Riad La Farnatchi. Although it takes after traditional riads with its central courtyard layout and Morrocan design and motifs, its spartan furnishings represent a singular, honed vision.
Rather than cluttering the space, the eye focuses on the elaborate, intricate carvings and tiles, creating a visually quiet but beautiful place in which to relax and recharge. The space feels at once historic and contemporary, but is all-around luxurious. The ten suites feature locally-made furniture and decor, such as handmade beds, and the riad's spa is famed for being one of the best in Marrakesh.
Riad Joya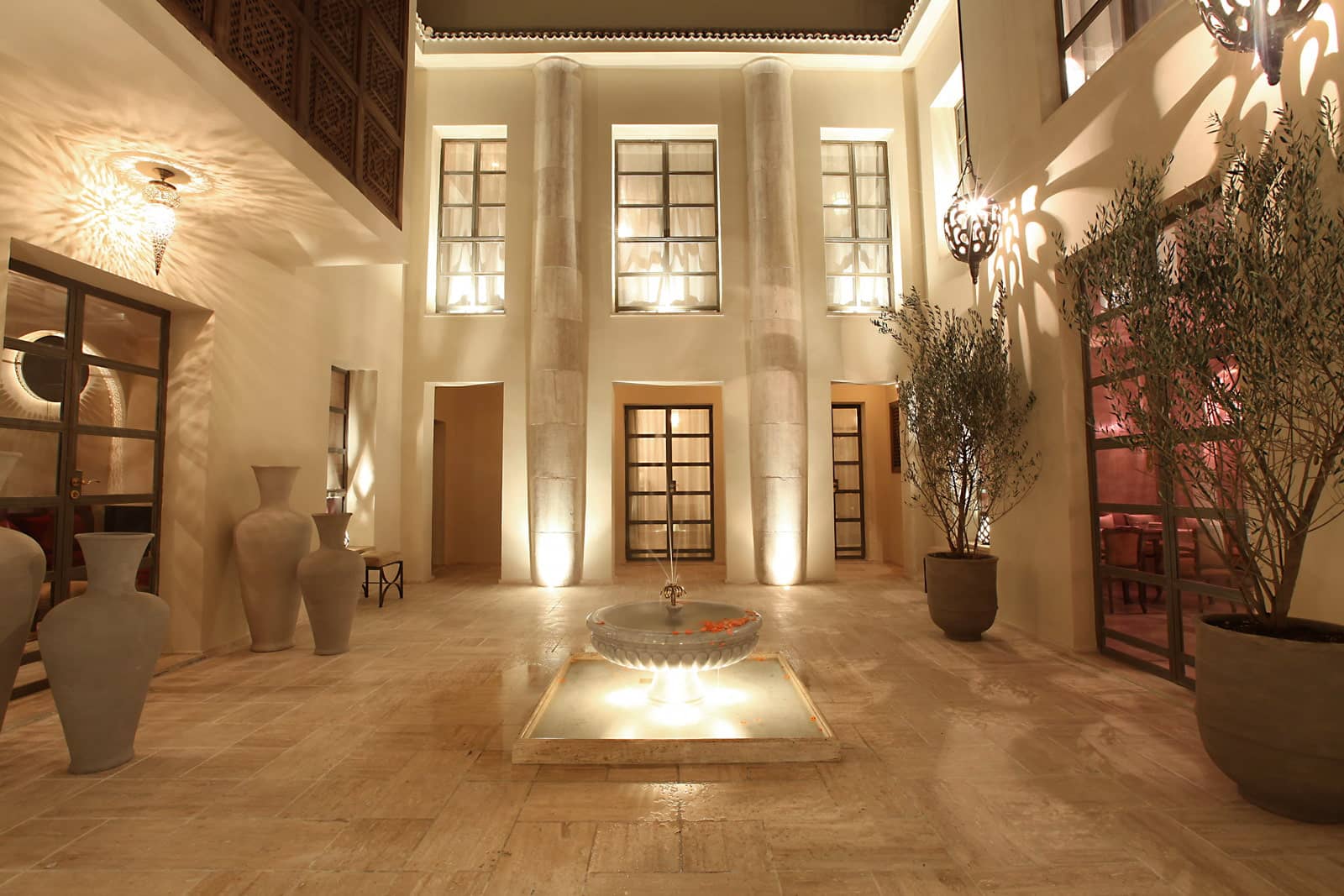 Located in the medina, the elegant seven-suite Riad Joya caters to travelers who enjoy the finer things in life, with opulent decor and furnishings, top-notch amenities, and five-star local dining. Each suite features its own unique aesthetic, commemorating the multicultural history of the city and country through themes like Colonial Style or Moroccan Essence. The riad also features a rooftop terrace, restaurant, and Hamman.
Riad Due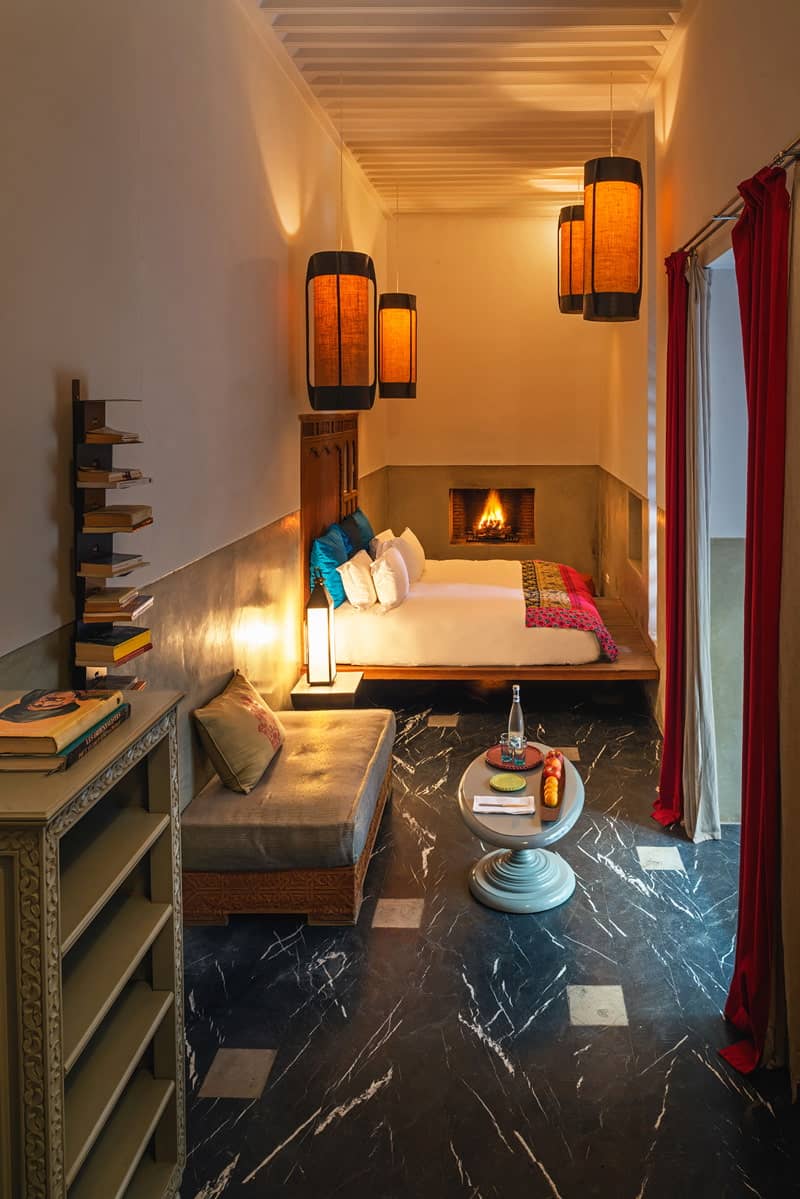 Chic and modern, Riad Due is a breath of fresh air. The courtyard, which features a blue-tiled plunge pool, is full of lush plant life, complemented by funky furniture in shades of blue, turquoise, and green. The four rooms burst with color and whimsical design touches that make each a unique visual experience; amenities also vary, from in-room fireplaces to private Hammans. And if you're eager to learn more about local design and architecture, DUE also has an extensive library on the subject.
Riad Kniza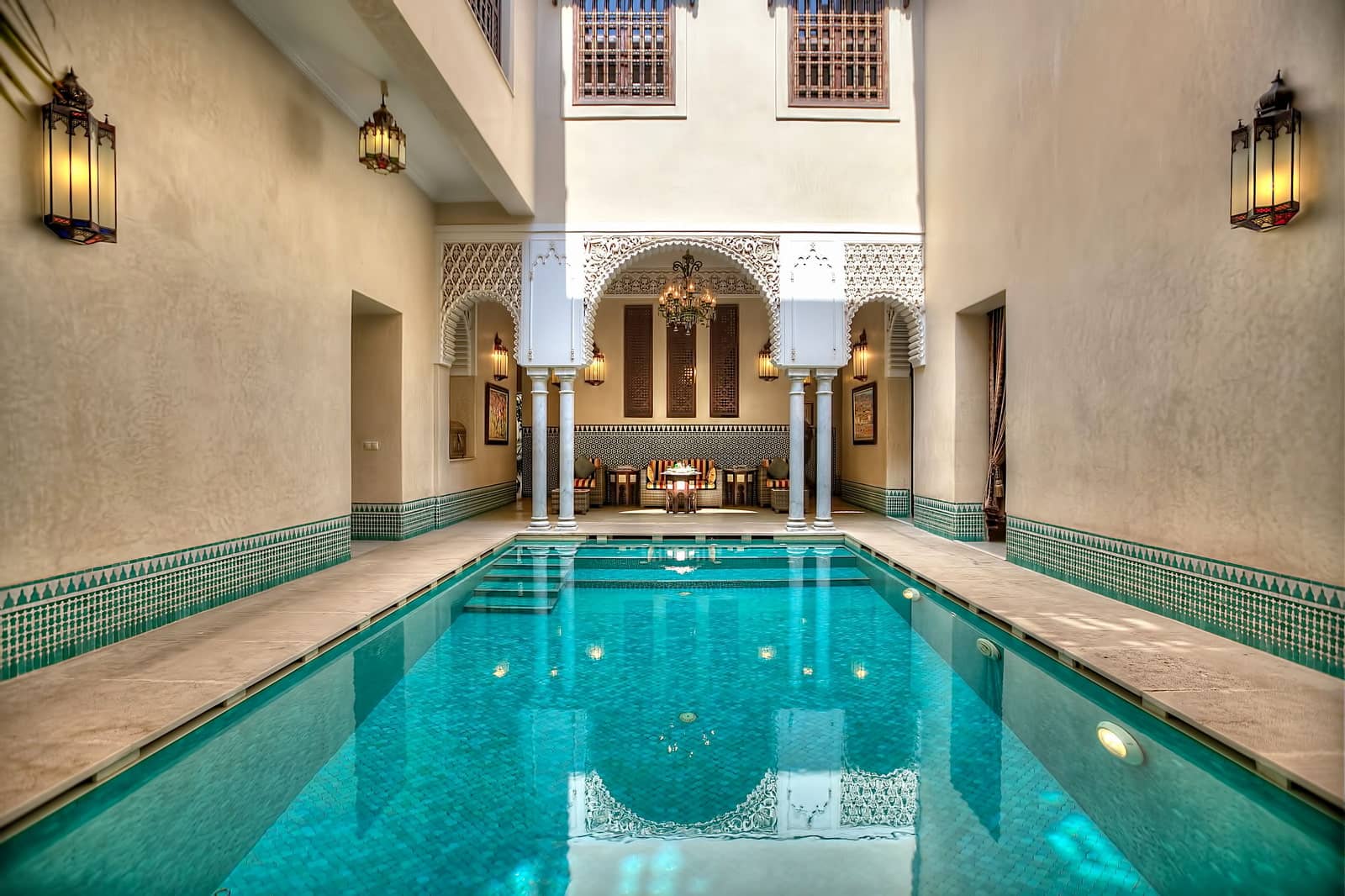 Styled by one of Marrakech's top antique dealers and reimagined in homage to traditional Moorish architecture, Riad Kniza is the ultimate expression of Morrocan heritage and culture. The building dates from the 18th century and, with its light-filled courtyard, zellige tiles, and warm tones, you truly do feel like you've stepped foot into Marrakech's past. Each sumptuous room is decorated with traditional furnishings like wooden screens and ornate rugs, and the restaurant is regarded as one of the best in town.
Riad Star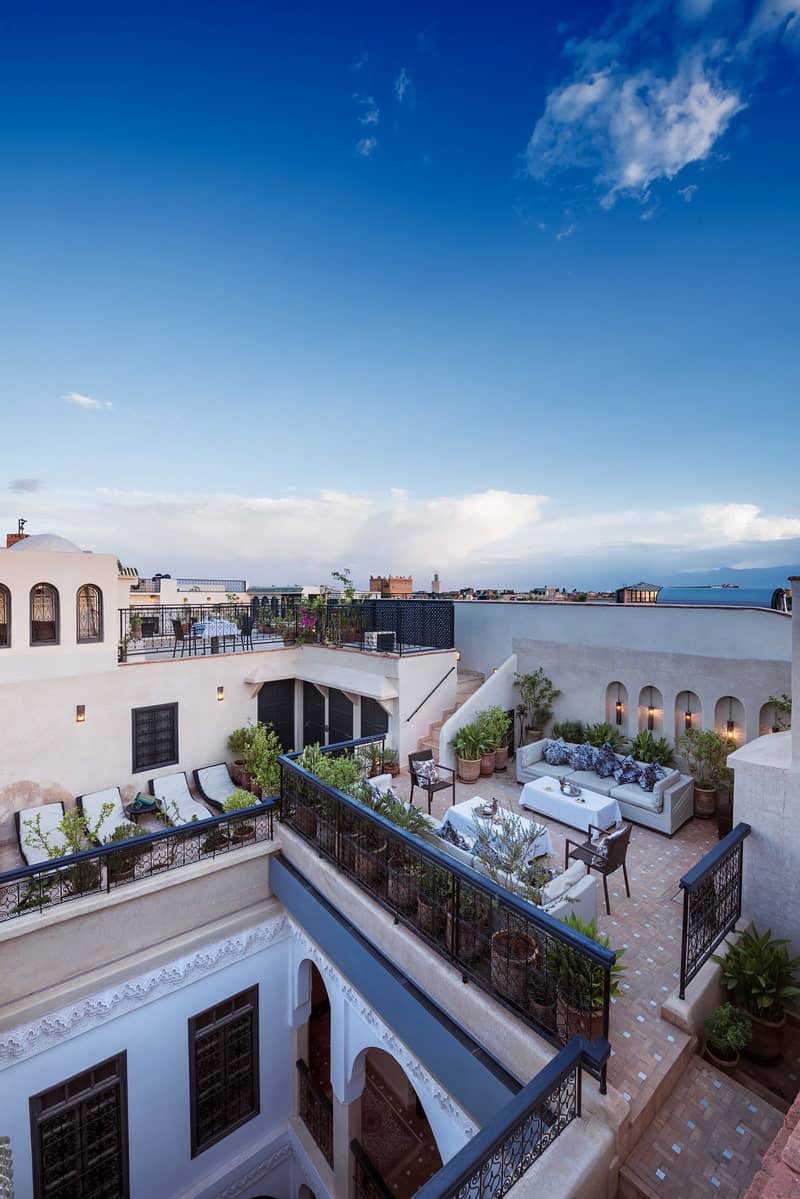 Fusing classic Morrocan design with Jazz Age vibes, the swanky Riad Star was once the home of jazz star Josephine Baker. Each of the 13 rooms pays homage to her life, such as the Chiquita Room, which is named after her pet cheetah, or the Jazz Room with its Art Deco doors of colorful glass. There's also a rooftop terrace, restaurant, pool, patio, and Hamman.
Riad Jardin Secret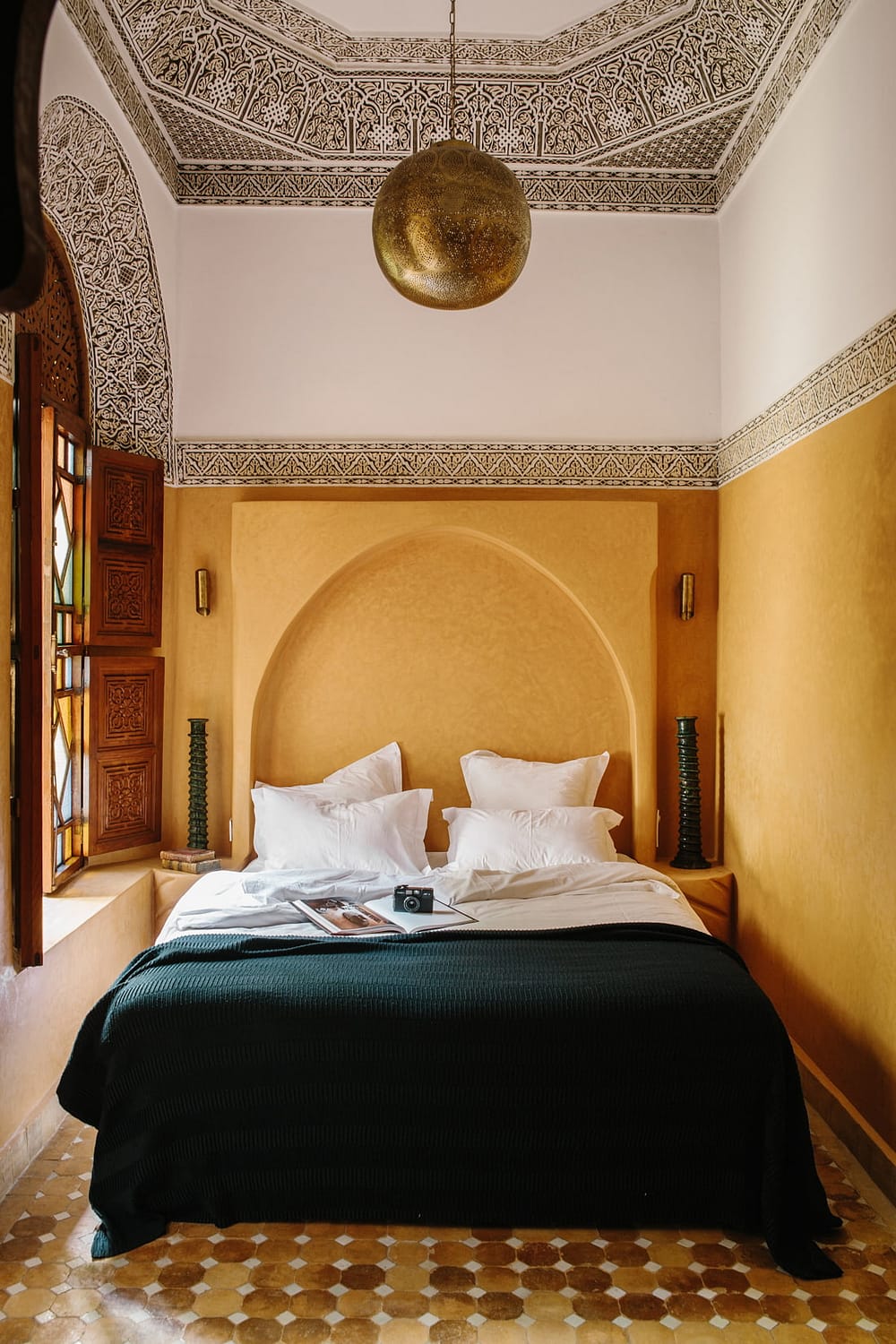 As the name suggests, the lush greenery, dappled sunlight, and hidden nooks and crannies of Riad Jardin Secret truly make this artistic and magical riad feel like a secret garden in the heart of the city. Owned by an artistic couple hailing from Paris, it has the feel of an artist's salon, hosting creative residencies and full of beautiful spaces to inspire artistic expression.
One of the stand-out features is the interior walls, which are covered in dazzling tiles, stuccowork, and ornate railings. Set back from the garden are shaded alcoves full of cushioned seating, where guests can read, chat, or drink tea, and the shaded rooftop feels a world away from the hustle of the streets below.
The seven guestrooms feature furniture and decor sourced from local flea markets, simple designs, and natural, earthy colors. You'll also find no TVs or AC, allowing you to disconnect from the modern world and embrace a slower style of living during your stay.
Riad Idra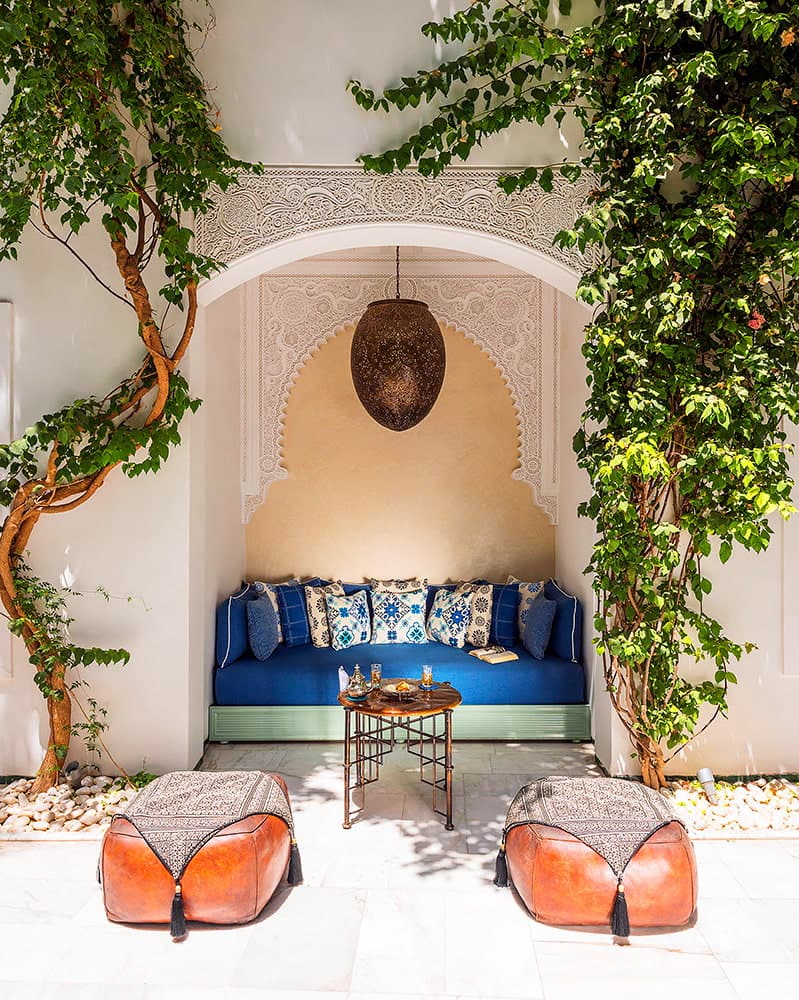 With ornate wall carvings, light-filled spaces, soaring walls, and a courtyard bursting with plants, Riad Idra feels like an oasis away from the world. The seven rooms feature all the high-end amenities that travelers expect without sacrificing elements of local style, like tiles or artisan handicrafts.
The second-level rooms and sunny rooftop terrace can be accessed via a lift, which is a rarity in this city. Guests can also regale themselves of the on-site restaurant, spa, or plant-filled rooftop terrace.
Le Riad Berbere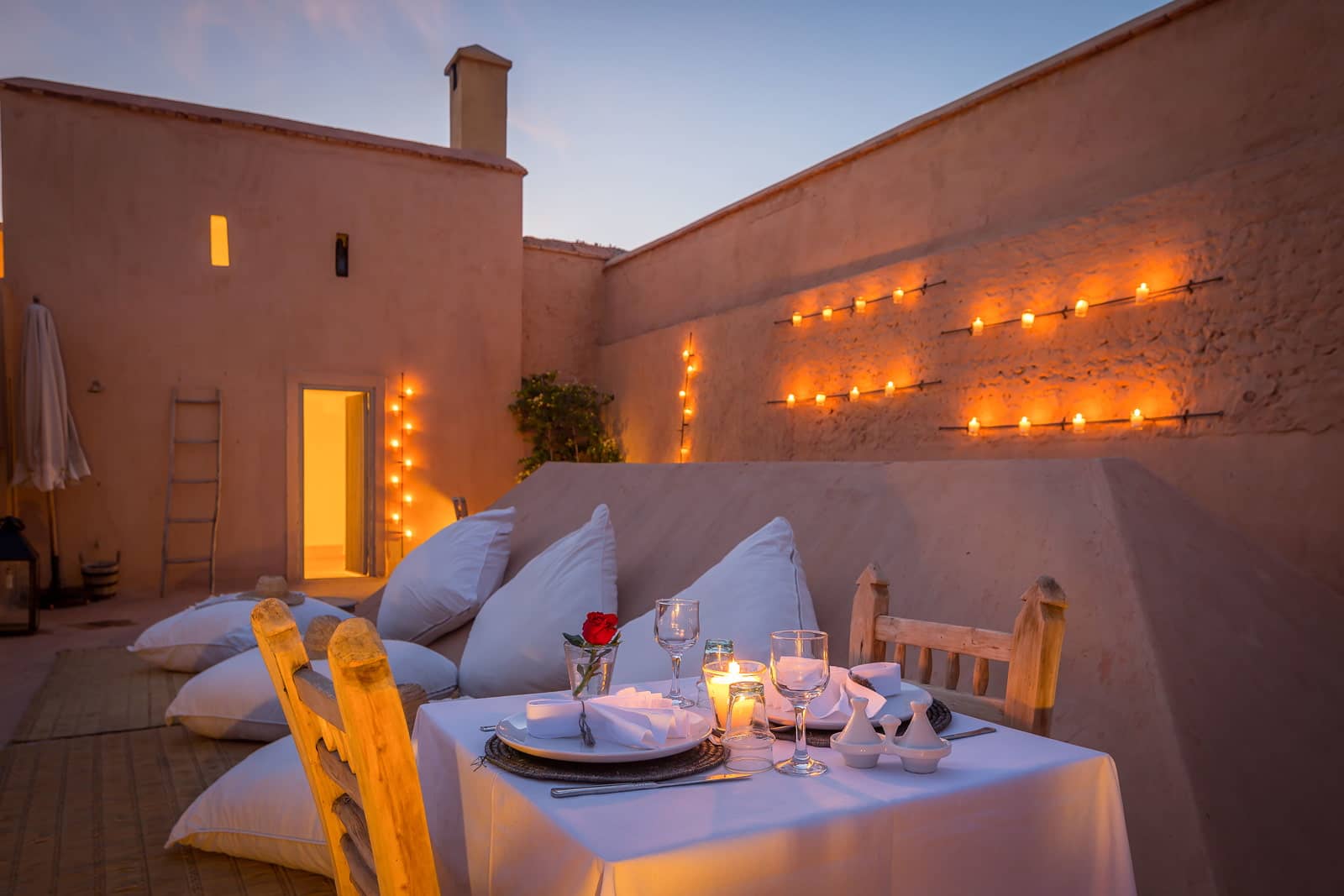 Entering Le Riad Berbere ushers in an instant sense of calm. The courtyard is dominated by lofty palms that shade a mini-oasis of fruit trees and other greenery, with a pool and lounge areas. The five guest rooms are directly accessed from the courtyard, each providing a private escape with uncluttered walls and austere decor.
While the lower levels are dominated by white walls that allow the spaces to be saturated in light, the upper rooftop areas feature warm adobe walls around casual sitting and dining areas.
Dar Darma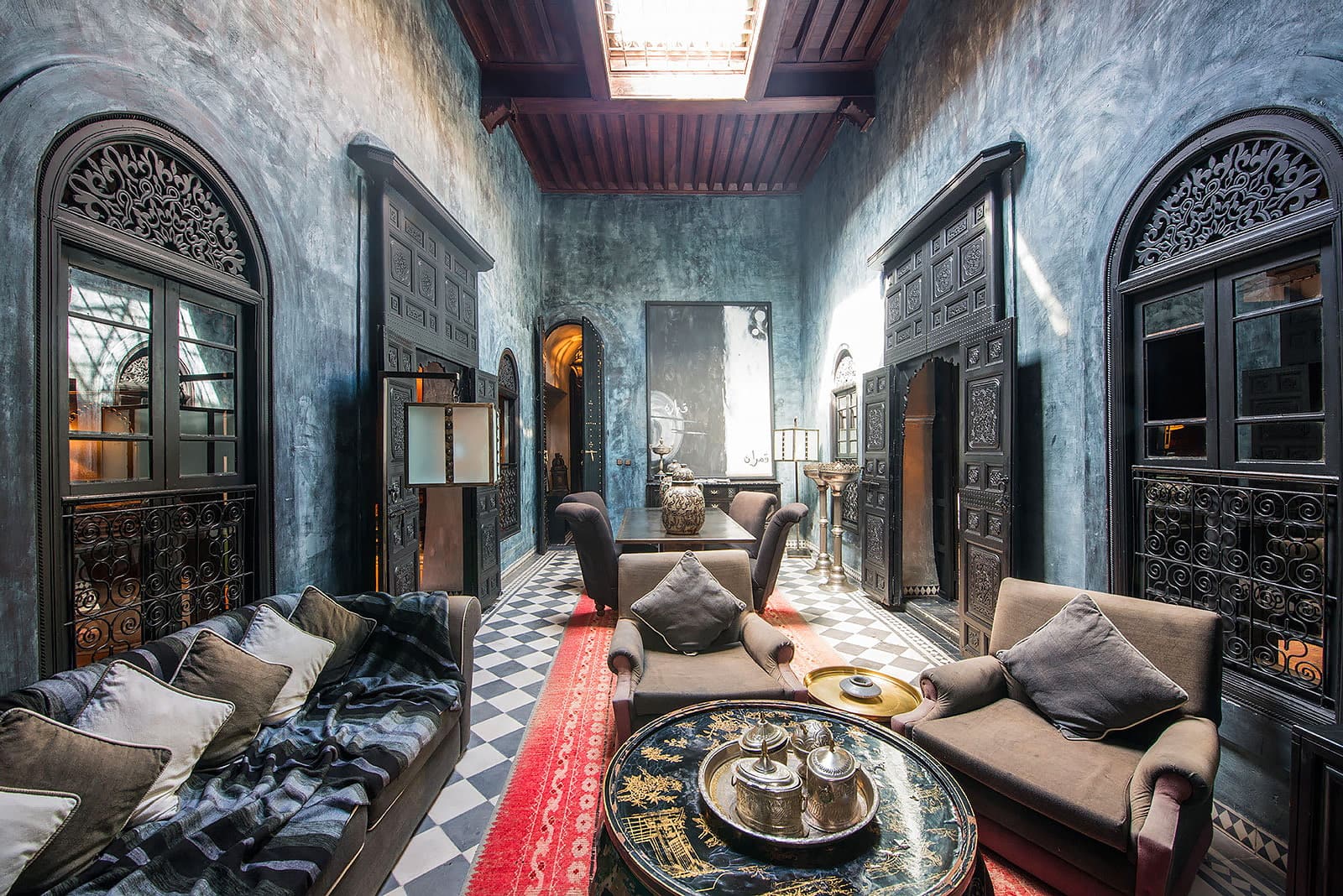 With courtyards of sandy-and-cream-colored walls, subtly-carved columns and windows, and uncluttered decorations, one would get the impression that Dar Darma is another one of those minimalist-focused riads. But not so; explore its inner reaches and you'll discover six lush suites of traditional Morrocan design, each of which is an explosion of rich color and packed with furnishings like antique settees, rugs, vases, and ornate wood screens.
Palais Sebban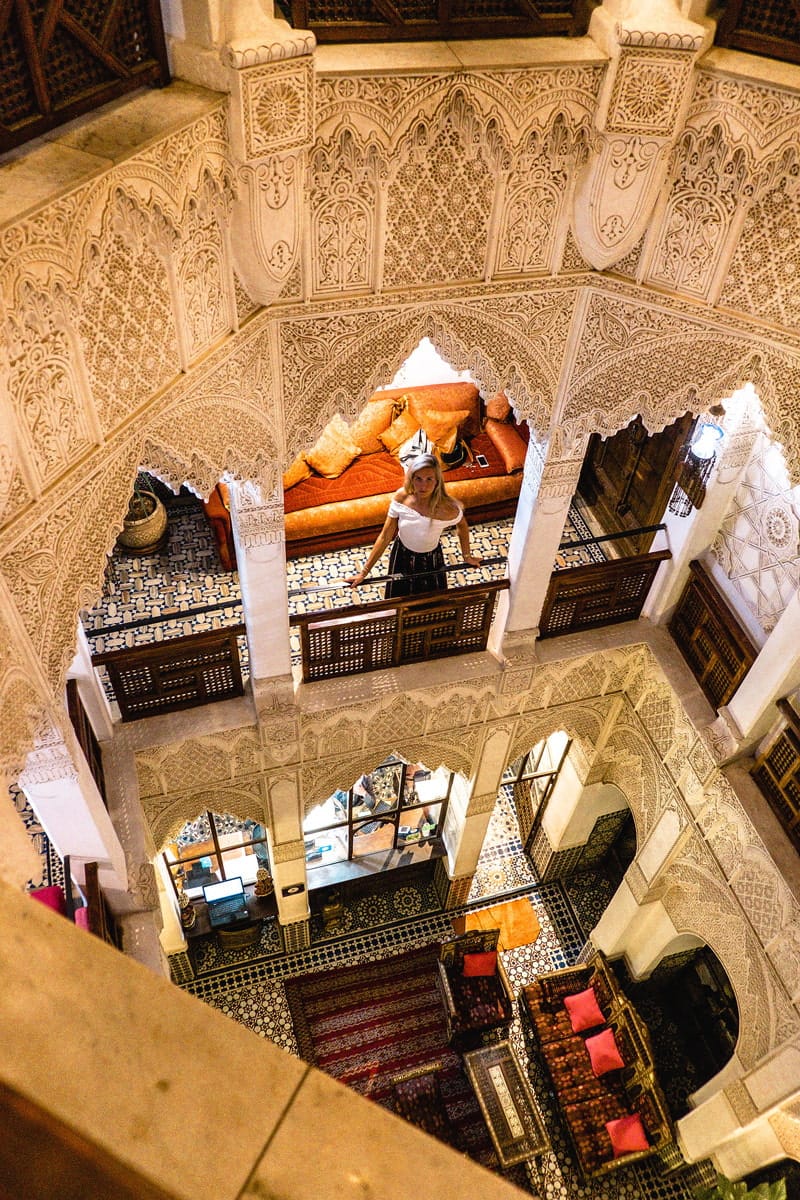 Moroccan architecture is distinguished by the use of vibrant Zellige tiles and intricate wall carvings, but Palais Sebban takes this to a whole new level. The courtyard and lounge areas are a profusion of colorful, eye-catching tilework, and the walls of the building (especially around the courtyard) feature museum-worthy chiseled wall carvings. All the rooms and common areas feature similarly bold design choices, and the riad also includes a restaurant and spa.
Dar Assiya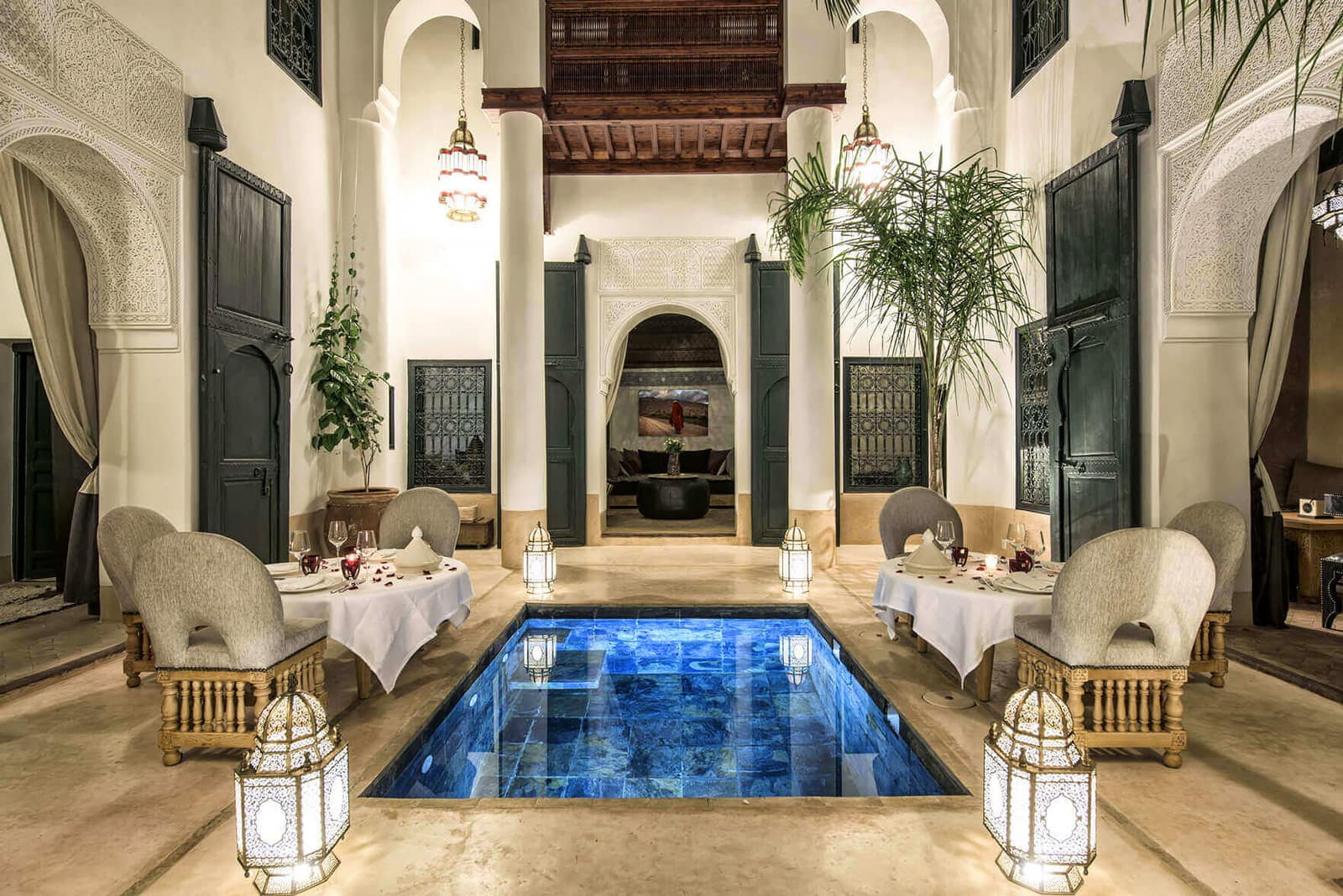 Located in the medina, the stately Dar Assiya dates from the 15th century, when the building served as a residence for nobility. That air of class and sophistication is still evident throughout the riad, with its lofty, enclosed courtyards featuring doors and ceilings of dark wood, and beautifully-tiled rooms and lounge areas that feature dazzling Morrocan lamps, throws, and other handicrafts.
Riad Yasmine
It's entirely possible that Riad Yasmine, an eight-bedroom boutique hotel, has also come across your Instagram feed at some point: it's another one of Marrakech's most Instagrammable stays. The courtyard, which features a square turquoise pool, is fringed by emerald and white tiles and lush greenery, creating a chic, jewel-toned collage that is peak Instagram. The rest of the riad is just as enticing, with woven lamps, earth-toned walls, and beautifully carved arches.
Riad Art de Vivre
This family-style riad is rented as a whole outfit, so you can have the cream-and-ochre walls, glowing courtyard with lounge and eating nooks, cute Italian-esque kitchen, and sunny rooftop terrace all to yourself (and your family). Recently renovated, the remodel keeps the traditional Morrocan design elements but mixes things up with a rooftop hot tub, colorful walls, and more contemporary decor.
Dar Kawa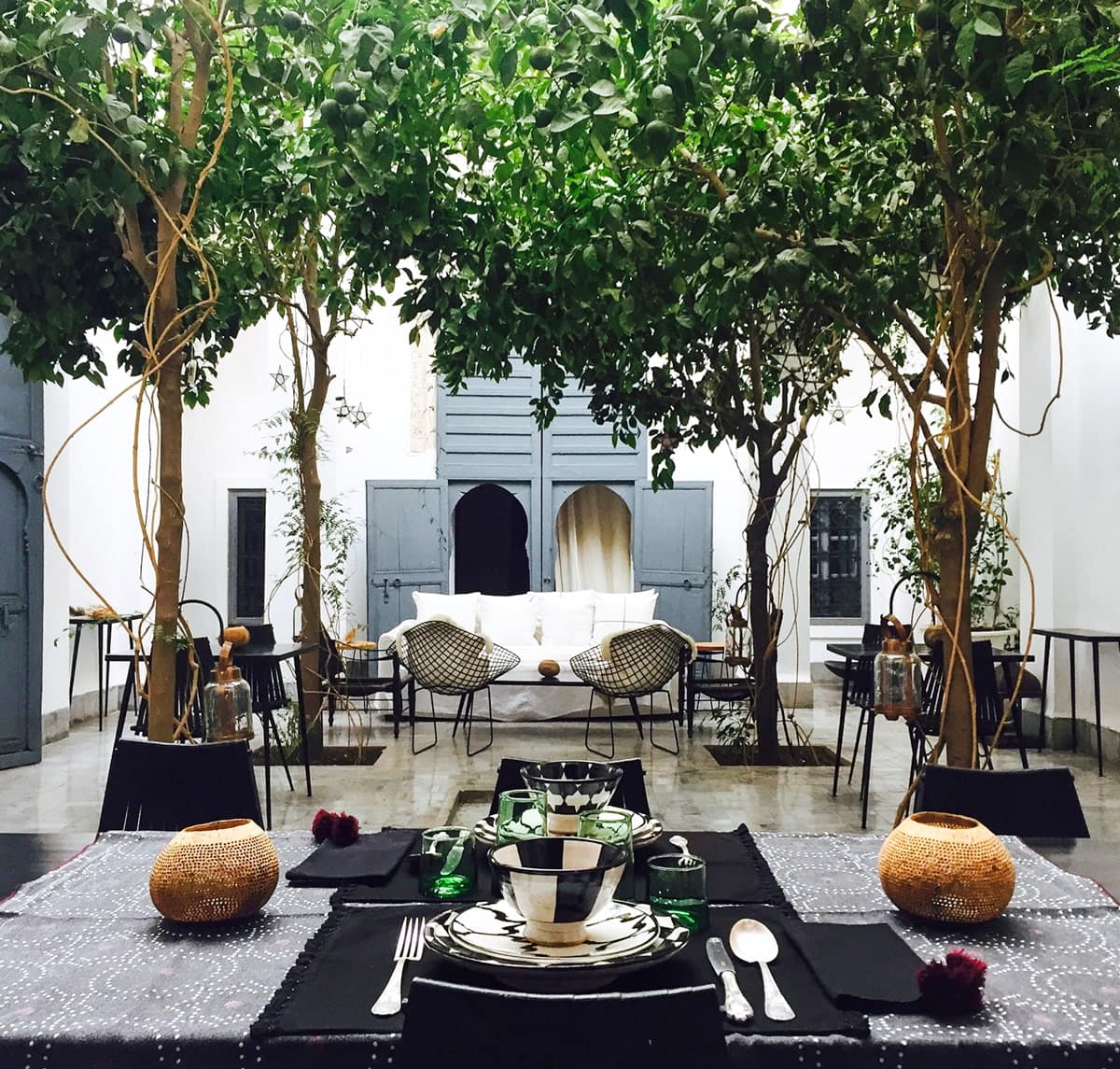 If you're looking for a more off-the-beaten-path riad and neighborhood to stay in, Dar Kawa is just the ticket. Located in the Kâat Benahid district, this historic home was lovingly restored to its former glory by owner Valérie Barkowski, a famed Belgian textile designer and artist. Striping away all the additions and changes former owners had made to the 17th-century riad, Barkowski was able to apply her own vision to the space, going for a chic, subtle look with dark, wooden bedposts, tables, and frames contrasting against the stark white walls and a monochromatic color scheme.
The courtyard is especially striking, with blue-grey tiles and doors set against the bone-white architecture of the building. Both the common spaces and four guest rooms feature Barkowski's signature textiles and bed linens, whose clean lines and muted colors complement the overall decor.