This post contains affiliate links, which means we may receive a small commission, at no additional cost to you, if you make a purchase through these links. See our full disclosure here.
The historic city of Porto owes its name and reputation to port wine, grown and aged in the nearby Douro Valley and shipped out of its bustling port. The world's love and demand for this sweet red wine turned Porto into a vibrant hub of multiculturalism, fostering art, gastronomy, music, and especially architecture and design.
With Roman, Moorish, French, and Baroque Italian influences, the architecture of Porto has earned the historic city center a UNESCO World Heritage Site Designation, and nowadays it's also a rising star in the world of contemporary architecture, featuring many buildings designed by the legendary Álvaro Siza.
Here are the ten best places to stay in Porto for design lovers.
Torel AvantGarde Hotel
Whereas most hotels stick to a common aesthetic, the Torel Avantgarde wants each room you walk into to be a whole new experience.
Each of the hotel's 47 rooms is designed in dedication to a particular person who, in their time, was considered avant-garde: Coco Chanel, Frida Kahlo, or Charlie Chaplin. The results range from splashy, bold modern a la Warhol to opulent European decadence a la Mozart. And that extends to the common areas as well, like in the Flower Room, where fake flowers bloom and dangle in profusion.
For lovers of history and design, a stay here is a must.
Casa do Conto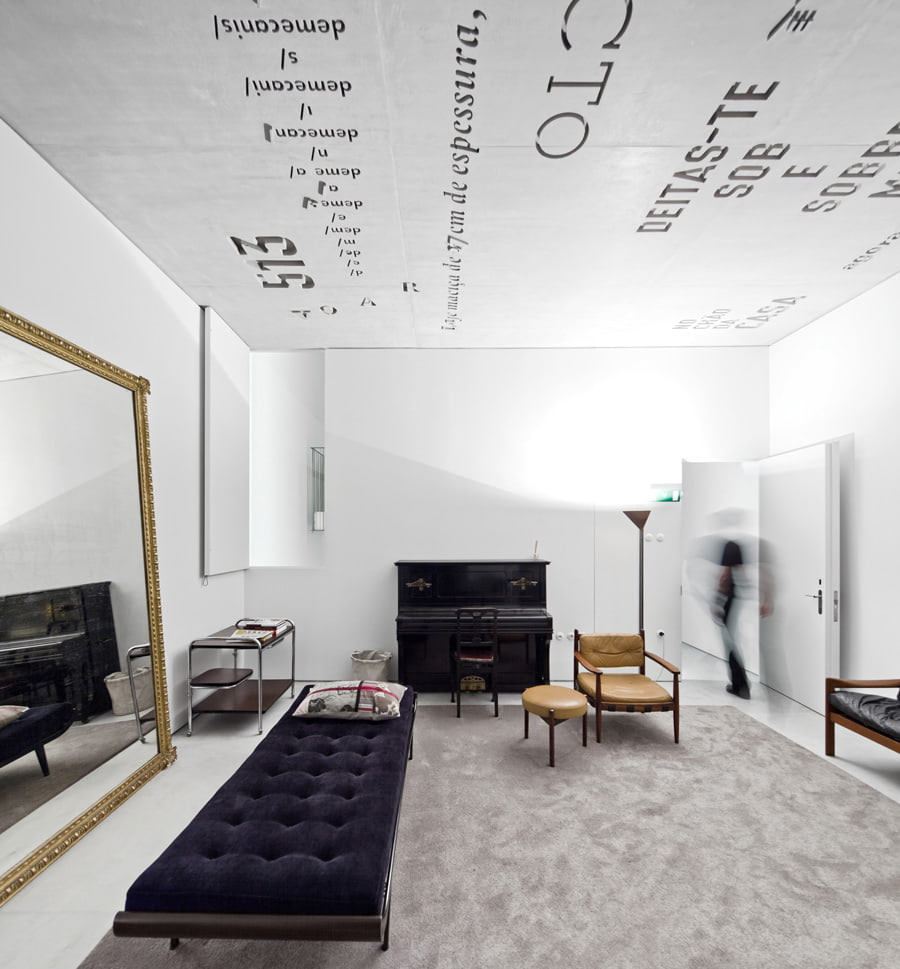 The history of this hotel and the city of Porto comes alive in the "House of Tales" boutique hotel, where "stories" that narrate the evolution of this restored 17th-century building are set in relief on the ceilings of the hotel's six rooms.
Squeezed between its neighbors, Casa do Conto's five floors are connected via a central staircase with an oval skylight at the top. The overall vibe is vaguely utopian in its use of grey granite and concrete, rigid lines, and grayscale colors, but the introduction of light, the large square rooms, and carefully curated decor touches like Baxton Studio Pascal Chairs and giant gilded mirrors infuse a sense of warmth.
The Yeatman Hotel
Since Porto is renowned for its port wine, wine villas and hotels have long been a staple of the region. But this one rises far above the rest.
Named after an immigrant local family, the Yeatman has a grand chateau-esque exterior of tiered white buildings and red brick roofs, and a crisp, ultra-modern interior. The wine theme is present everywhere, from wine barrel beds in the Presidential and Master suites to a decanter-shaped infinity pool. The rooms themselves are neat and stylish, with varied design elements like brightly colored walls, marble bathrooms, and Portuguese tiles. Overall, the Yeatman oozes class and is the perfect luxury escape for the wine-and-design lover.
Converted School Apartment Building Rental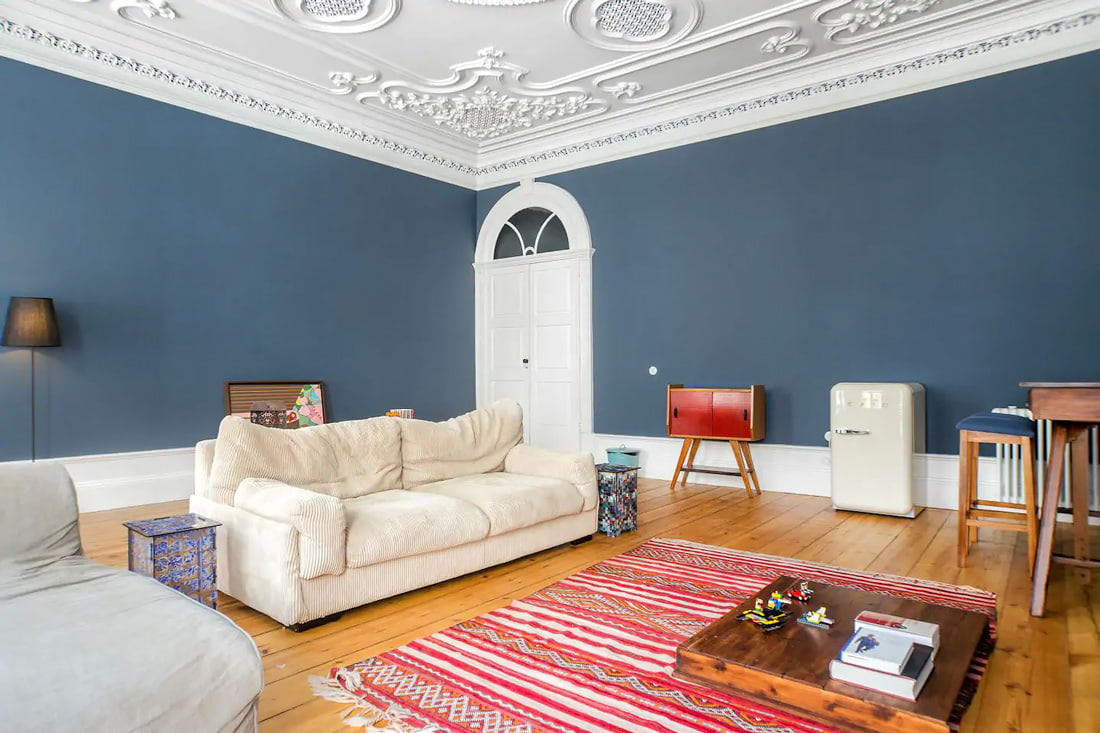 This refurbished 1900s school building in central Porto has inadvertently become one of the city's most fashionable short-term rentals thanks to its cool color palette, wide open rooms, and simple decor.
It's hard to decide what first draws the eye when entering one of the apartment's eight open, airy rooms: the singular color walls, the white ceiling with accents and moldings, or the warm wooden floors. After Instagramming the tasteful interiors, turn to the grey concrete terraces with their city views and the rectangular backyard complete with swimming pool.
Vincci Porto
This 95-room hotel occupies prime riverfront property, and there's a reason for that: the hotel is located in the old Fish Market, which was renovated by the Vincci Hotel Group and turned into a stunning boutique hotel.
A soaring atrium that houses check-in and sitting areas harkens back to the vaulted auction floor design of the original market, with tall windows, marble accents, and Art Deco-esque lighting and furniture. The rooms themselves emulate a more modern feel, with geometric prints, solid block colors, and wood flooring.
PortoBay Teatro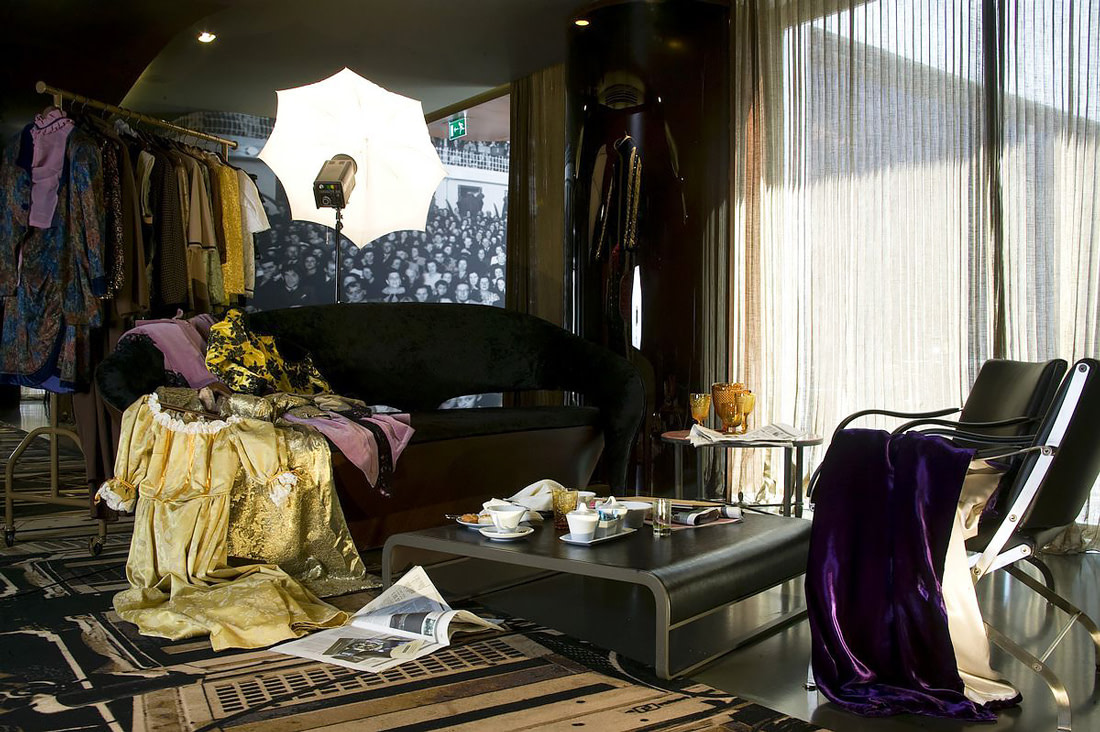 Built on the site of the historic Baquet Theater, this hotel pays homage to its namesake through its lush and dramatic design and decor.
Upon entering, guests at PortoBay Teatro are instantly transported into the world of the theater by check-in counters resembling old-fashioned box offices. Leather furniture, plush velvet, dark wood paneling, mood lighting, and a color scheme of brass, gold, and bronze in the rooms and common areas complete the feel of an old-timey theater at lights down.
Porto Vintage Guest House
For design enthusiasts who believe less is more, Porto Vintage Guest House is an ode to the simple and refined.
The rooms are done up in subdued colors like seafoam green or pebble grey walls that create a soothing atmosphere. White ceilings with crown molding, white-shuttered windows that let in plenty of sunshine, wood floors, and charming decor complete the look. The kind of peaceful place where hours pass doing nothing at all and yet everything.
Malmerendas Boutique Lodging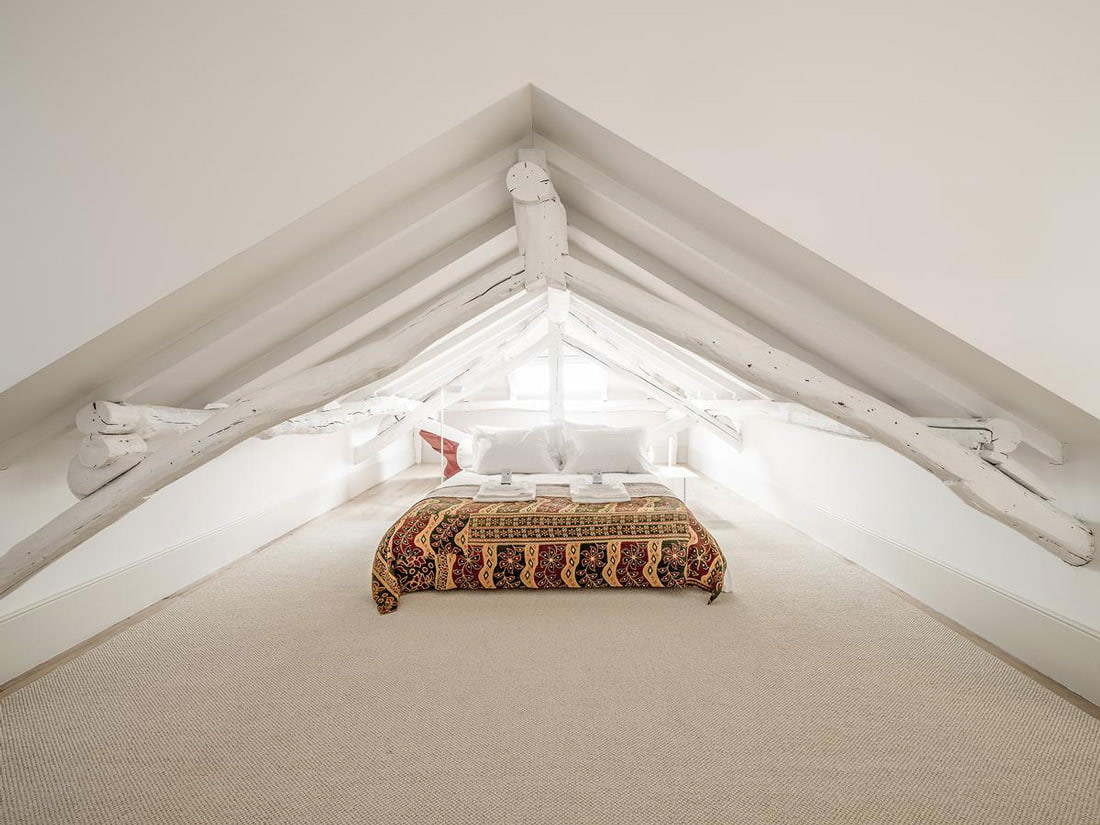 Even from the street, one can see that Malmerendas Boutique Lodging is a special place, with its facade of Portuguese tiles and central wrought iron balcony. Step inside, and it's equal parts upscale hotel and stately European country residence.
This 19th-century building was renovated in 2005, retaining the structure's roots of rock walls and wood beams that can be seen in the downstairs areas and backyard. Molded ceiling patterns mimic the patterns of traditional artisan tiles in the rooms, which exude a more modern aesthetic with fashionable furnishings. Earthy and light-filled, it's like a breath of fresh air.
Hidden Treasure Douro Apartment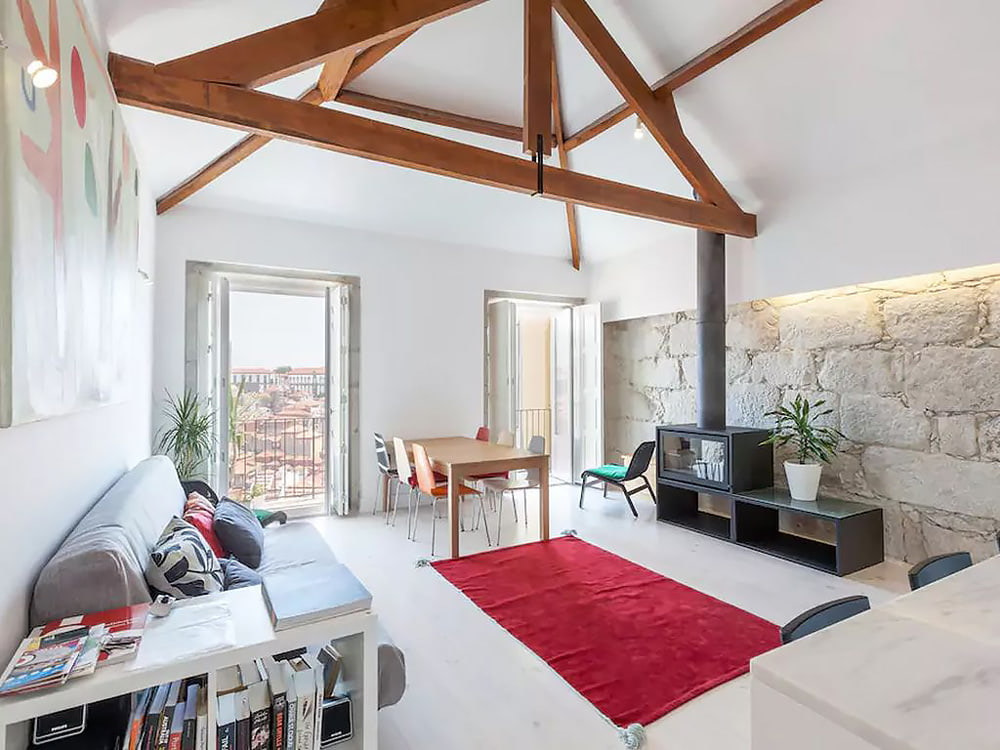 This charming short-term rental feels so artsy and comfortable that you'll never want to leave.
In the heart of the city, this cleverly designed spot makes excellent use of space. The main living room, with wood floors, a vaulted wood beam ceiling, funky prints, and blocky furniture, is bookended on one end with double doors and a terrace and on the other end with a marble-accented kitchen. A whitewashed rock wall runs along one side of the living room for a touch of history. Loft space provides hidden, recessed bedroom areas.
Gallery Hostel
Don't let the word "hostel" be a deterrent: this incredibly stylish spot, full of splashy art and decor, feels more like an on-trend boutique hotel than an affordable student option.
The various rooms – neatly done with white walls, colorful prints, and dark wood bed frames – are tributes to local artists, writers, city gardens, and famed architects Siza Vieira and Souto Moura. But it's the common areas that really shine at the Gallery Hostel, like the check-in lobby with its flamboyant tiles, see-through ceiling, and wrought-iron railings, or the marble and stone accented lounge area.