New York City and rooftop bars are each great on their own, but when spring comes around and the outdoor season begins, they go together like cocktails and sunsets.
Here's a look at the city's highest, swankiest, and most sought-after penthouse-level oases, all of which pair exquisite drinks with brilliant vistas for a memorable rooftop experience.
230 FIFTH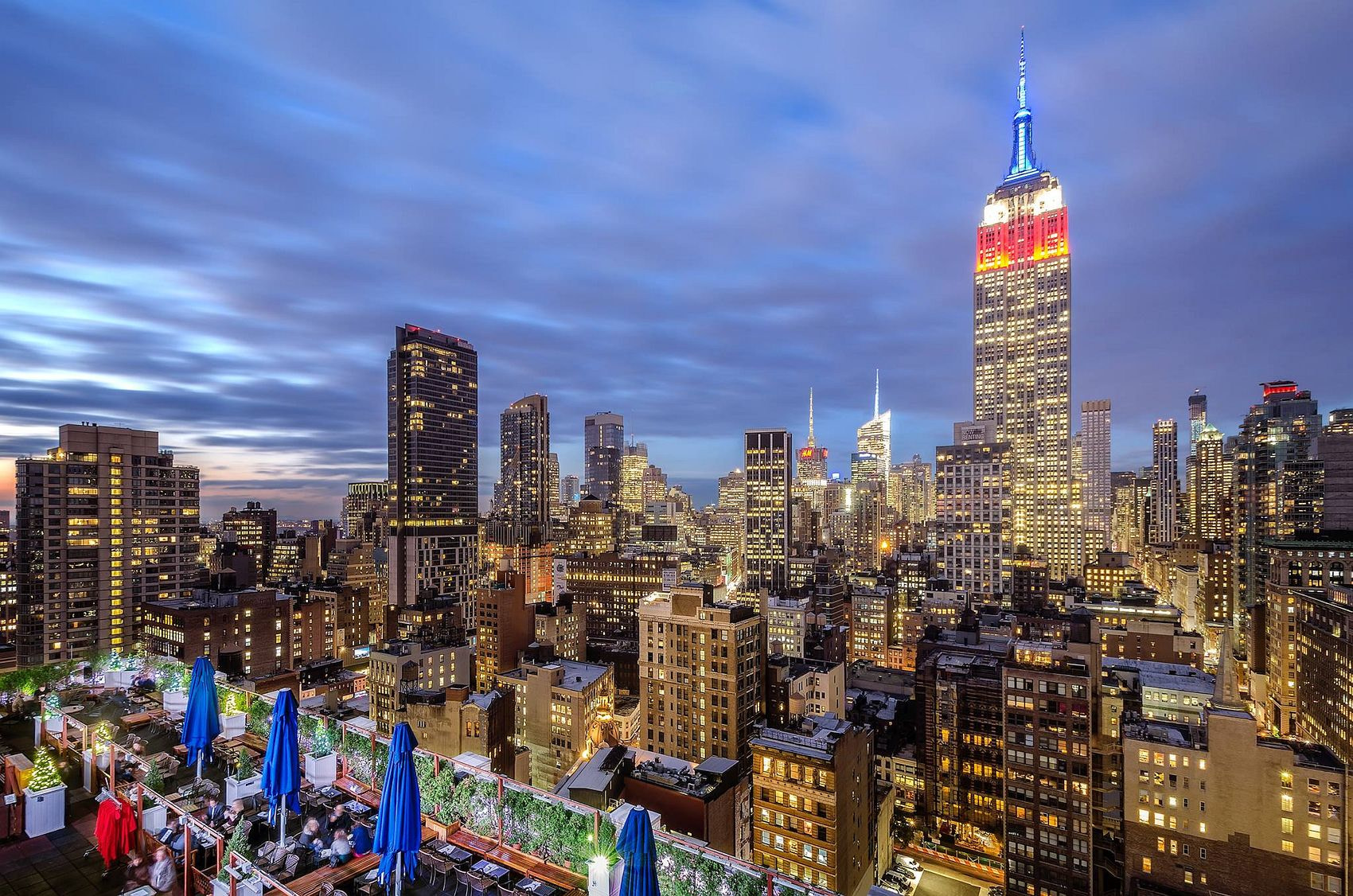 The largest indoor/outdoor rooftop bar in NYC, 230 FIFTH consists of a fully enclosed penthouse lounge and a massive garden open to the sky. The Manhattan venue, which also functions as an event space, offers a neat selection of specialty cocktails along with a delicious brunch buffet (Sundays and Saturdays) and spectacular views of the Empire State and Chrysler Buildings.
On breezy evenings, the outdoor roofdeck is partially heated, while in the winter months, it comes equipped with transparent igloo-like tents for sensational vistas of the city's snowy skyline.
Azul On The Rooftop
Delicious tropical cocktails, outdoor movie nights, and 360-degree views of Lower Manhattan make this West Village gem one of the best rooftop bars in New York City. Nestled above Hotel Hugo, Azul On The Rooftop resembles a Cuban cantina, complete with colorful decor, tasty bocaditos, and a festive Old Havana vibe.
Loopy Doopy Rooftop Bar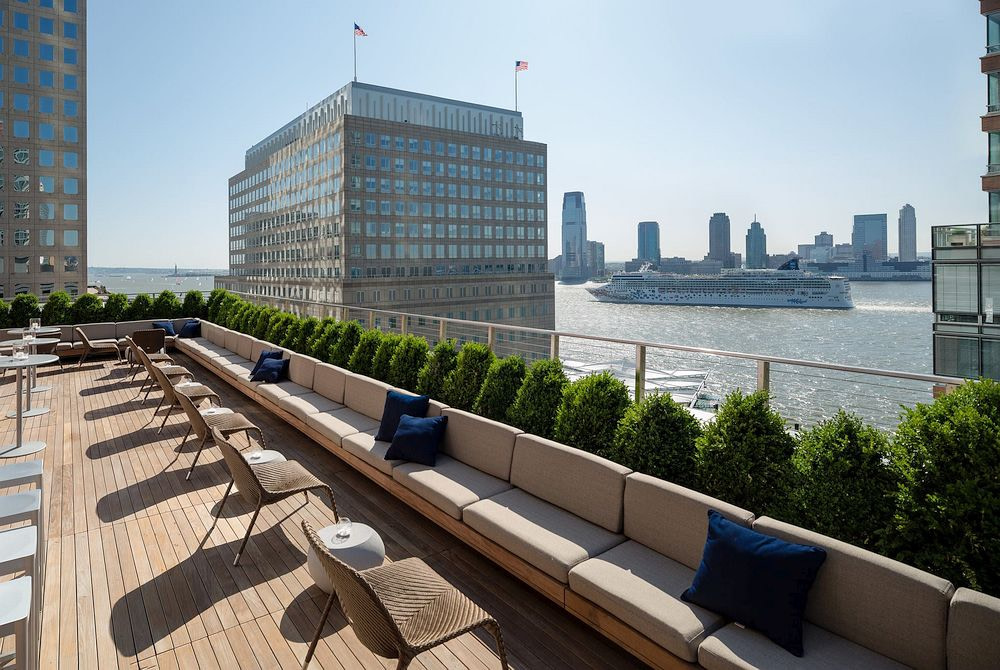 Perched on the 16th floor of Conrad New York, Loopy Doopy offers remarkable Hudson River views that stretch all the way to the Statue of Liberty and New York Harbor. Opened seasonally, the stylish rooftop bar is an ideal place to relax with an innovative cocktail after a hectic day in the city.
Salon de Ning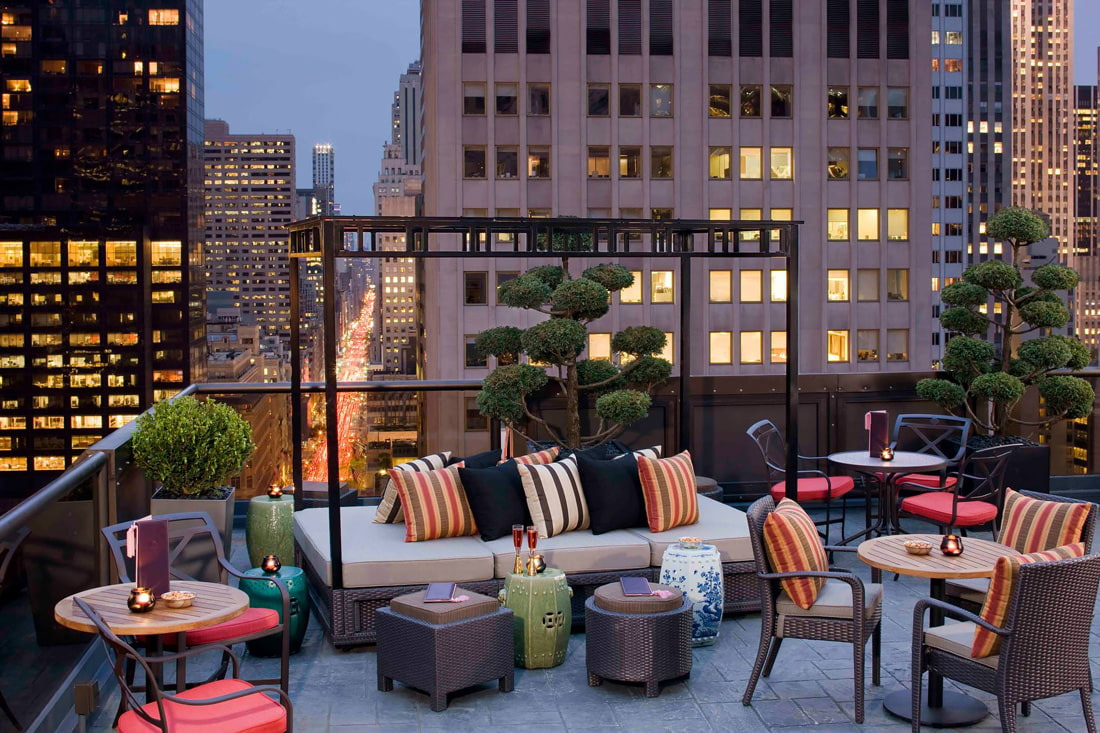 The vista from Salon de Ning, the rooftop bar at the Peninsula Hotel, is among the most expensive in town, but you definitely get what you pay for – world-class cocktails made with premium ingredients, contemporary small plates, a tasteful decor inspired by 1930s Shanghai, and breathtaking panoramic views of Fifth Avenue.
Bookmarks Lounge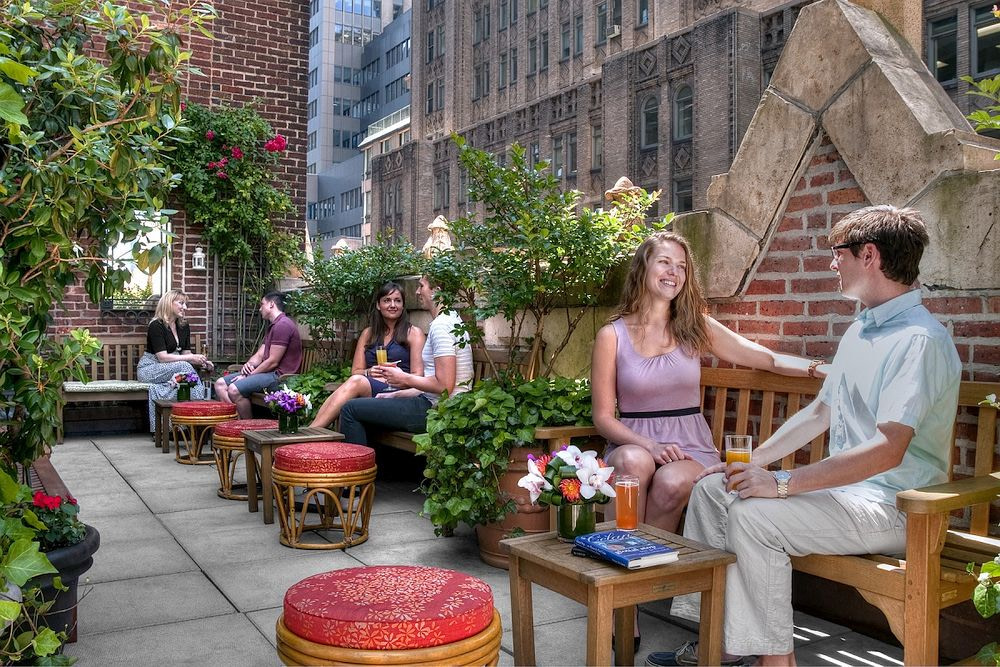 New York is brimming with sensational rooftop bars, but if you're yearning for a more cultured experience up in the sky, consider heading to Bookmarks Lounge.
Located on the 14th floor of the Library Hotel, this intimate garden lounge invites guests to sip on literary-inspired cocktails on a wonderful wraparound terrace whilst surrounded by the high-rise buildings of Midtown East.
Upstairs at the Kimberly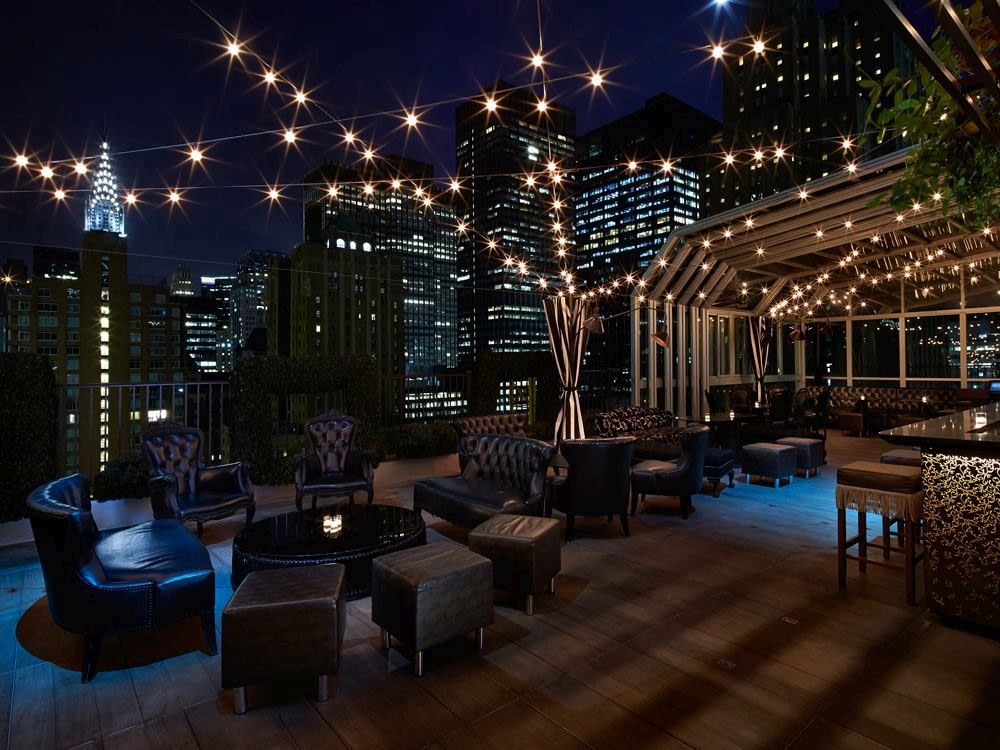 Elevated 30 stories above street level, Upstairs at the Kimberly is a magical setting for evening cocktails and private events. Overlooking Midtown Manhattan and the famed Chrysler Building, the rooftop bar and lounge serves artistically inspired drinks and small bites in a glamorous atmosphere.
Gallow Green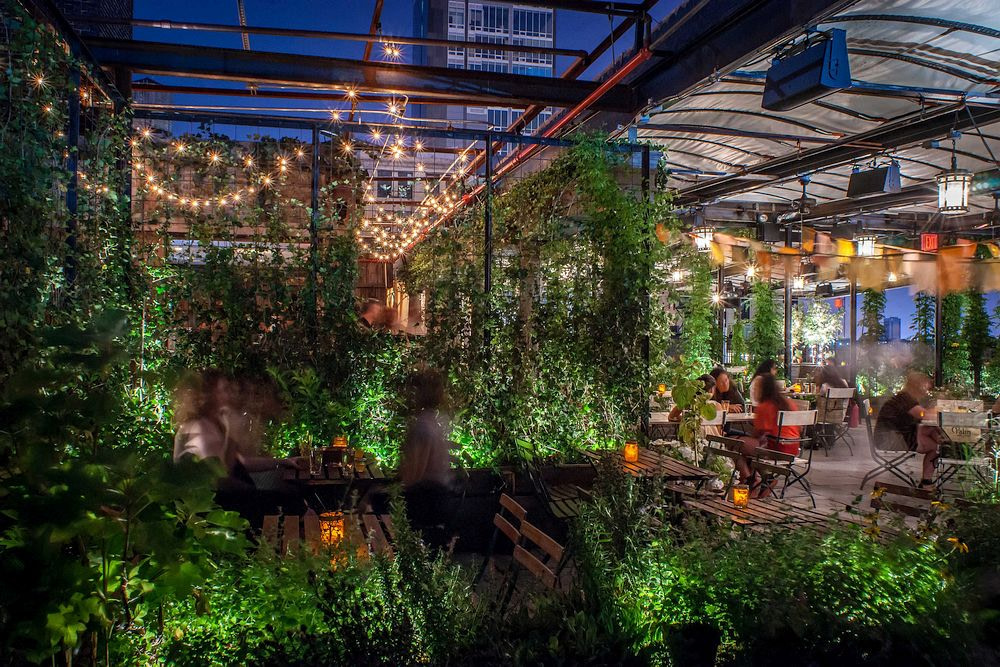 Rustic décor, lush greenery, and twinkling lights make Gallow Green atop the McKittrick Hotel one of the most romantic rooftop venues in NYC. Famous for playing host to the fantastic interactive theatre performance Sleep No More, this Chelsea garden bar has all the right ingredients for a dreamy night out: creative cocktails, heart-warming food, as well as lovely views across the Hudson River and the High Line.
Pod 39 Rooftop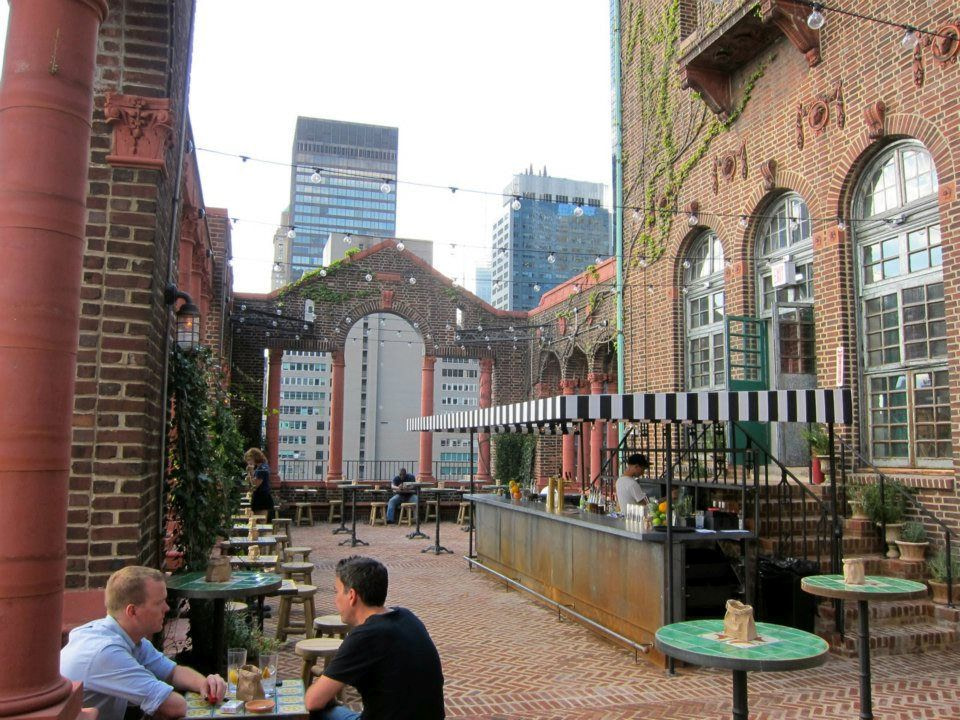 Decorated with terracotta columns and cheerful tile-topped tables, Pod 39 Rooftop is a Mexican-flavored oasis full of charm and character. Aside from the glittering Midtown views, people come here for the atmosphere, gourmet tacos, and wide variety of tequila-infused cocktails by renowned mixologist Sam Anderson.
The Refinery Rooftop
Situated on top of a former hat factory (now housing the Refinery Hotel), the Refinery Rooftop in Midtown spreads across 3,500 square feet of indoor-outdoor space, including a lounge with fireplace and leather sofas, a bar area with retractable roof, and a summery alfresco terrace with cozy wooden tables overlooking the memorable Manhattan skyline. Guests here are treated to natural handcrafted cocktails and shareable New American dishes.
The Rooftop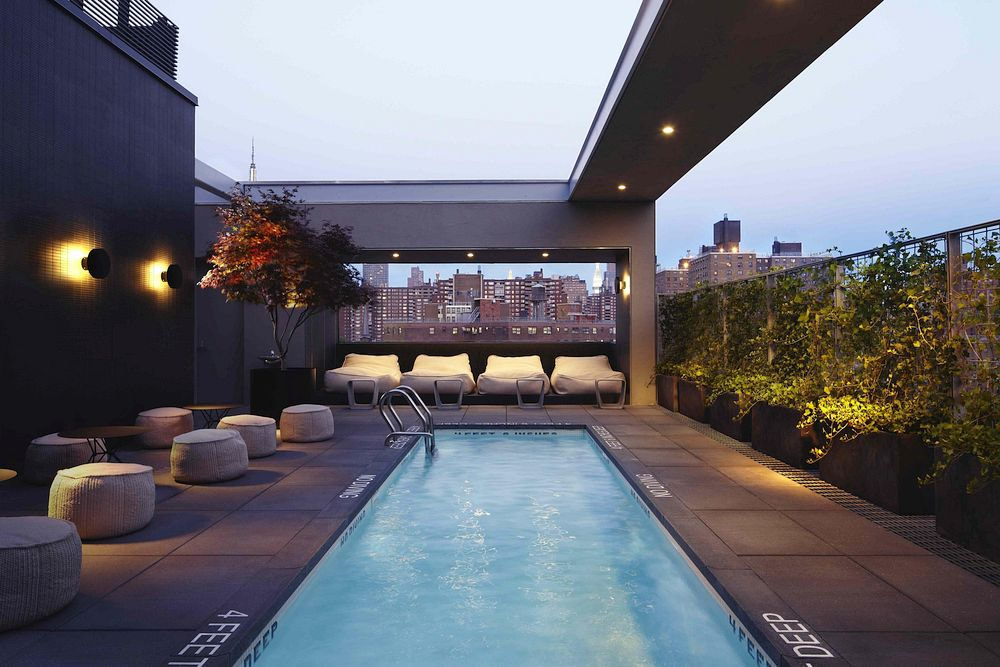 The Rooftop, the refined rooftop pool bar and grill on top of the stylish Selina Chelsea NYC, comes with commanding views of Chelsea, light Mediterranean fare, and delicious tequila-based cocktails. Accessed directly from the street via an external glass elevator, the year-round space converts into an alpine-style glass-roofed dining area during winter when it serves creamy fondue and hot sake by the hot tub.
The Roof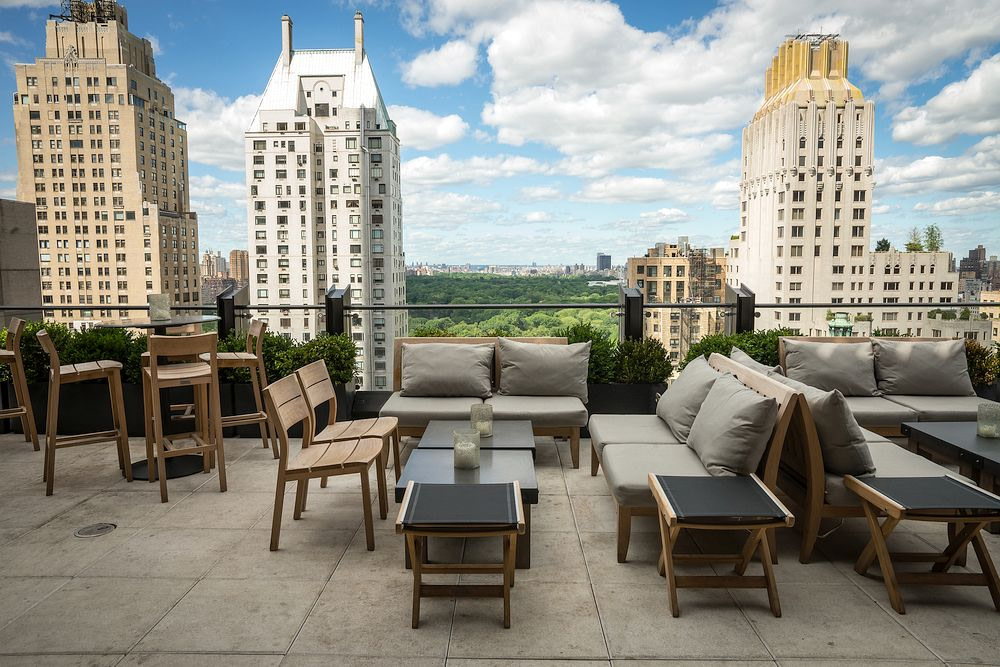 Crowning the top of Le Méridien New York, Central Park in the heart of Midtown Manhattan, The Roof has a classy yacht-inspired design and jaw-dropping views of Central Park. Equally sophisticated, the menu features an extensive selection of cocktails, spirits, and regionally brewed craft beers, as well as tasty small plates to match.
Castell Rooftop Lounge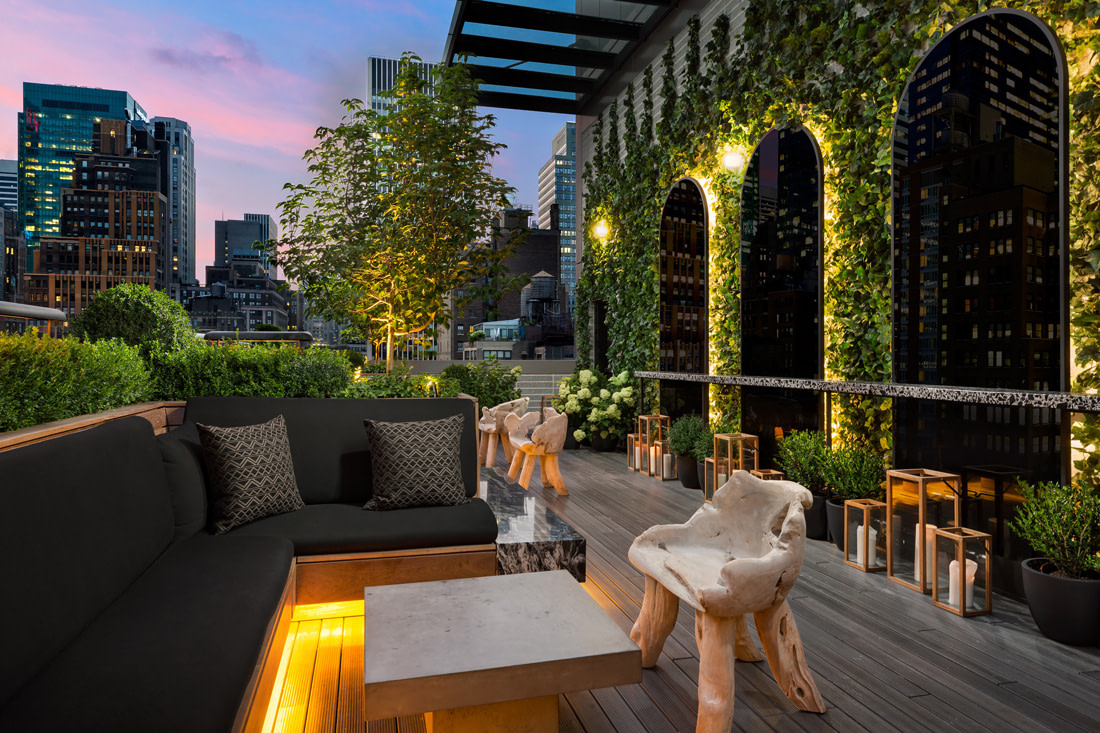 Spain meets New York at Castell, a seductive rooftop lounge atop AC Hotel New York Times Square. Though the design is overflowing with forms and motifs borrowed mostly from Catalan architecture, the drinks couldn't be more NYC, with an enticing selection of martini concoctions.
Iconic views of the Midtown skyline complement the Mediterranean flavored menu of shared plates and reimagined tapas.
The Press Lounge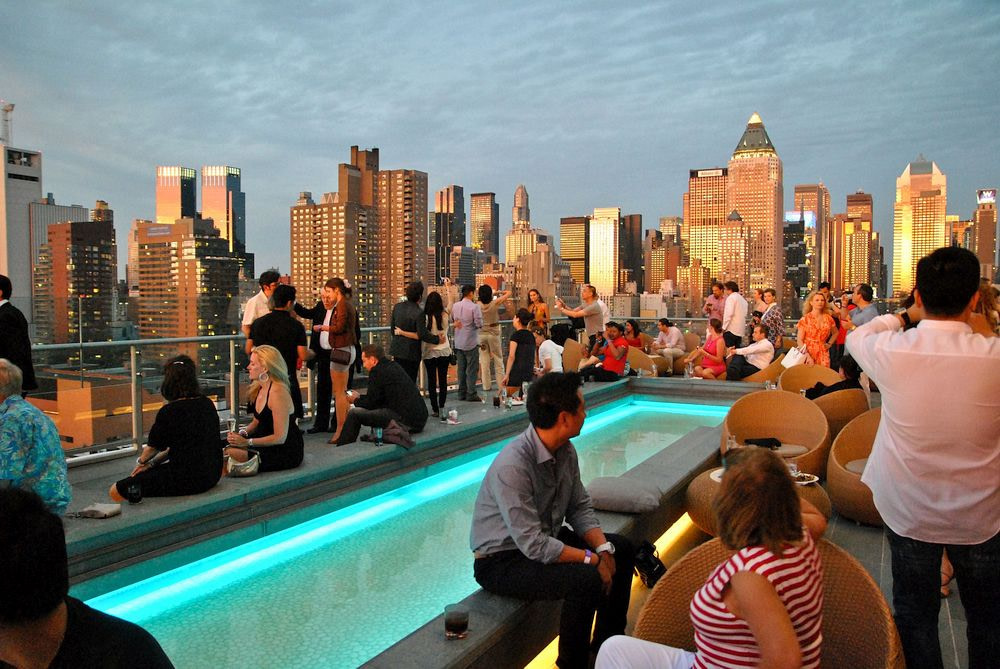 One of the city's sexiest rooftop bars, The Press Lounge serves up seasonal cocktails and small plates complemented by panoramic views of Manhattan.
Located above the Ink48 Hotel, in Hell's Kitchen, it comprises a classy glass-walled interior space, the Greenhouse, and a breezy outdoor terrace overlooking the Hudson River and the high-rise buildings of Midtown Manhattan. The menu focuses on fresh, seasonal ingredients from local farms and regional suppliers.
Harriet's Rooftop & Lounge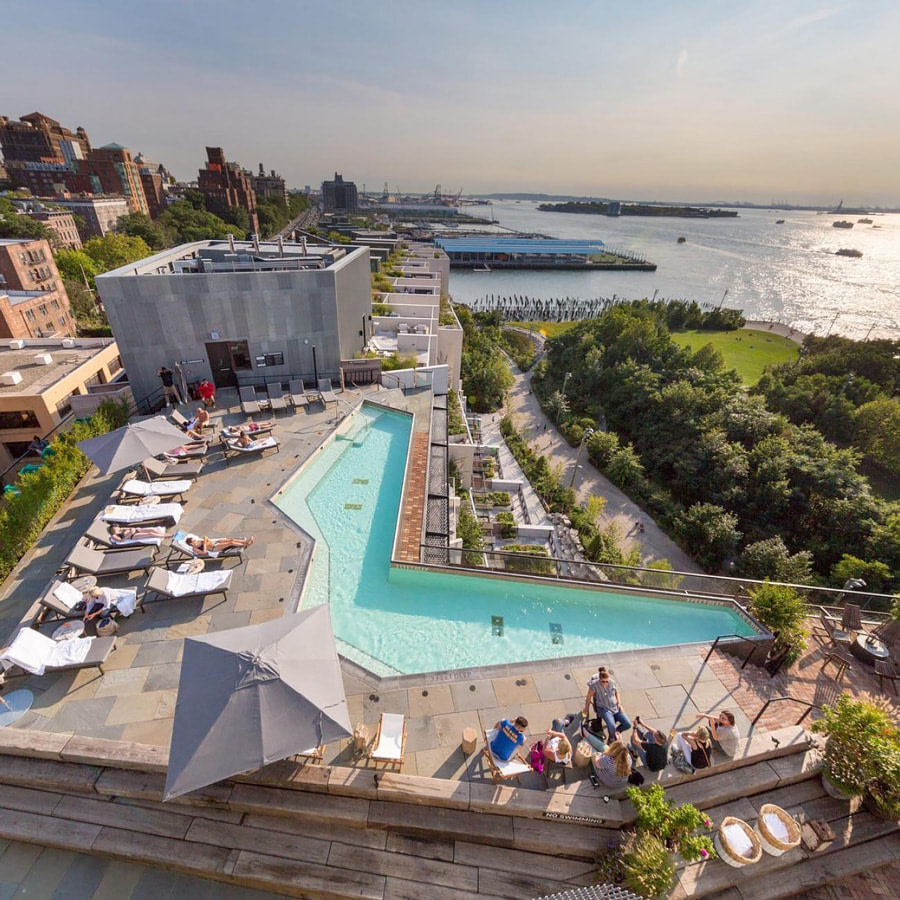 NYC is rife with rooftop bars overlooking a slice of the cityscape. Some of the best views, however, are found on the roof of 1 Hotel Brooklyn Bridge, where Harriet's Rooftop & Lounge lures patrons with refined craft cocktails, thoughtful bites, and the ultimate sight of Lower Manhattan. You can also cool off in their crystalline wrap-around plunge pool, with Ellis and Liberty Islands, the Sea Port, and the Brooklyn Bridge in the background, but only as a hotel guest.
Bar SixtyFive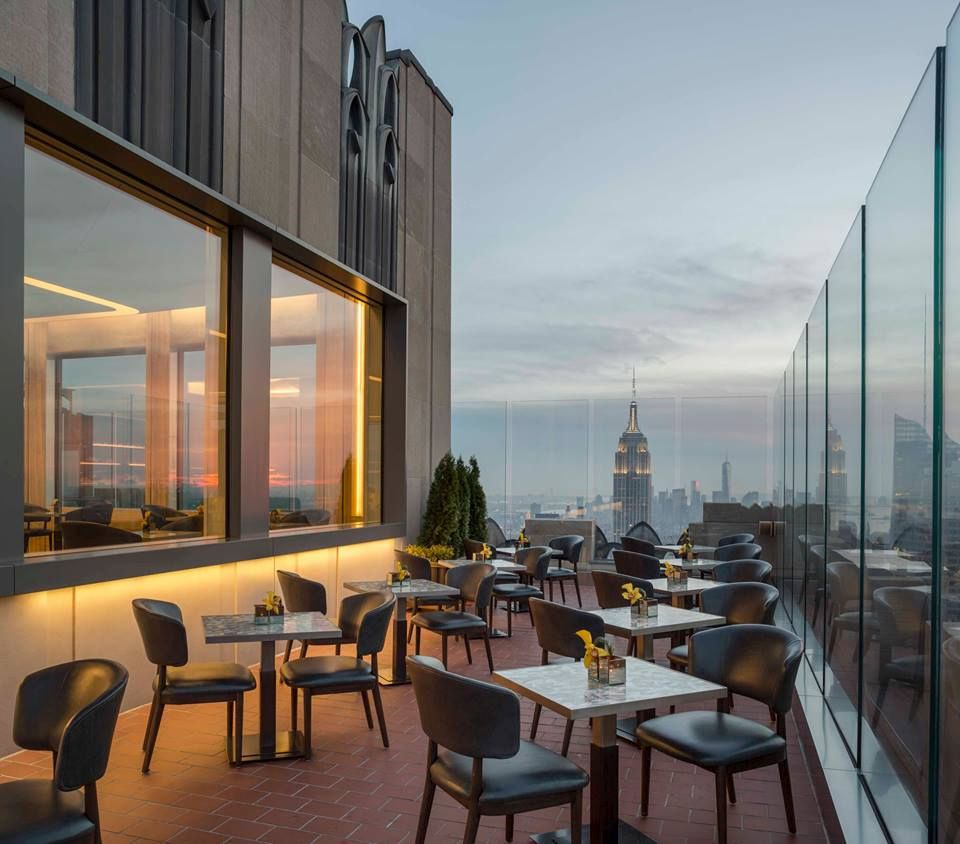 Sitting on the 65th floor of 30 Rockefeller Plaza, Bar SixtyFive delights with magnificent panoramic views across Manhattan. The glamorous rooftop lounge has a wraparound open-air terrace where patrons can experience alfresco drinking and dining at 240 m up in the air. Currently open for private events only.
The Penthouse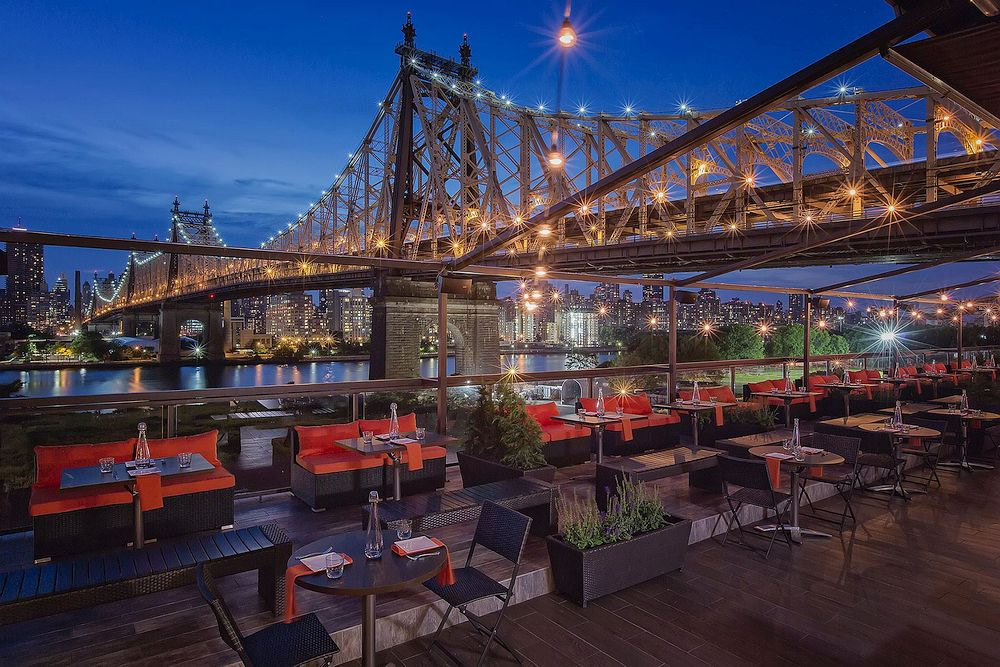 A chic Queens rooftop lounge and restaurant, The Penthouse at the Ravel Hotel serves innovative Pacific Rim fare and surprising specialty cocktails with wonderful views of the Manhattan skyline and Queensboro Bridge. The facility has a loungey vibe and is climate controlled, allowing for year-round dining and events.
Haven Rooftop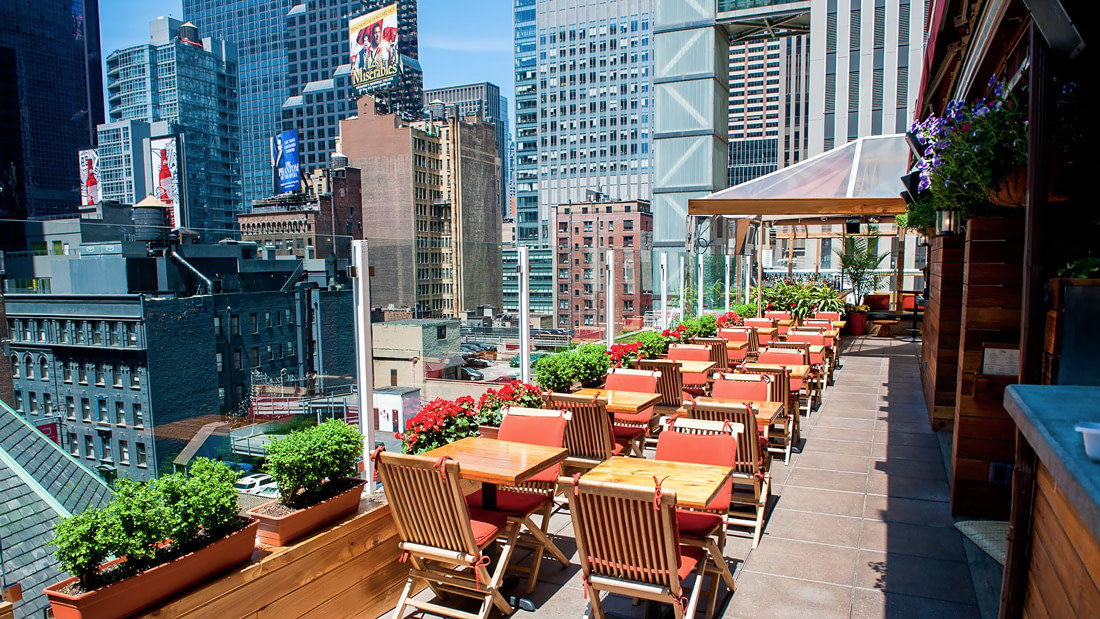 One of the best rooftop bars in the heart of Times Square, this chic sanctuary presents stunning views of Manhattan, along with live DJ music and delicious weekend brunches. The food revolves around modern American cuisine and the drink menu ranges from craft cocktails to fine wines by the glass.
Roof at Park South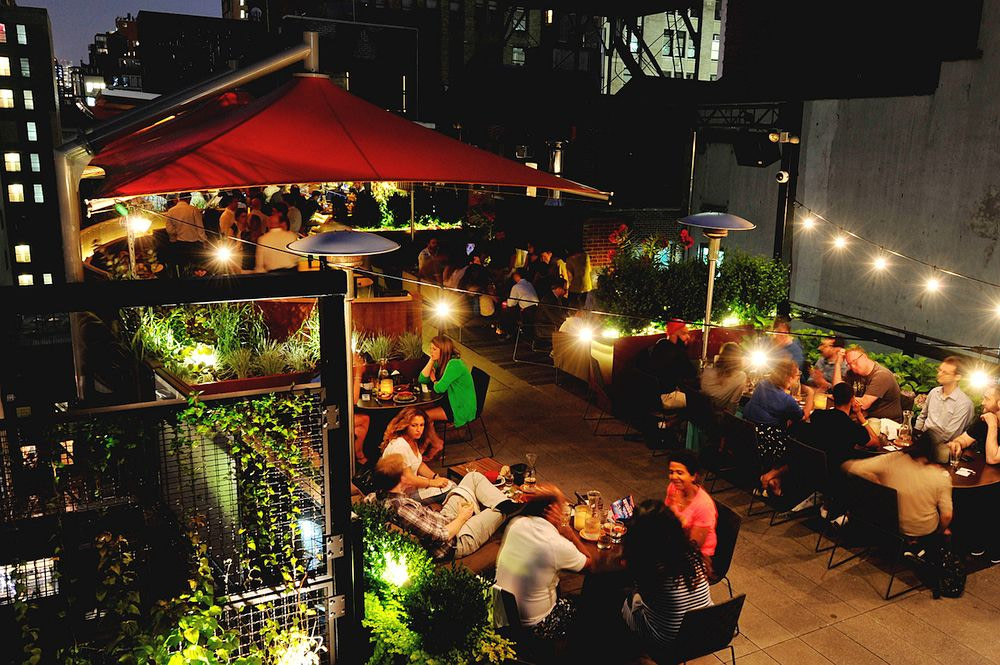 A unique rooftop bar in the Flatiron District, Roof at Park South stands out for its top-notch food & drink. The décor incorporates a freestanding fireplace, making it a charming, cozy venue to gather with friends for cocktails with a view. And speaking of views, the bar takes full advantage of its elevated location, enjoying striking vistas over the towering Chrysler and Empire State buildings.
The Sky Room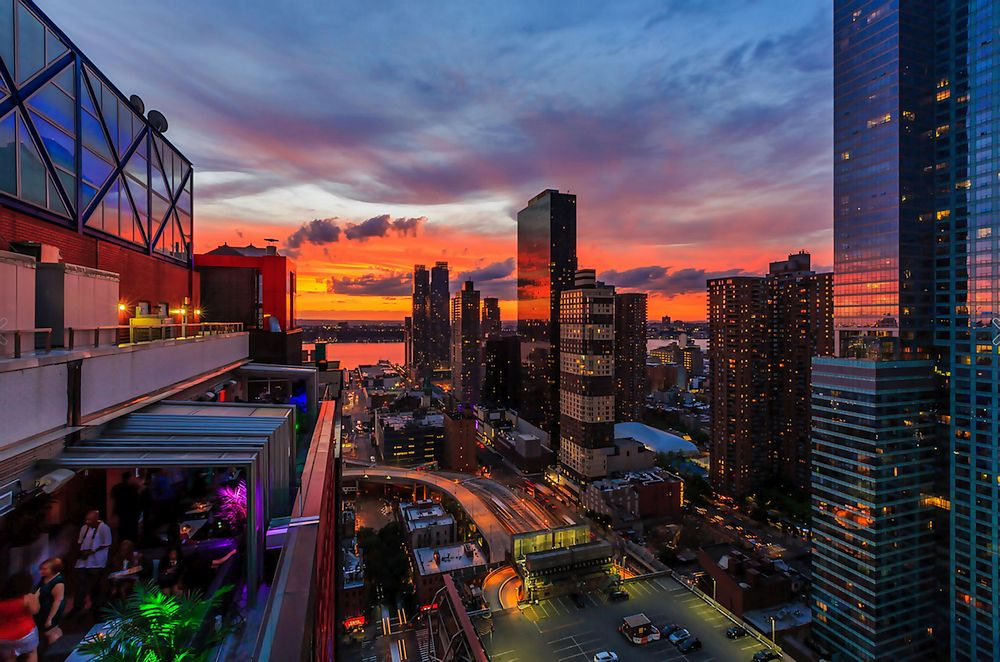 Soak up the city's pulsating energy from New York's highest rooftop bar. Spread over two buildings, The Sky Room is a collection of swanky, dynamic spaces, each with its own distinctive décor and atmosphere. Expect sleek, open-air terraces, plush lounges, and vibrant party venues, all graced with fabulous views of the Hudson River and the Empire State Building.
St. Cloud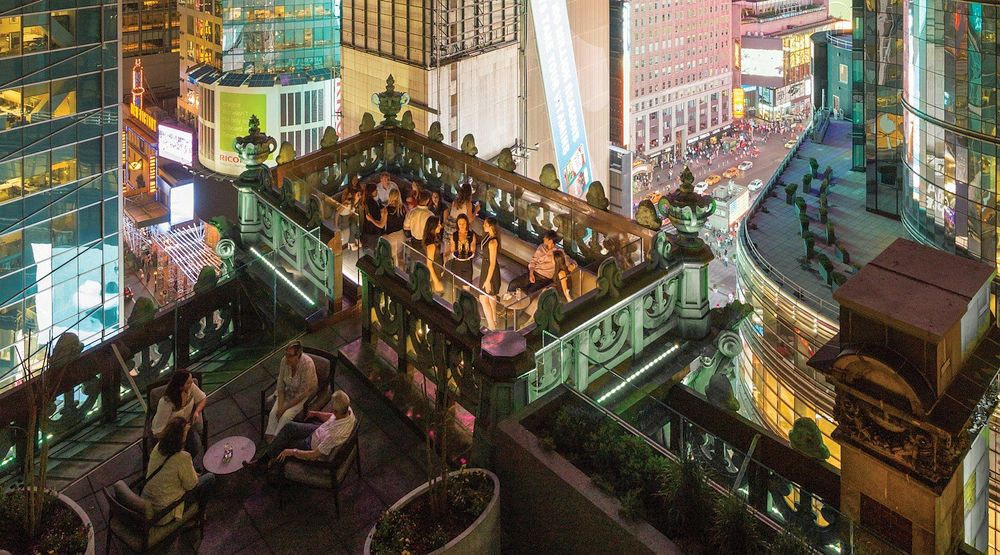 For the ultimate rooftop experience in NYC head to St. Cloud at The Knickerbocker Hotel. Overlooking the electrifying Times Square, the elevated establishment offers upscale food, drink, and entertainment in a variety of indoor/outdoor venues, including 3 Sky Pods, glamorous lounges, and ultra-luxurious private spaces.
The Skylark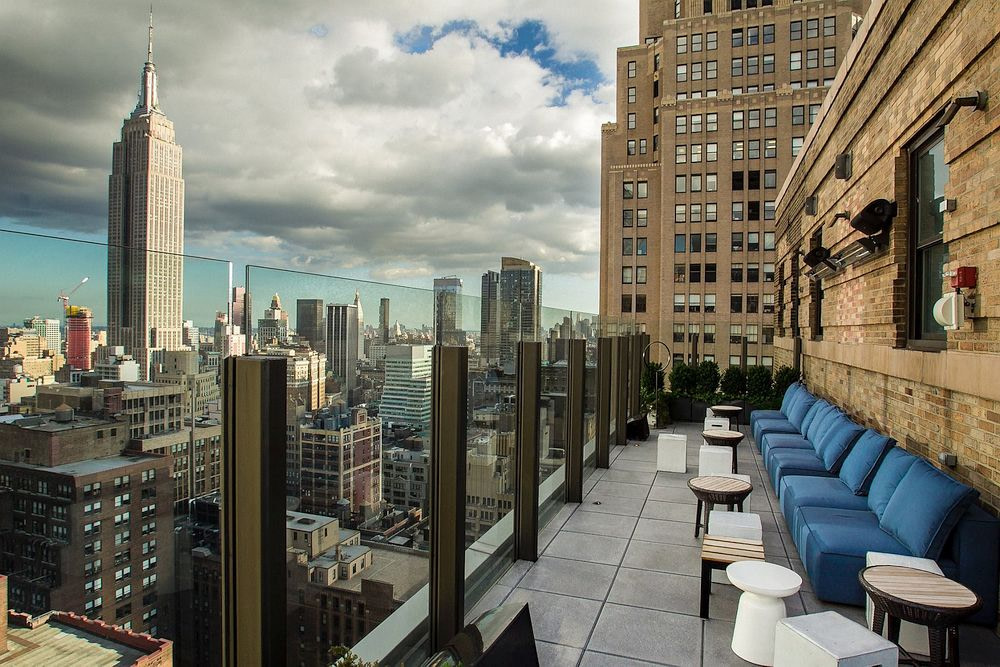 Soaring 30 floors above Manhattan's Garment District, The Skylark is a sophisticated year-round destination for enjoying expertly crafted cocktails and inventive small plates along with bewildering panoramic views of New York City.
Elegantly furnished, the indoor lounge has glorious floor-to-ceiling windows, while the open-air rooftop terrace draws patrons with its expansive vistas of Times Square and the Empire State Building.
Top of the Strand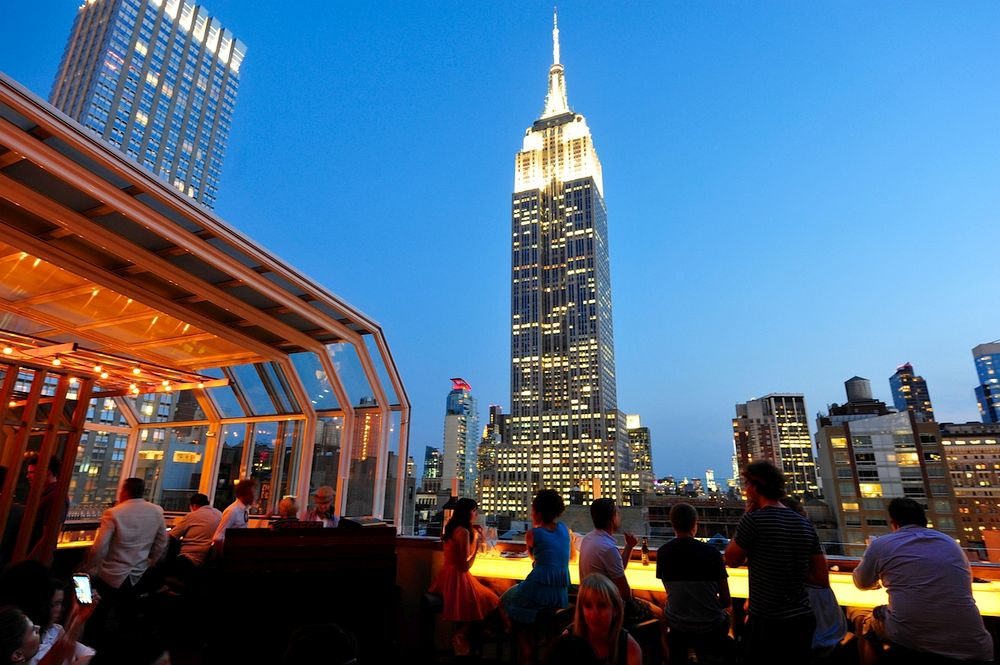 Envisioned by Sex and the City's set designer, Top of the Strand features a retractable glass roof, ensuring magnificent NYC skyline views, rain or shine.
Situated on the 21st floor of The Strand Hotel, this sky-high urban oasis delivers a bird's eye view of the Empire State Building. The menu has something for every palate, from fine wines and delicious cocktails to tuna tartare and generous lobster rolls. Temporarily closed!
The Penthouse at Dream Downtown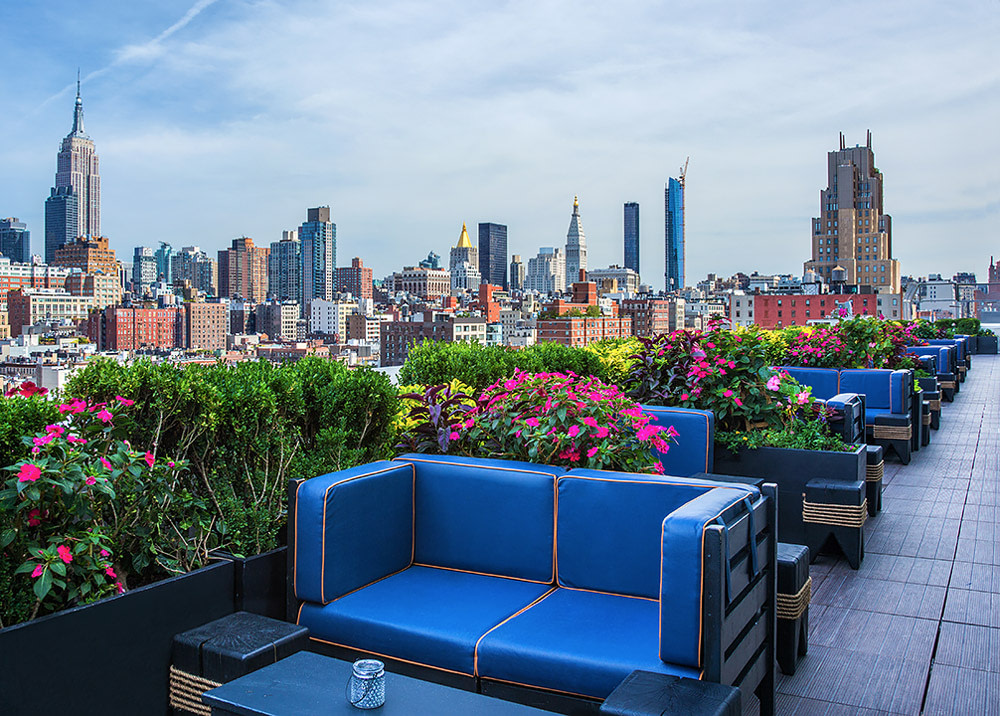 A swanky rooftop venue with fabulous Manhattan skyline views, the Penthouse at Dream Downtown (PHD) serves up top-notch cocktails and exquisite bits & bites against a backdrop of majestic skyscrapers. Decorated with slick marble tables, bespoke Italian leather banquettes, and luxurious amber glass chandeliers, the rooftop lounge makes for a glam hideaway for the city's well-heeled.