Put your skates on and glide your way around the world's most unique and spectacular ice skating rinks.
Situated in fabulous locations throughout the world, these frozen getaways invite you to combine a twirl on the ice with dazzling sightseeing, scrumptious food, crafty Christmas shopping, and a blast of festive winter fun.
Vienna Ice Dream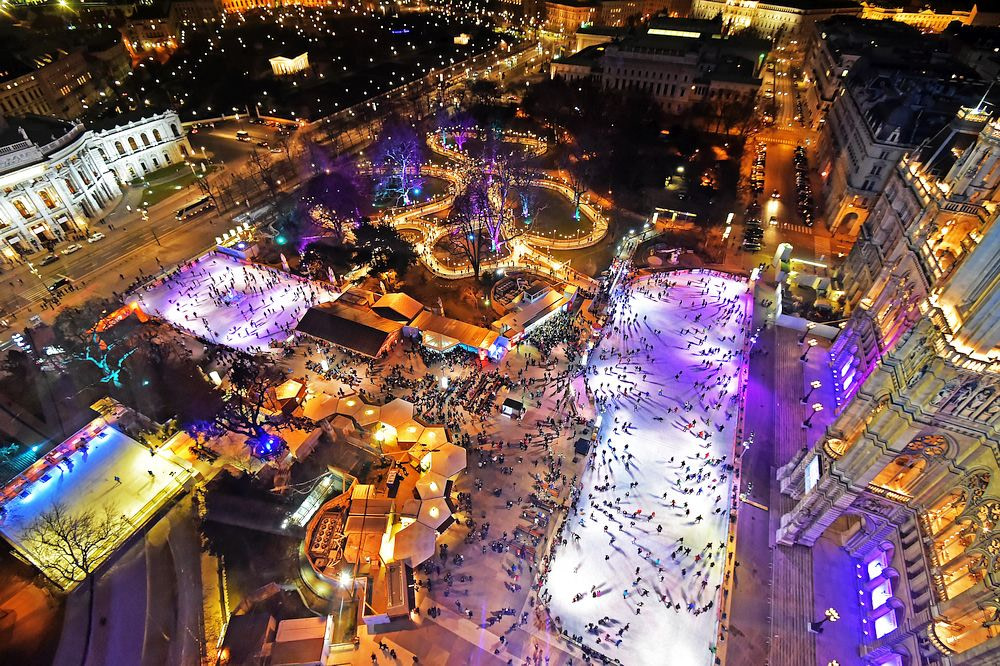 No less than 8,000 m² of ice area is available for skating in front of the beautifully illuminated Vienna City Hall during the winter holidays. Smack dab in the middle of the Christkindlmarkt, Wiener Eistraum (Vienna Ice Dream) is surrounded by stands selling warming drinks and traditional Austrian food and features a number of idyllic ice paths that wind their way through a small park bathed in multicolored LED lights.
Somerset House Ice Rink, London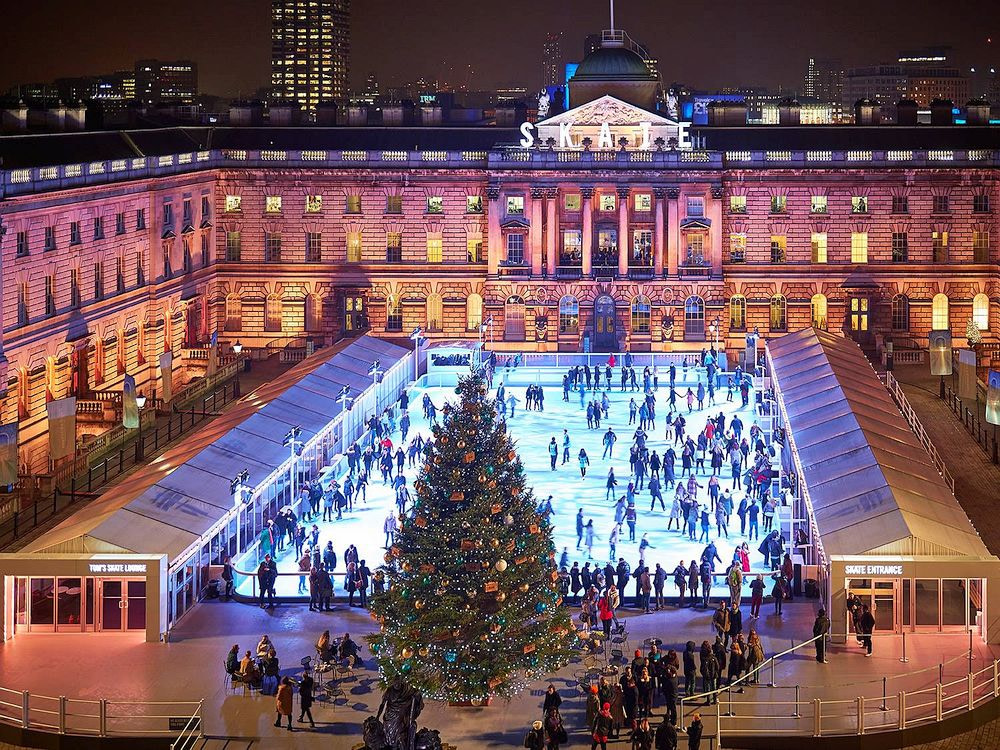 Every year, the majestic 18th-century courtyard of Somerset House turns into a spectacular outdoor rink, where guests can enjoy champagne and truffles while gliding on the ice with the cultural center's stately Neoclassical facade as a backdrop. Often regarded as one of London's most beautiful places to skate, Somerset House Ice Rink becomes a lively dance floor once the night falls, hosting DJs, parties, and festivals.
GUM Skating Rink, Moscow
Set up in the heart of the Red Square, right in front of the GUM department store, this 2,700-sqm playground allows you to skate near the walls of the Kremlin and the iconic St. Basil's Cathedral. GUM Skating Rink is Moscow's most famous and impressive outdoor rink.
Tower of London Ice Rink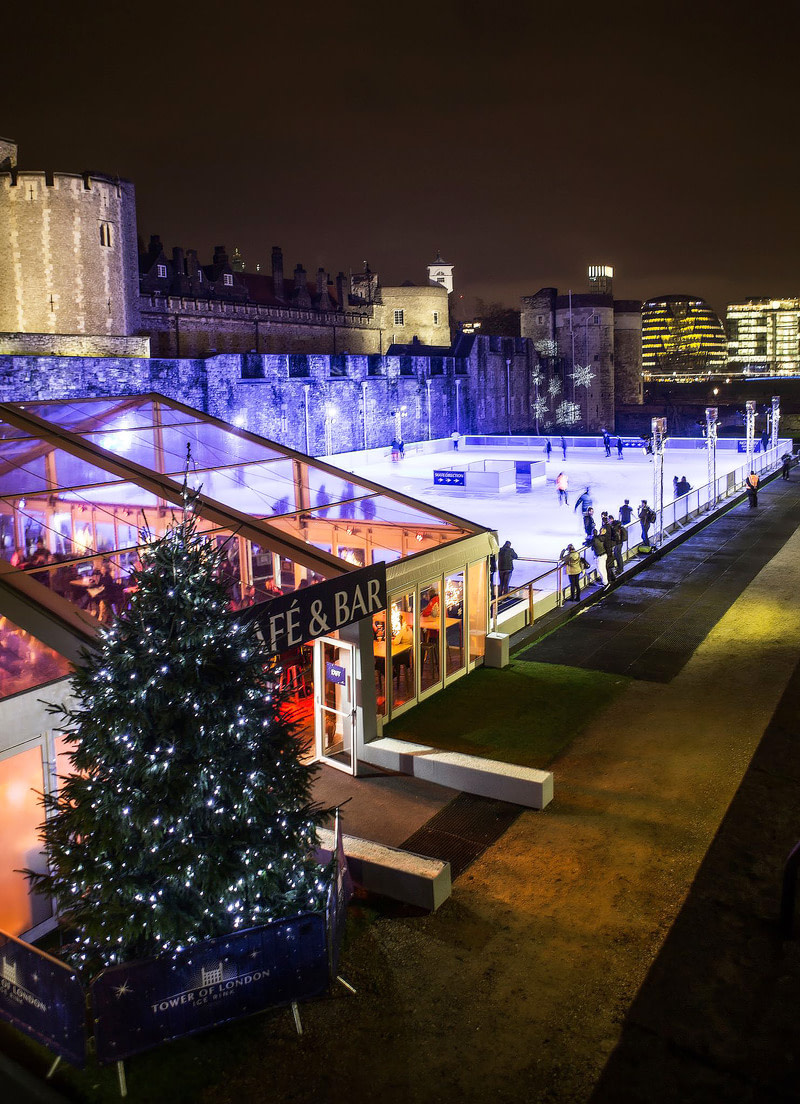 The outdoor ice rink at the Tower of London invites visitors to skate on a 1,000-year-old moat in splendid historic surroundings.
Wollman Skating Rink, New York City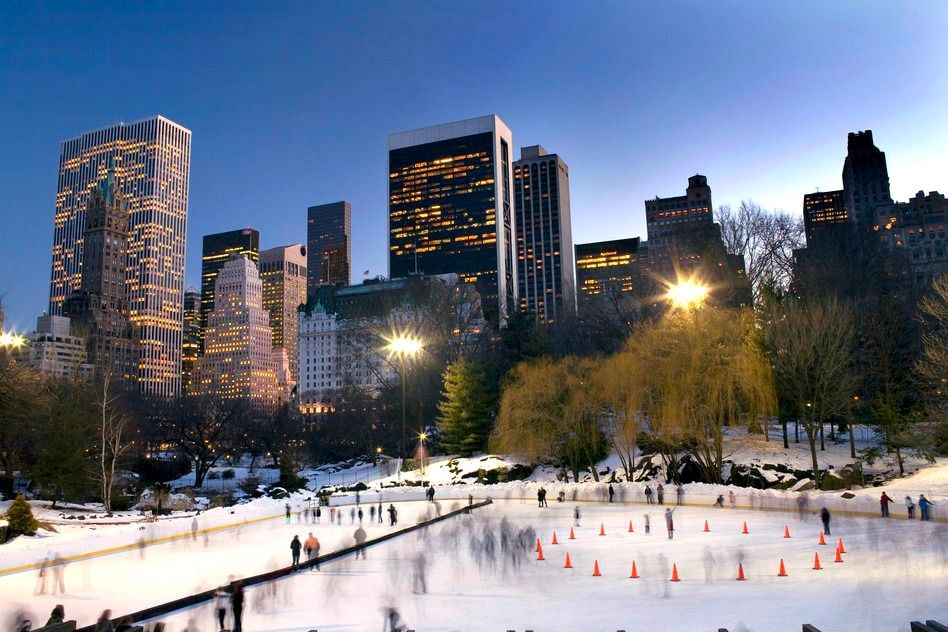 Featured in movies such as Serendipity, Love Story, and Home Alone 2, Wollman Skating Rink truly is a symbol of New York City's winter magic. Situated in the southern part of Central Park, it provides stunning views of Manhattan's soaring skyscrapers. Couple this with any of the Big Apple's iconic winter attractions and you're in for a movie-like experience to remember.
Safeway Holiday Ice Rink in Union Square, San Francisco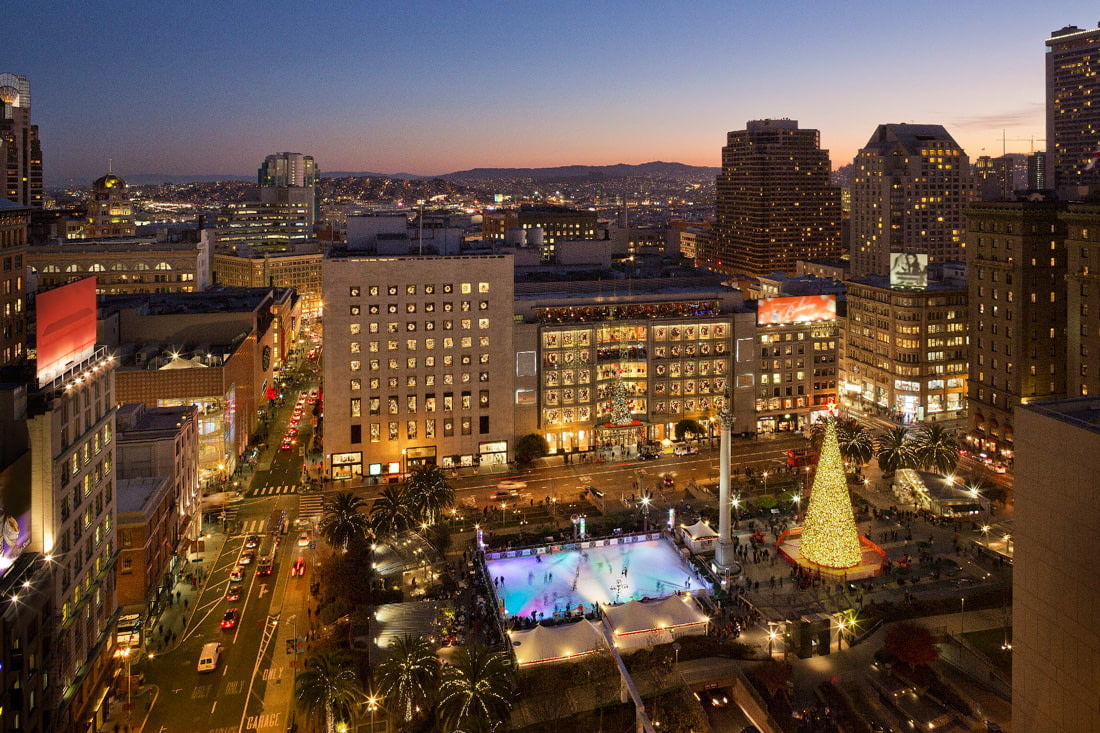 Born in 2008, San Francisco's Safeway Holiday Ice Rink in Union Square has become a fixture for the holiday season. With colorful accompanying events like Drag Queens on Ice or Flashback Fridays and Macy's iconic 83-feet tall Christmas Tree hovering above, it's the perfect introduction to winter in the City by the Bay. It's also in the heart of downtown where the holiday decorations are concentrated, shopping is at its best, and activities abound.
The Rink at Rockefeller Center, NYC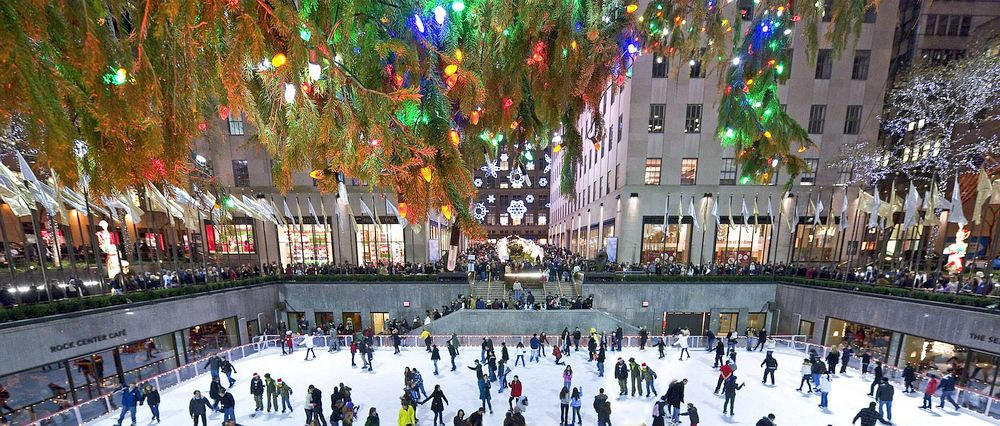 Ice skating below the iconic Christmas tree, in the heart of the Rockefeller Center, is a favorite tradition for both New Yorkers and tourists during the festive season. With a capacity of 150 skaters at a time, The Rink at Rockefeller Center can get pretty crowded, so the best time to visit is early in the morning.
City Park Ice Rink, Budapest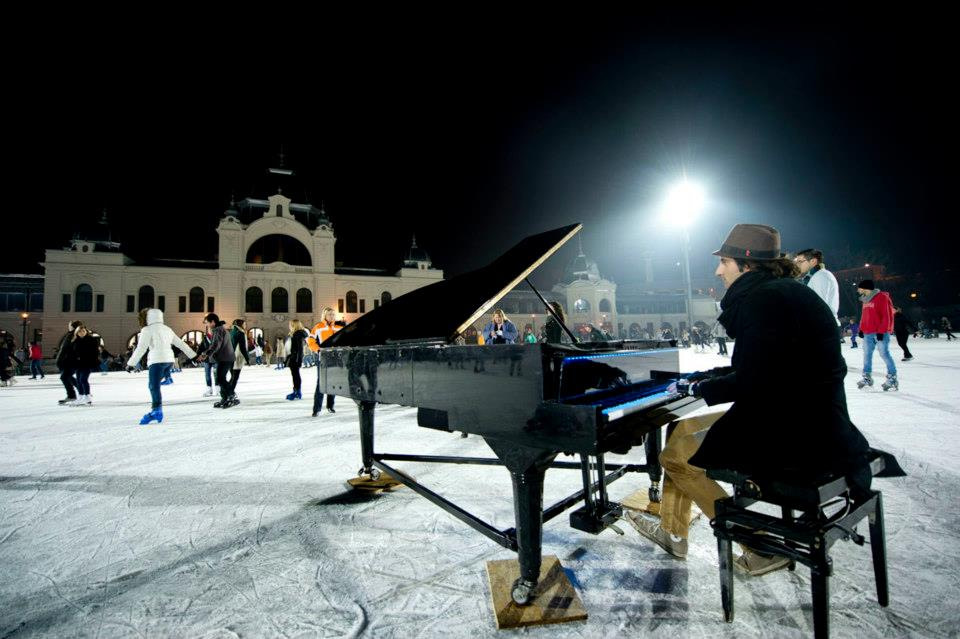 Every winter, the lake in Budapest's City Park is converted into the largest ice skating rink in Europe. Locally known as Városligeti Műjégpálya, the City Park Ice Rink sits in the shadow of the impressive Vajdahunyad Castle and is one of the oldest on the continent.
McCormick Tribune Ice Rink, Chicago
Installed in Millennium Park, Chicago's McCormick Tribune Ice Rink comes with free access and striking vistas of the downtown skyline.
Rideau Canal Skateway, Ottawa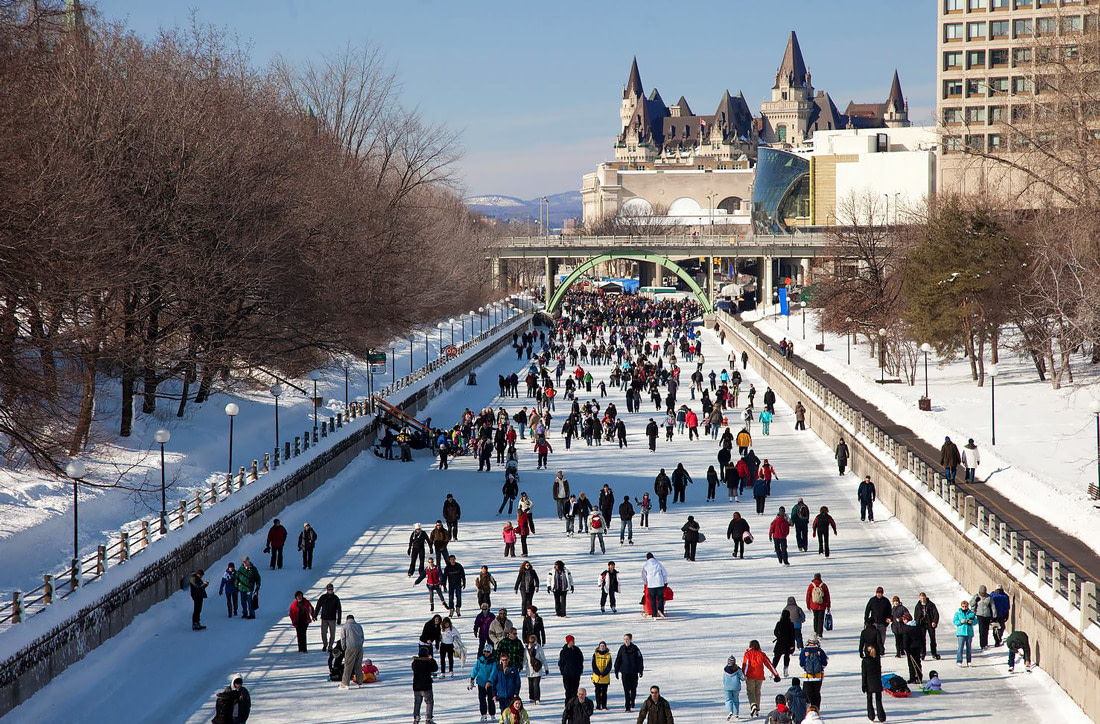 Stretching over 7 kilometers through central Ottawa and past Canada's parliament buildings, Rideau Canal Skateway is not only the largest skating rink in the world but also the only one where you can actually skate along a Unesco World Heritage Site.
Sporty visitors will have the opportunity to enjoy plenty of sightseeing along the way, as well as hot drinks and snacks from the 5 rest areas dotted around. Among the many events and activities organized here is the city's annual Winterlude festival.
Skating on Lake Louise, Banff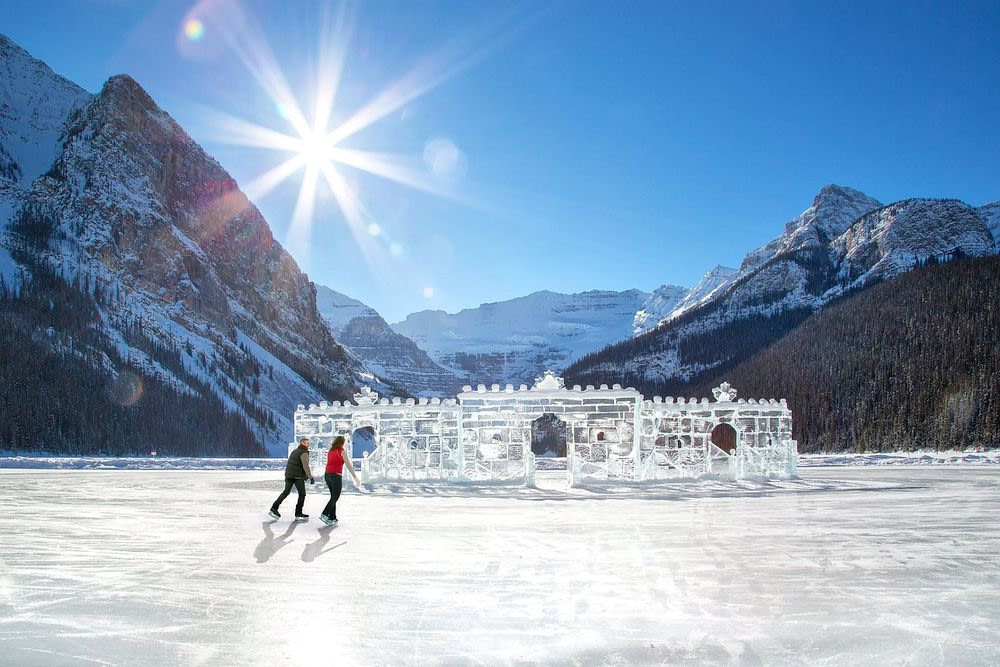 Framed by the snowy Canadian Rockies and Victoria Glacier, this spectacular ice skating rink outside the Fairmont Chateau Lake Louise in Banff National Park allows visitors the one-of-a-kind opportunity to take a spin on Lake Louise. A wonderful hand-carved ice castle is built each year in the middle of the skating venue.
Skating Ribbon at Maggie Daley Park, Chicago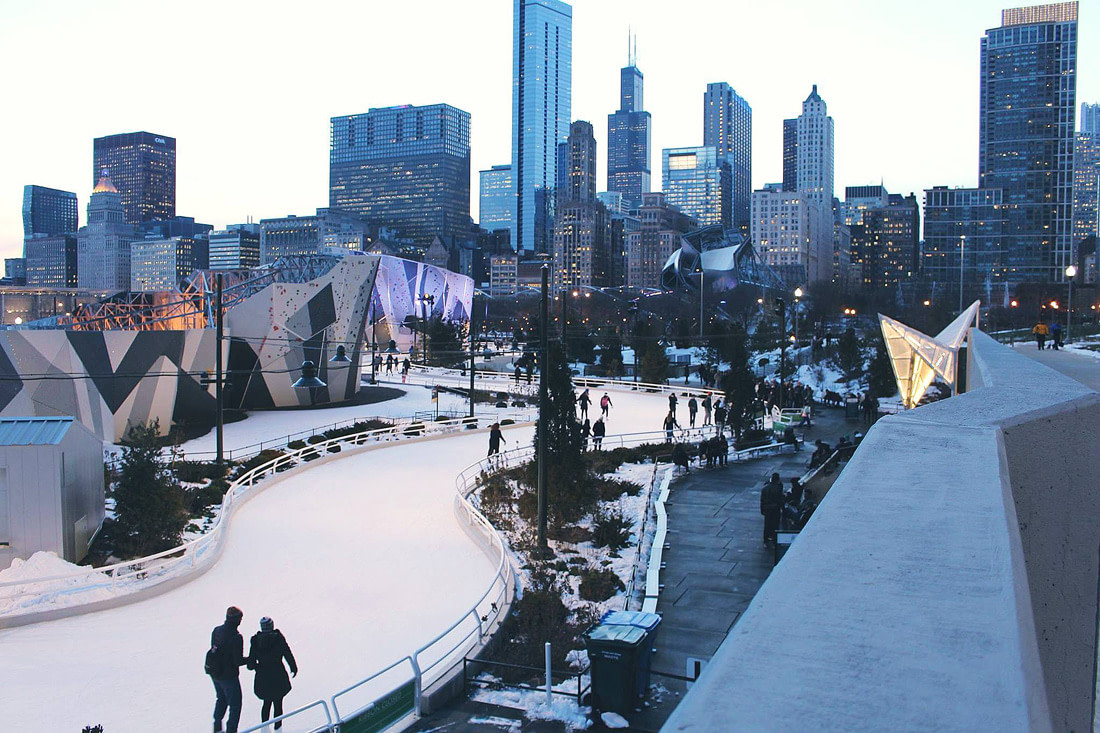 Combining state-of-the-art architecture with dazzling skyline views, the Skating Ribbon at Maggie Daley Park makes for a totally unique ice skating experience. Unlike conventional ice rinks, this undulating quarter-mile circuit runs through the park's rolling landscape, offering various changes in elevation.
Royal Pavilion Ice Rink, Brighton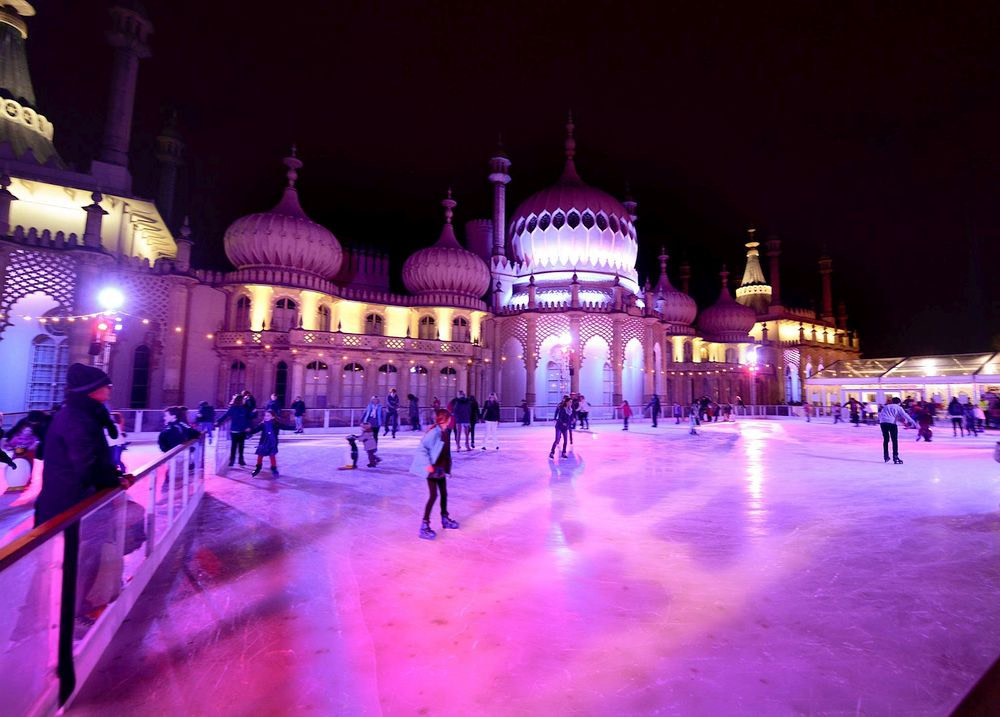 Set against Brighton's Indian-style Regency pleasure palace, the Royal Pavilion Ice Rink is certainly one of the most spectacular places to skate in the UK. Nearby, there's a sprawling bar and restaurant serving everything from seasonal snacks and drinks to festive dinners, in beautiful, exotic surroundings.
Natural History Museum Ice Rink, London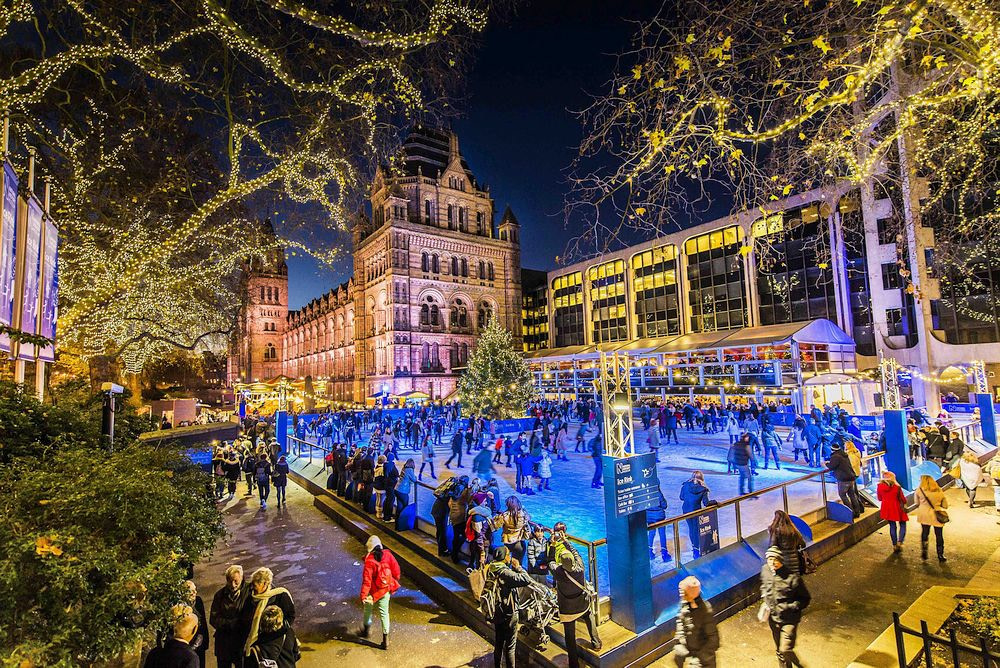 The magnificent buildings of London's Natural History Museum and a fabulous Christmas tree decked out in fairy lights provide an enchanting backdrop for this glistening skating area in the heart of Kensington. The Ice Rink features a fairground carousel and a café bar where visitors can indulge in hot drinks and tasty festive treats.
Ice Rink Canary Wharf, London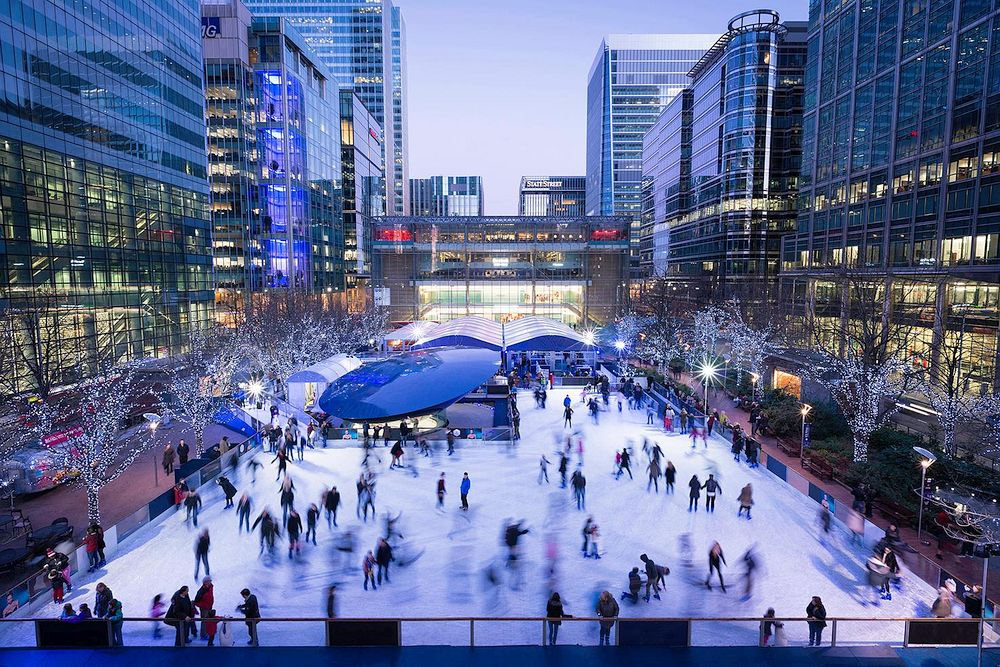 One of London's most impressive winter attractions, Ice Rink Canary Wharf prides itself with a one-of-a-kind skate path lined with fairy-lit trees. Fringed by the high-rise towers of the capital's business district, this is a striking location to take a spin on the ice, savor delicious food and drink, or take in the beautiful views from the heated outdoor terrace.
Flevonice, Biddinghuizen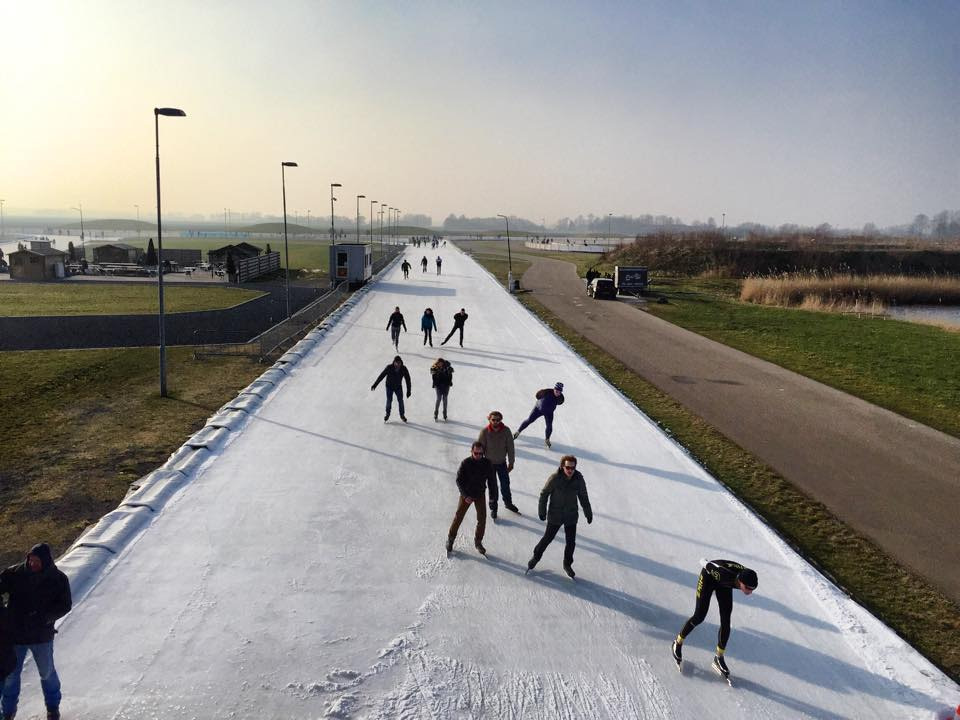 Located in the village of Biddinghuizen, Flevonice is Netherlands' longest artificial ice rink. With its fun twists and turns, nice restaurant, and family-friendly facilities, the impressive three-kilometer skating track offers something for everyone.
Ice Skating Rink at Nathan Phillips Square, Toronto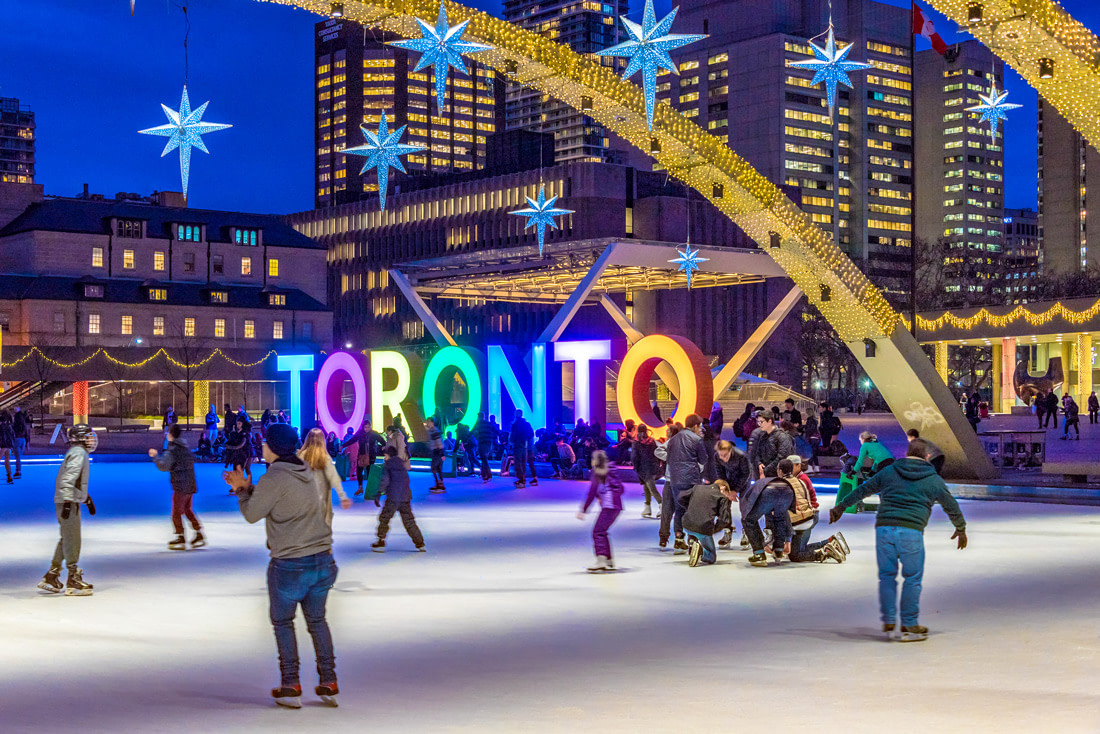 Right in front of Toronto City Hall, the rink at Nathan Phillips Square greets visitors with music, snacks, and glittering holiday decorations.
Admiral Ice Rink at Wales OnlineWinter Wonderland, Cardiff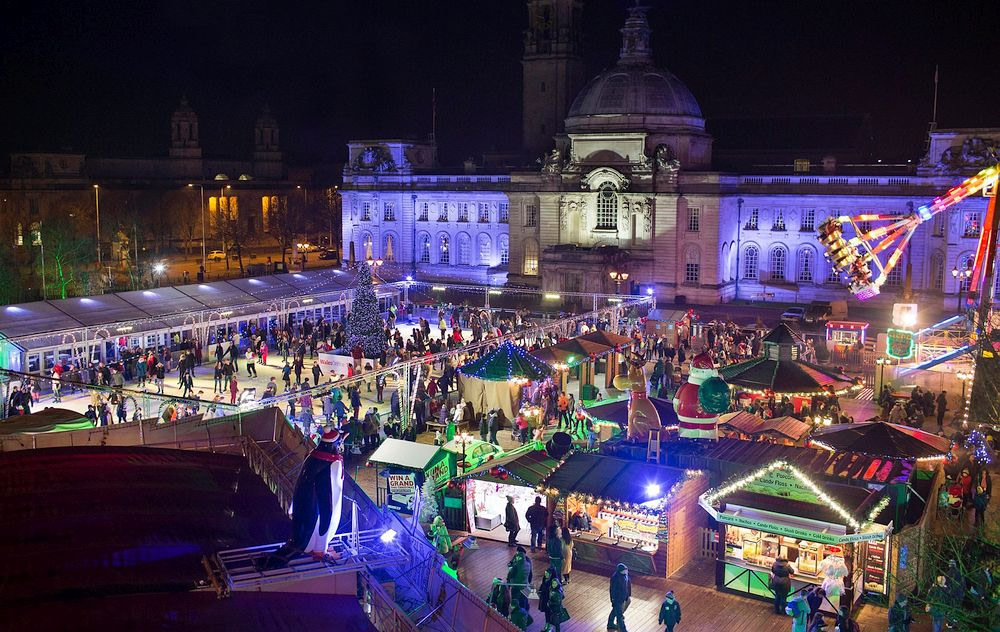 Fabulous ice sculptures, exciting funfair attractions, and a cozy alpine village accompany the charming ice rink at Cardiff's Winter Wonderland.
The Hampton Court Palace Ice Rink, London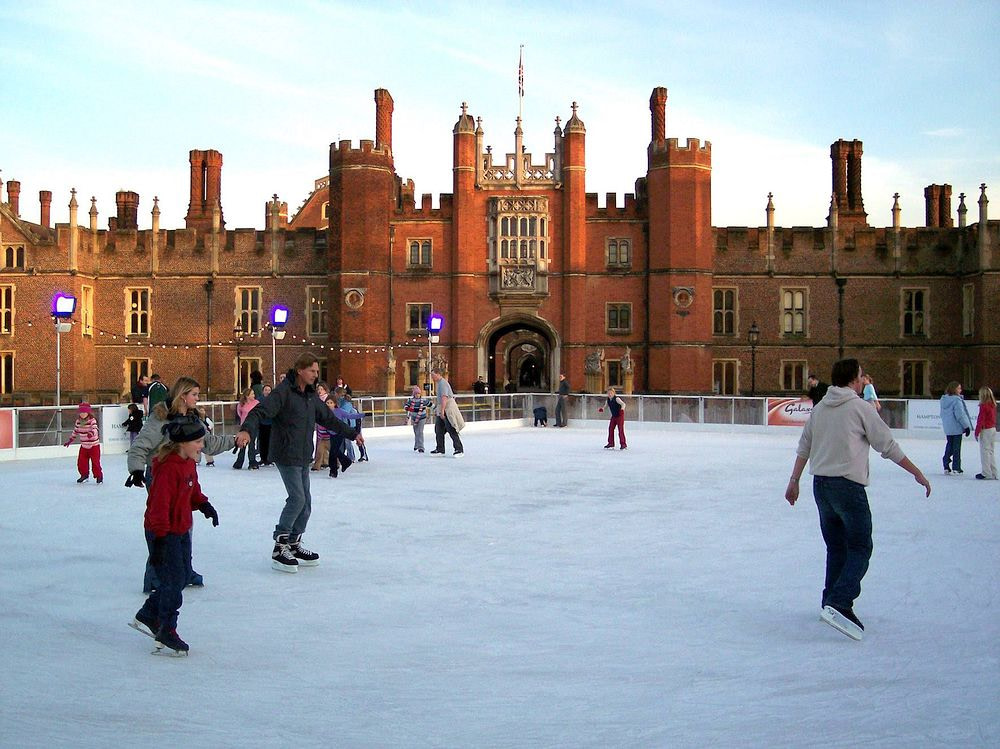 London is brimming with fabulous outdoor ice skating opportunities, but if gliding in regal surroundings is what you're looking for, the Hampton Court Palace Ice Rink is the place to go. Facing Henry VIII's stately Tudor palace, the 900-square-meter rink is home to an Ice Bar & Café, where guests can warm up with mulled wine and a delicious mince pie.
Ice* Amsterdam Skating Rink
Part of Ice* Amsterdam, the skating rink on Museumplein offers visitors the chance to skate under a replica of the city's famous Magere Brug (Skinny Bridge), with the gorgeous Rijksmuseum as a backdrop. The chalet-style rinkside bar & restaurant offers a mouthwatering selection of Dutch and international specialties.
Ice Park Skating Rink, Helsinki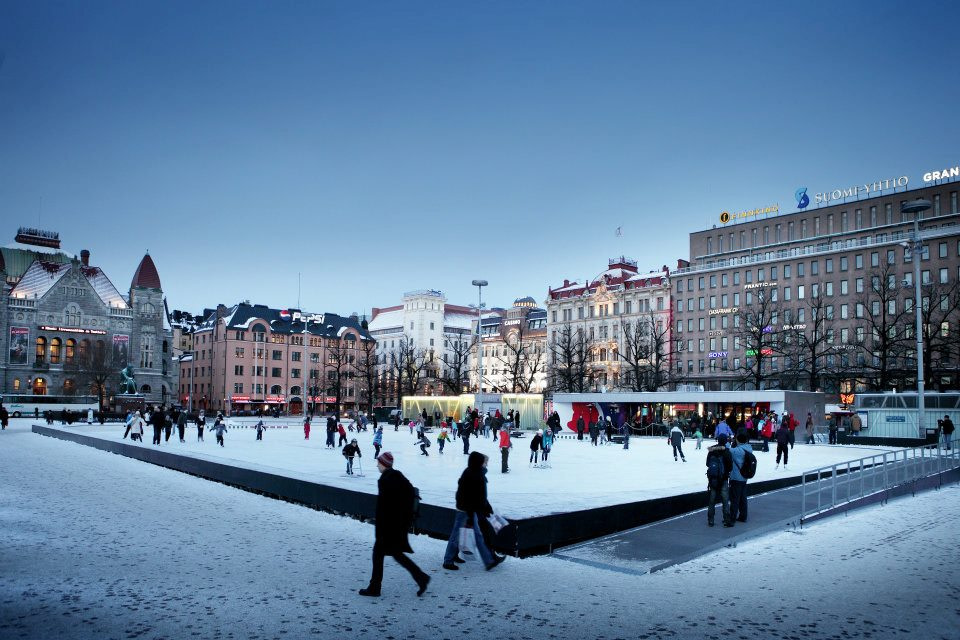 Situated right in the city center, in the Railway Square, the Helsinki Ice Park skating rink is a great way to brave the Finnish winter and get in the holiday spirit.
Kungsträdgården Ice Skating Rink, Stockholm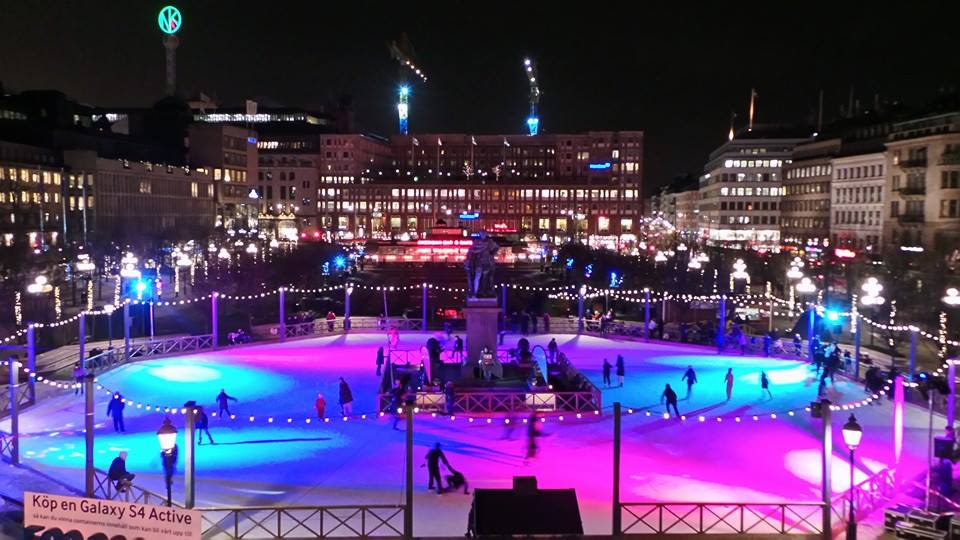 A convenient location in central Stockholm, along with nice music, colorful lighting, and a small Christmas Market, makes this seasonal rink at Kungsträdgården one of the city's favorite locations for ice skating.
The Ice Rink at The Cosmopolitan, Las Vegas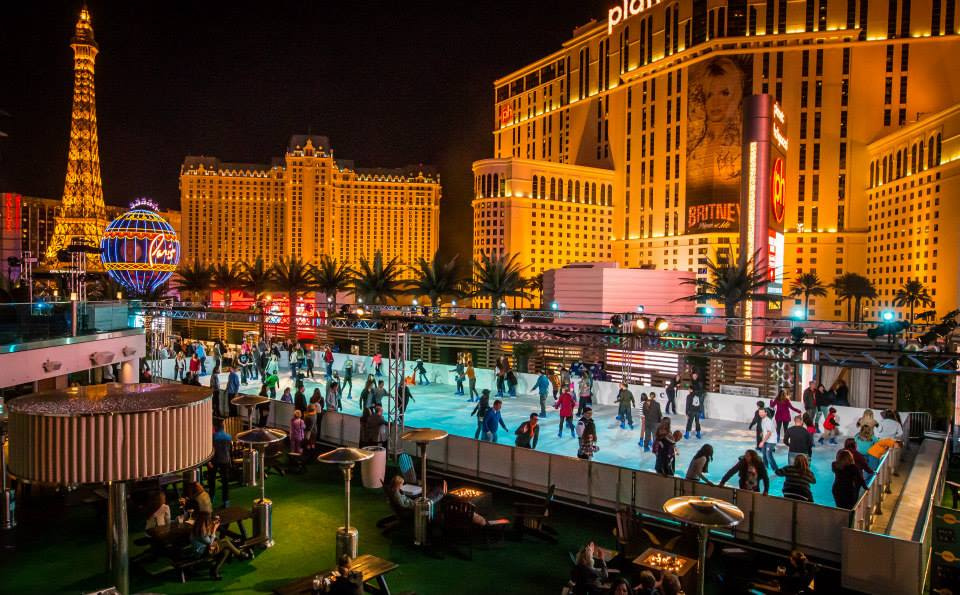 Las Vegas' most unique winter attraction, The Ice Rink at The Cosmopolitan has everything you could hope for, from glamorous cocktails and fire pits to snow showers and dazzling views of The Strip. Also, don't miss their Date Skate Mondays and Tuesdays, which feature Christmas movies under the stars!
The Ice Rink at Alexanderplatz, Berlin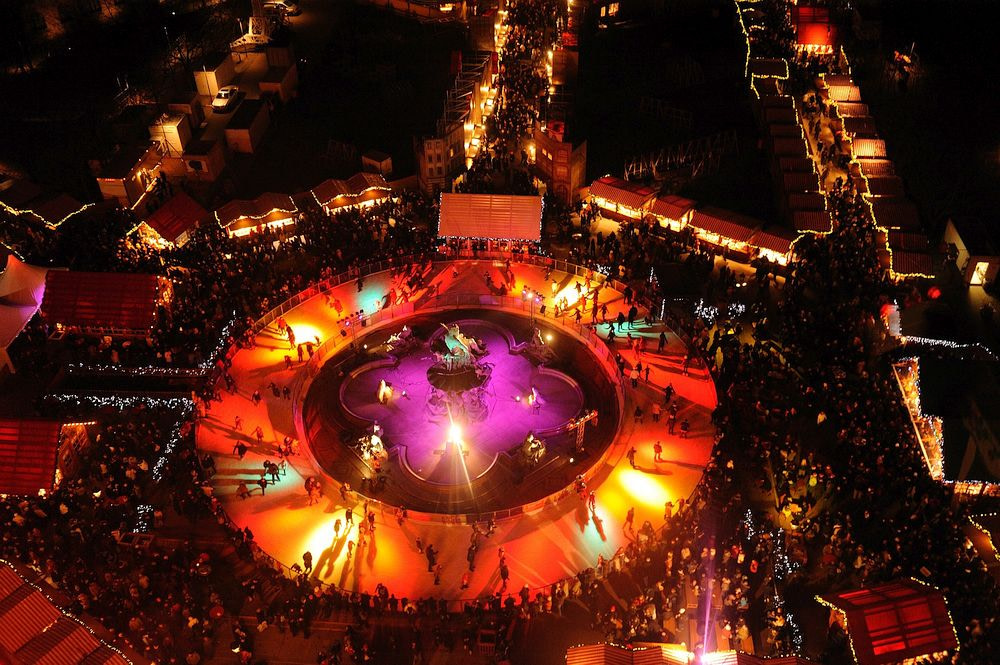 Cuddled in the heart of one of Berlin's busiest Christmas Markets, the circular ice rink at the Neptune Fountain on Alexanderplatz is complemented by Europe's largest Christmas pyramid, a variety of fun rides, as well as traditional stalls selling handicrafts and scrumptious local fare.
St Andrew Square Ice Rink, Edinburgh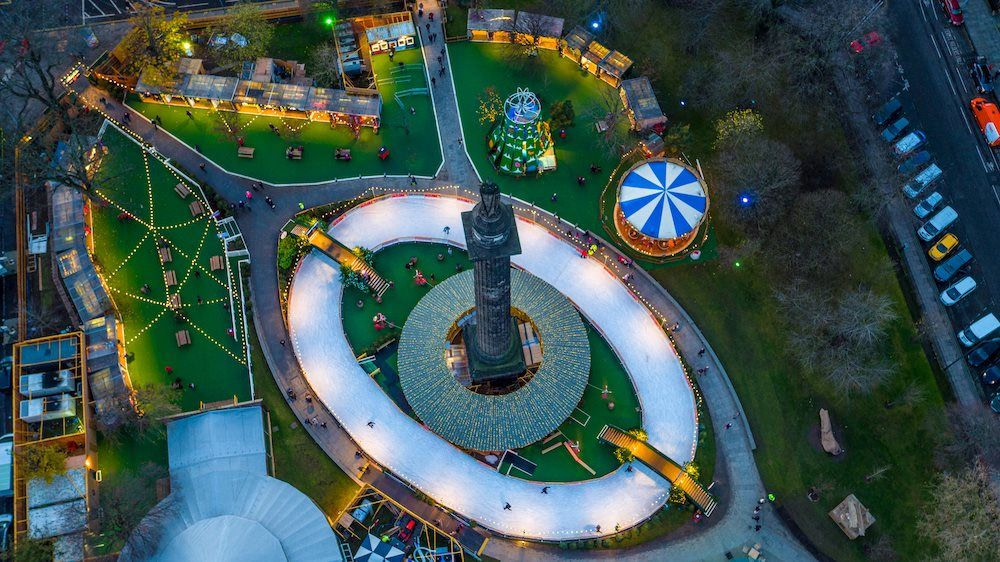 Revolving around Edinburgh's iconic Melville Monument, the elliptical St Andrew Square Ice Rink comes complete with tons of festive entertainment, including shows, rides, traditional market stalls, and an impressive Ferris wheel with stunning views of the city.