This post contains affiliate links, which means we may receive a small commission, at no additional cost to you, if you make a purchase through these links. See our full disclosure here.
There are no shortage of hotels in Valencia, but the discerning traveler, particularly creatives, may require a property that is a bit more unique. Over the last couple of decades, the city has transformed itself via the rubric of design, and thankfully for its visitors, its hotels are no exception.
To honor this transformation, the World Design Organization announced Valencia as their World Design Capital for 2022, drawing even more enthusiasts of the arts and other creative pursuits for a visit. If you'd like to be one of them, be sure to consider one of Valencia's best design-driven hotels.
Helen Berger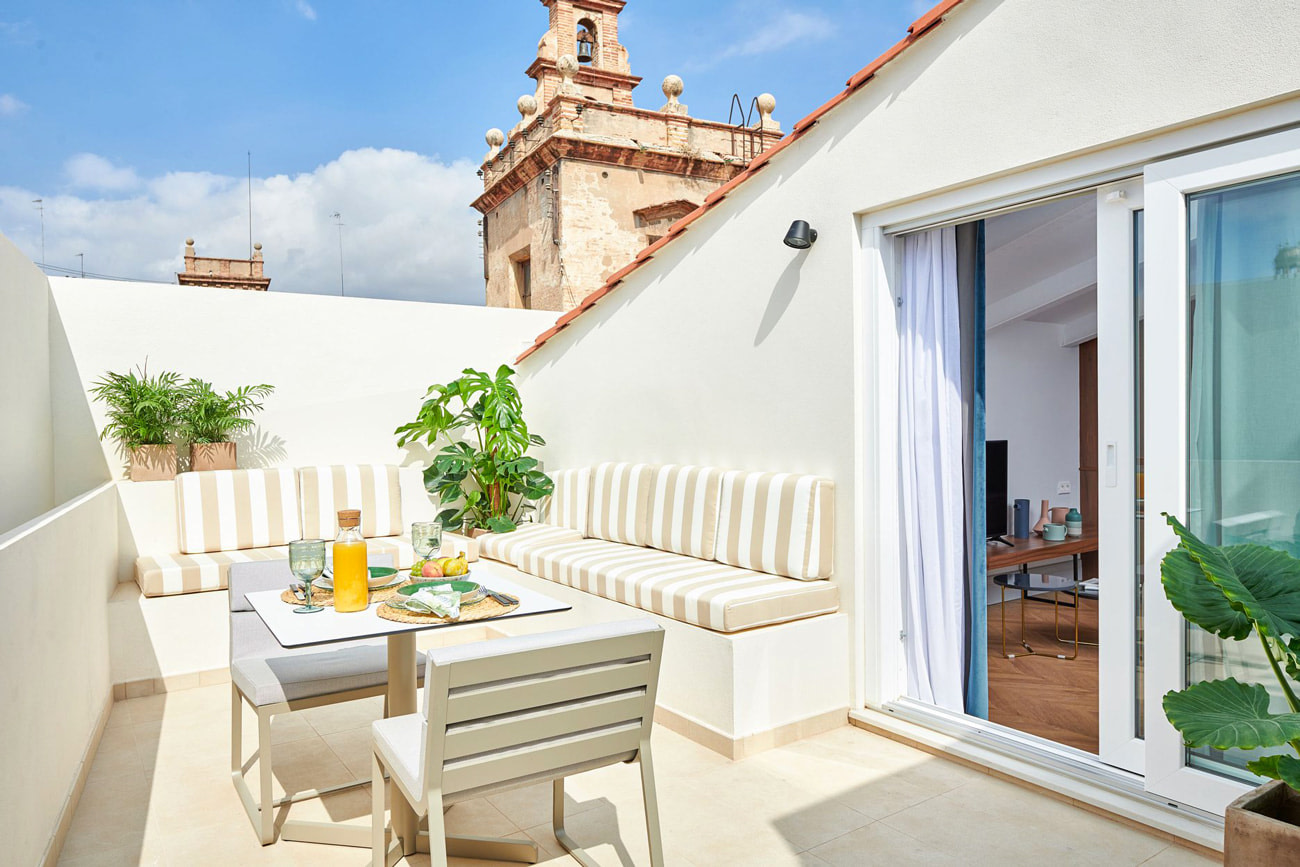 Located in the beating heart of central Valencia, Helen Berger buzzes with the same vibrancy as its eclectic locale. Filled with wood finishes and subtle color schemes that invoke all things natural, the interiors provide a bit of harmony within the otherwise bustling neighborhood. When you're looking to splurge, their penthouse suite delights with a private rooftop terrace, the perfect place to catch the Valencia sunshine. Their restaurant is open 24 hours a day, so there's never a time you can't indulge in one of their signature dishes prepared with the region's finest ingredients. Check out our Helen Berger Hotel review for more information about this space.
Cosmo Hotel and Bar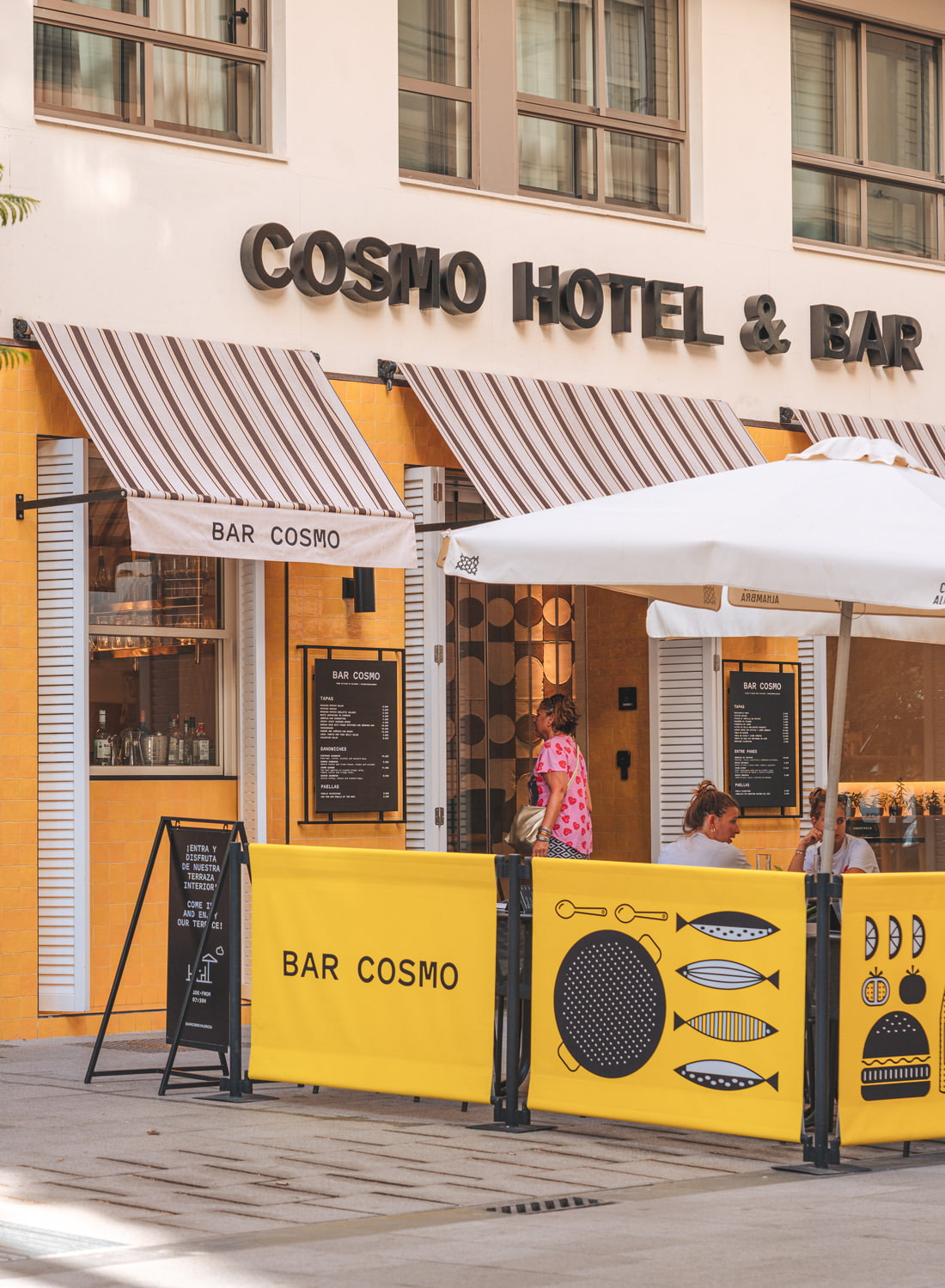 Offering a respite from the commotion of the city center, the Cosmo Hotel and Bar has spaces that blend the stark and the rich to provide a tranquil escape that will put you at ease. While white-washed walls and linens may seem utilitarian, bright pops of color and gold finishes are used throughout to add a casual air to the obvious luxury.
You need never feel like you don't belong: they have honed a very "take all kinds" environment that welcomes everyone, though every detail in both rooms and common spaces is carefully curated. The offerings in the bar reflect this as well: cocktails, tapas, and their wine list remain classic without resorting to the mundane. The food, spaces, and rooms together combine to create a property that is frequently voted one of the best hotels in Valencia.
YOURS Boutique Stay
Completely renovated from its former iteration as a laundry service and tenement in Valencia's Ruzafa neighborhood, every detail at YOURS Boutique Stay, from guest rooms to common areas, was considered meticulously to unite the space. Invoking the understated elegance of a day spa, the decor aims to make you feel right at home no matter where you're from, with calming tones and textures anchored by different shades of white.
Despite being a small boutique property, they have a relatively wide variety of accommodations to choose from, including simple rooms, small suites, and even guest apartments outfitted with a fully-fledged kitchen. The highlight here is their communal patio equipped with a calming plunge pool, the perfect place to relax after a long day in the Spanish sun.
Only YOU Hotel Valencia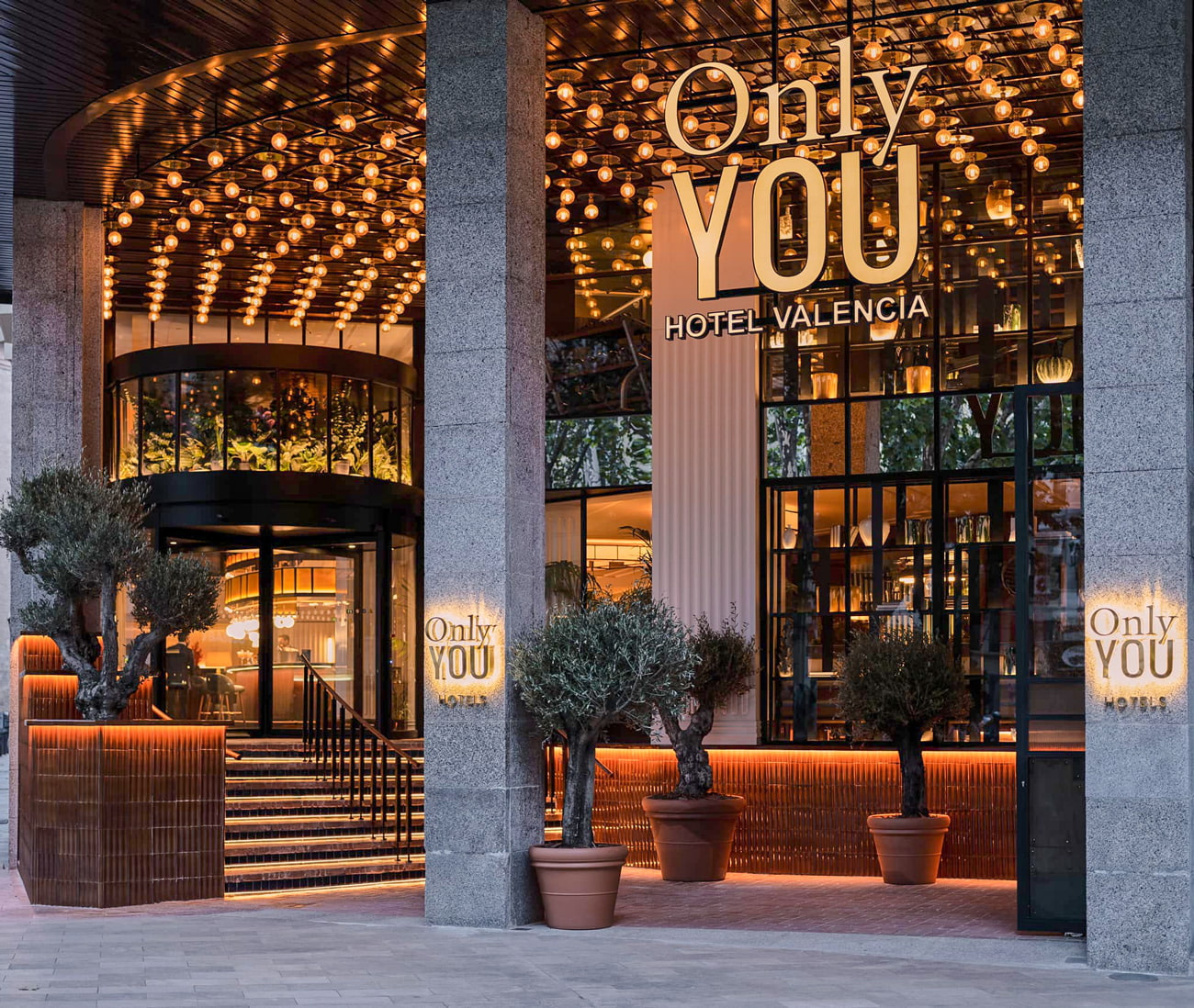 Lush and luxurious, Only YOU Hotel Valencia drips in the oft maximalist sensibilities of interior designer Lázaro Rosa-Violán, resulting in a vigorous yet cohesive space that reflects the nature of the wide diversity of folks that visit.
Like an interactive showcase of the obverse, seemingly antithetical design elements live alongside each other to create a space that fosters community. For instance, their restaurants feature a mix of seating; a vast dining floor offers a more communal feel, while booths tucked away along the perimeter into secretive-feeling nooks are also available for those who want to enjoy a more intimate experience. In rooms, stark white linens and walls are offset by luxe, textured rugs, warm wood finishes, and immaculate views.
Hotel Palacio Vallier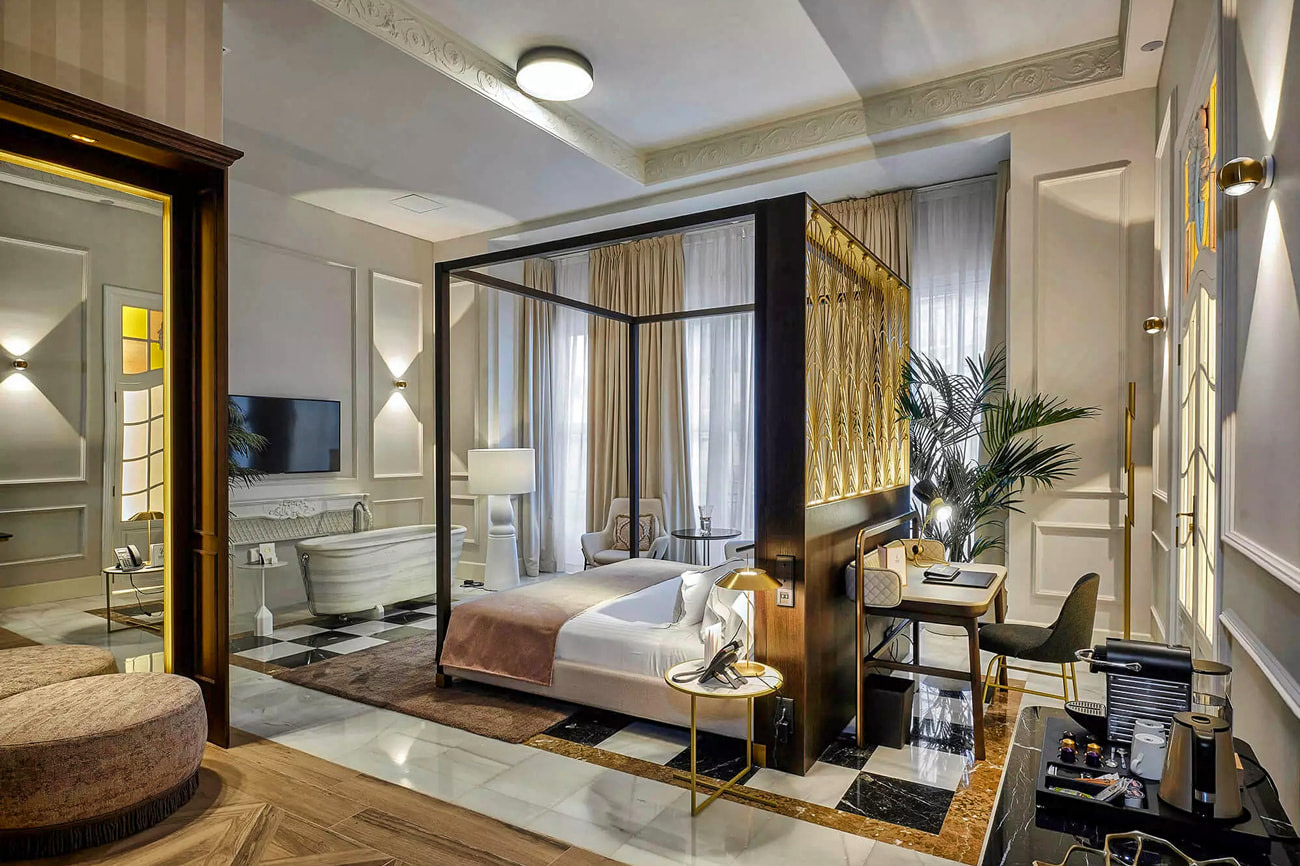 A 19th-century mansion turned luxury hotel, the Hotel Palacio Vallier is an homage to all things Art Deco with pieces that blur the line between architectural infrastructure and design elements. This is accentuated by the heavy use of bronze in both decorative and structural roles throughout the property.
During the refurbishment of the building, they took great care to retain both the physical and the intangible elements of its historical past, maybe most seen in one of their two restaurants, La Perfumería, or The Perfumery. Named for the remnants of an ancient Roman fragrance apothecary found beneath the 1893 construction during the most recent renovation, the restaurant insures a small part of this history lives on.
Caro Hotel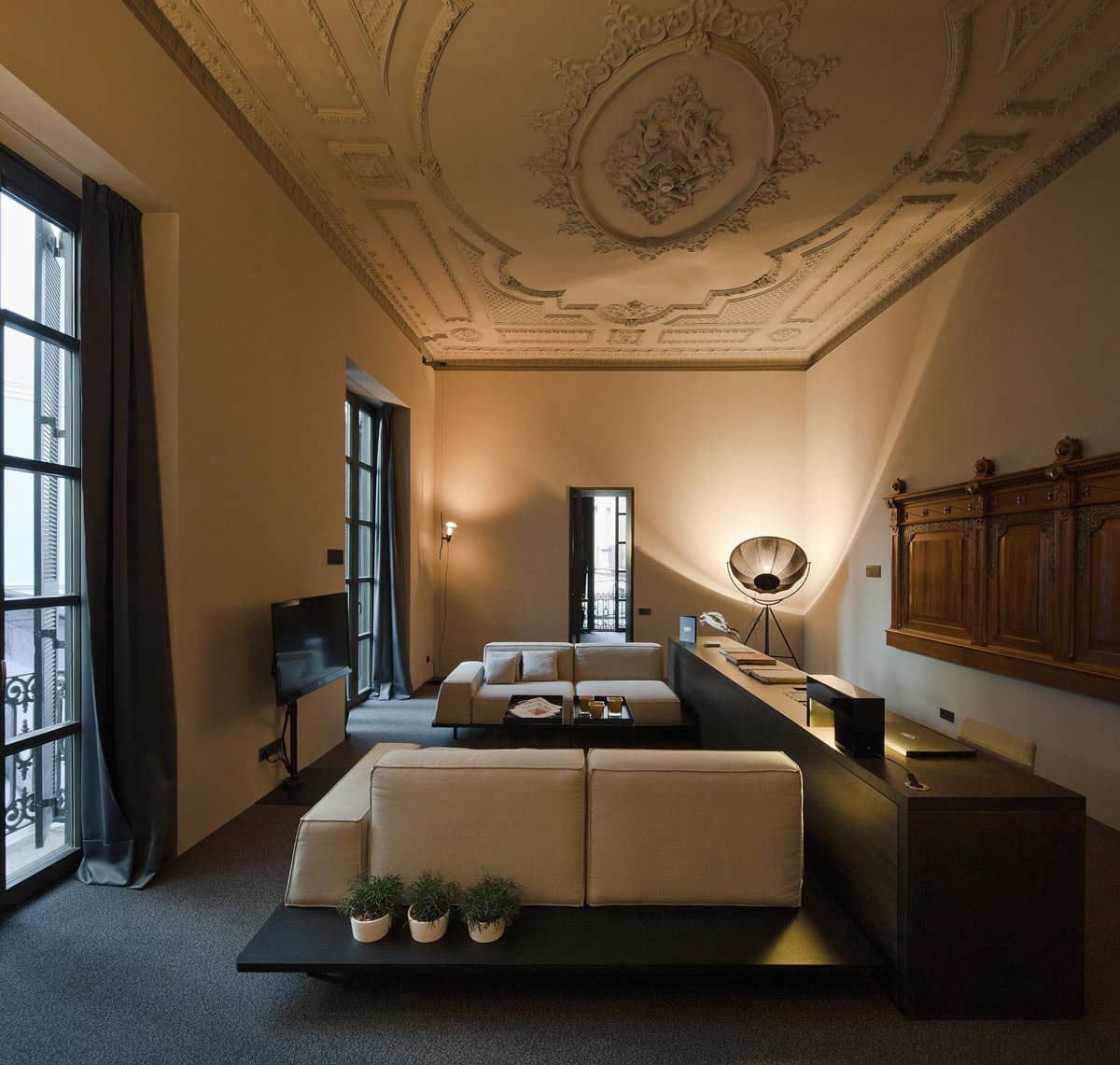 The slightly industrial feel of the Caro Hotel intends to reflect the building's historical roots and remains. The only hotel in Valencia that is also a historical monument, it was formerly the palace of the Marquis of Caro. Much of the original construction was kept within the current contemporary design, bearing elements like original handmade brick, oak beams, and coffered ceilings. Decadent materials befitting a 5-star hotel in Valencia are strewn throughout to complete the effect, including bright-white marble, luscious leather, and matte-black finished steel. Bonus: no two rooms are the same, so it'll be a treat every time you return.
Palacio Santa Clara, Autograph Collection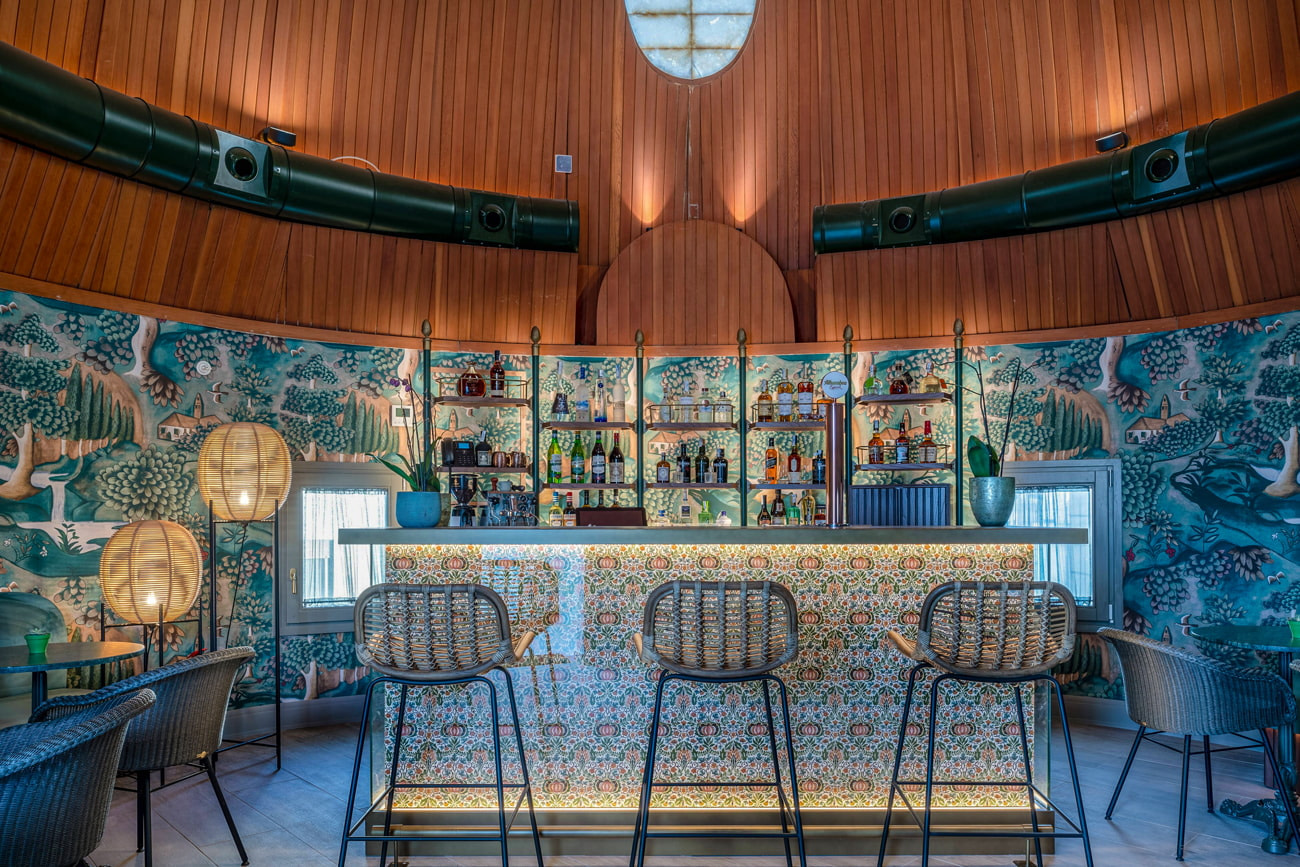 Classic and contemporary unite within the Palacio Santa Clara, Autograph Collection to create the ultimate Modernísta escape. A showcase for both innovative and classic pieces, the decor honors both contemporary Spanish aesthetics and the history of the space: the hotel's building was originally constructed in 1916. Just a touch of Cyclades-inspired Old Hollywood Glamour completes the effect and adds an aura of luxury that shines exceptionally bright through the camera's lens. Don't forget to visit the 5th-floor rooftop terrace, which houses El Torreón bar and a splash pool.
NH Collection Valencia Colón
If your eye for design also leans towards fashion, you'll want to consider a stay at the NH Collection Valencia Colón. Situated right near Gran Via, there are scores of Spain and Europe's most coveted designer clothing stores within walking distance, like Hermés and Louis Vuitton, as well as a smattering of Valencia's finest dining.
When you're ready to retire for the evening, you can relax in one of their eclectically decorated rooms or suites, all meticulously curated by renowned designer Lorenzo Castillo. He's known for crafting spaces that draw upon multiple cultures so that any jetsetter will feel right at home.
MD Design Hotel – Portal Del Real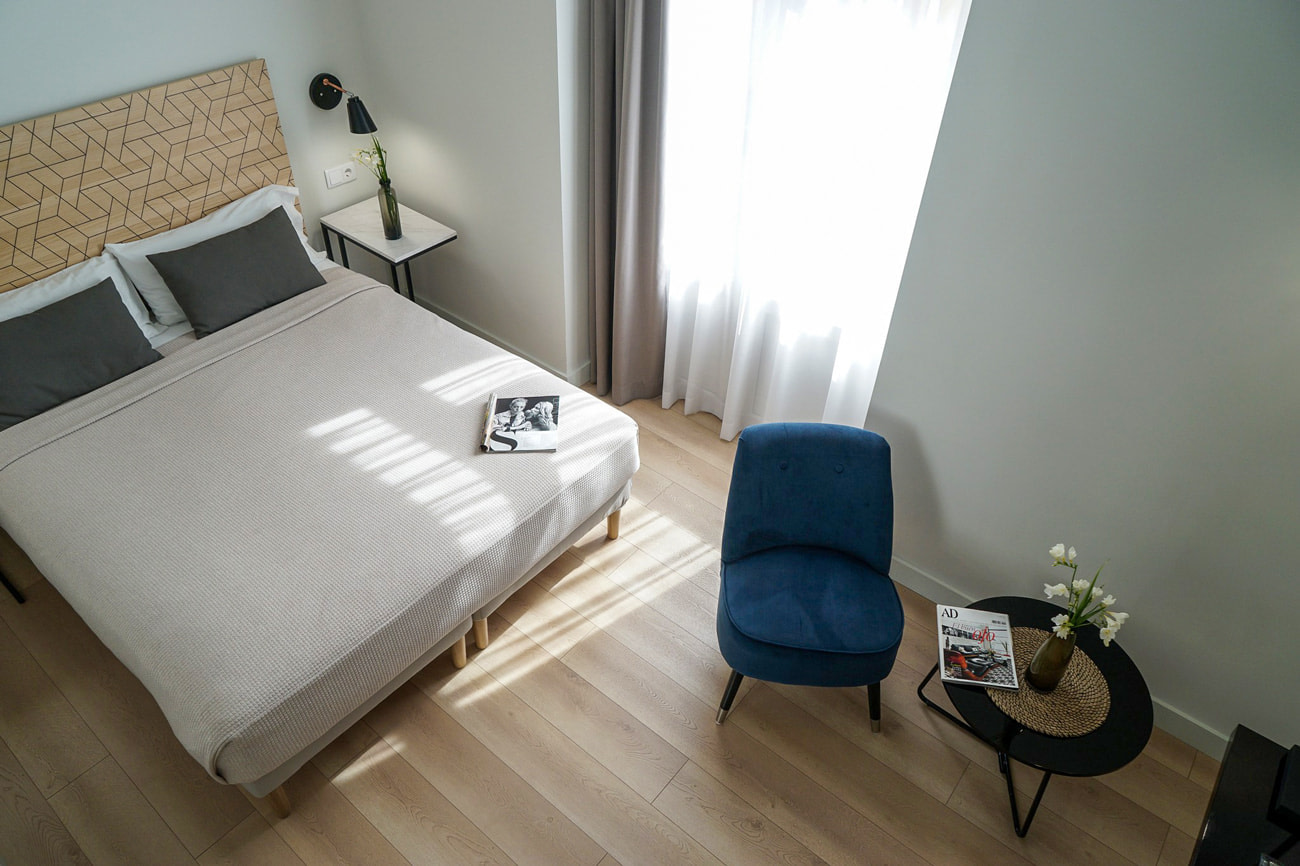 Ultra-contemporary and infinitely Instagramable, the MD Design Hotel – Portal Del Real is the perfect base for the ultimate city break. Though you'll find the use of natural materials prevalent in its spaces, you'll still feel the clear infusion of the kinetic energy of the city beyond its doors. Throughout the property – including in select guest rooms – are a plethora of terraces, balconies, and floor-to-ceiling windows that invite the outdoors in, flooding spaces with the additional element of natural light.