When it comes to water sports in the Mediterranean Sea, Corfu has everything covered, from sailing and snorkeling to parasailing and water skiing. Also known as Kerkyra, the greenest of the Ionian Islands boasts a 217 km coastline and a warm Mediterranean climate, perfect for enjoying a wonderful range of sports and outdoor pursuits all year round.
While inland Corfu attracts travelers with its picturesque countryside and sleepy villages steeped in history and culture, the coasts are dotted with excellent beaches, dramatic cliffs, lovely marinas and postcard-perfect bays. Overall, the island is blessed with crystal clear turquoise waters and steady winds, but it's the incredible variety of its shores that makes it such a fantastic destination for water sports' enthusiasts.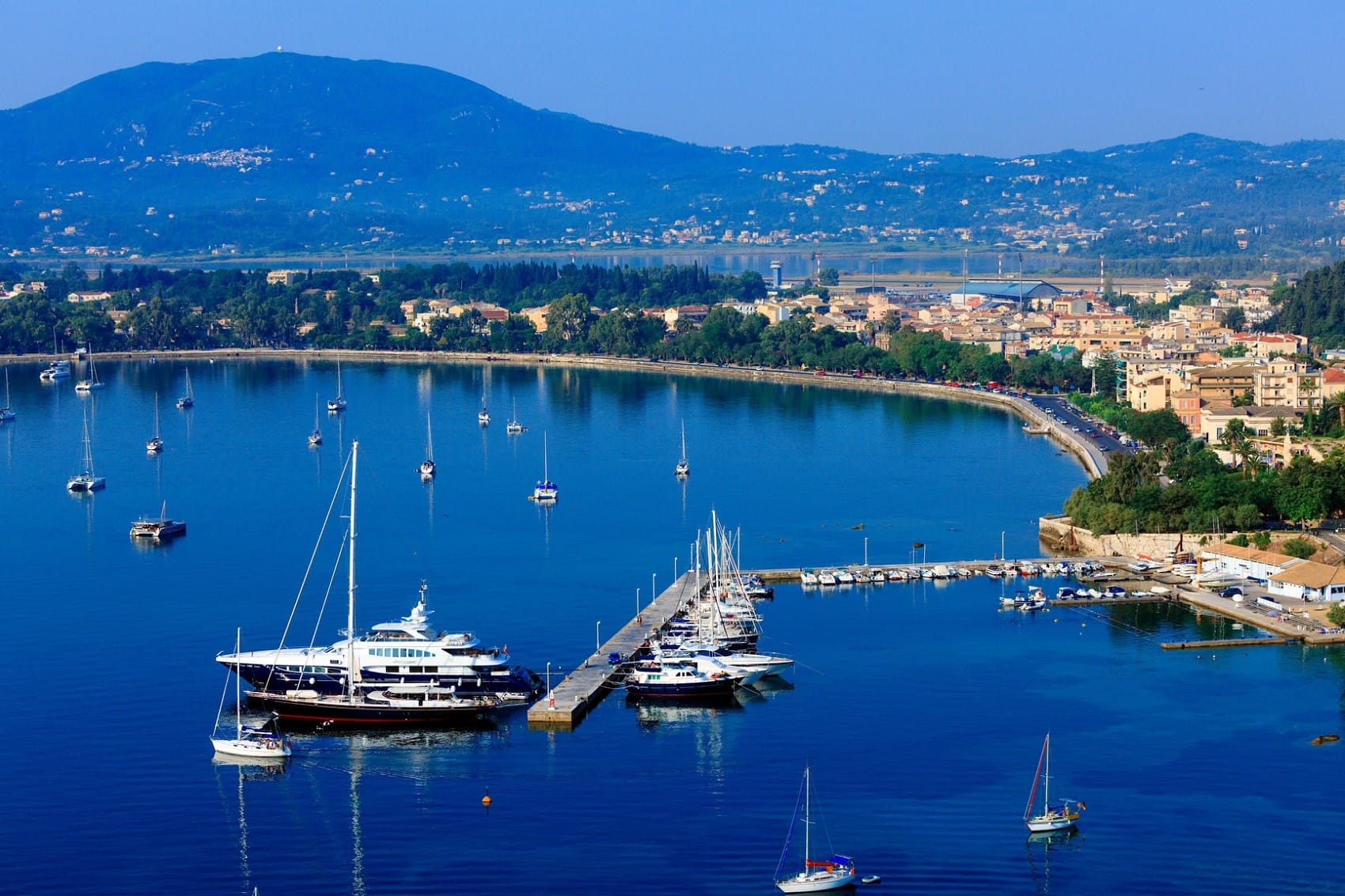 The high-quality facilities of Gouvia Marina and the winds that barely rise above force 5 here, make the shallow waters between the east coast of Corfu and mainland Greece one of the island's best destinations for sailing and boating. Nevertheless, for some spectacular coastal scenery and charming secluded beaches, you may well consider the rough west coast. Here, the winds are stronger and the waters choppier, but if you stay close enough to the shore, you will certainly be rewarded with a one-of-a-kind yachting experience.
In addition to sailing, Corfu is also a wonderful destination for underwater adventurers, its calm and incredibly clear waters providing outstanding conditions for snorkeling, scuba diving and underwater photography. Diving centers can be found in all major destinations throughout the island, but some of the most interesting spots are located along the western and the north-eastern coasts. Highlights include the Liapades Reef (outside Paleokastritsa), famous for its rich marine life and fabulous caves; the Monastery Reef with its canyon, deep tunnels and shrimp cave; the scenic Tholeta Rock; and the Ermones Reef – ideal for both beginners and experienced divers.
If you're more into wind and kite surfing, you should know that the tranquil waters of the Ionian Sea are not really suitable for this kind of sports, at least not from May to August, when the winds are inconsistent. However, Corfu is a fantastic place to learn or improve your skills, with a pretty good range of remote beaches where you can practice. Some of these places are the large sandy beach of Issos in the east of the Korission lagoon, and the small bay of Avlaki, nestled between the village of Agios Stephanos and the lively Kassiopi resort. Both beaches provide professional instructors for sailing and windsurfing.
Notwithstanding, the best places to be for wind and waves in Corfu are the long stretch of sand of Acharavi in the north of the island, and the unspoilt Chalikounas beach along the east coast of Corfu. Due to its location on the northern tip of Corfu, the Acharavi beach benefits of the famous "mistral winds", providing decent sailing and surfing conditions for beginners and intermediates. Likewise, the wild beach of Chalikounas greets surfers with few swimmers to worry about, plenty of natural beauty and no hassles with parking or space to rig up. And although it doesn't have too much to offer in terms of big waves, the winds that characterize the west coast of Corfu make it perfect for both wannabe surfers, as well as for beginners and intermediate sailors.
During the autumn and winter months, however, Corfu's tranquil surfing and sailing scenes become pretty challenging with waves swelling to nearly 13 feet and winds often exceeding force 7.
Last but not least, the east coast of Corfu – especially the flat waters of Gouvia's gorgeous natural marina – allows some surprisingly good water-skiing and wake boarding opportunities.
Fortunately, this beautiful green island in the Ionian Sea is a favorite destination among travelers, with plenty to see and do within its boundaries. Via Thomson, you can find cheap flights to Corfu and a wide variety of accommodations, ranging from luxury resorts and trendy boutique hotels to quaint bed and breakfasts and elegant private villas.