While cemeteries are always associated with death, grief, and sorrow, they can also be fascinating places to visit, attracting the living with their strange serenity, striking architecture, or manicured park-like grounds.
From bizarre ancient necropolises to architecturally stunning contemplative spaces and veritable outdoor museums, these eerily beautiful and totally unique cemeteries in Europe are worth the trip alone.
Skogskyrkogården Woodland Cemetery, Sweden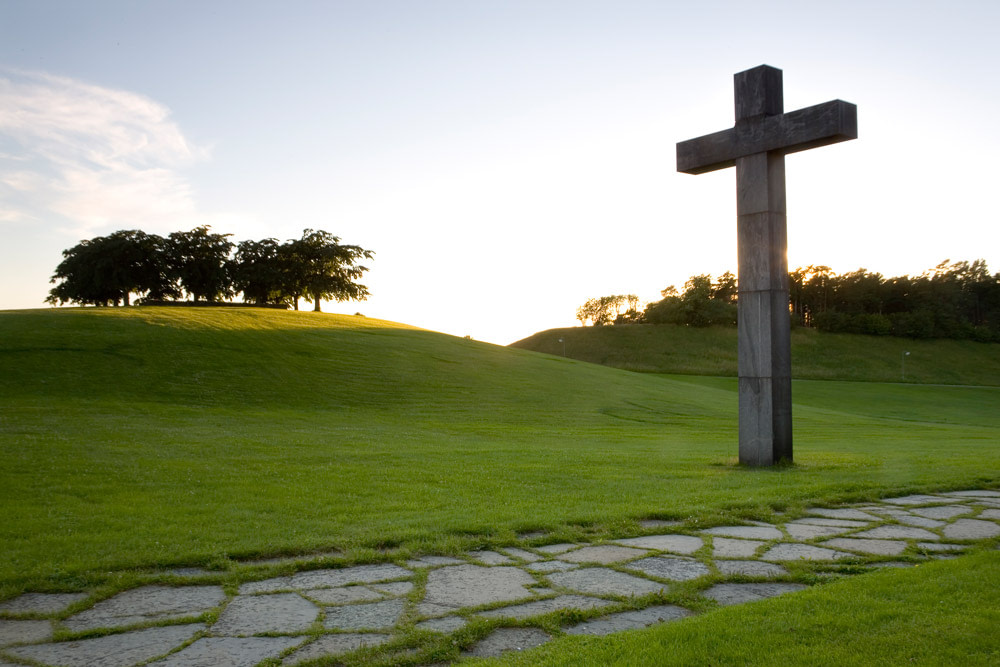 Designed by Swedish architects Gunnar Asplund and Sigurd Lewerentz, Skogskyrkogården – Stockholm's Woodland Cemetery – is considered a masterpiece of Nordic Classicism and an outstanding example of how nature and architecture can exist in perfect harmony.
More than just a burial ground, this is a UNESCO-protected park-like setting enveloped in peace and serenity, a place for strolling, contemplation, and birdwatching. Guided tours are available throughout the summer months.
Merry Cemetery, Romania
Hidden in a small Romanian village, the Merry Cemetery (Cimitirul Vesel) is definitely one of a kind. The graveyard's bright blue wooden crosses are personalized with cheery pictures and darkly humorous epitaphs about the deceased person's life.
The site is located in the village of Sapanta, Maramures (about 600 km from Bucharest) and is considered a monument of folk art of inestimable value.
Old Jewish Cemetery, Czech Republic
Founded in the 15th century, the Old Jewish Cemetery in Josefov is one of Prague's most unique and absorbing sights. Around 12,000 crumbling gravestones from different periods are crammed together into this compact plot of land, but they say there are more than 100,000 Jews buried here. This gives the graveyard, which is Europe's oldest surviving Jewish cemetery, a mysterious, mourning feel.
The place is administered by the Jewish Museum and admission also includes a tour of the museum and entry to various synagogues.
City of The Dead, Russia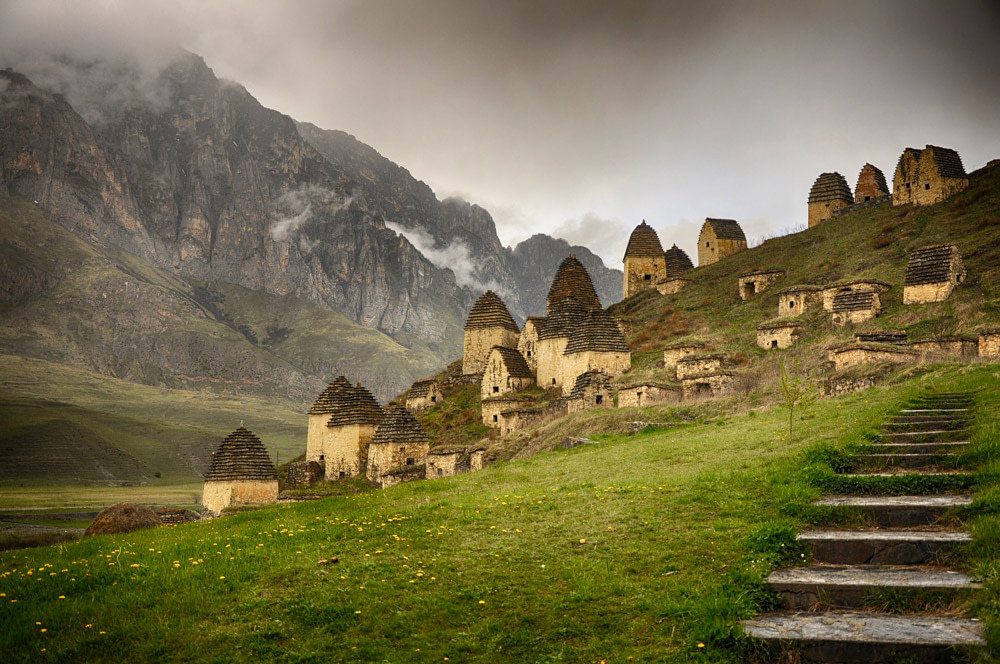 Tucked away in the Caucasus mountains of North Ossetia, Dargavs – also known as City of the Dead – is steeped in myths and mystery. The settlement plays host to an ancient Alanian necropolis of 99 tombs and crypts, where locals buried their loved ones long time ago. These white house-like structures with ridged curved roofs are clustered on a hillside, resembling a small village.
The site is about one hour's drive from Vladikavkaz, the capital city of the Republic of North Ossetia–Alania.
Highgate Cemetery, England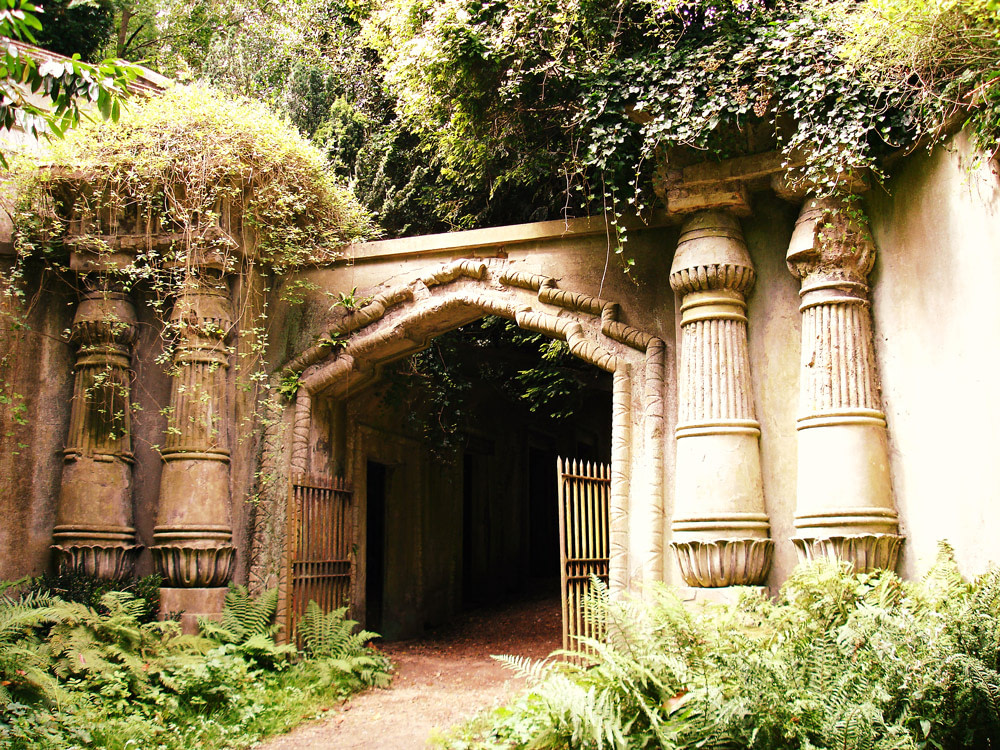 With its shaded, atmospheric paths meandering through tombs, vaults, and mausoleums, Highgate is, without doubt, one of London's most handsome and elegant cemeteries.
Opened in 1839, the Victorian burial ground is both a nature reserve as well as a Grade I historic site, renowned for its fine funerary architecture and notable people buried here. Among them are Karl Marx, Douglas Adams, George Eliot, scientist Michael Faraday, and the family of Charles Dickens.
Highgate Cemetery is divided into two parts. While visitors can wander freely (for a small fee) through the East Cemetery, the West part, where the most remarkable architectural features lie, can only be visited by guided tours.
Newgrange, Ireland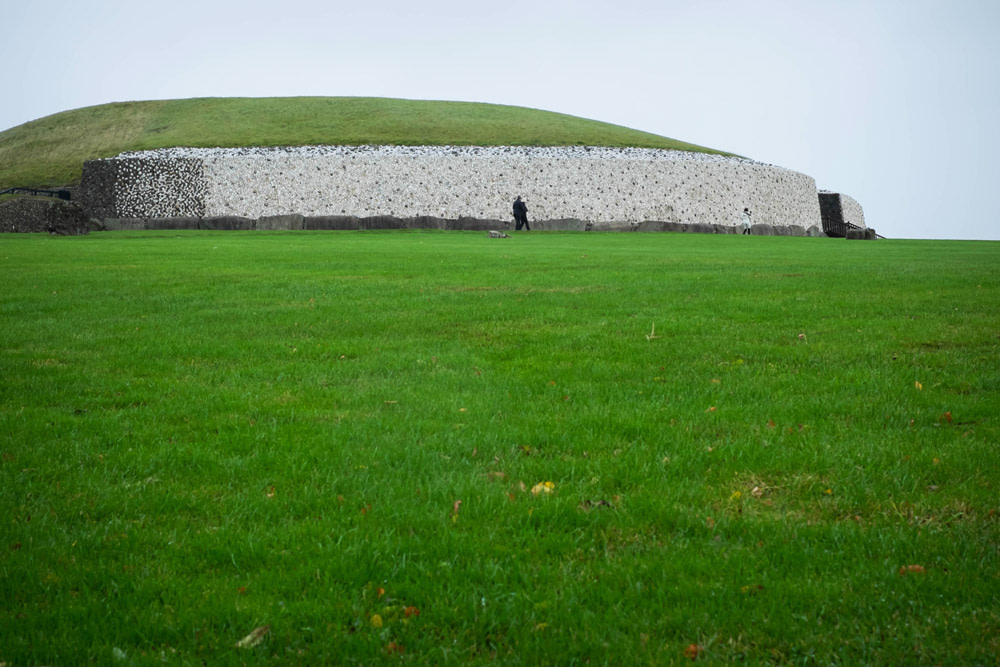 Dating back to 3200 B.C., Newgrange is not your usual burial ground. Older than Stonehenge and the Egyptian pyramids, this intriguing Neolithic passage tomb in Ireland's Ancient East is aligned with the Winter Solstice and consist of an enormous kidney-shaped mound surrounded by kerbstones engraved with Megalithic art. Inside, a 19-meter-long passage leads to a chamber with three alcoves and a corbelled roof.
Although human cremated remnants have been discovered onsite during excavations, it is believed that the original purpose was much more complex, involving not only the burial of the dead but also special rituals and ceremonies.
The site is open to public year-round, but access to the chamber during the solstice, when the rising sun illuminates the room revealing the carvings inside, is only reserved for a lucky few and decided by lottery.
Cross Bones Graveyard, England
Also known as the Single Woman's Churchyard, London's Cross Bones graveyard is the final resting place of 15,000 bodies, most of them prostitutes and other outcasts of society.
Located on Redcross Way in Southwark, the disused medieval burial ground is now a memorial garden and a place of pilgrimage of profound spiritual significance, hosting monthly candlelit vigils as well as various artistic events.
The sad story of Cross Bones graveyard is indelibly tied to the history of London's first red light district and the Winchester Geese (women licensed by the church to work in the local brothels), offering visitors a one-of-a-kind cultural experience.
Père Lachaise, France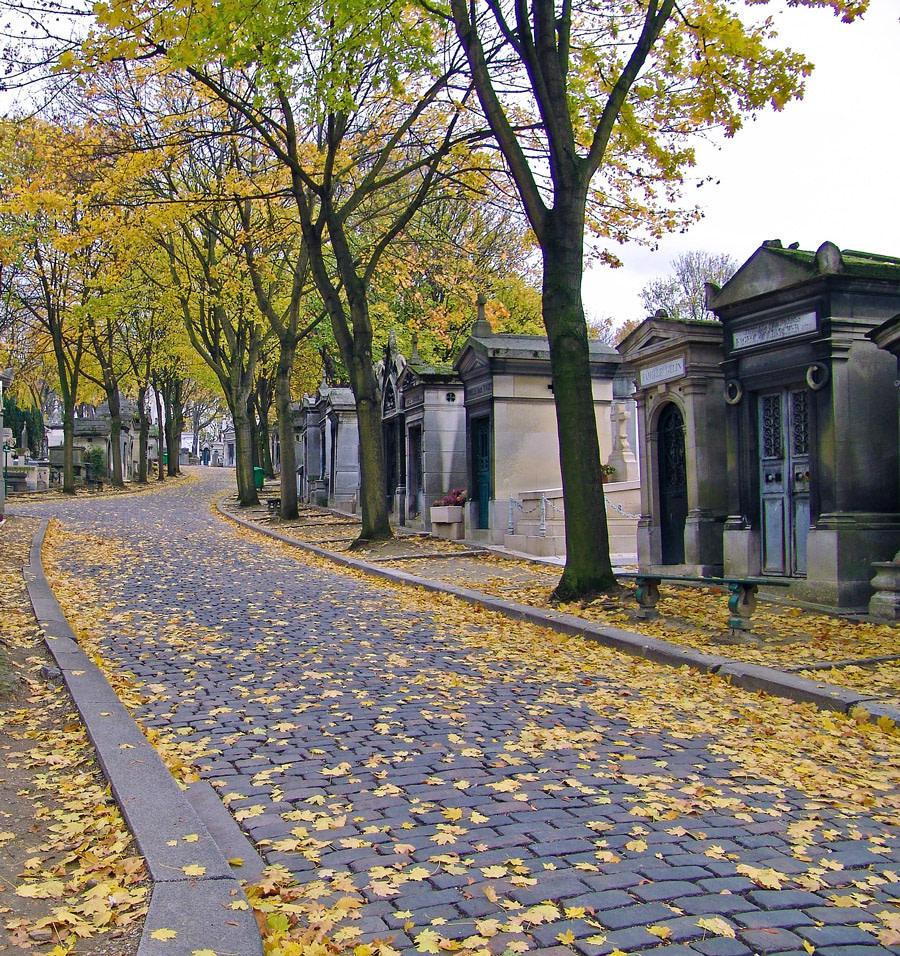 With so many famous people interred inside, it's no wonder Père Lachaise is the most visited cemetery in the world. More of a sculpture garden than a burial ground, this Parisian landmark showcases a variety of funerary art styles, featuring everything from ancient mausoleums and richly decorated gothic graves to Art Deco monuments and even Egyptian pyramids.
The Père Lachaise cemetery is also the largest park in Paris, and a stroll down its tree-lined cobblestone streets is like walking through history, as each tomb, crypt, and piece of stone has a story to tell. Notable residents include Molière, Modigliani, Balzac, Oscar Wilde, Edith Piaf, and rock star Jim Morrison.
Normandy American Cemetery and Memorial, France
You'll be hard pressed to find a more serene European graveyard than the elegant Normandy American Cemetery in Colleville-sur-Mer.
This 70 ha memorial park impresses with its green, manicured lawns overlooking Omaha Beach and perfectly aligned white marble crosses and Stars of David. It contains the remains of the 9,387 American soldiers who lost their lives in the D-Day landings, as well as an imposing colonnaded memorial built around a 22-foot statue called "The Spirit of American Youth Rising from the Waves".
Gubbio Cemetery, Italy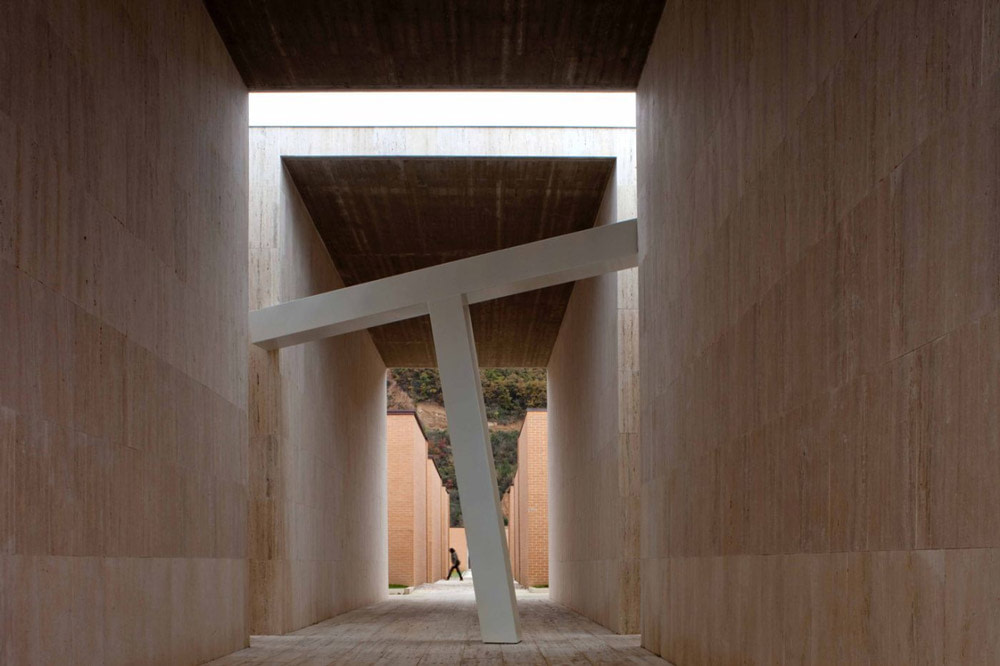 Designed by Italian architect Andrea Dragoni, the extension of Gubbio's historic necropolis in Umbria is a stunning example of modern cemetery architecture. Inspired by the linear arrangement of the surrounding town, the project embodies the vision of an abstract urban settlement, with its own greed of inner streets, sharply defined cubic blocks clad in travertine, and large courtyards framing views of the sky – called "squares of silence", which serve as both art galleries and places to pause and reflect.
Islamic Cemetery, Austria
Envisioned by Bernardo Bader Architects, the striking, award-winning Islamic Cemetery in Vorarlberg pays tribute to the "first garden" and encompasses 5 finger-shaped graveyards, prayer rooms, as well as various areas designed for Muslim funerary rituals.
The red-tinted concrete complex combines locally inspired design and materials with references to Islamic religious architecture. One of the most visually arresting features is the kiblah wall facing Mecca, which is covered by superb oak latticework. Equally interesting are the gradient colored prayer rugs , handwoven in Sarajevo.
Myra Necropolis, Turkey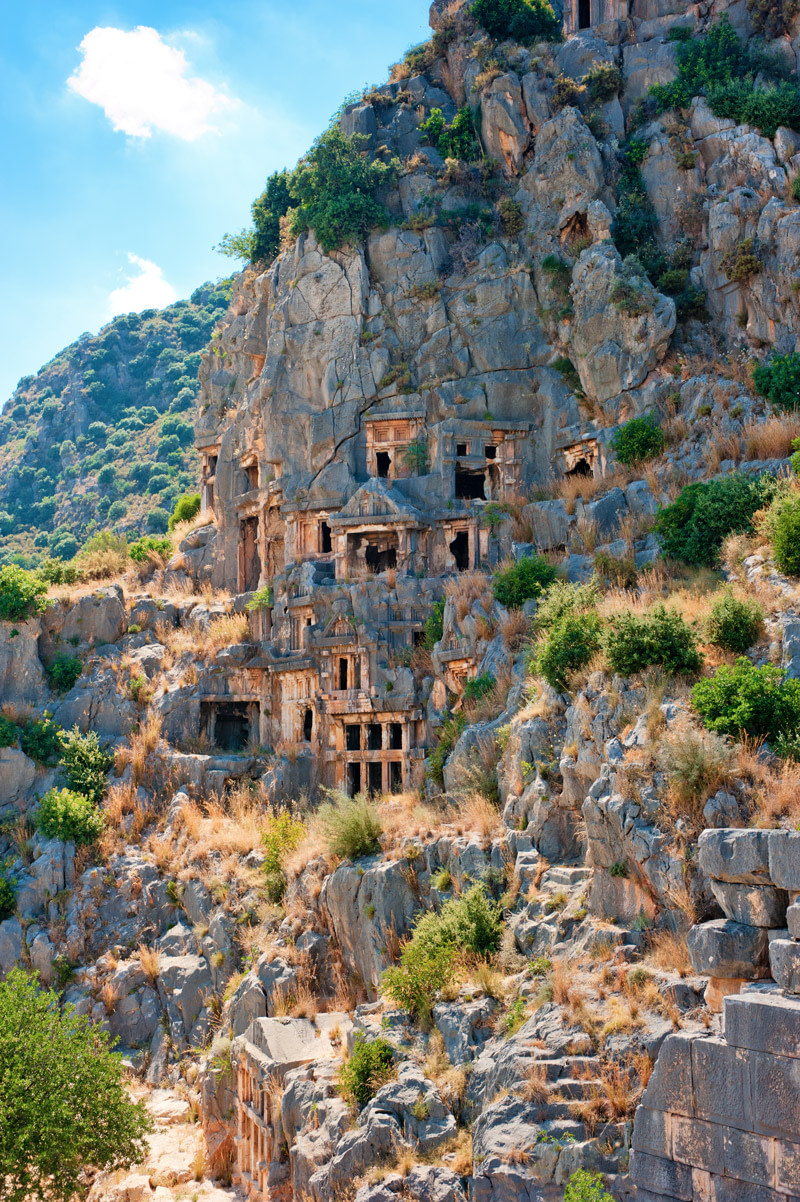 From all the ancient ruins in Myra, these rock-cut tombs are perhaps the most spectacular.
Dating as far back as the 4th century BC, the necropolis, divided in two burial sites, offers an insight into the ancient Lycian culture, their customs and beliefs. Carved into cliff faces, these magnificent tombs are artistically designed resembling houses or temples, and most of them are adorned with reliefs depicting mythological scenes or passages from the life of the deceased.
San Michele Island Cemetery, Italy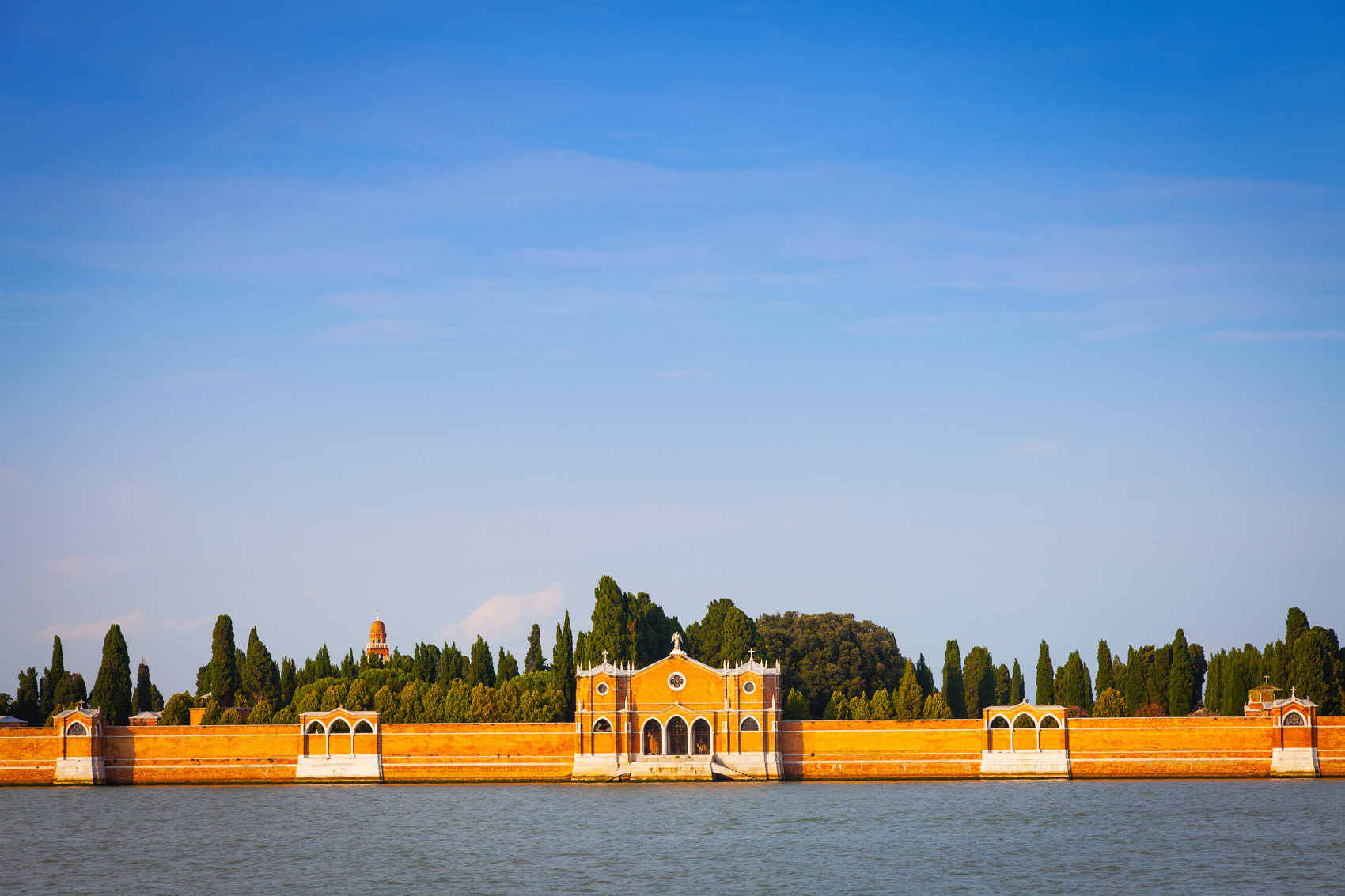 A gorgeous island cemetery in the Venetian Lagoon, San Michele is enclosed by fortress-like orange brick walls and divided into categories. The place itself looks like a collection of calm, beautiful gardens, scattered with cypress trees, fresh flowers, and eclectic graves decorated with photographs.
The greatest and best maintained area is devoted to Catholics, but there are also sections dedicated to Protestants, Greek Orthodox, foreigners, and even gondoliers. Consequently, the variety of monuments is astonishing, ranging from beautifully ornate sculptures to modern, minimalist tombstones and gorgeous mausoleums.
The island is also home to a richly decorated chapel and San Michele in Isola, a lovely white marble 15th century church dedicated to St. Michael the Archangel. Cimitero San Michele can be reached by vaporetto from the Fondamenta Nuove platform in Venice.