Though it's often overshadowed by its neighbor to the south, New York, historic Boston may in fact be the perfect place to spend the holiday season. Perched on the shores of Boston Harbor in eastern Massachusetts, this New England town has beautiful ivy-strewn architecture, a frosty snowy climate, and excellent food – basically, all the trappings you could possibly want in a perfect holiday destination.
Whether you're more into music, dancing, skating, or even a dinner cruise, you're bound to find something fun to do on a winter vacation here. If you've never been before, or just need some new inspiration, here are some ideas for fun activities to enjoy with friends and family this December in Boston.
See Blink! at Faneuil Marketplace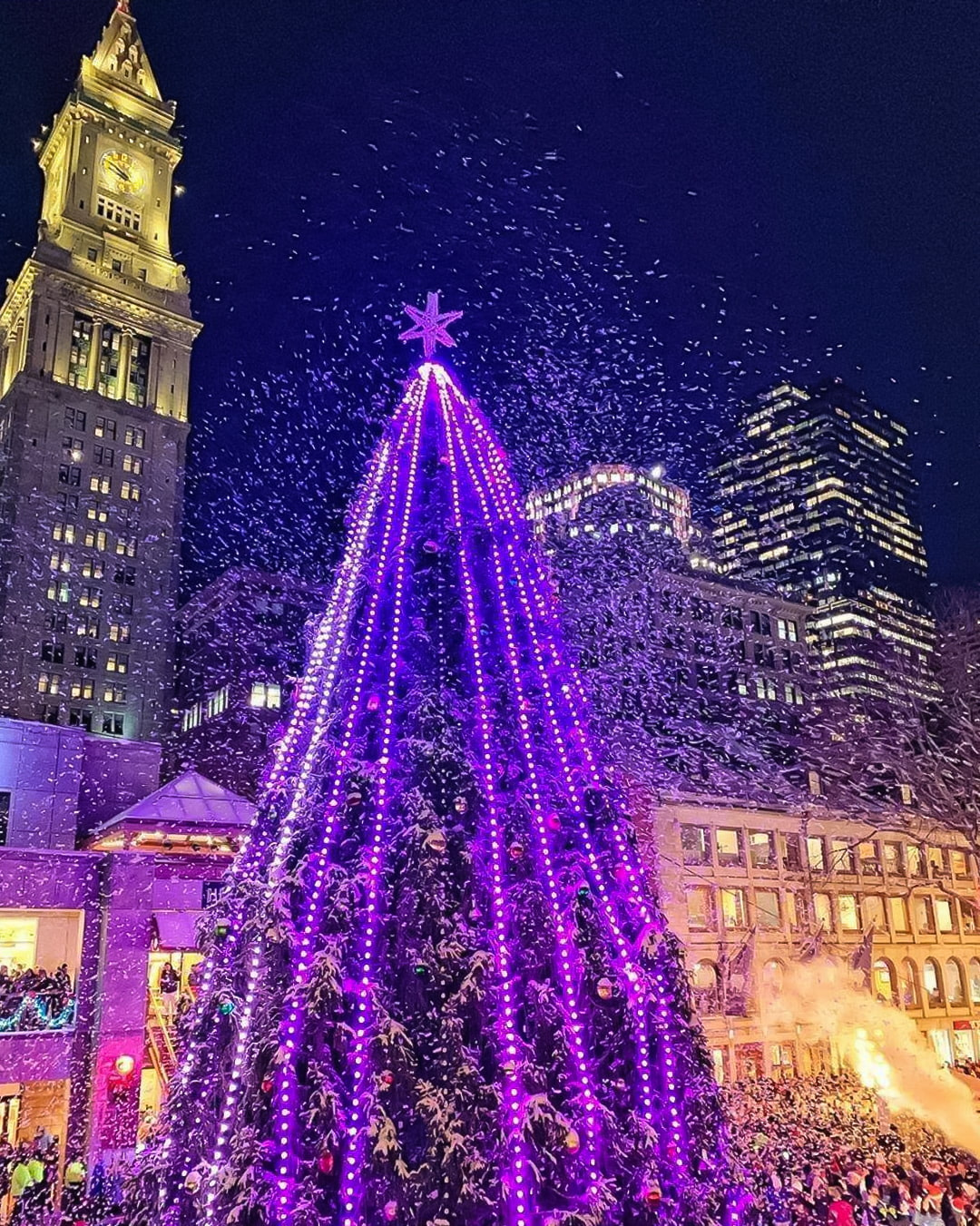 An iconic light and sound show centered around the "Big Tree" – the largest decorated tree in all of the Northeast – Blink! will continue to delight in 2020. Hosted at the historic Faneuil Marketplace, you'll have a ton of chances to catch this 7-song show as it repeats every half hour between 4:30 and 10 PM all December long.
This year, Blink! kicks off on December 1st, with the Big Tree lighting festivities that begin around 7 PM. If you don't want to brave the cold to attend, you can catch all of the action from the comfort of your own living room or hotel, as the ceremonies will be broadcast on CBS Boston WBZ-TV beginning at 7:30 PM.
Stroll through Quincy Market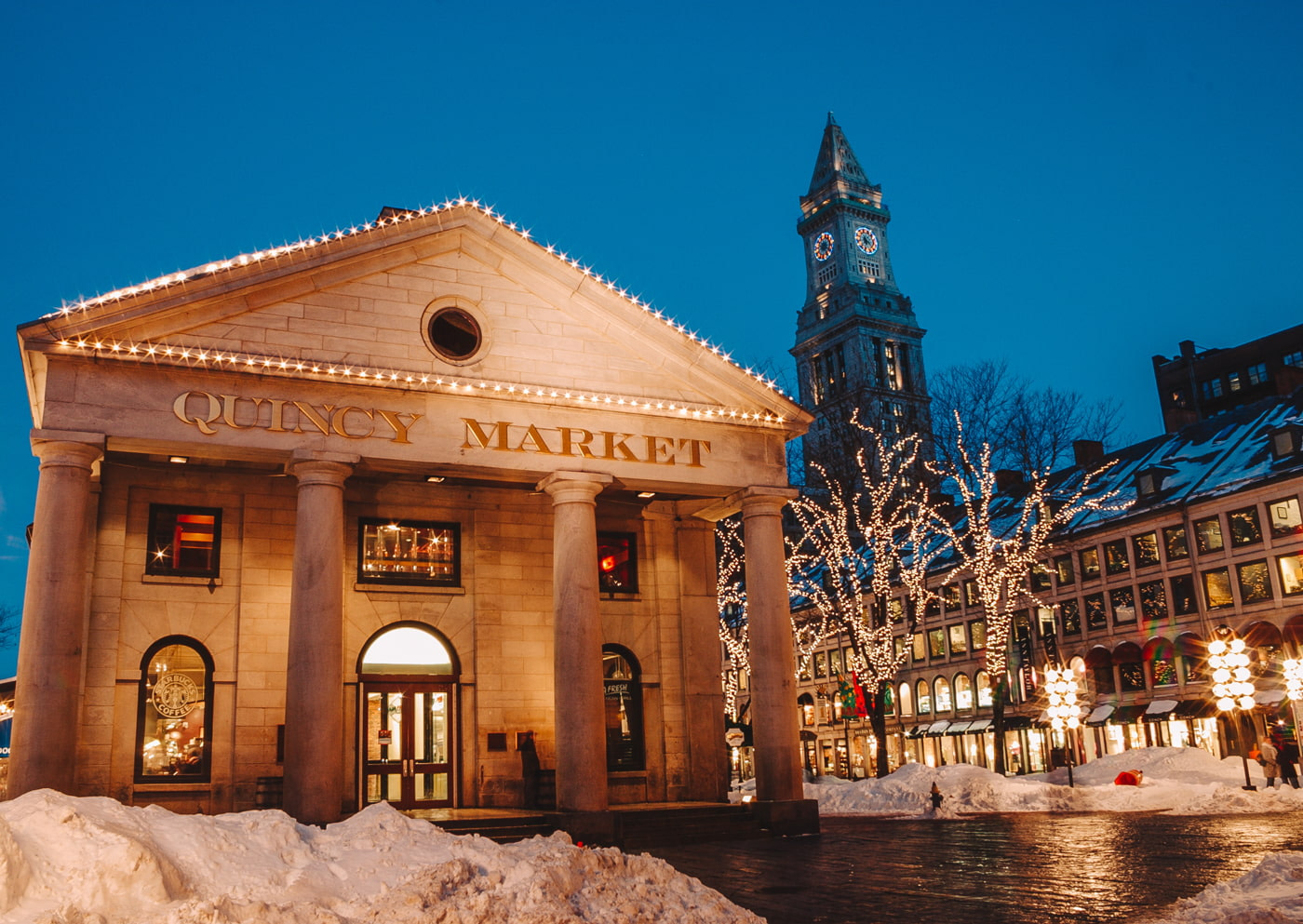 Also at Faneuil Marketplace is the enchanting Quincy Market. If you're looking for holiday goodies and last-minute gifts, you'll find more than enough in this vast collection of shops and stores, and likely be delighted by the way they deck the halls for Christmas time.
If you get hungry, just stop by the Colonnade, the largest food hall in New England. Here you'll find a huge selection of international foods, as well as local favorites like fresh seafood and Boston style pizza.
Check out the Famed Illuminated Trellis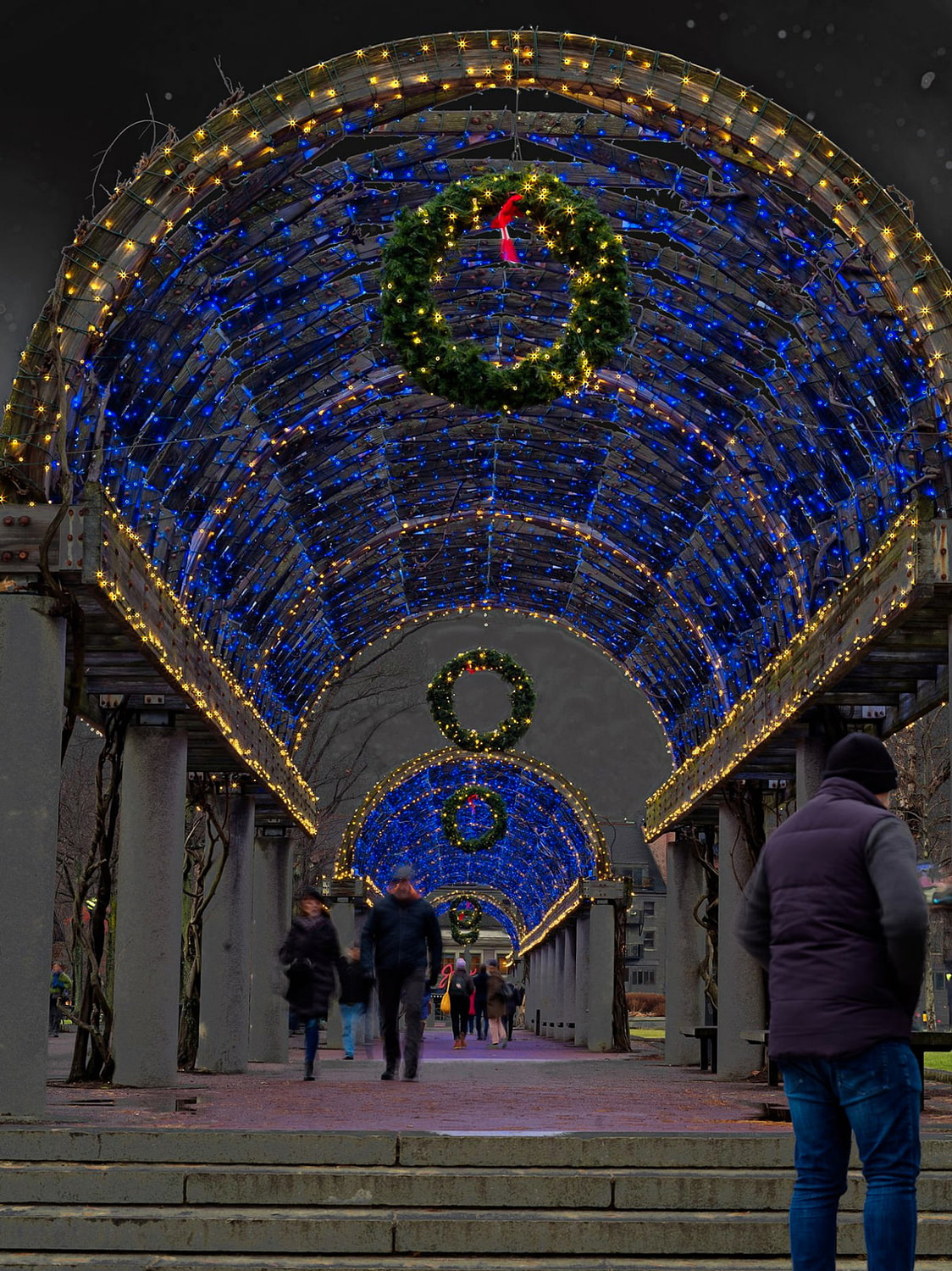 Named the "best public holiday decoration in Boston" last year by the Boston Globe, the illuminated trellis in Christopher Columbus Waterfront welcomes Bostonians annually. This year, mayor Martin J. Walsh will lead the trellis lighting ceremony on November 23rd, and it will remain lit with over 50,000 blue lights through the New Year.
A Boston tradition for almost 20 years, this illuminated trellis draws a particularly romantic crowd. Renowned for being the most lovely holiday display in the city, people flock here for proposals and wedding photos. If you're visiting Boston with your sweetheart, you'll want to at least grab a pic or two in front of this impressive display.
Meet the Animals at the Stone Zoo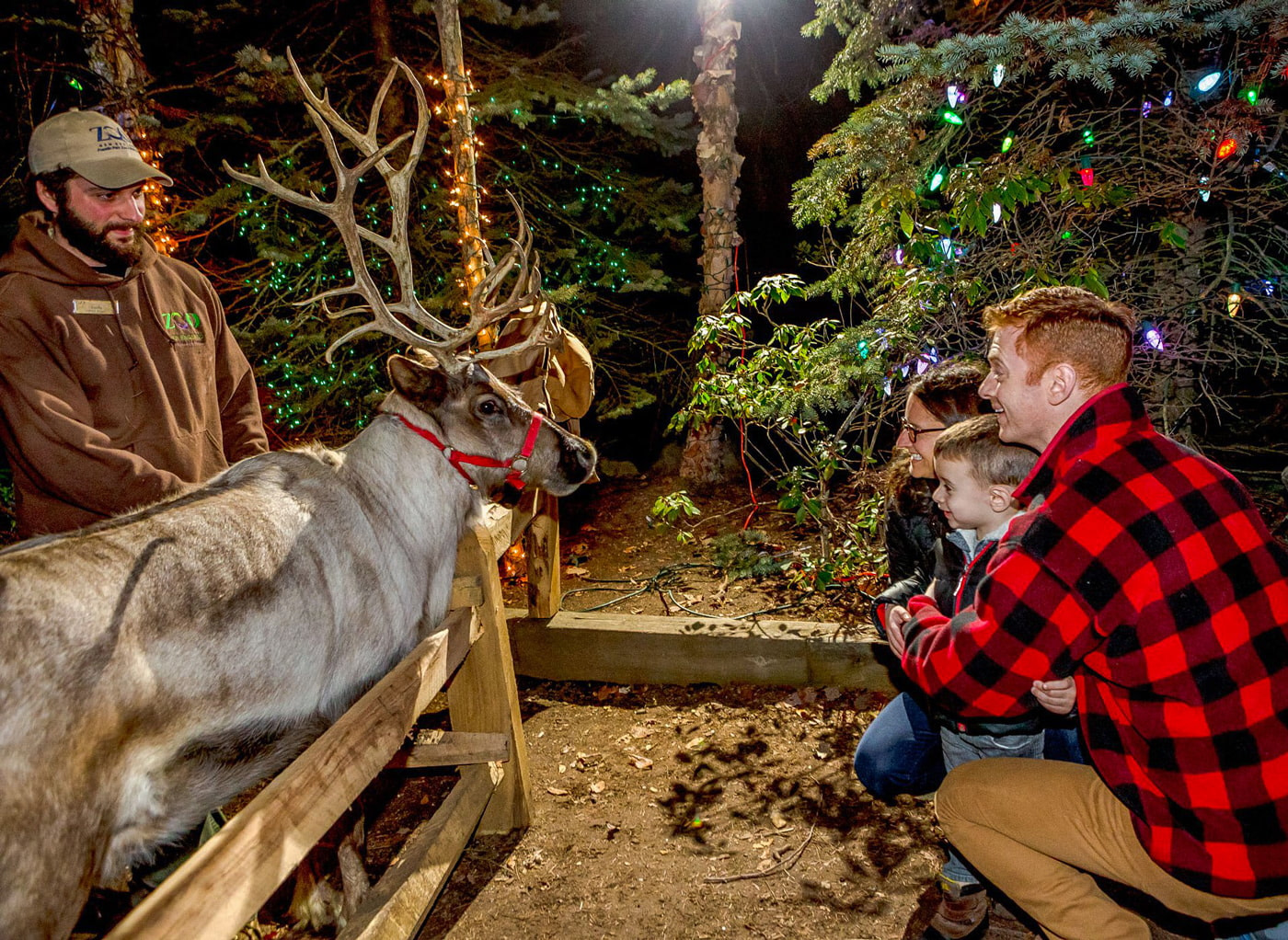 Just north of Boston, set on 26 green acres, is the Stone Zoo. Every year in December they host a fun and impressive holiday program, anchored by its tree-lined walks decorated with thousands of Christmas lights and holiday displays, lending the season its name: Zoolights.
Though this annual month-long event draws people of all ages, kids will find a particular joy in the Stone Zoo's holiday agenda. You may want to schedule your trip to the zoo around one of their holiday events, so be sure to check their schedule before you go. Special events include different musical performances, visits with Mrs. Claus, and even weekend evening hot chocolate parties with Santa's reindeer!
The winter carnival rides, a favorite amongst little ones, are up and running every day in December, and if you want to preserve your holiday memory, you can get photos taken with Santa every day.
Sail Away on a Holiday Cruise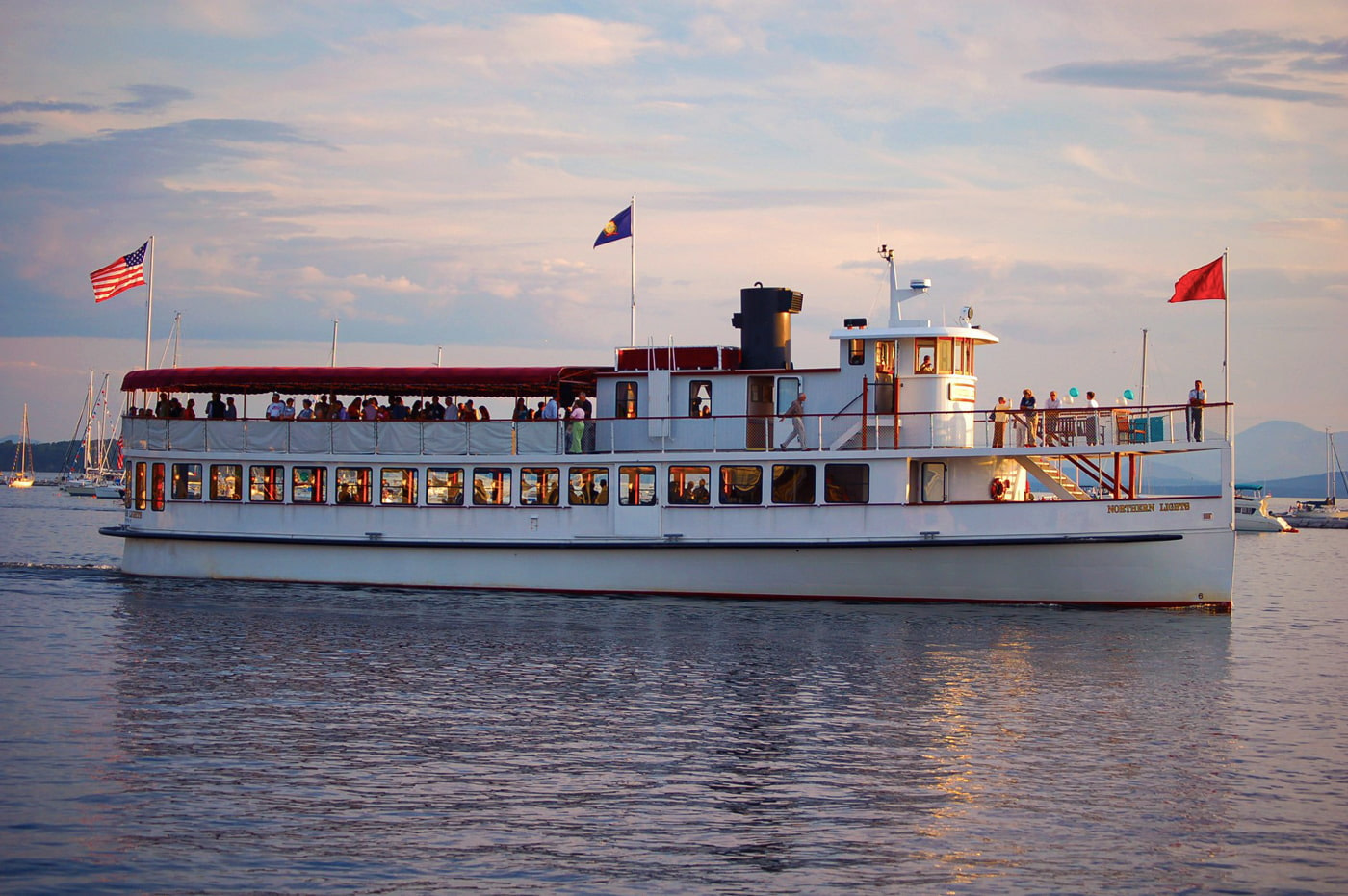 Although the iconic Northern Lights yacht sails the Boston Harbor year-round, their holiday cruises have become an annual tradition for locals and tourists alike. Whether you're looking to enjoy an adults-only night out or spend some time with the whole family, there's sure to be a trip aboard this luxury yacht that will pique your interest.
In order to immerse yourself in the Christmas spirit, try the Cocoa and Carols cruise. Embarking on weekends, this cruise has Christmas standards played by a live Jazz band who invites you to sing along. And after you've hit up their winter hot chocolate bar, you can even steal away to the above deck bar to add a little Schnapps.
If a day trip is more your speed, the Holiday Brunch cruise may be the perfect option. You can enjoy a delicious three-course gourmet brunch, even a cheeky mimosa or two, and still leave your evening free to stroll the waterfront after you disembark.
But for the ultimate luxury yacht party, you'll have to join the crew aboard the Northern Lights for their annual New Year's Eve Fireworks cruise. You'll be treated to elegant appetizers like wagyu beef sliders and lobster crostini, and be sure to pre-order a bottle or two of Moët & Chandon champagne for the perfect midnight toast.
All Northern Lights cruises depart from 60 Rowes Wharf on the Boston Waterfront, just be sure to book them well in advance as they're operating at lower capacity this year to maintain social distancing.
Join Midnight Mass on Christmas Eve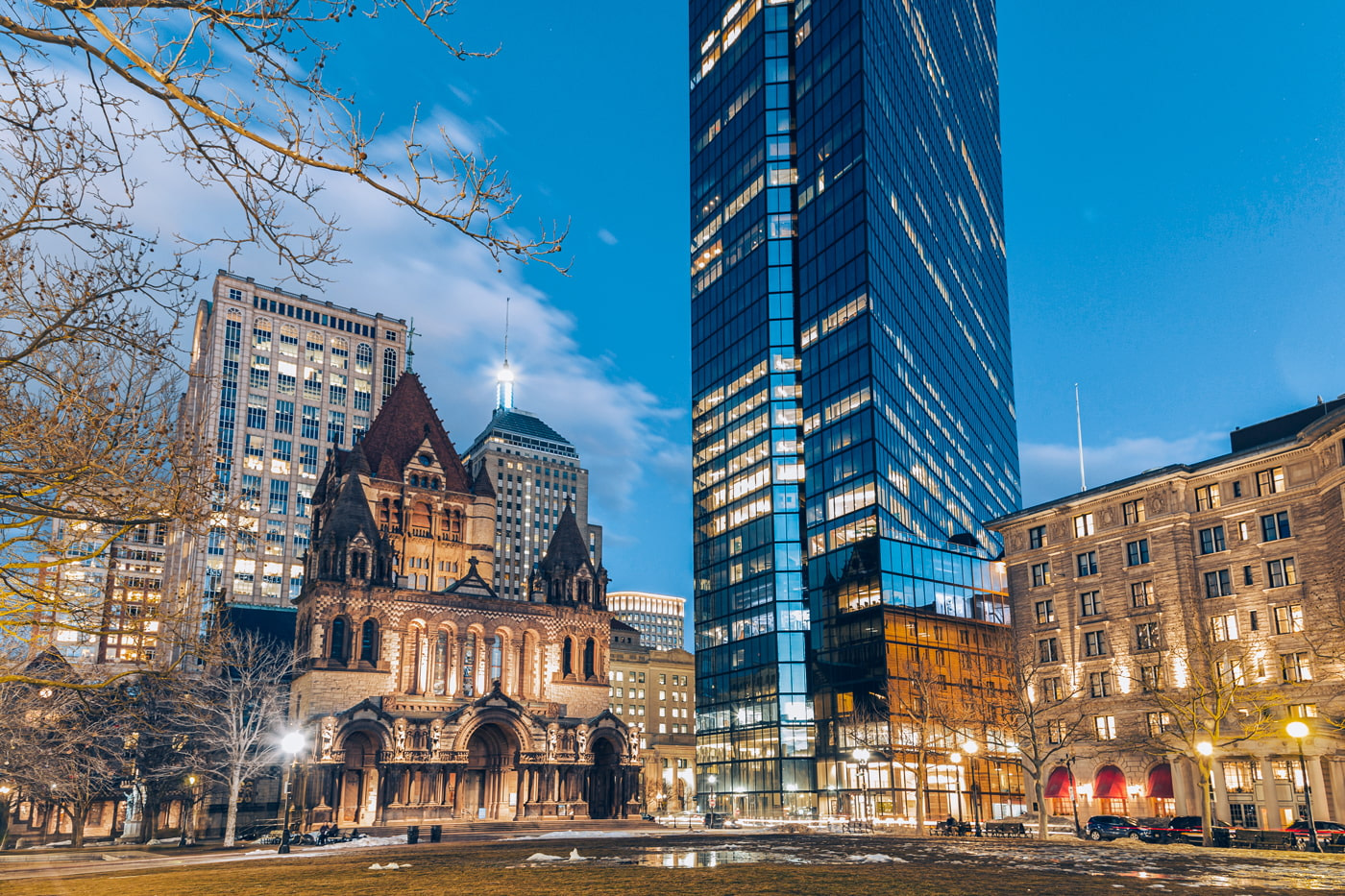 While most Boston Catholic churches will be observing Christmas with a midnight mass on Christmas Eve, the most iconic local cathedrals will offer particularly spectacular services. Boston has an enormous Catholic community, and its cathedrals are among the most spectacular on the East Coast.
The mother church of the Archdiocese of Boston, the Cathedral of the Holy Cross, is a great option. The largest church in New England normally seats 2,000 people, though they are operating at a lower capacity in 2020 to ensure social distancing. Also, reservations for mass must be made online, and parishioners are required to wear masks to attend.
There's also the Christmas Eve Festival Eucharist at nearby Trinity Church. Though not the biggest church in Boston, it is renowned for being one of the most beautiful, so be sure to arrive well before the 11 PM start time to ensure there will be room for you and your family. This popular annual event will feature music from the Trinity choirs with a choral & organ prelude.
Skate Away at the Snowport Winter Village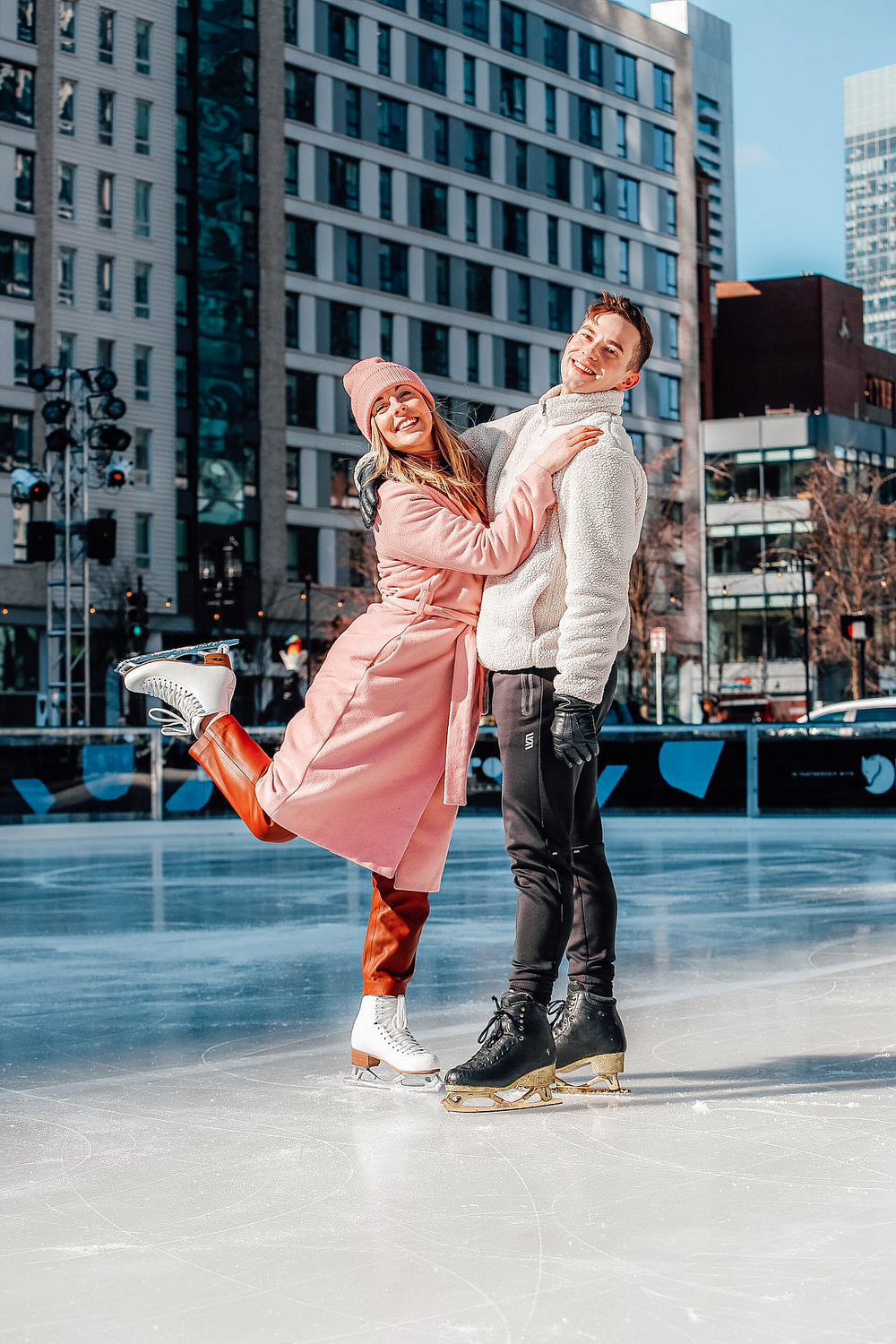 Though Covid-19 and construction are keeping the ice rink at City Hall closed for another year, that doesn't mean you can't still enjoy a classic night out ice skating in Boston.
Thankfully for all of us, Seaport is continuing with their spectacular Snowport Winter Village again in 2020. Billing themselves as "Boston's best winter destination," the highlight of the village is the enormous 3,000 square-foot ice skating rink, with onsite skate rentals.
When you're done circling the ice, be sure to stick around for an aprés skate drink and a bite. As well as an array of warm, cozy beverages, you'll find hot waffles baked by The Waffle Cabin and gourmet slices from Oath Pizza.
If you want, you can skip the skating all together and try your hand at iceless curling or yoga, both activities are free and offered at varied times during opening hours.
Book a New Year's Eve Package at a Classic Luxury Hotel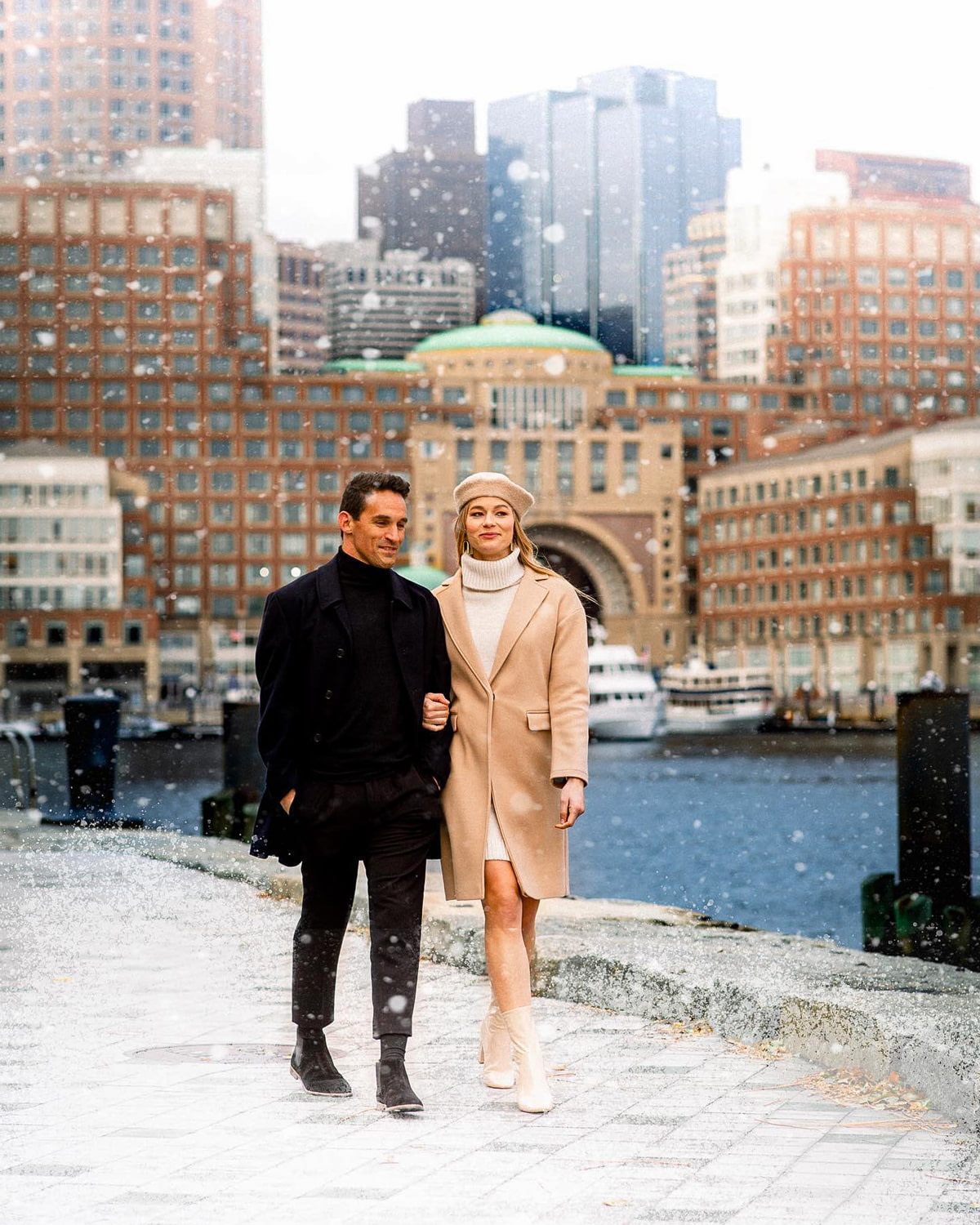 If you're concerned about maintaining social distance or just prefer a simpler, more elegant way to ring in the new year, you may be the perfect candidate for a night in at one of Boston's landmark hotels.
The Boston Harbor Hotel is offering their New Year's Eve Romance Package again for 2020 at their luxurious five star, five diamond property at Boston's historic Rowes Wharf.
It begins with chocolate-covered strawberries and champagne delivered to your room after you arrive and concludes with breakfast in bed on New Year's Day when you can lounge around in your fluffy hotel robe until as late as 4 PM. There are a variety of guestrooms and suites to choose from, but you're going to want to splurge on a harbor view room for probably the most picturesque way to see Boston's midnight fireworks that will ring in 2021.
Not to be outdone, the modern and sleek XV Beacon offers the Romance on the Hill package, which includes a bottle of sparkling wine, chocolate-covered strawberries, and a late checkout the following day at 2 PM. What really sets this property apart is their in-room fireplaces and rose petal turn down that create the perfect romantic atmosphere. If this sounds too lovely for you to pass up but you won't be in town on New Year's Eve, you'll be delighted to know that you can also book this package almost anytime.
If you're looking for something for the whole family, the classic and chic Eliot Hotel would be happy to accommodate you. Featured in their Rooms for the Holidays promotion are a variety of one and two-bedroom suites that feature timeless French doors that close off the Master sleeping quarters. Additional amenities like dinner and refreshments must be added a la carte, but the prices are so reasonable for these enormous rooms that you'll hardly mind.
Catch the Tree Lighting in Boston Common
A quintessential Boston holiday outing, the tree lighting ceremony in Boston Common will kick off its 103rd year on December 3rd at 6 PM, with festivities led by the mayor, members of the Royal Canadian Mounted Police, and of course, Santa.
This year, like every year, the Christmas tree placed in Boston's living room will hail from Nova Scotia, an annual provincial gift to the city to show thanks for Boston's help after a munitions ship exploded in Halifax Harbor on December 6, 1917. The tree usually stands about 50 feet tall, and just before 8 PM will be turned on to reveal over 7,000 lights draped around it. The star atop it is similarly huge – itself four feet tall – and must be hoisted into place by a crane.
If you arrive early, you're in for a treat, as there's also a free ice skating show by Theatre on Ice of Boston and Team Excel Synchronized at Frog Pond from 5 PM-6 PM.
Ride the Holiday Lights Trolley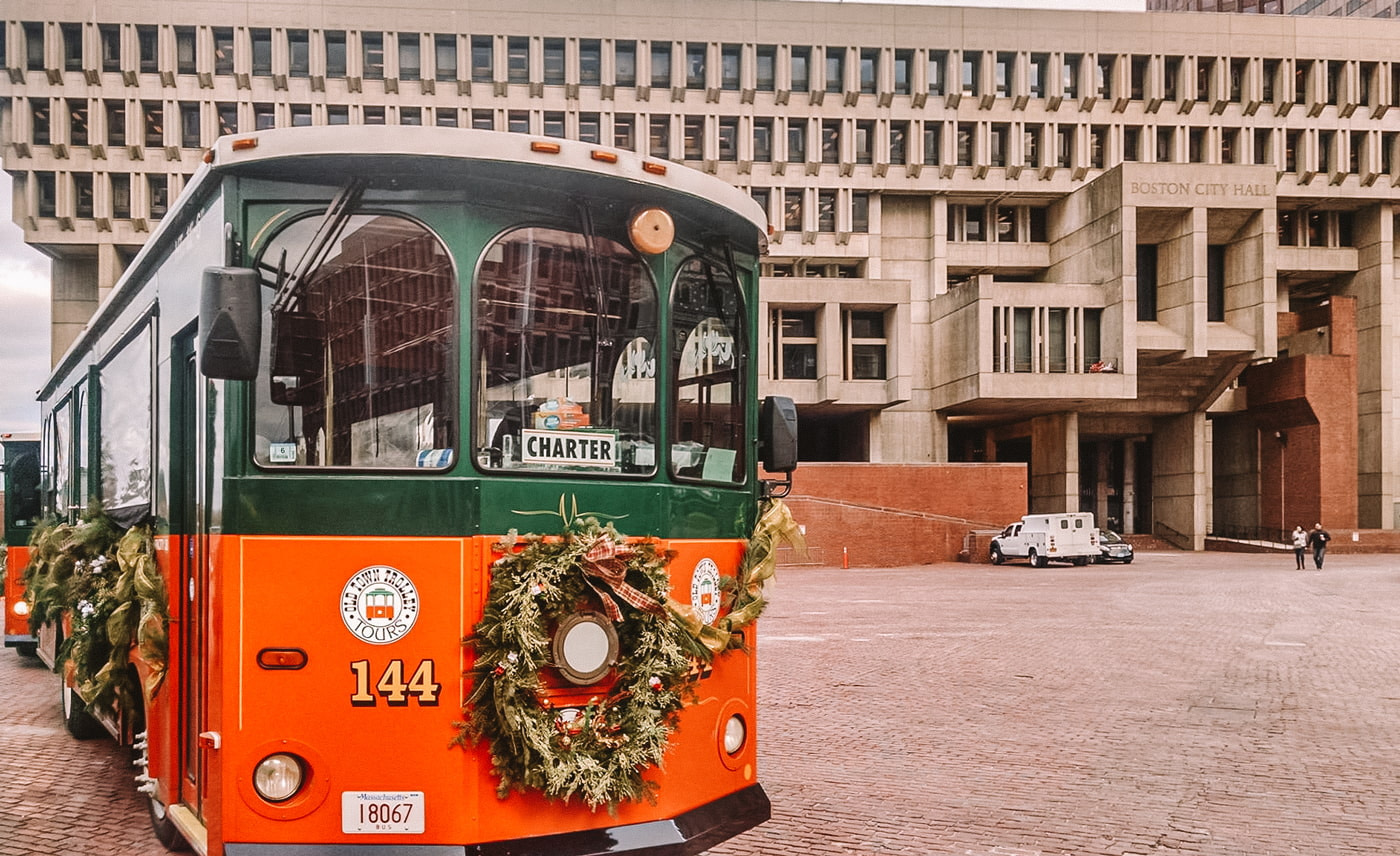 This boozy Boston holiday tradition is always a favorite for work, bachelor, and bachelorette parties, but the trolley can be booked for any group of up to 14 people, and you can buy and bring as much of your favorite hooch as you want.
The trolley will be decked out in Christmas decorations and driven by an experienced guide. On board, there'll be trivia, games, prizes, holiday music, and even gift bags of goodies for every attendee! The best part is that you won't have to share it with anyone you don't know, as you book the whole trolley for your own party, and can invite – or not invite – whoever you like.
Join the Festivities for Boston's First Night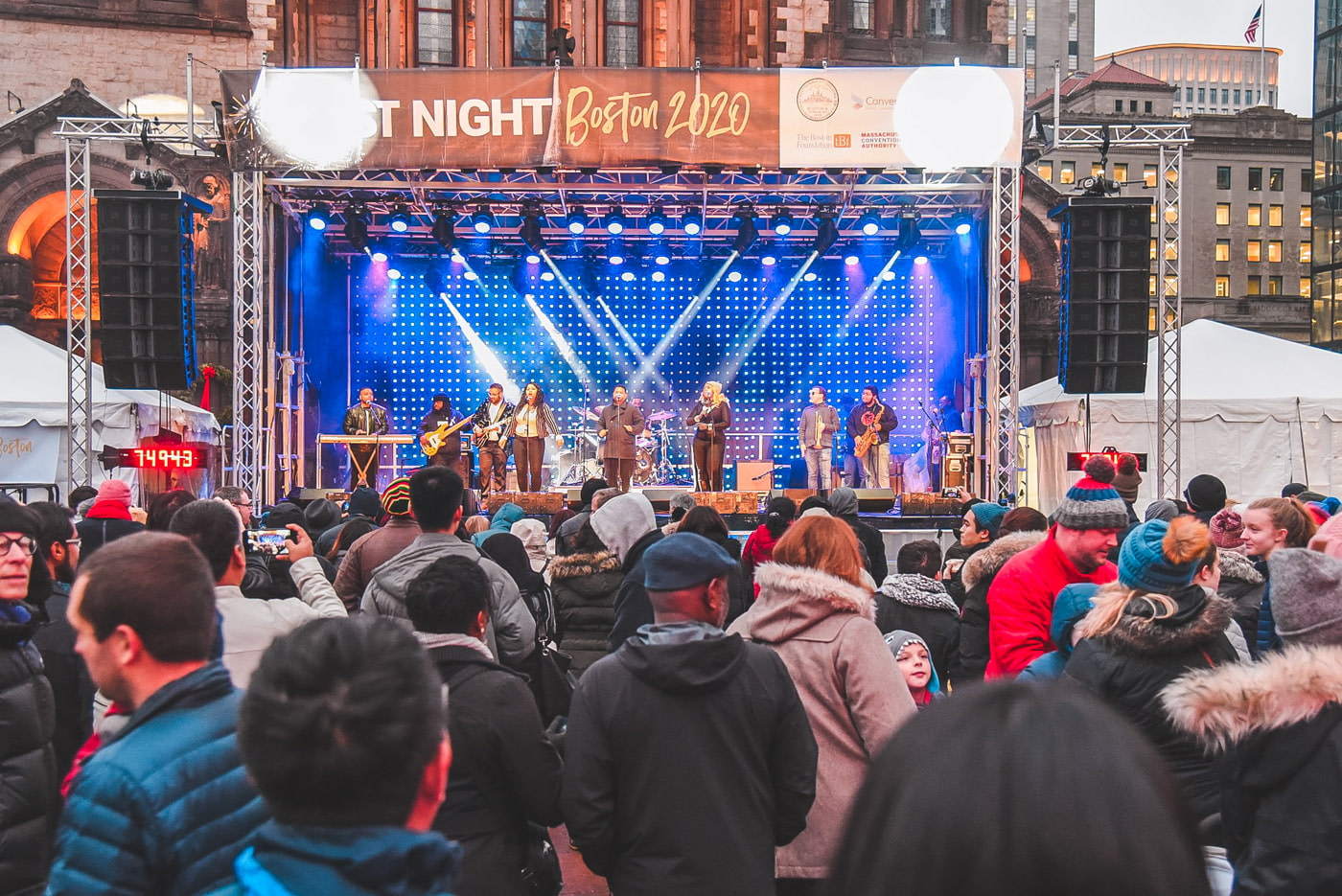 Boston takes New Year celebrations seriously, with a whole program of events beginning just before noon on New Year's Eve. If you join for the entire schedule of events, it can easily turn into a very long day, but if you feel like you won't be able to last until after midnight, feel free to stop by Copley Square in Back Bay any time throughout.
Visitors can attend a number of live music, dance, and choral performances, as well as see light shows and ice sculptures. A highlight in the program is the People's Procession which kicks off at 6 PM, and you can join it! Every year, thousands of Bostonians participate in a march from Copley Square to Boston Common replete with dancers, a Chinese dragon, and giant puppets brought to life by the folks from the Puppeteers Cooperative.
But the thing that really makes Boston the perfect city to spend New Year's Eve is that there's not just one, but two fireworks displays. The first one starts around 7 PM above the Boston Common, and the latter, larger one begins just after midnight over the Harbor.