Catalonia's charms go far beyond the beaches of Costa Brava or the architectural marvels of Barcelona. Situated in Spain's far north-east corner, near the border with France, this rich and famously proud autonomous community is one of the country's most distinct and diverse regions.
From the soaring Pyrenees to its rugged and beautiful Mediterranean coast, Catalonia is teeming with natural and cultural treasures, world-class wineries, and charming little villages to discover. Then, there's the colorful, mesmerizing city of Barcelona, with its thriving art and culinary scenes, absorbing Modernista architecture, and infectious Mediterranean energy.
Perhaps the hardest part of visiting Spain is choosing where to go, as each region in this splendid country has its own natural treasures, cultural twists, and stories to tell. One thing is for sure, you won't regret giving this captivating corner of Europe a chance!
These are 5 of the best things to do in Catalonia:
Discover Gaudi's Barcelona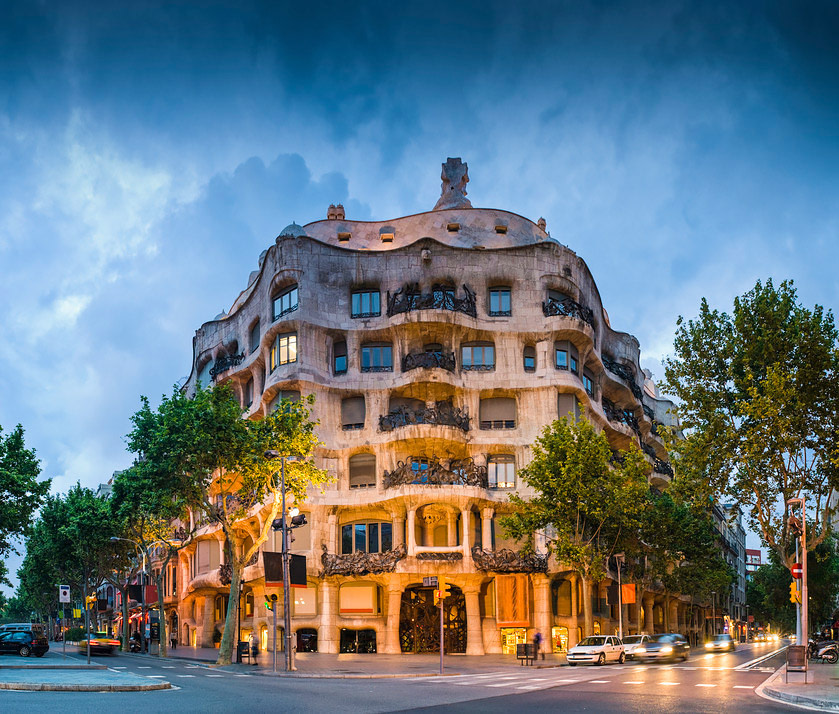 One of Spain's most vibrant, beautiful, and culturally rich cities, Barcelona delights the senses, stimulates the mind, and immerses its visitors in a sea of experiences. From art and cuisine to sports, beaches, and nightlife, there's enough here to keep you entertained for years.
Stunning architecture and glorious sights are all around you in the beautiful Catalan capital, but perhaps none of them are as memorable and evocative as Gaudi's wondrous works.
Situated in the Eixample district, the monumental Sagrada Família attracts nearly 3 million visitors annually with its striking, allegorical facades and bone-like columns, while the fanciful Park Güell in the Gràcia neighborhood is the architect's tribute to nature, a fairytale come to life, filled with imaginative organic architecture.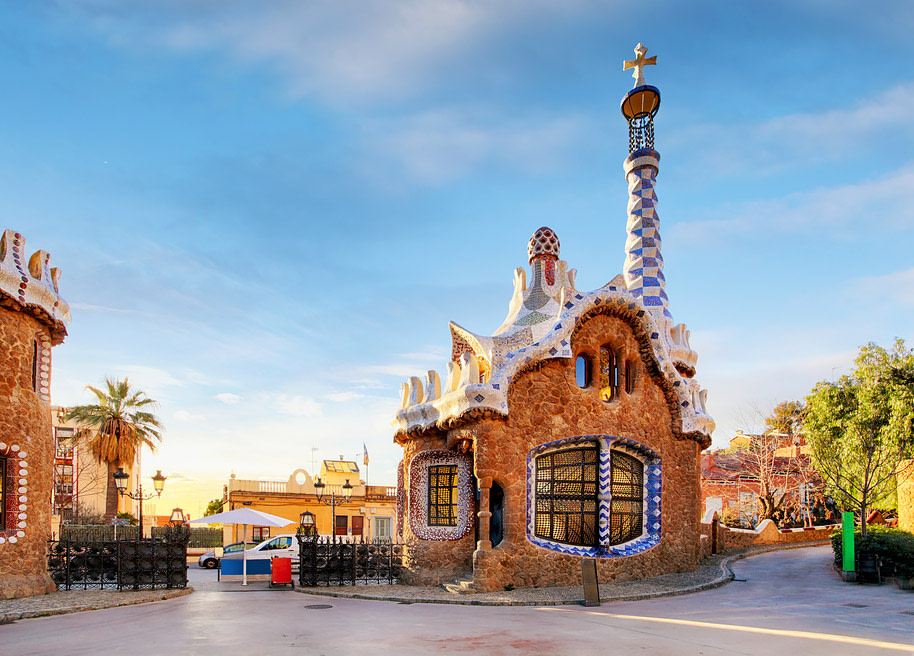 Luckily, the other two of Antoni Gaudi's masterpieces, Casa Batlló and Casa Milà, are both located on Barcelona's most famous and prestigious street – Passeig de Gràcia, in the heart of the city.
Not as popular as the buildings mentioned above, but equally fascinating, the recently renovated Palau Güell in El Raval is one of Gaudi's early works and a fantastic example of the Catalan architect's visionary genius.
Other priceless Gaudi works included in UNESCO's coveted list of World Heritage Sites are the Oriental flavored Casa Vicens in the Gràcia neighborhood, and the spectacular Crypt of the Colonia Güell, about 20 minutes outside Barcelona.
According to UNESCO, all these Gaudi creations represent an "exceptional creative contribution of this architect to the development of architecture and construction technology in the 19th and early 20th centuries".
Visit the Dalí Theatre and Museum in Figueres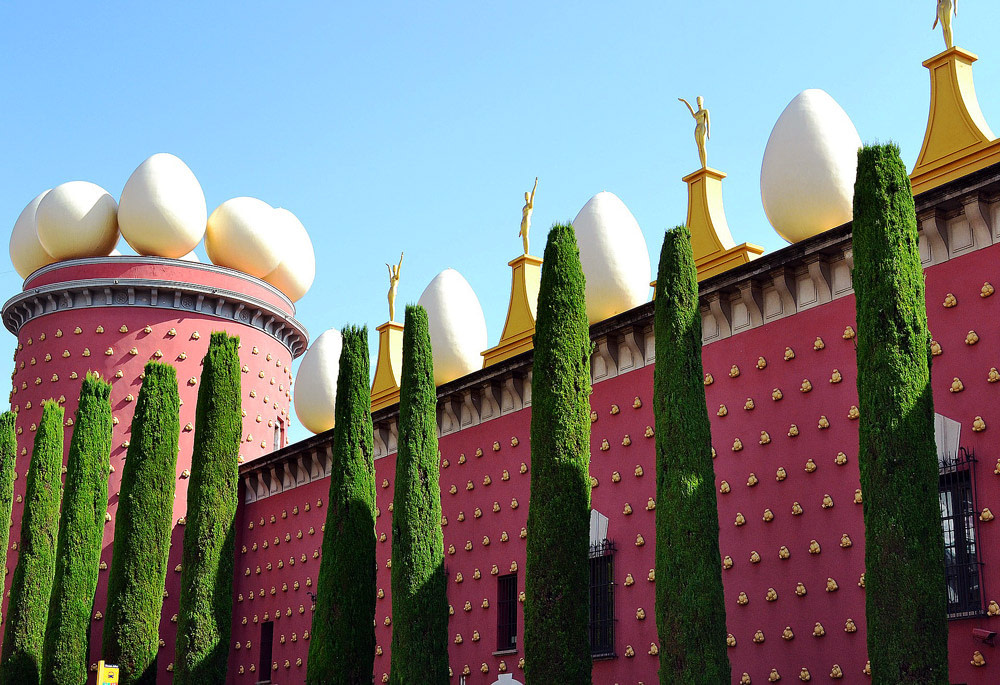 Located in the attractive town of Figueres, around 140 km from Barcelona, this is Spain's second most visited museum (after Prado in Madrid), and certainly one of its most thought-provoking.
Decorated with giant eggs, traditional bread rolls, and a massive dome, the facility, designed by Dali himself, is considered the largest surrealistic object in the world. Likewise, it houses the largest and most complex collection of works by the Catalan surrealist painter, as well as pieces by artists such as El Greco or Duchamp from his personal art collection.
Highlights include the quirky Mae West room; the spectacular Palace of the Wind ceiling painting; and Gala Nude Looking at the Sea, which, when seen from a certain angle, transforms itself into a portrait of Abraham Lincoln.
Much more than just a museum, Teatre-Museu Dalí provides visitors with a truly one-of-a-kind experience by immersing them into the marvelously wired world of the eccentric genius.
Indulge in Authentic Catalan Cuisine
If you are a fan of Spanish dishes, then you will absolutely love the magnificent Catalan cuisine. This region's strong identity is widely reflected in its rich gastronomy, which makes full use of the local bounty while also surprising through its originality. Fish and seafood based dishes abound on the region's Mediterranean shores; Garrotxa is known for its cuina volcànica (volcanic cooking) and delicious goat's milk cheese; and Barcelona's dining scene is bursting with culinary creativity and innovation.
Some of the most beloved traditional Catalan dishes include Fideuà – a sort of paella made with noodles instead of rice; Pa amb tomàquet – bread rubbed with tomato, olive oil, and salt; Crema catalana – a typical milk and egg yolks dessert similar with the French crème brûlée; and Escudella – a hearty winter stew prepared with meat, beans, potatoes, cabbage, and sometimes pasta.
If you're visiting Catalonia during winter or spring, make sure you attend a calçotada, a traditional gastronomical celebration where locals indulge in barbecued green onions (known as calçots) dipped in romesco sauce and accompanied by cava. And speaking of cava, this is Catalans' version of champagne, a delightful sparkling wine that goes well with practically anything, from fish and cheeses to sweet dishes.
Home to some of the best restaurants and most renowned chefs on the planet, it's no wonder Catalonia was named the European Region of Gastronomy in 2016.
Get Adventurous in the Pyrenees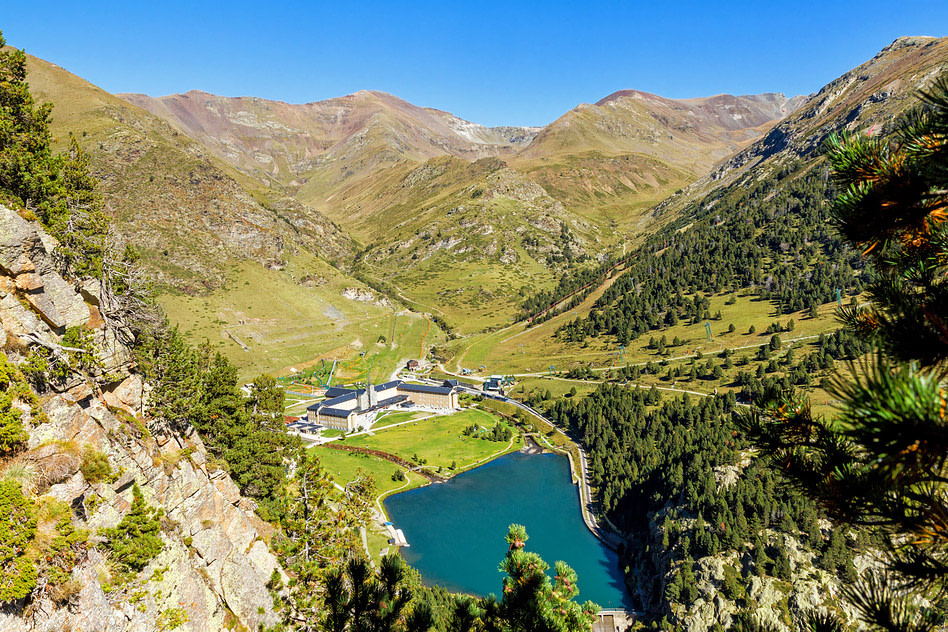 Nature lovers will find heaven in the Catalan Pyrenees, where rugged, unspoilt peaks loom over pristine forests, and rushing rivers weave through green, wide open valleys. Here, Catalan pride is at its highest, nature at its wildest, and age-old traditions at their most prevalent.
Picturesque stone villages and ancient Romanesque churches dot the landscape, and the sheer array of mountain adventures along with the pleasant, temperate Mediterranean climate make this area a truly rewarding year-round destination.
Top attractions in the Catalan Pyrenees include the UNESCO-listed Catalan Romanesque Churches of the Vall de Boí, the stunning Aigüestortes i Estany de Sant Maurici National Park, as well as the ski resorts of Baqueira-Beret, La Molina, and Vall de Núria.
And Don't Forget the Coastal Charms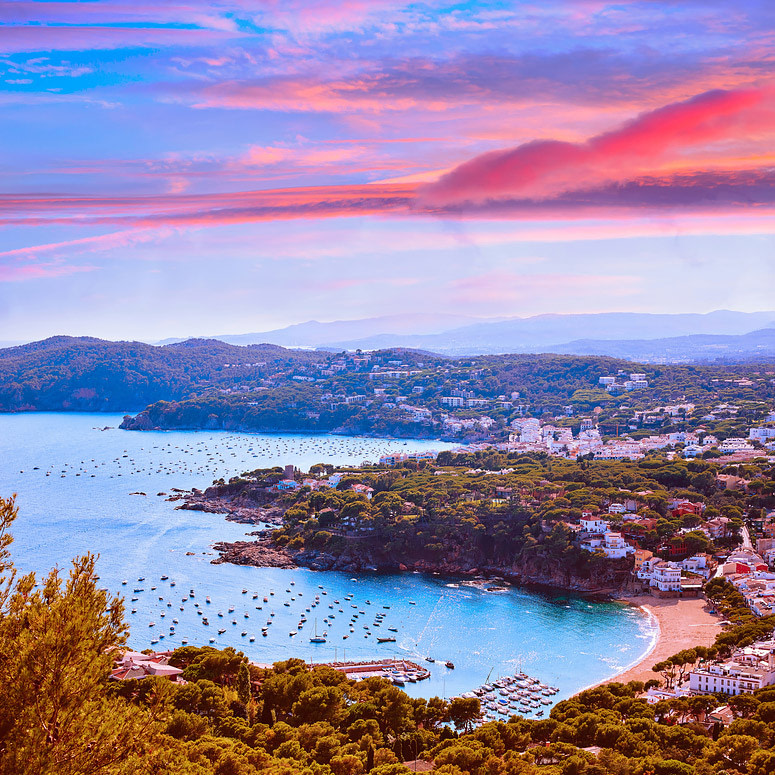 With over 580 km of coastline, Catalonia features many breathtakingly beautiful beaches and hidden coves, as well as a plethora of sleepy fishing villages, fun-filled resorts, and delightful seaside towns.
Stretching from the town of Blanes, 60 km northeast of Barcelona, all the way up to the French border, Costa Brava is Catalonia's premier beach destination, and rightly so. Package tourism may have been born here, but this wild coast is also home to some of Spain's most spectacular beaches, backed by dramatic rocky cliffs and washed by the sparkling blue waters of the Mediterranean Sea.
Located about 90 km north from Barcelona, in the province of Girona, the medieval walled town of Tossa de Mar is a pleasure to stroll around and relax on beautiful beaches, while the bohemian, whitewashed Cadaqués further north is one of Spain's most stylish and delightful villages.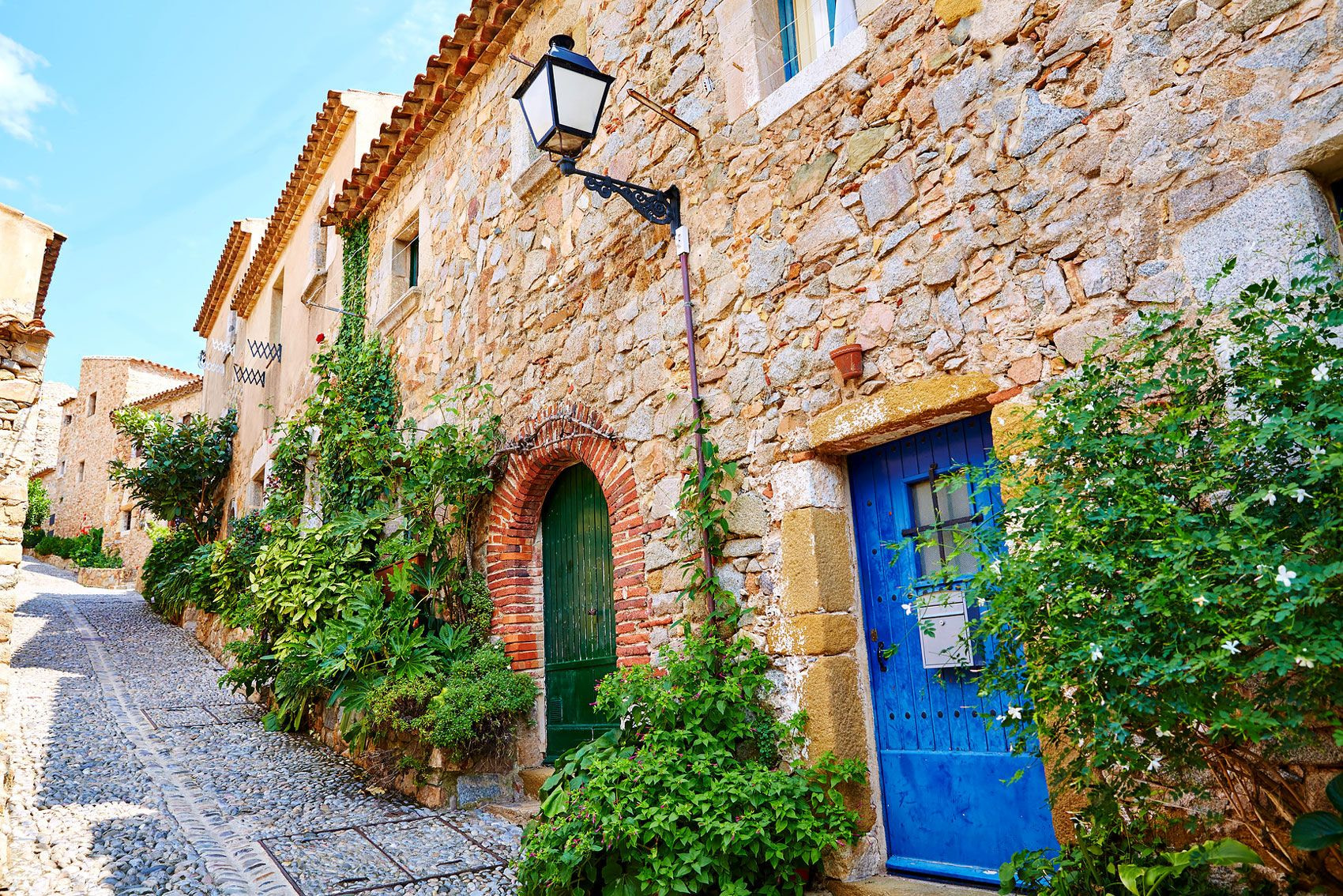 Midway between the two, you'll find one of Costa Brava's best kept secrets – the fortified, hilltop town of Begur, with its boutique-lined cobblestone streets, gorgeous beaches, and crumbling castle overlooking the countryside.
Another alluring destination along the Catalan coast is Sitges. Once a sleepy fishing village, this lovely seaside town 35km south of Barcelona has evolved into one of the nation's classiest summer resorts, with a seductive mix of culture, history, and beach life. Sitges is also one of the most gay-friendly spots in Europe, and plays host to a variety of excellent hotels, restaurants, and nightclubs.