From towering mountain peaks and deep forests to seaside escapes and desert oases,
Washington State, tucked in the Pacific Northwest region of the United States, is a
nature lover's paradise. Whether exploring one of its three national parks or heading for the coast, spectacular scenery abounds and the opportunities for outdoor adventure are endless.
Ready to explore? Here are the ten most beautiful places in Washington to add to your travel bucket list:
Diablo Lake
Diablo Lake is a picturesque reservoir best known for its searing turquoise water and amazing mountain backdrop. While it is a man-made lake created by the Diablo Dam (which is responsible for supplying much of the region, including Seattle, with electricity), its striking color comes from glacier minerals that find their way into the water from nearby mountains.
Located in North Cascades National Park, Diablo Lake is accessible and snow-free from April to September, making it a sunshine-filled haven for summer activities. In July and August, kayakers flock to its shores while hikers, bikers, and campers find the best views of it from above. For those driving along the Scenic North Cascades Highway or seeking a less active day, Diablo Lake Overlook is an excellent spot to soak in the jaw-dropping views.
Palouse Falls
Found within the barren landscape of southeast Washington, Palouse Falls is an absolute oasis. The captivating waterfall, which was etched into the landscape some 13,000 years ago during the last Ice Age, sits at the southern end of the Palouse River, right before it meets the Snake River.
Short trails take visitors around the upper rim for panoramic vistas and along a lower trail for more direct views. To get even closer, an interpretive trail winds through Palouse River Canyon, where basalt rock walls rise skyward on each side.
No matter which vantage point you choose, you are in for a treat as its cool water cascades from a height of 198 feet (60 meters) and settles into plunge pools below. On sunny days, the scene is made even more impressive with a bright rainbow streaming across it!
Olympic National Park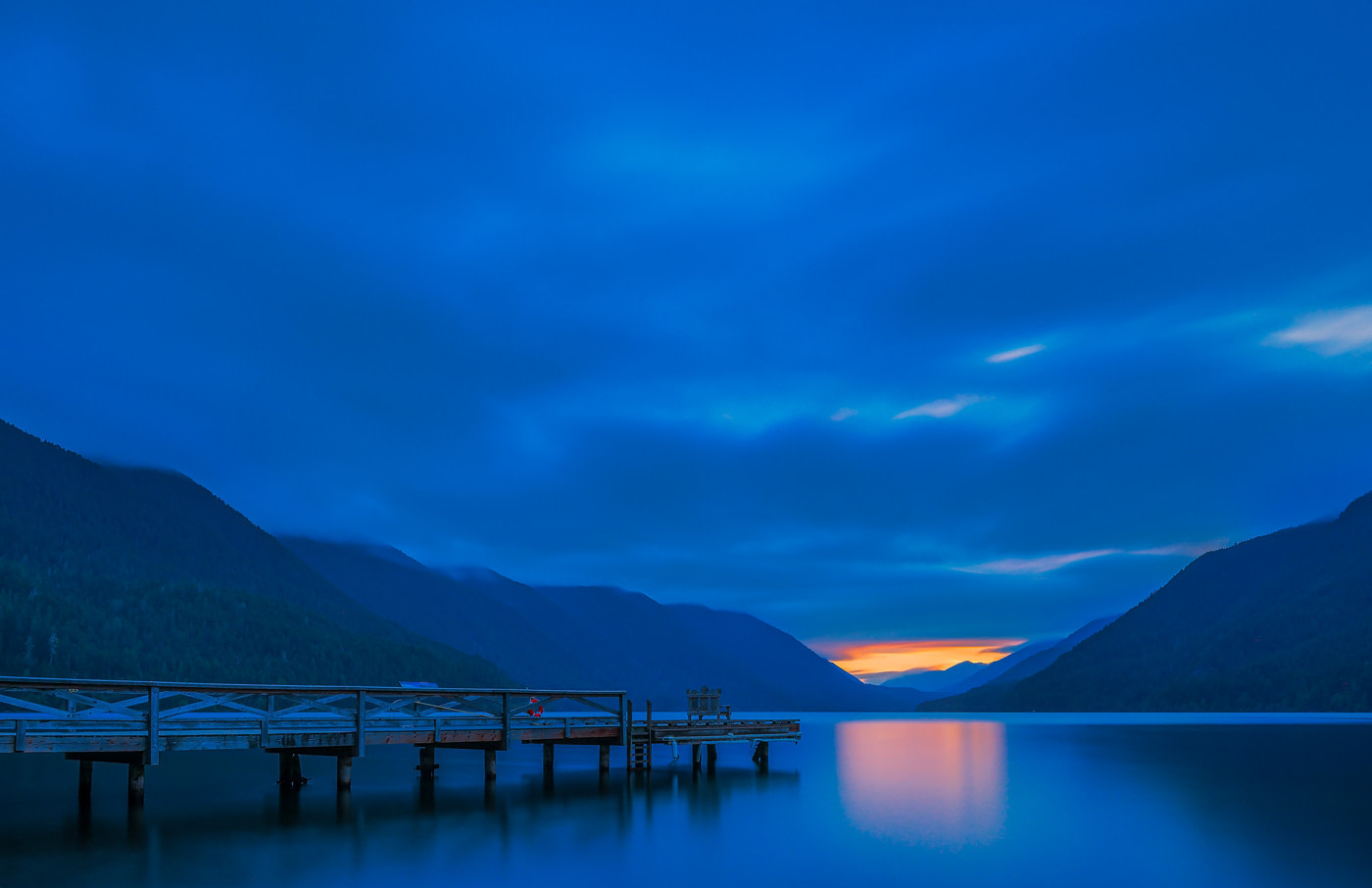 For those seeking a buffet of landscapes, Olympic National Park delivers in spades. Tucked in the northwestern corner of the state and spread across 922,650 acres (3,734 sq. km), visitors will find no shortage of adventure.
At the center of the park is Mount Olympus, which rises to 7,925 feet (2,428 m) and serves as the region's anchor. Around it, three distinct ecosystems unveil themselves: coastline, glaciated mountains, and temperate rainforest – the only rainforest in the United States, in fact. As if that weren't enough, you'll also stumble on lakes, hot springs, and hidden beaches.
For the best of the Olympics, a visit to the Hoh National Rainforest, with its trails dripping in bright green moss, is a must. Other highlights include Ruby Beach, catching oysters in Hood Canal, and having a lazy day on Lake Crescent.
Mount St. Helens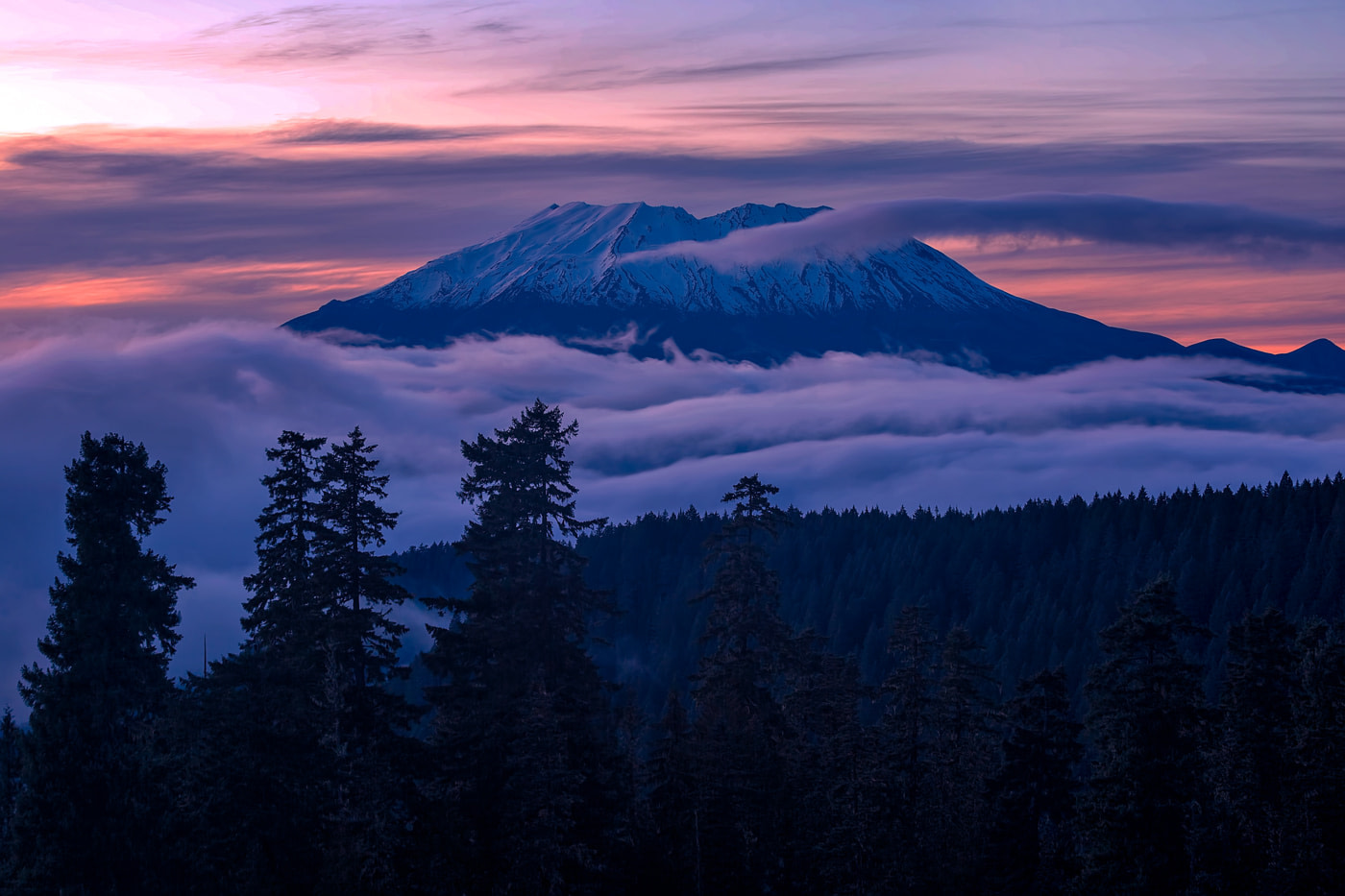 On the morning of May 18, 1980, Mount St. Helens erupted and sent debris skyward at a startling 300 miles (483 km) per hour at temperatures as high as 650° F (343° C). It became the deadliest volcanic eruption in the United States and the largest landslide in history. Fifty-seven people died (plus thousands of animals), and the north face of the volcano fell away, leaving a gaping hole in its wake. This massive crater is now Mount St. Helen's most recognizable feature.
Visitors can learn more about the mountain's history at the Johnston Ridge Observatory and enjoy nature walks and hikes, such as the popular Harry's Ridge Trail. For a longer adventure, backpackers can tackle the Loowit Loop or even summit Mt. St. Helens itself.
North Cascades National Park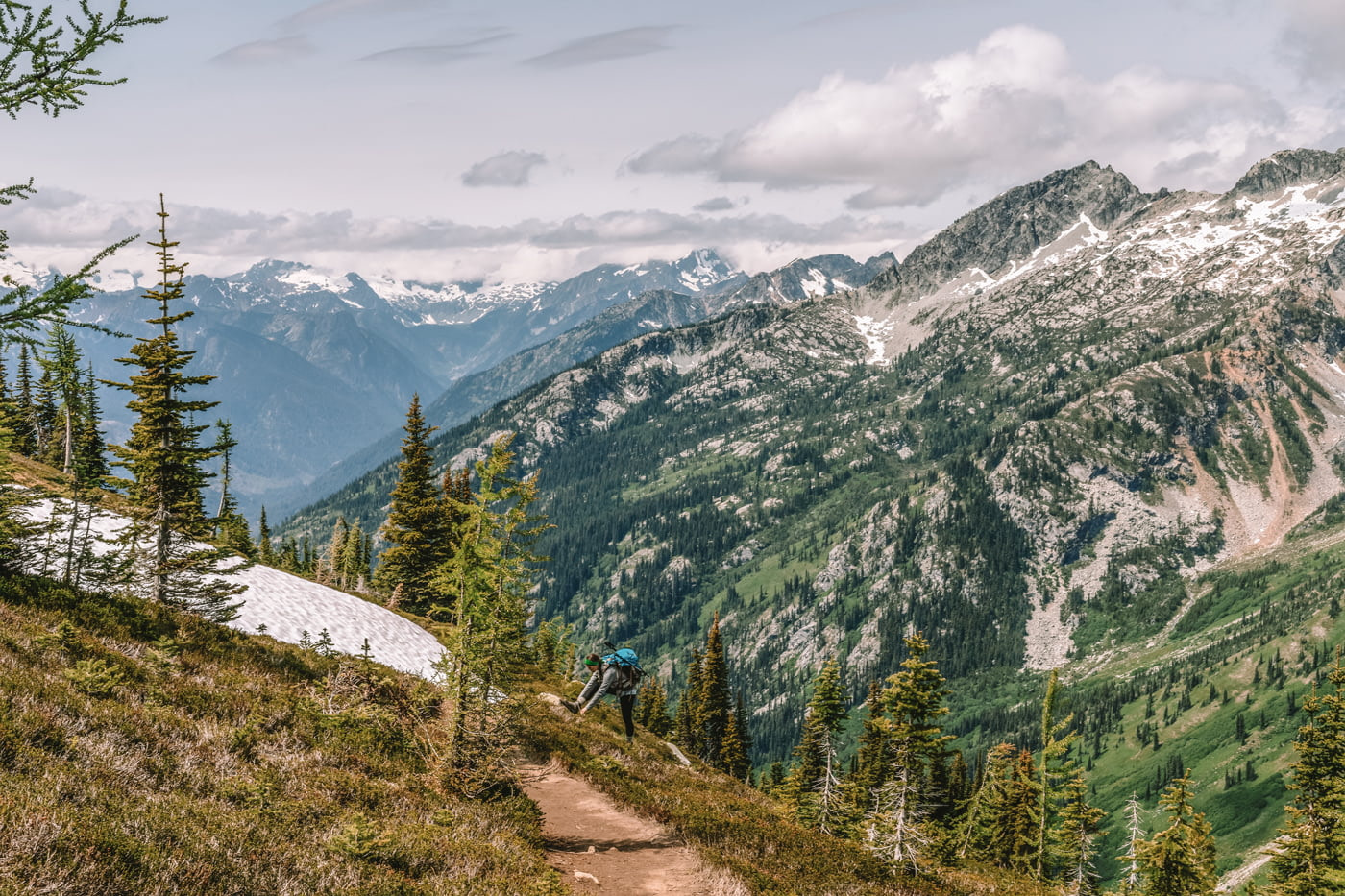 With its seemingly endless mountain peaks and icy glaciers, the North Cascades is as remote as it is rugged. Its wild terrain covers 788 square miles (2,040 sq. km.), including 400 miles (644 km) of hiking trails and over 300 glaciers – which is the most in the country outside of Alaska!
Of all the U.S. National Parks, the North Cascades is the fifth least visited, but this feeling of seclusion is what makes it such a special place. It is most beloved by backcountry hikers and mountaineers, so much so that in 2019, 72% of its 38,000 visitors were backcountry campers. For those not feeling quite as adventurous, there are plenty of more accessible activities like lakeside camping, kayaking, and hiking trails to various overlooks.
Ancient Lakes
Washington State is best known for its lush green forests and tall mountains, yet once you cross the Cascade Range to the east, Washington becomes surprisingly dry. Ancient Lakes, a semi-arid environment situated along the 1,243-mile (2,000 km) Columbia River, takes the cake as the state's most captivating desert landscape.
Once you descend into the basin, a natural playground awaits; fields speckled with sagebrush and wildflowers, waterfalls cascading down basalt canyon walls, the occasional tree, and, of course, lakes. Five lakes, to be precise. It's a fantastic destination for overnight campers and day trip explorers alike, all of whom can leisurely wander the trails that range in length from a quick walkabout to a 12-mile (19 km) loop.
Deception Pass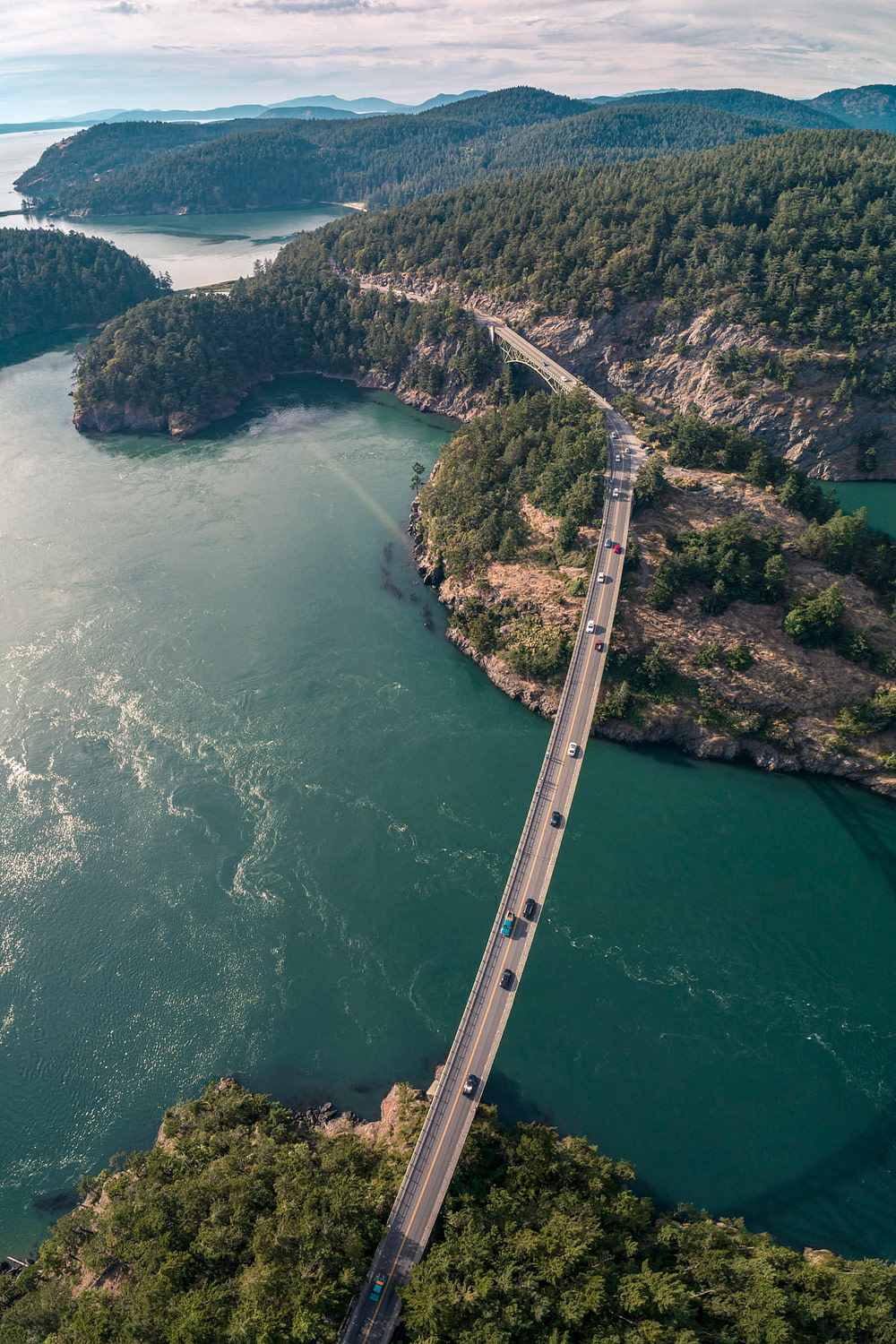 In 1792, Captain George Vancouver, the region's most prominent explorer, led a group of sailors through what was then considered unchartered territory. As a detailed surveyor, he instructed his men to explore the shallow waterways to confirm he'd reach the mainland. It became apparent, however, that they hadn't quite reached the mainland but only its nearby islands. He felt deceived by this and, in a stroke of creativity genius, named it Deception Pass.
With two million visitors a year, Deception Pass is the most popular state park in Washington, and with its stunning vistas, it's no wonder why. It lays in the deep green waters of Puget Sound, straddling two islands: Fidalgo Island's southern end and the northernmost tip of Whidbey Island. Connecting the two is the Deception Pass Bridge which was constructed in 1935 and hovers an impressive 18 stories above the waterline.
Mount Rainier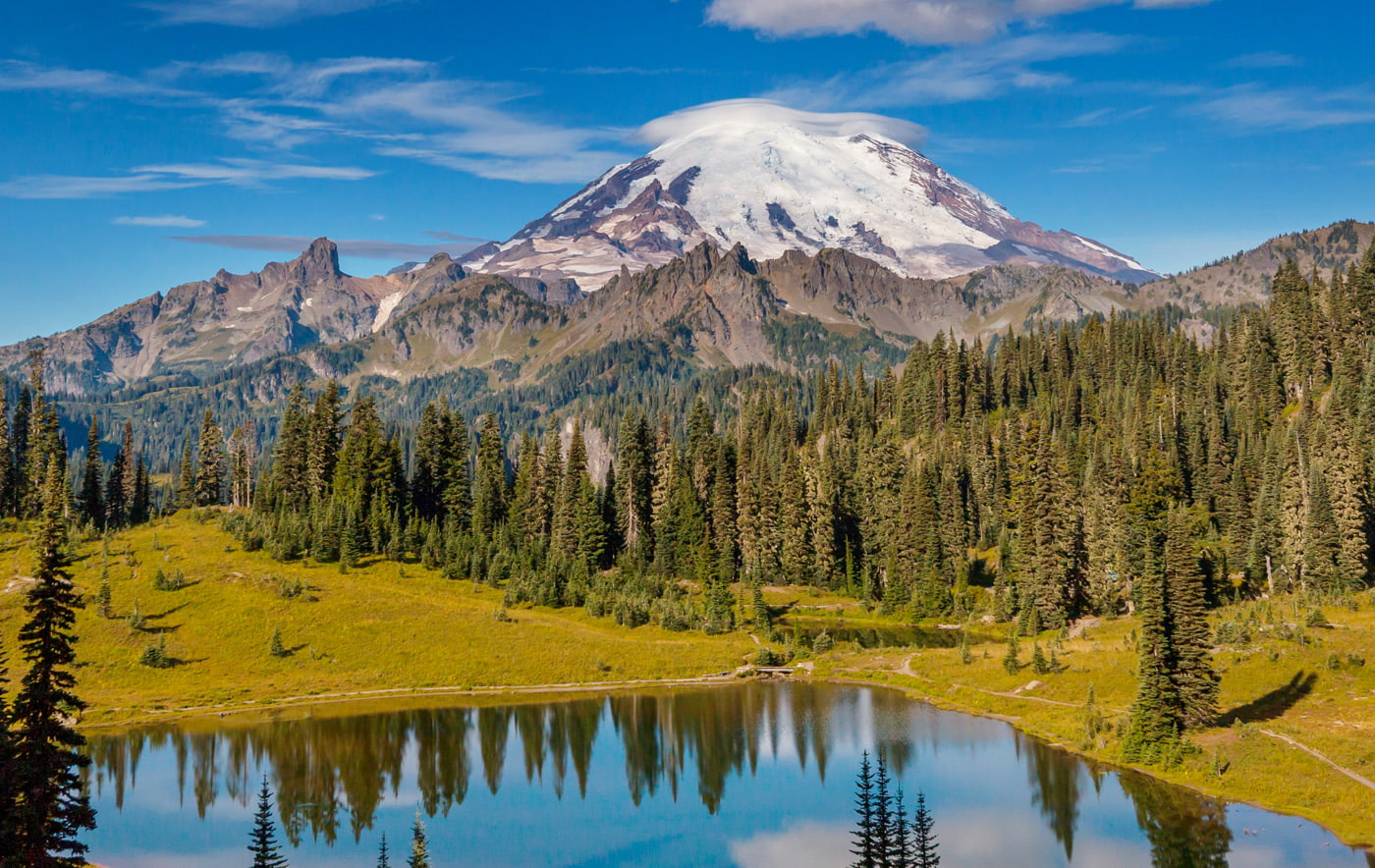 Mount Rainier, simply called The Mountain by locals, takes the cake as the most iconic sight in all of Washington State. Rising 14,410 feet (4,392 m), it dominates the skyline from as far as Seattle and is a hub for outdoor recreation. Each year, hikers, climbers, backpackers, and bikers take to its trails, which include parts of the Pacific Crest Trail as well as the 93-mile (150 km) Wonderland Trail that circumnavigates Mount Rainier's base.
Despite its serene presence, Mount Rainier is an active stratovolcano on the Pacific Ring of Fire. With an overdue and very likely eruption, it is also considered one of the most dangerous volcanoes in the world.
San Juan Islands
Hop on a ferry and enter the San Juan Islands, a lush archipelago in the northwest corner of the state that spills into Canada. With its abundant wildlife, natural scenery, and outdoor recreation, a trip to the San Juans makes for an authentic Pacific Northwest experience. It is often the vacation of choice for locals.
Visitors can explore by kayak or hike through the forest by day, then enjoy the peaceful atmosphere of the seaside in the evening. Whales are a particular treat in the San Juans, and pods of orcas are frequently spotted gliding through the waters. Whether hiking, cycling, whale watching, or simply relaxing, the San Juan Islands consistently deliver a fantastic experience to all who venture to its shores.
The Enchantments
Deep within the picturesque Alpine Lakes Wilderness, you'll find Washington State's most popular – and arguably most beautiful – hiking trails, The Enchantments. Those lucky enough to camp there are treated to a spectacular show of jagged snow-covered peaks, splendid lakes, and mountain goats galore.
Each year, thousands of people try their luck at getting permits to stay in the backcountry in what is known as the "Enchantments Lottery," a system put in place to protect the area from the overwhelming number of hikers that flock to it. Those without permits can still enjoy the enchanting scenery during a day hike or by exploring nearby trails that offer equally phenomenal views.