This post contains affiliate links, which means we may receive a small commission, at no additional cost to you, if you make a purchase through these links. See our full disclosure here.
Washington State is spoiled with a grand diversity of ecosystems. From arid deserts to pristine coastlines and all the forests, mountains, and alpine lakes in between, it is a nature-lovers paradise. With three National Parks and over a hundred state parks to discover, camping is the prime way to experience the wonders of nature. When choosing your next adventure, make sure these ten camping spots in Washington State are at the top of the list.
Elkamp Eastcreek
Situated at the base of Mount Rainier, Washington's tallest mountain and one of the world's most prominent volcanoes, Elkamp Eastcreek is an unbeatable camp spot. In fact, it is the recipient of several camping accolades, including being named one of the best campgrounds in the USA, and for its thoughtful design. It offers a quiet escape for rest and rejuvenation, as well as easy access to some of the state's best trails and natural sights.
The name, Elkamp, is a nod to their mission: elevated camping. They provide a safe and comfortable campground to commune with nature no matter the weather, which is known for being fickle in Washington. And because camping has no season, it is open year-round. Whether you're in the market for sunny summer hikes or winter nights spent around a campfire under the stars, Elkamp is a slice of camping heaven.
Colonial Creek Campground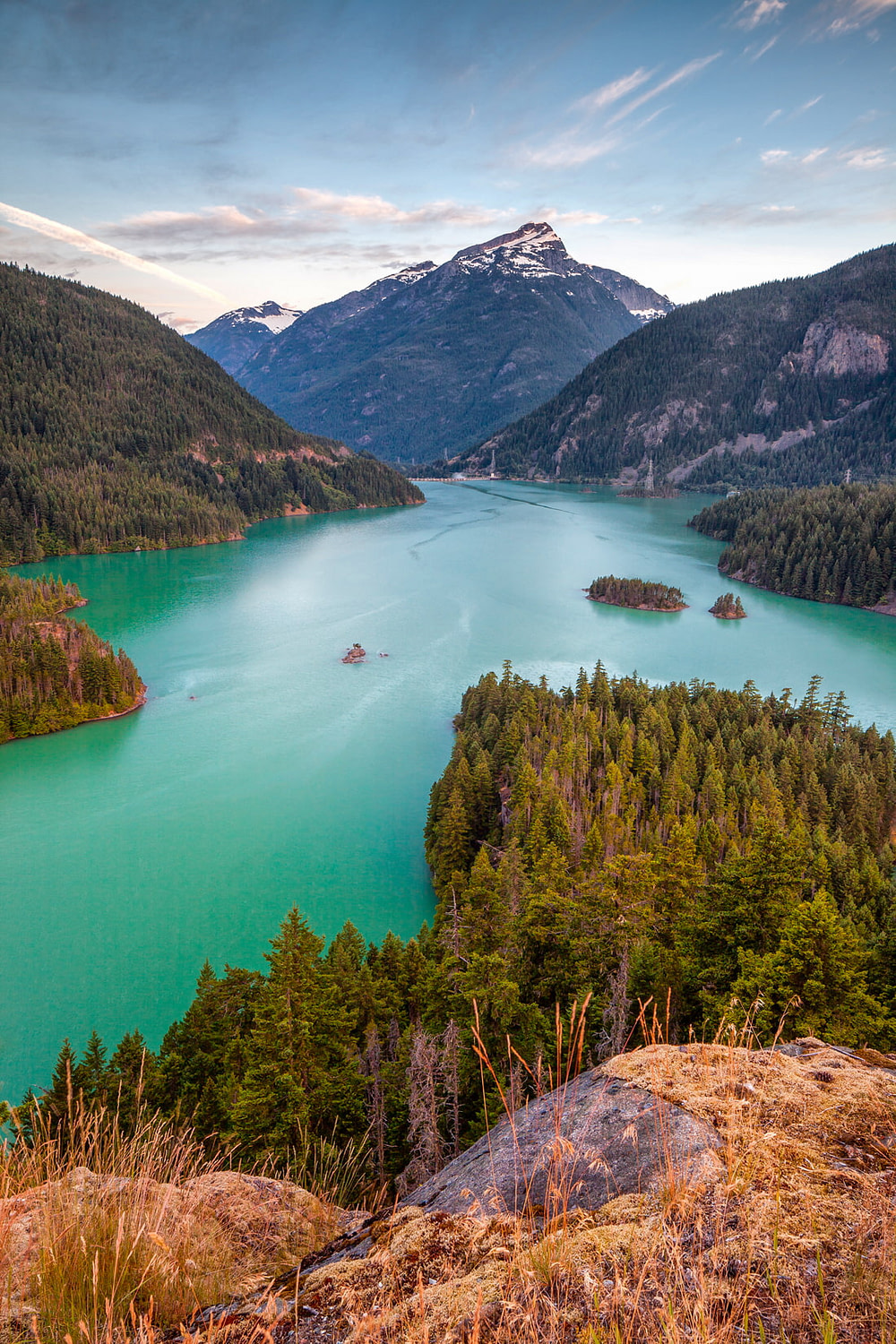 With its searing blue waters and mountain backdrop, Diablo Lake, in North Cascades National Park, is a must-stop for adventure-seekers. When it comes to camping here, it's hard to beat Colonial Creek Campground. Sites suitable for tents, RVs, and trailers are spread across two campgrounds, North and South, and include 137 spacious sites tucked in the woods across from Diablo Lake.
This popular summer vacation spot is ripe with recreational activities and outdoor adventure. Wander further into the forest for an abundance of hiking opportunities, with Thunder Knob trail and Sourdough Mountain Camp being excellent options. For rest and relaxation, lay on the shores of Diablo Lake and soak in the Pacific Northwest sunshine. If water sports are more your speed, paddle the day away by renting kayaks or canoes.
Kalaloch Campground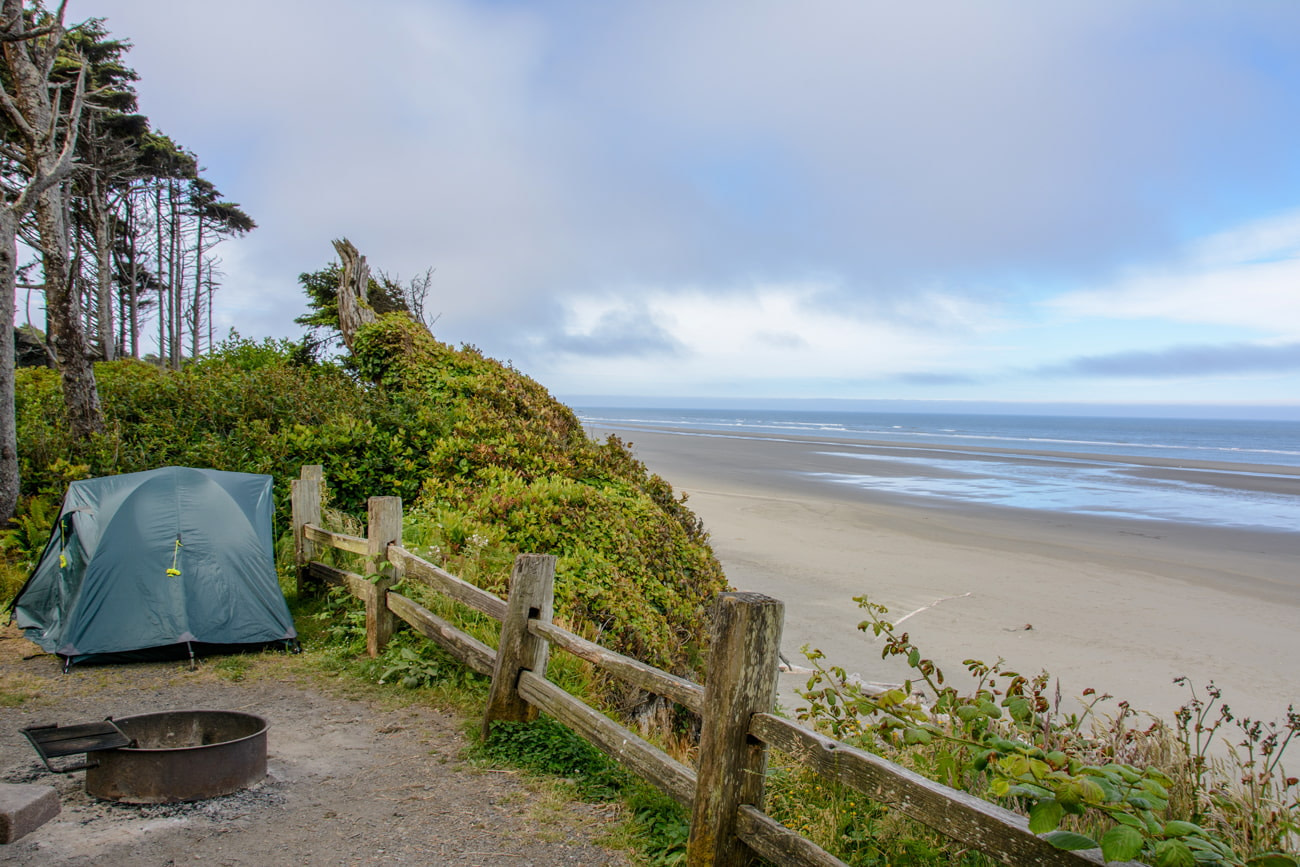 Incredible sunsets? Check. Ocean views? Check. Beach access? Check. Kalaloch Campground is the epitome of coastal camping at its finest. Located in Olympic National Park, right on the Pacific Ocean, it offers outstanding beach camping opportunities all year long. With an atmosphere that is as tranquil as it is adventurous, it is sure to provide something for everyone.
Spend your days exploring hidden coves, climbing to scenic overlooks, and discovering a mecca of tidepools filled with colorful sea creatures. Be sure to also visit the Tree of Life, a must-see sight. This tree balances between two bluffs, its exposed tangled roots stretching across them to create a mysterious beach cave beneath. In the indigenous Quinalt language, "Kalaloch" means "a good place to land" and Kalaloch Campground proudly lives up to that name.
Frenchman Coulee Campground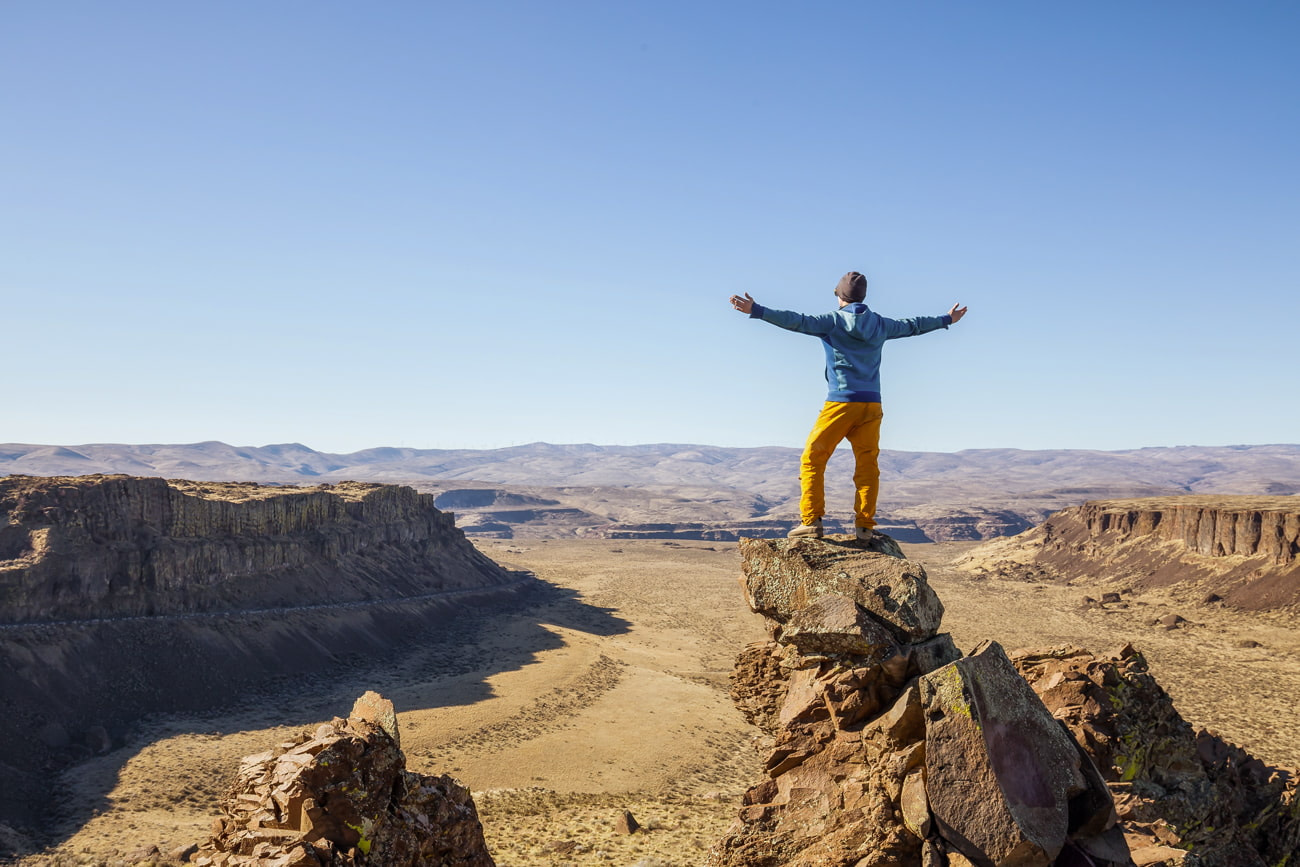 For an off-the-grid experience, head to Frenchman Coulee campground in Central Washington. This primitive spot is located in Vantage, a desert-like region a stone's throw from the famous Gorge Amphitheater. It's an exceptional choice if you are searching for a less curated experience. You will find no running water or picnic tables here. Instead, you are immersed in the great wide open.
Campsites are undesignated, so pitch your tent or park your vehicle where it strikes your fancy. The Feathers, named after a rock climbing route where basalt columns rise in an orderly row, is a popular spot to set up camp, especially in summertime. No matter where you choose, you are surrounded by the earthy smell of sagebrush, epic rock formations, and tantalizing vistas in every direction. If you are searching for seclusion, consider visiting in spring or fall, and avoid concert days at the Gorge Amphitheater which brings crowds.
Sol Duc Hot Springs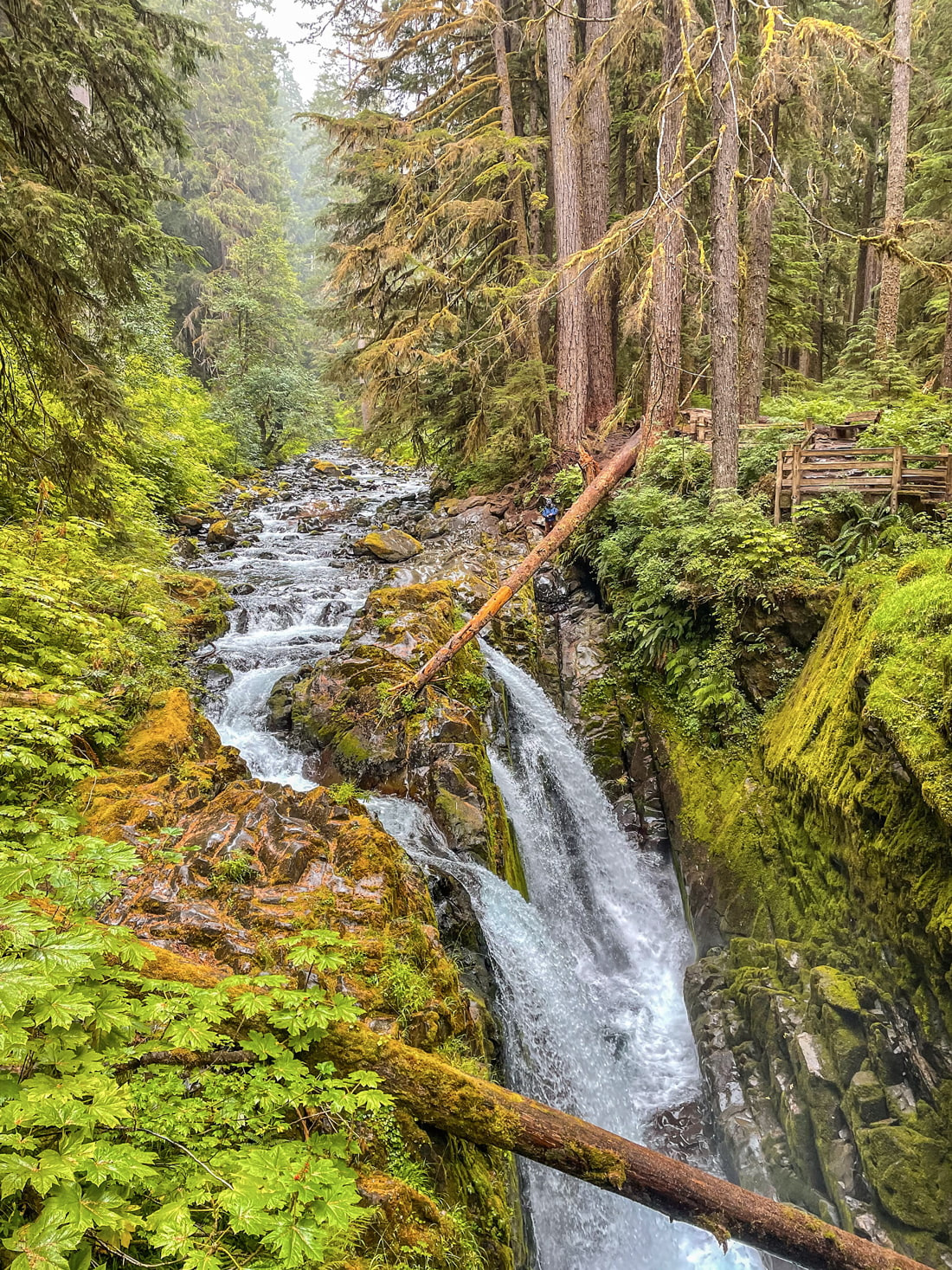 If lush forest scenery is on your camping agenda, then Sol Duc Hot Springs will be right up your alley. Olympic National Park receives an average of 3556 millimeters (140 inches) of rainfall per year, leaving a verdant landscape in its wake. Pitch your tent within old-growth forests overflowing with colossal trees dripping in bright green moss. For the best spots, be sure to stay alongside the campground's namesake, the Sol Duc River.
While the campground is a worthy destination in itself, the hot springs are what lure visitors most. Natural pools are accessible via hike, or you can book a visit to the mineral pools at the Sol Duc Hot Springs Resort. Pools range in temperature from 37º to 40º Celsius (99º to 104º Fahrenheit). Reservations are required for both camping and the pools, so book in advance!
Skokomish Park at Lake Cushman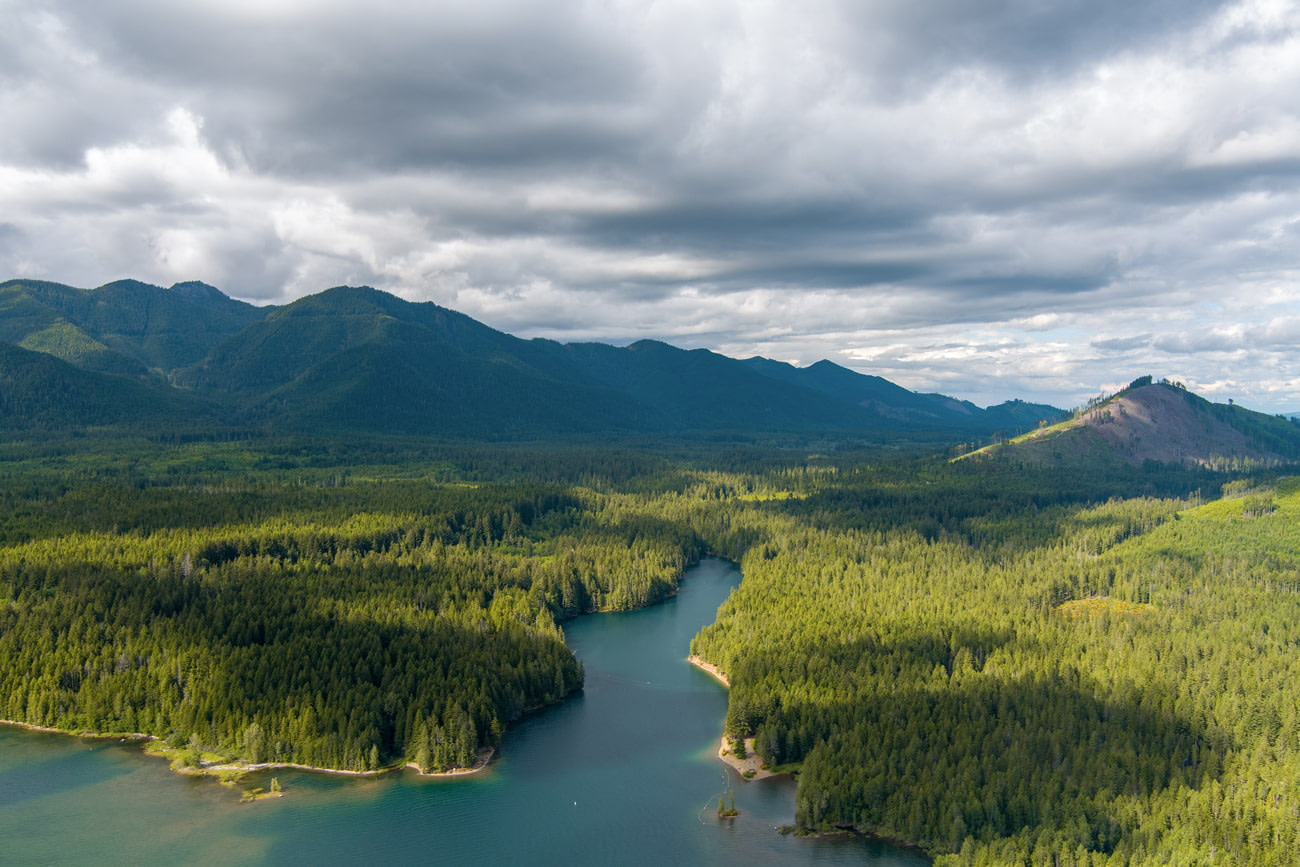 Relish in the quintessential scenery of the Pacific Northwest with a summer camping trip to Skokomish Park. Located on the shores of Lake Cushman, this campground sits on the outskirts of Olympic National Park, saddling its eastern boundary. It is surrounded by towering evergreen trees and a glistening lake set against a backdrop of mountain scenery.
Campsites and RV hookups are immersed in nature, but facilities are readily available to add a sense of comfort, including picnic shelters, barbecues, and restrooms. There are two areas to stay: North Camp and South Camp. The former offers a more secluded experience, while the latter is more popular due to its accessibility. Both have plenty of trails to explore by foot or bike, and the refreshing lake beckons on hot summer days.
Steamboat Rock State Park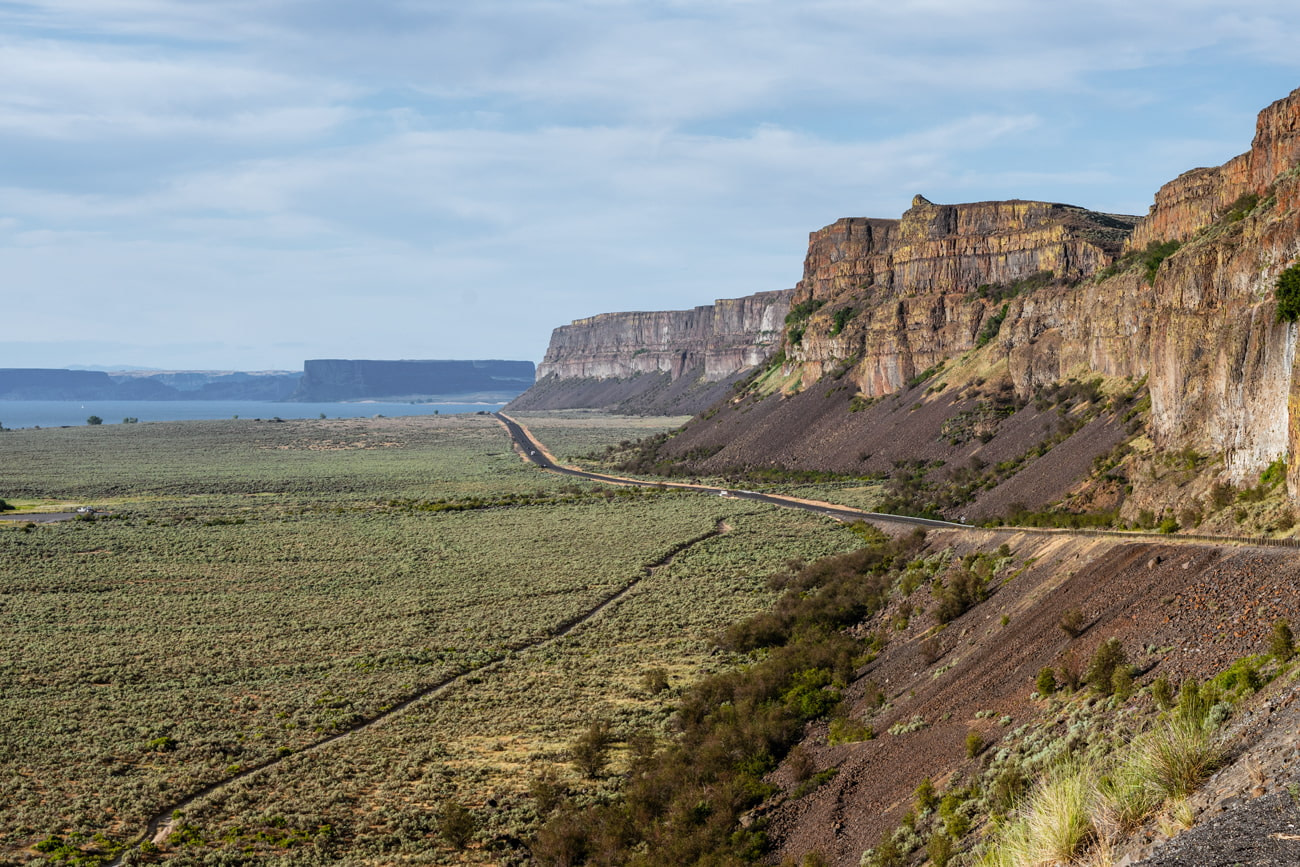 Tucked between imposing basalt cliffs and sprawling desert, Steamboat Rock State Park is the jewel of Central Washington. With three campgrounds and 243 hectares (600 acres) of land for recreational use, it is a popular year-round destination for boaters, hikers, horse riders, and weekend warriors. As an added bonus, its location provides exceptional protection from the wind, so you can picnic in total peace.
Steamboat Rock, the park's namesake and dominating feature, rises an impressive 244 meters (800 feet) out of the lake's depths. Its origins date back to the last Ice Age, some 13,000 years ago! It is possible – encouraged, even – to hike to its top where an expansive vista awaits. After a quick 200-meter (650 feet) climb, you enjoy a well-earned view of the surrounding desert landscape. Sunset, in particular, is a nightly treat from here!
Cape Disappointment State Park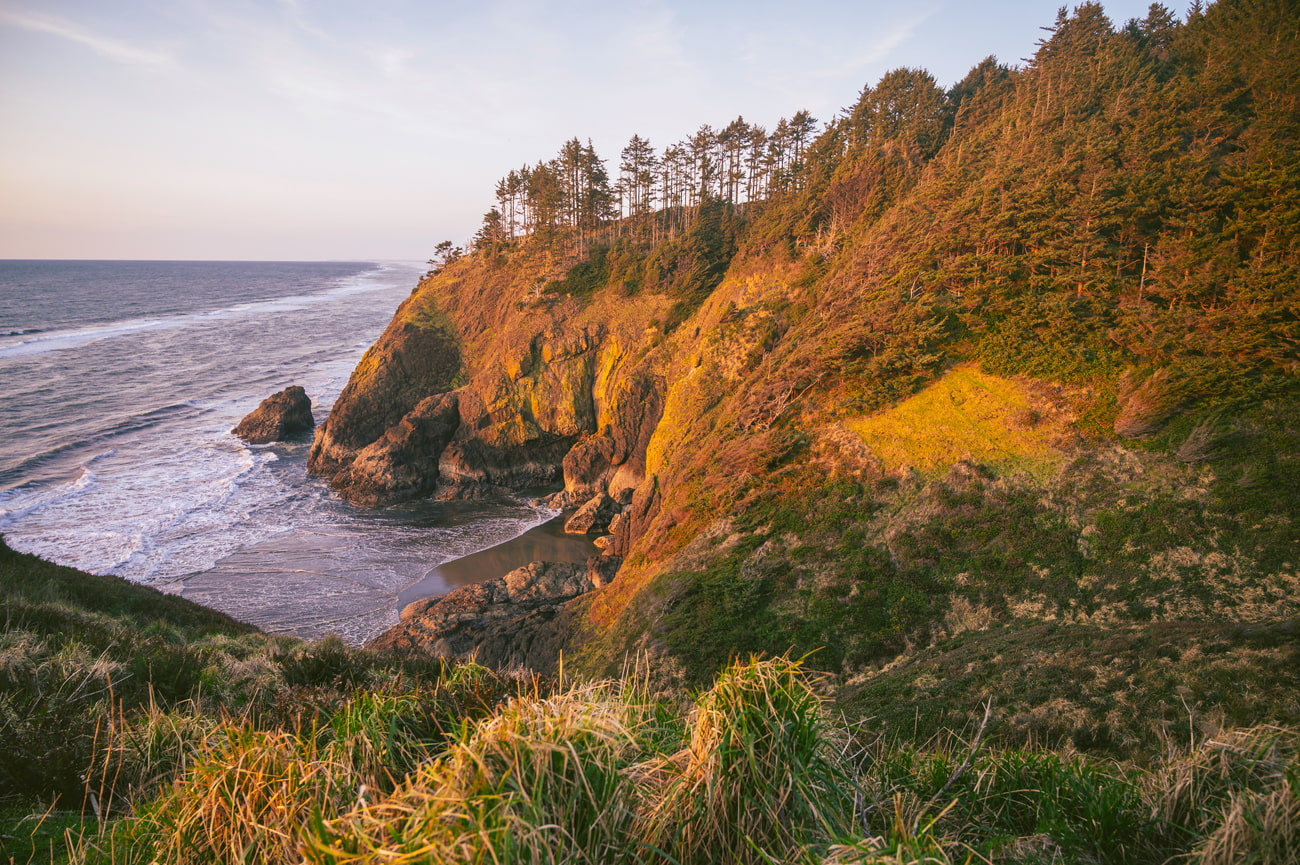 Despite its name, this campground is the complete opposite of disappointing. Its prime location on Long Beach Peninsula, in the southwestern corner of the state, provides two miles of coastline and 220 mixed-use campsites. Yurts are also available if that is more your speed!
By day, you can relax on the beach, dig for clams, hike along forested trails, and explore hidden beach coves. By night, witness an expansive sky full of stars and fall asleep to the rhythm of the ocean tide as it ebbs and flows. To learn about the region's rich military and maritime history, be sure to visit the nearby interpretive museum. There are also two lighthouses, one built in 1856 that remains the oldest in the Pacific Northwest, and the other built in 1898.
Deception Pass State Park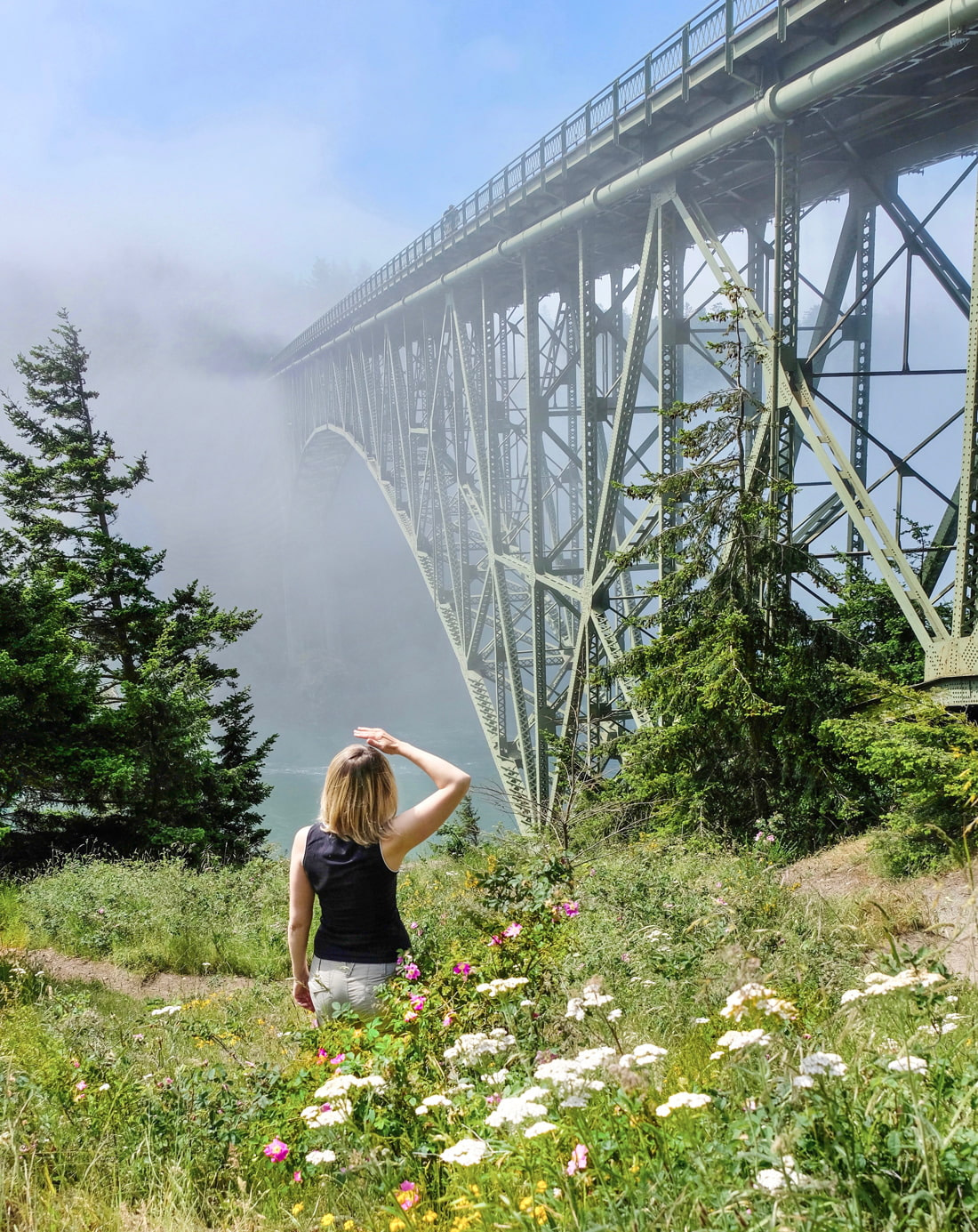 Spanning two islands, Deception Pass is best known for its imposing bridge that hovers 55 meters (180 feet) above the deep waters of the Puget Sound. The bridge is certainly a draw, but the area is filled to the brim with camp opportunities and recreational activities galore.
Here, days are spent hiking through thick forests and along rugged coastlines, or kayaking and watching bald eagles roam the sky while seals and whales patrol the waters. With plenty of camping options, it can be difficult to choose where to stay: Hope Island, Bowman Bay, Quarry Pond, or Cranberry Lake. The best part? There's no wrong choice. Plus, its fantastic location allows for immersion in nature while never straying too far from anything you may need.
Cougar Rock Campground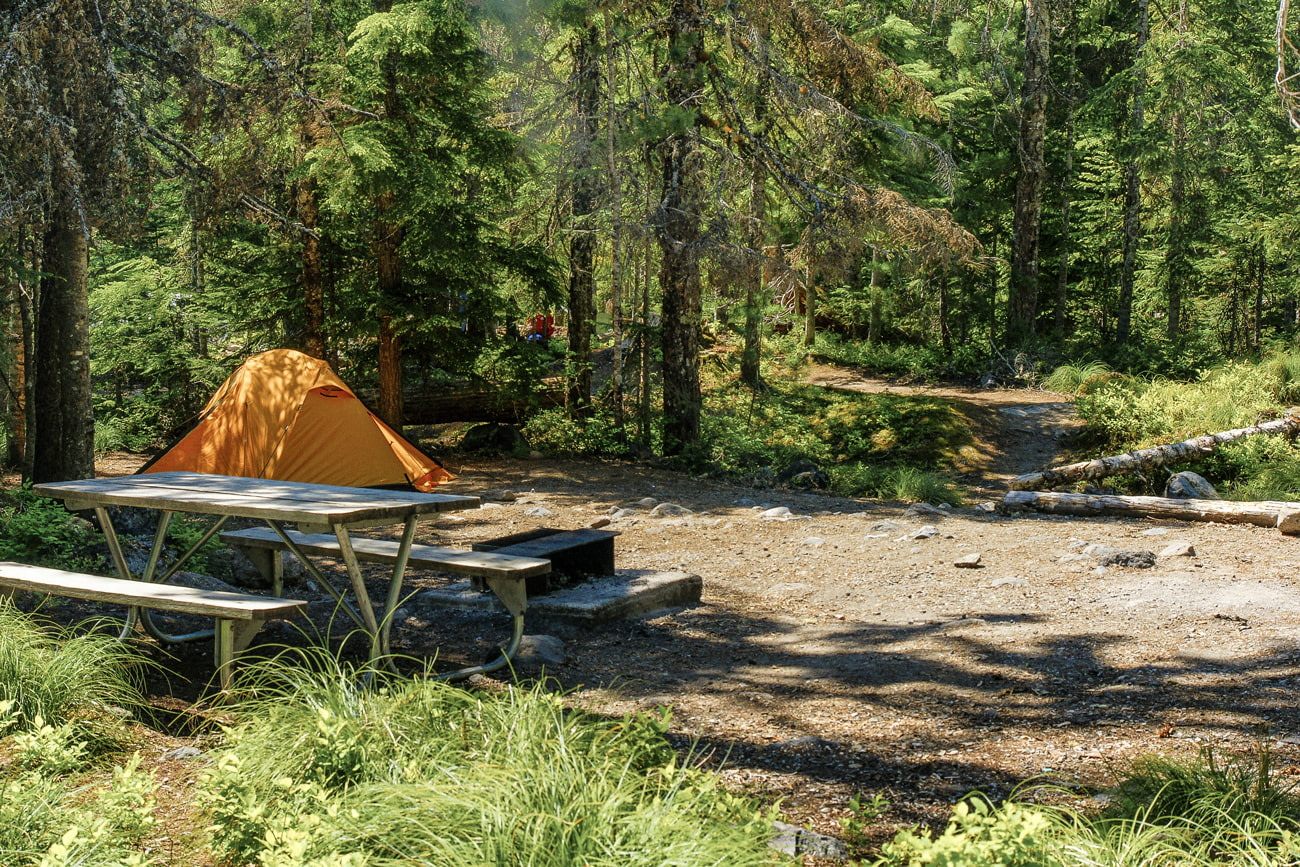 Cougar Rock Campground is located on the southern side of Mount Rainier, in an area known as Paradise. And paradise it is! With sprawling alpine meadows, striking views of Rainier, and the tranquil soundscape of the Nisqually River, this is the Pacific Northwest's version of an oasis.
Despite the campground being more rustic, facilities are never far away, and 173 well-spaced campsites provide campers with privacy and peace. Each night, ranger-led presentations are put on at the campground's amphitheater so you can learn about the region's geology and indigenous history, as well as hear local stories and legends. For those keen on hiking, which is arguably the main draw in staying at Cougar Rock, there is a wide variety of trails suitable for all ability levels.