Ancient traditions and mesmerizing nature collide in Pays Basque. Just like the neighboring País Vasco across the border, this seductive and distinctive corner of France marries Spanish and French influences, but has a unique, intriguing culture all of its own.
Snuggled between the Bay of Biscay and the rugged foothills of the Pyrenees, this tiny region fascinates with its lush hills and valleys dotted with charismatic white-and-red villages, but also with its sweeping golden beaches, chic seaside towns, and blossoming food scene.
From chocolate and macarons to some of Europe's best surf, here are 8 reasons to visit the French Basque Country:
Best Surfing in France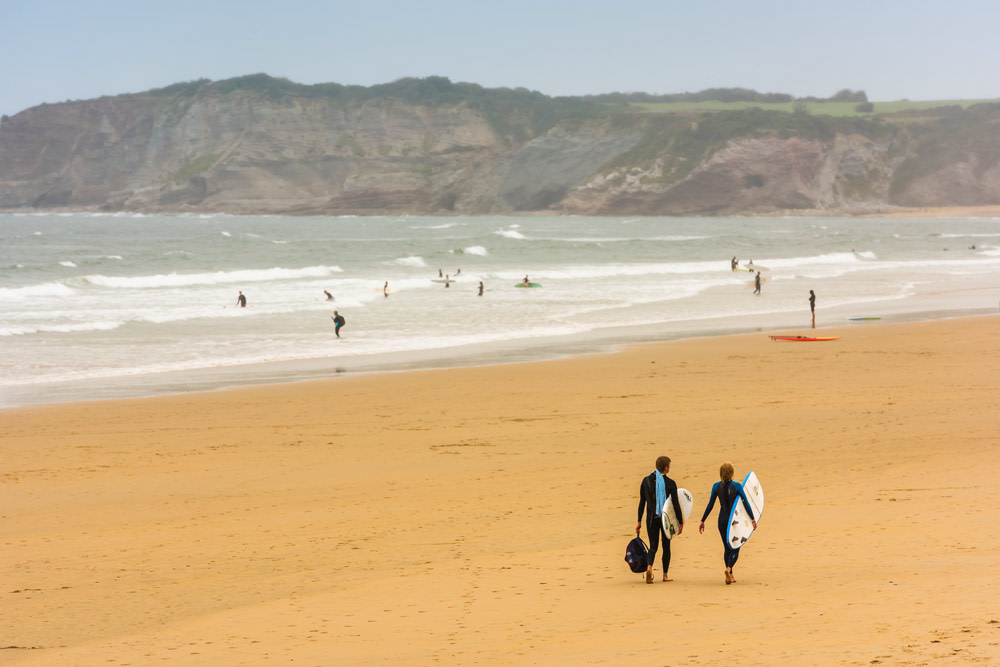 With its unique culture, gorgeous surroundings, and consistent waves year round, the French Basque Country is nothing less than a surfer's paradise. After all, this is where surf was first introduced to Europe (1957), by Hollywood scriptwriter Peter Viertel, who fell in love with the breakers of Biarritz.
Nowadays, the delightfully rugged Côte Basque is overflowing with surfing schools, shops, and championships, attracting surfers from all over Europe and beyond to its wild Atlantic shores.
In addition to Biarritz's La Côte des Basques beach, which is probably the most popular surfing spot in the area, you'll also find excellent waves in Hendaye (beginners and intermediates), Guéthary (pros), Anglet, and Lafitenia beach in Saint-Jean-de-Luz, one of the few point breaks along the coastline.
The Old-World Glitz of Biarritz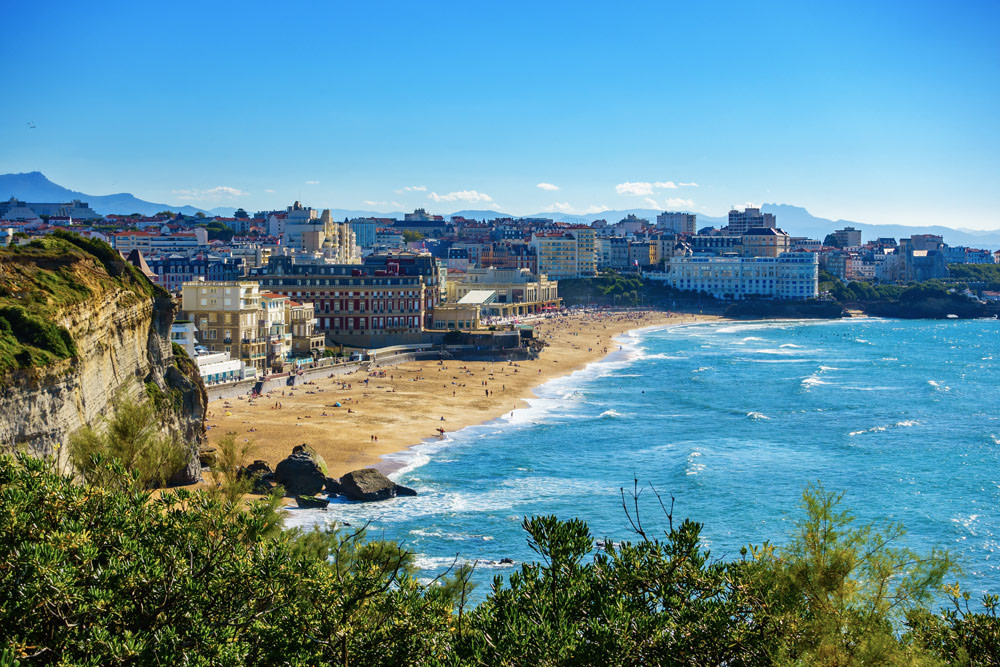 Once a favorite summer retreat for artists, writers, and royals, Biarritz is now a breezy, bohemian surfer's hangout, with an intriguing mix of Belle Époque attractions, hip boutiques, and surf shops.
Grande Plage, the resort's beautiful wide sandy beach, attracts surfers from far and wide, while handsome mansions, imposing art deco facades, and elegant seafront promenades evoke the town's aristocratic past.
Biarritz's hybrid nature is also reflected in its invigorated dining scene, where creative Basque tapas (pinxtos) and fresh seafood from the Bay of Biscay share the stage with outstanding chocolate confections, refined French pastries, and haute Michelin-starred creations.
La Rhune Views
Located in the western Pyrenees, next to the villages of Sare and Ainhoa, La Rhune is a small mountain (905m) with a big view. Awarded 3 stars in the Michelin Green Guide, the breathtaking panoramic vista from the summit encompasses all 7 Basque provinces, from the French Atlantic shoreline and the mighty peaks of the Pyrenees all the way to Spain's northern coast.
To see the Basque Country in all its natural glory, embark on the unique Petit Train de La Rhune, which climbs its way up the mountain through quaint countryside roamed by vultures and wild Basque ponies (pottok).
Best Chocolate in France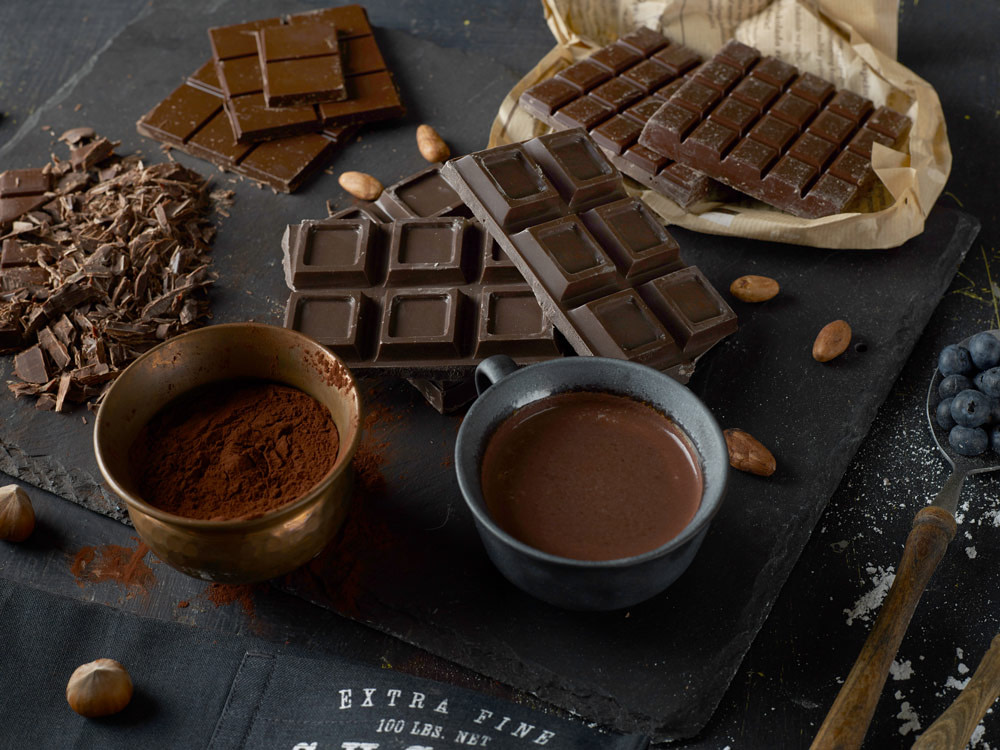 If you thought Brussels is the chocolate capital of Europe, you couldn't be more wrong. Bayonne, Pays Basque's most important city and port, is where chocolate was first brought to France (1600s) by Spanish and Portuguese Jews fleeing the Inquisition.
Today, the characterful port city at the foot of the Pyrenees is jam-packed with reputed chocolate houses, serving everything from sophisticated pralines and truffles to divine ganaches, kanouga caramels, and rich, foamy chocolat chaud.
To learn more about the city's chocolate history, take a walk along the pedestrian Rue Port Neuf, also known as "chocolate street", where Bayonne's oldest chocolatiers can be found; pay a visit to L'Atelier du Chocolat's small museum; or attend Les Journées du Chocolat (Chocolate Days) in the last weekend of October. Also, make sure you don't miss the town's specialty, flavored with the local hot pepper powder, piment d'Espelette.
The Pretty Village of Espelette
Perhaps the most charming Basque village on the French side, Espelette is a warren of postcard-perfect streets lined with idiosyncratic boutiques and traditional white and red half-timbered houses. What really sets it apart, however, is its famous hot pepper (Piment d'Espelette), an AOC-designated product since 1999 and a staple ingredient in traditional Basque cuisine.
Best time to visit Espelette is in late summer, when garlands of fiery red peppers hang on the village facades and from balconies to dry in the sun; or during Espelette Pepper Festival (last weekend of October), when the town comes to life with dancing, drinking, and lots of mouthwatering spicy dishes starring the famous homegrown chili.
Majestic Corniche Basque
Stretching between Saint-Jean-de-Luz and Hendaye, Corniche Basque is a strikingly beautiful 10 km long protected natural area where verdant cliffs plunge into the Atlantic, giving rise to some downright spectacular scenery. Following the coastal path will lead you to green, open meadows scattered with blooming wild orchids and grazing sheep, spellbinding sea views, and the enchanting Château Observatory of Abbadia, which sits at the entrance in Hendaye, dominating the rocky coastline.
Saint-Jean-de-Luz, Birthplace of French Macaron
Dating back to the 1660 royal wedding of Louis XIV and Maria Theresa of Spain, Maison Adam's signature confections are said to be the "véritables macarons". The historic pâtisserie still exists today on Rue de la République in Saint-Jean-de-Luz and uses the same secret family recipe ever since.
Nevertheless, the pretty French seaside resort of Saint-Jean-de-Luz, with its colorful fishing port, storybook old quarter, and glorious sandy beach, is well worth a visit, whether or not you like macarons.
France's Largest Festival
Around one million revelers wearing all white with red scarves flock every year to the French Basque capital of Bayonne to take part in the raucous five-day party known as Fêtes de Bayonne. Dating back to 1932, this is the largest and wildest festival in France.
The event takes inspiration from Pamplona's San Fermin, and while most festivities revolve around bullfighting, there's no shortage of flamboyant parades, music concerts, traditional songs and dances, and fantastic food & drink, either.