Take a break from hotels and resorts and get back to nature with one of these amazing treehouse accommodations that combine comfort with the thrill of being immersed in nature. Some of them are rustic cabins built into the canopy of majestic trees, others make for luxurious nature retreats, yet others are true architectural marvels with high-tech interiors and contemporary amenities.
Les Cabanes du Bois Landry, France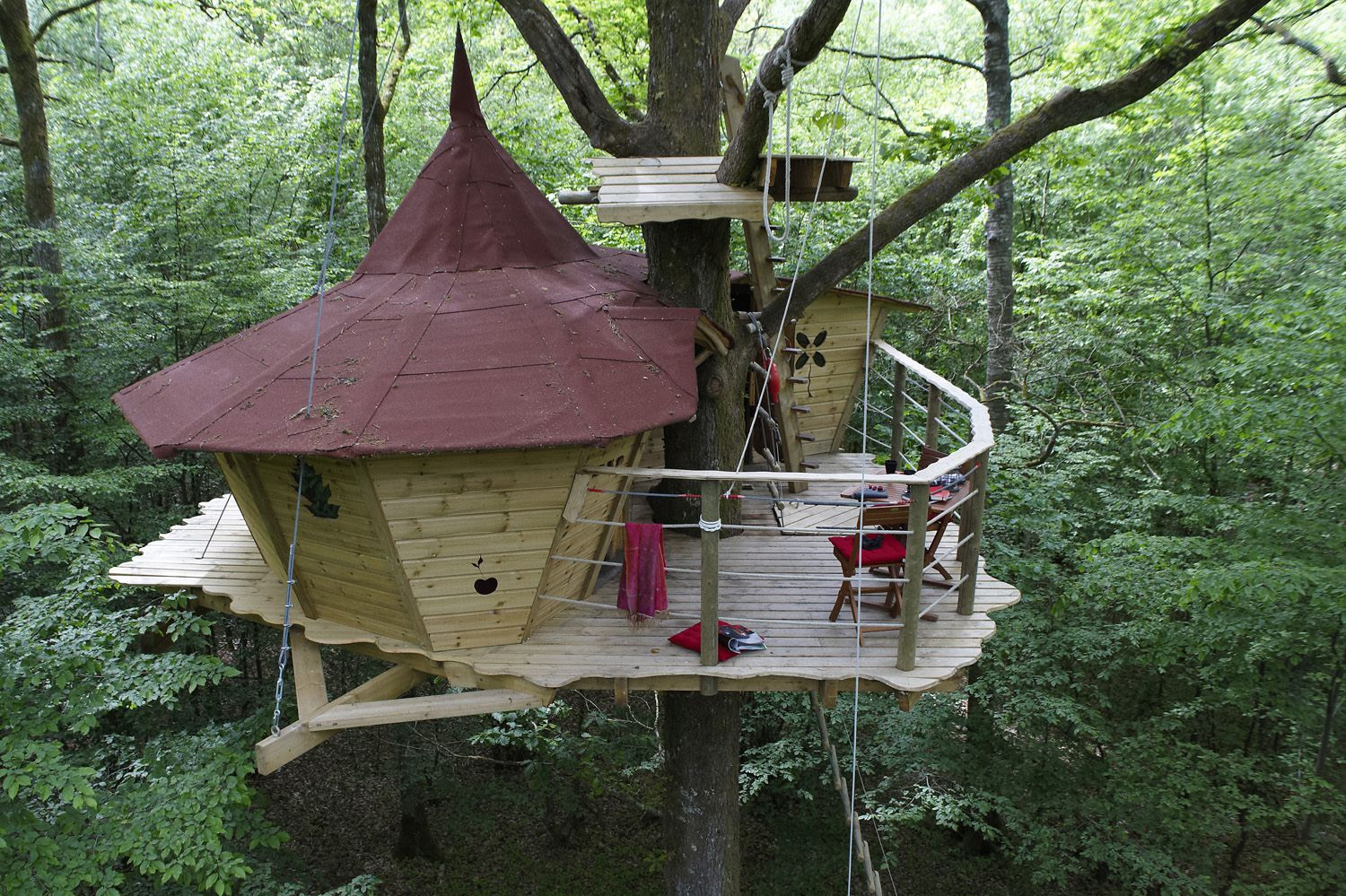 An assortment of 15 quirky treehouses, Les Cabanes du Bois Landry in France's department of Eure-et-Loir proves that sleeping in the woods can be both fun and comfortable. Individually designed, these handsome wooden cabins clinging to oak trees are ingeniously connected by stairs and rope bridges, bringing up childhood memories.
Eagles View Suite, Finland
Overlooking the pristine wilderness of Syöte National Park, Eagles View Suite is probably the most spectacular treehouse out there. Part of Finland's Iso Syote Hotel, the unit is skillfully constructed around a growing tree and features a stunning design with glorious floor-to-ceiling glass windows and roof gazing out across a marvelous backdrop of untouched nature and dancing Northern Lights.
Pedras Salgadas Spa & Nature Park, Portugal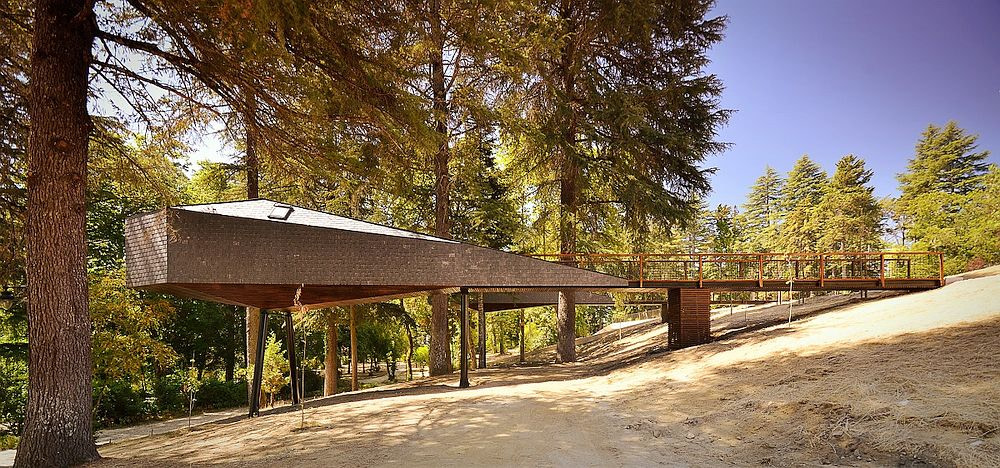 Set within 20 hectares of ancient parkland, Pedras Salgadas Spa & Nature Park offers accommodation in various kinds of units, including 2 state-of-the-art treehouses conceived by architect Luis Rebelo de Andrade. Due to their nonconformist, sustainable design that incorporates indigenous materials and various groundbreaking construction techniques, both structures blend seamlessly into the local scenery and offer beautiful nature views.
La Sultana Oualidia, Morocco
Nestled on the picturesque Atlantic coast of Morocco, La Sultana Oualidia allows guests to spend the night in a sumptuous treehouse suite complete with top-notch amenities, serene blonde wooden interiors, and scenic views of the shimmering salt water lagoon of Oualidia.
Cabanes als Arbres, Spain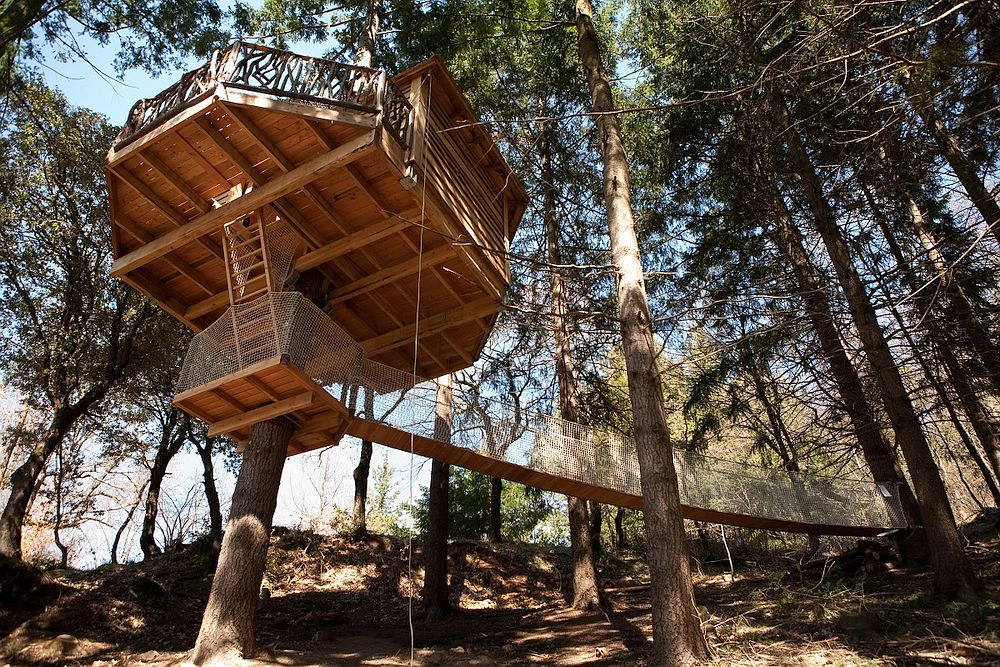 An eco-friendly Catalan retreat tucked away in the picturesque countryside of Girona, Cabanes als Arbres boasts 10 round-shaped treehouses complete with charming, rustic décor and private balconies overlooking the lush Les Guilleries forest. The cabins, each named after a different bird, are built among the trees' branches and can be accessed via suspended bridges and wooden ladders.
Tsala Treetop Lodge, South Africa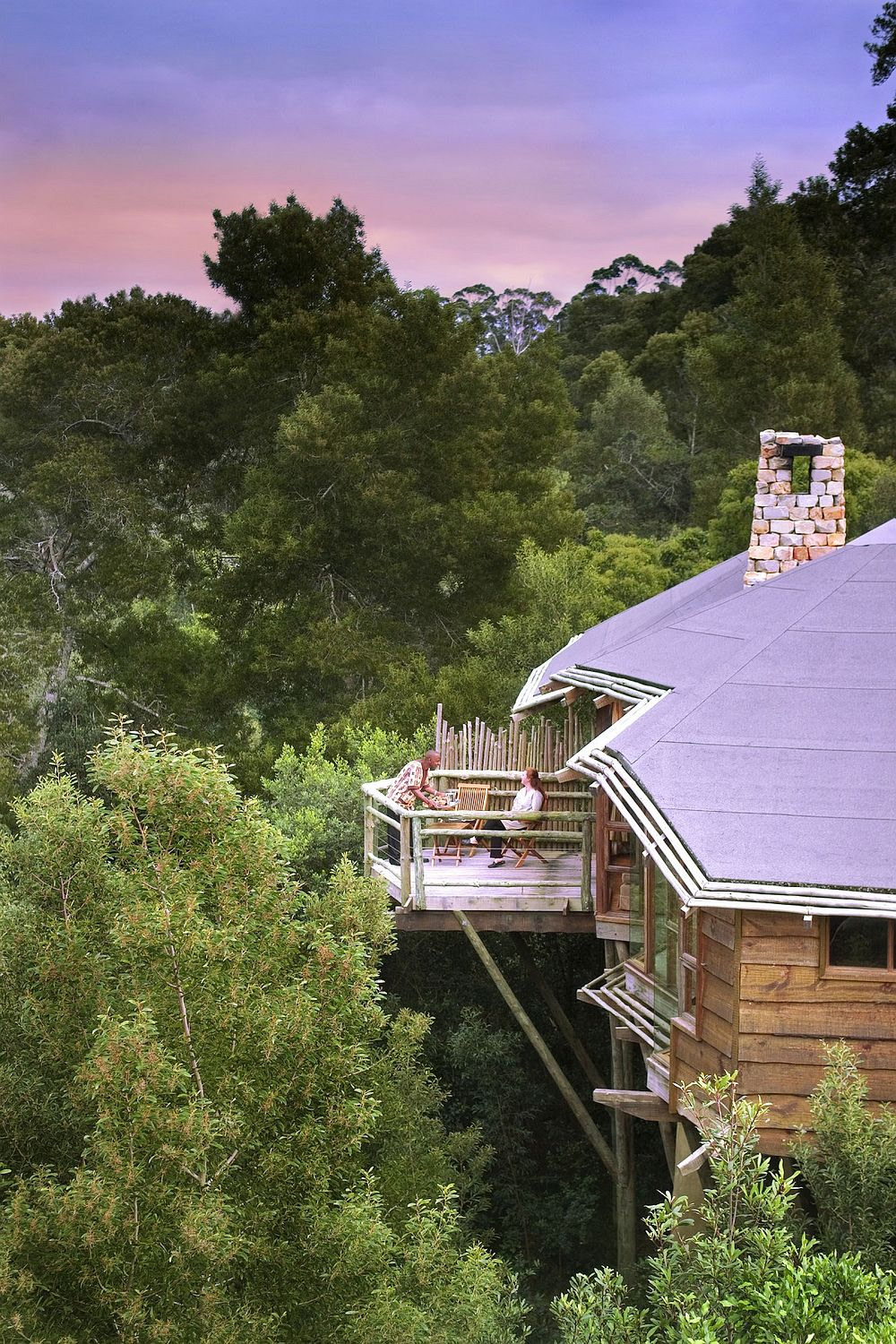 Situated in Western Cape, Tsala Treetop Lodge offers treetop accommodation in 10 luxuriously appointed treehouses complete with private infinity-edge pools and fabulous African-inspired interiors. Built of stone, wood, and glass, the suites offer complete privacy and majestic vistas of the age-old Tsitsikamma Forest.
Treehotel, Sweden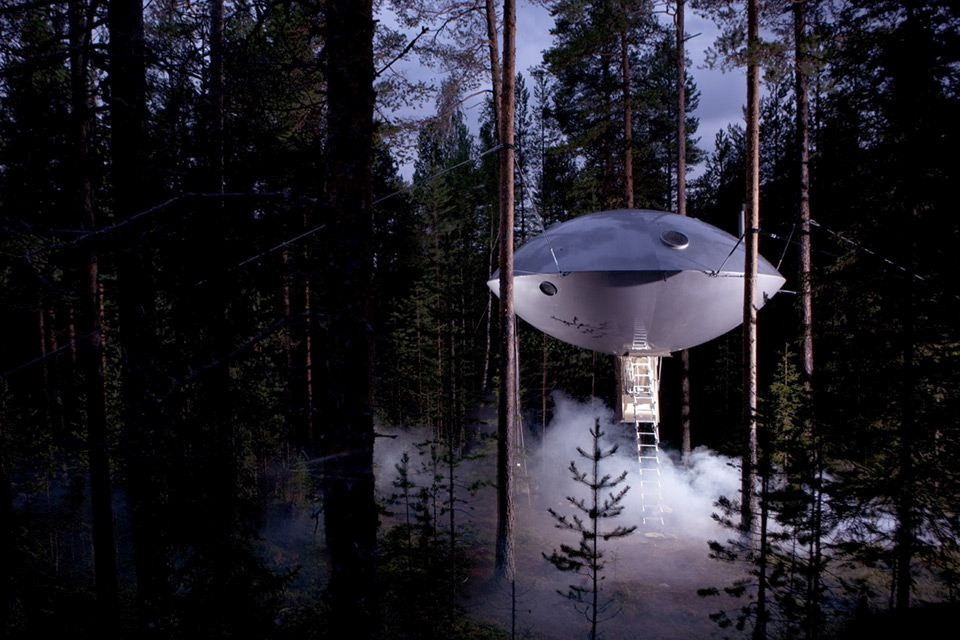 An architecturally stunning retreat secluded in the far north of Sweden, Treehotel consists of outlandish treehouses, each uniquely designed by one of Scandinavia's leading architecture firms. One of the units stands out for its striking mirrored walls that help it become one with the surroundings; another one embodies an UFO; yet others are traditional wooden structures with clean, rustic chic interiors and modern amenities.
La Piantata, Italy
Accommodation options at La Piantata – an 18th-century Italian farm midway between Rome and Tuscany, include 2 charming treehouses hovering above scented lavender fields. Suspended 7 meters off the ground, the modern 87-square-meter Black Cabin bills itself as the largest treehouse in Europe.
Treehouse at Glacier Under Canvas, USA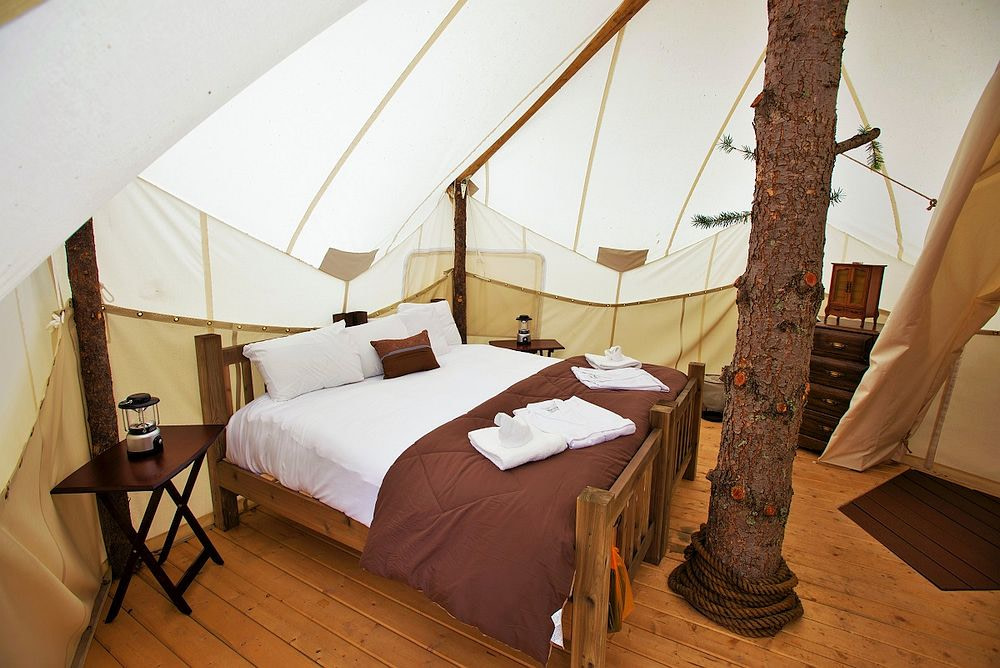 Sleeping up to 4 people, the Treehouse at Glacier Under Canvas is a luxurious tent perched on a wooden platform in the trees of Montana's West Glacier. Equipped with woodstove and king-size bed, the stylish suite provides nature lovers with a unique glamping experience just a short drive from the spectacular Glacier National Park.
The Urban Treehouse, Germany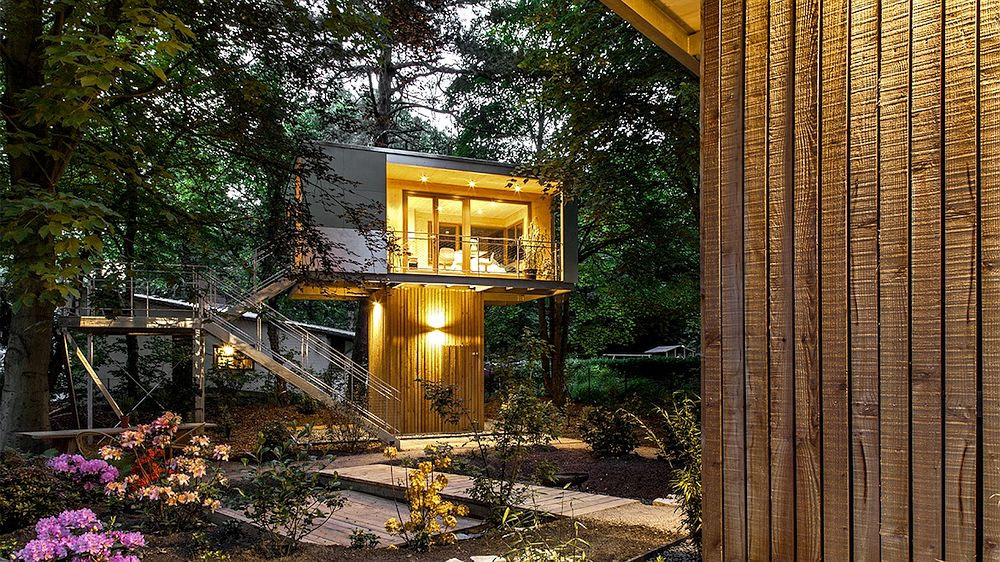 A project by Baumraum's architect Andreas Wenning, The Urban Treehouse lies in the green forest of Grunewald outside Berlin and features 2 high-tech treehouses decorated with sleek kitchenettes and bespoke contemporary furnishings. Both accommodations are raised on wood-clad pedestals, resembling 2 trees.
Lion Sands Game Reserve Treehouses, South Africa
Part of the outstanding Lion Sands Game Reserve, Kingston Treehouse, Chalkley Treehouse, and Tinyeleti Treehouse are 3 majestic nature retreats that combine comfort and luxury with the best wildlife viewing in South Africa. Expect complete privacy, romantic dinners under the stars, and sumptuous open-air bedrooms elevated on wooden platforms.
Tree House at Tongabezi Lodge, Zambia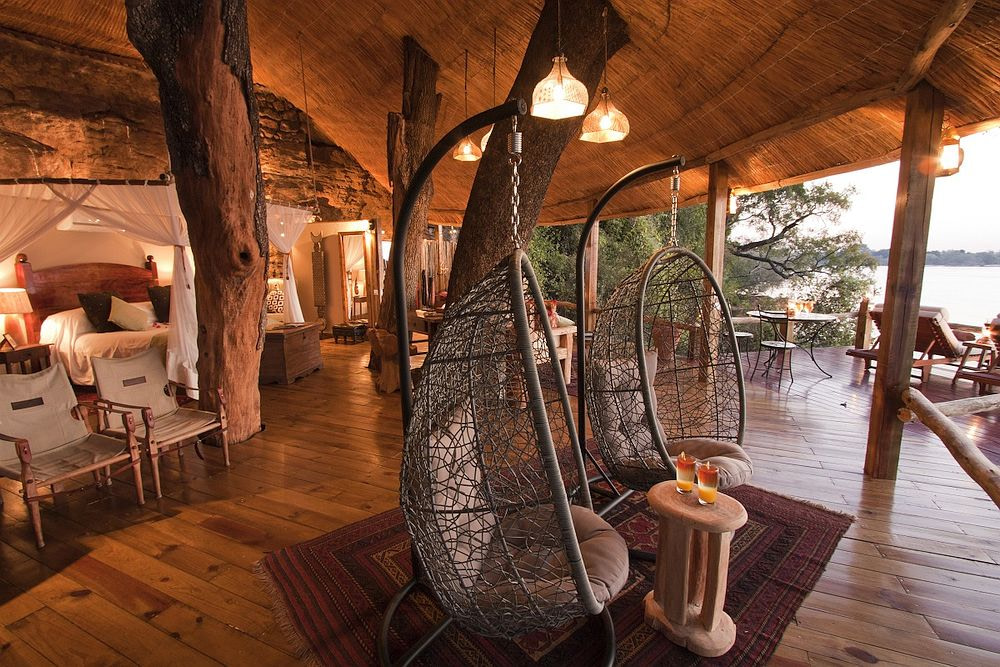 Built among the branches of an ancient Ebony tree, the Tree House at Tongabezi Lodge is a chic open-plan hideaway with a gorgeous private deck extending over the Zambezi River. Fitted out with locally sourced furniture, plush bedding, and African artwork, the outstanding suite allows for unforgettable dining and candlelit baths under the stars, making for a blissful heaven for two.
Chateaux Dans les Arbres, France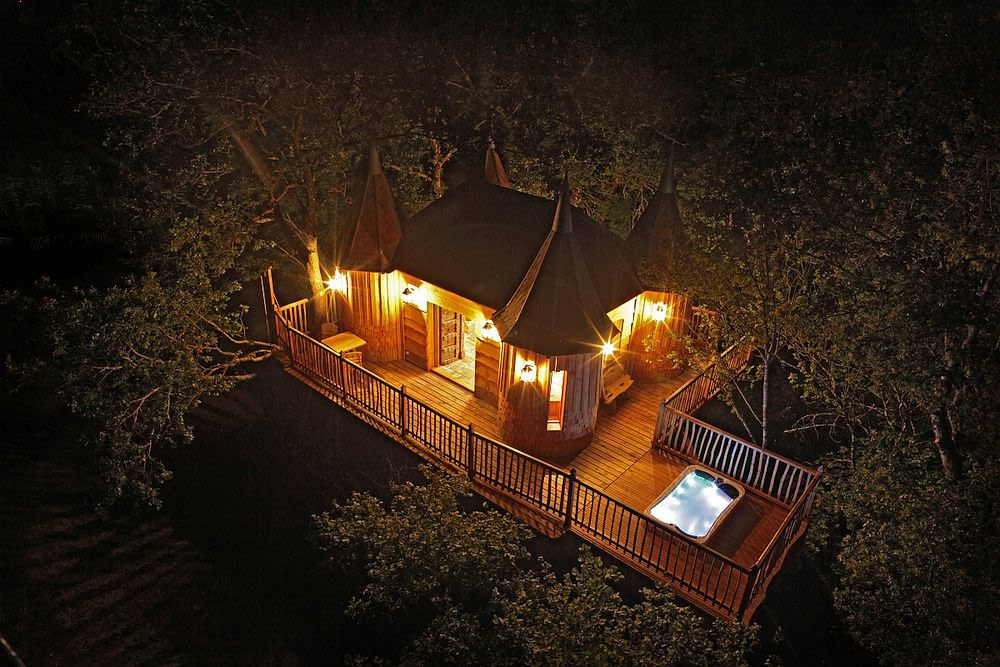 Unique in style and character, the fairytale treehouses that make up the Chateaux Dans les Arbres in Dordogne resemble majestic French castles, featuring whimsical turrets, charming interiors decked out in aged wood, and bucolic countryside views. Amenities include open-air hot tubs, mini bars, coffee machines, TVs, and Wi-Fi.
The Secret Treehouse, Australia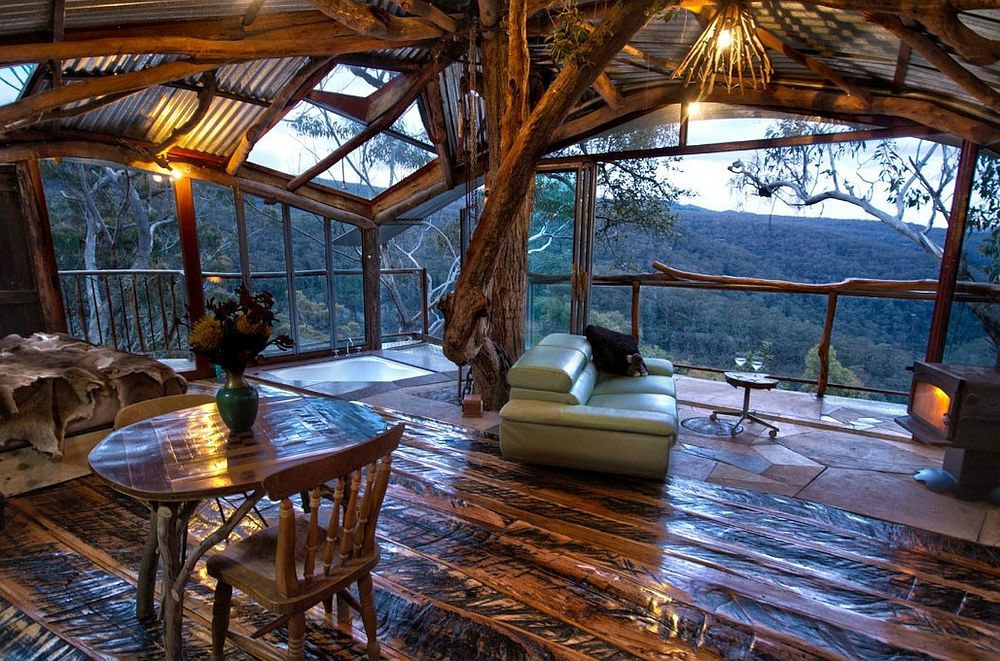 One of the Blue Mountains' staggering Love Cabins, the Secret Treehouse sits above the mighty Bowen's Creek Gorge and has its own spa and wood-burning stove. With its secluded location, breezy open-plan design, and floor-to-ceiling windows overlooking the glorious nature outside, this one-of-a-kind unit is perfect for a romantic couples' escape.
Tree Houses of Montville, Australia
Spread across 20 acres of natural rainforest in the scenic Sunshine Coast Hinterland, Tree Houses of Montville is a charming resort with 24 different cabins. Easily the most spectacular accommodations, the Luxury Tree Houses come with cozy fireplaces, kitchen facilities, spa baths, and sprawling decks overlooking the lush surroundings.
TreeHouse Point, USA
A charming eco-friendly treehouse hotel in Issaquah, Washington, TreeHouse Point offers guests 6 types of treetop cottages to choose from. Created by Nelson Treehouse and Supply, each accommodation is perched high in its own tree and features a unique design that incorporates lovely vintage furniture and original artwork.
Tree Houses at Post Ranch Inn, USA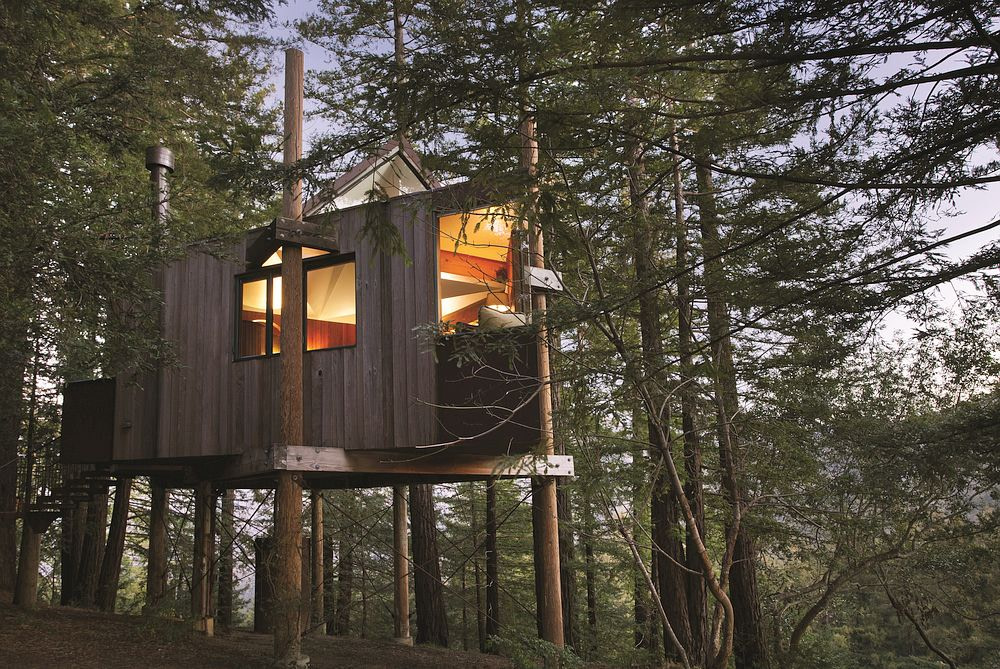 Elevated 1200 feet above the Pacific, Post Ranch Inn clings dramatically to the cliffs of Big Sur, offering breathtaking mountain and ocean views. Its majestic Tree Houses, complete with king-size beds, state-of-the-art technology, spa tubs, wood-burning fireplaces, and private decks, offer luxury accommodation up in the canopy of the forest.
Les Cabanes de Vaure, France
Peacefully located in the quaint countryside of Perigord (Dordogne), Les Cabanes de Vaure invites guests to sleep in charming treehouse accommodations that soar 4 meters above the ground. Each dwelling is attractively decorated in a chic French country style and has its own private veranda, where breakfast can be enjoyed each morning.
Bangkok Tree House, Thailand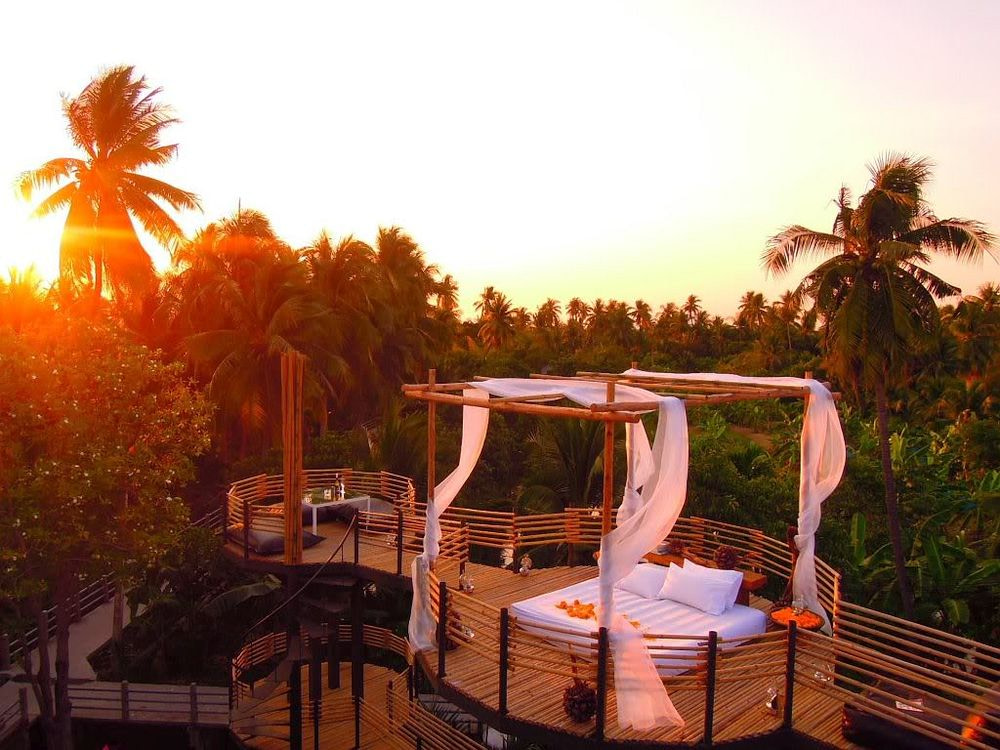 Situated on a small, lush peninsula outside the city center, Bangkok Tree House feels miles away from the urban bustle of Thailand's capital. The eco-conscious hotel has 12 cozy nests, including a bed that floats on the river and the magical "View with a Room" – a stunning open-air bedroom set on a bamboo platform, 7 meters up in the air.
Treehouse for Kids at Iniala Beach House, Thailand
Although not a real treehouse, the Kids Hotel at Thailand's hip Iniala Beach House is an outstanding hotel feature that allows children to sleep and play in creatively designed caves and treehouses while their parents relax. A project by Chris Jones, this fascinating "land of adventure" has been designed to amuse, entertain, and spark the little ones' imagination.
Cabanes des Grands Lacs, France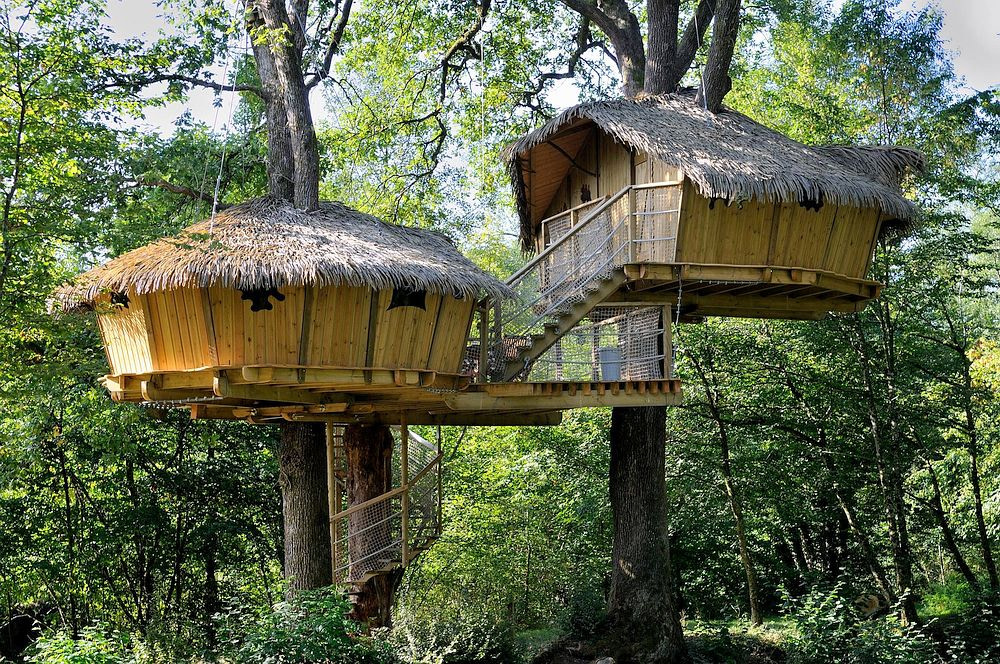 At Cabanes des Grands Lacs in the Val de Bonntal, visitors can spend the night in environmentally-friendly lodges built among the branches of century-old trees. Their Tree Cabins for Two are intimate hideaways with lovely lake views, while the Family Tree Cabins make for the perfect family treetop adventure.