Though not as large or as famous as their Alpine counterparts and mostly visited by domestic tourists, Turkish ski resorts are entering the world stage as an option for a winter holiday for international travelers. Many of them have even had extensive renovations over the last several years to position them more competitively, though they can still be enjoyed at rock bottom prices.
If you've never considered it before and are wondering where to go skiing in Turkey, here's a rundown on some of the best winter resorts in the country to get you up to speed.
Uludağ Ski Area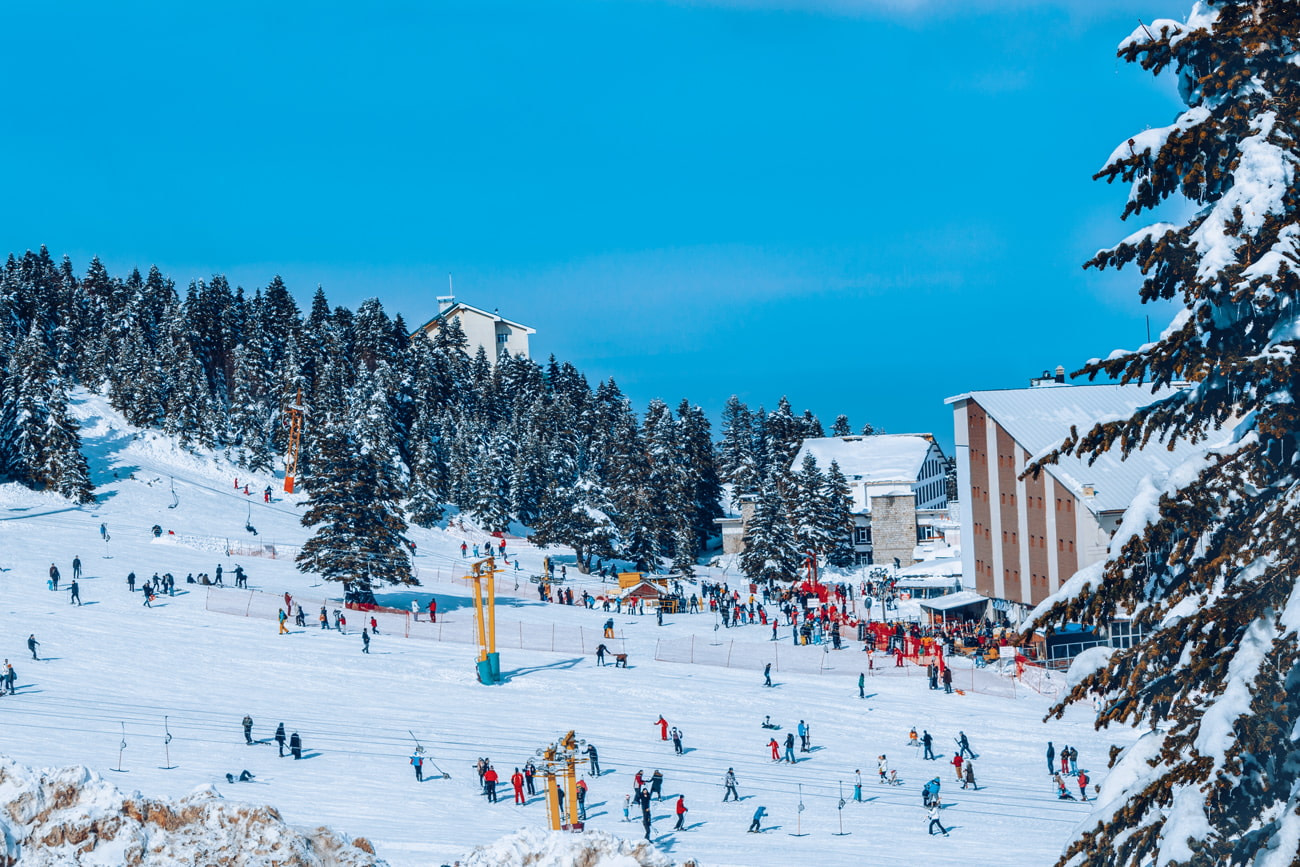 Stats: Though they are mostly T-bar style, Uludağ sports 24 lifts that service nearly 24 km of runs. On-mountain, prices start at 210 TL for a single, full-day lift ticket; a small discount is applied for purchasing them online.
Season: Mid-December until late March.
Nearest Airport: Bursa Yenişehir Airport (82 km).
Despite being one of Turkey's best ski resorts, Uludağ Ski Area is very reasonably priced to visit. Lift tickets, especially when purchased in multi-day or season packages, can be less than €10 a day and you can stay in on-mountain lodges for under €100 a night.
If you're really on a budget, you can book a hotel in town and travel to the resort daily on the longest cable car in the world, Bursa's famed teleferik. A roundtrip, same-day ticket is about 150 TL (75 TL for residents and citizens of Turkey) and the trip takes about 25 minutes. From there you can hop on a shuttle to the summit. For an even cheaper option to reach the slopes, you can take a dolmuş, like a mini-bus, directly from Bursa's city center.
Ercİyes Ski Resort
Stats: 18 lifts, mostly chair lifts, lead to 55km of groomed runs suitable for athletes of all skill levels. Exit-based tickets start at 20 TL for adults, with huge discounts available for purchasing multiple tickets at a time.
Season: Early December until late April.
Nearest Airport: Kayseri Erkilet Airport (29 km).
Located on the tallest mountain in central Anatolia, Ercİyes Ski Resort is an ultra-modern facility designed with the winter tourist in mind. The ski area, nearby resorts, and lodges are all arranged so you can travel effortlessly between them. They have some of the newest and best-maintained chair lifts and gondolas in the country, so you'll rarely if ever have to worry about pistes closing for mechanical issues.
Davraz Mountain Resort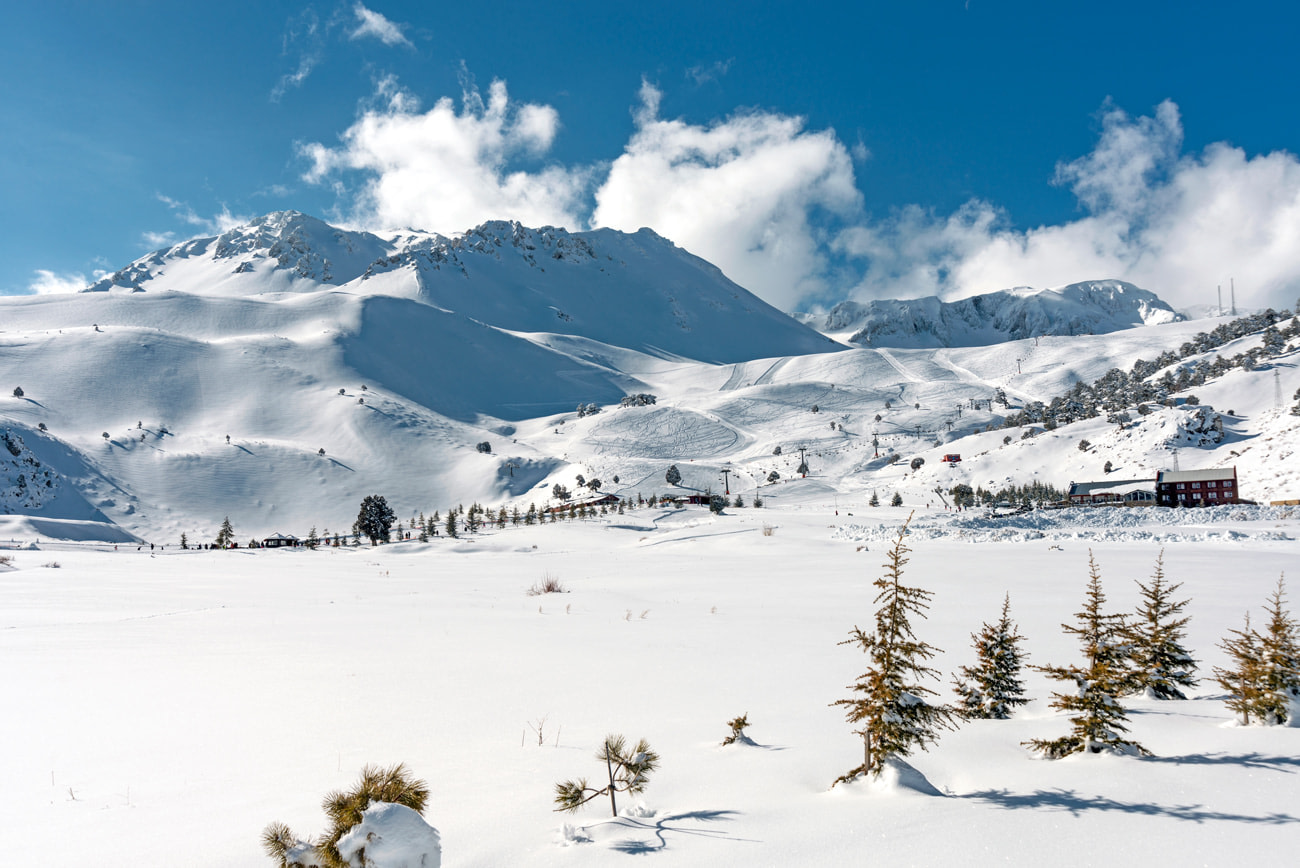 Stats: Three chair lifts, a T-bar lift, and a baby lift lead to about 20 km of runs spread across 13 different routes. Davraz is best for beginning and intermediate skiers, though advanced skiers will find a few challenging runs. Lift tickets start at 35 TL for a day pass.
Season: Early January until early March.
Nearest Airport: Isparta Suleyman Demirel Airport (60 km).
Overlooking the enigmatic Lake Eğirdir, Davraz Mountain Resort is a small but incredibly developed ski resort. Though it only has five lifts, they are impeccably arranged to offer a wide variety of routes to suit skiers of all abilities.
The Sirene Davras Hotel is the only on-mountain resort, but this 4-star, ski-in/ski-out property will disappoint few with its comfortable rooms and suites. For those willing to take a shuttle to the slopes every morning, there are also a few excellent lakeside properties in Eğirdir Village.
Palandöken Ski Center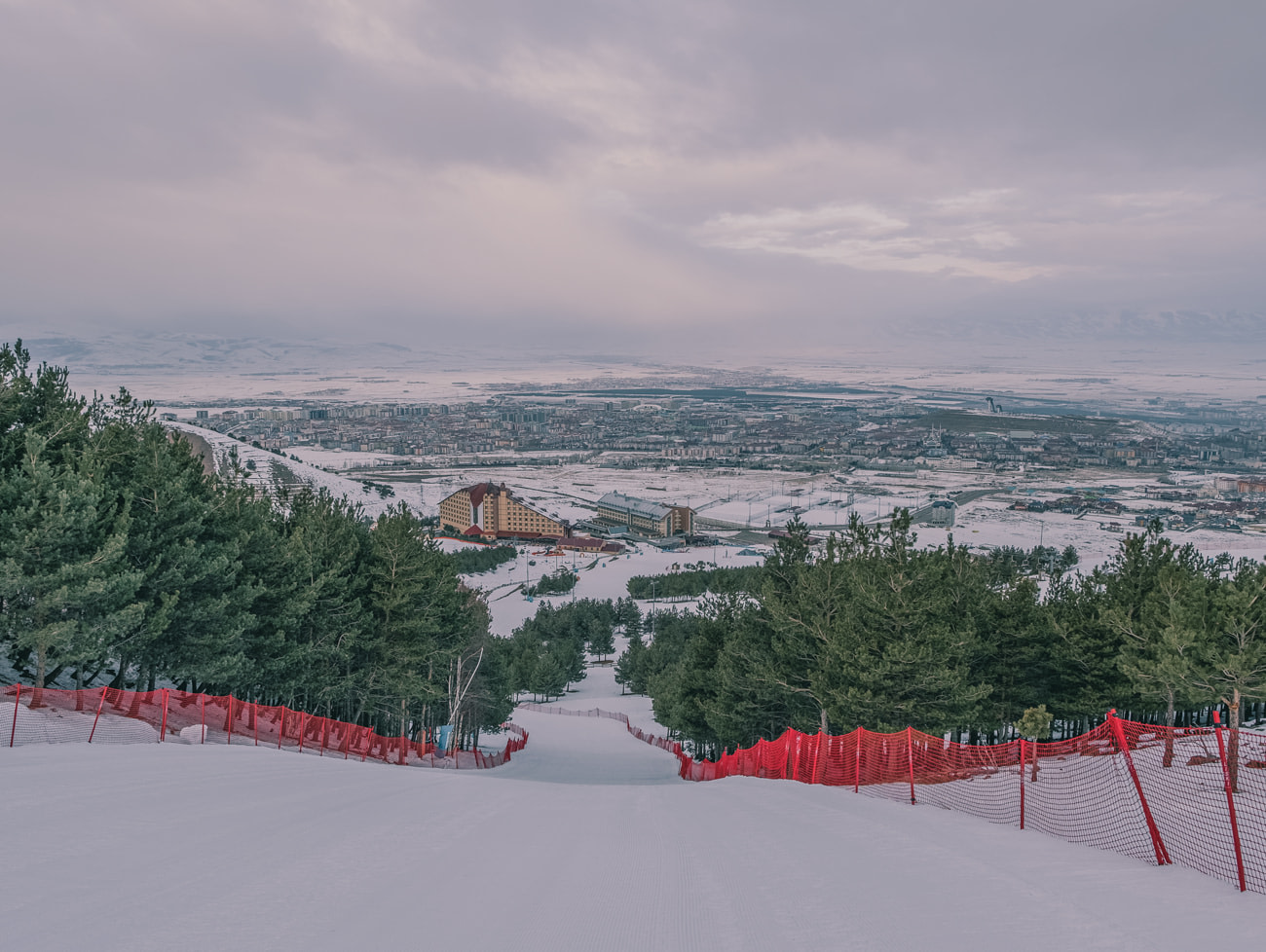 Stats: 13 lifts including two gondolas lead to 22 different routes, a total of 28 km. There are also three "magic carpet" type people movers. Lift passes start at 105 TL for the day, 130 TL with night skiing.
Season: Early December until mid-April.
Nearest Airport: Erzurum Airport (18 km).
With one of the longest ski seasons of all Turkish ski areas, Palandöken is known for its exceptional snow. Their facilities are designed to tempt visitors into long stays, with several restaurants and cafés, as well as activities outside of skiing like gondola rides and summit stargazing.
Booking an on-mountain resort is the best way to go when visiting Palandöken; there are several available ranging from sub-€50 standard hotel rooms to elaborate lodge-like villas. If you're traveling on a shoestring, typical city center rooms can be found for under €20, and shuttles run to the resort once an hour.
Kocaeli Kartepe Ski Resort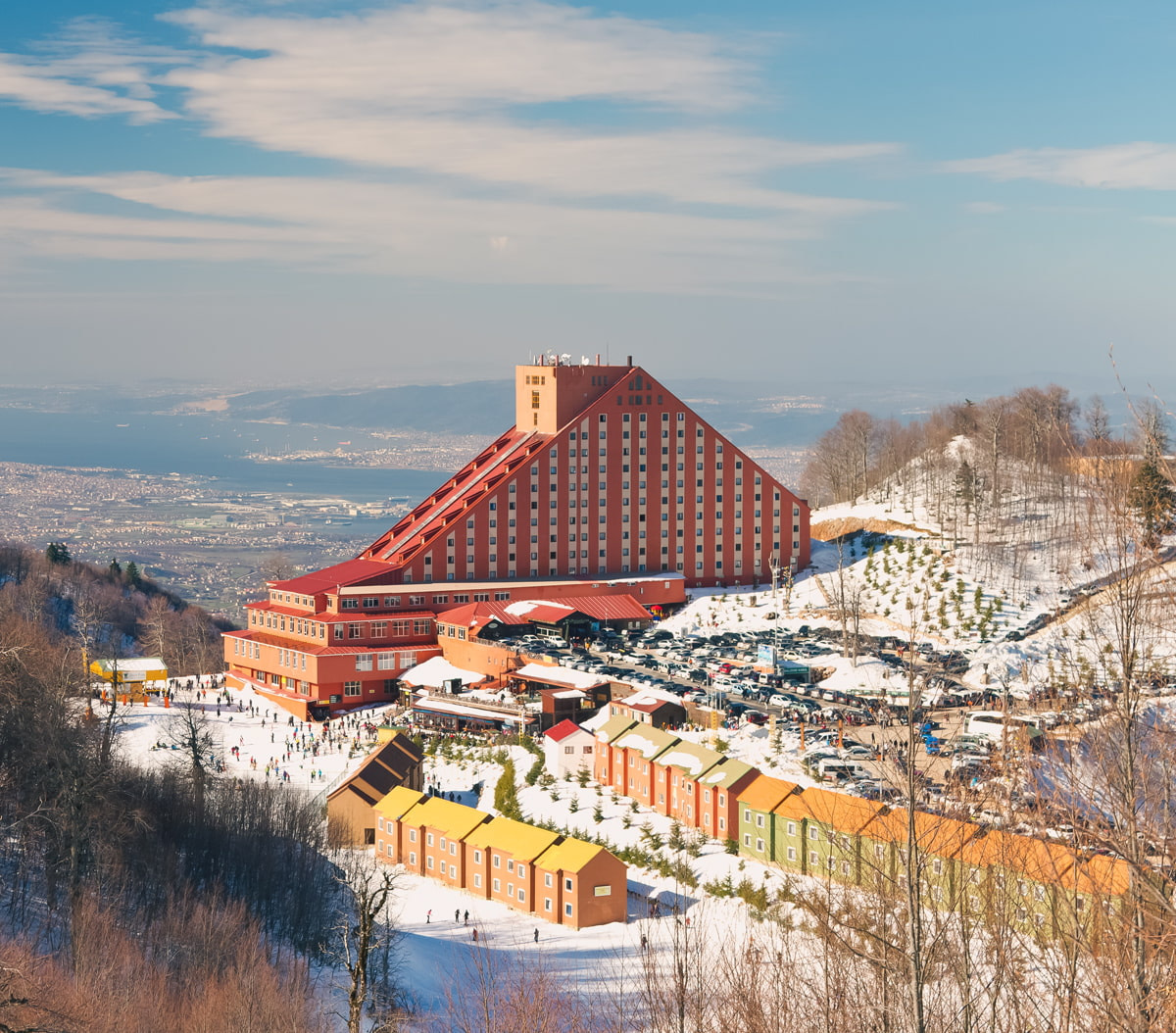 Stats: Three chair lifts and two T-bar lifts service 21 km of runs. Lift tickets start at 170 TL for a full day, but there is also a small deposit for your lift card that will be refunded to you when you return it.
Season: Late December until mid-March.
Nearest Airport: Sabiha Gokcen International Airport (100 km).
The closest ski resort to Istanbul, Kartepe is a popular day-trip destination for those living in and visiting the city. There are shuttles and busses from Istanbul Otogar that leave as often as every half hour during ski season.
If you're looking for on-mountain accommodation, the only one available is the immaculate Green Park Kartepe resort. Their facilities include several restaurants and bars, a fully appointed spa, and hundreds of rooms, suites, and chalets to choose from.
Ilgaz Ski Area
Stats: Actually four separate resorts in the same area, there are a total of eight lifts that lead to a combined 22 km of pistes. Lift tickets begin at 80 TRY for a single day, discounts and packages are available for multiple days or when you stay at an area resort.
Season: Late December until early April.
Nearest Airport: Ankara Esenboga Airport (182 km).
With four ski areas to choose from, a visit to Ilgaz is ideal for those traveling in groups with members of different skill levels. Between Yıldıztepe Ski Center, Ilgaz Doruk Ski Track, Yurduntepe Ski Resort, and the Ilgaz Mountain National Parks Region, everyone from professional skiers to complete novices will find plenty of pistes suited to their specific abilities.
For extremely skilled skiers visiting Turkey, Yurduntepe might be one of the best resorts in the country, known for its super challenging terrain and lively aprés ski culture. Reflexively, beginners should stick to Yıldıztepe and Doruk as those facilities have onsite instructors.
Denizli Ski Center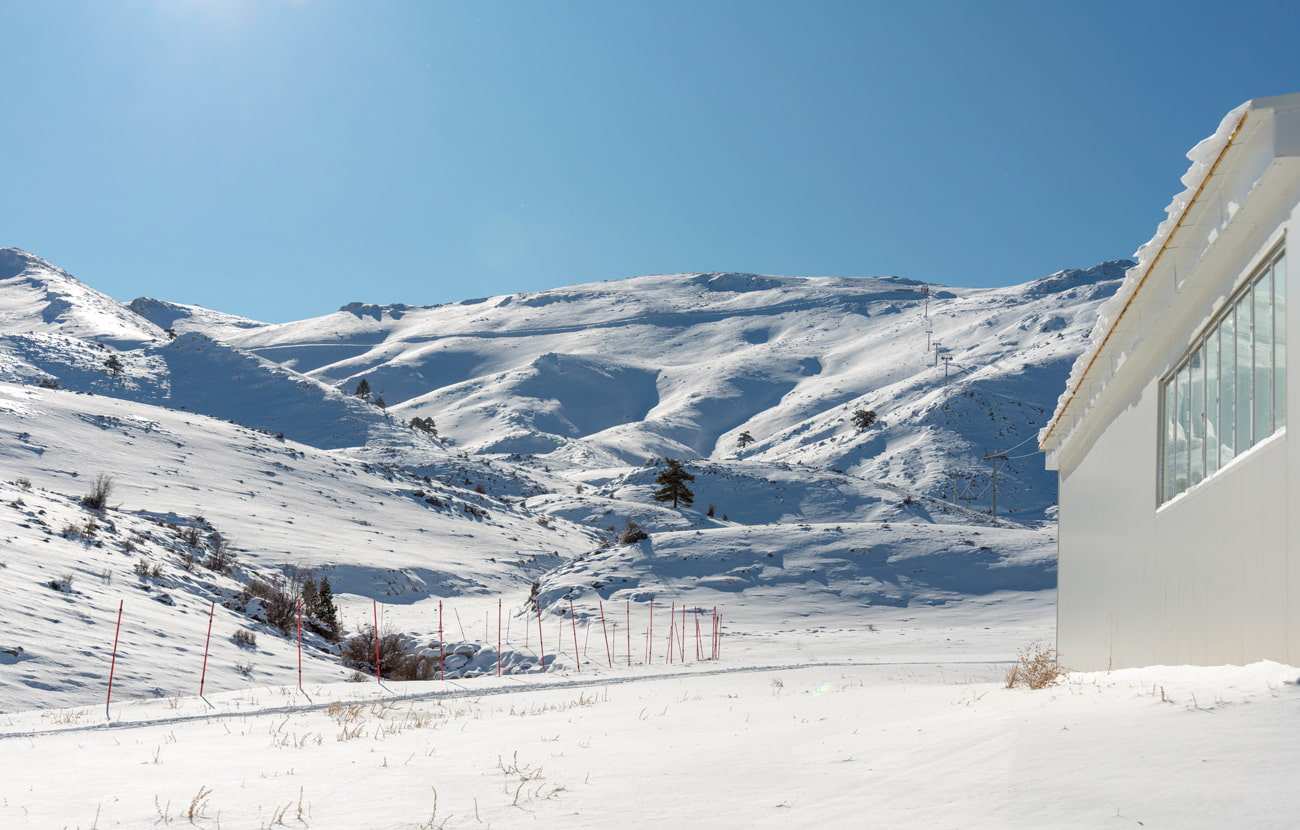 Stats: One chair lift and two J-bar lifts lead to 11 km of runs. Lift tickets start at 100 TL for a day pass, with discounts for beginner-only access.
Season: Early January until mid-March.
Nearest Airport: Denizli Airport (127 km).
The Aegean region's largest ski area, Denizli Ski Center may be small, but it is a fully modernized facility that welcomes thousands of visitors every year. Most pistes are suitable for beginner to intermediate skiers, so it's a perfect place to learn the ropes.
Though there aren't any on-mountain resorts, there is a ski room where you can rent or buy equipment and a small café. Most visitors to the ski area stay in the town of Denizli, about an hour away, from which there are daily shuttles to the mountain.