With its quaint alleys and vivid blue tiles decorating the weathered walls of the city, Porto is an off-the-beaten-path European city that you cannot miss. Oporto, as the local Portuguese call it, boasts breathtaking views overlooking the Douro River and a captivating city skyline from various angles.
A unique mix of both contemporary and historical features, this is a fabulous destination for budget travelers; everything from mouthwatering Portuguese cuisine to entrance fees to sites such as the iconic Dom Luís Bridge and Livraria Lello is cheaply priced. And best of all, this charming riverfront city is small enough to make a weekend getaway filled with gourmet cuisine, signature Port wine, and awe-inspiring attractions completely doable.
Experience Portugal's second-largest city for an unforgettable weekend getaway with these free attractions and budget-friendly things to do in Porto:
Walk Across the Dom Luís I Bridge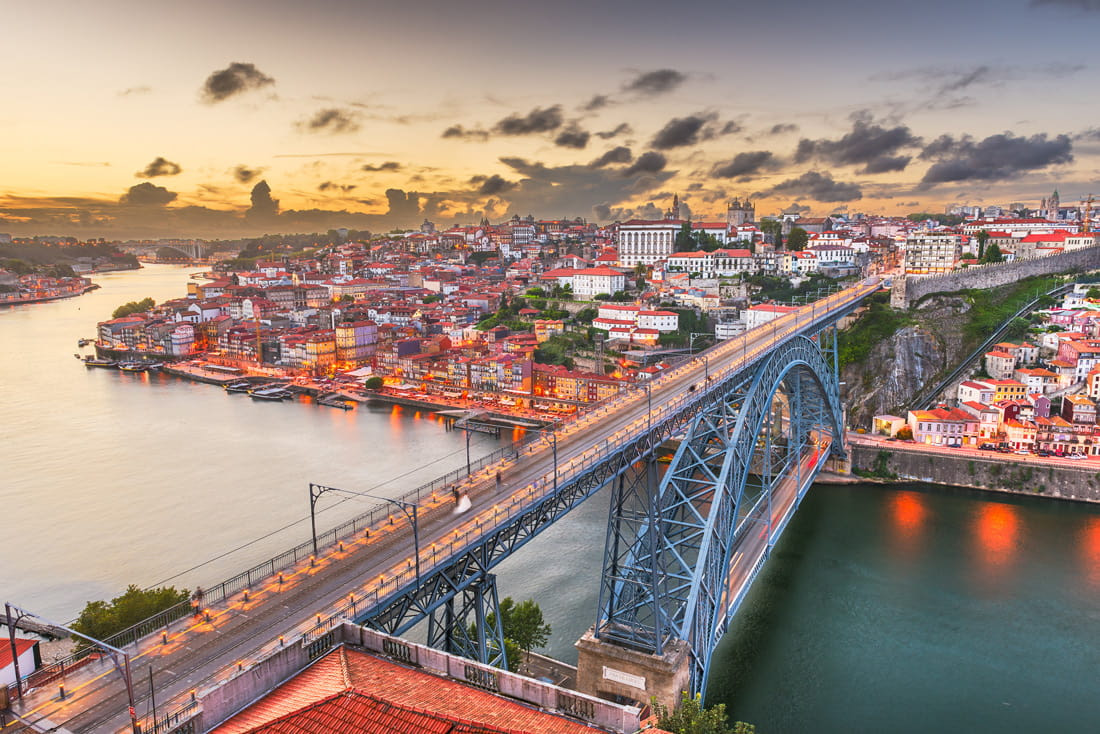 Connecting the two cities of Porto and Vila Nova de Gaia, this double-deck metal arch bridge that stretches over the Douro River is a symbol of industrialism and one of the best free attractions in town. Designed by Théophile Seyrig, a student and partner of Gustave Eiffel, it carries vehicles across the bottom deck, with the city metro and pedestrians on the top deck.
Visitors love strolling across this magnificent structure to enjoy panoramic views of the hillside city and the stunning Douro River. For unparalleled photo opportunities, you can take a scenic walk across Dom Luís I Bridge to the Vila Nova de Gaia side and then continue your stroll along the river.
Enjoy a Book from Livraria Lello
Harry Potter fans will be ecstatic upon entering this gorgeous bookshop in Porto's city center. Livraria Lello's fabulous staircases and intricate interior design inspired the Harry Potter library from when J.K. Rowling was living in Porto during the early 1990s. The bookshop was designed by engineer Francisco Xavier Esteves and became the building that it is today in 1906.
For only 5 EUR per ticket, you can experience first-hand the wonders of this bookshop that is just as magical as the iconic movies that it inspires. So, it comes as no surprise that visitors from all over the world make it a point to visit Livraria Lello on their journey to Porto, whether they be Harry Potter enthusiasts, admirers of architecture, or lovers of literature.
Climb the Clérigos Church & Tower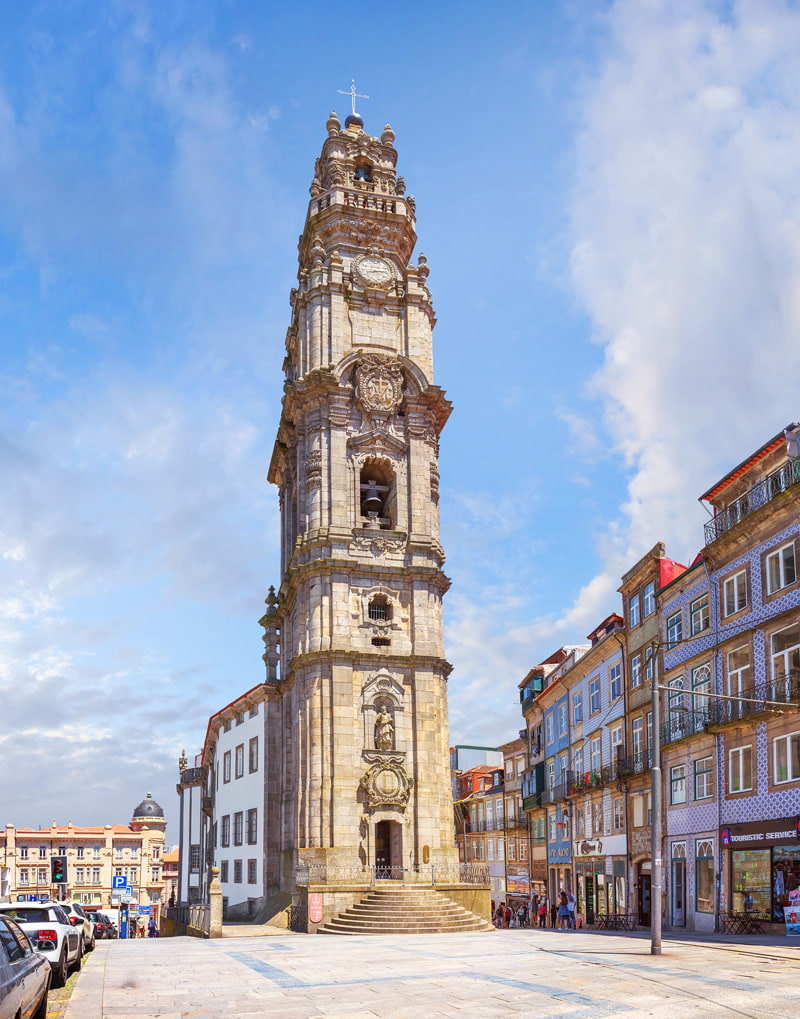 This baroque-style monument is hard to miss while visiting the city of Porto. Built between 1735 and 1748, the Clérigos Church is primarily identified by the Clérigos Tower, which soars high above the buildings and city skyline.
One of the most popular attractions in Porto, the Torre dos Clérigos stands 76 meters tall, and visitors often climb the 200 steps determined to capture the marvelous city views. With the city exposed from every direction, the tower's observation deck may be one of the most breathtaking viewpoints of Porto. These views only cost a 3 EUR entrance fee, welcoming tourists from all walks of life to take part.
Stroll Along Cais da Ribeira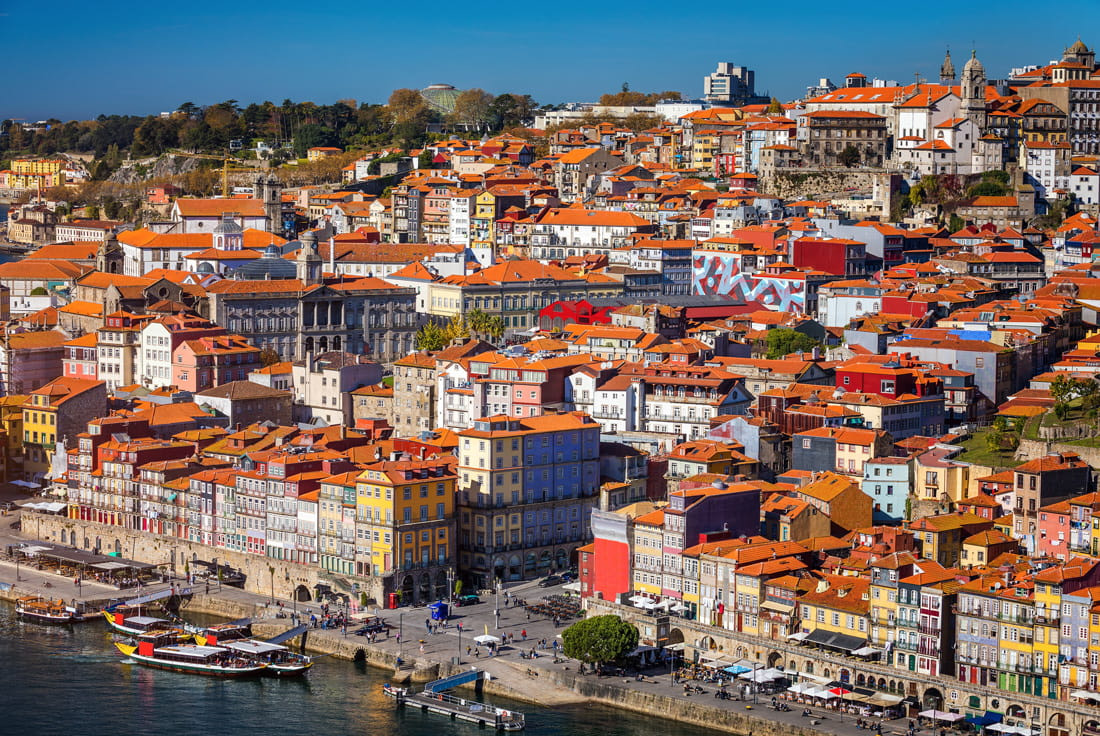 This picturesque district boasts quaint side streets that beg exploration and lovely riverfront restaurants for all to enjoy a glass of Port wine while soaking in the image of the Ponte de Dom Luís I overhead. Declared by UNESCO a World Heritage Site, Cais da Ribeira is home to fantastic restaurants and cafés where visitors can indulge in local cuisine.
Walking and dining along the river's edge while enjoying the many boats passing by are among the best ways to explore Porto's Ribeira on a sunny day.
Experience Porto's Cuisine
It is true that Porto's cuisine is as incredible as the various attractions and history that the city boasts. One cannot truly experience this Portuguese city without first tasting the mouthwatering dishes and wines that the city prides itself on.
To properly kick-start the weekend, pay a visit to the famous Zenith – Brunch & Cocktails Bar. This industrial-chic restaurant offers a variety of gourmet breakfast and brunch options, from wild fruit and Oreo-filled pancakes to detox smoothie bowls and an assortment of egg dishes.
With its affordable Instagram-worthy plates and specialty coffees, the crowds at Zenith may be a bit overwhelming, so get there early to experience what the hype is about.
While traveling in a new city, with so many attractions and historical sites awaiting, some may not find it preferable to stop mid-day for a three-course meal. A Sandeira, however, is the ideal restaurant destination for a cozy pit stop, featuring cheap yet mouthwatering gourmet sandwiches and salads.
Their incredibly fresh sandwiches and invigorating beverages are only 4,9 EUR and are perfectly paired with their freshly cooked, seasoned French fries. Located directly in the city center, visitors do not need to worry about taking too long to locate this amazing restaurant for a quick, cheap, and delicious bite to eat while exploring the city.
To properly top off one's dining experience in Porto, Taberna dos Mercadores is a must for those interested in indulging in the world-class seafood that Porto is known for. Although known for its signature açorda de marisco seafood stew, this intimate restaurant also prides itself in fabulous country cuisine, including lamb and local beef. These dishes are paired with only the best quality local wines, creating an unforgettable dining experience for all to end their weekend on.
Whether it be for a two-week vacation or a weekend getaway, Porto is a sensational European destination for visitors to explore the unique combination of grandeur and simplicity that is rarely achieved in other destinations.